Music

Scoring Crusade is Chinese-born composer Evan Chen. He is known for creating unusual music. His background is in jazz, a "decidedly experimental approach to music" and he's now working on his first
opera, Bok Choy Variations. jms has stated that Christopher Franke was impressed by Chen's work for the show (it is his first job for TV). He was so impressed that he has stated that he will release Chen's compositions for Crusade on his own Label (I'm guessing Sonic Images).
Chen's productions:

1994-95 Co-orchestrator for Bok Choy Variations, a pop-opera by Evan Chen, commissioned by the Minesota Opera
1994-present Member of the New European Music Overseas NEMO '96 Committee, Outreach Chair.
1992 An electronic realization of the Fanfare in Nineteen Scale Equal Temperament by E. Blackwood
1989-present Pianist with various Klezmer groups in the Chicago area.
1989-92 Pianist with various chamber music groups in the Chicago area.

Chen also composed for the world famous Hystopolis Puppet Theater (Chicago). He created music for their interpretation of Alfred Jarry's classic French comedy Ubu Roi.

Here is the first post from jms on Chen:

We haven't yet set a composer for Crusade; we're giving a shot to Evan Chen, a chinese-born classical composer with a strong jazz background, on A Call to Arms. How that turns out will determine much that follows.
Evan's an amazing composer...he came out of Shanghai, studied music in Russia and Germany, was fast becoming a leading, classically trained composer, and discovered jazz in his twenties, dropped everything to come to Chicago and study under some of the best jazz men around (even if it meant washing dishes to get by). His stuff is the most amazing blend of Asian influence, classical instrumentation, jazz and rock backbeats I've ever heard, even using asian scales (somewhat different from western musical scales) in unexpected places to make western music sound totally different.
For a show as different as this, I wanted a completely different, totally unique sound, something I've never heard before, and Evan Chen has it. -- jms

Chen's music was heavily critisized on the B5 movie A Call to Arms by fans. jms's response:

I posted this on Compuserve...just passing this along here as well on the topic of the music for A CALL TO ARMS.

I suppose we could've stayed with the safe choice, with Chris, or done a nice, safe, droning Voyager style score that you don't even notice, but we're looking to take chances, and that means some people will like what you do, some won't. Some won't like it because it's different. Neil Gaiman told me that a number of fans of any form, including his own, say they want something new and challenging that takes chances...but it they don't like the form of that chance, they blame you for somehow doing it wrong...and they want the next new thing to be just like the last thing you did.

I can't tell you the number of people who said "why can't you just do the John Williams style music instead of this?" Because it's been done, and it's cliche, and by god we're going to push what's "expected" to try some new things. Otherwise what the hell's the point?

"Of course, you've been through this before. I seem to recall a lot of people complaining when Christopher Franke replaced the composer for the pilot. I don't doubt that a lot of the people screaming loudest now are the very ones who complained about Franke when he started."

I don't know about the latter, but I can sure confirm the former. And that's why I sometimes wish the viewer responses were logged as much as my own have been. When we brought in Chris to replace Stewart Copeland, you can't *believe* how much email I got from people saying to trash him, fire him, it's that "euro-trash techno-crap" most called it. "He uses sounds and banging instead of music," people complained (which he did mainly in the first two seasons), "it's distracting and it's not appropriate, get rid of him."

But we didn't. I told people to give him time to settle into the show, and on the other hand to let them get used to a different kind of sound than what they expected. ("I guess you couldn't afford to hire a real composer like TNG uses," was another popular line.)

Evan ain't Chris, nor should he be, nor should he *have* to be. He is a brilliantly talented composer. This is his first shot at a dramatic series, and as he settles in (as Chris settled in), I think people are going to be as loyal to what he's doing in Crusade as they were to Chris in B5. He's a classically trained composer, who threw it all away to come study jazz under some of the best jazz men in Chicago...washing dishes to support himself when he had been at the top of his field in China...because he loves music, and loves to experiment, and he took a chance.

In the course of Crusade, we're going to see some places we've never seen before...and thanks to Evan, we're going to hear some things we've never heard before. He's a find, and a genuine, fresh talent, and I stand behind him 100%.

And the people who say they are fans of Chris Franke's should think twice before doing to him what so many people did so rudely to Chris when he first came aboard. -- jms

Production

jms has stated that 95% of the Babylon 5 crew will work on Crusade. The biggest change will be the show's new font: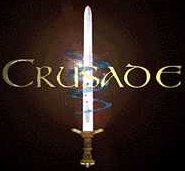 The new Crusade logo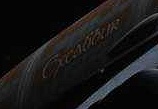 The Excalibur's nameplate
There has been a small increase in the Crusade budget ($20,000), which, as I undestand, will be used for the production of the show. jms has said that the money will be used wisely.
The most promising news is that NASA's JPL and Babylonian are going to work together to create a more realistic show. Examples are creating realistic planets and systems as well as the effects and spreading of the Drakh virus.
Babylonian Productions and NASA's Jet Propulsion Laboratory recently announced that they were going to work together on Crusade:
Babylonian Productions, producers of the television series Babylon 5 and the upcoming series Crusade, announced that the first-ever strategic alliance on an on-going basis with NASA's Jet Propulsion Laboratory (JPL) Technology Affiliates Program. An official press release proclaims: "JPL will provide the Crusade producers with the newest technology and assist them in portraying science and astronomy to create the most accurate vision of the future ever attempted for television."
"JPL's involvement is massively exciting for all of us associated with Crusade," reveals J. Michael Straczynski, creator of both shows and executive producer. Straczynski explained the pivotal role JPL will play in Crusade's production as: "Viewers will see distant worlds never before attempted on any other TV series; worlds around twin stars, bizarre and strange environments, and alien life forms based on the best available scientific research from JPL. We want to bring the sense of wonder back into this kind of storytelling, and put the science back into science fiction." -- jms
Netter Digital Technologies, a division of Netter Digital Entertainment Inc., which currently provides the special effectsfor Babylon 5, will provide the effects for Crusade. All space scenes (including ships) will be rendered using computers and many sets will be enhanced with CG. In the interview, JMS also emphasised virtual sets. These sets exist only in an computer and are fully rendered. Viewers of Babylon 5 have seen that this technology has greatly improved as the show went on and has reached an almost realistic environment. This technology was used in Return of the Jedi Special Edition for the additional celebration scenes. This technology will help create the ancient cities of the First Ones without having to build costly sets.
It seems that Optic Nerve will return to do prosetics