Submit Critisism - Critisism Board Unavailible
If you have any concerns about the model (no matter how small), I will post them here as well as foreward them to Havco (if desired I can relay them anonlymously). I will draw up diagrams verifying the error and illustrating a fix for the problem. Critisism is the only method to ensure the best possible models, so please do not hessitate.
The below critisisms are intended to display any flaws that I have found in the model. Their point is to ensure that each model is as accurate as possible, so do not be discouraged if there are a lot. Once you fix these problems, just email me some new views and they will be re-analysed. If anyone has any additional problems, feel free to email me and I will post them along with the below data.
---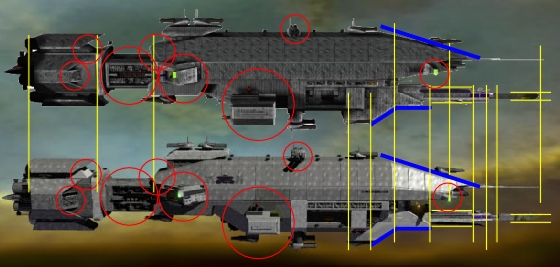 General Remarks
Texture is too dark (may be lighting difference)
Texture mapping on ends of top section not linear
Missing Markings (EA, WL 24, Shipname)
Recovery Bay
Diagram (From Left to Right, Top to Bottom)

Warlock Engines Extrude too Far from Hull
Top & Bottom Armor Plates to Big
Side Armor Plates too Small
Warlock Engine Armor Too Small
Various Errors in Omega-Section
Main Warlock Chassis extends too Far
Incorrect Shape at end of Top Chassis
Recovery Bay (various errors)
Missile Pod too Large
Nova-Turrets not Wide Enough
Incorrect Shape/Size on Base Structure
Base Structure Does not Extend far Enough
Angle on Top Bow at Wrong Angle
Foreward Guide Lights too Far Back
Primary Sensor Boom too Fat
Sensor 'Pedals' too Short