[an error occurred while processing this directive]

The Zocalo Today

Welcome! Take your shoes off, get comfortable and stay a while.

The Zocalo Today is an interactive newsletter. If you have suggestions, please send them along. The Zocalo Today is as much YOUR newsletter as it is mine! I'm just pulling together things for you! Join our weekly discussion topic. It is just one way you can interact with other Z readers. Send along letters, sightings of B5 cast and crew in other projects, convention reports, photos, etc. Don't miss our back issues. There is a LOT of information contained there and you'll not want to miss anything.

If you have questions, drop me a line at sgbruckner@aol.com or bruckner@isnnews.net.

Again, WELCOME! - Sandra Bruckner

February 23, 2001 03:11pm
What's New
The chat with Peter Jurasik last night was terrific. He spent 60 minutes answering questions from fans about his current projects, how long it took to get into make-up each day on Babylon 5 and a lot of others. SCIFI has the transcript available for your review at http://www.scifi.com/transcripts/2001/peterjurasik.html.

FYI: Peter and Fan Boy Comics are organizing a convention on April 21 in Wilmington, NC. Peter will be there along with a number of comic book artists, etc. Check out http://geocities.com/fanboycomics2000/pagethree.htm for more details.
---
The B5 Cast on the Tube page has been updated. Thanks Frederica for sending along the info!
---
With new upcoming items for Crusade, we'll probably re-open The Crusade side of the website here -- just to keep the information about Crusade together and in a place where you can always find it. Go to http://crusade.isnnews.net.
---
CRUSADE: What we need for Crusade right now is viewers! NUMBERS!!! Rating numbers! Tell you friends about Crusade coming to SCIFI in April. Be sure they watch! If you know of a Nielsen family -- tie them in place at 8pm at SCIFI. The numbers will get SCIFI's attention, nothing else matters. CRUSADE begins April 9 at 8pm on SCIFI. The schedule is below.
---
Babylon 5 continues to ride high on SCIFI. This week it was #3, with a 1.0 rating.
---
I can't believe SCIFI has taken the announcement about Crusade off SciFi Wire already! Be sure to pass the word on to your friends -- and have them drop over here for more news as it comes out. The announcement can still be seen on the SCIFI CHANNEL page at www.scifi.com -- it's just not on the front page of SciFi Wire.
---
Since there has been a LOT of newsgroup activity from JMS, I've updated the JMS Speaks page with all the latest.
---
Parts of the Babylon 5/Crusade chronology are now available here with The Beginningand at The Galactic Gateway for the Sheridan Chronology - Part II.
---
NEWS AROUND THE SCI-FI GENRE
February 23:
Want to vote for the WORST movie of the year? The candidates are Battlefield Earth; Blair Witch 2; Little Nicky and Flinstones Viva Rock Vegas! scifi.com is running a survey. Vote today!
---
TOMB RAIDER: The Hollywood Reporter tells us that Paramount has signed with Taco Bell, Pepsi, Ericsson and Land Rover as promotional partners for its upcoming Tomb Raider movie. The premiere is set for June 15.
---
OUTER LIMITS: New episodes will begin appearing at SCIFI on March 19. Heather Donahue from The Blair Witch Project and Sherilyn Fenn from Twin Peaks are among a host of actors set to appear in the series. Donahue will star in "The Surrogate," about a struggling young artist who signs up for a surrogate birth program only to discover that she has made a life-altering decision. The episode airs April 13. Fenn appears in "Replica," playing a scientist who volunteers to be cloned, with disastrous results. It airs June 22. Peter DeLuise--who has been busy writing and directing for Stargate SG-1, will direct "Alienshop," a story of a shopkeeper who has an eerie knack for knowing what customers need. That episode airs June 8.
---
STARGATE: Speaking of Stargate, SG-1 stars Don S. Davis and Teryl Rothery told Australian convention-goers that a sequel to the 1994 feature film Stargate is in the works. It will be based on the TV series cast and concepts rather than the original movie. The said production on the sequel should begin in October, shortly after filming of season five of the show wraps.
---
February 22:
TICK: Production has been pushed back on this live-action series based on Ben Edlund's comic series and animated show. Fox is scheduling the show for either summer or fall.
---
TIME MACHINE: Simon Wells (grandson of H.G. Wells) is bringing the classic back to the big screen. Production has begun with principal photography on location at Vassar College in upstate New York and additional location filming to be undertaken in Albany, Troy and Schenectady. Shooting will be completed on the soundstages at Warner Brothers studios in Los Angeles. Guy Pearce will star as Alexander Hartdegen, a scientist and inventor who tests his theories about time travel by hurtling 800,000 years into a future. John Logan (Gladiator) wrote the screenplay.
---
VOYAGER: Over at cinescape.com you'll find the episode titles for the final episodes of ST: Voyager! Looks like a big finale two-parter!
---
BATTLESTAR GALACTICA: According to Ain't It Cool News, X-Men Director Brian Singer Singer has made a deal with Studios USA to reinvent the series and executive produce it with Tom DeSanto. He will direct the pilot if it doesn't clash with the ``X-Men 2'' shooting schedule. The studio is finalizing deals with show runners, and will shop to networks shortly. USA Television Production Group president David Kissinger said they would shop the show to networks and perhaps work together with the SciFi channel.
---
February 21:
EDDIE MURPHY ASTRONAUT: Yes, Eddie Murphy stars in an upcoming SF comedy "Pluto Nash", directed by Ron Underwood. In talking with Cinescape Online, he described the movie: "This is a fun action/adventure/comedy, with Eddie Murphy running all over the moon. We've seen films about travel to other planets, and usually they take it very seriously. We don't. This is a fun popcorn movie."
---
THE SPIDER: According to the Hollywood Reporter, Dan Aykroyd and Theresa Russell will star in HBO's The Spider, the third Creature Feature SF movie for the cable network. Scott Ziehl will direct the giant-arachnid film, which will shoot in Los Angeles.
---
FIRST WAVE: As soon as Rob LaBelle is finished with First Wave, he will be headed of to guest appearances on two other SF television series this season. First up will be "Dark Angel" in which he plays a doctor who captures Zack and tries to extract the whereabouts of the other kids, especially Max. Second will be one of the final episodes of ST: Voyager. He will portray a Talaxian--the same species as Neelix.
---
RINGS: John Rhys-Davies, Gimli the dwarf, in the upcoming "Lord of the Rings" movie, feels that the movie is going to be the biggest film series of all time. "The casting is remarkable, just extraordinary. You look at each of these people and think 'I know exactly who that is'."
---
February 20:
PERN: Don't want to jinx things for them, but one of the B5 regulars is auditioning for a part in PERN. Here's hoping all goes VERY WELL.
---
REIGN OF FIRE: New details about the upcoming movie, starring Matthew McConaughey, are leaking out. Acccording to Coming Attractions, the film begins in a world devastated by fire-breathing dragons. Survivors engage in guerrilla warfare against the dragons, using guns, swords and tanks. The dragons eat ashes and people and breathe an intense fire.
---
DEAD ZONE: UPN has ordered up a series pilot for Stephen King's novel The Dead Zone. According to The Hollywood Reporter, approval is contingent on casting for the drama. DS9 co-creator Michael Piller will executive produce Dead Zone with his son, Shawn Piller.
---
SPIDERMAN: They are looking for extras again! If you are over 16, check out TVTix.com for details.
---
X-FILES: Chris Carter is talking about Mulder's return to X-Files this week. In an interview with TV Guide On-line, Carter said, "We will figure out what's happened to Mulder — to an extent. There will be a most shocking discovery, one we think cannot be happening — but it is." I wonder what the ratings will be for this week. Should be HUGE!!!
---
ANGELS: Rumor has it that NBC TV has given the go ahead on an unnamed pilot created by author Anne Rice. The NY Daily News says the project will star Timothy Hutton and will be a good against evil story about angels at war on Earth.
---
ELVIS: Bruce Campbell, star of the Evil Dead series, has signed to play Elvis in an old people's home for a new independent film, Bubba Ho-Teep, due to shoot next month. The story tells how Elvis swapped places with an Elvis impersonator who subsequently died, and now lives in an old people's home where people won't believe who he really is.
---
February 19:
STARGATE: Just picked up two new Stargate items: "The Morpheus Factor" -- a Stargate novel by Ashley McConnell. This is the second one based on the TV series and it's very enjoyable. Also new -- the Stargate SG-1 soundtrack. It's terrific.
---
``Hannibal'' continues to reign over the movie box office this weekend. It pulled in another $30 million in the United States and Canada for the Friday-to-Sunday period, taking its 10-day haul to $103.9 million.
---
SPIDERMAN: A very appropriately named site is now running for Spiderman -- spidermantype.com. Only 437 days to wait until the premiere! There is a cool trailer available -- all animation, no live action yet.
---
CHAT WITH JEANNE CAVELOS - MARCH 13
Jeanne will be in for a chat at the SCIFI website on Tuesday, March 13 at 9pm ET. Jeanne has authored a number of fantastic books, including Babylon 5 Novel #7 "The Shadow Within". She will have the second Technomage novel out this summer and she is currently finishing up #3. I've always wondered how a writer writes! Here's your chance to ask how Jeanne pulls a story together. Join the chat at 9pm on the 13th of March at http://www.scifi.com/chat.

Here's a recent post from Jeanne to the B5 newsgroup:

Hi, everyone.

Sorry I haven't posted in so long. I've been writing for 12-18 hours a day for about the last 20 months, working on the techno-mage trilogy. Last week, I turned in book 3 to Del Rey, and am slowly catching up on my sleep. Wow--what a relief! Is it true there's sun and sky out there in the wide world?

To answer the basic questions--the trilogy is called The Passing of the Techno-Mages. Book 1, Casting Shadows, should be out at the beginning of March. Book 2, Summoning Light, is scheduled for July. Book 3, Invoking Darkness, is scheduled--I think--for November.

I'm going to be doing some Internet chats, bookstore signings, and convention appearances. If you want to say hi, you can check my schedule at my website, where I also have more information on the books. Go to http://www.sff.net/people/jcavelos and click on Casting Shadows. I'll be updating my schedule as new events are set up.

I had an absolutely great time writing the books--what a wonderful topic to write about! I wish I'd had more time, so I could have had more sleep along the way, but I loved spending time with the techno-mages and figuring out who they were and what they wanted. The books deal with issues that are important to me, while at the same time, I hope, remaining true to the B5 universe, and also telling really entertaining and involving stories.

Best,
Jeanne Cavelos
TECHNOMAGE TRILOGY - NEW BABYLON 5 NOVEL!
"Babylon 5: Casting Shadows" Jeanne Cavelos' trilogy on the Technomage will be on bookshelves this month. Part two, "Summoning Light", will be released in July! DelRey website has the books available for ordering now. The synopsis up on "Summoning Light" is quite a teaser!

In the B5 newsgroup recently, someone asked JMS which B5 novel he would consider the "best".

"As for the best of the bunch, I'd have to say it's probably the technomage trilogy, or what I've seen of it so far."
THIS WEEK'S DISCUSSION TOPICS
This week's discussion topic:

With the announcement that SCIFI will show Crusade in April, let's switch from B5 for a minute and talk Crusade. What did you like/love/dislike about the series?

There are some terrific responses on the page now. How do you feel about Crusade? Send in your thoughts to either TheZocalo@aol.com or b5web@aol.com.. You can also post your comments on the message board at www.isnnews.net/board. To see what other readers have posted on this and other topics, follow this link to Current Discussion Topic page.
---
WEBSITE OF THE WEEK
While searching for sites that have information about various sci-fi topics, I stumbled upon a cool site, The 11th Hour. It has a fantastic variety -- TV, film, books, video. I found it was a pretty good way of catching up with some of the current TV series. There are synopses of recent episodes for Angel, X-Files, Buffy, Dark Angel, Farscape, Roswell and Andromeda. My only disappointment -- NO STARGATE!!! Bummer. However, the site has a lot to offer. Hope you'll give it a look-see.
BABYLON 5/CRUSADE PHOTOSHOP
NEW PHOTOS
You do NOT have to pay the prices asked for over at e-bay! Here are photos of B5 and Crusade cast members at fantastic prices. Check out Photo Shop. Ordering is easy -- and you can't beat the prices! Just let me know which photos you want and I'll check to make sure they are still in stock.
KEEPING UP WITH CAST AND CREW
Rick Biggs is currently appearing in the critically acclaimed play "Tracers" at the Odyssey theatre, L.A.. The play is about the "Vietnam experience", and it's extended until March 18, 2001. More information available at www.odysseytheatre.com.

Melissa Gilbert's latest movie, "Sanctuary" aires Wednesday, February 28th 9 PM on CBS. The story revolves around a well-known photojournalist who, when stalked by an unknown assailant, returns to her childhood retreat to find safety and comfort, but instead discovers that her troubles have followed her home.
---
Pat Tallman's sequel to Lives of the Cat, "Anne Manx", will be out in a month. Pat portrays Lieutenant Richmond, in the plays. One reviewer wrote that Richmond is "... brilliantly portrayed by Patricia Tallman" (Reviewers Bookwatch, June 2000).
---
On March 26th, JMS will be doing a panel discussion on writing for the fantastic, which will be carried via satellite to various universities and the two divisions of the Museum of Television and Radio. The panel will feature JMS, Harlan Ellison, Chris Carter and 1-2 others TBD. Richard Matheson has been added to the panel.
---
Stephen Furst has written and directed an educational video entitled "Diabetes for Guys, D4G". Stephen recounts his battle with weight and diabetes! Within 2 years, Stephen has dropped from 220 lbs. to 175 lbs and is controlling his diabetes WITHOUT insulin. Fantastic. His film is available from the American Diabetes Association for $17.95 plus $4.99 shipping. Call 800-232-6733 for more info.
---
Stephen Austin the wonderful Pak'Ma'Ra Ambassador from Babylon 5, is playing "Herr Zeller" in the Canyon Club Dinneer Theatre's production of "The Sound of Music". The theatre is located in Agoura Hills, California. The play will run from February 3 to March 11, 2001.

As soon as he finishes "The Sound of Music", Stephen will jump into THE 1940's RADIO HOUR in the role of "Lou", March 30 - May 6, 2001 at the The Conjeo Player's Theatre in Thousand Oaks, Califronia.
---

Bruce Boxleitner's new novel, Frontier Earth: Searcher, can be obtained at www.amazon.com. Bruce just finished a brief signing tour at some bookstores in the LA area. I hope the tour will venture out a little -- like here on the East Coast!!!!
BABYLON 5/CRUSADE CHRONOLOGY
Terry Jones' put a tremendous amount of time and effort into creating a Babylon 5/Crusade Chronology that was published in the Official Babylon 5 magazine.

Last month, I started the Sheridan Chronology over at The Galactic Gateway. Part II of his timeline is now up at the website. Others will follow.

Here at The Zocalo Today, You'll find, The Beginning , which starts 15 billion years ago and runs through 1260.
SCI-FI PUBLICATIONS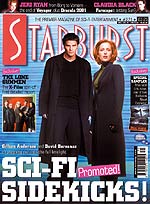 STARBURST #271: As the cover implies, this issue looks at sidekicks -- toping the list "Lone Gunmen" -- a spinoff from the X-Fille universe. David Boreanaz talks about trying to move away from Buffy -- into his own light! Claudia Black talks about Farscape and Jeri Ryan hopes there is a future after Voyager!




EXPOSE #53: Stargate is one of my favorite shows and it's great to see Richard Dean Anderson grace the cover of a magazine now and again. RDA talks about fatherhood as well as the upcoming season! Pretender 2001 did VERY well when it aired on TNT last month. In this issue you can read all about the new movie and the cast.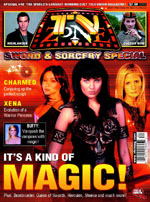 TV ZONE #40: In this special Sword and Sorcery Special, you can catch up with Hercules, Xena, Buffy and the girls from Charmed! There's also a great article on Marjean Holden (Arina from Beastmaster) -- quite a cry from her role as Dr. Chambers on Crusade!
BABYLON 5 FAN CLUB
Sad news. I don't know what the fate of the B5 Fan Club will be. Netter Digital filed for bankruptcy in July and all their worldly posessions were auctioned off on December 7. Thestation.com is back on-line, however the Emporium has been closed.
SCI-FI SCHEDULE
BABYLON 5's Schedule at 7pm each evening:

Air Date Title

February 23 The Corps is Mother, the Corps is Father

February 26 Meditations on the Abyss
February 27 Darkness Ascending
February 28 And All My Dreams, Torn Asunder
March 1 Moments of Fire and Shadow
March 2 The Fall of Centauri Prime

March 5 The Wheel of Fire
March 6 Objects in Motion
March 7 Objects at Rest
March 8 Sleeping in Light (finale)
March 9 Babylon 5: In the Beginning -- special time 6pmET

March 12 The Gathering - part 1
March 13 The Gathering - part 2
March 14 Midnight on the Firing Line
March 15 Soul Hunter

CRUSADE'S SCHEDULE:

April 9 - War Zone
April 10 - The Long Road
April 11 - The Well of Forever
April 12 - The Path of Sorrows
April 16 - Patterns of the Soul
April 17 - Ruling from the Tomb
April 18 - The Rules of the Game
April 19 - Appearances and Other Deceits
April 23 - Racing the Night
April 24 - The Memory of War
April 25 - The Needs of Earth
April 26 - Visitors from Down the Street
April 30 - Each Night I Dream of Home
RISING STARS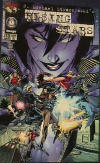 RISING STARS 13 -- OUT NOW
Joe's Comics
(W) J. Michael Straczynski (P) Christian Zanier (I) Livesay (C)Brett Evans

There is a review of this issue at IGN.COM.

** JMS says this is a BIG issue, story-wise, and a lot happens to resolve the current threads.

RISING STARS #14 - February
Joe's Comics
10/23/2000
(W) J. Michael Straczynski (P) Christian Zanier

"The last of the colored pages came through on Friday, so it should be out in a few weeks."

** The Rising Star figures are previewed on the Top Cow Preview page at http://www.topcow.com/.
MIDNIGHT NATION
MIDNIGHT NATION #1 - BLACK AND WHITE EDITION
A special black and white edition of issue #1 of Midnight Nation is out. Wow, those haunting eyes come out even more!
MIDNIGHT NATION #5 - OUT NOW
There is a fantastic review of Midnight Nation #5 over at IGN.COM. Here's an update from Joe on Midnight Nation #5:
"I've just today approved the last of the colored pages on Midnight Nation 5, and I think this is the strongest issue to date. It gives you a preview of what's coming down the road (again my tendency to show you what's coming at the end, but you don't know the context) and it's just completely kickass, especially the artwork, which is impressive as all hell."

Here's a note from the newsgroup about where you may be able to find the back issues of Rising Stars and Midnight Nation you need.

Try www.monstermart.com VERY inexpensive, a full range of back issues and VERY prompt (4 days to deliver, ordering on Xmas eve!!) about $2-50 per issue apart from a few of the specials like 0 and 1/2 etc.
NO HONOR - Shipment Delayed until February 28
Instead of shipping this Wednesday, Issue #1 will ship on Wednesday, February 28. The reason for the delay was on shipment's end: they wanted time for every store to be able to order the 3 variant covers for No Honor #1. Covers by Clayton Crain, Marc Silvestri and David Finch will be on the stands by the 28th.

You may be able to find a limited edition Holo-foil Preview Issue on Wednesday the 21st, in select stores. Please note: this is not Issue #1, but only a limited edition preview issue with a special foil cover. Issue #1 will be 22 pages and full color with 3 alternate covers. Available on February 28, 2001.

Special related news: There is also a Michael Turner Issue #1 Cover available only at Conventions. We believe this will be available through Top Cow at Chicago Comic Con or San Diego Comic Con in 2001!

You can find more information about the coming posted at www.fionaavery.com or www.nohonor.com.
NEW BABYLON 5 TOONS
John Cook has a new cartoon contest going. Try your hand at a punch line.




A new toon from Tye Bourdony (www.thelightersideofscifi.com).
TOONS FOR CHARITY
Tye Bourdony (www.thelightersideofscifi.com) and Claudia Christian are pairing up for a very worthy cause. Claudia has signed one of Tye's satires (a one of a kind) and it will be auctioned off at the Globelist Charities for the John Wayne Cancer Foundation. To participate in the auction, go to http://globelistauction.homestead.com/page2.html.
READER DIRECTORY
Sometimes you just can't find the e-mail address for someone you know you have -- it's someone who responded to a discussion topic or you met in one of the chat rooms. You'd like to send a personal note, but .... No address!!!!

We've started a White Pages of Zocalo Readers! It's a handy way of keeping track of people -- and putting together a birthday/greeting card list as well. If you would like to be part of the listing, just send me your name, state, e-mail address and (if you'd like to have it listed) birthday (without year) to sgbruckner@aol.com. Check out the Directory of Readers.

February Birthdays - Zocalo Readers

Sean Lyons - February 2
Yue Cole - February 5 (new member)
Matthew Sweet - February 16

HAPPY BIRTHDAY!
BABYLON 5 REFERENCE PAGES
The Official Babylon 5 Magazine is indexed here as well. With the closure of the magazine in May, you'll want to see which magazines you have -- and which ones you will want to collect. The index may help you make a decision on which ones to choose. The Fan Club has many of the issues at thestation.com , making it very easy to complete your collection.

Universe Today -- the Babylon 5 Fan Club quarterly can also be found here. The index gives you a rundown of what articles were presented, what interviews published.

If you have magazines that have featured Babylon 5 or Crusade that are not listed, send along their issue number and a note to indicate what the article was about. It would be nice to have a fairly comprehensive listing of Babylon 5 publications here.

I have added a listing of all the Babylon 5 novels and now the B5 comic books to the reference page. If there are other items that you feel should be included, let me know.
MAILING LISTS
THE GALACTIC GATEWAY
Here's a unique site for you! Jeffrey Willerth, Patricia Tallman, Mira Furlan, Claudia Christian, Robin Atkin Downes, Rick Biggs, Jerry Doyle, Bruce Boxleitner, Melissa Gilbert, Peter Jurasik and Bill Mumy are under it's umbrella. Actors from other shows have joined the Gateway. Ted Raimi and Robert Trebor from Xena and Hercules are now at GG. To subscribe to a mailing list for GG, send a blank note to thegalacticgateway-subscribe@egroups.com.
GATEWAY CHATTERS
There is never enough time to keep in touch with friends! To help out, a mailing list has been started for chatters over at the Galactic Gateway. If you are interested in joining, send a blank note to gateway-chatter-subscribe@egroups.com.
CALLING ALL ARTISTS
The Art Gallery at The Zocalo Today is open. There are SO MANY talented people in our Babylon 5 community. We have enjoyed works by Todd Brugman and Tye Bourdony on our toons page, but there are a host of others who enjoy drawing, painting, sketching their favorite characters. Here are a few works that have been received. I have some others that will be added soon.

If you would like to share your work with us at The Zocalo Today, please send along a digital photo of your work and I'll begin putting the gallery together. If you do not have your work in digital format, drop me a note and we'll see what we can work out.
CALLING ALL CLUBS
There are a number of fabulous Babylon 5/Crusade Clubs around the world. I'd like to begin listing them here on The Zocalo Today. Eric dropped me a note the other day providing information about a Club in France. I know there are other clubs in Brazil, Germany, Russia -- and who knows how many here in the US. Let's get a listing together. Perhaps we can share resources, even get together as we travel around. Drop the information about your Club to me at sgbruckner@aol.com or bruckner@isnnews.net. That information will be added to the new B5 Fan Club Listing.
BABYLON 5 NEWSLETTERS
If you have a newsletter you'd like to have listed at The Zocalo Today, send the information along. It will be posted on the B5 Fan Club/Newsletter page.

Ranger Shane in North Carolina sent in the following note about their "Jumpgate" newsletter.

Hey Sandy! Just wanted to give you an update on the NC B5 group's newsletter, Jumpgate. There's now a dedicated EMail address for submissions - jumpgatemag@bellsouth.net - and any submissions, solicited or un-, can be sent to this address. Also, issues are available for free download at the URL at the bottom of this message.

-- Jumpgate - The Newsletter of the North Carolina Babylon 5 Fan Club
Shane Killian, Editor
AN APPEAL TO BABYLON 5 FANS
Recently, I watched some of the Documentary "Trekkies" and only managed to get about halfway through it, before the whole thing frustrated me. I believe that Babylon 5 is just as worthy as any of the Treks, and more worthy than most of them.I would like to write a piece about the positive effects of Babylon 5, and explore B5'ers reactions. Thusly, I appeal to all those out there to send me the positive reactions, responses, to Babylon 5. How has it inspired you? How has it impacted on your life? How do you show that you are a fan of this show? I would love and welcome all responses and will distill them down and write an article that will appear in the Zocalo on the outcome of this appeal. Please have your responses in by Feb. 20th, or so. I will be most interested in what I do receive. Send them to my e-mail address, at CCB5Flamekeeper@aol.com.

Many Thankings,
Connie Colvin

** Connie would like to make this appeal open-ended. If you have items to contribute, please pass them along to her.
BABYLON 5/CRUSADE CONVENTIONS
CONVENTION CALENDAR
Want to know what conventions are ahead for the Babylon 5 and/or Crusade cast and crew? Use this link Convention Calendar. Have a convention you would like to have listed here? Pass along the information.
CONVENTION ALERT
Vulkon is coming to Burbank. Check out the new listing on the Convention Calendar! Quite a huge line-up, including a LOT of Babylon 5 folks.
CONVENTION ATTENDANCE
Are you attending one of the conventions on the calendar? Or another one perhaps? Do you want to see who else might be there? Drop your e-mail address to TheZocalo@aol.com. We've begun an attendance page so that perhaps we can get together while enjoying the activities of the convention. Convention Attendance .
CONVENTION REPORTS
There are a number of convention reports, written by convention attendees, on the Reports Page. Photos from FarPoint have been added to the Photo Gallery.. If you have convention activity you would like to share with us, drop me a line.
UPCOMING EVENTS
Redemption 01
February 23-25, 2001; Kent, UK
Guests: Ron Thornton, Andy Lane

For more information, write to redemptioninfo@smof.com or visit their website at http://www.smof.com/redemption .
---

Gallifrey 2001
February 23-25, 2001; Van Nuys, CA
Guests: Marjorie Monaghan, Tim Choate, Marjean Holden, Peter Woodward, David Allan Brooks, Beata Pozniak, Johnny Sekka, Denise Gentile, Maggie Egan, Jeffrey Willerth, Stephen Austin

For more information, visit their website at http://www.gallifreyone.com . www.gallifreyone.com or email info@gallifreyone.com.
---

MegaCon 2001
March 2-4, 2001; Orlando, FL
Guests: Jason Carter, Richard Biggs, Bill Mumy, Peter David (author)

For more information, visit their website at http://www.megaconvention.com or call (813)891-1702.
---

Slanted Fedora
March 2-4, 2001; Waterbury, CT
Guests: Claudia Christian, Wortham (Bob) Krimmer, Mary Kay Adams

For more information, visit their website at http://www.sfedora.com/waterbur.htm.
---

Creation - Philadelphia
March 3-4, 2001; Philadelphia, PA
Guests: Stephen Austin

For more information, visit their website at http://www.creationent.com or write to tickets@creationent.com or or call (818)409-0960; fax (818)409-0827.
---

FedCon
March 6-8, 2001; Bonn, Germany
Guests: Marjorie Monaghan

For more information, write to info@fedcon.de or call 49-821 219 0932; fax 49-821-219 1937.
---

Deepcon II/Babcon VI
March 8-11, 2001; Fiuggi, Italy
Guest: Stephen Furst

For more information, visit their website at http://www.babylon5.it.
---

Starfury 2001
March 16-18, 2001; London, UK
Guest: Jerry Doyle

For more information, write to SeanHarry@aol.com or visit their website at http://www.starfury.co.uk .
---

AggieCon 2001
March 22-25, 2001; College Station, TX
Guests: Julie Caitlin Brown

For more information, visit their website at http://aggiecon.tamu.edu or call (979)845-1515; fax (979)845-5117.
---

Slanted Fedora
March 23-25, 2001; Overland, KS
Guests: Mira Furlan

For more information, visit their website at http://www.sfedora.com/kansasMarch.htm or call (913)327-8735.
---

I-Con 20
March 30 - April 1, 2001; StonyBrook, NY
Guests: Harlan Ellison, Marjorie Monaghan, Jeanne Cavelos

For more information, visit their website at http://www.iconsf.org or call (631)632-6045; fax (631)632-6355.
---

Grand Slam 2001
March 30-April 1, 2001; Pasadena, CA
Place: Pasadena Convention Center
Guest: Stephen Austin

For more information, visit their website at http://www.creationent.com or write to tickets@creationent.com or or call (818)409-0960; fax (818)409-0827.
---
ZOCALO TRADING POST
There are some new and interesting items in the Trading Post. Take a look. If you have items you'd like to trade, post a note here. If you need a particular item, the Trading Post or Message Board could help you find it. Use this link to see what is listed. Trading Post. To have items included in The Trading Post, send a note to The Zocalo. Please put Trading Post in the subject line.
Pen Pals
If you are looking for someone to talk about Babylon 5 and Crusade with, the Pen Pal section is for you! Check it out! Drop a note to someone who is feeling B5 withdrawal -- BIG TIME!

People thought a Pen Pal page was a good idea. If you would like to meet people who you could chat with or share your opinions of the show with, send along your e-mail or snail-mail address The Zocalo. It will be incorporated on the new Pen Page Page.
IMPORTANT DATES AND BABYLON 5 HISTORY
February Birthdays

Bill Mumy - February 1
John Schuck - February 4
Michael Beck - February 4
Ardwight Chamberlain - February 16
Karen Harrell - February 21
Majel Barrett Roddenberry - February 23
John Iacovelli - February 25
Matt Plummer - February 26

Have I missed anyone? If you know the birthday of someone connected with Babylon 5, pass the information along. We want to include everyone in our Happy Birthday Wishes.
---
Babylon 5 Chronology
I've started to list part of the wonderful Babylon 5 Chronology created by Terry Jones and first published in the Babylon 5 magazine. This month's installation is the Great War. Great War Page lists events surrounding the THE GREAT WAR,1260-1261 and runs through 1888.

Terry has granted permission to use segments from the chronology here at The Zocalo Today.
MAIL FOR CAST AND CREW
Here's a recent note from JMS on the subject:

Just an FYI to those who've been using the Ventura Blvd. mail drop for fan mail to actors....

As mentioned before, we're phasing out the forwarding of fan mail because we a) don't have the resources, complicated by b) the actors have scattered to the four winds, and it makes it very difficult to get everything to everybody in a timely fashion.

So, having provided prior notice...fan mail to actors coming to the Ventura Blvd. mail drop will be sent back. Mail to actors should be sent via their official fan clubs. I will still be taking mail there, since it's my mailbox, but that's it.

Just so's y'all know and save a few bucks on postage and returns.

JMS' mail can be sent to:

14431 Ventura Boulevard, PMB 260
Sherman Oaks, CA 91423
BACK ISSUES OF THE ZOCALO TODAY
The front page of the The Zocalo Today changes daily, so be sure to check the back issues to make sure that you haven't missed anything IMPORTANT! I don't want the front page getting too long so I shift information periodically into the archives. So if you aren't a regular visitor to The Zocalo Today, be sure to check out the back issues. Just use the button above!
---
HELP!!!
NEW FLYER AVAILABLE: If you would like to take some flyers to a convention to help spread the word that The Zocalo is here and ready to provide you with information on everything Babylon 5 and Crusade! drop me a line. I'll be glad to send you some in the mail. I've created a PDF file that can be downloaded and printed. Flyer Thanks for helping to spread the word about The Z!

Take care and I look forward to hearing from you.
Sandra Bruckner (sgbruckner@aol.com)
Editor/Publisher
The Zocalo Today
http://www.isnnews.net