[an error occurred while processing this directive]

The Zocalo Today

Welcome! I am REALLY glad you dropped by. Take your shoes off, get comfortable and stay a while.

The Zocalo Today is an interactive newsletter. If you have suggestions, please send them along. The Zocalo Today is as much YOUR newsletter as it is mine! I'm just pulling together things for you! Join our weekly discussion topic. It is just one way you can interact with other Z readers. Send along letters, sightings of B5 cast and crew in other projects, convention reports, photos, etc. Don't miss our back issues. There is a LOT of information contained there and you'll not want to miss anything.

If you have questions, drop me a line at sgbruckner@aol.com or bruckner@isnnews.net.

Again, WELCOME!

March 17, 2001 04:44am
What's New
Melissa Gilbert, Anna Sheridan, will be on Who Wants to Be a Millionaire this Sunday at 9 PM EST. As part of "Stars from classic television-series", Melissa will try to win money for her favorite charities.
---
Change is a good thing! Over at The Galactic Gateway, there has been some redesigning and restructuring. I hope that you'll pop over and give it a look-see at www.thegalacticgateway.com.
---
Ranger Jeff alerted me this morning of a convention happening this weekend in Ft. Lauderdale, FL. It's called Mondo Pop 2001. While it doesn't have any B5 or Crusade cast members involved, it will have Jerome Blake Rune Haako from Star Wars: Episode I and Paul Smith from Dune. I'm sure there will be some B5 or Crusade merchandise in the dealer's room, so if you're in the area, I hope you'll drop over.
---
I want to apologize to Jeanne Cavelos for the moron who invaded the chat last night. Jeanne had spent nearly an hour with us answering a host of questions, when an "individual" -- and I use that term loosely -- came into the chat with the sole purpose of disrupting it. The moderator was unable to cope with the situation and the chat ended.

Those of us who attended the chat had a terrific time and Jeanne was a superb guest. Even as the flooding was going on, she was on the phone to me asking what she could do to continue the conversation! It's too bad that this "person" had to choose this way to get a few seconds of attention.

The transcript of the chat should be available soon at SCIFI.
---
Ranger Catherine reports that Rising Stars volume 6 (issues #11 and #12) and Midnight Nation Volume 1 (issue #1 and #2) are out now in French.
---
JMS talks about Spiderman over at The Comic Continuium. "I feel that Spider-Man has lost his relevance. I want to bring him back to his roots, throw him into the streets of New York and put him in powerful social situations that he hasn't encountered for a while."
---
City of Dreams is currently in hiatus at SCIFI. If you want to make sure you don't miss the next installment, you can join a mailing list on the City of Dreams page.
---
Mitch Obrecht has sent along a review of "Casting Shadows". Read it and see if you agree. It's on the Zocalo's Reviews Page.

Babylon 5 dropped to #4 last week in the SCIFI ratings. They were behind John Edward 1.0; Interceptor Force 1.0; and Dark Prince at 1.0. Babylon 5 had a 0.9 rating for the week.
---
While leafing through the latest issue of Diabetes Forecast, who should I spot? VIR!!! Yes, there is a great article about Stephen Furst and his recent film on diabetes. More on this soon.
---
Some terrific responses have already come in regarding the discussion topic on props! So far, favorites include Garibaldi's Daffy Duck poster and Marcus' fighting pike! Is it me or does the lance on Andromeda look very much like the pike!
---
B5 veteran director Mike Vejar will direct "Renaissance Man" -- one of the final episodes of Voyager.
---
For those folks who want to begin keeping track of what JMS is doing in the Spiderman world (his first issue comes out next month I think), Marvel has provided a subscription offer at www.marvel.com/shop/subscriptions/direct.html. You want AMAZING Spiderman -- that's the one JMS will begin writing for very soon.
---
The transcript of last week's Yahoo chat with Jeanne Cavelos is available at The Galactic Gateway. If you are an aspiring writer, you might want to see what advice she gave on Tuesday.
---
Ranger Jim sends along word that the current issue of Wizard: The Comics Magazine (No. 115, April 2001) contains a coupon for ordering a Midnight Nation #1/2 exclusive ($3.00 per comic). Thanks Jim.
---
While wandering the newsgroups this morning, I came across a posting about the "Declaration of Principles". It included a link to http://www.tp2b.de/babylon_project/2262_declaration.jpg. I suggest you give it a look and enjoy, once again, the magnificent words. Hopefully you can hear G'Kar repeating the words as you read.
---
NEWS AROUND THE SCI-FI GENRE
March 17:
VOYAGER: Rick Berman has been talking about the finale of Star Trek: Voyager. "There will be some surprises as we head up to the end, in the last couple of hours before the two-hour final show. But those last two hours are where most of the excitement and resolution is going to occur. It's going to be terrific."
---
TREK 10: Rick Berman was also talking about the next Trek movie. Berman said that John Logan (Time Machine) has submitted a second draft, based on a story by Logan, Berman and actor Brent Spiner (Data). Production will begin several months after the resolution of the expected actors' and writers' strikes this year. "All I can tell you now about the plot is that it will deal with a supreme and, hopefully, memorable villain," Berman said. "There's some cloning involved, and there are also a lot of Romulans involved. But I will say no more."
---
NEW TREK: Since he was talking about all things Trek, Berman talked about Trek V, the new series still in development stages. Berman said they are bringing in fresh voices. "What Brannon (Braga) and I will be doing on Series V is trying to bring in as many new voices as we can, in terms of directors, new writers and new elements of design, whether it's costumes or makeup or sets or music...We are trying to put together a younger, less-experienced-in-Star Trek team of people to give this show a completely new feel and look. We want this to be not your father's Star Trek, so to speak."
---
WRITING WORKSHOP: Do you have aspirations of being another Jeanne Cavelos or Bruce Boxleitner? Want to see if writing is for you? DelRey has just announced an on-line writing workshop that may be the answer for you. Drop over to http://delrey.onlinewritingworkshop.com/ and see what it's all about. Looks like a fantastic opportunity to see if this is truly something you want "and need" to do.
---
POLTERGEIST: The Legacy: There's a letter-writing campaign going on to bring back Poltergeist: The Legacy back. If you were a fan of the show, visit http://www.access-eworld.com/poltergeist_legacy/library/revival.htm and add your name to the petition.
---
E-BOOKS: Do you have an e-book reader? Here's a free offer for you! The Fictionwise.com Web site is offering a free e-book version of the Nebula-nominated short story "Ninety Percent of Everything" by Jonathan Lethem, James Patrick Kelly and John Kessel.
---
March 16:
RATINGS: The top 10 SF Network shows run the scale as far as ratings. X-Files is again the winner, followed by Dark Angel and 3rd Rock. Here are the numbers: The X-Files 9.7; Dark Angel 6.6; 3rd Rock 5.5; Futurama 4.7; Charmed 3.8; Buffy 3.4; Angel 3.0; Voyager 2.9; Roswell 2.3, and 7 Days 1.9. This is for the week 2/19-2/25.
---
Lucasfilm is teaming with Walt Disney World Resort in Florida for four consecutive Star Wars weekend programs, beginning May 4. Guests will be able to meet actors and voice performers from the four films, attend a Cantina Street Party and take part in a Jedi training camp.
---
SPIDERMAN MOVIE: While talking to Popcorn UK, Ian Bryce--producer of Sam Raimi's upcoming Spider-Man movie, said that the filmmakers are listening to fans of the Marvel Comics series on which the film is based. "We get a lot of Internet attention, so it's nice to know the fans are out there waiting." "I don't think they're going to be disappointed at all. (Raimi) He's creating the right world for Spider-Man."
---
SPIDERMAN EXTRA: We have posted notes here when there has been a call for extras on the Spiderman movie. Ever wonder what it would be like to do this? You can stop wondering now. Mark Helsel from Cranberry Township, PA lived this dream and tells all about it at fandom.com
---
VOYAGER: The official Star Trek Web site announced air dates for the final seven original episodes Voyager. •April 11, "Q2"; •April 18, "Author, Author"; •April 25, "Friendship One"; •May 2, "Natural Law"; •May 9, "Destiny"; •May 16, "Renaissance Man"; and •May 23, Two-Hour Series Finale.
---
March 15:
X-FILES: Is Mulder dead? Will there be a 9th season? It's all swirling about! Cinescape.com has some pictures to promote the April 1 episode of X-Files and Chris Carter is again talking about a possible ninth season.
---
FIRST WAVE: SCIFI has a wonderful two-part interview with Traci Elizabeth Lords, the new cast member on "First Wave".
---
DARK ANGEL: Jessica Alba is getting a lot of press! Entertainment Weekly has an interview with her and L'Oreal has picked her us as a spokesperson!
---
March 14:
RATINGS: Looks like the ratings evened out over the last week. X-Files was still in front, but not with a huge margin like last week. The X-Files 4.1; 3rd Rock 3.6; Andromeda 3.5; Xena 3.5; Stargate SG-1 3.3; Earth: Final Conflict 2.4; Profiler 2.2; Voyager 2.0; Back2Back Action 1.7; Invisible Man 1.7.
---
NEW TREK: Though no production dates have been announced, Michael Okuda, longtime Star Trek designer, has joined the production staff of the upcoming fifth Trek series. According to the official Trek Web site Okuda will be the scenic arts supervisor, responsible for the look of control panels, signs, alien written languages and other visual elements of the sets. He joins production designers Herman Zimmerman and John Eaves on creating the look of the new series.
---
WOLF LAKE: Lou Diamond Phillips and Mary Elizabeth Winstead have signed on to star in the pilot of the CBS werewolf drama Wolf Lake.
---
LONE/X-FILES: Crossovers would seem a natural for "The Lone Gunmen" and "X-Files". Executive Producers Frank Spotnitz and Vince Gilligan told an official Fox Web site that there will indeed be some crossovers with The X-Files. "There will be crossovers in terms of characters and some storylines that involved the Lone Gunmen when they were on The X-Files," Spotnitz said. "So you'll see some comic characters from The X-Files crossing over, as well as some serious ones getting a chance to show how funny they can be."
---
FARSCAPE: Wayne Pygram looks nothing like Scorpius, the snarling, leather-clad creature he inhabits with such gusto on the show. "I go to work, and I'm just Wayne," he says. "[I'm] stumbling into the furniture and drinking my coffee. I hop in the chair, close my eyes, an hour and a half later I open my eyes...and he's there." Read more of his interview at http://scifi.ign.com/tv/6385.html.
---
March 13:
BLADE RUNNER: The theatrical version of Blade Runner is on SCIFI tonight.
---
THE SCORPION KING: Production begins on March 14 for The Scorpion King, a prequel movie to The Mummy. Martial artist and actress Kelly Hu has joined The Rock (aka Dwayne Johnson) as love interest, Cassandra, a prisoner of the evil warlord whom the Scorpion King must defeat.
---
MUTANT X: Tribune Entertainment has opened a new website in an effort to promote their new series, scheduled to arrive this fall. http://www.mutantxtv.com/ has information about the show, some background and even a look at the production side of things. They are looking at a June production date.
---
INVISIBLE MAN: SCIFI will air a special two-part interactive episode of The Invisible Man, in which the fate of the show's heroes is put in the hands of viewers who log on to SCIFI.COM. After part one airs on March 23 at 8 p.m. ET/PT, viewers will be able to vote online to help Agent Bobby Hobbes make a critical decision. On March 30, viewers can tune in to part two and see how their votes affect the ongoing story.
---
TREK MUSIC: EMusic.com will offer users a free album of authorized Star Trek music in MP3 format for a week, starting March 12. Visitors to the site will be able to download up to 15 tracks of Trek music at no cost.
---
LONE GUNMEN: The new series dropped 35% over ratings for last week -- it's premiere.
---
UK PRODUCTIONS: The outbreak of hoof-and-mouth disease in the UK has thrown TV and film production schedules! Many are facing delays or last-minute location changes because of the disease. Some high-profile productions like Steven Spielberg-Tom Hanks HBO miniseries "Band of Brothers" and Warner Bros.' "Harry Potter and the Sorcerer's Stone" have wrapped filming, a number of feature films in development or in production face delays or disruption of their schedules.
---
March 12:
VOYAGER: Rumors abound throughout the internet about the final episode of Voyager. I even saw Spoiler information out in the newsgroup this morning! I suppose this will continue until the episodes are finally shown.
---
SPIDERMAN: Fandom.com's Mike Sangiacomo talks to J. Michael Straczynski about taking over "The Amazing Spiderman" and what he has in store for Peter Parker over the next few issues.
---
SMALLVILLE: Casting for the new Superman series is complete. Sam Jones III has been signed to portray Pete Ross (close friend to both Clark Kent and Lana Lang). The remainder of the cast are: Clark Kent - Tom Welling; Lana Lang - Kristin Kreuk; Lex Luthor - Michael Rosenbaum; Jonathan Kent - John Schneider; Martha Kent - Cynthia Ettinger and Chloe Sullivan - Allison Mack.
---
JMS ON SCIFI PROBLEMS
A number of problems still persist at SCIFI regarding the broadcast quality of Babylon 5. Here is a comment from JMS:

I'll be posting this to the scifi.com/babylon5 board in a bit, but the jist of it is this....

I sat in the room with the editor while they corrected this error, and the revised copy of the episode that I received on vhs was, indeed, corrected.

My suspicion is that they've put all their emphasis on getting the correct S2-4 widescreen eps delivered to SFC in a comparitively short amount of time, and haven't sent them the new master yet. (The closed captioning that appears there now is a different process.)

I have a call in to WB now about this, but I suspect that the above scenario is correct. I think they preferred at this stage to put all their efforts into getting the big problems done first, focusing on the smaller problems later.
TECHNOMAGE TRILOGY - ON BOOKSHELVES NOW!
"Babylon 5: Casting Shadows" Jeanne Cavelos' trilogy on the Technomage is out. Part two, "Summoning Light", will be released in July! DelRey website has the books available for ordering now. The synopsis up on "Summoning Light" is quite a teaser!

To learn more about Jeanne, visit her website at www.sff.net/people/jcavelos. Jeanne is a scientist, mathametician and author! She's worked with NASA and Harlan Ellison on a writing series! I'm sure you will find her an interesting person to chat with.

** FYI: Jeanne has joined the B5 forum here, talking about the Technomage in both the B5 and Crusade topics.
DVD NEWS
Here's the latest from JMS on the DVD release of The Gathering:

"The release of the first DVD of "The Gathering" and "In the Beginning" has been put back a month, at my request. There was apparently some misunderstanding about which version of The Gathering to put out, and they were going to do the original version rather than the re-edit (which would go for the European market). They had already invested about $100,000 in copying costs when I found out about this, and I asked if they could please reconsider and do the re-edit instead. They finally agreed, which is commendable in the extreme. It'll add one month to the release schedule, but I'd rather have the best version out there and wait the addtional 30 days.

I have to really thank WB for taking the time and spending the money to put out the right version.
THIS WEEK'S DISCUSSION TOPICS
It looks as if a number of you REALLY enjoyed last week's discussion topic. For those who sent in responses, THANK YOU!

This week, let's do something a little different. Let's talk minor characters! There were a LOT of them, but some made MAJOR contributions to the story -- and the show. Which one is your favorite? Would it be Neroon, Zathras, Morden, Lorien? Why did you pick them? Let's give them the attention they deserve!

Send in your favorite MINOR character to either TheZocalo@aol.com or b5web@aol.com.. You can also post your comments on the message board at www.isnnews.net/board. To see what other readers have posted on this and other topics, follow this link to Current Discussion Topic page.
---
BABYLON 5 AROUND THE WORLD
Ranger Andres has sent up the following schedule for B5: Every Tuesday at 8:00p.m. and 11:00p.m E.T.

Objects in motion 03-06
Objects at rest 03-13
Sleeping in Light 03-20
Re-run Season ? 03-27

Ranger Doron reports that on the 17th of March, there will be a B5 Chat at Goldkanal (www.goldkanal.de) at 20:00. This in in light of the fact that Sleeping In Light will re-air (as season 4-5 was reaired). The chat will be via irc or a Java-Webinterface. The irc chanel will be IRCnet and the channel name "#trekzone". For more info, please visit http://chat.goldkanal.de.
BABYLON 5/CRUSADE PHOTOSHOP
NEW PHOTOS
You do NOT have to pay the prices asked for over at e-bay! Here are photos of B5 and Crusade cast members at fantastic prices. Check out Photo Shop. Ordering is easy -- and you can't beat the prices! Just let me know which photos you want and I'll check to make sure they are still in stock.
KEEPING UP WITH CAST AND CREW
Peter Woodward just returned from Texas where he filmed one of the final episodes of Walker: Texas Ranger.
---
Stephen Austin begins THE 1940's RADIO HOUR in the role of "Lou Cohn", March 30 - April 28, 2001 at the The Conjeo Player's Theatre in Thousand Oaks, California. For more information, call 805-495-3715. The show starts at 8pm.
---
A Behind-the-Scenes look at Peter Woodward's show on ancient Egypt and the pyramids is currently showing on the History Channel. The actual program will air in May.
---
Peter Jurasik and Fan Boy Comics are organizing a convention on April 21 in Wilmington, NC. Peter will be there along with a number of comic book artists, etc. Check out http://geocities.com/fanboycomics2000/pagethree.htm for more details.
---
Rick Biggs is currently appearing in the critically acclaimed play "Tracers" at the Odyssey theatre, L.A.. The play is about the "Vietnam experience", and it's extended until March 18, 2001. More information available at www.odysseytheatre.com.
---
On March 26th, JMS will be doing a panel discussion on writing for the fantastic, which will be carried via satellite to various universities and the two divisions of the Museum of Television and Radio. The panel will feature JMS, Harlan Ellison, Chris Carter and 1-2 others TBD. Richard Matheson has been added to the panel.
---
BABYLON 5/CRUSADE CHRONOLOGY
Terry Jones' put a tremendous amount of time and effort into creating a Babylon 5/Crusade Chronology that was published in the Official Babylon 5 magazine.

Last month, I started the Sheridan Chronology over at The Galactic Gateway. Part II of his timeline is now up at the website. Others will follow.

This month here at The Zocalo Today, you'll find, The 20th Century, which recounts events that have some impact on Babylon 5.
SCI-FI PUBLICATIONS
Dreamwatch #79: Despite the somewhat creepy cover of Dark Angel and Hannibal, this issue has a ton of good stuff inside. there are interviews with Anthony Hopkins, Julianne Moore, James Cameron, David Duchovney, Richard Dean Anderson, Ted Raimi and more! Joe Nazzaro talks to Dave Elsey, the alien construction genius and David Kemper, producer of Farscape.






CULT TIMES #66: What's happening with Earth: Final Conflict. CT has an interview with Robert Leeshock. With Voyager winding down, Robert Picardo talks about what lies ahead in the two-hour special Flesh and Blood.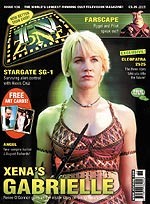 TV ZONE #136: Renee O'Connor has spent the last six years on Xena. As that series comes to an end, Renee looks back over the highs and lowes of the show, talks about directing and working with Lucy Lawless. Farscape fans will enjoy an interview with Lani Tupu who plays both Crais and Pilot on the series. Skaara is back on Stargate SG-1 and Alex Cruz talks about his recurring role.
EXPOSE #53: Stargate is one of my favorite shows and it's great to see Richard Dean Anderson grace the cover of a magazine now and again. RDA talks about fatherhood as well as the upcoming season! Pretender 2001 did VERY well when it aired on TNT last month. In this issue you can read all about the new movie and the cast.
BABYLON 5 FAN CLUB
Sad news. I don't know what the fate of the B5 Fan Club will be. Netter Digital filed for bankruptcy in July and all their worldly posessions were auctioned off on December 7. Thestation.com is back on-line, however the Emporium has been closed.
SCI-FI SCHEDULE
BABYLON 5's Schedule: 7pm each evening:

Air Date Title

March 19 Infection
March 20 The Parliament of Dreams
March 21 Mind War
March 22 War Prayer
March 23 And the Sky Full of Stars

March 26 Deathwalker
March 27 Believers
March 28 Survivors
March 29 By Any Means Necessary
March 30 Signs and Portents

CRUSADE'S SCHEDULE: 8pm on SCIFI

April 9 - War Zone
April 10 - The Long Road
April 11 - The Well of Forever
April 12 - The Path of Sorrows
April 16 - Patterns of the Soul
April 17 - Ruling from the Tomb
April 18 - The Rules of the Game
April 19 - Appearances and Other Deceits
April 23 - Racing the Night
April 24 - The Memory of War
April 25 - The Needs of Earth
April 26 - Visitors from Down the Street
April 30 - Each Night I Dream of Home
RISING STARS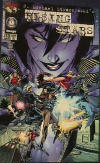 RISING STARS #14 - Coming Soon
Joe's Comics
10/23/2000
(W) J. Michael Straczynski (P) Christian Zanier

"The last of the colored pages came through on Friday, so it should be out in a few weeks."

** The Rising Star figures are previewed on the Top Cow Preview page at http://www.topcow.com/.
MIDNIGHT NATION #5 - OUT NOW
There is a fantastic review of Midnight Nation #5 over at IGN.COM. Here's a note from the newsgroup about where you may be able to find the back issues of Rising Stars and Midnight Nation you need.

Try www.monstermart.com VERY inexpensive, a full range of back issues and VERY prompt (4 days to deliver, ordering on Xmas eve!!) about $2-50 per issue apart from a few of the specials like 0 and 1/2 etc.
NO HONOR - OUT NOW
Covers by Clayton Crain, Marc Silvestri and David Finch.

There is also a Michael Turner Issue #1 Cover available only at Conventions. It may be available through Top Cow at Chicago Comic Con or San Diego Comic Con in 2001!

There is a review of this book out at http://scifi.ign.com/comics/6320.html.

You can find more information about the comic posted at www.fionaavery.com or www.nohonor.com.
NEW BABYLON 5 TOONS
John Cook has a new cartoon contest going. Try your hand at a punch line.




A oldie but goodie from Tye Bourdony (www.thelightersideofscifi.com).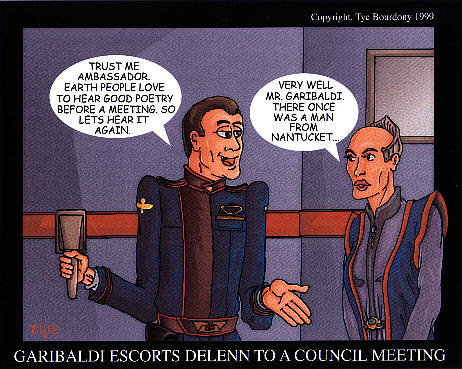 TOONS FOR CHARITY
Tye Bourdony (www.thelightersideofscifi.com) and Claudia Christian are pairing up for a very worthy cause. Claudia has signed one of Tye's satires (a one of a kind) and it will be auctioned off at the Globelist Charities for the John Wayne Cancer Foundation. To participate in the auction, go to http://globelistauction.homestead.com/page2.html.
READER DIRECTORY
Sometimes you just can't find the e-mail address for someone you know you have -- it's someone who responded to a discussion topic or you met in one of the chat rooms. You'd like to send a personal note, but .... No address!!!!

We've started a White Pages of Zocalo Readers! It's a handy way of keeping track of people -- and putting together a birthday/greeting card list as well. If you would like to be part of the listing, just send me your name, state, e-mail address and (if you'd like to have it listed) birthday (without year) to sgbruckner@aol.com. Check out the Directory of Readers.

March Birthdays - Zocalo Readers

Helen Cripe - March 2
Helen is a frequent responder to our discussion topics. Thanks Helen, Happy Birthday!

Connie Colvin - March 5
A staunch fan and keeper of the flame

HAPPY BIRTHDAY!
BABYLON 5 REFERENCE PAGES
The Official Babylon 5 Magazine is indexed here as well. With the closure of the magazine in May, you'll want to see which magazines you have -- and which ones you will want to collect. The index may help you make a decision on which ones to choose. The Fan Club has many of the issues at thestation.com , making it very easy to complete your collection.

Universe Today -- the Babylon 5 Fan Club quarterly can also be found here. The index gives you a rundown of what articles were presented, what interviews published.

If you have magazines that have featured Babylon 5 or Crusade that are not listed, send along their issue number and a note to indicate what the article was about. It would be nice to have a fairly comprehensive listing of Babylon 5 publications here.

I have added a listing of all the Babylon 5 novels and now the B5 comic books to the reference page. If there are other items that you feel should be included, let me know.
MAILING LISTS
BABYLON 5 DISCUSSION LIST
The Babylon 5 discussion mailing list is for any and all discussions and/or news pertaining to or related to Babylon 5 and/or Crusade. The list has been in existence for the past three years now, and has recently moved. The new location is http://lists.apparition.org/cgi-bin/lyris.pl, and you can subscribe by sending a blank e-mail message to join-babylon_5-l@lists.apparition.org.
THE GALACTIC GATEWAY
Here's a unique site for you! Jeffrey Willerth, Patricia Tallman, Mira Furlan, Claudia Christian, Robin Atkin Downes, Rick Biggs, Jerry Doyle, Bruce Boxleitner, Melissa Gilbert, Peter Jurasik and Bill Mumy are under it's umbrella. Actors from other shows have joined the Gateway. Ted Raimi and Robert Trebor from Xena and Hercules are now at GG. To subscribe to a mailing list for GG, send a blank note to thegalacticgateway-subscribe@egroups.com.
GATEWAY CHATTERS
There is never enough time to keep in touch with friends! To help out, a mailing list has been started for chatters over at the Galactic Gateway. If you are interested in joining, send a blank note to gateway-chatter-subscribe@egroups.com.
GATEWAY TRADER
Are you looking for a particular Babylon 5 collectible? Do you have some items you'd like to trade? Then this is the list for you. To join, send a blank note to gateway-trader-subscribe@egroups.com.
CALLING ALL ARTISTS
The Art Gallery at The Zocalo Today is open. There are SO MANY talented people in our Babylon 5 community. We have enjoyed works by Todd Brugman and Tye Bourdony on our toons page, but there are a host of others who enjoy drawing, painting, sketching their favorite characters. Here are a few works that have been received. I have some others that will be added soon.

If you would like to share your work with us at The Zocalo Today, please send along a digital photo of your work and I'll begin putting the gallery together. If you do not have your work in digital format, drop me a note and we'll see what we can work out.
CALLING ALL CLUBS
There are a number of fabulous Babylon 5/Crusade Clubs around the world. I'd like to begin listing them here on The Zocalo Today. Eric dropped me a note the other day providing information about a Club in France. I know there are other clubs in Brazil, Germany, Russia -- and who knows how many here in the US. Let's get a listing together. Perhaps we can share resources, even get together as we travel around. Drop the information about your Club to me at sgbruckner@aol.com or bruckner@isnnews.net. That information will be added to the new B5 Fan Club Listing.
BABYLON 5 NEWSLETTERS
If you have a newsletter you'd like to have listed at The Zocalo Today, send the information along. It will be posted on the B5 Fan Club/Newsletter page.

Ranger Shane in North Carolina sent in the following note about their "Jumpgate" newsletter.

Hey Sandy! Just wanted to give you an update on the NC B5 group's newsletter, Jumpgate. There's now a dedicated EMail address for submissions - jumpgatemag@bellsouth.net - and any submissions, solicited or un-, can be sent to this address. Also, issues are available for free download at the URL at the bottom of this message.

-- Jumpgate - The Newsletter of the North Carolina Babylon 5 Fan Club
Shane Killian, Editor
AN APPEAL TO BABYLON 5 FANS
Recently, I watched some of the Documentary "Trekkies" and only managed to get about halfway through it, before the whole thing frustrated me. I believe that Babylon 5 is just as worthy as any of the Treks, and more worthy than most of them.I would like to write a piece about the positive effects of Babylon 5, and explore B5'ers reactions. Thusly, I appeal to all those out there to send me the positive reactions, responses, to Babylon 5. How has it inspired you? How has it impacted on your life? How do you show that you are a fan of this show? I would love and welcome all responses and will distill them down and write an article that will appear in the Zocalo on the outcome of this appeal. Please have your responses in by Feb. 20th, or so. I will be most interested in what I do receive. Send them to my e-mail address, at CCB5Flamekeeper@aol.com.

Many Thankings,
Connie Colvin

** Connie would like to make this appeal open-ended. If you have items to contribute, please pass them along to her.
BABYLON 5/CRUSADE CONVENTIONS
CONVENTION CALENDAR
Want to know what conventions are ahead for the Babylon 5 and/or Crusade cast and crew? Use this link Convention Calendar. Have a convention you would like to have listed here? Pass along the information.
CONVENTION ALERT
Stephen Austin has been added to the guest roster at this year's Agamemcon convention in Burbank.
CONVENTION ATTENDANCE
Are you attending one of the conventions on the calendar? Or another one perhaps? Do you want to see who else might be there? Drop your e-mail address to TheZocalo@aol.com. We've begun an attendance page so that perhaps we can get together while enjoying the activities of the convention. Convention Attendance .
CONVENTION REPORTS
There are a number of convention reports, written by convention attendees, on the Reports Page. Photos from FarPoint have been added to the Photo Gallery.. If you have convention activity you would like to share with us, drop me a line.
UPCOMING EVENTS
Starfury 2001
March 16-18, 2001; London, UK
Guest: Jerry Doyle, Robin Atkin Downes

For more information, write to SeanHarry@aol.com or visit their website at http://www.starfury.co.uk .
---

AggieCon 2001
March 22-25, 2001; College Station, TX
Guests: Julie Caitlin Brown

For more information, visit their website at http://aggiecon.tamu.edu or call (979)845-1515; fax (979)845-5117.
---

Slanted Fedora
March 23-25, 2001; Overland, KS
Guests: Mira Furlan

For more information, visit their website at http://www.sfedora.com/kansasMarch.htm or call (913)327-8735.
---

I-Con 20
March 30 - April 1, 2001; StonyBrook, NY
Guests: Harlan Ellison, Marjorie Monaghan, Jeanne Cavelos

For more information, visit their website at http://www.iconsf.org or call (631)632-6045; fax (631)632-6355.
---

Grand Slam 2001
March 30-April 1, 2001; Pasadena, CA
Place: Pasadena Convention Center
Guest: Stephen Austin

For more information, visit their website at http://www.creationent.com or write to tickets@creationent.com or or call (818)409-0960; fax (818)409-0827.
---
ZOCALO TRADING POST
There are some new and interesting items in the Trading Post. Take a look. If you have items you'd like to trade, post a note here. If you need a particular item, the Trading Post or Message Board could help you find it. Use this link to see what is listed. Trading Post. To have items included in The Trading Post, send a note to The Zocalo. Please put Trading Post in the subject line.
Pen Pals
If you are looking for someone to talk about Babylon 5 and Crusade with, the Pen Pal section is for you! Check it out! Drop a note to someone who is feeling B5 withdrawal -- BIG TIME!

People thought a Pen Pal page was a good idea. If you would like to meet people who you could chat with or share your opinions of the show with, send along your e-mail or snail-mail address The Zocalo. It will be incorporated on the new Pen Page Page.
BABYLON 5 BIRTHDAYS
March Birthdays

Richard Biggs - March 18
Jesus Trevino - March 26
Ed Wasser - March 26

Have I missed anyone? If you know the birthday of someone connected with Babylon 5, pass the information along. We want to include everyone in our Happy Birthday Wishes.
MAIL FOR CAST AND CREW
Here's a recent note from JMS on the subject:

Just an FYI to those who've been using the Ventura Blvd. mail drop for fan mail to actors....

As mentioned before, we're phasing out the forwarding of fan mail because we a) don't have the resources, complicated by b) the actors have scattered to the four winds, and it makes it very difficult to get everything to everybody in a timely fashion.

So, having provided prior notice...fan mail to actors coming to the Ventura Blvd. mail drop will be sent back. Mail to actors should be sent via their official fan clubs. I will still be taking mail there, since it's my mailbox, but that's it.

Just so's y'all know and save a few bucks on postage and returns.

JMS' mail can be sent to:

14431 Ventura Boulevard, PMB 260
Sherman Oaks, CA 91423
BACK ISSUES OF THE ZOCALO TODAY
The front page of the The Zocalo Today changes daily, so be sure to check the back issues to make sure that you haven't missed anything IMPORTANT! I don't want the front page getting too long so I shift information periodically into the archives. So if you aren't a regular visitor to The Zocalo Today, be sure to check out the back issues. Just use the button above!
---
HELP!!!
NEW FLYER AVAILABLE: If you would like to take some flyers to a convention to help spread the word that The Zocalo is here and ready to provide you with information on everything Babylon 5 and Crusade! drop me a line. I'll be glad to send you some in the mail. I've created a PDF file that can be downloaded and printed. Flyer Thanks for helping to spread the word about The Z!

Take care and I look forward to hearing from you.
Sandra Bruckner (sgbruckner@aol.com)
Editor/Publisher
The Zocalo Today
http://www.isnnews.net
Copyright - SBruckner, 2001