[an error occurred while processing this directive]

The Zocalo Today

Welcome! Take your shoes off, get comfortable and stay a while.

The Zocalo Today is an interactive newsletter. If you have suggestions, please send them along. The Zocalo Today is as much YOUR newsletter as it is mine! I'm just pulling together things for you! Join our weekly discussion topic. It is just one way you can interact with other Z readers. Send along letters, sightings of B5 cast and crew in other projects, convention reports, photos, etc. Don't miss our back issues. There is a LOT of information contained there and you'll not want to miss anything.

If you have questions, drop me a line at sgbruckner@aol.com or bruckner@isnnews.net.

Again, WELCOME! - Sandra Bruckner

March 2, 2001 04:49am
What's New
If you missed the short stories JMS had been out at www.bookface.com, they are now included in an anthology, "Out of the Box" edited by Lou Anders. It also includes a number of stories by other individuals. It's now available via www.barnesandnoble.com.
---
Fiona Avery's first comic book "No Honor" is now out on stands. You can read a review at IGN.COM.
---
The newsgroups are a buzz with comments about "Casting Shadows" -- the latest Babylon 5 novels. So far, everyone thinks it's the BEST yet -- including JMS.
---
With Crusade coming out on SCIFI in April, I am working with the cast at the crusade.isnnews.net site. We will have signed cast photos (including a cast photo signed by Gary Cole)! So stay tuned.

New mailing list for Traders: A new mailing list to help people locate items like comic books, action figures, trading cards, etc. is now open at The Galactic Gateway. To subscribe, just send a blank note off to GatewayTrader-subscribe@yahoogroups.com. If you have a problem subscribing, drop a note to b5web@aol.com and I will include your address on the mailing list.
---
Great News! Babylon 5 was #2 last week -- right behind Farscape. Both programs pulled in a 1.1 rating for the week.
---
Reports have been coming in that the new Babylon 5 novel, "Casting Shadows" is OUT on book stands. So far, folks have LOVED it!
---
Ranger Robert sent along a few pictures of Peter, Rick and Jason from this year's VisionCon in Missouri. Be sure to check out the Photo page.
---
---
The chat with Peter Jurasik last night was terrific. He spent 60 minutes answering questions from fans about his current projects, how long it took to get into make-up each day on Babylon 5 and a lot of others. SCIFI has the transcript available for your review at http://www.scifi.com/transcripts/2001/peterjurasik.html.

FYI: Peter and Fan Boy Comics are organizing a convention on April 21 in Wilmington, NC. Peter will be there along with a number of comic book artists, etc. Check out http://geocities.com/fanboycomics2000/pagethree.htm for more details.
---
CRUSADE: What we need for Crusade right now is viewers! NUMBERS!!! Rating numbers! Tell you friends about Crusade coming to SCIFI in April. Be sure they watch! If you know of a Nielsen family -- tie them in place at 8pm at SCIFI. The numbers will get SCIFI's attention, nothing else matters. CRUSADE begins April 9 at 8pm on SCIFI. The schedule is below.
---
Since there has been a LOT of newsgroup activity from JMS, I've updated the JMS Speaks page with all the latest.
---
Parts of the Babylon 5/Crusade chronology are now available here with The Beginningand at The Galactic Gateway for the Sheridan Chronology - Part II.
---
NEWS AROUND THE SCI-FI GENRE
March 2:
EPISODE II: Christopher Lee will portray the evil Count Dookube in George Lucas' upcoming Star Wars: Episode II. Empire online announced the role and Lucas said, "When it was time to cast the role of Count Dooku in Star Wars: Episode II, my casting director suggested Christopher Lee, and I jumped at the opportunity to work with him." Lucas wrote, "I knew that I needed someone who could convey evil. But in addition, I needed someone to bring stature, strength and wisdom to the role. His villainous résumé speaks for itself."
---
DARTH VADER: SFX reports that David Prowse, the actor who inhabited Darth Vader's costume in three Star Wars films, has suffered a mysterious paralysis. Prowse was admitted to a London hospital last week after suddenly suffering paralysis in his arm while on an overseas visit. The paralysis has spread to his back and the doctors are baffled.
---
CLEOPATRA 2525: Cleopatra 2525 has gone the way of Jack of All Trades -- it's original partner in the Back2Back action hour. According to the Hollywood Reporter, the show has been cancelled.
---
HARRY POTTER: There is a superb trailer for the upcoming movie at www.harrypotter.com. See if you can spot some of the fantastic actors associated with this project! The John Williams score is terrific! It truly does set the tone.
---
ST VOYAGER: Bryan Fuller, now co-producer in his fourth season on the writing staff of Star Trek: Voyager, discusses the seventh season of Voyager and his contribution to the last episodes of the series. The story he pitched is quite different from the one we will see. Check it out at fandom.com.
---
March 1:
LONE GUNMEN: Though the show is a spin-off from X-Files, Bruce Harwood and Dean Haglund--Byers and Langly of show -- --told SCI FI Wire that their series will differ a lot from its predecessor. "It's more government conspiracies, corporate conspiracies, urban myths. We're fighting the Man for truth, justice and the American way," says Haglund. Harwood has a slightly different view. "I'd say it's in the action-comedy genre, though the details are odd." "I'd put it in the same class as Wild Wild West." The show premieres on March 4 and Fox has a cool website up to support the show at www.thelonegunmen.com.
---
JAMES CAMERON: According to Variety, Cameron and Lightstorm Entertainment, has inked a new 5-year deal with 20th Century Fox covering several genre films. Lightstorm will provide two to four movies annually for Fox. Some of their current projects include: Brother Termite, an SF drama to be directed by Stephen Norrington (Blade) from a script by John Sayles, adapted from a novel by Patricia Anthony; The Coffin, to be directed by Guillermo del Toro. This is a suspense thriller based on the comic series of the same name. Lightstorm plans to adapt Anne Rice's supernatural novel Ramses the Damned, about an immortal pharaoh.
---
WES CRAVEN - JEKYLL/HYDE - Variety reports that thriller director Wes Craven will direct an updated feature-film version of Dr. Jekyll and Mr. Hyde, based on Robert Louis Stevenson's novella of the same name. Craig Rosenberg (Jurassic Park 3) will write the script, which puts a few twists in the well-worn story. Craven is also set to direct Alice for Dimension, a Gothic horror version of Lewis Carroll's Alice in Wonderland, based on the Electronic Arts video game Alice.
---
AUSTIN 3: Mike Myers has just about clinched a deal to play Austin Powers in a third film. A script may be in the works, but there is no information on that right now. I wonder if our own Pat Tallman will be in this feature as well. She was in both #1 and #2!
---
February 28:
STARGATE: The Babylon 5 message board at SCIFI is fantastic. It's very active -- and today -- I discovered an e-mail interview with Stargate SG-1 writers Joe Mallozzi and Paul Mullie. For those of you who follow the show, you'll want to drop over to http://www.scifi.com/bboard/browse.cgi/1/5/1957/2057 and read through the interview. It's terrific, giving some wonderful insight into the show and writing.
---
INDIANA JONES: Yes, they are still talking. Harrison Ford and Steven Spielberg want to do another Indiana Jones movie. Ford would get a reported $40M salary, but "Steven thinks Harrison is worth every cent." "The film would bring a classic end to the series."
---
BUFFY: A deadline for completing a contract on the series looms large. March 1 is coming up quickly and there is no renewal vehicle in place. If Fox cannot reach agreement with the WB, they will be able to shop the show around to other networks. ABC and UPN have both indicated interest, according to Variety.
---
WITCHBLADE: Production on the series began in Toronto this month. David Wohl from Top Cow Comics told the Comics Continuum Web site that TNT's upcoming series will incorporate elements of the comic into the storyline. "The two that will be seen early on are a version of Dannette Boucher, the fashion mogul with a connection to Kenneth Irons and the Witchblade, and the White Bulls, which is a group of vigilante cops within the police force." A lot of the background information introduced in the comic will be shown over the course of the series. Witchblade premieres in June.
---
FARSCAPE: Wayne Pygram is talking about his Farscape character, Scorpius, over at www.cinescape.com. He drops a few hints about the coming season as well.
---
FAT ALBERT: Hey, hey, hey! Fat Albert may be hitting the big screen soon. Bill Cosby is working on a script for a live-action feature film with Charles Kipps. The 20th Century Fox film will combine elements of the Filmation animated TV series as well as Cosby's original stories. Cosby and his wife Camille will executive produce the project. John Davis will produce.
---
February 27:
VOYAGER: As things wind down for the final episode of Star Trek Voyager, more details are being given out by the official Trek website. Episode 268, "Natural Law," is the first of three episodes preceding the two-hour finale. In it, Seven of Nine and Chakotay find themselves marooned in a hostile primitive environment. Episode 269, "Destiny," directed by LeVar Burton (Geordi La Forge on The Next Generation), reunites Neelix with his people as he tries to save an imperiled Talaxian settlement. Episode 270, "Renaissance Man," features The Doctor, who must become a master of disguise to save Capt. Janeway.
---
X-FILES: Evidently Sunday's episode left a LOT unsaid -- a true cliffhanger! And -- we'll have to wait until April 1 for anything more on this one! BUMMER! Chris Carter LOVES doing this to folks.
---
BATTLESTAR GALACTICA: SCIFI is conducting a poll related to Battlestar Galactica. Do you think Bryan Singer can do the original story justice? Would you like to see Richard Hatch on the new series? Let them know how you feel. Vote at www.scifi.com.
---
DARK ANGEL: Dark Angel's Jessica Alba was voted breakout star of the year in the TV Guide Awards, which were announced over the weekend. The awards ceremony will be broadcast March 7.
---
THE CROW: There is a new addition to the "Crow" series of movies. This one, "Salvation" went straight-to-video but star Kirsten Dunst told the Comics Continuum that fans will enjoy this installment. "Even though it's got the same feel as the others, it's got a major love story going on underneath it all. I think that everyone will enjoy it--Crow fans and even people who have never seen a Crow movie before."
---
GET SMART: Warner Bros. is trying to work with old favorites! According to the Hollywood Reporter, they are developing a feature film based on the 1960s spy-spoof television series. John Whitesell is set to direct from a script by Bill Collage and Adam Cooper. I wonder who they will get to be Agents 86 and 99?
---
PLANET OF THE APES: There is a trailer out at www.planetoftheapes.com. The site is expanding and already includes an interview with director Tim Burton and some great behind-the-scenes footage.
---
JMS UPDATE
While this posting really doesn't have any new information, it's nice to know that things are gelling and that if the studios get their act together, we could HEAR something very soon:

Date: 2/28/2001 10:50 PM EST
I'll be posting this to the other thread asking the same question, just to save time recomposing (or decomposing, I suppose)...

Here's my dilemma: there are two definite go projects that I can announce. But I can't announce either of them because it's not within my purview to do so. The studios have to make those announcements.

The problem is that one deal has only recently been concluded, and the other -- a done deal since January -- has been awaiting the studio PR department to put out a press release. They haven't been in any particular hurry to do so since (information deleted) won't start until the Fall.

So I've basically been going insane since January, with Big News to announce, but not being able to say *anything* because it would be a serious breach of studio protocol. If I so much as eep they'll beat the crap out of me (and rightly so, to be fair about it).

So I'm waiting as much as you are...with the exception that as a result of both these projects going ahead, I'm drowning in work and can't spend that much time thinking about how I'm going nuts.
CHATS WITH JEANNE CAVELOS
Jeanne Cavelos has authored a number of fantastic books, including Babylon 5 Novel #7 "The Shadow Within". She will have the second Technomage novel out this summer and she is currently finishing up #3. I've always wondered how a writer writes! Here's your chance to ask how Jeanne pulls a story together. There are two chats lined up so far:

YAHOO, March 7, 9pm ET


To join the chat, just to go chat.yahoo.com and select the chat from the events calendar.

SCIFI, March 15, pm ET

To join the chat, go to www.scifi.com/chat and choose the link for the chat. You can use an IRC client for this one -- just to go irc.scifi.com and go to the #auditorium for the chat.

Jeanne recently posted this note to the B5 newsgroup:

Hi, everyone.

Sorry I haven't posted in so long. I've been writing for 12-18 hours a day for about the last 20 months, working on the techno-mage trilogy. Last week, I turned in book 3 to Del Rey, and am slowly catching up on my sleep. Wow--what a relief! Is it true there's sun and sky out there in the wide world?

To answer the basic questions--the trilogy is called The Passing of the Techno-Mages. Book 1, Casting Shadows, should be out at the beginning of March. Book 2, Summoning Light, is scheduled for July. Book 3, Invoking Darkness, is scheduled--I think--for November.

I'm going to be doing some Internet chats, bookstore signings, and convention appearances. If you want to say hi, you can check my schedule at my website, where I also have more information on the books. Go to http://www.sff.net/people/jcavelos and click on Casting Shadows. I'll be updating my schedule as new events are set up.

I had an absolutely great time writing the books--what a wonderful topic to write about! I wish I'd had more time, so I could have had more sleep along the way, but I loved spending time with the techno-mages and figuring out who they were and what they wanted. The books deal with issues that are important to me, while at the same time, I hope, remaining true to the B5 universe, and also telling really entertaining and involving stories.

Best,
Jeanne Cavelos
TECHNOMAGE TRILOGY - ON BOOKSHELVES NOW!
"Babylon 5: Casting Shadows" Jeanne Cavelos' trilogy on the Technomage is out. Part two, "Summoning Light", will be released in July! DelRey website has the books available for ordering now. The synopsis up on "Summoning Light" is quite a teaser!
THIS WEEK'S DISCUSSION TOPICS
This week's discussion topic:

Let's stick with Crusade for another week. While all the actors in the series were just terrific, do you have a favorite character? If so, why did they become your favorite? Was it Eilerson's humor? Galen's mystery?

Have you sent in your favorite yet? We have received some very good responses this week. I hope you will take a look and send in your own thoughts to either TheZocalo@aol.com or b5web@aol.com.. You can also post your comments on the message board at www.isnnews.net/board. To see what other readers have posted on this and other topics, follow this link to Current Discussion Topic page.
---
WEBSITE OF THE WEEK
I found a terrific website this morning -- one you may be familiar with -- maybe not! The site is Babylon 5 Tech-Manual. The description of the site states: B5 Technical Manual is an on-line guide to the ships and technology of the television series' "Babylon 5" and "Crusade." Active since 1994/95, the Babylon 5 Technical Manual is the largest and most comprehnisve guide to the science behind the fiction, and attempts to apply real science and physics to these fictional universies, as to provide the most accurate and plausable explanation to what was seen during the seven year run of the Babylonian universe. It is a terrific resource for fans! Great job!
BABYLON 5/CRUSADE PHOTOSHOP
NEW PHOTOS
You do NOT have to pay the prices asked for over at e-bay! Here are photos of B5 and Crusade cast members at fantastic prices. Check out Photo Shop. Ordering is easy -- and you can't beat the prices! Just let me know which photos you want and I'll check to make sure they are still in stock.
KEEPING UP WITH CAST AND CREW
Rick Biggs is currently appearing in the critically acclaimed play "Tracers" at the Odyssey theatre, L.A.. The play is about the "Vietnam experience", and it's extended until March 18, 2001. More information available at www.odysseytheatre.com.
---
On March 26th, JMS will be doing a panel discussion on writing for the fantastic, which will be carried via satellite to various universities and the two divisions of the Museum of Television and Radio. The panel will feature JMS, Harlan Ellison, Chris Carter and 1-2 others TBD. Richard Matheson has been added to the panel.
---
Stephen Furst has written and directed an educational video entitled "Diabetes for Guys, D4G". Stephen recounts his battle with weight and diabetes! Within 2 years, Stephen has dropped from 220 lbs. to 175 lbs and is controlling his diabetes WITHOUT insulin. Fantastic. His film is available from the American Diabetes Association for $17.95 plus $4.99 shipping. Call 800-232-6733 for more info.
---
Stephen Austin the wonderful Pak'Ma'Ra Ambassador from Babylon 5, is playing "Herr Zeller" in the Canyon Club Dinneer Theatre's production of "The Sound of Music". The theatre is located in Agoura Hills, California. The play will run from February 3 to March 11, 2001.

As soon as he finishes "The Sound of Music", Stephen will jump into THE 1940's RADIO HOUR in the role of "Lou", March 30 - May 6, 2001 at the The Conjeo Player's Theatre in Thousand Oaks, Califronia.
---

Bruce Boxleitner's new novel, Frontier Earth: Searcher, can be obtained at www.amazon.com. Bruce just finished a brief signing tour at some bookstores in the LA area. I hope the tour will venture out a little -- like here on the East Coast!!!!
BABYLON 5/CRUSADE CHRONOLOGY
Terry Jones' put a tremendous amount of time and effort into creating a Babylon 5/Crusade Chronology that was published in the Official Babylon 5 magazine.

Last month, I started the Sheridan Chronology over at The Galactic Gateway. Part II of his timeline is now up at the website. Others will follow.

Here at The Zocalo Today, You'll find, The Beginning , which starts 15 billion years ago and runs through 1260.
SCI-FI PUBLICATIONS
CULT TIMES #66: What's happening with Earth: Final Conflict. CT has an interview with Robert Leeshock. With Voyager winding down, Robert Picardo talks about what lies ahead in the two-hour special Flesh and Blood.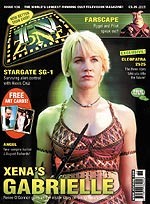 TV ZONE #136: Renee O'Connor has spent the last six years on Xena. As that series comes to an end, Renee looks back over the highs and lowes of the show, talks about directing and working with Lucy Lawless. Farscape fans will enjoy an interview with Lani Tupu who plays both Crais and Pilot on the series. Skaara is back on Stargate SG-1 and Alex Cruz talks about his recurring role.
EXPOSE #53: Stargate is one of my favorite shows and it's great to see Richard Dean Anderson grace the cover of a magazine now and again. RDA talks about fatherhood as well as the upcoming season! Pretender 2001 did VERY well when it aired on TNT last month. In this issue you can read all about the new movie and the cast.





BABYLON 5 FAN CLUB
Sad news. I don't know what the fate of the B5 Fan Club will be. Netter Digital filed for bankruptcy in July and all their worldly posessions were auctioned off on December 7. Thestation.com is back on-line, however the Emporium has been closed.
SCI-FI SCHEDULE
BABYLON 5's Schedule at 7pm each evening:

Air Date Title

March 2 The Fall of Centauri Prime

March 5 The Wheel of Fire
March 6 Objects in Motion
March 7 Objects at Rest
March 8 Sleeping in Light (finale)
March 9 Babylon 5: In the Beginning -- special time 6pmET

March 12 The Gathering - part 1
March 13 The Gathering - part 2
March 14 Midnight on the Firing Line
March 15 Soul Hunter

CRUSADE'S SCHEDULE:

April 9 - War Zone
April 10 - The Long Road
April 11 - The Well of Forever
April 12 - The Path of Sorrows
April 16 - Patterns of the Soul
April 17 - Ruling from the Tomb
April 18 - The Rules of the Game
April 19 - Appearances and Other Deceits
April 23 - Racing the Night
April 24 - The Memory of War
April 25 - The Needs of Earth
April 26 - Visitors from Down the Street
April 30 - Each Night I Dream of Home
RISING STARS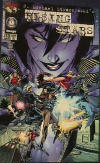 RISING STARS 13 -- OUT NOW
Joe's Comics
(W) J. Michael Straczynski (P) Christian Zanier (I) Livesay (C)Brett Evans

There is a review of this issue at IGN.COM.

** JMS says this is a BIG issue, story-wise, and a lot happens to resolve the current threads.

RISING STARS #14 - February
Joe's Comics
10/23/2000
(W) J. Michael Straczynski (P) Christian Zanier

"The last of the colored pages came through on Friday, so it should be out in a few weeks."

** The Rising Star figures are previewed on the Top Cow Preview page at http://www.topcow.com/.
MIDNIGHT NATION #5 - OUT NOW
There is a fantastic review of Midnight Nation #5 over at IGN.COM. Here's an update from Joe on Midnight Nation #5:
"I've just today approved the last of the colored pages on Midnight Nation 5, and I think this is the strongest issue to date. It gives you a preview of what's coming down the road (again my tendency to show you what's coming at the end, but you don't know the context) and it's just completely kickass, especially the artwork, which is impressive as all hell."

Here's a note from the newsgroup about where you may be able to find the back issues of Rising Stars and Midnight Nation you need.

Try www.monstermart.com VERY inexpensive, a full range of back issues and VERY prompt (4 days to deliver, ordering on Xmas eve!!) about $2-50 per issue apart from a few of the specials like 0 and 1/2 etc.
NO HONOR - OUT NOW
Issue #1 was delayed in shipment because they wanted time for every store to be able to order the 3 variant covers for No Honor #1. Covers by Clayton Crain, Marc Silvestri and David Finch will be on the stands by the 28th.

You may be able to find a limited edition Holo-foil Preview Issue on Wednesday the 21st, in select stores. Please note: this is not Issue #1, but only a limited edition preview issue with a special foil cover. Issue #1 will be 22 pages and full color with 3 alternate covers. Available on February 28, 2001.

Special related news: There is also a Michael Turner Issue #1 Cover available only at Conventions. We believe this will be available through Top Cow at Chicago Comic Con or San Diego Comic Con in 2001!

There is a review of this book out at http://scifi.ign.com/comics/6320.html.

You can find more information about the comic posted at www.fionaavery.com or www.nohonor.com.
NEW BABYLON 5 TOONS
John Cook has a new cartoon contest going. Try your hand at a punch line.




A new toon from Tye Bourdony (www.thelightersideofscifi.com).
TOONS FOR CHARITY
Tye Bourdony (www.thelightersideofscifi.com) and Claudia Christian are pairing up for a very worthy cause. Claudia has signed one of Tye's satires (a one of a kind) and it will be auctioned off at the Globelist Charities for the John Wayne Cancer Foundation. To participate in the auction, go to http://globelistauction.homestead.com/page2.html.
READER DIRECTORY
Sometimes you just can't find the e-mail address for someone you know you have -- it's someone who responded to a discussion topic or you met in one of the chat rooms. You'd like to send a personal note, but .... No address!!!!

We've started a White Pages of Zocalo Readers! It's a handy way of keeping track of people -- and putting together a birthday/greeting card list as well. If you would like to be part of the listing, just send me your name, state, e-mail address and (if you'd like to have it listed) birthday (without year) to sgbruckner@aol.com. Check out the Directory of Readers.

March Birthdays - Zocalo Readers

Helen Cripe - March 2
Helen is a frequent responder to our discussion topics. Thanks Helen, Happy Birthday!

HAPPY BIRTHDAY!
BABYLON 5 REFERENCE PAGES
The Official Babylon 5 Magazine is indexed here as well. With the closure of the magazine in May, you'll want to see which magazines you have -- and which ones you will want to collect. The index may help you make a decision on which ones to choose. The Fan Club has many of the issues at thestation.com , making it very easy to complete your collection.

Universe Today -- the Babylon 5 Fan Club quarterly can also be found here. The index gives you a rundown of what articles were presented, what interviews published.

If you have magazines that have featured Babylon 5 or Crusade that are not listed, send along their issue number and a note to indicate what the article was about. It would be nice to have a fairly comprehensive listing of Babylon 5 publications here.

I have added a listing of all the Babylon 5 novels and now the B5 comic books to the reference page. If there are other items that you feel should be included, let me know.
MAILING LISTS
THE GALACTIC GATEWAY
Here's a unique site for you! Jeffrey Willerth, Patricia Tallman, Mira Furlan, Claudia Christian, Robin Atkin Downes, Rick Biggs, Jerry Doyle, Bruce Boxleitner, Melissa Gilbert, Peter Jurasik and Bill Mumy are under it's umbrella. Actors from other shows have joined the Gateway. Ted Raimi and Robert Trebor from Xena and Hercules are now at GG. To subscribe to a mailing list for GG, send a blank note to thegalacticgateway-subscribe@egroups.com.
GATEWAY CHATTERS
There is never enough time to keep in touch with friends! To help out, a mailing list has been started for chatters over at the Galactic Gateway. If you are interested in joining, send a blank note to gateway-chatter-subscribe@egroups.com.
CALLING ALL ARTISTS
The Art Gallery at The Zocalo Today is open. There are SO MANY talented people in our Babylon 5 community. We have enjoyed works by Todd Brugman and Tye Bourdony on our toons page, but there are a host of others who enjoy drawing, painting, sketching their favorite characters. Here are a few works that have been received. I have some others that will be added soon.

If you would like to share your work with us at The Zocalo Today, please send along a digital photo of your work and I'll begin putting the gallery together. If you do not have your work in digital format, drop me a note and we'll see what we can work out.
CALLING ALL CLUBS
There are a number of fabulous Babylon 5/Crusade Clubs around the world. I'd like to begin listing them here on The Zocalo Today. Eric dropped me a note the other day providing information about a Club in France. I know there are other clubs in Brazil, Germany, Russia -- and who knows how many here in the US. Let's get a listing together. Perhaps we can share resources, even get together as we travel around. Drop the information about your Club to me at sgbruckner@aol.com or bruckner@isnnews.net. That information will be added to the new B5 Fan Club Listing.
BABYLON 5 NEWSLETTERS
If you have a newsletter you'd like to have listed at The Zocalo Today, send the information along. It will be posted on the B5 Fan Club/Newsletter page.

Ranger Shane in North Carolina sent in the following note about their "Jumpgate" newsletter.

Hey Sandy! Just wanted to give you an update on the NC B5 group's newsletter, Jumpgate. There's now a dedicated EMail address for submissions - jumpgatemag@bellsouth.net - and any submissions, solicited or un-, can be sent to this address. Also, issues are available for free download at the URL at the bottom of this message.

-- Jumpgate - The Newsletter of the North Carolina Babylon 5 Fan Club
Shane Killian, Editor
AN APPEAL TO BABYLON 5 FANS
Recently, I watched some of the Documentary "Trekkies" and only managed to get about halfway through it, before the whole thing frustrated me. I believe that Babylon 5 is just as worthy as any of the Treks, and more worthy than most of them.I would like to write a piece about the positive effects of Babylon 5, and explore B5'ers reactions. Thusly, I appeal to all those out there to send me the positive reactions, responses, to Babylon 5. How has it inspired you? How has it impacted on your life? How do you show that you are a fan of this show? I would love and welcome all responses and will distill them down and write an article that will appear in the Zocalo on the outcome of this appeal. Please have your responses in by Feb. 20th, or so. I will be most interested in what I do receive. Send them to my e-mail address, at CCB5Flamekeeper@aol.com.

Many Thankings,
Connie Colvin

** Connie would like to make this appeal open-ended. If you have items to contribute, please pass them along to her.
BABYLON 5/CRUSADE CONVENTIONS
CONVENTION CALENDAR
Want to know what conventions are ahead for the Babylon 5 and/or Crusade cast and crew? Use this link Convention Calendar. Have a convention you would like to have listed here? Pass along the information.
CONVENTION ALERT
Stephen Austin has been added to the guest roster at this year's Agamemcon convention in Burbank.
CONVENTION ATTENDANCE
Are you attending one of the conventions on the calendar? Or another one perhaps? Do you want to see who else might be there? Drop your e-mail address to TheZocalo@aol.com. We've begun an attendance page so that perhaps we can get together while enjoying the activities of the convention. Convention Attendance .
CONVENTION REPORTS
There are a number of convention reports, written by convention attendees, on the Reports Page. Photos from FarPoint have been added to the Photo Gallery.. If you have convention activity you would like to share with us, drop me a line.
UPCOMING EVENTS
MegaCon 2001
March 2-4, 2001; Orlando, FL
Guests: Jason Carter, Richard Biggs, Bill Mumy, Peter David (author)

For more information, visit their website at http://www.megaconvention.com or call (813)891-1702.
---

Slanted Fedora
March 2-4, 2001; Waterbury, CT
Guests: Claudia Christian, Wortham (Bob) Krimmer, Mary Kay Adams

For more information, visit their website at http://www.sfedora.com/waterbur.htm.
---

Creation - Philadelphia
March 3-4, 2001; Philadelphia, PA
Guests: Stephen Austin

For more information, visit their website at http://www.creationent.com or write to tickets@creationent.com or or call (818)409-0960; fax (818)409-0827.
---

FedCon
March 6-8, 2001; Bonn, Germany
Guests: Marjorie Monaghan

For more information, write to info@fedcon.de or call 49-821 219 0932; fax 49-821-219 1937.
---

Deepcon II/Babcon VI
March 8-11, 2001; Fiuggi, Italy
Guest: Stephen Furst

For more information, visit their website at http://www.babylon5.it.
---

Starfury 2001
March 16-18, 2001; London, UK
Guest: Jerry Doyle

For more information, write to SeanHarry@aol.com or visit their website at http://www.starfury.co.uk .
---

AggieCon 2001
March 22-25, 2001; College Station, TX
Guests: Julie Caitlin Brown

For more information, visit their website at http://aggiecon.tamu.edu or call (979)845-1515; fax (979)845-5117.
---

Slanted Fedora
March 23-25, 2001; Overland, KS
Guests: Mira Furlan

For more information, visit their website at http://www.sfedora.com/kansasMarch.htm or call (913)327-8735.
---

I-Con 20
March 30 - April 1, 2001; StonyBrook, NY
Guests: Harlan Ellison, Marjorie Monaghan, Jeanne Cavelos

For more information, visit their website at http://www.iconsf.org or call (631)632-6045; fax (631)632-6355.
---

Grand Slam 2001
March 30-April 1, 2001; Pasadena, CA
Place: Pasadena Convention Center
Guest: Stephen Austin

For more information, visit their website at http://www.creationent.com or write to tickets@creationent.com or or call (818)409-0960; fax (818)409-0827.
---
ZOCALO TRADING POST
There are some new and interesting items in the Trading Post. Take a look. If you have items you'd like to trade, post a note here. If you need a particular item, the Trading Post or Message Board could help you find it. Use this link to see what is listed. Trading Post. To have items included in The Trading Post, send a note to The Zocalo. Please put Trading Post in the subject line.
Pen Pals
If you are looking for someone to talk about Babylon 5 and Crusade with, the Pen Pal section is for you! Check it out! Drop a note to someone who is feeling B5 withdrawal -- BIG TIME!

People thought a Pen Pal page was a good idea. If you would like to meet people who you could chat with or share your opinions of the show with, send along your e-mail or snail-mail address The Zocalo. It will be incorporated on the new Pen Page Page.
IMPORTANT DATES AND BABYLON 5 HISTORY
March Birthdays

Richard Biggs - March 18
Jesus Trevino - March 26
Ed Wasser - March 26

Have I missed anyone? If you know the birthday of someone connected with Babylon 5, pass the information along. We want to include everyone in our Happy Birthday Wishes.
---
Babylon 5 Chronology
I've started to list part of the wonderful Babylon 5 Chronology created by Terry Jones and first published in the Babylon 5 magazine. This month's installation is the Great War. Great War Page lists events surrounding the THE GREAT WAR,1260-1261 and runs through 1888.

Terry has granted permission to use segments from the chronology here at The Zocalo Today.
MAIL FOR CAST AND CREW
Here's a recent note from JMS on the subject:

Just an FYI to those who've been using the Ventura Blvd. mail drop for fan mail to actors....

As mentioned before, we're phasing out the forwarding of fan mail because we a) don't have the resources, complicated by b) the actors have scattered to the four winds, and it makes it very difficult to get everything to everybody in a timely fashion.

So, having provided prior notice...fan mail to actors coming to the Ventura Blvd. mail drop will be sent back. Mail to actors should be sent via their official fan clubs. I will still be taking mail there, since it's my mailbox, but that's it.

Just so's y'all know and save a few bucks on postage and returns.

JMS' mail can be sent to:

14431 Ventura Boulevard, PMB 260
Sherman Oaks, CA 91423
BACK ISSUES OF THE ZOCALO TODAY
The front page of the The Zocalo Today changes daily, so be sure to check the back issues to make sure that you haven't missed anything IMPORTANT! I don't want the front page getting too long so I shift information periodically into the archives. So if you aren't a regular visitor to The Zocalo Today, be sure to check out the back issues. Just use the button above!
---
HELP!!!
NEW FLYER AVAILABLE: If you would like to take some flyers to a convention to help spread the word that The Zocalo is here and ready to provide you with information on everything Babylon 5 and Crusade! drop me a line. I'll be glad to send you some in the mail. I've created a PDF file that can be downloaded and printed. Flyer Thanks for helping to spread the word about The Z!

Take care and I look forward to hearing from you.
Sandra Bruckner (sgbruckner@aol.com)
Editor/Publisher
The Zocalo Today
http://www.isnnews.net
Copyright SBruckner, 2001