[an error occurred while processing this directive]

The Zocalo Today

Welcome! I am REALLY glad you dropped by. Take your shoes off, get comfortable and stay a while.

The Zocalo Today is an interactive newsletter. If you have suggestions, please send them along. The Zocalo Today is as much YOUR newsletter as it is mine! I'm just pulling together things for you! Join our weekly discussion topic. It is just one way you can interact with other Z readers. Send along letters, sightings of B5 cast and crew in other projects, convention reports, photos, etc. Don't miss our back issues. There is a LOT of information contained there and you'll not want to miss anything.

If you have questions, drop me a line at sgbruckner@aol.com or bruckner@isnnews.net.

Again, WELCOME!

March 23, 2001 04:44am
What's New
Frank Garcia has a review of "Casting Shadows" and Christopher DeRose has an extensive interview with author Jeanne Cavelos over at www.scifi.com.
---
Because Sunday is Oscar night, we are moving Marjean's chat to Monday night at 9pm ET. To join the chat, just logon to www.scifi.com/chat.
---
Everyone is looking for more information about the new Ranger series. As information comes out from JMS via the newsgroups, I am placing it on the JMS Speaks page. I will eventually break it off into it's own page.
---
With convention season nearly upon us, several people have been looking for roomies! If you are among them, send along information so that I can post it on the Attendance page. Hopefully this will help you link up with others.
---
Convention goers lost a friend on March 14. Although John and Galactic Entertainment did conventions all over the country, those of us who go to Shore Leave and Far Point will truly miss John Barrett. His stand was a premanent fixture at the top of the escalator landing, and it was filled with videos, t-shirts, pictures, whatever. He was an honorable man in a business that is often frequented by those who are not. Thank you Slanted Fedora for posting a terric page about John.
---
Babylon 5 started climbing again last week. They rose to #3, just behind John Edward and First Wave. They had a .9 rating, along with Farscape, Lexx and The Day After. These ratings are for 2/26-3/4/01.
---
Melissa Gilbert did very well on "Who Wants to Be a Millionaire" last night. She raised $32,000 for the Los Robles Hospital Volunteers, Inc.
---

The new cover for Jeanne Cavelos' second volume of the Technomage series has been posted at Amazon.com. The novel is set for publication in July.
---
Change is a good thing! Over at The Galactic Gateway, there has been some redesigning and restructuring. I hope that you'll pop over and give it a look-see at www.thegalacticgateway.com.
---
Mitch Obrecht has sent along a review of "Casting Shadows". Read it and see if you agree. It's on the Zocalo's Reviews Page.

While leafing through the latest issue of Diabetes Forecast, who should I spot? VIR!!! Yes, there is a great article about Stephen Furst and his recent film on diabetes. More on this soon.
---
While wandering the newsgroups this morning, I came across a posting about the "Declaration of Principles". It included a link to http://www.tp2b.de/babylon_project/2262_declaration.jpg. I suggest you give it a look and enjoy, once again, the magnificent words. Hopefully you can hear G'Kar repeating the words as you read.
---
NEWS AROUND THE SCI-FI GENRE
March 23:
BATTLESTAR GALACTICA: Things are moving ahead nicely, according to Tom DeSanto, who is in charge of develping the updated Galactica for the SCIFI channel with his X-Men partner Bryan Singer. "We open offices on [March 19], which is a good sign," DeSanto said in an interview. "Right now, we have outlines and a bible we're working on, characters and all that stuff. "We've got a bunch of ideas for the pilot. The basic storyline is all done, and where we're taking it for the first season, hopefully. ... [The timeline] will be a bit ahead. I won't say how many years, but it will be a little bit ahead."
---
THOR: While comic books seem to be hot as far as TV and film, THOR did not get picked up for a series this year. Marvel Studios' Rick Ungar told the Comics Continuum Web site that no network picked up the proposed live-action series for next season. "Thor, right now, is nowhere at this moment."
---
VOYAGER: There are a lot of things Jeri Ryan will NOT miss as Voyager comes to an end. In talking to Entertainment Tonight, Jeri stated, "I won't miss the corset. "I won't miss having the rubber glued to my face every day. But I'll miss these people. ... You really do become like a family, because you see them more than you see your family. ... And I'll miss this character. She's been a real joy to play, a real gift for an actor."
---
VOYAGER: Entertainment Tonight last night featured a story on the coming Star Trek: Voyager finale. Cinescape.comhas a rundown of some hints given.
---
SPIDEY VIDEO GAMES: Activision has acquired the rights to publish video games based on Sam Raimi's upcoming Spider-Man movie. Activision said it will work with director Raimi, Columbia Pictures and Spider-Man Merchandising to create games that reflect the film's storyline, characters and environments. Games will be developed and published for all platforms.
---
BUFFY: The fight for Buffy continues. Variety reports that UPN stepped up to the table with a "signficant offer" for the series. Fox is also in the running. WB is still negotiating and may have made an offer that was better than the previously reported $1.6M per episode previously brought to the table.
---
WILLIAM HANNA: Animation pioneer William Hanna, who with partner Joseph Barbera created such beloved cartoon characters as Fred Flintstone, Yogi Bear and Tom and Jerry, died Thursday. He was 90.
---
March 22:
THE ONE: James Wong, director of The One, along with his writing and producing partner Glen Morgan told SCI FI Wire that the movie is actually based on a kernel of real scientific theory: that multiple universes may exist. Currently shooting in the Los Angeles area, The One tells the story of a sheriff's deputy (Jet Li) who discovers that he is being pursued by an evil, super-powerful version of himself from a parallel universe.
---
SAINT SINNER: Clive Barker will work with SCIFI to develop a two-hour telefilm based on his Saint Sinner comic series. Since the comic serves as a starting point, Saint Sinner tells the story of a 19th-century monk who unwittingly unleashes two female demons and must pursue them through time to present-day Los Angeles to stop them from wreaking havoc. The project is slated to premiere on SCI FI in 2002.

GEORGE TAKEI: George Takei will thank fans for their continued support at the upcoming Grand Slam Star Trek Convention in Pasadena, Calif., on March 30. Fans are still pressing for a television movie or show based on the exploits of Takei's Hikaru Sulu character and the U.S.S. Excelsior.
---
SPIDERMAN: There are some new pictures of the Green Goblin over at www.cinescape.com.
---
March 21:
RATINGS: The ratings for SF syndicated series are out. Here are the numbers: The X-Files 4.0; 3rd Rock 3.5; Xena 3.5; Andromeda 3.3; Stargate SG-1 3.3; Earth: Final Conflict 2.3; Profiler 2.0; Sheena 1.8; Invisible Man 1.7, and The Outer Limits 1.7.
---
HOW TO MAKE A MONSTER: According to the Hollywood Reporter, production is to begin this week on "How to Make a Monster". This HBO/Cinemax production will star Steven Culp and Clea DuVall with George Huang doing the writing and directing. This fourth installation of HBO's Creature Feature series will also star Tyler Mane (X-Men), Jason Marsden and Karim Prince (Freakylinks). Monster tells the story of a man (Culp) who hires three computer programmers to create a computer game, Evilution, which centers on an evil monster. The men compete to create the scariest monster, hoping to win $1 million, but in loading evil into the computer, they inadvertently create live monsters.
---
VOYAGER: Cinescape.com has a run down of the final episodes of Voyager. LeVar Burton is returning to direct one of the final episodes, "Q2".
---
March 20:
FAN SUPPORT: There are several genre shows in trouble as we near the end of the TV season. Many fans have begun letter-writing campaigns in support of Poltergeist, Roswell and others. Over at SCIFI.COM they have a poll so that you can pick which show should be continued. Your choices are: Freakylinks, Roswell, The X-Files and Poltergeist: The Legacy. Be sure to cast your vote today.
---
WAR OF THE WORLDS: Sourcebooks has published The Complete War of the Worlds: Mars' Invasion of Earth from H.G. Wells to Orson Welles, edited by Brian Holmsten and Alex Lubertozzi. Complete with a foreword by Ray Bradbury and an afterword by Ben Bova, the book contains the entire text of Wells' War of the Worlds, as well as Welles' infamous 1938 radio broadcast and personal accounts of people who lived through it. An audio CD contains the entire radio broadcast.
---
JOSHUA: According to the Hollywood Reporter, Jon Purdy will direct the supernatural drama film Joshua for Crusader Entertainment. The film is slated to start shooting May 1 and tells the story of a possible second coming of Christ to a small U.S. town.
---
TREK SERIES: Rumors are indeed plentiful related to the new Trek series being developed. The latest from the TrekToday Web site states that Scott Bakula (Quantum Leap) is under consideration for the lead role in the upcoming fifth Star Trek series. The site indicates that Bakula is in talks to play the role of Jackson Archer, captain of a starship named Enterprise in the top-secret show.
---
JURASSIC PARK III: Films seem to be a series of one-up-manship. Stan Winston, veteran from Jurassic Part and Lost World is at it again for JP III. "Well, we've got to out-do the T-rex. So the Spinosaur is bigger and meaner and badder." You can read more over at www.cinescape.com
---
SPIDERMAN - The production company is New York bound! According to the Forest Hills Ledger, the production will set up in Forest Hills, Queens, for two days of shooting this spring. The paper reports that shooting will tentatively take place on April 25 and May 4 at 69th Road between Metropolitan and Sybilla Street. Local residents will be hired to act as extras during shooting.
---
NEW PILOTS: While it is way too early to tell one way or the other, the Hollywood Reporter has a list of new pilots for the coming season. It looks as if it might be another very LONG, dry TV season ahead. A few good possibles though: the Ann Rice Angels series sounds interesting; Smallville (Young Superman) and Dead Zone (based on Stephen King's book). Take a look for yourself at http://www.hollywoodreporter.com/television/pilots.asp.
---
March 19:
FARSCAPE: Did you catch the season three premiere on Friday? There's a review over at http://scifi.ign.com/tv/6405.html in case you did.
---
March 18:
Master of horror flicks, Clive Barker, told SciFi Wire that production on his upcoming six-hour Showtime miniseries Weaveworld will begin soon. Russell Mulcahy will direct and it will more than likely be shot in Australia. Although the project has not been cast as yet, Barker foresees a two-year production period to incorporate the story's elaborate special effects. Weaveworld is based on Barker's novel about a mysterious world woven into a magical rug. The world is populated by the Seerkind, a people who possess raptures, the power to make magic, and who have woven themselves into the world to protect themselves from an unspeakable horror known as the Scourge.
---
LONE GUNMEN: There are new photos from the Lone Gunman series over at www.cinescape.com. There are a number from upcoming episodes, so beware.
---
SUPERMAN: Warner Bros. plans to play "Superman" in San Antonio theaters for at least two weeks, starting March 23. Depending on grosses, it will then determine how long it stays in theaters.
---
SPIDERMAN: The official website opens at http://www.spider-man-movie.com/ on March 23.
---
WRITING WORKSHOP: Do you have aspirations of being another Jeanne Cavelos or Bruce Boxleitner? Want to see if writing is for you? DelRey has just announced an on-line writing workshop that may be the answer for you. Drop over to http://delrey.onlinewritingworkshop.com/ and see what it's all about. Looks like a fantastic opportunity to see if this is truly something you want "and need" to do.
---
SCIFI MOVING AHEAD - B5 RANGERS
Press Release

SCI FI Channel Hitting Its Stride

Now in 70 Million Homes -- Adding Original Miniseries & Movie Events to Development Slate

NEW YORK--(ENTERTAINMENT WIRE)--March 20, 2001--SCI FI Channel continues to pump up its original programming slate while aggressively adding homes to its distribution count. This month, the Channel reaches nearly full distribution by hitting the 70 million home mark -- up 47% in distribution since the company was acquired in February '98. Already the largest provider of original primetime scripted series on cable -- basic or premium, SCI FI has broadened its focus to include a brand-new slate of original movie and miniseries projects.

Upcoming projects include:

BABYLON 5: The Legend of the Rangers -- The original creative team behind the popular science-fiction Babylon 5 television series and movies are on board to produce the all-new full-length action adventure Babylon 5: The Legend of the Rangers, to premiere exclusively on SCI FI later in the year. The two-hour telefilm will be executive produced by Douglas Netter and executive producer/creator J. Michael Straczynski, and is scheduled to begin production shortly. Babylon 5: The Legend of the Rangers takes up the story of the legendary Ranger fleet as they attempt to restore order to hundreds of civilizations devastated by the Shadow War. This new chapter in creator Straczynski's fascinating universe finds the elite and mysterious Ranger force -- a combination of male and female humans and alien Minbari trained in space warfare, the unique alien philosophy of the rangers, and every conceivable form of martial arts -- faced with deadly challenges in their attempt to create peace out of the war's destruction. Babylon 5 series cast members may also appear, with the movie serving as the pilot for a potential SCI FI Channel series.

JMS on the new project:

Well, that's at least ONE weight off my chest....

To those who've heard the news already, and those just now finding out...the SciFi Channel today announced that we have a new Babylon 5 TV movie going into production that will also serve as a pilot for a likely new series.

The movie (and the series) is under the heading of BABYLON 5: THE LEGEND OF THE RANGERS. The specific title for the 2-hour movie's story is "To Live and Die in Starlight."

There isn't much I can tell you about the story because we're kinda keeping the details under wraps as much as possible for the time being. What little I can say....

It's set in the B5 universe just under 3 years after the events of "Objects at Rest." At this point there's one major character from the B5 universe in the script (a fan favorite). Where B5 was a heavy drama with some adventure/action elements, this one is a little more skewed toward adventure with underlying drama (which is about what you'd expect from the Anla-Shok).

We've been sitting on this information for a while now...such that we're already well into pre-production. We'll be shooting this movie around mid-May, well in advance of any potential actor's strike (the script is done and so far everybody likes it a LOT).

We've already got designs coming in on a new ship, and a new *kind* of ship...and we're going to be getting more into Minbari aesthetics, technologies and philosophy.

It's got some great characters, and it's a lot of fun.

I have other news to announce on other fronts...have since the end of the year, in fact...but I'm still sitting on the details awaiting another press release from another studio. What I *can* say is that I have a firm GO order to executive produce a new series (nominally SF) that will go into production after the potential SAG strike. When that's finally over, if the strike indeed happens, we pull the trigger and go into principal photography and it's an order for a full season's worth of episodes.

I can't give you any details right now on the subject, title, studio or network. That will have to await the studio's release...so don't even ask.

As far as doing both projects at the same time is concerned...it's actually quite common, as testified to by folks like John Wells and Aaron Sorkin and David Kelly and others. So there won't be any conflict.

More later.
CHAT WITH MARJEAN HOLDEN ON MONDAY
Marjean Holden, Dr. Sarah Chambers to fans of Crusade AND currently Arina on the "Beastmaster" series, will be chatting with fans over at the SCIFI website on Monday night at 9pm ET. The chat was orginally planned for Sunday, but since that's Oscar night, we decided to move the chat to Monday! To join the chat, just login to www.scifi.com/chat.
CRUSADE BROADCAST ORDER
JMS on Crusade's broadcast order:

So the SciFi Channel asked me what order I'd like to air the series in, since the folks at TNT kafuffled the airdates and schedule based on what I'd originally had in mind. The theory is, you start out with general episodes to introduce the situation, characters and story, then you focus on individual characters. The first five we shot, intended to produce this effect, got shoved to the back of the line and we then had to air the individual-themed ones *first*...essentially inverting the order.

So SFC asked me what the preferred author's order would be...and that's how they've structured it, costume change be damned. Yes, there will be some dialogue glitches now, because we looped a few things to try and do least violence to the chronology of previously shot shows...but from an overall story perspective, this is the preferred order (as best I could remember it when they called and asked).

So here is the order in which the Crusade eps will be broadcast:

Mon, April 9 8:00 PM CRUSADE RACING THE NIGHT
Tue, April 10 8:00 PM CRUSADE THE NEEDS OF EARTH
Wed, April 11 8:00 PM CRUSADE THE MEMORY OF WAR
Thu, April 12 8:00 PM CRUSADE THE LONG ROAD
Mon, April 16 8:00 PM CRUSADE VISITORS FROM DOWN THE STREET
Tue, April 17 8:00 PM CRUSADE THE WELL OF FOREVER
Wed, April 18 8:00 PM CRUSADE EACH NIGHT I DREAM OF HOME
Thu, April 19 8:00 PM CRUSADE PATTERNS OF THE SOUL
Mon, April 23 8:00 PM CRUSADE THE PATH OF SORROWS
Tue, April 24 8:00 PM CRUSADE RULING FROM THE TOMB
Wed, April 25 8:00 PM CRUSADE THE RULES OF THE GAME
Thu, April 26 8:00 PM CRUSADE WAR ZONE
Mon, April 30 8:00 PM CRUSADE APPEARANCES AND OTHER DECEITS
TECHNOMAGE TRILOGY - ON BOOKSHELVES NOW!
"Babylon 5: Casting Shadows" Jeanne Cavelos' trilogy on the Technomage is out. Part two, "Summoning Light", will be released in July! DelRey website has the books available for ordering now. The synopsis up on "Summoning Light" is quite a teaser!

To learn more about Jeanne, visit her website at www.sff.net/people/jcavelos. Jeanne is a scientist, mathametician and author! She's worked with NASA and Harlan Ellison on a writing series! I'm sure you will find her an interesting person to chat with.

** FYI: Jeanne has joined the B5 forum here, talking about the Technomage in both the B5 and Crusade topics.
THIS WEEK'S DISCUSSION TOPICS
It looks as if a number of you REALLY enjoyed last week's discussion topic. For those who sent in responses, THANK YOU!

This week, let's do something a little different. Let's talk minor characters! There were a LOT of them, but some made MAJOR contributions to the story -- and the show. Which one is your favorite? Would it be Neroon, Zathras, Morden, Lorien? Why did you pick them? Let's give them the attention they deserve!

Send in your favorite MINOR character to either TheZocalo@aol.com or b5web@aol.com.. You can also post your comments on the message board at www.isnnews.net/board. To see what other readers have posted on this and other topics, follow this link to Current Discussion Topic page.
---
BABYLON 5/CRUSADE PHOTOSHOP
NEW PHOTOS
You do NOT have to pay the prices asked for over at e-bay! Here are photos of B5 and Crusade cast members at fantastic prices. Check out Photo Shop. Ordering is easy -- and you can't beat the prices! Just let me know which photos you want and I'll check to make sure they are still in stock.
KEEPING UP WITH CAST AND CREW
Peter Woodward just returned from Texas where he filmed one of the final episodes of Walker: Texas Ranger.

A Behind-the-Scenes look at Peter Woodward's show on ancient Egypt and the pyramids is currently showing on the History Channel. The actual program will air on May 28.
---
Stephen Austin begins THE 1940's RADIO HOUR in the role of "Lou Cohn", March 30 - April 28, 2001 at the The Conjeo Player's Theatre in Thousand Oaks, California. For more information, call 805-495-3715. The show starts at 8pm.
---
Peter Jurasik and Fan Boy Comics are organizing a convention on April 21 in Wilmington, NC. Peter will be there along with a number of comic book artists, etc. Check out http://geocities.com/fanboycomics2000/pagethree.htm for more details.
---
On March 26th, JMS will be doing a panel discussion on writing for the fantastic, which will be carried via satellite to various universities and the two divisions of the Museum of Television and Radio. The panel will feature JMS, Harlan Ellison, Chris Carter and 1-2 others TBD. Richard Matheson has been added to the panel.
---
BABYLON 5/CRUSADE CHRONOLOGY
Terry Jones' put a tremendous amount of time and effort into creating a Babylon 5/Crusade Chronology that was published in the Official Babylon 5 magazine.

Last month, I started the Sheridan Chronology over at The Galactic Gateway. Part II of his timeline is now up at the website. Others will follow.

This month here at The Zocalo Today, you'll find, The 20th Century, which recounts events that have some impact on Babylon 5.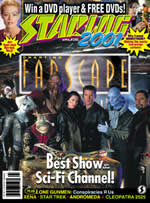 Farscape is the main feature this month! Producer David Kemper goes over the show to date and gives us a few hints at the future. Also included is a look at Jeri Ryan (7 of 9 from Voyager), Lone Gunmen, The Tick, Cleopatra 2525, and some terrific glimpses of the past with John Hart, Ike Eissenmann, and Dan O'Herlihy.
Dreamwatch #79: Despite the somewhat creepy cover of Dark Angel and Hannibal, this issue has a ton of good stuff inside. there are interviews with Anthony Hopkins, Julianne Moore, James Cameron, David Duchovney, Richard Dean Anderson, Ted Raimi and more! Joe Nazzaro talks to Dave Elsey, the alien construction genius and David Kemper, producer of Farscape.






CULT TIMES #66: What's happening with Earth: Final Conflict. CT has an interview with Robert Leeshock. With Voyager winding down, Robert Picardo talks about what lies ahead in the two-hour special Flesh and Blood.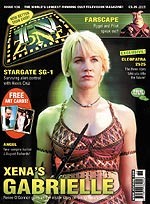 TV ZONE #136: Renee O'Connor has spent the last six years on Xena. As that series comes to an end, Renee looks back over the highs and lowes of the show, talks about directing and working with Lucy Lawless. Farscape fans will enjoy an interview with Lani Tupu who plays both Crais and Pilot on the series. Skaara is back on Stargate SG-1 and Alex Cruz talks about his recurring role.
BABYLON 5 FAN CLUB
Sad news. I don't know what the fate of the B5 Fan Club will be. Netter Digital filed for bankruptcy in July and all their worldly posessions were auctioned off on December 7. Thestation.com is back on-line, however the Emporium has been closed.
SCI-FI SCHEDULE
BABYLON 5's Schedule: 7pm each evening:

Air Date Title

March 23 And the Sky Full of Stars

March 26 Deathwalker
March 27 Believers
March 28 Survivors
March 29 By Any Means Necessary
March 30 Signs and Portents

April 2 TKO
April 3 Grail
April 4 Eyes
April 5 Legacies
April 6 A Voice in the Wilderness - Part 1

April 9 A Voice in the Wilderness - Part 2
April 10 Babylon Squared
April 11 The Quality of Mercy
April 12 Chrysalis
April 13 Points of Departure

CRUSADE'S SCHEDULE: 8pm on SCIFI

Mon, April 9 8:00 PM CRUSADE RACING THE NIGHT
Tue, April 10 8:00 PM CRUSADE THE NEEDS OF EARTH
Wed, April 11 8:00 PM CRUSADE THE MEMORY OF WAR
Thu, April 12 8:00 PM CRUSADE THE LONG ROAD
Mon, April 16 8:00 PM CRUSADE VISITORS FROM DOWN THE STREET
Tue, April 17 8:00 PM CRUSADE THE WELL OF FOREVER
Wed, April 18 8:00 PM CRUSADE EACH NIGHT I DREAM OF HOME
Thu, April 19 8:00 PM CRUSADE PATTERNS OF THE SOUL
Mon, April 23 8:00 PM CRUSADE THE PATH OF SORROWS
Tue, April 24 8:00 PM CRUSADE RULING FROM THE TOMB
Wed, April 25 8:00 PM CRUSADE THE RULES OF THE GAME
Thu, April 26 8:00 PM CRUSADE WAR ZONE
Mon, April 30 8:00 PM CRUSADE APPEARANCES AND OTHER DECEITS
RISING STARS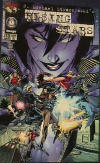 RISING STARS #14 - Coming Soon
Joe's Comics
10/23/2000
(W) J. Michael Straczynski (P) Christian Zanier

"The last of the colored pages came through on Friday, so it should be out in a few weeks."

** The Rising Star figures are previewed on the Top Cow Preview page at http://www.topcow.com/.
MIDNIGHT NATION #5 - OUT NOW
There is a fantastic review of Midnight Nation #5 over at IGN.COM. Here's a note from the newsgroup about where you may be able to find the back issues of Rising Stars and Midnight Nation you need.

Try www.monstermart.com VERY inexpensive, a full range of back issues and VERY prompt (4 days to deliver, ordering on Xmas eve!!) about $2-50 per issue apart from a few of the specials like 0 and 1/2 etc.
NO HONOR - OUT NOW
Covers by Clayton Crain, Marc Silvestri and David Finch.

There is also a Michael Turner Issue #1 Cover available only at Conventions. It may be available through Top Cow at Chicago Comic Con or San Diego Comic Con in 2001!

There is a review of this book out at http://scifi.ign.com/comics/6320.html.

You can find more information about the comic posted at www.fionaavery.com or www.nohonor.com.
NEW BABYLON 5 TOONS
John Cook has a new cartoon contest going. Try your hand at a punch line.




A oldie but goodie from Tye Bourdony (www.thelightersideofscifi.com).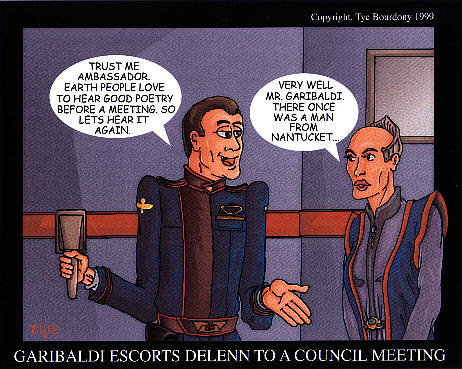 TOONS FOR CHARITY
Tye Bourdony (www.thelightersideofscifi.com) and Claudia Christian are pairing up for a very worthy cause. Claudia has signed one of Tye's satires (a one of a kind) and it will be auctioned off at the Globelist Charities for the John Wayne Cancer Foundation. To participate in the auction, go to http://globelistauction.homestead.com/page2.html.
READER DIRECTORY
Sometimes you just can't find the e-mail address for someone you know you have -- it's someone who responded to a discussion topic or you met in one of the chat rooms. You'd like to send a personal note, but .... No address!!!!

We've started a White Pages of Zocalo Readers! It's a handy way of keeping track of people -- and putting together a birthday/greeting card list as well. If you would like to be part of the listing, just send me your name, state, e-mail address and (if you'd like to have it listed) birthday (without year) to sgbruckner@aol.com. Check out the Directory of Readers.

March Birthdays - Zocalo Readers

Helen Cripe - March 2
Helen is a frequent responder to our discussion topics. Thanks Helen, Happy Birthday!

Connie Colvin - March 5
A staunch fan and keeper of the flame

HAPPY BIRTHDAY!
BABYLON 5 REFERENCE PAGES
The Official Babylon 5 Magazine is indexed here as well. With the closure of the magazine in May, you'll want to see which magazines you have -- and which ones you will want to collect. The index may help you make a decision on which ones to choose. The Fan Club has many of the issues at thestation.com , making it very easy to complete your collection.

Universe Today -- the Babylon 5 Fan Club quarterly can also be found here. The index gives you a rundown of what articles were presented, what interviews published.

If you have magazines that have featured Babylon 5 or Crusade that are not listed, send along their issue number and a note to indicate what the article was about. It would be nice to have a fairly comprehensive listing of Babylon 5 publications here.

I have added a listing of all the Babylon 5 novels and now the B5 comic books to the reference page. If there are other items that you feel should be included, let me know.
MAILING LISTS
BABYLON 5 DISCUSSION LIST
The Babylon 5 discussion mailing list is for any and all discussions and/or news pertaining to or related to Babylon 5 and/or Crusade. The list has been in existence for the past three years now, and has recently moved. The new location is http://lists.apparition.org/cgi-bin/lyris.pl, and you can subscribe by sending a blank e-mail message to join-babylon_5-l@lists.apparition.org.
THE GALACTIC GATEWAY
Here's a unique site for you! Jeffrey Willerth, Patricia Tallman, Mira Furlan, Claudia Christian, Robin Atkin Downes, Rick Biggs, Jerry Doyle, Bruce Boxleitner, Melissa Gilbert, Peter Jurasik and Bill Mumy are under it's umbrella. Actors from other shows have joined the Gateway. Ted Raimi and Robert Trebor from Xena and Hercules are now at GG. To subscribe to a mailing list for GG, send a blank note to thegalacticgateway-subscribe@egroups.com.
GATEWAY CHATTERS
There is never enough time to keep in touch with friends! To help out, a mailing list has been started for chatters over at the Galactic Gateway. If you are interested in joining, send a blank note to gateway-chatter-subscribe@egroups.com.
GATEWAY TRADER
Are you looking for a particular Babylon 5 collectible? Do you have some items you'd like to trade? Then this is the list for you. To join, send a blank note to gateway-trader-subscribe@egroups.com.
CALLING ALL ARTISTS
The Art Gallery at The Zocalo Today is open. There are SO MANY talented people in our Babylon 5 community. We have enjoyed works by Todd Brugman and Tye Bourdony on our toons page, but there are a host of others who enjoy drawing, painting, sketching their favorite characters. Here are a few works that have been received. I have some others that will be added soon.

If you would like to share your work with us at The Zocalo Today, please send along a digital photo of your work and I'll begin putting the gallery together. If you do not have your work in digital format, drop me a note and we'll see what we can work out.
CALLING ALL CLUBS
There are a number of fabulous Babylon 5/Crusade Clubs around the world. I'd like to begin listing them here on The Zocalo Today. Eric dropped me a note the other day providing information about a Club in France. I know there are other clubs in Brazil, Germany, Russia -- and who knows how many here in the US. Let's get a listing together. Perhaps we can share resources, even get together as we travel around. Drop the information about your Club to me at sgbruckner@aol.com or bruckner@isnnews.net. That information will be added to the new B5 Fan Club Listing.
BABYLON 5 NEWSLETTERS
If you have a newsletter you'd like to have listed at The Zocalo Today, send the information along. It will be posted on the B5 Fan Club/Newsletter page.

Ranger Shane in North Carolina sent in the following note about their "Jumpgate" newsletter.

Hey Sandy! Just wanted to give you an update on the NC B5 group's newsletter, Jumpgate. There's now a dedicated EMail address for submissions - jumpgatemag@bellsouth.net - and any submissions, solicited or un-, can be sent to this address. Also, issues are available for free download at the URL at the bottom of this message.

-- Jumpgate - The Newsletter of the North Carolina Babylon 5 Fan Club
Shane Killian, Editor
AN APPEAL TO BABYLON 5 FANS
Recently, I watched some of the Documentary "Trekkies" and only managed to get about halfway through it, before the whole thing frustrated me. I believe that Babylon 5 is just as worthy as any of the Treks, and more worthy than most of them.I would like to write a piece about the positive effects of Babylon 5, and explore B5'ers reactions. Thusly, I appeal to all those out there to send me the positive reactions, responses, to Babylon 5. How has it inspired you? How has it impacted on your life? How do you show that you are a fan of this show? I would love and welcome all responses and will distill them down and write an article that will appear in the Zocalo on the outcome of this appeal. Please have your responses in by Feb. 20th, or so. I will be most interested in what I do receive. Send them to my e-mail address, at CCB5Flamekeeper@aol.com.

Many Thankings,
Connie Colvin

** Connie would like to make this appeal open-ended. If you have items to contribute, please pass them along to her.
BABYLON 5/CRUSADE CONVENTIONS
CONVENTION CALENDAR
Lots of updates to the calendar. I hope you will check it out and see if there are any Babylon 5 conventions in YOUR future! Use this link Convention Calendar. Have a convention you would like to have listed here? Pass along the information.

CONVENTION ATTENDANCE

Are you attending one of the conventions on the calendar? Or another one perhaps? Do you want to see who else might be there? Drop your e-mail address to TheZocalo@aol.com. We've begun an attendance page so that perhaps we can get together while enjoying the activities of the convention. Convention Attendance .
CONVENTION REPORTS
There are a number of convention reports, written by convention attendees, on the Reports Page. Photos from FarPoint have been added to the Photo Gallery.. If you have convention activity you would like to share with us, drop me a line.
UPCOMING EVENTS
AggieCon 2001
March 22-25, 2001; College Station, TX
Guests: Julie Caitlin Brown

For more information, visit their website at http://aggiecon.tamu.edu or call (979)845-1515; fax (979)845-5117.
---

Slanted Fedora
March 23-25, 2001; Overland, KS
Guests: Mira Furlan

For more information, visit their website at http://www.sfedora.com/kansasMarch.htm or call (913)327-8735.
---

I-Con 20
March 30 - April 1, 2001; StonyBrook, NY
Guests: Harlan Ellison, Marjorie Monaghan, Jeanne Cavelos

For more information, visit their website at http://www.iconsf.org or call (631)632-6045; fax (631)632-6355.
---

Grand Slam 2001
March 30-April 1, 2001; Pasadena, CA
Place: Pasadena Convention Center
Guest: Stephen Austin

For more information, visit their website at http://www.creationent.com or write to tickets@creationent.com or or call (818)409-0960; fax (818)409-0827.
---
ZOCALO TRADING POST
There are some new and interesting items in the Trading Post. Take a look. If you have items you'd like to trade, post a note here. If you need a particular item, the Trading Post or Message Board could help you find it. Use this link to see what is listed. Trading Post. To have items included in The Trading Post, send a note to The Zocalo. Please put Trading Post in the subject line.
Pen Pals
If you are looking for someone to talk about Babylon 5 and Crusade with, the Pen Pal section is for you! Check it out! Drop a note to someone who is feeling B5 withdrawal -- BIG TIME!

People thought a Pen Pal page was a good idea. If you would like to meet people who you could chat with or share your opinions of the show with, send along your e-mail or snail-mail address The Zocalo. It will be incorporated on the new Pen Page Page.
BABYLON 5 BIRTHDAYS
March Birthdays

Richard Biggs - March 18
Jesus Trevino - March 26
Ed Wasser - March 26

Have I missed anyone? If you know the birthday of someone connected with Babylon 5, pass the information along. We want to include everyone in our Happy Birthday Wishes.
MAIL FOR CAST AND CREW
Here's a recent note from JMS on the subject:

Just an FYI to those who've been using the Ventura Blvd. mail drop for fan mail to actors....

As mentioned before, we're phasing out the forwarding of fan mail because we a) don't have the resources, complicated by b) the actors have scattered to the four winds, and it makes it very difficult to get everything to everybody in a timely fashion.

So, having provided prior notice...fan mail to actors coming to the Ventura Blvd. mail drop will be sent back. Mail to actors should be sent via their official fan clubs. I will still be taking mail there, since it's my mailbox, but that's it.

Just so's y'all know and save a few bucks on postage and returns.

JMS' mail can be sent to:

14431 Ventura Boulevard, PMB 260
Sherman Oaks, CA 91423
BACK ISSUES OF THE ZOCALO TODAY
The front page of the The Zocalo Today changes daily, so be sure to check the back issues to make sure that you haven't missed anything IMPORTANT! I don't want the front page getting too long so I shift information periodically into the archives. So if you aren't a regular visitor to The Zocalo Today, be sure to check out the back issues. Just use the button above!
---
HELP!!!
NEW FLYER AVAILABLE: If you would like to take some flyers to a convention to help spread the word that The Zocalo is here and ready to provide you with information on everything Babylon 5 and Crusade! drop me a line. I'll be glad to send you some in the mail. I've created a PDF file that can be downloaded and printed. Flyer Thanks for helping to spread the word about The Z!

Take care and I look forward to hearing from you.
Sandra Bruckner (sgbruckner@aol.com)
Editor/Publisher
The Zocalo Today
http://www.isnnews.net
Copyright - SBruckner, 2001