[an error occurred while processing this directive]

The Zocalo Today

Welcome! I am REALLY glad you dropped by. Take your shoes off, get comfortable and stay a while.

The Zocalo Today is an interactive newsletter. If you have suggestions, please send them along. The Zocalo Today is as much YOUR newsletter as it is mine! I'm just pulling together things for you! Join our weekly discussion topic. It is just one way you can interact with other Z readers. Send along letters, sightings of B5 cast and crew in other projects, convention reports, photos, etc. Don't miss our back issues. There is a LOT of information contained there and you'll not want to miss anything.

If you have questions, drop me a line at sgbruckner@aol.com or b5web@aol.com.

Again, WELCOME!

March 29, 2002 4:24am
What's New
JMS AT AMAZON: Ranger Graham sent along a note about JMS material available at Amazon.com: Amazing Spider-Man: Coming Home - Graphic Novel Now shipping
Delicate Creatures - Now shipping
Rising Stars Vol 1 - Graphic Novel Now shipping
Rising Stars Vol 2 - Graphic Novel Shipping soon
---
MELISSA GILBERT: Melissa resoundingly won a re-run election for the SAG Presidency. However, there is much work ahead, including negotiations for a new franchise with the ATA. Hollywood Reporter asked Melissa what would be needed to gain approval of the agreement. Read all about it over on http://www.hollywoodreporter.com/hollywoodreporter/frontpage/article_display.jsp?vnu_content_id=1448719.
---
SPEEDY RECOVERY: Over in the B5 newsgroup, JMS indicated he had fallen recently and fractured and sprained his left ankle, AND fractured and dislocated his right ring finger. Here's to a speedy recovery! Take care.
---
LINKS: I've put some new links on the Links page here -- including a number of Jeremiah sites.
---
JEREMIAH: JMS throws out a few more details related to Jeremiah. All of his comments can be found on the Jeremiah Page.
---
B5 ON DVD: Everyone has been waiting for some sort of official word from the WB on whether or not the series would be coming out on DVD. The critical determining factor was sales of the first DVD released in December. If the first DVD did well, others would surely follow. Still no official word on this front, but www.B5LR.com indicates a source has said that the resulting sales were positive enough for Warner Bros. to make a decision to release the series on DVD. We'll see if some official statement will follow.
---
JEREMIAH: A new site is up and running to help webmasters distribute information about Jeremiah. If you want to incorporate a banner or photos, this is the place to go. Details below.
---

BLOOD DRIVES: If you are able, be sure to roll up your sleeves and give blood -- both now and in a couple of weeks. The need for blood will be continual. Right now, the tremendous outpouring of volunteers has filled quotas and storage space! FANTASTIC!!! But those supplies will be utilized and a new supply will be needed soon. Check out donation drives near you. I'm signed up already.
---
The e-mail version of The Zocalo Today goes out on Saturdays. If you would like to be included on the mailing list, just send a blank note to thezocalo-subscribe@yahoogroups.com. If that doesn't work for you, drop me a note at sgbruckner@aol.com. I can add you manually. Our new back-up site is located at http://sgbruckner.tripod.com. If you can't get into www.isnnews.net, try this site for new information.
---
NEWS AROUND THE SCI-FI GENRE
March 29:
RATINGS: Top 10 SF Network Shows: Touched by an Angel 5.8; The X-Files 5.5; Futurama 4.5; Smallville 3.9; Buffy 3.2; Enterprise 3.0; Angel 2.5; Sabrina 2.0; Charmed 1.9, and Roswell 1.7. Source: Nielsen Galaxy Report, 2/25/02 - 3/3/02.
---
TWO TOWERS: The next installment of The Lord of the Rings is not due to hit theaters until December 18, but already New Line has screened a trailer for the movie while promoting the upcoming video and DVD release of the first Rings film, The Fellowship of the Ring. The trailer is expected to hit theaters attached to prints of Fellowship starting March 29. The trailer begins with the last shot from Fellowship, with Frodo (Elijah Wood) and Sam (Sean Astin) looking over cliffs. As the screen fades to black, text promises that The Two Towers will arrive this Christmas. The trailer follows with a series of quick scenes. Troops close in on the remaining fellowship. An image of Eowyn (Miranda Otto). Gandalf (Ian McKellen) returning, wearing white. The official website has also added more information about The Two Towers.
---
TRACKER: The fate of Tracker is in question. If you would like to add your name to the petition showing support for the series, go to http://www.petitiononline.com/tracfan1/.
---
SIGNS: Mel Gibson's next movie, Signs, is set for release on August 2. For a glimpse at this thriller, go to http://movies.yahoo.com/movies/feature/signs.html.
---
STAR WARS: This sounds more like a comic book than a music CD! John Williams' score for Episode II: Attack of the Clones goes on sale April 23. Sony Classical is putting out the soundtrack with four covers. One is the poster image; the other three are limited editions of various characters. "It adds a sense of occasion," says Peter Gelb, president of Sony Classical. "It also has the immediate practical benefit of added display space, since all four covers will be visible in many stores."
---
BILLY WILDER: Legendary directory Billy Wilder has died. Winner of 6 oscars; nominated for some 29, Wilder worked with such film greats as Marilyn Monroe, James Cagney, Jack Lemmon and Audrey Hepburn. His films were distinctive and his characters memorable.
---
THE HULK: On Wednesday, principal photography began on Universal Pictures' The Hulk. Based upon one of Marvel Comics' most memorable and popular superhero series, the film is directed by acclaimed filmmaker Ang Lee ("Crouching Tiger, Hidden Dragon") from a screenplay by James Schamus. The film's producers are Gale Anne Hurd, Marvel Studios Chief Executive Officer Avi Arad, James Schamus and Larry Franco. Marvel Comics founder Stan Lee and Kevin Feige are the executive producers. Eric Bana (Black Hawk Down) stars as scientist Bruce Banner, whose inner demons transform him into The Hulk in the aftermath of a catastrophic experiment. Bana plays both the human Banner and -- through groundbreaking visual effects technology provided by the Oscar-winning Industrial Light + Magic (ILM) -- the superhuman Hulk. Jennifer Connelly, who just received the Academy Award for Best Supporting Actress for her portrayal of Alicia Nash in the Oscar-winning A Beautiful Mind, portrays Betty Ross, whose scientific genius unwittingly helps unleash The Hulk, and whose love for Banner finds its impossible resolution in the film's denouement. Sam Elliott, who recently starred opposite Mel Gibson as the no-nonsense Sgt. Maj. Basil Plumley in Randall Wallace's We Were Soldiers, plays Betty's father, General Ross. Lee's concept for the film combines all the elements of a blockbuster visual effects-intensive superhero movie with the brooding romance and tragedy of classic horror films. Lee and his team went back to the moving, early incarnations of the character created in May 1962 by Stan Lee and Jack Kirby, trying to stay true to the Marvel concept, while updating and projecting The Hulk into the dangers and aspirations of contemporary times.
---
March 28:
HOLLYWOOD PASSINGS: Two comedic giants passed today - Milton Berle and Dudley Moore. Both gave us the gift of laughter for years. They will be greatly missed.
---
STAR TREK: Eugene Roddenberry, Jr. has resurrected the Roddenberry Store -- a place where you can get just about anything dealing with Star Trek or Earth: Final Conflict. Go to http://store.roddenberry.com/ and you will find new Next Generation DVDs, Shatner & Nimoy's "Mind Meld" -- as well as scripts, manuals, guides, clothes, jewelry! It is certainly a one-stop-shopping place for anything Roddenberry!
---
FAT ALBERT: Forrest Whitaker talks to Cinescape about his upcoming Fat Albert movie. Sounds a bit like Roger Rabbit -- a cross between animation & live action. The Cos is making an appearance as well.
---
LORD OF THE RINGS: There has been a lot of talk about the DVD version of LORD OF THE RINGS and when it would hit the market. Official news has finally been released. The film you saw in the theater is coming to DVD in both full screen and letterboxed versions August 6. In November, just before the December release of THE LORD OF THE RINGS: THE TWO TOWERS, comes the much discussed extended director's cut Jackson recently finished. That version, now officially called the Special Extended Cut, will clock in at almost four hours and intersperse over 30 minutes of never before seen footage into the body of the film. It's not just a few scenes slotted in, but a reediting of the film along the lines of Cameron Crowe's definitive recutting of his own ALMOST FAMOUS: UNTITLED version. This one sounds like THE one to buy!
---
SPIDERMAN: Have you check out the new Spiderman trailer yet!. If you like action, this movie has it all. The trailer will be in theaters this weekend, but you can see it now at www.sony.com/spiderman.
---
Stan Lee is thrilled about the new movie -- even though his cameo appearance is now on the studio floor! The movie ran long and so cuts had to be made. But all in all, Stan says the movie is fairly faithful to his original concept. Read his whole interview over at http://www.comicbookresources.com/news/newsitem.cgi?id=1029.
---
March 27:
RATINGS: Top 10 SF Syndicated Series: Stargate SG-1 3.2; Buffy 3.0; The X-Files 3.0; Andromeda 2.9; Mutant X 2.8; Earth: Final Conflict 2.3; John Edward 2.2; The Lost World 2.2; 3rd Rock 2.0, and Beastmaster 2.0. Source: Nielsen Galaxy Report, 2/25/02 - 3/3/02.
---
MUTANT X: Recently Victor Webster, who plays Brennan Mulwray on the series talked to SCI FI Wire that the second season. "'Everything's going to be bigger. Everything's going to be faster. It's going to be darker. It's going to be fun. We were cutting our teeth in the first year, finding out what worked, what didn't work. Expect more good things." Mutant X has been the highest rated new syndicated series this year and is either right behind (or ahead of) it's co-Tribune Entertainment series, Andromeda in the ratings.
---
DAREDEVIL: On March 25, principal photography began in Los Angeles for the live-action Daredevil movie. Written and directed by Mark Steven Johnson, Daredevil is slated for a Jan. 17, 2003, release. Based on the Marvel Comics series, Ben Affleck will star as blind lawyer Matt Murdock, who leads a secret life as a masked vigilante. Also starring in the film are Jennifer Garner (Alias), Michael Clarke Duncan (The Green Mile), Colin Farrell, Jon Favreau, Joe Pantoliano (The Matrix), David Keith and newcomer Scott Terra (the upcoming Eight Legged Freaks).
---
ENTERPRISE: As we all know, the writer in a series makes ALL the difference. John Shiban, for years a writer on X-Files, has recently joined the writing staff for Enterprise. When discussing the new addition to the staff, STAR TREK producer Rick Berman told Variety, "The single hardest thing for us to do after all these years is to find great writers who understand STAR TREK. It's always been a problem."
---
CROSSING OVER? Ted Danson has a new mini-series that begins on Sunday, April 28. Living With the Dead is a drama centering around a man who can see and speak to dead people. This trait helps him solve a series of murders by communicating with the victims. Also starring in this project are Mary Steenburgen, Queen Latifah, Michael Moriarty, Diane Ladd and Jack Palance.
---
STRANGE BED-FELLOWS: Over in Electronic Media , you'll find an article that talks about WB seeking production partners -- including folks like 20th Century Fox Television -- to keep costs down if certain pilots get picked up as series. Sounds like a good move to me! March 26:
STAR WARS: When Samuel L. Jackson took fencing lessons in acting school, I would bet he had never thought he'd use his new skills simulating light-saber duels like the ones ahead in Star Wars: Episode II--Attack of the Clones. He described his style to SciFi Wire as a combination of kendo, samurai sword dueling, fencing and street fighting. Jackson reprises the role of Jedi knight Mace Windu in the film that is set to open May 16.
---
TERMINATOR 3: It has taken a while, but Variety indicates that Nick Stahl (In the Bedroom) has signed on for the role as the adult John Connor in the upcoming sequel film Terminator 3: Rise of the Machines. Production is slated to start April 15 in Los Angeles, bringing Stahl together with Arnold Schwarzenegger and Kristanna Loken, who will play the female TX cyborg.
---
TRACKER CHARITY: Here's a wonderful birthday present for Adrian Paul, star of Tracker (May 29). Fans have organized a charity campaign to raise money for underprivileged children in his honor. Fans are creating and sending donation cards to benefit Peace Fund, a children's charity founded by Paul in 1998. Peace Fund sponsors the School Makes a Difference program, which puts on educational workshops for inner-city children in Los Angeles, New York and Denver. Want to help? Send birthday donations to Peace Fund, P.O. Box 4216, Valley Village, Calif. 91617.
---
ENTERPRISE: Over at http://www.eonline.com/Celebs/Star/Bakula/index.html?fdfour3, Scott Bakula answers some questions posed by fans. The questions cover a LOT of territory -- including his favorite flavor of ice cream (pistachio, by the way). It's a good read.
---
TROJAN WAR: It worked for Russell Crowe! Warner Bros. is drafting Brad Pitt and director Wolfgang Petersen for The Trojan War. The studio wants Pitt to star in the epic and Petersen (The Perfect Storm) to direct. Pitt would play the role of Achilles in the project based on Homer's Iliad.
---
March 25:
OSCARS: Though Lord of the Rings had been nominated for 13 awards, they did take home four of them. With heavy competition this year, The LORD OF THE RINGS: FELLOWSHIP OF THE RING received awards for Cinematography, Visual Effects, Original Score and Make-up. Congratulations to all the winners of this year's awards. It was quite a year to watch.
---
DEAD ZONE: Another veteran has been added to the cast for the upcoming Stephen King series, Dead Zone. David Ogden Stiers, who played Major Charles Emerson Winchester III on the classic comedy/drama M*A*S*H, has signed on Reverend Gene Purdy, the friend and guardian of psychic/assassin Johnny Smith. Anthony Michael Hall will play Smith in the series, produced by veteran STAR TREK: THE NEXT GENERATION producer Michael Piller. STAR TREK: DEEP SPACE NINE vet Nicole DeBoer will play Sarah Bracknell.
---
STAR TREK: The new logo for the upcoming Star Trek movie, NEMESIS has been released. Go to http://talk.trekweb.com/articles/2002/03/21/1016722385.html to get a peek.
---
WEEKEND BOX OFFICE: 1. 'Blade II,' $33.1 million; 2. 'Ice Age,' $31.1 million; 3. 'E.T.,' $15.1 million; 4. 'Showtime,' $ 8.2 million; 5. 'Resident Evil,' $6.6 million; 6. 'We Were Soldiers,' $5.8 million; 7. 'The Time Machine,' $5.2 million; 8. 'A Beautiful Mind,' $4.3 million; 9. 'Sorority Boys,' $4.2 million, and 10. '40 Days and 40 Nights,' $2.7 million.
---
JEREMIAH ON SHOWTIME - FRIDAY AT 10:45PM
For a synopsis of this week's episode, go to http://www.comics2film.com/StoryFrame.php?f_id=504. For a couple of reviews of the show, go to http://www.aint-it-cool-news.com/display.cgi?id=11656. When asked about the ratings for Jeremiah, JMS had the following to say: "It aired on a Sunday night when the SF audience generally isn't around, according to Showtime, which given that scenario was actually quite encouraged that we did that well...and most important, we built in audience every quarter hour. The real test would be the hour series itself.... And both Showtime and MGM called to offer congratulations on our first ep. Stargate, airing a brand new episode right before us, with an established audience, pulled a 2.9 and a 5 share, excellent by pay cable standards. Our first real ep out of the box *also* got a 2.9 and a 5 share, AND it also grew by quarter hours, ending up at a 3.1 for the last quarter hour, indicating again that we hold viewers and add as we go, a very good thing. So everybody's happy." The Showtime Jeremiah website http://sho.com/jeremiah/ has been updated with a lot of information, including video interviews with Luke Perry and JMS. There are sketches from the set and behind-the-scenes material related to the show. It's terrific to see so many of the production staff from "Legend of the Rangers" on board for Jeremiah.
---

LEGEND OF THE RANGERS CREDITS: If you are like me, you die every time the ending credits roll -- only because you can't read a thing. SCIFI has a remedy for that. Go over to www.scifi.com/b5rangers and you will find ALL the credits listed. Thanks SCIFI.

SCIFI did a wonderful job of providing us with a great deal of information on the cast and crew for the "Legend of the Rangers" movie. Be sure to check out www.scifi.com/b5rangers. You will find digital trading cards for David Martel, Sarah Cantrell, Citizen G'Kar, Malcolm Bridges, Na'feel, Tirk and Dulann. There are short videos and interviews. Don't miss the feature about Mark Savela, visual-effects supervisor from GVFX and the interview with director Mike Vejar.

In the gallery, you'll find photos of the cast, some great behind-the-scenes pics and some desktop graphics you can use on your PC. Chat transcripts for all cast members, Dylan Neal, Alex Zahara, Dean Marshall, Warren T. Takeuchi, Myriam Sirois and Enid-Raye Adams are all available as well.

Go to Ranger Page for more information on the ratings and letter writing campaigns.
---
RANGER SIGHTING
Ranger Tapestry reports seeing a new commercial for teeth brightner.. and Erik Estrada is hosting this thing.. besides Cindy Williams from Laverne and Shirley one of the other promoters is Jeff Conaway :-)
RANGER ALERT
Ranger Dave writes that there are still a very few books remaining at the site. So if you'd like a signed copy of Bruce's book, act now!

I just bought a SIGNED copy of Bruce Boxleitner's book "Frontier Earth: Searcher" for $11.97 at www.bookcloseouts.com. I also used a coupon ($5 off $25 purchase). Coupon name valentine; coupon password cupid.

Thanks John. The book is a good one -- and signed too. Would make a terrific Valentine's gift!
KEEPING UP WITH CAST AND CREW
BILL MUMY: Bill Mumy, besides becoming the "voice" of Farmer's Insurance, has been narrating a lot of "Biographies" for A & E. He recently recorded segments for "James Dean", "Ricardo Montalban", "Carolyn Jones" & "Pat Boone". He is also narrating all the "TVographies" for A & E. For more on what Bill has been up to, check out www.thegalacticgateway.com.
---
GARY COLE: The Hollywood Reporter indicates that Tim Curry and Gary Cole are set to star in the WB's remake of "Family Affair" from Turner TV and Pariah.
---
BABYLON PARK: GRUDGEMATCH Many of you have seen this parody of Babylon 5 at conventions featuring Jeffrey Willerth (one of the producers). Well, it has won the prestigious Telly Award for animation. You can read more about the Telly Awards at www.tellyawards.com. Congratulations Jeffrey!
---
CLAUDIA CHRISTIAN: Over at http://www.scifi.com/sfw/advance/07_sound.html you can read about Claudia's latest venture -- a production entitled "Area 51". Claudia and up-and-coming British actor Matt Rawle, offer a stimulating sonic "sneak preview" of the stirring SF tale written by playwright Daniel O'Brien.
---
JEFFREY WILLERTH: Along with his work at the Animal Planet, Jeffrey (Kosh from B5) been shopping around a new TV series. To get more on this project, visit www.blackvault.com. Jeffrey promises a sneak peek soon.
---
NEW BABYLON 5 CARD SET
Ranger Jim reports that the current issue of Non-Sport Update magazine -- 13(2) April/May 2002 -- contains a promo card for the upcoming Complete Babylon 5 set, as well as a short article about the set. Rittenhouse Archives and www.scifihobby.com are pleased to announce the addition of 6 trading cards based on the all-new "Babylon 5: Legend of the Rangers" TV movie to the upcoming "The Complete Babylon 5" trading card series. The 6 cards will feature images and characters from the TV movie and will be used as box toppers (1 per box) in the all-new card series due out in March.

"The Complete Babylon 5" features complete synopses of all the episodes in the show's 5-year run, and includes nearly 1,000 never-before-published photos. Many of these photos will depict some of the show's most dynamic CGI space images. The trading card series will also feature 2 autograph cards and 1 costume card in every box. Autographs include Michael O'Hare (Jeffrey Sinclair), Andrea Thompson (Talia Winters) and a double signed card of Bruce Boxleitner (John Sheridan) and Melissa Gilbert (Anna Sheridan). Boxleitner and Gilbert are married in real life (and in the show). Costume cards include materials worn by Boxleitner, Jerry Doyle (Garibaldi), Peter Jurasik (Londo Mollari), Andreas Kastulas (G'Kar), Rick Biggs (Dr. Franklin) and Claudia Christian (Susan Ivanova).

More details are available at www.scifihobby.com.
NEW BOOKS COMING OUT

The Art of the Fellowship of the Ring. From pencil sketches to finished objects and 400 full-color pictures, no stone is left unturned!


Don't Panic: Douglas Adams & The Hitchhiker's Guide to the Galaxy. Neil Gaiman (Sandman, American Gods) who, with full cooperation with the late Adams, wrote this tribute to his life and the series that made him famous — The Hitchhiker's Guide to the Galaxy!




The Nuts and Bolts of Comics. What does it take to make a great comic? One that's sure to stand out in the crowd. It's takes more than just mind-boggling computer graphics to make a comic a killer. That's what you'll learn in the Panel Discussion TP, which covers all aspects of the design of comics, from pacing, story flow, and word balloon placement, to using color to convey emotion, spotting blacks, and how gutters between panels affect the story! Learn from Will Eisner, Walter Simonson, Mike Mignola, Dick Giordano, Brian Stelfreeze, and others about what it takes to make a book that rocks. Look for it in the Magazines section of Previews!
SCI FI PUBLICATIONS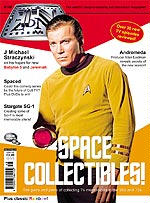 TV Zone #149: Included in this issue is a look at the "Legend of the Rangers" from J. Michael Straczynski. Also you'll find an interview with Andromeda's Executive Producer Allan Eastman where he talks about the changes ahead for the series.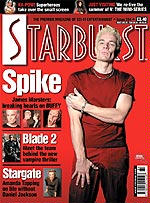 Starburst #284: Buffy is hot this month! Inside you'll find an interview with James Marsters, Spike from the series. Also inside find Amanda Tapping from Stargate SG-1 talking about the departure of Michael Shanks and more!
Expose #66: The departure of Michael Shanks has been big news -- and you'll be able to read more about it here in Expose. (Check out www.savedanieljackson.com as well.) Also inside read about Jeremiah -- JMS' new series over at Showtime.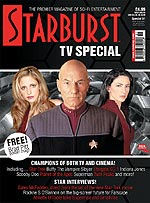 Starburst Special Issue #51: This issue covers a LOT of territory -- from the upcoming Star Trek movie, Nemesis to Buffy, Farscape, Smallville and more!
Cult Times #79: Smallville gets a lot of attention in this issue. Chloe Sullivan taps into the home town of Clark Kent with The Torch -- now you can learn more about Allison Mack, the actress. Also featured: Joel Feigenbaum, Director of Charmed talks about changes ahead, Keith Hamilton Cobb talks about Tyr Anasazi from Andromeda and Linda Park and Anthony Montgomery give you information about their experience on Enterprise.
Cult Times Special #20: This looks like a great special issue with fan pleasers like Angel's David Boreanez, Tom Welling from Smallville, Anthony SImco from Farscape and Julian McMahon from charmed.
SCI-FI SCHEDULE
BABYLON 5's Schedule: Airing at 5pm ET on SCIFI
02-APR-02 5:00 PM BABYLON 5 (LBX)
03-APR-02 5:00 PM BABYLON 5 (LBX)
04-APR-02 5:00 PM BABYLON 5 (LBX)
08-APR-02 5:00 PM BABYLON 5 (LBX)
09-APR-02 5:00 PM BABYLON 5 (LBX)
10-APR-02 5:00 PM BABYLON 5 (LBX)
11-APR-02 5:00 PM BABYLON 5 (LBX)
16-APR-02 5:00 PM BABYLON 5 (LBX)
17-APR-02 5:00 PM BABYLON 5 (LBX)
18-APR-02 5:00 PM BABYLON 5 (LBX)
22-APR-02 5:00 PM BABYLON 5 (LBX)
23-APR-02 5:00 PM BABYLON 5 (LBX)
24-APR-02 5:00 PM BABYLON 5 (LBX)
25-APR-02 5:00 PM BABYLON 5 (LBX)
29-APR-02 5:00 PM BABYLON 5 (LBX)
30-APR-02 5:00 PM BABYLON 5 (LBX)
BABYLON 5 IN THE UK
Ranger Norman reports that on Saturday 30th the UK Scifi Channel is showing the B5 film In the Beginning at 8pm-- I think they've only got the rights to season 5 and the films now. On Easter Monday (1st April?) the BRAVO channel listing starting at 12noon shows The Gathering followed by the first 17 episodes ending with Legacies finishing at 5.30am tuesday morning. The series then continues with twice daily showings at 3pm and 8pm. I've checked two weekly and one monthly programme guides and they all show the same listings so it looks like a first time marathon in the uk.
BABYLON 5/CRUSADE PHOTOSHOP
NEW PHOTOS
You do NOT have to pay the prices asked for over at e-bay! Here are photos of B5 and Crusade cast members at fantastic prices. Check out Photo Shop. Ordering is easy -- and you can't beat the prices! Just let me know which photos you want and I'll check to make sure they are still in stock.
---
NEW BABYLON 5 TOONS
John Cook has a new cartoon contest going. Try your hand at a punch line.



READER DIRECTORY
Sometimes you just can't find the e-mail address for someone you know you have -- it's someone who responded to a discussion topic or you met in one of the chat rooms. You'd like to send a personal note, but .... No address!!!!

We've started a White Pages of Zocalo Readers! It's a handy way of keeping track of people -- and putting together a birthday/greeting card list as well. If you would like to be part of the listing, just send me your name, state, e-mail address and (if you'd like to have it listed) birthday (without year) to sgbruckner@aol.com. Check out the Directory of Readers.

HAPPY BIRTHDAY TO YOU!

Name: Connie Colvin
State: New York
E-mail address: CCB5Flamekeeper@aol.com
Birthday: March 4

Name: Lance Coviello
State: North Carolina
E-mail: EsperFF3@aol.com
Birthday: March 3

Name: Helen Cripe
State: Delaware
E-mail address: cripehl@itrcorporation.com
Birthday: March 2

Name: Melvin Good
State/Country: Cambridge, England, United Kingdom
E mail address melvin-good@lineone.net
Birthday 18 March

A special HAPPY BIRTHDAY to Connie & Helen -- two of our readers who contribute a great deal to our discussion topics.
BABYLON 5 REFERENCE PAGES
The Official Babylon 5 Magazine is indexed here as well. With the closure of the magazine in May, you'll want to see which magazines you have -- and which ones you will want to collect. The index may help you make a decision on which ones to choose. The Fan Club has many of the issues at thestation.com , making it very easy to complete your collection.

Universe Today -- the Babylon 5 Fan Club quarterly can also be found here. The index gives you a rundown of what articles were presented, what interviews published.

If you have magazines that have featured Babylon 5 or Crusade that are not listed, send along their issue number and a note to indicate what the article was about. It would be nice to have a fairly comprehensive listing of Babylon 5 publications here.

I have added a listing of all the Babylon 5 novels and now the B5 comic books to the reference page. If there are other items that you feel should be included, let me know.
MAILING LISTS
REDEMPTION: Ranger Steve reports that a new discussion group has been created for the upcoming REDEMPTION convention. Redemption 03, 21-23 February 2003, Ashford, Kent, Celebrating 25 years of Blake's 7 and 10 years of Babylon 5. www.smof.com/redemption.
NW-B5
NW-B5 is a mailing list devoted to bringing critical information to the Vancouver Island, Lower Mainland, and Northern Washington areas. More specifically, anyone north of Seattle. B5 is broadcast on SPACE:TIS in Canada, and Sci-Fi channel in the US. By subscribing to nw-b5, you'll be able to know info bringing you up to date on the current scheduling and events happening in the community related to B5. You'll also be subscribed to the list itself, which means that you'll receive email when there is a scheduling change or critical information needs to go out to you (for example, if we need to start another mailing campaign).

For further information, see http://www.nw-b5.com
John Francis
Webmaster, Listowner, and Co-Moderator
mailto:nw-b5@iname.com

Reports of "The Gathering" are beginning to turn up on the list. John posted a mini-report, with photos, over at http://www.geocities.com/jnf.geo/nw-b5/gathered.htm#0501. You may want to check it out. It was a terrific event in which JMS showed clips from "Legend of the Rangers". Most of the cast was in attendance -- a great group of individuals.
BABYLON 5 DISCUSSION LIST
The Babylon 5 discussion mailing list is for any and all discussions and/or news pertaining to or related to Babylon 5 and/or Crusade. The list has been in existence for the past three years now, and has recently moved. The new location is http://lists.apparition.org/cgi-bin/lyris.pl, and you can subscribe by sending a blank e-mail message to join-babylon_5-l@lists.apparition.org.
THE GALACTIC GATEWAY
Here's a unique site for you! Jeffrey Willerth, Patricia Tallman, Mira Furlan, Claudia Christian, Robin Atkin Downes, Rick Biggs, Jerry Doyle, Bruce Boxleitner, Melissa Gilbert, Peter Jurasik, Bill Mumy and Carrie Dobro are under it's umbrella. Actors from other shows have joined the Gateway. Ted Raimi and Robert Trebor from Xena and Hercules are now at GG. To subscribe to a mailing list for GG, send a blank note to thegalacticgateway-subscribe@egroups.com.
GATEWAY CHATTERS
There is never enough time to keep in touch with friends! To help out, a mailing list has been started for chatters over at the Galactic Gateway. If you are interested in joining, send a blank note to gateway-chatter-subscribe@egroups.com.
GATEWAY TRADER
Are you looking for a particular Babylon 5 collectible? Do you have some items you'd like to trade? Then this is the list for you. To join, send a blank note to gateway-trader-subscribe@egroups.com.
CALLING ALL ARTISTS
The Art Gallery at The Zocalo Today is open. There are SO MANY talented people in our Babylon 5 community. We have enjoyed works by Todd Brugman and Tye Bourdony on our toons page, but there are a host of others who enjoy drawing, painting, sketching their favorite characters. Here are a few works that have been received. I have some others that will be added soon.

If you would like to share your work with us at The Zocalo Today, please send along a digital photo of your work and I'll begin putting the gallery together. If you do not have your work in digital format, drop me a note and we'll see what we can work out.
CALLING ALL CLUBS
There are a number of fabulous Babylon 5/Crusade Clubs around the world. I'd like to begin listing them here on The Zocalo Today. Eric dropped me a note the other day providing information about a Club in France. I know there are other clubs in Brazil, Germany, Russia -- and who knows how many here in the US. Let's get a listing together. Perhaps we can share resources, even get together as we travel around. Drop the information about your Club to me at sgbruckner@aol.com or bruckner@isnnews.net. That information will be added to the new B5 Fan Club Listing.
BABYLON 5 FAN CLUB
Netter Digital filed for bankruptcy in July of 2000 and all their worldly posessions were auctioned off on December 7. The B5 Fan Club site, Thestation.com and it's store, the Emporium, has been closed.
BABYLON 5 NEWSLETTERS
If you have a newsletter you'd like to have listed at The Zocalo Today, send the information along. It will be posted on the B5 Fan Club/Newsletter page.

Ranger Shane in North Carolina sent in the following note about their "Jumpgate" newsletter.

Hey Sandy! Just wanted to give you an update on the NC B5 group's newsletter, Jumpgate. There's now a dedicated EMail address for submissions - jumpgatemag@bellsouth.net - and any submissions, solicited or un-, can be sent to this address. Also, issues are available for free download at the URL at the bottom of this message.

Jumpgate - The Newsletter of the North Carolina Babylon 5 Fan Club
Shane Killian, Editor
HELP WANTED
A new HELP WANTED section has been added to the Z. If you need help finding a comic book, getting a special item, etc. here's the place to post a note. Just send whatever help you need to thezocalo@aol.com.
---
BABYLON 5/CRUSADE CONVENTIONS
CONVENTION CALENDAR
Melbourne International Commedy Festival
March 28-April 2, 2002
Place: Various Venues
Australia
B5 Guest: Stephen Austin
For more information, visit their website at http://www.comedyfestival.com.au.
---
Defiant
March 29-31, 2002, London, UK
Location: Thistle Hotel, Heathrow (previously known as the Heathrow Park Hotel)
B5 Guest: Robin Atkin Downes

For more information, visit their website at http://members.aol.com/fabevent/ .
---
Slanted Fedora
April 4-6, Kansas City
Place: The Doubletree Hotel-Kansas City Phone for Hotel Reservations and Directions ONLY: (913) 451-6100
B5 Guest: Jerry Doyle
For more information, visit their website at http://www.sfedora.com/kansasMarch.htm.
---
Creation Salutes Star Trek, Xena, Sci-Fi TV and Film
April 6-7, 2002, San Francisco, CA
Place: Masonic Center
B5 Guest: Julie Caitlin Brown

For more information, visit their website at http://www.creationent.com/ .
---
ZOCALO TRADING POST
Do you have extra copies of B5, Amazing Spiderman, Midnight Nation or Rising Stars comics you'd like to trade? How about those extra trading cards or B5 magazines? There are a lot of fans looking for these items -- and the Trading Post can help you buy or sell them. To see what's available, just use this link to the Trading Post. To have items included in The Trading Post, send a note to The Zocalo. Please put Trading Post in the subject line.
Pen Pals
If you are looking for someone to talk about Babylon 5 and Crusade with, the Pen Pal section is for you! Check it out! Drop a note to someone who is feeling B5 withdrawal -- BIG TIME!

People thought a Pen Pal page was a good idea. If you would like to meet people who you could chat with or share your opinions of the show with, send along your e-mail or snail-mail address The Zocalo. It will be incorporated on the new Pen Page Page.
BABYLON 5 BIRTHDAYS
Richard Biggs - March 18
Jesus Trevino - March 26
Ed Wasser - March 26 Have I missed anyone? If you know the birthday of someone connected with Babylon 5, pass the information along. We want to include everyone in our Happy Birthday Wishes.
MAIL FOR CAST AND CREW
Here's a recent note from JMS on the subject:

Just an FYI to those who've been using the Ventura Blvd. mail drop for fan mail to actors....

As mentioned before, we're phasing out the forwarding of fan mail because we a) don't have the resources, complicated by b) the actors have scattered to the four winds, and it makes it very difficult to get everything to everybody in a timely fashion.

So, having provided prior notice...fan mail to actors coming to the Ventura Blvd. mail drop will be sent back. Mail to actors should be sent via their official fan clubs. I will still be taking mail there, since it's my mailbox, but that's it.

Just so's y'all know and save a few bucks on postage and returns.

JMS' mail can be sent to:

14431 Ventura Boulevard, PMB 260
Sherman Oaks, CA 91423

WARNER BROS:

Warner Bros. Address:

Warner Bros. Domestic Television Distribution
4000 Warner Blvd.
Burbank, CA 91522

Warner Home Video:

Mr. Douglas Wadleigh
VP for Marketing and Special Features
Warner Bros.
4000 Warner Blvd.
Burbank, CA 91522
BACK ISSUES OF THE ZOCALO TODAY
The front page of the The Zocalo Today changes daily, so be sure to check the back issues to make sure that you haven't missed anything IMPORTANT! I don't want the front page getting too long so I shift information periodically into the archives. So if you aren't a regular visitor to The Zocalo Today, be sure to check out the back issues. Just use the button above!
---
Take care and I look forward to hearing from you.
Sandra Bruckner (sgbruckner@aol.com)
Editor/Publisher
The Zocalo Today
http://www.isnnews.net
Copyright - SBruckner, 2002