[an error occurred while processing this directive]

The Zocalo Today

Welcome! I am REALLY glad you dropped by. Take your shoes off, get comfortable and stay a while.

The Zocalo Today is an interactive newsletter. If you have suggestions, please send them along. The Zocalo Today is as much YOUR newsletter as it is mine! I'm just pulling together things for you! Join our weekly discussion topic. It is just one way you can interact with other Z readers. Send along letters, sightings of B5 cast and crew in other projects, convention reports, photos, etc. Don't miss our back issues. There is a LOT of information contained there and you'll not want to miss anything.

If you have questions, drop me a line at sgbruckner@aol.com or b5web@aol.com.

Again, WELCOME!




What's New Today
RATINGS: Top 10 SF Network Series: Smallville 4.1; Dark Angel 3.8; Charmed 3.5; Enterprise 3.3; Buffy 2.3; Sabrina 1.9; Touched by an Angel 1.2; Mysterious Ways 0.6, and Twice in a Lifetime 0.6. Source: Nielsen Galaxy Report, 3/18/02 - 3/24/02.
---
SIMPSONS: The April 28 episode of The Simpsons will be a tad different. According to the listings, we'll see Homer morphed into a Hulk-like monster in a comic strip created by Bart. Hulk creator, Stan lee, will make a cameo appearance.
---
LEXX: SCIFI has cancelled Lexx -- ending a three year run on April 26. According to Zap2It.com, the finale of "Lexx" will find the ship's crew disappointed that they couldn't make a home for themselves on a small planet known as Earth. Just as they're getting ready to leave, though, an alien infestation sweeps the planet and threatens to destroy it. The crew feels obligated to try to help, possibly finding redemption in the process.
---
ANGEL: Fans of Cordelia on Angel will enjoy the interview with Charisma Carpenter over at http://tv.zap2it.com/news/tvnewsdaily.html?25376. As to the future of Angel -- no one knows.
---
SPACE STATION 3D: Tom Cruise was in town (Washington, DC) at the Smithsonian National Air and Space Museum last night to usher in the new IMAX film Space Station 3D, narrated by the Mission Impossible star. The new IMAX production chronicles the building of the International Space Station. It will premiere this Friday in select locations around the country.
---
THIS WEEK IN SCI-FI:
April 18: SPIDERMAN: TV Guide is really getting into the swing of things! The April 22 issue will come with five different Spider-Man covers. Inside you will get a peek at the upcoming movie, which opens May 3.
---
There are about 10 minutes of clips available at http://www.countingdown.com/theater/trailers/detail/694132. Enjoy!
---
JEREMIAH: This week's episode of Jeremiah will air at a special time -- 10:30pm ET -- following the movie Traffic!
---
RISING STARS: Looks like the next edition of Rising Stars is out! I'll have to wander over to the comic shop tonight and pick up copies!
---
WITCHBLADE: The premiere of season two Witchblade has been slightly delayed. The first new episode of the season will air on June 16, instead of June 10.
---
BUFFY: Buffy Executive Producer Marti Noxon signed a new development deal with 20th Century Fox Television for a new drama and comedy series. Noxon will continue to produce Buffy and serve as a consultant on the spin-off series "Angel," but said she is quite prepared to develop her own series.
---
STAR WARS: Entertainment Weekly has a lot of new pictures for Episode II at http://www.ew.com/ew/package/0,12938,221800~1~0~,00.html.
---
April 17: RATINGS: Top 10 SF Syndicates Series: The X-Files 3.0; Andromeda 2.8; Stargate SG-1 2.8; Buffy 2.4; 3rd Rock 2.3; John Edward 2.2; Mutant X 2.2; Beastmaster 2.1; Earth: Final Conflict 1.8, and Relic Hunter 1.7. Source: Nielsen Galaxy Report, 3/18/02 - 3/24/02.
---
X-FILES: The final episode of X-Files, "The Truth", is now being produced now to air on May 19. Gillian Anderson felt it was very appropriate for David Duchovny to come back for the final episode. How does she feel about the show coming to an end? She told SCIFI Wire, "I'm very glad that the show is completely ending now, because I have a feeling that even though I would have mourned to a certain degree in saying goodbye, there would have been something left undone. It wouldn't have been as clean, and I feel like we have an opportunity now to really tie it up in a whole, constructive and completing way."
---
INDIANA JONES 4: Speculation about the next installation of this saga has been high -- especially since both Harrison Ford and George Lucas have indicated they are keen to do another one. George Lucas recently said in an interview, "If I finish up with Episode II this week, I have to begin work on Indy 4 next week."
---
CSI: If you haven't discovered CSI yet, don't worry. You can catch the series, from the beginning, over on TNN soon. As a fan of this intense drama about forensic investigators, it's welcome news that TNN will begin showing the series at 11:08pm ET on Mondays beginning September 9.
---
STAR WARS: Entertainment Tonight promises more previews from the upcoming Star Wars Episode II.
---
21st Annual Jimmy Stewart Relay Marathon at Griffith Park - April 21 Robert Wagner and daughter, Katie Wagner host the 21st Annual Jimmy Stewart Relay Marathon at Griffith Park on Sunday, April 21, 2002. The marathon for celebrities begins at 10:30. Among the guests participating are Walter Koenig and Tracy Scoggins.
---
DAREDEVIL: The first picture of Ben Affleck in the upcoming Daredevil movie can be seen at http://people.aol.com/people/pop_up/0,10772,221367_3_gallery,00.html.
---
TREASURE PLANET: Disney has done it again. The new telling of Treasure Island looks terrific. The release is scheduled for November, but you can see a clip now at http://www.trailersworld.com/movie.asp?movie_id=1623.
---
MUTANT X: A new episode of this series airs this week. For a synopsis (complete with spoilers), go to http://www.comicscontinuum.com/stories/0204/17/mutantx.htm.
---
JEREMIAH: This week's episode was written by J. Michael Straczynski -- "Firewall". For a brief glimpse of the episode, go to http://www.comicscontinuum.com/stories/0204/17/index.htm.
---
April 16: SPIDERMAN: As the May 3 movie release date approaches, more information is coming out about the movie -- and the people who make up the cast and crew. During an early screening last weekend, fans approved and enjoyed the movie, complimenting Sam Raimi on getting just the right mix. Have you seen the latest trailer for the movie -- the segment where Mary Jane kisses Spidey while he is hanging upside down? Kirsten Dunst, who plays Mary Jane Watson in the movie, told SCI FI Wire that this is one of the film's steamiest moments--and one of the most trying to shoot. Tobey Maguire (Spiderman/Peter Parker) added, "I was hanging upside down. It was five in the morning. Rain was going up my nose. ... And then when she (Mary Jane) lifted the mask up, the mask was then sitting on my nose, so I couldn't breathe through my nose. And then she was kissing my mouth, so I couldn't breathe through my mouth. And there's no other places to breathe from. So I would have to suck air out of the corner of our mouths." Even so, he added with a smile, "I still managed to derive some pleasure out of the scene."
---
BATTLESTAR GALACTICA: Now that Roswell has been officially cancelled, Ronald D. Moore is free to pursue other projects -- like Battlestar Galactica. What does he have in mind? Not a sequel, it seems. "I'm going to go back and retell the origin story, and that will form the basis of the miniseries," Moore said. It is hoped that the four-hour mini-series will serve as a pilot for a potential ongoing show. "There will certainly be changes," he said. "I'm trying to just take a different approach to the material. I want to keep the underlying myth of the show, which is what makes people remember it, and update a lot of it."
---
TWILIGHT ZONE: Talk about flip-side! Cinescape indicates that Forrest Whitaker, fresh from leaving the set of Fat Albert, has agreed to step in as the host for the new version of THE TWILIGHT ZONE. It isn't clear yet as to whether Whitaker would take over the hosting role. If the series is picked up by UPN, Whitaker will also take on producing work for the series.
---
April 15:
WEEKEND BOXOFFICE: The preliminary numbers are in. Changing Lanes with Ben Affleck and Samuel L. Jackson took over the #1 position, bringing in $17.5 for the weekend. They were followed by #2 Panic Room with $11.3 for the weekend and $74.1 since it's opening. The remainder of the top 10 were: 3. THE SWEETEST THING, $10.0 million this weekend, $10.0 since opening; 4. ICE AGE, $8.7 million this weekend, $151.7 since opening; 5. THE ROOKIE, $8.1 million this weekend, $45.3 million since opening; 6. HIGH CRIMES, $8.0 million this weekend, $25.5 since opening; 7. CLOCKSTOPPERS, $4.8 million this weekend, $28.1 since opening; 8. NATIONAL LAMPOON'S VAN WILDER, $4.2 million this weekend, $13.8 million since opening; 9. FRAILTY, $4.2 million this weekend, $4.2 since opening, and 10. BLADE 2, $4.1 million this weekend, $73.6 since opening.
---
RATINGS: Top 10 SF Channel Shows: Langoliers, Pt. 2 1.3; Children of the Corn 1.0; It, Part 2 1.0; The Colony 1.0; Langoliers, Pt. 1 1.0; Bride of Chucky 0.9; Pumpkinhead 0.9; Beyond Thunderdome 0.9; The Chronicle 0.8, and Star Trek 0.8. Source: Nielsen Galaxy Report, 3/18/02 - 3/24/02.
---
MARS: According to the Hollywood Reporter, Paramount Pictures has acquired the film rights to Edgar Rice Burroughs' classic SF novel series John Carter of Mars. This 11-book series will be produced a movie about a Civil War officer from Virginia who is transported to Mars and becomes a hero of the Red Planet. The studio is said to be especially excited about the first three books, A Princess of Mars, The Warlord of Mars and The Gods of Mars. Paramount hopes to be in production next year. No writers are yet on board to adapt the books.
---
LEGEND OF THE RANGERS: I picked up the latest issue of StarLog this weekend. There is an interview with Andreas Katsulas regarding his return as G'Kar in "Legend of the Rangers". There is a wonderful article by Frank Garcia in the latest Dreamwatch as well. Steven Geaghan talks about building the environment used for "Legend". April 14:
SPIDERMAN: Looks as if we'll be able to hear the music from the upcoming Spiderman movie before we see the movie! Sony announced that it will release the CD of the music April 30. The CD will include "What We're All About (The Original Version)" from Sum 41 and "Hero," a new track from Nickelback vocalist/guitarist Chad Kroeger, which was written for the film. It will also include new music from Alien Ant Farm, Slipknot's Corey Taylor, Pete Yorn, Black Lab, Bleu and Greenwheel, as well as Tom Morello's rock remix of Macy Gray's "My Nutmeg Phantasy." Other featured artists include The Hives, Default, The Strokes, Jerry Cantrell, Theory of a Dead Man, Injected and score composer Danny Elfman, as well as the original "Theme from Spider-Man" and a new interpretation of the theme by Aerosmith. The CD will also feature CD-ROM links to streaming video versions of some of the songs, and initial copies will come with a limited-edition 3-D collector's card.
---
AKIRA: Warner Bros. has hired Stephen Norrington, director of the first BLADE, to direct an American live action version of the Japanese anime classic AKIRA. According to the Hollywood Reporter, Norrington promised to, "preserves the tone, the visual and the epic scope of the original, whilst telling a somewhat more accessible story." AKIRA is one of the most popular magna and anime titles ever to come from Japan. The story centers centers on a tough motorcycle racing punk who has have psycho-kinetic powers implanted via the AKIRA project.
---
KOLCHAK For those of you old enough to remember the original Kolchak: Nightstalker TV series, (unless you have seen reruns on TV Land or something) you'll be happy to hear about a new comic featuring the nightstalker. Moonstone Books will present a Kolchak installment with KOLCHAK THE NIGHT STALKER: THE GET OF BELIAL, a 48-page one-shot in August. The book is adapted by Joe Gentile from a script for the television series that was never filmed. The art is by Art Nichols, with a cover by Doug Klauba.

X-FILES: David Duchovney may be returning for the final episode of X-Files, but he is also busy directing one of the final episodes of the series entitled "William". Images of the episode are now available over at the www.cinescape.com website. The episode, "William" airs April 28 and centers on a 'friend' of Mulder trying to get into the X-files on Mulder's behalf.
---
CHANGES AT THE ZOCALO: As you can see, I haven't changed a lot! The weekly newsletter went out yesterday, but I will be cutting back to either bi-monthly or monthly on that publication. Hopefully I can get a bit more time to develop it so that it's not a product of capturing items from this website and cobbling them together with the TV listing. I do appreciate all the notes of support for this site and the e-mail publication. Take care.

April 13:
IT'S A WRAP: The first season of ENTERPRISE has wrapped -- complete with a party for the cast and crew. Production of the cliffhanger season finale episode "Shockwave" ended on Tuesday. The episode is set to air on May 22. The crew now has 10 weeks of hiatus before starting all over again in June on season two of the series.
---
SPIDERMAN: VARIETY reports that Spiderman may be in a bit of legal trouble. A suit is being brought against the film by Sherwood Outdoor, a billboard advertising firm that has locations in One Times Square, Two Times Square and 1600 Broadway. The suit claims that in some scenes from "Spider-Man", Sony digitally removed actual ads and inserted new ones from its marketing partners. Among the businesses the suit claims were plugged are mobile-phone operator Cingular Wireless and newspaper USA Today."
---
JEREMIAH ON SHOWTIME - THIS FRIDAY AT 10:30PM
JEREMIAH: This week's Jeremiah episode will air at a special time -- 10:30 p.m. ET/PT. Michael Rooker will guest-star as Col. Quantrell in "Firewall". JMS wrote this about the episode: "Next week's episode is a big arc ep, "Firewall," which I wrote as kind of this season's answer to B5's "Signs and Portents," where we really kick the year one arc into high gear. If you're looking for a good place to jump on, this might be it. We really kick over some tables with this one." WOW! If you don't mind being spoiled -- a bit -- be sure to see the clips for this week's episode out at http://www.sho.com/jeremiah/episodes.cfm. This episode is written by JMS -- and nothing is more evident as seeing the clip featuring Ezekiel (Alex Zahara). Makes you want to scream, "Mommy, he's doing it again."! For those of you who want to keep up on what is going on with Jeremiah, Ranger Monica has started up a Jeremiah newsletter. Please go to http://groups.yahoo.com/group/jeremiah-news/ and subscribe. Monica also has a very nice Jeremiah site so don't forget to bookmark that as well.
KEEPING UP WITH CAST AND CREW
JASON CARTER: Jason Carter has a guest spot on this week's Angel! A Faustian deal Gunn made several years before comes back to haunt him when a demonic repo man (Jason Carter) arrives to collect his soul---and threatens to use Fred as collateral. GO JASON!
---
DISCUSSION TOPIC:
What has Babylon 5 meant to you? Has it been just a wonderful story with characters that you have identified with? Has it been more? Send in your ideas to TheZocalo@aol.com or B5web@aol.com.
LEGEND OF THE RANGERS UPDATE
Here is a note from JMS on the future of "Legend of the Rangers": The SciFi Channel has indicated that it's moving away from space shows, with all the hardware/alien stuff that goes with it. (This as per its recent announcement about upcoming shows.) So it looks like Rangers isn't going to go ahead. They haven't said it directly, but networks never do.
NEW PUBLICATIONS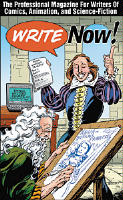 WRITE NOW! From the publishers of Draw! Magazine -- Write Now!. Ever wonder what I takes to be a comics writer, what qualities are necessary to sell writing, and what editors are looking for? Veteran Marvel Comics Editor Danny Fingeroth takes you behind the scenes, into both the creative and business sides of writing narrative fiction, and you will hear from the pros on both sides of the desk about what it takes to write the stories that readers – and editors – want! In the premiere issue, you'll get tips and insights from interviews with top professional writers discussing the practical aspects of their craft: Brian Michael Bendis (writer of Ultimate Spider-Man, Alias, and Powers), Joe Quesada (Marvel Editor-in-Chief and writer of Iron Man), Joss Whedon (creator of Buffy the Vampire Slayer and Fray), and J.M. DeMatteis (writer of Spider-Man, The Spectre, Man-Thing, and Moonshadow)! Plus, Mark Bagley (penciller of Ultimate Spider-Man, New Warriors, and Amazing Spider-Man) provides our cover, featuring those two zany comics creators William Shakespeare & Leonardo DaVinci, and explains what he likes, and doesn't like, in scripts he draws from! And if that's not enough, how about an interview like you've never read before with Stan "The Man" Lee! 'Nuff said! (TwoMorrows Publishing) Magazine, 8x11, 80+pg, b&w..........$5.95
CORALINE: A new novel by Neil Gaiman. London native Coraline resides in a middle-class flat with her mother and father, and eccentric old neighbors nearby. This seemingly ordinary young girl has been keeping quite an extraordinary secret: there's a door hidden in her home which leads to a nightmare mirror image of her house, neighborhood, and family. Unfortunately, it's governed by a cruel presence which has set its hungry gaze on Coraline! Neil Gaiman weaves this haunting, otherworldly children's tale, complemented with bone-chilling interior illustrations rendered by Dave McKean. Also introduced in a special edition format limited to a print run of 4,000 copies. (Harper Collins Publishers) FARSCAPE< Ranger Paul reports that the Farscape Illustrated Season 3 Companion by Paul Simpson and Ruth Thomas is now available for pre-order from Amazon.co.uk. This edition focuses on the third season, including an eight page colour section of never previously seen photos...

JMS AT AMAZON:

Ranger Graham sent along a note about JMS material available at Amazon.com: Amazing Spider-Man: Coming Home - Graphic Novel Now shipping
Delicate Creatures - Now shipping
Rising Stars Vol 1 - Graphic Novel Now shipping
Rising Stars Vol 2 - Graphic Novel Shipping soon
---
SCI FI PUBLICATIONS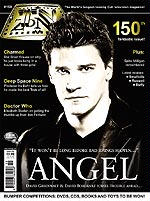 TV Zone #150: David Boreanaz and Producer David Greenwalt chat about what lies ahead for "Angel". Also in this issue: Ira Steven Behr talks about Deep Space Nine; Elisabeth Sladen talks about her role on Dr. Who and Brian Krause gives us some insight into his "Leo" on Charmed.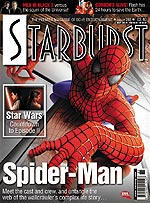 Starburst #285: Spiderman will be upon us soon -- and it wouldn't surprise me if the character adorns most of the covers for SF magazines in the next month! In this issue, the magazine takes a long look at Spiderman, from the early days at Marvel Comics and TV -- with a preview of the film as well. Don't miss other features on Men in Black 2; Episode II of Starwars and the retrospective on George Lucas.
Cult Times Special #21: This special issue is devoted to Farscape! There are articles on Executive Producer David Kemper, Ben Browder, Gigi Edgley, Wayne Pygram, Lani Tupu, Tammy Macintosh, Rockne O'Bannon and more!
SCI-FI SCHEDULE
BABYLON 5's Schedule:
22-APR-02 5:00 PM BABYLON 5 (LBX)
23-APR-02 5:00 PM BABYLON 5 (LBX)
24-APR-02 5:00 PM BABYLON 5 (LBX)
25-APR-02 5:00 PM BABYLON 5 (LBX)
29-APR-02 5:00 PM BABYLON 5 (LBX)
30-APR-02 5:00 PM BABYLON 5 (LBX)
01-MAY-02 5:00 PM BABYLON 5 (LBX) THE LONG DARK
02-MAY-02 5:00 PM BABYLON 5 (LBX) SPIDER IN THE WEB
07-MAY-02 5:00 PM BABYLON 5 (LBX) SOUL MATES
08-MAY-02 5:00 PM BABYLON 5 (LBX) A RACE THROUGH DARK PLACES
09-MAY-02 5:00 PM BABYLON 5 (LBX) THE COMING OF SHADOWS
13-MAY-02 5:00 PM BABYLON 5 (LBX) GROPOS
14-MAY-02 5:00 PM BABYLON 5 (LBX) ALL ALONE IN THE DARK
15-MAY-02 5:00 PM BABYLON 5 (LBX) ACTS OF SACRIFICE
16-MAY-02 5:00 PM BABYLON 5 (LBX) HUNTER, PREY
21-MAY-02 5:00 PM BABYLON 5 (LBX) THERE ALL THE HONOR LIES
22-MAY-02 5:00 PM BABYLON 5 (LBX) AND NOW FOR A WORD
23-MAY-02 5:00 PM BABYLON 5 (LBX) IN THE SHADOW OF Z'HA'DUM
28-MAY-02 5:00 PM BABYLON 5 (LBX) KNIVES
29-MAY-02 5:00 PM BABYLON 5 (LBX) CONFESSIONS AND LAMENTATIONS
30-MAY-02 5:00 PM BABYLON 5 (LBX) DIVIDED LOYALTIES
BABYLON 5 IN THE UK
Ranger Stephen reports that Babylon 5 has moved to Bravo (Sky Digital channel 124, selected cable companies), where I think they'll be showing it at 8pm.
BABYLON 5/CRUSADE PHOTOSHOP
NEW PHOTOS
You do NOT have to pay the prices asked for over at e-bay! Here are photos of B5 and Crusade cast members at fantastic prices. Check out Photo Shop. Ordering is easy -- and you can't beat the prices! Just let me know which photos you want and I'll check to make sure they are still in stock.
---
NEW BABYLON 5 TOONS
John Cook has a new cartoon contest going. Try your hand at a punch line.



READER DIRECTORY
Sometimes you just can't find the e-mail address for someone you know you have -- it's someone who responded to a discussion topic or you met in one of the chat rooms. You'd like to send a personal note, but .... No address!!!!

We've started a White Pages of Zocalo Readers! It's a handy way of keeping track of people -- and putting together a birthday/greeting card list as well. If you would like to be part of the listing, just send me your name, state, e-mail address and (if you'd like to have it listed) birthday (without year) to sgbruckner@aol.com. Check out the Directory of Readers.
BABYLON 5 REFERENCE PAGES
The Official Babylon 5 Magazine is indexed here as well. With the closure of the magazine in May, you'll want to see which magazines you have -- and which ones you will want to collect. The index may help you make a decision on which ones to choose. The Fan Club has many of the issues at thestation.com , making it very easy to complete your collection.

Universe Today -- the Babylon 5 Fan Club quarterly can also be found here. The index gives you a rundown of what articles were presented, what interviews published.

If you have magazines that have featured Babylon 5 or Crusade that are not listed, send along their issue number and a note to indicate what the article was about. It would be nice to have a fairly comprehensive listing of Babylon 5 publications here.

I have added a listing of all the Babylon 5 novels and now the B5 comic books to the reference page. If there are other items that you feel should be included, let me know.
MAILING LISTS
REDEMPTION: Ranger Steve reports that a new discussion group has been created for the upcoming REDEMPTION convention. Redemption 03, 21-23 February 2003, Ashford, Kent, Celebrating 25 years of Blake's 7 and 10 years of Babylon 5. www.smof.com/redemption.
NW-B5
NW-B5 is a mailing list devoted to bringing critical information to the Vancouver Island, Lower Mainland, and Northern Washington areas. More specifically, anyone north of Seattle. B5 is broadcast on SPACE:TIS in Canada, and Sci-Fi channel in the US. By subscribing to nw-b5, you'll be able to know info bringing you up to date on the current scheduling and events happening in the community related to B5. You'll also be subscribed to the list itself, which means that you'll receive email when there is a scheduling change or critical information needs to go out to you (for example, if we need to start another mailing campaign).

For further information, see http://www.nw-b5.com
John Francis
Webmaster, Listowner, and Co-Moderator
mailto:nw-b5@iname.com

Reports of "The Gathering" are beginning to turn up on the list. John posted a mini-report, with photos, over at http://www.geocities.com/jnf.geo/nw-b5/gathered.htm#0501. You may want to check it out. It was a terrific event in which JMS showed clips from "Legend of the Rangers". Most of the cast was in attendance -- a great group of individuals.
BABYLON 5 DISCUSSION LIST
The Babylon 5 discussion mailing list is for any and all discussions and/or news pertaining to or related to Babylon 5 and/or Crusade. The list has been in existence for the past three years now, and has recently moved. The new location is http://lists.apparition.org/cgi-bin/lyris.pl, and you can subscribe by sending a blank e-mail message to join-babylon_5-l@lists.apparition.org.
THE GALACTIC GATEWAY
Here's a unique site for you! Jeffrey Willerth, Patricia Tallman, Mira Furlan, Claudia Christian, Robin Atkin Downes, Rick Biggs, Jerry Doyle, Bruce Boxleitner, Melissa Gilbert, Peter Jurasik, Bill Mumy and Carrie Dobro are under it's umbrella. Actors from other shows have joined the Gateway. Ted Raimi and Robert Trebor from Xena and Hercules are now at GG. To subscribe to a mailing list for GG, send a blank note to thegalacticgateway-subscribe@egroups.com.
GATEWAY CHATTERS
There is never enough time to keep in touch with friends! To help out, a mailing list has been started for chatters over at the Galactic Gateway. If you are interested in joining, send a blank note to gateway-chatter-subscribe@egroups.com.
GATEWAY TRADER
Are you looking for a particular Babylon 5 collectible? Do you have some items you'd like to trade? Then this is the list for you. To join, send a blank note to gateway-trader-subscribe@egroups.com.
CALLING ALL ARTISTS
The Art Gallery at The Zocalo Today is open. There are SO MANY talented people in our Babylon 5 community. We have enjoyed works by Todd Brugman and Tye Bourdony on our toons page, but there are a host of others who enjoy drawing, painting, sketching their favorite characters. Here are a few works that have been received. I have some others that will be added soon.

If you would like to share your work with us at The Zocalo Today, please send along a digital photo of your work and I'll begin putting the gallery together. If you do not have your work in digital format, drop me a note and we'll see what we can work out.
CALLING ALL CLUBS
There are a number of fabulous Babylon 5/Crusade Clubs around the world. I'd like to begin listing them here on The Zocalo Today. Eric dropped me a note the other day providing information about a Club in France. I know there are other clubs in Brazil, Germany, Russia -- and who knows how many here in the US. Let's get a listing together. Perhaps we can share resources, even get together as we travel around. Drop the information about your Club to me at sgbruckner@aol.com or bruckner@isnnews.net. That information will be added to the new B5 Fan Club Listing.
BABYLON 5 FAN CLUB
Netter Digital filed for bankruptcy in July of 2000 and all their worldly posessions were auctioned off on December 7. The B5 Fan Club site, Thestation.com and it's store, the Emporium, has been closed.
BABYLON 5 NEWSLETTERS
If you have a newsletter you'd like to have listed at The Zocalo Today, send the information along. It will be posted on the B5 Fan Club/Newsletter page.

Ranger Shane in North Carolina sent in the following note about their "Jumpgate" newsletter.

Hey Sandy! Just wanted to give you an update on the NC B5 group's newsletter, Jumpgate. There's now a dedicated EMail address for submissions - jumpgatemag@bellsouth.net - and any submissions, solicited or un-, can be sent to this address. Also, issues are available for free download at the URL at the bottom of this message.

Jumpgate - The Newsletter of the North Carolina Babylon 5 Fan Club
Shane Killian, Editor
HELP WANTED
A new HELP WANTED section has been added to the Z. If you need help finding a comic book, getting a special item, etc. here's the place to post a note. Just send whatever help you need to thezocalo@aol.com.
---
BABYLON 5/CRUSADE CONVENTIONS
CONVENTION CALENDAR
ICON
April 19-21, 2002
Place: SUNY, Stoneybrook, NY
B5 Guests: Andreas Katsulas, Richard Biggs, Jason Carter, Julie Caitlin Brown
For more information, visit their website at http://www.iconsf.org/index.html.
---
London Expo
May 18-19, 2002, London, England
Place: ExCeL Convention Centre Royal Victoria Dock
B5 Guest: Walter Koenig
For more information, visit their website at http://scifishows.com/londonexpo/.
---
Motor City Comic Con
May 17-19, 2002, Detroit, Michigan
Place: Novi Expo Center
B5 Guests: Jerry Doyle, Mira Furlan, Carrie Dobro, Marjorie Monaghan, Stephen Austin
For more information, visit their website at http://www.motorcityconventions.com/motor_city_comic_con/index.html.
---
STICCON XVI
May 18-19, 2002, Bellaria (Rimini) - Italy
Place: Centro Congressi Europeo
B5 Guest: Julie Caitlin Brown, Peter David (B5 author)
For more information, visit their website at http://www.stic.it/sticcon/.
---
Vulkon, Atlanta
May 24-26, 2002
Place: Marriot Century Center
Atlanta, GA
Guests: Bruce Boxleitner (James Doohan, Bruce Campbell, John Billingsley, Barry Morse
For more information, visit their website at http://www.vulkon.com/atlanta/a-hotel.html.
---
ZOCALO TRADING POST
Do you have extra copies of B5, Amazing Spiderman, Midnight Nation or Rising Stars comics you'd like to trade? How about those extra trading cards or B5 magazines? There are a lot of fans looking for these items -- and the Trading Post can help you buy or sell them. To see what's available, just use this link to the Trading Post. To have items included in The Trading Post, send a note to The Zocalo. Please put Trading Post in the subject line.
Pen Pals
If you are looking for someone to talk about Babylon 5 and Crusade with, the Pen Pal section is for you! Check it out! Drop a note to someone who is feeling B5 withdrawal -- BIG TIME!

People thought a Pen Pal page was a good idea. If you would like to meet people who you could chat with or share your opinions of the show with, send along your e-mail or snail-mail address The Zocalo. It will be incorporated on the new Pen Page Page.
BABYLON 5 BIRTHDAYS
Christopher Franke - April 6
Tony Dow - April 13
Peter Jurasik - April 25 Have I missed anyone? If you know the birthday of someone connected with Babylon 5, pass the information along. We want to include everyone in our Happy Birthday Wishes.
MAIL FOR CAST AND CREW
Here's a recent note from JMS on the subject:

Just an FYI to those who've been using the Ventura Blvd. mail drop for fan mail to actors....

As mentioned before, we're phasing out the forwarding of fan mail because we a) don't have the resources, complicated by b) the actors have scattered to the four winds, and it makes it very difficult to get everything to everybody in a timely fashion.

So, having provided prior notice...fan mail to actors coming to the Ventura Blvd. mail drop will be sent back. Mail to actors should be sent via their official fan clubs. I will still be taking mail there, since it's my mailbox, but that's it.

Just so's y'all know and save a few bucks on postage and returns.

JMS' mail can be sent to:

14431 Ventura Boulevard, PMB 260
Sherman Oaks, CA 91423

WARNER BROS:

Warner Bros. Address:

Warner Bros. Domestic Television Distribution
4000 Warner Blvd.
Burbank, CA 91522

Warner Home Video:

Mr. Douglas Wadleigh
VP for Marketing and Special Features
Warner Bros.
4000 Warner Blvd.
Burbank, CA 91522
BACK ISSUES OF THE ZOCALO TODAY
The front page of the The Zocalo Today changes daily, so be sure to check the back issues to make sure that you haven't missed anything IMPORTANT! I don't want the front page getting too long so I shift information periodically into the archives. So if you aren't a regular visitor to The Zocalo Today, be sure to check out the back issues. Just use the button above!
---
Take care and I look forward to hearing from you.
Sandra Bruckner (sgbruckner@aol.com)
Editor/Publisher
The Zocalo Today
http://www.isnnews.net
Copyright - SBruckner, 2002