[an error occurred while processing this directive]

The Zocalo Today

Welcome! I am REALLY glad you dropped by. Take your shoes off, get comfortable and stay a while.

The Zocalo Today is an interactive newsletter. If you have suggestions, please send them along. The Zocalo Today is as much YOUR newsletter as it is mine! I'm just pulling together things for you! Join our weekly discussion topic. It is just one way you can interact with other Z readers. Send along letters, sightings of B5 cast and crew in other projects, convention reports, photos, etc. Don't miss our back issues. There is a LOT of information contained there and you'll not want to miss anything.

If you have questions, drop me a line at sgbruckner@aol.com or b5web@aol.com.

Again, WELCOME!

April 27, 2001 04:35am
What's New
You MAY be seeing a very familiar face on CNN Headline News soon. Andrea Thompson is moving from KRQE-TV in Albuquerque, New Mexico to CNN in June. As of this morning, however, things may be changing. Read the story at http://www.thestandard.com/article/0,1902,24036,00.html .
---
A CALL TO ARMS: The prequel movie to "Crusade" -- A Call To Arms -- will air on SCIFI tomorrow night - April 28.
---
Just came back from a trip around www.ebay.com. As usual, they have a LOT of B5/Crusade material. FYI: Since I know a number of you have asked about uniforms, I spotted three different entries (2 for Earth Alliance Uniforms; 1 for a Rebel Uniform). They were produced by a German company some years ago.
---
Rising Stars #14 is now out on the stands. Picked up my copies last night.
---
JMS posted the following information regarding SCIFI: "Ratings for week 2 are neck and neck with the B5 ratings, and SFC remains quite pleased."
---
New segments of the B5 Chronology are available. See details below.
---
While we have no formal numbers from SCIFI on Crusade, the numbers for the first week of April are in and BABYLON 5 IS BACK IN THE TOP 10! Here are the rating numbers: Farscape 1.6; Star Trek IV 1.3; The Outer Limits 1.3; Invisible Man 1.1; Fortress 2 1.1; John Edward 1.0; Trek Marathon 1.0; First Wave 0.9; Babylon 5 0.8 and Star Trek VI 0.8. This is for the week ending April 8.
---
JMS takes a look at Crusade over on the JMS Speaks page. There are some good insights into what he liked and didn't like that I think you'll find interesting.
---
Be sure to check out the B5 Cast on the Tube page. Lots of B5 people to watch next week.
---
LEGEND OF THE RANGERS: This site continues to provide new information about the new series at http://www.b5lr.com. Production begins May 14 and Mike Vejar (a B5 favorite) will be directing the telemovie. Drop over and check out the other items listed. It's definitely one to bookmark.
---
Jeffrey Willerth will premiere his own anime project, "Genesis Factor" at "Project: A-Kon 2001" June 1-3 in Dallas, TX. Kenny Yakkel (former B5 crewmate) and Jeffrey created the project that will be released as a comic book this fall. Video production/distribution negotiations are underway as well.
---
SCIFI has opened a Crusade website. Not a lot there -- mainly a copy of the Lurker's Guide -- but a super reference for the first-time viewer.
---
You will soon be seeing Robin Atkin Downes on Coca Cola commercials! He's just been booked for a National Network Commercial that will star Christina Aguilera! Pictures will be posted soon.
---
I've updated the new page with information JMS has passed along regarding "The Legend of the Rangers".
---
NEWS AROUND THE SCI-FI GENRE
April 27:
TOP 10 SF NETWORK PROGRAMS: The X-Files 7.6; Dark Angel 5.0; Futurama 3.6; Lone Gunmen 3.5; Charmed 2.3; Voyager 1.9; Oblongs 1.9; Angel 1.8; Buffy 1.8, and 7 Days 1.7.
---
HUGO NOMINEES: This year's list of nominees is out! It's great to see some familiar names included again this year -- like "Kaddish for the Last Survivor" by Michael A. Burstein and "Greetings from Earth: The Art of Bob Eggleton by Bob Eggleton and Nigel Suckling. Bob is also up for the professional artist award. You can read the entire list of nominees at http://www.scifi.com/scifiwire/art-main.html?2001-04/26/10.30.books.
---
BUFFY: With the show's move to UPN, many have wondered about the fate of the official Web site. The network confirmed that it would continue operating the official Buffy Web site, but only "for as long as the show is still on The WB."
---
SCIFI LAB: The SCI FI Lab is a programming development unit, working to bring new specials to the network. A stand-alone unit with its own facilities, the Lab is charged with creating programming outside the traditional programming development process. Here are the working titles for what's in development now:

•Alien Hunter, about a hunter and his crew dedicated to saving the galaxy's most endangered and dangerous animals.
•Celebrity Time Capsule, in which 50 visionaries and celebrities come together to create a video time capsule for the next century, telecast from the base of the missile silo storing the memories of today for the people of tomorrow.
•Conspiracy Theory, which asks the questions, "Do men in black really exist? What was Roswell really the site for? Was Princess Di murdered? Was O.J. framed by the mob?" Conspiracy Theory entertains wacky theories in a talk-show atmosphere and features a Tom Green-like roving reporter.
---
RANGERS: It's terrific seeing JMS & Legend of the Rangers getting some space in other publications -- like Cinescape! We here at the Z wouldn't miss a word -- but it's marvelous to see others getting interested in the new project and spreading the word.
---
SCIFI AND USA NETWORK: Miniseries, specials and movies are coming to Sci Fi Channel for the 2001-02 season. Sister network USA, unveiled an ambitious slate of 12 new original movies that will serve as program fodder for its planned three themed movie nights: "Premiere USA" on Tuesdays, "Action USA" on Wednesdays and "Mystery USA" on Fridays. Sci Fi has given the go-ahead on the miniseries "Red Mars," based on Kim Stanley Robinson's sci-fi epic Mars trilogy, and "A Tale of Two Cities," a futuristic adaptation of the classic Charles Dickens novel.
---
STAR TREK: Everyone was excited to hear Scott Bakula was up for the role of captain in the upcoming Star Trek series. However, it appears that he has other options as well. According to showbizwire, he has agreed to replace Burt Reynolds as the lead on the CBS comedy pilot ``Late Boomers.'' The Trek project hasn't been ruled out, but negotiations are still underway.
---
April 26:
TOMB RAIDER: Angelina Jolie told Cinescape magazine that she took along a few souvenirs from the set of her upcoming Tomb Raider movie. Her guns will be sent along to her in a case, she told the Empire Online Web site. How did Angelina want to play the comicbook character? "I wanted to really understand someone being raised a certain way in England--their culture, the accent and also the class that she's raised in--the manners," Jolie said. "She's Lady Lara Croft, and I had very little practice in being a lady."
---
FANTASTIC FOUR: Variety reports that the Fantastic Four, a Fox movie based on the Marvel Comics, will be developed and directed by Peyton Reed (Bring It On). Fantastic Four centers on four astronauts who develop superhuman powers after their spaceship is exposed to cosmic rays.
---
April 25:
TOP 10 RATINGS: Here are the rating numbers for the Top 10 Syndicated SF Shows: The X-Files 3.4; 3rd Rock 3.1; Andromeda 3.0; Xena 2.6; Invisible Man 2.3; Stargate SG-1 2.2; Profiler 2.1; Sheena 2.0; Earth: Final Conflict 1.9, and Outer Limits 1.5. This covers April 2-8.
---
IN A HEARTBEAT: Variety reports that Allen Coulter (director of The Sopranos) will make his feature-directing debut with the supernatural fantasy film In a Heartbeat. Written by Dina Chapman and Hopwood DePree, the movie is scheduled to begin shooting this fall. Heartbeat tells the story of a rich girl and a petty criminal who experience simultaneous near-death experiences and fall in love in the tunnel between life and death.
---
LORD OF THE RINGS: Tolkein online has confirmed that there will be a new LOTR trailer attached to the "Little Nicky" DVDs hitting the marketplace TODAY!
---
April 24:
EPISODE II: George Lucas has always pushed the envelope as far as movie making is concerned. Speaking to the National Association of Broadcasters convention in Las Vegas over the weekend, Lucas said, "I'm completely sold on digital. I can't imagine ever going back." Are other filmmakers interested? You bet! Lucas says James Cameron, Francis Ford Coppola and a lot of other directors have come through here to see what they are doing. They're very enthusiastic about digital and are amazed at what has been accomplished.
---
TREK-ENTERPRISE: Variety reports that Paramount Network Television is set to announce this week that UPN will get the next series in the Star Trek franchise. Variety confirmed the series is tentatively titled Enterprise and will debut in the fall.
---
TREK-GRAPHICS: The official Star Trek website reported that Deep Space Nine illustrator Doug Drexler will join the upcoming fifth Star Trek series as a junior illustrator. Drexler will work in the art department to develop the visual look of the new show, including computer displays, logos and alien languages.
---
JUSTICE LEAGUE: The Cartoon Network's Justice League animated series will include a couple of very familiar voices! Mark Hamill and Clancy Brown will reprise their Superman roles of the Joker and Lex Luthor, according to the Comics Continuum Web site. The Joker and Lex Luthor will be part of the Injustice Gang on the series.
---
VOYAGER: Robert Duncan McNeil is the latest to talk about the final episodes of Voyager. His character, Tom Paris, has a lot going on right now -- new wife, baby on the way, etc. He says it has been really a lot of fun for the fans and a lot of fun for the actors to play the very rapid progression of the relationship from the verge of breaking up at the beginning of the season to now being married and having a family. You can read more at www.cinescape.com or at http://www.trekweb.com/.
---
April 23:
FARSCAPE: I'd heard there would be a Farscape magazine done by our friends at Titan in the UK. Well it's out and I wonder if anyone has seen it yet! From the covers shown at http://www.diamondcomics.com/previews/products/magazines/may_01/3_farscape.html Issue #2 is already out! I hope they do as good a job with Farscape as they did with B5!
---
BATTLESTAR GALACTICA: Frank Garcia has an interesting interview with Richard Hatch (Capt. Apollo) about the new Battlestar project, this feelings about the show and hopes for the future.
---
PLANET OF THE APES: It is truly a flash from the past! With the release of The Planet of the Apes coming this summer, you will soon be able to pick up all-new lunch boxes featuring Planet of the Apes retro art in the style of the 60s. The lunch box is made of metal, with a metal drink container. These limited edition collectibles come in three different designs. See them over at http://www.diamondcomics.com/previews/editorial/splashpage/newsnotes/news_notes.html.
---
COMIC ART: Also on the page with the Planet of the Apes lunch boxes, you'll find two new wall scrolls of two of Marvel's top series –– Earth X and Spider-Man. These humungous 20" x 40" wall scrolls are based on art from two of the industry's most talented artists: Alex Ross and Todd McFarlane!
---
April 22:
VOYAGER: Robert Beltran has not been a happy camper at Voyager for quite some time -- and he has made no secret of it. In talking with Ian Spelling recently, Robert said, "Chakotay has not changed enough for my taste. Although they come up with a scene here or there that's tolerable, I think the character has not progressed since season four. In fact, he may even have regressed a little." Since Voyager ended production on April 9 and with the series finale coming in May, it will be interesting to see how the actors involved with the series move on to other roles. You can read more of Beltran's comments over at www.cinescape.com
---
SUPERMAN: There have been a huge host of writers associated with the upcoming movie project. According to the Hollywood Reporter, Paul Attanasio may soon try his hand at the Superman movie. Attanasio is involved in a two picture deal with Warner Bros. that could result in a $3.4 million paycheck.
---
NEW MERCHANDISE
Women of Babylon 5
The Women of Babylon 5 are back! This very limited collection of 5"x7" Archive Cards features Susan Ivanova, Delenn, Lyta Alexander, Na\'Toth and Elizabeth Lochley. Each card has been hand-numbered to 999, and all sets come complete with matching numbers.
The collection is due out May 16, but you can order now at www.scifihobby.com.
LEGEND OF THE RANGERS
More from JMS on the new series:

"Sets are being built even as I write this. Designs have been worked out that take the B5 look to a new level, including a ship unlike anything we've ever done before, very ambitious, very different appearance.

"Most of the cast has been set, there are only two roles left to be cast and those should be locked down in a couple of days. It's starting to pick up considerable speed and momentum. SFC and WB are *extremely* pleased with the script.

"There are some comments here and there about the B5 actor who will appear in the TV movie, and the director, but I can't comment pending a press release from SFC, which should be out shortly.

"I think people are going to be pleased and surprised by the look and feel of the show...it has an energy that feels a lot like S3 of B5...by turns funny, intense, weird, with action and some very nice character stuff.

"It's gonna be very cool...."
TECHNOMAGE TRILOGY
"Babylon 5: Casting Shadows" Jeanne Cavelos' trilogy on the Technomage is out. Part two, "Summoning Light", will be released in July! DelRey website has the books available for ordering now. The synopsis up on "Summoning Light" is quite a teaser!

To learn more about Jeanne, visit her website at www.sff.net/people/jcavelos. Jeanne is a scientist, mathametician and author! She's worked with NASA and Harlan Ellison on a writing series! I'm sure you will find her an interesting person to chat with.

** FYI: Jeanne has joined the B5 forum here, talking about the Technomage in both the B5 and Crusade topics.
THIS WEEK'S DISCUSSION TOPICS
Crusade Returns! Many of you may be watching Crusade for the first time. Some of us saw it on TNT, but in a different order. Are you enjoying it? Do you see things in this run that you did not see before? Let's talk Crusade!

Send in your comments to either TheZocalo@aol.com or b5web@aol.com.. You can also post your comments on the message board at www.isnnews.net/board. To see what other readers have posted on this and other topics, follow this link to Current Discussion Topic page.
---
BABYLON 5/CRUSADE PHOTOSHOP
NEW PHOTOS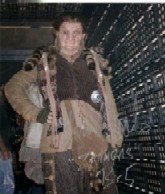 You do NOT have to pay the prices asked for over at e-bay! Here are photos of B5 and Crusade cast members at fantastic prices. Check out Photo Shop. Ordering is easy -- and you can't beat the prices! Just let me know which photos you want and I'll check to make sure they are still in stock.

SPECIAL PHOTO OFFER! Thanks to David Allen Brooks, we have the only completely signed Crusade cast photo around! Yes, even Gary Cole has signed this photo! David will be donating part of the money raised by selling the photo to the Crusade for a Cure Fund for AIDs. The cost of the photo is $100 (which is a real steal, by the way). For details on how to place an order, send a note to sgbruckner@aol.com. There is only a limited number of photos available, so order now! There are other cast photos available as well in limited quantity in our Photo Shop.
---
KEEPING UP WITH CAST AND CREW
Gary Cole has won a recurring role on the hit series "The Practice" as shrewd defense attorney Solomon Tager. His first appearance on the series will be this week.
---
Bruce Boxleitner will host the 20th National Space Society's Awards Banquet on May 27. The banquet is part of a larger International Space Develpment Conference. The conference runs from May 24-28 at the Albuquerque Hilton Hotel. Check their website at http://www.isdc2001.org/ or email admin@isdc2001.org for more information.
---
Pat Tallman and Claudia Christian's lastest movie, "Never Die Twice", debuts at the Arizona International Film Festival on April 20. For more information about the movie, go to http://www.neverdietwice.com/. For more information about the Festival, go to http://www.azstarnet.com/%7Eazmac/.
---
Recently, Jeffrey Willerth not only helped son Julian's school by purchasing a raffle ticket, he won the chance to be a background extra on the May 2 episode of the Drew Carey Show.
---
BABYLON 5/CRUSADE CHRONOLOGY
Terry Jones created a FANTASTIC Babylon 5/Crusade Chronology that was published in the Official Babylon 5 magazine. He has not stopped with the end of the series though. He has included items from the latest novels as well as things from the Crusade series. Here's a note from Terry to tell you all about it.

Over at The Galactic Gateway I started a series of personal chronologies for major characters. Part III (Part IV should be ready soon). I have now included the first KOSH chronology. Others will follow. I hope you will visit GG and give the chronologies a look.

Terry has made some changes to the segment we had last month on The 21th Century so a new version is out along with the 22nd Century.
SCI FI PUBLICATIONS
CULT TIMES: Joss Whedon and David Greenwalt from Angel talk about the direction the series is headed and things we might look for. Traci Elizabeth Lords has been a wonderful addition to First Wave. Chris Brancato talks about his show and how it is evolving.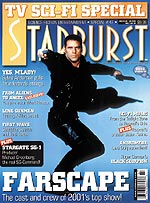 STARBURST SPECIAL: In this special TV Sci-Fi issue, there are 10 pages devoted to Farscape! Also included in this issue are articles on Roswell, Black Scorpion, Andromeda, Angel, First Wave, Stargate SG-1 and Lone Gunmen.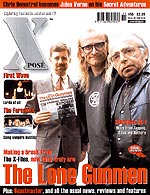 EXPOSE: With the Lone Gunmen making their debut, the magazine talks to Tom Braidwood and Dean Haglund about how the series developed. Teryl Rothery, Amanda Tapping and Don S. Davis from Stargate SG-1 talk about what they would like to see more of in upcoming episodes. Also included are articles on First Wave, Beastmaster, The Outer Limits and Secret Adventures of Jules Verne.
SCI-FI SCHEDULE
BABYLON 5's Schedule: 7pm each evening:

Air Date Title

April 30 Acts of Sacrifice

May 1 Hunter, Prey
May 2 There All the Honor Lies
May 3 And Now for a Word
May 4 In the Shadows of Z'Ha'Dum

CRUSADE'S SCHEDULE: 8pm on SCIFI

Mon, April 30 8:00 PM CRUSADE APPEARANCES AND OTHER DECEITS

* There are no listings for Crusade in May.
COMIC BOOKS
AMAZING SPIDERMAN
This is JMS' first issue for Amazing Spiderman. IGN.COM has a review of this first issue. From the comments I've seen in the newsgroup, people seem to like the new, refreshing approach JMS is using.
RISING STARS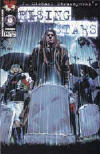 Issue #14 IS OUT! There's a review of the latest issue over at scifi.ign.com/comics/3226.html.
NO HONOR
NO HONOR #3
Top Cow Comics
(W) Fiona Avery (P) Clayton Crain

In April 2001, NO HONOR heats up. Will Random and Tannen, inhabiting the same body, survive a gunshot wound to the chest? Can they get out of the country before Brit Morrigan, the head of the NYPD art squad and a former thief, finds them first? The stakes are high and the price of escape is even higher: someone is going to die.

NO HONOR EXCLUSIVE PREVIEW BOOK

Top Cow Comics
(W) Fiona Avery (P) Clayton Crain

This preview issue is in black and white; a great look at Clayton Crain's artwork on the first pages of Issue One. A world-renowned art thief steals an ancient Samurai katana, cutting himself on the blade and releasing the spirit of Tannen, a Ronin from Feudal Japan, who inhabits the thief's body. Have a sneak peek at the story and art before anyone else!

NO HONOR POSTER
Top Cow Comics

The first poster to commemorate the launch of Fiona Kai Avery's NO HONOR miniseries, the tale of an ancient samurai who meets the modern world. With artwork by Marc Silvestri and color by Peter Steigerwald, you won't want to miss this one!
NEW BABYLON 5 TOONS
John Cook has a new cartoon contest going. Try your hand at a punch line.




A oldie but goodie from Tye Bourdony (www.thelightersideofscifi.com).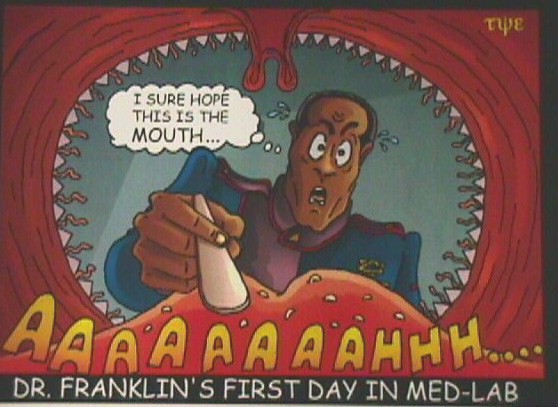 TOONS FOR CHARITY -- GREAT JOB
Tye Bourdony (www.thelightersideofscifi.com) and Claudia Christian recently are paired to bring a few more dollars to the John Wayne Cancer Foundation. Claudia signed one of Tye's satires (a one of a kind) and it was auctioned off at the Globelist Charities for the John Wayne Cancer Foundation. The winning bid was $270! Congratulations to the person who picked up this great piece.

Tye currently has new items for Erin Gray and Richard Hatch over the globelist auction site. He will be offering a new piece for Bill Mumy soon.
READER DIRECTORY
Sometimes you just can't find the e-mail address for someone you know you have -- it's someone who responded to a discussion topic or you met in one of the chat rooms. You'd like to send a personal note, but .... No address!!!!

We've started a White Pages of Zocalo Readers! It's a handy way of keeping track of people -- and putting together a birthday/greeting card list as well. If you would like to be part of the listing, just send me your name, state, e-mail address and (if you'd like to have it listed) birthday (without year) to sgbruckner@aol.com. Check out the Directory of Readers.
BABYLON 5 REFERENCE PAGES
The Official Babylon 5 Magazine is indexed here as well. With the closure of the magazine in May, you'll want to see which magazines you have -- and which ones you will want to collect. The index may help you make a decision on which ones to choose. The Fan Club has many of the issues at thestation.com , making it very easy to complete your collection.

Universe Today -- the Babylon 5 Fan Club quarterly can also be found here. The index gives you a rundown of what articles were presented, what interviews published.

If you have magazines that have featured Babylon 5 or Crusade that are not listed, send along their issue number and a note to indicate what the article was about. It would be nice to have a fairly comprehensive listing of Babylon 5 publications here.

I have added a listing of all the Babylon 5 novels and now the B5 comic books to the reference page. If there are other items that you feel should be included, let me know.
MAILING LISTS
BABYLON 5 DISCUSSION LIST
The Babylon 5 discussion mailing list is for any and all discussions and/or news pertaining to or related to Babylon 5 and/or Crusade. The list has been in existence for the past three years now, and has recently moved. The new location is http://lists.apparition.org/cgi-bin/lyris.pl, and you can subscribe by sending a blank e-mail message to join-babylon_5-l@lists.apparition.org.
THE GALACTIC GATEWAY
Here's a unique site for you! Jeffrey Willerth, Patricia Tallman, Mira Furlan, Claudia Christian, Robin Atkin Downes, Rick Biggs, Jerry Doyle, Bruce Boxleitner, Melissa Gilbert, Peter Jurasik and Bill Mumy are under it's umbrella. Actors from other shows have joined the Gateway. Ted Raimi and Robert Trebor from Xena and Hercules are now at GG. To subscribe to a mailing list for GG, send a blank note to thegalacticgateway-subscribe@egroups.com.
GATEWAY CHATTERS
There is never enough time to keep in touch with friends! To help out, a mailing list has been started for chatters over at the Galactic Gateway. If you are interested in joining, send a blank note to gateway-chatter-subscribe@egroups.com.
GATEWAY TRADER
Are you looking for a particular Babylon 5 collectible? Do you have some items you'd like to trade? Then this is the list for you. To join, send a blank note to gateway-trader-subscribe@egroups.com.
CALLING ALL ARTISTS
The Art Gallery at The Zocalo Today is open. There are SO MANY talented people in our Babylon 5 community. We have enjoyed works by Todd Brugman and Tye Bourdony on our toons page, but there are a host of others who enjoy drawing, painting, sketching their favorite characters. Here are a few works that have been received. I have some others that will be added soon.

If you would like to share your work with us at The Zocalo Today, please send along a digital photo of your work and I'll begin putting the gallery together. If you do not have your work in digital format, drop me a note and we'll see what we can work out.
CALLING ALL CLUBS
There are a number of fabulous Babylon 5/Crusade Clubs around the world. I'd like to begin listing them here on The Zocalo Today. Eric dropped me a note the other day providing information about a Club in France. I know there are other clubs in Brazil, Germany, Russia -- and who knows how many here in the US. Let's get a listing together. Perhaps we can share resources, even get together as we travel around. Drop the information about your Club to me at sgbruckner@aol.com or bruckner@isnnews.net. That information will be added to the new B5 Fan Club Listing.
BABYLON 5 FAN CLUB
Sad news. I don't know what the fate of the B5 Fan Club will be. Netter Digital filed for bankruptcy in July and all their worldly posessions were auctioned off on December 7. Thestation.com is back on-line, however the Emporium has been closed.
BABYLON 5 NEWSLETTERS
If you have a newsletter you'd like to have listed at The Zocalo Today, send the information along. It will be posted on the B5 Fan Club/Newsletter page.

Ranger Shane in North Carolina sent in the following note about their "Jumpgate" newsletter.

Hey Sandy! Just wanted to give you an update on the NC B5 group's newsletter, Jumpgate. There's now a dedicated EMail address for submissions - jumpgatemag@bellsouth.net - and any submissions, solicited or un-, can be sent to this address. Also, issues are available for free download at the URL at the bottom of this message.

-- Jumpgate - The Newsletter of the North Carolina Babylon 5 Fan Club
Shane Killian, Editor
AN APPEAL TO BABYLON 5 FANS
Recently, I watched some of the Documentary "Trekkies" and only managed to get about halfway through it, before the whole thing frustrated me. I believe that Babylon 5 is just as worthy as any of the Treks, and more worthy than most of them.I would like to write a piece about the positive effects of Babylon 5, and explore B5'ers reactions. Thusly, I appeal to all those out there to send me the positive reactions, responses, to Babylon 5. How has it inspired you? How has it impacted on your life? How do you show that you are a fan of this show? I would love and welcome all responses and will distill them down and write an article that will appear in the Zocalo on the outcome of this appeal. Please have your responses in by Feb. 20th, or so. I will be most interested in what I do receive. Send them to my e-mail address, at CCB5Flamekeeper@aol.com.

Many Thankings,
Connie Colvin

** Connie would like to make this appeal open-ended. If you have items to contribute, please pass them along to her.
BABYLON 5/CRUSADE CONVENTIONS
CONVENTION CALENDAR
Lots of updates to the calendar. I hope you will check it out and see if there are any Babylon 5 conventions in YOUR future! Use this link Convention Calendar. Have a convention you would like to have listed here? Pass along the information.
CONVENTION ALERT
The guest roster at Agamemcon is growing (or I'm just catching up). But it now includes: Claudia Christian, Tracy Scoggins, Stephen Austin, Peter Jurasik, David Allen Brooks, Tim Choate, Jeffrey Willerth, Peter Woodward, Judson Scott

CONVENTION ATTENDANCE

Are you attending one of the conventions on the calendar? Or another one perhaps? Do you want to see who else might be there? Drop your e-mail address to TheZocalo@aol.com. We've begun an attendance page so that perhaps we can get together while enjoying the activities of the convention. Convention Attendance .
CONVENTION REPORTS
There are a number of convention reports, written by convention attendees, on the Reports Page. Photos from FarPoint have been added to the Photo Gallery.. If you have convention activity you would like to share with us, drop me a line.
UPCOMING EVENTS
Chiller Theatre
April 27-29, 2001; East Rutherford, NJ
Guests: Walter Koenig, Stephen Furst, Claudia Christian, Mira Furlan, Jerry Doyle, Richard Biggs, Carrie Dobro, Iona Morris, Marjorie Monaghan, Julie Caitlin Brown

For more information, visit their website at www.chillertheatre.com.
---

Marscon
May 11-13, 2001; Bloomington, MN
Guests: Bill Blair

For more information, visit their website at http://www.marscon.com or call (612) 724-0687.
---

Motor City Comic Con
May 18-20, 2001; Detroit, MI
Guests: David Allen Brooks, Richard Biggs, Claudia Christian, Walter Koenig (JMS is NOT attending)

For more information, visit their website at http://www.motorcity.com/motor_city_comic_con or e-mail info@motorcitycomics.com.
---

Marcon 36
May 25-27, 2001; Columbus, OH
Guests: Peter Woodward

For more information, visit their website at http://209.235.59.71/marcon1/index.htm or call 1-614-470-5448.
---

A-Kon
June 1-3; Dallas, TX
Guests: Richard Biggs, Jason Carter, Jeffrey Willerth, Bill Blair

For more information, visit their website at http://a-kon.com/guests.html.
---

Agamemcon
June 8-10, 2001; Burbank, CA
Guests: Claudia Christian, Tracy Scoggins, Stephen Austin, Peter Jurasik, David Allen Brooks, Tim Choate, Jeffrey Willerth, Peter Woodward, Judson Scott

For more information, visit their website at http://www.agamemcon.org.
---

Slanted Fedora
June 15-17, 2001; Chicago, IL
Guests: Tracy Scoggins

For more information, visit their website at http://www.sfedora.com/chicago.htm or call (913)327-8735.
---

Sci-Fi Fan Festival 2001
June 29 - July 1, 2001; Chicago, IL
Guest: Jason Carter, Richard Biggs

More information, visit their website at http://www.scififanfestival.com or e-mail H1m2s3@aol.com.
---

Atlanticon2001
June 29, 30 & July 1, 2001; Prince Edward Island, Canada
Guest: Bill Blair

More information, visit their website at http://www.atlanticon.org or e-mail atlanticon@hotmail.com. Phone: 800-867-5563.
---
ZOCALO TRADING POST
There are some new and interesting items in the Trading Post. Take a look. If you have items you'd like to trade, post a note here. If you need a particular item, the Trading Post or Message Board could help you find it. Use this link to see what is listed. Trading Post. To have items included in The Trading Post, send a note to The Zocalo. Please put Trading Post in the subject line.
Pen Pals
If you are looking for someone to talk about Babylon 5 and Crusade with, the Pen Pal section is for you! Check it out! Drop a note to someone who is feeling B5 withdrawal -- BIG TIME!

People thought a Pen Pal page was a good idea. If you would like to meet people who you could chat with or share your opinions of the show with, send along your e-mail or snail-mail address The Zocalo. It will be incorporated on the new Pen Page Page.
BABYLON 5 BIRTHDAYS
April Birthdays

Christopher Franke - April 6
Tony Dow - April 13
Peter Jurasik - April 25

Have I missed anyone? If you know the birthday of someone connected with Babylon 5, pass the information along. We want to include everyone in our Happy Birthday Wishes.
MAIL FOR CAST AND CREW
Here's a recent note from JMS on the subject:

Just an FYI to those who've been using the Ventura Blvd. mail drop for fan mail to actors....

As mentioned before, we're phasing out the forwarding of fan mail because we a) don't have the resources, complicated by b) the actors have scattered to the four winds, and it makes it very difficult to get everything to everybody in a timely fashion.

So, having provided prior notice...fan mail to actors coming to the Ventura Blvd. mail drop will be sent back. Mail to actors should be sent via their official fan clubs. I will still be taking mail there, since it's my mailbox, but that's it.

Just so's y'all know and save a few bucks on postage and returns.

JMS' mail can be sent to:

14431 Ventura Boulevard, PMB 260
Sherman Oaks, CA 91423
BACK ISSUES OF THE ZOCALO TODAY
The front page of the The Zocalo Today changes daily, so be sure to check the back issues to make sure that you haven't missed anything IMPORTANT! I don't want the front page getting too long so I shift information periodically into the archives. So if you aren't a regular visitor to The Zocalo Today, be sure to check out the back issues. Just use the button above!
---
HELP!!!
NEW FLYER AVAILABLE: If you would like to take some flyers to a convention to help spread the word that The Zocalo is here and ready to provide you with information on everything Babylon 5 and Crusade! drop me a line. I'll be glad to send you some in the mail. I've created a PDF file that can be downloaded and printed. Flyer Thanks for helping to spread the word about The Z!

Take care and I look forward to hearing from you.
Sandra Bruckner (sgbruckner@aol.com)
Editor/Publisher
The Zocalo Today
http://www.isnnews.net
Copyright - SBruckner, 2001