[an error occurred while processing this directive]

The Zocalo Today

Welcome! I am REALLY glad you dropped by. Take your shoes off, get comfortable and stay a while.

The Zocalo Today is an interactive newsletter. If you have suggestions, please send them along. The Zocalo Today is as much YOUR newsletter as it is mine! I'm just pulling together things for you! Join our weekly discussion topic. It is just one way you can interact with other Z readers. Send along letters, sightings of B5 cast and crew in other projects, convention reports, photos, etc. Don't miss our back issues. There is a LOT of information contained there and you'll not want to miss anything.

If you have questions, drop me a line at sgbruckner@aol.com or b5web@aol.com.

Again, WELCOME!

April 4, 2002 4:38am
What's New
JMS: See the brief note below from JMS on the future of "Legend of the Rangers".
---
SCIFI CHANNEL: Bonnie Hammer made a ton of announcements yesterday regarding new projects for the network. Some of the more interesting ones include new mini-series for Battlestar Galactica, Myst (from the video game), The Forever War (based on Joe Haldeman's classic), The Chronicles of Amber (based on Roger Zelazny's Lord of Light, Creatures of Light and Darkness, Home of the Hangman, A Rose For Esslesiastes), and On the Seventh Day (a 7-hour limited series set in 2850AD). SCIFI's recent "Firestarter" movie did quite well in the ratings and may be developed into a continuing series. Sci Fi has ordered 13 episodes of an animated series called "Tripping the Rift," set to debut early next year, and is looking to create a block of what it calls "alternative reality" programming, also for 2003. There were also a number of original movies announced -- but not a peep about anything Babylon 5 related. For a look at all of the upcoming projects, go to http://tv.zap2it.com/news/tvnewsdaily.html?24969.
---
JMS: Just picked up an update from JMS from the B5 newsgroup. It responds to the question, "Have you grown tired of Babylon 5?. To catch his response, go over to JMS Speaks.
---
DAVID BROOKS: David Brooks is multi-talented. He is not only an actor -- but lately has has been focussing on his art! He is one of five artists exhibiting his work at a private studio in Hollywood at 1046 N. Orange Drive. This Celebration of Art, Music and Life will run from 8-3:00 pm on Saturday night. For more information, call 323-993-6041.
---
DISCUSSION TOPIC: I'm catching up with submissions to the discussion topic. Thanks to everyone for sending along their ideas. I really do appreciate you taking the time -- and sharing your ideas.
---
JMS AT AMAZON: Ranger Graham sent along a note about JMS material available at Amazon.com: Amazing Spider-Man: Coming Home - Graphic Novel Now shipping
Delicate Creatures - Now shipping
Rising Stars Vol 1 - Graphic Novel Now shipping
Rising Stars Vol 2 - Graphic Novel Shipping soon
---
MELISSA GILBERT: Melissa won resoundingly the re-run election for the SAG Presidency. However, there is much work ahead, including negotiations for a new franchise with the ATA. Hollywood Reporter asked Melissa what would be needed to gain approval of the agreement. Read all about it over on http://www.hollywoodreporter.com/hollywoodreporter/frontpage/article_display.jsp?vnu_content_id=1448719.
---
SPEEDY RECOVERY: Over in the B5 newsgroup, JMS indicated he had fallen recently and fractured and sprained his left ankle, AND fractured and dislocated his right ring finger. Here's to a speedy recovery! Take care.
---
LINKS: I've put some new links on the Links page here -- including a number of Jeremiah sites.
---
JEREMIAH: JMS throws out a few more details related to Jeremiah. All of his comments can be found on the Jeremiah Page.
---
B5 ON DVD: Everyone has been waiting for some sort of official word from the WB on whether or not the series would be coming out on DVD. The critical determining factor was sales of the first DVD released in December. If the first DVD did well, others would surely follow. Still no official word on this front, but www.B5LR.com indicates a source has said that the resulting sales were positive enough for Warner Bros. to make a decision to release the series on DVD. We'll see if some official statement will follow.
---

BLOOD DRIVES: If you are able, be sure to roll up your sleeves and give blood -- both now and in a couple of weeks. The need for blood will be continual. Right now, the tremendous outpouring of volunteers has filled quotas and storage space! FANTASTIC!!! But those supplies will be utilized and a new supply will be needed soon. Check out donation drives near you. I'm signed up already.
---
The e-mail version of The Zocalo Today goes out on Saturdays. If you would like to be included on the mailing list, just send a blank note to thezocalo-subscribe@yahoogroups.com. If that doesn't work for you, drop me a note at sgbruckner@aol.com. I can add you manually. Our new back-up site is located at http://sgbruckner.tripod.com. If you can't get into www.isnnews.net, try this site for new information.
---
NEWS AROUND THE SCI-FI GENRE
April 5:
RATINGS: Top 10 SF Network Programs: Alias 5.5; Touched by an Angel 5.3; The X-Files 5.2; Futurama 3.7; Buffy 3.5; Dark Angel 3.5; Enterprise 2.9; Angel 2.7; Smallville 2.7, and Charmed 1.9. Source: Nielsen Galaxy Report, 3/4/02 - 3/10/02.
---
REIGN OF FIRE: Rob Bowman, director of the upcoming SF movie Reign of Fire, recently talked to SCI FI Wire about the dragons seen in the film. Bowman got a number of people involved, including paleontologists, to see what a dragon could have looked like back in prehistoric times. The result is a creature that, in Bowman's mind, will set the standard for big screen dragons. "This thing is as real as we could make it." Reign of Fire, which stars Matthew McConaughey, Christian Bale and Izabella Scorupco, will open nationwide on July 12.
---
X2: The sequel to X-MEN will begin filming next month in Vancouver. For the special effects work, Bryan Singer has chosen Canadian specialists Frantic Films. Frantic previously worked on two ABC Stephen King mini-series, THE STORM OF THE CENTURY and ROSE RED. "We're excited and thrilled and confident that it'll be a lot of fun," Frantic president Chris Bond told the Winnipeg Sun. "I love bringing this kind of work to Winnipeg. Everybody in L.A. will know Winnipeg soon."
---
FARSCAPE: TONIGHT: The last four episodes of season three begin to air. The fourth season will make it's deubt in June. Executive producer David Kemper said the season finale might be his favorite so far.
---
SPIDERMAN: There are some new pictures for the upcoming movie over at http://www.comicscontinuum.com/stories/0204/05/index.htm along with a rundown of merchandise that will be coming out soon. Cingular (the phone folks) have a new Spiderman flick and some of the fast-food chains will have Spidey cups available soon. Target chains have started carrying Spider-Man displays, include Spider-Man water cannons and motion detector Spider-Man gloves.
---
April 4:
MUTANT X: There are a number of changes ahead for the second season of this syndicated series. Michael Easton will guest star in the season finale as new bad guy Gabriel Ashlocke, "the first child of Genomex." Easton will become a regular recurring guest star next season, and he has been signed for several episodes. According to the show's spokesperson, "Gabriel has super mutant powers, and he could be the most dangerous new mutant ever." In fact, Gabriel has all the new mutant powers, and "his new mutant gifts are off the meter." Tom McCamus, (Mason Eckhardt) is starring in the play Richard III, will return to the series next season as a regular recurring guest star.
---
SPIDERMAN: Though the movie doesn't hit theaters until May 3 (June 6 in Australia), Sam Raimi isn't waisting any time getting a sequel into motion. He talked to the folks at www.moviehole.net. No script has been worked out yet, but he definitely has #2 in mind right now.
---
WITCHBLADE: Star Yancy Butler talks about the second season of the show, having her father in the first episode -- and more over at http://www.comicscontinuum.com/stories/0204/04/index.htm.
---
April 3:
RATINGS: Top 10 SF Syndicated Series: Andromeda 3.1; The X-Files 2.9; Stargate SG-1 2.8; Buffy 2.6; Mutant X 2.6; Beastmaster 2.4; 3rd Rock 2.2; John Edward 2.1; Earth: Final Conflict 1.8, and The Lost World 1.8. Source: Nielsen Galaxy Report, 3/4/02 - 3/10/02. X-FILES/ROSWELL: The SciFi Channel has acquired the rights to air all nine seasons of The X-Files and all three seasons of Roswell. In an eight-year deal, SCI FI will share The X-Files with TNT and will air all 202 episodes exclusively during weekdays from 7 p.m. to 11 p.m. ET/PT, starting in the fall. Roswell will debut on SCI FI this fall.
---
STAR WARS: In anticipation of the May 16 opening of Star Wars: Attack of the Clones, SCI FI will air an original special hosted by filmmaker and Star Wars fan Kevin Smith (Dogma). Smith will present a collection of fan-made, Star Wars-themed spoofs and documentaries, each competing to win a Star Wars Fan Film Award. Categories will include the Young Jedi Award (films made by directors under 18), animation, Audience Award (selected by online viewers) and a special George Lucas Selects Award, which will be announced by the Star Wars creator himself. The special will also feature clips from Episode II.
---
ENTERPRISE: Designer Doug Drexler has spent quite a lot of time in the STAR TREK universe. He served as scenic artist on DEEP SPACE NINE for seven years before getting an opportunity to design a new Starship Enterprise for the new series. TrekWorld recently talked with Drexler about his efforts and you can read all about it at http://talk.trekweb.com/articles/2002/04/02/1017748966.html.
---
April 2:
DUNE: DUNE was SCIFI's most successful mini-series ever! The follow-up mini-series, CHILDREN OF DUNE, begins a four-month shoot this month in Prague. Oscar winning actress Susan Sarandon joins the cast, stepping into the role of Wensicia, the princess intent on regaining her family's power over millions.
---
EUGENE RODDENBERRY, JR: Eugene Roddenberry talks about Earth: Final Conflict, his father and science fiction in general over at http://www.scifi.com/sfw/advance/01_interview.html.
---
STAR WARS: EPISODE II: Episode II: Attack of the Clones opens on May 16. John Williams has completed the score for the film and it has been recorded by the London Symphony Orchestra at Abbey Studios in London. Williams is a master at composing film scores and when asked about working with John Williams, producer Rick McCallum said, "Hearing a musical score for the first time is one of the most wonderful events that can happen to you. Obviously, John hears the music when he's writing it, but no one gets the opportunity to fully experience it until then. Even though you may have heard little melodies on the piano, it never has the same impact unless you can really read music well to understand it." The 125 minute score is performed by the London Symphony's 110 players, plus a full choir.
---
NEMESIS: The first official photo for the upcoming movie is available at http://www.startrek.com/production/startrekx/articles/032602.asp.
---
STOKER AWARDS: The Locus Online website has announced this year's nominations for the Bram Stoker Awards, honoring achievement in horror fiction. Winners will be named at the Bram Stoker Awards Ceremony on June 8 at The New York Helmsley Hotel. A full list of nominees can be found at http://www.scifi.com/scifiwire/art-main.html?2002-04/01/10.15.books.
---
April 1:
FOREVER KNIGHT: For Forever Knight fans, today will be very special over at SCIFI. They have a Forever Knight marathon planned from 11am thru 11pm today!
---
RATINGS: Top 10 SF Channel Shows: Firestarter Pt. 1 2.2; Indy Last Crusade 1.9; Star Trek: Generations 1.4; Willow 1.0; Star Trek VI 1.0; Back to the Future III 0.9; The Chronicle 0.8; Rawhead Rex 0.8; Blade Runner 0.8, and Strange World 0.7. Source: Nielsen Galaxy Report, 3/4/02 - 3/10/02.
---
DAREDEVIL: Kevin Smith wrote several Daredevil comics for Marvel and he told fans that he will be making a cameo appearance in the upcoming film. Production began this month in LA and Smith's scene will shoot his scene on April 3. While Smith did not want to spoil anything by giving away more information than was needed, he did thank Mark Steven Johnson for allowing him the opportunity to appear in the project.
---
WEEKEND BOX OFFICE: Sony's "Panic Room" brought in an estimated $30.2 million and easily secured the top spot. It was the biggest opening ever during the Easter holiday, topping Warner Bros.' "The Matrix," which debuted with $27.8 million in 1999. 20th Century Fox's "Ice Age" was still hot at the box office, bringing in an estimated $18.6 million, for a total of around $117.3 million in 17 days. Buena Vista's "The Rookie," starring Dennis Quaid and directed by John Lee Hancock, came in third slot with an estimate of a solid $15.8 million. New Line's "Blade II" dipped 59% from its debut but still managed an estimated $13.2 million. Paramount's "Clockstoppers," from Nickelodeon Movies, opened in fifth with $10.1 million.
---
WOLF LAKE: UPN is going to premiere this short-lived CBS series on April 3 following Enterprise at 9pm ET. I believe they will air the pilot episode and three unseen episodes from the series.
---
LEGEND OF THE RANGERS UPDATE
Here is a note from JMS on the future of "Legend of the Rangers": The SciFi Channel has indicated that it's moving away from space shows, with all the hardware/alien stuff that goes with it. (This as per its recent announcement about upcoming shows.) So it looks like Rangers isn't going to go ahead. They haven't said it directly, but networks never do.
JEREMIAH ON SHOWTIME - FRIDAY AT 10:45PM
For a synopsis of this week's episode, go to http://www.comics2film.com/ProjectFrame.php?f_id=46. For a couple of reviews of the show, go to http://www.aint-it-cool-news.com/display.cgi?id=11656. When asked about the ratings for Jeremiah, JMS had the following to say: "It aired on a Sunday night when the SF audience generally isn't around, according to Showtime, which given that scenario was actually quite encouraged that we did that well...and most important, we built in audience every quarter hour. The real test would be the hour series itself.... And both Showtime and MGM called to offer congratulations on our first ep. Stargate, airing a brand new episode right before us, with an established audience, pulled a 2.9 and a 5 share, excellent by pay cable standards. Our first real ep out of the box *also* got a 2.9 and a 5 share, AND it also grew by quarter hours, ending up at a 3.1 for the last quarter hour, indicating again that we hold viewers and add as we go, a very good thing. So everybody's happy." The Showtime Jeremiah website http://sho.com/jeremiah/ has been updated with a lot of information, including video interviews with Luke Perry and JMS. There are sketches from the set and behind-the-scenes material related to the show. It's terrific to see so many of the production staff from "Legend of the Rangers" on board for Jeremiah.
---

LEGEND OF THE RANGERS CREDITS: If you are like me, you die every time the ending credits roll -- only because you can't read a thing. SCIFI has a remedy for that. Go over to www.scifi.com/b5rangers and you will find ALL the credits listed. Thanks SCIFI.

SCIFI did a wonderful job of providing us with a great deal of information on the cast and crew for the "Legend of the Rangers" movie. Be sure to check out www.scifi.com/b5rangers. You will find digital trading cards for David Martel, Sarah Cantrell, Citizen G'Kar, Malcolm Bridges, Na'feel, Tirk and Dulann. There are short videos and interviews. Don't miss the feature about Mark Savela, visual-effects supervisor from GVFX and the interview with director Mike Vejar.

In the gallery, you'll find photos of the cast, some great behind-the-scenes pics and some desktop graphics you can use on your PC. Chat transcripts for all cast members, Dylan Neal, Alex Zahara, Dean Marshall, Warren T. Takeuchi, Myriam Sirois and Enid-Raye Adams are all available as well.

Go to Ranger Page for more information on the ratings and letter writing campaigns.
---
RANGER SIGHTING
Ranger Tapestry reports seeing a new commercial for teeth brightner.. and Erik Estrada is hosting this thing.. besides Cindy Williams from Laverne and Shirley one of the other promoters is Jeff Conaway :-)
RANGER ALERT
Ranger Dave writes that there are still a very few books remaining at the site. So if you'd like a signed copy of Bruce's book, act now!

I just bought a SIGNED copy of Bruce Boxleitner's book "Frontier Earth: Searcher" for $11.97 at www.bookcloseouts.com. I also used a coupon ($5 off $25 purchase). Coupon name valentine; coupon password cupid.

Thanks John. The book is a good one -- and signed too. Would make a terrific Valentine's gift!
KEEPING UP WITH CAST AND CREW
CLAUDIA CHRISTIAN: Ranger Margaret in the UK reports that an episode of TJ Hooker that features Claudia in one of her (very) early TV appearances is scheduled to be shown on Channel 5 at 11am on Tuesday 9 April. The episode is called The Lipstick Killer.
---
PAT TALLMAN: Pat Tallman has been selected as the Guest of Honor at the upcoming World Horror 2002 convention. Dates are April 11-14 in Chicago, Illinois. She will appear with such folks as Neil Gaiman, author of Sandman and a ton of other novels – and the "Day of the Dead" Babylon 5 episode! For more information, visit their website at http://www.whc2002.org.
---
BILL MUMY: Bill's band, The Jenators (Bill, Miguel Ferrer, David Jolliffe, Gary Stockdale & Tom Hebenstreit), will be performing for the next couple of weekends. Here's the schedule:
Saturday - 9:00 pm - April 6th 2002
UNIVERSAL CITYWALK - B.B. KINGS
100 Universal Center Drive # 222
818-688 KING
ONE SET ONLY Saturday - 9:00 pm - April 13th 2002
RUSTY'S SURF RANCH on the Santa Monica Pier
RESERVATIONS ARE RECOMMENDED
CALL 310-393-7437
ONE SET ONLY Here's an update on Bill's daughter , Liliana. She recently appeared in NBC's "Scrubs" and FOX's "That 70's Show" and has done a number of "MacDonald's", "Sears" , "Hasbro" or "Novell" commercial. Liliana is co-starring with Tim Allen in the upcoming Disney film "The Santa Clause 2" which is due out in November of this year.
---
CLAUDIA CHRISTIAN: Claudia has a number of projects under consideration. Over at her website, you can link to her latest -- Genesis Wars. The character they've asked her to play is Captain Elizabeth Brooks.
DISCUSSION TOPIC:
If you could re-imagine Babylon 5, what would you change (other than the 5-year story arc)? Send in your ideas to TheZocalo@aol.com or B5web@aol.com.
NEW BABYLON 5 CARD SET
Ranger Jim reports that the current issue of Non-Sport Update magazine -- 13(2) April/May 2002 -- contains a promo card for the upcoming Complete Babylon 5 set, as well as a short article about the set. Rittenhouse Archives and www.scifihobby.com are pleased to announce the addition of 6 trading cards based on the all-new "Babylon 5: Legend of the Rangers" TV movie to the upcoming "The Complete Babylon 5" trading card series. The 6 cards will feature images and characters from the TV movie and will be used as box toppers (1 per box) in the all-new card series due out in March.

"The Complete Babylon 5" features complete synopses of all the episodes in the show's 5-year run, and includes nearly 1,000 never-before-published photos. Many of these photos will depict some of the show's most dynamic CGI space images. The trading card series will also feature 2 autograph cards and 1 costume card in every box. Autographs include Michael O'Hare (Jeffrey Sinclair), Andrea Thompson (Talia Winters) and a double signed card of Bruce Boxleitner (John Sheridan) and Melissa Gilbert (Anna Sheridan). Boxleitner and Gilbert are married in real life (and in the show). Costume cards include materials worn by Boxleitner, Jerry Doyle (Garibaldi), Peter Jurasik (Londo Mollari), Andreas Kastulas (G'Kar), Rick Biggs (Dr. Franklin) and Claudia Christian (Susan Ivanova).

More details are available at www.scifihobby.com.
NEW BOOKS COMING OUT

The Art of the Fellowship of the Ring. From pencil sketches to finished objects and 400 full-color pictures, no stone is left unturned!


Don't Panic: Douglas Adams & The Hitchhiker's Guide to the Galaxy. Neil Gaiman (Sandman, American Gods) who, with full cooperation with the late Adams, wrote this tribute to his life and the series that made him famous — The Hitchhiker's Guide to the Galaxy!




The Nuts and Bolts of Comics. What does it take to make a great comic? One that's sure to stand out in the crowd. It's takes more than just mind-boggling computer graphics to make a comic a killer. That's what you'll learn in the Panel Discussion TP, which covers all aspects of the design of comics, from pacing, story flow, and word balloon placement, to using color to convey emotion, spotting blacks, and how gutters between panels affect the story! Learn from Will Eisner, Walter Simonson, Mike Mignola, Dick Giordano, Brian Stelfreeze, and others about what it takes to make a book that rocks. Look for it in the Magazines section of Previews!
SCI FI PUBLICATIONS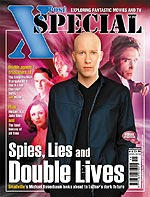 Expose Special #19: As the title indicates, this issue focuses on characters who have lead or lead dual lives -- like Lexa Doig on Andromeda or Sydney Bristow of Alias or John Shea from Mutant X who was Lex Luthor in the earlier Lois & Clark series. Michael Rosenbaum looks at the new Lex Luthor in Smallville.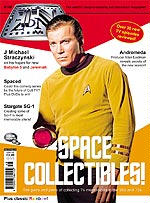 TV Zone #149: Included in this issue is a look at the "Legend of the Rangers" from J. Michael Straczynski. Also you'll find an interview with Andromeda's Executive Producer Allan Eastman where he talks about the changes ahead for the series.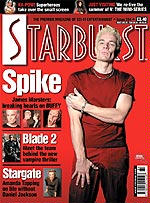 Starburst #284: Buffy is hot this month! Inside you'll find an interview with James Marsters, Spike from the series. Also inside find Amanda Tapping from Stargate SG-1 talking about the departure of Michael Shanks and more!
Expose #66: The departure of Michael Shanks has been big news -- and you'll be able to read more about it here in Expose. (Check out www.savedanieljackson.com as well.) Also inside read about Jeremiah -- JMS' new series over at Showtime.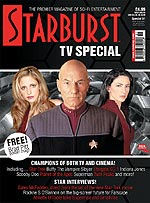 Starburst Special Issue #51: This issue covers a LOT of territory -- from the upcoming Star Trek movie, Nemesis to Buffy, Farscape, Smallville and more!
Cult Times #79: Smallville gets a lot of attention in this issue. Chloe Sullivan taps into the home town of Clark Kent with The Torch -- now you can learn more about Allison Mack, the actress. Also featured: Joel Feigenbaum, Director of Charmed talks about changes ahead, Keith Hamilton Cobb talks about Tyr Anasazi from Andromeda and Linda Park and Anthony Montgomery give you information about their experience on Enterprise.
Cult Times Special #20: This looks like a great special issue with fan pleasers like Angel's David Boreanez, Tom Welling from Smallville, Anthony SImco from Farscape and Julian McMahon from charmed.
SCI-FI SCHEDULE
BABYLON 5's Schedule: Airing at 5pm ET on SCIFI
08-APR-02 5:00 PM BABYLON 5 (LBX)
09-APR-02 5:00 PM BABYLON 5 (LBX)
10-APR-02 5:00 PM BABYLON 5 (LBX)
11-APR-02 5:00 PM BABYLON 5 (LBX)
16-APR-02 5:00 PM BABYLON 5 (LBX)
17-APR-02 5:00 PM BABYLON 5 (LBX)
18-APR-02 5:00 PM BABYLON 5 (LBX)
22-APR-02 5:00 PM BABYLON 5 (LBX)
23-APR-02 5:00 PM BABYLON 5 (LBX)
24-APR-02 5:00 PM BABYLON 5 (LBX)
25-APR-02 5:00 PM BABYLON 5 (LBX)
29-APR-02 5:00 PM BABYLON 5 (LBX)
30-APR-02 5:00 PM BABYLON 5 (LBX)
BABYLON 5 IN THE UK
Ranger Stephen reports that Babylon 5 has moved to Bravo (Sky Digital channel 124, selected cable companies), where I think they'll be showing it at 8pm.
BABYLON 5/CRUSADE PHOTOSHOP
NEW PHOTOS
You do NOT have to pay the prices asked for over at e-bay! Here are photos of B5 and Crusade cast members at fantastic prices. Check out Photo Shop. Ordering is easy -- and you can't beat the prices! Just let me know which photos you want and I'll check to make sure they are still in stock.
---
NEW BABYLON 5 TOONS
John Cook has a new cartoon contest going. Try your hand at a punch line.



READER DIRECTORY
Sometimes you just can't find the e-mail address for someone you know you have -- it's someone who responded to a discussion topic or you met in one of the chat rooms. You'd like to send a personal note, but .... No address!!!!

We've started a White Pages of Zocalo Readers! It's a handy way of keeping track of people -- and putting together a birthday/greeting card list as well. If you would like to be part of the listing, just send me your name, state, e-mail address and (if you'd like to have it listed) birthday (without year) to sgbruckner@aol.com. Check out the Directory of Readers.
BABYLON 5 REFERENCE PAGES
The Official Babylon 5 Magazine is indexed here as well. With the closure of the magazine in May, you'll want to see which magazines you have -- and which ones you will want to collect. The index may help you make a decision on which ones to choose. The Fan Club has many of the issues at thestation.com , making it very easy to complete your collection.

Universe Today -- the Babylon 5 Fan Club quarterly can also be found here. The index gives you a rundown of what articles were presented, what interviews published.

If you have magazines that have featured Babylon 5 or Crusade that are not listed, send along their issue number and a note to indicate what the article was about. It would be nice to have a fairly comprehensive listing of Babylon 5 publications here.

I have added a listing of all the Babylon 5 novels and now the B5 comic books to the reference page. If there are other items that you feel should be included, let me know.
MAILING LISTS
REDEMPTION: Ranger Steve reports that a new discussion group has been created for the upcoming REDEMPTION convention. Redemption 03, 21-23 February 2003, Ashford, Kent, Celebrating 25 years of Blake's 7 and 10 years of Babylon 5. www.smof.com/redemption.
NW-B5
NW-B5 is a mailing list devoted to bringing critical information to the Vancouver Island, Lower Mainland, and Northern Washington areas. More specifically, anyone north of Seattle. B5 is broadcast on SPACE:TIS in Canada, and Sci-Fi channel in the US. By subscribing to nw-b5, you'll be able to know info bringing you up to date on the current scheduling and events happening in the community related to B5. You'll also be subscribed to the list itself, which means that you'll receive email when there is a scheduling change or critical information needs to go out to you (for example, if we need to start another mailing campaign).

For further information, see http://www.nw-b5.com
John Francis
Webmaster, Listowner, and Co-Moderator
mailto:nw-b5@iname.com

Reports of "The Gathering" are beginning to turn up on the list. John posted a mini-report, with photos, over at http://www.geocities.com/jnf.geo/nw-b5/gathered.htm#0501. You may want to check it out. It was a terrific event in which JMS showed clips from "Legend of the Rangers". Most of the cast was in attendance -- a great group of individuals.
BABYLON 5 DISCUSSION LIST
The Babylon 5 discussion mailing list is for any and all discussions and/or news pertaining to or related to Babylon 5 and/or Crusade. The list has been in existence for the past three years now, and has recently moved. The new location is http://lists.apparition.org/cgi-bin/lyris.pl, and you can subscribe by sending a blank e-mail message to join-babylon_5-l@lists.apparition.org.
THE GALACTIC GATEWAY
Here's a unique site for you! Jeffrey Willerth, Patricia Tallman, Mira Furlan, Claudia Christian, Robin Atkin Downes, Rick Biggs, Jerry Doyle, Bruce Boxleitner, Melissa Gilbert, Peter Jurasik, Bill Mumy and Carrie Dobro are under it's umbrella. Actors from other shows have joined the Gateway. Ted Raimi and Robert Trebor from Xena and Hercules are now at GG. To subscribe to a mailing list for GG, send a blank note to thegalacticgateway-subscribe@egroups.com.
GATEWAY CHATTERS
There is never enough time to keep in touch with friends! To help out, a mailing list has been started for chatters over at the Galactic Gateway. If you are interested in joining, send a blank note to gateway-chatter-subscribe@egroups.com.
GATEWAY TRADER
Are you looking for a particular Babylon 5 collectible? Do you have some items you'd like to trade? Then this is the list for you. To join, send a blank note to gateway-trader-subscribe@egroups.com.
CALLING ALL ARTISTS
The Art Gallery at The Zocalo Today is open. There are SO MANY talented people in our Babylon 5 community. We have enjoyed works by Todd Brugman and Tye Bourdony on our toons page, but there are a host of others who enjoy drawing, painting, sketching their favorite characters. Here are a few works that have been received. I have some others that will be added soon.

If you would like to share your work with us at The Zocalo Today, please send along a digital photo of your work and I'll begin putting the gallery together. If you do not have your work in digital format, drop me a note and we'll see what we can work out.
CALLING ALL CLUBS
There are a number of fabulous Babylon 5/Crusade Clubs around the world. I'd like to begin listing them here on The Zocalo Today. Eric dropped me a note the other day providing information about a Club in France. I know there are other clubs in Brazil, Germany, Russia -- and who knows how many here in the US. Let's get a listing together. Perhaps we can share resources, even get together as we travel around. Drop the information about your Club to me at sgbruckner@aol.com or bruckner@isnnews.net. That information will be added to the new B5 Fan Club Listing.
BABYLON 5 FAN CLUB
Netter Digital filed for bankruptcy in July of 2000 and all their worldly posessions were auctioned off on December 7. The B5 Fan Club site, Thestation.com and it's store, the Emporium, has been closed.
BABYLON 5 NEWSLETTERS
If you have a newsletter you'd like to have listed at The Zocalo Today, send the information along. It will be posted on the B5 Fan Club/Newsletter page.

Ranger Shane in North Carolina sent in the following note about their "Jumpgate" newsletter.

Hey Sandy! Just wanted to give you an update on the NC B5 group's newsletter, Jumpgate. There's now a dedicated EMail address for submissions - jumpgatemag@bellsouth.net - and any submissions, solicited or un-, can be sent to this address. Also, issues are available for free download at the URL at the bottom of this message.

Jumpgate - The Newsletter of the North Carolina Babylon 5 Fan Club
Shane Killian, Editor
HELP WANTED
A new HELP WANTED section has been added to the Z. If you need help finding a comic book, getting a special item, etc. here's the place to post a note. Just send whatever help you need to thezocalo@aol.com.
---
BABYLON 5/CRUSADE CONVENTIONS
CONVENTION CALENDAR
Slanted Fedora
April 4-6, Kansas City
Place: The Doubletree Hotel-Kansas City Phone for Hotel Reservations and Directions ONLY: (913) 451-6100
B5 Guest: Jerry Doyle
For more information, visit their website at http://www.sfedora.com/kansasMarch.htm.
---
Creation Salutes Star Trek, Xena, Sci-Fi TV and Film
April 6-7, 2002, San Francisco, CA
Place: Masonic Center
B5 Guest: Julie Caitlin Brown

For more information, visit their website at http://www.creationent.com/ .
---
ZOCALO TRADING POST
Do you have extra copies of B5, Amazing Spiderman, Midnight Nation or Rising Stars comics you'd like to trade? How about those extra trading cards or B5 magazines? There are a lot of fans looking for these items -- and the Trading Post can help you buy or sell them. To see what's available, just use this link to the Trading Post. To have items included in The Trading Post, send a note to The Zocalo. Please put Trading Post in the subject line.
Pen Pals
If you are looking for someone to talk about Babylon 5 and Crusade with, the Pen Pal section is for you! Check it out! Drop a note to someone who is feeling B5 withdrawal -- BIG TIME!

People thought a Pen Pal page was a good idea. If you would like to meet people who you could chat with or share your opinions of the show with, send along your e-mail or snail-mail address The Zocalo. It will be incorporated on the new Pen Page Page.
BABYLON 5 BIRTHDAYS
Christopher Franke - April 6
Tony Dow - April 13
Peter Jurasik - April 25 Have I missed anyone? If you know the birthday of someone connected with Babylon 5, pass the information along. We want to include everyone in our Happy Birthday Wishes.
MAIL FOR CAST AND CREW
Here's a recent note from JMS on the subject:

Just an FYI to those who've been using the Ventura Blvd. mail drop for fan mail to actors....

As mentioned before, we're phasing out the forwarding of fan mail because we a) don't have the resources, complicated by b) the actors have scattered to the four winds, and it makes it very difficult to get everything to everybody in a timely fashion.

So, having provided prior notice...fan mail to actors coming to the Ventura Blvd. mail drop will be sent back. Mail to actors should be sent via their official fan clubs. I will still be taking mail there, since it's my mailbox, but that's it.

Just so's y'all know and save a few bucks on postage and returns.

JMS' mail can be sent to:

14431 Ventura Boulevard, PMB 260
Sherman Oaks, CA 91423

WARNER BROS:

Warner Bros. Address:

Warner Bros. Domestic Television Distribution
4000 Warner Blvd.
Burbank, CA 91522

Warner Home Video:

Mr. Douglas Wadleigh
VP for Marketing and Special Features
Warner Bros.
4000 Warner Blvd.
Burbank, CA 91522
BACK ISSUES OF THE ZOCALO TODAY
The front page of the The Zocalo Today changes daily, so be sure to check the back issues to make sure that you haven't missed anything IMPORTANT! I don't want the front page getting too long so I shift information periodically into the archives. So if you aren't a regular visitor to The Zocalo Today, be sure to check out the back issues. Just use the button above!
---
Take care and I look forward to hearing from you.
Sandra Bruckner (sgbruckner@aol.com)
Editor/Publisher
The Zocalo Today
http://www.isnnews.net
Copyright - SBruckner, 2002