[an error occurred while processing this directive]

The Zocalo Today

Welcome! I am REALLY glad you dropped by. Take your shoes off, get comfortable and stay a while. There is a LOT of information here for you to share.

The Zocalo Today is an interactive newsletter. We encourage interaction with our readers and like suggestions. So send them along. The Zocalo Today is as much YOUR newsletter as it is mine! I'm just pulling together things for you! Join our weekly discussion topic. It is just one way you can interact with other Z readers. Send along letters, sightings of B5 cast and crew in other projects, convention reports, photos, etc. Don't miss our back issues. As I said, there is a LOT of information contained there and you'll not want to miss anything.

If you have questions, drop me a line at sgbruckner@aol.com or b5web@aol.com. If you would like to join the mailing list for our bi-weekly newsletter, send me a note and I'll include you on the list. Or you can use the subscription block at the left.

Again, WELCOME!




What's New Today
COMIC BOOKS: A note from JMS in the moderated news group indicates that his next Amazing Spiderman book is on the stands and the next issue of Midnight Nation will be out next Wednesday.
---
RATINGS: Top 10 SF Network Series: The X-Files 5.1; Alias 4.9; Touched by an Angel 4.9; Dark Angel 3.5; Futurama 3.0; Smallville 2.9; Enterprise 2.3; Buffy 2.0; Charmed 2.0, and Wolf Lake 1.7. Source: Nielsen Galaxy Report, 4/8/02 - 4/14/02.
---
ENTERPRISE: Do you have a favorite alien featured in one of this year's Enterprise episodes? If so, vote now thru May 21 at the UPN website. You can cast a vote for five episodes featuring five different alien races: Suliban, Vulcan, Andorian, Ferengi and Klingon. The winner will be announced after the season Finale episode "Shockwave". Jolene Blalock will host the winning episode Wednesday, May 22 9pm ET/PT right after the ENTERPRISE Season Finale.
---
X-FILES: It's been a long road, but Gillian Anderson finds she is having trouble letting go of Agent Scully and The X-Files. She told AP, "I think on the whole I'm in denial. " "Anytime I got even close to a hint of emotion around it I had to push it away. It's so huge. It's such an extraordinary transition to have to weather, I'm trying to push it off for as long as I possibly can." The two-hour finale airs May 19.
---
OCTANE: According to Variety, Madeleine Stowe (Impostor) and Mischa Barton are among the stars to sign on for Octane, a low-budget supernatural thriller that begins shooting June 3 on location in Luxembourg. Stowe plays a woman who suspects that the people who have lured away her teenage daughter (Barton) are not what they seem. Norman Reedus (Blade II), Bijou Phillips and Jonathan Rhys-Meyers also star in the film, directed by Marcus Adams.
---
TOMB RAIDER: After considerable speculation, Angelina Joile announced that she will indeed reprise her role as Lara Croft in the next Tomb Raider. She added that she would love to work underwater so that she would be able to try out the latest underwater technology and train with circus troupe Cirque Du Soleil.
---
THIS WEEK IN SCI-FI:
May 9, 4:14
SMALLVILLE: Kristin Kreuk, who portrays Lana Lang in Smallville, talked to fans during a recent on-line chat about the upcoming season finale for the series. "There's going to be stuff going on with Clark's spaceship. And people discovering it, and there's going to be the threat of a lot of people leaving Smallville, because of various reasons." She added, "And there's going to be a romance blossoming. And a lot of triangles forming. And a lot of plot twists that people will definitely have to see." The season finale, "Tempest", airs on May 21 and features a performance by rock band Remy Zero, which also performs the series' title song "Save Me."
---
HARRY POTTER: The fifth book in the series, HARRY POTTER AND THE ORDER OF THE PHOENIX was to come out later this year but the United States publisher Scholastic is telling its shareholders not to expect it before June of next year. "Clearly we understand that her readers are eagerly waiting for it but you can't hurry the creative juices and we understand that," said a spokeswoman for Scholastic. "She is writing. She is working hard on the book. We will be happy when we get it." J.K. Rowlings has pledged to take on even more delicate subjects in her next book. "There are deaths, more deaths coming," she said in an interview with the British Broadcasting Corporation in December, adding that one character's end will be "horrible to write." And she plans to introduce some of life's other complexities, too. "They are 15 now, hormones working overtime," she told the BBC.
---
DAREDEVIL: Comic book powerhouse Kevin Smith praised Ben Affleck's performance in the upcoming adaptation of DAREDEVIL. Smith said in a posting at his View Askew website that Affleck's performance as Matt Mudock is the actor's best so far. "And mind you, I made CHASING AMY with him, so that's not an easy thing to say. [Affleck's Murdock is] a very stripped down, no-frills approach." He even went as far as to compare it to Christopher Reeves' performance in SUPERMAN and Michael Keaton's BATMAN. His final line of praise? "The best comic book movie we've seen since... maybe THE ROCKETEER." Over at Comics Continuium, it is reported that Ben Affleck will be a guest on NBC's The Tonight Show with Jay Leno on Thursday, May 23.
---
STAR WARS: The Hollywood Reporter has posted a review of the latest Star Wars movie -- opening on May 16. To read their opinion, go to http://www.hollywoodreporter.com/hollywoodreporter/reviews/article_display.jsp?vnu_content_id=1485874.
---
SPIDERMAN: While Spiderman was breaking records at the box office, they also were setting a record for continuity errors -- or at least that is what one site says. Over at http://www.movie-mistakes.com/, they indicate that there are some 77 errors -- things like disappearing rucksacks, clothes that are dirty one minute and clean the next and smashed windows that self-repair.
---
WITCHBLADE: A trailer for the second season premiere can now be seen over at http://www.tnt.tv/Multimedia/0,8206,,00.html. June 16 is the date set for the premiere.
---
CONVENTION UPDATE: Got a note from Jerry Doyle last night. Bruce Boxleitner has had to cancel his appearance at Vulkon Atlanta later this month. Jerry & Tracy Scoggins will be filling in for Bruce at the convention. Details are on the con calendar.
---
Due to scheduling problems, Jerry has had to cancel his cruise in July. No date has been set for a future cruise. May 8:
RATINGS: Top 10 SF Syndicated Series: The X-Files 2.7; Buffy 2.6; Stargate SG-1 2.5; Andromeda 2.3; Mutant X 2.2; 3rd Rock 2.1; Beastmaster 2.0; John Edward 1.9; Earth: Final Conflict 1.7, and Relic Hunter 1.7. Source: Nielsen Galaxy Report, 4/8/02 - 4/14/02.
---
MARVEL MOVIES: With the huge success of Spiderman, Marvel has announced release dates for some of their other upcoming comic book based films. Spider-Man 2 has been slated for May 7, 2004; bringing back Tobey Maguire and Kirsten Dunst in their roles as Spider-Man and girlfriend Mary Jane. Filming is scheduled to begin early next year. X2, the sequel to X-Men, has been slated for a May 2003 release, with production to begin on June 1. Daredevil, starring Ben Affleck, is currently in production and scheduled for a January 2003 release. Blade 3 is also heading into development. Ang Lee's The Hulk is aiming at a June 2003 release and a new version of Marvel's Punisher may come out in August 2003.
---
SPIDERMAN SERIES: With the SPIDERMAN movie breaking all records at the box office, more news is coming out about MTV's SPIDER-MAN animated series. Neil Patric Harris from DOOGIE HOWSER has signed on as the voice of Peter Parker/Spiderman and songstress Lisa Loeb has been confirmed as the voice of Mary Jane Watson. The series is being written by ULTIMATE SPIDER-MAN's Brian Michael Bendis and will try to break new ground in computer animation on series television.
---
XENA: A little Xena arrived on May 7. Lucy Lawless, who portrayed Xena for years, gave birth to her second child on May 7 at home in New Zealand. AP reported the baby, named Judah Miro Tapert, weighed in at a healthy 8 pounds, 8 ounces and is reportedly in good health.
---
SAINT SINNER: Sci Fi has begun shooting a two-hour movie, SAINT SINNER, based on a story by horror master Clive Barker. Scheduled to air in October, this is the first collaboration between Barker and the cable channel. The movie stars Greg Serano ("Legally Blonde" ) as a 19th-century monk whose California order is charged with guarding evil and supernatural artifacts collected by the church. He accidentally releases two demons from their imprisonment within one such artifact, and they promptly make their way through time to present-day Seattle. The monk follows and eventually works with a detective (Gina Ravera, "The Fugitive" ) to hunt the demons down. Doris Egan, a writer for "Smallville" and "Dark Angel," is adapting Barker's story. Joshua Butler ("G vs. E," "The Invisible Man" ) will direct.
---
GIRL SCOUT COOKIES: I bet Bruce Willis' daughter won the prize for the most Girl Scout cookies sold this year! Why? Bruce snapped up 12,000 boxes of Girl Scout cookies for shipment to U.S. troops serving in Operation Enduring Freedom.
---
MUTANT X: Over at http://www.comicscontinuum.com/stories/0205/08/mutantx.htm you'll find a synopsis of this week's new episode entitled "Deadly Desire".
---
JAMES DOOHAN: Good news. Scotty (James Doohan) is at home and recuperating after a bout with pneumonia.
---
ENTERPRISE: Tonight, a treat. Two episodes will be shown back to back! May 7:
INDEPENDENCE DAY II: Dean Devlin and partner Roland Emmerich worked marvelously on Independence Day. They recently told SCIFI Wire that they are working on a sequel. Devlin said, "I think we finally found a story that we wanted to tell." ID4 is the 11th highest-grossing domestic release of all time, with more than $300 million at the North American box office. How about bringing back the original cast of Will Smith, Bill Pullman, Jeff Goldblum, Judd Hirsch and Margaret Colin? Devin said, "We'll see what we can get back. We'll try to get everyone. We'll just have to see how it plays out."
---
GILES: For years, Anthony Stewart Head played Giles on Buffy the Vampire Slayer. He left the show to spend more time with his family, but he has been in talks with creator Joss Whedon about his own BBC series in the United Kingdom. This sort of thing hasn't been done before -- a sequel to a series sqawned across the Atlantic, but he hopes something can be worked out by early next year. "The Watcher" would follow Giles back to England where he must deal with his own demons -- ghosts from his past.
---
ANDROMEDA: Lexa Doig talks about her role as Andromeda in the series and how changes have affected the show over at http://www.syfyportal.com/article/?id=706.
---
TERMINATOR 3: Daily Variety reports that despite being four weeks into production, the makers of Terminator 3: Rise of the Machines have replaced 19-year old Sophia Bush with 23-year-old actress Claire Danes because Bush was deemed too young to play the love interest of a 20-something John Connor, played by Nick Stahl (In the Bedroom).
---
MAKE A WISH FOUNDATION: A number of celebrities have gotten together to design some super tee-shirts for auction over at e-bay. Proceeds will go to the Make-A-Wish Foundation. Go to http://members.ebay.com/aboutme/snugglecharity/ for more information. See which ones you like -- Matt Lauer's is super!
---
THE SUM OF ALL FEARS: Ben Affleck is one busy fella! He's currently filming Marvel's DAREDEVIL -- but "The Sum of All Fears", the Tom Clancy thriller opens on May 31 in which he portrays Jack Ryan, shoes left vacant by Harrison Ford! WOW, those are big shoes to fill -- but Ben seems to have a good perspective on life and is looking forward -- rather than back at, particularly the last year of his life. Read a very telling interview over at http://www.darkhorizons.com/news.htm.
---
DINATOPIA: The website for this new series is up and running at http://www.abc.abcnews.go.com/primetime/movies/dinotopia/index.html. The series premieres on May 12.
---
May 6:
RATINGS: Top 10 SCIFI Channel Shows: Tremors 3 2.4; Tremors 2 1.3; Farscape 1.0; Night of Living Dead 0.9; Dead and Buried 0.9; Heart & Souls 0.9; Photographing Fairies 0.8; Stepmother Alien 0.8; Severed Ties 0.8, and What Dreams May Come 0.8. Source: Nielsen Galaxy Report, 4/8/02 - 4/14/02.
---
WEEKEND BOX OFFICE: Way to go, Spidey! Everyone expected Spiderman to do well this weekend, and the webbed crusader didn't disappoint! With $114 million in three days, it broke every opening weekend record in history. It shattered the previous record, held for several months by HARRY POTTER AND THE SORCERER'S STONE, by $24 million.
---
THE CHRONICLE: Today is The Chronicle day at SCIFI. Beginning at 7am this morning, the network will run the pilot and 11 episodes until 7pm this evening.
---
May 5:
SPIDERMAN: Early estimates indicated that Spiderman brought in between $39 and $41 million dollars on Friday alone. That would be the biggest single day for any film in boxoffice history. Speaking of Spiderman, there's an article over at Comics2Film about how Tobey Maguire was cast! Could you believe he was nearly beat out by Chris O'Donnell and Freddie Prinze, Jr.?
---
DR. WHO: "Doctor Who" fans are mourning the passing of legendary producer John Nathan-Turner, who died of liver failure at age 54 on May 1. He took over the reigns before Season 18 and was with the show until it's cancellation after Season 26. He worked on the show previously as a Production Assistant. He is solely responsible in casting Peter Davison, Colin Baker & Sylvester McCoy as the Doctor, and all relating companions. He was a good friend to Sci-Fi fans, appearing at nearly all Doctor Who conventions during the 80's, and even up to his death. Thanks to Ranger Scott for passing along this information.
---
STARGATE: Over at www.cinescape.com, premium readers will be able to read more about Michael Shanks' departure (and reappearance) on Stargate. Don't go there if spoiler information is a concern!
---
May 4:
FREE COMIC DAY: Yes, it's finally here - FREE COMIC DAY! Be sure to go to http://www.freecomicbookday.com/fcbd_locator.asp to find a comic store near you that is participating.
---
DARK ANGEL: Dark Angel creator, James Cameron, chose the season finale of the series to make his television directorial debut. "Freak Nation" aired last night and Cameron told TV Guide that the 90-minute episode cost $3 million. "There is a lot more physical stuff. Where we might normally have two or three action sequences, here we have five or six. I'm sitting on the mixing stage right now mixing the big fight sequence. It's like six minutes long; it's gonzo. It's the most complicated piece of action choreography I've ever done. It's like the entire cast fighting all of the bad guys."
---
BUFFY: In a recent interview with E!Online, Buffy's creator Joss Whedon said that the upcoming seventh season of the series will return to the show's roots. "This year was about adult life and relationships--and making really, really bad decisions. Next year will still be scary and different and strange, but it will be more of a positive outlook. People will stop abandoning Dawn. Willow won't be a junkie anymore. Buffy won't be dead." Buffy airs "Two to Go" and "Grave," the two-part season finale, at 8 p.m. ET/PT May 21.
---
NEMESIS: The Captain's chair is missing! Yes, the World Entertainment Network reported that thieves made off with Capt. Jean-Luc Picard's chair from the Enterprise E bridge set of the Star Trek: Nemesis film. After a break during filming, the cast and crew returned to find the $15,000 chair missing. Set decorators scrambled to build a new Naugahyde chair so that production could continue. The film wrapped in March and is scheduled to open in December.
---
STAR TREK: The May 6 issue of TV Guide will honor the 35th Anniversary of Star Trek. The full-size, 96-page publication will feature hologram covers of Trek captains and a pull-out poster with images of Trek TV Guide covers and images of the franchise's five main ships. The magazine will also offer a sneak peek at the upcoming Star Trek: Nemesis movie.
---
SPIDERMAN: Well, the movie opened yesterday and there are some reviews available at http://www.imdb.com/StudioBrief/. Sounds like a movie that I'll definitely have to check out. I loved Tobey McGuire in "Cider House Rules".
---
JAMES BOND: The poster promoting the next James Bond film is out -- and it is indeed cool! See it over at http://www.jamesbond.com/bond20/features/feature_06.php.
---
MUTANT X: A synopsis of this week's new episode, "Nothing To Fear", can be found at http://www.comicscontinuum.com/stories/0205/04/mutantx.htm. SPOILER WARNINGS!
---
May 3:
BABYLON 5 MOVIES: Legend of the Rangers and all the other Babylon 5 movies will be shown on SCIFI June 2. From 1pm through 9pm, you'll see IN THE BEGINNING, THIRDSPACE, RIVER OF SOULS, CALL TO ARMS and LEGEND OF THE RANGERS. So mark your calendar now.
---
SPIDERMAN: There is a nice combined interview with Sam Raimi, Tobey McGuire and Kirsten Durst over at http://www.scifi.com/sfw/advance/29_interview.html you might want to check out.
---
Willem Dafoe who portrays the GREEN GOBLIN in SPIDERMAN is interviewed over at http://www.prevuemagazine.com/Articles/Powerprofile.
---
STAR WARS: John Williams' ATTACK OF THE CLONES soundtrack is reviewed over at http://www.scifi.com/sfw/advance/02_sound.html. With the small clips offered at the StarWars website, I can only imagine what the entire collection sound like!
---
PLAYING HOOKY: Will you be one of the expected 2.6 million people who will play hooky from work on May 16 to catch the premiere of Star Wars: Episode II--Attack of the Clones? A Chicago-based outplacement firm Challenger, Gray and Christmas told the Reuters news service that based their estimate on the 5.7 million moviegoers who turned up to see Star Wars: Episode I in 1999 on its first day at the box office. This would represent more than $319 million in lost wages for U.S. business, with technology and computer companies taking a particularly large hit.
---
RATINGS: Top 10 SF Network Series: Alias 6.7; Touched by an Angel 5.3; The X-Files 5.2; Enterprise 3.4; Dark Angel 3.2; Futurama 3.0; Smallville 2.9; Buffy 2.0; Sabrina 2.0, and Charmed 1.8. Source: Nielsen Galaxy Report, 4/1/02 - 4/7/02.
---
THE DAY AFTER TOMORROW: Competition is tough -- the bidding war is fierce. Universal, Fox and Paramount are the all frontrunners for "The Day After Tomorrow," a spec script for a big-budget, high-concept sci-fi film in which the world is ravaged by global warming. Variety says the film will be directed by Roland Emmerich, who nearly destroyed the world once already, with aliens in "Independence Day." It appears likely that Emmerich will have a greenlight for a fall start.
---
THE HULK: There is a mini-trailer for THE HULK up at http://www.thehulk.com/. Not much to look at yet, but I'm sure as we approach the 2003 release, that will change.
---
UNIQUE CHARITY ITEM
Ten popular science fiction actors have donated their time, images and autographs for an exclusive photograph, the proceeds of which will go to charity. For sale through the actors themselves and at , the limited-edition photo is in color, edged in white and ready to place in an 11X14 frame, and handsigned. Each of the 1,000 limited edition photos comes embossed with a seal of authenticity and numbered. The photograph is now available for a pre-sale price of $100. After Sept 11, 2002, the price will go up to at least $125.00. Among the charities to benefit will be the Penny Lane home for abused children in Los Angeles, and various September 11 funds. The actors hope to raise more than $100,000 through the charity project. The Penny Lane Home is a residential facility for children who have been severely abused, physically, emotionally and sexually. Many have "fallen through the cracks" of the social service outreach programs, and Penny Lane is their last chance at escaping the abuse. Actors in the photo include: Patricia Tallman, known best for her roles as Lyta Alexander in Babylon 5 and Barbara in Night of the Living Dead (1990) Vaughn Armstrong, who has portrayed more guest star aliens on Star Trek:TNG, DS9 and Voyager than any other actor in Star Trek history. Currently, he holds the recurring role of Admiral Maxwell Forrest on Enterprise, as well as at least eight other Guest Starring roles on board the new Trek series to date. Stephen Austin portrayed many bizarre alien creatures on Babylon 5. His most notable was the lovable Pak'ma'ra Ambassador. David Brooks is an accomplished artist as well as actor. He is best known to the sci fi community as Max Eilerson on the Babylon 5 spin off, Crusade. Jeffrey Willerth portrayed Ambassador Kosh and was Associate Producer of Babylon 5 Robin Atkin Downes, best known for his role of Byron in Babylon 5 Carrie Dobro, Dureena Nafeel in Crusade. Tim Choate was extremely popular on B5 as Zathras (and his brothers, all named Zathras). He also portrayed Pollack on Crusade. Beata Pozniak appeared as Babylon 5's Earth Alliance President Luchenko. Ed Wasser, the evil Mr. Morden on Babylon 5. As a special promotion, the first 100 orders will receive a special gift: former Star Trek stunt coordinator, Dennis Madalone, has donated 100 copies of his single, "America, We Stand As One," to say thank you to the science fiction fans who purchase the charity photograph. To order the photo online, go to http://www.thegalacticgateway.com, click on shop, and search on the word charity.
JEREMIAH ON SHOWTIME - FRIDAY AT 10:45PM
This week's episode of Jeremiah is entitled "Thieves' Honor." Here's how the episode is described:
"Jeremiah and Kurdy are sent to Clairfield to find Elizabeth and a friend who were captured by Theo's jocks. Meanwhile, investigations are under way to find a potential traitor who's been leaking information from Thunder Mountain." This episode was written by Jeremiah executive producer Sam Egan and directed by Holly Dale. "I think Sam did a fantastic writing job on this episode, with Jeremiah and Kurdy reunited with the one person they really didn't want to see again: Theo (Kim Hawthorne) from the pilot episode," said Jeremiah executive producer Scott Rosenberg. For an update on where JMS is going with Jeremiah, visit the Jeremiah Page here at The Zocalo. For those of you who want to keep up on what is going on with Jeremiah, Ranger Monica has started up a Jeremiah newsletter. Please go to http://groups.yahoo.com/group/jeremiah-news/ and subscribe. Monica also has a very nice Jeremiah site so don't forget to bookmark that as well.
BABYLON 5/CRUSADE CAST ON NEW SHOWS THIS MONTH
Mary Kay Adams ( NaToth #2 ):
Everybody Loves Raymond - Fascinatin' Debra
Monday, 13 7:30 PM EST WB
A radio psychologist (Mary Kay Adams) wants to interview Debra for a book on the American family, but finds the rest of the quirky Barones more interesting. Football's Desmond Howard has a cameo.
KEEPING UP WITH CAST AND CREW
GARY COLE: According to the Hollywood Reporter, the WB is bringing back "Family Affair" -- the 1960s series that originally starred Brian Keith and Sebastian Cabot. The WB has given the go-ahead to producers of the Turner TV/Pariah pilot to begin hiring writers in anticipation of an official pickup to come by next week when the WB unveils its 2002-03 lineup to advertisers in New York. The new series stars Tim Curry and Gary Cole.
---
PAT TALLMAN: Patty is interviewed in the next issue of Star Trek: Communicator (the Star Trek fan club magazine). Pat was both a stunt woman and actress on ST:TNG.
---
BRUCE McGILL: Bruce McGill has lanced a very choice role as the Nation Security Advisor in "The Sum of All Fears", the next Tom Clancy movie revolving around CIA analyst Jack Ryan, to be released in May. The stars are Ben Affleck and Morgan Freeman.
---
ROBIN DOWNES: Good news for Robin fans. He has been cast in Arliss on HBO! He portrays a gay English Rock Star. Yes, he'll be singing in this one! It should air sometime in July. Robin has also been pretty busy. He has been doing a good bit of voiceover work. He recently wrapped work on an independent film with William Devane, Richard Kind and Michael Bolton entitled High Voltage.
---
MARJEAN HOLDEN: Don't forget to watch Marjean on Beastmaster each week. She has been getting more and more involved in the story -- and that translates into more on-screen time.
DISCUSSION TOPIC:
Let's talk about something new - Jeremiah. What do you think of the new series JMS has created? I know some of you don't get Showtime, but it will be interesting to see what others think about this new production.

Send in your ideas to TheZocalo@aol.com or B5web@aol.com.
LEGEND OF THE RANGERS UPDATE
Here is a note from JMS on the future of "Legend of the Rangers": The SciFi Channel has indicated that it's moving away from space shows, with all the hardware/alien stuff that goes with it. (This as per its recent announcement about upcoming shows.) So it looks like Rangers isn't going to go ahead. They haven't said it directly, but networks never do.
NEW PUBLICATIONS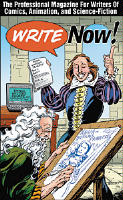 WRITE NOW! From the publishers of Draw! Magazine -- Write Now!. Ever wonder what I takes to be a comics writer, what qualities are necessary to sell writing, and what editors are looking for? Veteran Marvel Comics Editor Danny Fingeroth takes you behind the scenes, into both the creative and business sides of writing narrative fiction, and you will hear from the pros on both sides of the desk about what it takes to write the stories that readers – and editors – want! In the premiere issue, you'll get tips and insights from interviews with top professional writers discussing the practical aspects of their craft: Brian Michael Bendis (writer of Ultimate Spider-Man, Alias, and Powers), Joe Quesada (Marvel Editor-in-Chief and writer of Iron Man), Joss Whedon (creator of Buffy the Vampire Slayer and Fray), and J.M. DeMatteis (writer of Spider-Man, The Spectre, Man-Thing, and Moonshadow)! Plus, Mark Bagley (penciller of Ultimate Spider-Man, New Warriors, and Amazing Spider-Man) provides our cover, featuring those two zany comics creators William Shakespeare & Leonardo DaVinci, and explains what he likes, and doesn't like, in scripts he draws from! And if that's not enough, how about an interview like you've never read before with Stan "The Man" Lee! 'Nuff said! (TwoMorrows Publishing) Magazine, 8x11, 80+pg, b&w..........$5.95
CORALINE: A new novel by Neil Gaiman. London native Coraline resides in a middle-class flat with her mother and father, and eccentric old neighbors nearby. This seemingly ordinary young girl has been keeping quite an extraordinary secret: there's a door hidden in her home which leads to a nightmare mirror image of her house, neighborhood, and family. Unfortunately, it's governed by a cruel presence which has set its hungry gaze on Coraline! Neil Gaiman weaves this haunting, otherworldly children's tale, complemented with bone-chilling interior illustrations rendered by Dave McKean. Also introduced in a special edition format limited to a print run of 4,000 copies. (Harper Collins Publishers) FARSCAPE< Ranger Paul reports that the Farscape Illustrated Season 3 Companion by Paul Simpson and Ruth Thomas is now available for pre-order from Amazon.co.uk. This edition focuses on the third season, including an eight page colour section of never previously seen photos...

JMS AT AMAZON:

Ranger Graham sent along a note about JMS material available at Amazon.com: Amazing Spider-Man: Coming Home - Graphic Novel Now shipping
Delicate Creatures - Now shipping
Rising Stars Vol 1 - Graphic Novel Now shipping
Rising Stars Vol 2 - Graphic Novel Shipping soon
---
SCI FI PUBLICATIONS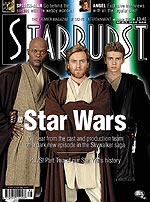 Starburst #286: With StarWars opening in May, the SF publications will be filled with interviews with cast members, production staff, etc. In this issue of Starburst, we hear from Hayden Christensen, Natalie Portman, Ewan McGregor and George Lucas. Since Spiderman has just hit theaters, this issue also covers Tobey Maguire, Kirsten Dunst, Willem Dafoe and Sam Raimi. For regular SF readers, there are articles on Angel and Stargate.







Cult Times #80: Alias has finally started to get some exposure. This excellent series makes the cover this month and series creator J.J. Abrams talks about his creation -- and Felicity, his other work. Also in this issue, Michael Rosenbaum talks about his Lex Luthor character in Smallville and James Marsters fills you in on his hopes for the future -- and his relationship with Buffy. Lexa Doig gets a chance to speak about her dual role in Andromeda as well.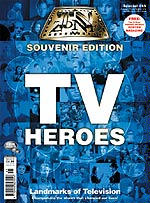 TV Zone Special #45: This special issue focus on TV Heroes! They talked to a LOT of personalities, asking: Why are you fans of television; What shows captivated you as an adult or as a child? What makes them seem magical? JMS talks about Rod Serling and Twilight Zone; Enid-Raye Smith - The Flintstones and Maggie Egan on Star Trek.
Expose #64: With the end of X-Files approaching, more and more magazines will focus on the closing scenes and this month Xpose interviews Annabeth Gish and Robert Patrick. They discuss what season nine has been like and what they might have wished for had the series run longer. Also in this issue -- Ted Danson talks about his miniseries and Lost World's Will Snow talks about his dashing Lord Roxton.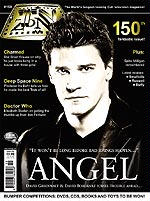 TV Zone #150: David Boreanaz and Producer David Greenwalt chat about what lies ahead for "Angel". Also in this issue: Ira Steven Behr talks about Deep Space Nine; Elisabeth Sladen talks about her role on Dr. Who and Brian Krause gives us some insight into his "Leo" on Charmed.
SCI-FI SCHEDULE
BABYLON 5's Schedule:
13-MAY-02 5:00 PM BABYLON 5 (LBX) GROPOS
14-MAY-02 5:00 PM BABYLON 5 (LBX) ALL ALONE IN THE DARK
15-MAY-02 5:00 PM BABYLON 5 (LBX) ACTS OF SACRIFICE
16-MAY-02 5:00 PM BABYLON 5 (LBX) HUNTER, PREY
21-MAY-02 5:00 PM BABYLON 5 (LBX) THERE ALL THE HONOR LIES
22-MAY-02 5:00 PM BABYLON 5 (LBX) AND NOW FOR A WORD
23-MAY-02 5:00 PM BABYLON 5 (LBX) IN THE SHADOW OF Z'HA'DUM
28-MAY-02 5:00 PM BABYLON 5 (LBX) KNIVES
29-MAY-02 5:00 PM BABYLON 5 (LBX) CONFESSIONS AND LAMENTATIONS
30-MAY-02 5:00 PM BABYLON 5 (LBX) DIVIDED LOYALTIES
BABYLON 5 MOVIES
SCIFI has given me a FANTASTIC birthday present! An afternoon of B5 movies. How much better can it get! June 2:
1:00 PM IN THE BEGINNING
3:00 PM THIRDSPACE
5:00 PM RIVER OF SOULS
7:00 PM BABYLON 5: A CALL TO ARMS ++
9:00 PM LEGEND OF THE RANGERS ++ A Call to Arms is usually shown with a few more minutes included, so "Legend of the Rangers" may not start at exactly 9:00pm.
BABYLON 5 IN THE UK
Ranger Stephen reports that Babylon 5 has moved to Bravo (Sky Digital channel 124, selected cable companies), where I think they'll be showing it at 8pm.
BABYLON 5/CRUSADE PHOTOSHOP
NEW PHOTOS
You do NOT have to pay the prices asked for over at e-bay! Here are photos of B5 and Crusade cast members at fantastic prices. Check out Photo Shop. Ordering is easy -- and you can't beat the prices! Just let me know which photos you want and I'll check to make sure they are still in stock.
---
COMIC BOOKS
AMAZING SPIDERMAN: Amazing Spider-Man #44 will arrive in stores on Aug. 14. The issue is written by J. Michael Straczynski, with art by John Romita Jr. and Scott Hanna.


NEW BABYLON 5 TOONS
John Cook has a new cartoon contest going. Try your hand at a punch line.



READER DIRECTORY
Sometimes you just can't find the e-mail address for someone you know you have -- it's someone who responded to a discussion topic or you met in one of the chat rooms. You'd like to send a personal note, but .... No address!!!!

We've started a White Pages of Zocalo Readers! It's a handy way of keeping track of people -- and putting together a birthday/greeting card list as well. If you would like to be part of the listing, just send me your name, state, e-mail address and (if you'd like to have it listed) birthday (without year) to sgbruckner@aol.com. Check out the Directory of Readers.

HAPPY BIRTHDAY

Here are some of our readers who are having birthdays this month:

Name: John T. Hill
Birthday: May 8

Name: Kevenn T. Smith
Birthday: May 17

Name: Sally Smith
Birthday: May 28

Name: Laurraine Tutihasi
Birthday: May 18
BABYLON 5 REFERENCE PAGES
The Official Babylon 5 Magazine is indexed here as well. With the closure of the magazine in May, you'll want to see which magazines you have -- and which ones you will want to collect. The index may help you make a decision on which ones to choose. The Fan Club has many of the issues at thestation.com , making it very easy to complete your collection.

Universe Today -- the Babylon 5 Fan Club quarterly can also be found here. The index gives you a rundown of what articles were presented, what interviews published.

If you have magazines that have featured Babylon 5 or Crusade that are not listed, send along their issue number and a note to indicate what the article was about. It would be nice to have a fairly comprehensive listing of Babylon 5 publications here.

I have added a listing of all the Babylon 5 novels and now the B5 comic books to the reference page. If there are other items that you feel should be included, let me know.
MAILING LISTS
REDEMPTION: Ranger Steve reports that a new discussion group has been created for the upcoming REDEMPTION convention. Redemption 03, 21-23 February 2003, Ashford, Kent, Celebrating 25 years of Blake's 7 and 10 years of Babylon 5. www.smof.com/redemption.
NW-B5
NW-B5 is a mailing list devoted to bringing critical information to the Vancouver Island, Lower Mainland, and Northern Washington areas. More specifically, anyone north of Seattle. B5 is broadcast on SPACE:TIS in Canada, and Sci-Fi channel in the US. By subscribing to nw-b5, you'll be able to know info bringing you up to date on the current scheduling and events happening in the community related to B5. You'll also be subscribed to the list itself, which means that you'll receive email when there is a scheduling change or critical information needs to go out to you (for example, if we need to start another mailing campaign).

For further information, see http://www.nw-b5.com
John Francis
Webmaster, Listowner, and Co-Moderator
mailto:nw-b5@iname.com

Reports of "The Gathering" are beginning to turn up on the list. John posted a mini-report, with photos, over at http://www.geocities.com/jnf.geo/nw-b5/gathered.htm#0501. You may want to check it out. It was a terrific event in which JMS showed clips from "Legend of the Rangers". Most of the cast was in attendance -- a great group of individuals.
BABYLON 5 DISCUSSION LIST
The Babylon 5 discussion mailing list is for any and all discussions and/or news pertaining to or related to Babylon 5 and/or Crusade. The list has been in existence for the past three years now, and has recently moved. The new location is http://lists.apparition.org/cgi-bin/lyris.pl, and you can subscribe by sending a blank e-mail message to join-babylon_5-l@lists.apparition.org.
THE GALACTIC GATEWAY
Here's a unique site for you! Jeffrey Willerth, Patricia Tallman, Mira Furlan, Claudia Christian, Robin Atkin Downes, Rick Biggs, Jerry Doyle, Bruce Boxleitner, Melissa Gilbert, Peter Jurasik, Bill Mumy and Carrie Dobro are under it's umbrella. Actors from other shows have joined the Gateway. Ted Raimi and Robert Trebor from Xena and Hercules are now at GG. To subscribe to a mailing list for GG, send a blank note to thegalacticgateway-subscribe@egroups.com.
GATEWAY CHATTERS
There is never enough time to keep in touch with friends! To help out, a mailing list has been started for chatters over at the Galactic Gateway. If you are interested in joining, send a blank note to gateway-chatter-subscribe@egroups.com.
GATEWAY TRADER
Are you looking for a particular Babylon 5 collectible? Do you have some items you'd like to trade? Then this is the list for you. To join, send a blank note to gateway-trader-subscribe@egroups.com.
CALLING ALL ARTISTS
The Art Gallery at The Zocalo Today is open. There are SO MANY talented people in our Babylon 5 community. We have enjoyed works by Todd Brugman and Tye Bourdony on our toons page, but there are a host of others who enjoy drawing, painting, sketching their favorite characters. Here are a few works that have been received. I have some others that will be added soon.

If you would like to share your work with us at The Zocalo Today, please send along a digital photo of your work and I'll begin putting the gallery together. If you do not have your work in digital format, drop me a note and we'll see what we can work out.
CALLING ALL CLUBS
There are a number of fabulous Babylon 5/Crusade Clubs around the world. I'd like to begin listing them here on The Zocalo Today. Eric dropped me a note the other day providing information about a Club in France. I know there are other clubs in Brazil, Germany, Russia -- and who knows how many here in the US. Let's get a listing together. Perhaps we can share resources, even get together as we travel around. Drop the information about your Club to me at sgbruckner@aol.com or bruckner@isnnews.net. That information will be added to the new B5 Fan Club Listing.
BABYLON 5 FAN CLUB
Netter Digital filed for bankruptcy in July of 2000 and all their worldly posessions were auctioned off on December 7. The B5 Fan Club site, Thestation.com and it's store, the Emporium, has been closed.
BABYLON 5 NEWSLETTERS
If you have a newsletter you'd like to have listed at The Zocalo Today, send the information along. It will be posted on the B5 Fan Club/Newsletter page.

Ranger Shane in North Carolina sent in the following note about their "Jumpgate" newsletter.

Hey Sandy! Just wanted to give you an update on the NC B5 group's newsletter, Jumpgate. There's now a dedicated EMail address for submissions - jumpgatemag@bellsouth.net - and any submissions, solicited or un-, can be sent to this address. Also, issues are available for free download at the URL at the bottom of this message.

Jumpgate - The Newsletter of the North Carolina Babylon 5 Fan Club
Shane Killian, Editor
HELP WANTED
A new HELP WANTED section has been added to the Z. If you need help finding a comic book, getting a special item, etc. here's the place to post a note. Just send whatever help you need to thezocalo@aol.com.
---
BABYLON 5/CRUSADE CONVENTIONS
CONVENTION CALENDAR
London Expo
May 18-19, 2002, London, England
Place: ExCeL Convention Centre Royal Victoria Dock
B5 Guest: Walter Koenig
For more information, visit their website at http://scifishows.com/londonexpo/.
---
Motor City Comic Con
May 17-19, 2002, Detroit, Michigan
Place: Novi Expo Center
B5 Guests: Jerry Doyle, Mira Furlan, Carrie Dobro, Marjorie Monaghan, Stephen Austin
For more information, visit their website at http://www.motorcityconventions.com/motor_city_comic_con/index.html.
---
STICCON XVI
May 18-19, 2002, Bellaria (Rimini) - Italy
Place: Centro Congressi Europeo
B5 Guest: Julie Caitlin Brown, Peter David (B5 author)
For more information, visit their website at http://www.stic.it/sticcon/.
---
London Expo
May 18-19, 2002, London, England
Place: ExCel Convention Centre Royal Victoria Dock
B5 Guest: Walter Koenig
For more information, visit their website at http://www.scifishows.com/londonexpo.
---
Vulkon, Atlanta
May 24-26, 2002
Place: Marriot Century Center
Atlanta, GA
Guests: Bruce Boxleitner - CANCELLED. (Jerry Doyle & Tracy Scoggins will be filling in for Bruce.)
Other guests: James Doohan, Bruce Campbell, John Billingsley, Barry Morse
For more information, visit their website at http://www.vulkon.com/atlanta/a-hotel.html.
---
Strong Women of Sci-Fi
May 25-26, 2002
Place: Orlando, FL
Hotel: HOLIDAY INN INTERNATIONAL RESORT
B5 Guests: Claudia Christian, Carrie Dobro
For more information, visit their website at http://www.creationent.com.
---
Star Trek Convention - New York
June 1-2, 2002
Place: Meadowlands Crowne Plaza Hotel
East Rutherford, NJ
B5 Guest: Stephen Austin
For more information, visit their website at http://www.creationent.com.
---
Slanted Fedora, Boston Area
June 7-9, 2002
Place: Sheraton Framingham - Tara
Framingham, MA
B5 Guest: Stephen Austin
For more information, visit their website at http://www.sfedora.com.
---
Be sure to visit our Convention Calendar for a full listing of upcoming conventions featuring Babylon 5, Crusade and Legend of the Rangers cast members as guests.
ZOCALO TRADING POST
Do you have extra copies of B5, Amazing Spiderman, Midnight Nation or Rising Stars comics you'd like to trade? How about those extra trading cards or B5 magazines? There are a lot of fans looking for these items -- and the Trading Post can help you buy or sell them. To see what's available, just use this link to the Trading Post. To have items included in The Trading Post, send a note to The Zocalo. Please put Trading Post in the subject line.
Pen Pals
If you are looking for someone to talk about Babylon 5 and Crusade with, the Pen Pal section is for you! Check it out! Drop a note to someone who is feeling B5 withdrawal -- BIG TIME!

People thought a Pen Pal page was a good idea. If you would like to meet people who you could chat with or share your opinions of the show with, send along your e-mail or snail-mail address The Zocalo. It will be incorporated on the new Pen Page Page.
BABYLON 5 BIRTHDAYS
Theodore Bikel - May 2
Michael O'Hare - May 6
Stephen Furst - May 8
Melissa Gilbert-Boxleitner - May 8
Bruce Boxleitner - May 12
Andreas Katsulas - May 18
Doug Wise - May 21
Douglas Netter - May 23
Paul Winfield - May 22
Roy Dotrice - May 26
Harlan Ellison - May 27 Have I missed anyone? If you know the birthday of someone connected with Babylon 5, pass the information along. We want to include everyone in our Happy Birthday Wishes.
MAIL FOR CAST AND CREW
Here's a recent note from JMS on the subject:

Just an FYI to those who've been using the Ventura Blvd. mail drop for fan mail to actors....

As mentioned before, we're phasing out the forwarding of fan mail because we a) don't have the resources, complicated by b) the actors have scattered to the four winds, and it makes it very difficult to get everything to everybody in a timely fashion.

So, having provided prior notice...fan mail to actors coming to the Ventura Blvd. mail drop will be sent back. Mail to actors should be sent via their official fan clubs. I will still be taking mail there, since it's my mailbox, but that's it.

Just so's y'all know and save a few bucks on postage and returns.

JMS' mail can be sent to:

14431 Ventura Boulevard, PMB 260
Sherman Oaks, CA 91423

WARNER BROS:

Warner Bros. Address:

Warner Bros. Domestic Television Distribution
4000 Warner Blvd.
Burbank, CA 91522

Warner Home Video:

Mr. Douglas Wadleigh
VP for Marketing and Special Features
Warner Bros.
4000 Warner Blvd.
Burbank, CA 91522
BACK ISSUES OF THE ZOCALO TODAY
The front page of the The Zocalo Today changes daily, so be sure to check the back issues to make sure that you haven't missed anything IMPORTANT! I don't want the front page getting too long so I shift information periodically into the archives. So if you aren't a regular visitor to The Zocalo Today, be sure to check out the back issues. Just use the button above!
---
Take care and I look forward to hearing from you.
Sandra Bruckner (sgbruckner@aol.com)
Editor/Publisher
The Zocalo Today
http://www.isnnews.net
Copyright - SBruckner, 2002