[an error occurred while processing this directive]

The Zocalo Today

Welcome! I am REALLY glad you dropped by. Take your shoes off, get comfortable and stay a while. There is a LOT of information here for you to share.

The Zocalo Today is an interactive newsletter. We encourage interaction with our readers and like suggestions. So send them along. The Zocalo Today is as much YOUR newsletter as it is mine! I'm just pulling together things for you! Join our weekly discussion topic. It is just one way you can interact with other Z readers. Send along letters, sightings of B5 cast and crew in other projects, convention reports, photos, etc. Don't miss our back issues. As I said, there is a LOT of information contained there and you'll not want to miss anything.

If you have questions, drop me a line at sgbruckner@aol.com or b5web@aol.com. If you would like to join the mailing list for our bi-weekly newsletter, send me a note and I'll include you on the list. Or you can use the subscription block at the left.

Again, WELCOME!




What's New Today
May 18:
STARGATE: With the airing of the final episode of Stargate at Showtime last night, we'll have to see where the story goes from here. With that characteristic twinkle in his eye and smirk on his face, Jack O'Neill led the SG-1 team off to another adventure last night -- that will put them over at SCIFI on June 7 with their first new episode of season six. With the departure of Michael Shanks from the series, Richard Dean Anderson told SCI FI Wire that the crew is getting used to new recruit Jonas Quinn (Corin Nemec). Anderson, also one of the executive producers for the show, said, "We're playing with the new character as much as we can. Corin's doing a good job, at least when we can keep him from playing with the props and get him to settle down. He'll be fine." Stargate SG-1 will kick off with "Redemption, Part I," airing at 9 p.m. ET on June 7.
---
STAR WARS: Everyone was wondering how Star Wars would stack up against the opening of Spiderman. Well, it did very well. Star Wars: Episode II--Attack of the Clones brought in $30.1 million on its opening day Thursday. That's the third biggest opening day of all time, passing The Phantom Menace. With the weekend ahead, we'll see what the final totals will be.
---
WITCHBLADE: Over at http://www.comicscontinuum.com/stories/0205/18/index.htm David Chokachi talks about the upcoming season of Witchblade. David portrays Jake McCartey and this year he says his character will be "a little more edgy. I'm going to be put in situations where my life really gets flipped." "This season, I'm going to earn more respect from Sara, who's my training officer." Nice pictures at this site as well.
---
THIS WEEK IN SCI-FI:
May 17:
ANDROMEDA: If you are a fan of the show and you enjoy the music created by Matthew McCauley and Alex Lifeson, you'll want to pick up the CD -- just released for $18.98. Included on the CD are Alex Lifeson's "Season One Main Title (March of the High Guard)," "Andromeda Ascendant," "High Guard Theme (Season Two Main Title)" "Nietzschean Attack," "Dangerous Maneuvers", "Mad Pursuit" and themes for the main characters, "Beka Valentine," "The Rev Bem Wayist Theme," "Trance Gemini" and, of course, "Dylan Hunt." With the exception of the main title, the music was written by Matthew McCauley, who also provides a few words about each work in the eight-page booklet that accompanies the disc.
---
RATINGS: Top 10 SF Network Series: Alias 5.7; The X-Files 5.1; Touched by an Angel 4.4; Futurama 3.8; Smallville 3.7; Dark Angel 3.3; Angel 2.6; Charmed 2.5; Enterprise 2.3, and Sabrina 1.9. Source: Nielsen Galaxy Report, 4/15/02 - 4/21/02.
---
TWILIGHT ZONE: UPN unveiled their fall schedule which includes an updated version of The Twilight Zone. Forest Whitaker will serve as the series host and he was on hand to help preview the show that is scheduled to air 9 p.m. Wednesdays, after Enterprise. The preview featured scenes from the pilot, which stars Jeremy Piven as a utility worker who gets zapped by lightning and acquires the ability to read minds. Pen Densham (The Outer Limits) will executive produce the series with his partners Mark Stern and John Watson.
---
HAUNTED: Another new UPN series previewed was Haunted, about a detective able to see dead people. Matthew Fox will star in the series set to fill the slot vacated by Roswell at 9 p.m. on Tuesdays. Fox portrays Frank Taylor, a private investigator who suffers a near-death experience and emerges with the ability to see ghosts. Russell Hornsby co-stars. Emile Levisetti (The Education of Max Bickford) and Keith Addis executive produce.
---
DARK ANGEL: Fox announced yesterday that Dark Angel will not be returning for the fall season. According to Variety, Firefly and Dark Angel had been competing for two drama slots on Fox's new Friday-night schedule.
---
STAR WARS: Now that Episode II is out in theatres, George Lucas will begin teasing us with hints about Episode III! He is hinting that things will be getting grim in EPISODE 3 of his STAR WARS prequel trilogy. In this week's ENTERTAINMENT WEEKLY STAR WARS cover story, Lucas said, "If you were a studio, I'm sure you would say, 'This is way too dark. You're going to alienate your audience.' But what can I do? That's the story."
---
DAREDEVIL: Everyone has been dying to see what Ben Affleck will look like as Daredevil! Rather than tights like Spiderman, the outfit is made of leather. Yesterday, the first official photo was released from Twentieth Century Fox. DAREDEVIL opens in February of 2003.
---
NEW STAR TREK BOOK SERIES: Pocket Books announced a new six-book STAR TREK series which will span the years between the launch of the Enterprise B and the first season of Jean Luc Picard's adventures on the Enterprise-D. Published under the LOST ERA stamp, the series will include adventures set aboard the 1701-B, as well as the Enterprise-C (destroyed in the classic NEXT GENERATION episode "Yesterday's Enterprise") and Captain Sulu's Excelsior. The books promise to include some characters from 24th century shows, including NEXT GENERATION members, DEEP SPACE NINE and some VOYAGER members as well, as well as close out the careers of some of Kirk's crew. The first books in the series are set for an August 2003 release.
---
24: 24 fans will be thrilled to learn that the series has been renewed for another season AND creators will stay with real time format. Despite considerable talk of changing the format, where each hour episode is one hour in the day of counter-terrorism agent Jack Bauer, the creators have decided to remain true to the quirky format that built their avid following.
---
GILLIAN ANDERSON: Now that the X-Files has closed it's last case, Gillian Anderson heads to London for the stage. She will star in Michael Weller's "What The Night Is For" in the West End theatre area. Anderson fans should note that she will not do not nude roles like some of the American actresses who have been playing the West End lately.
---
May 16:
MIDNIGHT NATION: Issue #11 has arrived. It is terrific. Can't wait for the next issue -- unfortunately, the last one!
---
STAR WARS: Well, the wait is over! I wonder how many co-workers will be playing hooky today in order to see the movie!
---
X-FILES: With the final episode just a few days away, Chris Carter has already moved onto his next project: X-FILES 2. David Duchovny has already said, "I would do it in a minute." So all that remains is coming up with a script! Carter indicated that this movie would be more of a stand-alone story -- and shooting is set for sometime in 2003.
---
WITCHBLADE: The second season opens next month on this TNT series and fans will have a number of things to get used to -- very different from last year's story line. Executive Producer Ralph Hamecker hints that "Everyone that Sara cares about was killed, but she discovered that she had the ability to transcend time. So she chooses to go back to just before her partner Danny was killed at the beginning of the first season." Hemecker hopes that as a result, the second season is going to be a cleanly tracking story for new viewers to the series, while for the core audience, "it will be a bit like GROUNDHOG DAY -- some things will be similar, but many elements are going to be new."
---
ABC: All the networks are scrambling to firm up their fall schedules. Over at ABC, word came down that ALIAS had been renewed for a second year. ABC has decided to turn its recent DINOTOPIA mini-series into a weekly airing Thursday at 8 p.m. MIRACLES, staring Skeet Ulrich as an FBI agent investigating weird paranormal occurrences has been ordered as a mid-season replacement.
---
FOX: According to the Hollywood Reporter, Fox also has given FIREFLY, Joss Whedon's sci-fi Western, a spot on the Friday fall schedule.
---
TERMINATOR 3: He's Back! Yes, Arnold Schwarzenegger is filming the latest Terminator movie -- T3: Rise of the Machines. Zap2It was treated to a rare set visit, and they report that "Arnold himself looks exactly like he did in 1984's incredible time-travel sci-fi "Terminator" and as good as he did in the 1991 "Terminator 2: Judgment Day" sequel even though he's had heart surgery about a year ago, was in a motorcycle accident and is pushing 55."
---
May 15:
RATINGS: Top 10 SF Syndicated Series: The X-Files 2.6; Andromeda 2.5; Buffy 2.4; Beastmaster 2.3; Mutant X 2.3; 3rd Rock 2.2; Stargate SG-1 2.2; John Edward 1.9; Earth: Final Conflict 1.7, and Relic Hunter 1.6. Source: Nielsen Galaxy Report, 4/15/02 - 4/21/02.
---
JAMES BOND: Although the movie isn't scheduled for release until November, there is already a trailer up and available for "Die Another Day" at http://movies.yahoo.com/movies/feature/dieanotherday.html. Very cool!
---
MATRIX: A preview of the upcoming MATRIX sequels (MATRIX RELOADED and MATRIX REVOLUTIONS) will be available tonight -- first on Entertainment Tonight -- and then at the official website (at 9:00pm PST). Here's a tidbit about the trailer -- it's totally digital. This first teaser comes directly from the 2K digital source files, over 20 gigabytes of data. Why? No scan lines, capable of far higher resolutions, zero transfer loss.
---
BEN BOVA: Ben Bova is one of the most prolific writers of our time. Cinescape talks with the author about his latest series of novels. An interesting read.
---
BUFFY: AMC has something unusual on tap for next week. It's the backstory for Buffy the Vampire Slayer. Yes, this is the behind- the-scenes story of the film that spawned a successful television series. It features interviews with the film's director Fran Rubel Kuzui, producer Howard Rosenman and actors Donald Sutherland and Luke Perry. Released in 1992, the story follows a high school cheerleader (Kristy Swanson) whose secret calling is to hunt down and kill vampires. A bonus includes early screen appearances from Ben Affleck and Hilary Swank. "Backstory: Buffy the Vampire Slayer" will premiere at 9:40 p.m. ET on Monday, May 20 on AMC.
---
CONVENTION ALERT: Over at SyFy Portal, you can read about Viacom's latest crackdown on unauthorized/illegal merchandise. Conventions are the latest target -- and for my money -- it is about time. There is SO MUCH illegal merchandise at cons it makes you cringe. The vendors seem to have never heard of copyright infringement! On April 27, a Vulkon convention in Cleveland was the site of police raid. Paramount attorneys obtained search warrants and unlicensed Star Trek merchandise was confiscated, but no arrests were made. Things that were taken included autographed photos that the guest actors at the event were giving away along with their autograph. Viacom told Star Trek Communicator that the company was making an attempt to remove "inferior products" from the market.
---
WEST WING: Over at ET!Online they talk with Martin Sheen about the season finale and what his plans are for work during the hiatus! Folks in Florida and Maryland may get a peek at Martin as he goes on the campaign trail for Janet Reno and Kathleen Kennedy!
---
DC COMICS: People who attend FarPoint and Shore Leave in Baltimore all know and love Bob Greenberger! He is one of the folks that bring such wonderful goodies to the convention -- along with the latest news from the comic & movie world. DC Comics announced that Bob has rejoined the DC staff as Senior Editor - Collected Editions, reporting to Georg Brewer, VP - Design & Retail Product Development. Congrats, Bob.
---
May 14:
FIREFLY: A lot of people are curious about Joss Whedon's new series, Firefly. You can see images from the series over at http://www.fireflyfans.net. The show is scheduled to appear on Fox this season.
---
STAR WARS: As the premiere of Star Wars: Attack of the Clones approaches, everyone is wondering what we'll see as far as advances in animation and film production. Animation direction Rob Coleman told SCI FI Wire that Industrial Light & Magic made huge leaps in digital technology between Episode I and II--principally in the character of Yoda. "There were two digital shots of Yoda in Episode I. There's one high shot near the end of the movie, when Obi-Wan [Ewan McGregor] is on his knees talking to Yoda, and there's another high shot in the funeral sequence, when he's next to Sam [Jackson]." Read more of Coleman's interview at www.scifi.com.
---
TREASURE PLANET: Disney is re-imagining Robert Louis Stevenson's classic Treasure Island. This animated film looks pretty cool. You can make up your own mind by viewing the first images over at http://srv01.sitestream.com/encodethis/bvim_treasure_planet_teaser_1500.mov.
---
THE WRATH OF KAHN: For many, this is among the best Star Trek films. Paramount Home Video has announced that on August 6, a special edition of STAR TREK 2: THE WRATH OF KAHN will be available for $24.99 US. This version is being billed as an expansion of the existing (minimal) DVD edition. So what does that mean? Disc 1: Includes the expanded cut of the film, commentary by director Nicholas Meyer and text commentary by TREK encyclopedia co-author Michael Okuda. Disc 2: Features the theatrical trailer, storyboard archives, and a wealth of bonus material: — The Captain's Log: All-new interviews with Meyer, stars William Shatner ("James T. Kirk"), Leonard Nimoy ("Spock"), Ricardo Montalban ("Khan Noonien Singh") and writer/executive producer Harve Bennett. — Designing Khan: Features comparisons of STAR TREK 1 and STAR TREK 2. Includes interviews with Meyer, Bennett, graphic designer Lee Cole, costume designer Robert Fletcher, production designer Joe Jennings, and more. — The Visual Effects of STAR TREK II: THE WRATH OF KHAN: Highlights the ILM visual effects designers. — Original interviews from 1982: Featuring Shatner, Nimoy, Montalban and DeForest Kelley ("Leonard H. McCoy"). — The STAR TREK Universe — A Novel Approach by Authors Julia Ecklar and Greg Cox: Interviews with TREK novelists Ecklar ("The Kobayashi Maru") and Cox ("The Eugenics Wars: The Rise and Fall of Khan Noonien Singh").
---
DINOTOPIA: ABC scored big on Sunday night! Ratings for the first installation of the Dinotopia mini-series were terrific, pulling in 16.7 million viewers, a 5.8 rating/17 share among adults 18-49.
---
A SOUND OF THUNDER: According to the Hollywood Reporter, Ben Kingsley in final talks to star in A Sound of Thunder, director Peter Hyams' adaptation of the Ray Bradbury short story about a game hunter who travels back in time to hunt dinosaurs.
---
BIRDS OF PREY: The WB will have two comic book stories on the tube this coming year. With the success of Smallville, they will offer up Birds of Prey -- to follow Smallville on the Tuesday night schedule. For a look at the cast (Ashley Scott (the Huntress), Dina Meyer (Oracle), and Rachel Skarsten (Black Canary), go to Gotham Clock Tower.
---
May 13:
STARGATE: SCIFI has launched their own Stargate website -- and it's pretty good. Go to http://www.scifi.com/stargate/. The show premieres on SCIFI June 7 at 9pm ET/PT.
---
BABYLON 5 TRADING CARDS: The much awaited trading cards for Babylon 5 are to arrive at vendors this week. They should be sending out pre-ordered sets this week, so I'll let you know what they look like. Can't wait. It's been a VERY LONG time between cards.
---
RATINGS: Top 10 SF Channel Shows: Project Viper 1.5; The Faculty 1.2; Farscape 1.2; Rage: Carrie 2 1.1; Idle Hands 0.9; Alien Predator 0.9; Trek Marathon 0.8; Strange World 0.7; Vampires 0.7, and John Edward 0.7. Source: Nielsen Galaxy Report, 4/15/02 - 4/21/02.
---
STAR WARS: With theaters already sold out for this week's premiere, SCIFI talks with George Lucas, Samuel L. Jackson and Hayden Christensen about the upcoming movie over at http://www.scifi.com/sfw/advance/13_interview.html.
---
WEEKEND BOX OFFICE: Spiderman maintains it's grip on the box office, dropping just 37 percent over last weekend and bringing in $223.6 million in just 10 days. Here are the numbers: 1. SPIDER-MAN, $72.0 million this weekend, $223.6 since opening; 2. UNFAITHFUL, $14.2 million this weekend, $14.2 since opening; 3. THE NEW GUY, $9.5 million this weekend, $9.5 since opening; 4. THE SCORPION KING, $4.4 million this weekend, $80.4 since opening; 5. CHANGING LANES, $3.5 million this weekend, $57.0 since opening; 6. MURDER BY NUMBERS, $2.3 million this weekend, $27.3 since opening; 7. THE ROOKIE, $2.1 million this weekend, $67.7 million since opening; 8. PANIC ROOM, $1.5 million this weekend, $93.1 since opening; 9. ICE AGE, $1.4 million this weekend, $170.8 since opening, and 10. LIFE, OR SOMETHING LIKE IT, $1.3 million this weekend, $13.1 since opening.
---
ANNE RICE: NBC is busy planning a huge 12-hour mini-series taking Anne Rice's WITCHING HOUR, LASHER, TALTOS novels and rolling them into one huge project and airing the project in 2003 or early 2004. John Wilder, the scriptwriter for RETURN TO LONESOME DOVE, has been handed the considerable task of writing the script.
---
May 12:
MIDNIGHT NATION: A note over in the B5 moderated newsgroup indicates that Top Cow is planning a collected edition of MN when Issue 12 comes. JMS says, "It'll be out in September."
---
STARGATE: I don't know about you, but I both enjoyed and hated the late episode of Stargate. Daniel Jackson was a critical character for the series and he will be missed.
---
DR. WHO: I know there are a number of Dr. Who fans here so you'll want to check out this site that Ranger Adrian sent forward. The site has a series of audio dramas produced by Big Finish. While they deal primarily with Doctor Who, they have produced other ranges including Judge Dread. The site address is http://www.doctorwho.co.uk.
---
SPIDERMAN: Everyone is waiting to see if Spiderman will top the $200 million mark this weekend. It looks like a sure bet to me! The movie is HOT! It's only been out a week and already it is #104 on the all-time box office charts.
---
ELEKTRA: With Ben Affleck already at work on Daredevil, everyone was waiting to here who would portray Elektra. Well Jennifer Garner from Alias won the role and she was assured by Executive Producer Avi Arad that the role was not just kicks and sais. Garner enjoys emotional issues. "I'm really looking forward to doing a love story," Garner said. "The scenes are really witty and romantic and sweet and always with a touch of darkness."
---
X-MEN SPECIAL EDITION: Davis DVD reports that a brand new special edition X-Men DVD is on the way which'll include lots more making of material, an audio commentary by Bryan Singer, and one other cool sounding extra: With X2 (the sequel's "catchy" title) slated to begin production this month, 20th Century Fox has allotted the budget and a few days in the shooting schedule to film new scenes for the X-Men Special Edition DVD. These scenes will possibly be the abandoned Storm/Cyclops origin scenes which were conceived of but never filmed.
---
DINOTOPIA: This three-part mini-series begins tonight. Interesting concept -- a world where humans and dinosaurs coexist. From the ads & website, it might be worth a look-see. Two teens stranded on an island after their plane crashes -- apparently killing their father -- find it's a world where not only do the big beasts work together with humans, they actually speak too. Jurasik Park meets Dr. Dootlittle! The story is based on the books by James Gurney, and continues Monday and Tuesday.
---
May 11:
MATRIX: Entertainment Tonight is gearing up for trailers for both The Matrix Reloaded and The Matrix Revolutions on May 15. The production of both sequels is expected to wrap in Sydney this August, and The Matrix Reloaded is due for release in summer 2003. The Matrix Revolutions comes out in November 2003. Members of the original cast are back to reprise their roles -- Keanu Reeves, Laurence Fishburne, Carrie-Anne Moss and Hugo Weaving are joined by new cast members Monica Bellucci and Jada Pinkett-Smith.
---
WAR OF THE WORLDS: Paramount Pictures has announced that they will partner with Tom Cruise and Paula Wagner's Cruise/Wagner Productions on a new feature-film adaptation of H.G. Wells' classic SF book The War of the Worlds. Variety reported that Cruise and Wagner will produce the film and the studio is hoping Cruise will star in the movie. Production is scheduled to begin in 2003. This is one of my all-time favorite movies, so I will be interested in whether or not the re-make holds up.
---
CRUSADER: Jonathan Hales', co-writer of Star Wars: Episode II - Attack of the Clones has sold a movie pitch to Disney and Firm Films. According to The Hollywood Reporter, Hales' Crusader takes place in the future on an alien planet and tells the story of two brothers who battle each other for control of a kingdom. Firm Films' Beau Flynn and Tripp Vinson will produce.
---
ENTERPRISE: The doctors of Star Trek will always hold a special place in the story and people's hearts. John Billingsley follows a long line, beginning with the beloved DeForest Kelley as Dr. Leonard McCoy in the original series. Dr. Phlox on ENTERPRISE is a tad different and Billingsley talks about his character over at http://www.syfyportal.com/article/?id=713.
---
SPIDERMAN: According to E!Online, Marvel Enterprises is suing Walt Disney's Buena Vista home entertainment. They claim Disney used Spider-Man artwork without permission to promote a new Spidey cartoon series.
---
STAR WARS: Would you believe that a copy of the new movie has already been spotten on the net? Yes, indeed. Over at Yahoo, there is a story about Star Wars: Attack of the Cl0nes already spotted. One copy appears to have been recorded at a private showing, using a tripod-mounted digital camcorder. Another copy apparently used a more sophisticated version of the same technique. This is the very thing that gives filmmakers the shakes! Soon we won't have to go through metal detectors for weapons -- but for camcorders to protect the rights of producers and film companies!
---
AMERICAN ALIEN: Author Oscar Scott Card talks about combining "Ender's Shadow" and "Ender's Game" into a screenplay that could find it's way to the big screen at http://www.americanalien.net/osc.html.
---
SF CHARITY EFFORTS: For years, science fiction fans and stars have contributed their time and talents to a number of charity efforts. Our own B5 cast has spent a LOT of time doing charity signings at conventions and participating in efforts like the photo shown below. Robby Duncan McNeil from Voyager will be participating in a week-long bicycle trek through California to draw attention to the ongoing AIDS crisis. Read more over at http://www.startrek.com/news/news.asp?ID=124503. Want to help too? You can make on-line donations at BeThePeople.com.
---
JEREMIAH ON SHOWTIME - FRIDAY AT 10:45PM
"The Touch," a new episode of Jeremiah, will air this week on Showtime at 10:45pm ET. Here's a brief description: "Kurdy and Jeremiah enter a town where paranoia about the Big Death has led to a law against touching and sex, a restriction that is fomenting a violent rebellion. Meanwhile, Marcus's flu sparks a battle for power." The episode was written by Jeremiah executive producer Sam Egan and was directed by Michael Robison. For a teaser, go to http://www.sho.com/jeremiah/. For an update on where JMS is going with Jeremiah, visit the Jeremiah Page here at The Zocalo. For those of you who want to keep up on what is going on with Jeremiah, Ranger Monica has started up a Jeremiah newsletter. Please go to http://groups.yahoo.com/group/jeremiah-news/ and subscribe. Monica also has a very nice Jeremiah site so don't forget to bookmark that as well.
BABYLON 5/CRUSADE CAST ON NEW SHOWS THIS WEEK
Daniel Dae Kim ( Lt. Matheson ):
Angel - Tomorrow
Monday, 20 9:00 PM EST WB
The darkly atmospheric series' third season comes to a close with an edgy and emotionally charged finale episode. After the initial torment of losing Connor (Vincent Kartheiser) to an interdimensional kidnapping, Angel (David Boreanaz) is downright giddy to once again be reunited with his son. Sadly, Connor's decision to live with his undead dad is forged in deception: Misled by the calculating Justine, the temperamental teen plots to exact (undeserved) revenge against his trusting father. In developments less grim, Lorne moves out of the hotel and makes for greener pastures; and an increasingly powerful Cordelia comes to terms with the fact that she is in love with someone other than Groosalugg (Mark Lutz).
KEEPING UP WITH CAST AND CREW
JASON CARTER: Ranger Jelio reports seeing Jason Carter in a Chevy Avalache commercial. He was playing a crazy sidewalk homeless man. He rants about change and when he sees the car he becomes satisfied.
---
GARY COLE: According to the Hollywood Reporter, the WB is bringing back "Family Affair" -- the 1960s series that originally starred Brian Keith and Sebastian Cabot. The WB has given the go-ahead to producers of the Turner TV/Pariah pilot to begin hiring writers in anticipation of an official pickup to come by next week when the WB unveils its 2002-03 lineup to advertisers in New York. The new series stars Tim Curry and Gary Cole.
---
PAT TALLMAN: Patty is interviewed in the next issue of Star Trek: Communicator (the Star Trek fan club magazine). Pat was both a stunt woman and actress on ST:TNG.
---
BRUCE McGILL: Bruce McGill has landed a very choice role as the Nation Security Advisor in "The Sum of All Fears", the next Tom Clancy movie revolving around CIA analyst Jack Ryan, to be released in May. The stars are Ben Affleck and Morgan Freeman.
---
ROBIN DOWNES: Good news for Robin fans. He has been cast in Arliss on HBO! He portrays a gay English Rock Star. Yes, he'll be singing in this one! It should air sometime in July. Robin has also been pretty busy. He has been doing a good bit of voiceover work. He recently wrapped work on an independent film with William Devane, Richard Kind and Michael Bolton entitled High Voltage.
---
MARJEAN HOLDEN: Don't forget to watch Marjean on Beastmaster each week. She has been getting more and more involved in the story -- and that translates into more on-screen time.
DISCUSSION TOPIC:
What was your favorite sub-plot or story of Babylon 5? Every episode had the main story, but occasionally, the sub-plot was perhaps more interesting. For example, in TKO the story centered around the Mutai - but the sub-plot showed Ivanova struggling to cope with the death of her father! I loved it! How about you? What is your favorite?

Send in your ideas to TheZocalo@aol.com or B5web@aol.com.
UNIQUE CHARITY ITEM
Ten popular science fiction actors have donated their time, images and autographs for an exclusive photograph, the proceeds of which will go to charity. For sale through the actors themselves and at , the limited-edition photo is in color, edged in white and ready to place in an 11X14 frame, and handsigned. Each of the 1,000 limited edition photos comes embossed with a seal of authenticity and numbered. The photograph is now available for a pre-sale price of $100. After Sept 11, 2002, the price will go up to at least $125.00. Among the charities to benefit will be the Penny Lane home for abused children in Los Angeles, and various September 11 funds. The actors hope to raise more than $100,000 through the charity project. The Penny Lane Home is a residential facility for children who have been severely abused, physically, emotionally and sexually. Many have "fallen through the cracks" of the social service outreach programs, and Penny Lane is their last chance at escaping the abuse. Actors in the photo include: Patricia Tallman, known best for her roles as Lyta Alexander in Babylon 5 and Barbara in Night of the Living Dead (1990) Vaughn Armstrong, who has portrayed more guest star aliens on Star Trek:TNG, DS9 and Voyager than any other actor in Star Trek history. Currently, he holds the recurring role of Admiral Maxwell Forrest on Enterprise, as well as at least eight other Guest Starring roles on board the new Trek series to date. Stephen Austin portrayed many bizarre alien creatures on Babylon 5. His most notable was the lovable Pak'ma'ra Ambassador. David Brooks is an accomplished artist as well as actor. He is best known to the sci fi community as Max Eilerson on the Babylon 5 spin off, Crusade. Jeffrey Willerth portrayed Ambassador Kosh and was Associate Producer of Babylon 5 Robin Atkin Downes, best known for his role of Byron in Babylon 5 Carrie Dobro, Dureena Nafeel in Crusade. Tim Choate was extremely popular on B5 as Zathras (and his brothers, all named Zathras). He also portrayed Pollack on Crusade. Beata Pozniak appeared as Babylon 5's Earth Alliance President Luchenko. Ed Wasser, the evil Mr. Morden on Babylon 5. As a special promotion, the first 100 orders will receive a special gift: former Star Trek stunt coordinator, Dennis Madalone, has donated 100 copies of his single, "America, We Stand As One," to say thank you to the science fiction fans who purchase the charity photograph. To order the photo online, go to http://www.thegalacticgateway.com, click on shop, and search on the word charity. NEW MERCHANDISE ON THE WAY
Over at the Farscape website, you can order the 70-minute collection of scores and themes from Music from the Original Soundtrack - Farscape.
---
The first volume of the Andromeda series is about to be released on VHS and DVD! This first volume contains the episodes "Under the Night" and "An Affirming Flame."
---
All 22 episodes of the first season of Enterprise are covered in this 135-card set!
---
SCI FI PUBLICATIONS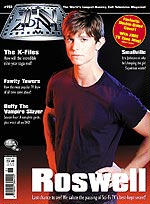 TV Zone #151: This issue marks the passing of Roswell. There are two covers -- one with Max; one with Liz. Inside you'll find a full expisode guide, a look at nine years of X-Files, a chat with Eric Johnson from Smallville and much more.







Expose #68: Kirsten Dunst talks about playing Mary Jane on Spiderman; working with Tobey Maguire and James Franco. Also inside you'll find articles about Adam Rodriguez from Roswell, Sabrina's Melissa Joan Hart and Lost World's Rachel Blakely.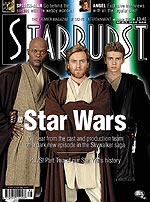 Starburst #286: With StarWars opening in May, the SF publications will be filled with interviews with cast members, production staff, etc. In this issue of Starburst, we hear from Hayden Christensen, Natalie Portman, Ewan McGregor and George Lucas. Since Spiderman has just hit theaters, this issue also covers Tobey Maguire, Kirsten Dunst, Willem Dafoe and Sam Raimi. For regular SF readers, there are articles on Angel and Stargate.







Cult Times #80: Alias has finally started to get some exposure. This excellent series makes the cover this month and series creator J.J. Abrams talks about his creation -- and Felicity, his other work. Also in this issue, Michael Rosenbaum talks about his Lex Luthor character in Smallville and James Marsters fills you in on his hopes for the future -- and his relationship with Buffy. Lexa Doig gets a chance to speak about her dual role in Andromeda as well.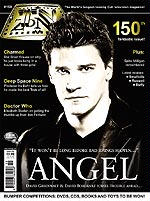 TV Zone #150: David Boreanaz and Producer David Greenwalt chat about what lies ahead for "Angel". Also in this issue: Ira Steven Behr talks about Deep Space Nine; Elisabeth Sladen talks about her role on Dr. Who and Brian Krause gives us some insight into his "Leo" on Charmed.
SCI-FI SCHEDULE
BABYLON 5's Schedule:
21-MAY-02 5:00 PM BABYLON 5 (LBX) THERE ALL THE HONOR LIES
22-MAY-02 5:00 PM BABYLON 5 (LBX) AND NOW FOR A WORD
23-MAY-02 5:00 PM BABYLON 5 (LBX) IN THE SHADOW OF Z'HA'DUM
28-MAY-02 5:00 PM BABYLON 5 (LBX) KNIVES
29-MAY-02 5:00 PM BABYLON 5 (LBX) CONFESSIONS AND LAMENTATIONS
30-MAY-02 5:00 PM BABYLON 5 (LBX) DIVIDED LOYALTIES
03-JUN-02 5:00 PM BABYLON 5 (LBX) THE LONG, TWILIGHT STRUGGLE
04-JUN-02 5:00 PM BABYLON 5 (LBX) COMES THE INQUISITOR
05-JUN-02 5:00 PM BABYLON 5 (LBX) THE FALL OF NIGHT
06-JUN-02 5:00 PM BABYLON 5 (LBX) MATTERS OF HONOR
10-JUN-02 5:00 PM BABYLON 5 (LBX) CONVICTIONS
11-JUN-02 5:00 PM BABYLON 5 (LBX) A DAY IN THE STRIFE
12-JUN-02 5:00 PM BABYLON 5 (LBX) PASSING THROUGH GETHSEMANE
13-JUN-02 5:00 PM BABYLON 5 (LBX) VOICES OF AUTHORITY
17-JUN-02 5:00 PM BABYLON 5 (LBX) DUST TO DUST
18-JUN-02 5:00 PM BABYLON 5 (LBX) EXOGENSIS
19-JUN-02 5:00 PM BABYLON 5 (LBX) MESSAGES FROM EARTH
20-JUN-02 5:00 PM BABYLON 5 (LBX) POINT OF NO RETURN
24-JUN-02 5:00 PM BABYLON 5 (LBX) SEVERED DREAMS
25-JUN-02 5:00 PM BABYLON 5 (LBX) CEREMONIES OF LIGHT AND DARK
26-JUN-02 5:00 PM BABYLON 5 (LBX) SIC TRANSIT VIR
27-JUN-02 5:00 PM BABYLON 5 (LBX) A LATE DELIVERY FROM AVALON
BABYLON 5 MOVIES
SCIFI has given me a FANTASTIC birthday present! An afternoon of B5 movies. How much better can it get! June 2:
1:00 PM IN THE BEGINNING
3:00 PM THIRDSPACE
5:00 PM RIVER OF SOULS
7:00 PM BABYLON 5: A CALL TO ARMS ++
9:00 PM LEGEND OF THE RANGERS ++ A Call to Arms is usually shown with a few more minutes included, so "Legend of the Rangers" may not start at exactly 9:00pm.
BABYLON 5 IN THE UK
Ranger Stephen reports that Babylon 5 has moved to Bravo (Sky Digital channel 124, selected cable companies), where I think they'll be showing it at 8pm.
BABYLON 5/CRUSADE PHOTOSHOP
NEW PHOTOS
You do NOT have to pay the prices asked for over at e-bay! Here are photos of B5 and Crusade cast members at fantastic prices. Check out Photo Shop. Ordering is easy -- and you can't beat the prices! Just let me know which photos you want and I'll check to make sure they are still in stock.
---
COMIC BOOKS
Midnight Nation #11 will arrive in stores on Wednesday. This issue is written by J. Michael Straczynski, penciled by Gary Frank, inked by Jonathan Sibal and colored by Matt Milla.


AMAZING SPIDERMAN: The latest issue is on news stands now.

Amazing Spider-Man #44 will arrive in stores on Aug. 14. The issue is written by J. Michael Straczynski, with art by John Romita Jr. and Scott Hanna.




BABYLON 5 TOONS
John Cook has a new cartoon contest going. Try your hand at a punch line.



NEW B5 TOON
Ranger Bill created this toon for his website www.wondertemp.com, but wanted to share it with readers here at the Zocalo. Thanks Bill.



READER DIRECTORY
Sometimes you just can't find the e-mail address for someone you know you have -- it's someone who responded to a discussion topic or you met in one of the chat rooms. You'd like to send a personal note, but .... No address!!!!

We've started a White Pages of Zocalo Readers! It's a handy way of keeping track of people -- and putting together a birthday/greeting card list as well. If you would like to be part of the listing, just send me your name, state, e-mail address and (if you'd like to have it listed) birthday (without year) to sgbruckner@aol.com. Check out the Directory of Readers.

HAPPY BIRTHDAY

Here are some of our readers who are having birthdays this month:

Name: John T. Hill
Birthday: May 8

Name: Kevenn T. Smith
Birthday: May 17

Name: Sally Smith
Birthday: May 28

Name: Laurraine Tutihasi
Birthday: May 18
BABYLON 5 REFERENCE PAGES
The Official Babylon 5 Magazine is indexed here as well. With the closure of the magazine in May, you'll want to see which magazines you have -- and which ones you will want to collect. The index may help you make a decision on which ones to choose. The Fan Club has many of the issues at thestation.com , making it very easy to complete your collection.

Universe Today -- the Babylon 5 Fan Club quarterly can also be found here. The index gives you a rundown of what articles were presented, what interviews published.

If you have magazines that have featured Babylon 5 or Crusade that are not listed, send along their issue number and a note to indicate what the article was about. It would be nice to have a fairly comprehensive listing of Babylon 5 publications here.

I have added a listing of all the Babylon 5 novels and now the B5 comic books to the reference page. If there are other items that you feel should be included, let me know.
MAILING LISTS
REDEMPTION: Ranger Steve reports that a new discussion group has been created for the upcoming REDEMPTION convention. Redemption 03, 21-23 February 2003, Ashford, Kent, Celebrating 25 years of Blake's 7 and 10 years of Babylon 5. www.smof.com/redemption.
NW-B5
NW-B5 is a mailing list devoted to bringing critical information to the Vancouver Island, Lower Mainland, and Northern Washington areas. More specifically, anyone north of Seattle. B5 is broadcast on SPACE:TIS in Canada, and Sci-Fi channel in the US. By subscribing to nw-b5, you'll be able to know info bringing you up to date on the current scheduling and events happening in the community related to B5. You'll also be subscribed to the list itself, which means that you'll receive email when there is a scheduling change or critical information needs to go out to you (for example, if we need to start another mailing campaign).

For further information, see http://www.nw-b5.com
John Francis
Webmaster, Listowner, and Co-Moderator
mailto:nw-b5@iname.com

Reports of "The Gathering" are beginning to turn up on the list. John posted a mini-report, with photos, over at http://www.geocities.com/jnf.geo/nw-b5/gathered.htm#0501. You may want to check it out. It was a terrific event in which JMS showed clips from "Legend of the Rangers". Most of the cast was in attendance -- a great group of individuals.
BABYLON 5 DISCUSSION LIST
The Babylon 5 discussion mailing list is for any and all discussions and/or news pertaining to or related to Babylon 5 and/or Crusade. The list has been in existence for the past three years now, and has recently moved. The new location is http://lists.apparition.org/cgi-bin/lyris.pl, and you can subscribe by sending a blank e-mail message to join-babylon_5-l@lists.apparition.org.
THE GALACTIC GATEWAY
Here's a unique site for you! Jeffrey Willerth, Patricia Tallman, Mira Furlan, Claudia Christian, Robin Atkin Downes, Rick Biggs, Jerry Doyle, Bruce Boxleitner, Melissa Gilbert, Peter Jurasik, Bill Mumy and Carrie Dobro are under it's umbrella. Actors from other shows have joined the Gateway. Ted Raimi and Robert Trebor from Xena and Hercules are now at GG. To subscribe to a mailing list for GG, send a blank note to thegalacticgateway-subscribe@egroups.com.
GATEWAY CHATTERS
There is never enough time to keep in touch with friends! To help out, a mailing list has been started for chatters over at the Galactic Gateway. If you are interested in joining, send a blank note to gateway-chatter-subscribe@egroups.com.
GATEWAY TRADER
Are you looking for a particular Babylon 5 collectible? Do you have some items you'd like to trade? Then this is the list for you. To join, send a blank note to gateway-trader-subscribe@egroups.com.
CALLING ALL ARTISTS
The Art Gallery at The Zocalo Today is open. There are SO MANY talented people in our Babylon 5 community. We have enjoyed works by Todd Brugman and Tye Bourdony on our toons page, but there are a host of others who enjoy drawing, painting, sketching their favorite characters. Here are a few works that have been received. I have some others that will be added soon.

If you would like to share your work with us at The Zocalo Today, please send along a digital photo of your work and I'll begin putting the gallery together. If you do not have your work in digital format, drop me a note and we'll see what we can work out.
CALLING ALL CLUBS
There are a number of fabulous Babylon 5/Crusade Clubs around the world. I'd like to begin listing them here on The Zocalo Today. Eric dropped me a note the other day providing information about a Club in France. I know there are other clubs in Brazil, Germany, Russia -- and who knows how many here in the US. Let's get a listing together. Perhaps we can share resources, even get together as we travel around. Drop the information about your Club to me at sgbruckner@aol.com or bruckner@isnnews.net. That information will be added to the new B5 Fan Club Listing.
BABYLON 5 FAN CLUB
Netter Digital filed for bankruptcy in July of 2000 and all their worldly posessions were auctioned off on December 7. The B5 Fan Club site, Thestation.com and it's store, the Emporium, has been closed.
BABYLON 5 NEWSLETTERS
If you have a newsletter you'd like to have listed at The Zocalo Today, send the information along. It will be posted on the B5 Fan Club/Newsletter page.

Ranger Shane in North Carolina sent in the following note about their "Jumpgate" newsletter.

Hey Sandy! Just wanted to give you an update on the NC B5 group's newsletter, Jumpgate. There's now a dedicated EMail address for submissions - jumpgatemag@bellsouth.net - and any submissions, solicited or un-, can be sent to this address. Also, issues are available for free download at the URL at the bottom of this message.

Jumpgate - The Newsletter of the North Carolina Babylon 5 Fan Club
Shane Killian, Editor
HELP WANTED
A new HELP WANTED section has been added to the Z. If you need help finding a comic book, getting a special item, etc. here's the place to post a note. Just send whatever help you need to thezocalo@aol.com.
---
BABYLON 5/CRUSADE CONVENTIONS
CONVENTION CALENDAR
London Expo
May 18-19, 2002, London, England
Place: ExCeL Convention Centre Royal Victoria Dock
B5 Guest: Walter Koenig
For more information, visit their website at http://scifishows.com/londonexpo/.
---
Motor City Comic Con
May 17-19, 2002, Detroit, Michigan
Place: Novi Expo Center
B5 Guests: Jerry Doyle, Mira Furlan, Carrie Dobro, Marjorie Monaghan, Stephen Austin
For more information, visit their website at http://www.motorcityconventions.com/motor_city_comic_con/index.html.
---
STICCON XVI
May 18-19, 2002, Bellaria (Rimini) - Italy
Place: Centro Congressi Europeo
B5 Guest: Julie Caitlin Brown, Peter David (B5 author)
For more information, visit their website at http://www.stic.it/sticcon/.
---
London Expo
May 18-19, 2002, London, England
Place: ExCel Convention Centre Royal Victoria Dock
B5 Guest: Walter Koenig
For more information, visit their website at http://www.scifishows.com/londonexpo.
---
Vulkon, Atlanta
May 24-26, 2002
Place: Marriot Century Center
Atlanta, GA
Guests: Bruce Boxleitner - CANCELLED. (Jerry Doyle & Tracy Scoggins will be filling in for Bruce.)
Other guests: James Doohan, Bruce Campbell, John Billingsley, Barry Morse
For more information, visit their website at http://www.vulkon.com/atlanta/a-hotel.html.
---
Strong Women of Sci-Fi
May 25-26, 2002
Place: Orlando, FL
Hotel: HOLIDAY INN INTERNATIONAL RESORT
B5 Guests: Claudia Christian, Carrie Dobro
For more information, visit their website at http://www.creationent.com.
---
Star Trek Convention - New York
June 1-2, 2002
Place: Meadowlands Crowne Plaza Hotel
East Rutherford, NJ
B5 Guest: Stephen Austin
For more information, visit their website at http://www.creationent.com.
---
Slanted Fedora, Boston Area
June 7-9, 2002
Place: Sheraton Framingham - Tara
Framingham, MA
B5 Guest: Stephen Austin
For more information, visit their website at http://www.sfedora.com.
---
Be sure to visit our Convention Calendar for a full listing of upcoming conventions featuring Babylon 5, Crusade and Legend of the Rangers cast members as guests.
ZOCALO TRADING POST
Do you have extra copies of B5, Amazing Spiderman, Midnight Nation or Rising Stars comics you'd like to trade? How about those extra trading cards or B5 magazines? There are a lot of fans looking for these items -- and the Trading Post can help you buy or sell them. To see what's available, just use this link to the Trading Post. To have items included in The Trading Post, send a note to The Zocalo. Please put Trading Post in the subject line.
Pen Pals
If you are looking for someone to talk about Babylon 5 and Crusade with, the Pen Pal section is for you! Check it out! Drop a note to someone who is feeling B5 withdrawal -- BIG TIME!

People thought a Pen Pal page was a good idea. If you would like to meet people who you could chat with or share your opinions of the show with, send along your e-mail or snail-mail address The Zocalo. It will be incorporated on the new Pen Page Page.
BABYLON 5 BIRTHDAYS
Theodore Bikel - May 2
Michael O'Hare - May 6
Stephen Furst - May 8
Melissa Gilbert-Boxleitner - May 8
Bruce Boxleitner - May 12
Andreas Katsulas - May 18
Doug Wise - May 21
Douglas Netter - May 23
Paul Winfield - May 22
Roy Dotrice - May 26
Harlan Ellison - May 27 Have I missed anyone? If you know the birthday of someone connected with Babylon 5, pass the information along. We want to include everyone in our Happy Birthday Wishes.
MAIL FOR CAST AND CREW
Here's a recent note from JMS on the subject:

Just an FYI to those who've been using the Ventura Blvd. mail drop for fan mail to actors....

As mentioned before, we're phasing out the forwarding of fan mail because we a) don't have the resources, complicated by b) the actors have scattered to the four winds, and it makes it very difficult to get everything to everybody in a timely fashion.

So, having provided prior notice...fan mail to actors coming to the Ventura Blvd. mail drop will be sent back. Mail to actors should be sent via their official fan clubs. I will still be taking mail there, since it's my mailbox, but that's it.

Just so's y'all know and save a few bucks on postage and returns.

JMS' mail can be sent to:

14431 Ventura Boulevard, PMB 260
Sherman Oaks, CA 91423

WARNER BROS:

Warner Bros. Address:

Warner Bros. Domestic Television Distribution
4000 Warner Blvd.
Burbank, CA 91522

Warner Home Video:

Mr. Douglas Wadleigh
VP for Marketing and Special Features
Warner Bros.
4000 Warner Blvd.
Burbank, CA 91522
BACK ISSUES OF THE ZOCALO TODAY
The front page of the The Zocalo Today changes daily, so be sure to check the back issues to make sure that you haven't missed anything IMPORTANT! I don't want the front page getting too long so I shift information periodically into the archives. So if you aren't a regular visitor to The Zocalo Today, be sure to check out the back issues. Just use the button above!
---
Take care and I look forward to hearing from you.
Sandra Bruckner (sgbruckner@aol.com)
Editor/Publisher
The Zocalo Today
http://www.isnnews.net
Copyright - SBruckner, 2002