[an error occurred while processing this directive]

The Zocalo Today

Welcome! I am REALLY glad you dropped by. Take your shoes off, get comfortable and stay a while.

The Zocalo Today is an interactive newsletter. If you have suggestions, please send them along. The Zocalo Today is as much YOUR newsletter as it is mine! I'm just pulling together things for you! Join our weekly discussion topic. It is just one way you can interact with other Z readers. Send along letters, sightings of B5 cast and crew in other projects, convention reports, photos, etc. Don't miss our back issues. There is a LOT of information contained there and you'll not want to miss anything.

If you have questions, drop me a line at sgbruckner@aol.com or b5web@aol.com.

Again, WELCOME!

May 25, 2001 04:24am
What's New
I'll be out of town for the weekend, so updates may be slow. Things should be back to normal on Wednesday.
---
Peter Woodward's special "Egypt: Behind the Pyramids" will air May 28th at 9pm on the History Channel.
---
JMS has sent along an update on Legend of the Rangers. Check it out below.
---
Babylon 5 and Crusade did well in the ratings listed out at SCIFI for the week ending May 6. Babylon 5 was #5 and Crusade was #7! The actual rating numbers were: Prophecy 2 0.9; Farscape 0.8; John Edward 0.8; Nightwatch 0.8; Babylon 5 0.7; The Beast 0.7; Crusade 0.6; The Invisible Man 0.6; Netherworld 0.6, and Black Scorpion 0.6.
---
Congratulations to Bart Gregg -- the Babylon 5 fan whose name will be used in the new Babylon 5 movie!
---
JMS has provided a bit more information on the graphic novel he's working on for Babylon 5. That and more has been added to the JMS Speaks page.
---
Over at Disney Auctions, you can bid on several one-of-a-kind experiences and exclusive items from Atlantis: The Lost Empire. One item is lunch with Claudia Christian -- who is the voice of "Helga".
---
Jeanne Cavelos has had some interesting comments on Crusade and technomages in general. I thought you might be interested, so I've placed them on a Crusade Page.
---
I've updated the new page with information JMS has passed along regarding "The Legend of the Rangers".
---
NEWS AROUND THE SCI-FI GENRE
May 25:
RATINGS: The Top 10 SF Network Programs: The X-Files 7.5; Dark Angel 5.8; 3rd Rock 4.0; Futurama 3.9; Lone Gunmen 3.2; Buffy 3.0; Voyager 2.9; Angel 2.9; Charmed 2.7, and Roswell 2.5.
---
LORD OF THE RINGS: A new trailer is due out TODAY over at www.lordoftherings.com. The site is extensive, with a tremendous amount of information about the production, cast and crew.
---
CHARMED: This show is moving on multiple levels. The WB finalized a three-year renewal deal -- without co-star Shannen Doherty! TNT has acquired rerun rights for up to eight seasons of the series. Variety reported the cable network also has acquired the rights to air an immediate second run of Charmed within a week of its original airing on The WB beginning in September.
---
PEARL HARBOR: The movie opens this weekend and is likely to break the $90.2 million set by Universal's "The Lost World: Jurassic Park" during the four-day period in 1997. There are already sell-out crowds reported, scalpers sellinng tickets, etc.
---
VOYAGER: The series finale brought UPN it's second-highest ratings night in history! UPN came in second for the evening among households in the overnight metered markets, with "Star Trek: Voyager" leading the network to the second-highest-rated night in its 6½-year history.
---
FARSCAPE: Looking for more information on Anthony Simcoe who portrays D'Argo on Farscape! SCIFI has just the ticket for you. Over at http://www.scifi.com/scifistream/ they have an exclusive interview wit the man behind all that make-up! In this video interview, they asked him about the ups and downs of playing our favorite Luxan, the make-up process, his co-stars, even his hobbies.
---
SEEING EAR THEATRE: While things seem to be on hold over at "City of Dreams", the Seeing Ear Theatre continues to have marvelous original audio dramas for your listening pleasure. On May 31, "Snow Glass Apples" - part 1 of 2 -- will premiere. This is a drama written by Neil Gaiman.
---
May 24:
ENTERPRISE: In talking with the New York Post, UPN entertainment president Tom Nunan said that Enterprise will have a different look from previous shows. "The controls inside the ship look like the kind of controls we've seen on videos from inside the space shuttle and the new space station," Nunan told the newspaper. "The uniforms look like the NASA uniforms that we're more familiar with." Advertisers got a special presentation which offered glimpses of the ship's interiors, which featured toggle switches and other mechanical controls.
---
DEVASTATOR: James Hudnall's Devastator comic series is in development as a potential TV series. Comics2Film reports that producer David Engel revealed the project is in the works with Jerry Bruckheimer Television and that Ralph Hemecker is already attached to do the same for Devastator that he did for Witchblade. The original comic tells the story of an ex-cop named John Blake living in a near future Los Angeles. Blake takes a drug that will make him happy but things go wrong and result in Blake targeting the mayor of the city for assassination. Blake must fight the killer impulses and find out who set him up and why.
---
VOYAGER: What did you think of the series finale? Did it close the story in a way you'd like to see it closed?
---
NANA VISITOR: Currently appearing on Dark Angel, Nana Visitor talks about her years on Deep Space Nine, wearing prosthetics and her other role as Rosie in the Broadway musical Chicago over at http://scifi.ign.com/tv/6794.html
---
May 23:
RATINGS: The Top 10 SF Syndicated TV Shows for this week are: The X-Files 3.3; 3rd Rock 3.1; Andromeda 2.8; Stargate SG-1 2.8; Earth: Final Conflict 2.4; Xena 2.4; Profiler 2.3; Invisible Man 2.1; Early Edition 1.8, and Sheena 1.7.
---
LORD OF THE RINGS: A new trailer for the upcoming movie is scheduled to appear tomorrow at the www.lordoftherings.net website.
---
ROSWELL: Here's a great way to thank UPN for picking up Roswell. Fans are being asked to make a charitable contribution in UPN's name to the Pediatric Cancer Foundation instead of writing more letters. The campaign ends June 1; the foundation will send a letter to UPN letting it know how many people responded.
---
ANGEL: Talking to the TV Guide, David Boreanaz said that Buffy's move to UPN may actually help the two series. It certainly doesn't rule out any crossover episodes, but that is a bridge they will cross if it comes up. He also spoke about the upcoming third season, saying, "Angel is going to be a little bit more of an action hero, rather than a slumping depressed person. He's going to break out of that, and I think his humor will also come out more and more."
---
May 22:
THE CHRONICLE: This new SCIFI series, which tells the story of a tabloid newspaper that investigates reports of paranormal phenomena, will include George Takei as guest star in the episode "Here There Be Dragons," which will air July 28. The Chronicle's official Web site on SCIFI.COM went live May 21; the show begins airing July 14.
---
VOYAGER: Garrett Wang isn't sure what the future will hold for him in the way of ST movies. Next Generation has been the focus of the movies thus far; leaving little room for projects for Deep Space Nine or Voyager.
---
ENTERPRISE: Rick Berman is talking about the new series and the differences it will pose to other Trek series. "Fans will see all the things they recognize from Star Trek, but in the developmental phase." The new series will take place about a century before Captain Kirk and the original series. Read more over at www.scifi.com.
---
May 21:
Emusic.com has chosen a terrific way to commemorate the final Voyager episode. They are offering visitors free downloads of up to 100 tracks of Trek music in MP3 format. Emusic has scores from the original series, The Next Generation, Deep Space Nine and Voyager, as well as from the movies. There are strings! Visitors will have to sign up for a monthly subscription, but can cancel after the free trial period.
---
DREAMCATCHER: Stephen King's novel Dreamcatcher has been purchased by WB for adaptation to film. Lawrence Kasdan will direct and produce the movie and William Goldman will develop the adaptation. Dreamcatcher tells the story of four childhood friends who reunite to save the Earth from a mysterious force.
---
SHREK: The lid was closed on The Mummy Returns by the grumpy, green ogre from DreamWorks - Shrek. The movie brought in $42.1 million for the weekend.
---
May 20:
Not a lot of news this morning. With all the season finales going on, we're either biting out nales to see what will happen next year -- or bidding farewell to some favorites! Hopefully they will be replaced by something worth watching -- which is highly unlikely -- but there is always hope!
---
LEGEND OF THE RANGERS
Date: 5/21/2001 8:49 AM Eastern Daylight Time

Well, all of last week I was in Vancouver for the first week of shooting on the two-hour TV movie BABYLON 5: LEGEND OF THE RANGERS. (I'm back now for a while.) It's been a terrific experience to date. The dailies look great. Mike Vejar is on board to direct, and is keeping the look and feel consistent with what we've done before, but at the same time (in collaboration with our new Director of Photography Henry Chan) is taking the look even a step further. The sets (courtesy of production designer Steve Gaeghan and his band of artistic types) look more detailed, more textured, more realistic than much of what we've done before on B5. (This is in no way to diminish what we did in B5 on sets, it's just a different approach.)

Andreas Katsulas showed up mid-week as G'Kar, and despite having been away from that makeup for three years, was instantly back in character starting with the first shot and straight on through.

The cast have proven themselves excellent. It's natural to take some time to find your character, and find the lines...but from the moment they landed on set, they had their lines letter perfect, and the chemistry is there between them. SFC has seen the dailies and they're absolutely enchanted with what's on film.

I wish I had colorful stories to tell, but we're talking here about a bunch of dedicated professionals who appreciate the legacy of B5 and are doing everything they can to make this next installment the best possible. (About the only negative thing to happen all week was my losing my California state ID midweek, which I'll have to go in to replace this week at my local DMV.) It's a very elaborate production, with everything from pyros to wire works and other stuff, in addition to the usual glut of CGI we tend to do, but so far it's all going quite well.

I've been taking digital pictures of the production which will soon be available on the SFC website...and there are some beauts there. I'll let you know when they're up.

In the interim...know that the show is going extremely well, and I think that people are going to like the cast a lot. They're good, well-trained, dedicated people.

I think it's going to go over very well indeed.

A little something about the cast.

Just off the top of my head and in no real order... Dylan Neal is playing David Martel, our lead character, a Ranger who's come through some especially rough times; Alex Zahara is Dulann, a Minbari, his second; Myriam Sirois is Sarah Cantrell of Mars Dome One, weapons specialist; Enid Raye Adams is Firell, Minbari, a healer; Warren Takeuchi as Kitaro Sasaki of Earth, communication and translations; Dean Marshall as Malcolm Bridges, covert intelligence and infiltration; David Storch as Tafeek, Minbari, a political and first contact guy; and a Narn, Na'Feel (played by Jennie Hogan) and a Drazi, Tirk (played by Gus Lynch), both recent recruits/ members of the Rangers.

jms
Northwest Fan Wins B5 Contest
Babylon 5 fan Bart Gregg of Moses Lake, Wash., won SCIFI.COM's B5: Be in the Movie Contest to have a character named after him in The SCI FI Channel's upcoming original television movie Babylon 5: The Legend of the Rangers. A starship captain will carry Gregg's name.

Gregg was one of more than 15,500 fans who entered the contest for a chance to be immortalized in the upcoming movie, which began production in Vancouver, B.C., on May 14.

B5: The Legend of the Rangers comes from the original creative team behind B5. Douglas Netter and creator J. Michael Straczynski will executive produce the movie, which Straczynski wrote and Michael Vejar will direct. Rangers picks up the story of the Ranger fleet as it attempts to restore order to hundreds of civilizations devastated by the Shadow War. Rangers will serve as the pilot for a potential SCI FI Channel series.
BABYLON 5 AND DVDs
Yesterday, I reported a rumor that Babylon 5 had been removed from WBs list of DVD releases. Someone pointed out, quite correctly, that the DVD was NEVER ON a WB listing for DVD release, so they could hardly have dropped something they had never listed!

There have been a number of items about Babylon 5 coming out on DVD, including JMS commenting about having gone over cover art with a contractor, etc. However, no release date was ever issued by WB, despite some vendors in Europe having B5 DVD items on their order lists.

We will have to be remain patient for "official" word of a DVD release for Babylon 5 and hope that Warner Bros knows there is an audience out there waiting for this product.
BABYLON 5 AUCTION
Beginning June 1, Warner Bros and ebay will begin an auction of various props and memorabilia from Babylon 5, Vampire, Wild Wild West and their upcoming movie Cats and Dogs. Nothing is out at the site yet, but there is an announcement about the upcoming auction on both WB and ebay.
B5 SIGHTINGS
Ranger Mary reportedly heard the voice of Jerry Doyle promoting John Deere lawn tractors!

Ranger Gary sent in the following report:

David L. Crowley, who played Security Officer Lou Welch in a number of B5 episodes, is in a Paine-Webber commercial.

Claudia Christian
The Calendar Girl Murders - The Mystery Channel

This is a movie from 1984, featuring a very young Claudia playing Miss February. The film is a veritable goldmine of mostly TV stars, including Tom Skeritt, Robert Culp, Barbara Bosson, Alan Thicke, an uncredited Sharon Stone, and a young Robert Beltran (Chakotay from Star Trek: Voyager.)

Robin Sachs
On HBO these days they're showing a neat flick named "Galaxy Quest." It's a sendup of Star Trek and its rabid fans, but it's also a pretty good scifi movie in its own right, with great special effects. It stars Tim Allen, Sigourney Weaver, Alan Rickman, and Tony Shalhoub. The bad guy (and what a bad guy he is!) is played by Robin Sachs, who played multiple roles on Babylon 5. He was:

A Minbari, Hedronn, in Points of Departure and All Alone in the Night
A Minbari, Coplann, in In the Beginning
A Narn, Na'Kal, in The Fall of Night, Walkabout, and The Fall of Centauri Prime
A Narn, General Na'Tok, in Movements of Fire and Shadow

Lastly, I've watched a few old LA Law reruns lately on A&E. In one I noticed Raye Birk (he played the interrogator named William in Intersections in Real Time) AND John Vickery (Neroon.)
BOOK SIGNINGS
Neil Gaiman, author of Day of the Dead, has a new book out, American Gods. His book signing schedule can be found at http://www.americangods.com/tour.html.

Jeanne Cavelos is out promoting her novel, Casting Shadows. Her schedule can be found at: http://www.sff.net/people/jcavelos/tm1.htp#mta.
NEW MERCHANDISE
Women of Babylon 5
The Women of Babylon 5 are back! This very limited collection of 5"x7" Archive Cards features Susan Ivanova, Delenn, Lyta Alexander, Na\'Toth and Elizabeth Lochley. Each card has been hand-numbered to 999, and all sets come complete with matching numbers.
The collection is due out May 16, but you can order now at www.scifihobby.com.
THIS WEEK'S DISCUSSION TOPICS
Here's a topic everyone should have something to contribute! What is your favorite Babylon 5 moment? This could be a segment of the show – or meeting your favorite B5 actor/actress at a convention or signing. Share your moment with us.

Send in your comments to either TheZocalo@aol.com or b5web@aol.com.. You can also post your comments on the message board at www.isnnews.net/board. To see what other readers have posted on this and other topics, follow this link to Current Discussion Topic page.
---
BABYLON 5/CRUSADE PHOTOSHOP
NEW PHOTOS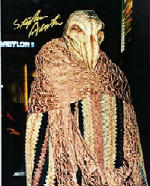 You do NOT have to pay the prices asked for over at e-bay! Here are photos of B5 and Crusade cast members at fantastic prices. Check out Photo Shop. Ordering is easy -- and you can't beat the prices! Just let me know which photos you want and I'll check to make sure they are still in stock.
---
KEEPING UP WITH CAST AND CREW
Andrea Thompson, now CNN news reporter, was recently in Des Moines as a speaker against domestic abuse. She was abused as a child and is now a spokesperson for awareness. Here is a link to the entire story. http://desmoinesregister.com/news/stories/c4788996/14737112.html
---
Peter Woodward: Peter has been cast in the film, "In God We Trust" which will shortly begin production in Bulgaria. The film stars Val Kilmer, Christian Slater and Darryl Hannah. Peter will play the character, FBI Agent Jarvis. Peter's special "Egypt: Behind the Pyramids" will air May 28th at 9pm on the History Channel.
---
Marjean Holden will be heading back to Australia in about 2 weeks. She has signed on for the third season of "Beastmaster". I wonder what new adventures await Arina?
---
Tim Choate will be turning up in the new Pearl Harbor movie to premiere in theatres soon!
---
Bruce Boxleitner won first place in the Cowboy Mounted Shooting competition at "The Festival of the West" in Arizona. As Bruce says, "Once a cowboy, always a cowboy."
---
Bill Mumy's lastest CD, "After Dreams Come True" is available on his website. If you'd like an autographed copy, that is available too! Photographs on the new CD were done by Bill's friend, Angela Cartwright (Lost in Space).
---
Bruce Boxleitner was to host the 20th National Space Society's Awards Banquet on May 27. However, he was forced to cancel because he is in making a new movie.
---
Jeffrey Willerth will premiere his own anime project, "Genesis Factor" at "Project: A-Kon 2001" June 1-3 in Dallas, TX. Kenny Yakkel (former B5 crewmate) and Jeffrey created the project that will be released as a comic book this fall. Video production/distribution negotiations are underway as well.
---
Robin Atkin Downes has begun airing around the country, starting with last week's episode of "Buffy". Be sure to look for Robin! He's the Director.
---
BABYLON 5/CRUSADE CHRONOLOGY
Terry Jones created a FANTASTIC Babylon 5/Crusade Chronology that was published in the Official Babylon 5 magazine. He has not stopped with the end of the series though. He has included items from the latest novels as well as things from the Crusade series. Here's a note from Terry to tell you all about it.

To look at the timeline in a different way, I have been working with Terry Jones on personal chronologies for the Babylon 5 universe. At The Galactic Gateway you will fine Parts 1-4 of the chronology for John Sheridan along with Part 1 for KOSH. Others will follow. I hope you will visit GG and give the chronologies a look.

Terry has made some changes to the segment we had last month on The 21th Century so a new version is out along with the 22nd Century.
SCI FI PUBLICATIONS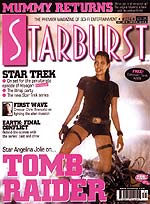 STARBURST: Lara Croft: Tomb Raider is expected to be this summer's big blockbuster movie. This issue takes you behind the scenes with Angeline Jolie, Daniel Craig and the crew. Also included in this month's issue are interviews with Andromeda's Keith Hamilton Cobb more on Voyager's last days, the Mummy Returns, Earth: Final Conflict and First Wave.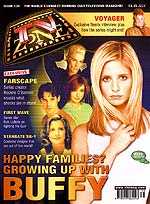 TV ZONE: Kevin Sorbo and Lisa Ryder talk about the first season of Andromeda. TZ goes to the final party of the Voyager crew, Jane Heitmeyer reviews her first year on Earth: Final Conflict, Dwight Schultz talks about his character, Lt. Barclay on both Voyager and Next Generation.
TECHNOMAGE TRILOGY
"Babylon 5: Casting Shadows" Jeanne Cavelos' trilogy on the Technomage is doing very well. Part two, "Summoning Light", will be released in July! DelRey is taking orders for the book now. The synopsis up on "Summoning Light" is quite a teaser!

To learn more about Jeanne, visit her website at www.sff.net/people/jcavelos. Jeanne is a scientist, mathametician and author! She's worked with NASA and Harlan Ellison on a writing series! I'm sure you will find her an interesting person to chat with.
SCI-FI SCHEDULE
BABYLON 5's May Schedule: 7pm each evening:

Air Date Title

May 25 Point of No Return

May 29 Severed Dreams
May 30 Ceremonies of Light and Dark
May 31 Sic Transit Vir
June 1 A Late Delivery From Avalon

June 4 Ship of Tears
June 5 Interludes and Examinations
June 6 War Without End Part 1
June 7 War Without End, Part 2
June 8 Walkabout

June 11 Grey 17 Is Missing
June 12 And The Rock Cried Out, No Hiding Place
June 13 Shadow Dancing
June 14 Z'Ha'Dum
June 15 The Hour of the Wolf
COMIC BOOKS
MIDNIGHT NATION #7
The latest issue of Midnight Nation hit the news stands this week. Here's an excerpt from the review at http://scifi.ign.com/comics/5252.html. "Gary Frank's art takes this comic to the next level, making it a total sensory experience not to be missed. If you want more intelligent comics, buy this. If you want exciting comics, buy this. If you want to read one of the best titles on the market right now, buy this. If you want a comic that will undoubtedly be a classic series, buy this."
AMAZING SPIDERMAN #31
In the second issue of the book by JMS we see a lot going on with Peter Parker. IGN.COM has a review of the issue at http://scifi.ign.com/comics/2724.html
NEW BABYLON 5 TOONS
John Cook has a new cartoon contest going. Try your hand at a punch line.




TOONS FOR CHARITY -- GREAT JOB
Tye Bourdony (www.thelightersideofscifi.com) and Claudia Christian recently are paired to bring a few more dollars to the John Wayne Cancer Foundation. Claudia signed one of Tye's satires (a one of a kind) and it was auctioned off at the Globelist Charities for the John Wayne Cancer Foundation. The winning bid was $270! Congratulations to the person who picked up this great piece.

Tye currently has new items for Erin Gray and Richard Hatch over the globelist auction site. He will be offering a new piece for Bill Mumy soon.
READER DIRECTORY
Sometimes you just can't find the e-mail address for someone you know you have -- it's someone who responded to a discussion topic or you met in one of the chat rooms. You'd like to send a personal note, but .... No address!!!!

We've started a White Pages of Zocalo Readers! It's a handy way of keeping track of people -- and putting together a birthday/greeting card list as well. If you would like to be part of the listing, just send me your name, state, e-mail address and (if you'd like to have it listed) birthday (without year) to sgbruckner@aol.com. Check out the Directory of Readers.

HAPPY BIRTHDAY TO YOU!

Name: John T. Hill
Birthday: May 8

Name: Sally Smith
Birthday: May 28

Name: Laurraine Tutihasi
Birthday: May 18
BABYLON 5 REFERENCE PAGES
The Official Babylon 5 Magazine is indexed here as well. With the closure of the magazine in May, you'll want to see which magazines you have -- and which ones you will want to collect. The index may help you make a decision on which ones to choose. The Fan Club has many of the issues at thestation.com , making it very easy to complete your collection.

Universe Today -- the Babylon 5 Fan Club quarterly can also be found here. The index gives you a rundown of what articles were presented, what interviews published.

If you have magazines that have featured Babylon 5 or Crusade that are not listed, send along their issue number and a note to indicate what the article was about. It would be nice to have a fairly comprehensive listing of Babylon 5 publications here.

I have added a listing of all the Babylon 5 novels and now the B5 comic books to the reference page. If there are other items that you feel should be included, let me know.
MAILING LISTS
NW-B5
NW-B5 is a mailing list devoted to bringing critical information to the Vancouver Island, Lower Mainland, and Northern Washington areas. More specifically, anyone north of Seattle. B5 is broadcast on SPACE:TIS in Canada, and Sci-Fi channel in the US. By subscribing to nw-b5, you'll be able to know info bringing you up to date on the current scheduling and events happening in the community related to B5. You'll also be subscribed to the list itself, which means that you'll receive email when there is a scheduling change or critical information needs to go out to you (for example, if we need to start another mailing campaign).

For further information, see http://www.nw-b5.com
John Francis
Webmaster, Listowner, and Co-Moderator
mailto:nw-b5@iname.com
BABYLON 5 DISCUSSION LIST
The Babylon 5 discussion mailing list is for any and all discussions and/or news pertaining to or related to Babylon 5 and/or Crusade. The list has been in existence for the past three years now, and has recently moved. The new location is http://lists.apparition.org/cgi-bin/lyris.pl, and you can subscribe by sending a blank e-mail message to join-babylon_5-l@lists.apparition.org.
THE GALACTIC GATEWAY
Here's a unique site for you! Jeffrey Willerth, Patricia Tallman, Mira Furlan, Claudia Christian, Robin Atkin Downes, Rick Biggs, Jerry Doyle, Bruce Boxleitner, Melissa Gilbert, Peter Jurasik and Bill Mumy are under it's umbrella. Actors from other shows have joined the Gateway. Ted Raimi and Robert Trebor from Xena and Hercules are now at GG. To subscribe to a mailing list for GG, send a blank note to thegalacticgateway-subscribe@egroups.com.
GATEWAY CHATTERS
There is never enough time to keep in touch with friends! To help out, a mailing list has been started for chatters over at the Galactic Gateway. If you are interested in joining, send a blank note to gateway-chatter-subscribe@egroups.com.
GATEWAY TRADER
Are you looking for a particular Babylon 5 collectible? Do you have some items you'd like to trade? Then this is the list for you. To join, send a blank note to gateway-trader-subscribe@egroups.com.
CALLING ALL ARTISTS
The Art Gallery at The Zocalo Today is open. There are SO MANY talented people in our Babylon 5 community. We have enjoyed works by Todd Brugman and Tye Bourdony on our toons page, but there are a host of others who enjoy drawing, painting, sketching their favorite characters. Here are a few works that have been received. I have some others that will be added soon.

If you would like to share your work with us at The Zocalo Today, please send along a digital photo of your work and I'll begin putting the gallery together. If you do not have your work in digital format, drop me a note and we'll see what we can work out.
CALLING ALL CLUBS
There are a number of fabulous Babylon 5/Crusade Clubs around the world. I'd like to begin listing them here on The Zocalo Today. Eric dropped me a note the other day providing information about a Club in France. I know there are other clubs in Brazil, Germany, Russia -- and who knows how many here in the US. Let's get a listing together. Perhaps we can share resources, even get together as we travel around. Drop the information about your Club to me at sgbruckner@aol.com or bruckner@isnnews.net. That information will be added to the new B5 Fan Club Listing.
BABYLON 5 FAN CLUB
Sad news. I don't know what the fate of the B5 Fan Club will be. Netter Digital filed for bankruptcy in July and all their worldly posessions were auctioned off on December 7. Thestation.com is back on-line, however the Emporium has been closed.
BABYLON 5 NEWSLETTERS
If you have a newsletter you'd like to have listed at The Zocalo Today, send the information along. It will be posted on the B5 Fan Club/Newsletter page.

Ranger Shane in North Carolina sent in the following note about their "Jumpgate" newsletter.

Hey Sandy! Just wanted to give you an update on the NC B5 group's newsletter, Jumpgate. There's now a dedicated EMail address for submissions - jumpgatemag@bellsouth.net - and any submissions, solicited or un-, can be sent to this address. Also, issues are available for free download at the URL at the bottom of this message.

-- Jumpgate - The Newsletter of the North Carolina Babylon 5 Fan Club
Shane Killian, Editor
BABYLON 5/CRUSADE CONVENTIONS
CONVENTION CALENDAR
Lots of updates to the calendar. I hope you will check it out and see if there are any Babylon 5 conventions in YOUR future! Use this link Convention Calendar. Have a convention you would like to have listed here? Pass along the information.

CONVENTION ATTENDANCE

Are you attending one of the conventions on the calendar? Or another one perhaps? Do you want to see who else might be there? Drop your e-mail address to TheZocalo@aol.com. We've begun an attendance page so that perhaps we can get together while enjoying the activities of the convention. Convention Attendance .
CONVENTION UPDATE
News from Toronto Trek! Robin Atkin Downes (Byron) has supplied the convention with a copy of his spoof, Glaadiator (of an adult nature) for the Canadian premiere. Plus, fans will be able to enjoy seeing some of his recent works -- he's sent along some video samples. Claudia Christian (Ivanova) has sent a copy of one of her recent short filsm for showing at the convention.

ShoreLeave! Jerry Doyle and Mary Kay Adams have been added to the guest list! Wow, Jerry, Bruce and Mary! Terrific!
---
UPCOMING EVENTS
Marcon 36
May 25-27, 2001; Columbus, OH
Guests: Peter Woodward

For more information, visit their website at http://209.235.59.71/marcon1/index.htm or call 1-614-470-5448.
---

A-Kon
June 1-3; Dallas, TX
Guests: Richard Biggs, Jason Carter, Jeffrey Willerth, Bill Blair

For more information, visit their website at http://a-kon.com/guests.html.
---

Agamemcon
June 8-10, 2001; Burbank, CA
Guests: Claudia Christian, Tracy Scoggins, Stephen Austin, Peter Jurasik, David Allen Brooks, Tim Choate, Jeffrey Willerth, Peter Woodward, Judson Scott

For more information, visit their website at http://www.agamemcon.org.
---

Slanted Fedora
June 15-17, 2001; Chicago, IL
Guests: Tracy Scoggins

For more information, visit their website at http://www.sfedora.com/chicago.htm or call (913)327-8735.
---

Sci-Fi Fan Festival 2001
June 29 - July 1, 2001; Chicago, IL
Guest: Jason Carter, Richard Biggs

More information, visit their website at http://www.scififanfestival.com or e-mail H1m2s3@aol.com.
---

Atlanticon2001
June 29, 30 & July 1, 2001; Prince Edward Island, Canada
Guest: Bill Blair

More information, visit their website at http://www.atlanticon.org or e-mail atlanticon@hotmail.com. Phone: 800-867-5563.
---
ZOCALO TRADING POST
There are some new and interesting items in the Trading Post. Take a look. If you have items you'd like to trade, post a note here. If you need a particular item, the Trading Post or Message Board could help you find it. Use this link to see what is listed. Trading Post. To have items included in The Trading Post, send a note to The Zocalo. Please put Trading Post in the subject line.
Pen Pals
If you are looking for someone to talk about Babylon 5 and Crusade with, the Pen Pal section is for you! Check it out! Drop a note to someone who is feeling B5 withdrawal -- BIG TIME!

People thought a Pen Pal page was a good idea. If you would like to meet people who you could chat with or share your opinions of the show with, send along your e-mail or snail-mail address The Zocalo. It will be incorporated on the new Pen Page Page.
BABYLON 5 BIRTHDAYS
Theodore Bikel - May 2
Michael O'Hare - May 6
Stephen Furst - May 8
Melissa Gilbert-Boxleitner - May 8
Bruce Boxleitner - May 12
Andreas Katsulas - May 18
Doug Wise - May 21
Douglas Netter - May 23
Paul Winfield - May 22
Roy Dotrice - May 26
Harlan Ellison - May 27

Have I missed anyone? If you know the birthday of someone connected with Babylon 5, pass the information along. We want to include everyone in our Happy Birthday Wishes.
MAIL FOR CAST AND CREW
Here's a recent note from JMS on the subject:

Just an FYI to those who've been using the Ventura Blvd. mail drop for fan mail to actors....

As mentioned before, we're phasing out the forwarding of fan mail because we a) don't have the resources, complicated by b) the actors have scattered to the four winds, and it makes it very difficult to get everything to everybody in a timely fashion.

So, having provided prior notice...fan mail to actors coming to the Ventura Blvd. mail drop will be sent back. Mail to actors should be sent via their official fan clubs. I will still be taking mail there, since it's my mailbox, but that's it.

Just so's y'all know and save a few bucks on postage and returns.

JMS' mail can be sent to:

14431 Ventura Boulevard, PMB 260
Sherman Oaks, CA 91423
BACK ISSUES OF THE ZOCALO TODAY
The front page of the The Zocalo Today changes daily, so be sure to check the back issues to make sure that you haven't missed anything IMPORTANT! I don't want the front page getting too long so I shift information periodically into the archives. So if you aren't a regular visitor to The Zocalo Today, be sure to check out the back issues. Just use the button above!
---
HELP!!!
NEW FLYER AVAILABLE: If you would like to take some flyers to a convention to help spread the word that The Zocalo is here and ready to provide you with information on everything Babylon 5 and Crusade! drop me a line. I'll be glad to send you some in the mail. I've created a PDF file that can be downloaded and printed. Flyer Thanks for helping to spread the word about The Z!

Take care and I look forward to hearing from you.
Sandra Bruckner (sgbruckner@aol.com)
Editor/Publisher
The Zocalo Today
http://www.isnnews.net
Copyright - SBruckner, 2001