[an error occurred while processing this directive]

The Zocalo Today

Welcome! I am REALLY glad you dropped by. Take your shoes off, get comfortable and stay a while. There is a LOT of information here for you to share.

The Zocalo Today is an interactive newsletter. We encourage interaction with our readers and like suggestions. So send them along. The Zocalo Today is as much YOUR newsletter as it is mine! I'm just pulling together things for you! Join our weekly discussion topic. It is just one way you can interact with other Z readers. Send along letters, sightings of B5 cast and crew in other projects, convention reports, photos, etc. Don't miss our back issues. As I said, there is a LOT of information contained there and you'll not want to miss anything.

If you have questions, drop me a line at sgbruckner@aol.com or b5web@aol.com. If you would like to join the mailing list for our bi-weekly newsletter, send me a note and I'll include you on the list. Or you can use the subscription block at the left.

Again, WELCOME!




What's New Today
May 31:
REMINDER: SUNDAY IS MOVIE DAY: On Sunday afternoon, SCIFI will air nearly all of the Babylon 5 movies, including LEGEND OF THE RANGERS at 9pm. So tune in.
---
DREAMCATCHER: Over at SCI FI Stream catch exclusive behind-the-scenes footage of director Lawrence Kasdan talking about his upcoming SF movie Dreamcatcher. Based on Stephen King's novel, DREAMCATCHER tells the story of four friends who reunite on a hunting trip in the Maine woods and join forces to challenge an alien force. DREAMCATCHER is slated for release in 2003.
---
X-FILES: Gillian Anderson's website has debunked the rumor of her joining the cast of "The Practice" posted at Lycos and Zentertainment this week. She will NOT be joining the series for the coming year.
---
BIRDS OF PREY: There is a review and a number of new pictures from the upcoming pilot WB series BIRDS OF PREY at .
---
FALL PREVIEW: There is a preview of some of this fall's new series at http://www.ew.com/ew/report/0,6115,250488~3~0~grabsneakpeekatfall,00.html. While the preview for FIREFLY wasn't too impressive, Joss Whedon is enough for a lot of people to tune in.
---
ODYSSEY 5: A number of good-looking series will premiere shortly. Showtime's ODYSSEY 5, beginning on June 12 at 10pm, will take over the Stargate SG-1 timeslot as it moves over to SCIFI. This series stars Peter Weller, who you will remember from dozens of movies, including RoboCop and Buckaroo Bonzai. The Showtime site doesn't have much yet www.sho.com/05, but I'm sure more will be added shortly.
---
THIS WEEK IN SCI-FI:
May 30:
STAR WARS: David Prowse is ready to strap on his light saber and black mask should he be offered the role as Darth Vader in Episode III of Star Wars. Prowse told the Reuters news service, "I would love to reprise the Darth Vader role." Prowse has been suffering with arthritis and a bad hip for years and he will undergo another hip operation in September. He added, "If Christopher Lee [who plays Count Dooku in Star Wars: Episode II—Attack of the Clones] can handle a lightsaber at the age of 80, then so can I."
---
PPG: As I surfed around this morning, I saw an article on Zap2It that caught my eye. PPG -- the weapons used on Babylon 5, right????? Wrong. Powder Puff Girls! Bummer.
---
KING OF TEXAS: Patrick Stewart has played a great number of roles, most notably Captain Picard of Star Trek Next Generation. On stage he has done things from Shakespeare to Charles Dickens. This weekend, you'll be able to catch him in, of all things, a western, set in 1840. TNT presents KING OF TEXAS on Sunday, June 2 at 8pm. To see some pictures of Stewart -- with a full beard and hair -- go to http://tv.zap2it.com/news/tvnewsdaily.html?26192. Stewart explains that he had originally wanted to produce and direct the project, but as it developed, he was encouraged to take on the title role.
---
BATTLESTAR GALACTICA: While the DVD release for the series was scheduled for June 12 in Australia, even the Aussies will have to wait until next year for their copies. Why? A representative for Universal said in an official press release that due to the overwhelming fan response that the somewhat 'no frills' set is on hold. "As it stands today it simply does not do a release of this calibre the justice it deserves in order to be ready for its original planned release date". It now looks like the set will be released in or around the same time a collection comes out next year in the US and will feature not only a MUCH better quality transfer but lots more extras: "Many additional elements are still being researched at this very moment. In addition to this, there are major sound and image enhancements being carried out to the original masters. Whilst our local digital masters were assessed and cleared for DVD authoring, it makes more sense to wait for the extensive remastering to allow the very best quality that DVD can provide".
---
TRON 2.0: While a number of us had hoped for a sequel movie, what has come out is a video game. Previewed at the Electronic Entertainment Expo in Los Angeles last week, the game, coming from Disney Interactive and Monolith, is due in spring 2003 for the PC. "The one thing we really want to get across to people is that it's a continuation of Tron," Luigi Pardo, the game's supervisor of quality assurance, told SCI FI Wire. "It's 20 years later. It's not a remake of the [film]. It's really all about the evolution of Tron." Gamers take on the role of Jet Bradley, the son of Alan Bradley, the creator of the first Tron program, who was played by Bruce Boxleitner in the film. Developers have recreated and enhanced the world of Tron, including the film's discs, light cycles and blue-and-red glowing jumpsuits. Players will be able to alter their "subroutine systems" to make themselves more powerful, emphasizing the idea that Tron 2.0 is a video game about video games.
---
May 29:
RATINGS: Top 10 SF Syndicates Series: Stargate SG-1 2.7; The X-Files 2.6; Andromeda 2.5; Buffy 2.3; Mutant X 2.2; Beastmaster 2.1; 3rd Rock 2.0; John Edward 1.9; Earth: Final Conflict 1.7, and Relic Hunter 1.7. Source: Nielsen Galaxy Report, 4/29/02 - 5/5/02.
---
JAMES BOND, JR: Oh no! MGM is hoping to start a teen-focused franchise not too far of the BOND mark, with AGENT CODY BANKS. According to the HOLLYWOOD REPORTER, Frankie Muniz (MALCOLM IN THE MIDDLE) and LAW AND ORDER's Angie Harmon and Hilary Duff have signed onto the film. Harald Zwart (ONE NIGHT AT MCCOOL'S) is set to direct the film about an average teenager (Muniz) hired by a mysterious government agency and trained by Harmon to be a spy in situations calling for younger agents. Shooting begins this summer.
---
PATRICK STEWART: Stewart, having finished NEMESIS and looking forward to X-MEN 2, says NEMESIS could indeed be the end of NEXT GENERATION movies. It can also lead to another sequel if the box office proves to Paramount that there is still an audience. What about X-MEN 2? Stewart told SFX magazine that, "The script for X-Men 2 is very different in tone from the first one. It was sort of `This is who the X-Men are, this is the kind of thing that they do, and that's all we can tell you for now.' It was an establishing movie."
---
STARGATE SG-1: The newest member of the SG-1 team, Jonas Quinn (aka Corin Nemec) is interviewed over at < a href="http://www.prevuemagazine.com/Articles/Flash">http://www.prevuemagazine.com/Articles/Flash. There's a lot going on with this guy -- besides joining Stargate SG-1. He's a writer, poet, director want-to-be as well as an actor with a considerable resume!
---
Every science fiction show seems to have a doctor -- and Stargate is not any different. Terry Rothery, who plays Dr. Janet Fraiser on the series, recently spent some time with the folks at Prevue Magazine. She's this week's Power Profile. Did you know that Terry was in the premiere episode of Jeremiah? Terry says, " I'm in the flashback as Luke Perry's mom when he was a little boy. They left it open as to whether my character may come back. It's another show where I really hope I get to return."
---
May 28:
BUFFY: Although Giles left Buffy during the year, he hasn't been far away. Anthony Stewart Head talked to SciFi Wire about the series, what it meant to him as an actor and what his plans are for the future at http://www.scifi.com/sfw/advance/27_interview.html.
---
HARRY POTTER: The latest on when the next novel will be published is June for ORDER OF THE PHOENIX. According to Scholastic Publishing, they have firmed up on the date it expects the book.
---
Variety reports that director Chris Columbus will pack it in after he finishes HARRY POTTER AND THE CHAMBER OF SECRETS. While he had originally wanted to direct every POTTER film, he is coming back to America because of family considerations, and Warner Bros. is now shopping around for a director for the third picture in the series, HARRY POTTER AND THE PRISONER OF AZKABAN.
---
TERMINATOR 3: Over at http://www.schwarzenegger-interactive.com/terminator3.html you'll find a lot of pictures from the Terminator 3 production. There may be spoilers there though, so don't go if you just hate that sort of thing.
---
MIDNIGHT NATION: Cinescape.com takes a look at JMS' MIDNIGHT NATION. They like the book and wonder why it hasn't gotten the respect that RISING STARS has. For fans of the book, you'll not want to miss this column.
---
BOX OFFICE: With a long Memorial Day weekend, the box office nearly hit the $200 million mark. "Star Wars: Episode II -- Attack of the Clones" stayed on top with an estimated $61.2 million in receipts. "Spider-Man" brought in an estimated $36.5 million from a record 3,876 theaters, placing second. With an estimated cume of $334.3 million, "Spider-Man" is already the sixth highest-grossing film of all time domestically. New arrivals this weekend didn't do badly. Warners' "Insomnia," starring Al Pacino and Robin Williams, had the best performance with a stellar estimate of $26.2 million to take the third spot. DreamWorks' "Spirit: Stallion of the Cimarron" debuted in the fourth spot as it reined in a strong $23 million in estimated receipts. The third new wide release this weekend was Sony's Jennifer Lopez starrer "Enough," which kicked in a solid opening of an estimated $17.5 million and took the fifth slot.
---
X-MEN 2: News from The Hollywood Reporter indicates that Ethan Embry has won the role of 'Nightcrawler', the teleporting blue-skinned mutant in the upcoming "X-Men" sequel. Newcomer Aaron Stanford ("Tadpole") scored the part of Pyro. 'Nightcrawler' and 'Pyro' are the only new mutants in the next chapter.
---
UK READERS: If you have schedule information for B5, Crusade, movies that you would like to have posted, be sure to drop me a line. I'm sure there are a number of UK Readers here who would love to see what is showing where -- especially if anyone has heard anything about "Legend of the Rangers" coming to the UK. May 27:
HAPPY MEMORIAL DAY: While it isn't the actual day of remembrance, it is the day off for a lot of us, so have a safe and happy one.
---
RATINGS: Top 10 SCIFI Channel Shows: Meteorites 1.0; Meteor 1.0; Species 0.8; Farscape 0.7; Laserhawk 0.7; Ghost in the Machine 0.7; Farscape 0.7; Thirteenth Floor 0.7; Species II 0.6, and Existenz 0.6. Source: Nielsen Galaxy Report, 4/29/02 - 5/05/02.
---
SATURN AWARDS: The Academy of Science Fiction, Fantasy & Horror Films has announced its nominations for the 28TH annual Saturn Awards to be held this summer in Los Angeles. The ceremony honors the best in genre entertainment from 2001. The entire listing can be found over at www.cinescape.com. There is so much to choose from this year, I certainly wouldn't want to be one of the judges!
---
SPIDERMAN: The webbed crusader continued to break box-office records this weekend, including securing it's place in the Top 10 money making movies of all time. The film's domestic take now stands at an estimated $316,557,000, a figure which would make it #8 on the all-time movie chart, ranking above The Lion King, The Lord of the Ring: The Fellowship of the Ring, Return of the Jedi and Independence Day. With a long Memorial Day weekend, predictions are that the movie will capture #6 on the list.

May 26:
SCIFI: For everyone who is home tomorrow for the holiday, SCIFI has a treat in store for you -- a Star Trek marathon. Catch 16 hours of the Best of the Best -- including "Trouble with Tribbles", "The City on the Edge of Forever", and others.
---
For those home on the 31st, you'll be treached to a Farscape marathon. SCIFI has 23 hours of Farscape adventures planned for you.
---
HARRY POTTER: Though it hasn't been in the news lately with all of the other blockbuster movies taking up space, Harry's DVD goes on sale this week (May 28). We'll see what sort of records it breaks!
---
SOUNDTRACKS: Over at www.cinescape.com they review a number of new music CDs related to sci-fi shows -- including ENTERPRISE. This is a compiled version of music from the new series, complete with two versions of the show's controversial vocal theme song (the original 1:28 TV version, and an extended 4:09 album version, both performed by Russell Watson) bracketing a baker's dozen of score cues by Trek composer Dennis McCarthy. The CD booklet includes notes by composer McCarthy, who relates how the recording of the ENTERPRISE pilot was completed on September 12th, 2001, the day after the terrorist attacks on America, and how those incidents affected the recording.
---
AMAZING SPIDERMAN: If you got the e-mail version of the Z yesterday, you saw that JMS wrote, "ASM #41 is coming out next week (the 30th), which is about 3 weeks after 40. So we're now coming out early to catch up. 42 will also come out quickly, art schedule allowing."
---
May 25:
MATRIX: Keanu Reeves is back as Neo in the upcoming sequels to THE MATRIX, The Matrix Reloaded and The Matrix Revolutions. Reeves recently told SCI FI Wire that his character faces stiff challenges and continues his journey of discovery in the new films. "The brothers [writer-directors Andy and Larry Wachowski] have put up some great obstacles to test those powers, and the story kind of goes outside of the Matrix and starts to concern itself with the machines in Zion." The films are currently under production in Sydney, Australia. Both films will shoot for another two months or so. The Matrix Reloaded should be released in May 2003; Revolutions may open in the fall of 2003.
---
MIRACLES: David Greenwalt, Angel co-creator and executive producer, is in negotiations with Touchstone TV. Touchstone would love to have Greenwalt become the show runner for its upcoming drama Miracles. According to The Hollywood Reporter, Greenwalt would stay with Angel as a creative consultant; David Simkins would step in as show runner for Angel at 20th Century Fox Television.
---
DAREDEVIL: You are going to have to wait a tad longer to see the new DAREDEVIL movie starring Ben Affleck. 20th Century Fox has moved it's release from January 17 to February 14 in an effort to take advantage of the Valentine's Day holiday. The film is currently in production.
---
WITCHBLADE: Information is still incomplete on how long production will be halted on the WITCHBLADE series. Series star Yancy Butler dropped out of filming and checked herself into an alcohol rehabilitation clinic and everyone hopes she will return soon. Variety reports that the series has already shot six episodes of season two, with a two-hour premiere and four episodes slated to run. However, the producers have begun to "put out feelers" for a replacement just in case Butler's recovery is not complete once she returns. The premiere of season two is still scheduled for June 16. There will be 13 episodes in the second season if all goes as planned.
---
SIGNS: Some new pictures from Mel Gibson's latest movie SIGNS can be found over at http://www.cinemovies.fr/fiche_photos.php?IDfilm=136.
---
NEMESIS: New pictures from the upcoming Star Trek movie NEMISIS are up at http://www.trektoday.com/news/230502_05.shtml. Paramount passed out promotional material for the movie at the Electronic Entertainment Expo (E3) in Los Angeles. Fans coming to the Activision stand at E3 got a glimpse of the upcoming Trek computer games and received a CD containing an electronic press kit for 'Nemesis.' Included on the CD were AOL buddy icons, sound clips, a screensaver and several desktop wallpapers.
---
BUFFY: Rumors are turning up in the UK press about Britney Spears guest starring in six episodes of Buffy next year as a baddie vampire.
---
SMALLVILLE: A DVD offering for the series has begun turning up in catalogs. The text indicates that it is due out June 11th and has the following extra: Audio Commentary by producers Alfred Gough and Miles Millar and pilot Director David Nutter; Interactive Map of Smallville; Storyboard to screen featurette; A Deleted Scene from the Pilot with commentary, and 5.1 Audio and Widescreen Presentation. May 24:
RATINGS: Top 10 SF Network Series: Alias 5.7; The X-Files 5.1; Touched by an Angel 4.4; Futurama 3.8; Smallville 3.7; Dark Angel 3.3; Angel 2.6; Charmed 2.5; Enterprise 2.3, and Sabrina 1.9. Source: Nielsen Galaxy Report, 4/15/02 - 4/21/02.
---
SPIDERMAN: Marvel has tapped Kevin Smith to write a Spider-Man limited series, Spider-Man/Black Cat: The Evil That Men Do. Smith will write the four-part series, while Terry Dodson (DC's Harley Quinn) and Rachel Dodson will handle the art. What will the series be about? The Marvel press release reads: "The mysterious disappearance of an old friend brings Felicia Hardy to the Big Apple in search of answers. But, as luck would have it, a certain web-slinger — who also happens to be her ex-lover — is following the same trail. " Spider-Man/Black Cat: The Evil That Men Do No. 1 will reach stores on June 26.
---
THE SHADOW PROJECT: DreamWorks is moving ahead in the world of animation -- with Disney lurking either ahead or behind -- depending on your point of view. They recently hired SIMPSONS writer Brent Forrester to write THE SHADOW PROJECT, about a war between humans and shadows. The movie is reportedly a blend of computer animation and live action sequences, much like WHO FRAMED ROGER RABIT. Not a lot of detail is available about the overall story. What there is says it centers on a guy who is drawn into the 'shadow world' by his own shadow when an evil force upsets the balance between the real world and shadows.
---
CHAT WITH ANDREW ROBINSON: Andrew Robinson will be chatting with fans over at STARTREK.COM on Thursday, May 30, at 3:00 p.m. PDT. Don't miss your opportunity to talk with Deep Space Nine's "Garak", as well as his other roles, or his directing and writing. Can't make the chat, you can send in your questions in advance.
---
VIRTUAL STAR TREK CONVENTION: Here's one for your. Viacom Consumer Products (VCP) and virtual-conventions, llc, announced the first official virtual Star Trek convention to be held August 2-4, in tandem with Creation Entertainment's official live convention in Las Vegas. For more information, go to www.startrek.com.
---
LE VAR BURTON: Since the end of Star Trek, LeVar Burton has been focusing on a lot of different things, but his passion is in education for children. This year, he's done it again, dual Emmys! Burton took home Emmys for his work in front of and behind the camera on the educational series Reading Rainbow. Burton won for "Best Performer in a Children's Series" for Reading Rainbow, and also took home a trophy as co-Executive Producer (along with Twila Liggett) for "Best Children's Series" for the show. Burton won in both categories last year as well.
---
BABYLON 5 BOOK OF QUOTES
Here's a note from JMS regarding an upcoming project: It had to happen sooner or later...with so many message boards and posts asking "What's your favorite B5 quote?" a book of Babylon 5 quotes was inevitable. So "But In Purple I'm Stunning: Quotations from Babylon 5" is coming out from an independent publisher later this year. The book will also contain sections dedicated to fan choices for best/favorite quote. Fans of Babylon 5 are invited to send in their favorite quote, and why it's a favorite. The best of these emails will be culled for the book, and along the way this will determine the #1 favorite quote. In particular, the book will be looking for anecdotes/stories from fans about what a given quote, or what the show, meant to them in particular. There are a lot of people who have found comfort or meaning in the show, or found it helped them get through some of life's problems. (An example I sometimes cite at conventions was the young man dying of aids who asked his sister to put all of G'Kar's speeches about hope and never giving up on tape so he could listen to them at his bedside.) It needn't be a heavy story, just one that has meaning for the person involved, can be a funny story, whatever. Basically the goal is to find the intersection where the show and its message and its words touched people. All contributions will be considered free to use by virtue of being submitted for this project. So if you have such an anecdote/story/message about a favorite quote or the show in general, send it to the following address (rather than replying to this, since I'll just have to forward it on in any event): b5quotes@yahoo.ca
JEREMIAH ON SHOWTIME - FRIDAY AT 10:45PM
New pictures from the upcoming episode, "Tripwire", can be found over at http://www.comicscontinuum.com/stories/0205/29/index.htm . DO NOT GO THERE if you are concerned about spoilers. JMS' update on the series: Jeremiah: finishing post production on our last batch of episodes, including the two-part finale "Things Left Unsaid," which Mike Vejar directed and it's just *killer*. Of all the things I've ever done, and I'm including B5 in this, on an invidual basis this may be the best thing I've ever done, certainly the most ambitious. It's just frikkin' HUGE, the performances are great, the story moves ahead by leaps and bounds, I'm just *real* happy with it. (Another crucial arc story, "Tripwire," airs next Friday. This is one to definitely see if you're thinking of following the show.) JEREMIAH: MGM has a sweepstakes currently in effect for Jeremiah. You can win an autographed script from "The Long Road". Be sure to drop over to http://www.jeremiah.tv/index.html to sign up.

Information at the website continues to grow. They have added profiles for some of the new cast members like PETER STEBBINGS who portrays "Markus Alexander"; KIM HAWTHORNE "Theo"; BYRON LAWSON "Lee" and KANDYSE MCCLURE "Elizabeth".

For an update on where JMS is going with Jeremiah, visit the Jeremiah Page here at The Zocalo.

For those of you who want to keep up on what is going on with Jeremiah, Ranger Monica has started up a Jeremiah newsletter. Please go to http://groups.yahoo.com/group/jeremiah-news/ and subscribe. Monica also has a very nice Jeremiah site so don't forget to bookmark that as well.
KEEPING UP WITH CAST AND CREW
ANDREA THOMPSON: Andrea Thompson recently left her high-visibility anchor position as a news reader for CNN Headline News. She will host a new two-hour Saturday programming block on Court TV. The new block debuts June 8, replacing the Perry Mason programming Court has been running in the time period. Court TV is attempting to lure a younger audience. The block, which will air under the tentative banner of "Follow Your Intuition," will consist of two episodes of "Forensic Files" and a one-hour documentary.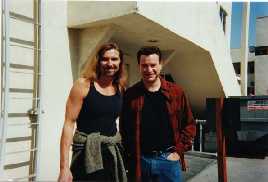 ROBIN ATKIN DOWNES: Robin is just having TOO much fun these days. He's been doing a ton of voice over work. Listen next time you hear commercials for Bandai, Washington Mutual, Freyfus, Earthlink. He's finished up an episode of HBO's Arliss and will be completing a movie, HIGH VOLTAGE, with William DeVane and Richard Kind soon. He's even working on a music CD. I'll be putting more pictures from Robin out in the Photo Gallery, so keep an eye out.
---
PAT TALLMAN: Catch Pat in this week's episode of Sheena! Patty is interviewed in the next issue of Star Trek: Communicator (the Star Trek fan club magazine). Pat was both a stunt woman and actress on ST:TNG.
---
UNIQUE CHARITY ITEM
Ten popular science fiction actors have donated their time, images and autographs for an exclusive photograph, the proceeds of which will go to charity. For sale through the actors themselves and at , the limited-edition photo is in color, edged in white and ready to place in an 11X14 frame, and handsigned. Each of the 1,000 limited edition photos comes embossed with a seal of authenticity and numbered. The photograph is now available for a pre-sale price of $100. After Sept 11, 2002, the price will go up to at least $125.00. Among the charities to benefit will be the Penny Lane home for abused children in Los Angeles, and various September 11 funds. The actors hope to raise more than $100,000 through the charity project. The Penny Lane Home is a residential facility for children who have been severely abused, physically, emotionally and sexually. Many have "fallen through the cracks" of the social service outreach programs, and Penny Lane is their last chance at escaping the abuse. Actors in the photo include: Patricia Tallman, known best for her roles as Lyta Alexander in Babylon 5 and Barbara in Night of the Living Dead (1990) Vaughn Armstrong, who has portrayed more guest star aliens on Star Trek:TNG, DS9 and Voyager than any other actor in Star Trek history. Currently, he holds the recurring role of Admiral Maxwell Forrest on Enterprise, as well as at least eight other Guest Starring roles on board the new Trek series to date. Stephen Austin portrayed many bizarre alien creatures on Babylon 5. His most notable was the lovable Pak'ma'ra Ambassador. David Brooks is an accomplished artist as well as actor. He is best known to the sci fi community as Max Eilerson on the Babylon 5 spin off, Crusade. Jeffrey Willerth portrayed Ambassador Kosh and was Associate Producer of Babylon 5 Robin Atkin Downes, best known for his role of Byron in Babylon 5 Carrie Dobro, Dureena Nafeel in Crusade. Tim Choate was extremely popular on B5 as Zathras (and his brothers, all named Zathras). He also portrayed Pollack on Crusade. Beata Pozniak appeared as Babylon 5's Earth Alliance President Luchenko. Ed Wasser, the evil Mr. Morden on Babylon 5. As a special promotion, the first 100 orders will receive a special gift: former Star Trek stunt coordinator, Dennis Madalone, has donated 100 copies of his single, "America, We Stand As One," to say thank you to the science fiction fans who purchase the charity photograph. To order the photo online, go to http://www.thegalacticgateway.com, click on shop, and search on the word charity. NEW MERCHANDISE ON THE WAY
Season Three of Angel is now available in a new 90-trading card set
---
All 22 Season 3 episodes are covered in this 72-card set of cards based on the sci-fi smash!
---
SCI FI PUBLICATIONS
Cult Times #81: The end of X-Files has dominated most magazines for the last two months. Cult Times talks with the newest members, Annabeth Gish and Cary Elwes to get their take on the series. Also in this issue, Anthony Stewart Head talks about his time away from Buffy; Will Snow talks about his adventures in "Lost World" and Alexis Denisof provides a little insight into upcoming Angel episodes.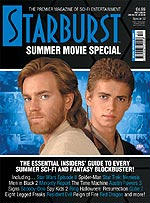 Starburst Special #52: This Summer Movie Special focuses on all the movies available for viewing pleasure this summer. Star Wars gets considerable attention, but you'll also find Spiderman, Men in Black II, Minority Report, Signs, Star Trek Nemesis, Scooby-Doo and others.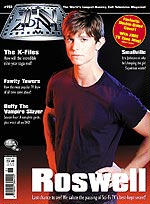 TV Zone #151: This issue marks the passing of Roswell. There are two covers -- one with Max; one with Liz. Inside you'll find a full expisode guide, a look at nine years of X-Files, a chat with Eric Johnson from Smallville and much more.
Expose #68: Kirsten Dunst talks about playing Mary Jane on Spiderman; working with Tobey Maguire and James Franco. Also inside you'll find articles about Adam Rodriguez from Roswell, Sabrina's Melissa Joan Hart and Lost World's Rachel Blakely.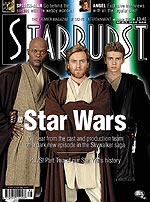 Starburst #286: With StarWars opening in May, the SF publications will be filled with interviews with cast members, production staff, etc. In this issue of Starburst, we hear from Hayden Christensen, Natalie Portman, Ewan McGregor and George Lucas. Since Spiderman has just hit theaters, this issue also covers Tobey Maguire, Kirsten Dunst, Willem Dafoe and Sam Raimi. For regular SF readers, there are articles on Angel and Stargate.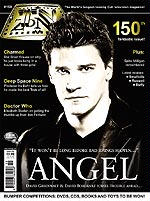 TV Zone #150: David Boreanaz and Producer David Greenwalt chat about what lies ahead for "Angel". Also in this issue: Ira Steven Behr talks about Deep Space Nine; Elisabeth Sladen talks about her role on Dr. Who and Brian Krause gives us some insight into his "Leo" on Charmed.
SCI-FI SCHEDULE
BABYLON 5's Schedule:
03-JUN-02 5:00 PM BABYLON 5 (LBX) THE LONG, TWILIGHT STRUGGLE
04-JUN-02 5:00 PM BABYLON 5 (LBX) COMES THE INQUISITOR
05-JUN-02 5:00 PM BABYLON 5 (LBX) THE FALL OF NIGHT
06-JUN-02 5:00 PM BABYLON 5 (LBX) MATTERS OF HONOR
10-JUN-02 5:00 PM BABYLON 5 (LBX) CONVICTIONS
11-JUN-02 5:00 PM BABYLON 5 (LBX) A DAY IN THE STRIFE
12-JUN-02 5:00 PM BABYLON 5 (LBX) PASSING THROUGH GETHSEMANE
13-JUN-02 5:00 PM BABYLON 5 (LBX) VOICES OF AUTHORITY
17-JUN-02 5:00 PM BABYLON 5 (LBX) DUST TO DUST
18-JUN-02 5:00 PM BABYLON 5 (LBX) EXOGENSIS
19-JUN-02 5:00 PM BABYLON 5 (LBX) MESSAGES FROM EARTH
20-JUN-02 5:00 PM BABYLON 5 (LBX) POINT OF NO RETURN
24-JUN-02 5:00 PM BABYLON 5 (LBX) SEVERED DREAMS
25-JUN-02 5:00 PM BABYLON 5 (LBX) CEREMONIES OF LIGHT AND DARK
26-JUN-02 5:00 PM BABYLON 5 (LBX) SIC TRANSIT VIR
27-JUN-02 5:00 PM BABYLON 5 (LBX) A LATE DELIVERY FROM AVALON
BABYLON 5 MOVIES
SCIFI has given me a FANTASTIC birthday present! An afternoon of B5 movies. How much better can it get! Babylon 5: In the Beginning
Sunday, 2 1:00 PM EST SCI-FI
Stunning special effects and a riveting story highlight this prequel to the science-fiction saga. The 1998 cable film tells the history of the Earth-Minbari war, which began in the year 2243, a decade before the creation of the Babylon 5 space station. This clash proved to be the defining event of the "Third Age." It made Sheridan (Bruce Boxleitner) a hero and put Delenn (Mira Furlan) in line to be the leader of her race. The war also determined the destinies of Londo and G'Kar. Babylon 5:Thirdspace
Sunday, 2 3:00 PM EST SCI-FI
Mysteries of deep space and the human soul are explored in this satisfying tale, the second film based on the sci-fi series. The 1998 cable drama centers on a relic discovered in hyperspace by Ivanova (Claudia Christian). The device is towed to Babylon 5 for study, and soon attracts the attention of ambitious archaeologist Elizabeth Trent (Shari Belafonte), who immediately clashes with Sheridan (Bruce Boxleitner). But the captain has more pressing concerns: the inhabitants are reacting violently to surreal dreams linked to the artifact. Lyta: Patricia Tallman. Vir: Stephen Furst. Delenn: Mira Furlan. Babylon 5: The River of Souls
Sunday, 2 5:00 PM EST SCI-FI
The space station is targeted by a Soul Hunter (Martin Sheen) after an archaeologist steals an artifact believed to hold the secret to eternal life. Garibaldi: Jerry Doyle. Lochley: Tracy Scoggins. Zack: Jeff Conaway. Bryson: Ian McShane. Mayhew: Joel Brooks. Babylon 5: A Call to Arms
Sunday, 2 7:00 PM EST SCI-FI
John Sheridan (Bruce Boxleitner) teams with three allies on a mission to stop a mutual enemy in this 1999 cable drama. Visions of an annihilated planet bring Sheridan back to the space station, where he meets Capt. Leonard Anderson (Tony Todd) and Dureena (Carrie Dobro), a criminal whose planet was destroyed during the Shadow War. The trio hijack a state-of-the-art ship and head to a dead planet, where a fourth partner reveals that the evil Drakh have acquired a Shadow "Planet Killer"---and Earth is their next target. Babylon 5: The Legend of the Rangers
Sunday, 2 9:00 PM EST SCI-FI
In this 2002 cable offspring of the 1990s sci-fi drama series, an ancient enemy returns to threaten the Interstellar Alliance in the year 2265. David Martel (Dylan Neal), a young captain in the Rangers, the Alliance's elite peacekeeping force, is attacked by an unknown foe as his starship escorts a diplomatic mission headed by Citizen G'Kar (Andreas Katsulas, who reprises his role from the original series). Martel must use resolve and resourcefulness, along with the telepathic abilities of his Minbari first officer Dulann (Alex Zahara), to survive in the antiquated vessel he commands. Sarah Cantrell: Myriam Sirois. Firell: Enid-Raye Adams. ++ A Call to Arms is usually shown with a few more minutes included, so "Legend of the Rangers" may not start at exactly 9:00pm.
BABYLON 5 IN THE UK
Ranger Stephen reports that Babylon 5 has moved to Bravo (Sky Digital channel 124, selected cable companies), where I think they'll be showing it at 8pm.
BABYLON 5/CRUSADE PHOTOSHOP
NEW PHOTOS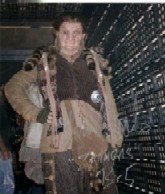 You do NOT have to pay the prices asked for over at e-bay! Here are photos of B5 and Crusade cast members at fantastic prices. Check out Photo Shop. Ordering is easy -- and you can't beat the prices! Just let me know which photos you want and I'll check to make sure they are still in stock.
---
COMIC BOOKS
Midnight Nation #11 will arrive in stores on Wednesday. This issue is written by J. Michael Straczynski, penciled by Gary Frank, inked by Jonathan Sibal and colored by Matt Milla.


AMAZING SPIDERMAN: The latest issue is on news stands now.

Amazing Spider-Man #44 will arrive in stores on Aug. 14. The issue is written by J. Michael Straczynski, with art by John Romita Jr. and Scott Hanna.




BABYLON 5 TOONS
John Cook has a new cartoon contest going. Try your hand at a punch line.



NEW B5 TOON
Ranger Bill created this toon for his website www.wondertemp.com, but wanted to share it with readers here at the Zocalo. Thanks Bill.



READER DIRECTORY
Sometimes you just can't find the e-mail address for someone you know you have -- it's someone who responded to a discussion topic or you met in one of the chat rooms. You'd like to send a personal note, but .... No address!!!!

We've started a White Pages of Zocalo Readers! It's a handy way of keeping track of people -- and putting together a birthday/greeting card list as well. If you would like to be part of the listing, just send me your name, state, e-mail address and (if you'd like to have it listed) birthday (without year) to sgbruckner@aol.com. Check out the Directory of Readers.

HAPPY BIRTHDAY

Here are some of our readers who are having birthdays this month:

Name: John T. Hill
Birthday: May 8

Name: Kevenn T. Smith
Birthday: May 17

Name: Sally Smith
Birthday: May 28

Name: Laurraine Tutihasi
Birthday: May 18
BABYLON 5 REFERENCE PAGES
The Official Babylon 5 Magazine is indexed here as well. With the closure of the magazine in May, you'll want to see which magazines you have -- and which ones you will want to collect. The index may help you make a decision on which ones to choose. The Fan Club has many of the issues at thestation.com , making it very easy to complete your collection.

Universe Today -- the Babylon 5 Fan Club quarterly can also be found here. The index gives you a rundown of what articles were presented, what interviews published.

If you have magazines that have featured Babylon 5 or Crusade that are not listed, send along their issue number and a note to indicate what the article was about. It would be nice to have a fairly comprehensive listing of Babylon 5 publications here.

I have added a listing of all the Babylon 5 novels and now the B5 comic books to the reference page. If there are other items that you feel should be included, let me know.
MAILING LISTS
REDEMPTION: Ranger Steve reports that a new discussion group has been created for the upcoming REDEMPTION convention. Redemption 03, 21-23 February 2003, Ashford, Kent, Celebrating 25 years of Blake's 7 and 10 years of Babylon 5. www.smof.com/redemption.
NW-B5
NW-B5 is a mailing list devoted to bringing critical information to the Vancouver Island, Lower Mainland, and Northern Washington areas. More specifically, anyone north of Seattle. B5 is broadcast on SPACE:TIS in Canada, and Sci-Fi channel in the US. By subscribing to nw-b5, you'll be able to know info bringing you up to date on the current scheduling and events happening in the community related to B5. You'll also be subscribed to the list itself, which means that you'll receive email when there is a scheduling change or critical information needs to go out to you (for example, if we need to start another mailing campaign).

For further information, see http://www.nw-b5.com
John Francis
Webmaster, Listowner, and Co-Moderator
mailto:nw-b5@iname.com

Reports of "The Gathering" are beginning to turn up on the list. John posted a mini-report, with photos, over at http://www.geocities.com/jnf.geo/nw-b5/gathered.htm#0501. You may want to check it out. It was a terrific event in which JMS showed clips from "Legend of the Rangers". Most of the cast was in attendance -- a great group of individuals.
BABYLON 5 DISCUSSION LIST
The Babylon 5 discussion mailing list is for any and all discussions and/or news pertaining to or related to Babylon 5 and/or Crusade. The list has been in existence for the past three years now, and has recently moved. The new location is http://lists.apparition.org/cgi-bin/lyris.pl, and you can subscribe by sending a blank e-mail message to join-babylon_5-l@lists.apparition.org.
THE GALACTIC GATEWAY
Here's a unique site for you! Jeffrey Willerth, Patricia Tallman, Mira Furlan, Claudia Christian, Robin Atkin Downes, Rick Biggs, Jerry Doyle, Bruce Boxleitner, Melissa Gilbert, Peter Jurasik, Bill Mumy and Carrie Dobro are under it's umbrella. Actors from other shows have joined the Gateway. Ted Raimi and Robert Trebor from Xena and Hercules are now at GG. To subscribe to a mailing list for GG, send a blank note to thegalacticgateway-subscribe@egroups.com.
GATEWAY CHATTERS
There is never enough time to keep in touch with friends! To help out, a mailing list has been started for chatters over at the Galactic Gateway. If you are interested in joining, send a blank note to gateway-chatter-subscribe@egroups.com.
GATEWAY TRADER
Are you looking for a particular Babylon 5 collectible? Do you have some items you'd like to trade? Then this is the list for you. To join, send a blank note to gateway-trader-subscribe@egroups.com.
CALLING ALL ARTISTS
The Art Gallery at The Zocalo Today is open. There are SO MANY talented people in our Babylon 5 community. We have enjoyed works by Todd Brugman and Tye Bourdony on our toons page, but there are a host of others who enjoy drawing, painting, sketching their favorite characters. Here are a few works that have been received. I have some others that will be added soon.

If you would like to share your work with us at The Zocalo Today, please send along a digital photo of your work and I'll begin putting the gallery together. If you do not have your work in digital format, drop me a note and we'll see what we can work out.
CALLING ALL CLUBS
There are a number of fabulous Babylon 5/Crusade Clubs around the world. I'd like to begin listing them here on The Zocalo Today. Eric dropped me a note the other day providing information about a Club in France. I know there are other clubs in Brazil, Germany, Russia -- and who knows how many here in the US. Let's get a listing together. Perhaps we can share resources, even get together as we travel around. Drop the information about your Club to me at sgbruckner@aol.com or bruckner@isnnews.net. That information will be added to the new B5 Fan Club Listing.
BABYLON 5 FAN CLUB
Netter Digital filed for bankruptcy in July of 2000 and all their worldly posessions were auctioned off on December 7. The B5 Fan Club site, Thestation.com and it's store, the Emporium, has been closed.
BABYLON 5 NEWSLETTERS
If you have a newsletter you'd like to have listed at The Zocalo Today, send the information along. It will be posted on the B5 Fan Club/Newsletter page.

Ranger Shane in North Carolina sent in the following note about their "Jumpgate" newsletter.

Hey Sandy! Just wanted to give you an update on the NC B5 group's newsletter, Jumpgate. There's now a dedicated EMail address for submissions - jumpgatemag@bellsouth.net - and any submissions, solicited or un-, can be sent to this address. Also, issues are available for free download at the URL at the bottom of this message.

Jumpgate - The Newsletter of the North Carolina Babylon 5 Fan Club
Shane Killian, Editor
HELP WANTED
A new HELP WANTED section has been added to the Z. If you need help finding a comic book, getting a special item, etc. here's the place to post a note. Just send whatever help you need to thezocalo@aol.com.
---
BABYLON 5/CRUSADE CONVENTIONS
CONVENTION CALENDAR
Star Trek Convention - New York
June 1-2, 2002
Place: Meadowlands Crowne Plaza Hotel
East Rutherford, NJ
B5 Guest: Stephen Austin
For more information, visit their website at http://www.creationent.com.
---
Slanted Fedora, Boston Area
June 7-9, 2002
Place: Sheraton Framingham - Tara
Framingham, MA
B5 Guest: Stephen Austin
For more information, visit their website at http://www.sfedora.com.
---
Slanted Fedora, Chicago Area
June 21-23, 2002
Place: Radisson Hotel O'Hare
Rosemont, IL
B5 Guest: Stephen Austin
For more information, visit their website at http://www.sfedora.com.
---
Origins
July 4-7, 2002
Place: Greater Columbus Convention Center
Columbus, Ohio
B5 Guest: Carrie Dobro, Bill Blair
For more information, visit their website at http://www.originsgames.com.
---
Toronto Trek
July 5-7, 2002
Place: Regal Constellation Hotel
Toronto, CA
B5 Guest: Peter Woodward
For more information, visit their website at http://www.tcon.icomm.ca/tt16.
---
Shore Leave 24
July 12-14, 2002
Place: Hunt Valley Marriott Inn (410) 785-7000
Baltimore, MD
B5 Guest: Richard Biggs, Jason Carter, Julie Caitlin Brown
For more information, visit their website at http://www.shore-leave.com.
---
New Worlds Con
July 13-14, 2002, Leipzig, Germany
Place: Treff Hotel Leipzig
B5 Guest: Ed Wasser
For more information, visit their website at http://www.newworldscon.de.
---
Vulkon Tampa
July 19-21, 2002
Place: Tampa Airport Hilton Westshore
Tampa, FL
B5 Guest: Julie Caitlin Brown
For more information, visit their website at http://www.vulkon.com.
---
Be sure to visit our Convention Calendar for a full listing of upcoming conventions featuring Babylon 5, Crusade and Legend of the Rangers cast members as guests.
ZOCALO TRADING POST
Do you have extra copies of B5, Amazing Spiderman, Midnight Nation or Rising Stars comics you'd like to trade? How about those extra trading cards or B5 magazines? There are a lot of fans looking for these items -- and the Trading Post can help you buy or sell them. To see what's available, just use this link to the Trading Post. To have items included in The Trading Post, send a note to The Zocalo. Please put Trading Post in the subject line.
Pen Pals
If you are looking for someone to talk about Babylon 5 and Crusade with, the Pen Pal section is for you! Check it out! Drop a note to someone who is feeling B5 withdrawal -- BIG TIME!

People thought a Pen Pal page was a good idea. If you would like to meet people who you could chat with or share your opinions of the show with, send along your e-mail or snail-mail address The Zocalo. It will be incorporated on the new Pen Page Page.
BABYLON 5 BIRTHDAYS
Theodore Bikel - May 2
Michael O'Hare - May 6
Stephen Furst - May 8
Melissa Gilbert-Boxleitner - May 8
Bruce Boxleitner - May 12
Andreas Katsulas - May 18
Doug Wise - May 21
Douglas Netter - May 23
Paul Winfield - May 22
Roy Dotrice - May 26
Harlan Ellison - May 27 Have I missed anyone? If you know the birthday of someone connected with Babylon 5, pass the information along. We want to include everyone in our Happy Birthday Wishes.
MAIL FOR CAST AND CREW
Here's a recent note from JMS on the subject:

Just an FYI to those who've been using the Ventura Blvd. mail drop for fan mail to actors....

As mentioned before, we're phasing out the forwarding of fan mail because we a) don't have the resources, complicated by b) the actors have scattered to the four winds, and it makes it very difficult to get everything to everybody in a timely fashion.

So, having provided prior notice...fan mail to actors coming to the Ventura Blvd. mail drop will be sent back. Mail to actors should be sent via their official fan clubs. I will still be taking mail there, since it's my mailbox, but that's it.

Just so's y'all know and save a few bucks on postage and returns.

JMS' mail can be sent to:

14431 Ventura Boulevard, PMB 260
Sherman Oaks, CA 91423

WARNER BROS:

Warner Bros. Address:

Warner Bros. Domestic Television Distribution
4000 Warner Blvd.
Burbank, CA 91522

Warner Home Video:

Mr. Douglas Wadleigh
VP for Marketing and Special Features
Warner Bros.
4000 Warner Blvd.
Burbank, CA 91522

SCIFI Addresses:

Bonnie Hammer, President
Sci-Fi Channel
1230 Avenue of the Americas
New York, NY. 10020-1513

Mr. Thomas Vitale
Senior VP of Acquisitions, Scheduling & Program-Planning
BACK ISSUES OF THE ZOCALO TODAY
The front page of the The Zocalo Today changes daily, so be sure to check the back issues to make sure that you haven't missed anything IMPORTANT! I don't want the front page getting too long so I shift information periodically into the archives. So if you aren't a regular visitor to The Zocalo Today, be sure to check out the back issues. Just use the button above!
---
Take care and I look forward to hearing from you.
Sandra Bruckner (sgbruckner@aol.com)
Editor/Publisher
The Zocalo Today
http://www.isnnews.net
Copyright - SBruckner, 2002