[an error occurred while processing this directive]

The Zocalo Today

Welcome! I am REALLY glad you dropped by. Take your shoes off, get comfortable and stay a while.

The Zocalo Today is an interactive newsletter. If you have suggestions, please send them along. The Zocalo Today is as much YOUR newsletter as it is mine! I'm just pulling together things for you! Join our weekly discussion topic. It is just one way you can interact with other Z readers. Send along letters, sightings of B5 cast and crew in other projects, convention reports, photos, etc. Don't miss our back issues. There is a LOT of information contained there and you'll not want to miss anything.

If you have questions, drop me a line at sgbruckner@aol.com or b5web@aol.com.

Again, WELCOME!

May 3, 2001 04:45am
What's New
The special effects company for the Legend of the Ranger movie has been named. See information below.

Jeanne Cavelos has had some interesting comments on Crusade and technomages in general. I thought you might be interested, so I've placed them on a Crusade Page.
---
Jeffrey Willerth's appearance on the Drew Carey Show has been moved until next week - May 9!
---
Now THIS is a perfect way to start the week! The rating numbers are in for the week ending April 15. Crusade is #4; Babylon is #6! Here are the numbers: Farscape 1.7; Invisible Man 1.3; The Outer Limits 1.2; Crusade 1.1; Escape From Mars 1.1; Babylon 5 0.9; John Edward 0.9; Interceptor Force 0.9; First Wave 0.8, and Lost World 0.8.
---
You MAY be seeing a very familiar face on CNN Headline News soon. Andrea Thompson is moving from KRQE-TV in Albuquerque, New Mexico to CNN in June. As of this morning, however, things may be changing. Read the story at http://www.thestandard.com/article/0,1902,24036,00.html .
---
Just came back from a trip around www.ebay.com. As usual, they have a LOT of B5/Crusade material. FYI: Since I know a number of you have asked about uniforms, I spotted three different entries (2 for Earth Alliance Uniforms; 1 for a Rebel Uniform). They were produced by a German company some years ago.
---
JMS takes a look at Crusade over on the JMS Speaks page. There are some good insights into what he liked and didn't like that I think you'll find interesting.
---
LEGEND OF THE RANGERS: This site continues to provide new information about the new series at http://www.b5lr.com. Production begins May 14 and Mike Vejar (a B5 favorite) will be directing the telemovie. Drop over and check out the other items listed. It's definitely one to bookmark.
---
I've updated the new page with information JMS has passed along regarding "The Legend of the Rangers".
---
NEWS AROUND THE SCI-FI GENRE
May 4:
BUFFY: Does UPN love you or what? The TV Guide reported that UPN sent gift baskets valued at more than $50,000 each to the eight regular cast welcoming them to the network! Some of the items contained -- Cristal champagne, beluga caviar, gourmet foods and a $4,000 Cartier watch. Star Sarah Michelle Gellar received a Gucci necklace in place of the watch, and series creator Joss Whedon got a rare edition of Shakespeare's works. Now that's what I call a welcome basket!
---
VOYAGER: Kate Mulgrew dropped a few more spoilers about the series finale of Voyager. In a recent interview, Mulgrew said, "The show will go out with a bang--and two Janeways." "It's a tour de force, an absolute tour de force," Mulgrew said of the finale, which was written by Ken Biller, Brannon Braga and Rob Doherty. "It's Janeway vs. Janeway. Adm. Janeway meets Capt. Janeway. Adm. Janeway (Mulgrew) is 73 years old."
---
EPISODE II: Director of Fan Relations for Lucasfilm Ltd., Steve Sansweet, will unspool a sneak peek of Star Wars: Episode II at the upcoming Dragon*Con, taking place Aug. 31 to Sept. 3 in Atlanta. Sansweet will also discuss how the prequel fits into the Star Wars saga.
---
TREK V: According to the ST website, Merri D. Howard, longtime Star Trek crew member, will join the staff of the upcoming fifth Trek series as supervising producer. This is a job she held on Voyager; she has been with ST since the second season of Next Generation.

THE MUMMY RETURNS: The Mummy opens this weekend. With spectacular special effects and PG-13 rating, it should rake in BIG BUCKS this weekend!
---
May 3:
BUFFY: New series for Giles? There's talk about a new BBC series or miniseries centered around Giles from the Buffy series. The spinoff series would help with Anthony Head's desire to remain closer to the United Kingdom and his family.
---
TREK: There's talk about having Jeri Ryan (7 of 9) reprise her role in the upcoming movie Trek V. Speaking of female leads, the competition for the T'Pau character in the upcoming Trek series is coming to a close. Marjorie Monaghan (#1 Mars Resistence) is still in the running for the part. An announcement is expected this week.
---
STAR WARS: Just in time for Christmas, LucasArts will release Star Wars Galactic Battleground, a new game set in the Star Wars universe. The game, created for the PC platform, will be released in conjunction with the upcoming Electronic Entertainment Expo in Los Angeles.
---
HUGO STORIES-FREE: Electronic book retailer Fictionwise.com announced that it will release three 2001 Hugo-nominated short stories free on its Web site for a limited time. Register at the site to receive: "Kaddish for the Last Survivor" by Michael A. Burstein; "The Elephants on Neptune" by Mike Resnick, and "Redchapel" by Mike Resnick.
---
GREAT WAR OF MAGELLAN: Richard Hatch has been fighting to get "Battlestar Galactica" back on the air -- but he has not put all of his energy into that project. He's been working on a new project, "Great War of Magellan". In an interview with SCIFI.COM, Hatch revealed that "It takes place in the Magellanic Cloud, which is the closest galaxy to ours. It's post-apocalyptic. If you could take Braveheart, Mad Max, Matrix and X-Files and put it all together, and weave a totally different story, you'd have The Great War of Magellan." Hatch has been working on the special effects for 14 months and hopes to have a trailer ready this month! Do I remember Jason Carter being involved in this as well??????
---
May 2:
WEEKLY RATINGS: The Top 10 SF Syndicated Shows are: 3rd Rock 3.3; The X-Files 3.2; Stargate SG-1 2.8; Andromeda 2.6; Xena 2.6; Invisible Man 2.1; Profiler 2.0; Earth: Final Conflict 1.9; Relic Hunter 1.6, and Sheena 1.6.
---
BUFFY: Not only will Buffy be leaving the WB at the end of this season, but according to Marti Noxon, co-executive producer, the fifth season will culminate in a three-episode arc that will resolve the Dawn-Glory story arc. "Because [the season finale will be] our 100th episode, the last three episodes of the season are huge and very action-packed, and some momentous things will occur, but that's all I can say."
---
X-FILES: As you can see above, X-Files has been doing VERY well in the ratings. Robert Patrick feels his character Doggett is changing. What lies ahead? In a recent interview, Robert said that Doggett faces an even greater turning point in the upcoming two-part season finale, "Essence" and "Existence," which airs May 13 and 20. "Adam Baldwin is back as my informant, Agent Crane [Kirk B.R. Woller] is back, Duffy Haskell [Jay Acovone] and Krycek [Nick Lea] are back, Skinner [Mitch Pileggi] and Reyes [Annabeth Gish] are around," Patrick said. "Really, the last two episodes are all about Scully having her baby. It's all of us, more or less, dealing with what's going on with that. You can read more at www.cinescape.com.
---
TOMB RAIDER: Paramount has opened a new website to promote Tomb Raider. The new site is full of animation, screen savers, etc. The movie opens June 15; http://www.tombraidermovie.com/splash_frames.html is open now!
---
PEARL HARBOR: As books about the movie hit the bookshelves, FX supervisor, Eric Brevig of Industrial Light and Magic told the NY Daily News that "You'll be able to see the entire harbor and the airfield. They are cataclysmic conditions, and you're right there in the midst of it. In most cases, you're seeing it from a place where you wouldn't survive if it were real."
---
WB has opened a new Looney Toon site! Yes, your old favorites like Daffy Duck and Bugs Bunny have a new home. According to the Hollywood Reporter, Warner Bros. executive vp new media Kevin Tsujihara said, "We want to expose the Looney Tunes characters to a whole new generation of fans, so we thought it was important that we put our foot forward and took (the characters) into a new environment." You just MUST visit and look at "Toon Marooned" at http://looneytunes.warnerbros.com/web/all_new_toons/toon_marooned/home.jsp.
---
May 1:
SPIDERMAN: There are some great updates on the upcoming movie at ComicsContinuum.com, including a couple of set shots. The movie has finished filming in New York and is now headed back to LA. Stan Lee has filmed a cameo for the movie -- and a trailer should be out in July!
---
EVOLUTION: According to the New York Daily News, Ivan Reitman, director of the upcoming SF comedy movie Evolution, has been looking for a good story in which "something amazing and large threatens the existence of our planet--something around which I could develop a character comedy. But it's hard to come by." David Duchovny, Orlando Jones and Julianne Moore combine forces in the movie to deal with a meteorite that contains organisms that evolve at an accelerated rate.
---
UNSPEAKABLE: The Hollywood Reporter tells us that Thomas Wright (TV's Dark Angel director) will direct Dennis Hopper, Dina Meyer and Lance Henriksen in the supernatural thriller movie Unspeakable. Though an independent film, it has a budget of $2 to $3 million and is slated to start shooting May 5 in Santa Fe, N.M. Unspeakable tells the story of a female psychologist who must deal with a serial killer after he escapes the electric chair.
---
STRIKE: The Writers Guild of America's contract with the Alliance of Motion Picture and Television Producers expires today. The Screen Actors Guild contract will expire June 30. The industry is bracing itself for the worst: a total shutdown of the entertainment machine.
---
SPECIAL EFFECTS HOUSE CHOSEN FOR MOVIE
Emmy-nominated Gajdecki Visual Effects (Total Recall 2070) will provide the computer graphics and other effects for The SCI FI Channel's upcoming original television movie Babylon 5: The Legend of the Rangers, SCI FI announced. Production begins this month in Vancouver, B.C.

The Canadian-based effects house provides full effects supervision, including a library of stock effects, a motion-control camera package, a model shop and Silicon Graphics workstations for compositing and animation. Gajdecki received an Emmy nomination and a Gemini Award nomination for its work on Showtime's Stargate SG-1. The company also won Gemini Awards for the miniseries The Arrow and the television series TekWar.
LEGEND OF THE RANGERS
Here's the latest from SCIFI.COM:

SCIFI.COM will offer one Babylon 5 fan the chance to be immortalized by having a character named after him or her in The Legend of the Rangers. SCIFI.COM's "B5: Be in the Movie" Contest began at 5 p.m. ET April 30.

To enter, log on and register at www.scifi.com/b5contest. Registration for the contest ends at midnight May 11. The winner will be announced on May 14, the day that production on the movie begins in Vancouver, B.C.

One lucky winner will have a character in Legend of the Rangers named after her or him. Not a lot of details are availabale about the character, but they will have the rank of captain and a very slim chance of making it through the movie alive!

Enter the contest today! You never know -- you could be the lucky winner!
BONNIE HAMMER AND SCIFI
Congratulations to Bonnie Hammer for being promoted to President of SCIFI. This new position was announced yesterday by Stephen Chao, president of SCI FI's parent company, USA Cable.

"Under her tutelage, SCI FI has shown tremendous growth, and this promotion is testament to Bonnie's able leadership and a harbinger of continued success," Chao said in a statement.

Ms. Hammer will continue to be based out of SCI FI's New York office. As president she will oversee all facets of SCI FI's growing businesses, including programming, licensing and marketing, as well as SCIFI.COM.
NEW MERCHANDISE
Women of Babylon 5
The Women of Babylon 5 are back! This very limited collection of 5"x7" Archive Cards features Susan Ivanova, Delenn, Lyta Alexander, Na\'Toth and Elizabeth Lochley. Each card has been hand-numbered to 999, and all sets come complete with matching numbers.
The collection is due out May 16, but you can order now at www.scifihobby.com.
TECHNOMAGE TRILOGY
"Babylon 5: Casting Shadows" Jeanne Cavelos' trilogy on the Technomage is doing very well. Part two, "Summoning Light", will be released in July! DelRey is taking orders for the book now. The synopsis up on "Summoning Light" is quite a teaser!

To learn more about Jeanne, visit her website at www.sff.net/people/jcavelos. Jeanne is a scientist, mathametician and author! She's worked with NASA and Harlan Ellison on a writing series! I'm sure you will find her an interesting person to chat with.
THIS WEEK'S DISCUSSION TOPICS
#1. Special effects can add (or detract) from the overall affect of a production. Do you have any favorite special effects from Crusade or Babylon 5? What are they and in which episode can we find your favorite?

#2. There was a great deal of humor evident in Crusade. Do you have a favorite scene to share?

Send in your comments to either TheZocalo@aol.com or b5web@aol.com.. You can also post your comments on the message board at www.isnnews.net/board. To see what other readers have posted on this and other topics, follow this link to Current Discussion Topic page.
---
BABYLON 5/CRUSADE PHOTOSHOP
NEW PHOTOS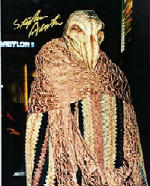 You do NOT have to pay the prices asked for over at e-bay! Here are photos of B5 and Crusade cast members at fantastic prices. Check out Photo Shop. Ordering is easy -- and you can't beat the prices! Just let me know which photos you want and I'll check to make sure they are still in stock.

SPECIAL PHOTO OFFER! Thanks to David Allen Brooks, we have the only completely signed Crusade cast photo around! Yes, even Gary Cole has signed this photo! David will be donating part of the money raised thru sale of the photo to Aid for AIDs, an organization in West Hollywood that sponsors AIDs research, provide meals and a wide array of services for individuals with AIDs. The cost of the photo is $100 (which is a real steal, by the way). For details on how to place an order, send a note to sgbruckner@aol.com. There is only a limited number of photos available, so order now! There are other cast photos available as well in limited quantity in our Photo Shop.
---
KEEPING UP WITH CAST AND CREW
Daniel Dae Kim will appear in next week's (May 8) episode of Angel. He portrays a lawyer.
---
Walter Koenig is turning up on "Son of the Beach" -- a Baywatch spoof on FX. Episodes air on Tuesday at 10.
---
Peter Woodward's episode of "Walker: Texas Ranger" airs this weekend! Boy, is he a BADDIE. From the preview, it looks as if he shoots the hero!
---
Peter Jurasik has just completed another episode of "Dawson's Creek". He is not sure when it will air, but he thinks it's about the third from the end of the season, so keep an eye out for him.
---
Gary Cole has won a recurring role on the hit series "The Practice" as shrewd defense attorney Solomon Tager. His first appearance on the series will be this week.
---
Bruce Boxleitner will host the 20th National Space Society's Awards Banquet on May 27. The banquet is part of a larger International Space Develpment Conference. The conference runs from May 24-28 at the Albuquerque Hilton Hotel. Check their website at http://www.isdc2001.org/ or email admin@isdc2001.org for more information.
---
Pat Tallman and Claudia Christian's lastest movie, "Never Die Twice", made it's debut at the Arizona International Film Festival on April 20. For more information about the movie, go to http://www.neverdietwice.com/.
---
Jeffrey Willerth will premiere his own anime project, "Genesis Factor" at "Project: A-Kon 2001" June 1-3 in Dallas, TX. Kenny Yakkel (former B5 crewmate) and Jeffrey created the project that will be released as a comic book this fall. Video production/distribution negotiations are underway as well.
---
Robin Atkin Downes has been booked for a National Network Coca Cola Commercial that will star Christina Aguilera! Pictures will be posted soon.
---
BABYLON 5/CRUSADE CHRONOLOGY
Terry Jones created a FANTASTIC Babylon 5/Crusade Chronology that was published in the Official Babylon 5 magazine. He has not stopped with the end of the series though. He has included items from the latest novels as well as things from the Crusade series. Here's a note from Terry to tell you all about it.

Over at The Galactic Gateway I started a series of personal chronologies for major characters. Part IV for John Sheridan is now available. I have also included the first KOSH chronology. Others will follow. I hope you will visit GG and give the chronologies a look.

Terry has made some changes to the segment we had last month on The 21th Century so a new version is out along with the 22nd Century.
SCI FI PUBLICATIONS
CULT TIMES SPECIAL: Claudia Black from Farscape has quite a bit to say about her role as Aeryn Sun. There is a fold-out poster with this issue as well. Also included: Susanna Thompson - Borg Queen from Voyager and Amber Benson and Michelle Tracktenberg talk about Buffy.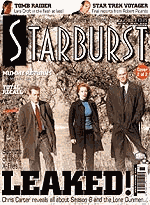 STARBURST: The X-Files and The Mummy Return share the cover honors this month! Yes, there are two separate covers for the magazine. Christ Carter talks about the 8th season of X-Files as well as big-screen projects in the future. Also in this issue, Tomb Raider, Voyager, First Wave, Lone Gunmen, Special Unit 2.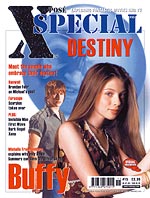 EXPOSE SPECIAL: Michaelle Tracktenberg talks about Dawn Summers on Buffy. Brendan Fehr talks about Roswell's chances of going for a third season. Farscape's baddie Scorpius (Wayne Pygram) explain's the part he'll play in season three of the show.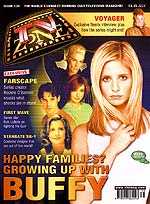 TV ZONE: Rockne S. O'Bannon talks about season 3 of Farscape. What happens to Neelix when Voyager ends? Does he get a spot on the Food TV Network? The costumes on Stargate SG-1 are marvelous. Christina McQuarrie is the designer and she talks to TVZ about her creations, including their own version of the USAF uniform.
SCI-FI SCHEDULE
BABYLON 5's Schedule: 7pm each evening:

Air Date Title

May 4 In the Shadows of Z'Ha'Dum

May 7 Knives
May 8 Confessions and Lamentations
May 9 Divided Loyalties
May 10 The Long, Twlight Struggle
May 11 Comes the Inquisitor

May 14 The Fall of Night
May 15 Matters of Honor
May 16 Convictions
May 17 A Day in the Strife
May 18 Passing Through Gethsemane
COMIC BOOKS
AMAZING SPIDERMAN
This is JMS' first issue for Amazing Spiderman. IGN.COM has a review of this first issue. From the comments I've seen in the newsgroup, people seem to like the new, refreshing approach JMS is using.
RISING STARS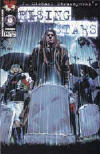 Issue #14 IS OUT! There's a review of the latest issue over at scifi.ign.com/comics/3226.html.
NO HONOR
NO HONOR #3
Top Cow Comics
(W) Fiona Avery (P) Clayton Crain

In April 2001, NO HONOR heats up. Will Random and Tannen, inhabiting the same body, survive a gunshot wound to the chest? Can they get out of the country before Brit Morrigan, the head of the NYPD art squad and a former thief, finds them first? The stakes are high and the price of escape is even higher: someone is going to die.

NO HONOR EXCLUSIVE PREVIEW BOOK

Top Cow Comics
(W) Fiona Avery (P) Clayton Crain

This preview issue is in black and white; a great look at Clayton Crain's artwork on the first pages of Issue One. A world-renowned art thief steals an ancient Samurai katana, cutting himself on the blade and releasing the spirit of Tannen, a Ronin from Feudal Japan, who inhabits the thief's body. Have a sneak peek at the story and art before anyone else!

NO HONOR POSTER
Top Cow Comics

The first poster to commemorate the launch of Fiona Kai Avery's NO HONOR miniseries, the tale of an ancient samurai who meets the modern world. With artwork by Marc Silvestri and color by Peter Steigerwald, you won't want to miss this one!
NEW BABYLON 5 TOONS
John Cook has a new cartoon contest going. Try your hand at a punch line.




A oldie but goodie from Tye Bourdony (www.thelightersideofscifi.com).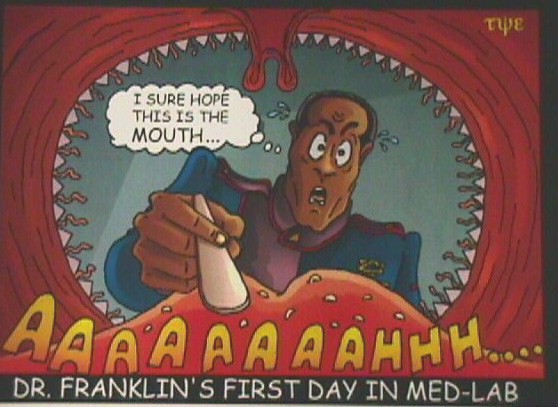 TOONS FOR CHARITY -- GREAT JOB
Tye Bourdony (www.thelightersideofscifi.com) and Claudia Christian recently are paired to bring a few more dollars to the John Wayne Cancer Foundation. Claudia signed one of Tye's satires (a one of a kind) and it was auctioned off at the Globelist Charities for the John Wayne Cancer Foundation. The winning bid was $270! Congratulations to the person who picked up this great piece.

Tye currently has new items for Erin Gray and Richard Hatch over the globelist auction site. He will be offering a new piece for Bill Mumy soon.
READER DIRECTORY
Sometimes you just can't find the e-mail address for someone you know you have -- it's someone who responded to a discussion topic or you met in one of the chat rooms. You'd like to send a personal note, but .... No address!!!!

We've started a White Pages of Zocalo Readers! It's a handy way of keeping track of people -- and putting together a birthday/greeting card list as well. If you would like to be part of the listing, just send me your name, state, e-mail address and (if you'd like to have it listed) birthday (without year) to sgbruckner@aol.com. Check out the Directory of Readers.

HAPPY BIRTHDAY TO YOU!

Name: John T. Hill
Birthday: May 8

Name: Sally Smith
Birthday: May 28

Name: Laurraine Tutihasi
Birthday: May 18
BABYLON 5 REFERENCE PAGES
The Official Babylon 5 Magazine is indexed here as well. With the closure of the magazine in May, you'll want to see which magazines you have -- and which ones you will want to collect. The index may help you make a decision on which ones to choose. The Fan Club has many of the issues at thestation.com , making it very easy to complete your collection.

Universe Today -- the Babylon 5 Fan Club quarterly can also be found here. The index gives you a rundown of what articles were presented, what interviews published.

If you have magazines that have featured Babylon 5 or Crusade that are not listed, send along their issue number and a note to indicate what the article was about. It would be nice to have a fairly comprehensive listing of Babylon 5 publications here.

I have added a listing of all the Babylon 5 novels and now the B5 comic books to the reference page. If there are other items that you feel should be included, let me know.
MAILING LISTS
BABYLON 5 DISCUSSION LIST
The Babylon 5 discussion mailing list is for any and all discussions and/or news pertaining to or related to Babylon 5 and/or Crusade. The list has been in existence for the past three years now, and has recently moved. The new location is http://lists.apparition.org/cgi-bin/lyris.pl, and you can subscribe by sending a blank e-mail message to join-babylon_5-l@lists.apparition.org.
THE GALACTIC GATEWAY
Here's a unique site for you! Jeffrey Willerth, Patricia Tallman, Mira Furlan, Claudia Christian, Robin Atkin Downes, Rick Biggs, Jerry Doyle, Bruce Boxleitner, Melissa Gilbert, Peter Jurasik and Bill Mumy are under it's umbrella. Actors from other shows have joined the Gateway. Ted Raimi and Robert Trebor from Xena and Hercules are now at GG. To subscribe to a mailing list for GG, send a blank note to thegalacticgateway-subscribe@egroups.com.
GATEWAY CHATTERS
There is never enough time to keep in touch with friends! To help out, a mailing list has been started for chatters over at the Galactic Gateway. If you are interested in joining, send a blank note to gateway-chatter-subscribe@egroups.com.
GATEWAY TRADER
Are you looking for a particular Babylon 5 collectible? Do you have some items you'd like to trade? Then this is the list for you. To join, send a blank note to gateway-trader-subscribe@egroups.com.
CALLING ALL ARTISTS
The Art Gallery at The Zocalo Today is open. There are SO MANY talented people in our Babylon 5 community. We have enjoyed works by Todd Brugman and Tye Bourdony on our toons page, but there are a host of others who enjoy drawing, painting, sketching their favorite characters. Here are a few works that have been received. I have some others that will be added soon.

If you would like to share your work with us at The Zocalo Today, please send along a digital photo of your work and I'll begin putting the gallery together. If you do not have your work in digital format, drop me a note and we'll see what we can work out.
CALLING ALL CLUBS
There are a number of fabulous Babylon 5/Crusade Clubs around the world. I'd like to begin listing them here on The Zocalo Today. Eric dropped me a note the other day providing information about a Club in France. I know there are other clubs in Brazil, Germany, Russia -- and who knows how many here in the US. Let's get a listing together. Perhaps we can share resources, even get together as we travel around. Drop the information about your Club to me at sgbruckner@aol.com or bruckner@isnnews.net. That information will be added to the new B5 Fan Club Listing.
BABYLON 5 FAN CLUB
Sad news. I don't know what the fate of the B5 Fan Club will be. Netter Digital filed for bankruptcy in July and all their worldly posessions were auctioned off on December 7. Thestation.com is back on-line, however the Emporium has been closed.
BABYLON 5 NEWSLETTERS
If you have a newsletter you'd like to have listed at The Zocalo Today, send the information along. It will be posted on the B5 Fan Club/Newsletter page.

Ranger Shane in North Carolina sent in the following note about their "Jumpgate" newsletter.

Hey Sandy! Just wanted to give you an update on the NC B5 group's newsletter, Jumpgate. There's now a dedicated EMail address for submissions - jumpgatemag@bellsouth.net - and any submissions, solicited or un-, can be sent to this address. Also, issues are available for free download at the URL at the bottom of this message.

-- Jumpgate - The Newsletter of the North Carolina Babylon 5 Fan Club
Shane Killian, Editor
AN APPEAL TO BABYLON 5 FANS
Recently, I watched some of the Documentary "Trekkies" and only managed to get about halfway through it, before the whole thing frustrated me. I believe that Babylon 5 is just as worthy as any of the Treks, and more worthy than most of them.I would like to write a piece about the positive effects of Babylon 5, and explore B5'ers reactions. Thusly, I appeal to all those out there to send me the positive reactions, responses, to Babylon 5. How has it inspired you? How has it impacted on your life? How do you show that you are a fan of this show? I would love and welcome all responses and will distill them down and write an article that will appear in the Zocalo on the outcome of this appeal. Please have your responses in by Feb. 20th, or so. I will be most interested in what I do receive. Send them to my e-mail address, at CCB5Flamekeeper@aol.com.

Many Thankings,
Connie Colvin

** Connie would like to make this appeal open-ended. If you have items to contribute, please pass them along to her.
BABYLON 5/CRUSADE CONVENTIONS
CONVENTION CALENDAR
Lots of updates to the calendar. I hope you will check it out and see if there are any Babylon 5 conventions in YOUR future! Use this link Convention Calendar. Have a convention you would like to have listed here? Pass along the information.

CONVENTION ATTENDANCE

Are you attending one of the conventions on the calendar? Or another one perhaps? Do you want to see who else might be there? Drop your e-mail address to TheZocalo@aol.com. We've begun an attendance page so that perhaps we can get together while enjoying the activities of the convention. Convention Attendance .
CONVENTION REPORTS
There are a number of convention reports, written by convention attendees, on the Reports Page. Photos from FarPoint have been added to the Photo Gallery.. If you have convention activity you would like to share with us, drop me a line.
UPCOMING EVENTS
Marscon
May 11-13, 2001; Bloomington, MN
Guests: Bill Blair

For more information, visit their website at http://www.marscon.com or call (612) 724-0687.
---

Motor City Comic Con
May 18-20, 2001; Detroit, MI
Guests: David Allen Brooks, Richard Biggs, Claudia Christian, Walter Koenig (JMS is NOT attending)

For more information, visit their website at http://www.motorcity.com/motor_city_comic_con or e-mail info@motorcitycomics.com.
---

Marcon 36
May 25-27, 2001; Columbus, OH
Guests: Peter Woodward

For more information, visit their website at http://209.235.59.71/marcon1/index.htm or call 1-614-470-5448.
---

A-Kon
June 1-3; Dallas, TX
Guests: Richard Biggs, Jason Carter, Jeffrey Willerth, Bill Blair

For more information, visit their website at http://a-kon.com/guests.html.
---

Agamemcon
June 8-10, 2001; Burbank, CA
Guests: Claudia Christian, Tracy Scoggins, Stephen Austin, Peter Jurasik, David Allen Brooks, Tim Choate, Jeffrey Willerth, Peter Woodward, Judson Scott

For more information, visit their website at http://www.agamemcon.org.
---

Slanted Fedora
June 15-17, 2001; Chicago, IL
Guests: Tracy Scoggins

For more information, visit their website at http://www.sfedora.com/chicago.htm or call (913)327-8735.
---

Sci-Fi Fan Festival 2001
June 29 - July 1, 2001; Chicago, IL
Guest: Jason Carter, Richard Biggs

More information, visit their website at http://www.scififanfestival.com or e-mail H1m2s3@aol.com.
---

Atlanticon2001
June 29, 30 & July 1, 2001; Prince Edward Island, Canada
Guest: Bill Blair

More information, visit their website at http://www.atlanticon.org or e-mail atlanticon@hotmail.com. Phone: 800-867-5563.
---
ZOCALO TRADING POST
There are some new and interesting items in the Trading Post. Take a look. If you have items you'd like to trade, post a note here. If you need a particular item, the Trading Post or Message Board could help you find it. Use this link to see what is listed. Trading Post. To have items included in The Trading Post, send a note to The Zocalo. Please put Trading Post in the subject line.
Pen Pals
If you are looking for someone to talk about Babylon 5 and Crusade with, the Pen Pal section is for you! Check it out! Drop a note to someone who is feeling B5 withdrawal -- BIG TIME!

People thought a Pen Pal page was a good idea. If you would like to meet people who you could chat with or share your opinions of the show with, send along your e-mail or snail-mail address The Zocalo. It will be incorporated on the new Pen Page Page.
BABYLON 5 BIRTHDAYS
Theodore Bikel - May 2
Michael O'Hare - May 6
Stephen Furst - May 8
Melissa Gilbert-Boxleitner - May 8
Bruce Boxleitner - May 12
Andreas Katsulas - May 18
Doug Wise - May 21
Douglas Netter - May 23
Paul Winfield - May 22
Roy Dotrice - May 26
Harlan Ellison - May 27

Have I missed anyone? If you know the birthday of someone connected with Babylon 5, pass the information along. We want to include everyone in our Happy Birthday Wishes.
MAIL FOR CAST AND CREW
Here's a recent note from JMS on the subject:

Just an FYI to those who've been using the Ventura Blvd. mail drop for fan mail to actors....

As mentioned before, we're phasing out the forwarding of fan mail because we a) don't have the resources, complicated by b) the actors have scattered to the four winds, and it makes it very difficult to get everything to everybody in a timely fashion.

So, having provided prior notice...fan mail to actors coming to the Ventura Blvd. mail drop will be sent back. Mail to actors should be sent via their official fan clubs. I will still be taking mail there, since it's my mailbox, but that's it.

Just so's y'all know and save a few bucks on postage and returns.

JMS' mail can be sent to:

14431 Ventura Boulevard, PMB 260
Sherman Oaks, CA 91423
BACK ISSUES OF THE ZOCALO TODAY
The front page of the The Zocalo Today changes daily, so be sure to check the back issues to make sure that you haven't missed anything IMPORTANT! I don't want the front page getting too long so I shift information periodically into the archives. So if you aren't a regular visitor to The Zocalo Today, be sure to check out the back issues. Just use the button above!
---
HELP!!!
NEW FLYER AVAILABLE: If you would like to take some flyers to a convention to help spread the word that The Zocalo is here and ready to provide you with information on everything Babylon 5 and Crusade! drop me a line. I'll be glad to send you some in the mail. I've created a PDF file that can be downloaded and printed. Flyer Thanks for helping to spread the word about The Z!

Take care and I look forward to hearing from you.
Sandra Bruckner (sgbruckner@aol.com)
Editor/Publisher
The Zocalo Today
http://www.isnnews.net
Copyright - SBruckner, 2001