[an error occurred while processing this directive]

The Zocalo Today

Welcome! I am REALLY glad you dropped by. Take your shoes off, get comfortable and stay a while. There is a LOT of information here for you to share.

The Zocalo Today is an interactive newsletter. We encourage interaction with our readers and like suggestions. So send them along. The Zocalo Today is as much YOUR newsletter as it is mine! I'm just pulling together things for you! Join our weekly discussion topic. It is just one way you can interact with other Z readers. Send along letters, sightings of B5 cast and crew in other projects, convention reports, photos, etc. Don't miss our back issues. As I said, there is a LOT of information contained there and you'll not want to miss anything.

If you have questions, drop me a line at sgbruckner@aol.com or b5web@aol.com. If you would like to join the mailing list for our bi-weekly newsletter, send me a note and I'll include you on the list. Or you can use the subscription block at the left.

Again, WELCOME!




What's New Today
June 7:

SCI-FI FRIDAY: Tonight is the big premiere of both STARGATE and FARSCAPE on SCIFI. Corin Nemec joins the STARGATE cast tonight as Jonas Quinn. His character was first introduced during season five in "Meridian" and it will be interesting to see how he melds with the already close-knit SG-1 team. Corin is one of the key interviews in this month's SCI-FI Magazine and he recently talkedto Sci-Fi Wire about joining the show. Quinn will have to prove himself during each mission -- and Nemec feels "the audience will be watching him just as closely and going, 'Can this guy really be worked in? How can he help?'" REDEMPTION (Part I) airs tonight; Part II will be shown next week.
---
RATINGS: Top 10 SF Network Shows: Alias 6.5; The X-Files 6.2; Touched by an Angel 5.0; Smallville 3.9; Enterprise 3.2; Charmed 3.2; Angel 3.1; Buffy 2.7; Sabrina 2.0, and Roswell 1.9. Source: Nielsen Galaxy Report, 5/6/02 - 5/12/02.
---
TAKEN: SCIFI will air a 30-second preview of Steven Spielberg's TAKEN miniseries tonight during STARGATE (second commercial break) and FARSCAPE (second commercial break). The trailer will feature never-before-seen footage from the upcoming 10-part, 20-hour miniseries, which chronicles 50 years of alien abductions in the lives of three families. Currently in production in Vancouver, B.C., Taken will air starting in December.
---
BIRDS OF PREY: The first cast photo for BIRDS OF PREY is now available at www.cinescape.com. When the show debuts on the WB, Ashley Scott plays Huntress, Dina Meyer (STARSHIP TROOPERS) plays Oracle and Rachel Skarsten plays the Black Canary.
---
SAY IT ISN'T SO!!! William Shatner will be in Key West on Friday, June 28, at the San Carlos Institute Theatre on Duval Street -- singing. Joining Shatner on stage will be Las Vegas veteran entertainer Brian Evans. I don't know if this is a serious attempt at reviving a vocal career -- I do remember "Mr. Tambourine Man".
---
MUTANT X: Production for season two of Mutant X began this week in Toronto. Tribune Entertainment's Seth Howard told Comics Continuium, "We have begun shooting 'Time Squared,' the first of the season, but (it) won't air first, and it is literally a blast from the past" . "We start shooting our second-season premiere 'Past as Prologue,' written by Howard Chaykin, on Friday. Gabriel Ashlocke is back and is faced with his own mortality. Wait until you see who he goes to for help!" Michael Easton, who plays Gabriel, has signed on to appear in three second-season episodes of Mutant X.
---
INSIDE SCIFI THIS WEEK:
June 6:
BUFFY: While out promoting her new SCOOBY DOO movie, Sarah Michelle Gellar said that she doesn't think Buffy would work as a feature movie. She is, however, very anxious to return to a happier Buffy in the coming year.
---
You can register to win the season two DVDs of Buffy over at http://tv.zap2it.com/shows/features/features.html?26341.
---
SPECIAL AUCTION: Looking for some terrific candid shots of some of your favorite stars? Here's something different. Michael J. Fox, Jodie Foster, Anthony Hopkins, Juliette Binoche and other international stars recently took 24 private photos of their favorite things and people on disposable camera. The photos will be part of a fundraiser to help the Paris-based press watchdog group Reporters Without Borders (RSF). Photos will go to the highest bidder in a special auction to be held on Wednesday, June 12. Visit rsf.org to place a bid.
---
DAREDEVIL: This is one movie that has already gotten considerable press! But then, the comic is great; Ben Affleck and Jennifer Garner aren't slouches either! MTV did a behind-the-scenes piece last night and you can see it and read their interview with Ben Affleck at http://www.mtv.com/onair/moviehouse/cameo/3/?epiNum=3. Very cool stuff.
---
HARRY POTTER: Harry Potter fans, stay tuned. Warner Bros. announced that a trailer for Harry Potter and the Chamber of Secrets will arrive in theaters June 14th, and will be available at HarryPotter.com starting June 11th.
---
STARGATE: In preparation for Stargate's premiere on SCIFI Friday, the original Stargate movie will be shown tonight at 9pm ET.
---
June 5: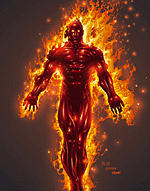 RISING STARS FILM: Yes, it just had to happen -- Rising Stars, The Movie. JMS wrote a draft script, but according to Spike Seldin, president of production for Top Cow comics, Anthony and Joe Russo have signed on to adapt the series to the big screen.
---
RATINGS: Top 10 SF Syndicated Series: The X-Files 3.0; Stargate SG-1 2.7; Andromeda 2.5; Mutant X 2.3; 3rd Rock 2.1; Buffy 2.1; John Edward 2.1; Relic Hunter 1.7; The Lost World 1.6, and Beastmaster 1.5. Source: Nielsen Galaxy Report, 5/6/02 - 5/12/02.
---
SHRINK: Variety reports that Columbia Pictures has optioned the idea of a therapist to superheroes -- and Jennifer Lopez will portray that therapist. Marvel's creator-illustrator Rob Liefeld came up with the idea and Columbia hopes to use recognizable superheroes in the same way that Shrek made use of familiar animated characters. Lopez's character was once a superhero herself, until a traumatic incident prompted her to shield that power. She finds herself in a love triangle between a villain and virtuous superbeings.
---
X-MEN 2: Kelly Hu from Scorpion King has joined the cast of Bryan Singer's X-Men sequel. The Hollywood Reporter indicates that Hu will star as the villainous Anne, a mutant with human emotions. Production on the sequel is scheduled to begin this month, with Ralph Winter, Lauren Shuler Donner and Avi Arad producing.
---
HARRY POTTER III: With Christopher Columbus pulling out of directing Harry Potter III, there is a short list of candidates waiting in the wings. Included on that list are Callie Khouri, Kenneth Branagh and Alfonso Cuaron, according to Newsweek magazine.
---
Speaking of Harry Potter, "Harry Potter and the Sorcerer's Stone" became the top-grossing first-week rental title of all time, earning an estimated $19.1 million after five days on video store shelves. The previous rental record holder was Universal Studios Home Video's January release of "The Fast and the Furious," starring Paul Walker and Vin Diesel, which earned an estimated $18.65 million during its debut week on rental shelves.
---
WITCHBLADE: Good News! The Hollywood Reporter indicates that according to unidentified sources, Witchblade's star, Yancy Butler, should be out of rehab and ready to continue production on the series starting Monday (June 10). Six of the 13 episodes have been completed so far, and it looks as though Butler will return in time to ensure a seamless season. This was a very gutsy move by Yancy Butler and we pass along their good wishes and prayers for her. She's terrific in the role and definitely gives it her all.
---
The WITCHBLADE site has been brought up to date with synopses of the season premiere and episodes one and two. Go to http://www.tnt.tv/Title/View6/0,10790,342634|526|558~,00.html for more information.
---
June 4:
HARRY POTTER II: Curious about the next Harry Potter movie? Then you'll not want to miss the June 7 issue of Entertainment Weekly. The magazine features several new photos from the upcoming sequel film Harry Potter and the Chamber of Secrets, based on the second of J.K. Rowling's best-selling novels. Many of the images are also found at EW.com including a look at Prof. Gilderoy Lockhart, played by Kenneth Branagh. Chamber is slated for a Nov. 15 release.
---
ALIAS: As the final curtain closed on season one of ALIAS, we heard Sydney Bristow tentatively recognize The Man, the shadowy mastermind on the other side as, Mom. When the new season begins, Academy Award nominee Lena Olin will be introduced as Sydney's mother. After almost 30 years, the two will be reunited, but we'll have to wait to see how it turns out. Olin has appeared in a number of movies, including "Enemies, A Love Story" for which she received an Oscar nomination. She also appeared in "The Unbearable Lightness of Being," "Romeo Must Die," "Chocolat" and "Queen of the Damned," among numerous other films. "Alias" will be her first TV series role.
---
STARGATE: Season Two DVDs will be released soon. An "Ultimate Edition" is also coming. Not sure what that is, but the cover art shows the movie version of Stargate with Kurt Russell and James Spader.
---
Speaking of Stargate, Don S. Davis, who so wonderfully portrays General George Hammond on the series, is featured this week at Prevue Magazine.
---
INDIANA JONES: Sounds as if Harrison Ford is doing a little detective work on his own! Ford was piloting his helicopter over New York City so that photographer Timothy White could take pictures of sites that suffer from the worst pollution. The duo are on the job for the environmental group Riverkeeper in an effort to help officials catch companies and people who are destroying the area with their misdeeds.
---
ALIAS - ELEKTRA: Comics Continuium has one of the first photos of Jennifer Garner as Elektra.
---
STAN LEE CHAT: If you belong to AOL, today you have a chance to talk with comic book legend Stan Lee. As part of Columbia's promotion of "Stan Lee's Mutants, Monsters & Marvels," Lee will be at AOL for a chat TODAY, June 4th at 4:30p.m. on AOL. Use the keyword: LIVE.
---
WITCHBLADE: In preparation for the second season, The WB will be airing the the first season finale, "Witchblade: Transcendence" on Sunday, June 9 at 7pm.
---
June 3:
STARGATE: Richard Dean Anderson ("Colonel Jack O'Neill") will be a guest on Live with Regis and Kelly on Friday, June 7. Check your local listings to see when and where the show airs in your area. RDA will be talking about the series moving to SCIFI for the sixth and possibly final season.
---
RATINGS: Top 10 SCIFI Channel Shows: Lost Voyage 1.5; The Thing 1.0; Highlander 2 1.0; Asteroid, Pt. 1 0.9; Interceptor Force 0.9; Asteroid, Pt. 2 0.9; Running Man 0.8; Prophecy 3 0.8; Fist of North Star 0.8, and Wing Commander 0.7. Source: Nielsen Galaxy Report, 5/6/02 - 5/12/02.
---
24: With the end of season one and the lack of repeats expected this summer, fans of this unusual thriller will have to wait until the second season begins to see what is in store for Jack Bauer and Senator Palmer. Executive Producer Robert Cochran said the death of Bauer's wife, Teri, in the season finale is permanent. But we have a lot to look forward to. Will Palmer make it to inauguration day? Is Nina actually a mole? Time will tell.
---
WEEKEND BOXOFFICE: THE SUM OF ALL FEARS knocked off Episode II of Star Wars, bringing in $31.2 million this weekend. The #2 and # 3 slots didn't do badly. 2. STAR WARS EPISODE II: ATTACK OF THE CLONES, pulled in $20.6 million this weekend, $232.0 million since opening. 3. SPIDER-MAN snagged another $14.5 million this weekend, $354.1 million since opening. 4. UNDERCOVER BROTHER, opened with $12.1 million this weekend and #5 SPIRIT: STALLION OF THE CIMARRON, collected $10.7 million this weekend, $38.2 million since opening.
---
WITCHBLADE: Over at http://www.comicscontinuum.com/stories/0206/03/index.htm there are some terrific photos from upcoming episodes of this original TNT series.
---
June 2:
Hope you enjoyed the movies as much as I did.
---
MEMORY LANE
Last night, I was looking through some old photos taken at conventions and during my B5 studio visits. It was great seeing some old friends again and I thought this might be a terrific summer project for everyone to participate in. How about sending in your favorite photo that we can post for everyone to share. If there's a story behind the photo, send that along as well. If you don't have the photo in electronic format to attach to your story, send that to me and I'll scan it for you -- and return your photo for safe keeping. If you have any questions, drop me a line at sgbruckner@aol.com. I'll start pulling together some of my own favorites and hope that others will follow soon. A new page should be up soon.
SCI-FI BOOKS ON SALE
Ranger Dave reports that Bruce Boxletner's book is still avaible at www.bookcloseouts.com . The site is awesome, with several titles by William Shater and heaps of SciFi and Fantasy books.
BABYLON 5 BOOK OF QUOTES
Here's a note from JMS regarding an upcoming project: It had to happen sooner or later...with so many message boards and posts asking "What's your favorite B5 quote?" a book of Babylon 5 quotes was inevitable. So "But In Purple I'm Stunning: Quotations from Babylon 5" is coming out from an independent publisher later this year. The book will also contain sections dedicated to fan choices for best/favorite quote. Fans of Babylon 5 are invited to send in their favorite quote, and why it's a favorite. The best of these emails will be culled for the book, and along the way this will determine the #1 favorite quote. In particular, the book will be looking for anecdotes/stories from fans about what a given quote, or what the show, meant to them in particular. There are a lot of people who have found comfort or meaning in the show, or found it helped them get through some of life's problems. (An example I sometimes cite at conventions was the young man dying of aids who asked his sister to put all of G'Kar's speeches about hope and never giving up on tape so he could listen to them at his bedside.) It needn't be a heavy story, just one that has meaning for the person involved, can be a funny story, whatever. Basically the goal is to find the intersection where the show and its message and its words touched people. All contributions will be considered free to use by virtue of being submitted for this project. So if you have such an anecdote/story/message about a favorite quote or the show in general, send it to the following address (rather than replying to this, since I'll just have to forward it on in any event): b5quotes@yahoo.ca
JEREMIAH ON SHOWTIME - FRIDAY AT 10:45PM
"Ring of Truth," a new episode of Jeremiah, will air on Showtime on Friday at 10:45 p.m. The episode is described as:

"An encounter with a lost elephant and a fist fight for a woman's freedom involve Jeremiah and Kurdy in a circus and in helping the woman re-connect with her estranged daughter."

"Ring of Truth" was written by Sam Egan and directed by Ken Girotti. For more information about this episode and the entire series, be sure to visit www.jeremiah.tv. For an update on where JMS is going with Jeremiah, visit the Jeremiah Page here at The Zocalo. For those of you who want to keep up on what is going on with Jeremiah, Ranger Monica has started up a Jeremiah newsletter. Please go to http://groups.yahoo.com/group/jeremiah-news/ and subscribe. Monica also has a very nice Jeremiah site so don't forget to bookmark that as well.
KEEPING UP WITH CAST AND CREW
MELISSA GILBERT: Melissa hosts "Adoption: Real Families, Real Stories", a Hallmark Channel's first-ever original series. This one-hour, non-scripted reality show, airs Sundays at 8 p.m. (ET), follows two different families per episode as they go through the often challenging, frustrating ut ultimately rewarding adoption process. Melissa says, "I was adopted at birth and made to feel very special because of it. Today, I am the mother and step-mother of four, and I know that there are many ways to make a family."
---
JASON CARTER/RICHARD BIGGS: The Biggs & Carter EXPERIENCES is coming to Origins this year. The conveniton is scheduled to occur over the 4th of July weekend. If you've seen these two guys together, you know having them in the same room is a BLAST. If you're in the neighborhood, you'll not want to miss this! See the convention calendar for details.
---
ANDREA THOMPSON: Andrea Thompson recently left her high-visibility anchor position as a news reader for CNN Headline News. She will host a new two-hour Saturday programming block on Court TV. The new block debuts June 8, replacing the Perry Mason programming Court has been running in the time period. Court TV is attempting to lure a younger audience. The block, which will air under the tentative banner of "Follow Your Intuition," will consist of two episodes of "Forensic Files" and a one-hour documentary.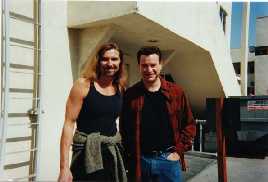 ROBIN ATKIN DOWNES: Robin is just having TOO much fun these days. He's been doing a ton of voice over work. Listen next time you hear commercials for Bandai, Washington Mutual, Freyfus, Earthlink. He's finished up an episode of HBO's Arliss and will be completing a movie, HIGH VOLTAGE, with William DeVane and Richard Kind soon. He's even working on a music CD. I'll be putting more pictures from Robin out in the Photo Gallery, so keep an eye out.
---
UNIQUE CHARITY ITEM
Ten popular science fiction actors have donated their time, images and autographs for an exclusive photograph, the proceeds of which will go to charity. For sale through the actors themselves and at , the limited-edition photo is in color, edged in white and ready to place in an 11X14 frame, and handsigned. Each of the 1,000 limited edition photos comes embossed with a seal of authenticity and numbered. The photograph is now available for a pre-sale price of $100. After Sept 11, 2002, the price will go up to at least $125.00. Among the charities to benefit will be the Penny Lane home for abused children in Los Angeles, and various September 11 funds. The actors hope to raise more than $100,000 through the charity project. The Penny Lane Home is a residential facility for children who have been severely abused, physically, emotionally and sexually. Many have "fallen through the cracks" of the social service outreach programs, and Penny Lane is their last chance at escaping the abuse. Actors in the photo include: Patricia Tallman, known best for her roles as Lyta Alexander in Babylon 5 and Barbara in Night of the Living Dead (1990) Vaughn Armstrong, who has portrayed more guest star aliens on Star Trek:TNG, DS9 and Voyager than any other actor in Star Trek history. Currently, he holds the recurring role of Admiral Maxwell Forrest on Enterprise, as well as at least eight other Guest Starring roles on board the new Trek series to date. Stephen Austin portrayed many bizarre alien creatures on Babylon 5. His most notable was the lovable Pak'ma'ra Ambassador. David Brooks is an accomplished artist as well as actor. He is best known to the sci fi community as Max Eilerson on the Babylon 5 spin off, Crusade. Jeffrey Willerth portrayed Ambassador Kosh and was Associate Producer of Babylon 5 Robin Atkin Downes, best known for his role of Byron in Babylon 5 Carrie Dobro, Dureena Nafeel in Crusade. Tim Choate was extremely popular on B5 as Zathras (and his brothers, all named Zathras). He also portrayed Pollack on Crusade. Beata Pozniak appeared as Babylon 5's Earth Alliance President Luchenko. Ed Wasser, the evil Mr. Morden on Babylon 5. As a special promotion, the first 100 orders will receive a special gift: former Star Trek stunt coordinator, Dennis Madalone, has donated 100 copies of his single, "America, We Stand As One," to say thank you to the science fiction fans who purchase the charity photograph. To order the photo online, go to http://www.thegalacticgateway.com, click on shop, and search on the word charity.
SCI FI PUBLICATIONS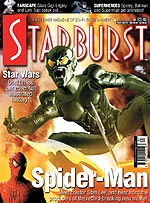 Starburst #287: Spiderman has been climbing the lader of highest grossing pictures of all time. In this issue, Starburst talks to Stan Lee, creator of Spiderman. This issue also brings you Gigi Edgley and Lani Tupu from Farscape, more on the saga of Star Wars and a look at animated adventures of Batman, Superman and Wonder Woman.







Cult Times #81: The end of X-Files has dominated most magazines for the last two months. Cult Times talks with the newest members, Annabeth Gish and Cary Elwes to get their take on the series. Also in this issue, Anthony Stewart Head talks about his time away from Buffy; Will Snow talks about his adventures in "Lost World" and Alexis Denisof provides a little insight into upcoming Angel episodes.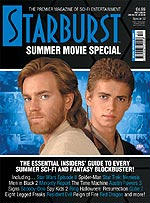 Starburst Special #52: This Summer Movie Special focuses on all the movies available for viewing pleasure this summer. Star Wars gets considerable attention, but you'll also find Spiderman, Men in Black II, Minority Report, Signs, Star Trek Nemesis, Scooby-Doo and others.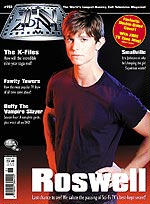 TV Zone #151: This issue marks the passing of Roswell. There are two covers -- one with Max; one with Liz. Inside you'll find a full expisode guide, a look at nine years of X-Files, a chat with Eric Johnson from Smallville and much more.
Expose #68: Kirsten Dunst talks about playing Mary Jane on Spiderman; working with Tobey Maguire and James Franco. Also inside you'll find articles about Adam Rodriguez from Roswell, Sabrina's Melissa Joan Hart and Lost World's Rachel Blakely.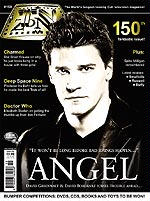 TV Zone #150: David Boreanaz and Producer David Greenwalt chat about what lies ahead for "Angel". Also in this issue: Ira Steven Behr talks about Deep Space Nine; Elisabeth Sladen talks about her role on Dr. Who and Brian Krause gives us some insight into his "Leo" on Charmed.
SCI-FI SCHEDULE
BABYLON 5's Schedule:
10-JUN-02 5:00 PM BABYLON 5 (LBX) CONVICTIONS
11-JUN-02 5:00 PM BABYLON 5 (LBX) A DAY IN THE STRIFE
12-JUN-02 5:00 PM BABYLON 5 (LBX) PASSING THROUGH GETHSEMANE
13-JUN-02 5:00 PM BABYLON 5 (LBX) VOICES OF AUTHORITY
17-JUN-02 5:00 PM BABYLON 5 (LBX) DUST TO DUST
18-JUN-02 5:00 PM BABYLON 5 (LBX) EXOGENSIS
19-JUN-02 5:00 PM BABYLON 5 (LBX) MESSAGES FROM EARTH
20-JUN-02 5:00 PM BABYLON 5 (LBX) POINT OF NO RETURN
24-JUN-02 5:00 PM BABYLON 5 (LBX) SEVERED DREAMS
25-JUN-02 5:00 PM BABYLON 5 (LBX) CEREMONIES OF LIGHT AND DARK
26-JUN-02 5:00 PM BABYLON 5 (LBX) SIC TRANSIT VIR
27-JUN-02 5:00 PM BABYLON 5 (LBX) A LATE DELIVERY FROM AVALON
BABYLON 5 IN THE UK
Ranger Stephen reports that Babylon 5 has moved to Bravo (Sky Digital channel 124, selected cable companies), where I think they'll be showing it at 8pm.
BABYLON 5/CRUSADE PHOTOSHOP
NEW PHOTOS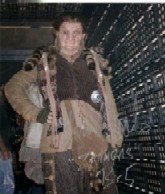 You do NOT have to pay the prices asked for over at e-bay! Here are photos of B5 and Crusade cast members at fantastic prices. Check out Photo Shop. Ordering is easy -- and you can't beat the prices! Just let me know which photos you want and I'll check to make sure they are still in stock.
---
BABYLON 5 TOONS
John Cook has a new cartoon contest going. Try your hand at a punch line.



NEW B5 TOON
Ranger Bill created this toon for his website www.wondertemp.com, but wanted to share it with readers here at the Zocalo. Thanks Bill.



READER DIRECTORY
Sometimes you just can't find the e-mail address for someone you know you have -- it's someone who responded to a discussion topic or you met in one of the chat rooms. You'd like to send a personal note, but .... No address!!!!

We've started a White Pages of Zocalo Readers! It's a handy way of keeping track of people -- and putting together a birthday/greeting card list as well. If you would like to be part of the listing, just send me your name, state, e-mail address and (if you'd like to have it listed) birthday (without year) to sgbruckner@aol.com. Check out the Directory of Readers.

HAPPY BIRTHDAY

Here are some of our readers who are having birthdays this month:

Name: Sandra Bruckner
E-mail: sgbruckner@aol.com
Birthday: June 2

Name: Melody Pritchard
E-mail: mockinbird_21@yahoo.com
Birthday: June 9

Name: David Shepherdson
E-mail address: dragonrider@clara.co.uk
Birthday: 14th June

Name: Marilyn Strauss
E-mail:
Birthday: June 1
BABYLON 5 REFERENCE PAGES
The Official Babylon 5 Magazine is indexed here as well. With the closure of the magazine in May, you'll want to see which magazines you have -- and which ones you will want to collect. The index may help you make a decision on which ones to choose. The Fan Club has many of the issues at thestation.com , making it very easy to complete your collection.

Universe Today -- the Babylon 5 Fan Club quarterly can also be found here. The index gives you a rundown of what articles were presented, what interviews published.

If you have magazines that have featured Babylon 5 or Crusade that are not listed, send along their issue number and a note to indicate what the article was about. It would be nice to have a fairly comprehensive listing of Babylon 5 publications here.

I have added a listing of all the Babylon 5 novels and now the B5 comic books to the reference page. If there are other items that you feel should be included, let me know.
MAILING LISTS
REDEMPTION: Ranger Steve reports that a new discussion group has been created for the upcoming REDEMPTION convention. Redemption 03, 21-23 February 2003, Ashford, Kent, Celebrating 25 years of Blake's 7 and 10 years of Babylon 5. www.smof.com/redemption.
NW-B5
NW-B5 is a mailing list devoted to bringing critical information to the Vancouver Island, Lower Mainland, and Northern Washington areas. More specifically, anyone north of Seattle. B5 is broadcast on SPACE:TIS in Canada, and Sci-Fi channel in the US. By subscribing to nw-b5, you'll be able to know info bringing you up to date on the current scheduling and events happening in the community related to B5. You'll also be subscribed to the list itself, which means that you'll receive email when there is a scheduling change or critical information needs to go out to you (for example, if we need to start another mailing campaign).

For further information, see http://www.nw-b5.com
John Francis
Webmaster, Listowner, and Co-Moderator
mailto:nw-b5@iname.com

Reports of "The Gathering" are beginning to turn up on the list. John posted a mini-report, with photos, over at http://www.geocities.com/jnf.geo/nw-b5/gathered.htm#0501. You may want to check it out. It was a terrific event in which JMS showed clips from "Legend of the Rangers". Most of the cast was in attendance -- a great group of individuals.
BABYLON 5 DISCUSSION LIST
The Babylon 5 discussion mailing list is for any and all discussions and/or news pertaining to or related to Babylon 5 and/or Crusade. The list has been in existence for the past three years now, and has recently moved. The new location is http://lists.apparition.org/cgi-bin/lyris.pl, and you can subscribe by sending a blank e-mail message to join-babylon_5-l@lists.apparition.org.
THE GALACTIC GATEWAY
Here's a unique site for you! Jeffrey Willerth, Patricia Tallman, Mira Furlan, Claudia Christian, Robin Atkin Downes, Rick Biggs, Jerry Doyle, Bruce Boxleitner, Melissa Gilbert, Peter Jurasik, Bill Mumy and Carrie Dobro are under it's umbrella. Actors from other shows have joined the Gateway. Ted Raimi and Robert Trebor from Xena and Hercules are now at GG. To subscribe to a mailing list for GG, send a blank note to thegalacticgateway-subscribe@egroups.com.
GATEWAY CHATTERS
There is never enough time to keep in touch with friends! To help out, a mailing list has been started for chatters over at the Galactic Gateway. If you are interested in joining, send a blank note to gateway-chatter-subscribe@egroups.com.
GATEWAY TRADER
Are you looking for a particular Babylon 5 collectible? Do you have some items you'd like to trade? Then this is the list for you. To join, send a blank note to gateway-trader-subscribe@egroups.com.
CALLING ALL ARTISTS
The Art Gallery at The Zocalo Today is open. There are SO MANY talented people in our Babylon 5 community. We have enjoyed works by Todd Brugman and Tye Bourdony on our toons page, but there are a host of others who enjoy drawing, painting, sketching their favorite characters. Here are a few works that have been received. I have some others that will be added soon.

If you would like to share your work with us at The Zocalo Today, please send along a digital photo of your work and I'll begin putting the gallery together. If you do not have your work in digital format, drop me a note and we'll see what we can work out.
CALLING ALL CLUBS
There are a number of fabulous Babylon 5/Crusade Clubs around the world. I'd like to begin listing them here on The Zocalo Today. Eric dropped me a note the other day providing information about a Club in France. I know there are other clubs in Brazil, Germany, Russia -- and who knows how many here in the US. Let's get a listing together. Perhaps we can share resources, even get together as we travel around. Drop the information about your Club to me at sgbruckner@aol.com or bruckner@isnnews.net. That information will be added to the new B5 Fan Club Listing.
BABYLON 5 FAN CLUB
Netter Digital filed for bankruptcy in July of 2000 and all their worldly posessions were auctioned off on December 7. The B5 Fan Club site, Thestation.com and it's store, the Emporium, has been closed.
BABYLON 5 NEWSLETTERS
If you have a newsletter you'd like to have listed at The Zocalo Today, send the information along. It will be posted on the B5 Fan Club/Newsletter page.

Ranger Shane in North Carolina sent in the following note about their "Jumpgate" newsletter.

Hey Sandy! Just wanted to give you an update on the NC B5 group's newsletter, Jumpgate. There's now a dedicated EMail address for submissions - jumpgatemag@bellsouth.net - and any submissions, solicited or un-, can be sent to this address. Also, issues are available for free download at the URL at the bottom of this message.

Jumpgate - The Newsletter of the North Carolina Babylon 5 Fan Club
Shane Killian, Editor
HELP WANTED
A new HELP WANTED section has been added to the Z. If you need help finding a comic book, getting a special item, etc. here's the place to post a note. Just send whatever help you need to thezocalo@aol.com.
---
BABYLON 5/CRUSADE CONVENTIONS
CONVENTION CALENDAR
Slanted Fedora, Boston Area
June 7-9, 2002
Place: Sheraton Framingham - Tara
Framingham, MA
B5 Guest: Stephen Austin
For more information, visit their website at http://www.sfedora.com.
---
Slanted Fedora, Chicago Area
June 21-23, 2002
Place: Radisson Hotel O'Hare
Rosemont, IL
B5 Guest: Stephen Austin
For more information, visit their website at http://www.sfedora.com.
---
Origins
July 4-7, 2002
Place: Greater Columbus Convention Center
Columbus, Ohio
B5 Guest: Carrie Dobro, Bill Blair, Rick Biggs, Jason Carter
For more information, visit their website at http://www.originsgames.com.
---
Toronto Trek
July 5-7, 2002
Place: Regal Constellation Hotel
Toronto, CA
B5 Guest: Peter Woodward
For more information, visit their website at http://www.tcon.icomm.ca/tt16.
---
Shore Leave 24
July 12-14, 2002
Place: Hunt Valley Marriott Inn (410) 785-7000
Baltimore, MD
B5 Guest: Richard Biggs, Jason Carter, Julie Caitlin Brown
For more information, visit their website at http://www.shore-leave.com.
---
New Worlds Con
July 13-14, 2002, Leipzig, Germany
Place: Treff Hotel Leipzig
B5 Guest: Ed Wasser
For more information, visit their website at http://www.newworldscon.de.
---
Vulkon Tampa
July 19-21, 2002
Place: Tampa Airport Hilton Westshore
Tampa, FL
B5 Guest: Julie Caitlin Brown
For more information, visit their website at http://www.vulkon.com.
---
Be sure to visit our Convention Calendar for a full listing of upcoming conventions featuring Babylon 5, Crusade and Legend of the Rangers cast members as guests.
ZOCALO TRADING POST
Do you have extra copies of B5, Amazing Spiderman, Midnight Nation or Rising Stars comics you'd like to trade? How about those extra trading cards or B5 magazines? There are a lot of fans looking for these items -- and the Trading Post can help you buy or sell them. To see what's available, just use this link to the Trading Post. To have items included in The Trading Post, send a note to The Zocalo. Please put Trading Post in the subject line.
Pen Pals
If you are looking for someone to talk about Babylon 5 and Crusade with, the Pen Pal section is for you! Check it out! Drop a note to someone who is feeling B5 withdrawal -- BIG TIME!

People thought a Pen Pal page was a good idea. If you would like to meet people who you could chat with or share your opinions of the show with, send along your e-mail or snail-mail address The Zocalo. It will be incorporated on the new Pen Page Page.
BABYLON 5 BIRTHDAYS
Jeffrey Willerth - June 5
Donovan Brown (Optic Nerve) - June 6
Ann Bruice Aling - June 8
Mark Walters - June 10
Susan Norkin (Post) - June 10
Adrienne Barbeau (Amanda Carter) - June 11
Mike Vejar - June 25 Have I missed anyone? If you know the birthday of someone connected with Babylon 5, pass the information along. We want to include everyone in our Happy Birthday Wishes.
MAIL FOR CAST AND CREW
Here's a recent note from JMS on the subject:

Just an FYI to those who've been using the Ventura Blvd. mail drop for fan mail to actors....

As mentioned before, we're phasing out the forwarding of fan mail because we a) don't have the resources, complicated by b) the actors have scattered to the four winds, and it makes it very difficult to get everything to everybody in a timely fashion.

So, having provided prior notice...fan mail to actors coming to the Ventura Blvd. mail drop will be sent back. Mail to actors should be sent via their official fan clubs. I will still be taking mail there, since it's my mailbox, but that's it.

Just so's y'all know and save a few bucks on postage and returns.

JMS' mail can be sent to:

14431 Ventura Boulevard, PMB 260
Sherman Oaks, CA 91423

WARNER BROS:

Warner Bros. Address:

Warner Bros. Domestic Television Distribution
4000 Warner Blvd.
Burbank, CA 91522

Warner Home Video:

Mr. Douglas Wadleigh
VP for Marketing and Special Features
Warner Bros.
4000 Warner Blvd.
Burbank, CA 91522

SCIFI:
Bonnie Hammer, President
Sci-Fi Channel
1230 Avenue of the Americas
New York, NY. 10020-1513

Mr. Thomas Vitale
Senior VP of Acquisitions, Scheduling & Program-Planning
BACK ISSUES OF THE ZOCALO TODAY
The front page of the The Zocalo Today changes daily, so be sure to check the back issues to make sure that you haven't missed anything IMPORTANT! I don't want the front page getting too long so I shift information periodically into the archives. So if you aren't a regular visitor to The Zocalo Today, be sure to check out the back issues. Just use the button above!
---
Take care and I look forward to hearing from you.
Sandra Bruckner (sgbruckner@aol.com)
Editor/Publisher
The Zocalo Today
http://www.isnnews.net
Copyright - SBruckner, 2002