[an error occurred while processing this directive]

The Zocalo Today

Welcome! I am REALLY glad you dropped by. Take your shoes off, get comfortable and stay a while. There is a LOT of information here for you to share.

The Zocalo Today is an interactive newsletter. We encourage interaction with our readers and like suggestions. So send them along. The Zocalo Today is as much YOUR newsletter as it is mine! I'm just pulling together things for you! Join our weekly discussion topic. It is just one way you can interact with other Z readers. Send along letters, sightings of B5 cast and crew in other projects, convention reports, photos, etc. Don't miss our back issues. As I said, there is a LOT of information contained there and you'll not want to miss anything.

If you have questions, drop me a line at sgbruckner@aol.com or b5web@aol.com. If you would like to join the mailing list for our bi-weekly newsletter, send me a note and I'll include you on the list. Or you can use the subscription block at the left.

Again, WELCOME!




What's New Today
Friday, August 16: RATINGS: Top 10 SF Network Shows: Touched by an Angel 4.7; Smallville 2.2; The X-Files 1.6; Sabrina 1.6; Enterprise 1.3; Charmed 1.3; Angel 1.2; Buffy 1.1; Mysterious Ways 0.6, and Twice in a Lifetime 0.3. Source: Nielsen Galaxy Report, 7/15/02 - 7/21/02.
---
SIMONE: Opening on August 28, Andrew Niccol describes his new film as "a modern fairy tale, a modern telling of Pygmalion or Frankenstein." In SIMONE, Al Pacino plays a frustrated movie director who uses "the Holy Grail of software" to invent the title character, a radiantly beautiful artificial actress. She's part pixels and part flesh and blood, but I won't tell you which parts are which."
---
BIONIC WOMAN: Yes, Jamie Summers may be on her way to the 21st Century! A note in the Hollywood Reporter indicates that USA Cable Entertainment is developing a remake of Universal TV's 1976 series "The Bionic Woman" for USA Network with producers Team Todd attached to executive produce. USA Network executive vp for series and longform programming Jeff Wachtel said. "One thing that's special about it that is different than our existing series is it's really an action show, and that's something we're looking for."
---
SMALLVILLE: Over at the WB, we were left hanging with the season finale of SMALLVILLE. The second season is set to begin on September 24 with an episode called "Vortex." The episode picks up from the cliffhangers of the first-season finale, "Tempest," when tornadoes hit Smallville. "Vortex" is written by executive producers Alfred Gough and Miles Millar. Over at ComicsContinuum you can find 10 images from the episode.
---
BIRDS OF PREY: The official website for BIRDS OF PREY at http://www.thewb.com/Shows/Show/0,7353,||1002,00.html has been updated with new images. It also indicates that the series permiere on October 9 will run an extra 10 minutes!
---
LOONEY TUNES: As reported the other day, production has started on a new LOONEY TUNES: BACK IN ACTION feature film. Variety reports that Timothy Dalton has signed on to portray Brendan Fraser's father. The cast also now includes Jenna Elfman and Heather Locklear.
---
INSIDE SCIFI THIS WEEK:
Thursday, August 15:
B5 DVD: More news about the upcoming release of the Babylon 5 Season 1 DVD. A new flash presentation is available for your viewing pleasure at http://www.whvdirect.com/babylon5/index.html. Listening to the opening musical sequence and seeing the graphics is worth the click! Read more from JMS on the release as well in the B5 DVD section below.
---
X-MEN-2: Ian McKellan is keeping fans informed as much as he can about the new production. On his website, he wrote, "Everyone who reads the script for the new film comments on how much action there is in it -- this may not end up being the dominant feature of the finished movie, rather that descriptions of action in screenplays tend to be long-winded and excitingly written-up a) to satisfy those like me who can't easily translate a script into images and b) to give the stunt department detailed warning of what will be required of them." Speaking of X-MEN 2, word has come forth that British thespian Brian Cox has signed on to play William Stryker in X-Men 2, joining a villainous corps that includes fellow newcomer Anne (Kelly Hu) and holdovers Magneto (Ian McKellen) and Mystique (Rebecca Romijn-Stamos).
---
THE RING: THE RING, a new horror/thriller from THE MEXICANís Gore Verbinski starring Naomi Watts (MULHOLLAND DRIVE) and Brian Cox (SUPERTROOPERS, X-MEN 2) has hit the web. The film revolves around a reporter following some strange doings in rural New England. The film hits screens October 18. The trailer can be seen at http://www.dreamworks.com/thering/main.html.
---
PRAGUE FLOODING: Prague has become a favorite town for film makers. It offers fairly inexpensive labor and an "Old World" look that could double for London or Paris. However, this week, rains have brought the city to it's knees. Flooding began Tuesday and some 50,000 people had to be evacuated from the city -- including Sean Connery who was staying at the Four Seasons hotel while filming THE LEAGUE OF EXTRAORDINARY GENTLEMEN. Ed Burns was also evacuated from a set on an island in the Vltava River where his A SOUND OF THUNDER movie was under production. Both film schedules will be affected by the flooding. Damage to GENTLEMAN sets was more extensive. A submarine set was submerged under 5 feet of water, and another set under construction outside the city was washed out as well.
---
IN SEARCH OF .... In October, SCIFI will air eight new episodes of IN SEARCH OF ...., the classic investigative documentary series. Hosted by X-Files' Mitch Pileggi, the one-hour show airs on Friday at 8 p.m. ET starting Oct. 11. The episodes are produced by Sci Fi parent USA Cable Entertainment.
---
NEMESIS: There was a lot of speculation a while back when word came that Wesley Crusher would return in the upcoming Star Trek movie, NEMESIS. Wil Wheton posted a note on his website yesterday indicating that his segment in the movie had been cut, along with 48 minutes of cuts to the film.
---
24 MARATHON: Beginning at midnight on Sunday, September 1, FX presents a 24-Hour Labor Day marathon of FOX's EMMY Nominated Series "24". The marathon will end at midnight. On Labor Day Fox Home Entertainment will release a six-disc collector's edition DVD of "24". The second season of 24 begins on Tuesday, October 29 At 9:00 PM ET/PT.
---
MUTANT X: San Diego Comi-Con International had a HUGE number of people presenting panel discussions. John Shea (Adam), Victoria Pratt (Shalimar), Forbes March (Jesse), and Lauren Lee Smith (Emma) spoke about what we can expect as the series enters it's second season. John Shea said, "One of the best things about the Mutant X world is that it's changing, it's mutating, it is evolving. The Sanctuary, where we all hang out, is transformed. I won't tell you exactly how. But stuff is gone. The world that was so completely clean-surfaced is now littered with real life. The world of Genomex that you know is no longer that much of a threat. So what happened in the time between Season 1 and Season 2 is that we were able to rethink our environment. We redesigned everything. We've changed things around to make it much more like real life." For more, go to http://www.comicscontinuum.com/stories/0208/15/index.htm. Wednesday, August 14:
RATINGS: Top 10 SF Syndicated Series: 3rd Rock 2.3; Stargate SG-1 2.1; The X-Files 2.1; Buffy 2.0; John Edward 2.0; Andromeda 1.7; Beastmaster 1.7; The Lost World 1.6; Mutant X 1.6, and Relic Hunter 1.6. Source: Nielsen Galaxy Report, 7/15/02 - 7/21/02.
---
STARGATE: While busy signing autographs at Comi-Con International in San Diego, Corin Nemec was asked about fan reaction to his character. Nemec's character, Jonas Quinn, came to the series as Michael Shanks (Daniel Jackson) left the series to pursue other projects. Nemec says that fans have embraced his character for the most part. They miss Daniel Jackson, but he said, "Ultimately the main point in the character is to have him be able to bring something to the show that is new and also to be a member of the team and to bring something to the team that is also new."
---
SPIDERMAN: With the HUGE success of the Spiderman movie, Columbia TriStar Domestic Television Family Entertainment is producing a new animated series in Vancouver for MTV. Mainframe Entertainment will provide the show's computer animation, which they describe as a combination of state-of-the-art CG imaging, processed in a classic feature-animation style, with bright, lively abstract colors, including a seemingly realistic neon-lit city of the immediate future. Neil Patrick Harris (Peter Parker/Spider-Man), Lisa Loeb (Mary Jane Watson) and Ian Ziering (Harry Osborn) have been cast as the voice talent for the new show.
---
TOMB RAIDER: The sequel to TOMB RAIDER finally has a name LARA CROFT: TOMB RAIDER: THE CRADLE OF LIFE. Shooting for the movie begins in September and Gerald Butler (DRACULA 2000, the upcoming TIMELINE) has signed on to play an ex-lover of Angelina Jolie who joins her on the adventure trail, in order to help her complete her latest mission.
---
XENA: You'll be able to see Lucy Lawless this year on a new episode of BERNIE MAC. Matt Damon also appears in the episode, which has Damon and Lawless appearing as themselves, set at a cutthroat celebrity golf match pitting Mac against Damon.
---
Tuesday, August 13:
DRAGONCON: Just got an update on the guest list for DRAGONCON in Atlanta, August 30-September 2. Here's the rundown: Andreas Katsulas, Richard Biggs, Patricia Tallman, Jason Carter, Andrea Thompson, Tracy Scoggins, Julie Caitlin Brown, Stephen Austin, Sarah Douglas, Julia Nickson, Peter Woodward and David Allen Brooks. Cool!<
---
SUPERMAN VS. BATMAN: There was a lot of speculation a few weeks back when word came out from Warner Bros. that Wolfgang Petersen would be directing BATMAN VS. SUPERMAN starting in January, 2003. Unfortunatel, the Hollywood Reporter now indicates that Peterson will direct his attention first to TROY, a story set against the Trojan War, is based on Homersí THE ILIAD.
---
DAREDEVIL: A new poster has been issued for the new DAREDEVIL movie. Not a lot here, however everyone is waiting for the two new trailers promised for September. You can see the poster at http://superherohype.com/.
---
WITCHBLADE: After a rocky start, WITCHBLADE is coming into the home stretch for it's second season. This year, some interesting guests have come to the show. Last night's episode, "Parabolic" featured Eric Roberts; next week "Palindrome," marks the return of Australian actor Kim De Lury, who played Conchobar, a strapping Irish musician who turned out to be a lover from Sara's past. What lies ahead? The season finale, "Ubique," airs on Monday, Aug. 26, preceded by a marathon of all the previous episodes on Sunday, Aug. 25. Executive Producer Ralph Hemecker indicates that he should hear by early September if there will be a season three of "Witchblade." If there is, he says, "The theme of next season ... we would probably be dealing with more ancient mysteries and how they relate to the Witchblade."
---
JASON PRIESTLEY: Fantastic news! Doctors indicate that he does not have any injury that shouldn't fully recover. Many will remember Jason from Beverly Hills: 90210, but he starred in JEREMIAH just last weekend. Priestley was injured yesterday when his race car slammed into a wall during a practice run at a Kentucky Speedway.
---
LOONEY TUNES: Joe Dante has begun production on the project, Looney Tunes: Back in Action, a combination live-action, animated film slated for release in November 2003. Jenna Elfman (Dharma & Greg) has signed on to star opposite Brendan Fraser, Bugs Bunny, Daffy Duck and the rest of the gang.
---
Monday, August 12:
RATINGS: Top 10 SF Channel Shows: Stargate SG-1 1.5; Amityville Horror 1.3; Sometimes Come Back 1.2; Farscape 1.2; Living Dead 3 1.1; Amityville II 1.0; Beyond Belief 1.0; Living Dead 2 1.0; Amityville III 0.9, and Cujo 0.9. Source: Nielsen Galaxy Report, 7/15/02 - 7/21/02.
---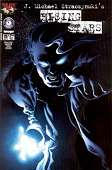 RISING STARS #19: With the series coming to a close in a short three issues, JMS has started to really crank things up. While the last issue "Enough Said" was purely graphic based, this issue brings a lot more into focus. For a review of the latest issue, go to http://www.cinescape.com/0/editorial.asp?aff_id=0&this_cat=Comics&action=page&obj_id=35768.
---
DIE ANOTHER DAY: Another sharp poster has been released for the upcoming James Bond movie, DIE ANOTHER DAY. You can catch a glimpse of that and a lot of other things over at http://www.jamesbond.com/bond20/index.php.
---
WEEKEND BOX OFFICE: Vin Diesel's XXX, as expected, captured the #1 spot this weekend. While bringing in $46 million, it didn't knock off SIGNS as the big money movie for the month. Moving to the #2 slot this week, SIGNS brought in a very respectable $30 million. Here are the numbers for the remainder: 1. XXX, $46.0 million this weekend, 2. SIGNS, $30.0 million this weekend, $118.3 million since opening; 3. SPY KIDS 2: ISLAND OF LOST DREAMS, $17.0 million this weekend, $25.3 million since opening; 4. AUSTIN POWERS IN GOLDMEMBER, $13.1 million this weekend, $167.8 million since opening and 5. BLOOD WORK, $7.2 million this weekend.
---
JASON PRIESTLEY: Jason Priestley, seen this past weekend in an episode of JEREMIAH, was seriously injured Sunday when he crashed his race car head-on into a wall during a warmup for the Indy Racing Infiniti Pro Series at Kentucky Speedway. Priestley was listed in serious condition at the University of Kentucky Medical Center in Lexington, where racing officials said he was "stable and responding". The Indy medical director Henry Bock said Priestley suffered a closed head injury, as well as fractures to both of his feet and a fracture to his thoracic spine. He was expected to undergo tests at the hospital, where he had been airlifted following the accident.
---
Sunday, August 11:
KICK BACK: It's Sunday -- a day to kick back, veg-out and enjoy the weather! Talk to you all tomorrow!
---
Saturday, August 10: RATINGS: Top 10 SF Network Shows: Touched by an Angel 4.8; Alias 2.8; Smallville 2.2; The X-Files 1.6; Enterprise 1.4; Sabrina 1.4; Buffy 1.3; Charmed 1.1; Angel 1.0, and Mysterious Ways 0.6. Source: Nielsen Galaxy Report, 7/8/02 - 7/14/02.
---
BABYLON 5 MOVIES: The SCIFI schedule has THIRDSPACE, RIVER OF SOULS AND LEGEND OF THE RANGERS on the schedule for Sept. 9, 10 and 11 at 9pm ET.
---
STARGATE: What can I say? I love Richard Dean Anderson -- have since McGyver! So here's some welcome news from SCIFI. They promised us that they would begin running STARGATE from the beginning in the fall. Well, fall is nearly here and the latest schedule at SCIFI indicates that there is a LOT of STARGATE in our futures.
Starting September 6, two episodes of STARGATE will be shown on Friday nights. The first two are "Descent" and "Frozen". On September 13, we'll see "Nightwalker" and "Allegiance". On September 20, it will be "The Cure" and "Prometheus - Part 1". These are all season six episodes. On September 27, SCIFI will begin a Chain Reaction of Season Six episodes beginning at 6pm and running thru 3am. On September 30, Season ONE episodes begin:

7:00pm ET CHILDREN OF THE GODS - PART 1
8:00pm ET CHILDREN OF THE GODS - PART 2
9:00pm ET THE ENEMY WITHIN
10:00pm ET EMANCIPATION

We'll have to wait for the October schedule to be released to see where on the schedule STARGATE will be placed for season one thru four episodes. Season 5 episodes will not be available until next year.
---
JAMES BOND: Have you ever wanted to read ALL of the James Bond books -- especially after watching the latest movie version of the novels written by Ian Fleming? Well, you are in luck. Many of the books have been out of print for years, but Penguin Publishing is stepping to save the day! They will be publishing all of the Fleming novels beginning with CASINO ROYALE, August 27, with GOLDFINGER and DR. NO slated to follow. The publisher has committed to releasing all of Fleming original Bond stories after that.
---
ANGEL: More shake-ups on the ANGEL lot. David Simkins, recently hired to be the show-runner after the departure of co-creator David Greenwalt, has also left the series. The parting of ways is due to "creative differences," according to a spokesman for producing studio 20th Century Fox. No replacement has been named as yet.
---
WITCHBLADE: Though he is a native Austrlian, Kim de Lury guest-starred as Irish folk singer Conchobar in the first season of Witchblade. He will be returning to the series in "Palindrome", an episode to air on August 19 on TNT. The network's description of the episode follows: "Danny (Will Yun Lee) and Jake (David Chokachi) go undercover to investigate a fight club incident that turns deadly. Sara (Yancy Butler) is drawn to one of the fight club members (de Lury), with a hunch that he holds a mysterious and emotionally overwhelming connection to her past." The episode was written by Roderick Taylor and Bruce Taylor and directed by Paul Holahan.
---
Friday, August 9: JMS UPDATE: Just a JMS tidbit from the B5 moderated newsgroup:
The new Spidey title will start somewhere in January or February, and the new secret project I'm doing for them will be out sometime in the fall/winter. Here's hoping JMS can give us more details soon.
---
WEEKEND MOVIES: Another big weekend ahead for the box office. Vin Diesel's XXX and Clint Eastwood's BLOOD WORK look to be winners this weekend. XXX is being characterized as the James Bond of the new millenium. We'll see.
---
FCC RULING: A big ruling by the Federal Communications Commission yesterday. They voted 3 to 1 to require television manufacturers to include digital tuners on new sets by July 2007. Digital tuners would allow the sets to receive over-the-air digital signals. Current signals are distributed over analog lines. Congress could reclaim analog broadcast airwaves for redistribution to mobile telephone companies for advanced services, which would raise billions of dollars for the government.
---
SMALLVILLE: The WB conducted a panel at Comic-Con International last weekend and executive producers Al Gough and Miles Millar provided a number of insights into the first season as well as dropping hints about the second, which starts on Sept. 24. Without giving you any spoilers, they said, "The Kryptonite freak of the week aspect of the show will be minimized from the first season." "We want to explore more of Lex's past," Gough said. "He's such an intriguing sort of character and Michael (Rosenbaum) does such a wonderful job with it. We want to do more with Lex and his life before he came to Smallville."
---
DAREDEVIL: When Marvel announced their Second Quarter results, Marvel Studios' Avi Arad mentioned that you can expected the full trailer for Daredevil in September. He also said that they are already working on the sequel for the film as well.
---
CHARLIE'S ANGELS 2: Demi Moore is returning to making movies after a hiatus. She'll play a villan in the upcoming CHARLIE'S ANGELS sequel.
DISCUSSION TOPIC:
What do you think of science fiction (TV, movies, books) today? Is it better, worse, too much on effects -- not enough on plot? What shows/movies/books are YOUR favorites? Why? Send in your responses to thezocalo@aol.com or b5@aol.com. I'll post them on the Discussion Page later this week.
SEASON ONE BABYLON 5 DVDs
Warner Home Video (R1) released a Flash presentation for the "B5" Season 1 DVDs. In addition to the extras that JMS has already mentioned (2 episode commentaries, new cast and crew interviews as part of a new documentary, an on-camera interview and on-camera introduction with JMS) the set will include the "Making of" documentary produced for the Season 1 kick-off and hosted by Walter Koenig. Go to http://www.whvdirect.com/babylon5/index.html to read more! Here's an update from JMS on the DVD special items:
The disk has an on-camera introduction by me (despite my warnings that this would undoubtedly drive down sales), a letter of introduction each by me and Doug Netter, and the half-hour piece features new interviews with Rick Biggs, Stephen Furst, me, Doug, efx maven Mitch Suskin, makeup whiz John Vulich, and others. They're tentatively targeting next April for season 2, and the following November for season 3. AWESOME! This is the cover artwork for the first season DVD for Babylon 5. I think it is outstanding and can't wait to see it distributed in the US. Word is that the UK will get it first -- as usual -- on October 14. GREAT PRICE: You can pre-order the Season 1 DVD over at www.amazon.com for $74.99. The release date for North America is November 5. JMS has said that "Season One will be out in a boxed set this Fall, and they're going to be including at minimum two commentaries from me, probably on Signs and Portents and Chrysalis (it's a matter of how much time and energy I can give to it given that there's no fees involved and I'm in the midst of Jeremiah), and if possible, Babylon Squared, maybe Sky Full of Stars. They'd also like to film an on-camera intro by me (but I guess folks will buy it anyway, even with that particular horror included).
JEREMIAH ON SHOWTIME - FRIDAY AT 10:45PM
This week, tune into the repeat airing of "To Sail Beyond the Stars". Jeremiah (Luke Perry) faces a deadly renegade group called the Burners while falling in love with Claire (Melissa Crider), a woman who dreams of sailing across the ocean. Meanwhile, Kurdy (Malcolm-Jamal Warner) befriends a pregnant woman and delivers her baby. This episode is written by J. Michael Straczynski and directed by Neill Fearnley (Witchblade). JEREMIAH SCHEDULE AHEAD:
08/16/02
Jeremiah: To Sail Beyond the Stars 08/23/02
Jeremiah: The Bag 08/30/02
Jeremiah: City Of Roses 09/06/02
Jeremiah: Firewall 09/13/02
Jeremiah: The Red Kiss For more information about this episode and the entire series, be sure to visit www.sho.com/jeremiah. For those of you who want to keep up on what is going on with Jeremiah, Ranger Monica has started up a Jeremiah newsletter. Please go to http://groups.yahoo.com/group/jeremiah-news/ and subscribe. Monica also has a very nice Jeremiah site so don't forget to bookmark that as well.
KEEPING UP WITH CAST AND CREW
MELISSA GILBERT: According to The Hollywood Reporter, Melissa Gilbert, Screen Actors Guild president, has inked a deal with RKO Pictures to executive produce and star in a remake of the 1957 feature "All Mine to Give" for television. Based on a true story, "All Mine" chronicles the life of a hardworking husband and wife who emigrate from Scotland to Wisconsin in the 1850s and have six children. After the untimely death of his mother, the eldest boy, 12, must find a home for his brothers and sisters in time for Christmas. Gilbert is set to play the mother. She will executive produce the remake with RKO chairman and CEO Ted Hartley. Producers are now looking for a writer for the project, which will be pitched to broadcast networks. The original film was penned by Katherine Albert and Dale Eunson. At RKO, the TV movie will be overseen by vp production Peter Morgan. The deal was negotiated by RKO senior vp business affairs and general counsel Adam Rosen. Gilbert, who recently starred in the CBS telefilms "Sanctuary" and "A Vision of Murder: The Story of Donielle," is repped by WMA and manager Marc Schwartz.
---
CARRIE DOBRO: Carrie has just finished a huge project -- it's a 23-minute short film project entitled PICKETS. Starring Oscar Winner Ray McKinnon (The Accountant, O Brother Where Art Thou), John Short (Apollo 13, Diggstown) and Barry Lynch (Desert Hawk, Sleepstalker), the story takes place in "1864 - the last summer of the Civil War. A truce is called between three exhausted soldiers in the dead of night. Although wary of each other, an unlikely friendship forms, until the reality of war crashes in to rip their bond apart." Carrie has been working with her production company and the film is now being submitted to film festivals around the world.
---
STEPHEN FURST: While driving into the office yesterday, I heard a commercial by STEPHEN FURST. Stephen, as you know, is a diabetic. He is trying to raise awareness of the disease and it's link to cardiovascular disease. It's a very important message.
---
JEFFREY WILLERTH: Jeffrey will be a writer/producer for a new HGTV series entitled GROUND RULES set to air in 2003. The series pits neighbors against each other in an eight-hour challenge to out-landscape their respective properties with $1000 worth of supplies, plants and decorations. Jeffrey has also signed on with former B5 First Assistant Director John Radulovic as visual effects coordinator on X-MEN 2. Work on this feature film will begin as soon as the HGTV show wraps.
---
GARY COLE: While Tim Curry is getting a lot more play for his role as Mr. French on the upcoming remake of FAMILY AFFAIR, Gary Cole has the part of Uncle Bill -- not easy to fill the shoes of Brian Keith on this family show.
---
UNIQUE CHARITY ITEM
Ten popular science fiction actors have donated their time, images and autographs for an exclusive photograph, the proceeds of which will go to charity. For sale through the actors themselves and at , the limited-edition photo is in color, edged in white and ready to place in an 11X14 frame, and handsigned. Each of the 1,000 limited edition photos comes embossed with a seal of authenticity and numbered. The photograph is now available for a pre-sale price of $100. After Sept 11, 2002, the price will go up to at least $125.00. Among the charities to benefit will be the Penny Lane home for abused children in Los Angeles, and various September 11 funds. The actors hope to raise more than $100,000 through the charity project. The Penny Lane Home is a residential facility for children who have been severely abused, physically, emotionally and sexually. Many have "fallen through the cracks" of the social service outreach programs, and Penny Lane is their last chance at escaping the abuse. Actors in the photo include: Patricia Tallman, known best for her roles as Lyta Alexander in Babylon 5 and Barbara in Night of the Living Dead (1990) Vaughn Armstrong, who has portrayed more guest star aliens on Star Trek:TNG, DS9 and Voyager than any other actor in Star Trek history. Currently, he holds the recurring role of Admiral Maxwell Forrest on Enterprise, as well as at least eight other Guest Starring roles on board the new Trek series to date. Stephen Austin portrayed many bizarre alien creatures on Babylon 5. His most notable was the lovable Pak'ma'ra Ambassador. David Brooks is an accomplished artist as well as actor. He is best known to the sci fi community as Max Eilerson on the Babylon 5 spin off, Crusade. Jeffrey Willerth portrayed Ambassador Kosh and was Associate Producer of Babylon 5 Robin Atkin Downes, best known for his role of Byron in Babylon 5 Carrie Dobro, Dureena Nafeel in Crusade. Tim Choate was extremely popular on B5 as Zathras (and his brothers, all named Zathras). He also portrayed Pollack on Crusade. Beata Pozniak appeared as Babylon 5's Earth Alliance President Luchenko. Ed Wasser, the evil Mr. Morden on Babylon 5. As a special promotion, the first 100 orders will receive a special gift: former Star Trek stunt coordinator, Dennis Madalone, has donated 100 copies of his single, "America, We Stand As One," to say thank you to the science fiction fans who purchase the charity photograph. To order the photo online, go to http://www.thegalacticgateway.com, click on shop, and search on the word charity.
COMIC BOOK WORLD
RISING STARS: #19 The latest issue is on stands now. For reviews of the book, go to http://www.zentertainment.com/comicreviews.php?op=showcontent&id=470. SPOILER INFORMATION BELOW: The government's come up with a Special weapon that eliminates our heroes' powers, forcing most of them into hiding. But as there's another three issues before this series concludes, it's doubtful they'll stay in hiding for long.
---
Speaking of RISING STARS, Volume #1 of the series has been out for a while. Volume #2 is now available. If you missed any of the single issues of the series, you'll want to pick up the graphic novels that include 8 issues in a single bound copy.
---
AMAZING SPIDERMAN: Issue #43 is on news stands this week.
SCI FI PUBLICATIONS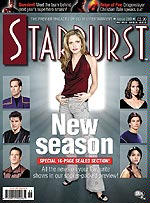 Starburst #289: What lies ahead for us as the new season approaches? What will Buffy & Angel have to offer? Will BIRDS OF PREY be a good representation of the comic book? Also the magazine looks at upcoming movies, like DAREDEVIL. Ben Affleck and Jennifer Garner should make an interesting match!







Expose #70: The cover of this month's issue is pretty gruesome -- with a picture of a spider from EIGHT LEGGED FREAKS starring Kari Wuhrer and David Arquette. Dean Devlin talks about some of the other titles they considered using for the film. Stephen Spielberg & Tom Cruise talk about MINORITY REPORT.
Cult Times #83: Majandra Delfino, Maria from ROSWELL, talks about her time on the show. Farscape's newcomer, Raelee Hill, joins the Moya crew as technical genius Sikozu and Gordon Michael Woolvett foreshadows what will be happening to Harper this year on ANDROMEDA.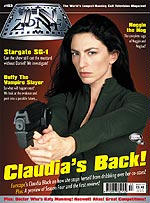 TV Zone #153: FARSCAPE fans are happy to see Claudia Black return to the series as Aeryn Sun. In this issue, we'll get a preview of season four plus chat with Claudia. Stargate SG-1 has started season six on SCIFI with a bang. Why is it so good? This issue has a discussion -- looking at the series from the beginning..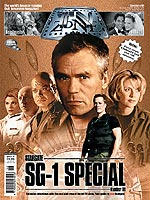 TV Zone Special #46: It's about time Stargate SG-1 started getting some respect and the press it has deserved for quite some time! In this special issue, the magazine talks to all the cast members, looks at production design, make-up and stunts. There is also interviews with Tony Amendola, Carmen argenziano and Peter Stebbings (yes you know him from Jeremiah now!).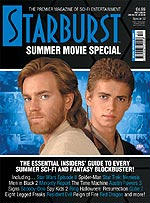 Starburst Special #52: This Summer Movie Special focuses on all the movies available for viewing pleasure this summer. Star Wars gets considerable attention, but you'll also find Spiderman, Men in Black II, Minority Report, Signs, Star Trek Nemesis, Scooby-Doo and others.
BABYLON 5 BOOK OF QUOTES
Here's a note from JMS regarding an upcoming project: It had to happen sooner or later...with so many message boards and posts asking "What's your favorite B5 quote?" a book of Babylon 5 quotes was inevitable. So "But In Purple I'm Stunning: Quotations from Babylon 5" is coming out from an independent publisher later this year. The book will also contain sections dedicated to fan choices for best/favorite quote. Fans of Babylon 5 are invited to send in their favorite quote, and why it's a favorite. The best of these emails will be culled for the book, and along the way this will determine the #1 favorite quote. In particular, the book will be looking for anecdotes/stories from fans about what a given quote, or what the show, meant to them in particular. There are a lot of people who have found comfort or meaning in the show, or found it helped them get through some of life's problems. (An example I sometimes cite at conventions was the young man dying of aids who asked his sister to put all of G'Kar's speeches about hope and never giving up on tape so he could listen to them at his bedside.) It needn't be a heavy story, just one that has meaning for the person involved, can be a funny story, whatever. Basically the goal is to find the intersection where the show and its message and its words touched people. All contributions will be considered free to use by virtue of being submitted for this project. So if you have such an anecdote/story/message about a favorite quote or the show in general, send it to the following address (rather than replying to this, since I'll just have to forward it on in any event): b5quotes@yahoo.ca
SCI-FI SCHEDULE
BABYLON 5's Schedule:

19-AUG-02 5:00 PM BABYLON 5 (LBX) BETWEEN THE DARKNESS AND THE LIGHT
20-AUG-02 5:00 PM BABYLON 5 (LBX) ENDGAME
21-AUG-02 5:00 PM BABYLON 5 (LBX) RISING STAR
22-AUG-02 5:00 PM BABYLON 5 (LBX) THE DECONSTRUCTION OF FALLING STARS

26-AUG-02 5:00 PM BABYLON 5 (LBX) NO COMPROMISES
27-AUG-02 5:00 PM BABYLON 5 (LBX) THE VERY LONG NIGHT OF LONDO MOLLARI
28-AUG-02 5:00 PM BABYLON 5 (LBX) THE PARAGON OF ANIMALS
29-AUG-02 5:00 PM BABYLON 5 (LBX) A VIEW FROM THE GALLERY 03-SEP-02 5:00 PM BABYLON 5 (LBX) LEARNING CURVE
04-SEP-02 5:00 PM BABYLON 5 (LBX) STRANGE RELATIONS
05-SEP-02 5:00 PM BABYLON 5 (LBX) SECRETS OF THE SOUL 09-SEP-02 5:00 PM BABYLON 5 (LBX) IN THE KINGDOM OF THE BLIND
10-SEP-02 5:00 PM BABYLON 5 (LBX) A TRAGEDY OF TELEPATHS
11-SEP-02 5:00 PM BABYLON 5 (LBX) THE RAGGED EDGE
12-SEP-02 5:00 PM BABYLON 5 (LBX) PHOENIX RISING 16-SEP-02 5:00 PM BABYLON 5 (LBX) DAY OF THE DEAD
17-SEP-02 5:00 PM BABYLON 5 (LBX) THE CORPS IS MOTHER, THE CORPS IS FATHER
18-SEP-02 5:00 PM BABYLON 5 (LBX) MEDITATIONS ON THE ABYSS
19-SEP-02 5:00 PM BABYLON 5 (LBX) DAERKNESS ASCENDING
20-SEP-02 5:00 PM BABYLON 5 (LBX) AND ALL MY DREAMS, TORN ASUNDER 23-SEP-02 5:00 PM BABYLON 5 (LBX) MOVEMENTS OF FIRE AND SHADOW
24-SEP-02 5:00 PM BABYLON 5 (LBX) THE FALL OF CENTAURI PRIME
25-SEP-02 5:00 PM BABYLON 5 (LBX) THE WHEEL OF FIRE
26-SEP-02 5:00 PM BABYLON 5 (LBX) OBJECTS IN MOTION
27-SEP-02 5:00 PM BABYLON 5 (LBX) OBJECTS AT REST 30-SEP-02 5:00 PM BABYLON 5 (LBX) SLEEPING IN LIGHT
BABYLON 5 MOVIES ON SCIFI
09-SEP-02 9:00 PM SCINEMA FEATURE BABYLON 5: THIRDSPACE (LBX)
10-SEP-02 9:00 PM SCINEMA FEATURE BABYLON 5: RIVER OF SOULS (LBX)
11-SEP-02 9:00 PM SCI FI PICTURES BABYLON 5: LEGEND OF THE RANGERS (LBX)
BABYLON 5 IN THE UK
Ranger Stephen reports that Babylon 5 has moved to Bravo (Sky Digital channel 124, selected cable companies), where I think they'll be showing it at 8pm.
BABYLON 5/CRUSADE PHOTOSHOP
NEW PHOTOS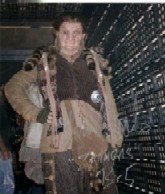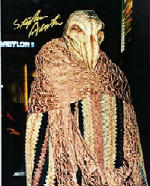 You do NOT have to pay the prices asked for over at e-bay! Here are photos of B5 and Crusade cast members at fantastic prices. Check out Photo Shop. Ordering is easy -- and you can't beat the prices! Just let me know which photos you want and I'll check to make sure they are still in stock.
---
BABYLON 5 TOONS
John Cook has a new cartoon contest going. Try your hand at a punch line.



NEW B5 TOON
Ranger Bill created this toon for his website www.wondertemp.com, but wanted to share it with readers here at the Zocalo. Thanks Bill.



READER DIRECTORY
Sometimes you just can't find the e-mail address for someone you know you have -- it's someone who responded to a discussion topic or you met in one of the chat rooms. You'd like to send a personal note, but .... No address!!!!

We've started a White Pages of Zocalo Readers! It's a handy way of keeping track of people -- and putting together a birthday/greeting card list as well. If you would like to be part of the listing, just send me your name, state, e-mail address and (if you'd like to have it listed) birthday (without year) to sgbruckner@aol.com. Check out the Directory of Readers.

HAPPY BIRTHDAY

Here are some of our readers who are having birthdays this month:

Name: Michael Antol
State: Georgia
email: michaeljohn338@yahoo.com
Birthday: August 7

Name: Captain Average
E-mail address: captain.average@home.com
Birthday: August 18

Name: gkarfan (Tammy Smith)
State: California
E-Mail: gkarfan@webtv.net
Birthday: Aug. 30

Name: Colin White
State: North Carolina
E-mail: colinwhite@mymailstation.com
Birthday: Aug. 20
BABYLON 5 REFERENCE PAGES
The Official Babylon 5 Magazine is indexed here as well. With the closure of the magazine in May, you'll want to see which magazines you have -- and which ones you will want to collect. The index may help you make a decision on which ones to choose. The Fan Club has many of the issues at thestation.com , making it very easy to complete your collection.

Universe Today -- the Babylon 5 Fan Club quarterly can also be found here. The index gives you a rundown of what articles were presented, what interviews published.

If you have magazines that have featured Babylon 5 or Crusade that are not listed, send along their issue number and a note to indicate what the article was about. It would be nice to have a fairly comprehensive listing of Babylon 5 publications here.

I have added a listing of all the Babylon 5 novels and now the B5 comic books to the reference page. If there are other items that you feel should be included, let me know.
MAILING LISTS
REDEMPTION: Ranger Steve reports that a new discussion group has been created for the upcoming REDEMPTION convention. Redemption 03, 21-23 February 2003, Ashford, Kent, Celebrating 25 years of Blake's 7 and 10 years of Babylon 5. www.smof.com/redemption.
NW-B5
NW-B5 is a mailing list devoted to bringing critical information to the Vancouver Island, Lower Mainland, and Northern Washington areas. More specifically, anyone north of Seattle. B5 is broadcast on SPACE:TIS in Canada, and Sci-Fi channel in the US. By subscribing to nw-b5, you'll be able to know info bringing you up to date on the current scheduling and events happening in the community related to B5. You'll also be subscribed to the list itself, which means that you'll receive email when there is a scheduling change or critical information needs to go out to you (for example, if we need to start another mailing campaign).

For further information, see http://www.nw-b5.com
John Francis
Webmaster, Listowner, and Co-Moderator
mailto:nw-b5@iname.com

Reports of "The Gathering" are beginning to turn up on the list. John posted a mini-report, with photos, over at http://www.geocities.com/jnf.geo/nw-b5/gathered.htm#0501. You may want to check it out. It was a terrific event in which JMS showed clips from "Legend of the Rangers". Most of the cast was in attendance -- a great group of individuals.
BABYLON 5 DISCUSSION LIST
The Babylon 5 discussion mailing list is for any and all discussions and/or news pertaining to or related to Babylon 5 and/or Crusade. The list has been in existence for the past three years now, and has recently moved. The new location is http://lists.apparition.org/cgi-bin/lyris.pl, and you can subscribe by sending a blank e-mail message to join-babylon_5-l@lists.apparition.org.
THE GALACTIC GATEWAY
Here's a unique site for you! Jeffrey Willerth, Patricia Tallman, Mira Furlan, Claudia Christian, Robin Atkin Downes, Rick Biggs, Jerry Doyle, Bruce Boxleitner, Melissa Gilbert, Peter Jurasik, Bill Mumy and Carrie Dobro are under it's umbrella. Actors from other shows have joined the Gateway. Ted Raimi and Robert Trebor from Xena and Hercules are now at GG. To subscribe to a mailing list for GG, send a blank note to thegalacticgateway-subscribe@egroups.com.
GATEWAY CHATTERS
There is never enough time to keep in touch with friends! To help out, a mailing list has been started for chatters over at the Galactic Gateway. If you are interested in joining, send a blank note to gateway-chatter-subscribe@egroups.com.
GATEWAY TRADER
Are you looking for a particular Babylon 5 collectible? Do you have some items you'd like to trade? Then this is the list for you. To join, send a blank note to gateway-trader-subscribe@egroups.com.
CALLING ALL ARTISTS
The Art Gallery at The Zocalo Today is open. There are SO MANY talented people in our Babylon 5 community. We have enjoyed works by Todd Brugman and Tye Bourdony on our toons page, but there are a host of others who enjoy drawing, painting, sketching their favorite characters. Here are a few works that have been received. I have some others that will be added soon.

If you would like to share your work with us at The Zocalo Today, please send along a digital photo of your work and I'll begin putting the gallery together. If you do not have your work in digital format, drop me a note and we'll see what we can work out.
CALLING ALL CLUBS
There are a number of fabulous Babylon 5/Crusade Clubs around the world. Visit the B5 Fan Club page to see if there is a club near you. If you have a club that you would like to have listed, drop the information about your Club to me at sgbruckner@aol.com or bruckner@isnnews.net. That information will be added to the new B5 Fan Club Listing.

Massimo has sent an update for the B5 Fan Club in Italy. Founded in 1995, the club now has 230 members! In Italy, they have just seen the last two episodes from season five! Membership in the club includes: the club card, a poster, a personalized pen and four number of ISN Network the fanzine published by the club. The cost is Euro 20 for an year in Italy. Interested? Contact Massimo at mmartini@italway.it.
BABYLON 5 FAN CLUB
Netter Digital filed for bankruptcy in July of 2000 and all their worldly posessions were auctioned off on December 7. The B5 Fan Club site, Thestation.com and it's store, the Emporium, has been closed.
BABYLON 5 NEWSLETTERS
If you have a newsletter you'd like to have listed at The Zocalo Today, send the information along. It will be posted on the B5 Fan Club/Newsletter page.

Ranger Shane in North Carolina sent in the following note about their "Jumpgate" newsletter.

Hey Sandy! Just wanted to give you an update on the NC B5 group's newsletter, Jumpgate. There's now a dedicated EMail address for submissions - jumpgatemag@bellsouth.net - and any submissions, solicited or un-, can be sent to this address. Also, issues are available for free download at the URL at the bottom of this message.

Jumpgate - The Newsletter of the North Carolina Babylon 5 Fan Club
Shane Killian, Editor
HELP WANTED
A new HELP WANTED section has been added to the Z. If you need help finding a comic book, getting a special item, etc. here's the place to post a note. Just send whatever help you need to thezocalo@aol.com.
---
BABYLON 5/CRUSADE CONVENTIONS
CONVENTION CALENDAR
Slanted Fedora, Washington, DC Area
August 16-18, 2002
Place: The Doubletree Hotel-Crystal City
Arlington, VA
B5 Guest: Stephen Austin
For more information, visit their website at http://www.sfedora.com.
---
Slanted Fedora, Philadelphia Area
August 23-25, 2002
Place: Philadelphia Adam's Mark Hotel
B5 Guest: Stephen Austin
For more information, visit their website at http://www.sfedora.com.
---
Dragoncon
August 30-Sept. 2, 2002
Place: Atlanta, GA
B5 Guests: Andreas Katsulas, Richard Biggs, Patricia Tallman, Jason Carter, Andrea Thompson, Tracy Scoggins, Julie Caitlin Brown, Stephen Austin, Sarah Douglas, Julia Nickson, Peter Woodward and David Allen Brooks.
For more information, visit their website at http://www.dragoncon.org/.
---
Maquis Gras 2002
October 4-6, 2002
Place: Ramada Inn, Portage, Indiana
B5 Guest: Bill Blair
For more information, visit their website at http://www.maquis.com/mfa/gras1.htm.
---
Point North
October 5-6, 2002
Place: Salem Civic Center
Salem, VA
B5 Guest: Stephen Austin
For more information, visit their website at http://www.point-north.com.
---
Slanted Fedora, Raleigh Area
October 11-13, 2002
Place: Durham Marriott
B5 Guest: Stephen Austin
For more information, visit their website at http://www.sfedora.com.
---
JVL-CON 2002
October 24-27, 2002
Jainesville, Wisconsin
Place: Ramada Inn
B5 Guest: Stephen Austin
For more information, visit their website at www.si-fi-nut.com .
---
BEST OF BOTH WORLDS
October 26-27, 2002
Sydney, Australia
B5 Guests: Andreas Katsulas, Claudia Christian, Jerry Doyle, Stephen Austin
For more information, visit their website at www.bobw.com.au .
---
Be sure to visit our Convention Calendar for a full listing of upcoming conventions featuring Babylon 5, Crusade and Legend of the Rangers cast members as guests.
ZOCALO TRADING POST
Do you have extra copies of B5, Amazing Spiderman, Midnight Nation or Rising Stars comics you'd like to trade? How about those extra trading cards or B5 magazines? There are a lot of fans looking for these items -- and the Trading Post can help you buy or sell them. To see what's available, just use this link to the Trading Post. To have items included in The Trading Post, send a note to The Zocalo. Please put Trading Post in the subject line.
Pen Pals
If you are looking for someone to talk about Babylon 5 and Crusade with, the Pen Pal section is for you! Check it out! Drop a note to someone who is feeling B5 withdrawal -- BIG TIME!

People thought a Pen Pal page was a good idea. If you would like to meet people who you could chat with or share your opinions of the show with, send along your e-mail or snail-mail address The Zocalo. It will be incorporated on the new Pen Page Page.
BABYLON 5 BIRTHDAYS
Claudia Christian - August 10
Stephen Austin - August 11
Tim Earls - August 15
Nancy Tarczynski - August 16
Skip Beaudine - August 26 Have I missed anyone? If you know the birthday of someone connected with Babylon 5, pass the information along. We want to include everyone in our Happy Birthday Wishes.
MAIL FOR CAST AND CREW
Here's a recent note from JMS on the subject:

Just an FYI to those who've been using the Ventura Blvd. mail drop for fan mail to actors....

As mentioned before, we're phasing out the forwarding of fan mail because we a) don't have the resources, complicated by b) the actors have scattered to the four winds, and it makes it very difficult to get everything to everybody in a timely fashion.

So, having provided prior notice...fan mail to actors coming to the Ventura Blvd. mail drop will be sent back. Mail to actors should be sent via their official fan clubs. I will still be taking mail there, since it's my mailbox, but that's it.

Just so's y'all know and save a few bucks on postage and returns.

JMS' mail can be sent to:

14431 Ventura Boulevard, PMB 260
Sherman Oaks, CA 91423

WARNER BROS:

Warner Bros. Address:

Warner Bros. Domestic Television Distribution
4000 Warner Blvd.
Burbank, CA 91522

Warner Home Video:

Mr. Douglas Wadleigh
VP for Marketing and Special Features
Warner Bros.
4000 Warner Blvd.
Burbank, CA 91522

SCIFI:
Bonnie Hammer, President
Sci-Fi Channel
1230 Avenue of the Americas
New York, NY. 10020-1513

Mr. Thomas Vitale
Senior VP of Acquisitions, Scheduling & Program-Planning
BACK ISSUES OF THE ZOCALO TODAY
The front page of the The Zocalo Today changes daily, so be sure to check the back issues to make sure that you haven't missed anything IMPORTANT! I don't want the front page getting too long so I shift information periodically into the archives. So if you aren't a regular visitor to The Zocalo Today, be sure to check out the back issues. Just use the button above!
---
Take care and I look forward to hearing from you.
Sandra Bruckner (sgbruckner@aol.com)
Editor/Publisher
The Zocalo Today
http://www.isnnews.net
Copyright - SBruckner, 2002