[an error occurred while processing this directive]

The Zocalo Today

Welcome! I am REALLY glad you dropped by. Take your shoes off, get comfortable and stay a while. There is a LOT of information here for you to share.

The Zocalo Today is an interactive newsletter. We encourage interaction with our readers and like suggestions. So send them along. The Zocalo Today is as much YOUR newsletter as it is mine! I'm just pulling together things for you! Join our weekly discussion topic. It is just one way you can interact with other Z readers. Send along letters, sightings of B5 cast and crew in other projects, convention reports, photos, etc. Don't miss our back issues. As I said, there is a LOT of information contained there and you'll not want to miss anything.

If you have questions, drop me a line at sgbruckner@aol.com or b5web@aol.com. If you would like to join the mailing list for our bi-weekly newsletter, send me a note and I'll include you on the list. Or you can use the subscription block at the left.

Again, WELCOME!




What's New Today
Friday, August 9: JMS UPDATE: Just a JMS tidbit from the B5 moderated newsgroup:
The new Spidey title will start somewhere in January or February, and the new secret project I'm doing for them will be out sometime in the fall/winter. Here's hoping JMS can give us more details soon.
---
WEEKEND MOVIES: Another big weekend ahead for the box office. Vin Diesel's XXX and Clint Eastwood's BLOOD WORK look to be winners this weekend. XXX is being characterized as the James Bond of the new millenium. We'll see.
---
FCC RULING: A big ruling by the Federal Communications Commission yesterday. They voted 3 to 1 to require television manufacturers to include digital tuners on new sets by July 2007. Digital tuners would allow the sets to receive over-the-air digital signals. Current signals are distributed over analog lines. Congress could reclaim analog broadcast airwaves for redistribution to mobile telephone companies for advanced services, which would raise billions of dollars for the government.
---
SMALLVILLE: The WB conducted a panel at Comic-Con International last weekend and executive producers Al Gough and Miles Millar provided a number of insights into the first season as well as dropping hints about the second, which starts on Sept. 24. Without giving you any spoilers, they said, "The Kryptonite freak of the week aspect of the show will be minimized from the first season." "We want to explore more of Lex's past," Gough said. "He's such an intriguing sort of character and Michael (Rosenbaum) does such a wonderful job with it. We want to do more with Lex and his life before he came to Smallville."
---
DAREDEVIL: When Marvel announced their Second Quarter results, Marvel Studios' Avi Arad mentioned that you can expected the full trailer for Daredevil in September. He also said that they are already working on the sequel for the film as well.
---
CHARLIE'S ANGELS 2: Demi Moore is returning to making movies after a hiatus. She'll play a villan in the upcoming CHARLIE'S ANGELS sequel.
INSIDE SCIFI THIS WEEK:
Thursday, August 8:
EISNER AWARD: Congratulations to JMS for winning the Will Eisner award for Best Serialized Story. Amazing Spider-Man #30-35: "Coming Home." JMS shares the award with John Romita Jr., and Scott Hanna (Marvel).
---
FIREFLY: Kathie Huddleston does a terrific job of interviewing Joss Whedon for SCIFI. They talk about FIREFLY, BUFFY and ANGEL, as well as the new animated BUFFY so don't miss it at http://www.scifi.com/scifimag/october2002/transcripts/index.html.
---
THE CORE: Oscar-winning actress Hilary Swank stars in the upcoming SF thriller film THE CORE. This is her first foray into science fiction, but she said during a panel at Comic-Con International in San Diego, "I like science-fiction movies, but I never really saw myself being drawn to them artistically as an actor, because there wasn't necessarily things in them that I could really relate to. And I felt that the writing in this made it a really real story. So all the kinds of special effects that go along with it are something that could really conceivably happen." THE CORE follows an elite team of experts who travel to the center of the Earth in an attempt to correct a shift in the rotation of the Earth's core.
---
LORD OF THE RINGS: If you are waiting to buy the LORD OF THE RINGS DVD, you may want to mark December 18 on your calendar! On that date, the DVD release of THE LORD OF THE RINGS: THE FELLOWSHIP OF THE RING containing a 10-minute preview of the upcoming sequel, THE TWO TOWERS, with interviews with cast and crew and behind-the-scenes footage of the making of the epic will be released. The DVD is on sale now; The Two Towers opens in theaters December 18.
---
BUFFY - INTERACTIVE GAME: Production has begun at Fox Interactives on a new BUFFY THE VAMPIRE SLAYER game! Electronic Arts made the announcement, indicating the game will be released on August 19th for the Xbox console and features characters and locales from the popular TV show. It should retail for $49.99.
---
CONVENTION DATE CHANGES: If you were planning to go to Las Vegas in September to see Jerry, Bill and Stephen at the Slanted Fedora convention, watch this space. Over at SyFyPortal , they announced that the convention has been postponed until the last week of February 2003. The SFedora website indicates the new dates are February 20-23.
---
COMIC BOOK SALE: Actor Nicolas Cage plans to sell his comic-book collection at the Dallas ComiCon convention in October. What makes this a special item? Cage's collection includes about 400 comics, including the one with the first appearance of Superman.
---
DEAD ZONE: With news of renewal for a second season, Anthony Michael Hall, the star and co-producer of the TV series told Fangoria that Sean Patrick (YOUNG INDIANA JONES CHRONICLES) Flanery is joining the cast for the season finale as Greg Stillson in an episode entitled "Destiny." Stillson will be a recurring role into the second season and perhaps longer as his political campaign for office continues and Johnny finds out more about Stillson's dark future. (Stillman is the enigmatic politician from the original Stephen King novel and played by Martin Sheen in the David Cronenberg film.)
---
Wednesday, August 7:
WRATH OF KAHN: One of the best of the Star Trek movies is THE WRATH OF KAHN. Ricardo Montolban is wonderful. The DVD is now available with a director's cut of the movie and a lot more. Go to http://www.paramount.com/wrathofkhan/ for a complete rundown of the 2-disc set.
---
FULL MOON FRIGHT NIGHT: If you love B-horror flicks, you'll not want to miss William Shatner as he hosts 13 Full Moon Fright Night. On Saturday night, you'll see selections like Killjoy, Ragdoll, Shrunken Heads, Horrorvision, Oblivion and Stuart Gordon's Castle Freak. Shatner will also have some wacky Q&A sessions with special guests, as well some of his extra-campy re-enactments of each movie's most-gruesome moment! You can watch in disbelief at some of them at http://www.scifi.com/frightnight/index.html#clips.
---
HULK: This weekend, Hulk producer Larry Franco said that the principal photography wrapped on the film in the wee hours on Saturday. "We worked until 5 in the morning and then came here," Franco told a panel for The Hulk at Comic-Con International in San Diego on Saturday. Franco joined fellow producer Gale Anne Hurd, director Ang Lee and producer Avi Arad of Marvel Studios and they talked about the production. More on the panel will be available tomorrow at Comics Continuium.
---
RISING STAR MOVIE: According to Atlas Entertainment exec Gloria Fan. Anthony and Joe Russo, progress continues on the project and they have begun a rewrite of J. Michael Straczynski's script for the movie earlier this year. "So far we've been very happy with the work they've done," Fan told Comics2Film. "They've been able to keep the essence of what made Rising Stars so unique and amazing." Tuesday, August 6:
TERMINATOR 3: Despite being away from the role for nearly 10 years, Arnold Schwarzenegger told an audience at San Diego's ComiCon that reprising the role, "It was like putting on a comfortable shirt. I mean, it's like it always feels great to get back into it again, and I somehow click into the character very quickly." It was a bit harder to get into shape for the movie. Arnold had to go into heavy training to recapture his same body condition from the original movie! At 55, that's something! Terminator 3, which also stars Nick Stahl, Kristanna Loken and Claire Danes, is currently shooting in and around Los Angeles, with an eye to a July 2, 2003, release.
---
ALIAS: J.J. Abrams, creator of ALIAS, recently commented in an interview at San Diego Comi-Con, that there will be a new family dynamic in the show this year. "What's fun about the show is that ... mom's in town," Abrams said. "And with the mother [Laura Bristow, played by Lena Olin,] being around, it has a profound impact on Sydney [Jennifer Garner]; obviously on Sydney's father [Jack, played by Victor Garber], who was abandoned by this woman; and also on Sydney's CIA handler [Vaughn, played by Michael Vartan], whose father was killed by her mother. So you've got this woman showing up, suddenly affecting everyone in a huge way. And we're approaching this year from the point of view of, if you've never seen the show, this is the time to watch, because we're making the stories accessible, whether you've ever seen the show before or not." Alias returns for a second season in its 9 p.m. ET/PT Sunday timeslot, starting Sept. 29.
---
OUTER LIMITS: Variety reports that Rupert Wainwright will direct MGM's big-screen version of THE OUTER LIMITS. Gerald Di Pego (Phenomenon) and sons Justin and Zachary wrote the script. Mark Victor and Michael Grais of Victor/Grais are producing The Outer Limits, along with Trilogy Entertainment's Pen Densham, Guy McElwaine and John Watson.
---
RED DRAGON: A totally creepy trailer for RED DRAGON can now be seen at http://www.reddragonmovie.com/. This follow-on movie about Hannibal Lechter is to be released on October 4. Anthony Hopkins, Ralph Fiennes and Edward Norton look fantastic.
---
DEAD ZONE: According to the Hollywood Reporter, in June, THE DEAD ZONE logged a 4.7 household rating, the highest ever for a drama series debut on basic cable.
---
SPIDERMAN: The Hollywood Reporter indicates that Spiderman's Tobey Maguire will star (and produce) Seabiscuit for Universal Pictures. Maguire will play a winning jockey for writer-director Gary Ross. His new deal will see the actor receive a payday of just over $12 million -- more than three times the amount he received for "Spider-Man." Production begins Oct. 15 in Los Angeles, with Ross producing through his studio-based Larger Than Life Prods. along with Kennedy/Marshall, also based at Universal. "Seabiscuit" tells the true story of the legendary 1930s racing horse who, with the collaboration of his jockey (Maguire), trainer and owners, was able to beat the odds and win horse racing honors. Sources say that Mel Gibson and Sam Shepard are among those being eyed for roles.
---
X-MEN 2: Bryan Singer had a lot to show and tell at Comi-Con this weekend. For more information, go to http://www.comicscontinuum.com/stories/0208/05/index.htm. You'll find a report from the the X-Men panel, a complete transcription of director Bryan Singer's press conference, an interview with X-Men 2 star Kelly Hu and a roundup of other X-Men 2 news.
---
Monday, August 5:
BABYLON 5 CHRONOLOGY: Terry Jones has sent along an update to his wonderful chronology of everything Babylon 5. His introduction to the new chronology can be found at Chronology. Here Terry explains how he created this wonderful timeline -- and changes he's made to the original as new elements have been introduced -- via novels, comic books, movies.
---
RATINGS: Top 10 SF Channel Shows: Stargate SG-1 1.7; The Shadow 1.2; Farscape 1.1; Nick Fury 1.0; Dead Zone 1.0; Back to Future III 0.9; Beyond Belief 0.9; Nostradamus 0.9; John Edward 'Thon 0.8 and When Time Expires 0.8. Source: Nielsen Galaxy Report, 7/8/02 - 7/14/02.
---
THE FOUNTAIN: According to the Hollywood Reporter, Warner Brothers has given the official green light to The Fountain, the SF epic movie from director Darren Aronofsky. Brad Pitt, Cate Blanchett and Ellen Burstyn are set to star in the project which is slated to begin shooting in Australia later this year.
---
WEEKEND BOX OFFICE: SIGNS captured the #1 slot this weekend. Disney, Mel Gibson, and M. Night Shyamalan proved to be a winning combination, pulling in $60 million. AUSTIN POWERS' GOLDMEMBER slipped to #2. Here are the numbers for the weekend: 1. SIGNS, $60.3 million this weekend; 2. AUSTIN POWERS IN GOLDMEMBER, $32.4 million this weekend, $143.0 million since opening; 3. THE MASTER OF DISGUISE, $13.0 million this weekend; 4. MARTIN LAWRENCE LIVE, $7.5 million this weekend; 5. ROAD TO PERDITION, $6.6 million this weekend, $77.2 million since opening.
---
WITCHBLADE: Witchblade star Will Yun Lee (Danny) and Six Feet Under's Justina Machado rev up their engines for the Warner Bros. action flick TORQUE. The duo joins Jay Hernandez, Matt Schulze and Jaime Pressly in the film about two rival biker gangs. Joseph Khan is directing the project, which is currently shooting in Los Angeles.
---
XXX: XXX opens this weekend and from the trailers, it's one action flick that should keep you moving through the entire show. Dark Horizons interviewed star Vin Diesel and he talks about acting, his new movie and upcoming projects.
---
Sunday, August 4:
TAKEN: We have a while to wait before TAKEN airs on SCIFI in December, but the network has already put up a website and trailer for the film over at www.scifi.com/taken. The premise of the story is an interesting one. Can't wait to see how it is enacted.
---
AREA 51: Stan Winston, oscar winning make-up artist, creature designer, special effects master, and overall Hollywood magician, has acquired the movie adaptation rights for AREA 51 -- and has landed a deal, through his company Stan Winston Studio, along with Midway Games Inc. to develop a videogame tentatively called AREA 51. Winston's chief responsibility in development of the game will be to design the aliens. The game is expected to ship in 2004 for the PlayStation 2, the Xbox and the GameCube. No word on the movie version though.
---
SHANGHAI KNIGHTS: Jackie Chan lovers will want to go to http://bventertainment.go.com/movies/shanghaiknights/index2.html for a glimpse of his latest SHANGHAI KNIGHTS. There is a trailer for the movie, a game to play and Jackie's Diary from shooting the movie. The film picks up with cowboy Owen Wilson and martial arts warrior Jackie Chan after 2000ís SHANGHAI NOON as they venture to England to help the queen fight off some bad guys.
---
SABRINA: The beginning of a new season is always a good time to make some changes. After 6 years on the air, Sabrina is making the transition from adolescence to adulthood. New cast members include: Bumper Robinson (Fox's "Living Single"), Diana-Maria Riva (ABC's "Philly"), John Ducey (ABC's "Oh Grow Up") and Andrew W. Walker (The WB's "Maybe It's Me"). Sabrina (Melissa Joan Hart) is a new college graduate starting her first job at a music magazine. "It was time for her to grow up, it was time to get her on her own two feet, and yes, it was time to reinvent the show," executive producer Paula Hart said. Behind the scenes, David Babcock recently joined the show as an executive producer and showrunner, and the new writing staff includes Mike Larsen (The WB's "Reba"), Trisha Baker (MTV's "The Osbournes"), Bill Rosenthal (NBC's "Working") and Adam & David Hamburger (ABC's "My Wife and Kids").
---
Saturday, August 3:
ALIEN VS. PREDATOR: Paul Anderson, the Resident Evil director will soon begin work on the screenplay for the Alien vs. Predator movie. Anderson, in an interview with JoBlo.com said, "I've been waiting to do a movie with aliens in it since I was at school, since the first Alien movie came out, since I fell in love with Sigourney Weaver and since the alien scared the hell out of me. I've been obsessed with Aliens for a while. It's the coolest cinema franchise out there, and Predator is the baddest hunter in the universe. " To read the entire interview, go to http://joblo.com/arrow/interview62.htm.
---
ALIAS: Alias will make it's second season premiere on Sept. 29 at 9 p.m. ET/PT. Variety reported that ABC will promote the premiere in 60-second theatrical trailers that will play on several thousand screens nationwide via NCN and Screenvision.
---
FIRST WAVE: Fans of First Wave will be glad to see series star Sebastian Spence join the cast of DAWSON'S CREEK playing Matt Freeman, one of Jennifer (Michelle Williams) and Jack's (Kerr Smith) professors. He's described as "good-looking, charismatic and entertaining," and apparently also has a dark secret (who doesn't in TV land?). The two-hour premiere is scheduled for Wednesday, Oct. 2.
---
24: A number of new faces will be showing up this year on 24. The show recently began production on season two and Reiko Aylesworth, Tracy Middendorf and John Terry have joined the cast. Aylesworth, who some may remember from UPN's "All Souls" will play a new member of the CTU team; Middendorf ("Beverly Hills, 90210") will play a single mom who hires as a nanny. Terry, who played Dr. Div Cvetic on the first season of "ER," will play the father of Jack Bauer's (Kiefer Sutherland) new love interest (Sarah Wynter).
---
MANCHILD: Buffy's Anthony Stewart Head is talking his new BBC America series, "Manchild," which follows four 49-year-old men living out their mid-life fantasies in London. Head recently talked to Entertainment Tonight about the show, projects ahead and Buffy.
---
DISCUSSION TOPIC:
OK, TV Guide just did their selection of the best cartoons in history. Some we can agree with -- some well, guess it is an aquired taste! How about comic book characters? Do you have a favorite? Why? Send in your responses to thezocalo@aol.com or b5@aol.com. I'll post them on the Discussion Page later this week.
SEASON ONE BABYLON 5 DVDs
AWESOME! This is the cover artwork for the first season DVD for Babylon 5. I think it is outstanding and can't wait to see it distributed in the US. Word is that the UK will get it first -- as usual -- on October 14. GREAT PRICE: You can pre-order the Season 1 DVD over at www.amazon.com for $74.99. The release date for North America is November 5. JMS has said that "Season One will be out in a boxed set this Fall, and they're going to be including at minimum two commentaries from me, probably on Signs and Portents and Chrysalis (it's a matter of how much time and energy I can give to it given that there's no fees involved and I'm in the midst of Jeremiah), and if possible, Babylon Squared, maybe Sky Full of Stars. They'd also like to film an on-camera intro by me (but I guess folks will buy it anyway, even with that particular horror included).
JEREMIAH ON SHOWTIME - FRIDAY AT 10:45PM
Everyone is still awaiting news of renewal for Jeremiah's second season. Hopefully something official will be out soon. Already a number of rumors about season two have started to fly -- but rumors are just that. We need to watch for something from Joe or Showtime. JEREMIAH has begun showing the first episodes again on Showtime. If you missed them the first time around, you'll not want to miss them again. This week's episode is "AND THE GROUND....SOWN WITH SALT," Friday at 10:45pm. For a look at the episode, go to http://sho.com/jeremiah/episodes.cfm?content=past.cfm&episode=ep04. Over at Comics2Film, there is a good review of the first seson of JEREMIAH. It is pretty thorough and will give you a flavor of the show and how JMS has meshed his talents for TV showtelling and comic books story telling. Go to http://www.comics2film.com/StoryFrame.php?f_id=1360&f_sec=6 to read more. JEREMIAH SCHEDULE AHEAD:
08/09/02
Jeremiah: And The Ground ... Sown With Salt 08/16/02
Jeremiah: To Sail Beyond the Stars 08/23/02
Jeremiah: The Bag 08/30/02
Jeremiah: City Of Roses 09/06/02
Jeremiah: Firewall For more information about this episode and the entire series, be sure to visit www.sho.com/jeremiah. For those of you who want to keep up on what is going on with Jeremiah, Ranger Monica has started up a Jeremiah newsletter. Please go to http://groups.yahoo.com/group/jeremiah-news/ and subscribe. Monica also has a very nice Jeremiah site so don't forget to bookmark that as well.
KEEPING UP WITH CAST AND CREW
MELISSA GILBERT: According to The Hollywood Reporter, Melissa Gilbert, Screen Actors Guild president, has inked a deal with RKO Pictures to executive produce and star in a remake of the 1957 feature "All Mine to Give" for television. Based on a true story, "All Mine" chronicles the life of a hardworking husband and wife who emigrate from Scotland to Wisconsin in the 1850s and have six children. After the untimely death of his mother, the eldest boy, 12, must find a home for his brothers and sisters in time for Christmas. Gilbert is set to play the mother. She will executive produce the remake with RKO chairman and CEO Ted Hartley. Producers are now looking for a writer for the project, which will be pitched to broadcast networks. The original film was penned by Katherine Albert and Dale Eunson. At RKO, the TV movie will be overseen by vp production Peter Morgan. The deal was negotiated by RKO senior vp business affairs and general counsel Adam Rosen. Gilbert, who recently starred in the CBS telefilms "Sanctuary" and "A Vision of Murder: The Story of Donielle," is repped by WMA and manager Marc Schwartz.
---
CARRIE DOBRO: Carrie has just finished a huge project -- it's a 23-minute short film project entitled PICKETS. Starring Oscar Winner Ray McKinnon (The Accountant, O Brother Where Art Thou), John Short (Apollo 13, Diggstown) and Barry Lynch (Desert Hawk, Sleepstalker), the story takes place in "1864 - the last summer of the Civil War. A truce is called between three exhausted soldiers in the dead of night. Although wary of each other, an unlikely friendship forms, until the reality of war crashes in to rip their bond apart." Carrie has been working with her production company and the film is now being submitted to film festivals around the world.
---
STEPHEN FURST: While driving into the office yesterday, I heard a commercial by STEPHEN FURST. Stephen, as you know, is a diabetic. He is trying to raise awareness of the disease and it's link to cardiovascular disease. It's a very important message.
---
JEFFREY WILLERTH: Jeffrey will be a writer/producer for a new HGTV series entitled GROUND RULES set to air in 2003. The series pits neighbors against each other in an eight-hour challenge to out-landscape their respective properties with $1000 worth of supplies, plants and decorations. Jeffrey has also signed on with former B5 First Assistant Director John Radulovic as visual effects coordinator on X-MEN 2. Work on this feature film will begin as soon as the HGTV show wraps.
---
GARY COLE: While Tim Curry is getting a lot more play for his role as Mr. French on the upcoming remake of FAMILY AFFAIR, Gary Cole has the part of Uncle Bill -- not easy to fill the shoes of Brian Keith on this family show.
---
BRUCE BOXLEITNER: Caught a preview the other day on Animal Planet. Bruce is starring in a new movie entitled HOPE RANCH, co-starring Barry Corbin and Gail O'Grady. It is scheduled to air on the Animal Planet on Aug. 10, 2002.
---
UNIQUE CHARITY ITEM
Ten popular science fiction actors have donated their time, images and autographs for an exclusive photograph, the proceeds of which will go to charity. For sale through the actors themselves and at , the limited-edition photo is in color, edged in white and ready to place in an 11X14 frame, and handsigned. Each of the 1,000 limited edition photos comes embossed with a seal of authenticity and numbered. The photograph is now available for a pre-sale price of $100. After Sept 11, 2002, the price will go up to at least $125.00. Among the charities to benefit will be the Penny Lane home for abused children in Los Angeles, and various September 11 funds. The actors hope to raise more than $100,000 through the charity project. The Penny Lane Home is a residential facility for children who have been severely abused, physically, emotionally and sexually. Many have "fallen through the cracks" of the social service outreach programs, and Penny Lane is their last chance at escaping the abuse. Actors in the photo include: Patricia Tallman, known best for her roles as Lyta Alexander in Babylon 5 and Barbara in Night of the Living Dead (1990) Vaughn Armstrong, who has portrayed more guest star aliens on Star Trek:TNG, DS9 and Voyager than any other actor in Star Trek history. Currently, he holds the recurring role of Admiral Maxwell Forrest on Enterprise, as well as at least eight other Guest Starring roles on board the new Trek series to date. Stephen Austin portrayed many bizarre alien creatures on Babylon 5. His most notable was the lovable Pak'ma'ra Ambassador. David Brooks is an accomplished artist as well as actor. He is best known to the sci fi community as Max Eilerson on the Babylon 5 spin off, Crusade. Jeffrey Willerth portrayed Ambassador Kosh and was Associate Producer of Babylon 5 Robin Atkin Downes, best known for his role of Byron in Babylon 5 Carrie Dobro, Dureena Nafeel in Crusade. Tim Choate was extremely popular on B5 as Zathras (and his brothers, all named Zathras). He also portrayed Pollack on Crusade. Beata Pozniak appeared as Babylon 5's Earth Alliance President Luchenko. Ed Wasser, the evil Mr. Morden on Babylon 5. As a special promotion, the first 100 orders will receive a special gift: former Star Trek stunt coordinator, Dennis Madalone, has donated 100 copies of his single, "America, We Stand As One," to say thank you to the science fiction fans who purchase the charity photograph. To order the photo online, go to http://www.thegalacticgateway.com, click on shop, and search on the word charity.
COMIC BOOK WORLD
RISING STARS: The next issue is designated for the week of August 21.
SPOILER INFORMATION BELOW: The government's come up with a Special weapon that eliminates our heroes' powers, forcing most of them into hiding. But as there's another three issues before this series concludes, it's doubtful they'll stay in hiding for long.
---
Speaking of RISING STARS, Volume #1 of the series has been out for a while. Volume #2 is now available. If you missed any of the single issues of the series, you'll want to pick up the graphic novels that include 8 issues in a single bound copy.
---
AMAZING SPIDERMAN: Issue #43 is on news stands this week.
SCI FI PUBLICATIONS
Expose #70: The cover of this month's issue is pretty gruesome -- with a picture of a spider from EIGHT LEGGED FREAKS starring Kari Wuhrer and David Arquette. Dean Devlin talks about some of the other titles they considered using for the film. Stephen Spielberg & Tom Cruise talk about MINORITY REPORT.







Cult Times #83: Majandra Delfino, Maria from ROSWELL, talks about her time on the show. Farscape's newcomer, Raelee Hill, joins the Moya crew as technical genius Sikozu and Gordon Michael Woolvett foreshadows what will be happening to Harper this year on ANDROMEDA.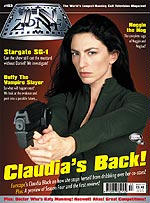 TV Zone #153: FARSCAPE fans are happy to see Claudia Black return to the series as Aeryn Sun. In this issue, we'll get a preview of season four plus chat with Claudia. Stargate SG-1 has started season six on SCIFI with a bang. Why is it so good? This issue has a discussion -- looking at the series from the beginning..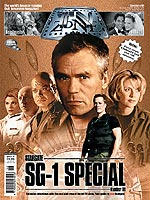 TV Zone Special #46: It's about time Stargate SG-1 started getting some respect and the press it has deserved for quite some time! In this special issue, the magazine talks to all the cast members, looks at production design, make-up and stunts. There is also interviews with Tony Amendola, Carmen argenziano and Peter Stebbings (yes you know him from Jeremiah now!).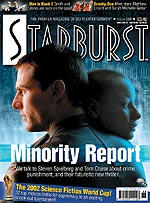 Starburst #288: Movies take center stage in this issue. With the success of Minority Report, this issue talks to both Tom Cruise and Steven Spielberg about the movie based on Philip K. Dick's short story. Men in Black just opened at the theater. The magazine talked to both Will Smith and Tommy Lee Jones about the sequel.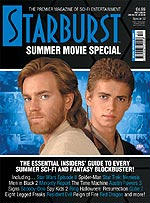 Starburst Special #52: This Summer Movie Special focuses on all the movies available for viewing pleasure this summer. Star Wars gets considerable attention, but you'll also find Spiderman, Men in Black II, Minority Report, Signs, Star Trek Nemesis, Scooby-Doo and others.
SCI-FI BOOKS ON SALE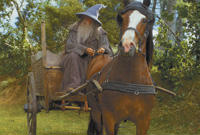 THE MAKING OF THE LORD OF THE RINGS by Brian Sibley follows the movie from conceptual design and filming, includes insightful interviews with all the principle cast and crew and has extensive commentary by director Peter Jackson. This fully authorized guide offers hundreds of stunning behind-the-scenes images from The Fellowship of the Ring and The Two Towers feature films, as well as a glimpse into the third and final installment, The Return of the King. Hardcover : $29.95; Softcover $17.95.

The Stargate Illustrated Compendium for Seasons Three and Four is now available in the U.K.! The volume can be ordered at Amazon.co.uk. Ranger Dave reports that Bruce Boxletner's books (FRONTIER EARTH and THE SEARCHERS) are still avaible at www.bookcloseouts.com . The site is awesome, with several titles by William Shater and heaps of SciFi and Fantasy books.
BABYLON 5 BOOK OF QUOTES
Here's a note from JMS regarding an upcoming project: It had to happen sooner or later...with so many message boards and posts asking "What's your favorite B5 quote?" a book of Babylon 5 quotes was inevitable. So "But In Purple I'm Stunning: Quotations from Babylon 5" is coming out from an independent publisher later this year. The book will also contain sections dedicated to fan choices for best/favorite quote. Fans of Babylon 5 are invited to send in their favorite quote, and why it's a favorite. The best of these emails will be culled for the book, and along the way this will determine the #1 favorite quote. In particular, the book will be looking for anecdotes/stories from fans about what a given quote, or what the show, meant to them in particular. There are a lot of people who have found comfort or meaning in the show, or found it helped them get through some of life's problems. (An example I sometimes cite at conventions was the young man dying of aids who asked his sister to put all of G'Kar's speeches about hope and never giving up on tape so he could listen to them at his bedside.) It needn't be a heavy story, just one that has meaning for the person involved, can be a funny story, whatever. Basically the goal is to find the intersection where the show and its message and its words touched people. All contributions will be considered free to use by virtue of being submitted for this project. So if you have such an anecdote/story/message about a favorite quote or the show in general, send it to the following address (rather than replying to this, since I'll just have to forward it on in any event): b5quotes@yahoo.ca
SCI-FI SCHEDULE
BABYLON 5's Schedule:

12-AUG-02 5:00 PM BABYLON 5 (LBX) NO SURRENDER, NO RETREAT
13-AUG-02 5:00 PM BABYLON 5 (LBX) THE EXERCISE OF VITAL POWERS
14-AUG-02 5:00 PM BABYLON 5 (LBX) THE FACE OF THE ENEMY
15-AUG-02 5:00 PM BABYLON 5 (LBX) INTERSECTIONS IN REAL TIME

19-AUG-02 5:00 PM BABYLON 5 (LBX) BETWEEN THE DARKNESS AND THE LIGHT
20-AUG-02 5:00 PM BABYLON 5 (LBX) ENDGAME
21-AUG-02 5:00 PM BABYLON 5 (LBX) RISING STAR
22-AUG-02 5:00 PM BABYLON 5 (LBX) THE DECONSTRUCTION OF FALLING STARS 26-AUG-02 5:00 PM BABYLON 5 (LBX) NO COMPROMISES
27-AUG-02 5:00 PM BABYLON 5 (LBX) THE VERY LONG NIGHT OF LONDO MOLLARI
28-AUG-02 5:00 PM BABYLON 5 (LBX) THE PARAGON OF ANIMALS
29-AUG-02 5:00 PM BABYLON 5 (LBX) A VIEW FROM THE GALLERY
BABYLON 5 IN THE UK
Ranger Stephen reports that Babylon 5 has moved to Bravo (Sky Digital channel 124, selected cable companies), where I think they'll be showing it at 8pm.
BABYLON 5/CRUSADE PHOTOSHOP
NEW PHOTOS
You do NOT have to pay the prices asked for over at e-bay! Here are photos of B5 and Crusade cast members at fantastic prices. Check out Photo Shop. Ordering is easy -- and you can't beat the prices! Just let me know which photos you want and I'll check to make sure they are still in stock.
---
BABYLON 5 TOONS
John Cook has a new cartoon contest going. Try your hand at a punch line.



NEW B5 TOON
Ranger Bill created this toon for his website www.wondertemp.com, but wanted to share it with readers here at the Zocalo. Thanks Bill.



READER DIRECTORY
Sometimes you just can't find the e-mail address for someone you know you have -- it's someone who responded to a discussion topic or you met in one of the chat rooms. You'd like to send a personal note, but .... No address!!!!

We've started a White Pages of Zocalo Readers! It's a handy way of keeping track of people -- and putting together a birthday/greeting card list as well. If you would like to be part of the listing, just send me your name, state, e-mail address and (if you'd like to have it listed) birthday (without year) to sgbruckner@aol.com. Check out the Directory of Readers.

HAPPY BIRTHDAY

Here are some of our readers who are having birthdays this month:

Name: Michael Antol
State: Georgia
email: michaeljohn338@yahoo.com
Birthday: August 7

Name: Captain Average
E-mail address: captain.average@home.com
Birthday: August 18

Name: gkarfan (Tammy Smith)
State: California
E-Mail: gkarfan@webtv.net
Birthday: Aug. 30

Name: Colin White
State: North Carolina
E-mail: colinwhite@mymailstation.com
Birthday: Aug. 20
BABYLON 5 REFERENCE PAGES
The Official Babylon 5 Magazine is indexed here as well. With the closure of the magazine in May, you'll want to see which magazines you have -- and which ones you will want to collect. The index may help you make a decision on which ones to choose. The Fan Club has many of the issues at thestation.com , making it very easy to complete your collection.

Universe Today -- the Babylon 5 Fan Club quarterly can also be found here. The index gives you a rundown of what articles were presented, what interviews published.

If you have magazines that have featured Babylon 5 or Crusade that are not listed, send along their issue number and a note to indicate what the article was about. It would be nice to have a fairly comprehensive listing of Babylon 5 publications here.

I have added a listing of all the Babylon 5 novels and now the B5 comic books to the reference page. If there are other items that you feel should be included, let me know.
MAILING LISTS
REDEMPTION: Ranger Steve reports that a new discussion group has been created for the upcoming REDEMPTION convention. Redemption 03, 21-23 February 2003, Ashford, Kent, Celebrating 25 years of Blake's 7 and 10 years of Babylon 5. www.smof.com/redemption.
NW-B5
NW-B5 is a mailing list devoted to bringing critical information to the Vancouver Island, Lower Mainland, and Northern Washington areas. More specifically, anyone north of Seattle. B5 is broadcast on SPACE:TIS in Canada, and Sci-Fi channel in the US. By subscribing to nw-b5, you'll be able to know info bringing you up to date on the current scheduling and events happening in the community related to B5. You'll also be subscribed to the list itself, which means that you'll receive email when there is a scheduling change or critical information needs to go out to you (for example, if we need to start another mailing campaign).

For further information, see http://www.nw-b5.com
John Francis
Webmaster, Listowner, and Co-Moderator
mailto:nw-b5@iname.com

Reports of "The Gathering" are beginning to turn up on the list. John posted a mini-report, with photos, over at http://www.geocities.com/jnf.geo/nw-b5/gathered.htm#0501. You may want to check it out. It was a terrific event in which JMS showed clips from "Legend of the Rangers". Most of the cast was in attendance -- a great group of individuals.
BABYLON 5 DISCUSSION LIST
The Babylon 5 discussion mailing list is for any and all discussions and/or news pertaining to or related to Babylon 5 and/or Crusade. The list has been in existence for the past three years now, and has recently moved. The new location is http://lists.apparition.org/cgi-bin/lyris.pl, and you can subscribe by sending a blank e-mail message to join-babylon_5-l@lists.apparition.org.
THE GALACTIC GATEWAY
Here's a unique site for you! Jeffrey Willerth, Patricia Tallman, Mira Furlan, Claudia Christian, Robin Atkin Downes, Rick Biggs, Jerry Doyle, Bruce Boxleitner, Melissa Gilbert, Peter Jurasik, Bill Mumy and Carrie Dobro are under it's umbrella. Actors from other shows have joined the Gateway. Ted Raimi and Robert Trebor from Xena and Hercules are now at GG. To subscribe to a mailing list for GG, send a blank note to thegalacticgateway-subscribe@egroups.com.
GATEWAY CHATTERS
There is never enough time to keep in touch with friends! To help out, a mailing list has been started for chatters over at the Galactic Gateway. If you are interested in joining, send a blank note to gateway-chatter-subscribe@egroups.com.
GATEWAY TRADER
Are you looking for a particular Babylon 5 collectible? Do you have some items you'd like to trade? Then this is the list for you. To join, send a blank note to gateway-trader-subscribe@egroups.com.
CALLING ALL ARTISTS
The Art Gallery at The Zocalo Today is open. There are SO MANY talented people in our Babylon 5 community. We have enjoyed works by Todd Brugman and Tye Bourdony on our toons page, but there are a host of others who enjoy drawing, painting, sketching their favorite characters. Here are a few works that have been received. I have some others that will be added soon.

If you would like to share your work with us at The Zocalo Today, please send along a digital photo of your work and I'll begin putting the gallery together. If you do not have your work in digital format, drop me a note and we'll see what we can work out.
CALLING ALL CLUBS
There are a number of fabulous Babylon 5/Crusade Clubs around the world. Visit the B5 Fan Club page to see if there is a club near you. If you have a club that you would like to have listed, drop the information about your Club to me at sgbruckner@aol.com or bruckner@isnnews.net. That information will be added to the new B5 Fan Club Listing.

Massimo has sent an update for the B5 Fan Club in Italy. Founded in 1995, the club now has 230 members! In Italy, they have just seen the last two episodes from season five! Membership in the club includes: the club card, a poster, a personalized pen and four number of ISN Network the fanzine published by the club. The cost is Euro 20 for an year in Italy. Interested? Contact Massimo at mmartini@italway.it.
BABYLON 5 FAN CLUB
Netter Digital filed for bankruptcy in July of 2000 and all their worldly posessions were auctioned off on December 7. The B5 Fan Club site, Thestation.com and it's store, the Emporium, has been closed.
BABYLON 5 NEWSLETTERS
If you have a newsletter you'd like to have listed at The Zocalo Today, send the information along. It will be posted on the B5 Fan Club/Newsletter page.

Ranger Shane in North Carolina sent in the following note about their "Jumpgate" newsletter.

Hey Sandy! Just wanted to give you an update on the NC B5 group's newsletter, Jumpgate. There's now a dedicated EMail address for submissions - jumpgatemag@bellsouth.net - and any submissions, solicited or un-, can be sent to this address. Also, issues are available for free download at the URL at the bottom of this message.

Jumpgate - The Newsletter of the North Carolina Babylon 5 Fan Club
Shane Killian, Editor
HELP WANTED
A new HELP WANTED section has been added to the Z. If you need help finding a comic book, getting a special item, etc. here's the place to post a note. Just send whatever help you need to thezocalo@aol.com.
---
BABYLON 5/CRUSADE CONVENTIONS
CONVENTION CALENDAR
GenCon
August 8-11, 2002
Place: Milwaukee, WI
B5 Guest: Julie Caitlin Brown
For more information, visit their website at http://www.wizards.com/gencon/ .
---
Slanted Fedora, Washington, DC Area
August 16-18, 2002
Place: The Doubletree Hotel-Crystal City
Arlington, VA
B5 Guest: Stephen Austin
For more information, visit their website at http://www.sfedora.com.
---
Slanted Fedora, Philadelphia Area
August 23-25, 2002
Place: Philadelphia Adam's Mark Hotel
B5 Guest: Stephen Austin
For more information, visit their website at http://www.sfedora.com.
---
Dragoncon
August 30-Sept. 2, 2002
Place: Atlanta, GA
B5 Guests: Pat Tallman, Jeffrey Willerth, Julie Caitlin Brown, Tim Choate, David Brooks, Andreas Katsulas, Julia Nickson, Stephen Austin
For more information, visit their website at http://www.dragoncon.org/.
---
Be sure to visit our Convention Calendar for a full listing of upcoming conventions featuring Babylon 5, Crusade and Legend of the Rangers cast members as guests.
ZOCALO TRADING POST
Do you have extra copies of B5, Amazing Spiderman, Midnight Nation or Rising Stars comics you'd like to trade? How about those extra trading cards or B5 magazines? There are a lot of fans looking for these items -- and the Trading Post can help you buy or sell them. To see what's available, just use this link to the Trading Post. To have items included in The Trading Post, send a note to The Zocalo. Please put Trading Post in the subject line.
Pen Pals
If you are looking for someone to talk about Babylon 5 and Crusade with, the Pen Pal section is for you! Check it out! Drop a note to someone who is feeling B5 withdrawal -- BIG TIME!

People thought a Pen Pal page was a good idea. If you would like to meet people who you could chat with or share your opinions of the show with, send along your e-mail or snail-mail address The Zocalo. It will be incorporated on the new Pen Page Page.
BABYLON 5 BIRTHDAYS
Claudia Christian - August 10
Stephen Austin - August 11
Tim Earls - August 15
Nancy Tarczynski - August 16
Skip Beaudine - August 26 Have I missed anyone? If you know the birthday of someone connected with Babylon 5, pass the information along. We want to include everyone in our Happy Birthday Wishes.
MAIL FOR CAST AND CREW
Here's a recent note from JMS on the subject:

Just an FYI to those who've been using the Ventura Blvd. mail drop for fan mail to actors....

As mentioned before, we're phasing out the forwarding of fan mail because we a) don't have the resources, complicated by b) the actors have scattered to the four winds, and it makes it very difficult to get everything to everybody in a timely fashion.

So, having provided prior notice...fan mail to actors coming to the Ventura Blvd. mail drop will be sent back. Mail to actors should be sent via their official fan clubs. I will still be taking mail there, since it's my mailbox, but that's it.

Just so's y'all know and save a few bucks on postage and returns.

JMS' mail can be sent to:

14431 Ventura Boulevard, PMB 260
Sherman Oaks, CA 91423

WARNER BROS:

Warner Bros. Address:

Warner Bros. Domestic Television Distribution
4000 Warner Blvd.
Burbank, CA 91522

Warner Home Video:

Mr. Douglas Wadleigh
VP for Marketing and Special Features
Warner Bros.
4000 Warner Blvd.
Burbank, CA 91522

SCIFI:
Bonnie Hammer, President
Sci-Fi Channel
1230 Avenue of the Americas
New York, NY. 10020-1513

Mr. Thomas Vitale
Senior VP of Acquisitions, Scheduling & Program-Planning
BACK ISSUES OF THE ZOCALO TODAY
The front page of the The Zocalo Today changes daily, so be sure to check the back issues to make sure that you haven't missed anything IMPORTANT! I don't want the front page getting too long so I shift information periodically into the archives. So if you aren't a regular visitor to The Zocalo Today, be sure to check out the back issues. Just use the button above!
---
Take care and I look forward to hearing from you.
Sandra Bruckner (sgbruckner@aol.com)
Editor/Publisher
The Zocalo Today
http://www.isnnews.net
Copyright - SBruckner, 2002