Widescreen format is like this. When you see most movies that come out in the theaters put on TV. You can see the way the camera move left and right to get the whole picture. You can also see that some of the picture of a great scene is cut off. Not allowing you to capture the beauty of the scenery. What widescreen does is allow you to see everything the way is was supposed to be rather than having the camera move left and right or cutting off much needed scenery. It makes you feel like that you are back in the theater itself and why you spent the money you paid for to get such an entertaining experience.
Ranger Dave sent this along: In the September issue of Total DVD magazine (UK magazine) they said this about Babylon 5 (Region 2) DVD's:
"An insider at Warner Home Video has announced that the company is determined to bring Babylon 5 to Region 2 DVD as soon as possible. While hopes are still high that something will appear before the end of the year, there is still plenty of red tape to work through before the discs will be given the go ahead."
JMS gave a run-down of his current projects recently out on the newsgroup. I've placed the entire message over in the JMS Works section.
Let Sheridan, Delenn, G´Kar and all your favorite Babylon 5 characters escort you into "the Third Age Of Man." Colorful 2001 wall calendar features characters and scenes from the popular cult TV series, turning every day into an adventure. Not to be confused with the year 2257.
Simcoe will play Edward and Black will play Carol in the story of two people who venture into the countryside and end up in a series of bizarre adventures involving a primitive village and things that are not what they seem. Hugo-nominated writer Tony Daniel wrote the script for Black Canoes.
In the latest "City of Dreams" drama, JMS gives us "Night Calls", featuring the marvelous actor Tim Curry. Here's the description from the Seeing Ear Theater.
Something unusual is waiting for you in the intersection of a conversation between god and a man asked to build a *second* ark...what it will carry, and where it all goes, is not what you may be expecting.
Already released at SET are: "The Tolling of the Hour" featuring Campbell Scott.
"The Friends of Jackie Clay" featuring Merwin Goldsmith.
"Rolling Thunder" featuring Andre Braugher
"The Damned are Playing at Godzilla's Tonight" featuring Steve Buscemi
This is radio drama at it's BEST, so don't miss one episode.
Also over at SET is "Titanic Dreams". Farscape's Gigi Edgley and Clancy Brown star as the ill-fated couple who embrace life from the depths of death.
Available for the first time inked and in full color, revisit this first glimpse story of the hottest new book of 1999, RISING STARS, created and written by J. Michael Straczynski, the creator of BABYLON 5 and CRUSADE. Predating issue 1 this story features Pyre and includes a brand new cover.
This story takes place years after the first eight issues. Many of the Specials are running rampant now, taking revenge or setting up their own little empires, while a few still try to stop them. All the normal people were afraid of what the specials might one day become. That day has arrived.
** Ranger Neil tells me that the gothic novel version of Issues #1 thru #8 can now be ordered -- for $19.95.
Check out the Photo Shop. Ordering is easy! If you would like to see more cast members added to the PhotoShop, drop me a note and I'll see what I can do.
KEEPING UP WITH CAST AND CREW
Melissa Gilbert is set to star in the CBS movie version of Nora Robert's novel "Sanctuary". Shooting starts in September.
---
Melissa can currently be heard doing the voice of Monica Lewinsky on the un-abridged book on tape of Joe Ezterhaus' American Rhapsody. Not suitable for children but maybe something her adult audience may be interested in. The documentary Melissa executive produced for A&E will be on September 4th. The documentary is called Child Stars:Their Story. Melissa interviewed 5 generations of former child stars. There are about 35 interviews all together. Check local times in your TV Listings.
---
Greg Funk, BABYLON 5 and X-FILES make-up artist, along with Jason Mattews of Stan Winston Studios recently worked on a new horror film called STOP IT, YOU'RE KILLING ME. The film's co-executive producer is Cheryl Duran, the editor and publisher of THE MONSTER NEWS and the author of the soon to be released THE MONSTER CLUB.COM GUIDE TO HORROR. The film stars James Black Jr. from THE BURNING ZONE, Jamie Donahue from THE DEAD HATE THE LIVING and Mike Todd from THE OUTER LIMITS and Full Moon's LURKING FEAR.
---
It was great watching Bruce Boxleitner in the premiere episode of "Twice in a Lifetime" on the PAX Network. Though the show is beginning it's third year, this is the first time I'd watched. Bruce was great.

Bruce Boxleitner will be in Canada soon to do an independent feature called "Life in the Balance" which also stars Bo Derek. Speaking of Bruce, he has a brand new official website. The URL is www.bruceboxleitner.co.uk. Hope you will all visit and watch it grow.
---
Would you be interested in owning JMS' keyboard? The same one he's used for years to write episodes of Babylon 5, Crusade, his latest novel Tribulations? If so, check out the JMS Speaks page. Details on how you might be the lucky person to obtain his keyboard can be found there.
---
"Lives of the Cat," a new movie for audio project featuring the voices of Patricia Tallman and Claudia Christian, is now available at Starglaziers.com. There is also a clip available for your listening pleasure."
---
Peter Woodward has been in Egypt doing a documentary entitled "New Discoveries In An Ancient Land" for The History Channel. Peter is the onscreen host for this 4 part documentary on ancient Egypt. The show is currently expected to air in Jan/Feb of 2001. Peter is also busy writing a proposal for another documentary. More on this one as it takes shape.

Peter did a wonderful job as General O'Hara in The Patriot. There is a wonderful picture of Peter Woodward at "The Patriot" party held recently in The Sunset Room in Hollywood. Mothership has photos and the story. If you haven't seen The Patriot -- I would recommend it highly. It is AWESOME! The music is wonderful as well.
THIS WEEK'S DISCUSSION TOPICS
Ranger James has sent in a suggestion for this week's discussion topic. What other actors do you thing would fill the shoes of the cast had they not been available or chosen?

James says: I would choose Bruce Willis as Garibaldi. They have the same whit (compare Garibaldi to Hudson Hawk).

Who do you think could have played Sheridan, Delenn, Londo, G'Kar or other characters? Send your choices to either TheZocalo@aol.com or b5web@aol.com.. You can also post your comments on the message board at www.isnnews.net/board. To see what other readers have posted on this and other topics, follow this link to Current Discussion Topic page.
---
SCI-FI CHANNEL SCHEDULE
The Sci-Fi channel ahead for Babylon 5 is:

Sunday, September 24 9pm Sciography #3
Sunday, September 24 12:30am Sciography #3
Monday, September 25 6:00pm Sciography #3
Monday, September 25 7:00pm The Gathering - Part 1
Tuesday, September 26 7:00pm The Gathering - Part
Wednesday, September 27 7:00pm Midnight on the Firing Line
Thursday, September 28 7:00pm Soul Hunter
Friday, September 29 7:00pm Born to the Purple
NEW BABYLON 5 TOONS
John Cook has a new cartoon contest going. Try your hand at a punch line.
BABYLON 5/CRUSADE IN PRINT

Sci-Fi Entertainment - The August issue of Sci-Fi Entertainment has an article entitled, "The Lost Crusade". It is interesting to read comments from cast members about the wonderful relationships developed during the filming and their desire to continue with the project. Marjean points out that they still try to stay in touch and get together for dinner. Seems as if most of the cast has been pretty busy! Peter Woodward with "The Patriot"; Gary Cole doing a movie in Mississippi and two animated series; Carrie Dobro working with her husband in a two-person comedy entitled "Marriage Is Murder"; Marjean Holden now working on "Beastmaster" in Australia, and Daniel Dae Kim having done the "Murder She Wrote" movie and an assortment of other TV series appearances.
Amazing Stories Issue #602 -- The issue is on news stands now. It contains another original Babylon 5 story by J. Michael Straczynski entitled "Space, Time and the Incurable Romantic". There is also a piece inside about the B5 game, entitled "Babylon 5: Crucible of War". The issue should be on newsstands very soon.
OFFICIAL BABYLON 5 MAGAZINE -- Issue #24A truly SAD day has arrived. The very last issue of the Official Babylon 5 magazine has hit the streets in the UK. Yes, Issue #24 is out. My hat is off to Nick Landau, Brian Robb, John Freeman, and others like Lou Anders who brought us this wonderful publication. It has been THE ABSOLUTE BEST!
REFERENCE PAGES
I've updated the B5 index . This page covers magazines like DreamWatch, TV Zone, StarBurst and others that have covered Babylon 5 and Crusade over the last several years. This index will expand as I add more issues and new magazines.

The Official Babylon 5 Magazine is indexed here as well. With the closure of the magazine in May, you'll want to see which magazines you have -- and which ones you will want to collect. The index may help you make a decision on which ones to choose. The Fan Club has many of the issues at thestation.com , making it very easy to complete your collection.

Universe Today -- the Babylon 5 Fan Club quarterly can also be found here. The index gives you a rundown of what articles were presented, what interviews published.

If you have magazines that have featured Babylon 5 or Crusade that are not listed, send along their issue number and a note to indicate what the article was about. It would be nice to have a fairly comprehensive listing of Babylon 5 publications here.
MAILING LISTS
THE GALACTIC GATEWAY
A new list has just started for The Galactic Gateway. This site now has Jeffrey Willerth, Patricia Tallman, Mira Furlan, Claudia Christian, Robin Atkin Downes, Rick Biggs and Jerry Doyle under one umbrella site. The Gateway will be growing with more cast members being added. To subscribe to the mailing list, send a blank not to thegalacticgateway-subscribe@egroups.com.
SAVE CRUSADE MAILING LIST
The "Save Crusade" mailing list has just topped 300! The purpose is to gather together people interested in saving Crusade and to identify people who can help with the effort. To join the mailing list, drop a blank note to savecrusade-subscribe@egroups.com. If you have a problem getting on, drop me a note and I'll add your e-mail address manually.
DOYLE FOR CONGRESS
Jerry is currently at the Republican National Convention. If you are interested in tracking how Jerry's campaign for Congress is coming, you will want to subscribe to the doyleforcongress mailing list. Get weekly updates on events, press releases, endorsements, etc. To become a member of the list, sent a blank note to doyleforcongress-subscribe@egroups.com. Be sure to drop into the chat on Monday night as well!
BABYLON 5 FORUM
Ranger Anthony has started a forum at delphi.com called Babylon 5: The Followers Forum... for people who follow Babylon 5.
The URL is http://www.delphi.com/bab5. Looking for a place to discuss the show, why not see what Anthony has to offer.
OFFICIAL BABYLON 5 FAN CLUB
The Fan Club has opened up Gold Channel for all Babylon 5 and Crusade fans. Be sure to drop in to see the exclusive photos and background material on the show. It was updated on July 15.
NEW SCRIPTS FOR AUGUST
The Babylon 5 Fan Club has two fantastic scripts available this month. They are:

"Severed Dreams" $20.00
"Interludes and Examinations" $20.00

OFFICIAL BABYLON 5 MAGAZINES
With the publication coming to an end with issue #24, you'll want to make sure that you have the issues you most care about -- or the entire set. The Fan Club has most of the issues in quantity, so check out The Emporium and pick out the issues you need. Don't know which ones you are missing, let the reference page here at The Zocalo help you out. It has a full index of the magazine so that you can see who was featured and what stories were covered. If you have any other questions about the magazine, just drop me a line.

The Fan Club has many of the back issues of the magazine over at www.thestation.com in The Emporium. Issues #22 and #23 have been added to the listing of available issues. They also have the much sought after Issue #1, Volume #1. So be sure to check out ISN and see what magazines you still need to complete your set.

Here are the perfect take-along items for a convention! The Fan Club has some PERFECT items for you – and they are reasonably priced, and waiting to be autographed!
The Antioch Calendar for 1999 is awesome. Yes, we know that it's a 1999 calendar, but it carries a serial number – making it a collectible! The pictures are perfect for framing once you have the autograph in place! You can use this link for the Antioch Calendar or go the 'collectibles' portion of the Emporium.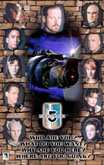 Order any of the four sets of Autographed Magazines and receive the calendar FREE!



Second – Season 5 Cast Poster. The Club made available to members a wonderful poster for season 5. The poster would make a wonderful remembrance of the show – not to mention a fantastic collector's item. It is located in the 'merchandise' portion of the Emporium.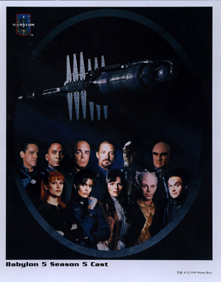 Third – Season 5 Fan Club Photo & "Season 4 Fan Club Photo – These marvelous photos created for members of the Club are available for your enjoyment. They are $4.99 each with the purchase of $10.00 or more. Available in the 'merchandise' portion on the Emporium.

Babylon 5 Bible -- The original Season One Babylon 5 Writer's Bible. This massive tome weighs in at over 60 pages with comprehensive backgrounds on all characters and story arc; as well as guidelines for writing SF for TV. This document is peppered with original (color and B&W) illustrations by Peter Ledger. Use this link to place an order Babylon 5 Writer's Bible.

Babylon 5 Series Treatment -- This beautifully bound original Babylon 5 Series Treatment written in September 1988, was used to sell the series. It contains different characters than were ever seen in the show. This treatment was ONLY given to Network/Studio heads. This document is peppered with original color illustrations by Peter Ledger. Use this link to order your copy from the Emporium Babylon 5 Series Treatment.
Ordering Information: There are a number of ways to order merchandise from the Club:
Credit card purchases can be made on-line, by mail, or by fax. The Fax number is 1-818-771-1677.
FOR PHONE ORDERS: Here are the numbers to use: 1-888-777-8517 or 1-818-623-1198 . Phone lines are open Monday thru Friday, 10-6pm PST. If no one answers the phone, please leave your credit card information on the voicemail. Val and Tony do process orders based on the time-stamped voicemail messages. Be sure to leave your phone number as well, just in case they have any questions.
You can send a check or money order for merchandise -- made payable to Babylon 5 Fan Club -- to Official Babylon 5 Fan Club, P.O. Box 856, North Hollywood, CA 91603.
** For all orders done by mail, it's best to send in an order form with your check or money order. Use this link to get a copy of the Order Form. There is a new reference list as well, so that you can check to see what merchandise is still available. Ref List.
BABYLON 5 CHATS
Pat Tallman and Jeffrey Willerth have a chat room at their site Starglaziers. You can also get there through Pat Tallman's site.

There are a couple of regular chats that you might want to take advantage. One is over at About.com. Mike Helba has organized a weekly chat on Wednesdays at 10pm EST. http://babylon5.about.com/entertainment/babylon5/mpchat.htm.

On the first Sunday of the month, there is a chat at Groucho's Babylon 5 Calvalcade beginning at 5:30pm ET. Groucho's is a good place to drop over and chat anytime.
CALLING ALL ARTISTS
The Art Gallery at The Zocalo Today is open. There are SO MANY talented people in our Babylon 5 community. We have enjoyed works by Todd Brugman and Tye Bourdony on our toons page, but there are a host of others who enjoy drawing, painting, sketching their favorite characters. Here are a few works that have been received. I have some others that will be added soon.

If you would like to share your work with us at The Zocalo Today, please send along a digital photo of your work and I'll begin putting the gallery together. If you do not have your work in digital format, drop me a note and we'll see what we can work out.
CALLING ALL CLUBS
There are a number of fabulous Babylon 5/Crusade Clubs around the world. I'd like to begin listing them here on The Zocalo Today. Eric dropped me a note the other day providing information about a Club in France. I know there are other clubs in Brazil, Germany, Russia -- and who knows how many here in the US. Let's get a listing together. Perhaps we can share resources, even get together as we travel around. Drop the information about your Club to me at sgbruckner@aol.com or bruckner@isnnews.net. That information will be added to the new B5 Fan Club Listing.

So far, we have clubs listed from France, Germany and Italy! That's fantastic. Let's hear from others -- even those in the U.S.!!!



CALLING REVIEWERS
Have you read the Babylon 5 books? Do you want to share a review? Want to voice an opinion? Here's the place to do it! Send along your review or opinion about any of the Babylon 5 books. It will be posted on the Review Page for others to read -- and comment about!
BABYLON 5 NEWSLETTERS
If you have a newsletter you'd like to have listed at The Zocalo Today, send the information along. It will be posted on the B5 Fan Club/Newsletter page.
BABYLON 5/CRUSADE CONVENTIONS
CONVENTION CALENDAR
Want to know what conventions are ahead for the Babylon 5 and/or Crusade cast and crew? Use this link Convention Calendar.
CONVENTION ALERT
Carrie Dobro, Tim Culeri and Brian Thompson have been added to the guest list at Vulkon Atlanta Sept. 1-3. See the calendar for details.

Tim Colceri (Capt. Jenkowski from B5) is an acting coach and a stand-up comedian and Improv specialist

CONVENTION ATTENDANCE

Are you attending one of the conventions on the calendar? Or another one perhaps? Do you want to see who else might be there? Drop your e-mail address to TheZocalo@aol.com. We've begun an attendance page so that perhaps we can get together while enjoying the activities of the convention. Convention Attendance .
CONVENTION REPORTS
There are a number of good pictures from DragonCon and Agamemcon over in the Photo Gallery.

Robin Atkin Downes sent along a couple of photos from FedCon.

There are some great shots of Jerry Doyle and Jeff Conaway at the Star Trek Grand Slam convention in Pasadena, March 31-April 2 on the Creation Entertainment web site.
UPCOMING EVENTS
Vulkon Atlanta
September 1-3, 2000; Atlanta, GA
Guest: Carrie Dobro, Brian Thompson (Crusade), Tim Culeri (Capt. Jenkowsky)

For more information, visit their website at http://www.vulkon.com/atlanta/a-stars.htm or send an e-mail note to joemotes@aol.com.
---

Nexus 2000
September 1-3, 2000; Bonn, Germany
Guest: Mira Furlan, Walter Koenig, Julie Caitlin Brown

For more information, visit their website at http://www.snafu.de/~agents or send an e-mail note to agents@berlin.snafu.de.
---

BonaCon 2000
September 1-3, 2000; Aberdeen, Scotland
Guests: Bill Blair, Stephen Austin

For more information, visit their website at http://www.lonas.com/bonacon.
---

Slanted Fedora
September 8-10, 2000; Raleigh, NC
Place: Durham Marriott
Guest: Mary Kay Adams

For more information, visit their website at http://www.sfedora.com or send an e-mail note to sfedora1@aol.com.
---

Crusade for a Cure
September 15-17, 2000; Costa Mesa, California
Guests: David Allen Brooks, Maggie Egan, Julie Caitlin Brown, Tim Choate, Carrie Dobro, Stephen Furst, Peter Woodward, Stephen Austin, Bill Blair

For more information, write to The Ulysses Foundation, 23010 Lake Forest Drive, Suite D, #395, Laguna Hills, CA 92653 or visit their website at http://www.ulyssesfoundation.org/c4ac .
---

Starland
September 22-24, 2000; Denver, CO
Guests: Tracy Scoggins

For more information, visit their website at http://www.starland.com.
---
GROUP PROJECT
As Babylon 5 approaches it's premiere date on the Sci-Fi Channel of September 25, I wonder what resources we could make available to NEW Babylon 5 fans! When the show was on the air, there was a very active on-line community, the Official B5 magazine came out to provide us with information to digest and enjoy, the series would turn up in publications so that we could read about our favorite characters/actors. That will not be the case as these new fans discover Babylon 5. The Official Magazine is gone; the show has all but disappeared from most publications, even in the UK! How can we help new Babylon 5 fans?

One of the great advantages to building the Babylon 5 Library is looking at all the information resources on the internet. There are TONS of sites. I'll place the ones with a lot of general information over in the Library under websites, but if you know of some good ones, make sure you drop me a line about them. I'll begin to highlight them so that everyone can have as much fun as I am in hunting up new items. Here's one for you. Babylon 5 Universe. This site gives general information about the station, including a layout of the different sections and an explanation of what each is all about.

Thanks to everyone who have sent along suggestions already. They have been great.
A CALL TO ARMS!!! BABYLON 5 FANS UNITE!
"If every B5 fan went out and got 5 to 10 people who'd never watched the show, and bugged them to watch the cycle when it starts on SFC…who knows what remarkable things could happen?" - JMS, June 21 chat.

WE NEED TO GET INVOLVED - NOW!
So far a number of good ideas have been sent in to rally people around the premiere, September 25, bringing both old and new fans together to view the show. To share those suggestions, to go the Rally Suggestions. If you have some to add, send them along.

What should be watched during these gatherings? How about our favorite episodes? I'm sure you have suggestions, so pass them along. I've already listed mine out on Favorites. Send in your favorites list (10 maximum please) to sgbruckner@aol.com.

FLYERS - Tim and Heather Fleming have been fighting the fight to Save Crusade for a long while now. They have pulled together a number of flyers that can be used at conventions, placed in comic shops, etc. If you would like to pass along flyers, go to http://www.astro.umd.edu/~hcohen/Flyers.html and have a look. Print off a few and drop them at your local comic store. If there are readers of Rising Stars there, they may be interested in knowing about Babylon 5!

If you are organizing a gathering, let us know so we can post a listing. If you are not in an area that has a group of fans, we could organize a group chat! A virtual gathering!!!! This could/should be a LOT of fun.
ZOCALO TRADING POST
There are some new and interesting items in the Trading Post. Take a look. If you have items you'd like to trade, post a note here. If you need a particular item, the Trading Post or Message Board could help you find it. Use this link to see what is listed. Trading Post. To have items included in The Trading Post, send a note to The Zocalo. Please put Trading Post in the subject line.
Pen Pals
If you are looking for someone to talk about Babylon 5 and Crusade with, the Pen Pal section is for you! Check it out! Drop a note to someone who is feeling B5 withdrawal -- BIG TIME!

People thought a Pen Pal page was a good idea. If you would like to meet people who you could chat with or share your opinions of the show with, send along your e-mail or snail-mail address The Zocalo. It will be incorporated on the new Pen Page Page.
ZOCALO LINK PAGE
We haven't forgotten all the wonderful pages created in support of Babylon 5 or Crusade. They now have their own page! I've added a few new ones, so be sure to use the button at the top of the page or Links Page.
TNT MORNING BABYLON 5 SCHEDULE
Thursday 8/31/00
6:00am TNT Babylon 5 - The Very Long Night of Londo Mollari

Friday 9/1/00
6:00am TNT Babylon 5 - The Paragon of Animals

Saturday 9/2/00
6:00am TNT Babylon 5 - A View From the Gallery

Monday 9/4/00
6:00am TNT Babylon 5 - Learning Curve

Tuesday 9/5/00
6:00am TNT Babylon 5 - Strange Relations

Wednesday 9/6/00
6:00am TNT Babylon 5 - Secrets of the Soul

Thursday 9/7/00
6:00am TNT Babylon 5 - In the Kingdom of the Blind

Friday 9/8/00
6:00am TNT Babylon 5 - A Tragedy of Telepaths

Saturday 9/9/00
6:00am TNT Babylon 5 - Phoenix Rising
IMPORTANT DATES AND BABYLON 5 HISTORY
August Birthdays:

Claudia Christian - August 10
Stephen Austin - August 11
Tim Earls - August 15
Nancy Tarczynski - August 16
Skip Beaudine - August 26

Would you like to wish Claudia Christian a HAPPY BIRTHDAY? (Her birthday is August 10.) Go to http://claudiachristian.homestead.com/claudia.html and sign the guest book.
---
Have I missed anyone? If you know the birthday of someone connected with Babylon 5, pass the information along. We want to include everyone in our Happy Birthday Wishes.

To follow Babylon 5/Crusade history, visit the new History Page for all significant dates in August! This is an extract from Terry Jones' wonderful Babylon 5 Chronology.
MAIL FOR CAST AND CREW
Here's a recent note from JMS on the subject:

Just an FYI to those who've been using the Ventura Blvd. mail drop for fan mail to actors....

As mentioned before, we're phasing out the forwarding of fan mail because we a) don't have the resources, complicated by b) the actors have scattered to the four winds, and it makes it very difficult to get everything to everybody in a timely fashion.

So, having provided prior notice...fan mail to actors coming to the Ventura Blvd. mail drop will be sent back. Mail to actors should be sent via their official fan clubs. I will still be taking mail there, since it's my mailbox, but that's it.

Just so's y'all know and save a few bucks on postage and returns.

JMS' mail can be sent to:

14431 Ventura Boulevard, PMB 260
Sherman Oaks, CA 91423
BACK ISSUES OF THE ZOCALO TODAY
The front page of the The Zocalo Today changes daily, so be sure to check the back issues to make sure that you haven't missed anything IMPORTANT! I don't want the front page getting too long so I shift information periodically into the archives. So if you aren't a regular visitor to The Zocalo Today, be sure to check out the back issues. Just use the button above!
---
The Zocalo - Today, August 5
PDF and DOC formats of the latest Zocalo Today are available for downloading. If you would like to have a hard-copy version of the newsletter, you can download either The Zocalo Today in PDF or in Word format. Previous issues are available in the Archives under Back Issues.
HELP!!!
NEW FLYER AVAILABLE: If you would like to take some flyers to a convention to help spread the word that The Zocalo is here and ready to provide you with information on everything Babylon 5 and Crusade! drop me a line. I'll be glad to send you some in the mail. I've created a PDF file that can be downloaded and printed. Flyer Thanks for helping to spread the word about The Z!

Take care and I look forward to hearing from you.
Sandra Bruckner (sgbruckner@aol.com)
Editor/Publisher
The Zocalo Today
http://zocalo.isnnews.net
Awards
Your web site, "The Zocalo Today", has been chosen to receive the BABYLON 5 UK TOP FLIGHT award ! Your coverage of the J. Michael Straczynski universe of Babylon 5 and Crusade is top flight ! Late breaking news, books, merchandise, cast & crew tid bits and humor, The Zocalo Today seems to be a one stop fan resource.
You have won the scifiGATE Award of Excellence.