The Zocalo Today
COMIC BOOKS
CSI-NY: BLOODY MURDER #4
Written by Max Allan Collins, art by J.K. Woodward and Steven Perkins.
As the CSI team seeks to solve the mystery of Dani Cayman's death, the suspect list grows. Are the sewer-dwelling inhabitants responsible, or is a washed-up actor to blame? Or will a homemade DVD discovered in the victim's apartment lead down an entirely new path? Based on the smash-hit CBS series.
CSI: SECRET IDENTITY TPB
Written by Steven Grant, art by Gabriel Rodriguez and Steven Perkins.
When a tourist is murdered in a cheap off-strip motel, the investigation is surprisingly routine, until it is complicated by a missing videotape and an imploded casino. The trail of evidence points to a man who died twice and left two different corpses, engulfing Gil Grissom and the CSI team in a quagmire of deceit and treachery that stretches back 20 years--and still threatens them today!
ANGEL #5
Written by Jeff Mariotte, art by David Messina, covers by Messina, Chris Bolton, Alex Garner and Todd Nauck.
In the stunning conclusion to Angel: The Curse, Angel's attempt to help his new Romany allies fight for freedom erupts in violent war. Lives are lost and saved, a traitor is exposed, and hopes and dreams turn to dust. When it's all over, what will be the shape of Angel's new future? The TV series is over, and Angel's adventures continue only at IDW! This concluding tale features variant covers by Chris Bolton, Alex Garner, and Todd Nauck. Covers will be shipped in a 1-to-1 ratio.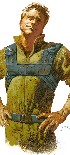 SERENITY #3
Written by Joss Whedon and Brett Matthews, penciled by Will Conrad, colored by Laura Martin, covers by Leinil Yu, Joshua Middleton and Sean Phillips.
Just looking to earn themselves a little bit of peace on the edges of the galaxy, the crew of the ship Serenity have landed themselves in a big, fat trap. Now, it's up to this motley bunch of mercenaries and fugitives to fight their way free from the grips of a nasty bunch of covert-operatives known as the Blue Gloves. Get ready for hot action in the cold reaches of space as Joss Whedon and Brett Matthews deliver the brain-exploding conclusion to this comic prequel of Whedon's Serenity feature-film--the uber-anticipated follow-up to his cult-hit TV show Firefly. This final issue features three seperate covers by some of comics hottest artists--Leinil Yu, Joshua Middleton, and Sean Phillips.
32 pages, $2.99, in stores on Sept. 7.
STARGATE SG-1 RA REBORN PREQUEL CARTER & JACKSON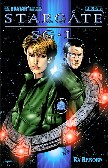 Written by James Anthony, art and cover by Jorge Correa.
Series artist Jorge Correa provides this striking new cover of team members Samantha Carter and Daniel Jackson! The SG-1 team must face their ultimate foe once more! As Daniel Jackson recounts the story of the first Stargate mission, a familiar presence reappears on Abydonian soil. Has the most feared Goa'uld of all time been reborn from the ashes to terrorize the universe again? The longest running hit scifi series on television blasts into 2005 with a titanic new series that features the return of Ra! Limited to 1000 copies.
STARGATE SG-1: DANIEL'S SONG #1 ROYAL BLUE
Written by James Anthony, art and cover by Jorge Correa.
Royal Blue editions are the ultimate collectible! The SG1 team discovers an ancient alien device that promises to bring "peace to the past." While attempting to decipher its glyphs a sudden electrical discharge engulfs and throws Daniel unconscious to the ground. He wakes on Abydos to find Skaa'ra and Sha're are still alive and free of Goa'uld possession. Somehow he has been transported into the past before the arrival of Apophis and has been given another chance to save his wife and the people of Abydos. Determined not to make the same mistakes again Daniel prepares an ambush for the System Lord in an attempt to change the outcome of this pivotal moment in his life. Limited to 100 copies, all of which ship bagged in a special protective case with a certificate of authenticity.
STARGATE SG-1 2005 CONVENTION SPECIAL EVIL NOX EDITION
Written by James Anthony, art by Jorge Correa, cover by Mauricio Melo.
The SG-1 team is facing the foe they never expected, one of the Nox gone bad on this exclusive new cover from artist Mauricio Melo! Pinned down by invisible attackers the SG1 team discovers that the Goa'uld have uncovered the secrets to the Nox invisibility technology. They appear on the verge of being overrun when Anteaus and his Nox companions appear among them and help dispatch the attacking Jaffa. Anteaus reveals that one of their own has turned from the peaceful life journey to embrace the Goa'uld philosophy. The team is forced to find a way to stop the traitor before she can make the already powerful Goa'uld invincible! Limited to 1000 copies.
STARGATE ATLANTIS PREVIEW PAINTED WEIR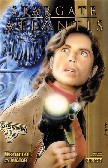 Written by Stuart Moore, art by Mauricio Melo, cover by Lucio Rubira.
Painter Lucio Rubira offers this beautiful new piece featuring the commanding Dr Weir. Don't miss this special look at this summer's biggest licensed comic book launch! This limited edition preview offers a behind-the-scenes look at the creation of the new Stargate Atlantis comic and the first series, Wraithfall! Stationed thousands of light-years from Earth, the team from Stargate Atlantis has a whole new galaxy to explore...but most of those worlds are under siege by the Wraith, an ancient and deadly vampire race. In Wraithfall, the Atlantis team meets the Karrans, a primitive race that has made a bizarre deal with the Wraith. Limited to 1000 copies.
Dynamic Forces, the parent company of Dynamite Entertainment, announced on Thursday an agreement with Universal Studios Consumer Product Group to release comics based on the modern version of Battlestar Galactica. The comic series will launch this fall. No creators were announced.
"We are confident in Dynamite Entertainment's ability to develop and distribute high-quality comics that will build off of the strength and staying power of this great property," said Cynthia Modders, senior vice president of sales and retail development at Universal Studios Consumer Products Group.
Battlestar Galactica was re-imagined by Sci Fi Channel and NBC Universal Television Studio in December 2003 in the form of a four-hour mini-series event. Battlestar Galactica became the most-watched cable miniseries of the year and led Sci Fi to continue with a one-hour weekly series.
SERENITY #1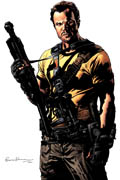 by Joss Whedon, Brett Matthews & Will Conrad
This mini-series is based on Serenity - the big-budget feature follow-up to Josh Whedon's cult-hit TV show Firefly - which follows the story of a rag-tag crew of mercenaries, outlaws, fugitives, and one law-abiding prostitute running across the fringes of space. The crew of Serenity once again find themselves broke and on the wrong side of a number of very large firearms, making the first issue a case study in how to mix intense, Whedon-style character interaction with cinematic action and violence.