The Zocalo Today
Welcome and thank you for dropping by. Babylon 5 brought many of us together -- and it remains with us, despite the fact that is no longer in production. The good thing is that the internet provides a LOT of ways to stay in touch. Don't be shy. Join in the discussion today. You can also find plenty of Babylon 5 fans on FaceBook and Twitter eager to talk about their show, Babylon 5.

If you have questions or items for the news, drop me a line at sgbruckner@aol.com.

Again, WELCOME!
MONTHLY HIGHLIGHTS OF ISN NEWS: THE ZOCALO TODAY
THURSDAY, APRIL 30, 2015
AGENTS OF S.H.I.E.L.D.
Skye (Chloe Bennet) doesn't need powers to be super, and she proved it on "Marvel's Agents of SHIELD's" Tuesday (April 28) episode. In an incredible single-take fight scene, directed by Kevin Tancharoen, Skye took down an entire room of HYDRA enemies with just her SHIELD-taught fighting skills and her gun. The scene was so good, in fact, that Zap2it wanted to watch it over and over and over again -- and Marvel was happy to oblige. Watch "SHIELD's" best fight scene yet in the above video, and marvel at just how far Skye has come in the show's two seasons. If it wasn't clear enough from watching the scene, Bennet didn't use a stunt double for the impressive sequence. She, director Tancharoen and fight coordinator Matt Mullins took to Twitter to discuss the choreography behind the single take.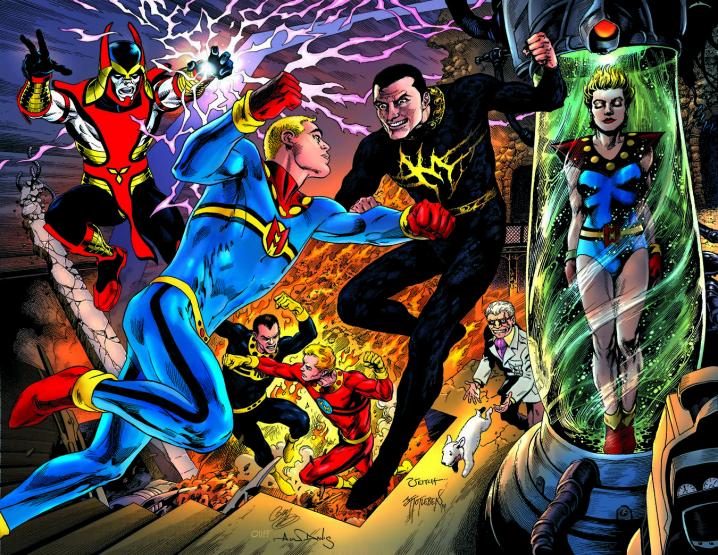 MIRACLEMAN
Until last year, the superhero Miracleman was a relic, a classic character who starred in classic stories that comics fans who weren't lucky enough to read them the first time around had to search hard to find. In 1994, the character fell into legal turmoil when his then-publisher went bankrupt, and Miracleman faded into comics history, even though creators still had stories they wanted to tell about him. Last year, Marvel Comics -- who won the rights to Miracleman a while back -- began reprinting Alan Moore's classic 1980s stories and even gave us a couple of new short tales from the Miracleman universe at the end of 2014. Those tales weren't the end of Miracleman comics fans have been waiting years for, though. See, when Eclipse Comics went bankrupt in '94 and sent the character into limbo, writer Neil Gaiman and artist Mark Buckingham were right in the middle of an ambitious new series of Miracleman stories. The bankruptcy came so suddenly that Gaiman and Buckingham had completed a new issue of the series that was never printed, and Gaiman's always told fans that they'd love a chance to finish the story. Now we know they finally will. That's right, for the first time in 20 years, Gaiman and Buckingham are returning to Miracleman, and they'll finally get to finish the story that mapped out decades ago. This September, Marvel will published Miracleman by Gaiman & Buckingham #1, the first step on the journey that will lead to the end of this story. The early issues will republished the first arc of the tale, "The Golden Age," which was finished in '90s, and then the unfinished "The Silver Age" and "The Dark Age" will follow in the coming months. "That Neil and Bucky can finally finish the story they started, is a great relief to still-gasping fans — myself among them," Marvel Editor-in-Chief Axel Alonso said. Miracleman by Gaiman & Buckingham #1 will hit comic-book stores Sept. 2. THE LAST WITCH HUNTER
Vin Diesel is about to swap fast cars for flaming swords and honest witch hunting in the first official teaser trailer for The Last Witch Hunter. In the upcoming supernatural movie, Diesel plays an immortal witch hunter who must save the world by evil witches -- like a boss. The Furious 7 star plays Connor MacLeod Kaulder, the last remaining witch hunter. He happens to be an ancient warrior who was cursed with the gift of immortality after defeating the Witch Queen (Julie Engelbrecht). The evil Witch Queen gets resurrected (unbeknownst to Kaulder), and she wants some good old-fashioned revenge ... against him and the entire human race! Of course, Kaulder must join forces with a hot red-headed witch (Rose Leslie) to save the denizens of New York City from a terrible plague. Directed by Breck Eisner (Sahara), The Last Witch Hunter also stars Rose Leslie (Game of Thrones), Elijah Wood (The Lord of the Rings) and Michael Caine (The Dark Knight trilogy). It is set to hit theaters on Oct. 23. ARROW
In the wake of last night's fantastic episode of The Flash, an extended trailer for next week's episode has been released by The CW. Titled "Grodd Lives," the new trailer offers a great look at Gorilla Grodd, a DC Comics supervillain finally set to make his first, eagerly anticipated debut on the superhero show as Barry (Grant Gustin), Joe (Jesse L. Martin) and Cisco (Carlos Valdes) come face to face with the super-genius, beastly baddie. I have a feeling things are not gonna go well for Barry and his friends. GRODD RETURNS! - Barry (Grant Gustin) must deal with the Reverse Flash's (Tom Cavanagh) latest threat to a member of the group. To make matter worse, Dr. Wells unleashes Grodd on the city in order to distract Barry and the team. Joe (Jesse L. Martin), Barry and Cisco (Carlos Valdes) head down into the sewers to catch Grodd but the gorilla quickly gets the upper hand after he kidnaps Joe. Iris (Candice Patton) and Barry have a heart to heart talk. The "Grodd Lives" episode of The Flash will air on Tuesday, May 5, 2015.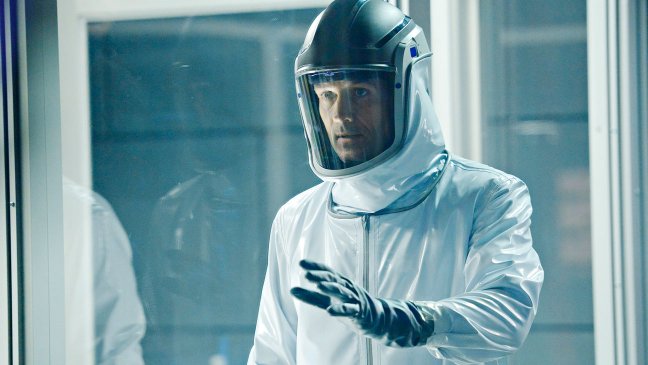 HELIX - CANCELLED
Helix will not live to see a third season. Syfy has opted to cancel the drama after two seasons, The Hollywood Reporter has learned. The Sony Pictures Television drama, starring Billy Campbell, hailed from executive producers Steven Maeda and Ron Moore, and finished its sophomore run earlier this month. The drama revolved around Centers for Disease Control pathologist Dr. Alan Farragut (The Killing's Campbell) and his estranged ex-wife, Dr. Julia Walker (Kyra Zagorsky), after they're sent to the Arctic to investigate a mysterious disease outbreak. The drama concluded its second season with an average of 563,000 total viewers — with its ultimate series finale scoring a series low of 440,000 total viewers. That's down from its record-breaking freshman run, which saw the series set live-plus-3 DVR records when its 1.8 million total viewers grew to 2.8 million. That helped set records among the key adults 18-49 and 25-54 demographics. The decision to cancel Helix comes as Syfy has been making a concerted effort to focus on high-profile science fiction programming, including 12 Monkeys — already renewed for a second season — and big-swings The Expanse and Childhood's End. The NBCUniversal-owned cable network also has drama series Hunters (from The Walking Dead EP Gale Anne Hurd) due in 2016 and a slate of dramas that also includes Olympus, Defiance, Haven, Z Nation and Dark Matter, among others. On the pilot side, The Magicians is inching toward a series order, while its Ben Affleck- and Matt Damon-produced drama Incorporated was recently picked up.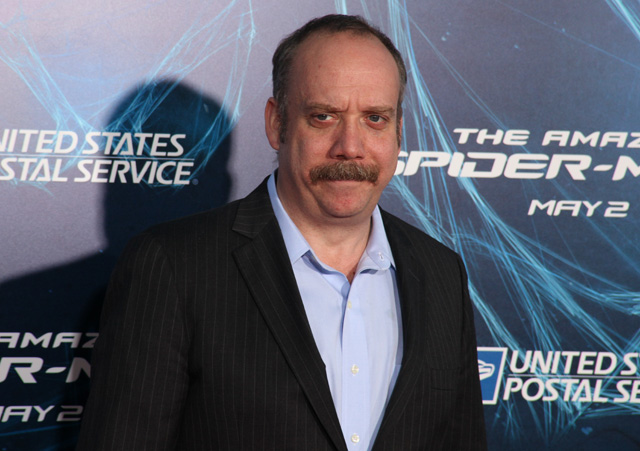 MORGAN
Paul Giamatti and Toby Jones have joined Kate Mara (Fantastic Four, "House of Cards") and Anya Taylor-Joy (The Witch) in Morgan, an upcoming sci-fi thriller that will mark the feature directorial debut of Ridley Scott's son, Luke Scott. The elder Scott will produce the project, which The Hollywood Reporter brings word also has Boyd Holbrook in negotiations to star. Morgan, scripted by Seth W. Owen, landed on the 2014 Black List of Unproduced Screenplays with the following official description: A corporate risk management consultant (Mara) is summoned to a remote research lab to determine whether or not to terminate an at-risk artificial being (Taylor-Joy). Giamatti will play a psychologist who has trouble relating to people while Jones will play the chief scientist in charge of the facility. Holbrook is a nutritionist at the facility, adds the trade. Mara can be seen later this year in both Joshua Trank's Fantastic Four and the Ridley Scott-helmed sci-fi feature The Martian. The former also stars Miles Teller, Jamie Bell and Michael B. Jordan and hits theaters August 7. The latter, meanwhile, will see Mara starring opposite Matt Damon, Chiwetel Ejiofor, Jeff Daniels, Sean Bean and Jessica Chastain and will arrive on the big screen November 25. Scott Free's Elishia Holmes and Michael Schaefer will also produce Morgan. George Heller will serve as executive producer with Steve Asbell overseeing for 20th Century Fox.
DAREDEVIL
After consuming all 13 episodes over the course of one weekend, most hardcore fans wanted to know if Marvel's Daredevil would return for more episodes before The Defenders debuts in 2017. After all, Marvel is busy shooting Marvel's A.K.A. Jessica Jones in New York for release later this year. And that will be followed by Marvel's Iron Fist and Marvel's Luke Cage in 2016. Was it even possible for Marvel's Daredevil to get a second season with so much going on? As it turns out, yes! Marvel's Daredevil has proven to be so successful, with its entire 13 episode first season currently streaming, that Netflix has renewed the series for Marvel's Daredevil Season 2! Original show runners Steven S. DeKnight and Drew Goddard will turn over the reigns to Douglas Petrie (Buffy the Vampire Slayer) and Marco Ramirez (Da Vinci's Demons), who will serve as the new show runners for this next set of episodes. They both worked closely with and in bringing Marvel's Daredevil Season 1 to air. Ramirez, Petrie, Drew Goddard and Jeph Loeb will serve as executive producers on Marvel's Daredevil Season 2. The series will once again be produced by Marvel Television in association with ABC Studios for Netflix. Blinded as a young boy but imbued with extraordinary senses, Marvel's Daredevil follows Matt Murdock (Charlie Cox), who fights against injustice by day as a lawyer, and by night as the Super Hero "Daredevil" in modern day Hell's Kitchen, New York City. Marvel's Daredevil Season 2 will star Charlie Cox, Rosario Dawson, Vincent D'Onofrio, Deborah Ann Woll, Elden Henson, Scott Glenn, Bob Gunton, Toby Leonard Moore, Vondie Curtis-Hall and Ayelet Zurer.
WEDNESDAY, APRIL 29, 2015
MAD MAX: FURY ROAD
The final trailer for Mad Max: Fury Road has been released, and it finally gives us a look at the film's other star. You know, the not-Mad one. Charlize Theron's character gets much of the focus in this new footage, which shows off a bit more of this crazy post-apocalyptic world. Though Tom Hardy's Mad Max gets first billing, it's no surprise Theron plays a major role in the proceedings. Plus, we're starting to get the feeling she might be the real show-stealer here. The film picks up as the latest saga in George Miller's beloved action saga, with Hardy taking on the title role from Mel Gibson. They've also expanded the world quite a bit with the addition of Theron and her story, which seems like it'll drive much of the narrative. She brings some star power, and seems to have fully committed to this insane world. Mad Max: Fury Road is set to open May 15.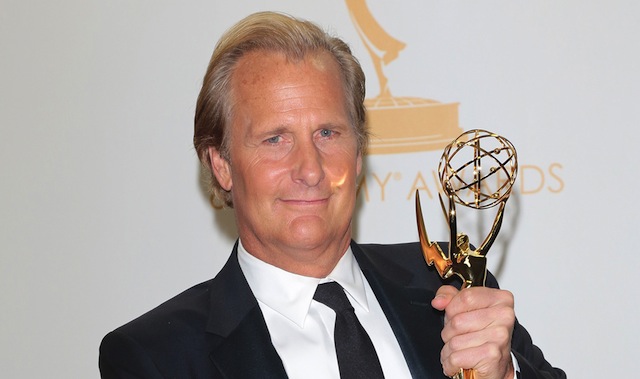 DIVERGENT NEWS
The two-part The Divergent Series: Allegiant has just scored a new addition to its ensemble cast. The Hollywood Reporter has learned that Jeff Daniels (Dumb and Dumber To, "The Newsroom") will play the final book's chief antagonist, David. Lionsgate will produce and release Allegiant, starring Shailene Woodley and Theo James and based on the third book in Veronica Roth's best-selling "Divergent" trilogy, as two separate films. After the cataclysmic events in Insurgent, Tris (Woodley) and Four (James) enter a dangerous new world in Allegiant — Parts 1 & 2 that they no longer recognize. As new truths are revealed about the past and future, Tris must face impossible choices about courage, allegiance and love to protect the people closest to her. Combined, the first two films in The Divergent Series have grossed more than $500 million worldwide. Daniels can be seen coming up in Ridley Scott's science fiction The Martian. Set for a November 25 release, The Martian also stars Matt Damon, Chiwetel Ejiofor, Sean Bean, Kate Mara, Sebastian Stan, Michael Pena, Jessica Chastain and Mackenzie Davis. After that, Daniels will be playing former Apple CEO John Sculley in Danny Boyle's Steve Jobs biopic. Allegiant – Part 1 will hit theaters on March 18, 2016 with Allegiant – Part 2 following on March 24, 2017.
SUICIDE SQUAD
Another actor has joined the cast of David Ayer's Suicide Squad in a mystery role. Variety reports that Alex Meraz, best known for his role as Paul Lahote in The Twilight Saga, is set to join a cast that already includes Will Smith as Deadshot, Margot Robbie as Harley Quinn, Jai Courtney as Captain Boomerang, Cara Delevingne as Enchantress, Jared Leto as The Joker, Joel Kinnaman as Rick Flag, Adewale Akinnuoye-Agbaje as Killer Croc, Karen Fukuhara as Plastique and Viola Davis as Amanda Waller. Jay Hernandez, Adam Beach, Ike Barinholtz, Scott Eastwood, Common and Raymond Olubowale are also attached to the film in still-unconfirmed roles. Originally created by Robert Kanigher and Ross Andru back in 1959, the group was retooled into its current iteration as villains working off their sentence by John Ostrander. The team has included countless DC villains (and heroes) among its ranks throughout the years. It's also been a staple of recent DC media. The CW's hit series "Arrow" introduced their own version of the team in the most recent season of the series and the recent animated film, Batman: Assault on Arkham, offered another version of the team. Now filming, Suicide Squad hits theaters on August 5, 2016.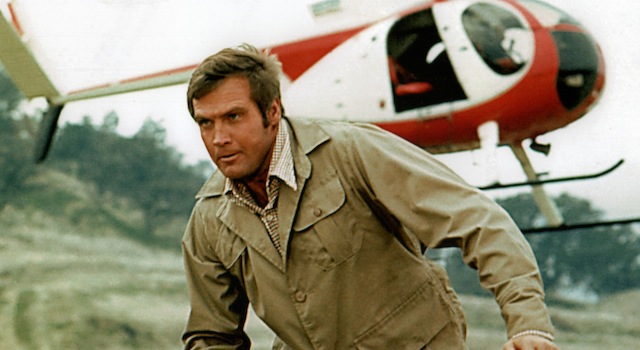 SIX BILLION DOLLAR MAN
Bob Weinstein announced today that Oscar-nominated scribe Damián Szifron will write the screenplay for Six Billion Dollar Man, set to star Mark Wahlberg (Ted, Lone Survivor, The Departed) and to be directed by Peter Berg (Lone Survivor, Hancock). Szifron's most recent film Wild Tales, which he wrote and directed, was nominated for Best Foreign Language Film at this year's Academy Awards. Six Billion Dollar Man is based on the classic and popular television series, "The Six Million Dollar Man" and the novel "Cyborg" by Martin Caidin. The story follows military officer, Steve Austin, who becomes part of a top secret government program after a horrific accident leaves him near death. With the help of cutting edge technology, Steve is brought back to life with extraordinary strengths, making him the world's first truly bionic man. "I couldn't be more honored and grateful," says Szifron. "Such a major challenge represents a great opportunity. The themes surrounding this beloved property allow for the creation of a memorable sci-fi actioner as well as a bold spy thriller. Expectations are high and I'll do my best to deliver the strongest basis for an amazing cinematic experience." Wahlberg, Stephen Levinson and Bob Weinstein will produce the film which will be released by TWC-Dimension. "When I met with Damián I was so happy to learn that growing up as a kid he was a fan of 'The Six Million Dollar Man,'" Bob Weinstein explains. "He subsequently shared how he envisioned a modern retelling of the story with a new and unique vision. Mark Wahlberg, Stephen Levinson and I couldn't be more excited that he has come on board to write the script." Szifron is repped by WME and attorney Carlos Goodman. Overseeing production for TWC-Dimension are EVP of Production and Creative Affairs, Matthew Signer, SVP of Production and Development and Keith Levine.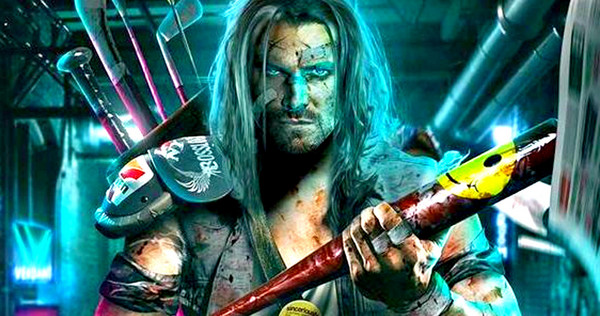 TEENAGE MUTANT NINJA TURTLES
It was just under four weeks ago that we learned Stephen Amell would be taking on the highly-anticipated fan-favorite role of Casey Jones in Teenage Mutant Ninja Turtles 2. The sequel is now shooting on the streets of New York, and we get our first look at the popular Arrow actor running through scenes in the middle of a busy intersection. He doesn't have his iconic hockey mask here, but he is seen reaching for an all-too familiar weapon. Yes, he does have his hockey stick! Along with these first look images of Stephen Amell, we also get our first look at Megan Fox, who returns to reprise her role as April O'Neil from last summer's breakout hit Teenage Mutant Ninja Turtles, which proved to be a bigger success at the box office than predicted. She no longer has on her signature yellow jacket, instead trading it in for something a little darker. Maybe it's a hint at the sequel's grittier tone this time around? One thing is for certain, she'll still be running a lot. We also get a look at the new logo (if you squint), which really isn't any different than the first movie. The sequel is directed by Dave Green, who made a name for himself with the well-recieved family friendly sci-fi adventure Earth to Echo last summer. Will Arnett and William Fichtner will return along side new cast members Tyler Perry and supermodel Alessandra Ambrosio. Shredder has been recast, with Brian Tee now taking over the role. And fan-favorite villains BeBop and Rocksteady will be making their debut appearance alongside Casey Jones as well, though they have yet to be cast. Our first look at them will probably arrive courtesy of mo-cap photos. For now, take a look as comes together in the Big Apple. Teenage Mutant Ninja Turtles 2 comes to theaters June 6th, 2016. COWBOYS VS. DINOSAURS
An outrageous sci-fi adventure that entertainingly pits two unlikely species against each other, Cowboys Vs Dinosaurs battles its way onto Digital HD and On Demand May 19 from MarVista Digital Entertainment (MVDE). Directed by Ari Novak, known for his visual effects work on Live Free or Die Hard, the inconceivable creature/disaster mash-up stars Oscar and Golden Globe nominee Eric Roberts, Vernon Wells, Rib Hillis, Casey Fitzgerald, John Freeman, Kelcey Watson and Sara Malakul Lane. After a mining explosion in Livingston, Montana, formerly believed extinct breeds of dinosaurs suddenly emerge from the rubble. Now, a disgraced cowboy, who recently returned home to make amends for his past wrongdoings towards his ex-girlfriend, must team up with her new boyfriend, the sheriff, to defend their town against the rampaging beasts. With the help of a few local gunslingers, the posse must band together in order to survive the deadly attack and take back their town. The kitschy, over-the-top creature-feature will be available on Amazon, Google Play, iTunes, Vimeo and VUDU, as well as On Demand with AT&T, Comcast, Cox, DirecTV and TWC. Take a look as the Old West faces a danger unlike any ever seen before in history. This summer, Cowboys Vs Dinosaurs is sure to give Jurassic World a run for its money!
TUESDAY, APRIL 28, 2015
THE KILLJOYS
Syfy has a lot of intriguing new genre series cooking right now, and among the next to debut is Killjoys, a space adventure from Lost Girl creator Michelle Lovretta and the production company that's brought us Orphan Black, Canada's Temple Street Productions. The show follows three bounty hunters as they chase bounties across the Quad, a planetary system on the brink of war, and while the first trailer definitely got us excited, the first clip really makes us want to see this show.

The clip opens with a cramped gunfight in a hallway. John Jaqobis (Aaron Ashmore) and D'avin (Luke Macfarlane) are pinned down by enemy fire and debating what exactly to do about it.

The clip preserves the irreverent sense of fun we got from the trailer, but also really hammers home that these people (particularly Dutch) are dangerous, and definitely not to be trifled with. I like the inventiveness Dutch uses to neutralize her enemies, but I also like that the clip makes it very clear that she can gets things done even without the aid of some cool jewelry. What I like most of all, though, is that the show seems to be walking that Firefly-esque line of telling solid sci-fi stories while not taking itself too seriously. These people are at work, after all, and their work is interplanetary bounty hunting. They're not going to treat everything like the end of the world. They're going to talk shop, banter, and have a good time. Based on what we've seen of Killjoys so far, I can't wait.

Killjoys premieres June 19 at 9/8C on Syfy.
X-FILES
With much of the key cast already locked in to return for The X-Files, Fox is now cutting deals to bring back some of the behind-the-scenes talent.
TV Line reports the network has signed deals with former X-Files writer-producers Glen Morgan and James Wong, who will join series creator Chris Carter in the writers room for the upcoming six-episode limited series. The duo were a major creative force during the show's original, decade-long run, responsible for some of the show's best episodes. Needless to say, this is great news.
The writers spent several years working with Carter to craft the mythology, and some of their most memorable highlights include "Beyond the Sea" in Season 1 and "Musings of the Cigarette Smoking Man" and "Home" in Season 4. The pair will apparently write and produce one episode each, and Morgan is set executive produce the season with Carter.
The network already has original stars David Duchovny and Gillian Anderson on the list, and now we have some of the writers who truly brought their characters to life. For fans of the series, this is a great move — and shows they're making a push to recapture The X-Files at its best.
TUESDAY, APRIL 21, 2015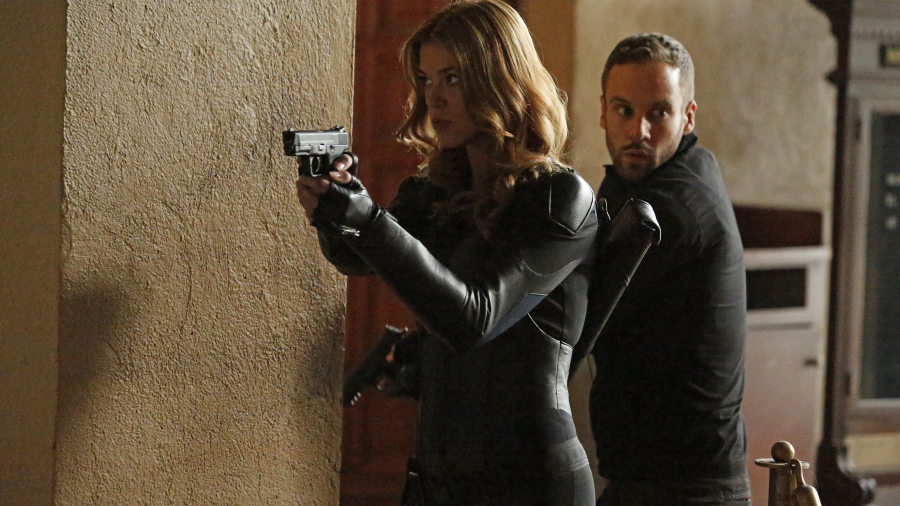 SHIELD - MOCKINGBIRD
UPDATE: It seems a "SHIELD" spinoff premise has been found. Deadline is reporting that Adrianne Palicki (Bobbi Morse, aka Mockingbird) and Nick Blood (Lance Hunter) are in talks to star in the spinoff, which will be established in Season 2 of "Marvel's Agents of SHIELD." Marvel declined to comment to Zap2it, but considering the plan seems to be to have this on lock by ABC's Upfronts, official news could come in the next few weeks. The original report continues as follows. The Marvel Cinematic Universe continues to grow on the small screen the same way it's growing on the big one. According to a new report, ABC and Marvel are in discussions about making a spinoff to "Marvel's Agents of SHIELD." Entertainment Weekly broke the news that "SHIELD" executive producer Jeffrey Bell and writer Paul Zbyszewski are working on the proposed project. Beyond that little is known, though EW does say that story elements being introduced in Season 2 will be used as set up for the potential series, though there won't be an implanted pilot episode. Unfortunately, that doesn't narrow the field down much. There's no word on which characters could make the jump, but storylines like the recently introduced Inhumans, the "real SHIELD" with Edward James Olmos and Adrianne Palicki, and Kyle McLachlan's group of mutated villains all seem like they could be contenders for their own storylines. Marvel declined to comment on the rumor to Zap2it, but it's worth noting that not even "Agents of SHIELD's" future -- or that of ABC's other Marvel series "Agent Carter" -- are set. ABC hasn't announced season renewals for either show, so it makes sense that nothing is set in stone for this potential spinoff. According to EW, the spinoff could premiere as soon as fall 2015. It's smart that Marvel and ABC want to move down the spinoff route, as their DC competitors at The CW have had good success with "Arrow" and its spinoff "The Flash," and are already in the works on a third companion series. JURASSIC WORLD
As is the case for the genetically enhanced new dinosaur at its center, there's a lot to digest in the new trailer for "Jurassic World." The reveal of the new dino is probably the biggest moment in the trailer, but its showing how main character Owen Grady (Chris Pratt) controls a pack of raptors is probably the best/most ridiculous part. At least now this all makes sense: The basic plot of the movie is that the suits behind a new version of Jurassic Park decide that they should genetically modify a dinosaur to be bigger than a T-Rex -- all to draw more guests. Since these people apparently ignored the lessons of the first few times people attempted to create a theme park filled with prehistoric creatures, they're surprised when the new dino escapes, starts killing for sport and generally wreaks havoc on an island filled with people and not enough boats. This trailer does a great job showcasing the big story moments, and all the action and intensity previewed is on point for the expectations a movie in the "Jurassic Park" franchise draws. It also includes that scene Joss Whedon wasn't partial to, which definitely works better as part of a teaser than on its own. "Jurassic World" also stars Bryce Dallas Howard, Ty Simpkins, B.D. Wong, Judy Greer, Vincent D'Onofrio and Jake Johnson. It's due in theaters on June 12.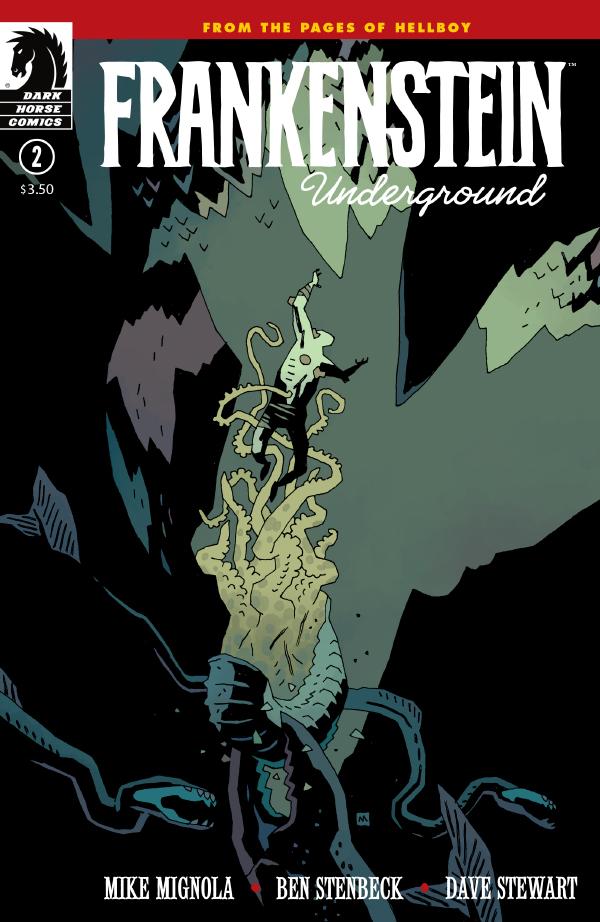 FRANKENSTEIN UNDERGROUND
In the new miniseries sequel to Hellboy: House of the Living Dead, Frankenstein's monster is chased by his tormentors into the center of the earth and becomes prey for a different kind of creature. Written by Mike Mignola, who also worked on the cover, with art by Ben Stenbeck and Dave Stewart, Frankenstein Underground #2 is published by Dark Horse Comics. Check out our exclusive preview of the first seven pages of this new book.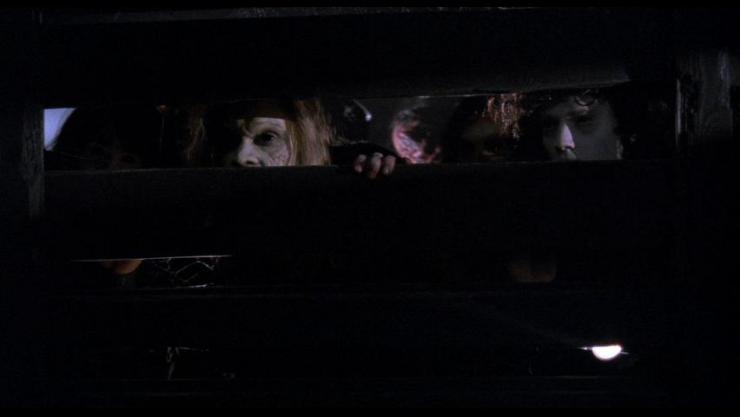 WES CRAVEN AND SYFY SERIES
The man who created Freddy Krueger is turning his talents back to the small screen. According to the Hollywood Reporter, legendary horror filmmaker Wes Craven has signed a deal with Universal Cable Productions to develop two projects for Syfy, with room for more down the line. The first is a show based on Craven's 1991 movie The People Under the Stairs. Described as "Downton Abbey meets The Amityville Horror," the series follows what happens when the search for a missing young woman at the Robeson family manor unearths the centuries-old horrors living under the estate. While Craven is an executive producer on that one, he's getting even more hands-on with a second project called We Are All Completely Fine, for which he intends to write and direct the pilot himself. It's based on a novella, by Daryl Gregory, in which a mysterious psychologist gathers together five survivors of supernatural violence and trauma in a support group and attempts to discover which of them are suffering from horrors within themselves and which were assaulted by terrors lurking in the real world. All this comes as MTV is also launching a Craven-related series, Scream, based on his post-modern slasher franchise. Craven's filmography includes a string of horror classics (many of which have been remade), including The Last House on the Left, The Hills Have Eyes, A Nightmare on Elm Street (which introduced Mr. Krueger to the world), The Serpent and the Rainbow and the Scream movies. He previously created the TV shows The People Next Door (1989) and Nightmare Cafe (1992). CHILDHOOD'S END
Here's the first peek at Syfy's upcoming adaptation of Arthur C. Clarke's classic sci-fi saga Childhood's End, with Charles Dance (Game of Thrones, Alien 3) hosting this harrowing introduction to the epic invasion. The three-part, six-hour presentation is set to air this December and will star Dance as Overlord Karellen, the alien ambassador to Earth during an uneasy occupation and seemingly benign integration into human life. Executive-produced by Akiva Goldsman (A Beautiful Mind, I Am Legend) and Michael Deluca (Dracula Untold, The Social Network), this ambitious series also stars Julian McMahon (Fantastic Four, Fantastic Four: Rise of the Silver Surfer), Mike Vogel (Under The Dome) and Daisy Betts (Shutter). Syfy has further bolstered the premium production with an impressive creative team, having Clarke's seminal 1953 novel adapted by Matthew Graham (BBC's Life on Mars) and the pilot directed by Emmy nominee Nick Hurran (Doctor Who, Sherlock: His Last Vow). Here's Syfy's official synopsis: Childhood's End follows the peaceful invasion of Earth by the mysterious Overlords. Karellen (Dance), the ambassador for the Overlords, makes first contact with Earthling Ricky Stormgren. Karellen's comforting words and amazing technological gifts quickly win humanity's favor, beginning decades of apparent utopia at the cost of human identity and culture. However, his refusal to reveal his physical appearance and insistence on dealing only through Ricky have some people questioning whether his intentions are truly benevolent.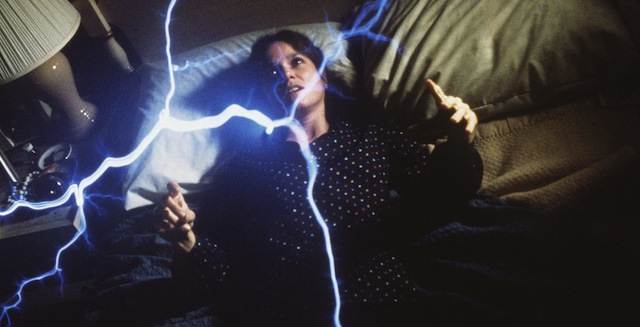 THE ENTITY
With his Furious Seven doing massive business at the global box office, it seems The Conjuring's James Wan has yet another tale of supernatural terror on the way. According to a story today at The Hollywood Reporter, Wan will produce a remake of director Sidney J. Furie's 1982 feature The Entity. That film was based on the 1978 novel of the same name by Frank De Filetta. Currently published by Valancourt Books, the tome is, in turn, inspired by a series of events that were said to have occurred in 1974. It is officially described as follows: Carlotta Moran, a young single mother with three children, suddenly has her life turned upside down when she begins to be attacked in her bed each night, violated by a spectral rapist. This brutal unseen force makes attempts on her life and terrorizes her children, but the worst part is that no one believes her. Among the skeptics is psychiatrist Dr. Sneidermann, who believes Carlotta is psychotic, a danger to herself and her children who should be committed. But two graduate students in parapsychology have a different theory: that Carlotta is being tormented by a powerful entity from beyond our reality, outside space and time. The tension builds to an electrifying conclusion, and the truth may be far more frightening than any of them ever imagined… The Conjuring scribes Chad and Carey Hayes will provide the screenplay for the new take, which also has Roy Lee (The Woman in Black, The LEGO Movie) producing. Wan is not planning to direct, although he'll be back in the genre soon as he's about to begin The Conjuring 2, set for release June 10, 2016.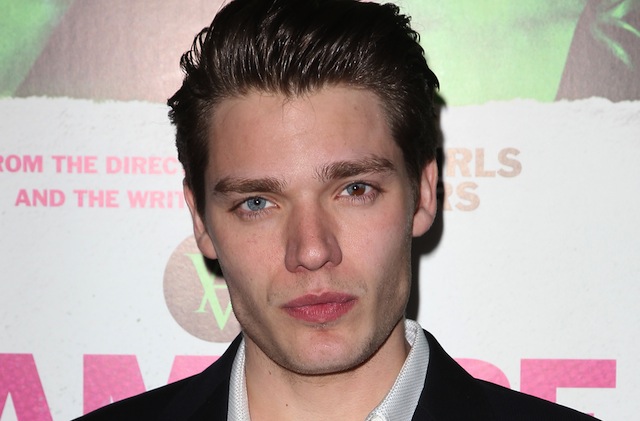 SHADOWHUNTERS
ABC Family announced today that it has cast British actor Dominic Sherwood as Jace Wayland on their upcoming series "Shadowhunters." Sherwood was recently seen starring in the feature film Vampire Academy and was featured in Taylor Swift's "Style" video. Based on the bestselling young adult fantasy book series "The Mortal Instruments" by Cassandra Clare, "Shadowhunters" follows 18 year-old Clary Fray who finds out on her birthday that she is not who she thinks she is, but rather comes from a long line of Shadowhunters — human-angel hybrids who hunt down demons. When her mother Jocelyn is kidnapped, Clary is thrown into the world of demon hunting with mysterious Shadowhunter Jace and her best friend Simon. Now living among faeries, warlocks, vampires and werewolves, Clary begins a journey of self-discovery as she learns more about her past and what her future may hold. Narcissistic, and lethally gorgeous, Jace is a determined and expert Shadowhunter. A skilled soldier in a war against demons. After his father is killed, Jace makes it his life mission to seek revenge on the man who is responsible. The Jace role was played by Jamie Campbell Bower in the 2013 feature film The Mortal Instruments: City of Bones.
MONDAY, APRIL 20, 2015
FANTASTIC FOUR
There's a new "Fantastic Four" trailer out, Marvel universe fans. Unlike the teaser trailer from two months ago, this one showcases not only how the Four are assembled, but gives a sneak peek at Tony Kebbell as the villainous Doctor Doom. In the teaser, when Reed Richards/Mister Fantastic (Miles Teller) asks "what is coming?", the answer was "answers." In the new trailer, the answer: "Doom." The new trailer also shows some of the interdimensional mission that leaves the Four with their new, "fantastic" abilities -- powers that they say they should use "to help people." And Dr. Franklin Storm (Reg. E. Cathey) boasts of Richards' intelligence, "He knows answers to questions we don't even know to ask yet. This is our chance to learn more about our planet and maybe even save it." "Fantastic Four" co-stars Jamie Bell as Ben Grimm/the Thing, Michael B. Jordan as Johnny Storm/the Human Torch and Kate Mara as Sue Storm/the Invisible Woman. It is directed by Josh Trank, the man also directing the untitled "Star Wars" standalone film scheduled for 2018. "Fantastic Four" opens nationwide on Friday, Aug. 7, 2015.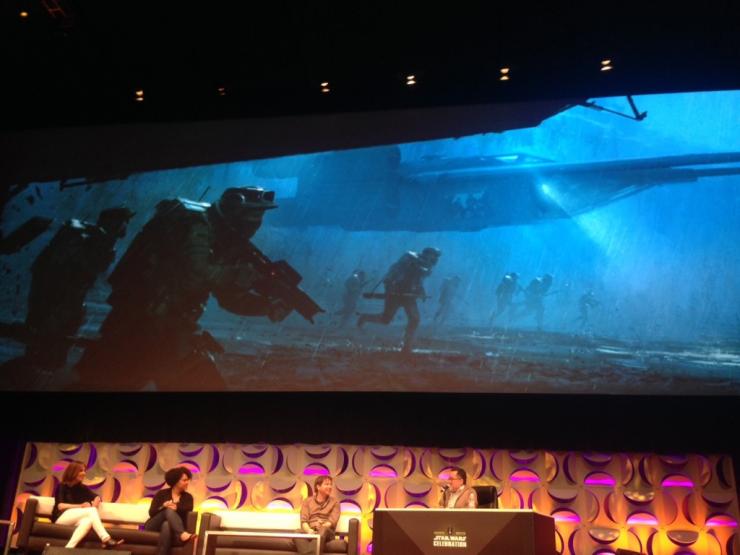 STAR WARS: ROGUE ONE
We were wondering exactly how much info Disney and Lucasfilm would reveal at the Star Wars Celebration event, and the Mouse House brought a whole lot more than we'd expected. We've already gotten a few peeks at Star Wars: The Force Awakens, but beyond that, we knew nothing more than a title for Gareth Edwards' pending spinoff film Star Wars: Rogue One. Lucky for us, Edwards was part of a panel that broke down some of the key details of what will be the first ever big screen spinoff film for the franchise. The plot will be set in the time between Revenge of the Sith and A New Hope, and focus on a team of rebels tasked with stealing the plans for the Death Star - you know, the plans that would eventually help Luke Skywalker take the thing down in the original film. We also learned how Disney plans to market the spinoff films. Whereas the "main" films will just have the title card we've seen for The Force Awakens, the spin offs will be tagged as "Anthology" films. It sounds like Edwards plans to put the "war" back in Star Wars, and told attendees the film will focus on the "reality of war" within the galaxy far, far away. Edwards said his story will be "complicated, layered; [and] a very rich scenario in which to set a movie." The director was initially reluctant to sign on, coming off his time on the big budget Godzilla remake, but he was so impressed with the script that he took the plunge. One other interesting tidbit: The entire concept for the film was actually pitched by award-winning visual effects artist John Knoll, who brought the idea directly to Kathleen Kennedy and Lucasfilm's Kiri Hart after floating the concept internally to almost universal acclaim. Considering how big a company we're talking about — and a franchise that generates billions — it's pretty cool to see that a good idea from someone a bit outside the box can still make it up the flagpole and score some face time. Nice move, Lucasfilm. Star Wars: Rogue One is set to open in December 2016. ATTACH ON TITAN
A new trailer for that live-action Attack on Titan movie has made its way online, and it looks gloriously epic. The upcoming movie from director Shinji Higuchis is based on a successful Japanese Manga series by Hajime Isayame. The franchise is so popular, it's already spawned an anime TV series and a couple of videogames. The gist of the story is this: A century ago, titans suddenly appeared on Earth. Because of those big, bad giant, (and I mean GIANT) meanies, human civilization as we know found itself on the brink of collapse. Humans then built massive, giant walls to defend themselves, and managed to live in relative peace inside them...until the wall is broken after 100 years and the titans start to chomp on people again. Good times. Attack on Titan will hit movie theaters in Japan on August 8. STAR WARS BATTLEFRONT
The new trailer for Electronic Arts' Star Wars: Battlefront has dropped, and aims for an eye-popping engagement on the forest moon of Endor featuring a rampaging Imperial Walker. Battlefront's amazing Frostbite graphics engine gets a full-burn workout as Y-Wing fighters, speeder bikes, stormtroopers, Ewoks and rebel soldiers clash amid the towering trees. Though this is only game engine footage instead of actual gameplay, it's difficult to deny the retina-pleasing purity of the Star Wars universe here as it plays out on a number of battlefields, including the arid planet Jakku, one of the main locations in Star Wars: The Force Awakens. We also get a glimpse of the Battle of Hoth and the hot sands of Tatooine, with Boba Fett rocketing above the desert action. This tense trailer premiered earlier today at Star Wars Celebration in Anaheim during the Star Wars: Battlefront panel and no doubt rocked the rafters. The downsides? No single-player campaign and, from the sound of it, no space battles. Here's the offiicial press release: "Like so many others around the world, everyone at DICE is a tremendous fan of the Star Wars universe," said Sigurlina Ingvarsdottir, Senior Producer of Star Wars Battlefront. "To be working on a Star Wars project and knowing we are helping to represent the universe we love to our generation and a legion of new Star Wars fans is truly an honor. Thanks to the access and knowledge shared with us by Lucasfilm, and the passion and talent of our team, we plan to deliver an amazing game that puts you right in the middle of the Star Wars battles you always imagined playing." Star Wars Battlefront will allow fans to live out a wide range of heroic moments and intense battle fantasies of their own – firing blasters, riding speeder bikes and snow speeders, commanding AT-ATs and piloting TIE fighters and the Millennium Falcon. These battles will take place on some of the most iconic planets in the Star Wars universe, including Endor, Hoth, Tatooine and the previously unexplored planet, Sullust. Gamers will be able to play as some of the most memorable characters in the original trilogy such as Darth Vader and Boba Fett. Star Wars Battlefront will feature a wide range of modes tailored for different types of battles, from larger 40-person competitive multiplayer to crafted missions that are played solo, with a friend via split-screen offline or co-operatively online. Fans who pre-order Star Wars Battlefront will be among the first players to experience the Battle of Jakku*, the pivotal moment when the New Republic confronted key Imperial holdouts on a remote desert planet on the Outer Rim. Taking place in the aftermath of the Rebel victory in the Battle of Endor, players will experience the events that created the massive, battle-scarred landscape of Jakku shown in Star Wars™: The Force Awakens™. Players who pre-order Star Wars Battlefront can fight the battle one-week early starting on December 1, 2015. All other players will get access to this free† content on December 8, 2015. Are you impressed by the game's ambitious scope and hypnotic visuals? Star Wars: Battlefront strikes Nov. 17, 2015, for PS4, Xbox One and PC.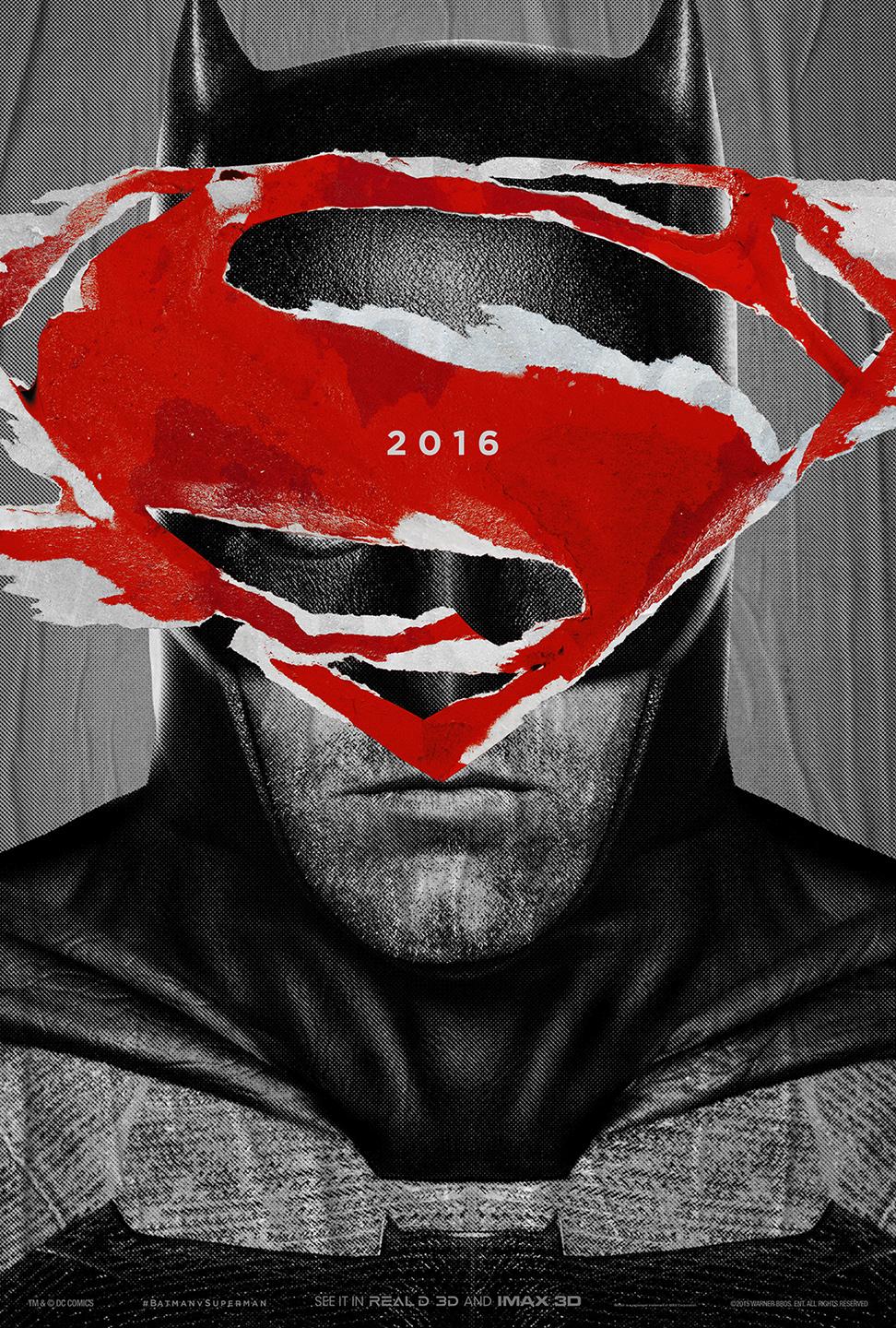 BATMAN VS. SUPERMAN
Following the teaser trailer that debuted earlier this week, director Zack Snyder has revealed the first two teaser posters for Warner Bros.' upcoming Batman v Superman: Dawn of Justice. Warner Bros. Pictures' Batman v Superman: Dawn of Justice is the highly-anticipated action adventure starring Henry Cavill in the role of Clark Kent/Superman, and Ben Affleck as Bruce Wayne/Batman. The film also stars Gal Gadot as Diana Prince/Wonder Woman, with Amy Adams, Laurence Fishburne and Diane Lane returning from Man of Steel, Jesse Eisenberg as Lex Luthor, Jeremy Irons as Alfred, and Holly Hunter in a role newly created for the film. Jason Momoa will also be making an appearance as Aquaman. Batman v Superman: Dawn of Justice is written by Chris Terrio, from a screenplay by David S. Goyer. Charles Roven and Deborah Snyder are producing, with Benjamin Melniker, Michael E. Uslan, Wesley Coller, David S. Goyer and Geoff Johns serving as executive producers. Set to open worldwide on March 25, 2016, Batman v Superman: Dawn of Justice is based on Superman characters created by Jerry Siegel & Joe Shuster, Batman characters created by Bob Kane, and Wonder Woman created by William Moulton Marston, appearing in comic books published by DC Entertainment.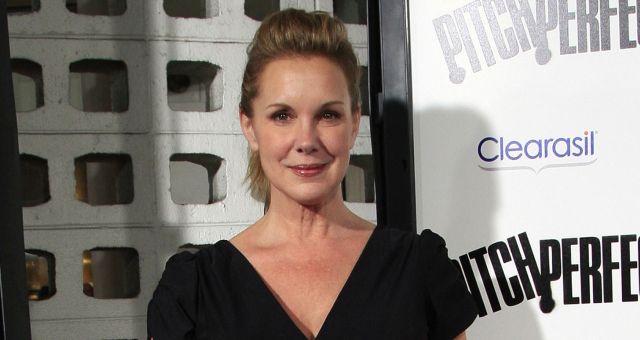 THE PREACHER
Yesterday brought official confirmation that Dominic Cooper will lead AMC's "Preacher" in the title role, and now Deadline reports that "Weeds" star Elizabeth Perkins has also joined the cast. Perkins will play Vyla Quinncannon, a new character who shares a name with one of the most vile villains from the source material – she also runs the local slaughterhouse and shares a history with Jesse's father which she'll use to hold over Jesse. "Preacher," published between 1995 and 2000, tells the story of Custer, a small town Texas preacher who, nearly at his faith's end, finds himself merged with a supernatural entity, Genesis, birthed from both an angel and a demon. Imbued with the word of God (the ability to make anyone obey his commands), Jesse hits the road, reunited with his ex-girlfriend, Tulip, and joined by a rowdy Irish vampire, Cassidy, to track down God himself and force him to explain why he abandoned his duties in Heaven. Dominic Cooper leads the cast that also includes Joseph Gilgun as the vampire Cassidy, Ruth Negga as his gun-toting ex-girlfriend Tulip, Ian Colletti as the kindhearted yet startling Arseface, and Lucy Griffiths as Emily Woodrow, an original character in the series and love interest of Jesse's. A Sony Pictures Television and AMC Studios co-production, "Preacher" will be produced by Evan Goldberg and Seth Rogen through their Point Grey banner, along with Neal Moritz's Original Film. The pilot was written by Sam Catlin and has Rogen and Goldberg attached to direct. "Preacher" is set to shoot this year with an eye toward premiering in 2016.
SUNDAY, APRIL 19, 2015
INDEPENDENCE DAY 2
Bill Pullman's President Whitmore lives on.

Pullman is reprising his Independence Day role for the upcoming sequel, alongside Judd Hirsch, who played Julius Levinson, father to Jeff Goldblum's computer genius character David in the original. Roland Emmerich, who is returning to direct, announced the castings on Twitter Friday.

Independence Day 2 is slated for June 24, 2016, just under 20 years after the original film hit theaters July 3, 1996. Goldblum is also returning to star alongside series newcomers Liam Hemsworth and Jessie Usher, who will play the son of the cocky fighter pilot played by Will Smith in the original.

Pullman's president Whitmore has remained popular in the years since the film hit theaters, with his speech on the eve of the film's final act among its most quoted moments.

The first Independence Day grossed more than $800 million worldwide. Dean Devlin, Emmerich and Harald Kloser are producing the sequel. James A. Woods and Nicolas Wright wrote the most recent draft.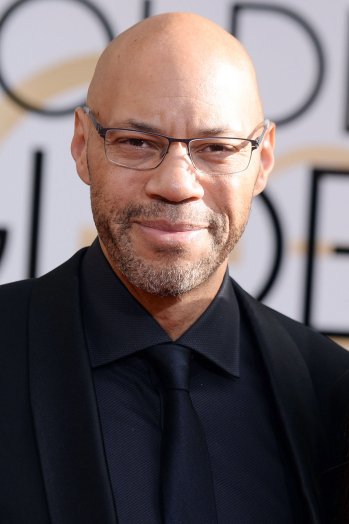 NEW MARVEL PROJECT IN THE WORKS
ABC is looking to expand its relationships with Marvel and John Ridley.
The network is teaming with the Oscar-winning producer behind 12 Years a Slave and its midseason drama American Crime to develop a new Marvel show, The Hollywood Reporter has confirmed.
As first reported by Entertainment Weekly, the new project is described as a reinvention of an existing Marvel superhero character or property. As with all Marvel development, other details are being closely guarded and kept under wraps.
For Ridley, the Marvel project would mark an extension of his relationship with ABC, where he's under an overall deal with sibling ABC Studios. While anthology American Crime has not been a ratings breakout, network brass including honcho Paul Lee, are high on the series — and want to be in business with Ridley.
For Marvel, meanwhile, the Ridley project would mark its second property in development of late for ABC. The comic book powerhouse is also plotting a mysterious Agents of SHIELD spinoff, and has the flagship looking at a likely third season renewal. Meanwhile, midseason bridge show Agent Carter — Marvel's first female-driven property — remains on the bubble despite critical support. Elsewhere, Marvel just bowed its first of five Netflix series with Charlie Cox drama Daredevil.
Keep up with all the renewals, cancelations and new series orders with THR's handy Scorecard.
STAR WARS REBELS
During the Star Wars Rebels panel at Star Wars Celebration on Saturday, an extended trailer was shown for Season 2 of the Disney XD animated series.
Present at the panel were members of the cast and crew, including Dave Filoni (Executive Producer, Supervising Director), Freddie Prinze, Jr. (Kanan), Vanessa Marshall (Hera), Tiya Sircar (Sabine), Steve Blum (Zeb), and Taylor Gray (Ezra).
Continuing the epic tradition of the legendary "Star Wars" saga, "Star Wars Rebels" unfolds between the events of Star Wars: Episodes III and IV and tells the story of the motley but clever crew of the starship Ghost who together face threatening new villains, encounter colorful adversaries and embark on thrilling adventures. In its second season, "Star Wars Rebels" will feature recurring appearances by fan-favorite characters including Darth Vader and Ahsoka Tano.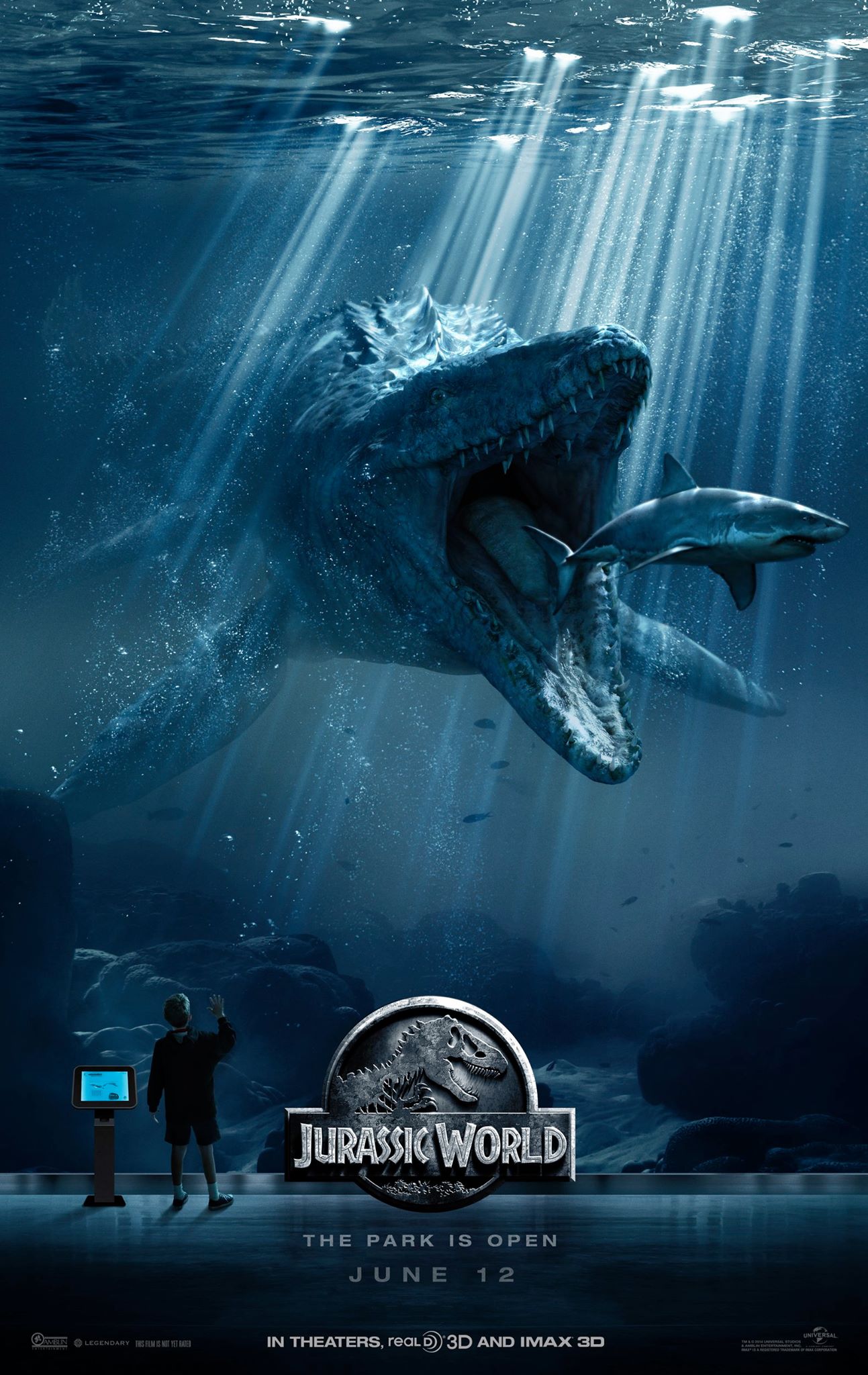 JURASSIC WORLD
Following the new poster that debuted yesterday, Universal Studios has released another poster for the upcoming Jurassic World featuring one of the latest additions to the park, the Mosasaurus.
Opening in 3D, 2D and IMAX theaters, Jurassic World arrives from Safety Not Guaranteed helmer Colin Trevorrow and offers a terrifying sci-fi adventure set 22 years after the events of Steven Spielberg's original 1993 Michael Crichton adaption, Jurassic Park. According to Trevorrow, a huge part of what sparked his take on the blockbuster franchise was the image of a teenager texting, unimpressed with the T. Rex behind the glass in front of him.
Jurassic World, which hits theaters on June 12, 2015, also stars Bryce Dallas Howard (The Help, Spider-Man 3), Ty Simpkins (Insidious, Iron Man 3), Jake Johnson (Let's Be Cops, "New Girl"), Nick Robinson (The Kings of Summer), Irrfan Khan (Life of Pi, The Amazing Spider-Man), Vincent D'Onofrio ("Daredevil," "Law & Order: Criminal Intent"), BD Wong (Jurassic Park, "Law & Order: Special Victims Unit"), Omar Sy (X-Men: Days of Future Past, The Intouchables), Judy Greer (Dawn of the Planet of the Apes, Tomorrowland), Katie McGrath (NBC's "Dracula," "Merlin"), Lauren Lapkus (Blended, The To Do List) and Andy Buckley (Bridesmaids, The Other Guys).
GOTHAM
Episode 20 of "Gotham" titled "Under the Knife," is officially described as follows:
"Gordon and Bullock continue to investigate the Ogre (guest star Milo Ventimiglia), who begins to make his move on someone close to Gordon. Meanwhile, Bruce and Selina team up to expose a corrupt Wayne Enterprises employee and Nygma comes to Kristin Kringle's defense."
"Under the Knife" is set to air April 20. "Gotham" airs Monday at 8 P.M. EST. on FOX.
"Gotham" is an origin story of the great DC Comics super villains and vigilantes, revealing an entirely new chapter that has never been told. From executive producer/writer Bruno Heller ("The Mentalist," "Rome"), "Gotham" follows one cop's rise through a dangerously corrupt city teetering on the edge of evil and chronicles the birth of one of the most popular super heroes of our time. The series stars Ben McKenzie, Donal Logue, Jada Pinkett Smith, Sean Pertwee, Robin Lord Taylor, Erin Richards, David Mazouz, Camren Bicondova, Zabryna Guevara, Cory Michael Smith, Victoria Cartagena, Andrew Stewart Jones, and John Doman.
FRIDAY, APRIL 17, 2015
STAR WARS: THE FORCE AWAKENS
Rarely does a certain galaxy seem quite as far, far away as it does when a new Star Wars trailer drops, as proven by Thursday's release of the second peek at this year's Star Wars: Episode VII — The Force Awakens. The new trailer, released to coincide with the beginning of the four-day Star Wars Celebration event in Anaheim, Calif. (an event being live-streamed at the official Star Wars site), gives audiences a closer look at what director J.J. Abrams has done to the space opera universe first unveiled by George Lucas in 1977's Star Wars. Over a monologue from Luke Skywalker talking about the strength of the Force in his family (and a shot of Darth Vader's partially destroyed helmet), the audience is treated to a number of visual references to earlier movies in the series, including a downed Star Destroyer, a number of Storm Troopers and a fight between a Tie Fighter and the Millennium Falcon. But nothing was as potent a moment of nostalgia as the final shot, with Han Solo showing up onscreen and telling Chewbacca, "Chewie, we're home." Millions of fans immediately agreed. The Force Awakens features the return of original franchise leads Mark Hamill, Harrison Ford and Carrie Fisher, alongside newcomers Oscar Isaac, Daisy Ridley and John Boyega. Also appearing in the movie are Adam Driver, Lupita Nyong'o, Andy Serkis and Domhnall Gleeson. Star Wars: The Force Awakens will be released Dec. 18.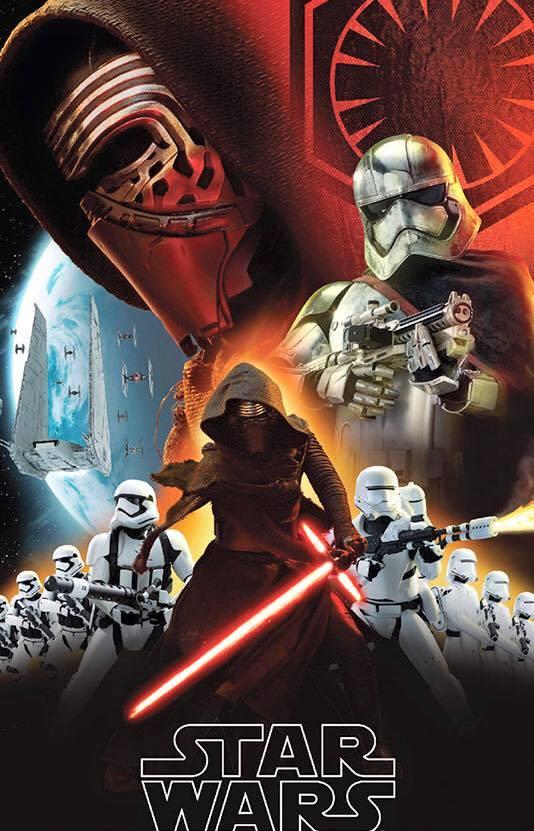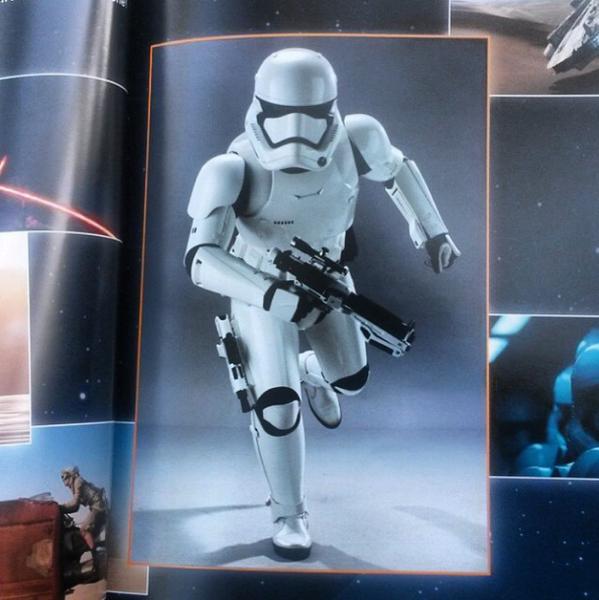 MORE STAR WARS
Today is truly a fantastic day to be a Star Wars fan who believes in a galaxy far, far away. Why? It's because of those three fantastic Star Wars: The Force Awakens promo posters that have made their way online -- ahead of the brand-new trailer that was released yesterday, all tied into Star Wars Celebration. What's cool about them is that they're giving us what may be our best look yet at the movie's mysterious villain, Kylo Ren (I really love that mask!). We also have a look at those redesigned stormtroopers and Empire spaceships. And talking about those stormtroopers, a leaked image from the official Star Wars Celebration (kicking off TODAY) promo booklet is also making the rounds, revealing a first full look at the Empire's footsoldiers in action.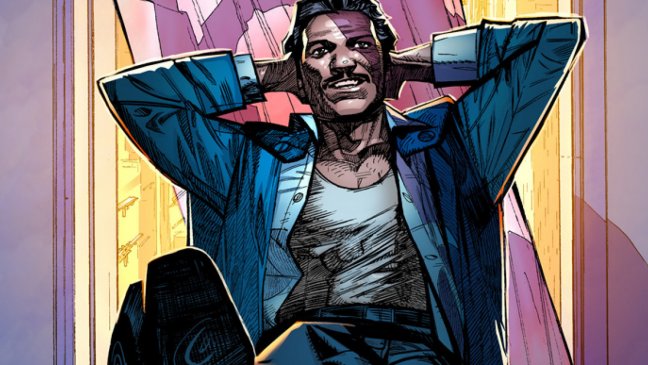 STAR WARS - LANDO CALRISSIAN
He's a card player, gambler, scoundrel — and, starting this July, the star of his very own comic book. Yes, even if he's not showing up in Star Wars: The Force Awakens, everything's still coming up Lando Calrissian. "Is Lando Calrissian the coolest character in all of Star Wars?" asked Charles Soule, who will be writing the new comic book mini-series. "Depends on who you ask, probably. But if you ask me, the answer is yes, and I plan to prove it with this story." The new series, illustrated by former Daredevil artist Alex Maleev, will be set prior to the events of The Empire Strikes Back and follows Lando before he was the man in charge of Cloud City. Soule told StarWars.com, the suave character will be "a man trying to make his way through an uncaring universe determined not to recognize that he was undeniably the coolest man in the galaxy." And Calrissian is determined to change that. Star Wars: Lando will be Marvel's fifth Star Wars launch this year, following the successful debuts of Star Wars; Star Wars: Darth Vader; Star Wars: Princess Leia; and Kanan: The Last Padawan. The publisher has also announced two future tie-ins to the upcoming Star Wars: The Force Awakens movie for release this fall.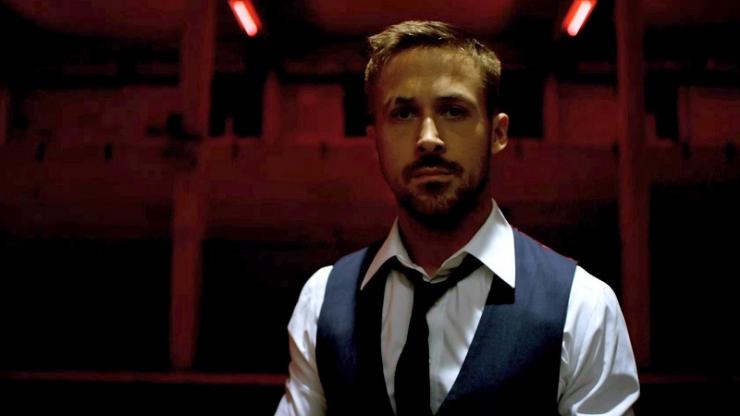 BLADE RUNNER
It's been a huge day for Harrison Ford fans. Earlier, we saw him reprise his role as Han Solo in the latest trailer for Star Wars: The Force Awakens. Now there's a major update regarding another sequel he's attached to, Blade Runner. According to multiple sources, Oscar nominee Ryan Gosling is in talks to join the followup to Ridley Scott's sci-fi thriller. The original debuted in 1982 and featured Ford's Rick Deckard, who is returning for the new film, directed by Denis Villeneuve (Prisoners) and executive-produced by Scott. The Blade Runner sequel is co-written by Michael Green and Hampton Fancher. Fancher previously penned the first movie (with David Webb Peoples), which was based on the Philip K. Dick novel Do Androids Dream of Electric Sheep? As for Gosling, there's no word on who he'll play, but we do know the story will be set decades after the events of the first film. Production is scheduled to begin in summer 2016. Last week, it was announced that Gosling would headline Guillermo del Toro's next project, The Haunted Mansion. Like Pirates of the Carribean, it's based on a popular Disneyland theme park attraction. The film's been in development for five years and is finally gaining momentum. It looks like Gosling is on a roll. INSIDE OUT
Pixar is thinking way outside the box for its latest film, and here's our first clip from the emotion-focused romp Inside Out. The film is set inside the mind of a young girl, and follows the lives of her "emotions" as they deal with the situations around her. The cast of characters include Joy (Amy Poehler), Fear (Bill Hader), Disgust (Mindy Kaling), Anger (Lewis Black) and Sadness (Phyllis Smith). The concept is unique, and it's encouraging to see Pixar trying to push the boundaries again. The first clip follows the emotions as they scramble around getting ready for the first day of school, as Poehler's Joy tries to manage everyone and ensure there are enough daydreams stocked up in case class is boring. Oh, she also has to make sure Sadness doesn't turn the day into a downer. Is it kind of weird? Sure. But, judging by the first clip, it looks like it should definitely fit into the classic Pixar mold (in more ways than one).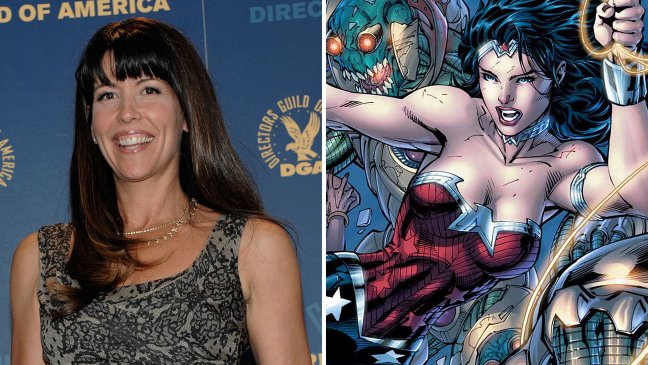 WONDER WOMAN
Just days after losing a director for Wonder Woman, Warners has quickly found another filmmaker to pick up the reins on the high-profile project. Patty Jenkins, who at one point was to direct Thor 2 for rival Marvel Studios, has closed a deal to helm Warner Bros.' female superhero movie. Warners moved at lightning speed to sew up another director after parting ways Monday with Michelle MacLaren, the experienced TV director and producer who was to have made her feature directorial debut with Wonder Woman. Creative differences were cited as the reasons for MacLaren's departure. Selecting Jenkins helps Warners avoid what some saw as a gender bias against women directors helming superhero tentpoles. Ironically, Jenkins would have been the first female director on a Marvel movie if she had continued on Thor 2. She will now become the first female director to handle a big project in Warner's developing DC universe. The studio needed to move quickly in order not to lose momentum on the project, which has been slotted for 2017 and has Gal Gadot attached to star. Jenkins is also another experienced TV filmmaker, although she actually got her start in movies. Her debut film was Monster, the indie that won Charlize Theron a best acting Oscar. But showing how hard the film world can be for female directors, Jenkins has had a tough time finding a follow-up feature. She did, however, make a mark in TV, including directing the pilot for AMC's acclaimed crime drama The Killing.
THURSDAY, APRIL 16, 2015
BATMAN VS. SUPERMAN: DAWN OF JUSTICE
It's here, DC universe fans. The moment you've all been waiting for. Or actually, the moment teasing the moment you've all been waiting for. Wednesday (April 15), "Batman vs. Superman: Dawn of Justice" director Zack Snyder released a 20-second teaser for the trailer that will be released in IMAX theaters on Monday. Variety reports that it will be the first full-length trailer, so fans looking for their nearest locations can check out the official site for details. Snyder says in his tweet that space is limited. "Batman vs. Superman" stars Ben Affleck and Henry Cavill as the titular superheroes. It co-stars Amy Adams as Lois Lane, Jason Momoa as Aquaman, Jesse Eisenberg as Lex Luthor, Gal Gadot as Wonder Woman and Ray Fisher as Cyborg. The movie hits theaters March 25, 2016.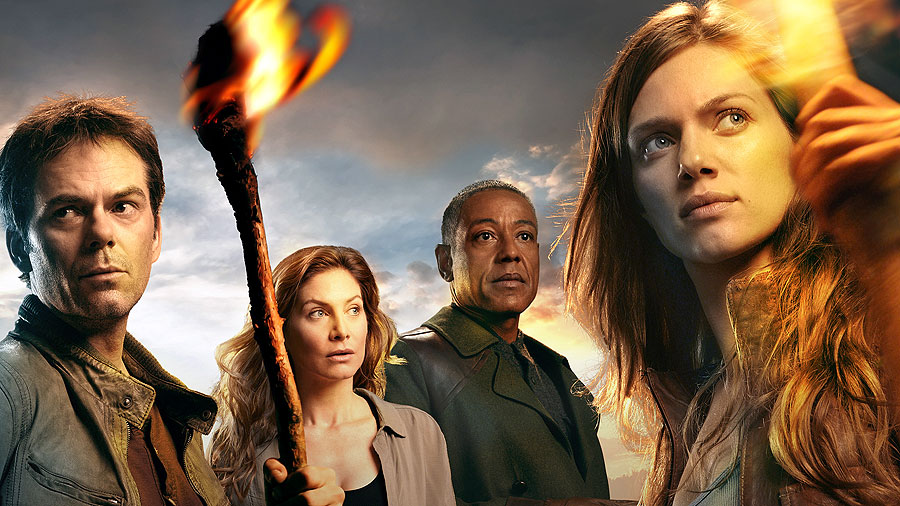 REVOLUTION - PROPER ENDING
Ever since NBC canceled "Revolution" after the 2013-14 season, a persistent group of fans has been clamoring for it to find a new home for a third season. That still isn't happening. Fans will, however, get to see an ending to the post-apocalyptic drama thanks to a four-part digital comic book from DC Comics and the show's writers. The "Revolution" comic will debut on ComicBook.com starting May 4, with a new chapter every two weeks after that. A week after initial publication, each chapter will also appear on the "Revolution" Facebook page. Series writers David Reed and Ryan Parrott penned the book with input from the rest of the writers' room, and DC artist Angel Hernandez is illustrating it. "The loyalty you've shown 'Revolution' these past months has been touching and overwhelming -- it's meant more to me than you'll ever know," Kripke writes in a letter to fans posted on ComicBook.com. "And in case you were wondering -- yes, we've been listening. We've read the tweets. We've seen the incredible petition. We've followed #RelocateRevolution. Please know that you've been heard." Kripke says that "financial realities we can't overcome" scuttled the idea of filming more episodes, the comic will at least provide some closure. "We can do the next best thing," he writes. "Which is end the story. On our terms. Exactly the way we would have." JUSTICE LEAGUE: GODS AND MONSTERS
Last week, we gave you a taste of the first teaser for the new Bruce Timm-produced alt-universe animated feature, Justice League: Gods and Monsters, with some darker shades of the traditional Batman, Superman and Wonder Woman personas we're used to. Now comes the official trailer and storyline to lure you into its otherworldy lair of framed superheroes facing a formidable evil. Here's DC's newly-released synopsis: Journey to a divergent reality where the Justice League protects the planet - but answers to no one but themselves. Employing methods of intimidation and fear, this Superman, Batman and Wonder Woman deal brute force in the name of justice. In this alternate universe, Superman was not raised by the Kents in Smallville, the Caped Crusader is not Bruce Wayne, and Wonder Woman is not an Amazon warrior of Themyscira. When a group of famed scientists experience untimely "accidents," a government task force follows the trail of clues to the Justice League. But is there a more powerful player operating from the shadows? It's a high stakes game of intrigue, mystery and action that asks the question: How do you serve justice to those above the law? Directed by Sam Liu (Batman: Year One, All-Star Superman), Justice League: Gods and Monsters hits Blu-ray, DVD and Digital HD on July 28, 2015.

FLASH GORDON
he Hollywood Reporter brings word today that director Matthew Vaughn is in talks to direct a new version of Flash Gordon for 20th Century Fox! J.D. Payne and Patrick McKay, who penned a draft of the upcoming Star Trek 3, have written the script. John Davis (Predator, The Man from U.N.C.L.E.) and George Nolfi (Ocean's Twelve, The Adjustment Bureau) are set to produce the film. This would mark Vaughn's fourth comic-based film in a row, a pattern that began with 2010's Kick-Ass and went to X-Men: First Class and this year's hit Kingsman: The Secret Service. Created by Alex Raymond in 1934, Flash Gordon began life as a serialized comic strip, following the intergalactic adventures of the titular hero, his fellow adventurer and love interest, Dale Arden, and brilliant scientist Dr. Hans Zarkov. Together, the trio explore fantastic interplanetary locales like Mongo, home of the devilish Ming the Merciless. Tremendously popular in the late 1930s as a trio of big screen serials, Flash Gordon has since been adapted for both the big and small screen in a variety of different forms. Director Mike Hodges' feature film (which boasted a soundtrack by Queen) failed to impress at the box office in 1980, but the movie has since emerged as a genuine cult classic. That film's star, Sam J. Jones, played homage to the character in Seth MacFarlane's 2012 comedy Ted and will reprise his role in the upcoming Ted 2. THE ARROW
[Warning: Spoilers ahead for Wednesday's episode of Arrow, "Broken Arrow".] Team Arrow said goodbye to one of its key members Wednesday. Colton Haynes (Roy) is exiting The CW drama, which he has appeared on since season one, The Hollywood Reporter has confirmed. He will appear in an additional episode this season. In Wednesday's episode, Roy (Colton Haynes) faked his own death in jail, where he was protecting Oliver (Stephen Amell) by taking the blame for being The Arrow. After turning himself in to authorities, Roy was apparently stabbed to death, but it was all part of a plan he concocted with Felicity (Emily Bett Rickards) and Diggle (David Ramsey). The man doing the stabbing was an ARGUS contact with the skills to stab someone without killing them. The world now thinks both Roy and The Arrow are dead. This means Oliver can move on with his life without suspicion of being The Arrow. But that also means Roy needs to leave Starling City. He's off to start a new life with a new identity, and will not be interacting with team Arrow on a regular basis. "Colton will not be returning to the show as a series regular in Season 4, but will appear in one additional episode this season," a rep for Warner Bros. TV, which produces the show, tells THR. "Like all characters that exist in this universe, there will always be the potential for him return moving forward." Haynes joined the show in a recurring role in the 15th episode of season one, and was upped to series regular in season two, with his rough-around-the-edges Roy Harper quickly becoming a fan favorite. If Haynes' exit weren't shock weren't enough, Ra's al Ghul (Matt Nable) returned in the final moments of the episode to brutally attack Thea (Willa Holland). But he also said an incantation, which opens the possibility for her being healed. Ra's al Ghul has been attempting to force Oliver to take over his mantle, and this could be the leverage he needs. Earlier this year, executive producer Marc Guggenheim said the show would explore the mythology of the Lazarus Pit, a supernatural pool Ra's al Ghul uses in the comic books to regenerate himself — or even bring people back from the dead. In the show, Ra's has already used the pit to heal a wound. Judging by the trailer for next week's episode, the Lazarus Pit will be in play. Arrow airs at 8 p.m. on Wednesdays on The CW. ANT-MAN
After a weekend of teasing their next big blockbuster, Marvel Studios have officially released the full-length trailer for Ant-Man. This latest footage brings our first look at Corey Stoll as the villainous Yellowjacket as he goes on the attack. It is also features plenty of Marvel action. And stay tune until the end to see one epic train chase...Toy train that is! The next evolution of the Marvel Cinematic Universe brings a founding member of The Avengers to the big screen for the first time with Marvel Studios' Ant-Man. Armed with the astonishing ability to shrink in scale but increase in strength, master thief Scott Lang must embrace his inner-hero and help his mentor, Dr. Hank Pym, protect the secret behind his spectacular Ant-Man suit from a new generation of towering threats. Against seemingly insurmountable obstacles, Pym and Lang must plan and pull off a heist that will save the world. Marvel's Ant-Man stars Paul Rudd as Scott Lang aka Ant-Man, Evangeline Lilly as Hope Van Dyne, Corey Stoll as Darren Cross aka Yellowjacket, Bobby Cannavale as Paxton, Michael Pena as Luis, Judy Greer as Maggie, Tip "Ti" Harris as Dave, David Dastmalchian as Kurt, Wood Harris as Gale, Jordi Mollà as Castillo and Michael Douglas as Hank Pym. Peyton Reed directs Marvel's "Ant-Man" with Kevin Feige producing and Louis D'Esposito, Alan Fine, Victoria Alonso, Michael Grillo, Edgar Wright and Stan Lee serving as executive producers. The story is by Edgar Wright & Joe Cornish and the screenplay is by Adam McKay & Paul Rudd. Marvel's "Ant-Man" delivers a high-stakes, tension-filled adventure on July 17, 2015. Ant-Man comes to theaters July 17th, 2015 and stars Paul Rudd, Michael Douglas, Evangeline Lilly, Michael Pena, Corey Stoll, Judy Greer, David Dastmalchian, John Slattery. The film is directed by Peyton Reed.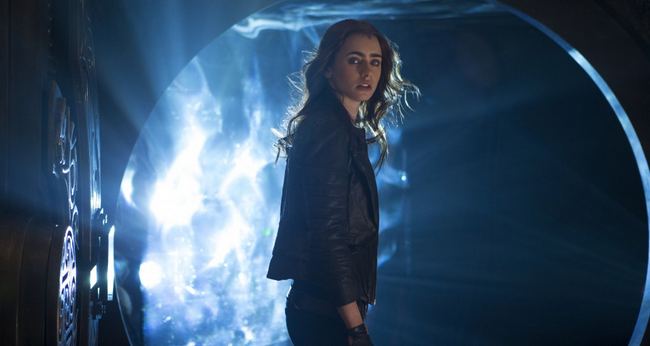 SHADOWHUNTERS
While there are quite a few people bummed that we'll never get a sequel to 'The Mortal Instruments: City of Bones,' there is some great news on the new television series as director McG ('Chuck','Terminator: Salvation') has signed on to direct 'Shadowhunters'! ABC Family has set him up to take on the popular young adult series penned by Cassandra Clare and McG's style might be the perfect choice. Not only is he on board to direct, but he'll also be an Executive Producer on the series along with Ed Decter ('Unforgettable','The Client List') who will be writing the series and act as showrunner. While no casting has yet to be set, I expect we'll hear quite a few names attached to the project soon as shooting is set to begin this May in Toronto. With less than a month away, they likely already have a few faces on board or close to it. In 'Shadowhunters,' we'll initially see the series follow the general idea of 'The Mortal Instruments: City of Bones' with a few changes. Honestly, with how extended the series is at this point I'm thinking a television show is probably a better fit than feature films. In the series we'll still follow Clary Fray as she turns 18 and finds out that she is a descendant of the Shadowhunters and has to follow in their footsteps. Not by choice, of course, as her mother Jocelyn is kidnapped and she has to fight to save her life. While the film wasn't a box office success Constantin Films is still fully behind the series and with a rich universe to pull from, we could be in for a real treat. I'm hoping the small screen adaptation works a lot better than the big screen one did.
WEDNESDAY, APRIL 15, 2015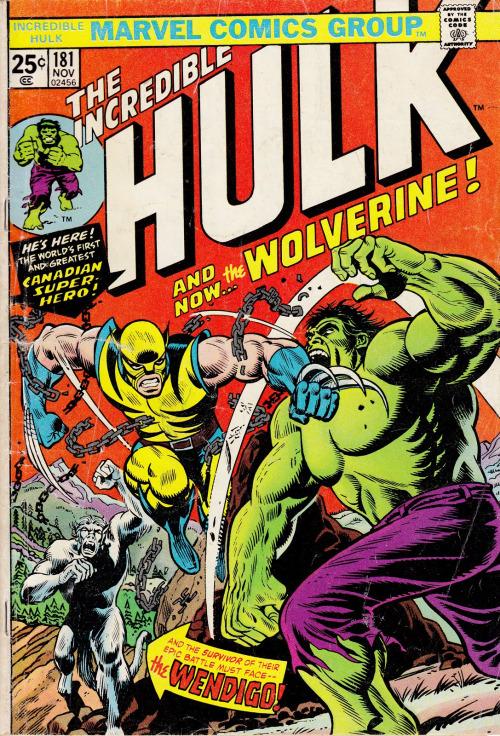 HERB TRIMPE-COMIC BOOK LEGEND DIES
Herb Trimpe, a comic-book legend known for his seven-year run on The Incredible Hulk and for being the first artist to draw Wolverine in a Marvel comic, passed away Monday at the age of 75. Trimpe's cousin Glen Baisley announced his passing on Facebook. In a career spanning more than 50 years, Trimpe established himself as one of the most important artists ever to work at Marvel Comics, and drew nearly every major character in the publisher's stable over the years. His comics career began in the early 1960s, when artist Tom Gill -- who was also Trimpe's teacher at the New York School of Visual Arts -- offered Trimpe some work inking his backgrounds at Dell Comics. At Dell, Trimpe contributed to Western titles and an adaptation of Journey to the Center of the Earth before joining the Air Force in 1962. When he left military service in 1966, his School of Visual Arts classmate John Verpoorten (who would become a legendary Marvel production manager) mentioned that Marvel Comics was looking for freelance artists. Trimpe first joined the publisher as a member of the production staff, then made his debut as a Marvel artist with the Western title Kid Colt, Outlaw in 1967. In 1968, beginning with issue #106, Trimpe took over penciling duties on The Incredible Hulk and launched a career-defining run with the character. Over the next seven years, he would draw all but two issues of the title and become of one of Hulk's defining creative influences. During his run he also helped plot the book and co-created characters including Jim Wilson, Doc Samson and the Hulkbusters. In 1974 he made what might be his most famous Marvel contribution when he became the first artist to draw Wolverine in a Marvel publication. Trimpe penciled the character (designed by John Romita Sr. but never seen in a comic before) in the final panel of The Incredible Hulk #180, and introduced the character more fully with The Incredible Hulk #181, an issue that features what's still one of the most iconic covers in comic-book history. Trimpe was a prolific artist throughout the '70s and '80s and into the early '90s at Marvel. In additon to his Hulk work, he penciled 22 issues of Marvel's Godzilla series, 14 issues of Defenders, nine issues of G.I. Joe: A Real American Hero, 26 issues of G.I. Joe: Special Missions, 13 issues of Iron Man, 13 regular issues and two annuals of Marvel Team-Up, 11 issues of Fantastic Four Unlimited and much much more. In the mid-'90s, as the company struggled with bankruptcy, Trimpe returned to college, earning a bachelor's degree from Empire State College and entering a master's degree program. He also became an art teacher in the late '90s, and though his comics output slowed, it never fully stopped. He was a regular fixture at comic-book conventions everywhere, and in the past few years contributed to B.P.R.D. for Dark Horse Comics, G.I. Joe: A Real American Hero for IDW Comics and, most recently, a backup story in Erik Larsen's Savage Dragon #200 for Image Comics. According to Rich Johnston of Bleeding Cool, Trimpe's family has requested that, in lieu of flowers, donations be made in his name to The Hero Initiative, a charity that supports comics creators in need.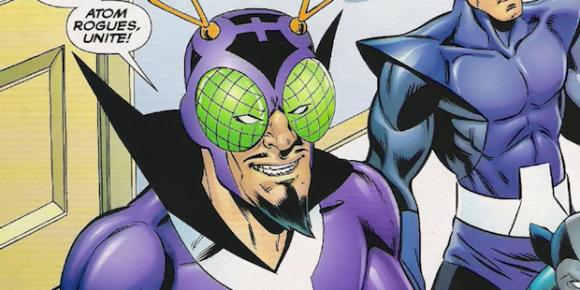 THE FLASH
The CW's Flash is digging deeper into the DC canon, and they're bringing a Walking Dead alum along for the ride. The producers have tapped The Walking Dead's Emily Kinney (Beth Greene) to cameo as a new twist on the villain the Bug-Eyed Bandit. She's playing the character Brie Larvan, who is a spin on the DC baddie Bertram Larvan. The character first appeared in the late 1960s as a villain for The A.T.O.M. In the comics, Larvan can control insects. The Flash will be putting a high-tech spin on the character, giving her a hacker background and control over some mechanical bees. It also sounds like she'll become a rival for the Arrow-verse's other resident hacker, Felicity. Yeah, that could be fun. Here's what Kinney told IGN about this version of the Bug-Eyed Bandit: "Brie is definitely…. she's out for revenge. Her career was kind of halted and stalled when she got fired from her job and now she's taking all of her computer skills and she makes these little mechanical bees and she uses the bees to cause problems for everyone and get revenge. But she's very smart. She's very sharp. You'll see her costume is amazing. She dresses very sharp and sexy. She's also very isolated. A lot of the things that she'll do on the show Tuesday is from her little beehive cave. She's always talking to these mechanical bees and they're just computer bees. So she's also a kind of person who is very isolated … I think they decided, or at least I felt like it was for me, looking at the costumes that they ended up making for Brie, that they really wanted to be it's own thing. They're using the Bug-Eyed Bandit for inspiration but we're kind of creating a new character. The thing with the costume, you'll see, it's nothing like the comics you've seen for The Bug-Eyed Bandit. They kind of took the liberty to make this whole new character." The Flash airs Tuesday nights on The CW.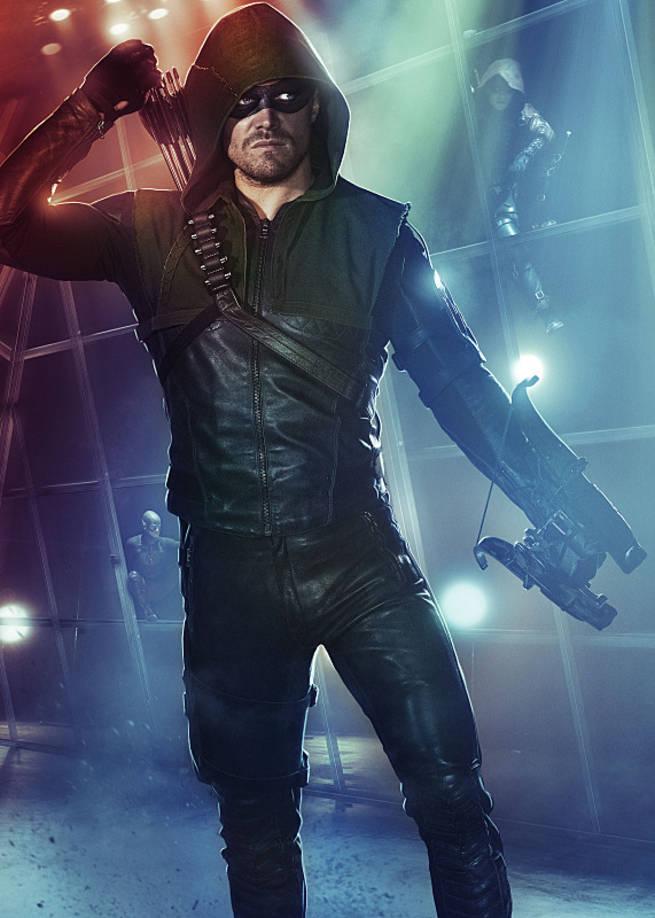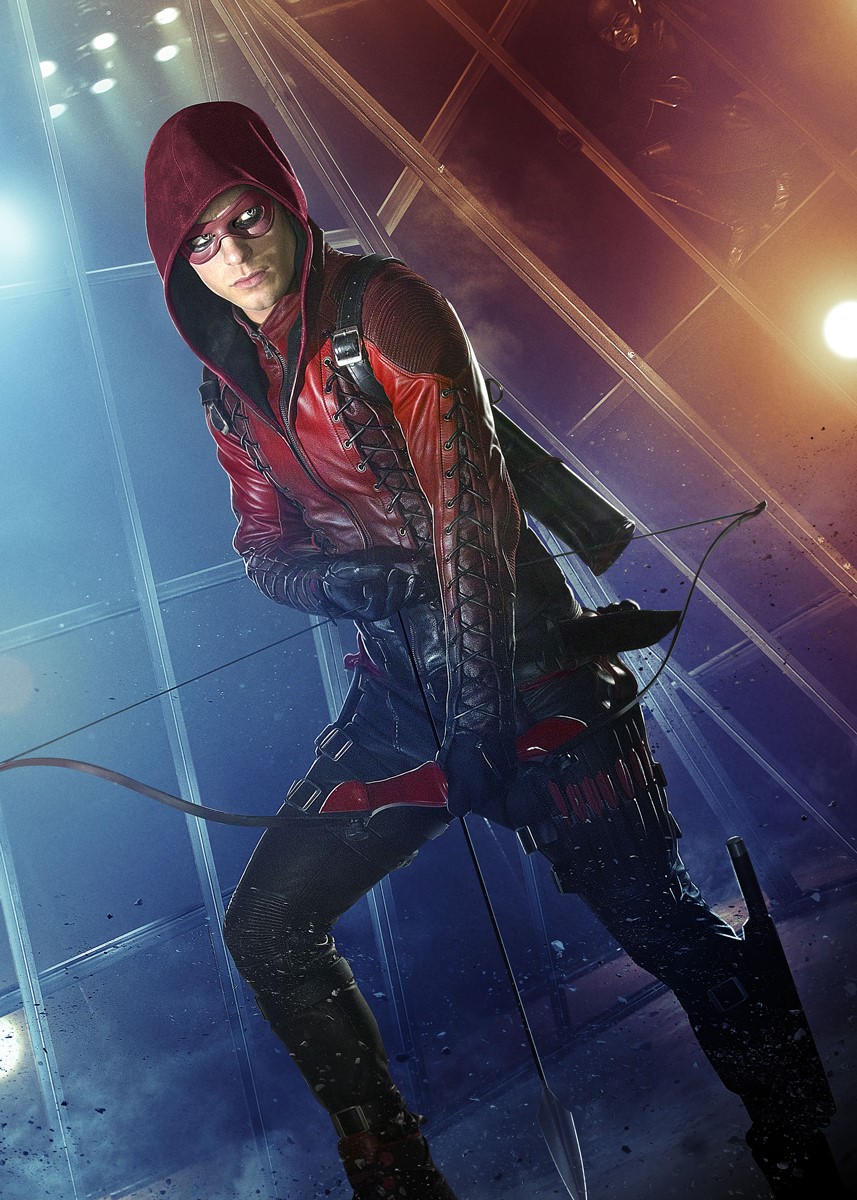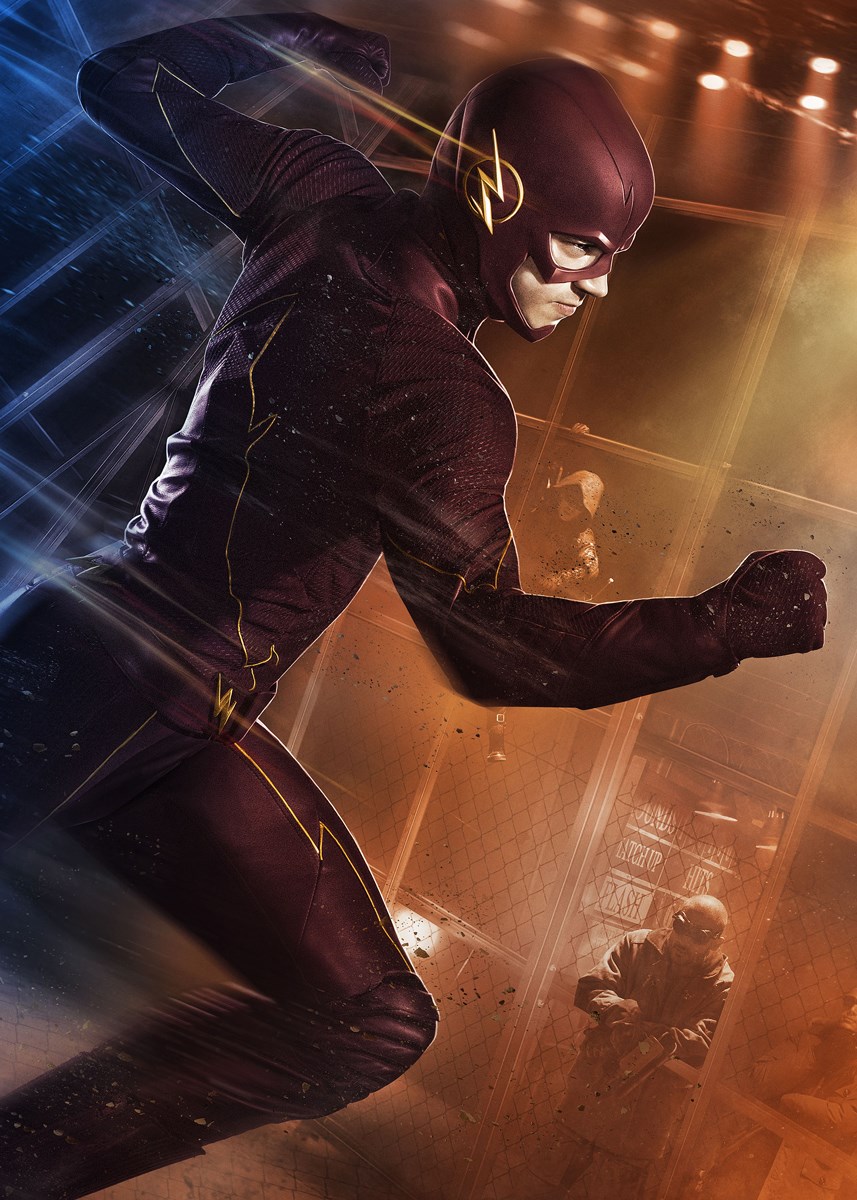 THE FLASH/ARROW
On the heels of yesterday's impressive cage match promo, The CW is further celebrating their small screen DC Comics Universe with new posters featuring Stephen Amell's Arrow, Colton Haynes' Arsenal and Grant Gustin's Flash. '"The Flash" returned last night with Episode 1.18. Titled "All-Star Team-Up," it is officially described as follows: Barry (Grant Gustin) is surprised when Felicity Smoak (guest star Emily Bett Rickards) arrives from Starling City along with her boyfriend, Ray Palmer (guest star Brandon Routh), who flies in as the Atom. They've come to visit S.T.A.R. Labs as Ray needs help with his suit. Their timing turns out to be fortuitous because it's all hands on deck after a meta human named Brie Larvin (guest star Emily Kinney) unleashes hundreds of robotic bees to attack and kill her former co-workers, including Dr. Tina McGee (guest star Amanda Pays). A group dinner with Barry, Felicity, Ray, Iris (Candice Patton) and Eddie (Rick Cosnett) turns into a disaster. "Arrow," meanwhile, will be back today with Episode 3.19, "Broken Arrow": Lance (Paul Blackthorne) continues his mission to take down the Arrow (Stephen Amell) so Felicity (Emily Bett Rickards) orders Oliver to keep a low profile. However, when a meta-human named Jake Simmons (guest star Doug Jones), who kills people with blasts of energy and plasma, starts terrorizing Starling City, Oliver is forced to ask Ray (Brandon Routh) for help. The unlikely duo is forced to team up to save the city.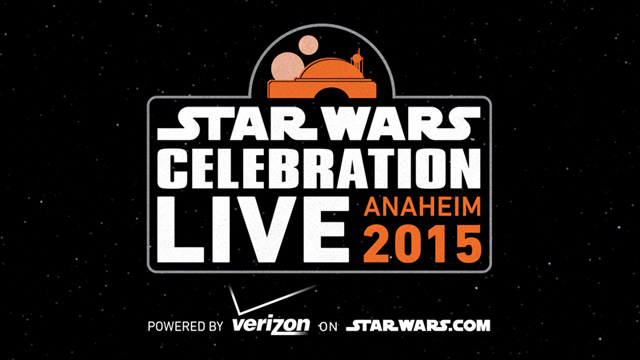 STAR WARS STREAMING EVENT
Lucasfilm announced today that highlights and more than 30 hours of exclusive video content from Star Wars Celebration Anaheim will be officially live-streamed to a worldwide community of fans on StarWars.com, all powered by Verizon. Launching with a live stream of the highly-anticipated kickoff panel featuring Star Wars: The Force Awakens director J.J. Abrams and producer Kathleen Kennedy, the StarWars.com Celebration live stream powered by Verizon will continue providing coverage throughout the four-day event from a specially-designed Star Wars Cantina set located in the middle of the action on the convention floor. Verizon and StarWars.com will deliver 30-plus hours of live streamed content following Thursday's Celebration kickoff, featuring over a dozen panels and events, including discussions with actors Mark Hamill, Carrie Fisher, Anthony Daniels, Billy Dee Williams, Ian McDiarmid, and several other performers associated with the Star Wars saga. Additionally, StarWars.com and Verizon will be live-streaming the Star Wars Fan Film Awards; the Smuggler's Bounty radio drama; EA's new Battlefront videogame; and several other exclusive Celebration events that might otherwise be missed by members from Star Wars' global fan community. Between the live, on-stage events, StarWars.com will feature live interviews with celebrity guests within the Star Wars Cantina set specially built to capture the mood and atmosphere of the infamous Mos Eisley watering hole from A New Hope. The live streaming begins at 10:00 a.m. Pacific Time, Thursday, April 16, on StarWars.com with the Celebration kickoff panel and continues with 30-plus hours of coverage through the closing ceremony on Sunday, April 19, beginning at 3:30 p.m. PT.
SHORE LEAVE 37
Please check out the guest list for Shore Leave 37. It now includes John Barrowman, Daniel Davis, Shawn and Aaron Ashmore and many, many more wonderful guests. They always have wonderful writer workshops and tons of panel discussions, costume contests and etc. Go to http://www.shore-leave.com/ for additional details.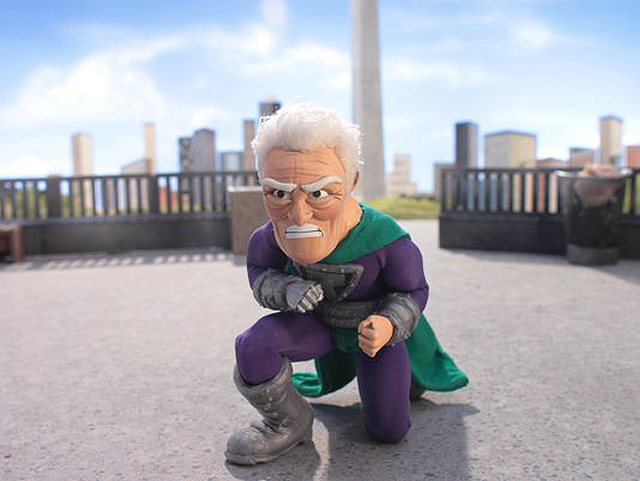 SUPER MANSION
Bryan Cranston playing an elderly superhero with prostate problems? What's not to like? USA Today has a new look at Titanium Rex, who the "Breaking Bad" actor voices in Crackle's upcoming stop-motion animated comedy "SuperMansion." A satire of comic book do-gooders, "SuperMansion" hails from creators Zeb Wells and Matthew Senreich of "Robot Chicken" fame and began life as a pilot for Adult Swim in 2013 titled "Übermansion" (which you can view here). It chronicles Rex and the rest of long-in-the-tooth hero team The League of Freedom, who all live together in the same mansion as they attempt to stay relevant in the modern world. This new iteration features Seth Green ("Robot Chicken") and Keegan Michael Key ("Key & Peele") reprising their roles from the pilot, along with scene-stealing funny lady Jillian Bell (22 Jump Street). "SuperMansion," from Stoopid Buddy Stoodios, is executive produced by Seth Green, John Harvatine IV, Eric Towner and Bryan Cranston, the latter of whom is also developing the black & white detective show parody "Tightrope" for Crackle, which is Sony's digital entertainment platform. Cranston will next be seen in Jay Roach's Dalton Trumbo biopic Trumbo, playing the famous blacklisted screenwriter, and is currently filming Brad Furman's thriller The Infiltrator and James Franco's John Steinbeck adaptation In Dubious Battle.
TUESDAY, APRIL 14, 2015
PAN
The first international trailer for director Joe Wright's (Hanna) Pan has finally hit the web. Starring Hugh Jackman as the film's main villain, Blackbeard (complete with that atrocious look), Pan is actually an origin story for author J.M. Barrie's classic tale of the Boy Who Wouldn't Grow Up, Peter (Levi Miller). In the upcoming fantasy movie, Hook (Garrett Hedlund) is portrayed as a rather charming rogue -- that is, I guess, until he gets his hand eaten by that ticking, tocking crocodile -- who looks a whole lot like a young Indiana Jones; and instead of the Jolly Roger, we have a flying ship called The Ranger. Even though the trailer is half as long as the first official one that was released last November, it still manages to feature some brand-new scenes. Here's a short synopsis for the film: The story of an orphan who is spirited away to the magical Neverland. There, he finds both fun and dangers, and ultimately discovers his destiny -- to become the hero who will be forever known as Peter Pan. Pan will also star Rooney Mara, Amanda Seyfried and Kathy Burke, and it is set to fly into theaters on July 1, 2015.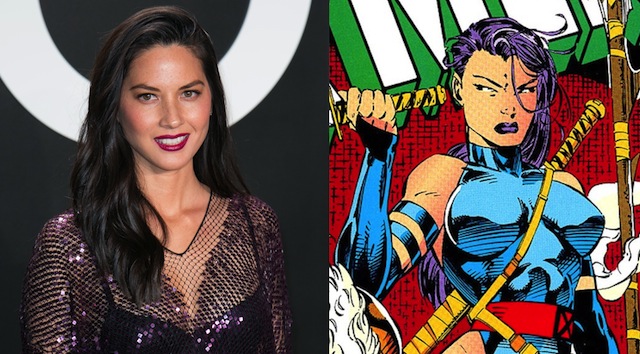 X-MEN: APOCALYPSE
The cast list for Bryan Singer's upcoming sequel X-Men: Apocalypse continues to grow, and it's added another star who should be a familiar face for genre fans. Singer has confirmed that Olivia Munn has joined the cast as Betsy Braddock, aka the X-Men team member Psylocke. Munn broke onto the scene with her memorable role in the geeky series Attack the Show! and eventually went on to pop up in everything from The Daily Show to Magic Mike. She also played a major role in HBO's The Newsroom, which gave her a chance to stretch her acting chops. It's worth noting that Munn also had a minor role in Iron Man 2 as Chess Roberts, meaning she'll be hitting both sides of the Marvel properties. An exceptional feat. The character Psylocke has been kicking around the comics since 1976 and was initially introduced as the sister to Captain Britain. She is typically portrayed as having psychic powers (precognition, telepathy, telekinesis, etc.), so we imagine she should be a nice foil for Sophie Turner's younger version of Jean Grey. The character previously showed up in minor cameos in X-Men: The Last Stand, but we imagine that'll be ignored (thank you, new timeline).
RAIN
Everyone's favorite nerd goddess is getting firmly behind the wheel of her next project. Deadline reports that Battlestar Galactica, Oculus and Riddick star Katee Sackhoff will star in a new sci-fi drama called Rain. The difference is that Sackhoff, who is teaming with Continuum production company Reunion Pictures on the project, has written the film and is also an executive producer. Sackhoff will play the title character, a soldier of the future who sees firsthand how the long-term effects of global warming, the burning of fossil fuels and scientific experimentation with the balance of nature itself begin to have repercussions for the evolution of the human race. Reunion Pictures rep Tom Rowe said, "With Rain, Katee has created a future world and a story that are compelling as both a sweeping vision and a very personal exploration of a civilization in harrowing decline by its own hand. She has written a great story, and we are excited to be working with her." Reunion produces not only Continuum for Syfy, but also Olympus, so it's conceivable that the channel might be their first stop when it comes to pitching Rain. Sackhoff, meanwhile, is still co-starring in the crime drama Longmire, which is moving to Netflix, and she recently appeared in that viral Power Rangers short film that appeared online in February. And yes, there are fans out there who are still pining for her to play Captain Marvel. TOMORROWLAND
With Brad Bird's Tomorrowland set to premiere in a little more than a month, Disney has still not brought out the heavy marketing guns for its futuristic fantasy. This is a new 30-second clip featured during the MTV Movie Awards event and gives us a few extra glimpses of the sparkling City of Tomorrow, the cable-sprouting time-travel pod powering up for a jaunt and its jolting, parachute-assisted landing in the fantastic chrome-colored metropolis. Hang on tight. As Age of Ultron's publicity machine cranks up the intensity leading up to its May 1 launch, Disney's approach to Tomorrowland has been somewhat measured and muddled, never quite striking that perfect tonal balance. U.S. teasers and trailers have mostly focused on Casey's (Britt Robertson) revelation of being "the chosen one" and her temporal roadtrip to Tomorrowland with the mysterious former boy genius played by George Clooney, where international trailers illuminate much more backstory, with Disneyland's "It's A Small World" attraction and even Uncle Walt himself tied into an adventurous plot to better mankind. Whether or not that strategy will shift in the coming weeks, who can predict, but with Mad Max: Fury Road and Poltergeist breathing down its neck, now is not the time for the Mouse to be timid. Directed by The Incredibles' Brad Bird, Tomorrowland opens May 22, 2015, and also stars Hugh Laurie, Raffey Cassidy, Kathryn Hahn and Tim McGraw.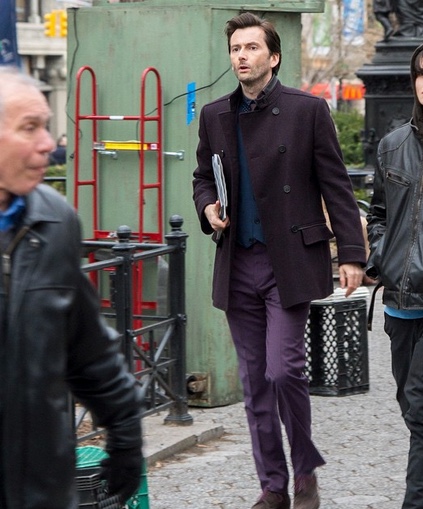 A.K.A. JESSICA JONES
Former Doctor Who star David Tennant was recently spotted on the set of Marvel and Netflix's next superhero series, A.K.A. Jessica Jones, in what looks to be his Purple Man guise. If you guys will recall, Tennant's casting as Jessica Jones' (Krysten Ritter) sadistic Public Enemy Number One, Zebediah Kilgrave, sent the fandom aflutter back in January. Now, we have a first look at the villainous character. Upon casting, Kilgrave was described as "an enigmatic figure from Jessica's past" whose "reappearance will send shockwaves through the former super hero's world." In the Marvel comics, he was a former spy who got exposed to chemicals (sounds familiar?) that turned his skin purple and gave him the power to make people do whatever he wants. I wonder if they'll literally go the purple skin route, or if they'll simply have him dress in purple. Because of Daredevil's critically acclaimed debut over the weekend, questions as to how David Tennant's performance as Zebediah Kilgrave will compare to Vincent D'Onofrio's powerful turn as Wilson Fisk will no doubt arise; and I can't wait for us to see the answer to that. Here's the series' synopsis: After a tragic ending to her short-lived super hero stint, Jessica Jones is rebuilding her personal life and career as a detective who gets pulled into cases involving people with extraordinary abilities in New York City. Starring Krysten Ritter (Jessica Jones), David Tennant (Kilgrave), with Mike Colter (Luke Cage), and Rachael Taylor (Patricia "Trish" Walker), and Carrie-Anne Moss, A.K.A Jessica Jonesis produced by Marvel Television in association with ABC Studios for Netflix. Have a look at David Tennant as Zebediah Kilgrave, aka Purple Man, below, and let us know what you guys think of his overall look. Marvel's A.K.A. Jessica Jones is set to be released on Netflix in late 2015.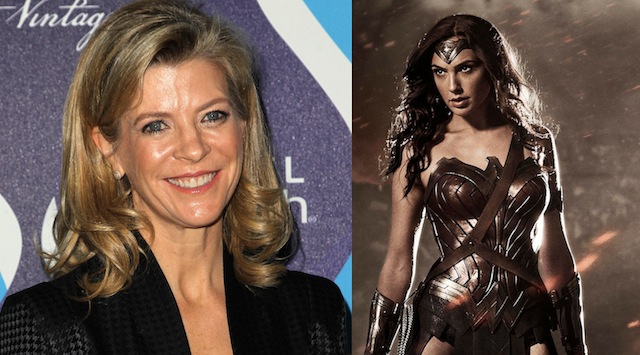 WONDER WOMAN NEWS
Although she became officially attached to the DC Comics adaptation late last year, the news has just gone out that "Breaking Bad" and "The Walking Dead" director Michelle MacLaren has departed Wonder Woman as a director. "Given creative differences," reads the official statement from the studio, "Warner Bros. and Michelle MacLaren have decided not to move forward with plans to develop and direct 'Wonder Woman' together." Gal Gadot remains attached headline Wonder Woman with the character planned to make her first cinematic appearance in 2016's Batman v Superman: Dawn of Justice. She may even make additional appearances across DC's new cinematic universe before her solo film sees release on June 23, 2017. It's pretty much a guarantee, too, that Wonder Woman is also going to play an important role in Justice League Part One, hitting theaters November 10, 2017. Elsewhere in the big screen DC Universe, Scott Eastwood has joined the cast of David Ayer's Suicide Squad in what is rumored to be the role of Steve Trevor. If accurate, those rumors suggest that Eastwood is likely to appear in Wonder Woman as well. MacLaren's directing credits include episodes of "Game of Thrones," "The Leftovers" and "Better Call Saul." She's also well-known for serving as co-executive producer on the final two seasons of FOX's "The X-Files." Charles Roven and Zack and Deborah Snyder are attached to produce Wonder Woman. TERMINATOR GENISYS
Paramount Pictures has released a new full-length Terminator Genisys trailer that pretty much spoils the entire plot of this new sequel, dropping one huge bomb that comes as this franchise's most insane twist yet! If you don't want to know anything more than you already do about the movie, which brings Arnold Schwarzenegger back in his iconic role as the unstoppable T-800, turn back now. This latest footage is not for the faint of heart. Warning: There will be MASSIVE SPOILERS ahead! In Terminator Genisys, John Connor (Jason Clarke), leader of the human resistance, sends Sgt. Kyle Reese (Jai Courtney) back to 1984 to protect Sarah Connor (Emilia Clarke) and safeguard the future. But an unexpected turn of events creates a fractured timeline. Now, Sgt. Reese finds himself in a new and unfamiliar version of the past, where he is faced with unlikely allies, including the Guardian (Arnold Schwarzenegger), dangerous new enemies, and an unexpected new mission: To reset the future... If you dare watch this latest footage, you'll discover that John Connor is hiding one heck of a secret, as Paramount has decided to reveal their master plan for this latest franchise sequel early. Here, we discover that Skynet has finally figured out the way to achieve world dominance, and you won't see it coming. We have to imagine how this twist would play in theaters out had this particular trailer not been released. Take a look, if you dare, and don't say we didn't warn you! Terminator Genisys comes to theaters July 1st, 2015 and stars Emilia Clarke, J.K. Simmons, Jai Courtney, Arnold Schwarzenegger, Matt Smith, Jason Clarke, Byung-hun Lee, Douglas Smith. The film is directed by Alan Taylor. ANT-MAN
After a weekend of teasing their next big blockbuster, Marvel Studios have officially released the full-length trailer for Ant-Man. This latest footage brings our first look at Corey Stoll as the villainous Yellowjacket as he goes on the attack. It is also features plenty of Marvel action. And stay tune until the end to see one epic train chase...Toy train that is! The next evolution of the Marvel Cinematic Universe brings a founding member of The Avengers to the big screen for the first time with Marvel Studios' Ant-Man. Armed with the astonishing ability to shrink in scale but increase in strength, master thief Scott Lang must embrace his inner-hero and help his mentor, Dr. Hank Pym, protect the secret behind his spectacular Ant-Man suit from a new generation of towering threats. Against seemingly insurmountable obstacles, Pym and Lang must plan and pull off a heist that will save the world. Marvel's Ant-Man stars Paul Rudd as Scott Lang aka Ant-Man, Evangeline Lilly as Hope Van Dyne, Corey Stoll as Darren Cross aka Yellowjacket, Bobby Cannavale as Paxton, Michael Pena as Luis, Judy Greer as Maggie, Tip "Ti" Harris as Dave, David Dastmalchian as Kurt, Wood Harris as Gale, Jordi Mollà as Castillo and Michael Douglas as Hank Pym. Peyton Reed directs Marvel's "Ant-Man" with Kevin Feige producing and Louis D'Esposito, Alan Fine, Victoria Alonso, Michael Grillo, Edgar Wright and Stan Lee serving as executive producers. The story is by Edgar Wright & Joe Cornish and the screenplay is by Adam McKay & Paul Rudd. Marvel's "Ant-Man" delivers a high-stakes, tension-filled adventure on July 17, 2015. Ant-Man comes to theaters July 17th, 2015 and stars Paul Rudd, Michael Douglas, Evangeline Lilly, Michael Pena, Corey Stoll, Judy Greer, David Dastmalchian, John Slattery. The film is directed by Peyton Reed.
MONDAY, APRIL 13, 2015
ANT-MAN
Although the full trailer will be online tomorrow, eager fans can now check out a few moments of new footage from Marvel Studios' "Phase Two" capper Ant-Man in the player below thanks to a just-released teaser video. The next evolution of the Marvel Cinematic Universe brings a founding member of The Avengers to the big screen for the first time with Marvel Studios' Ant-Man. Armed with the astonishing ability to shrink in scale but increase in strength, master thief Scott Lang (Paul Rudd) must embrace his inner-hero and help his mentor, Dr. Hank Pym (Michael Douglas), protect the secret behind his spectacular Ant-Man suit from a new generation of towering threats. Against seemingly insurmountable obstacles, Pym and Lang must plan and pull off a heist that will save the world. Also starring Judy Greer ("Archer," Dawn of the Planet of the Apes), Bobby Cannavale (Chef, Blue Jasmine), Michael Pena (End of Watch, Fury), Martin Donovan (Inherent Vice, Insomnia), Wood Harris (Dredd, Remember the Titans), John Slattery ("Mad Men," Iron Man 2), Gregg Turkington ("Gravity Falls," The Comedy), Abby Ryder Fortson ("Togetherness," "The Whispers"), David Dastmalchian (The Dark Knight, Prisoners) and T.I. (Takers, "House of Lies"), Ant-Man features a script by Edgar Wright, Joe Cornish, Andrew Barrer, Gabriel Ferrari and Adam McKay. Look for it to hit theaters July 17, 2015. WAYWARD PINES
Wayward Pines is an upcoming Fox event series that takes place in a remote small town where strange things happen. Sound familiar? The show, which premieres on May 14 at 9 p.m., is based on a trilogy of novels written by Blake Crouch and stars Matt Dillon as a Secret Service agent who journeys to the picturesque title town in search of two missing fellow agents. On his way there, he's involved in a car accident and wakes up in the Wayward Pines hospital -- where he quickly comes to realize that this town is not what it seems at all. The small-town setting, gorgeous scenery, surreal vibe and cast of odd characters (which includes Terrence Howard, Melissa Leo, Carla Gugino, Juliette Lewis and Toby Jones) have led to early comparisons with David Lynch's classic cult series Twin Peaks (now getting revived itself -- maybe). But Wayward Pines producer Donald De Line shakes those off. "It's actually nothing like Twin Peaks in terms of the story -- it has nothing to do with Twin Peaks," said De Line last weekend at WonderCon. "What is similar in feeling is there's what appears to be this bucolic, idealized American town that looks like something out of a Norman Rockwell painting, and then underneath the surface are very dark strange things that are lurking and start to reveal themselves. That's what's similar to Twin Peaks." De Line added that Crouch, as a kid, was so enamored of Twin Peaks when it first aired that he wrote his own third season after the show was canceled -- and that turned out to be the inspiration for his books. "He took the tone and setting from that," acknowledged De Line. "(But) in terms of the story and the conceit of what this world is, this is completely original and way different from anything that was done in Twin Peaks." Aside from the formidable cast, perhaps the biggest coup for the show was getting M. Night Shyamalan -- who had never worked in TV before -- to direct the pilot and serve as an executive producer. "We always knew this was perfect for M. Night Shyamalan -- the tone and the world of it, and the way it has these great twists and reveals, which he is obviously the master of," said De Line. "So we sent him the script. He read it and loved it, tried to guess where the story was going, couldn't guess -- which got him even more intrigued -- so we flew to Philadelphia to see him and told him what the ultimate reveal was. It blew his mind and was not anything he had surmised." De Line added that Shyamalan, who's currently in post-production on his next feature film (The Visit), took his role as executive producer seriously even after he completed the pilot. "He did contribute a lot," said De Line. "He was very much a part of developing the bible for the show, running that experience with the writers and really crafting where the 10 episodes would go." Apparently Wayward Pines goes in some very unexpected and mind-bending directions, but we'll have to wait until May 14 to find out. SCREAM
MTV used Sunday's Movie Awards to unspool the first footage of its long-awaited Scream TV series. Actress Bella Thorne, who has a cameo in the pilot, introduced the footage, which included a new premiere date of June 30. Additionally, The Hollywood Reporter has learned that Third Watch alum Jason Wiles has replaced Joel Gretsch (The 4400) in the show's central role of Sheriff Clark Hudson after the role was retooled. The character was previously described as a good guy who is father to Kieran (Amadeus Serafini). David Arquette famously portrayed the lovable sheriff in Kevin Williamson's features. Wiles is repped by Paradigm and Link. Wiles becomes the latest cast shake-up for Scream after the series cast Arrow favorite Bex Taylor-Klaus to replace the previously set Amy Forsyth in the role of Audrey, the daughter of a Lutheran pastor. She's described as an artsy loner who aspires to be a filmmaker. The new premiere date marks a significant change as MTV previously planned to debut the series pegged to Halloween in October. The new series is based on the Dimension feature of the same name. The series kicks off after a cyberbullying incident results in a brutal murder, with the shocking violence stirring up memories of a killing spree from the past that has haunted some, intrigued others and maybe just inspired a new killer. It centers on a group of new teens — with two old friends struggling to reconnect at its heart — who become lovers, enemies, suspects, targets and victims of a killer who's out for blood. Jamie Travis (Faking It) directed the pilot for the series, which hails from Dimension TV and The Weinstein Co. Jill Blotevogel (Ravenswood) and Jaime Paglia (Arrow) will executive produce and serve as showrunners, with John Shiban (Breaking Bad) onboard as a consulting producer. Jay Beattie and Dan Dworkin (Revenge) wrote the original script. Harvey and Bob Weinstein also executive produce alongside Wes Craven, Tony DiSanto, Liz Gateley, Marianne Maddalena and Cathy Konrad. Willa Fitzgerald stars as Emma Duvall, a classic beauty whose looks and popularity hide a natural shyness and intellectual nature. Her new life with the "in crowd" leaves her estranged from her childhood best friend, Audrey. TEEN WOLF
Teen Wolf fans are getting a glimpse at its upcoming season. The MTV drama series' first season-five promo debuted during Sunday's MTV Movie Awards, offering a fleeting look at the show's new villains. During a PaleyFest panel last month, creator Jeff Davis discussed Tyler Hoechlin's (Derek) departure from the show, promising that viewers "have not seen the last of Derek Hale." Davis also revealed that season 5 will feature "a lot of action, a lot of horror," and will be "bigger and better" than previous seasons. Teen Wolf's fifth season premieres in June on MTV. AVENGERS: AGE OF ULTRON
During the MTV Movie Awards, Robert Downey Jr. was presented the MTV Generation Award by his Avengers: Age of Ultron co-stars Chris Evans, Scarlett Johansson, Chris Hemsworth, Mark Ruffalo and Jeremy Renner. They also debuted a 90-second clip from the highly-anticipated sequel. Avengers: Age of Ultron is the epic follow-up to the biggest Super Hero movie of all time. When Tony Stark tries to jumpstart a dormant peacekeeping program, things go awry and Earth's Mightiest Heroes, including Iron Man, Captain America, Thor, The Incredible Hulk, Black Widow and Hawkeye, are put to the ultimate test as the fate of the planet hangs in the balance. As the villainous Ultron emerges, it is up to The Avengers to stop him from enacting his terrible plans, and soon uneasy alliances and unexpected action pave the way for an epic and unique globaladventure. Marvel's Avengers: Age of Ultron stars Robert Downey Jr., who returns as Iron Man, along with Chris Evans as Captain America, Chris Hemsworth as Thor and Mark Ruffalo as The Hulk. Together with Scarlett Johansson as Black Widow and Jeremy Renner as Hawkeye, and with the additional support of Samuel L. Jackson as Nick Fury, Don Cheadle as James Rhodes/War Machine, Cobie Smulders as Agent Maria Hill and Stellan Skarsgård as Erik Selvig, the team must reassemble to defeat James Spader as Ultron, a terrifying technological villain hell-bent on human extinction. Along the way, they confront two mysterious and powerful newcomers, Wanda Maximoff, played by Elizabeth Olsen, and Pietro Maximoff, played by Aaron Taylor-Johnson, and meet an old friend in a new form when Paul Bettany becomes Vision. Written and directed by Joss Whedon and produced by Kevin Feige, Marvel's Avengers: Age of Ultron is based on the ever-popular Marvel comic book series "The Avengers," first published in 1963. Louis D'Esposito, Alan Fine, Victoria Alonso, Jeremy Latcham, Patricia Whitcher, Stan Lee and Jon Favreau serve as executive producers. Marvel's Avengers: Age of Ultron opens in theaters on May 1, 2015. TOMORROWLAND
Walt Disney Pictures aired a new TV spot for Tomorrowland during the MTV Movie Awards! From Disney comes two-time Oscar winner Brad Bird's Tomorrowland, a riveting mystery adventure starring Academy Award-winner George Clooney. Bound by a shared destiny, former boy-genius Frank (Clooney), jaded by disillusionment, and Casey (Britt Robertson), a bright, optimistic teen bursting with scientific curiosity, embark on a danger-filled mission to unearth the secrets of an enigmatic place somewhere in time and space known only as "Tomorrowland." What they must do there changes the world – and them – forever. Featuring a screenplay by "Lost" writer and co-creator Damon Lindelof and Brad Bird, from a story by Lindelof & Bird & Jeff Jensen, Tomorrowland promises to take audiences on a thrill ride of nonstop adventures through new dimensions that have only been dreamed of. The film also stars Hugh Laurie as brilliant scientist David Nix, Raffey Cassidy, Tim McGraw, Judy Greer, Kathryn Hahn, Keegan-Michael Key and Thomas Robinson. Tomorrowland is produced by Damon Lindelof, Brad Bird and Jeffrey Chernov and directed by Brad Bird, with John Walker, Bernard Bellew, Jeff Jensen and Brigham Taylor serving as executive producers. Tomorrowland opens in U.S. theaters on May 22, 2015.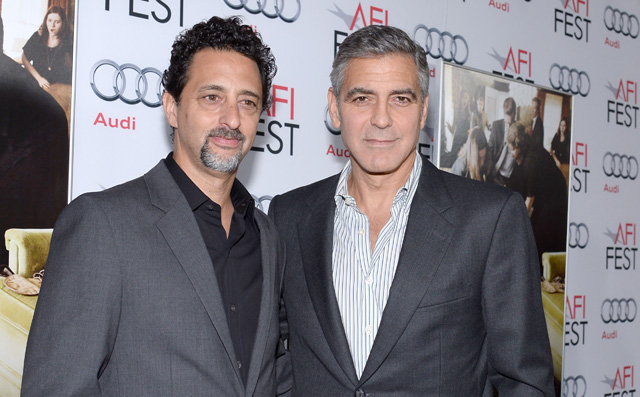 THREE MINUTES TO DOOMSDAY
George Clooney and Grant Heslov's Smokehouse Pictures has acquired the film rights for Joe Navarro's Three Minutes to Doomsday. The North American rights for the book were recently acquired by Scribner, a division of Simon & Schuster. As the FBI's leading body language expert, Joe Navarro was sent to track down Rod Ramsey to report on his knowledge or association with Clyde Lee Conrad. It all started with a trembling cigarette: when Navarro asked Ramsay about Conrad, his cigarette shook. Navarro's expertise enabled him to decipher the meaning behind Ramsay's tic. Noticing this miniscule movement led him to a series of interviews in an increasingly complex relationship that would uncover one escalating revelation after another, until he eventually uncovered the most dangerous security breach in US history. Along the way Navarro had to develop Ramsay's trust, engage and convince a skeptical federal bureaucracy, and spend hundreds of hours preparing for each of 42 interviews with Ramsay over the course of a year, as the west is increasingly vulnerable against the backdrop of the Cold War. Navarro is assisted in his writing by Howard Means, who has collaborated on multiple New York Times bestsellers, including "See No Evil" and "Sleeping with the Devil," both by Robert Baer. Baer's books provided the basis for the film Syriana; Clooney received an Academy Award for his performance in that film. Steve Ross and Paul Weitzman represent Navarro for Abrams Artists Agency. With principal offices in New York and Los Angeles, Abrams represents clients in all areas of the entertainment industry; the literary division represents writers, directors, composers, lyricists and designers in theatre, film and television.
SUNDAY, APRIL 12, 2015
DARK MATTER
Syfy has taken the wraps off its shiny new sci-fi series, Dark Matter, spawned from the fertile imaginations of former Stargate writer-producers Joseph Mallozzi and Paul Mullie and based on their own Dark Horse graphic novel of the same name.

Check out this mind-warping first trailer, depicting the bewildered crew of a junker spacecraft adrift in deep space, awakening from suspended animation with no clue how they got there. The 13-episode program is set to debut on Syfy (DISCLOSURE: Parent company of Blastr) this June and hopes to captivate faithful fans of the Stargate TV franchise by adding some familiar faces -- like Amanda Tapping (Stargate SG-1) and Torri Higginson (Stargate: Atlantis) -- to the cast.

Here's the official synopsis:

In Dark Matter, the crew of a derelict spaceship is awakened from stasis with no memories of who they are or how they got on board. Facing threats at every turn, they have to work together to survive a voyage charged with vengeance, betrayal and hidden secrets. The cast includes Zoie Palmer (Lost Girl), Roger Cross (The Strain), Marc Bendavid (Bitten), Anthony Lemke (White House Down), Melissa O'Neil (Les Miserables), Joelle Ferland (Twilight) and Alex Mallari, Jr (Robocop).

Dark Matter premieres on June 12, 2015, at 10/9c.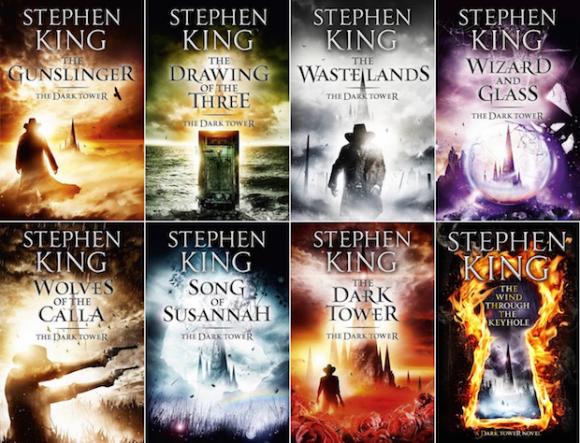 STEPHEN KING'S DARK TOWER
It's been a long wait, but it seems Stephen King's magnum opus is finally coming to the big (and little) screen.
Deadline reports Sony Pictures and MRC have cut a deal to co-finance the first installment in a planned series of films based on King's ambitious series The Dark Tower. The first film will apparently be based closely on the book The Gunslinger, following Roland Deschain as he makes his way through a frightening world of magic and horror. The current script was written by Akiva Goldsman (I Am Legend) and Jeff Pinkner (Fringe), and it's apparently been "totally reconceived" in comparison to previous drafts.
No word on who will direct, though the studios are apparently keen to get this one on the fast track (years in development hell will do that), so additional information should be forthcoming. Casting news will also have to wait until a director is chosen, though everyone from Russell Crowe to Javier Bardem has been linked to the project over the years. Also of note: Longtime developer Ron Howard is still attached as a producer, and who knows, could potentially direct.
Though details are scarce, the report also notes a companion television series is also in development under MRC. That's been one potential plan for the franchise dating back to around 2010, when a trilogy was conceived to potentially run alongside two television seasons to fill the void between the films. Assuming everything goes as planned (see: the first film is a hit), it seems that ambitious storytelling option is still on the table. No word on a network home, though HBO has been rumored in the past.
"I'm excited that The Dark Tower is finally going to appear on the screen," author Stephen King said. "Those who have traveled with Roland and his friends in their search for the Dark Tower are going to have their long-held hopes fully realized. This is a brilliant and creative approach to my books."
The book series is arguably one of the most expansive efforts ever attempted by King, and fans have been clamoring for a film adaptation for years. It's taken this long, largely, because the story is so huge and sprawling that there's just no way to cram it into a film. Oh, not to mention that something this big is also extremely expensive. Hence the trilogy plus television run. If they can actually pull it off, this could be one of the most ambitious genre works in history.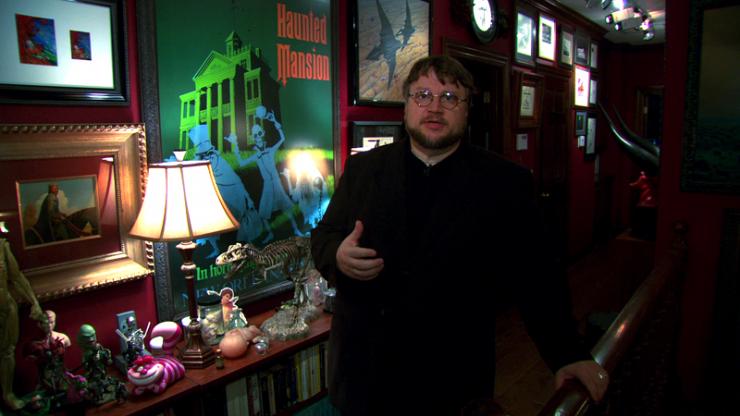 THE HAUNTED MANSION
Guillermo del Toro has an infamously long list of films he one day plans to make, ranging from a remake of Frankenstein to the Lovecraftian adaptation At the Mountains of Madness. Also on that list is The Haunted Mansion, a film based on Disney's popular theme-park attraction of the same name. Del Toro has long been a fan of the attraction -- he has a room in his "Bleak House" home modeled after its design -- and when he first announced the project back in 2010, he promised the film would, like the ride, be fun for entire families while still packing scares.
"It's going to be a thrill ride for the whole family but it's definitely going to be scary," he told The Hollywood Reporter at San Diego Comic-Con 2010. "(Walt) Disney is one of the creators of some of the scariest images in my childhood. People forget that he not only made sweet images but also images of nightmare. We need to honor that side of the legacy."
Since that announcement, del Toro's been busy with other work, bringing Pacific Rim and Crimson Peak to the big screen and adapting his vampire tale The Strain for the small screen, but The Haunted Mansion wasn't forgotten, and now it seems the project has landed a star.
The Wrap reports that Ryan Gosling (Drive, The Place Beyond the Pines) in "in talks" to star in The Haunted Mansion for del Toro, and it's not hard to believe when you consider how much the two have been hanging out lately. They went to Disneyland together back in February, and last month del Toro hosted a SXSW panel with Gosling to promote his directorial debut, Lost River. Gosling also has some Disney history: He was a Mouseketeer in the early '90s and co-starred in the studio's hit sports drama Remember the Titans in 2000. If this comes together, it could be a triumphant return for him, as well as a chance to be part of the string of hits Disney's had lately with its live-action films.
There's no word yet on when we'll actually see the film, though The Wrap does note that D.V. DeVincentis (High Fidelity, Grosse Pointe Blank) is working on a script for the project. After years of development, The Haunted Mansion seems to be coming together. Now del Toro has to find the time to make it.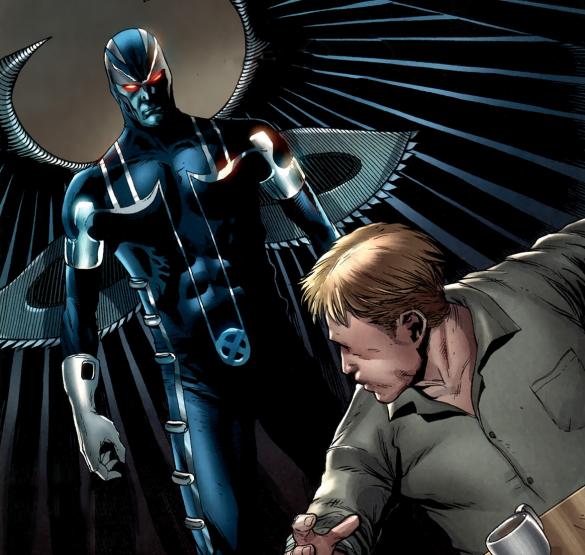 X-MEN: APOCALYPSE
After weeks of speculation, Bryan Singer has officially confirmed that EastEnders actor Ben Hardy will play everyone's favorite winged mutant, Angel, in X-Men: Apocalypse. Not only that, but we also have two very cool pieces of concept art that give us a peek at Warren Worthington III in all his winged glory.
The confirmation came earlier today via Empire, who managed to get Singer on the phone. The X-Men director said: "Ben Hardy is Angel – I shall confirm it for you! But he's not a very nice Angel! And that's all I'll say..."
In the Marvel comics, Angel plays a major role in the Apocalypse storyline. The X-Man becomes one of the four Horsemen of Apocalypse (played by Oscar Isaac in the upcoming movie), mutants transformed to do Apocalypse's evil bidding. From a blond-haired, blue-eyed carefree billionaire playboy, Angel is transformed into Death, a blue-skinned killing machine with razor-sharp metal wings, now called Archangel. It looks like that's what they're obviously going for here with this nifty metal-and-kinda-cyberpunk-looking wing design -- although it looks like he will start out with his traditional white plumage.
Check out the two pieces of concept art below, and let us know what you think about the wings, costume and the overall look of the character.
Along with Hardy and Isaacs, X-Men: Apocalypse stars James McAvoy, Michael Fassbender, Jennifer Lawrence, Nicholas Hoult, Tye Sheridan, Sophie Turner, Alexandra Shipp and Kodi Smit-McPhee. Rumored to appear are Channing Tatum and Hugh Jackman as Gambit and Wolverine. The movie will open on May 27, 2016.
THE FLASH
The CW has released the first clip from Episode 18 of "The Flash" which you can check it out in the player below. Titled "All-Star Team Up," the episode is officially described as follows:
"Barry (Grant Gustin) is surprised when Felicity Smoak (guest star Emily Bett Rickards) arrives from Starling City along with her boyfriend, Ray Palmer (guest star Brandon Routh), who flies in as the Atom. They've come to visit S.T.A.R. Labs as Ray needs help with his suit. Their timing turns out to be fortuitous because it's all hands on deck after a meta human named Brie Larvin (guest star Emily Kinney) unleashes hundreds of robotic bees to attack and kill her former co-workers, including Dr. Tina McGee (guest star Amanda Pays). A group dinner with Barry, Felicity, Ray, Iris (Candice Patton) and Eddie (Rick Cosnett) turns into a disaster."
Directed by Kevin Tancharoen and written by Grainne Godfree & Kai Yu Wu, "All Star Team Up" is set to air April 14. "The Flash" airs Tuesdays at 8 P.M. EST on The CW.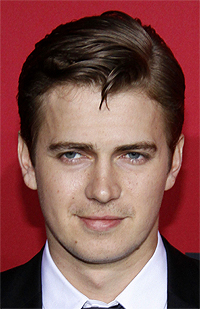 MARCO POLO
It's been a decade since Hayden Christensen last appeared as Anakin Skywalker, with only a handful of high-profile films (Jumper, Takers) in the intervening years, but that all looks to change as The Hollywood Reporter reveals the Star Wars star will headline Paramount's new big screen take on Marco Polo.
Christensen, who still has a large overseas following that helped win him the role, will play the famed Venetian merchant whose chronicle of his 24-year journey into China in the 13th century was critical in introducing Chinese culture to Europe. This new take on the Polo story is being positioned as a fantasy/action reimagining of the voyage, with director Rob Cohen (The Fast and the Furious) lined up to direct.
Cohen is no stranger to China, having previously made 2008's The Mummy: Tomb of the Dragon Emperor, and is currently back in good graces after the enormously profitable The Boy Next Door, which took in $48 million on a $4 million budget. Cohen was at one point working on another seabound fantasy with the revival of Sinbad, which was to star Keanu Reeves but bit the dust after the failure of Stealth.
Although not specifically stated in the Reporter, this looks to be the same (or similar) to a Marco Polo project that was set up at Warner Bros. five years ago with Hunger Games franchise director Francis Lawrence at the helm and Adam Cooper and Bill Collage (Exodus: Gods and Kings, Assassin's Creed) writing the screenplay.
"We see this as something that takes place in the Orient of our imagination amid the cultural clash of the East and the West," said Cooper of that project in 2010.
The historical figure has also been the subject of recent hit Netflix series "Marco Polo," starring Lorenzo Richelmy and currently renewed for a second season.
Meanwhile, Christensen will next be seen in the religious drama 90 Minutes in Heaven opposite Kate Bosworth, while Cohen will direct the indie art heist thriller Risk.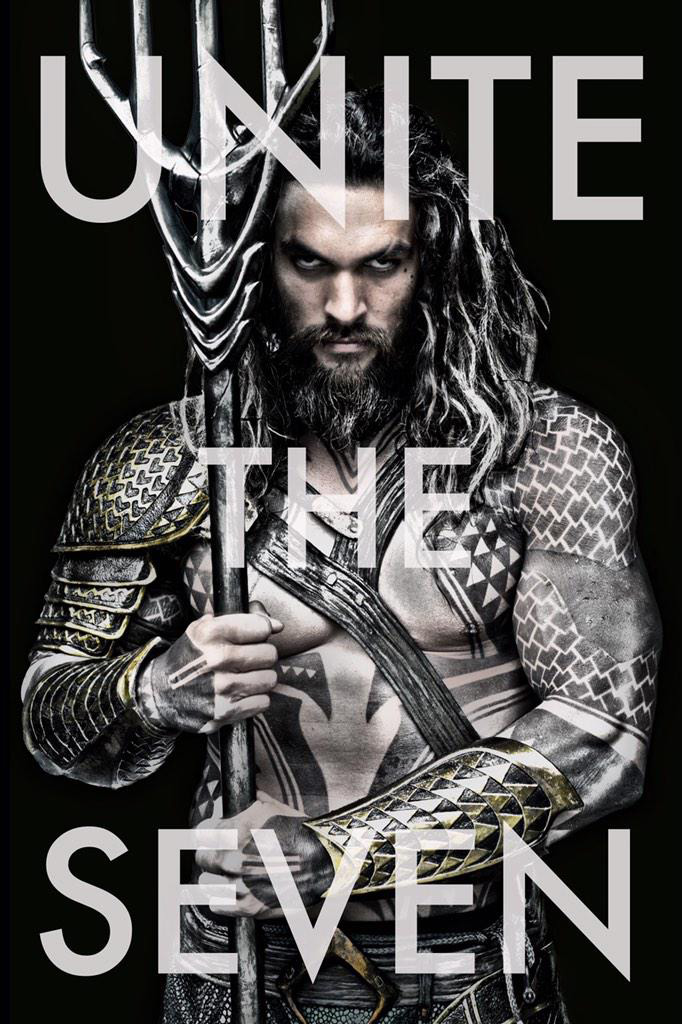 AQUAMAN
With his latest, Furious 7, about to cross over the $500 million mark at the worldwide box office, The Conjuring's James Wan may be getting ready to take a step into the DC Universe. The Hollywood Reporter has just revealed that Wan is in talks to helm the Jason Momoa-led Aquaman solo film!
Planned for a July 27, 2018 release, Aquaman is currently being developed as two separate screenplays, one by Will Beall (Gangster Squad) and another by Kurt Johnstad (300: Rise of an Empire).
The character's first comic book appearance was in 1941's "More Fun Comics" #73. Created by Paul Norris and Mort Weisinger, Aquaman went on to become a founding member of the Justice League of America two decades later. Until now, the character has never made it to the big screen. Aquaman's sole live-action appearance was as a teen on the WB's "Smallville." The character was planned for a spinoff series, "Mercy Reef," but the property never made it beyond the pilot stage.
Wan's next big screen project is Warner Bros. Pictures' The Conjuring 2, set for a June 10, 2016 release. He's not yet a lock for Aquaman, however, as the trade cautions that his contract on the Fast and the Furious franchise may force him to return for an eighth big screen adventure.
Long before his solo film, however, Momoa's Aquaman will make his big screen debut in Zack Snyder's Batman v Superman: Dawn of Justice, set to hit theaters on March 25, 2016. It's also a near certainty that he'll be back for Justice League: Part One, arriving November 10, 2017. Aquaman then hits the following summer with Justice League: Part Two following on June 14, 2019.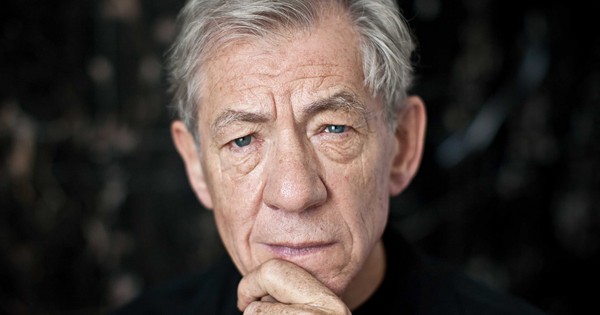 BEAUTY AND THE BEAST
The cast of Disney's live action Beauty and the Beast keeps growing and growing, with Variety reporting that Ian McKellen has signed on to play Cogsworth. In the original 1991 animated version of Beauty and the Beast, Cogsworth was the Beast's butler, who was then turned into a clock after a curse swept through his castle. The original Beauty and the Beast grossed over $375 million worldwide, and is one of the few animated movies to receive an Oscar nomination for Best Picture.
Ian McKellen joins a cast that already includes Emma Watson (Belle), Luke Evans (Gaston), Dan Stevens (Beast), Emma Thompson (Mrs. Potts), Josh Gad (LeFou) and Kevin Kline (Maurice). Bill Condon is directing from a script by Evan Spiliotopoulos, with Stephen Chbosky providing a rewrite. David Hoberman and Todd Lieberman are producing through their Mandeville Films production company.
Production is slated to begin later this year, with Disney already setting a March 17, 2017 release date. Beauty and the Beast is just one of several live action adaptations of the studio's animated classics that are currently in development. Disney is currently developing new versions of Mulan, Dumbo, Winnie the Pooh and Pinocchio. Next year, the studio will release new versions of Pete's Dragon and The Jungle Book, both of which are live action/CGI hybrid adaptations.
Beauty and the Beast comes to theaters March 17th, 2017 and stars Emma Watson, Luke Evans, Dan Stevens, Emma Thompson, Josh Gad, Kevin Kline, Ian McKellen. The film is directed by Bill Condon.
FRIDAY, APRIL 10, 2015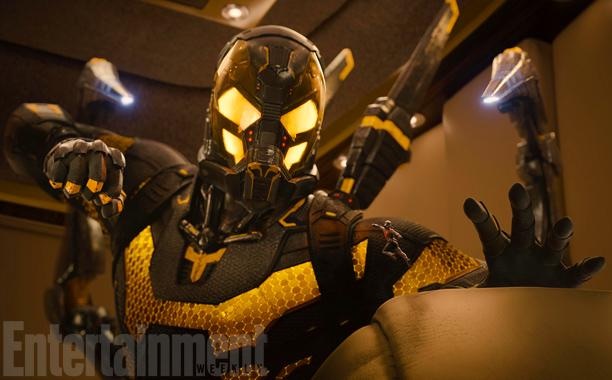 ANT-MAN'S YELLOWJACKET
The movie world may be obsessed with Ultron in the coming weeks, but Entertainment Weekly is reminding everyone there's another Marvel super villain to be prepared for -- Yellowjacket.

EW revealed a first look of Corey Stoll as the "Ant-Man" foe Thursday (April 9) night.

In the comic books, Yellowjacket is the alter ego for Hank Pym but in the Paul Rudd led film adaptation, Stoll will inhabit the Yellowjacket suit as Darren Cross. The villain has been teased in earlier promos for the film, but this is the first look at what Yellowjacket will look like in costume on the big screen.

The EW article also reveals that while Rudd's Ant-Man suit is weaponless, those fancy guns pointing above Yellowjacket's head are actually plasma cannons. Ant-Man will have to be very strategic with his super strength and ant whisper to be able to compete with that.

Though Cross is the villain in the film version, Pym (Michael Douglas) will still be playing a vital role in the story. He'll be the mentor to master thief Scott Lang (Rudd) a.k.a. Ant-Man. Together they must protect the secret behind the spectacular Ant-Man suit from a new generation of towering threats. To do so, Pym and Lang must plan and pull off a heist to save the world.

"Ant-Man" faces off against Yellowjacket in theaters on July 17.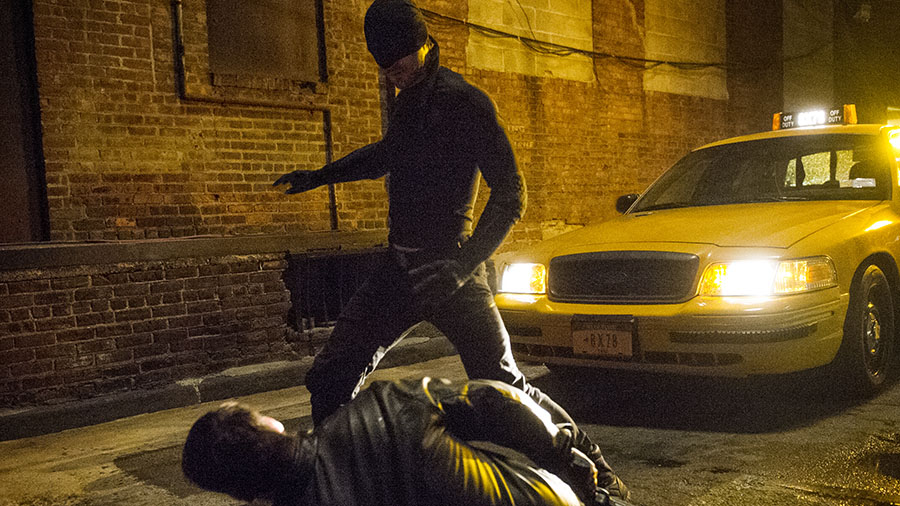 DAREDEVIL
When Marvel fans first turn in to watch "Daredevil," what they're going to see is very different from the worlds shown in the Marvel Cinematic Universe or on "Agents of SHIELD."
As the "Agents of SHIELD" catchphrase says, though, "It's all connected."
"We're very aware that each story we tell impacts another story," executive producer Jeph Loeb tells Zap2it during a group interview at the "Daredevil" junket. "What we wanted to do is move over a few blocks and down a few avenues, and there's an area [of New York City] called Hell's Kitchen, which is very different than the area of Tony Stark."
Showrunner Steven DeKnight adds, "It's a little dark corner of the Marvel universe."
That doesn't mean the show is going to hit you over the head with references to other Marvel properties. While the series does make mention of events that unfolded in the first "Avengers" film and even includes a small nod to "Agents of SHIELD," "Daredevil" is the first step in setting up the world that will eventually lead to a "Defenders" miniseries.
What that means is "Daredevil" will be crossing over with the other Marvel shows Netflix will present. "There will be very subtle ways," Loeb says. "The hospital where Claire [Rosario Dawson] works is someplace where, if you live in New York and there's a hospital nearby, you all go to the same hospital.
"It may not be when we get to 'AKA Jessica Jones' that you're going to see Matt Murdock running around, but if you're watching carefully you'll go, 'Oh, that's that nurse that was in the other thing.'"
Whether that leads to "Daredevil" characters playing meaningful roles in the other Marvel/Netflix shows ("AKA Jessica Jones," "Luke Cage" and "Iron Fist") is a mystery to the cast -- and some of them like it that way. "All those questions marks is what got me excited why I signed on," Dawson says. "'Well, you're doing 'Luke Cage' and [Claire] was married to Luke Cage, so what does that mean?'"
For Deborah Ann Woll, who plays Karen Page on "Daredevil," the long-term plan may get pretty interesting. "Karen has an extreme trajectory in the comic books," she says with a laugh. "While I didn't particularly want to play a heroin-addicted porn star on day one, I liked the idea that whether we go in that direction or not that that kind of a person was always in her, just not present or revealed yet."
"Daredevil" premieres on Friday, April 10, at 12:01 a.m. PT on Netflix.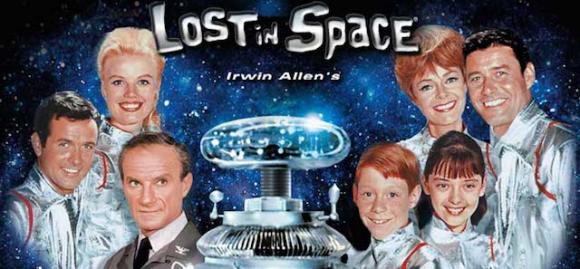 LOST IN SPACE ON DVD
Piece by piece our fractured childhoods are being resurrected with fresh Blu-ray remasters of our all-time geeky classics. Last year, it was the '60s Batman TV series getting the digital makeover; now the entire run of Irwin Allen's Lost in Space is up for instant adoption when September rolls around.
For many, this episodic series, first broadcast on CBS from 1965-68, was a cherished part of their youth, whether viewing the episodes during its initial showing or in syndicated after-school reruns.
The weekly plight of the Robinson family and their odd adventures aboard their circular Jupiter 2 spaceship with the nefarious Dr. Smith and "Danger, Will Robinson" robot was an amusing and inventive space odyssey with just enough humor and heart to make you ignore some of the cheap special effects and sets. This epic 18-disc presentation will showcase all 83 episodes in sparkling HD with a galaxy of special features, including new on-camera cast interviews, screen tests, the un-aired extended pilot, an artwork gallery, the 1973 animated special, documentary featurettes, archival footage from creator Irwin Allen's personal collection, TV spots and loads more.
Here's the official press release:
Danger, Will Robinson! Danger! Twentieth Century Fox Home Entertainment pays tribute to one of the most iconic television series of all-time as "Lost in Space" – The Complete Series arrives on Blu-ray for the first time ever on September 15. Running from 1965-1968, this collection allows fans to bring home Irwin Allen's intergalactic family saga that earned an enormous following of devoted fans over the years. Set in the space age future of 1997, follow the heart-racing, cliff-hanging adventures of John Robinson™ and his family aboard the Jupiter 2™, along with Robot B-9™ and the delightfully devious Dr. Zachary Smith™.
Produced with Space Productions, Inc. and Synthesis Entertainment, this massive 18-disc set contains all 83 episodes remastered in high definition, and over seven hours of exciting extras with recently discovered content you won't find anywhere else in the galaxy. It's out-of-this-world fun for everyone! Highlights include new commentaries on classic episodes with the original cast, 50th anniversary interviews with the original series cast and hours of archive footage offering incredible and unprecedented access into Irwin Allen's personal archives. In addition, the Blu-ray includes an exclusive cast performance of Bill Mumy's unproduced 1980 epilogue script, featuring Mumy, Angela Cartwright, Marta Kristen, Mark Goddard and more!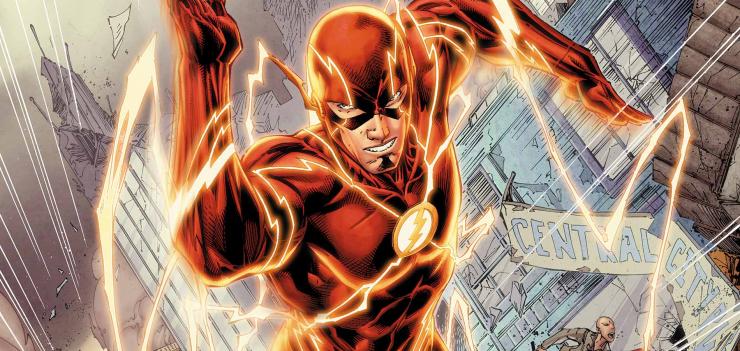 THE FLASH - MOVIE
Though The Flash is racing around on The CW every Tuesday night, Warner Bros. continues to develop a feature film version of the character to tie into their larger DC Cinematic Universe and they've just taken a big step forward. Deadline reports that The LEGO Movie and 21 Jump Street writer/directors Phil Lord and Chris Miller are in the process of writing a treatment for the scarlet speedster's big screen adaptation. It's unclear if the pair will direct the feature, though it remains a possibility.
Last year, it was revealed that We Need to Talk About Kevin and The Perks of Being a Wallflower star Ezra Miller had been cast in the role of The Flash for the upcoming Justice League Part One, and potentially next year's Batman v Superman: Dawn of Justice, though which version of the character it will be has yet to be confirmed. The Flash is currently set for release March 23, 2018, just six weeks ahead of Marvel Studios' Avengers: Infinity War Part 1 on May 4, 2018.
Grant Gustin currently plays The Flash in the hit CW series, but the character has previously been played by the likes of John Wesley Shipp in the 1990 series and Kyle Gallner in "Smallville." Adam Brody was previously cast in the role for Mad Max: Fury Road director George Miller's defunct Justice League film.
THE FLASH
The CW has released the latest Producer's Preview for "The Flash," this one focusing on Episode 18 of the hit series. You can check it out in the player below. Titled "All Star Team Up," the episode is officially described as follows:
"Barry (Grant Gustin) is surprised when Felicity Smoak (guest star Emily Bett Rickards) arrives from Starling City along with her boyfriend, Ray Palmer (guest star Brandon Routh), who flies in as the Atom. They've come to visit S.T.A.R. Labs as Ray needs help with his suit. Their timing turns out to be fortuitous because it's all hands on deck after a meta human named Brie Larvin (guest star Emily Kinney) unleashes hundreds of robotic bees to attack and kill her former co-workers, including Dr. Tina McGee (guest star Amanda Pays). A group dinner with Barry, Felicity, Ray, Iris (Candice Patton) and Eddie (Rick Cosnett) turns into a disaster."
Directed by Kevin Tancharoen and written by Grainne Godfree & Kai Yu Wu, "All Star Team Up" is set to air April 14. "The Flash" airs Tuesdays at 8 P.M. EST on The CW.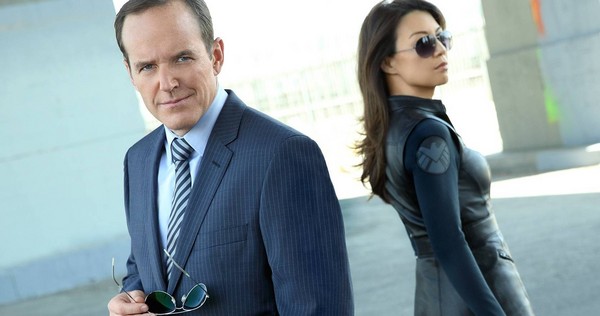 AGENTS OF S.H.I.E.L.D.
While Marvel's Agents of S.H.I.E.L.D. awaits a pretty much guaranteed Season 3 renewal, EW reports that Marvel Studios and ABC are planning an untitled Agents of S.H.I.E.L.D. Spinoff Series that could debut as early as this fall. No character or plot details have been revealed at this point in time. Marvel's Agents of S.H.I.E.L.D. executive producer Jeffrey Bell and writer Paul Zbyszewski are behind this second series.
It isn't known if any main characters from the popular ABC series will be moving over to this new show. There won't be an implanted pilot episode in Marvel's Agents of S.H.I.E.L.D. Season 2 to set this spinoff up. But it is noted that there are some important story elements that will come into play in future episodes of this current season that will lay the groundwork for what the Agents of S.H.I.E.L.D. Spinoff Series will eventually be. By the end of the season, assuming these plot elements don't leak early, we'll know what the new series is about, and who will be at the forefront of the action.
While its speculated that the Agents of S.H.I.E.L.D. Spinoff Series will land in the fall, it may also be used as a midseason placeholder, just as Marvel's Agent Carter was this past January. That particular Marvel series has not yet been renewed for a Second Season, and it is given a 60% of returning. Its also possible that this new spinoff won't even happen, especially considering the fact that Marvel's Agents of S.H.I.E.L.D. Season 2 has yet to be renewed. At this time, ABC has not decided which of its current pilots will receive series orders for the new fall season. That decision could impact plans for this latest Marvel show.
Fans have been very supportive of Marvel's Agents of S.H.I.E.L.D. Season 2, agreeing that it made up for a lot of the mistakes seen in the first season. The series currently pulls in an average of 7.4 million viewers, with a 2.8 rating amongst adults 18-49. That includes 7 days of DVR playback. At this time, ABC has no comment on its development slate, and Marvel isn't giving up any answers either.
THURSDAY, APRIL 9, 2015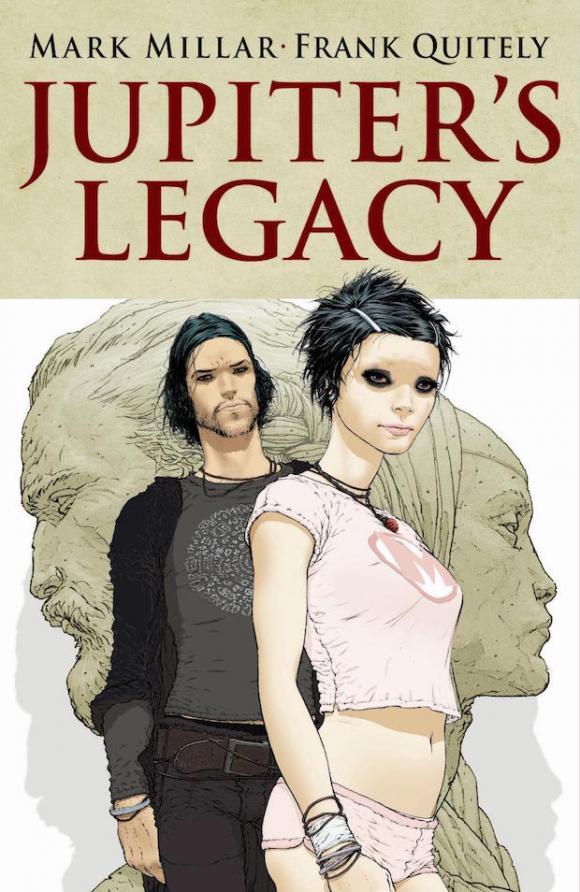 JUPITER'S LEGACY
Outside of Stan Lee, Mark Millar is arguably one of the most prolific comic creators bringing his work to the big screen. Now, his magnum opus is finally getting a shot. According to The Hollywood Reporter, Millar has inked a deal with Lorenzo di Bonaventura (Transformers, G.I. Joe) to adapt the ambitious superhero comic Jupiter's Legacy into a film script. From Kick-Ass to Kingsman: Secret Service, Millar's properties have proven to have solid box office appeal, and this is arguably one of his best stories ever put to page. The ongoing comic has been published since 2013, and tells a multi-generational tale about superheroes that dates back to the 1920s. It's a deeply personal story, focused on failure and what it means to live up to the legacy of a parent's accomplishments — all filtered through the lens of a superhero epic. Di Bonaventura said the project appealed to him because of the "emotional weight of the family dynamic," and likened the concept to Shakespeare with superpowers. He said Millar's unique style could also go a long way toward setting Jupiter's Legacy apart from the myriad other superhero franchises assaulting the box office.
CROSSBONES
By the end of Captain America: The Winter Soldier, it was pretty clear that, despite suffering massive injuries and burns, Marvel had plans for the badass character of Brock Rumlow, played by Frank Grillo. After all, the guy was left very specifically not dead, which is usually an indication that we'll get to see the character again down the line. And seeing him again, we might. Very soon at that. Now, Marvel comic-book fans will know that Rumlow will eventually become the villainous Crossbones. His return in the third Captain America flick has been previously hinted at by the actor for a while now, and there are rumblings that he will be the main big bad. And this recent tweet by the Kingdom actor in which he says "A #civil-war is on the horizon. And it's gonna be a free for all" may have just confirmed Grillo's return in Civil War. THE LAST SHIP
By the time the screen went black on season one, TNT's The Last Ship had evolved into one heck of a fun action series last summer. Now here's our first look at year two. Produced by Michael Bay, the sci-fi-tinged series features as many explosions as you'd have probably guessed — but it's also evolved into an intriguing "What If?" story about a plague that wipes out a massive chunk of humanity and the mission of a lone Navy ship tasked with curing it. You know, with rogue nukes and deliciously evil Russian baddies to spare, of course. Along with debuting the first trailer for season two, the cast and crew were on hand at the recent WonderCon event to tease what's coming. With the cure developed by the end of season one, the producers say year two will focus on efforts to produce and disseminate the cure. Considering how some people are using the plague as a tool for genocide, that's probably more easily said than done. There also seems to be a brand-new baddie in the mix. As expected, the second season will also address the lingering cliffhanger of the ship being taken over by hostile forces, and the cast and crew teased that familiarity with the ship could play a key role in getting control back to the good guys. After that, we can expect to see more of the fractured United States post-plague and ongoing efforts to restore it. The first season did a stellar job of laying the foundation for a fun world, and it sounds like the 13 episodes of season two should give us ample time to play in it. The Last Ship returns Sunday, June 21, with a two-hour premiere.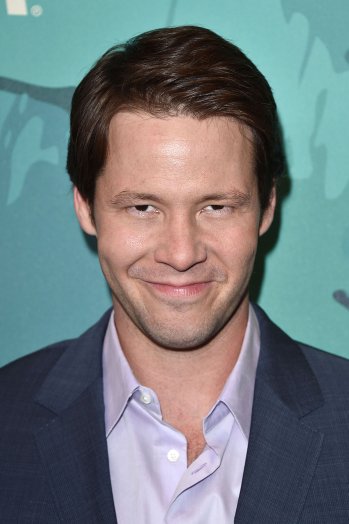 SUICIDE SQUAD
Ike Barinholtz has been added to the roll call for Suicide Squad, Warner Bros.' all-star superhero action movie based on the DC Entertainment characters. Director David Ayer tweeted a photo Wednesday from a table read that revealed many of the players: Joel Kinnaman, Will Smith, Adewale Akinnuoye-Agbaje, Jay Hernandez, Margot Robbie, Jai Courtney, Cara Delevingne and Viola Davis. Barinholtz is one the new additions, as is Adam Beach. Details of his role was not disclosed. The movie is a change of pace for Barinholtz, who is better known for his comedy gigs. He is currently a co-executive producer, writer and a star on The Mindy Project at Fox, which just wrapped up on season 3, and co-starred with Seth Rogen in Neighbors. He is also the male lead opposite Tina Fey and Amy Poehler in Universal's comedy Sisters. Barinholtz wrote Central Intelligence, an action comedy that is due to go into production in early May for New Line, and stars Kevin Hart and Dwayne Johnson. JURASSIC WORLD
Universal Studios has released the first clip from the upcoming Jurassic World (via MTV). Opening in 3D, 2D and IMAX theaters, Jurassic World arrives from Safety Not Guaranteed helmer Colin Trevorrow and offers a terrifying sci-fi adventure set 22 years after the events of Steven Spielberg's original 1993 Michael Crichton adaption, Jurassic Park. According to Trevorrow, a huge part of what sparked his take on the blockbuster franchise was the image of a teenager texting, unimpressed with the T. Rex behind the glass in front of him. Jurassic World, which hits theaters on June 12, 2015, also stars Bryce Dallas Howard (The Help, Spider-Man 3), Ty Simpkins (Insidious, Iron Man 3), Jake Johnson (Let's Be Cops, "New Girl"), Nick Robinson (The Kings of Summer), Irrfan Khan (Life of Pi, The Amazing Spider-Man), Vincent D'Onofrio ("Daredevil," "Law & Order: Criminal Intent"), BD Wong (Jurassic Park, "Law & Order: Special Victims Unit"), Omar Sy (X-Men: Days of Future Past, The Intouchables), Judy Greer (Dawn of the Planet of the Apes, Tomorrowland), Katie McGrath (NBC's "Dracula," "Merlin"), Lauren Lapkus (Blended, The To Do List) and Andy Buckley (Bridesmaids, The Other Guys).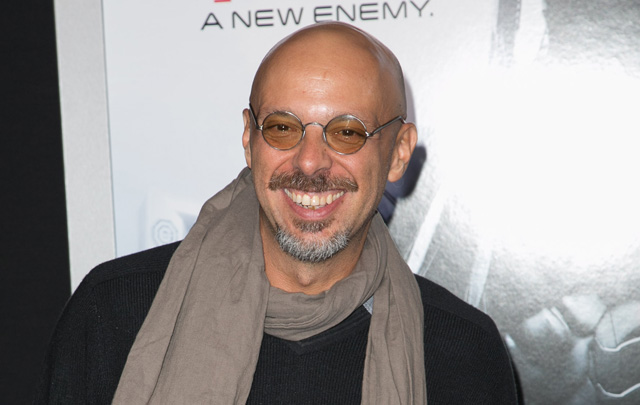 MINDCORP
Jose Padilha, the director of Elite Squad and Sony Pictures' RoboCop reboot, has signed on to direct Mindcorp, a science fiction thriller in development through Warner Bros. Pictures and Gianni Nunnari's Hollywood Gang. The plot, which is largely being kept under wraps, comes from an unpublished story written by Padilha and involves next-generation mind-body experimentation and a priest who becomes responsible for the survival of humanity. Dwain Worrell (Walking the Dead, Operator) is attached to adapt the tale for the screen. Warner Bros executives Jon Berg and Jon Gonda are overseeing the project on behalf of the studio. Shannon Gaulding is overseeing for Hollywood Gang. Among his many projects, Nunnari is currently developing Robotech at Sony Pictures. He is also developing The Thicket, with Peter Dinklage attached to star; and Odysseus with Fedor Bondarchuk attached to direct. That latter project now appears to be facing some competition as, earlier today, Lionsgate revealed that they have their own take on Homer's epic poem in the works. BATMAN vs. ROBIN
An all-new clip from "Batman vs. Robin," the next entry in the popular DC Universe Original Movie series. The film is now available to own via Digital HD, and will be available as a Blu-ray Deluxe Edition, Blu-ray Combo Pack and DVD on April 14. The clip features Nightwing (voiced by Sean Maher) and Damian/Robin (Stuart Allan) squaring off for a spirited training session.
WEDNESDAY, APRIL 8, 2015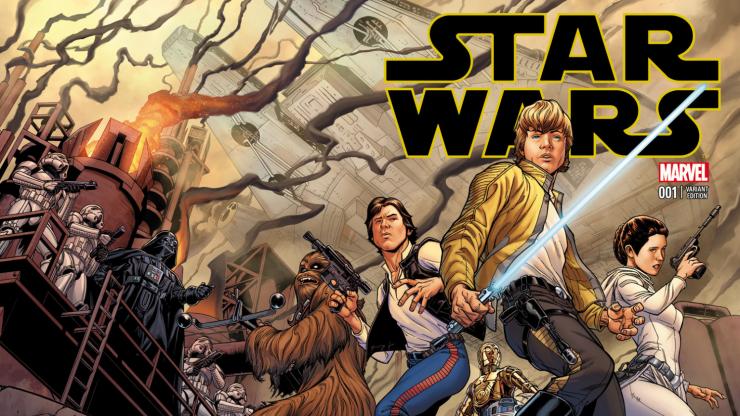 STAR WARS
Word broke back on April Fools' Day that Dark Horse wants comic shops to trade in unsold issues of Marvel's Star Wars toward a rare variant cover for a new Barb Wire series. Turns out it wasn't a joke. Dark Horse editor Randy Stradley chatted with The Hollywood Reporter to explain the odd promotion, which comes less than a year after Dark Horse Comics lost the Star Wars rights to Disney in that massive Lucasfilm deal. Dark Horse had been cranking out stellar stories from a galaxy far, far away for decades, but all that came to an end (and those stories were relegated to a new corner of the out-of-canon expanded universe) with the Disney sale. The new promotion in question allows interested comic shops to trade 20 unsold issues of Marvel's Star Wars #1 for a copy of the new Barb Wire series with a rare cover by artist Adam Hughes. That specific variant is only being made available through this trade-in promotion. So, is it all sour grapes? According to Stradley, they're obviously still bummed about losing the Star Wars brand, but they mostly thought the promotion would be a funny way to poke fun at the problem while generating some buzz for the new Barb Wire book: "We were glad to see that so many people got a laugh from it. Mostly die-hard Marvel fans who seem to have been offended for Marvel's sake, conveniently forgetting that a couple of years ago, Marvel pulled a similar kind of promotion with DC as the goat. I somehow imagine that Marvel can survive our 'barbs.' … After Disney bought Lucasfilm, the license was summarily given to Disney-owned Marvel. There was a bit of bitterness there, but we understand that business is business. What I personally didn't appreciate was the posturing from Marvel as if they had somehow won back the rights. So, when the idea for this promotion was discussed, I was all for it."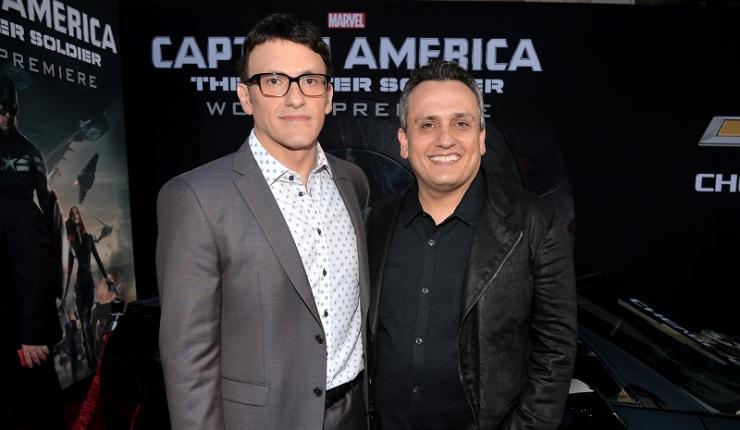 AVENGERS: INFINITY WAR - PART 1
Marvel has announced the directing team for its most ambitious project, Avengers: Infinity War - Part 1 and Avengers: Infinity War – Part 2. We say team because an event of this magnitude isn't a one-person job. The studio has tapped co-directors and siblings Joe and Anthony Russo. Most of us know the Russo brothers for their work on last year's Captain America: The Winter Soldier, which grossed $715 million worldwide, making it one of Marvel's most successful films to date. Despite coming from a comedy background, the duo proved they had what it took to direct an action-packed political thriller. This time they'll be taking over Marvel's largest franchise, The Avengers. The Russos will pick up where Joss Whedon left off with Age of Ultron. But before then, they'll film the next Captain America sequel, Civil War. The film's slated to introduce even more superheroes, such as the highly anticipated Black Panther (Chadwick Boseman). It will also explore the rocky personal and professional relationship between Steve Rogers (Chris Evans) and Tony Stark (Robert Downey Jr.) Captain America: Civil War opens in theaters May 6, 2016. Avengers: Infinity War - Part 1 debuts May 4, 2018, and Part 2 on May 3, 2019.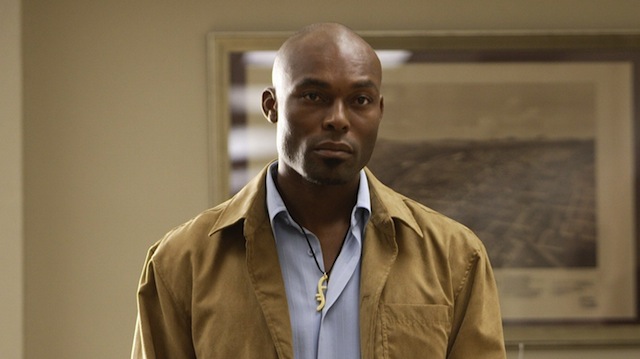 HEROES REBORN
Another cast member from the original "Heroes" has signed on for NBC's upcoming 13-episode event series, "Heroes Reborn." According to a story today at Deadline, Jimmy Jean-Louis is set to reprise his role as The Haitian, who has the ability to both erase people's memories and to both block their powers. He joins the returning Jack Coleman and Masi Oka alongside franchise newcomers Robbie Kay, Zachary Levi and Jack Coleman. "Heroes Reborn" will debut this year as a limited series reboot of the popular show. The original series chronicled the life-changing stories of a series of unrelated ordinary people who discovered they had superhuman abilities. As the saga unfolded, they learned they were part of a grand plan that brought them together to change the world. Prior to the debut of "Heroes Reborn," NBC is expected to launch a digital series that will introduce the characters and new storylines. Plot details for the new episodes have yet to be disclosed, but the series is said to follow a new stand-alone story arc. Jean-Louis recently starred on The CW's "Arrow" as the second season character, "The Captain." "Heroes" creator Tim Kring is executive producing with James Middleton and Peter Elkoff. Matt Shakman is directing the opening episode.

DEADPOOL
For some time now, much of the mutant cast for Deadpool has been revealed, save for actor Ed Skrein. Today, however, Skrein took to Twitter to confirm that he will be playing none other than Ajax, one of the characters directly responsible for Wade Wilson becoming Deadpool in the source material. Previously an attendee at the Weapon X program, Ajax was transformed into a killing machine that couldn't feel pain in addition to having increased strength and speed. Based upon Marvel Comics' most unconventional anti-hero, Deadpool tells the origin story of former Special Forces operative turned mercenary Wade Wilson, who after being subjected to a rogue experiment that leaves him with accelerated healing powers, adopts the alter ego Deadpool. Armed with his new abilities and a dark, twisted sense of humor, Deadpool hunts down the man who nearly destroyed his life. Ryan Reynolds will star in the title role of the film along with TJ Miller as Weasel, Gina Carano as Angel Dust, Brianna Hildebrand as Negasonic Teenage Warhead, and Morena Baccarin as Copycat. The film will also feature the mutant Colossus, though Daniel Cudmore has confirmed he will not appear as the character. Tim Miller is directing the movie from a script by Zombieland writers Rhett Reese and Paul Wernick. Confirmed to be rated R, Deadpool is scheduled for a release on February 12, 2016.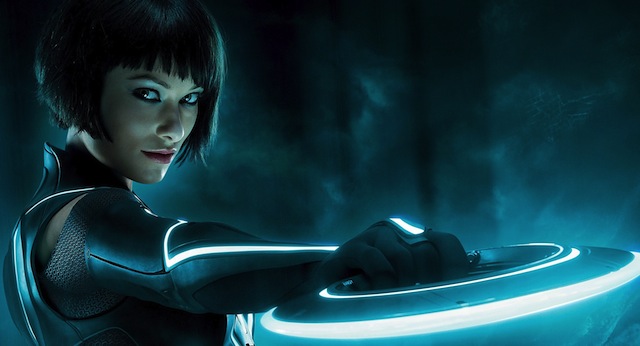 TRON 3
First rumored last month, it appears that Walt Disney Pictures is, indeed, moving forward with TRON 3 as The Hollywood Reporter today confirms Olivia Wilde will be reprising her role as everyone's favorite ISO, Quorra! She joins fellow returning lead Garret Hedlund, who is set to return as Sam Flynn. TRON: Legacy helmer Joseph Kosinski will also be back with plans for production to take place in Vancouver later this year. Released in 1982, the original TRON underperformed at the box office, but nonetheless managed to find an important place in pop culture over the next few decades. The sequel was scripted by Edward Kitsis and Adam Horowitz from a story they developed with Brian Klugman and Lee Sternhal, based in turn on characters created by Bonnie MacBird and original TRON helmer Steven Lisberger. That film's worldwide box office exceeded $400 million. Wilde previously reprised the Quorra role for an episode of the short-lived animated series "TRON: Uprising," although the episode itself took place prior to the events of TRON: Legacy. Most recently, Wilde starred in director David Gelb's horror thriller The Lazarus Effect opposite Mark Duplass, Sarah Bolger, Evan Peters and Donald Glover. There's no official title or plot info for TRON 3 quite yet.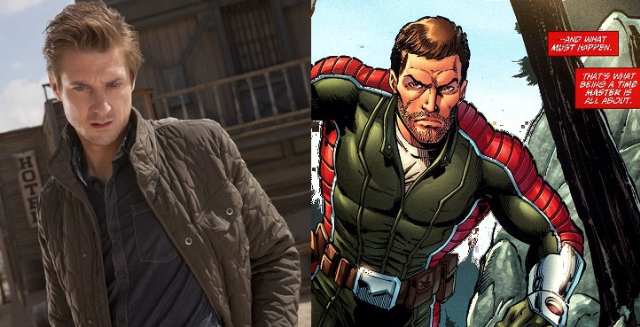 THE TRAVELER, RIP HUNTER
Arthur Darvill, who played a former companion in BBC's Doctor Who has joined the cast of the untitled Arrow/The Flash spin-off as The Traveler, Rip Hunter. Created for DC Comics in 1959, Hunter is an adventurer who leads a team of time-travelers. He is described as " a roguish time traveler who hides the strains of being responsible for history itself behind a facade of charm and wit." This will be the first American television work for Darvill. The Broadchruch actor joins a cast that includes Brandon Routh (Atom), Caity Lotz (Black Canary), Victor Garber (Martin Stein), Ciara Renée (Hawkgirl), Wentworth Miller (Captain Cold) and Domenic Purcell (Heat Wave). Greg Berlanti, Marc Guggenheim and Andrew Kreisberg are writing and executive producing.
TUESDAY, APRIL 7, 2015
DAREDEVIL
The Man Without Fear himself -- actor Charlie Cox -- took part in a reddit AMA over the weekend (alongside co-star Vincent D'Onofrio) in which the actor talked about playing Daredevil and putting on that iconic red costume. He also revealed which comic-book characters he'd like to see in season two, as well as what are the chances of joining Earth's Mightiest Heroes down the line. Also, Netflix released two new action-packed Daredevil trailers featuring some new footage; including a first look at Man of Steel's Ayelet Zurer in the role of the Kingpin's (D'Onofrio) wife, Vanessa. Now, on to the reddit thingy. Answering a fan question, Cox confirmed we'll indeed see the classic red suit on the Marvel/Netflix series (something we already knew about, but it's always nice to see the actor confirm it). At least, we'll get to see a version of it. The actor said: "I love both of the suits. Obviously it was great to involve the John Romita Jr. black ninja costume but the day I first put on the iconic costume is a day I will never forget." Even if Daredevil will be more, ahem, dark and realistic in tone, the new superhero series will be embracing its comic-book roots to some extent. This is something Cox hopes will be reflected through the intro of some classic villains. There's one in particular the young British actor seems keen to see on the show: "I have no idea if it could ever work in our show but I would love to see Stilt Man make an entrance. Maybe even Jester." Since Daredevil is a comic-book-based series, talk naturally took a turn to comics territory. When he was asked which ones he'd read in order to prepare to play the iconic role of blind-attorney-by-day Matt Murdoch and vigilante-by-night Daredevil, this is what Charlie Cox said: "I really love the issues when Matt Murdock is defending the White Tiger. It was so cool to read a comic book with such a compelling courtroom scene. I also have to mention Jeph Loeb's Daredevil Yellow. So touching." He also added: "The greater part of my preparation was spent reading comics. I think you will find influence from many of the DD writers and illustrators over the years. Personally, I found Bendis/Maleev runs incredibly helpful in terms of the tone of our show." "Since I got cast in the role, I have read hundreds of comics. There are so many great characters but some of my favorites are the following: The Punisher, The Purple Man, and Thor." Thor is, of course, already a kick-ass big-screen movie franchise starring Chris Hemsworth in the role of the Asgardian God of Thunder. He'll rock Mjolnir in Avengers: Age of Ultron in less than a month, before heading off to Asgard in order to headline his third solo flick with Thor: Ragnarok, set to be released on Nov. 3, 2017. As for Purple Man, well, he's being played by David Tennant on Netflix's second Marvel series, A.K.A. Jessica Jones, starring Krysten Ritter in the titular role and Mike Colter as Luke Cage. Questions were also asked about the fact that Daredevil does take place within the MCU (Marvel Cinematic Universe), and Cox revealed which superhero he'd like most to team up with, saying: "I really think Chris Evans does an amazing job as Captain America and I happen to think him and Daredevil would work well together." Charlie Cox is unfortunately still waiting to receive his invite to join the Big Boys in either/or Captain America: Civil War and Avengers: Infinity War. "I have no idea if this is even a possibility but I can tell you that I would love nothing more. I don't see why the character from our show couldn't fit in with the Avengers, if he was invited ;)" INSIDIOUS #3
If you were at WonderCon in Anaheim over the weekend, then you might already know that a clip from Insidious: Chapter 3 was shown to the assembled audience who attended the Blumhouse Productions panel. But if didn't get the chance to see it, we have it right here for you. In the clip you'll get to see below, Lin Shaye reprises the role of psychic Elise Rainer in this Insidious prequel. Chapter 3 is the origin story that sets up the creepy haunting of the Lambert family in the two previous Insidious movies. In the prequel, Rainer uses her ability to help a young teenage girl who is the target of an evil supernatural entity after the girl tried to get in contact with her dead mother. The clip is titled "When You Reach Out to the Dead" (and I can just about hear y'all finish that bit with "Noooo! Don't do it! Bad things will happen!"). Insidious: Chapter 3 also sees the return of Angus Sampson and Leigh Whannell as Tucker and Specs. It also stars Dermot Mulroney, Stefanie Scott, Tate Berney and Hayley Kiyoko.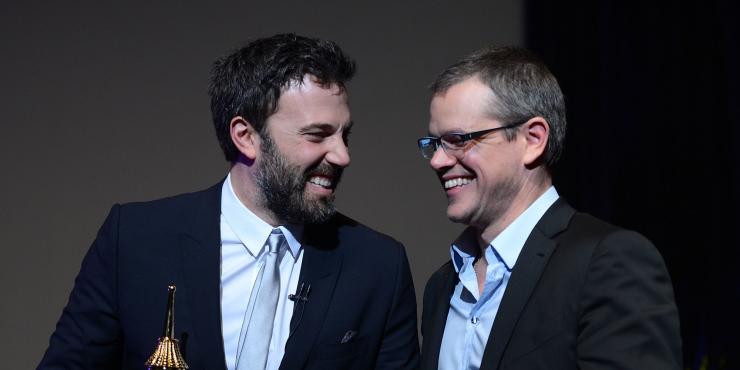 INCORPORATED
Syfy is adding yet another original scripted sci-fi/drama series to its roster. Titled Incorporated, the new series is described as a futuristic espionage thriller from the dynamic Oscar-winning duo of Matt Damon and Ben Affleck and their production company, Pearl Street Productions, CBS Television Studios and Universal Cable Productions, Deadline reports. Here's the gist of the story: Set in a dystopian future where companies have unlimited power, Incorporated centers on Ben Larson, an executive who is forced to change his identity in order to infiltrate a cutthroat corporate world and save the woman he loves. In the process, he will take on the entire system – with deadly consequences. The pilot was written and will be directed by David and Alex Pastor, who also created the concept. It will: Explore the growing influence of corporations and private interests in Washington, the slow but steady dismantling of the public sector and the increase of an amazing amount of wealth by an ever shrinking minority. With complex characters and a dark sense of humor, the show will take viewers into a world where the ethical boundaries have been completely redrawn. The new series will have The Good Wife's Ted Humphrey as showrunner (and executive producer), with Damon, Affleck and Jennifer Todd also sitting in the executive producer seats. Syfy President Dave Howe said of the upcoming new series: "Incorporated is an electrifying example of what science fiction does best: holding a mirror to present realities and projecting forward to a recognizable future in which we face the impact and consequences of our actions." While Matt Damon and Ben Affleck added: "Incorporated provides us distinct insight into a world dictated by our decisions today. Viewers will delve into the intricacies of our future, one that we are constantly warned of, but as a society have not yet explored." It's way too early for casting announcements yet (of course) but let's hope they'll cast a strong lead, as a show like this can be made or break on that count. I'm definitely intrigued about the premise of this new series, and am curious to see how they'll tackle the story. JUSTICE LEAGUE: GODS AND MONSTERS
"Get out of my house." A first official Justice League: Gods and Monsters trailer has been released over the weekend, and if you feel like something's a bit off (as evidenced by Exhibit A above), well, it's because the upcoming animated superhero movie is giving us a look into an alternate version of the DC Universe. Gods and Monsters is being described as an "Elseworlds story" in which Superman, Batman and Wonder Woman (who strangely looks like She-Ra here) are waaay more brutal than their regular counterparts, and they find themselves accused of the murders of some of the DC's most brilliant minds ... it's pretty jarring to hear the Justice Leauge described as a "terrorist organization" here, but Mike Carlin, a longtime DC editor, described the new movie as being an "easter egg time for 90 minutes," so, score! Directed by Sam Liu, the new movie is being developed by Bruce Timm and Alan Burnett and is set to spawn a spinoff animated series on Machinima. Justice League: Gods and Monsters is set to be released on Blu-ray and DVD this summer. SINISTER 2
Cornfields are always a reliable staple in horror flicks, and this stalky teaser for Sinister 2 uses them to great effect. Here the evil Babylonian entity Bughuul continues his campaign of terror on innocent households via a ghostly gang of homicidal youths armed with a sharp scythe. This sequel to Scott Derrickson's (Dr. Strange, Deliver Us From Evil, The Day the Earth Stood Still) haunting Sinister from 2012 picks up after the tragedy of the first film, with Shannan Sossamon playing a protective mother trying to keep her twin sons (Robert and Dartanian Sloan) safe from deceptive demons descending on their new home. Directed by Ciaran Foy, with a screenplay by Scott Derrickson and C. Robert Cargill, Sinister 2 invades theaters Aug. 21, 2015. FALLING SKIES
The Steven Spielberg-produced alien drama Falling Skies is coming back to TNT for one last run, and here's our first look at the final season. It's hard to believe the series has been around for four years, telling the tale of a group of survivors in the post-apocalypse waging war against alien attackers. With Noah Wyle and a varied cast of heroes at the forefront, the show has essentially rebooted itself at the end of each season, which, considering the creative shifts behind the scenes, has had decidedly mixed results along the way. With a fifth and final season on the way this summer, it looks like current showrunner David Eick (Battlestar Galactica) will at least get a chance to bring the saga of the 2nd Mass. to a (hopefully) satisfying close. The fourth season, Eick's first at the helm, dropped some weird storylines and introduced a few new ones. Judging by our first peek at the fifth season, which finds Wyle talking about the end as he walks through rubble, it seems Eick definitely aims to wrap this thing up. Somehow. Falling Skies season five premieres June 28. STAR WARS
As anticipation builds for the December release of Star Wars: The Force Awakens, the first new film in the Star Wars saga in a decade, The Walt Disney Studios, Lucasfilm Ltd., and 20th Century Fox today announced the upcoming release of The Star Wars Digital Movie Collection. All six epic films in the saga, from "The Phantom Menace" to "Return of the Jedi," will be available on Digital HD globally beginning Friday, April 10. "Since the debut of the first film nearly 40 years ago, Star Wars has become a worldwide phenomenon with legions of fans from every generation," said Alan Bergman, president, The Walt Disney Studios. "It's only fitting that audiences enjoy this legendary saga and its many fascinating behind-the-scenes stories on a wide variety of platforms, and we're very excited to finally bring all six films to Digital HD for the first time." "We're thrilled that fans will be able to enjoy the Star Wars saga on their digital devices wherever they go," commented Lucasfilm president Kathleen Kennedy. "These films broke new ground in technology, design, sound, and visual effects, and we've created some very special bonus material which delves into the saga's rich history, including new and never-before-released conversations between legendary Star Wars artists — the masters who helped George bring his iconic universe to life." With Star Wars: Episodes I-VI available for purchase as a complete digital movie collection and individually, viewers will have the Rebel forces at their beck and call across their favorite devices anywhere — sunbathing at the beach, relaxing in their living room with friends, or waiting to board a flight to Endor (or elsewhere). Plus, unlike Lando's bargaining with Darth Vader, this deal is getting better all the time: Enhancing the movie collection are a host of never-before-seen special features including "Star Wars: Discoveries from Inside" and insightful "Conversations" between key contributors from across this celebrated film franchise, plus a curated collection of classic Star Wars extras from each film.
MONDAY, APRIL 6, 2015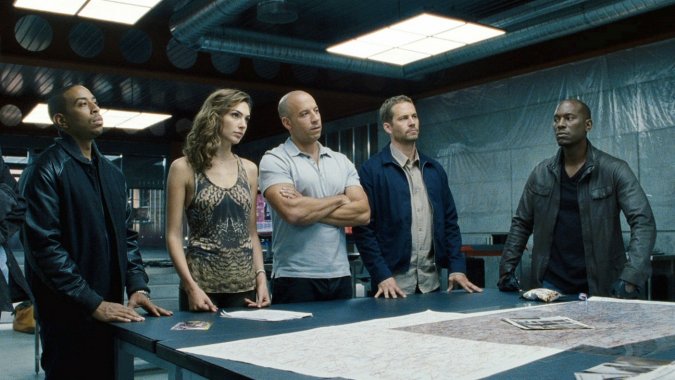 WEEKEND BOX OFFICE
Rivaling the staying power of Hollywood's most iconic franchises — think Harry Potter and James Bond — Universal's Furious 7 raced to a $143.6 million debut at the North American box office and $240.4 million overseas for a massive worldwide launch of $384 million. The $190 million movie broke numerous records, delivering a series best and the biggest launch for any movie domestically since The Hunger Games: Catching Fire in November 2013. Globally, it is the fourth-highest opening of all time behind the final Harry Potter film ($483.2 million), Harry Potter and the Half-Blood Prince ($394.4 million) and The Avengers ($392.5 million). And its foreign gross of $240.4 million from 63 markets makes it the No. 3 international opening of all time and the biggest start for a Universal title, even without China, where it rolls out April 12. Furious 7 came in No. 1 in every territory, led by the U.K. ($19 million), Germany ($15.2 million), France ($11.4 million) and Australia ($11.2 million). Furious 7 — the final film featuring the late Paul Walker — is the second major victory of the year for Universal Pictures chairman Donna Langley and her team after Fifty Shades of Grey, which on Good Friday jumped the $400 million mark overseas for a global cume of $566 million through Sunday. The desire to see Walker one last time no doubt contributed greatly to Furious 7's stunning performance. Universal intended to open the seventh installment on July 11, 2014, but production was halted in November 2013 when Walker died in a tragic car crash during a Thanksgiving hiatus. As with previous installments, Furious 7 played to a diverse crowd, with non-Caucasians making up 75 percent of the audience. Hispanics made up the majority of ticket buyers (37 percent), followed by Caucasians (25 percent), African-Americans (24 percent), Asians (10 percent) and other (4 percent). Gender-wise, the turnout was fairly even, with males making up 51 percent of the audience. In terms of age, 66 percent of the audience was over the age of 25. "Someone that I admire quite a lot recently said this is a franchise that really looks like America, and there are characters that everyone can relate to. I think that's a big plus," said Universal president of domestic distribution Nicholas Carpou. "And I think Paul was another big reason for people to come to our movie." Furious 7 marks the top opening ever for the month of April, and further proves that tentpoles can do huge business outside of summer. Captain America: The Winter Soldier was the previous record holder with $95 million on the same weekend a year ago. Thanks to Furious 7, total weekend box office revenue was up more than 31 percent over 2014, and more than 65 percent over the same frame in 2013. Helping to eradicate a troubling downturn at the U.S. box office in 2014, Furious 7 peeled out with the biggest opening since Catching Fire ($158 million). Furious 7 earned $67.3 million on Friday alone, the 10th-best showing of all time, narrowly edging out The Dark Knight and The Hunger Games ($67.2 million each). Furious 7 easily ouptaced any previous title in the franchise, including blockbuster Fast and Furious 6, which topped out at $789 million worldwide. Furious 7 came in 23 percent ahead of that film's four-day launch over Memorial Day weekend in 2013 ($117 million), and 47 percent ahead of its three-day take ($97 million). This time out, the plot pits Vin Diesel's Dominic Toretto and crew (which includes Michelle Rodriguez and Tyrese Gibson, among others, as well as Walker) against Jason Statham's Deckard Shaw, out for revenge after the death of his brother. Dwayne Johnson also reprises his role as Hobbs. After Walker's death, director James Wan, writer Chris Morgan and Universal pored over existing footage and tweaked the script, with production resuming in April 2014. To complete the film, CGI and voice effects were used in some scenes featuring Walker's detective character, Brian O'Conner, with Walker's brothers, Caleb and Cody, used as stand-ins. Earning an A CinemaScore, Furious 7 boasts the widest release in Universal's history, playing in 4,004 theaters domestically and on more than 10,500 screens overseas (in addition to China, it has yet to open in Russia and Japan). Imax locations delivered an April record, including $14 million in North America from 365 locations and $8 million overseas. Universal is planning three more installments in the franchise but hasn't announced any details, including whether Wan will return to direct. It goes without saying that Furious 7 made life difficult for the competition. DreamWorks Animation's family offering Home held in the best, coming in No. 2 in its second outing with $27.4 million for a domestic total of $95.6 million. Still, even it dropped 47 percent, a bigger decline than usual for an animated film and likely a result of some families choosing Furious 7. Overseas, Home earned another $20.7 million for a foreign total of $85.2 million and global cume of $180.8 million. The Will Ferrell-Kevin Hart comedy Get Hard took a big hit, falling a steep 62 percent to $12.9 million for a 10-day domestic total of $57 million. Internationally, where it is a far tougher sell, the R-rated comedy grossed $2.6 million from nine markets for an early foreign cume of $10.3 million and global total of $67.3 million. Domestically, Get Hard came in No. 3, followed by Cinderella and Insurgent. On Monday, Disney's Cinderella will jump the $400 million mark after finishing Sunday with a domestic haul of $167.3 million and international cume of $230 for a total $397.3 million. To date, it is the top-grossing title of 2015, including a China bounty of $68.7 million. Insurgent crossed the $100 million mark domestically for a total $103.4 million. Overseas, it has earned $120.2 million for a global cume of $223.6 million. Elsewhere, Radius-TWC and Dimension took a gamble in further expanding critically acclaimed horror film It Follows this weekend despite the onslaught of Furious 7. The film, upping its theater count from 1,218 to 1,655, grossed $2.5 million to come in No. 6. It Follows' cume is $8.5 million. At the specialty box office, The Woman in Gold, starring Helen Mirren and Ryan Reynolds, succeeded in providing a refuge for older adults not so interested in Furious 7. The movie, opening in 258 theaters in select top markets, grossed a solid $2 million to come in No. 7, despite its small footprint. From The Weinstein Co., Woman in Gold earned an A CinemaScore, with nearly 70 percent of ticket buyers over the age of 50. "The theater average of $7,677 was extremely good, and the exits were as good as for The Imitation Game and The Artist," said TWC's Erik Lomis, adding that the movie will expand nationwide next weekend, playing in 800 to 1,000 theaters. The long-delayed biographical drama Effie Gray, starring Emma Thompson and Dakota Fanning, quickly fizzled, earning just $501,000 from 201 theaters for a dismal theater average of $746.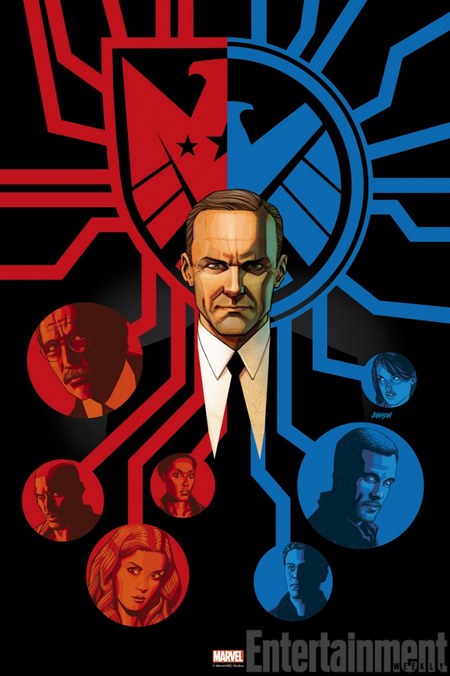 AGENTS OF S.H.I.E.L.D.
Entertainment Weekly has debuted a new poster for next week's episode of Marvel's Agents of S.H.I.E.L.D., "Afterlife", airing Tuesday, April 8 at 9 PM ET on ABC. The poster features Agent Coulson (Clark Gregg) literally standing between two separate factions of S.H.I.E.L.D. In last week's episode, "One Door Closes", Bobbi (Adrianne Palicki), Mack (Henry Simmons) and Gonzales (Edward James Olmos) told Coulson that they are "the real S.H.I.E.L.D.," and they are certainly not on his side in this world where Hydra is everywhere. These characters stand one one side of the poster, while Ward (Brett Dalton), Fitz (Iain De Caestecker) and Simmons (Elizabeth Henstridge) are on the other. One character not seen in the poster is Luke Mitchell's Inhuman character, who makes his debut in next week's episode. Executive producer Jeffrey Bell revealed that introducing this character sets up a new dynamic for the series. "Meeting Luke's character in the Inhuman world is just setting up a new dynamic. We're taking [Skye] into a group with a whole bunch of different people. So far, we've seen that there's a guy with no eyes, and there's a woman [Raina] who now is covered in thorns. And as in the X-Men world, there are a handful of people who look more like them, but a lot of them turn out to be just attractive people with powers. And we thought, 'Hey, let's have some of those as well!' [laughs] We were looking for a new character to come on, and Luke just really impressed us. He was a good actor, had a nice quality, and we felt he might be a good person to sort of usher Skye into this other world." Entertainment Weekly also spoke with Adrianne Palicki, whose character Bobbi Morse is currently opposing Coulson and his team. However, the actress revealed that Bobbi still does care for them, and she's struggling with what is right and what is not. "Oh, absolutely. [Bobbi] cares about these people. That's where the struggle comes from. She's really struggling with the balance of, "What is the right thing?" She started off knowing what the right thing was, but now she's going to start having the struggle of, 'OK, you guys have to understand. I know Skye. You guys don't know Skye like I know Skye. She's not a bad person. She's a SHIELD agent first.' It's going to be a lot of those moments where she's trying to convince people who just don't want to hear it." In addition to the new poster, we also have a photo gallery for "Afterlife", which you can check out below the poster. What do you think about these new details? Do you think these two factions can work out their differences to create a stronger S.H.I.E.L.D.? Take a look at the poster and gallery below, and stay tuned for more on Marvel's Agents of S.H.I.E.L.D., airing Tuesday nights at 9 PM ET on ABC.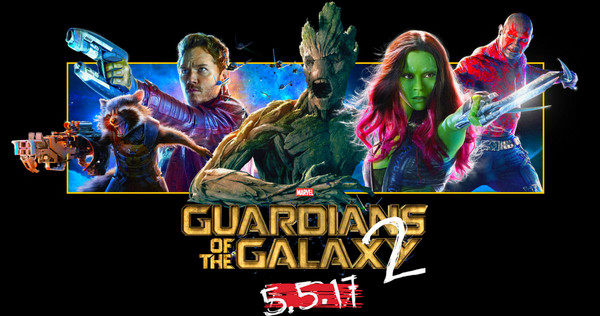 GUARDIANS OF THE GALAXY 2
Earlier in the week, Guardians of the Galaxy director James Gunn held an impromptu Q&A session on Periscope after announcing that his upcoming horror script The Belco Experiment had locked in Wolf Creek director Greg Mclean. There, he revealed that the Guardians of the Galaxy 2 story treatment has been completed and turned into Marvel. Well, the man held yet another impromptu session this weekend, and this time he's confirmed that his hugely anticipated sequel will officially begin shooting in February 2016! He then went onto offer some insight into the return of Karen Gillan as Nebula. Guardians of the Galaxy 2 is still two years away, set to hit theaters in May 2017. At this point in time, James Gunn hasn't actually revealed any solid plot details, other than the fact that Star-Lord will go searching for his biological dad, who happens to be an alien. He has also confirmed that Karen Gillan will return as Nebula. Only this time, they want to figure out a way for the actress not to have to shave her head. During the Q&A, he also stated that the film will shoot at Pinewood Studios in Atlanta. The first movie was shot in London, and featured quite a few British actors and extras. Ant-Man was also shot in Atlanta, with Captain America: Civil War to follow this spring. James Gunn met with Marvel this past Friday about the story treatment he recently turned in. He gave no update on how that meeting went. 70 pages of the screenplay have been written as a rough draft. The first full draft of the screenplay is what comes next for the director, who is set to start working on that in the next couple of weeks. Returning for the new movie are Chris Pratt, Zoe Saldana and Dave Bautista as Star-Lord, Gamora and Drax. Vin Diesel and Bradley Cooper will reprise their voice roles as Rocket and Groot. Guardians of the Galaxy 2 comes to theaters May 5th, 2017 and stars Chris Pratt, Dave Bautista.
JUSTICE LEAGUE DARK
Back in November, we reported that director Guillermo del Toro has turned in his script for Justice League Dark. An unconfirmed report surfaced in January which revealed that the DC Comics characters John Constantine, Zatanna, Brand/Deadman and Jason Blood will be included in the story, but we haven't heard anything about the project since then. While doing press for Season 2 of The Strain, Guillermo del Toro offered a brief update on the project, revealing that he may not direct, although it all depends on his schedule. "We turned in our [script] revision, and it all depends on the calendar, you know? If I can do it, I would love to do it. And I think the screenplay and the characters are very solid." Back in December, the filmmaker revealed that Justice League Dark is part of a "shared universe," although the project wasn't revealed as part of Warner Bros. and DC Comics slate that was announced last fall. There is speculation that Warner Bros. is developing a separate shared universe for their Vertigo Comics adaptations, and that Justice League Dark may fit within that universe, along with Neil Gaiman's Sandman adaptation. However, Guillermo del Toro added that directing Justice League Dark is no easy task, since it must fit within the "DC Universe." "You cannot say, 'Yeah, I'll do it after I do this,' or 'I have the first season of The Strain. [Justice League Dark ] needs to fall into the plan of the DC Universe." If Justice League Dark is part of the DC Universe, it may be quite some time before we see it on the big screen, since Warner Bros.' current slate of 10 movies goes until 2020, and that doesn't include stand alone Batman and Superman movies that are also in the works. Their schedule doesn't allow for a whole lot of room for another project, so it's possible that this may be held off until after the two-part Justice League movie. It's also possible that the rumored Vertigo Comics movie universe is happening, where Justice League Dark would be a natural fit. Dark Universe is in development . The film is directed by Guillermo del Toro.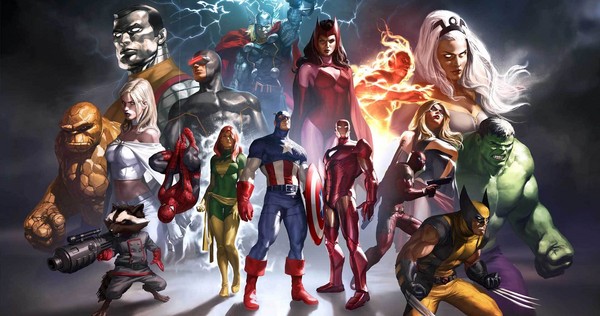 MARVEL STUDIOS
With Phase Two coming to a close later this year, the Marvel Cinematic Universe is slated to expand even more with a nine-movie Phase Three that kicks off with next year's Captain America: Civil War. Marvel Studios is also expanding its brand on the small screen, with Marvel's Agents of S.H.I.E.L.D., Marvel's Agent Carter and four Netflix shows that kick off with Marvel's Daredevil next week. The studio also produces a number of animated TV shows that aren't connected to the MCU, but at Emerald City Comic Con last weekend, Cort Lane, Marvel's VP of Animation Development and Production, was asked if there are any plans to produce any animated content that would tie into the MCU. Here's what he had to say. "I can't announce anything, but things are in the works." What those "things" are, we do not know, but the studio does currently have animated shows Avengers Assemble and Ultimate Spider-Man airing on Disney XD, although neither show has been renewed by the network quite yet. It's also possible that Marvel could take a page out of Warner Bros.' playbook by releasing a slew of new straight-to-video animated movies, that somehow tie in to the MCU. Warner Bros.' DC Comics movies have had plenty of success over the last few years, so this certainly could be a route that Marvel may take. Marvel is still releasing straight-to-video animated movies, with the most recent entries being Marvel Iron Man & Hulk: Heroes United and Iron Man & Captain America: Heroes United, but they weren't nearly as successful as the WB animated movies. It's also possible that Marvel could turn their popular Marvel One-Shot series into animated short films, instead of live-action shorts. Marvel hasn't put out a One-Shot since Marvel One-Shot: All Hail the King in February 2014, so it's possible that the studio is considering an overhaul of these shorts.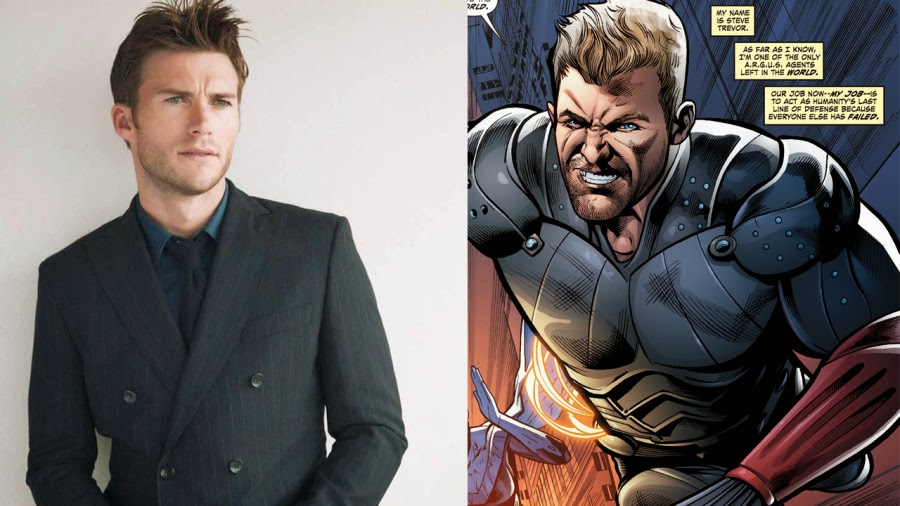 SUICIDE SQUAD
Our friends over at Latino Review have learned that Scott Eastwood (Fury) has been cast as Steve Trevor in David Ayer's Suicide Squad. In the comics, Trevor is a soldier who ends up in a romantic relationship with Wonder Woman. However, given that the new film is pulling heavily from the New 52 DC Comics reboot, Latino Review pulled the following from Wiki about the newest version of the classic character: "In a conversation between Steve Trevor and Amanda Waller five years ago, Steve tries to convince Waller that Diana and the Amazons are not a threat to global security, as they are benevolent. Steve then becomes the U.S. government's liaison to Diana during her stay in Washington, D.C. and later becomes the head of the newly formed A.R.G.U.S., (Advanced Research Group for Uniting Super-Humans), as well as the UN's liaison to the newly formed Justice League. Promoted to the rank of Colonel, his assistant is Etta Candy and he has made his feelings and attraction to Wonder Woman clear to her, although his feelings weren't been reciprocated." This is very exciting news indeed! Eastwood had been in the running to play Rick Flagg, but we feel this new role will suit him much better. Does this mean that A.R.G.U.S. will be showing up in Suicide Squad, Justice League and Wonder Woman? Only time will tell. In addition, Latino Review also reports that heavy weight boxer Raymond Olubowale will not only provide the motion capture for King Shark in the film, but will also cameo as a member of Amanda Waller's security.
SUNDAY, APRIL 5, 2015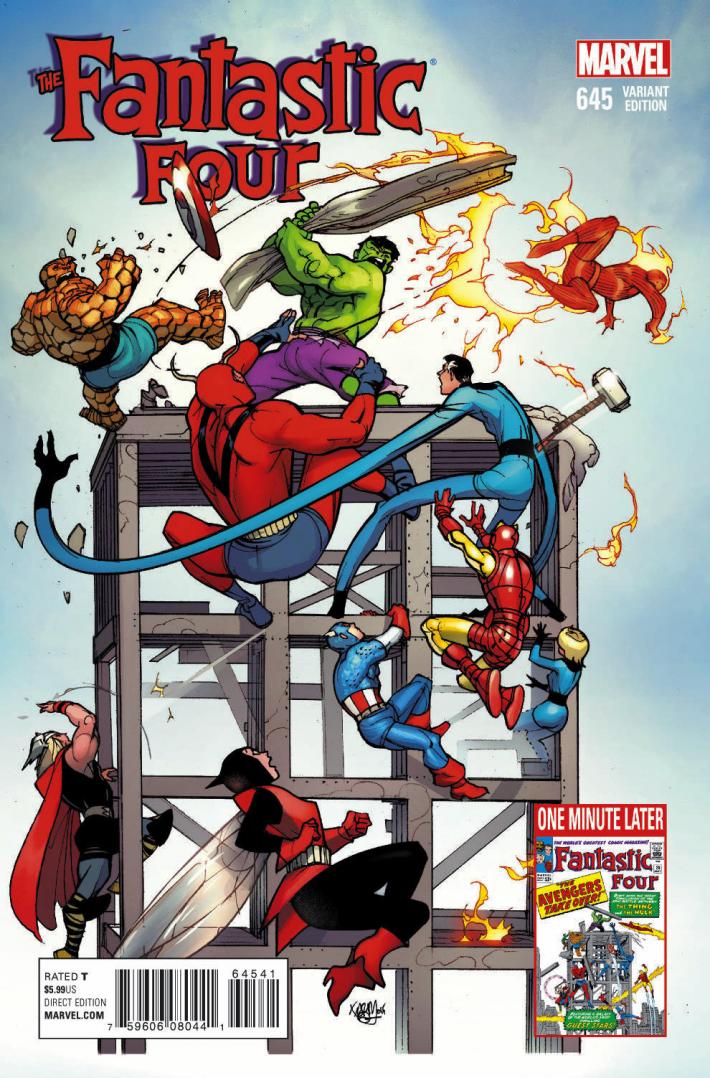 FANTASTIC FOUR
Late last year, word came down that Marvel Comics would be ending its longest-running superhero series, Fantastic Four, with its 645th issue at the conclusion of a storyline titled "The End is FOURever," by writer James Robinson and artist Leonard Kirk. At the time, the move was viewed by many as an effort to snub Fox, the studio releasing this summer's rebooted Fantastic Four film, but executives on both sides later denied that was the case, and it was pointed out many times that the comic hasn't exactly been selling all that well lately.

Whatever the behind-the-scenes reasons are, Fantastic Four really is coming to an end this month, and it's going out with an oversized issue featuring the conclusion of "The End is FOURever," four additional stories by some very bright comics talent, and reflections on Marvel's First Family by some comic-book legends.

Marvel revealed today that Fantastic Four #645 will feature the concluding story by Robinson and Kirk, who took over the series with a new first issue last year before it reverted to its original numbering. Here's the synopsis for their story:

Will the Fantastic Four defeat the Quiet Man and the corrupted forces of the Heroes Reborn universe? Will Johnny Storm get his powers back? Will Reed and Sue be a family again or will it all be torn asunder? Questions will be answered in this main feature story!

The concluding tale will be accompanied by four other stories by writers Karl Kesel (Fantastic Four 2099), Louise Simonson (New Mutants), Tom DeFalco (The Spectacular Spider-Man) and Jeff Parker (Thunderbolts) and artists David Marquez (Miles Morales: The Ultimate Spider-Man), Joe Bennett (Amazing Spider-Man), Tom Grummett (New Thunderbolts) and Pascal Campion (cover artist for books like Spider-Gwen and Ms. Marvel). Plus, Marvel Comics legends Stan Lee, John Byrne, Roger Stern, Mark Millar, Roy Thomas, Chris Claremont, John Romita Sr., Walt Simonson and others will take a look back at the history of Fantastic Four and remember their favorite covers from the series.

As for what's next, well ... we don't know. Robinson told a New York Comic-Con audience back in October that, once he's finished, the book is "going away for a while," which would suggest a hiatus, something not at all uncommon in superhero comics. Sometimes you just have to let the soil lie fallow for a while before you come back to it. We don't know how long the book will be gone, what changes might come to the characters through the upcoming Secret Wars or what the future of the First Family of Marvel Comics is, but for the moment we do know where we'll see their comic-book sendoff.

Fantastic Four #645 hits comic-book shops on April 29.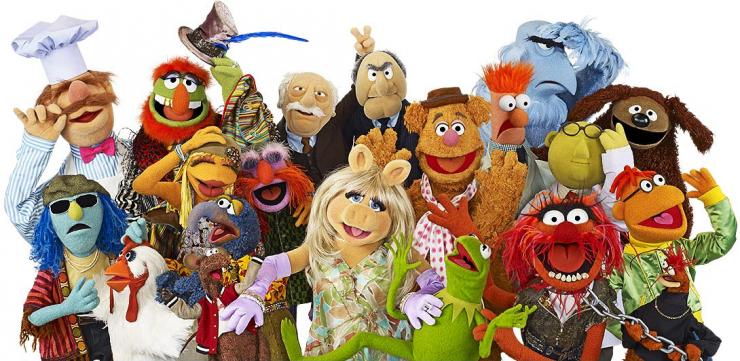 MUPPETS TO RETURN
The fuzzy fan favorites are already enjoying a semi-resurgence on the big screen, and now ABC is aiming to bring the Muppets back to prime time.
Deadline reports that ABC is eyeing a new comedy pilot featuring the Muppets, which could (at least according to an initial pitch) apparently be set behind the scenes of a late-night talk show featuring the Muppets. Think, like, the Muppets with a dash 30 Rock and Greg the Bunny, kind of? Maybe? Honestly, as weird as that sounds, it could actually work. Let's just hope it's better than the late 1990s offering Muppets Tonight, at least.
According to The Hollywood Reporter, the pilot will pick up with mainstays Kermit the Frog, Fozzie Bear, Gonzo and Animal meeting at ABC Studios about launching a new series, but the deal hinges on Miss Piggy signing on. Cue wackiness with Kermit, etc. The pilot will also apparently feature some celebrity cameos (which is par for the course), as well as new characters such as Fozzie's girlfriend and her parents.
As if The Muppets brand weren't enough of a draw, the pilot pitch is being written by Big Bang Theory co-creator Bill Prady and veteran comedy producer Bob Kushell (Suburgatory, 3rd Rock from the Sun). Prady also brings a ton of Muppets experience, having written for several Muppets specials over the years. Behind the scenes, The Muppet Studios (which is owned by Disney as of 2004) will co-produce along with ABC Studios. So, yeah: The Disney synergy machine at work.
After seeing Disney's ambitious plans take flight for brands like Marvel and Star Wars, it's no surprise to see the company doubling down on The Muppets. They've already cranked out a few theatrical flicks (with varying degrees of success, admittedly), and TV seems like the next logical extension. Especially considering, you know, that's where the Muppets got their start.
KILLJOYS
Syfy is prepping a return to deep space, and here's our first look at the new series about intergalactic bounty hunter team the Killjoys.
The 10-episode first season follows a trio of intergalactic bounty hunters flying around the edge of space tracking down fugitives, and it stars familiar genre faces Aaron Ashmore (Warehouse 13), Hannah John-Kamen (Black Mirror) and Luke Macfarlane (Person of Interest) in key roles. The creative mind behind the series, Michelle Lovretta, also created the hit dark fantasy series Lost Girl.
So, how's the first trailer? If they can keep up the irreverent vibe, this could make for a heck of a fun sci-fi romp. We get to see the team (the Killjoys) in action, as well as some of the Wild West, deep-space locales. Production-wise, it feels a bit like Defiance, with a dash of Firefly attitude thrown in for good measure. The cast also seems to mesh well, which can really make or break a show like this.
As The Hollywood Reporter notes, John-Kamen plays the lead role of Dutch, while Ashmore is peacemaker John Jaqobis and Macfarlane is the sarcastic, yet loyal, solider D'avin. Much of the series will apparently be set in the Quad, a distant planetary system on the brink of class war, which should open up the potential for a bit of political intrigue.
Killjoys premieres June 19 on Syfy.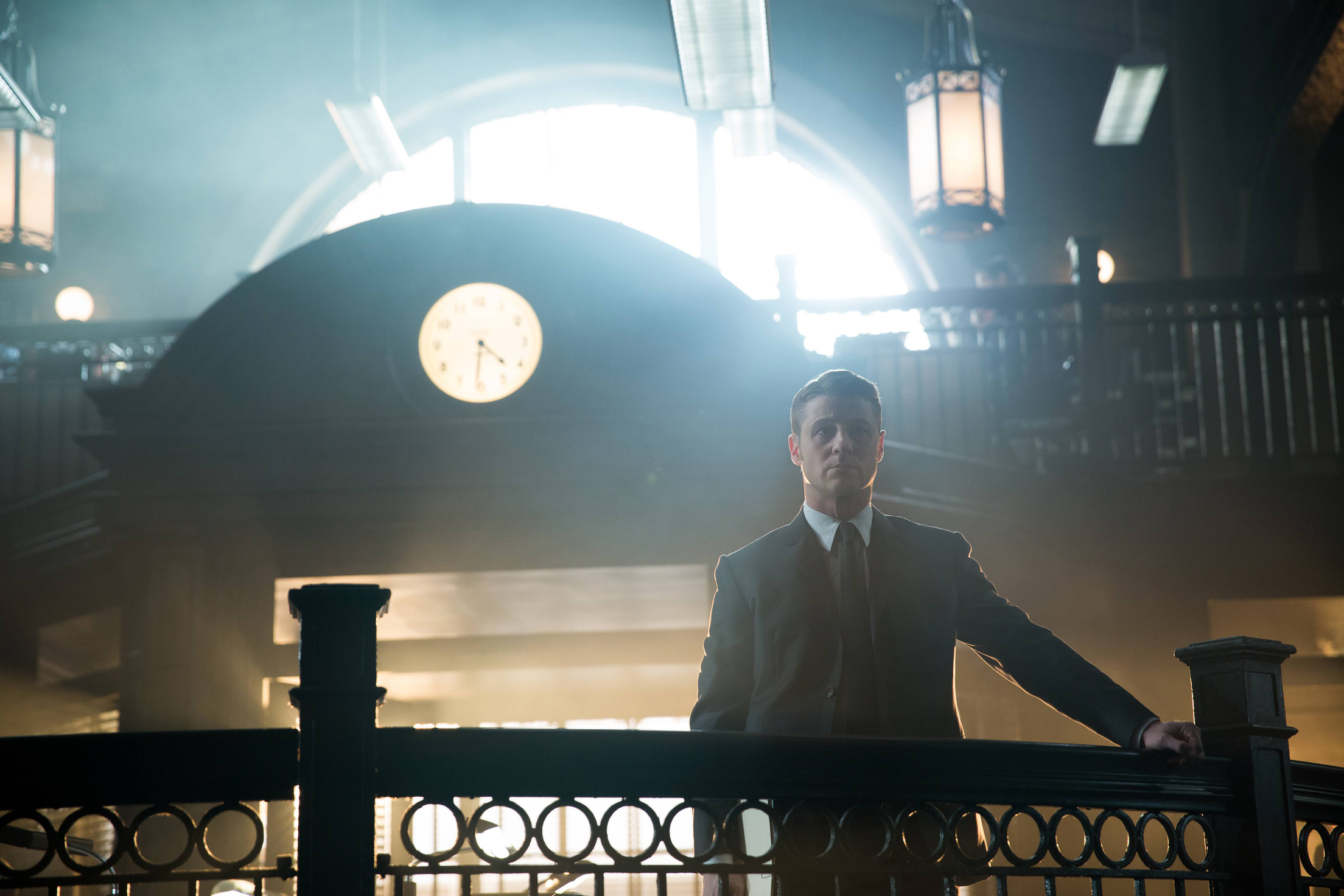 WONDERCON - GOTHAM UPDATE
The cast and crew of "Gotham" assembled for a panel at WonderCon and with just four episodes left in their first season, they offered some teases for the upcoming second season which will air this fall.
Producer John Stephens revealed two potential storylines for the second would including the "emergence of character billionaire Bruce Wayne" as well as an exploration of the character "Jerome," who was previously teased as a potential candidate for becoming The Joker. In addition, Stephens revealed that two more villains will appear in season two – Clayface and The Mad Hatter.
Variety's Laura Prudom was also on hand at the panel and reported they mentioned that the previously-teased Victor Fries, AKA Mr. Freeze, would appear in season two and that they've "come close" to doing the fan-favorite Court of Owls but "haven't yet committed."
"Gotham" is an origin story of the great DC Comics super villains and vigilantes, revealing an entirely new chapter that has never been told. From executive producer/writer Bruno Heller ("The Mentalist," "Rome"), "Gotham" follows one cop's rise through a dangerously corrupt city teetering on the edge of evil and chronicles the birth of one of the most popular super heroes of our time. The series stars Ben McKenzie, Donal Logue, Jada Pinkett Smith, Sean Pertwee, Robin Lord Taylor, Erin Richards, David Mazouz, Camren Bicondova, Zabryna Guevara, Cory Michael Smith, Victoria Cartagena, Andrew Stewart Jones, and John Doman.
"Gotham" returns Monday, April 13 on FOX.
THE LAST SHIP
TNT has unveiled a new two-minute trailer and poster for the upcoming second season of "The Last Ship." Fans of the series, which topped the charts as basic cable's #1 new show of 2014, got to see the trailer on the big screen this afternoon at WonderCon Anaheim 2015. They also got to hear about the upcoming season of "The Last Ship" during a panel discussion with series stars Rhona Mitra and Adam Baldwin, Travis Van Winkle, Charles Parnell, Christina Elmore, John Pyper Ferguson and Jocko Sims, along with executive producers Hank Steinberg, Steven Kane and Jack Bender.
Based on William Brinkley's popular novel, "The Last Ship" chronicles a global catastrophe that nearly decimates the world's population. Because of its positioning, the Navy destroyer U.S.S. Nathan James avoided falling victim to the devastating tragedy. But now, Captain Tom Chandler (series star Eric Dane) and his crew must confront the reality of their new existence in a world where they may be among the few remaining survivors. "The Last Ship" is slated to launch its second season on Sunday, June 21, with a two-hour premiere at 9 p.m. (ET/PT).
When it premiered last year, "The Last Ship" immediately hit the top of the charts and went on to finish the year as basic cable's #1 new series with total viewers and adults 25-54. For the first season, the show reached an average of 14.5 million viewers across TNT's linear, on-demand, digital and mobile platforms.
"The Last Ship" is produced by Platinum Dunes, with its partners – blockbuster filmmaker Michael Bay, Brad Fuller and Andrew Form – serving as executive producers. Co-creators and showrunners Hank Steinberg and Steven Kane also serve as executive producers, along with Jack Bender.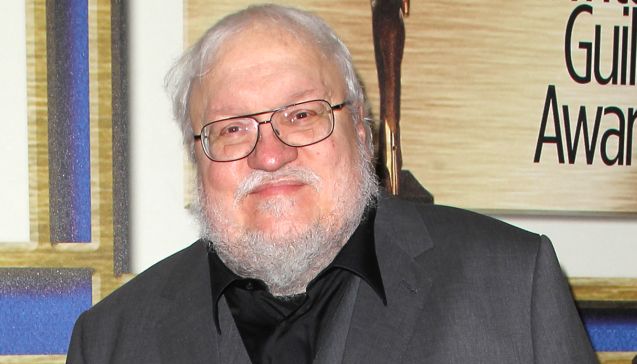 CAPTAIN COSMOS
The Hollywood Reporter brings word that "Game of Trones" creator George R.R. Martin is developing a new series at HBO. Tentatively titled "Captain Cosmos," the series is said to focus on a young sci-fi writer living at the dawn of the TV age in 1949 where he spends time writing stories that no one else would dare pen.
Still in early stages at HBO, "Eerie, Indiana" executive producer Michael Cassutt is writing the pilot script, having previously worked with Martin on the 1995 revival of "The Outer Limits." Despite helping develop the idea, Martin is not expected to commit a lot of time to the series as he recently announced he would be canceling a number of appearances in order to finish the sixth novel in the "A Song of Ice and Fire" series.
Martin has had a long history in television working on the 1985 revival of "The Twilight Zone" and the 1987 "Beauty and the Beast" series starring Ron Perlman. The fifth season of "Game of Thrones" is set to premiere on April 12 at 9 p.m. on HBO.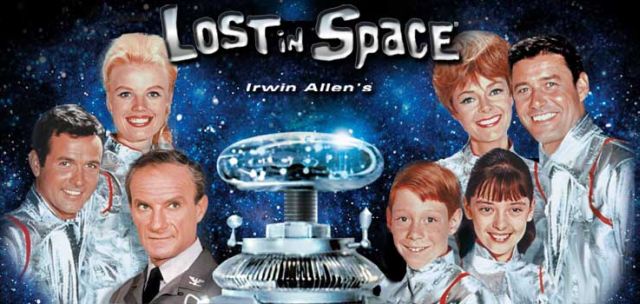 LOST IN SPACE
Fox Home Entertainment has announced that Lost in Space: The Complete Series Collection will debut on Blu-ray September 15. While the list price is $199.99 SRP, fans can pre-order the Blu-ray set through FoxConnect.com for $99.99 SRP, but this special price will only be available through Sunday, April 5, when WonderCon comes to a close. The official Facebook page for the boxed set also reveals that six episodes from the set will feature the original commercials from the time the show aired.
"There will be 6 episodes duplicated and will include original commercials from the time they aired. They are: "The Reluctant Stowaway", "The Derelict", "The Magic Mirror", "Follow the Leader", "Blast off into Space" and "Target Earth". "Target Earth" will have the original half screen freeze frame intact as seen originally!!"
Now on Blu-ray for the first time in this Complete Series Collection, bring home the timeless journey of Irwin Allen's Lost in Space! Follow the heart-racing, cliff-hanging adventures of John Robinson and his family aboard the Jupiter 2, along with Robot B-9 and the delightfully devious Dr. Zachary Smith. This massive 18-disc set contains all 84 episodes remastered in high definition, and over 6 hours of exciting extras with recently discovered content you won't find anywhere else in the galaxy. It's out-of-this-world fun for everyone!
NEW BONUS MATERIAL
New On-Camera Original Cast Interviews Featuring Bill Mumy, Mark Goddard, Angela Cartwright, Marta Kristen, Guy Williams Jr. and Toni Williams
Original Cast Audio Commentaries on eight episodes: "No Place to Hide," "My Friend, Mr. Nobody," "Attack of the Monster Plants," "Return From Outer Space," "The Phantom Family," "The Anti-Matter Man," "The Promised Planet" and "The Great Vegetable Rebellion".
"Lost in Space: The Epilogue" - Special Cast Reunion Performance of Bill Mumy's 1980 Unproduced Script with Mum, Mark Goddard, Marta Kristen, Angela Cartwright, Veronica Cartwright, Guy Williams Jr., Toni Williams, Kevin Burns and Robot B-9
FRIDAY, APRIL 3, 2015
THE FOLLOWING
As fans of "The Following" now know, there's a new villain -- or as Kevin Bacon says, a "super bad baddy" -- in town. Season 3's sixth episode introduced Michael Ealy's character, Theo, who is apparently Strauss' (Gregg Henry) best student. So if viewers thought Joe Carroll (James Purefoy) was Ryan Hardy's (Bacon) biggest threat, they've got another thing coming. In Zap2it's exclusive look at Monday's (April 6) episode, Ealy breaks down his character and his motivations going into the rest of the season. "The first two episodes you meet Theo, you see that he's kind of on a mission to protect the life that he's created for himself, both with his family and with his killing," says Ealy. "One of the things that Theo's really good about is transforming himself into different characters ... he'll wear a disguise but it'll be more than just a disguise. It'll be more of a different persona. He lives separate lives." As executive producer Alexi Hawley explains in the clip, the next episode is going to feature Theo in "clean up" mode as he takes on his different personas to get his murderous life -- and his second life with his family -- back in order before Hardy catches up with him. "The Following" airs on Mondays at 9 p.m. ET/PT on FOX. SURVIVOR
We don't usually see former 007 star Pierce Brosnan in a villainous role, but that's the case here in the first trailer for Survivor that was released today by Yahoo!Movies. Brosnan plays an assassin whose job it is to kill Milla Jovovich's character. The Resident Evil star plays a Foreign Service officer who's framed for a terrorist bombing. Of course, our kick-ass gal ain't gonna to lie down and take it; in fact, she'll do whatever it takes to stop a way more nefarious plot and the real mastermind behind Brosnan's deadly cool assassin. Here's the official movie synopsis: After being mysteriously framed for a terrorist bombing, a Foreign Service Officer (Milla Jovovich) must evade government capture and death by a ruthless assassin (Pierce Brosnan) in order to stop the real perpetrators' master—and much deadlier—plan. Directed by James McTeigue (V for Vendetta), Survivor also stars Dylan McDermott (Stalker), Angela Bassett (American Horror Story), James D'Arcy (Marvel's Agent Carter), Robert Forster (Heroes) and Emma Thompson (Men in Black 3). It will arrive in movie theaters and be available on demand on May 29. ARROW
The CW has released an exciting extended promo for the final five episodes of the third season of Arrow. Epic stuff goes down as Roy (Colton Haynes) turned himself in to the police to free Oliver (Stephen Amell), who was outed to the the public at large as our green-hooded vigilante. Of course, Oliver can't leave Roy inside that jail, and he plans a prison break. Looks like things won't go smoothly for Roy, who may or may not find himself at the end of a sharp blade. The 75-second trailer also teases the sexy times Olicity moment a lot of Arrow fans have been awaiting for the past three years (is it getting hot in here, or is it all those candles?). It also looks like Felicity's (Emily Brett Rickards) current boyfriend, Ray Palmer (Brandon Routh), aka Atom, is on board Team Arrow for the prison break, and we see him hilariously high-five Ollie. And is Oliver finally going to say yes to Ra's Al Ghul's (Matt Nable) offer to become his successor? We do hear him a lot about the Heir to the Demon. Arrow returns for the final five episodes on The CW on April 15. MAD MAX: FURY ROAD
It's been a long road, but we're just a few weeks away from Tom Hardy's debut in the new-look Mad Max. But what comes after Fury Road? The actor, who takes over the title role for Mel Gibson in the new sequel, chatted with Esquire about the project — with the biggest reveal being that he is locked in for three sequels. Of course, Hardy notes the potential sequels are always "based on figures and how things are perceived." But, assuming Fury Road is as good as advertised ("fu**king unbelievable," as Hardy describes), it sounds like he could be fronting a whole new spin on the franchise for years to come. As for the shoot itself? Hardy said the experience was unlike just about any other modern blockbuster, as they were out in the deserts of Namibia on their own doing pretty much whatever they wanted, with no prying eyes. Of course, that freedom is probably part of why they spent so much time in post doing reshoots, but still — the results look incredible: "We were in the middle of nowhere, so far away from the studio system that [Warner Bros] can't really see what's going on, and just getting things to and from the set was a nightmare. We'd lose half a vehicle in sand and have to dig it out. It was just this unit in the middle of x-million square-kilometres of desert, and then this group of lunatics in leathers, like a really weird S&M party, or a Hell's Angels convention. It was like Cirque du Soleil meets f--king Slipknot." Years ago, director George Miller had talked about shooting Fury Road and a sequel back to back, but when Fury Road ballooned in size they just scaled down to focus on it. Come May 15, we'll finally get to see the fruits of that labor.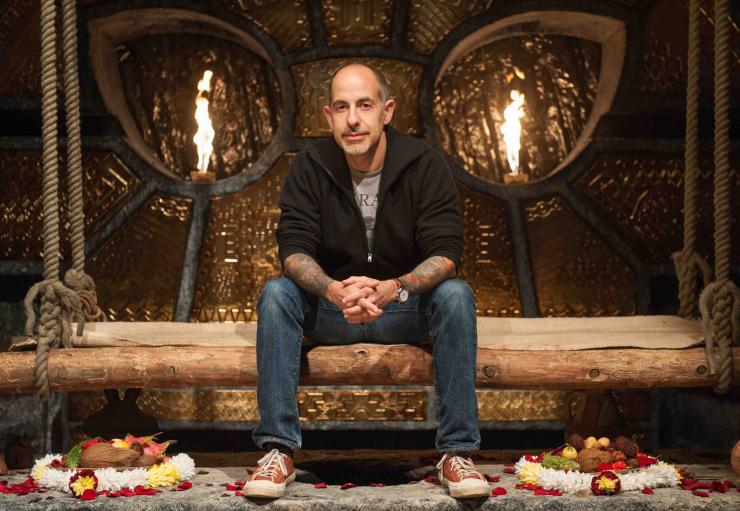 SENSE8
PRINCIPIA
As if he weren't busy enough working on DC's slate with Batman v Superman, David Goyer is taking some time to double down on his interest in historical fiction, with a thriller twist. Variety reports that Goyer has signed on to produce the new historical thriller Principia, which focuses on famed English mathematician and physicist Isaac Newton as he hunts down a criminal in the late 1600s. The title of the film is based on Newton's famed book Philosophiae Naturalis Principia Mathematica ("Mathematical Principles of Natural Philosophy"), which was published in 1687. This is one heck of an interesting idea, mashing up some historical fiction and putting Newton at the center of a murder thriller. Kind of weird? Sure, but hey, it's at least something a little different. It's worth noting this isn't Goyer's first foray into historical fiction, as he also produces the cable series Da Vinci's Demons. Regardless, Goyer's involvement will almost certainly give this one a jolt during the development process, considering he's a bit of a golden goose these days. The script is being written by Christian Contreras, from his own pitch. Interestingly, most of Contreras' experience comes on the other side of the camera. He's had roles in Fury, Zero Dark Thirty and Halo: Nightfall.
RUPTURE
AMBI Group has today announced that Secretary and Fur: An Imaginary Portrait of Diane Arbus helmer Steven Shainberg is set to direct an upcoming science fiction adventure feature titled Rupture, based on a story by himself and Brian Nelson (Hard Candy, 30 Days of Night). Nelson wrote the screenplay. Full details of the project have not yet been revealed, but the premise is said to involve a single mother struggling to raise her son alone, who is abducted by a mysterious organization. While trying to escape, she uncovers an extraordinary secret about herself. Tango Pictures production banner, which is a partnership between Christina Weiss Lurie, Steve Shainberg, and Andrew Lazar, is teaming with AMBI Group, the movie development, finance, production and distribution group owned and run by Andrea Iervolino and Lady Monika Bacardi, to make the film. "I'm very excited to be partnering with AMBI Group," says Lazar. "Andrea and Lady Monika are very forward-thinking financiers and filmmakers, and this film will be the beginning of a fantastic relationship between Tango and AMBI." "When Andrew approached us with this project, it may have been our quickest 'yes' to date – and we are fast movers!," adds Iervolino. "'Rupture' is an 'event' movie that has all the elements you'd look for in a massively commercial film. We're excited to bring this project to life with Andrew, Christina, Steven and Brian." "We're fortunate to have such great producing partners in Andrew and Christina," says Bacardi, "who strive, as we do, to make memorable films and enjoy the process and passion that goes into each production. Couple this with a spellbinding story from Steven Shainberg and our excitement and expectations grow even higher." AMBI Distribution, the worldwide sales arm of AMBI Group is handling international sales and will formally present the project in Cannes.

TNT LINE-UP FOR SUMMER
TNT is getting ready to light up summer with another dramatic lineup of original series. TNT will roll out a total of 10 shows this summer, including new seasons of the blockbuster hits "The Last Ship," basic cable's #1 new series of 2014; "Rizzoli & Isles" and "Major Crimes," which joined "The Last Ship" to rank as basic cable's Top 3 originals last summer; and "Murder in the First," one of last year's Top 10 new series on basic cable. This summer, TNT will also present the fifth and final season of the epic sci-fi drama "Falling Skies," along with a new season of the nail-biting undercover drama "Legends" and new episodes of the powerful real-life investigation series "Cold Justice." Three new series are set to make their debut on TNT this summer, including the 1960s-set police drama "Public Morals," from writer, director, executive producer and star Edward Burns and executive producer Steven Spielberg; the unique drama "Proof," starring Jennifer Beals and Matthew Modine and executive-produced by Kyra Sedgwick; and "Cold Justice: Sex Crimes," the first spinoff of TNT's "Cold Justice" from Wolf Reality and Magical Elves. In addition to airing on TNT's linear television platform, each of the shows on the summer slate will be available via VOD and digital on-demand, including the TNT Drama website and the Watch TNT mobile and tablet apps. New episodes will be made available the day after they premiere on linear television.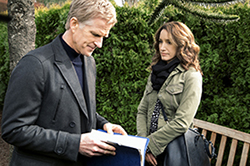 Proof – Series Premiere: Tuesday, June 16, at 10 p.m. (ET/PT) PROOF (TNT)For millennia, the world's greatest scholars and philosophers have tried to answer one important question: Is death truly the end, or is there something else beyond? Now a brilliant surgeon is ready to take up the mantle in TNT's intriguing new drama "Proof," starring Jennifer Beals, Matthew Modine, David Sutcliffe and Joe Morton. Beals plays Dr. Carolyn Tyler, who has suffered the recent, devastating loss of her teenage son, the breakup of her marriage and a growing estrangement from her daughter. Carolyn is persuaded by Ivan Turing (Modine), a cancer-stricken tech inventor and billionaire to investigate cases of reincarnation, near-death experiences, hauntings and other phenomena, all of it in the search for evidence that death is not the end. It's both a journey of exploration toward finding an answer to a question many people have asked and a deeply personal and emotional journey for Carolyn, who hopes to find answers in the wake of her son's death. "Proof" also stars Callum Blue, Edi Gathegi, Annie Thurman and newcomer Caroline Rose Kaplan. The series is produced by TNT, with Kyra Sedgwick, Rob Bragin, Tom Jacobson, Jill Littman and Emmy® winner Alex Graves serving as executive producers.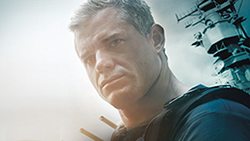 The Last Ship – Two-Hour Season 2 Premiere: Sunday, June 21, at 9 p.m. (ET/PT) TNT-Summer-2015-Last-ShipThe wait is nearly over. TNT's epic drama "The Last Ship" – basic cable's #1 new series of 2014 – is preparing to set sail again this summer in its quest to save humanity after a devastating pandemic. Eric Dane, Rhona Mitra and Adam Baldwin star in the high-impact series, which is produced by Platinum Dunes, with its partners – blockbuster filmmaker Michael Bay, Brad Fuller and Andrew Form – serving as executive producers. Co-creators and showrunners Hank Steinberg and Steven Kane are also executive producers, along with Jack Bender. Based on William Brinkley's popular novel, "The Last Ship" chronicles a global catastrophe that nearly decimates the world's population. Because of its positioning, the Navy destroyer U.S.S. Nathan James avoided falling victim to the devastating tragedy. But now the crew and its captain must confront the reality of their new existence in a world where they may be among the few remaining survivors. As the second season opens, Captain Chandler (Dane), XO Slattery (Baldwin) and the rest of the crew are working to disseminate the cure that paleomicrobiologist Dr. Rachel Scott (Mitra) developed at the end of season one. "The Last Ship" also stars Travis Van Winkle, Charles Parnell, Christina Elmore, Marissa Neitling, John Pyper Ferguson and Jocko Sims, with Emmy® winner Alfre Woodard set to guest-star in a multi-episode arc.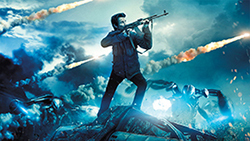 Falling Skies – Final Season Premiere: Sunday, June 28, at 10 p.m. (ET/PT) TNT-Summer-2015-Falling-SkiesTNT's epic drama "Falling Skies" – from Amblin Television and executive producer Steven Spielberg – will come to a climactic end this summer with the show's fifth and final season. Falling Skies tells the extraordinary story about life and survival in the wake of a catastrophic alien invasion. Noah Wyle stars as Tom Mason, a college professor who became an unlikely resistance leader. Moon Bloodgood is Dr. Anne Glass, a pediatrician who became the survivors' primary physician and eventually fell in love with Tom. Will Patton is Colonel Weaver, the gruff and emotionally scarred commander leading the battle against the invaders. Also starring in "Falling Skies" are Drew Roy, Connor Jessup, Maxim Knight, Colin Cunningham, Sarah Carter, Mpho Koaho and Doug Jones.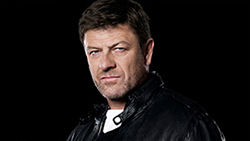 Legends – Season 2 Premiere: Tuesday, Aug. 25, at 10 p.m. (ET/PT) TNT-Summer-2015-LegendsScreen Actors Guild Award® winner Sean Bean enters new territory in Season Two of "Legends," TNT's suspense-filled drama based on a character created by master spy novelist Robert Littell. Bean plays Martin Odum, an undercover operative who has learned he isn't the man he believed himself to be. On the run for a murder he didn't commit, Martin searches for his true identity, following a trail that takes him to London and the European continent, where he discovers a dark and violent past that holds the key to his future survival.
THURSDAY, APRIL 2, 2015
SALEM
WGN America has released a brand-new extended trailer for its hit supernatural horror series Salem, which is returning this Sunday with a fresh new 13-episode run. It's the dawn of the Witch War, and season two sees Mary Sibley (Janet Montgomery) having just completed the Grand Rite that unleashed a devastating plague on the town of Salem. Death and disease spread, and Mary must face off against old friends and foes, including her servant, Tituba (Ashley Madekwe); her former protege, Mercy Lewis (Elise Eberle); and Anne Hale (Tamzin Merchant), who's growing into her witchy powers and could be the most powerful of them all. New characters include the equally powerful Countess Marburg (Lucy Lawless), her son Baron Sebastian Marburg (Joe Doyle) and the mysterious Dr. Samuel Wainwright (Stuart Townsend). To make matters more complicated, Mary's long-lost son (Oliver Bell) pops up. The love of Mary's life, John Alden (Shane West), who was left for dead last season, also returns to town in order to stop the woman he loves from destroying everyone and everything in her path, while Cotton Mather (Seth Gabel) will be looking for redemption. Salem returns for a second season on April 5 at 10 p.m. FROM THE DARK
St. Patrick's Day may have passed, but we've got one last Irish treat for lovers of moody, minimalist horror movies. Dublin director Conor McMahon's From the Dark is a stylish new indie fright flick set one disturbing night in a simple countryside house, after a stranded couple seeks shelter in what turns out to be an ancient vampire's nocturnal lair. In the tradition of recent horror thrillers like The Strangers and You're Next, McMahon manages to milk the most out of a single location with an inventive mix of music, lighting and creative camerawork. Starring Niamh Algar and Stephen Cromwell, From the Dark creeps into theaters on April 14, 2015.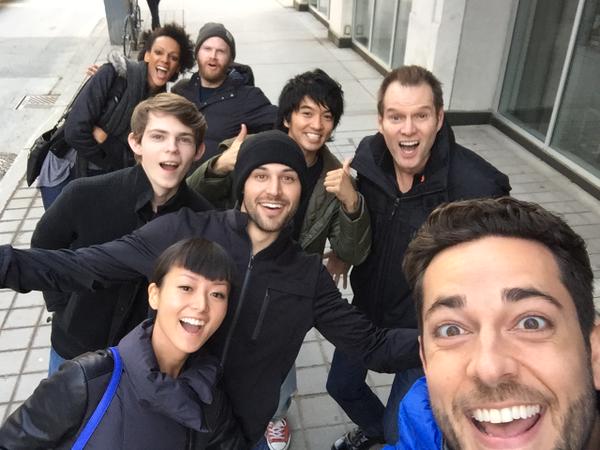 HEROES REBORN
Considering our fond memories for the first season of Heroes, and our love for Zachary Levi, we really want Heroes Reborn to be good. Regardless of how it turns out, this thing is officially happening. Levi (Chuck) has taken to Twitter to reveal the first cast photo showing the gang, which is a nice mix of new and old blood from the Heroes-verse. As TV Line notes, Levi is joined by (back row) Judi Shekoni (EastEnders) and Henry Zebrowski (A to Z); and (middle row) Robbie Kay (Once Upon a Time), Ryan Guzman (Pretty Little Liars), Toru Uchikado and returning star Jack Coleman. Kiki Sukezane (The Yokai King) can be seen on the front left. It's a good-looking cast. Here's hoping they're not just chewing scenery. As you probably noticed, recently announced returning Heroes alum Masi Oka is not present in the cast photo. Don't worry, there's nothing nefarious — he's apparently been held up wrapping up some shooting on Hawaii Five-0 before hopping a plane back to the world of superpowers.

HOAX HUNTERS
The Hollywood Reporter brings an ironic story today as it's been announced "Marvel's Agents of S.H.I.E.L.D." executive producer Craig Titley will adapt the comic book series Hoax Hunters for the big screen. "I've never met a a conspiracy that I didn't love," Titley tells the outlet. "It forces people to think outside the box and it's a way to rewire reality." Titley also expressed a desire to stay as close to the source material as possible. Transformers producer Don Murphy is set to produce the adaptation with Heavy Metal's Jeff Krelitz and David Boxenbaum. Initially an Image Comics release, Hoax Hunters is now published by Heavy Metal. Created by Michael Moreci and Steve Seeley the series is officially described as follows: "Cryptids. Aliens. Monsters. All the world's bizarre secrets–what if they were real? Their existence would be debunked by a reality TV show! HOAX HUNTERS is that show, publicly disproving all variety of lore. But their real goal is the opposite: as the world's dark corners surface, the HOAX HUNTERS cover them up."
INFERNO
nferno continues the Harvard symbologist's adventures on screen: when Robert Langdon wakes up in an Italian hospital with amnesia, he teams up with Sienna Brooks, a doctor he hopes will help him recover his memories and prevent a madman from releasing a global plague connected to Dante's immortal tome. Felicity Jones, Irrfan Khan, Omar Sy, Sidse Babett Knudsen and Ben Foster co-star alongside Hanks, who previously played Langdon in The Da Vinci Code and Angels & Demons. The Imagine Entertainment production, which has a screenplay by David Koepp based on the book by Dan Brown, is slated for release by Columbia Pictures on October 14, 2016. The project's executive producers include Dan Brown, Anna Culp, Bill Connor, and David Householter.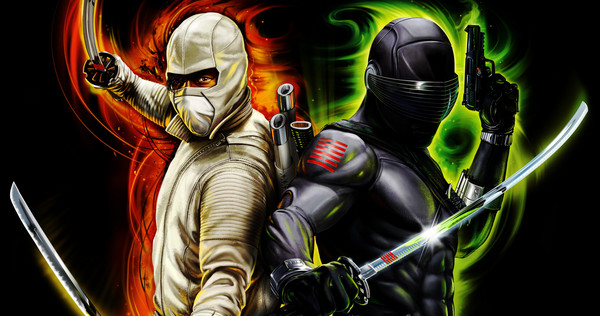 G.I. JOE 3
With D.J. Caruso now locked in to direct G.I. Joe 3, after entering negotiations back in January, Paramount has brought on writer Aaron Berg to redraft the script. Jonathan Lemkin came aboard in July to pen the original sequel screenplay, but it isn't known if Aaron Berg is using elements of his draft, or starting over from scratch. Aaron Berg will work with D.J. Caruso to try and "revamp" the G.I. Joe action franchise. The sequel has been in various stages of development over the past few years, with Martin Campbell once in talks to direct, but a deal never came together. The story will reportedly center on the Roadblock character played by Dwayne Johnson in 2013's G.I. Joe Retaliation, but it's possible the project is going in a completely different direction with this new writer and director team involved. It isn't known if any of the other G.I. Joe Retaliation stars will reprise their roles for G.I. Joe 3. Lorenzo di Bonaventura is producing for Paramount, although no production schedule was given. 2009's G.I. Joe: The Rise of Cobra took in a healthy $302 million worldwide, while the sequel G.I. Joe Retaliation earned over $375 million worldwide. Aaron Berg made The Black List in 2013 with his spec script Section 6, which chronicles the history of British spy agency MI6. Universal Pictures picked up the script in a bidding war, with Joe Cornish set to direct and Jack O'Connell attached to star. G.I. Joe 3 comes to theaters in 2016 and stars Dwayne Johnson.
WEDNESDAY, APRIL 1, 2015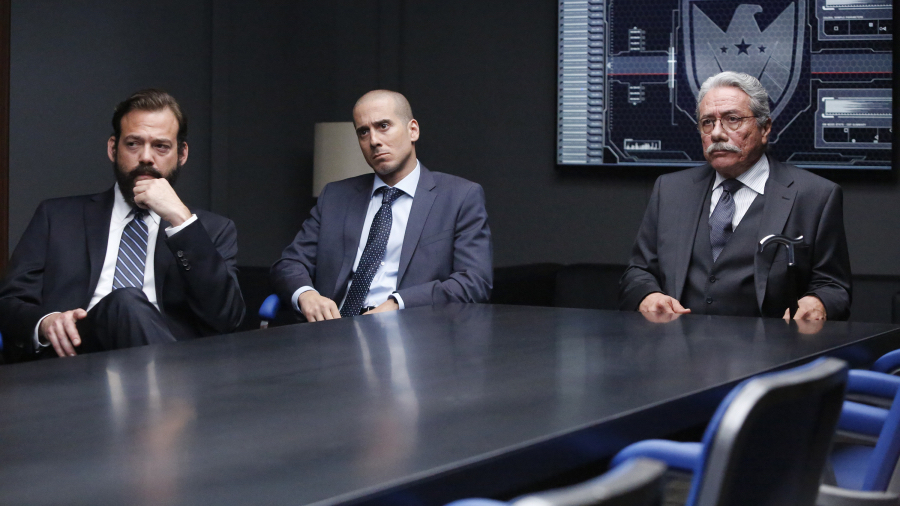 AGENTS OF S.H.I.E.L.D.
WARNING: POSSIBLE SPOILERS
If the goal of "Marvel's Agents of SHIELD's" March 31 episode "Afterlife" was to make its audience question whether or not Phil Coulson (Clark Gregg) is the best-equipped man to run a post-Nick Fury SHIELD, then it was a job well done. By the end of the episode, Coulson was on the run and viewers got a deeper understanding of his maybe-replacement, Robert Gonzales (Edward James Olmos). "Afterlife" features a series of flashbacks to the fall of SHIELD to HYDRA (aka the events of "Captain America: The Winter Soldier") which explain the founding of "the real SHIELD." It turns out this new group is actually just SHIELD after all, but led by people who questioned Nick Fury's (Samuel L. Jackson) way of running the organization and decided transparency trumps secrecy. Things get confusing when you realize every complaint Gonzales and his group have about the way Coulson is running SHIELD now is totally valid. And with the "real SHIELD" not being some evil organization -- though, like anything on this show, that could change -- it's easy to understand the problems they see with Coulson's leadership. He got multiple SHIELD agents, like Hartley and Triplett, killed pursuing something he didn't understand, and then irrevocably transformed another agent, Skye, in the process. While the audience will likely side with Coulson -- everyone's seen the story through his eyes, after all -- it's daring that "Agents of SHIELD" is asking its viewers to reassess whether arguably the main character on the show is the right person to be running SHIELD. This all seems to be building up to some big change, and with "Avengers: Age of Ultron" hitting theaters on May 1 (that's four episodes away, for those keeping track), there might be some major connection between the end of "SHIELD" Season 2 and that film. Whatever comes next, it won't be with Coulson at the helm of SHIELD. "Afterlife" ends with Melinda May (Ming-Na Wen) sending him away, while Gonzales and his SHIELD have taken over the organization's base. If you're finding it hard to pick a side between Coulson's SHIELD and Gonzales', expect that feeling to continue going forward. Olmos teases to Zap2it that the audience will be "completely confused" by the end of Gonzales' arc.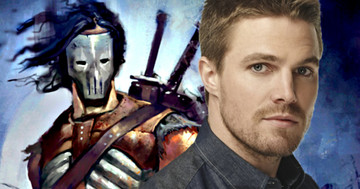 TEENAGE MUTANT NINJA TURTLES 2
Stephen Amell just landed another major role in a comic book adaptation, this time on the big screen. The "Arrow" leading man has joined the cast of Paramount Pictures' "Teenage Mutant Ninja Turtles 2." Variety reports Amell will play Casey Jones, a famous ally of the Turtles. A fellow vigilante, he's known for his long hair, hockey mask and -- often -- romancing April O'Neil. Considering Variety reports that Amell's chemistry with Megan Fox, the actress who plays April, is what landed him the role, chances are there will be some romantic overtones in this version as well. April isn't the only main character in "Teenage Mutant Ninja Turtles 2" seemingly getting a love interest. E! reports that supermodel Alessandra Ambrosio will play the romantic partner of Will Arnett's character Vernon Fenwick, and they were spotted filming a scene together in Madison Square Garden. Directed by David Green, "Teenage Mutant Ninja Turtles 2" will be released on June 3, 2016.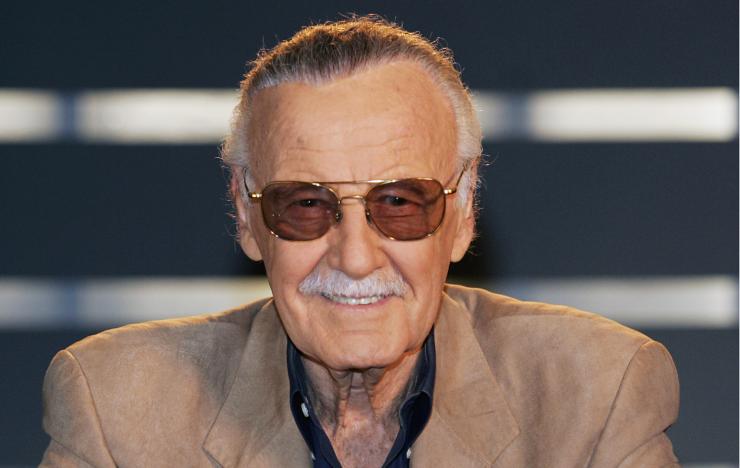 LUCKY MAN
Stan Lee is already a living legend, having created the better part of Marvel's all-star roster, but you definitely can't accuse the guy of resting on his laurels. Up next? An all-new superhero series for a U.K. network. The new series is dubbed Lucky Man, and is based on an original idea by Lee that focuses on a detective who is given a charmed bracelet that allows him to make his own good luck. Though the pitch sounds a bit wide for a superhero show, that's how they're apparently billing the project, so we'll go along. The series will star James Nesbitt (The Hobbit) in the lead detective role, along with co-stars Eve Best, Amara Karan and Omid Djalili. Lee told The Guardian that he's always found the concept of luck to be a fascinating topic, and this series will finally give him a chance to "share that fascination with audiences around the world." Behind the scenes, Lee is joined by veteran U.K. executive producer Richard Fell, who teased that Lucky Man will be "a different kind of superhero show": "Stan has come up with an absolutely brilliant idea; something that we can all relate to. What if you could control luck? Would that be the greatest thing you could give someone, or their worst nightmare? It's a twist which brings the whole superhero genre right back down to earth." The first season of Lucky Man will consist of 10 hourlong episodes, and the series is set to air in 2016 on Sky 1. NBC Universal International Distribution is handling global rights, so if the series is any good, there's a chance it could eventually head stateside.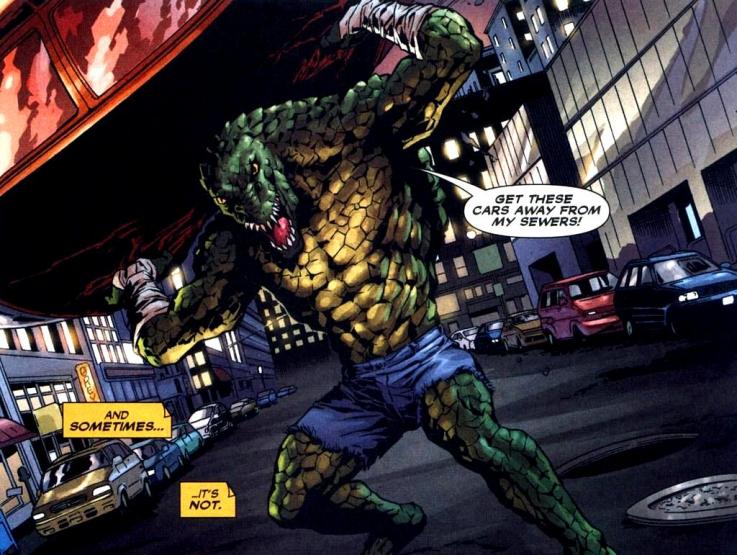 SUICIDE SQUAD
The initial announcement of the Suicide Squad main cast back in December stirred up plenty of interest among superhero movie fans, and not just because the film will feature the return of the Joker, this time in the form of Oscar winner Jared Leto. The main team includes Will Smith as Deadshot, Jai Courtney as Captain Boomerang, Morgot Robbie as Harley Quinn and more. Throw in Viola Davis as the intimidating Amanda Waller, and you've got a total of seven characters we were expecting to be in the film from the outset. Those seven characters generated plenty of excitement among fans wondering what director David Ayer will do with this band of DC Comics misfits, but in the months since rumors and reports all over the web have brought up a whole host of other characters for the film, from some who seem like a natural fit to some we might never have expected. We've heard about everyone from fan favorites like Deathstroke to lesser-known villains like the Thinker and Antiphon, and just today reports broke that Steve Trevor might be popping up with a cameo appearance in the flick. Even Batman's rumored to show up, but we're still not at the end of the rumored list of characters joining Suicide Squad in some form or other. Thanks to new reports today we've got not one, not two, but three more characters to consider. Earlier today, wrapped up in his Steve Trevor report, Latino Review's Umberto Gonzalez also mentioned that he's hearing that Nigerian actor and boxer Raymond Olubowale (Resident Evil: Retribution) has joined the film in two different roles, acting both as a member of Amanda Waller's security detail and as a motion capture artist for supervillain and sometime Squad member King Shark. Then came The Wrap's Jeff Sneider, who reported that Adewale Akinnuoye-Agbaje (Thor: The Dark World) has joined the film and will play Batman villain (and Batman: The Animated Series fan favorite) Killer Croc. Sneider also noted that actress Karen Fukuhara has been cast in an unknown role. Building on that report, Gonzalez then reported at Latino Review that Fukuhara is set to play DC villain and sometime Squad member Plastique, who's recently seem some live-action exposure on The CW's The Flash. So that's three more DC Comics villains, two of whom have decidedly monstrous looks traditionally, joining an already character-packed movie. These reports are still unconfirmed, and we don't yet know how much screen time each character will get, but these are some exciting choices if they're true. I for one know who I'm particularly interested in seeing on the big screen ... Oh, and one more thing. Gonzalez also dropped this tidbit on Twitter about the film's place in the DC Movieverse timeline: FREE TWITTER SCOOP! SUICIDE SQUAD is set & takes place between events of MAN OF STEEL & BATMAN v SUPERMAN: DAWN OF JUSTICE. RT Suicide Squad hits theaters, with a bevy of DC Comics characters in its corner, on Aug. 5, 2016. GOTHAM
The streets of "Gotham" have been pretty quiet the last few weeks as we've been without any new episodes of the hit Batman-inspired FOX television series. That's going to change in less than a fortnight, however, as "Gotham" is back April 13 with a brand new episode, "Beasts of Prey," the first of the final four episodes of season one. Today, FOX has released a new "Gotham" TV spot that teases what's to come between now and the end of the season. "Gotham" is an origin story of the great DC Comics super villains and vigilantes, revealing an entirely new chapter that has never been told. From executive producer/writer Bruno Heller ("The Mentalist," "Rome"), "Gotham" follows one cop's rise through a dangerously corrupt city teetering on the edge of evil and chronicles the birth of one of the most popular super heroes of our time. "Gotham" is based upon characters published by DC Comics and is produced by Warner Bros. Television. BATMAN 1966
Hot news coming out of the Mad Monster Party in Charlotte, North Carolina. Original stars of the hit 1966 live-action TV series Batman are returning to reprise their roles in a new animated movie. While an exact release date has yet to be announced, the film will hit Blu-ray, DVD and VOD in 2016. It will be released in conjunction with the big screen Batman v Superman: Dawn of Justice, and it promises to provide a campy alternative to that film's more serious take on the DC superhero mythos. Burt Ward, who played Robin in the original series, broke the news while participating in a Q&A with co-star Adam West. Both will return to their respective roles for this brand-new animated film. Burt Ward says the movie will run 90 minutes, and there is the possibility of a new animated Batman franchise, as a second movie is in the works. Though, a second movie actually getting released depends on how well the first one is received. While not confirmed, the film will most likely be released as part of Warner Bros.' DC Universe Animated Original Movies, but it probably won't tie into their ongoing story lines, standing as its own entity. The 1966 Batman series has seen a resurgence in popularity as of late, as the full series was released for the first time on Blu-ray and DVD. There have also been quite a few new toys and other merchandise based on the property, which is selling quite well. So it makes sense why Warner Bros. would want to revisit the property with the original players. The Batman 1966 (Animated Movie) will be released to celebrate the 50th Anniversary of the original show itself. No other details have been revealed at this time.
BACK ISSUES OF THE ZOCALO TODAY
The front page of the The Zocalo Today changes daily, so be sure to check the back issues to make sure that you haven't missed anything IMPORTANT! I don't want the front page getting too long so I shift information periodically into the archives. So if you aren't a regular visitor to The Zocalo Today, be sure to check out the back issues. Just use the button above!
---
Take care and I look forward to hearing from you.
Sandra Bruckner (sgbruckner@aol.com)
Editor/Publisher
ISN News: The Zocalo Today
http://www.isnnews.net
Copyright - SBruckner, 1999-2014