The Zocalo Today
Welcome and thank you for dropping by. Babylon 5 brought many of us together -- and it remains with us, despite the fact that is no longer in production. The good thing is that the internet provides a LOT of ways to stay in touch. Don't be shy. Join in the discussion today. You can also find plenty of Babylon 5 fans on FaceBook and Twitter eager to talk about their show, Babylon 5.

If you have questions or items for the news, drop me a line at sgbruckner@aol.com.

Again, WELCOME!
MONTHLY HIGHLIGHTS OF ISN NEWS: THE ZOCALO TODAY
DECEMBER NEWS
WEDNESDAY, DECEMBER 31, 2014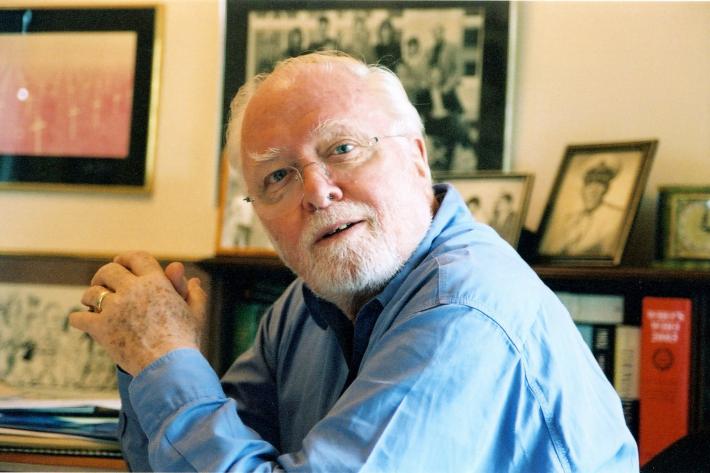 REMEMBERING THOSE LOST THIS YEAR
The end of the year is always a bittersweet time, because while we have a lot of fun taking stock of everything cool that happened over the last 12 months -- the new movies, the new toys, the breakout stars and more -- we also have to look back at what we lost, namely the creators who've brought us so much joy. Every loss is hard, but 2014 was a particularly rough year of departures for genre fans. We lost some of our heroes very suddenly and shockingly, and we lost others in old age, but they seemed invincible to us. However we lost them, there's no denying we had to say hard goodbyes to some giants this year.

Of course, the point of this brief remembrance of the genre icons who left us in 2014 isn't to mourn, but to celebrate the great work they left behind, work we'll keep enjoying for many, many years to come. As we remember the films, the games, the art they gave us, they're all immortals.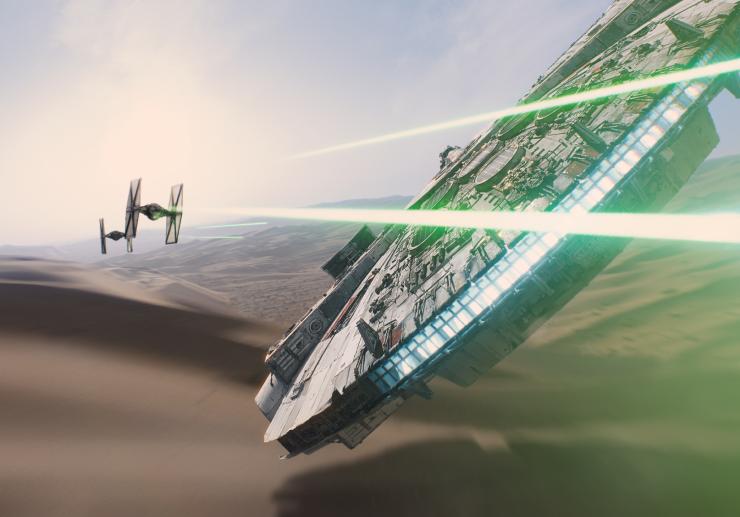 MOST ANTICIPATED FILMS OF 2015
It seems mainstream movie audiences crave their sci-fi and superhero movies almost as much as we do.
In a survey taken by leading online movie ticket retailer Fandango, four of the five most eagerly awaited films of 2015 come from one of those genres. The most heavily anticipated movie of next year? I doubt you'll be surprised when I tell you it's Star Wars: The Force Awakens.
The full top five are:
1. Star Wars: The Force Awakens
2. The Avengers: Age of Ultron
3. The Hunger Games: Mockingjay, Part 2
4. 50 Shades of Grey
5. Jurassic World
50 Shades of Grey (which sort of has a genre connection itself, since it originally started as erotic Twilight fan fiction) is the one glaring exception, and as Collider notes, it would be interesting to see how the poll broke down demographically -- it's not too much of a stretch to say, for instance, that not a whole lot of men are breathlessly awaiting that movie.
Elsewhere, Avengers leader Robert Downey Jr. and Hunger Games star Jennifer Lawrence are rated the top male and female "fan favorites" returning to the screen in 2015, while Star Wars newbies John Boyega and Daisy Ridley made their respective "breakout" lists.
While the movie picks are not exactly a surprise, it does tell us that sci-fi and its associated genres are bigger than ever going into 2015 -- which is great news going into the New Year.
AGENT CARTER
People has a new behind-the-scenes look at the ABC series "Marvel's Agent Carter" in which we get to see Hayley Atwell's title spy in action as well as a visit from her old war buddy Howard Stark (Dominic Cooper)
. Starring Hayley Atwell as Agent Peggy Carter, Chad Michael Murray as SSR Agent Jack Thompson, Enver Gjokaj as SSR Agent Daniel Sousa, James D'Arcy as Edwin Jarvis, and Shea Whigham as SSR Chief Roger Dooley, "Marvel's Agent Carter" was written by Christopher Markus and Stephen McFeely. Executive producers are Tara Butters, Michele Fazekas, Christopher Markus, Stephen McFeely, Chris Dingess, Kevin Feige, Louis D'Esposito, Alan Fine, Joe Quesada, Stan Lee and Jeph Loeb.
"Marvel's Agent Carter" is produced by ABC Studios and Marvel Television and is set to premiere January 6, 2015 on ABC.
AVENGERS NOW
Even before the most recent Marvel Comics event, 'Axis', wrapped up, the Avengers NOW! Initiative was already well underway. With exciting new titles like 'All-New Captain America' featuring Sam Wilson as the new Star-Spangled Avenger, 'Thor' starring the mysterious Goddess of Thunder, and 'Angela: Asgard's Assassin' written by Kieron Gillen and Marguerite Bennett the landscape of the Marvel Universe is quickly changing. However, there is still more in store from the House of Ideas in the New Year and the company has just released a trailer to highlight some of the upcoming new additions to your local comic book shops.
In anticipation for the release of new books like Mark Waid and Carlos Pacheco's 'S.H.I.E.L.D.', Ryan North and Erica Henderson's 'Unbeatable Squirrel Girl', a new volume of Rick Remender's 'Uncanny Avengers', and many more, Marvel shared a new trailer spotlighting some brand new series debuting in the coming months featuring Earth's Mightiest Heroes. You can check it out below followed by a synopsis of the event:
The most popular characters. The most acclaimed creators. The most ambitious stories. This is the recharged Avengers NOW!
The Avengers are Earth's Mightiest Heroes, but these Avengers are something new! Witness the Avengers like you've never seen them before as the industry's top creators and brightest rising starts deliver can't miss new ongoing series like 'Thor', 'All-New Captain America', 'Superior Iron Man', and more.
Find these all-new ongoing series in comic shops, on the Marvel Comics app and on Marvel.com. To find a comic shop near you, visit www.comicshoplocator.com and visit Marvel.com for more info on Avengers NOW!
With all these new books coming our way from Marvel Comics, I can already feel my wallet hating me as I add even more titles to my pull list. But how could I resist a comic starring Squirrel Girl?! Anyway, which upcoming Avengers NOW! series are you most looking forward to? Let us know in the comment section.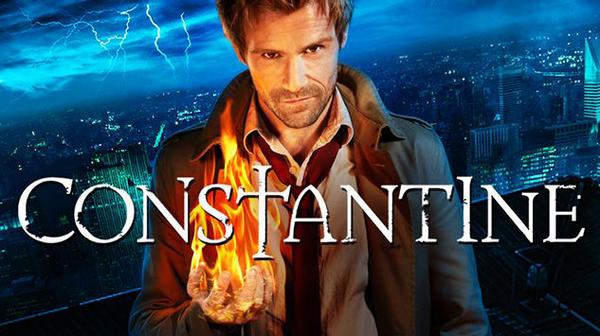 CONSTANTINE
In a move that fans will hopefully see as a promise for the future, NBC has moved its embattled DC Comics show 'Constantine' from the 10pm time slot on Fridays to the earlier 8pm time slot, as well as announcing the show will return on January 16th to finish the last 5 episodes of its first season. But will it be its only season?
Moving the show to the 8 o'clock slot shows some confidence on the part of the network, although it might also be a last ditch effort to see if fans will really show up to support the show. With only 5 episodes remaining, it could also just be airing to burn off the episodes and keep the slot warm until NBC gets another show ready for the Spring season. Only time will tell, but the good news is that although production on the first season was stopped at only 13 episodes, NBC has still not officially canceled the show, and with its rating upswing, there is a good chance we might still see a 'Constantine' Season 2.
For now, check out 'Constantine' when it returns for its final 5 episodes on January 16th, in its new time slot at 8pm!
Constantine - New Set of Cast Promotional Photos"Based on the wildly popular comic book series "Hellblazer" from DC Comics, seasoned demon hunter and master of the occult John Constantine specializes in giving hell… hell. Armed with a ferocious knowledge of the dark arts and his wickedly naughty wit, he fights the good fight — or at least he did. With his soul already damned to hell, he's decided to leave his do-gooder life behind, but when demons target Liv (Lucy Griffiths), the daughter of one of Constantine's oldest friends, he's reluctantly thrust back into the fray – and he'll do whatever it takes to save her. Before long, it's revealed that Liv's "second sight" — an ability to see the worlds behind our world and predict supernatural occurrences — is a threat to a mysterious new evil that's rising in the shadows. Now it's not just Liv who needs protection; the angels are starting to get worried too. So, together, Constantine and Liv must use her power and his skills to travel the country, find the demons that threaten our world and send them back where they belong. After that, who knows… maybe there's hope for him and his soul after all. "
DECEMBER 30, 2014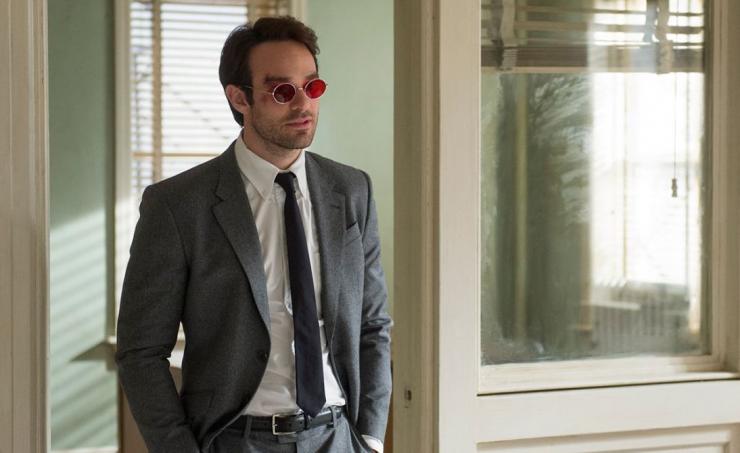 DAREDEVIL
Marvel TV head Jeph Loeb and showrunner Steven S. DeKnight opened up to Entertainment Weekly about the 13-episode Daredevil series and how it connects to the Marvel Cinematic Universe, while also dropping some intel on how they'll be adapting some of the comic's iconic baddies.

First up, Loeb reiterated that the series will definitely take place in the same world at The Avengers — just don't expect to see Iron Man or Thor zipping around in Hell's Kitchen. This is definitely going to be a hyper-focused series, telling the story of a street-level hero tackling street-level problems. That's something Marvel hasn't attempted up to this point, and we're curious to see if they can pull it off:

"Within the Marvel universe there are thousands of heroes of all shapes and sizes, but The Avengers are here to save the universe and Daredevil is here to save the neighborhood. It's a very unique look at Hell's Kitchen in New York, where Matt Murdoch grew up and continues to defend it from people who would harm the people that live there … It does take place in the Marvel cinematic universe. It's all connected. But that doesn't necessarily mean that we would look up in the sky and see [Iron Man]. It's just a different part of New York that we have not yet seen in the Marvel movies."

Though DeKnight made a name for himself with the pay-cable violence and nudity of Spartacus on Starz, he said this series won't go quite that far into the dark. It will be "grittier and edgier" than anything that's come before in Marvel's stable, but he argued the story doesn't require that level of gratuity to be told well.

One big part of that story, arguably just as big as Charlie Cox's Matt Murdock? Vincent D'onofrio's portrayal of Wilson Fisk, aka the Kingpin. According to DeKnight, they're looking to bring some depth and new angles to the story of Fisk's evolution into the Kingpin of crime. Instead of a black-and-white villain, they're going to essentially tell the human side of his story that drives him to evil.

The question of Bullseye also came up, and DeKnight made sure to leave the door open for one of Daredevil's biggest rogues to show up in the second season — just don't expect him in the first 13 episodes. Basically, they wanted to tell the story of Daredevil and the Kingpin first, and they worried Bullseye would get in the way of those stories:

"Fisk has very many different aspects so it's not all, 'I want to conquer the city and make a lot of money.' In our story, we tell the story of how he met his wife Vanessa and how they fell in love — our antagonist actually has a love story. That's the love story you're following, the one you're invested in, and seeing how that affects him and changes him. I think Vincent just brings such depth to it, his performance is just astounding."

I wouldn't say there's no plans to include [Bullseye' in the series. It's not not to say he wouldn't be in the series at some point. But I think if you try to jam in too many characters, it just becomes a mess. And [Bullseye's] story was told in the last iteration of Daredevil that anybody saw. My feeling was, 'Why repeat it?' And honestly, if you're looking for a juicy, multi-faceted crime drama, Wilson Fisk was the obvious choice to play the antagonist. Bullseye is a little more cut and dry. Not to say you couldn't make him fantastic over 13 hours, but Fisk really felt like the right yin to the yang for Matt, and for what we wanted to do this season."

The Daredevil series is set to hit Netflix at some point in 2015, probably around the second quarter of the year.

STAR WARS REBELS
A couple weeks ago, we told you the cool news that Frank Oz would reprise his vocal role as Yoda in an upcoming chapter of Star Wars Rebels when it returned from winter break. While not exactly sure what incarnation the little green guy would take, we now have a clip from next week's "Path of the Jedi," with Yoda expounding his pure words of wisdom to Kanan as a disembodied voice from the sweltering swamps of Dagobah, where he's been in exile since Revenge of the Sith. Hearing Frank Oz's distinctive Yoda and its disjointed sentence structure gives us the geeky chills.

Star Wars Rebels "Path of the Jedi" airs Jan. 5, 2015, at 9/8 CT on Disney XD.
THURSDAY, DECEMBER 25, 2014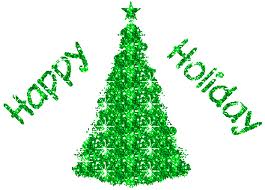 HAPPY HOLIDAYS TO EVERYONE
I am taking some time off for the holidays. I hope all of your have an awesome holiday full of friends and family.
DOCTOR WHO
Something happens in this year's Doctor Who Christmas special that has never happened before, promises executive producer Steven Moffat. On Peter Capaldi's (and the Twelfth Doctor's) first Christmas special we get to meet Santa in what might be the most Christmassy episode ever as Santa joins the Doctor and Clara to fight off terrifying creatures at an arctic base at the North Pole. "Last Christmas" which airs Christmas Day, Dec. 25, at 9 p.m. ET on BBC America.
Several months have passed since the Doctor and Clara parted ways in the dark finale, said Moffat during a conference call with journalists. "Unless I'm lying," joked Moffat regarding how much time passes between the finale and the Christmas special.
"I do think a Christmas special should be Christmassy. I think there's no point in trying to pretend an ordinary episode would pass muster on Christmas Day. It wouldn't," he said.
Regarding "Last Christmas," we know that Clara and the Doctor once again join forces, despite saying goodbye in the season finale. We also know that there will be monsters, Santa, elves and at least one reindeer as Santa rides to the Doctor's rescue ... literally. Actor Nick Frost plays Santa, and Dan Starkey (who also plays Strax on the series) and Nathan McMullen guest-star as elves. And Michael Troughton, the son of Second Doctor Patrick Troughton, guest-stars.
So why did it take so long for Santa to pop up on Doctor Who? "The simple dull answer is that it took me this long to think of it. And so, no big deal. I think it's oh so true that now that this is Doctor Who's 10th year at the heart of the Christmas schedule, he's now earned the right to go toe to toe with Santa, you know? It feels about right," said Moffat.
"It's one of those ideas that when you have it ... for goodness' sake, why has it not happened before now? Why haven't we seen them in a buddy movie together before now? They belong together. And it's something in the hearts, I'm sure, of the younger part of our audience, Doctor Who and Santa Claus live -- and Robin Hood -- all very much live in the same place," he said.
"So it's irresistible once you've thought of it. And also because of the format of the show we can contrive anything to happen. So here we are," said Moffat.
As far as the Robin Hood and Santa of it all, the Doctor "has a different relationship with Santa Claus, let's be clear. In a line cut from the Robin Hood episode which I rather regret now, he -- the Doctor -- while dismissing the existence of Robin Hood absolutely asserts that Santa is real," he said.
"We know the Doctor has a sort of conviction about Santa. He's mentioned him several times. So it's a different thing. His conflict with Robin Hood was more externalizing his post-Trenzalore angst about whether he really counts as a hero or not. So some of the transaction is, and let's be honest, [the] Doctor doesn't really like it, does he, when a dashing handsome young man turns up. And the girl at his side is a bit more impressed with the new hero than the old one. He didn't like it when Captain Jack turned up. He didn't like it when Robin Hood turned up. What middle-aged man wants that kind of competition?" said Moffat.
Regarding "Last Christmas," it will have a decidedly lighter tone than the finale. "It's Doctor Who storytelling at its most primal. If you do something incredibly dark where another show would just have another episode of sad music and rain, you just spin it right around and do something outrageous.
"That's the show biz of Doctor Who somehow .... When Santa walks onto the TARDIS it's kind of -- I like that sort of moment, because it feels like, did you forget you were watching Doctor Who? You know, it's not really Chekhov. We are having fun here," he said.
"So don't worry, Santa will sort everything. That makes it Doctor Who again. Up until that point, just as you're bottoming out and thinking this is as dark as it gets. Then all your childhood dreams come true and Father Christmas enters the TARDIS."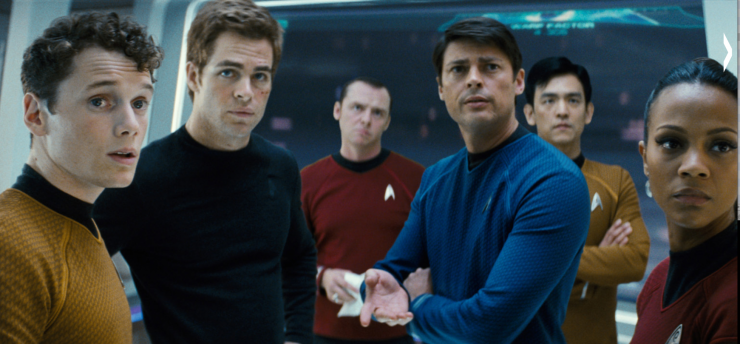 STAR TREK 3
Things are now starting to move quickly for Star Trek 3.
Just one day after Justin Lin was officially announced as the film's director -- taking over for the departed Roberto Orci -- Paramount Pictures has set July 8, 2016 as the movie's release date. That's less than two years from now, which means Lin has his work cut out for him with what will presumably be an effects-and-action-heavy motion picture.
With that narrow a window to get a movie of this size up and running, I have to wonder if the studio is just going to stick with the screenplay that Orci and two other writers were working on -- the one that allegedly involved some sort of time travel device that would allow a young Captain Kirk (Chris Pine) to come face to face with the older one (William Shatner) for the first time. Or it might be getting a rewrite as we speak to feel more like Guardians of the Galaxy.
How that all shakes out remains to be seen, but don't expect Paramount to budge from that date: July 8 is just two months shy of Star Trek's official 50th anniversary, as September 8, 1966 is when the original show's premiere episode, "The Man Trap," first aired on NBC.
ONCE UPON A TIME
ABC's real-life fairytale series Once Upon A Time is bringing in a legit genre alum to take on the role of a new major player in the back half of season four.
Sebastian Roche (Fringe, Supernatural) has signed on to guest-star as King Stefan, Aurora's father, who has a "complicated past" with Maleficent (Kristin Bauer Van Straten). We don't know much else about his role, but this being Roche, you'd almost have to assume he's playing a shady role. Our money would be on him turning out to be a villain, somehow. Heck, when was the last time he played a good guy? Odyssey 5?
Roche's face should be a familiar one for sci-fi fans across the spectrum. He previously played Thomas Jerome Newton on an eight-episode stint on Fringe, and showed up in six episodes of Supernatural as Balthazar. He most recently played Mikael on The Vampire Diaries and The Originals.
Roche is set for an extended guest star role, though we don't know the exact episode count. His first appearance is scheduled for an episode slated to air in March.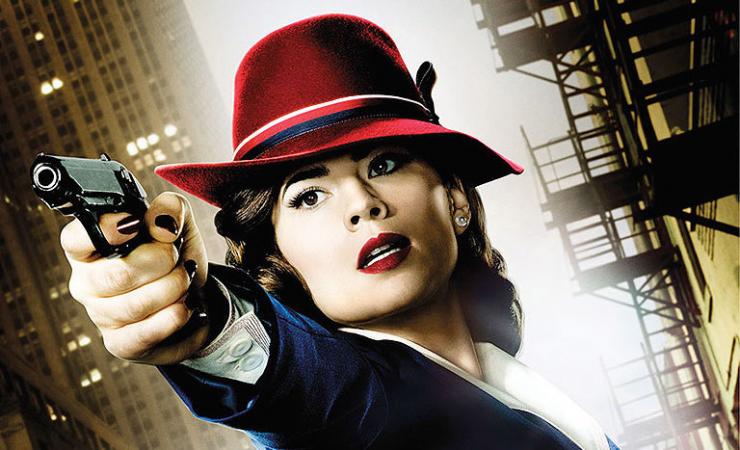 AGENT CARTER
Sure, Agents of S.H.I.E.L.D. might be on hiatus for a few months, but Agent Carter is ready to step in to fill the Marvel void on ABC's schedule.
The seven-episode prequel series debuts Jan. 6 with a two-hour premiere and will focus on Hayley Atwell's fan-favorite character first introduced in Captain America: The First Avenger. If you're wanting to see more, the network has released a brand-new one-minute trailer showing off the 1940s setting.
The new teaser clip is loaded with additional footage and does an excellent job of setting up the premise and noir-style world we'll be exploring during the miniseries. The series finds Peggy working with young Howard Stark (Dominic Cooper), who is framed for a crime he didn't commit.
Peggy is still working for the covert S.H.I.E.L.D. precursor the SSR (Strategic Scientific Reserve), but this being the 1940s, she's being treated more like a secretary than a secret agent. So her secret mission with Stark is the perfect outlet, assuming she doesn't get caught — or else she could wind up in prison. The miniseries serves as a prequel to the Marvel One-Shot that inspired the project.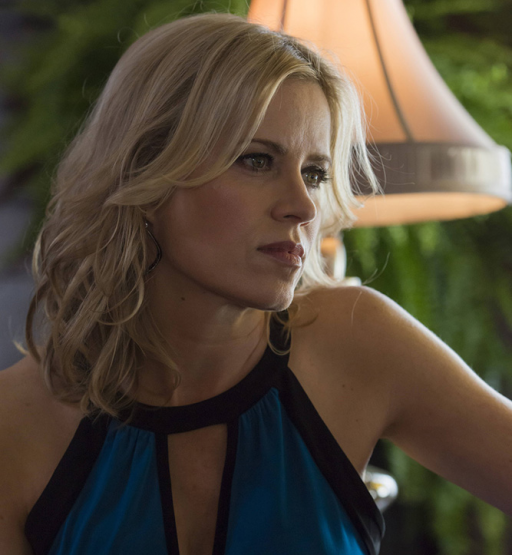 COBALT
That Walking Dead spinoff series has finally found its female lead.
Deadline reports that after quite the lengthy casting process (AMC apparently tested a number of actresses for the role), actress Kim Dickens (Deadwood, Lost, Gone Girl) has been tapped to play the as-yet-unnamed female lead, a guidance counselor working with a divorced teacher named Sean Cabrera and played by Cliff Curtis (Gang Related).
She's being described as looking "like the girl next door but has a darkness to her, a troubled past that will come back to haunt her." Don't they ever? That's what makes for great TV viewing.
Dickens' character also has two children, played by Frank Dillane (Harry Potter and the Half-Blood Prince) and Alycia Debnam Carey (Into the Storm). Dillane's character is battling drug addiction, while Carey's is being described as "ambitious."
Code-named "Cobalt," the upcoming Walking Dead spinoff will take place in Los Angeles. We're definitely looking forward to seeing the undead and our new gang of zombie apocalypse survivors navigate the City of Angels.
The new spinoff was created by Robert Kirkman himself (the guy who wrote all those awesome Walking Dead graphic novels on which both shows are based) and Dave Erickson. Adam Davidson is set to direct the pilot.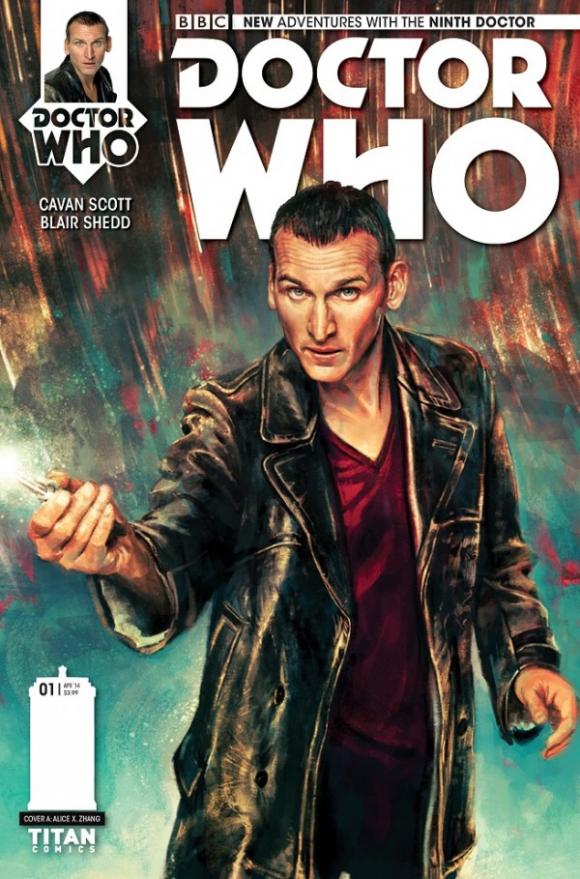 DOCTOR WHO COMICS
The current run of Doctor Who comics is providing some great adventures for fans who miss the past two fellas to pilot the TARDIS — but what if you want to go back a bit further?
Well, the folks at Titan Comics will have you covered very soon. The publisher has announced a new five-issue miniseries starring Christopher Eccleston's Ninth Doctor, plus two of his fan-favorite companions. The series will follow the Doctor on some throwback adventures, with both Rose and Capt. Jack Harkness along for the ride.
Despite the prequel aspect, the official synopsis hints at a fairly massive plot at the center of the story, with the Doctor and his team working to avert another temporal war that could destroy the universe due to some stolen Time Lord tech.
Leaving World War II behind, The Ninth Doctor, Rose and Captain Jack discover that Time Lord technology, lost in the wake of the Time War, is being sold on the intergalactic black market! Now the threat of a NEW temporal war brews on the horizon. Can the Doctor stop history repeating itself?
The series will be written by Cavan Scott and drawn by Blair Shedd. The first issue is set to hit comic shops March 11, 2015.
INTO THE WOODS
Walt Disney Studios has just released (via Stitch Kingdom) a new clip from their upcoming Broadway adaptation, Into the Woods. This one features Lilla Crawford's Red Riding Hood paying a rather gluttonous visit to James Corden and Emily Blunt's Baker and Baker's Wife. Check it out in the player below to hear Crawford's rendition of "To Grandmother's House".
Also starring Anna Kendrick, Chris Pine, Daniel Huttlestone, Johnny Depp, Lilla Crawford, Tracey Ullman, Christine Baranski, MacKenzie Mauzy, Billy Magnussen, Tammy Blanchard, Lucy Punch, Richard Glover, Frances de la Tour, Simon Russell Beale, Joanna Riding and Annette Crosbie, the musical adaptation offers a modern twist on the beloved Brothers Grimm fairy tales, intertwining the plots of a few choice stories and exploring the consequences of the characters' wishes and quests.
Rob Marshall, the acclaimed filmmaker behind the Academy Award-winning musical Chicago and Disney's Pirates of the Caribbean: On Stranger Tides, directs the film, which is based on the musical stage production by legendary eight-time Tony, Grammy and Oscar-winning composer and lyricist Stephen Sondheim and Tony winner James Lapine, who also wrote the screenplay. Into the Woods is produced by John DeLuca, Marshall, "Wicked" producer Marc Platt and Callum McDougall.
Into the Woods arrives in theaters December 25.
FRIDAY, DECEMBER 19, 2014
SPIDER-WOMAN
She's been a stalwart of the Marvel Universe for decades, and now Spider-Woman is finally getting a brand new look. It only took 'em 37 years to do it.

Jessica Drew's trademark duds have looked like a throwback to the classic spandex era for a while now, but all that changes when Spider-Woman #5 hits shelves in March 2015. The book will put a new spin on Spider-Woman's story and try to take the character back to her more "street-level" roots of the 1970s, along with introducing a new look designed by artist Kris Anka.

As USA Today notes, the character will trade in her spandex, for black leather pants, two-toned gloves and a jacket that can double as street-wear (and be tweaked for superhero-ing) at a moments notice. Despite the tonal shift, the look still has some nice nods to the original costume, giving it a good balance. It's similar to what DC did a while back with Batgirl, but a bit more casual. Note: We dig the glasses.

Series editor Nick Lowe noted the new look is also a move toward practicality, since strolling around in spandex doesn't really fit the vibe of turning Jessica Drew back into a detective-style character who isn't dealing with world-ending stakes on a daily basis:

"Spider-Man isn't really a detective — he swings around looking for trouble, whereas Jess needs to go and figure stuff out and dig things up, and you can't really do that head to toe in spandex very well. To operate on the level she wants to, she needs something that can pass for semi-normal and she can turn it on to crazy if she needs to."

If you can't wait to check out Spider-Woman #5 in a few months, the new-look Jessica Drew is being added as a playable character in the Spider-Verse mobile game this week.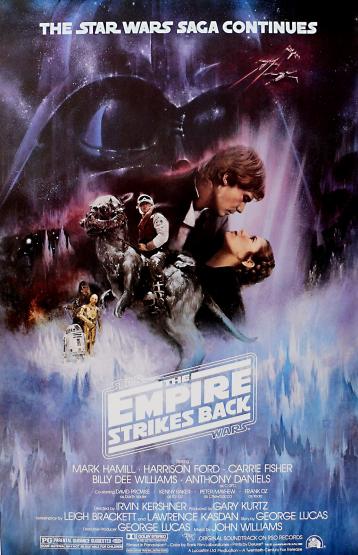 THE EMPIRE STRIKES BACK
A group of actors will gather in Los Angeles on Dec. 18 to do a live reading of The Empire Strikes Back, and at least one member of the cast may surprise you.
The reading is part of a series of similar events at the Los Angeles County Museum of Art (LACMA) that have been orchestrated by filmmaker Jason Reitman (Juno), who is also directing tonight. What makes this event different from others in the past are two things: First, Reitman usually picks dramas or comedies -- movies heavy on dialogue -- so reading the script for a movie filled with visual effects is a striking departure. Second, the cast he's assembled for the read also contains one thought-provoking choice:
Luke Skywalker - Aaron Paul
Han Solo - Ellen Page
Princess Leia - Jessica Alba
Darth Vader - JK Simmons
C-3P0 - Stephen Merchant
Lando Calrissian - Dennis Haysbert
Yoda - Kevin Pollak
Yes, that's Ellen Page -- also of Juno fame, but known to genre fans for Inception and as Kitty Pryde in the X-Men movies -- playing Han Solo. Reitman told EW about his choice, "In casting Han, the most important thing is: who has the most interesting, ironic approach to life? And when I think of that, I think of Ellen Page. She's a small human being who has the energy to fill Madison Square Garden."
Sure. she's not the first person to spring to mind to play everyone's favorite Corellian smuggler, but Page is a terrific actor and will undoubtedly bring a slant to Han that we're not likely to see or hear again.
As for the rest of the cast -- JK Simmons as Darth Vader? Aaron Paul as Luke? Kevin Pollak as Yoda? Sold.
Tickets to this thing are long sold out -- it was actually moved from LACMA to a bigger theater downtown to accomodate the audience -- but we're sure we'll hear about the evening's performance from those lucky enough to attend (they're intended as special events and are not recorded or filmed in any way).
As for the rest of us, we can take comfort from the fact that exactly one year from today -- December 18, 2015 -- Star Wars: The Force Awakens opens in theaters everywhere.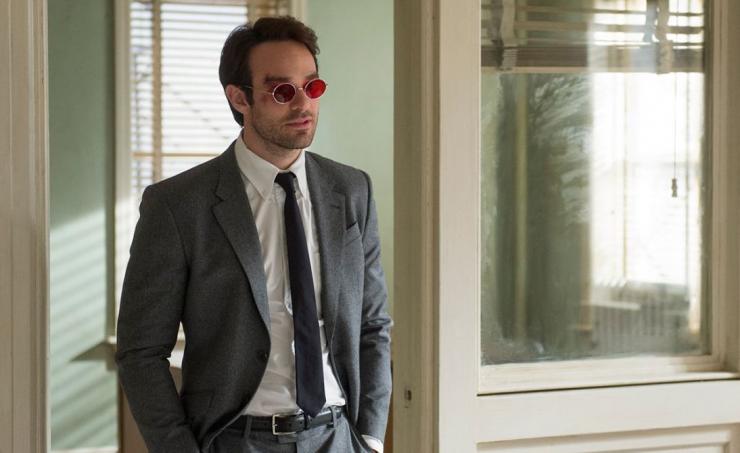 DAREDEVIL
They've pretty much wrapped shooting on Marvel's first Netflix series Daredevil, though we're still waiting on so much as some test footage to get a peek at the small-screen version of Hell's Kitchen. Well, we're at least one step closer.
The latest print issue of Entertainment Weekly has debuted two new official photos from the series, including one of Charlie Cox's Daredevil in costume and kicking some butt. The other shot shows Daredevil's alter ego, Matt Murdock, strolling the streets of New York.
But, the costume shot — we're digging it. As we'd previously heard, the series will trace a much more gritty path toward the classic Daredevil costume, with the vigilante starting out in what is essentially a basic black outfit with a mask inspired by the John Romita Jr. look from Man Without Fear. Simple, yes, but it does look good. It also seems a good fit for the aesthetic they've hit in the shot, more Arrow than Avengers.
This series will be the first big test for Marvel to see if they can move outside the so-so debut of ABC's Agents of S.H.I.E.L.D., which was supposed to be the flagship series of the Marvel Cinematic Universe (MCU) on television. Instead, S.H.I.E.L.D. barely pulled a second season due to middling ratings. But now Marvel can prove they can do television right with Daredevil. Fingers crossed, at least.
The 13-episode series is set to launch in 2015 on Netflix, followed by a slew of additional Marvel shows building up to The Defenders.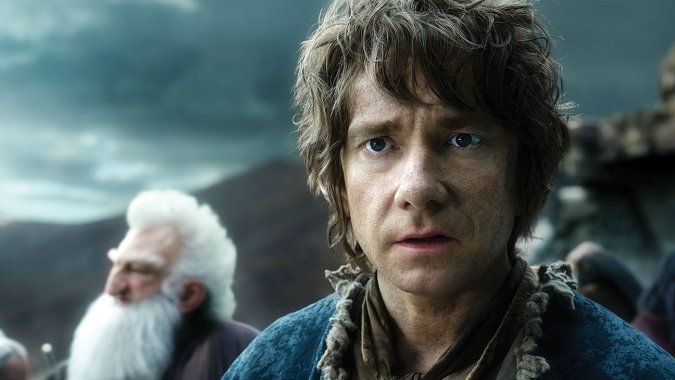 WEEKEND BOX OFFICE
Fans are rushing back to Middle-earth one last time. The Hobbit: The Battle of the Five Armies opened to a very strong $24.5 million Wednesday.
The film, the final installment in Peter Jackson's Hobbit trilogy, will top the domestic box office with a $70 million to $75 million five-day debut. Opening in 3,875 locations this weekend, the New Line and MGM project's big Wednesday number includes the $11.2 million from Tuesday's late-night showings.
Box-office comparisons to the previous Hobbit films won't be exactly parallel as the first two came out on Fridays. But the previous film, The Desolation of Smaug, earned $73.6 million in its debut weekend, and hit a final tally of $958.4 million worldwide. The first installment, An Unexpected Journey, opened in December 2012 to $84.6 million on its way to a grand total of $1 billion.
Internationally, Five Armies has also been doing brisk business, opening in 37 markets last weekend to a strong $122.2 million.
There is still the possibility that Five Armies will earn higher than the expected range for the weekend as fans could turn out in droves to say goodbye to the Tolkien franchise. But the film faces tougher competition than its predecessors during a crowded holiday season, which includes Sony's family film Annie and Fox's Night at the Museum sequel, both opening Friday, and musical Into the Woods, Angelina Jolie's Unbroken and Paramount's The Gambler next weekend.
Family musical Annie is expected to earn in the $15 million range while Fox's Night at the Museum should gross $25 million or slightly higher.
SALEM
WGN America has released an all-new promo for the second season of their original series "Salem," which you can check out in the player below! In the spot, Mercy, the Reverend Lewis' increasingly powerful daughter, transforms the symbol of her torment at the hands of the town's witches into a signal of the Witch War to come.
"Salem" is a bold re-imagination of the infamous 17th century witch trials in colonial Massachusetts. The series stars Janet Montgomery as Mary Sibley, Shane Westas John Alden, Seth Gabel as Cotton Mather, Ashley Madekwe as Tituba, Tamzin Merchant as Anne Hale, Elise Eberle as Mercy Lewis and Iddo Goldberg as Isaac Walton. Created and written by Brannon Braga and Adam Simon, "Salem" is executive-produced by Braga, Simon, and Prospect Park's Jeff Kwatinetz and Josh Barry.
Season 2 of "Salem" will premiere in April 2015.
THURSDAY, DECEMBER 18, 2014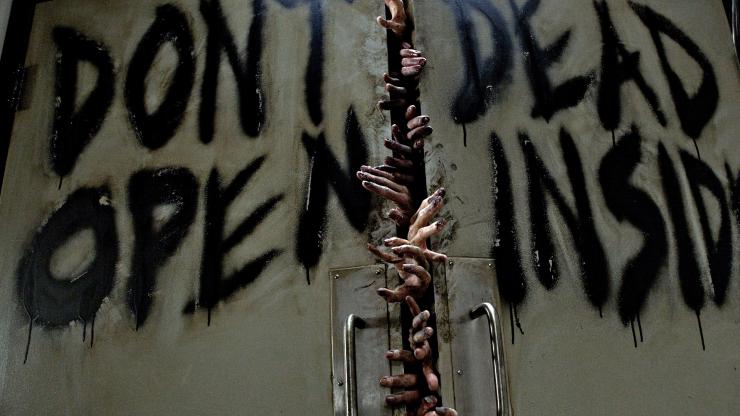 COBALT
It's been more than a year since we heard AMC was developing a spinoff series for undead hit The Walking Dead, and now we finally have some details about the mystery project. The world of The Walking Dead is a big one, though for five seasons the action has been largely relegated to Atlanta and some surrounding towns in Georgia. That hyper-focus is a big part of what makes the series so good, but it has left fans wondering what's going on in the rest of the world. Now we'll finally get a chance to find out. The crew behind the series are putting the companion show together, which'll dig into a whole new corner of the Dead-verse. Though the series hasn't actually gotten a season pickup yet (it's currently in the pilot phase), it's considered a virtual lock, considering that the mothership series often beats network shows in the TV ratings race. From the setting to main characters, here is everything we know about the currently untitled Walking Dead companion series (codenamed Cobalt).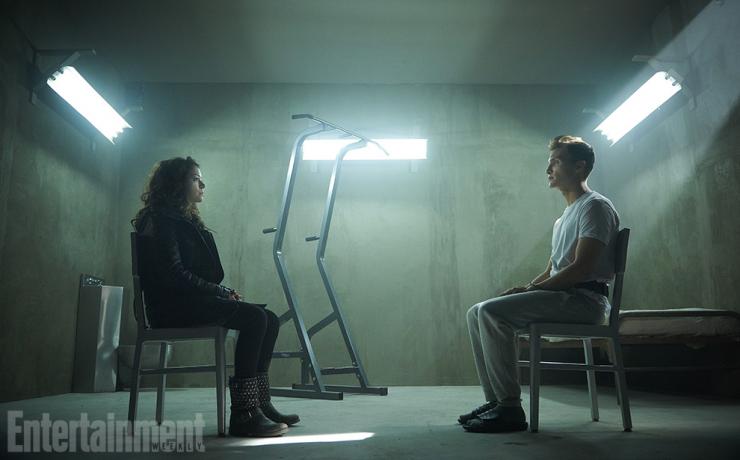 ORPHAN BLACK - SEASON THREE
The twisty clone drama Orphan Black introduced a seismic shift to its plot in the season-two finale, and one of the first pics from year three offers up a major payoff to that twist. Entertainment Weekly has debuted a new pic from the BBC America sci-fi series, showing Tatiana Maslany's Sarah Manning having a legit face-to-face with one of the new male Project Castor clones played by Ari Millen. Worlds collide, literally. The series' co-creator Graeme Manson offered up some intel on the image, along with what we can expect from the new season. First up, it seems the new season will pick up almost immediately after the season-two finale, so don't worry about a wacky time jump. Manson also confirmed there will be "a few" Castor clones, though they're in no hurry to introduce any "redshirts." Not surprisingly, he was cagey on the odds of a new Maslany clone. Check out some excerpts from the interview below in which he opens up about how the new clones will affect the relationship between all the various Maslanays, and how it'll change the flow of the series: "Are these guys going to break the bonds of our sisters? Because this does remain Sarah Manning and her sisters—this does remain their story. So is the threat that these guys pose—will it bring them together or will it break the bonds? They are definite pressure, and within the season again, Sarah is the lynchpin. So whatever more she understands about these Castor boys, she understands more about herself and her sisters and their origin story… We want that audience to be taking that journey with Sarah, throughout the whole series. She's going to be leading her sisters and protecting her family. And that's the drive. She's the one that the audience roots for, so when these guys show up, it's fantastic that we've got this new diverse villain in the form of clones—villains or whatever they may turn out to be. Because now we get to exercise with Ari Millen, who is doing a fantastic job with these guys. But it's always been important to us and it's always been [co-creator] John [Fawcett] and my focus that this is a story about Sarah tracking down her own story." Orphan Black season three is set to air in spring of 2015. LOADOUT
Loadout: Going in Hot is the latest live-action short film adapted from a videogame by Wayside Creations, with Battlestar Galactica's Richard Hatch on board to star. Hatch plays Captain Gaz, leader of a ragtag crew of "space merchant marines" who deal in antiquities and curios -- but find themselves constantly competing with other local haulers to get their hands on the goods. The short builds upon the third-person shooter published by Edge of Reality and paves the way for a potential new space-opera series. Hatch, of course, is best known to sci-fi fans as Captain Apollo on the original 1978 Battlestar, and as Tom Zarek in the 2003 remake, as well as for penning several Galactica novels. But Hatch is no stranger to the new and evolving worlds of online content: In addition to doing Loadout, he also played the Klingon commander Kharn in the crowdfunded Star Trek short Prelude to Axanar, which has been so successful that a full-length feature called Star Trek: Axanar -- with Hatch returning as Kharn -- is now in preproduction. He's also ventured into steampunk alongside Malcolm McDowell and Walter Koenig in the short film Cowboys and Engines. JUSTICE LEAGUE: THRONE OF ATLANTIS
Following a first clip back in October and a full trailer earlier this month, Warner Bros. Home Entertainment, Warner Bros. Animation, and DC Entertainment have released a new clip from their upcoming Justice League: Throne of Atlantis. In Justice League: Throne of Atlantis, Cyborg discovers an imminent threat in the depths of the oceans so powerful that it rallies together the newly formed Justice League. Meanwhile, wandering thousands of feet above the ocean floor is drifter Arthur Curry, a man with strange powers who may be the last chance to bridge the ancient Atlantean world with our own. Superman, Batman, Wonder Woman and the rest of the Justice League must band together as they face off against warmongering Orm, an army of sea creatures, otherworldly weapons and perilous odds. In this all-new epic adventure from the DC Universe, mankind's only hope of escaping from the darkness lies with the guiding light of a man – Aquaman! Matt Lanter will provide the voice for Arthur Curry in the animated feature. He's joined by Jason O'Mara as Batman, Shemar Moore as Cyborg, Christopher Gorham as The Flash, Sean Astin as Shazam, Nathan Fillion as Green Lantern, Rosario Dawson as Wonder Woman, Jerry O'Connell as Superman, Sam Witwer as Aquaman's devious brother Orm, and Sumalee Montano as his future bride Mera. Justice League: Throne of Atlantis will debut digitally on January 13, and on Blu-ray and DVD on January 27, 2015.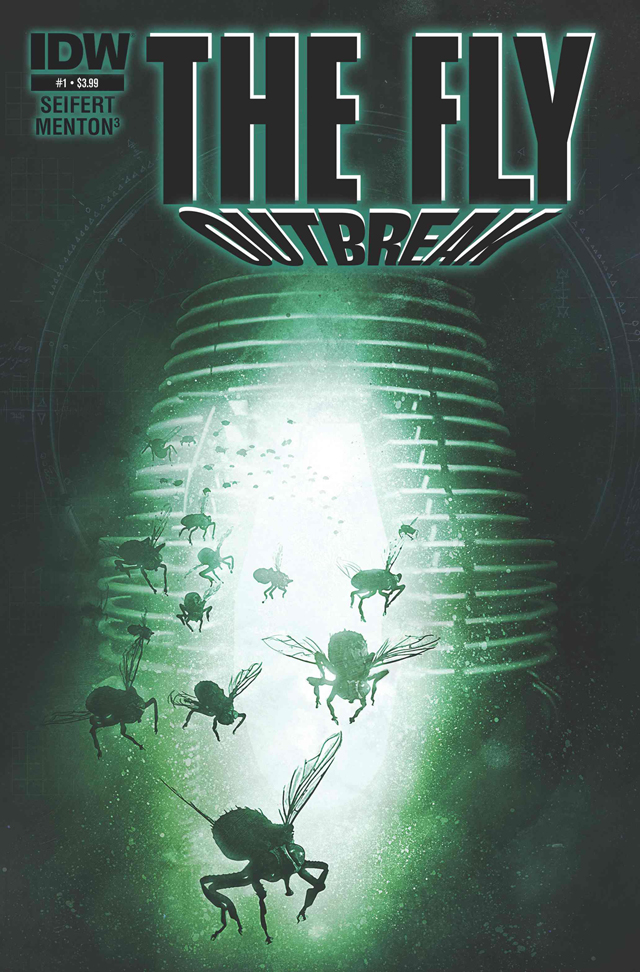 THE FLY
DW is asking fans of David Cronenberg's 1986 masterpiece The Fly to once again be afraid. Be very afraid. In March, the publisher will release the first issue of "The Fly: Outbreak," a new five-issue miniseries that continues the world of the original film. Written by Brandon Seifert ("Hellraiser," "Witch Doctor"), the series will feature with painted interior and cover art by menton3 ("Silent Hill," "Monocyte"). Years ago, a scientist had a horrific accident when he tried to use his newly-invented teleportation device and became a human/fly hybrid. Now his almost-human son continues to search for a cure for the mutated genes. But a breakthrough turns into a breakout, and anyone exposed risks turning into a monster as well… "To be totally honest, 'The Fly' is one of the most disturbing things I've ever seen!" said Seifert. "It was really resonant for its time. And in the last 20 years or so, with all the advances in Genetically Modified Organisms, the film has taken on a lot of meaning it didn't originally have. It's really exciting to explore those elements in this miniseries — and great to have an amazing, super-distinctive artist like menton3 on the visuals!" "Equal parts gory allegory and tragic love story, The Fly was perhaps David Cronenberg's crowning achievement," editor Denton J. Tipton said. "That's a lot to live up to, but I believe Brandon and Menton are equal to the task. The script is sharp and poignant, and the art is visceral and haunting. No one is safe!" It remains to be seen whether or not "The Fly: Outbreak" will include the continuity of the 1989 big screen sequel, The Fly II. Hitting in March, issue one of "The Fly: Outbreak" boasts variant covers by Jason Edmiston and Lukas Ketner.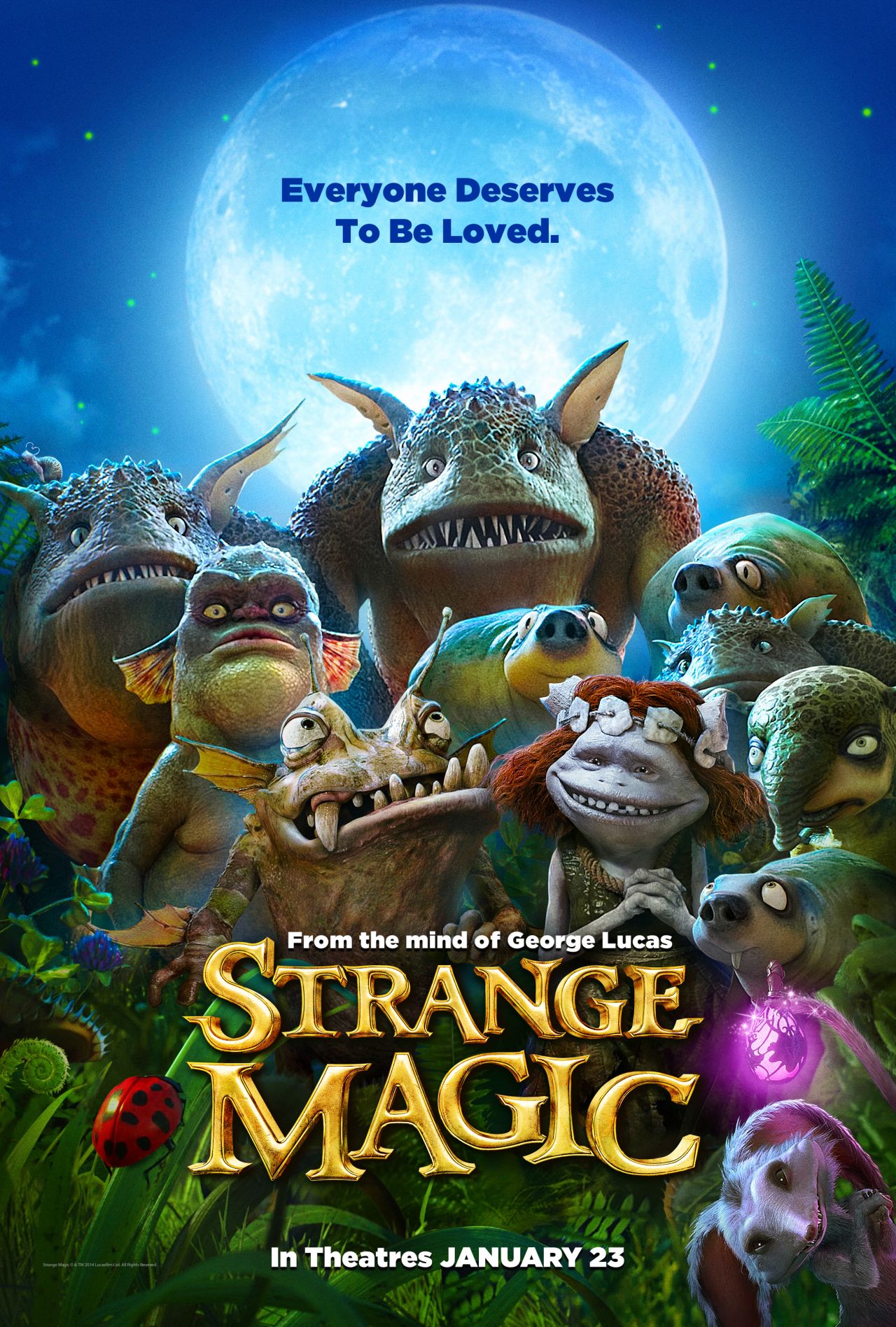 STRANGE MAGIC
Touchstone Pictures and Lucasfilm have debuted the first poster for their upcoming animated film Strange Magic! Strange Magic is a madcap fairy tale musical inspired by "A Midsummer Night's Dream." Popular songs from the past six decades help tell the tale of a colorful cast of goblins, elves, fairies and imps, and their hilarious misadventures sparked by the battle over a powerful potion. Lucasfilm Animation Singapore and Industrial Light & Magic, which created the CGI animation for 2011's Academy Award-winning film Rango, bring to life the fanciful forest turned upside down. With a story by George Lucas, Strange Magic is directed by Gary Rydstrom ("Toy Story Toons: Hawaiian Vacation," "Lifted"), produced by Mark S. Miller (associate producer Mars Attacks!) and executive produced by George Lucas, with a screenplay by David Berenbaum (Elf), Irene Mecchi (Brave, The Lion King) and Rydstrom. The voice cast includes Alan Cumming, Evan Rachel Wood, Kristin Chenoweth, Maya Rudolph, Sam Palladio, newcomer Meredith Anne Bull, Alfred Molina, Elijah Kelley, Bob Einstein and Peter Stormare. Strange Magic will open in theaters on January 23, 2015.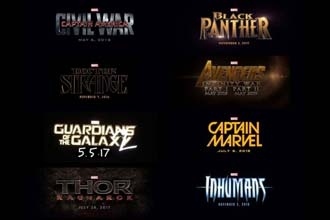 MARVEL PHASE THREE PLAN
Following yesterday's big announcement of Marvel Studios' slate of Phase Three films from "Captain America: Civil War" opening May 2016 through to "Avengers: Infinity War Part II" opening May 2019, Marvel head honcho Kevin Feige sat down for a fairly extensive Q&A and answered a bunch of lingering questions about the line-up. First up, Feige admits the plan was originally to do this big announcement at Comic Con in July but they weren't able to lock down various elements in time: "We wanted to do this at Comic Con this year. Things were not set. Things for Civil War were not set yet, Guardians hadn't come out yet, the comfort with dating a few of the other movies wasn't set yet. So the plan has been, since a few weeks before Comic Con when we realized we weren't going to be able to do everything we wanted to do, is to decide 'let's do either something we haven't done in a long time, or something we've never done.' Which is a singular event, just to announce what we have when it's ready. I thought that might be early August, or mid-September, it ended up being today." Asked about the Benedict Cumberbatch cast in "Doctor Strange" reports earlier this week and why no announcement was made yesterday, Feige says: "I can say that if it were confirmed, we would have introduced him. I like that Chadwick [Boseman], for the most part - I think there's always been speculation on lots of different actors for Black Panther - but I'm glad that didn't leak in earnest, the way every single other actor in human history that is of a certain age has been for Doctor Strange. So like everything else, [Doctor Strange] will be announced maybe this afternoon? Next week? Next month? Sometime before the release of the movie. With Black Pather, what our little song and dance at the end was meant to signifiy, and I'll just clarify it for you: he is definitively a big part of Civil War. We will meet him for the first time in Civil War, in costume." Asked about the casting of an actress for Captain Marvel, Feige says they want to lock down a writer and director first: "My guess is rumors will start flying this second. The initial announcements, in terms of attachments for that film, will probably be writer and director announcements, which I do actually expect will be quite soon. In terms of the actress, I think there's more time." No mention of a fourth "Iron Man"? "Not yet... if there are more years after 2019, there'll be more possibilities after 2019." In terms of the 'Civil War' storyline, he advises that don't expect this to be utterly faithful to the comic storyline: "Make no mistake, this is the 'Civil War' of the cinematic universe which will be greatly inspired by the 'Civil War' of the comic universe, but we have very different continuity going now. So this will be 'Civil War' based off of all the other films you've seen up to this point, particularly 'Winter Soldier' and particularly 'Age of Ultron'. The generalities of the act are the same, something happens, perhaps it's culmulative from the events of all of the movies leading up to this point, that's made the Governments of the world say we need some oversight of these guys. They need to report to somebody. So it falls under that umbrella versus take off your mask, it's not about the secret identity thing as much as it is overall who reports to who, and who can agree to an oversight committee. Because as of 'Avengers 2' there is no more world security council obviously, there is no more SHIELD obviously. Stark is paying for it, Captain America is running it, and things occur that make Governments begin to question that." The notable absence of a standalone Hulk film? "Hulk is going to appear in many of those [Phase 3] movies, particularly all those 'Avengers' movies leading up to 2019. Mark Ruffalo is onboard for all those films, and we're excited to bring you all those films. What happens with a standalone 'Hulk' film? We'll see... We'd love to do it, we'd love to find a place to put it, but right now Hulk will be appearing with his friends in the other films." Asked about Phase Four films, Feige says they won't go into details about the third Phase films due to potential spoilers: "We're not going to talk specifically about the storyline of any of those films, the plot lines of any of those films, what happens to those characters in any of those films, and frankly to even talk about who will be in what movies is a bit of a spoiler as to what may or may not happen to them in earlier movies." Asked how the "Inhumans" fit into the Marvel Cinematic Universe, he says the groundwork may be layed sooner than you think: "Where they fit into the universe? You may find out sooner than you're expecting frankly. I already mentioned in the presentation that there are seeds leading to "Black Panther" and Wakanda starting very very soon in things you've already seen and will see soon. Likewise with Inhumans, there may be easter eggs starting before you know it." Asked about the potential over saturation of the market with superhero films, Feige says as long as the movies are of good quality - people will come: "Our plan has never been altered based on what anyone else is doing. In any genre, frankly, particularly in any other superhero film. In terms of the dating, that's why we plant flags as early as we do, to mark some territory, so that you can hopefully have some room. But the truth is there are always going to be big movies on almost every weekend. What we've found so far is that if the movie delivers, the movie will do well. That's what we focus on: what we can control, which is the quality of the pictures." Asked about the lack of a "Black Widow" solo film, he gives a similar answer as to what he gave about Hulk: "It's about bringing new characters to the screen. Black Widow couldn't be more important as an Avenger herself, and like Hulk, the Avengers films will be the films where they play a primary role. Her part in 'Avengers: Age of Ultron' is very very big, and further develops and further enhances her character. The plans that we have for her throughout the rest of the 'Avengers' saga is very very big and lynchpin in fact to those films. So instead of taking her out there, or instead of doing a prequel which we haven't done yet, continuing the forward momentum of the continuity of the cinematic universe of which Widow is a key key part." Asked about his involvement with the Marvel TV properties, Feige says he's exclusively involved with the movies but did offer some input regarding ABC's upcoming "Agent Carter" limited series. Finally, asked about members of "The Defenders" (the heroes of the four Netflix shows) showing up on the big screen, Feige says: "There are a lot of people from the movies in 'Infinity War', a lot of it is about space, and a lot of it is about what happens between now and then. But all of those things inhabit, however far on the outskirts, the same continuity so certainly that opportunity exists."
WEDNESDAY, DECEMBER 17, 2014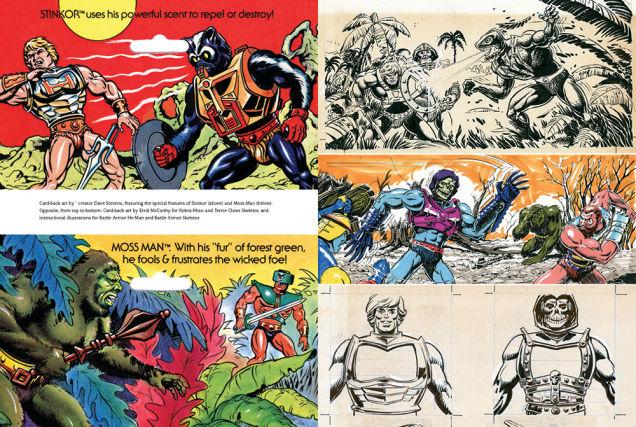 HE-MAN AND MASTERS OF THE UNIVERSE
We're still waiting for He-Man to make his triumphant return to pop culture stardom, but while we wait, how about a walk down memory lane to see how it all started? Some vintage concept art has been released as part of the upcoming Art of He-Man and the Masters of the Universe book, set to hit shelves on April 28, 2015. The sketches and production art date back to the conception of the commercial for the Castle Greyskull play set.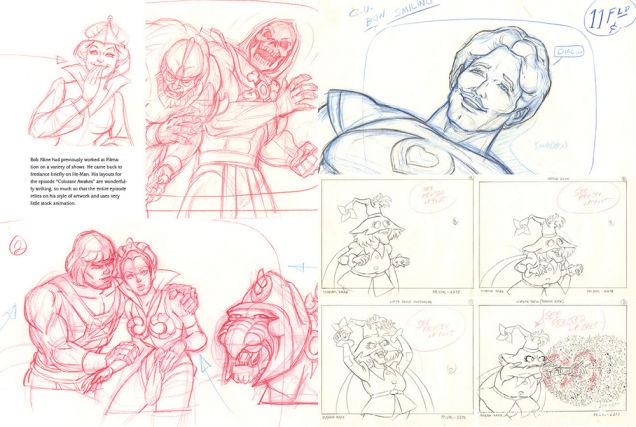 Mattel developed the He-Man animated series as a way to sell more He-Man toys, and it's fascinating to see how they jammed a bunch of styles together. Along with the concept art, one of the original pitch letters from lead designer Roger Sweet has also been revealed. Not surprisingly, it's all about the toys: It may be time to introduce into the [Mattel Action Figures] line a new theme of "fantasy make-believe." The theme would be oriented towards Frizetta [sic] type figures possibly combined with parts of Conan, and Flash Gordon and Star Wars. Frizetta [sic] type subject matter had no "advanced technology" vehicles and accessories but these can be added within this theme. In addition giants (Shogun size), mid-size and nine figures (1 1/2" - 2") can all be combined in this theme and played with together. Check out some early toy designs, as well as stunning sketches for the pilot episode of the animated series, at www.blastr.com. The book is being published by Dark Horse, with help from the Power and Honor Foundation.Mo JEFF 1000
Summer Glau knows that you kinda have a crush on her. She hasn't just accepted that; she's recognized that she will always be that girl you saw in that sci-show you love so much, and she's embraced it. And in the process of taking on a multitude of roles in a boatload of different science-fiction vehicles, she's embraced being something else, too -- self-aware. Further proof that Glau is at least a little cool with the whole "Aren't you River? No, no, I mean the other River." thing is her leading role in the webseries, Jeff 1000, a trilogy of shorts in which Glau plays opposite her co-star and friend, Jeff. Jeff is an ordinary guy who is a newcomer to Hollywood. He's a bit of a fish-out-of-water who hails from some podunk town where he used to have a gig at a car-manufacturing plant -- he's also a ten foot tall robot. No big deal. This certainly isn't the first series to poke fun at how ridiculous Hollywood is, but it is the first to do it with Summer Glau and a giant robot. There's also an adorable pug involved, should that be a deciding factor for you.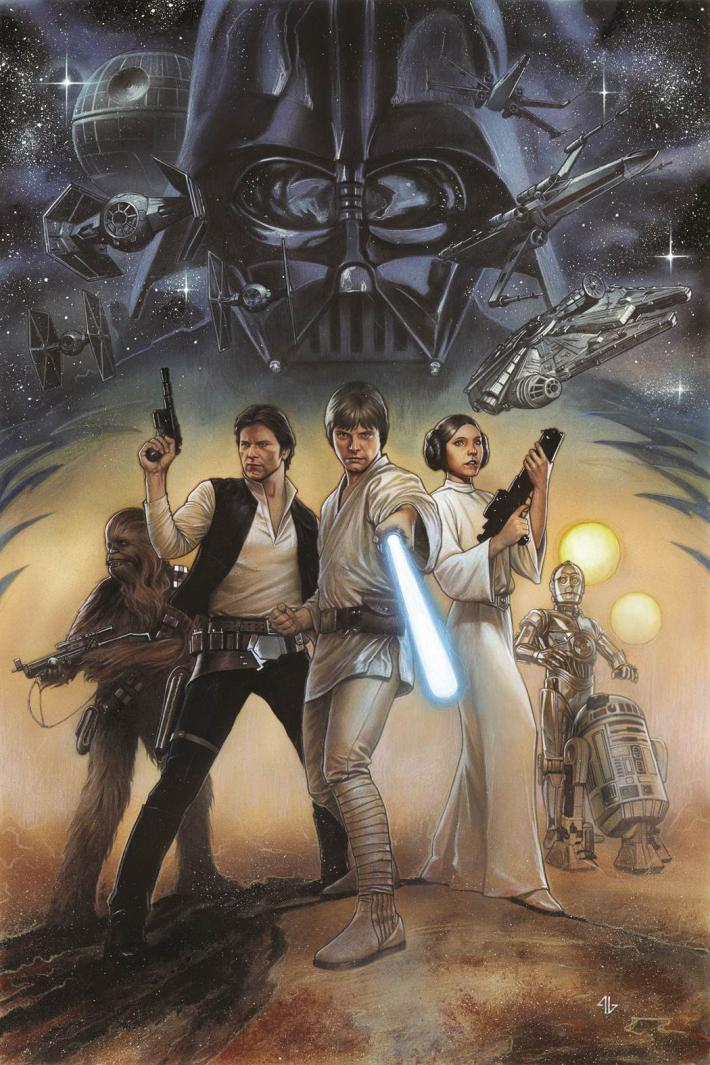 STAR WARS NOVELS
We already know that 2015 is going to be a very, very big year for Star Wars. A little more than a year from now, we'll all be in theaters watching Star Wars: The Force Awakens, but that's just the capper to months and months of other fun stuff from a galaxy far, far away. There are new Star Wars novels coming, new toys will fill store shelves for the 2015 holiday season, and Star Wars will also be a major force in 2015 comics through a combination of the new and the old. Marvel Comics, which announced the return of license for Star Wars comics to them earlier this year thanks to Disney's purchase of Lucasfilm, already has plenty of projects in the works for the franchise. Back in July, the publisher announced not only that they'll be launching three new Star Wars titles (so far) next year, but that they're also re-releasing the original Star Wars ongoing series in a new omnibus format. Now fans of classic Star Wars comics have another reason to celebrate. Marvel announced today that it will be re-releasing all three original comic-book adaptations of the original Star Wars trilogy in oversized hardcover format next year, beginning with the adaptation of Star Wars first published weeks before the film hit theaters in 1977. The new edition will feature remastered coloring of Howard Chaykin's original art by colorist Chris Sotomayor, and a new cover by Adi Granov. The Star Wars Episode IV: A New Hope remaster will arrive in May, coinciding with the 38th anniversary of Star Wars' release, with the Empire Strikes Back and Return of the Jedi graphic novels following later in the year. So, if you're hoping to add to your Star Wars comic collection next year, you'll have no shortage of options, including hardcovers, like this Granov's cover. INTO THE WOODS
Walt Disney Studios has just released new clips from their upcoming Broadway adaptation, Into the Woods. The first features Meryl Streep's Witch explaining to James Corden and Emily Blunt's Baker and Baker's Wife the objects of power she'll need to break a spell that has left the pair childless. In the second, the couple have come across one of the objects — a milky white cow — and now have to persuade Daniel Huttlestone's Jack to part with it in exchange for some magic beans. Also starring Anna Kendrick, Chris Pine, Johnny Depp, Lilla Crawford, Tracey Ullman, Christine Baranski, MacKenzie Mauzy, Billy Magnussen, Tammy Blanchard, Lucy Punch, Richard Glover, Frances de la Tour, Simon Russell Beale, Joanna Riding and Annette Crosbie, the musical adaptation offers a modern twist on the beloved Brothers Grimm fairy tales, intertwining the plots of a few choice stories and exploring the consequences of the characters' wishes and quests. Rob Marshall, the acclaimed filmmaker behind the Academy Award-winning musical Chicago and Disney's Pirates of the Caribbean: On Stranger Tides, directs the film, which is based on the musical stage production by legendary eight-time Tony, Grammy and Oscar-winning composer and lyricist Stephen Sondheim and Tony winner James Lapine, who also wrote the screenplay. Into the Woods is produced by John DeLuca, Marshall, "Wicked" producer Marc Platt and Callum McDougall. Into the Woods arrives in theaters December 25.

THE FLASH NEWS
Access Hollywood brings word that former "The Tomorrow People" and "Mad Men" star Peyton List has joined the cast of "The Flash" as Lisa Snart, the sister of Leonard Snart, AKA Captain Cold (played by Wentworth Miller on the series). Lisa will attempt to join up with her brother's "Rogues" gang in the series, much like she did in the source material where she went by the supervillain name Golden Glider. She'll make her debut in the show's 16th episode. "The Flash" will return on Tuesday, January 20, 2015 with its tenth episode titled "Revenge of the Rogues." CINDERELLA
Walt Disney Studios has debuted the new international trailer for director Kenneth Branagh's Cinderella, coming to theaters on March 13, 2015. The live-action film stars Lily James, Cate Blanchett, Richard Madden, Stellan Skarsgård, Holliday Grainger, Derek Jacobi and Helena Bonham Carter. The story of Cinderella follows the fortunes of young Ella whose merchant father remarries following the tragic death of her mother. Keen to support her loving father, Ella welcomes her new stepmother Lady Tremaine and her daughters Anastasia and Drisella into the family home. But, when Ella's father suddenly and unexpectedly passes away, she finds herself at the mercy of a jealous and cruel new family. Finally relegated to nothing more than a servant girl covered in ashes, and spitefully renamed Cinderella, Ella could easily begin to lose hope. Yet, despite the cruelty inflicted upon her, Ella is determined to honor her mother's dying words and to "have courage and be kind." She will not give in to despair nor despise those who abuse her. And then there is the dashing stranger she meets in the woods. Unaware that he is really a prince, not merely an employee at the Palace, Ella finally feels she has met a kindred soul. It appears as if her fortunes may be about to change when the Palace sends out an open invitation for all maidens to attend a ball, raising Ella's hopes of once again encountering the charming "Kit." Alas, her stepmother forbids her to attend and callously rips apart her dress. But, as in all good fairy tales, help is at hand as a kindly beggar woman steps forward and, armed with a pumpkin and a few mice, changes Cinderella's life forever.
TUESDAY, DECEMBER 16, 2014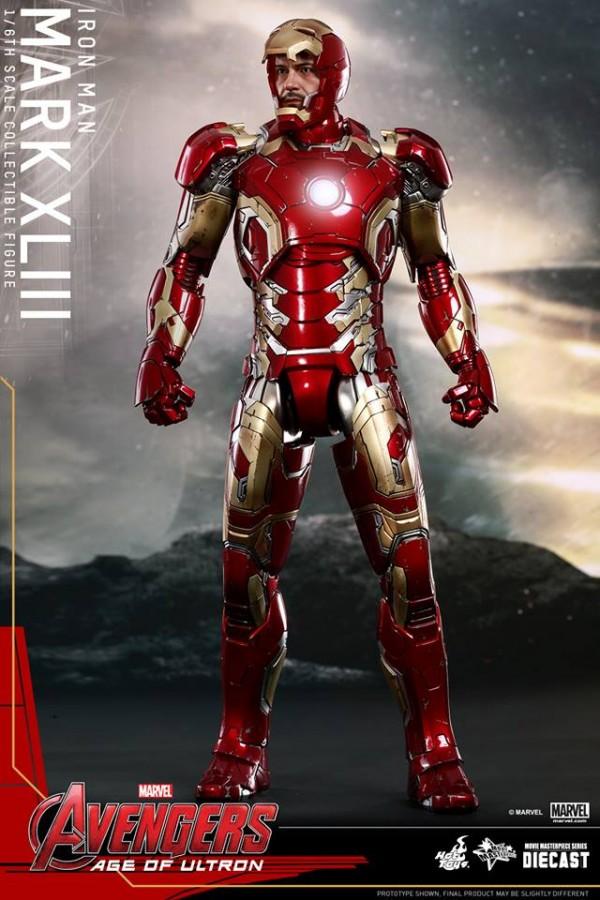 AVENGERS: AGE OF ULTRON
Tony Stark's armor has been evolving ever since the first Iron Man film back in 2008, and we got the culmination of that in the wild third act of Iron Man 3. So, what's in store for Iron Man's next appearance? The hyper-detailed 1/6th-scale Mark XLIII Collectible Figure from Hot Toys has been revealed, giving us our best look yet at Iron Man's latest suit from Avengers: Age of Ultron. Not surprisingly, it bears a lot of similarities to his Iron Man 3 look, though there's a bit more silver accents and some tweaks to the chestplate. This suit looks like it's already been through a few battles, with some scratches, slight dents and scraped paint around the weathered edges. Not surprisingly, it also looks awesome, as one would expect from a Joss Whedon Avengers film. Of note: The diorama holds some intrigue, with a busted Ultron Mark I lying in the rubble. Avengers: Age of Ultron opens May 1, 2015.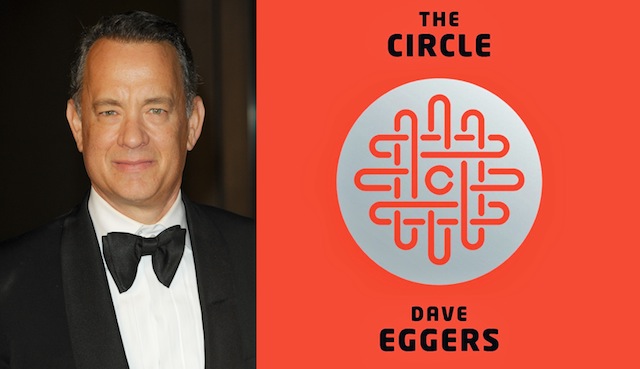 THE CIRCLE
Tom Hanks is already starring in the upcoming A Hologram for the King, an adaptation of the Dave Eggers novel that reteams the Two-time Academy Award winner with Cloud Atlas co-helmer Tom Tykwer. Now, Deadline reveals that Hanks is planning another big screen take on Eggers with The Circle. The Spectacular Now director James Ponsoldt is writing and directing the big screen take on the 2013 novel, officially described as follows: When Mae Holland is hired to work for the Circle, the world's most powerful internet company, she feels she's been given the opportunity of a lifetime. The Circle, run out of a sprawling California campus, links users' personal emails, social media, banking, and purchasing with their universal operating system, resulting in one online identity and a new age of civility and transparency. As Mae tours the open-plan office spaces, the towering glass dining facilities, the cozy dorms for those who spend nights at work, she is thrilled with the company's modernity and activity. There are parties that last through the night, there are famous musicians playing on the lawn, there are athletic activities and clubs and brunches, and even an aquarium of rare fish retrieved from the Marianas Trench by the CEO. Mae can't believe her luck, her great fortune to work for the most influential company in the world—even as life beyond the campus grows distant, even as a strange encounter with a colleague leaves her shaken, even as her role at the Circle becomes increasingly public. What begins as the captivating story of one woman's ambition and idealism soon becomes a heart-racing novel of suspense, raising questions about memory, history, privacy, democracy, and the limits of human knowledge. Hanks is attached to both star in and produce The Circle alongside Gary Goetzman through their Playtone banner.The project is said to be actively being shopped around Hollywood this week, so check back for additional details on the project in the very near future. THE HOBBIT: BATTLE OF THE FIVE ARMIES
Already beginning to open internationally, Peter Jackson's grand finale to his Middle-earth saga, The Hobbit: The Battle of the Five Armies, arrives this week domestically, hitting 2D, 3D, and IMAX 3D theaters this Wednesday, December 17. In honor of the event, Warner Bros. Pictures has just released a new feautrette that has the film's cast and crew saying goodbye to J.R.R. Tolkien's incredible fantasy world. The impressive ensemble cast of "The Defining Chapter" includes Martin Freeman, Ian McKellen, Luke Evans, Richard Armitage, Cate Blanchett, Evangeline Lilly, Benedict Cumberbatch, Stephen Fry, Ian Holm, Christopher Lee, Hugo Weaving, Ken Stott, James Nesbitt, Orlando Bloom, John Bell, Manu Bennett, Jed Brophy, Adam Brown, John Callen, Billy Connolly, Ryan Gage, Mark Hadlow, Peter Hambleton, Stephen Hunter, William Kircher, Lawrence Makoare, Sylvester McCoy, Graham McTavish, Dean O'Gorman, Mikael Persbrandt and Aidan Turner. Having reclaimed their homeland from the Dragon Smaug, Bilbo and his Company of Dwarves have unwittingly unleashed a deadly force into the world. Enraged, Smaug rains his fiery wrath down upon the defenseless men, women and children of Lake-town. Obsessed above all else with his reclaimed treasure, Thorin sacrifices friendship and honor to hoard it as Bilbo's frantic attempts to make him see reason drive the Hobbit towards a desperate and dangerous choice. But there are even greater dangers ahead. Unseen by any but the Wizard Gandalf, the great enemy Sauron has sent forth legions of Orcs in a stealth attack upon the Lonely Mountain. As darkness converges on their escalating conflict, the races of Dwarves, Elves and Men must decide – unite or be destroyed. Bilbo finds himself fighting for his life and the lives of his friends in the epic Battle of the Five Armies, as the future of Middle-earth hangs in the balance.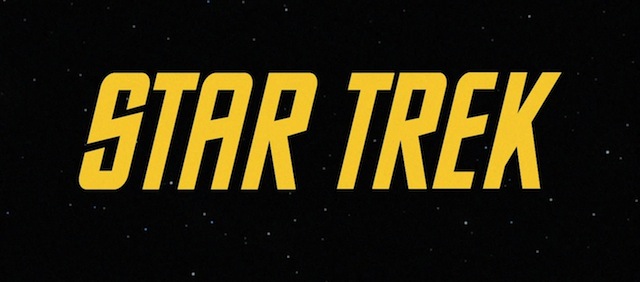 STAR TREK 3
UPDATE: Make that four names! Following the initial story, Duncan Jones has taken to Twitter to confirm he won't be directing. "Very flattering being on short list for Star Trek, but won't be doing it," he wrote. "Absolutely MUST make my own thing next, or I'll die of old age!" The original story follows: Following the departure of Roberto Orci from the director's chair of Star Trek 3 (or 13 depending on your point of view), the hunt for a new director has already begun and now Deadline reports that Paramount Pictures and J.J. Abrams have narrowed it down to a list of five names. On the list are directors Rupert Wyatt (Rise of the Planet of the Apes), Morten Tyldum (The Imitation Game), Daniel Espinosa (Safe House), Justin Lin (Fast & Furious), and Duncan Jones (Moon, Warcraft). Although a release date has not been specified, it is widely believed that the plan is for the film to hit theaters in 2016, as the year marks the 50th anniversary of the "Star Trek" franchise. Chris Pine, Zachary Quinto, Anton Yelchin, Karl Urban, Simon Pegg, Zoe Saldana and John Cho are all expected to reprise their roles as the crew of the U.S.S. Enterprise. Plot details have not yet been revealed, although Orci stated earlier this year that his plan was to set the action in deep space, unlike the relatively Earth-centric J.J. Abrams films. There is no word currently on whether the film will move forward with the same screenplay scripted by Orci, Patrick McKay and J.D. Payne or seek a new draft.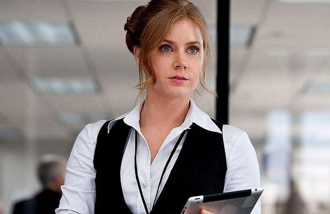 BATMAN VS. SUPERMAN: DAWN OF JUSTICE
Amy Adams says that despite the presence of Gal Gadot's Wonder Woman character in Zack Snyder's upcoming "Batman v Superman: Dawn of Justice," don't expect some fanboy love triangle in the film between Clark Kent (Henry Cavill), Adams' own character Lois Lane and the Amazonian heroine. Adams tells Coming Soon: "It's exciting to get to bring in all these other characters, and I was really excited that Gal was involved, because it was a nice to have another girl on set. Even if we don't work together a lot, it was nice to have her there... They always think that if you put in another woman and automatically... 'Catfight!' No, I think that's a male fantasy thing. I don't think that's reality. I don't know how it will turn out, if we're going to be competition, but we are not in this, I can safely say, and we're not in real life. She's just the coolest girl ever." In another interview for Collider, Adams says that despite all the superheroes competing for screen time, Lois will still be an important player in the action: "Lois is still sort of like the key to the information, you know? She's the girl going out and getting it and figuring it out and putting it together and all of that, so she's very much involved, but I kind of leave the heavy lifting to the boys, you know? So to speak. They're awesome together. It's kind of like this big fest of muscles ... it was really kind of nice. And then you add Jason Momoa and Gal Gadot and I felt very short and, yeah." Meanwhile, Jeremy Irons has spoken a bit more about his version of Bruce Wayne's butler Alfred Pennyworth, telling Indiewire: "Oh he'll be quite different. He has an interesting history. He's a very competent man. He's the sort of man I think anyone would like to be married to. He can sort of do everything: change light bulbs, blow up bridges if he has to." Capping off the news on the film today, OneHeadlightLink reports that casting is underway for two young boys in the film, both required to have extensive wushu, kung fu or pencak silat training. One of the roles is said to be a 12-year-old Bruce Wayne, the other is an unidentified 10-year-old boy.
MONDAY, DECEMBER 15, 2014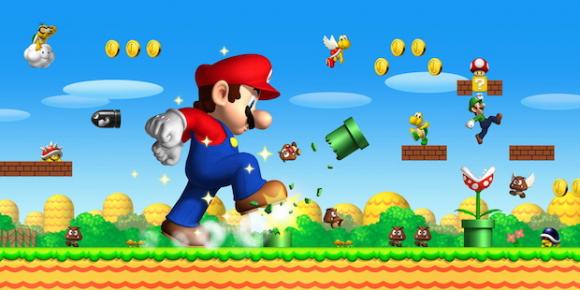 MARIO BROS. ANIMATED PROJECT
The long-running producer behind the Spider-Man movies, Avi Arad, is planning to make a series of Super Mario Bros. animated films next. According to Buzzfeed, and later confirmed by Arad, Sony is actively working to get its hands on the film rights to Super Mario Bros. from gaming giant Nintendo, with plans to turn it into an animated/CGI film franchise. According to emails that surfaced as part of the Sony hack, Arad told Sony Pictures head Amy Pascal (in an email dated Oct. 23, 2014, under the subject line "Mario"): "I am the proud father of mario the animated film [sic]." He then proceeded to forward Pascal two images. One was of himself with Shigeru Miyamoto -- the legendary videogame designer and Mario creator -- and the other one was of him with Nintendo CEO Satoru Iwata. The latter pic included this message: "Happy ceo, lets get together, it's the mother load. [sic]" Then Amy Pascal allegedly passed that email along to Tom Rothman, who is the head of TriStar Pictures (which is a Sony subsidiary) with this added message: "Avi closed Mario brothers. Animated." In a followup email on Oct. 24, sent to Sony Pictures Animation president of production Michelle Raimo Kouyate, Arad thanked her for a Mario Bros. merchandise basket that she sent to him, with Kouyate answering back by saying: "Thank you Avi Let's build a Mario empire! I can think of 3-4 movies right out of the gate on this. So huge!" It seems that Arad has been pursuing the Super Mario Bros. franchise for a while now. Kouyate told Pascal in a Feb. 24 email that Arad was traveling to Japan partly "to meet with his Nintendo guy (who he has been courting for a couple years)." Then a couple of months later, on July 14, Arad sent this email to Pascal: "I am heading to Tokyo … I am going to try and bring back a little plumber. I guess we can all use our pipes cleaned." Now, this is all cool and very exciting, but what does Avi Arad actually have to say to this? Once the story broke, the Amazing Spider-Man producer responded to the reports with a statement essentially confirming the talks but cautioning that this is "just the beginning."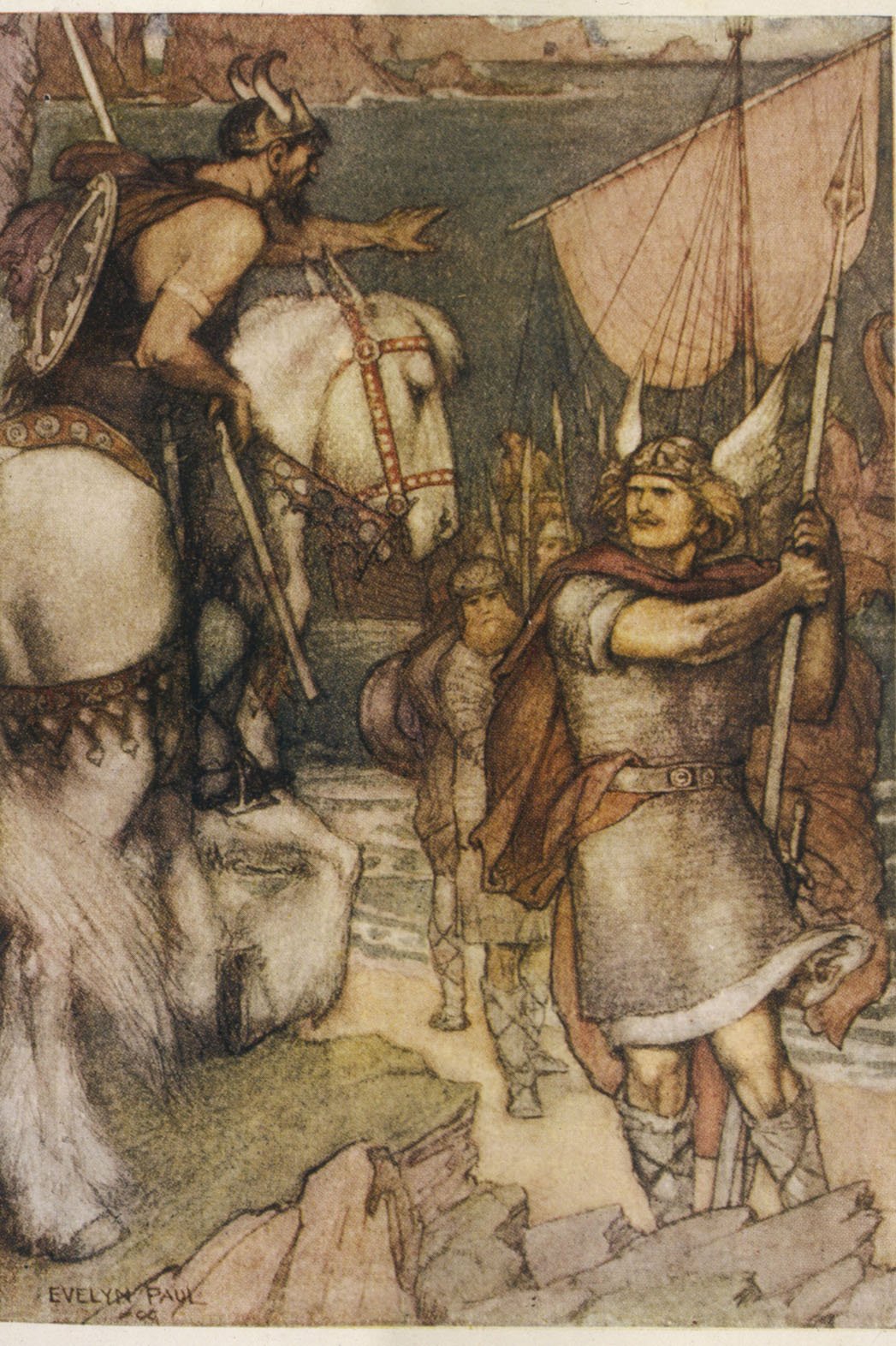 BEOWULF COMING AS SERIES
Having already had the big-screen CGI treatment with Ray Winstone in the titular role, ninth-century English epic poem Beowulf is now being adapted for TV. U.K. broadcaster ITV will bring the ancient story to life. It announced Monday that it has commissioned a 13-part series, due to air next year. "Hundreds of years ago, our ancestors listened to the story of Beowulf because it was a great adventure story - it scared them, thrilled them, made them laugh and cry. But they also listened because they recognized themselves and their fears in it," said James Dormer (Wallander, Strike Back), who will write and executive produce the show. "By holding a mirror up to them, this story helped define them and thus - us," he added. "So it's incredibly exciting to have the opportunity to make it relevant again for a wide audience - to let them own it again. To let them see themselves in it." Shooting on the drama, which tells the tale of a wandering warrior who must hunt down the terrifying monster Grendl (whose even more terrifying mother was famously played by Angeline Jolie in the film), will begin in Northeast England in April. ITV Studios' creative director of drama Tim Haines will executive produce with ITV Studios' executive producer of drama Katie Newman. WEEKEND BOX OFFICE
Exodus: Gods and Kings easily topped the U.S. box office this weekend with a $24.5 million debut, dethroning The Hunger Games: Mockingjay — Part 1, which had held No. 1 for the past three weeks. While the biblical epic, starring Christian Bale, earned exactly what box office insiders had expected for the weekend, it's not the strongest of starts for the big-budget 20th Century Fox and Chernin Entertainment film. And even though December openings are known for their slower starts and longer burns, Exodus, which cost $140 million to make after tax breaks, will need long legs over the next few holiday weekends to make a solid total. It will face stiff competition as well during a crowded holiday season that includes The Hobbit: The Battle of the Five Armies, family musical Annie, Disney's Into the Woods and Fox's threequel Night at the Museum: Secret of the Tomb. While reviews weren't strong and there was some backlash over the casting of mainly Caucasian actors for the roles, Fox points out that Exodus' opening weekend audience was quite diverse, which is promising for the film's future. The audience was 54 percent male, and 65 percent was over 25 years old. And 20 percent of the audience was African-American while 18 percent Latino. Top grossing theaters ranged from major metropolitan cities to smaller towns such as San Antonio. Exodus also opened in several international territories, earning $43.3 million around the globe. Second place for the weekend went to the third Hunger Games film, now it its fourth week in theaters. The Jennifer Lawrence-starring YA adaptation slid only 40 percent, earning $13.2 million for a domestic total of $277.4 million. Worldwide, the film has earned $611.4 million, helping Lionsgate pass the $1 billion mark internationally for the third year in a row. Animated film Penguins of Madagascar swooped in just ahead of this weekend's other new offering, Top Five, for third place. The Fox family film earned a solid $7.3 million in its third week, and has earned $58.8 million domestically to date. Chris Rock's comedy Top Five lands in fourth place for the weekend with a $7.2 million debut. The Paramount film, about a comedian who is trying to be a serious actor, opened in 979 locations, and will open wider in the coming holiday weeks, hitting around 2,000 by Jan 1. "Our goal was to start the movie and then build it, and get the word-of-mouth going," Paramount vice chairman Rob Moore tells The Hollywood Reporter. The comedy has benefited from strong reviews (89 percent on Rotten Tomatoes), and critically praised R-rated comedies (Bridesmaids, for example) often have very strong multiples, so Paramount plans for the film to continue to perform well as it opens wider. Disney's family film Big Hero 6 took fifth place, adding $6.5 million to its domestic tally for a total of $185.3 million. Internationally, the film also opened in Argentina, Uruguay, Venezuela, Iceland and Hong Kong this weekend and pushed its worldwide tally to $253.5 million. Inherent Vice, Paul Thomas Anderson's latest, also entered theaters this weekend in five locations. Warner Bros.' Joaquin Phoenix-starrer earned $330,000 in its debut for a stellar $66,000 per screen. Several awards films seem to have benefited from the announcement of the SAG and Golden Globe nominations, doing brisk business this weekend as well. Stephen Hawking biopic The Theory of Everything took ninth place for the weekend, earning $2.5 million playing at 1,220 theaters for a per-theater average of $2,070. And in its second week, Reese Witherspoon-starrer Wild had a strong weekend to take the No. 10 spot with $1.55 million in 116 locations for a per-screen average of $13,333. Other films at the specialty box office that performed well include The Imitation Game, starring Benedict Cumberbatch, which, in its third week, took in another $875,000 in 25 theaters for a per-screen average of $35,005. The critically acclaimed film about British mathematician Alan Turing has earned $2 million domestically to date. ULTIMATE 2015 PREVIEW
We're almost to the end of the year, with not too many big event movies left to be released. Next week will see The Hobbit: The Battle of The Five Armies finally in theaters, and then on Christmas day, we'll get the anticipated family sequel Night at the Museum: Secret of the Tomb. Then its all over. But not to worry, we have a whole new year in front of us, and if a new mash-up trailer is any indiciation, 2015 will be even better than 2014. Yes, once again, star editor Mark Brandon has culminated and cut through all of the impending releases to give us the ultimate 2015 preview trailer. This is a must see for any movie fan, and if you weren't excited about this coming year, here's a mashup that will get you electrified, emotional and just plain ready to go! Get your pocket books ready, these next twelve months at the movies are going to be epic. After a quick run-through of all the participating studio logos, Mark Brandon gleefully kicks things off with Avengers: Age of Ultron, Star Wars: The Force Awakens and Jurassic World, inarguably the three biggest releases coming our way in the next twelve months. A heavy rocking soundtrack then delivers even more footage, setting up Terminator Genisys, Furious 7 and Taken 3 as just some of the must-see movies heading our way soon.
SUNDAY, DECEMBER 14, 2014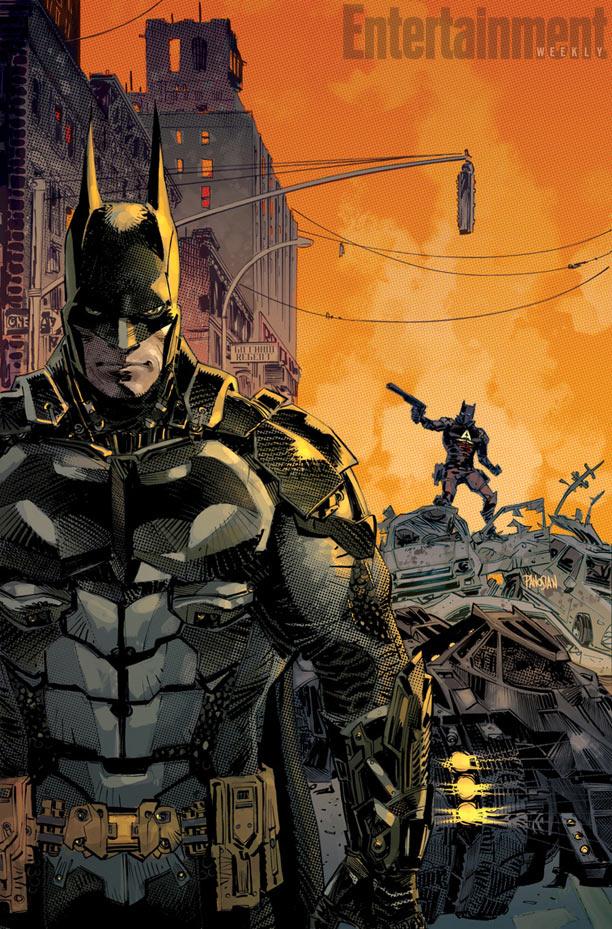 BATMAN: ARKHAM KNIGHT
Before we get the epic conclusion to the no-less-epic Batman: Arkham videogame series with Arkham Knight -- set to be released in June of next year, by the way -- we'll get to be introduced to the titular character with a prequel comic.

DC Comics announced via Entertainment Weekly earlier today that its new Digital First title will come from the world of Rocksteady Studios' Arkham videogame series.

The new digital comic will be based on the eagerly anticipated Arkham Knight game, set to conclude the story begun in 2009 with Arkham Asylum and followed by Arkham City (the game Arkham Origins wasn't developed by Rocksteady). Arkham Knight will be the first game to introduce a brand-new character in the shape and form of the titular Arkham Knight.

Here's the announcement:

Written by Peter J. Tomasi (Batman and Robin) with art by Viktor Bogdanovic and Art Thibert, and covers by Dan Panosian, the Digital First comic will pick up the story where Arkham City left off. The Joker is dead, and the Arkham City prison complex is closed. In a dark place, Bruce Wayne is questioning whether Gotham needs Batman—but new trouble begins to stir, all of it tied to the Arkham Knight.

Arkham Knight #1 will go on sale Feb. 24, 2015, and the Batman: Arkham Knight game hits Playstation 4 and Xbox One on June 2, 2015.

THE HOBBIT: THE BATTLE OF THE FIVE ARMIES
The final trailer for the final Hobbit film is here, and it's as much about looking back as it is about looking forward.

We're now less than a week away from the release of The Hobbit: The Battle of the Five Armies, the last film in Peter Jackson's divisive trilogy adapted from J.R.R. Tolkien's first Middle-earth novel, and the film's marketing machine is still emphasizing the "One Last Time" of it all. This isn't just the end of The Hobbit, after all, but the end of Jackson's six-film excursion into Middle-earth, an excursion that -- though it's been a bit less warmly received in recent years -- earned loads of critical praise, a huge fanbase and no shortage of awards. Whether you personally agree or not, Warner Bros. is emphasizing this as the "definining" chapter of the Middle-earth saga, as a moment that we as moviegoers will never recapture again.

So it makes sense that the last trailer for The Battle of the Five Armies would take advantage of that point of view. In two and a half minutes, the trailer takes a loving look back at the entire trilogy, including an older Bilbo (Ian Holm) beginning to recount his tale, a younger Bilbo (Martin Freeman) meeting Gandalf (Ian McKellen) and Thorin (Richard Armitage) for the first time, a peek at Gollum (Andy Serkis) and more, all building over somber music to clips of the struggle yet to come in the titular battle of the final film. If you're a fan of the Hobbit movies, you'll see this as a trip through some of the most effective moments of the films, and if you're not, well ... you might consider it a look at what could've been if the series had kept this kind of focus. Either way, it's a memorable trailer.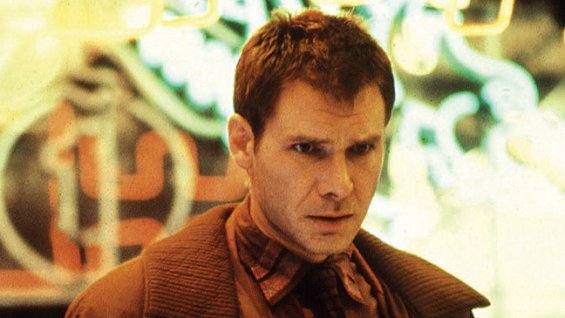 BLADE RUNNER SEQUEL
Harrison Ford apparently does not have a bad feeling about the Blade Runner sequel.
Ridley Scott, who directed the 1982 sci-fi classic, told MTV News that the sequel's script is "written and ready to go," and Ford is "absolutely" on board for the film.
"I sent him this [script], and he said it's the best thing he's ever read," Scott said. "It's very relevant to what happened in the first one."
The Exodus director added that he is currently unsure whether he would helm Blade Runner's sequel.
Scott also discussed his plans for a Prometheus sequel, saying that the 2012 film's follow-up would center on the relationship between Elizabeth Shaw (Noomi Rapace) and David (Michael Fassbender).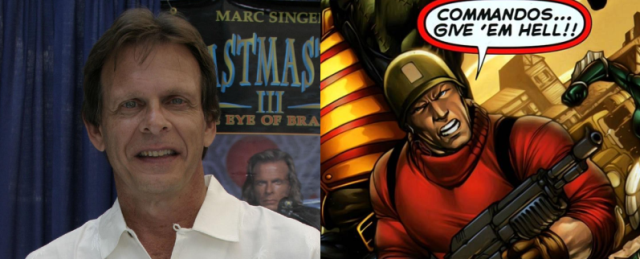 ARROW NEWS
CBR brings word that former Beastmaster star Marc Singer has joined the cast of The CW's "Arrow" as General Matthew Shrieve, who in the comics is the human leader of the "Creature Commandos," a military unit consisting of Frankenstein's monster, a werewolf, a vampire, and a gorgon. The official character listing for Shrieve reads as follows:
"In the DC Comics, Matthew Shrieve is the leader of a group known as the Creature Commandos. In 'Arrow' he will play a significant role in the latter portion of the season's flashback storyline."
Singer will make his debut in the 14th episode of the series' third season which will be a recurring role. No stranger to genre roles, Singer is most well known for headlining the three "Beastmaster" films but also had roles in the sci-fi favorite "V" as well as the "Planet of the Apes" TV series and "Batman: The Animated Series," where he provided the voice of Kirk Langstrom, AKA Man-Bat.
"Arrow" will return for its mid-season premiere on January 21.
DESCENDANTS
Exactly one year to the day after the project was first announced, Disney Channel has revealed a teaser trailer for it's 2015 telefilm, "Descendants."
In a present day idyllic kingdom, Disney's "Descendants" follows the benevolent teenaged son of the King and Queen (Beast and Belle from Disney?s iconic Beauty and the Beast), who is poised to take the throne. His first proclamation: offer a chance at redemption to the trouble-making offspring of Cruella De Vil, Maleficent, the Evil Queen and Jafar who have been imprisoned on a forbidden island with all the other villains, sidekicks, evil step-mothers and step-sisters. These villainous descendants (Carlos, Mal, Evvie and Jay, respectively) are allowed into the kingdom to attend prep school alongside the offspring of iconic Disney heroes including Fairy Godmother, Sleeping Beauty, Rapunzel and Mulan. However, the evil teens face a dilemma. Should they follow in their nefarious parents? footsteps and help all the villains regain power or embrace their innate goodness and save the kingdom?
High School Musical helmer Kenny Ortega directs "Descendants," which was written by "The Starter Wife" creators Josann McGibbon and Sara Parriott with High School Musical's Mark Hofeling tackling the production design and Karen Saun ("Project Runway") providing the wardrobe design.
There's no exact premiere date for "Descendants" quite yet, but look for it to hit Disney Channel in 2015.
SATURDAY, DECEMBER 13, 2014
DOCTOR WHO CHRISTMAS SPECIAL
The BBC has released a brand-new clip for Doctor Who's upcoming Christmas special in which our good old Saint Nick makes quite the entrance.

Bombastic music and explosions? Check. An army of beloved children's toys? Check. Santa (Shaun of the Dead's Nick Frost) riding Rudolph the Red-Nosed Reindeer in a way that would put John Wayne to shame? Check. Weird, creepy aliens? Check. That tangerine thing popping up again? Check. Parking jokes? Check, check, check.

Things definitely get a bit weird in this brand-new clip for Doctor Who's upcoming yuletide special episode, "The Last Christmas."

But, eh, it's Doctor Who, things are always bound to get weird.

Doctor Who's "The Last Christmas" will air Christmas Day.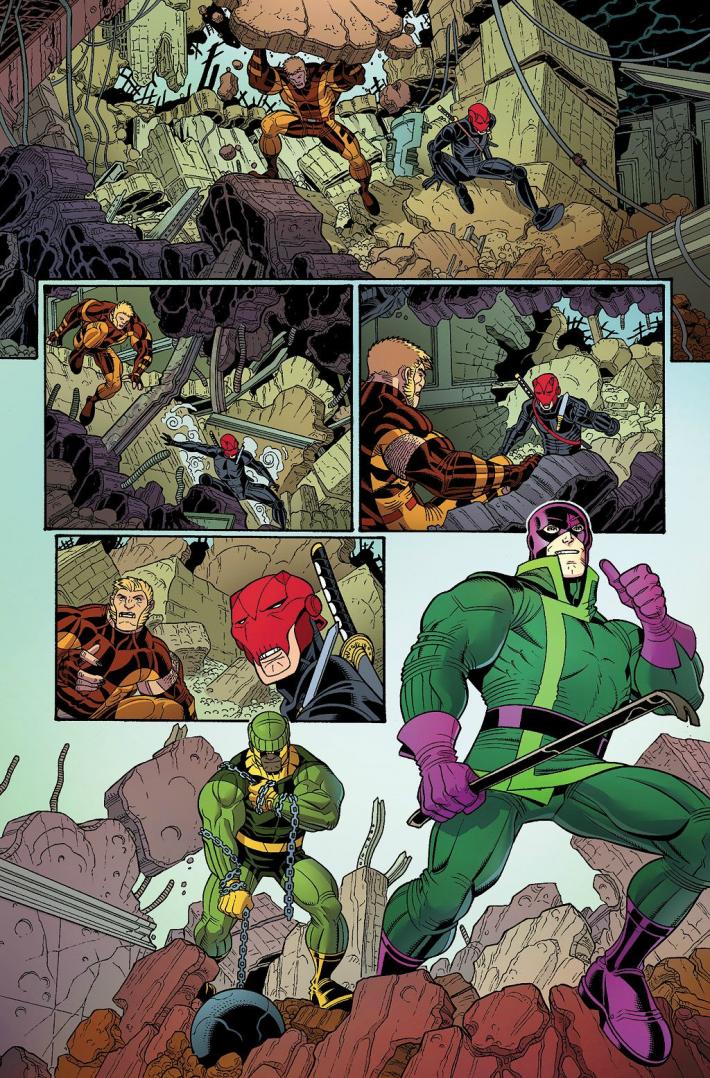 WOLVERINE
Here's a snikt sneak at the new Death of Wolverine spinoff, Wolverines #1, by writers Charles Soule, Ray Fawkes, Allison Borges and artist Nick Bradshaw. After Logan's demise, superheroes with close links to Wolverine, including Mystique, Sabretooth, Daken and X-23, forge a fragile alliance to honor and preserve the legacy of the infamous X-Man, now reduced to a valuable artifact consisting of his adamantium-encased mortal remains. Wolverines #1 is expected to hit shelves in January 2015, exploring the deeper essences of these iconic Marvel characters.
Here's the official Marvel synopsis:
His death was only the beginning. Spinning directly out of the chart-topping Death of Wolverine, The Logan Legacy and The Weapon X Program comes a brand-new weekly series kicking off this January in WOLVERINES #1! Today, Marvel is pleased to present your new look at the blockbuster first issue from the star-studded creative team of Charles Soule, Ray Fawkes, Alisson Borges and All-New Young Gun artist Nick Bradshaw!
Wolverine may be dead, but the weekly journey is just beginning as his mortal remains, now encased in the rare and powerful adamantium, are up for grabs. The battle begins as various factions vie for control of this valuable artifact. But why does it matter so much? And why is a war brewing in Logan's name?
Death is on the books for a number of Marvel's heroes and villains, and Mystique is playing chess with them all. X-23, Daken, Sabretooth, Lady Deathstrike, the mysterious man known only as Sharp and many, many more!
DUNE - 30 YEARS AGO
As an added holiday treat for our Dune-iversary tribute marking the 30th birthday of David Lynch's audacious Dune adaptation, here's a rare documentary that once made the convention circuit to help drum up interest in Universal's tentpole sci-fi feature for December 1984. Known as Destination Dune, this 6-minute short was used for publicity purposes only and meant to screen at science fiction fan events, comic-book conventions and fantasy collectible shows.
In its brief running time we get to see several key scenes being rehearsed and filmed in the Mexico City soundstages and even includes a sneak peek inside the prop and model shop, with David Lynch discussing designs with special effects coordinator Carlo Rambaldi (E.T.), hugging executive producer Dino De Laurentiis, chatting with famed production designer Tony Masters (2001: A Space Odyssey) and an appearance by Dune author, Frank Herbert, displaying his unbridled exuberance.
This intriguing little doc was only included in the 2004 UK DVD release of Dune and is a revealing time capsule of behind-the-scenes banter amid the amazingly complex sets when corporate enthusiasm for the troubled production was still riding high.
DIVERGENT: INSURGENT
A brand-new, explosive trailer has been released for the eagerly anticipated sequel to Divergent: Insurgent.
Summit Entertainment has dropped a new trailer and poster for The Divergent Series: Insurgent. The new flick will be the second entry in what'll be a four-film adaptation of Veronica Roth's dystopian sci-fi series. It stars Shailene Woodley, Theo James, Ansel Elgort, Kate Winslet, Naomi Watts, Octavia Spencer, Jai Courtney, Miles Teller, Daniel Dae Kim, Maggie Q, Ray Stevenson and Zoe Kravitz.
Here's the official movie blurb:
Insurgent raises the stakes for Tris as she searches for allies and answers in the ruins of a futuristic Chicago. Tris (Woodley) and Four (James) are now fugitives on the run, hunted by Jeanine (Kate Winslet), the leader of the power-hungry Erudite elite. Racing against time, they must find out what Tris's family sacrificed their lives to protect, and why the Erudite leaders will do anything to stop them. Haunted by her past choices but desperate to protect the ones she loves, Tris, with Four at her side, faces one impossible challenge after another as they unlock the truth about the past and ultimately the future of their world.
FRIDAY, DECEMBER 12, 2014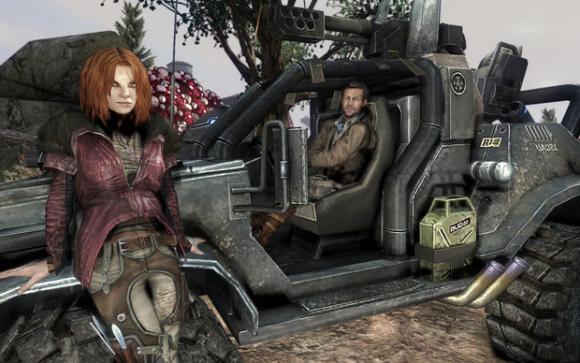 CHANGE IN SYFY ATTITUDE
After riding high on fun hits such as Eureka and Warehouse 13 the past several years, it's easy to see Syfy is putting some development muscle back into hard sci-fi. So what does the man behind the would-be renaissance have to say about the process? Syfy's chief David Howe (Syfy is the corporate owner of Blastr -Ed.) sat down with The Hollywood Reporter to talk about the network's renewed push into more ambitious titles such as Ascension, 12 Monkeys, The Expanse and Childhood's End. According to Howe, the widespread success of the sci-fi genre across other networks (i.e. AMC's ratings juggernaut The Walking Dead) has shown that it's viable for the network to double down in this space and (hopefully) find success. Howe used the ambitious 2002 Steven Spielberg miniseries Taken as a touchstone — noting that Syfy is capable of competing on that level (the miniseries wasn't perfect, but it was still great) — adding that the network wants to once again be the home of transcendent shows with the cultural cachet of something like 2004's Battlestar Galactica: "Comcast recognizes we need to be in the high-quality content space and is prepared to invest in that and give us what we need in terms of owning this space in a way that we haven't since Taken. The other thing that's gone on in the last three or four years is that there's been an explosion of this genre across pretty much every broadcast and cable network. We have to position ourselves as the experts in this space, and we have to be seen to be tackling the smartest projects: genre-heavy as opposed to genre-lite. You cannot be in this space and not step up. From a sci-fi/fantasy perspective, you're competing with Game of Thrones, Walking Dead and a lot of those more expensive series. The Expanse, which we greenlighted straight to series for 10 episodes, is by far our most expensive series. We had to compete to get it. HBO was in the mix; Netflix was in the mix. We clearly aspire to those [Walking Dead] numbers, and I do think that we have the capability and the potential to get them. We talk a lot about Battlestar Galactica, which was the smartest, most pro-vocative show on TV before its time. Six or seven years ago, heavily serialized shows didn't play, there was no social media and there was very little in the way of nonlinear catch-up. If we had Battlestar Galactica on our air now, it would absolutely be a Breaking Bad, a Walking Dead, a True Blood. The aspiration is, we want to get back in that space." But that doesn't mean it's been perfect. The network has been making the sometimes awkward transition for a while now, and Howe touched on the cross-media experiment Defiance as an example of an ambitious idea that didn't exactly go off as planned. The series (which is coming back in 2015 for a third season) ties in to a MMORPG videogame, but the extremely expensive game side of the equation hasn't actually been much of a hit (and the show itself pulls in good-but-not-great ratings): "We built a video game together with a series — it was a very risky, long-term project, but we need to be in the business of what's new and what's next, storytelling beyond the linear experience. The series has been very successful, the game less so, and the learning curve around immersive storytelling was incredibly powerful for us. So, the Defiance experience was incredibly fun and incredibly frustrating." SPIDER-MAN UNLIMITED
Since it doesn't look like we'll be getting our Spider-Man jones filled in an upcoming Marvel movie anytime soon, we'll have to make do with this intriguing new videogame featuring the wall-crawler(s). Dubbed Spider-Man Unlimited: The Spidey-Verse, the new mobile game brings in Spider-Men from across the various Marvel canons to battle a common foe. The game actually ties in to the ongoing Spider-Verse comic storyline, and is stylized with a comic look that seems to be a nice approach for the genre. Seasoned comic writer Dan Slott, who is currently penning the Amazing Spider-Man run, helped put the story together for the game to ensure it was accurate and matched up with what fans expect coming in to a Spider-Man game. The plot features different Spider-Men from various realities teaming up to take on the new vampire-like baddie Morlun. The game hits iOS, Google Play and Windows Phone platforms today. BROADCHURCH
The trailer for the second season of the critically-acclaimed U.K. crime drama Broadchurch has finally been unveiled, with David Tennant and Olivia Colman reprising their roles as detectives in a sleepy yet troubled English seaside town. Whereas the first season dealt with the death of a schoolboy, the trailer for the second suggests a story involving an abduction. But it's clear that the characters are still dealing with the issues that came to an explosive, emotional finale in the first outing that had the U.K. gripped. The show was remade as Gracepoint by Fox, with Tennant cast in the lead as Detective Emmett Carver and the original creator Chris Chibnall in the writer's chair once more. The series concluded Thursday. The second season of Broadchurch will air on ITV in the U.K. Jan. 5 and on BBC America in the U.S. Feb. 4. THE WALKING DEAD
AMC has debuted a new video for the remaining eight episodes of "The Walking Dead" Season 5 with the cast and crew teasing what we can expect from the characters and storylines. The series will return on February 8, 2015 for the remaining episodes of Season 5 and has already been renewed for a sixth season, set to begin in fall of 2015. Based on the comic created by Robert Kirkman, Tony Moore, and Charlie Adlard, "The Walking Dead" stars Andrew Lincoln, Norman Reedus, Steven Yeun, Lauren Cohan, Chad Coleman, Chandler Riggs, Melissa McBride, Emily Kinney, Danai Gurira and Sonequa Martin-Green.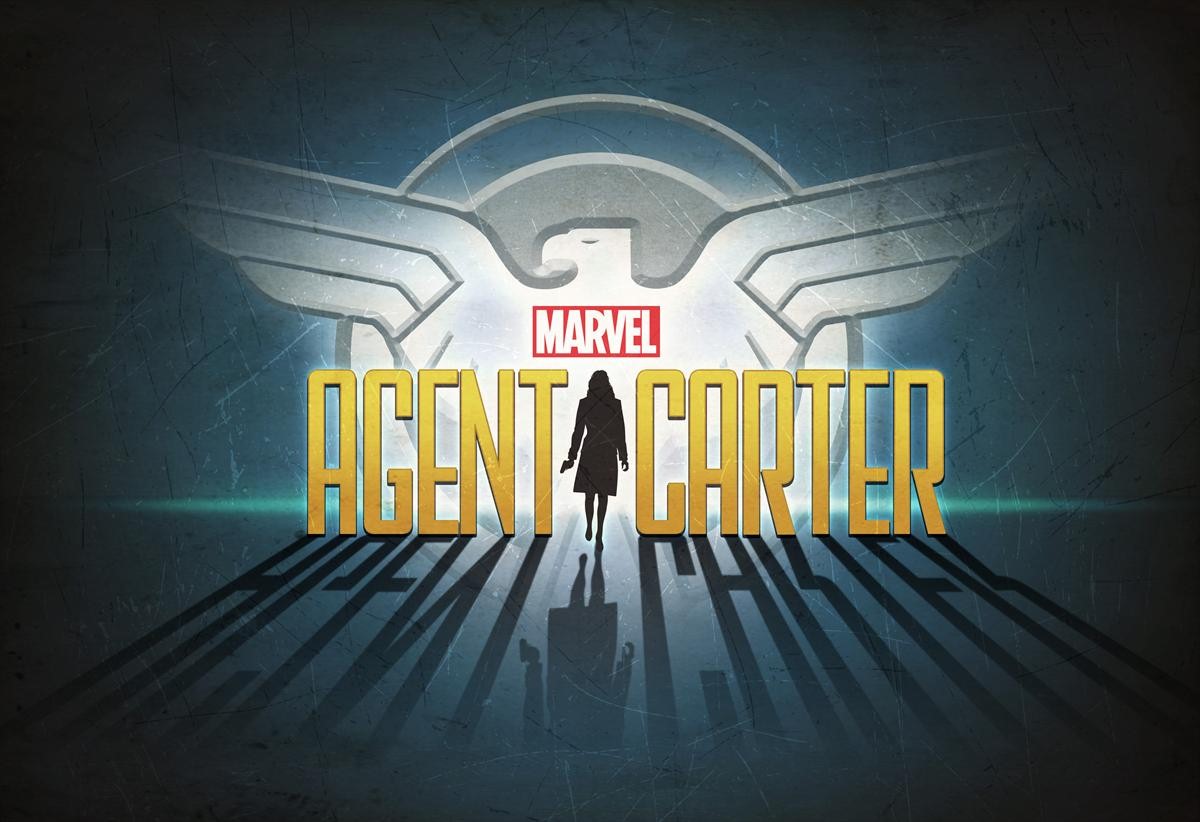 AGENT CARTER
Following the poster that debuted yesterday, Marvel Entertainment and ABC have released the first official plot synopses for the first two episodes of "Marvel's Agent Carter" which will air back-to-back when the series premieres. The first episode, titled "Now is Not the End," is described as follows: "Peggy is contacted by old acquaintance Howard Stark when he is framed for unleashing his deadliest weapons and can trust no one else. To help Peggy clear Stark's name, he insists his butler, Edwin Jarvis, be at her beck and call–whether she likes it or not. But the risk is great: If caught, Agent Carter could be targeted as a traitor and spend the rest of her days in prison…or worse." "Now is Not the End" was written by Christopher Markus & Stephen McFeely and directed by Louis D'Esposito. The second episode, titled "Bridge and Tunnel," is officially described as follows: "Howard Stark's deadliest weapon has fallen into enemy hands, and only Agent Carter can recover it. But can she do so before her undercover mission is discovered by SSR Chief Dooley and Agent Thompson?" "Bridge and Tunnel" was written by Eric Pearson and directed by Joseph Russo. Starring Hayley Atwell as Agent Peggy Carter, Chad Michael Murray as SSR Agent Jack Thompson, Enver Gjokaj as SSR Agent Daniel Sousa, James D'Arcy as Edwin Jarvis, and Shea Whigham as SSR Chief Roger Dooley, "Marvel's Agent Carter" is executive produced by Tara Butters, Michele Fazekas, Christopher Markus, Stephen McFeely, Chris Dingess, Kevin Feige, Louis D'Esposito, Alan Fine, Joe Quesada, Stan Lee and Jeph Loeb. "Marvel's Agent Carter" is produced by ABC Studios and Marvel Television and is set to premiere January 6, 2015 on ABC.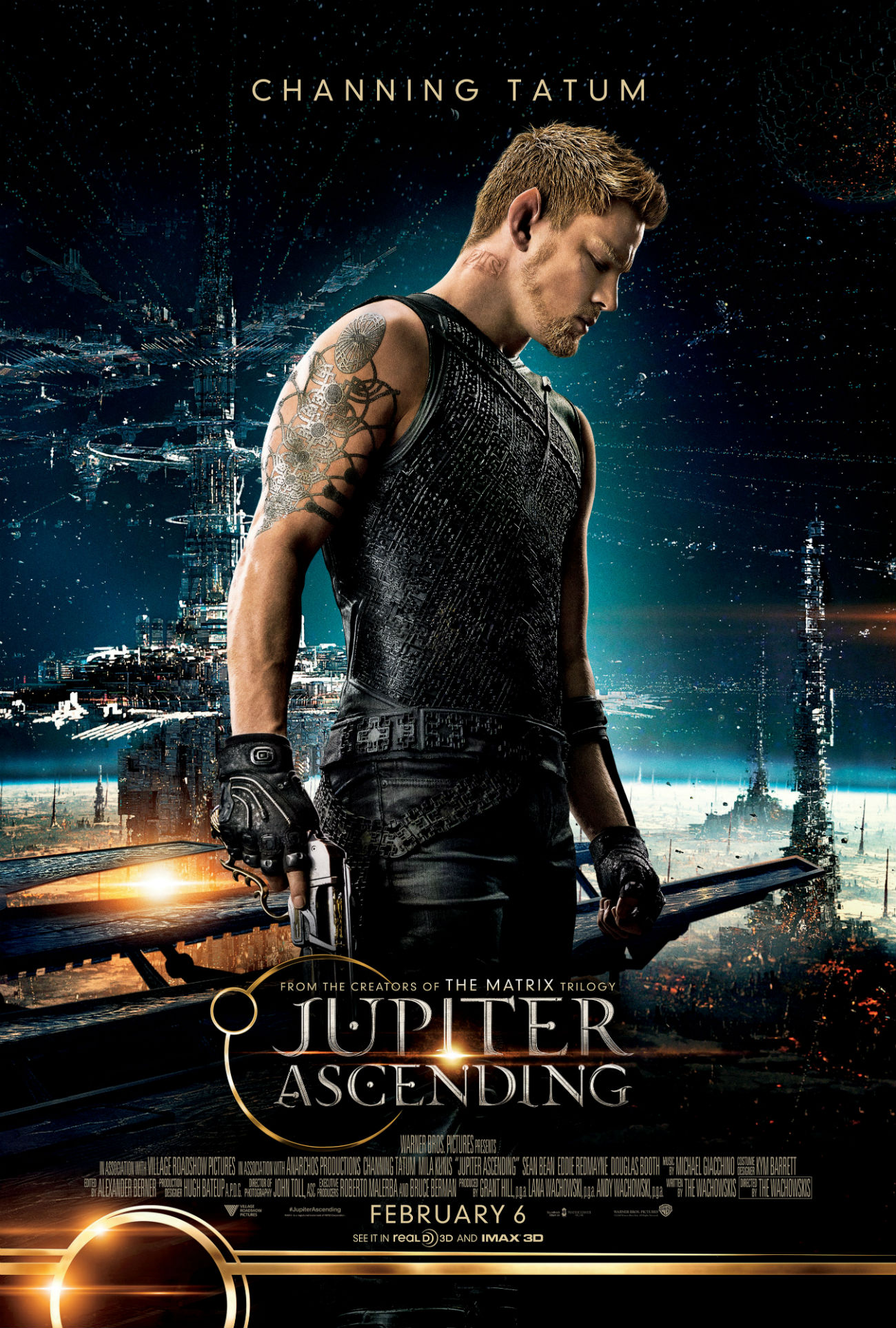 JUPITER ASCENDING
Warner Bros. Pictures and Village Roadshow have four new posters (via IGN) for Andy and Lana Wachowski's Jupiter Ascending, which hits theaters on February 6, 2015. Starring Channing Tatum, Mila Kunis, Sean Bean, Eddie Redmayne, Douglas Booth, Tuppence Middleton, Doona Bae, James D'Arcy and Tim Pigott-Smith, the film follows Jupiter Jones (Kunis), a young woman born under a night sky, with signs predicting that she was destined for great things. Now grown, Jupiter dreams of the stars but wakes up to the cold reality of a job cleaning other people's houses and an endless run of bad breaks. Only when Caine (Tatum), a genetically engineered ex-military hunter, arrives on Earth to track her down does Jupiter begin to glimpse the fate that has been waiting for her all along?her genetic signature marks her as next in line for an extraordinary inheritance that could alter the balance of the cosmos.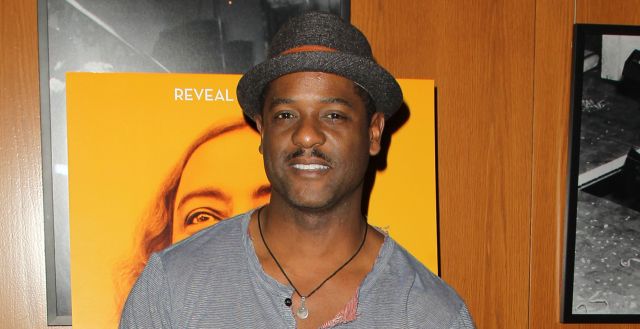 AGENTS OF S.H.I.E.L.D. NEWS
The Hollywood Reporter brings word today that Golden Globe-nominated actor Blair Underwood has signed on to appear in "Marvel's Agents of S.H.I.E.L.D." as none other than Melinda May's (Ming-Na Wen) estranged ex-husband, Dr. Andrew Garner. He will make his debut on the series when it returns in March 2015. "Marvel's Agents of S.H.I.E.L.D." stars Clark Gregg as fan favorite Phil Coulson, along with Ming-Na Wen as Agent Melinda May, Brett Dalton as Agent Grant Ward, Chloe Bennet as Skye, Iain De Caestecker as Agent Leo Fitz and Elizabeth Henstridge as Agent Jemma Simmons. The series is executive produced by Joss Whedon, Jed Whedon, Maurissa Tancharoen, Jeffrey Bell and Jeph Loeb. Season Two will return in March following the conclusion of "Marvel's Agent Carter."
THURSDAY, DECEMBER 11, 2014
MAD MAX: FURY ROAD
If Mad Max: Fury Road wasn't already on your must-watch movies of 2015 list, get ready to make some room. For a long time, it felt like it would be a miracle if we ever even saw a fourth Mad Max film. The project experienced delay after delay, and even when it finally got down to filming the odds seemed against it. Now the film is real, and it's awaiting its summer 2015 release. That the movie actually exists after a quarter-century of development hell is kind of amazing. That it looks this jaw-droppingly good is astounding. The Fury Road footage we saw back in July may have been the most thrilling part of the 2014 San Diego Comic-Con, and now Mad Max is back in what Warner Bros. has deemed the "Official Theatrical Teaser Trailer." Like the Comic-Con footage, it features a lot of car-crashing action goodness, but it also goes further into full-on operatic territory, giving us a few character moments to go along with all that demolition, and adding a whole lot of madness to the Mad Max vibe. It's got big guns, big cars, big stunts, big wasteland body armor and a sense of impish audacity that makes us want to watch it over and over again. Check it out, and be sure to go full-screen for this one. In fact, if you can beam this trailer up to the largest TV screen you have available, it's probably worth it. And while we're here, check out a new official synopsis for the film, released yesterday (via Dark Horizons) Haunted by his turbulent past, Max Rockatansky (Tom Hardy) believes the best way to survive is to wander alone. Nevertheless, he becomes swept up with a group fleeing across the Wasteland in a War Rig driven by an elite Imperator, Furiosa (Charlize Theron). They are escaping a Citadel tyrannized by the Immortan Joe (Hugh Keays-Byrne), from whom something irreplaceable has been taken. Enraged, the Warlord marshals all his gangs and pursues the rebels ruthlessly in the high-octane Road War that follows. Mad Max: Fury Road hits theaters at full throttle on May 15, 2015.
PROMETHEUS/BLADE RUNNER SEQUELS
There are sequels to Prometheus and Blade Runner coming. Sure, they aren't coming anytime soon, but heck if Ridley Scott isn't talking about them anyway. Prometheus left us on a bit of a cliffhanger. Most of the cast died, a xenomorph-like alien was birthed, and Doctor Elizabeth Shaw was still in search of the Architects with David's head in tow. So what happens next? According to Ridley Scott in an interview with MTV, you have to more or less pick up where you left off, with David's dilemma of needing a body, and the danger that represents: You can't have a person go off into the galaxy and have a person who's still got his head off. Once that head goes back on, he's really dangerous, but he's also very seductive, so maybe he'll persuade her to put the head back on. That's your Prometheus tidbit. As for the Blade Runner sequel, Scott says, "It's written and ready to go." He also said he showed it to Harrison Ford, who supposedly called it "the best thing I've ever read." Now, that's a lot of promoting. The meat of Scott's statement comes not from what the new Blade Runner will be, but what it won't be -- a reinvention. It's very relevant to what happened in the first one. I'm not just doing a sequel with lots of action to how how [much] farther we can go with the special effects, because you can't really. Blade Runner we kind of landed on a somehow very credible future. It's very difficult to change that because it's been so influential. That's a huge relief for Blade Runner fans. The world-building of that story was so perfect, it would be insane to tamper with it. Then again, Prometheus is kind of a reinvention of Alien, and in this same interview Scott responds to that film's detractors by saying "#$% you very much." So, we'll just have to wait and see.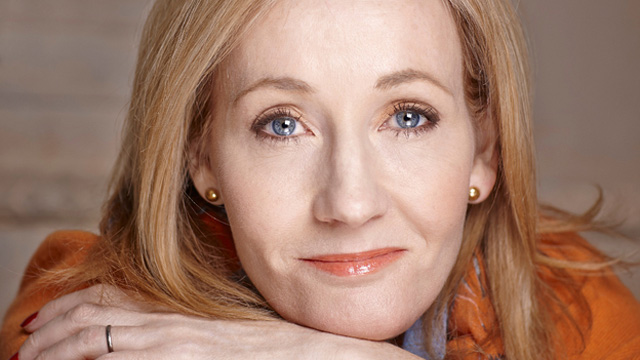 THE CUCKOO'S CALLING
BBC One announced today that Robert Galbraith's Cormoran Strike novels will be adapted for a new television series, produced by Brontë Film and TV. "The Cuckoo's Calling" (published by Little, Brown) is the first in the Cormoran Strike series and J.K. Rowling's first crime novel written under the pseudonym Robert Galbraith. "The Cuckoo's Calling" was published to critical acclaim in 2013 and went on to be a global bestseller, followed in 2014 by "The Silkworm." Rowling will collaborate on the project, with the number and length of episodes to be decided once the creative adaptation process has formally begun. This marks a continuation of the BBC's relationship with Brontë Film and TV and J.K. Rowling. Brontë is also making J.K. Rowling's "The Casual Vacancy," a three-part serial which will be aired on BBC One in February 2015. Neil Blair, Chair of Brontë says: "We're delighted to be bringing these best-selling novels to the screen and to be working once again alongside the BBC." Danny Cohen, Director of BBC Television says : "It's a wonderful coup for BBC Television to be bringing J.K. Rowling's latest books to the screen. With the rich character of Cormoran Strike at their heart, these dramas will be event television across the world."
AGENT CARTER
Marvel Entertainment and ABC have debuted a brand new poster for the upcoming "Marvel's Agent Carter". It's 1946 and peace has dealt Agent Peggy Carter a serious blow as she finds herself marginalized when the men return home from fighting abroad. Working for the covert SSR (Strategic Scientific Reserve), Peggy finds herself stuck doing administrative work when she would rather be back out in the field, putting her vast skills into play and taking down the bad guys. But she is also trying to navigate life as a single woman in America, in the wake of losing the love of her life, Steve Rogers – a.k.a. Captain America. When old acquaintance Howard Stark finds himself being framed for unleashing his deadliest weapons to anyone willing to pony up the cash, he contacts Peggy — the only person he can trust — to track down those responsible, dispose of the weapons and clear his name. He empowers his butler, Edwin Jarvis, to be at her beck and call when needed to help assist her as she investigates and tracks down those responsible for selling these weapons of mass destruction. If caught going on these secret missions for Stark, Peggy could be targeted as a traitor and spend the rest of her days in prison – or worse. Starring Hayley Atwell as Agent Peggy Carter, Chad Michael Murray as SSR Agent Jack Thompson, Enver Gjokaj as SSR Agent Daniel Sousa, James D'Arcy as Edwin Jarvis, and Shea Whigham as SSR Chief Roger Dooley, "Marvel's Agent Carter" was written by Christopher Markus and Stephen McFeely. Executive producers are Tara Butters, Michele Fazekas, Christopher Markus, Stephen McFeely, Chris Dingess, Kevin Feige, Louis D'Esposito, Alan Fine, Joe Quesada, Stan Lee and Jeph Loeb. "Marvel's Agent Carter" is produced by ABC Studios and Marvel Television and is set to premiere January 6, 2015 on ABC.
WEDNESDAY, DECEMBER 10, 2014
THE LANDING
The tense sci-fi short film The Landing has been raking in awards, and now the full feature is officially online. If you're looking for a good way to spend 17 minutes with a throwback sci-fi tale with a creepy, Spielberg-ian vibe — this one is well worth your time. Framed around a man's memories of a mysterious crash landing during his childhood, spliced in with his modern-day search for the truth, it makes for a tense tale. Not to give too much away, but it definitely subverts your expectations going in. The film has been making the short film circuit for a while now, and has won more than a dozen awards at various festivals — along with several nominations. The short was directed and co-written by Josh Tanner. Here's the tantalizing brief synopsis: A man returns to the Midwestern farm of his childhood on a desperate mission to unearth the horrifying truth of what landed in the summer of 1960.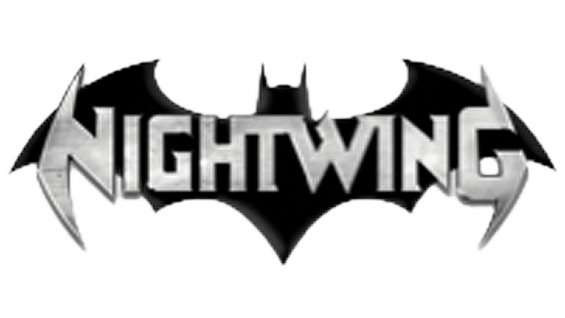 TITANS
The new Titans series -- which is based on DC Comics' "Teen Titans" comic-book franchise -- will begin filming sometime next year. DC Entertainment Chief Creative Officer Geoff Johns confirmed the news a few days ago on his Twitter account while responding to a fan question. Johns followed with another tweet that confirmed that Nightwing, and not Robin, would be part of the live-action TV series. Nightwing is actually Dick Grayson, former protégé of Bruce Wayne/Batman and the first Robin. The character has never been featured in a live-action series or movie, and it'll be the first time we get to see him in the flesh, so to speak, since Dick Grayson has always appeared as Robin. Despite never having made any live-action appearances, Nightwing has appeared in several DC animated series, including Young Justice, The New Adventures of Batman and Batman: The Brave and the Bold. He was also in the hit videogame Batman: Arkham City. A character created in the 1940s, Robin quit being Batman's sidekick during the 1980s and was a founding member of the Teen Titans. He became Nightwing during Marv Wolfman and George Perez's run on New Teen Titans.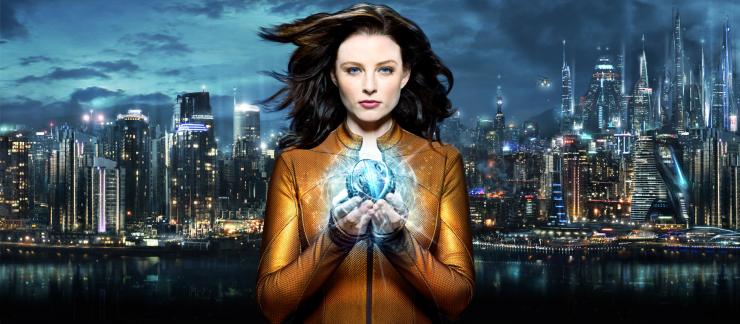 CONTINUUM
It took a few months longer than expected, but we finally know the fate of the fantastic time-travel drama Continuum. We've got some good news and some bad news. Word on a renewal or cancellation was supposed to have come several months ago from Canada's Showcase network — Syfy airs the show in the U.S. — but the decision was delayed while the network and studio went back and forth on funding to determine whether another season of the ambitious drama was viable. Well, it was apparently viable — just not for a full 13-episode season. Series creator Simon Barry and star Rachel Nichols have both confirmed that the series will return for a fourth and final season of six episodes in 2015, which will apparently wrap up the in-freaking-sane cliffhanger that left fans stunned at the end of season three. Obviously, we're glad to hear the writers will get a chance to bring the series to a close, and fans won't be left hanging on a cliffhanger forever. But we really hate to see this series end. It took a while to get rolling, but the past two seasons have made for one of the smartest sci-fi shows on TV this side of Orphan Black. What started as a black-and-white show about a future-cop sent to the present to stop a group of terrorists evolved into a series about alternate timelines, tough decisions and the realization that maybe the side you've been fighting for all this time isn't actually the right one. It was ambitious in a way that drew some immense depth into its characters, and it will be missed. At least we still have six more episodes to see how it all turns out. No word yet on whether Syfy will pick up the final season in the U.S., but considering they've aired the first three seasons to relatively decent ratings, we'd think they'll likely snag the final run, too. KINGSMAN: THE SECRET SERVICE
With just over two months to go before the comic book adaptation hits the big screen, 20th Century Fox has debuted, via IGN, a Red Band trailer for Matthew Vaughn's Kingsman: The Secret Service. Based upon the 2012 Icon Comics miniseries Kingsman: The Secret Service tells the story of a super-secret spy organization that recruits an unrefined but promising street kid into the agency's ultra-competitive training program just as a global threat emerges from a twisted tech genius. The original miniseries, released as just "The Secret Service," was written by Mark Millar ("The Ultimates," "Kick-Ass") and features artwork by Dave Gibbons ("Watchmen"). It ran for six issues, subsequently collected into a single volume. The film stars Academy Award winners Colin Firth (The King's Speech, Love Actually) and Michael Caine (The Dark Knight, The Cider House Rules) alongside Academy Award nominee Samuel L. Jackson (Pulp Fiction, Django Unchained), Mark Strong (Tinker Tailer Soldier Spy, Sherlock Holmes) and relative newcomers Taron Egerton (Testament of Youth, "The Smoke"), Sofia Boutella (Street Dance 2, Monsters: Dark Continent) and Sophie Cookson ("Moonfleet," Unknown Heart). Scripted by Vaughn and Jane Goldman (Kick-Ass, X-Men: First Class), Kingsman: The Secret Service hits the big screen February 13, 2015. UPDATE: 20th Century Fox has now released a new Green Band version as well. BAD ROBOT PROJECT
A secret science fiction project is on the way from Sony Pictures, J.J. Abrams' Bad Robot and director Chris Alender. Deadline has the news, reporting that Sony acquired the rights to a currently-untitled project, which will serve as Alender's feature film debut. Alender is best known for the stylish sci-fi fantasy music video "Eye of the Storm," which he directed and which was produced through his company, Soapbox Films. Launched in 2002, Soapbox Films is Burbank, California-based production facility and creative agency to which Alender now serves as CEO & COO. Created as part of a series of music videos set to the songs of Ben Lovett's album, "Highway Collection," "Eye of the Storm". The original article likens the untitled project to Bad Robot's own Cloverfield and, while plot details are being kept under wraps, it is teased that the story involves extraterrestrial beings. The most recent draft of the screenplay hails from Justin Doble, who began working with Bad Robot as an assistant to Matthew Reeves on Cloverfield. Doble went on to become a script coordinator on "Fringe" before eventually writing episodes of both that series and the recent "Almost Human."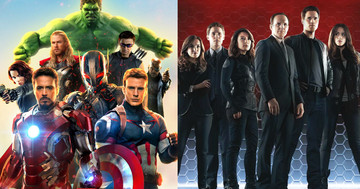 MARVEL CONNECTIONS
Surprising no one, EW is reporting that a future episode of "Marvel's Agents of S.H.I.EL.D." will tie into Marvel Studios' next big release, Avengers: Age of Ultron. The film doesn't debut in theaters until May 1, 2015, but that lines up perfectly with what will be the remaining episodes of the series' sophomore season. "You should expect something," executive producer Jed Whedon tells the outlet. "The Avengers is the big tent that all the franchises play under. Obviously, we're included in that." The series has previously tied in to both Thor: The Dark World, albeit for one episode, and Captain America: The Winter Soldier, which rocked the entire series to its core. "I don't think any movie has the potential to impact us in the way that Captain America 2 did," executive producer Maurissa Tancharoen says, "but there will be connections."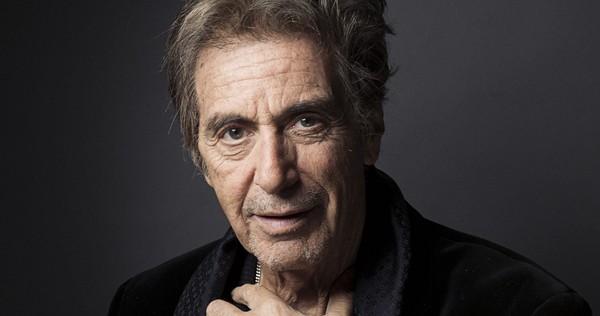 AL PACINO IN TALKS WITH MARVEL
Earlier in the year, Al Pacino went out of his way to promote Guardians of the Galaxy by publicly praising the film. Now, it seems he's caught the eye of Marvel Studios, who are looking to bring the actor into their movie universe. If he signs on for a role, he will join other Hollywood icons such as Robert Redford, who appeared in this past summer's Captain America: The Winter Soldier, Michael Douglas, who plays the co-lead as Hank Pym in Ant-Man, and Samuel L. Jackson who has portrayed Nick Fury in nearly all of the MCU titles. At this time, it isn't known which character Al Pacino is wanted for, or what movie he would be appearing in. The actor confirmed the news himself, saying he has met with Marvel boss Kevin Feige, and it definitely sounds like something is being planned. "I've met with the Marvel guy. It's a Marvel how things happen [Laughs]." Al Pacino revealed the news on Josh Horowitz's HappySadConfused podcast. Al Pacino continued to discuss the role, but was cut short by an incoming phone call, which he joked was Kevin Feige telling him not to say any more: "Yeah. I would imagine that either there's something he feels is right for me and if I feel..." At this point, there is no speculation on who Al Pacino may be playing, as there are 9 Marvel movies coming our way before 2020. Its possible that he's lining up a role in anything from Black Panther, to Captain Marvel to Inhumans. Or he may be joining the sequels Captain America: Civil War or Guardians of the Galaxy 2. James Gunn had this to say about working with Al Pacino earlier in the year, where he doesn't make that movie sound too likely: "I'm a huge, huge Al Pacino fan and I would love to find a way to work with him, whether it was in a Guardians movie or something else. The truth is that the next Guardians film, I've had so much of it worked out for a long time that I'm not sure there is a role to write there for Al Pacino, or for anybody else in particular. But yeah, of course, I always have those guys who I admire and I look up to and I'm always excited to write a role for them."
TUESDAY, DECEMBER 9, 2014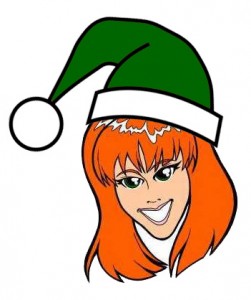 BE A SANTA
Each year, Pat Tallman works very hard to make the holiday season special for disadvantaged kids at Penny Lane. She is close to reaching her goal of $15,000. If you can help her provide some happiness to these children who have known very little of it for most of their lives, please go to beasanta.org and help make this holiday a very special one.
Thank you.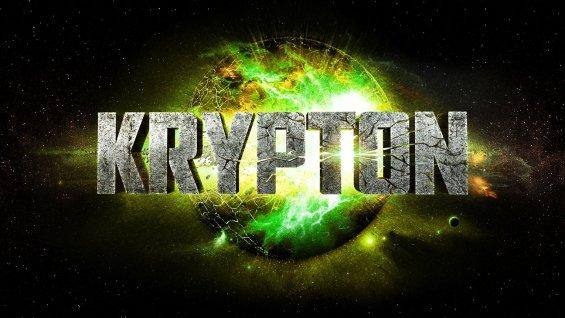 KRYPTON
We'd heard a while back that a potential Superman prequel series was in development, and now the project has officially found a home.

The Hollywood Reporter confirms that Syfy (Blastr's corporate owner - Ed) is developing a new series dubbed Krypton, which is described as a Superman origin story set on Kal-El's home planet. The series sounds almost like a political and family drama, set on an alien world, telling the origin story of Supes' family. Here's the tentative synopsis: Krypton takes place years before the Superman legend we know, when the House of El was shamed and ostracized. This drama, which is in development, follows the Man of Steel's grandfather as he brings hope and equality to Krypton, turning a planet in disarray into one worthy of giving birth to the greatest Super Hero ever known. The network has signed on genre heavyweight David Goyer (Man of Steel, Constantine) to produce the series, which is being written by Ian Goldberg (Once Upon a Time, FlashForward). The project is being compared to Fox's hit series Gotham, though this one is obviously a less obvious pitch. But a dense sci-fi drama set on Krypton? That sounds like one heck of a cool idea. No series order has been placed as of yet, but you'd have to think the pedigree and brand name give this project solid odds of eventually making it to the small screen. Krypton joins a boatload of other harder-edge sci-fi series in development and picked up by Syfy over the past few years, including Ascension, 12 Monkeys, Olympus, Childhood's End, 3001: The Final Odyssey and The Expanse.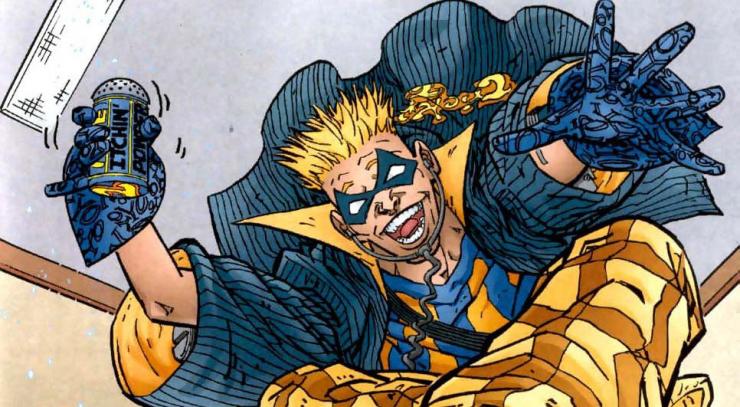 THE FLASH NEWS
He might be wrapping up one of the most anticipated films of the decade in Star Wars: The Force Awakens, but Mark Hamill still has a soft spot for taking on the Scarlet Speedster. Hamill has signed on for a guest role on The CW's Flash series, reprising the role of a villain he first played in the short-lived 1990s Flash series. It's another big nod to the original Flash series, following the casting of original star John Wesley Shipp as the father of Grant Gustin's Barry Allen. Amanda Pays is also reprising her role as Dr. Tina McGee soon. We're getting meta, folks, and it couldn't be cooler. Hamill will once again play DC villain the Trickster, though we doubt this version will be quite as in-freaking-sane as the original TV version — which was one part Jim Carrey's Riddler from Batman Forever and one part WTF 1990s weirdness. According to a report at HitFix, Hamill's Trickster will already be in jail and actually work with the cops to stop a copycat. Here's the official character description and some intel on the early 2015 episode, No. 17 on the season, that will feature Hamill's guest role: Mark Hamill returns in a brand new interpretation of James Jesse (aka The Trickster), a role he originated on the 90's 'Flash' series. In this new iteration, The Trickster is an anarchist terrorist con man serving a life sentence in Iron Heights who helps Barry (Grant Gustin) and Det. West (Jesse L. Martin) to foil the city-wide attacks of a wannabe Trickster eagerly following in the original's deadly footsteps. The episode will reunite him with John Wesley Shipp who went up against him as the original 'Flash' on the CBS version. This news is, to put it simply, awesome. Apart from his former Flash role, Hamill is likely best known to DC fans for voicing the Joker in several animated features and videogames. It's worth noting that his Trickster performance also inspired his iconic Joker voice. So he's no stranger to the comic-book world. Plus, with The Force Awakens in the offing, Hamill will be at peak zeitgeist coming into this appearance — which should help bring even more buzz to the hit CW series.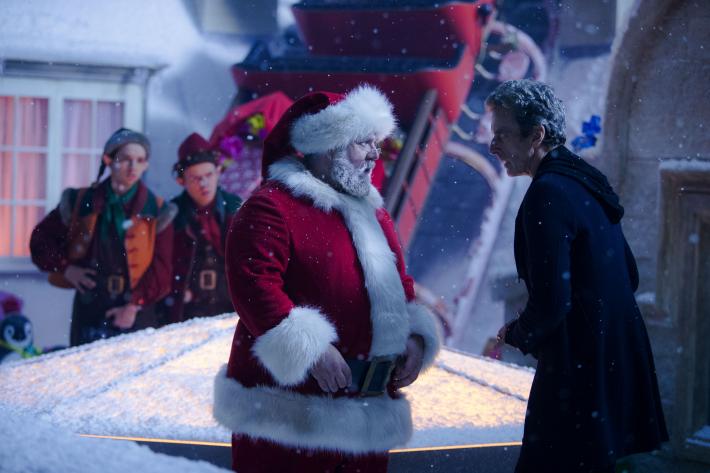 DOCTOR WHO CHRISTMAS SPECIAL
Doctor Who's upcoming Christmas special, "The Last Christmas," is nearly upon us, and we've got 25 jolly cool pics to share with you, as well as some tantalizing tidbits about the upcoming episode. Peter Capaldi, who dazzled us this year with his darker take on the beloved Time Lord, has dropped a few tantalizing hints about the upcoming festive episode. "It's a rather clever episode because it's incredibly festive and jolly, but also quite terrifying. I'd say it's one of the scariest Christmas adventures ever. "Santa has crashed into Clara Oswald's roof so he's there with his elves, but while this might otherwise be and excuse for cheer and happiness it's actually a nightmarish development, and only the Doctor knows why! So the Doctor has to arrive there too to save Clara from what Santa being there means for her life!" About Santa Claus (Shaun of the Dead's Nick Frost) truly existing in the context of the show and this story (heck, they even had a real Robin Hood -- played by Da Vinci's Demons' Tom Riley -- earlier this season so, why not?), Capaldi added: "The Doctor is slightly competitive with any semi-mythical characters and it's the same with Santa. The Doctor probably thinks Santa's had things to himself for too long." He also added: "Kids will be glad to know that Santa will remain intact by the end of the show. He's not a Santa robot or Santa alien or anything sci-fi like that! He's the real genuine Santa Claus!" But what about the Doctor's companion Clara (Jenna Coleman)? Capaldi said: "There's something quite profound that happens to her in this story...but of course I can't go into that." THE FLASH
With events building all season, it looks like we may finally be getting some answers in tomorrow night's mid-season finale of "The Flash." The CW has just released a new behind-the-scenes featurette for tomorrow night's episode, "The Man in the Yellow Suit" and, as you can see in the player below, there are some big reveals being teased such as the identity of Reverse Flash and exactly what happened the night Barry Allen lost his mother. The episode, which is set to run an extra two minutes, is officially described as follows: Barry (Grant Gustin) finds himself face-to-face with his nemesis, the man in the yellow suit, a.k.a. Reverse Flash, who killed his mother. Barry is frustrated when the Reverse Flash escapes, but Dr. Wells (Tom Cavanagh) and Cisco (Carlos Valdes) come up with a plan to trap him. All they need is bait, so they turn to Dr. Tina McGee (guest star Amanda Pays) from Mercury Labs to help. Meanwhile, it's Christmas at The West household and Iris (Candice Patton) is in full holiday cheer. Eddie (Rick Cosnett) gives her a surprising gift but also leaves her with a question that could change her life. Joe (Jesse L. Martin) joins the search for the man in yellow and ends up in the crossfire. Plus, Caitlin (Danielle Panabaker) finds Ronnie (Robbie Amell). "The Man in the Yellow Suit" is directed by Ralph Hemecker and written by Todd Helbing and Aaron Helbing. MARCO POLO
With the new Netlflix series set to debut this Friday, December 12, PlayStation has just revealed a behind-the-scenes featurette that explores the 13th century world of "Marco Polo." Check it out in the player below and catch the original series beginning at 12:01am PT on December 12 in all territories where Netflix is available. In a world replete with greed, betrayal, sexual intrigue and rivalry, "Marco Polo" is based on the famed explorer's adventures in Kublai Khan's court in 13th century China. The show stars Italian newcomer Lorenzo Richelmy as Marco. Best known for her role in The Wachowskis' Cloud Atlas, the Beijing-born Zhu Zhu plays Marco?s love interest Kokachin. Joan Chen ("Twin Peaks") and Benedict Wong (Prometheus) also star in the show's global cast as Empress Chabi and Kublai Khan. Rounding out "Marco Polo's" cast of characters will be Remy Hii as Prince Jingim, Olivia Cheng as Mei Lin, Claudia Kim as Khutulun, Uli Latukefu as Byamba, Chin Han as Jia Sidao, and Tom Wu as Hundred Eyes. Creator John Fusco (Forbidden Kingdom, Young Guns, Hidalgo) and Harvey Weinstein are executive producers on "Marco Polo" alongside Electus' Ben Silverman and Chris Grant. Dan Minahan ("Game of Thrones," "True Blood") also serves as executive producer and directed two episodes for the 10-episode first season. Joachim Rønning and Espen Sandberg (Academy Award nominated Kon-Tiki, Pirates of the Caribbean: Dead Men Tell No Tales) directed the season's first two episodes and serve as executive producers. Patrick MacManus serves as co-executive producer. Collin Creighton produced on behalf of The Weinstein Company.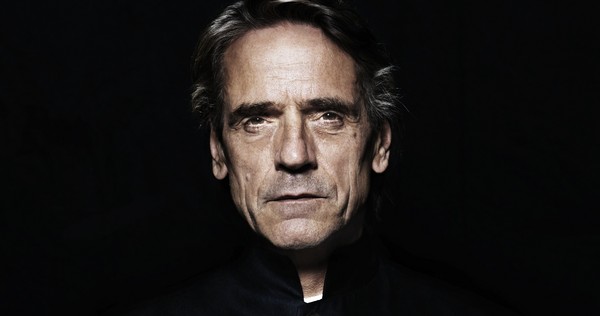 BATMAN VS. SUPERMAN: DAWN OF JUSTICE
When Batman v Superman: Dawn of Justice hits theaters in the spring of 2016, fans will not only get a brand new Batman, with Ben Affleck portraying The Dark Knight, but also another version of his faithful butler Alfred Pennyworth, played by Jeremy Irons. The Hollywood Reporter caught up with the actor at the Marrakech Film Festival, where he received a lifetime achievement award. There, he offered new details on the character. He explains this version of character: "He is quite a different Alfred than we have seen so far. Zack Snyder had very clear views about what he wanted. I would just say he's more hands-on perhaps than just a butler." It isn't clear if Jeremy Irons is implying that his version of Alfred may get involved in some of the action in Batman v Superman: Dawn of Justice, but the actor did add that it's "not a large role". It's worth noting that, in the comic book Batman: Earth One, Alfred was a former solider in the Royal Marines, who is an expert sharpshooter and martial artist. In that comic book, Bruce Wayne receives most of his training from Alfred himself, which also mirrors the direction Fox is taking in their DC Comics TV series Gotham, where Alfred (Sean Pertwee) is currently training young Bruce Wayne (David Mazouz) how to fight. Are you excited to see how Jeremy Irons will portray Alfred Pennyworth in Batman v Superman: Dawn of Justice? Chime in with your thoughts below, and stay tuned for more information on this highly-anticipated superhero adventure. Batman v Superman: Dawn of Justice comes to theaters March 25th, 2016 and stars Henry Cavill, Ben Affleck, Amy Adams, Diane Lane, Laurence Fishburne, Gal Gadot, Jesse Eisenberg, Jeremy Irons. The film is directed by Zack Snyder.
MONDAY, DECEMBER 8, 2014
SAN ANDREAS
New Line Cinema and Village Roadshow Pictures have released new photos (via USA Today) from director Brad Peyton's earthquake disaster film San Andreas ahead of the film's trailer, which is coming soon. The May 29, 2015 release stars Dwayne Johnson, Carla Gugino, Kylie Minogue, Alexandra Daddario, Ioan Gruffudd, Archie Panjabi, Hugo Johnstone-Burt and Art Parkinson. In the film, after the infamous San Andreas Fault finally gives, triggering a magnitude 9 earthquake in California, a search and rescue helicopter pilot (Johnson) and his estranged wife make their way together from Los Angeles to San Francisco to save their only daughter. But their treacherous journey north is only the beginning, and when they think the worst may be over…it's just getting started.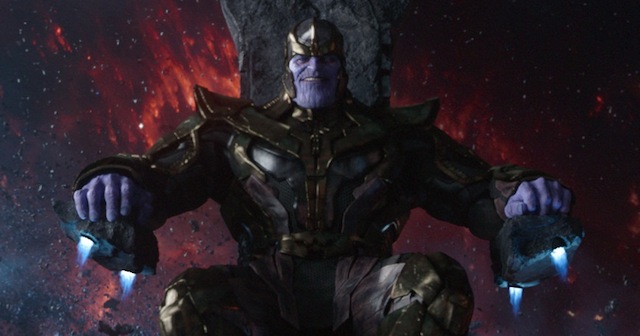 AVENGERS: INFINITY WAR
Fans excited to see more of Josh Brolin's take on Thanos in the Marvel Cinematic Universe are likely to get a huge thrill out of his performance as Detective Christian "Bigfoot" Bjornsen in Paul Thomas Anderson's stylish Thomas Pynchon adaptation Inherent Vice. After all, Brolin's Bigfoot offers an imposing, antagonist authoritarian with a penchant for abusing his power and who is simultaneously imbued with darkly comic sensibilities. There's more than a little crossover there with the character traits of Marvel's Mad Titan. ComingSoon.net today caught up with Brolin at the Los Angeles press junket for Inherent Vice. There, the star dropped a few details about Thanos and how he came to sign on for the role. "I love the idea of Thanos," says Brolin. "…Ultimately, it's Thanos against everyone. Why wouldn't you do that?" Brolin also cited a certain Marvel Studios Co-President (and two-time "Marvel One-Shot" director) as the man responsible for getting him to sign on. "Thanos came along because of my good friend Louis D'Esposito," Brolin continues. "…He and I used to train together. We did 'Hollow Man' together. He called me up and started talking about this thing. It was nice because I could intimately talk to him about it. What I liked. What I didn't like about the whole idea of it… It was really exciting because of the possibilities that it could be come. Not as an idea or as a blockbuster, but just as something different. It's a character mentality." Although not completely confirmed, it's looking quite likely that Thanos' next big screen appearance will be in James Gunn's Guardians of the Galaxy 2 before he takes on "everyone" in the two-film Avengers: Infinity War, hitting theaters May 4, 2018 and May 3, 2019. Inherent Vice, meanwhile, opens in theaters in a limited release December 12 with plans to expand everywhere January 9, 2015.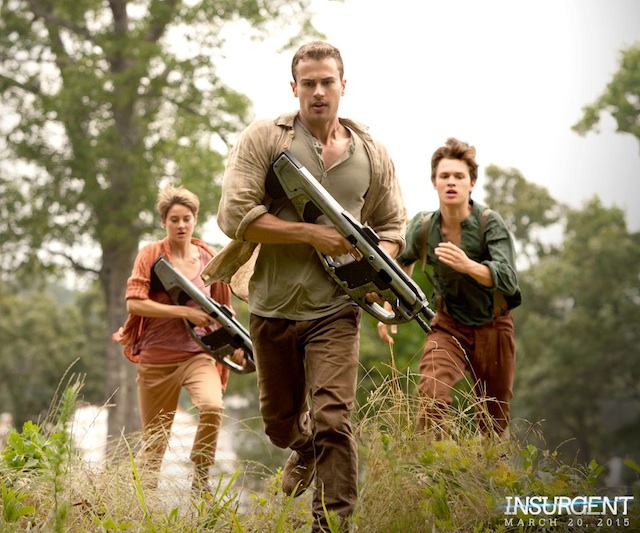 DIVERGENT SERIES: INSURGENT
It's a busy day for news surrounding Lionsgate's big screen adaptations of Veronica Roth's bestselling Divergent books. First, the studio revealed that the full trailer for the next film, The Divergent Series: Insurgent, will arrive next Friday, December 12. In advance of the occasion, the studio had released the first still from the March 20, 2015 release. Check it out below and come back in one week for the trailer. Meanwhile, Variety reports that Insurgent helmer Robert Schwentke has signed on to also helm the third big screen chapter, Allegiant, Part 1, which is set to hit theaters March 18, 2016. Divergent, which hit theaters earlier this year and is now available on a variety of home media formats, is set in a world where people are divided into distinct factions based on human virtues. Tris Prior (Shailene Woodley) is warned she is Divergent and will never fit into any one group. When she discovers a conspiracy by a faction leader (Kate Winslet) to destroy all Divergents, Tris must learn to trust in the mysterious Four (Theo James) and together they must find out what makes being Divergent so dangerous before it's too late. Again set to star Woodley, James and Winslet, Insurgent's cast also includes Octavia Spencer, Suki Waterhouse, Jonny Weston, Naomi Watts, Rosa Salazar and Keiynan Lonsdale and is set to continue the journey of Tris as war now looms. Sides will be chosen, secrets will emerge, and Tris will risk everything as she struggles to harness her incredible power.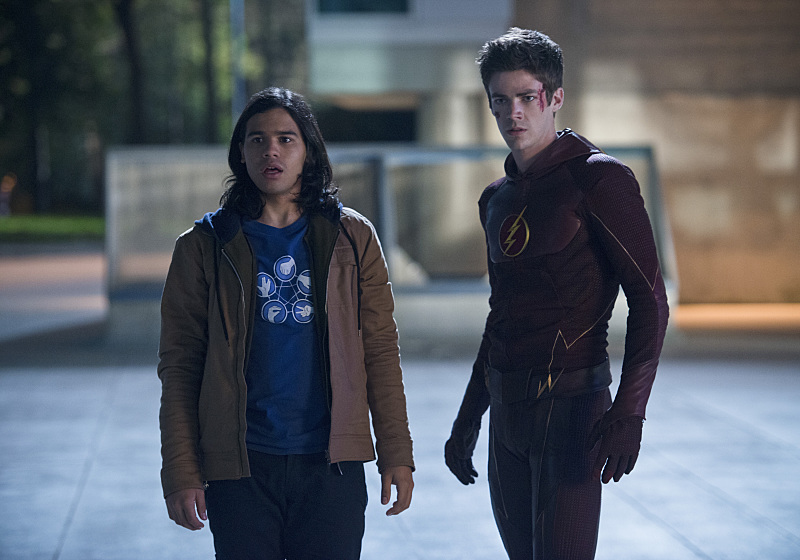 THE FLASH
There's only one more 2014 episode left of The CW's new hit DC Comics series, "The Flash." Titled "The Man in the Yellow Suit," the mid-season finale will air Tuesday, December 9 at 8:00 p.m. ET/PT. You may have to adjust your DVR, however, as The CW has just announced that the episode will run long, extending nearly two extra minutes. On the heels of this week's impressive crossover episode, "Flash vs. Arrow," "The Man in the Yellow Suit" teases the identity reveal of Reverse Flash with the following official description: Barry (Grant Gustin) finds himself face-to-face with his nemesis, the man in the yellow suit, a.k.a. Reverse Flash, who killed his mother. Barry is frustrated when the Reverse Flash escapes, but Dr. Wells (Tom Cavanagh) and Cisco (Carlos Valdes) come up with a plan to trap him. All they need is bait, so they turn to Dr. Tina McGee (guest star Amanda Pays) from Mercury Labs to help. Meanwhile, it's Christmas at The West household and Iris (Candice Patton) is in full holiday cheer. Eddie (Rick Cosnett) gives her a surprising gift but also leaves her with a question that could change her life. Joe (Jesse L. Martin) joins the search for the man in yellow and ends up in the crossfire. Plus, Caitlin (Danielle Panabaker) finds Ronnie (Robbie Amell). "The Man in the Yellow Suit" is directed by Ralph Hemecker and written by Todd Helbing and Aaron Helbing.
SUICIDE SQUAD
An all-star roster of actors has joined Warner Bros. Pictures' new action adventure Suicide Squad, bringing DC Comics' super villain team to the big screen under the direction of David Ayer (Fury). The announcement was made today by Greg Silverman, President, Creative Development and Worldwide Production, Warner Bros. Pictures. The film will star two-time Oscar nominee Will Smith (The Pursuit of Happyness, Ali) as Deadshot; Tom Hardy (The Dark Knight Rises, upcoming Mad Max: Fury Road) as Rick Flagg; Margot Robbie (The Wolf of Wall Street, Focus) as Harley Quinn; Oscar winner Jared Leto (Dallas Buyers Club, Alexander) as the Joker; Jai Courtney (Divergent, The Water Diviner) as Boomerang; and Cara Delevingne (Anna Karenina, upcoming Pan) as Enchantress. In making the announcement, Silverman said, "The Warner Bros. roots are deep on this one. David Ayer returns to the studio where he wrote 'Training Day' and brings his incredible ability to craft multidimensional villains to this iconic DC property with a cast of longtime Warner collaborators Will Smith and Tom Hardy, and other new and returning favorites: Margot, Jared, Jai and Cara. We look forward to seeing this terrific ensemble, under Ayer's amazing guidance, give new meaning to what it means to be a villain and what it means to be a hero." Ayer is also writing the script for Suicide Squad, which is being produced by Charles Roven (The Dark Knight trilogy, Batman v Superman: Dawn of Justice) and Richard Suckle (American Hustle). Zack Snyder, Deborah Snyder, Colin Wilson and Geoff Johns are serving as executive producers. Suicide Squad, which was originally created by Robert Kanigher and Ross Andru back in 1959, will set up shop in Toronto, Canada at their Pinewood extension starting in February. Following two months of pre-production, the film will shoot from April until September for a August 5, 2016 release. It was also previously rumored that Jesse Eisenberg's Lex Luthor will play a role in the story, although his name is not included in this official cast list.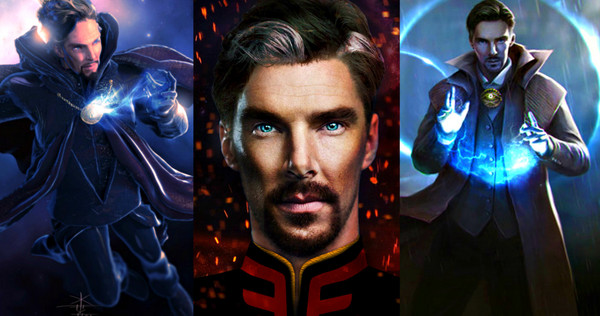 DOCTOR STRANGE
Benedict Cumberbatch has entered the world of the mystic arts. The actor will star in Marvel's Doctor Strange, scheduled to hit theaters November 4, 2016. The film, directed by Scott Derrickson with Jon Spaihts writing the screenplay, will follow the story of neurosurgeon Doctor Stephen Strange who, after a horrific car accident, discovers the hidden world of magic and alternate dimensions. Here's what producer Kevin Feige had to say about Benedict Cumberbatch's casting in a brief statement. Stephen Strange's story requires an actor capable of great depth and sincerity. In 2016, Benedict will show audiences what makes Doctor Strange such a unique and compelling character." Cumberbatch rose to international prominence with his critically acclaimed turn as Sir Arthur Conan Doyle's most famous creation in Sherlock, currently preparing its fourth season. The series' most recent season earned Cumberbatch the Primetime Emmy Award for Outstanding Lead Actor in a Miniseries or a Movie in 2014, after winning the BAFTA/LA Britannia Award for British Artist of the Year in 2013. Cumberbatch most recently starred in The Imitation Game, playing famed mathematician and logician Alan Turing, and will soon be seen in The Hobbit: The Battle of The Five Armies as Smaug and the Necromancer. For the role of Smaug, Cumberbatch stepped into the world of motion capture to bring the dragon to life. He will next be seen in Scott Cooper's film Black Mass, the story of Whitey Bulger coming to theaters next September, where he stars opposite Johnny Depp and Joel Edgerton. The star's other credits include the Academy Award-winning 12 Years a Slave, War Horse, Tinker, Tailor, Soldier, Spy, August: Osage County, Star Trek Into Darkness, The Fifth Estate, and Parade's End. Benedict will be returning to the stage this summer in Hamlet at the Barbican with Lyndsey Turner directing. His last stage performance in Danny Boyle's Frankenstein opposite Jonny Lee Miller awarded him the Olivier. With Doctor Strange, Cumberbatch is just the latest actor to join the bold Phase 3 of the Marvel Cinematic Universe, introducing new heroes and continuing the adventures of fan favorites across multiple films. Doctor Strange comes to theaters November 4th, 2016 and stars Benedict Cumberbatch. The film is directed by Scott Derrickson.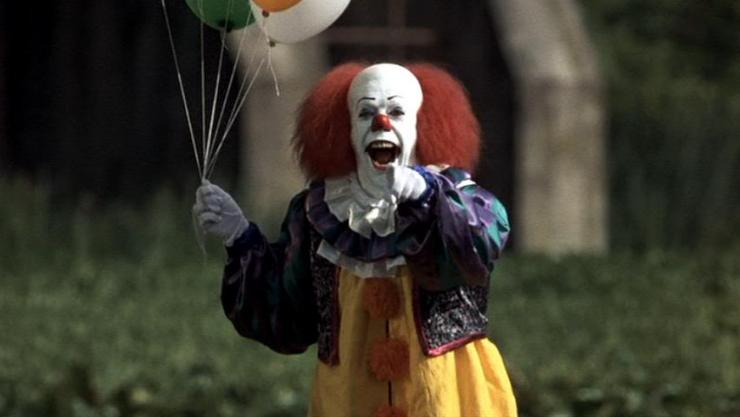 STEPHEN KING'S IT
Long in development, a big screen adaptation of Stephen King's IT is finally ready to move forward. Production will begin this summer, with True Detective director Cary Fukunaga set to take the helm. The news was confirmed by producer Dan Lin. He had this to say about the upcoming horror thriller: "The idea is to start official prep in March for a summer shoot. Cary likes to develop things for a while, and we've been with this for about three or four years, so we're super excited that he stayed with it. You guys are gonna be really excited." IT was previously adapted for an ABC miniseries in the 90s. Dan Lin believes there's more to the story than what fans saw there. The hope is to split the movie into two parts. He states: "The book is so epic that we couldn't tell it all in one movie and service the characters with enough depth." The first half of IT will be a coming of age story about a group of children who are tormented by the title entity. The second movie will move forward in time, with these same characters now older and banding together to continue their fight against IT as adults. Right now, Cary Fukunaga is only confirmed for the first movie. He is currently closing his deal to direct the second half. Dan Lin says that author Stephen King is more excited than anyone about the movie coming together: "The most important thing is that Stephen King gave us his blessing. We didn't want to make this unless he felt it was the right way to go, and when we sent him the script, the response that Cary got back was, 'Go with God, please! This is the version the studio should make.' So that was really gratifying." IT is in development . The film is directed by Cary Fukunaga.
SUNDAY, NOVEMBER 16, 2014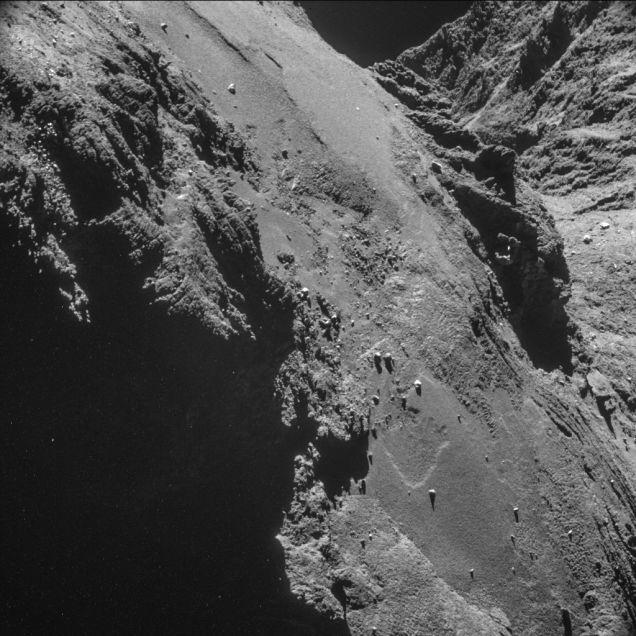 ROSETTA'S PHILAE MISSION
Like a scene straight from Alien's LV-426 planetoid, check out these previously unreleased photos of the bizarre, boulder-strewn surface of Comet 67P/CG where the steadfast little lander, Philae, is now compiling data for the ESA's historic mission. This series of digital images was taken during Rosetta's close-in orbit of the comet six miles above the surface in the period leading up to this week's landmark touchdown. Rosetta's navigation cameras captured these dramatic images of the soaring cliffs, flat plateaus, stark scored valleys, jagged outcrops and pockmarked ridges rising at strange angles from the craggy comet's two lobes.

Philae's mission may be cut short due to the reduced sunlight exposure obtained at its final resting place butted up against the shadow of an icy rock wall, severely limiting its battery life.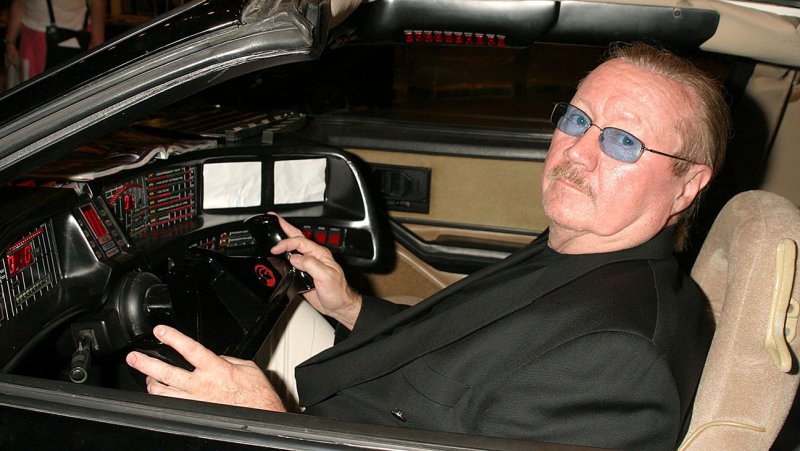 GLEN A. LARSON DIES AT 77
Glen A. Larson was an incredibly prolific TV creator, responsible for such widely adored series as Magnum, P.I., Battlestar Galactica, Knight Rider and Quincy, M.E.
Larson died Friday at age 77 of cancer. Here is how he is being remembered on Twitter by Hollywood colleagues and peers.
A number of individuals tweeted about his death, leaving notes of condolence and thanks. They included: Scott Baio, Edward James Olmos, Richard Hatch, Orlando Jones, Peyton Reed, Rockne S. O'Bannon, Bryan Fuller, Hart Hanson.
AGENTS OF S.H.I.E.L.D.
Marvel Entertainment (via IGN) has released another clip from next week's "Marvel's Agents of S.H.I.E.L.D." this time featuring Hayley Atwell as Agent Peggy Carter!
Titled, "The Things We Bury," the episode finds Coulson and team in an epic face-off against Hydra to uncover an ancient secret. Meanwhile, Ward kidnaps his brother, Senator Christian Ward, for a violent trip down memory lane.
Written by DJ Doyle and directed by Milan Cheylov, "The Things We Bury" is set to air November 18. "Marvel's Agents of S.H.I.E.L.D." airs Tuesdays at 9 P.M. on ABC.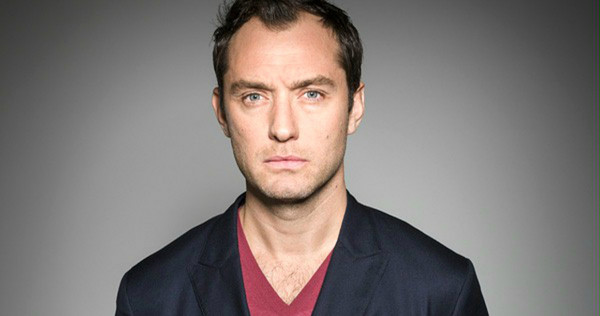 KNIGHTS OF THE ROUND TABLE
Director Guy Ritchie and his King Arthur reboot Knights of the Round Table have found their main villain in Jude Law, who joins a cast that also includes Charlie Hunnam as Arthur and Astrid Berges-Frisbey as Guinevere.
Joby Harold (Awake; Army of the Dead) wrote the script, and will produce alongside Guy Ritchie, Lionel Wigram, Akiva Goldsman and Tory Tunnell. No official plot details have been released at this time.
Knights of the Round Table is being used to set up a massive medieval franchise that will carry the legend of King Arthur thorough six movies. It is not known if Jude Law is appearing as the villain only in this first installment, or if his character will carry over into the other sequels.
Guy Ritchie is currently testing actors to serve as Arthur's mentor, the last major role yet to be cast before the film goes into production. Idris Elba was originally in talks to play Bedivere, but he has walked away from the project.
Jude Law and Guy Ritchie previously worked together on the two Sherlock Holmes movies starring Robert Downey Jr.Jude Law will next be seen in the treasure hunting adventure Black Sea, set for release this January.
SATURDAY, DECEMBER 6, 2014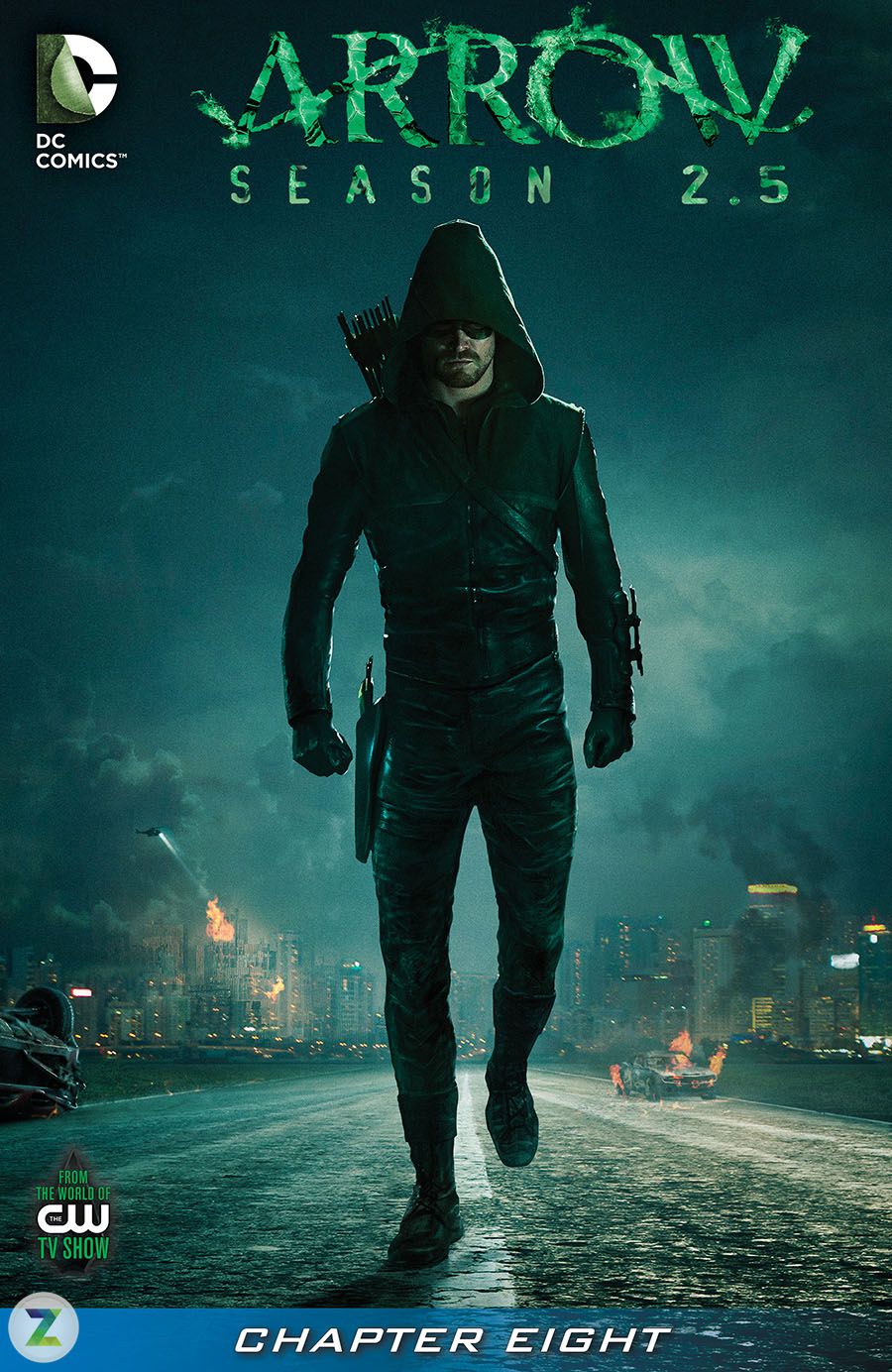 ARROW NEWS
The Canary is back in the latest issue of DC Comics' "Arrow 2.5" It's just in time too, as she saved John after an attack by the Arrow. Oliver's not quite himself, though.

What has the Arrow attacking his allies? All will be revealed in issue 8 of "Arrow 2.5," set between Seasons 2 and 3 of "Arrow" with Roy in a coma before becoming Arsenal. The big question is whether or not he can be saved before it's too late.

To get prepared, check out the cover and four pages from the issue below exclusively on Zap2it. "Arrow 2.5" No. 8 is available digitally from DC Comics on Monday, Dec. 8.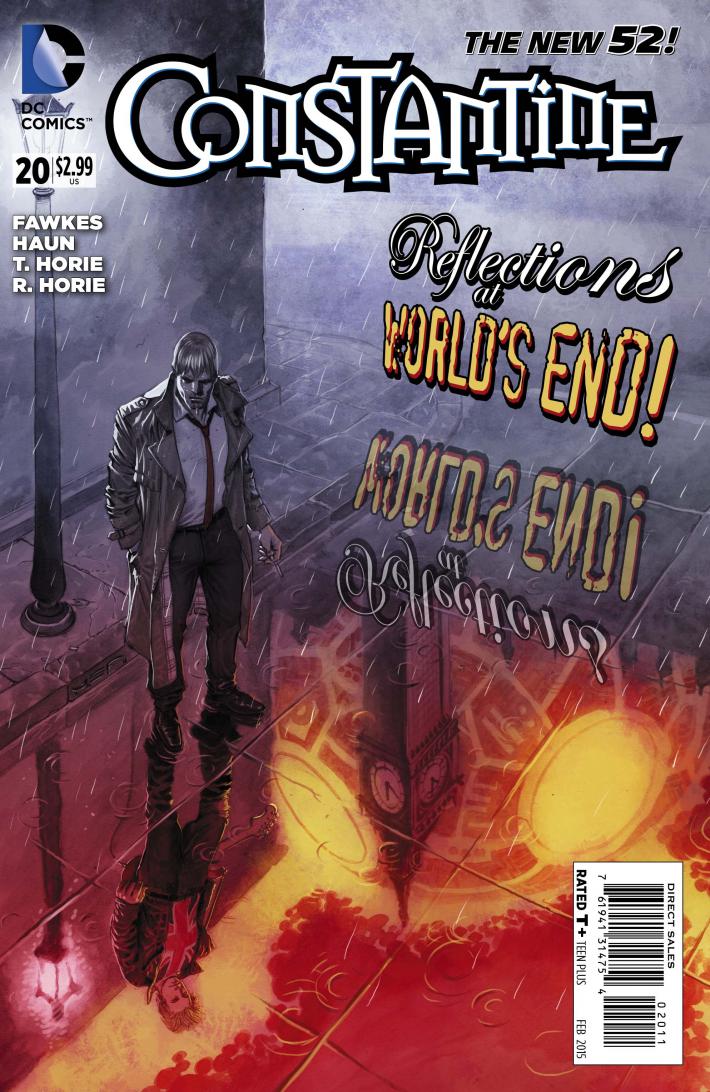 CONSTANTINE #20
If you have been keeping up with the Constantine monthly, or the Earth 2: World's End weekly (from which we exclusively reveal key art each week), you'll know that Johnny Boy has wound up stranded on Earth-2 with glitchy powers. So far the dabbler of dark arts has been dedicated to just getting himself back to the proper world, perhaps at the expense of others, but it is slightly more difficult not to get a little ... shall we say, self-involved.
When he encounters that Earth's John Constantine, a guy who has a significantly less shady existence, is it love or loathing at first sight? Check out the preview below of DC Comics' Constantine #20, written by Ray Fawkes.
And since we want you to have an especially magical Friday, also check out the teaser for tonight's all-new episode of Constantine, airing on NBC at 10 p.m. "Blessed Are the Damned" marks the seventh of 13 episodes of the series, which means fans still have a few more chances to make themselves heard and keep the show alive.
Constantine #20 from DC Comics is available Dec. 10, 2014, and is written by Ray Fawkes, with art by Jeremy Haun and cover by Juan Ferreyra.
THE LIBRARIANS
Actor Christian Kane is about to get Matrix-ed. His new TNT series, The Librarians, mixes The Matrix, Indiana Jones and yes, even a little Baskin-Robbins, promised the actor in an exclusive interview with Blastr. The new series' two-hour premiere airs on Sunday, Dec. 7, at 8 p.m. ET.
"What's special about the show to me is watching four people get clocked out of the real world. It's like watching Keanu Reeves get thrown into the Matrix," said actor/musician/songwriter Kane, who plays Jake Stone on the show. "We're all normal people. That's what's fun about watching us. It's a journey that you can take with us right off the bat. It's like, four people get plucked out of the world we think we know and all of a sudden there's magic."
The Librarians picks up where the three Noah Wyle movies left off. Wyle, who executive-produces, will also pop up on the new series, which features Kane (Angel, Leverage), Rebecca Romijn (X-Men), Lindy Booth (Dawn of the Dead) and John Kim (Neighbours) as the newest protectors of the world's mystical treasures. They join the returning Bob Newhart and Jane Curtin, as well as new actors to the series Matt Frewer and John Larroquette. Dean Devlin, who created the Librarian movies, John Rogers and Marc Roskin executive-produce.
"It's fun because, when you come along with us, you get to take the ride as well. It's like you are being thrown into this. A lot of times it's like, boom, there's magic, you don't have to explain it ... the things you heard about in children's books and ancient Roman stories and Greek mythology, these things are real. To watch four people have to go through this -- on their own, by the way -- it's like, we had no choice but to become a family." said Kane.
As far as how the series will relate to the Librarian movies, Kane promises that the producers "stay true to the bones, to the skeleton of the show. They really, really did. Of course, with Noah reprising his role, he led us all through the water, not only on the series, but in life as well. He's played this role. He knows The Librarian front and back. We all needed someone to walk us through it because we're new and we didn't want to mess up the great track record in the house that he built. It's great that Noah was very patient with all of us and showed us the ropes. He showed us what he thinks it takes to be a Librarian, and that transferred over onto film, too."
When it comes to his character, Jake Stone, "he's not a lot unlike me, to be honest with you. [Creator] John [Rogers] wrote this role with me in his pocket there. Noah, he's a very seasoned Librarian now. Jake kind of picks up where he started, which is not really knowing what's going on. In the very first episode, we're introduced to how magic is actually real, and for anyone in their right mind, obviously, that's very hard to come to terms with. You can't do it in one episode. It's going to take a season. Jake is a good old boy. Chivalry is close to his heart. In that sense, he doesn't mind throwing a couple punches if he has to to make sure people respect that," said Kane.
Beyond the character and the material, he's having fun finding out "what guest star are we going to get? That's always fun, to see the bad guy or the guy that we've got to be with or against, but what bad guy is going to step in? We're a first-run show, so nobody knows how this show is going to do. Some people would reluctantly say no, but we literally got some of the best guest stars we can get. So what was fun for me was opening the script, seeing the bad guy, or not even the bad guy, sometimes just the guy that's on our team, and then going, 'Man, who are they going to get?' And then waiting and waiting and two days later you find out who we got. It is star-studded. I mean, it's Alicia Witt, Bruce Campbell ... I got to do a whole bunch of stuff with Bruce Campbell," he said.
"It's Bruce Campbell, man. C'mon! I'm sitting there going, 'Okay, these people believe in the show. We got something here.' It was very nice. That was the most fun for me, was to open up the book, if you would, and then try to guess who they could get to play this role, and then actually seeing who they got was always so much fun. We lucked out this year on guest stars, and it was our first season, so I can't imagine what season two is going to be like," said Kane.
The multi-talented actor also fronts the southern rock band Kane, and he's developed a loyal following of fans, the Kaniacs, who follow his acting and his music. He believes The Librarians will be something all his fans, who range from 4 years old to 90, can enjoy.
"These writers have done a very good job about making the audience feel like they're in the show with us. To me as a kid, growing up, and still to this day, if I can lose myself for about 10 minutes in a movie or a TV show, that's what I'm watching it for. That's the entertainment value. If I can forget about life for just a second and enjoy this world that someone's created, that's the price of admission for me. That's what we were trying really, really hard to do," he said.
"I get to be on a series that I consider like Baskin-Robbins. It's 31 flavors. One day you're going to laugh so hard, then another one's serious, another one's scary. It's really so many different flavors. But the family can watch this show. Some of the monsters on there may scare somebody, but that's what we were trying to do. They can still watch this show. It's not going to cause nightmares. Nobody's head explodes. It's a family show. It really is," said Kane.
"This is Indiana Jones. This is something that every kid wants to grow up with. It's just the genre that I love. It's the genre that I know my close friends who I call fans and everything else, I know they love it, because they followed me from Angel to Leverage. It just seemed like a perfect fit for me. The sci-fi genre, it's what I grew up in. ... That's what's fun for me. [The Kaniacs,] all my dear friends and family, which I call them, they get to hang with me another year."
The Librarians airs on Sundays at 8 p.m. on TNT.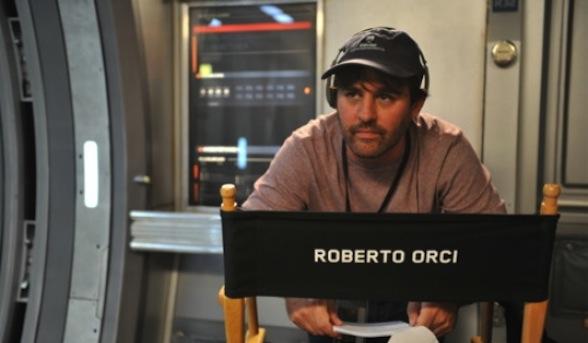 STAR TREK 3
Just months after getting the job, Roberto Orci is leaving the captain's chair on Star Trek 3 behind.
Deadline reports that Orci has stepped down as the director of Star Trek 3. Orci, a writer and producer on 2009's Star Trek and last year's Star Trek Into Darkness, got the gig after J.J. Abrams flew away to direct Star Wars: The Force Awakens. Word on the street said that Orci had lobbied hard to take over the franchise, so this news comes as a surprise.
There's no official reason given at press time for his exit, although he's still going be listed as a producer on the film. Star Trek 3 was meant to be Orci's directorial debut after years of writing and producing with former partner Alex Kurtzman, with whom he parted ways earlier this year.
UPDATE: Sources have told Badass Digest that production was shut down last month due to disagreements over the direction of the script, which Orci was writing with Patrick McKay and J.D. Payne. The story allegedly followed the Enterprise, the Vulcans and an unnamed new alien race as they all raced to get their hands on a time travel device. The Vulcans want the device so that they can go back and stop the destruction of their home planet (as shown in the 2009 movie) and presumably the time travel conceit is what would allow young and old Kirk (Chris Pine and William Shatner) to come face to face. That script -- which would essentially cancel out the two previous pictures and reset the Trek universe again -- may have been jettisoned along with Orci.
Now the question is: Who will take over? Paramount Pictures reportedly has a short list of directors it's reaching out to, and one name allegedly on that list is none other than Edgar Wright. Star Trek 3 is scheduled to come out in 2016, just in time to celebrate the franchise's 50th anniversary, so the studio wants to get this right.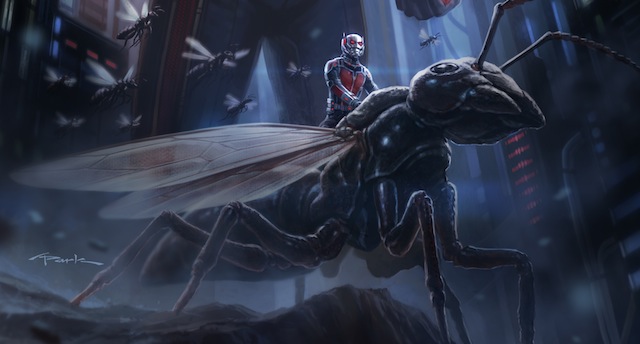 ANT-MAN WRAPS
Production has officially wrapped on Marvel Studios' "Phase Two" finale, director Peyton Reed's Ant-Man. Reed himself took to Twitter this evening to share the news:
Scheduled for a big screen release on July 17, 2015, Ant-Man stars Paul Rudd (This is 40) as Scott Lang, Michael Douglas (The Game) as Hank Pym and Evangeline Lilly (The Hobbit: The Battle of the Five Armies) as Hope Van Dyne.
In the film, Lang must embrace his inner-hero and help his mentor, Dr. Hank Pym, protect the secret behind his spectacular Ant-Man suit from a new generation of towering threats. Armed with the astonishing ability to shrink in scale but increase in strength, Land must go up against seemingly insurmountable obstacles to pull off a heist that will save the world.
Also starring Judy Greer (Dawn of the Planet of the Apes), Bobby Cannavale (Chef), Michael Pena (End of Watch), Martin Donovan (Insomnia), Wood Harris (Remember the Titans), John Slattery ("Mad Men"), Corey Stoll (This is Where I Leave You), Gregg Turkington (The Comedy), Abby Ryder Fortson ("Togetherness"), David Dastmalchian (The Dark Knight) and T.I. (Takers), Ant-Man features a script by Edgar Wright, Joe Cornish, Andrew Barrer, Gabriel Ferrari and Adam McKay.
FRIDAY, DECEMBER 5, 2014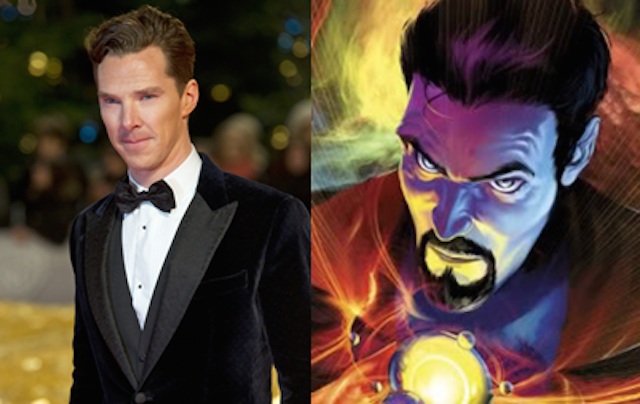 DOCTOR STRANGE NEWS
It's not Christmas, Chanukah or Kwanzaa yet, but Marvel just delivered one of the best holiday gifts ever: Benedict Cumberbatch has officially been cast as "Doctor Strange." According to the Marvel website, the "Doctor Strange" movie will tell "the story of neurosurgeon Doctor Stephen Strange who, after a horrific car accident, discovers the hidden world of magic and alternate dimensions." Scott Derrickson is directing, and Jon Spaihts is writing the script. At San Diego Comic-Con, Marvel head Kevin Feige told Zap2it and other reporters "Doctor Strange" is "a classic Marvel origin story, because he's got one of the best origins ever. It's our opportunity to take that left turn into the supernatural. Now what is the definition of 'supernatural'? It varies. We like the idea of playing with alternate dimensions. 'Strange,' in a very acid trip way, traveling through dimensions and traveling through other realms, is something that we think is very, very cool, playing with the perceptions of reality." The movie won't hit theaters until Nov. 4, 2016, and that's a long time for the world to wait to see Cumberbatch on the big screen as a Marvel superhero. TERMINATOR GENISYS
Arnold Schwarzenegger might be back, but Emilia Clarke is the one everyone should be looking at. The first trailer for "Terminator Genisys" was released on Thursday (Dec. 4), and from the looks of it, the "Game of Thrones" star has officially said goodbye to her white wig and pet dragons and picked up, well, a lot of amo. "Terminator Genisys" is set to follow an alternate path from the first "Terminator" film, and will see Kyle Reese (Jai Courtney) travel back in time to save Sarah Connor (Clarke), who, unlike the original story, has a plan of her own and is already waiting for him to arrive. In the trailer, John Connor (Jason Clarke) can be seen sending Kyle on his mission to save his mother, but things quickly change when Sarah utters the famous line, "Come with me if you want to live" to Kyle. Oh, how the tables of turned this time around. What follows is Sarah explaining that she needs Kyle's help to stop Judgement Day from happening. However, what's not seen in the trailer is Matt Smith's highly anticipated and unknown character. Given that the "Doctor Who" actor is absent from the trailer, it's likely that his character is going to be a major part of the film and, fingers crossed, is probably going to be an ultra villain. While everyone is busy scratching their heads on his role, relive that epic moment when Clarke's Sarah Connor makes her grand entrance: "Terminator Genisys" will hit theaters July 1, 2015.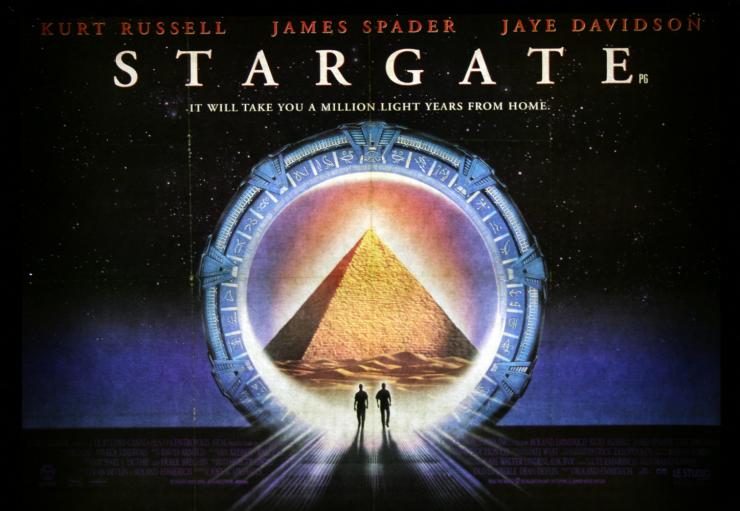 STARGATE REBOOT
Dean Devlin was responsible for two of the coolest sci-fi flicks of the 1990s, and he's trying to mount sequels and reboots for both of them. So what's the latest? Devlin is hard at work on a reboot of the beloved Stargate brand, which will be separate from both his original film and the decade of television series it spawned, along with a sequel to the alien-invasion action classic Independence Day. We just received word Independence Day 2 is a go, though rumored plans to shoot two sequels back to back had been scrapped. Why? According to Devlin, they wanted to make sure they didn't split their focus, so they opted to just film one movie to make sure they had the concept nailed down and the public responded well to the direction. Here's what he told Nerd Report: "We decided just to do one first to make sure that people like where we're going. If that works well, there's an ability to do some world building which would be really fun and interesting to do. I think Roland and everybody felt, let's just make sure 20 years later that people still are interested. I think in our case, we started to feel that maybe we were being a little bit arrogant by assuming that we could do two movies. We said you know what, let's scale it down. Let's first make sure that it works for everyone." Looking toward the Stargate reboot, Devlin noted the one-off Independence Day sequel should actually get things moving a bit quicker on the Stargate rebirth. He and frequent collaborator Roland Emmerich apparently plan to jump head-first into Stargate once work on Independence Day 2 wraps: "Unfortunately, we have to wait until we finish Independence Day for that. Roland wants to direct that one too. Hopefully we go into that right afterwards." So, a few things to take from this report. For one, they scrapped the ID4 double sequels because they're unsure of the new direction, which implies it could be a major shift from the original film. Two, the Stargate reboot is definitely still winding through development, and it sounds like Devlin and Emmerich are keen to make it happen. We're anxious to see how that one turns out.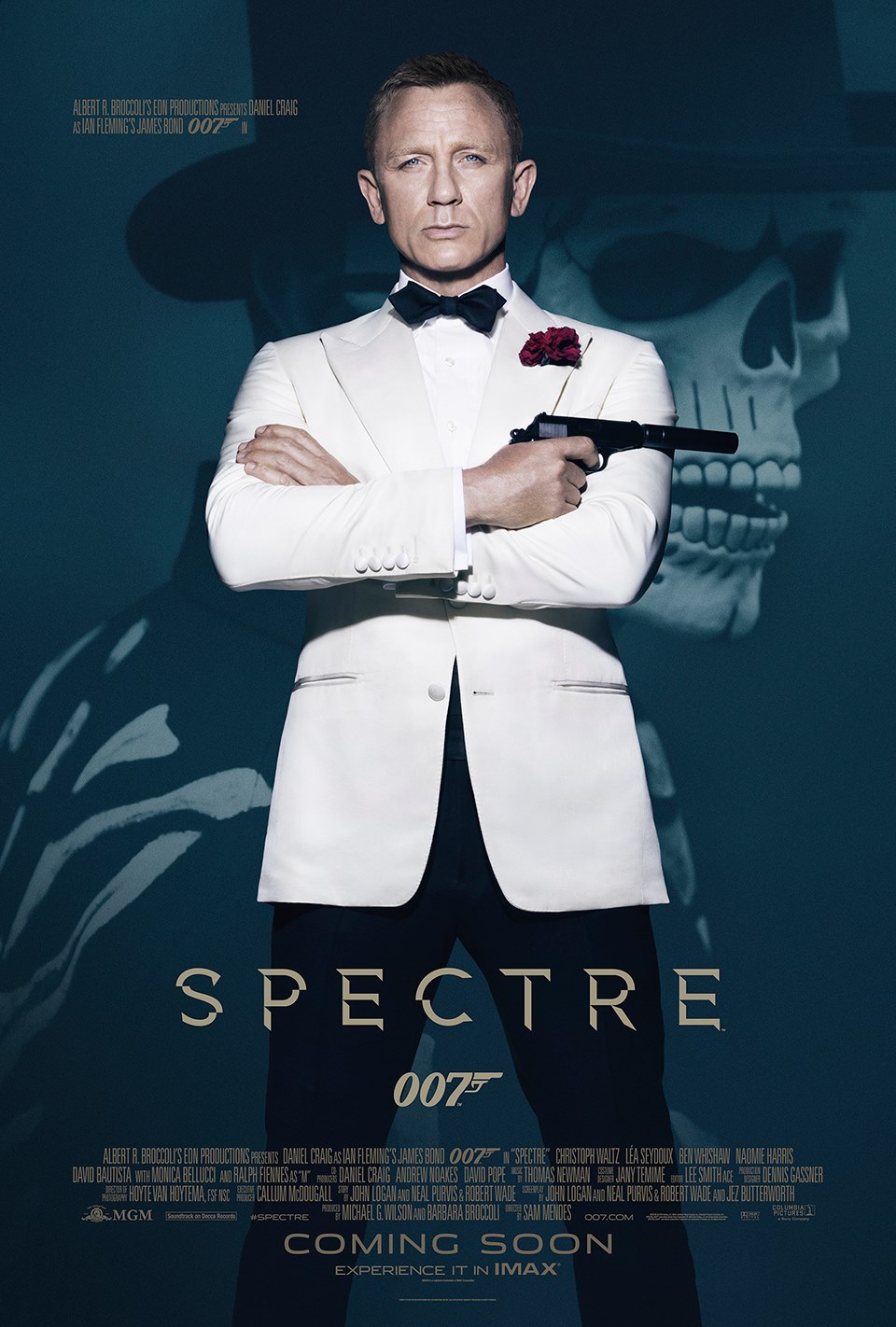 SPECTRE
The title for the next James Bond flick starring Daniel Craig in the title role has finally been revealed, along with the name of the new cast members, plot details, and a first poster. So, what's it called? The 24th James Bond flick will be called Spectre, a name that should get Bond fans' hearts racing. The announcement was made live earlier today from Pinewood Studios by James Bond Producers Michael G. Wilson and Barbara Brocoli, along with Eon Productions, MGM Studios and Sony Pictures. They confirmed the title, as well as new cast members Christoph Waltz (Django Unchained), Léa Seydoux (Beauty and the Beast), Monica Bellucci (The Brothers Grimm), Guardian of the Galaxy's David Bautista and Sherlock's Andrew Scott. They join Daniel Craig (my name is Bond, James Bond), Ralph Fiennes (M), Ben Whishaw (Q), Naomie Harris (Moneypenny) and Rory Kinnear (Tanner). Sam Mendes is, of course, back in the director's chair. James Bond Producers, Michael G. Wilson and Barbara Broccoli today released the title of the 24th James Bond adventure, SPECTRE. The film, from Albert R. Broccoli's EON Productions, Metro-Goldwyn-Mayer Studios, and Sony Pictures Entertainment, is directed by Sam Mendes and stars Daniel Craig, who returns for his fourth film as Ian Fleming's James Bond 007. SPECTRE begins principal photography on Monday, December 8, and is set for global release on November 6, 2015. Along with Daniel Craig, Mendes presented the returning cast, Ralph Fiennes, Naomie Harris, Ben Whishaw and Rory Kinnear as well as introducing Christoph Waltz, Léa Seydoux, Dave Bautista, Monica Bellucci and Andrew Scott. Mendes also revealed Bond's sleek new Aston Martin, the DB10, created exclusively for SPECTRE. A cryptic message from Bond's past sends him on a trail to uncover a sinister organisation. While M battles political forces to keep the secret service alive, Bond peels back the layers of deceit to reveal the terrible truth behind SPECTRE. The 007 production will be based at Pinewood Studios, and on location in London, Mexico City, Rome and Tangier and Erfoud, in Morocco. Bond will return to the snow once again, this time in Sölden, along with other Austrian locations, Obertilliach, and Lake Altaussee. Commenting on the announcement, Wilson and Broccoli said, "We're excited to announce Daniel's fourth installment in the series and thrilled that Sam has taken on the challenge of following on the success of SKYFALL with SPECTRE." Written by John Logan and Neal Purvis & Robert Wade, Director of Photography is Hoyte van Hoytema and Editor is Lee Smith. Production Designer, Dennis Gassner returns along with Costume Designer, Jany Temime and Composer, Thomas Newman. Action Specialist, Alexander Witt is the 2nd Unit Director. Stunt Coordinator is Gary Powell, SFX Supervisor is Chris Corbould, and Visual Effects Supervisor is Steve Begg. Skyfall, the 23rd James Bond film, was a worldwide box office phenomenon, opening #1 in 70 territories around the world, taking over $1.1 billion worldwide and setting a new all-time box office record in the UK by becoming the first film to take over £100 million. The launch of SPECTRE was streamed live on 007.com and Facebook.com/JamesBond007, and the video is now available on demand at both sites.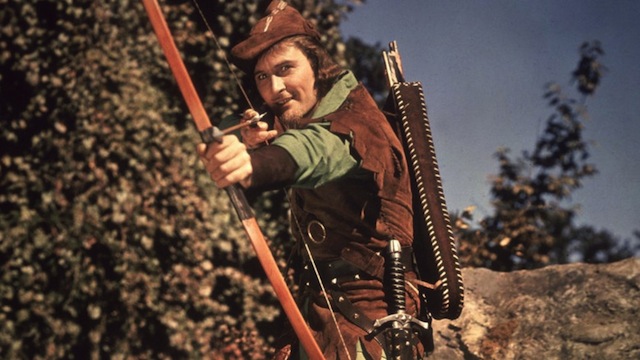 ROBIN HOOD
Back in October, word broke that Sony Pictures is planning Hood, a "shared universe" take on the legendary folklore hero Robin Hood. Now it seems that Disney is gearing up for their own visit to Sherwood Forest as Deadline reports that the studio has acquired an original spec script from newcomer screenwriter Brandon Barker. Titled Nottingham & Hood, Barker's take is likened to Disney's Pirates of the Caribbean and the outlet suggests that early plans are to similarly spin the feature into a multi-film franchise. Disney is, of course, no stranger to the tale of Robin Hood. In 1973, Walt Disney Animation Studios released an animated feature film version of the story set in a world of anthropomorphic animals. The filmic history of the character goes back significantly further, however, nearly to the birth of cinema itself. Percy Stow's "Robin and His Merry Men," a 1908 silent short, is the first documented celluloid adaptation with dozens of additional versions following throughout the next century and beyond. Errol Flynn starred in Michael Curtiz's 1938 Technicolor adaptation, The Adventures of Robin Hood, and, while his portrayal arguably remains the most famous, the likes of Sean Connery, Kevin Costner, Russell Crowe and many more have done their best to split Flynn's metaphorical arrow. The Picture Company's Alex Heineman and Andrew Rona are attached to produce Nottingham & Hood with Foster Driver and Tendo Negenda overseeing for Disney.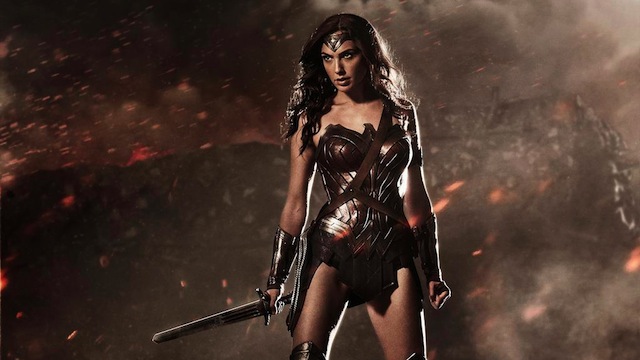 WONDER WOMAN
We learned late last month that Warner Bros. Pictures is setting "Breaking Bad" and "The Walking Dead" helmer Michelle MacLaren to direct their upcoming DC Comics film Wonder Woman. Now, The Hollywood Reporter reveals that the studio is looking at screenwriter Jason Fuchs (Ice Age: Continental Drift, the upcoming Pan) to provide the script. Gal Gadot is already set to headline Wonder Woman with the character planned to make her first cinematic appearance in 2016's Batman v Superman: Dawn of Justice. She may even make additional appearances across DC's new cinematic universe before her solo film sees release on June 23, 2017. It's pretty much a guarantee, too, that Wonder Woman is also going to play an important role in Justice League Part One, hitting theaters November 10, 2017. Recent rumors have suggested that, as a franchise, Wonder Woman is being targeted for development as a trilogy with the first film planned to take place in the 1920s, revealing Themyscira's first encounter with the outside world and Wonder Woman's own experiences with a USA that still had a lot to learn about equal rights. Then, it is alleged, a sequel would take place in the 1940s and will be set against the backdrop of World War II. A third film, then, would finally bring Wonder Woman's solo adventures to a contemporary setting. Take all of that with a grain of salt, however. According to the trade, Fuchs is also already working on the sequel to Pan.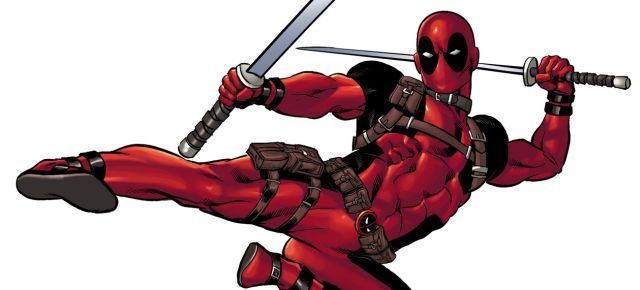 DEADPOOL
As if there was any doubt, Deadline reports that Ryan Reynolds is closing a deal to return as the Merc with the Mouth in 20th Century Fox's upcoming Deadpool feature film. The outlet also reports that a March start date is being planned for the production. Though Reynolds previously appeared as the character in 2009's X-Men Origins: Wolverine, given how that film was received (and the ending to this year's X-Men: Days of Future Past), it's possible that film will not be acknowledged at all in the 2016 release. Tim Miller is set to helm the film from a script by Zombieland writers Rhett Reese and Paul Wernick. Deadpool is currently set for a release on February 12, 2016. JUSTICE LEAGUE: THRONE OF ATLANTIS
The newly formed Justice League members Superman, Batman and Wonder Woman discover another super hero on the planet - Aquaman - and the group must band together to prevent a war between the inhabitants of land and sea as Warner Bros. Home Entertainment, Warner Bros. Animation, and DC Entertainment unleash Justice League: Throne of Atlantis. Packed with non-stop action, the brand-new 75-minute DC Universe Original Movie comes to Blu-rayTM Combo Pack, DVD and Digital HD on January 27, 2015.
THURSDAY, DECEMBER 4, 2014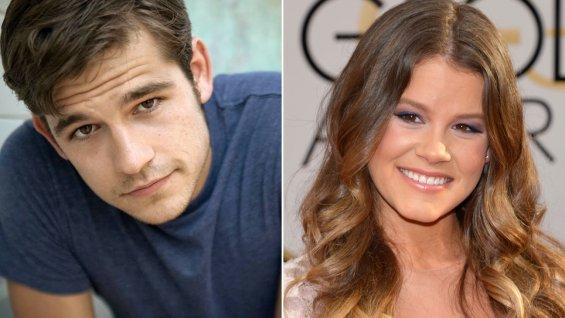 THE MAGICIANS
After years of development, including a false start at the Fox network, an adaptation of Lev Grossman's acclaimed bestseller The Magicians is now on track at Syfy. A filmed version of the beloved novel, which follows a group of twentysomething students at a New York City magic school, has been eagerly anticipated by fans ever since The Magicians was published five years ago, and the project is easily one of the most anticipated new genre series in Syfy's future. Now we know who'll star in the show. According to The Hollywood Reporter, Jason Ralph (Aquarius) and Sosie Bacon (The Closer) have been cast as the stars of The Magicians. Ralph will play the novel's protagonist, Quentin Coldwater, a disillusioned but brilliant young man fascinated by a series of fantasy novels set in the magical land of Fillory. When Quentin is accepted into the Brakebills College of Magical Pedagogy, he finds that his dreams of a world of magic can actually become real, but the kind of magic he's about to encounter might not be what he truly wants. Bacon, the daughter of actors Kevin Bacon and Kyra Sedgewick, will play Alice, a natural magician born of a magical family that doesn't make much time for her, who eventually develops a relationship with Quentin and becomes the best magician in their Brakebills class. The series is being written by John McNamara (Prime Suspect) and Sera Gamble (Supernatural), and Mike Cahill (I Origins) is on board to direct the pilot, which is set to begin shooting soon. So the cast and crew is taking shape. Now we just have to see if The Magicians pilot is enough to impress Syfy executives.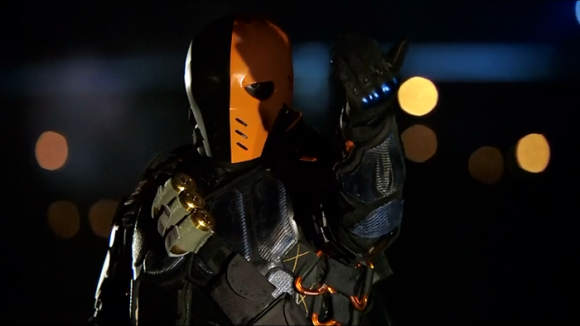 ARROW NEWS
While we wait for Ra's to arise from his pit, let's talk about someone else who will be turning up sooner than we expected. Arrow has a solid reputation for keeping its audience on their toes. We're gonna reveal something that's coming up, though, so if you prefer to be surprised for everything, now is a good time to look away. SPOILERS So, we all remember who the Big Bad was last season on Arrow, right? Dude with an orange and black mask, crazy from all the Mirakuru, out for vengenace. Oh, hey, Deathstroke. What's up? Yes. Slade Wilson. He was good, he was bad, he was definitely imprisoned on Lian Yu never to be heard from again. Right? Well, no. Of course he's coming back. But it turns out he's coming back a lot sooner than a lot of us were expecting. It's been confirmed that Manu Bennett will reprise the role of Deathstroke in the 14th episode of this season. The question is, what's the story gonna be? Marc Guggenheim told us that Arrow is all about doing the expected in an unexpected way. We already weren't expecting Slade to show up so soon, but surely that's not the only surprise in store. Maybe this will be the season of people turning against Oliver? Thea's already training with Malcolm Merlyn. Maybe someone else from Team Arrow will turn heel and side with Slade? Guess we'll have to wait and see!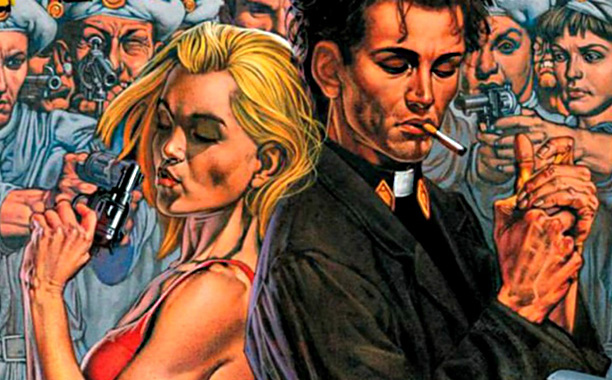 THE PREACHER
Preacher has taken another major step toward becoming a series. AMC has given a pilot order to the project based on the surreal, irreverent 1990s comic series created by writer Garth Ennis by artist Steve Dillon. Sam Catlin (Breaking Bad) will serve as executive producer and showrunner, while Seth Rogen and Evan Goldberg (This is the End) will executive produce and direct the pilot, which is written by Catlin. AMC's official description: "Based on Garth Ennis and Steve Dillon's twisted '90s comic book series, Preacher is about Jesse Custer, a conflicted Preacher in a small Texas town who merges with a creature that has escaped from heaven and develops the ability to make anyone do anything he says. Along with his ex-girlfriend, Tulip, and an Irish vampire named Cassidy, the three embark on a journey to literally find God." "Preacher has been our favorite comic since it first came out," Rogen and Goldberg said in a statement today. "Garth Ennis is one of our idols and it's an incredible honor to be working on this. We promise we won't make too many dick jokes and ruin it." GET MORE EW: Subscribe to the magazine for only 33¢ an issue! Said Ennis, who is serving with Dillon as co-executive producers on the project: "Steve Dillon and I are extremely pleased to know AMC has taken Preacher to pilot. We have had an ongoing voice in the efforts of the writers whom Sony TV and Original Film entrusted with this project, Seth Rogen, Evan Goldberg, and Sam Catlin, and have been most gratified that they continue to include us, and that they have tackled the project with the type of unwavering commitment and courage needed to present the material as Steve and I intended. This has been a long time coming, but that it continues apace, and with the chance to be delivered episodically, gives Preacher an opportunity to be seen in its best possible medium, not previously possible. And many thanks indeed to [executive producers] Ken Levin and Neal Moritz for their never flagging commitment to Preacher, and for never giving up well past the point when I myself grew skeptical—we have principally gotten to where we are today because of Neal and Ken." The pilot will be made in summer 2015, and could hit the air on AMC sometime in 2016.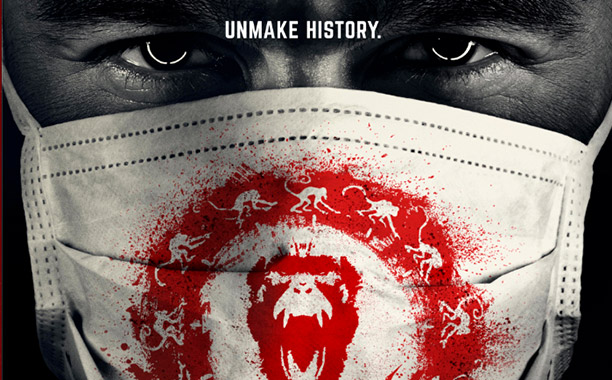 12 MONKEYS
Syfy's 12 Monkeys adaptation may sound similar to the original 1995 film starring Bruce Willis and Brad Pitt, but the new series aims to shake things up. The drama stars Nikita's Aaron Stanford as a time traveler from a decimated future, who journeys back to present day in a bid to locate and eradicate the source of a deadly plague that will pretty much annihilate the human race. "We were all very, very big fans of the original film and had a deep love and respect for that material, so we didn't want to just redo what the movie does," executive producer Natalie Chaidez says. "So, while the series shares a lot of the same overall themes of the movie, it is in fact a reimagining and we changed the rules." 12 Monkeys will debut Friday, Jan. 16 at 9 p.m. ET.
WEDNESDAY, DECEMBER 3, 2014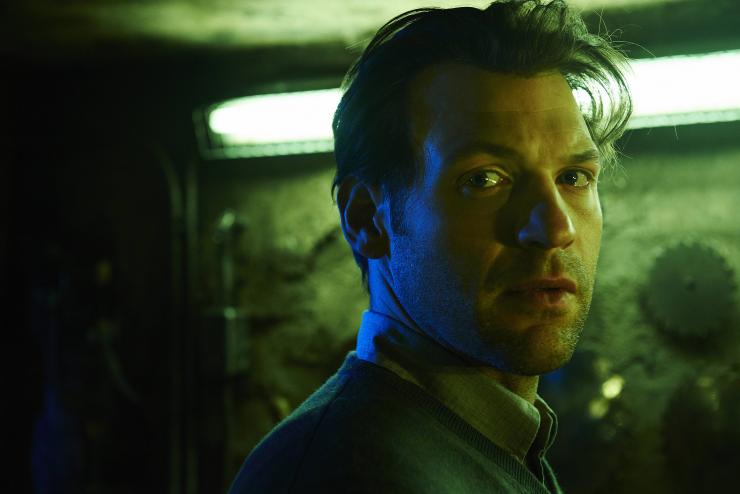 THE STRAIN
Our skin is still crawling from the vamp-tastic first season of Guillermo del Toro's FX horror series The Strain, and production is now underway on season two. The first season was a bit of a gory mixed bag, but the series had finally hit its weird-awesome stride by the time the season finale rolled around. Considering del Toro went into the show with a 3-5-year plan already in mind — since it's based on the book trilogy of the same name — we're glad to hear he'll get a chance to tell more of the tale. With filming underway on the season-two premiere, del Toro chatted with Collider about the progress they're making and how things will change in the second year. Not surprisingly, they'll be changing a lot. Believe it or not, del Toro says things are getting even darker — and they plan on going a bit "off book" from the established story: "We started shooting last week. We've been prepping for about two months. I'm going to, god willing, direct the prologue of the first episode and some second unit and direct the black and white Mexican wrestler B-movie pictures that appear in the season, because one of our characters is a masked Mexican wrestler [laughs], so it will be a lot of fun for me. The pilot is being directed by Gregory Hoblit whom I admire and loved his work for many decades. We start, I think, with a really great episode. We're about two days away from being done, second and third are in the pipeline, the sets are looking fantastic, we're doing a lot of new makeup effects, we're doing a lot of surprises. We're going a little more off book this season than the last season. The last season went quite a bit off book on the last third, but this season we are introducing new characters even to the books and some characters are going to have really interesting arcs. Eph is going to a much darker place after losing Kelly. It's a really interesting new world. And it's great to be back on the show and see everybody back, like a family reunion." The new season of The Strain is expected to hit FX in 2015. THE TERMINATOR: GENISYS
We'll finally get a peek at the first trailer for Terminator: Genisys later this week, but while we wait, the studio has revealed the first tantalizing poster for the mysterious sequel. The poster is light on details but heavy on imagery. This franchise has always dealt heavily with time travel, and the Genisys poster embraces it more than any entry in history. It's a neat effect, with a bare metal Terminator skull dissolving into dust and trickling down into a pile like an hourglass. The poster also goes along with reports that the sequel will be the most time-trippy installment yet, essentially creating an alternate timeline outside the original series (see: J.J. Abrams' Star Trek) by picking up with Sarah Connor before the events of the first film and subsequent sequels. It's a gutsy move, if nothing else, so here's hoping they do it justice. The film stars Jason Clarke (Dawn of the Planet of the Apes) as John Connor, Jai Courtney (Divergent) as Kyle Reese, Arnold Schwarzenegger as the Terminator, Emilia Clarke (Game of Thrones) as young Sarah Connor and Matt Smith (Doctor Who) in a mystery role. Considering Clarke is in her late 20s and plays the mother of 45-year-old Clarke, it stands to reason this one will definitely have some 'splaining to do. Along with the motion poster above, the studio also confirmed that the first trailer will drop on Thursday. So keep an eye out for that later this week. The film is set to open July 1, 2015.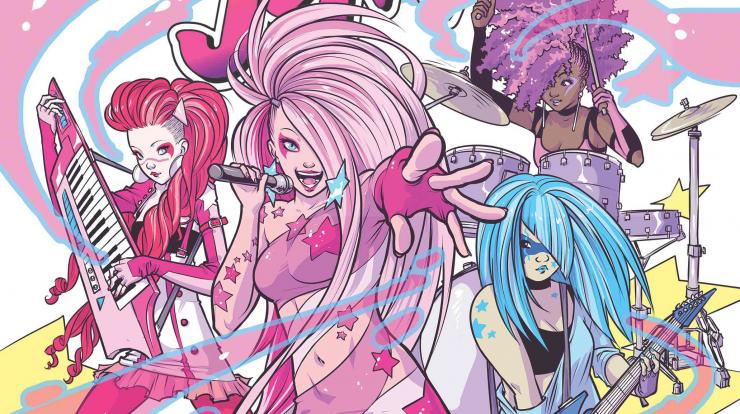 JEM AND THE HOLOGRAMS
Before we get the Jem movie, we'll get her first-ever truly outrageous comic-book series. If you're a fan of the 1980s animated series about a sci-fi-tinged rock band and their world of glamour and glitter, fashion and fame, 2015 is going to be a really exciting year for you. We've known for a while now that Jem and the Holograms are headed for the big screen in their first-ever live-action movie, but that's not all. Thanks to a longstanding partnership with Hasbro that includes successful Transformers and G.I. Joe comics, IDW Publishing is also about to bring Jem to comics for a new ongoing series. In March 2015, the publisher will debut Jem and the Holograms from writer Kelly Thompson (The Girl Who Would Be King) and artist Ross Campbell (Teenage Mutant Ninja Turtles). Here's the official synopsis for the book, which makes it sound like the comic will stick close to the traditions of the TV series. Meet Jerrica Benton, the gifted singer of The Holograms, a band that has the right look and the right sound...but one thing is holding them back—Jerrica's crippling stage fright. Luckily, Jerrica is about to find help in the most unlikely of places when she discovers a forgotten present left by her father. And what she finds is truly outrageous! According to IDW Senior Editor John Barber, a Jem book was in the works at IDW for the past three years, but it wasn't until the team of Thompson and Campbell came together that the book really took shape. "As a kid I was a huge fan of the original '80s JEM AND THE HOLOGRAMS cartoon and so the chance to breathe new life into it for a savvy modern audience, not to mention to work with Ross, an artist practically destined to draw this book, is really a dream come true," Thompson said. To add to the glamour and glitter of this comic's release, IDW is also releasing five "box set" covers for each of the book's first two issues. Issue one will feature four covers, one for each Hologram, by My Little Pony artist Amy Mebberson, plus a cover of the whole band by Campbell, and the covers will be collected into a "deluxe rainbow foil and holographic collectible box." Issue two will feature a similar collaboration by Mebberson and Campbell, this time focusing on the Holograms' rival band and nemesis, the Misfits. My Little Pony artist Sara Richard will also contribute subscription covers to the series. GAME OF THRONES VIDEO GAME
They've already turned The Walking Dead into one of the greatest adventure games in modern history, and here's the first full look at Telltale Games' take on Game of Thrones. With the first two seasons of The Walking Dead game, the developers hit the sweet spot of cinematic videogame storytelling and created something truly spectacular. They've now turned their attention toward George R.R. Martin's deadly world of Westeros, and we can't wait to dig in. The first episode of six installments lands this week on Windows, Mac, Playstation Network, Xbox, iOS and Android, and Telltale has finally released the full launch trailer. As expected, it looks fantastic. The first episode will include voice work from cast members Peter Dinklage, Lena Headey, Natalie Dormer and Iwan Rheon. Here's the official synopsis: This new story tells of House Forrester, a noble family from the north of Westeros, loyal to the Starks of Winterfell. Caught up in the events surrounding the War of the Five Kings, they are thrown into a maelstrom of bloody warfare, revenge, intrigue, and horror as they fight to survive while the seven kingdoms tear themselves apart.
TUESDAY, DECEMBER 2, 2014
THE FLASH VS. ARROW
"Flash vs. Arrow" and "The Brave and the Bold"
Crossover event! - Over the past two years, Arrow has built itself from gritty vigilante drama into a kind of comic-book launchpad, a place where DC Comics characters, tropes and stories can come out to play in the sandbox that is Starling City. Last year, the show launched The Flash, and with its own debut this fall Barry Allen's series cemented itself as one of the hottest new shows on broadcast TV. The CW has two major superhero hits on its hands, so it's no wonder that a crossover event is on the way. This week we'll see Oliver Queen and Barry Allen teaming up to fight not one but two supervillains, including the just-introduced Captain Boomerang (Nick Tarabay). We don't yet know exactly how far the two shows will take this crossover, or whether it'll lead to future team-ups (we're thinking yet), but if you're a viewer who's been following the development of this little DC microverse for the past couple of years, this is kind of the icing on the cake. After all, what's more comic-book than a crossover? The Librarians (TNT) Sunday, 8 p.m. - "And the Crown of King Arthur" & "And the Sword in the Stone" Series premiere! - After three fun made-for-TV adventure movies starring Noah Wyle as a librarian on the trail of magical artifacts, The Librarian franchise is finally getting to go long-form with The Librarians, a new series following a team of such artifact hunters as they find lost treasures and fight evil. Wyle returns as Librarian Flynn Carsen, but this series will also star a quartet of new Librarians, played by Rebecca Romijn (X-Men), Christian Kane (Angel), Lindy Booth (Dawn of the Dead) and John Kim (Neighbours). Trailers for the series are definitely preserving the comedy-adventure vibe of the films, and the cast is packed with genre favorites, so we could be looking at a brand-new TV addiction. AGENTS OF S.H.I.E.L.D.
"Ye Who Enter Here"
The team beat Hydra in the race to locate the ancient city, but a sacrifice must be made in order to expose the city's secrets. Meanwhile, May and Skye hurry to reach Raina before Whitehall finds her.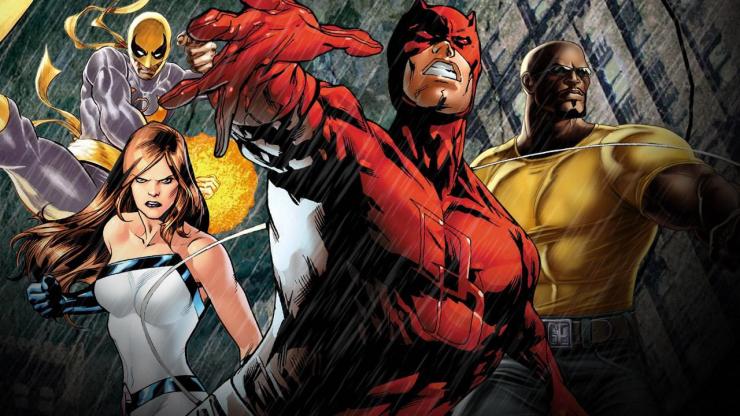 DAREDEVIL ON NETFLIX
Aside from some tantalizing concept art, the general public has seen virtually nothing from Marvel's first of many planned streaming shows based on "street-level" characters such as Daredevil, Jessica Jones, Iron Fist and Luke Cage. Well, we still don't have a trailer, but showrunner Steven DeKnight has opened up via an impromptu Q&A on Twitter. Among the details? A second season is certainly on the table if the series proves to be a hit, and DeKnight says they're drawing inspiration from specific comic arcs but not trying to make a slavish adaptation. Oh, and DeKnight is also apparently directing the finale very soon, which means they should definitely be on track to debut the series in 2015. Here's hoping early-ish 2015.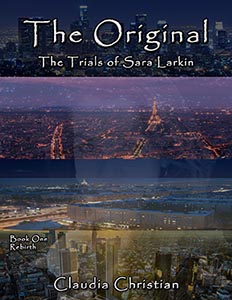 THE ORIGINAL: THE TRIALS OF SARA LARKIN
(Book One: Rebirth by Claudia Christian)
The Original is the story of Sara Larkin, an actress who thought her career in Hollywood was on the slide. Then she kills herself, some mysterious people dispose of the body, and she gets on with life as someone else. At first everything improves. She gets a good role in a major movie, Assassinelle, and soon she is on the way to becoming a superstar. All the while she is becoming less human… people called the Overlords are still trying to kill her, but the Klassnys have sent the deadly and psychopathic Doctor Svetlana to protect her. It is vital to the Klassnys that both Assassinelle and Sara become major hits. As the movie nears completion, a shadowy war between the Klassnys and Overlords erupts. Sara's is caught in the middle, and neither side seems to be the good guys. "The Original" is about movies and acting, but touches on high fashion, martial arts, science fiction and emergency medical procedures. It is fast moving and compelling thriller, with flashes of comedy set against desperate and deadly struggles between the Klassnys and Overlords. It has an appeal to a very wide audience, and contains some rare and honest insights into the real Hollywood.
DECEMBER 1, 2014
STAR WARS TRAILER
Don't mess with the Force. The Star Wars Episode VII: The Force Awakens teaser trailer — 88 seconds of geeky goodness — has surpassed 40 million YouTube views in less than 72 hours online, according to a preliminary estimate by The Hollywood Reporter. For comparison, the Fifty Shades of Grey trailer did 36.4 million YouTube views in its first four days when the trailer dropped in late July. Avengers: Age of Ultron racked up 50.6 million in its first five days, giving it the biggest debut week of any coming attraction in 2014. THR and technology firm Zefr use a Monday-to-Monday week to calculate trailer views through proprietary monitoring of YouTube. Comprehensive Zefr numbers will be available Monday (Dec. 1). The Star Wars trailer has been met by positive reviews, parodies (what would Lucas do?), a Lego version and comparisons with the Jurassic World trailer that dropped a few days ahead of The Force Awakens. Anglo-African actor John Boyega responded to criticism about his character, a black stormtrooper, that pops up in the first few seconds by writing on instagram, "Get used to it." Star Wars Episode VII: The Force Awakens opens in theaters Dec. 18, 2015. Boy, does that year feel further away than it would take to travel to a galaxy far, far away ...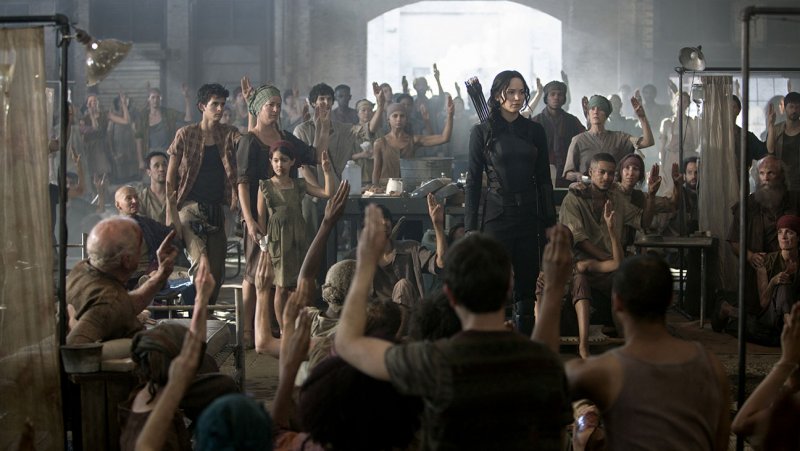 WEEKEND BOX OFFICE
The holiday wasn't kind to 'Horrible Bosses 2' and 'Penguins of Madagascar'; 'The Imitation Game' opens to eye-popping numbers in Los Angeles and New York Lionsgate's The Hunger Games: Mockingjay — Part 1 was the easy victor at the otherwise soft Thanksgiving box office, earning $82.7 million to score the third-best gross of all time for the five-day holiday, not accounting for inflation. The penultimate installment in the YA film franchise has now earned $225.7 million in North America and $480 million worldwide. Domestically, however, Mockingjay continues to trail well behind last year's The Hunger Games: Catching Fire, which finished Thanksgiving with $296.3 million in North American ticket sales. Still, the only two films to earn more over Thanksgiving were Catching Fire ($110 million) and Frozen ($93 million). Mockingjay's $82.7 million haul included a three-day weekend take of $56.9 million. New entries Penguins of Madagascar and R-rated comedy Horrible Bosses 2 both did less business than expected after opening Wednesday, helping to explain why overall revenue was down more than 20 percent from last Thanksgiving. Horrible Bosses 2 in particular came in well behind projections, although it sports a relatively modest production budget of $40 million. From DreamWorks Animation and Fox, Penguins placed No. 2 with $36 million for the five days, one of the lowest numbers for an animated film opening over Thanksgiving, not accounting for inflation, although it did best DreamWorks' ill-fated Rise of the Guardians ($32.3 million). That includes a weekend take of $25.8 million. Penguins' opening isn't good news for Jeffrey Katzenberg's company, and the film will need strong legs. It did earn an A- CinemaScore, which could help fuel word of mouth, or at least that's the hope. Overseas, Penguins took in another $36 million from 44 markets for an early foreign total of $63 million and worldwide cume of $99 million. The spinoff opened two weeks ago in China, where it has earned a sturdy $33 million. The $132 million family film, a spinoff of the popular Madagascar franchise, is directed by Eric Darnell and Simon J. Smith. The voice cast includes John Malkovich, Benedict Cumberbatch, Tom McGrath, Christopher Knights, Chris Miller, Conrad Vernon, Peter Stormare, Ken Jeong and Annet Mahendru. Fox domestic distribution chief Chris Aronson raised the possibility that Penguins' showing on Thanksgiving Day itself was dampened by major retailers beginning Black Friday on Thursday night. "We always do a postmortem on our openings and we will study what impact Black Friday, or really, Black Thursday, had on our box office." Making life undeniably difficult for Penguins was Disney holdover Big Hero 6, which continued to prosper in its fourth weekend, grossing roughly $26 million for the five days to come in No. 3. Big Hero 6 has now earned $167.2 million domestically and $224.1 million worldwide. From New Line and Warner Bros., Horrible Bosses 2 grossed $23 million for the five days to come in No. 4. For the weekend itself, the sequel took in $15.7 million, putting it at No. 5 just behind Interstellar. The first Horrible Bosses opened to $28.2 million on its way to earning a stellar $209.6 million worldwide. The sequel earned a B+ CinemaScore. Warners domestic distribution president Dan Fellman said he was disappointed, but noted that moviegoers under the age of 25 gave the film an A- CinemaScore. "Next weekend, there are no wide releases, and hopefully, my young male audience will snap to," he said. Heading into the weekend, tracking suggested Horrible Bosses 2 would gross $35 million or more, while Penguins was expected to take in between $40 million and $45 million. Directed this time out by Sean Anders, Horrible Bosses 2 reteams most of the original cast, including Jason Bateman, Charlie Day and Jason Sudeikis, whose characters set out to start their own business, only to be swindled. Jennifer Aniston, Jamie Foxx, Chris Pine, Christoph Waltz and Kevin Spacey also star. Rounding out the top five, Christopher Nolan's Interstellar earned $22 million for the five days for a North American total of $147.1 million. As awards season heats up, there was a slew of offerings for adults at the specialty box office, including director Morten Tyldum's The Imitation Game, which The Weinstein Co. debuted Friday in New York and Los Angeles. The biopic, starring Cumberbatch, did huge business, earning $482,000 for a location average of $120,500, the second-best showing of the year after The Grand Budapest Hotel ($220,000). Focus Features' Stephen Hawking biopic The Theory of Everything moved up to No. 7 as it expanded nationwide into a total of 802 theaters, grossing $5.1 million for the weekend and $6.4 million for the five days for a domestic total of $9.6 million. Birdman, now in its eighth weekend, remained in the top 10, earning $1.9 million for the three days and $2.4 for the five days for a domestic total of $17.2 million. Here are the estimated top 10 films for the Thanksgiving holiday at the domestic box office:
Title, Weeks in Release/Theater Count, Studio, Three Day/Five Day, Cume
1. Mockingjay — Part 1, 2/4,151, Lionsgate, $56.9 million/$82.7 million, $225.7 million
2. Penguins of Madagascar, 1/3,764, Fox/DWA, $25.8 million/$36 million
3. Big Hero 6, 4/3,365, Disney, $18.8 million/26 million, $167.2 million
4. Horrible Bosses 2, 1/3,375, Warner Bros./New Line, $15.7 million/$23 million
5. Interstellar, 4/3,066, Paramount/Warner Bros., $15.8 million/$22 million, $147.1 million
6. Dumb and Dumber To, 3/3,130, Universal/Red Granite, $8.3 million/$11.6 million, $72.2 million
7. The Theory of Everything, 4/802, Focus Features, $5.1 million/$6.4 million, $9.6 million
8. Gone Girl, 9/1,174, Fox/New Regency, $2.3 million/$3.3 million, $160.8 million
9. Birdman, 8/710, Fox Searchlight/New Regency, $1.9 million/$2.4 million, $17.2 million
10. St. Vincent, 9/1,256, The Weinstein Co., $1.8 million/$2.3 million, $39.3 million BETTER CALL SAUL
AMC debuted new footage from the upcoming "Breaking Bad" prequel/spin-off series "Better Call Saul" on tonight's "The Walking Dead" mid-season finale. Starring Bob Odenkirk in the title role, the series will also feature Jonathan Banks, Michael McKean, Rhea Seehorn, Patrick Fabian and Michael Mando. "Breaking Bad" creator Vince Gilligan and executive producer Peter Gould created the show together and serve as co-showrunners of the premiere season which is set six years before Saul Goodman (Odenkirk) meets Walter White. When we meet him, the man who will become Saul Goodman is known as Jimmy McGill, a small-time lawyer searching for his destiny, and, more immediately, hustling to make ends meet. Working alongside, and, often, against Jimmy, is Mike Erhmantraut (Banks). The series will track Jimmy's transformation into Saul Goodman, the man who puts "criminal" in "criminal lawyer." The series' tone is dramatic, woven through with dark humor. Gilligan directed the first episode of the series, which has already been greenlit for a second season of 13 episodes. The first season will consist of 10 episodes and will premiere on February 9, 2015 at 10/9c.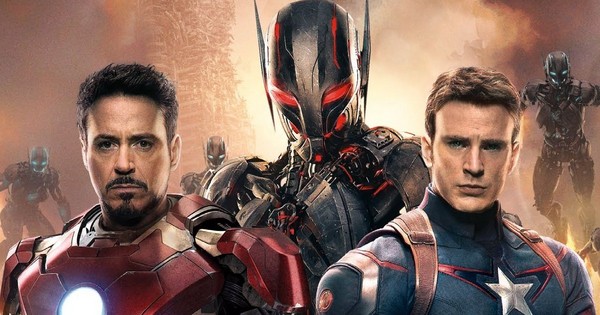 AGENGERS: AGE OF ULTRON
Principal photography on Avengers: Age of Ultron wrapped back in August, but the cast and crew are gearing up for a round of reshoots. The Daily Mail reports that the cast and crew of the Marvel Phase Two adventure will re-assemble for a two-week shoot at Pinewood Studios in the U.K. This report reveals the reshoots will add, "a bit more kick-ass on an extravagant scale." Actors such as Chris Hemsworth (Thor), Robert Downey Jr. (Iron Man), Mark Ruffalo (The Hulk), Jeremy Renner (Hawkeye), Paul Bettany (The Vision), Scarlett Johansson (Black Widow) and Tom Hiddleston (Loki) have been asked to make themselves available in January for the reshoots. Of course, it isn't known exactly what will be filmed during this two-week frame, or how it fits into the overall story. The news should't come as too much of a surprise, since producer Kevin Feige revealed shortly after production wrapped that they always build in two weeks of reshoots for every Marvel movie. This report also reveals that director Joss Whedon will also shoot the highly-anticipated two-part sequel, Avengers: Infinity War Part 1 and Avengers: Infinity War Part 2, back-to-back in late 2015, most likely at Pinewood Studios in London, but that has not been confirmed. We'll be sure to keep you posted with any updates for Avengers: Age of Ultron, Avengers: Infinity War Part 1 and Avengers: Infinity War Part 2 as soon as more information is released. Avengers: Age of Ultron comes to theaters May 1st, 2015 and stars Aaron Taylor-Johnson, Scarlett Johansson, Robert Downey Jr., Elizabeth Olsen, Chris Hemsworth, Chris Evans, Cobie Smulders, Jeremy Renner. The film is directed by Joss Whedon.
BACK ISSUES OF THE ZOCALO TODAY
The front page of the The Zocalo Today changes daily, so be sure to check the back issues to make sure that you haven't missed anything IMPORTANT! I don't want the front page getting too long so I shift information periodically into the archives. So if you aren't a regular visitor to The Zocalo Today, be sure to check out the back issues. Just use the button above!
---
Take care and I look forward to hearing from you.
Sandra Bruckner (sgbruckner@aol.com)
Editor/Publisher
ISN News: The Zocalo Today
http://www.isnnews.net
Copyright - SBruckner, 1999-2014