The Zocalo Today
Welcome and thank you for dropping by. Babylon 5 brought many of us together -- and it remains with us, despite the fact that is no longer in production. The good thing is that the internet provides a LOT of ways to stay in touch. Don't be shy. Join in the discussion today. You can also find plenty of Babylon 5 fans on FaceBook and Twitter eager to talk about their show, Babylon 5.

If you have questions or items for the news, drop me a line at sgbruckner@aol.com.

Again, WELCOME!
MONTHLY HIGHLIGHTS OF ISN NEWS: THE ZOCALO TODAY
FRIDAY, FEBRUARY 27, 2015

SENSE8
Not much information so far for JMS' new Netflix series Sense8, but check this out: Sense8 now has a page on Netflix. No release date yet but the blurb is: Coming 2015 One gunshot, one death, one moment out of time that irrevocably links eight minds in disparate parts of the world, putting them in each other's lives, each other's secrets, and in terrible danger. Ordinary people suddenly reborn as "Sensates." http://www.netflix.com/WiMovie/80025744.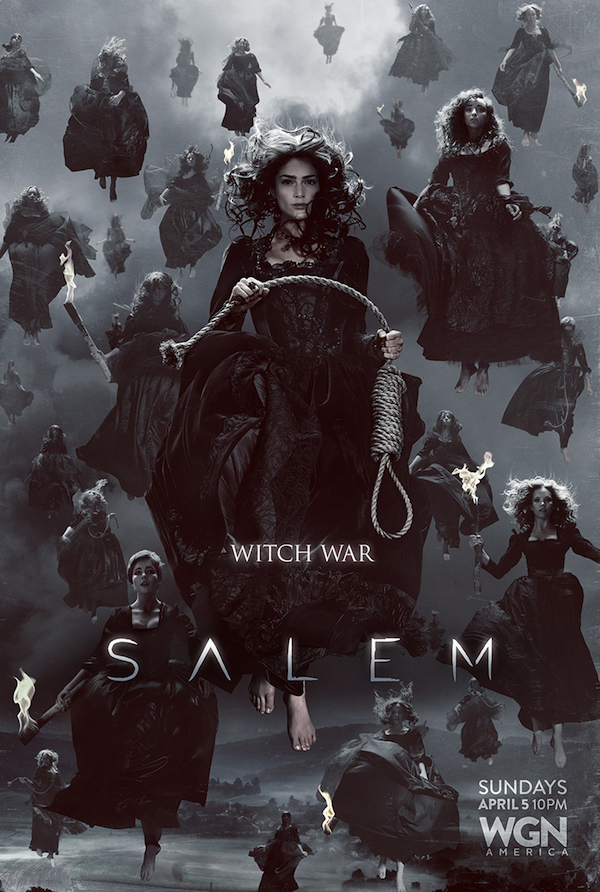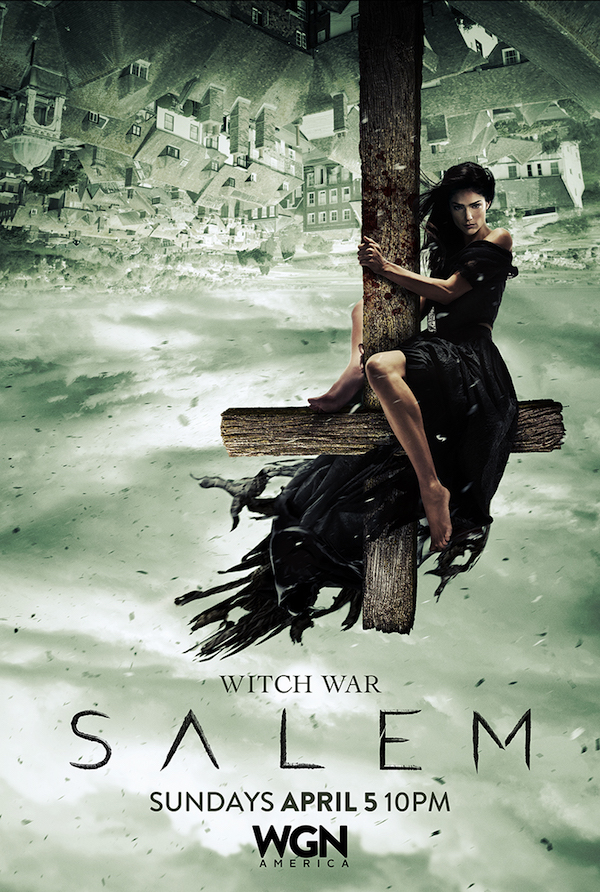 SALEM
Something very wicked is coming to "Salem" for its second season. WGN America released some fantastically creepy new posters for the period drama about the 17th century Massachusetts witch trials, and they show that there's plenty to fear from the show's April 5 return. Heralding the start of a "witch war," the new images show Mary Sibley (Janet Montgomery) leading the charge. Whether it's an army of witches hovering in the air holding nooses and torches or Mary sitting on an inverted cross, it's clear plenty of darkness is ahead. Season 1 left off on a major cliffhanger for Mary as her love interest, Capt. John Alden (Shane West), was saved by Native Americans from the brink of death. Executive producer Brannon Braga tells Zap2it, "Season 2 will be the complete transformation that occurs -- there are new stakes, emotionally, in that relationship. It'll be supercharged." EVA
The acclaimed sci-fi flick Eva has been kicking around internationally since 2011, but now it's finally getting a U.S. release. Directed by Kike Maíllo, the film stars Daniel Bruhl (Inglourious Basterds, Rush) in a near-future version of our world and is focused on an emotional tale of artificial intelligence. Considering we're about to see the release of both Neill Blomkamp's Chappie and Alex Garland's Ex Machina, it'd be easy to lump this one into the same category. But, despite the delayed U.S. release, it technically beat those flicks to market by four years. The film was a hit in its native Spain, and was nominated for more than a dozen awards in the nation's film competitions and netted wins for best new director and best special effects. We have the Weinstein Company to thank for finally setting up a U.S. release. It's set for a limited release in the States on March 13. Here's the official synopsis: The year 2014. Humans live along with machines. Alex, a renowned cybernetic engineer, returns to Santa Irene to carry out a very specific mission for the Robotic Faculty: the creation of a child robot. During his ten-year absence, life has moved on for his brother David and Lana, who got her life back together after his departure. Alex's routine is altered in an unexpected way by Eva, Lana and David's amazing daughter. She is a very special, charismatic little girl. She and Alex have a special connection from the moment they meet. They set out on a journey together, which will bring them to a revelatory end.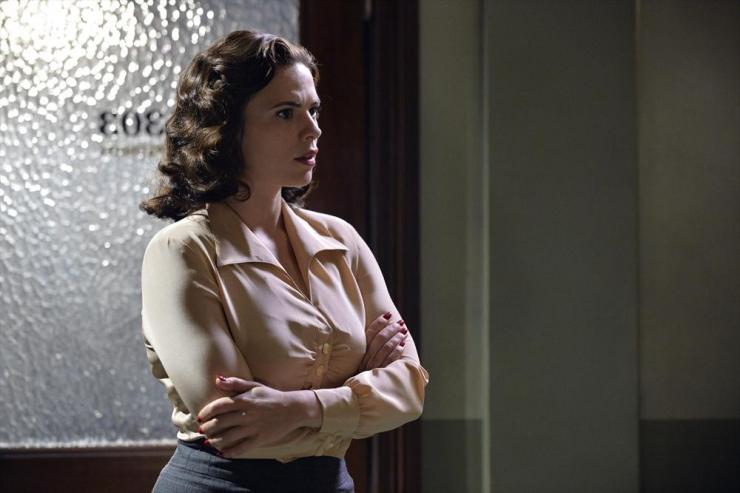 AGENT CARTER
Golly gosh was the season-one finale of Agent Carter high on action and emotions, mister. And if you stuck around right until the very end, the show managed to take us by surprise with an unexpected twist: a cameo appearance by a Captain America character last seen in Winter Soldier. SHOW SPOILERS AHEAD When the SSR took Dr. Fenhoff/Ivchenko (Ralph Brown) -- who, as it turned out, was well-established Marvel character Dr. Faustus -- into custody, he met his new cellmate, who was ... Captain America's Dr. Arnim Zola (Toby Jones). How did they pull this off? And why? Captain America writers and Agent Carter creators Christopher Markus and Stephen McFeely talked about how it all came together in a lengthy and interesting interview with Entertainment Weekly, revealing how the idea to have Toby Jones appear in the finale came about. Here's what McFeely said: "We've wanted Toby Jones to appear since we pitched this show. We did not know exactly where it would happen or where he was on his timeline, but we always wanted to show you how Hydra started its [reach within S.H.I.E.L.D.]" With Christopher Markus adding: "People having seen [Captain America:] Winter Soldier know what happens to S.H.I.E.L.D., so we didn't want to deal with that as a plot point because it's a given, but just to give them a delicious little taste of the story that they know happen. Also, it has become clear weirdly that there are four characters who span the entire marvel Cinematic Universe: Steve, Bucky (Sebastian Stan), Peggy and Zola. We wanted to see Toby's body again." Yeah, because last we saw Zola in Captain America: The Winter Soldier, we only saw the little man's "head" in that pretty old computer -- you know, aside from those little bits of flashbacks. McFeely revealed who it was who had the idea to put Toby Jones Zola in jail in the first place: "It was [showrunners] Tara Butters and Michelle Fazekas who decided to put him in jail. We said, "Let's have him!" and they figured out where to put him." Stephen McFeely also confirmed that Zola's appearance was their way of saying that all this was leading to the Winter Soldier program, since Dr. Faustus works on mind control, saying: "Yes, I think it is safe to say there is a connection." Christopher Marcus expanded a bit more on the subject: "It's a bit of a convoluted timeline in that in the first Captain America, Zola was captured in the same mission where Bucky fell off the train. Theoretically, a division of Hydra—possibly a Russian division of Hydra—went and got the body while Zola was in custody. Zola had already done something to Bucky, and experimented on him that made him beyond human, which allowed him to survive the fall and make him worth doing the research on. They kept him in stasis until Zola was able to have a little bit of freedom from the American government, at which point he maybe brought his new friend Johann Fennhoff to handle the mind control part of the Winter Soldier project." "That's how we see it," McFeely added. "I'm not positive that is gospel at the moment, but that's how we sleep at night." The Captain America writer then added a bit of intriguing news about the appearance of Arnim Zola in that last Cap flick: "Zola wasn't always going to be in Winter Soldier, but we needed a good way to have this exposition dump in the middle of the movie. We love Toby Jones and thought that would be a great idea. When we got the chance to do the television show, we wanted Toby Jones in that, too." McFeely and Markus were asked if they had considered some other, alternate endings when it came to Zola and Dr. Faustus, with Markus revealing the real debate was actually when Zola's involvement with S.H.I.E.L.D. came about: "The debate is when he went from prisoner to collaborator. In 1946, he was probably still a prisoner, but there was some debate of what side of the bars he's on." Markus and McFeely also teased what would happen in a potential season two, saying they'd love to delve in Peggy's backstory, i.e. what makes Peggy Peggy, in the words of McFeely. "Why is she that way? We have some thoughts on that."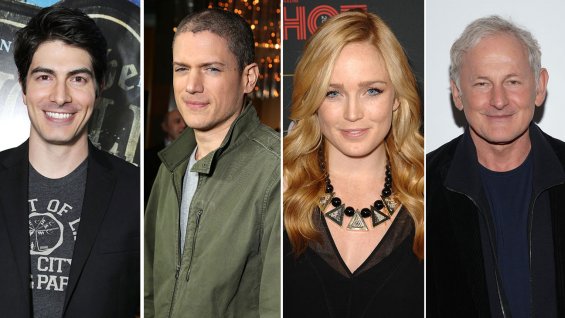 SUPER SPIN-OFF
The CW superhero universe may be getting bigger. The network is eying a star-studded spinoff featuring characters from Arrow and The Flash, The Hollywood Reporter has confirmed. Arrow creators Greg Berlanti, Andrew Kreisberg and Marc Guggenheim are behind the project, which would unite Arrow's Brandon Routh as Ray Palmer/The Atom and Caity Lotz whose Arrow character Sara Lance/Canary was killed off this season. It is unclear if she would revive the character or don a different identity. Also in the mix would be The Flash's Wentworth Miller, with the Prison Break alum playing Leonard Snart (the villainous Captain Cold) and Victor Garber as Dr. Martin Stein (one half of Firestorm). Arrow and The Flash found success this season with a series of crossover episodes, and it is possible other characters from those shows could pop up on this spinoff, which is described as a superhero team-up series. For now, the drama is in early development but considering its star power and success of its creative team, could go straight to series for next midseason. Three additional DC characters, who have not been featured on Arrow or The Flash, are also said to play important roles in the drama. This is the project that was first hinted at during January's Television Critics Association press tour, when it was described as spinoff featuring Routh's Atom. The DC "team-up" also comes as Berlanti and Kreisberg are busy prepping CBS' DC Comics take on Supergirl, which has a series commitment at the network. The potential Arrow/Flash team-up also hails from Warner Bros. Television and Greg Berlanti Productions' topper Sarah Schechter. It comes as DC has found mega-success on the small screen with Fox's Gotham in addition to Arrow, The Flash and potentially Supergirl. Routh joined Arrow this season as billionaire inventor Ray Palmer, with him making his debut in The Atom suit in Wednesday's Arrow. Lotz's Sara was an important part of team Arrow during season two. She was previously thought to be dead, and was killed of early on in the current season three. Miller's character Captain Cold, the only villain of the bunch, has appeared in two episodes of The Flash so far, with him giving The Flash (Grant Gustin) among his toughest battles, using a specially created gun that has the ability to shoot freezing cold and ice. Meanwhile, Garber's Stein recently completed a two-episode arc on The Flash as a scientist who became fused with twenty-something Ronnie Raymond (Robbie Amell), with the pair unwillingly combining to become a destructive force.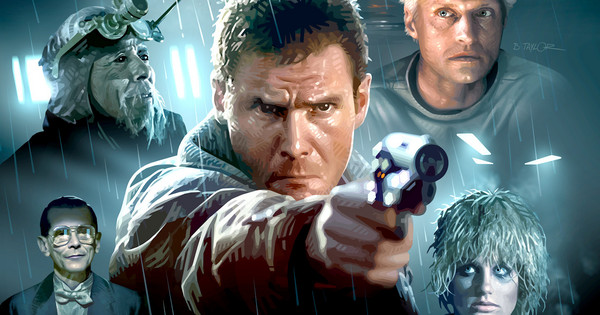 BLADE RUNNER
Harrison Ford is officially set to reprise his celebrated role of Rick Deckard in the sequel to Alcon Entertainment's Blade Runner and Academy Award nominee Denis Villeneuve (Prisoners, Incendies) is in negotiations to direct, it was announced by Alcon co-founders and co-CEO's Andrew Kosove and Broderick Johnson! The film is scheduled to start principal photography in summer of 2016. Hampton Fancher (co-writer of the original) and Michael Green have written the original screenplay, based on an idea by Fancher and Ridely Scott. The story takes place several decades after the conclusion of the 1982 original. "We are honored that Harrison is joining us on this journey with Denis Villeneuve who is a singular talent, as we experienced personally on 'Prisoners,'" said Johnson and Kosove, "Hampton and Michael, with Ridley Scott, have crafted a uniquely potent and faithful sequel to one of the most universally celebrated films of all time, and we couldn't be more thrilled with this amazing, creative team." Ford will next be seen in The Age of Adaline for Lionsgate before he reprises another iconic sci-fi role, returning as Han Solo in J.J. Abrams' much-anticipated Star Wars: The Force Awakens. Villeneuve's next, meanwhile, is the crime thriller Sicario, starring Emily Blunt, Josh Brolin and Benecio Del Toro, for Black Label Media and Lionsgate. Alcon Entertainment acquired the film, television and ancillary franchise rights to Blade Runner in 2011 from producer Bud Yorkin to produce prequels and sequels to the iconic science-fiction thriller. Yorkin will serve as a producer on the sequel along with Kosove and Johnson. Cynthia Sikes Yorkin will co-produce. Frank Giustra and Tim Gamble, CEO's of Thunderbird Films, will serve as executive producers. ALIEN SEQUEL
Continuity fans can breathe a sigh of relief today as Chappie helmer Neill Blomkamp today clarifies to French film site AlloCine that his plans for the next Alien film do not mean that he'll be dismissing the events of the second half of the sci-fi horror franchise. "I'm not trying to undo 'Alien 3′ or 'Alien Resurrection,'" he tells the outlet. "…My favorites are the first two movies. I want to make a film that's connected to 'Alien' and 'Aliens.' That's my goal." Blomkamp's comments come on the heels of a report yesterday that led many to speculate that the new film would rewrite the events of the latter sequels. We're still not entirely sure how Blomkamp's planned take fits into the chronology as his concept art (check it out in the gallery viewer below) seems to suggest that the film will feature Michael Biehn's Aliens character of Corporal Dwayne Hicks. Could the new film take place between Aliens and Alien 3, or does the District 9 director (and Alien franchise superfan) have some other tricks up his sleeve? Only time will tell, but check back for updates as they become available. Blomkamp's next, Chappie, stars Sigourney Weaver opposite Hugh Jackman and Sharlto Copley and arrives in theaters March 6.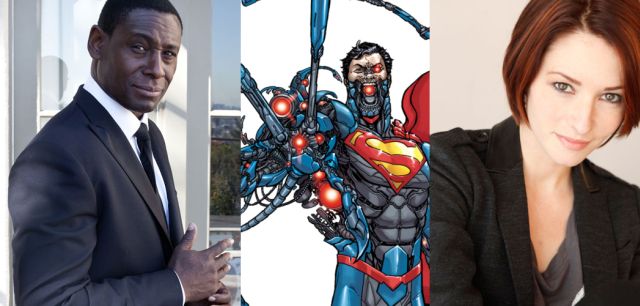 SUPERGIRL NEWS
CBS and DC Entertainment have announced two more have joined the cast of their upcoming "Supergirl" series with "Homeland" star David Harewood as Hank Henshaw and Chyler Leigh as Alexandra "Alex" Danvers. Henshaw, as comic fans know, will go on to become the villain Cyborg Superman, but in the series he is described as "A onetime CIA agent, who now runs the Department of Extra-Normal Operations (DEO), which tracks extraterrestrial threats on the planet Earth." Alex will be Kara's foster sister on the show, described as "fascinated by Kara's powers from a young age, Alex developed a lifelong obsession with science which inspired her to become a doctor." In addition, "Arrow" and "The Flash" executive producer/writer Andrew Kreisberg has signed on to executive produce the series, which will no doubt rekindle the crossover buzz between "Supergirl" and The CW shows. The two join as cast that includes Melissa Benoist as Kara Zor-El, Mehcad Brooks as James Olsen, Laura Benanti as Kara's Kryptonian mother Alura Zor-El, and Calista Flockhart as Cat Grant. Hailing from Warner Bros. TV and Berlanti Productions (who also produce the hit DC Comics series "Arrow" and "The Flash" for The CW), "Supergirl" is based on the characters from DC Comics and centers on Kara Zor-El, who comes to Earth after escaping the destruction of Krypton. After many years hiding her abilities, she joins the ranks of her cousin Superman to become the hero she was meant to be. The pilot episode was written by Ali Adler ("No Ordinary Family") and Greg Berlanti ("Arrow," "The Flash"). They will also executive produce along with Sarah Schechter and Warner Bros. TV. The show has a series commitment at CBS. DAREDEVIL
Netflix's first collaboration with Marvel Studios, 'Daredevil' is due to hit on April 10th and like all Netflix original series, all thirteen episodes will be available at the same time, so you can binge watch the whole thing in one sitting if you want! Or at least in one weekend. Or you can watch an episode a week like a normal TV show. (But nobody does that.) The series adds another live action hero to Marvel's ever-growing roster, which includes the various heroes from its Cinematic Universe and its TV spin-offs and now, even includes Spider-Man, thanks to a peace treaty with Sony. 'Daredevil' stars Charlie Cox as Matt Murdock a blind attorney, who secretly has super senses and incredible gymnastics and martial arts abilities, which he uses to protect Hell's Kitchen, one of the roughest and most crime-ridden neighborhoods of New York. It is executive produced by Steven S. DeKnight, Jeph Loeb and Drew Goddard. In addition to Cox, the cast includes Vincent D'Onofrio as Wilson Fisk aka The Kingpin of Crime, Deborah Ann Woll as Karen Page, Elden Henson as Foggy Nelson, Rosario Dawson as Claire Temple, Bob Gunton as Leland Owlsely aka The Owl, Vondie Curtis Hall as Ben Urich, Toby Leonard Moore as The Kingpin's right hand man Wesley and Ayelet Zurer as Vanessa Fisk. 'Daredevil' is the first of four new Marvel/Netflix shows, leading 'AKA Jessica Jones', 'Luke Cage' and 'Iron Fist'. All four will tie together and the starring heroes will join forces in a follow-up miniseries 'The Defenders'. As has already been revealed, Daredevil starts out as a "homemade" hero, wearing essentially store-bought clothes, but by the end of this season, he will adopt a red costume closer to his comic book look. But nevermind the super suit, it's the power suit on Matt Murdock that takes center stage on the latest piece of promotion for the series, this motion poster.
THURSDAY, FEBRUARY 26, 2015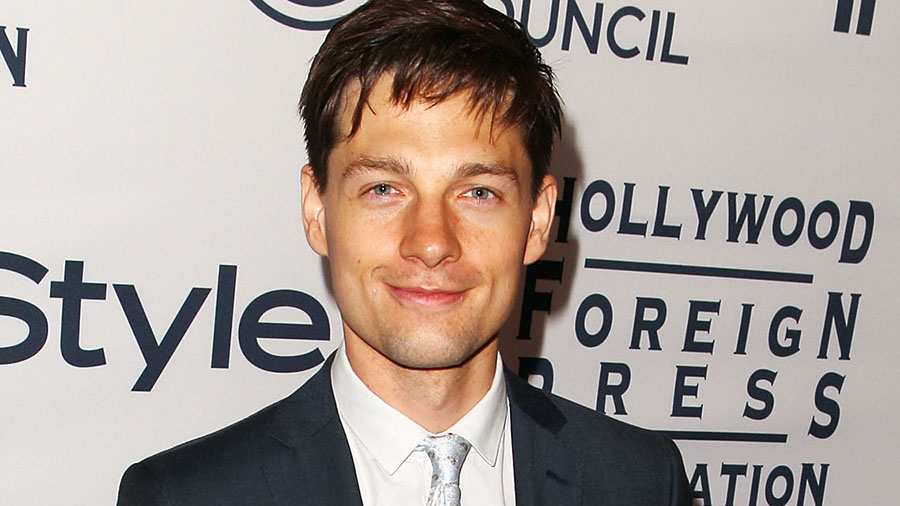 ARROW NEWS
"Arrow" is staging a pretty special "Everwood" reunion with Wednesday's (Feb. 25) episode -- though it's not one that fans will see on camera. Gregory Smith -- whom you may remember as Ephram Brown on The WB show -- is taking over the directing chair, teaming him once again with "Everwood" creator and "Arrow" executive producer Greg Berlanti.

Being able to work with Berlanti again is a unique opportunity for Smith and not one he could turn down. "['Everwood'] was such a special kind of time in my life, and I can speak for everybody -- all of our lives. The affection and respect we all have for each other hasn't dulled as time goes by," he tells Zap2it. "I always get really excited when I cross paths with anybody from 'Everwood.'"

Smith, who now stars on "Rookie Blue," also got to connect with another long-time friend on "Arrow."

"Brandon Routh, who plays Ray Palmer, is one of my oldest friends. We've been best friends for 15 or 16 years, but we've never been on set together," Smith says. "He used to come visit me on 'Everwood.'"

While finally getting the chance to work with one of his best friends was a very special thing, Smith admits, "I put a little bit more pressure on myself because I'm like, 'Oh man, I want to make Brandon proud.'"

Luckily, he knew what he was getting into before showing up for the job. "I was a fan, but when I knew I was going to direct the show, I watched every episode in sequence and became a superfan," he says. "By the time I came to do the show, I was almost a little starstruck by the sets and characters."

As for the most important question to any "Arrow" fan -- whether he's pro- or anti-Olicity -- Smith assures everyone, "I think I would qualify as an Olicity shipper."

"Arrow" airs Wednesdays at 8 p.m. ET/PT on The CW.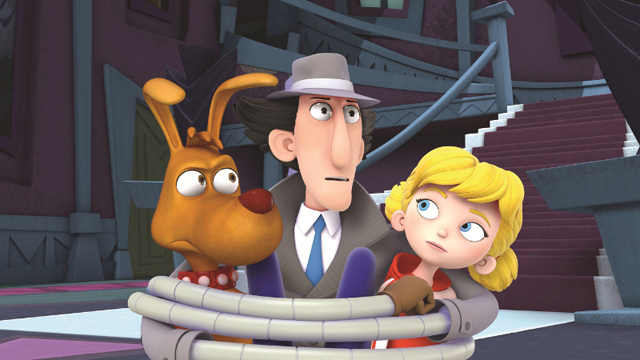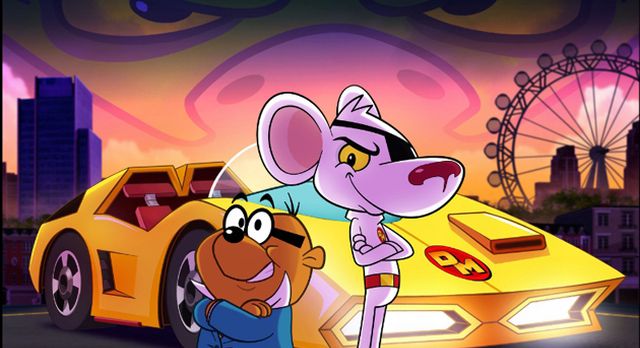 INSPECTOR GADGET/DANGER MOUSE
Though critical hits like House of Cards and Orange Is the New Black get most of the attention, Netflix has also been cranking up its slate of original children's programming in recent years — and now they're looking to mine some 1980s classics.
The streaming company is working up revivals of Inspector Gadget and Danger Mouse, both of which were staples of kids' programming in the 1980s. Both shows were huge for a while but have mostly faded into obscurity in recent years — though they bring brand recognition that should be a good fit for reboots. Heck, it's not terribly uncommon to hear a "Go Go Gadget!" joke out and about to this day.
The Inspector Gadget series is actually an acquisition of a 26-episode Canadian series developed by DHX Media, which features updated gadgets and CGI effects. Netflix will be the exclusive U.S. distributor for the show. The original series debuted in 1983 and was most recently turned into a film starring Matthew Broderick in 1999.
Along with the new-look Inspector Gadget, Netflix has also ordered a new Danger Mouse series based on the British 'toon about a secret agent mouse. The studio has ordered 26 half-hour episodes that will be co-produced by Fremantle and the BBC. That series will also exclusively debut on Netflix, and if it is anything like the original, should be a blast.
In a chat with USA Today about the expansions to the development slate, Netflix's VP of global independent Erik Barmack noted that a series like Inspector Gadget (and Danger Mouse by extension) should have the potential to hook a new generation of viewers while also providing something parents won't mind watching out of nostalgia:
"It's one of those shows where we're able to hit a few different audiences. We think that kids are going to love the show … but it's also going to get some co-viewing because there is a generation of parents who grew up on the original."
The Inspector Gadget series is set to go live in March, while Danger Mouse will debut in the spring of 2016.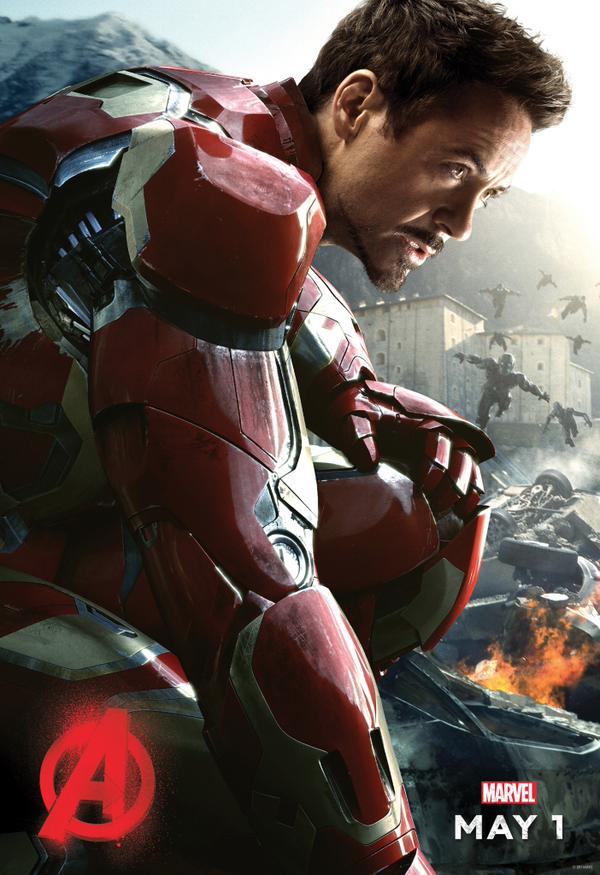 IRON MAN NEWS
Always the consummate showman, Robert Downey Jr. can even turn the arrival of a poster into an event.
Following yesterday's release of the incredibly busy and overstuffed new poster for The Avengers: Age of Ultron, the first of what is apparently going to be a whole series of individual character posters from the film was released today. Not surprisingly, it's for Iron Man and was delivered to the masses via a tweet from Tony Stark himself:
You've been good so here's a new #IronMan poster from @Avengers. & on the DL, big announcement in 8 days… #getexcited
The most interesting part of Downey's tweet is the mention of a "big announcement in 8 days," which of course will have everyone speculating until next Thursday. Will it be a new trailer? Will some startling news about the Marvel Cinematic Universe break? Will Downey announce he's producing and starring in The Judge 2 (Unfortunately, that would not qualify as a "big announcement" to anyone ... except him, perhaps)?
We'll see what next week brings, and in the meantime, the word on the street is that a new character poster will be unveiled each day until then, with all of them supposedly interconnecting to form one new and probably insanely Photoshopped image. Perhaps we'll finally get a clear look at the Vision. Or maybe the first seven posters will show each of the Avengers looking at something we can't see ... with the eighth poster revealing it to be Spider-Man. OK, that's a real stretch, but I love having fun with this stuff.
The Avengers: Age of Ultron is written and directed by Joss Whedon and stars (deep breath) Robert Downey Jr., Chris Evans, Mark Ruffalo, Chris Hemsworth, Scarlett Johansson, Jeremy Renner, Elizabeth Olsen, Aaron Taylor-Johnson, James Spader, Stellan Skarsgard, Samuel L. Jackson, Cobie Smulders, Paul Bettany, Anthony Mackie, Hayley Atwell, Idris Elba and Don Cheadle. It opens in theaters May 1.
ORPHAN BLACK
You should watch Orphan Black. Seriously, you should. Because if you're not currently watching Orphan Black, then you're totally missing out, because it's actually one of the finest sci-fi shows out there right now! And we're not only talking about Tatiana Maslany's masterful performance as multiple Project Leda clones Sarah, Alison, Helena, Cosima (aka the Clone Club) and baddie Rachel.
There's a lot of twisty stuff going on in the series, and season three will feature a storyline that includes Project Castor male clones — all played by Ari Millen — who were introduced back in season two. So if you're not sure how to begin, then start by watching this 4-minute recap released by BBC America ahead of the third season premiere on April 18. For those who've already seen the series but need a quick refresher, then this video's also for you.
The third season of Orphan Black will air simultaneously across all AMC channels on April 18.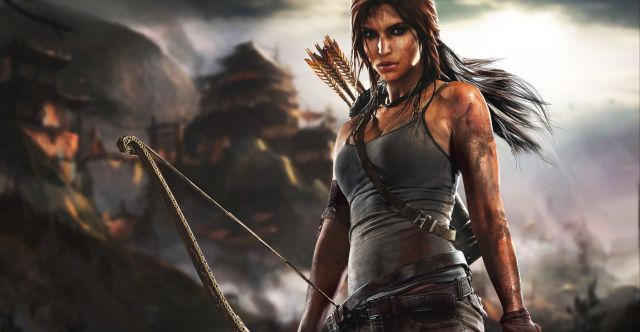 TOMB RAIDER
Deadline reports that Teenage Mutant Ninja Turtles, Divergent, and G.I. Joe 3 screenwriter Evan Daugherty has been tapped to pen the script for the upcoming Tomb Raider reboot. In addition, Warner Bros. Pictures has partnered up with MGM and producer Graham King to distribute the film.
The original game was published in 1996 by the London-based video game company Eidos and became one of the most successful video games of the time. The most recent entry in the series was a reboot, telling the origin of Lara Croft. It was released in 2013 and sold over 5 million copies. A follow-up game, titled Rise of the Tomb Raider, is due out later this year as a timed-exclusive for the Xbox One and Xbox 360.
Paramount Pictures previously made two movies about the daredevil archaeologist on a series of global missions. The films, Lara Croft: Tomb Raider and Lara Croft Tomb Raider: The Cradle of Life, starred Angelina Jolie and grossed a combined $432 million at the worldwide box office.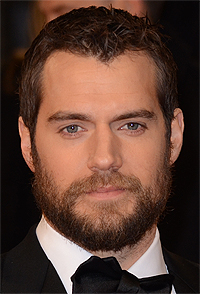 STRATTON
Screen DailyCavil2 reports that noted action director Simon West (Con Air, The Expendables 2) will direct Henry Cavill (Man of Steel) in Stratton, which will shoot in the UK and Italy this summer.
The special forces thriller will feature Cavill as the title character John Stratton tracking down an international terrorist cell. The film is based on the first in a series of eight novels by pseudonymous author Duncan Falconer, an ex-SBS (Special Boat Service) commando.
"I've long wanted to tell a story about the British Special Forces and finally the opportunity has come around," Cavill said. "Duncan Falconer's work is fantastic and we are incredibly fortunate to be working with him so closely. We plan to convert the books to cinema as accurately as possible while keeping them topical. Simon West is a perfect match for this movie with his ability to marry story-telling and action, both of which are essential to do this project justice!"
West stated, "I have been looking for an opportunity to establish a new UK based action character for some time and Stratton fits the bill perfectly. The greatest challenge was always going to be who can play a character like that and bring depth and realism. I have followed Henry Cavill's work for while now and I cannot imagine a better actor to take on this role. Henry is the reason this project is now possible."
Ileen Maisel and Lawrence Elman's Amber Entertainment Ltd will co-produce with Cavill's Promethean Productions, with GFM Films providing finance and worldwide sales.
Cavill will next be seen as secret agent Napoleon Solo in Guy Ritchie's The Man from U.N.C.L.E. before he takes on the caped crusader in Batman v Superman: Dawn of Justice.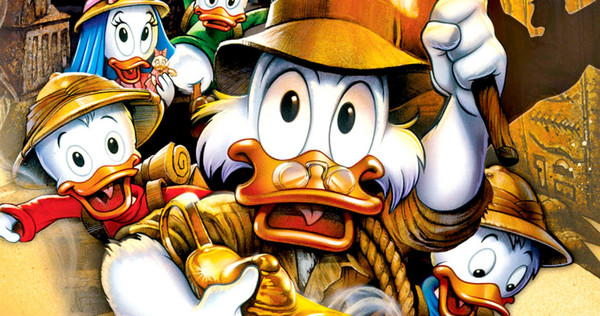 DUCK TALES
An all-new DuckTales, an animated comedy series based on the Emmy Award-winning series treasured by a generation of viewers, has been ordered for launch in 2017 on Disney XD channels around the world. Set to be produced by Disney Television Animation, the new series will again star Disney's enduringly popular characters: Scrooge McDuck, his grandnephews Huey, Dewey and Louie, and Donald Duck. The announcement was made today by Marc Buhaj, Senior Vice President, Programming and General Manager, Disney XD. Buhaj said:
"DuckTales has a special place in Disney's TV animation history; it drew its inspiration from Disney Legend Carl Barks' comic books, and through its storytelling and artistic showmanship, set an enduring standard for animated entertainment that connects with both kids and adults. Our new series will bring that same energy and adventurous spirit to a new generation."
The new series' adventures will once again take viewers along as Scrooge McDuck, his curious and mischief-making grandnephews - Huey, Dewey and Louie - and the optimistic yet temperamental Donald Duck embark on high-flying adventures worldwide. Other beloved characters slated to be in the new stories are: Duckworth, Gyro Gearloose, Launchpad McQuack, Flintheart Glomgold, Magica DeSpell & Poe, Ma Beagle and the Beagle Boys (Burger Beagle, Bouncer Beagle), Mrs. Beakley and Webbigail Vanderquack.
A generation's seminal cartoon, the Emmy Award-winning DuckTales led the daily syndicated cartoon block "The Disney Afternoon" with 100 episodes produced by Disney Television Animation from 1987-90. An animated theatrical film, DuckTales: The Movie - Treasure of The Lost Lamp premiered in 1990. The original DuckTales is currently available on WATCH Disney Channel, an app that allows consumers to watch on tablets, phones, computers and set-top boxes.
Disney Interactive features several DuckTales-themed items in the Disney Infinity toy box. A music video of the familiar "DuckTales" theme song (with real ducks) has amassed over six-million views since September 2014 on the popular YouTube channel "Oh My Disney."In the U.S., Disney XD is seen on a 24-hour, advertiser-supported network that reaches over 80-million households via its basic cable and satellite affiliates. In total, there are 31 Disney XD channels available in 25 languages around the world. Disney Television Animation is part of the Disney | ABC Television Group at The Walt Disney Company.
FROZEN FEVER
On March 13, all of your favorite Frozen characters will return to the big screen in the new Disney animated short Frozen Fever. Anna, Elsa, Kristoff and Olaf reunite for this 7 minute adventure, which finds a big birthday bash in trouble. ABC's Good Morning America has revealed the first footage with a teaser trailer, which also includes a brief look at Disney's Cinderella.
Frozen Fever is set to debut alongside director Kenneth Branagh's live action take on the Cinderella fairytale starring Lily James, Cate Blanchett, Helena Bonham Carter and Hayley Atwell. In Frozen Fever, it's Anna's birthday and Elsa and Kristoff are determined to give her the best celebration ever, but Elsa's icy powers may put more than just the party at risk.
Original Frozen directors Jennifer Lee and Chris Buck return for Frozen Fever, which will also include one all-new song from Oscar-winning team Robert Lopez and Kristen Anderson-Lopez. This will be their first project since collaborating on Disney's 2013 classic. So strap in and take a look, then be sure to check out Cinderella this March, the only place you'll be able to see Frozen Fever!
Frozen Fever comes to theaters March 13th, 2015 and stars Kristen Bell, Idina Menzel, Josh Gad, Jonathan Groff. The film is directed by Chris Buck, Jennifer Lee.
WEDNESDAY, FEBRUARY 25, 2015
SNOW GIRL AND THE DARK CRYSTAL
This far-out fantasy adventure from China is an insane blend of oriental dragons, morphing monsters, hellish demons, an ice princess and sabre-slashing ninjas in a crazy battle of good and evil for the ages...and a whole lot of lit candles! Snow Girl and the Dark Crystal, the new magical mix of sensational sword and sorcery directed by Peter Pau and Zhao Tianyu, chronicles the deeds and doing of legendary hero Zhong Kui in the tale of a fabled warrior with mysterious powers who conquers the realms of Heaven and Hell to save his people and the woman he loves. Think Crouching Tiger, Hidden Dragon meets Clash of the Titans. The majestic, martial arts free-for-all opens in the U.S. in a limited 3D run on February 27, 2015.
STARLOG MAGAZINE
Starlog Magazine is probably more responsible for promoting and cultivating fanboy culture in America than any other science-fiction entertainment publication. Released during the original glory days of geekdom in the '70s and '80s by publishers Kerry O'Quinn and Norman Jacobs, it was the premier periodical for aspiring science-fiction writers, artists, filmmakers, historians, movie lovers, memorabilia collectors and avid purveyors of pop culture. Starting with the first flashy issue in 1976, its pages were crammed with colorful, well-researched articles and in-depth interviews from Hollywood sci-fi/fantasy films and TV favorites like Star Wars, Star Trek, Space: 1999, Doctor Who, Battlestar Galactica, The Six Million Dollar Man, Close Encounters of the Third Kind, Alien, Blade Runner and much more. Sadly, Starlog's bankruptcy and inevitable demise after 2008 came as a casualty of the shift to online-based entertainment news, the economic recession and the senseless slaughter of many monthly and quarterly magazines in the mid-2000s. But, cheer up: Now you can relive all those luxuriously lazy days when all you had to do was relax with your fresh new copy of Starlog and waste a couple hours immersed in what you loved best. So far, 224 issues have been uploaded to the epic Starlog Magazine Internet Archive and are available to read for free. As the winter months wane, we can think of no better way to spend an afternoon than perusing pages in the digital database of the Starlog Archive. We've picked out ten must-read issues gathered from over the decades to get you started.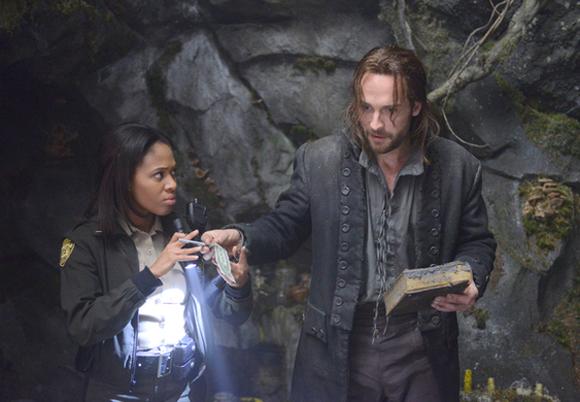 SLEEPY HOLLOW NEWS
After one of the best debut seasons in recent memory, Fox's Sleepy Hollow went a bit off the rails this past year. The season-two finale did a lot to get it back on track. Spoilers ahead for the season-two finale of Sleepy Hollow! Showrunner Mark Goffman chatted with TV Line about the season finale, and the big moves they made to refocus the show back on the core cast. The first season was a taut thriller that kept us guessing all the way to the end. But season two? It was a bit of a mess, and the network admitted as much when it opted for a midstream retool to make the show less serialized. A lot of that came to a head Tuesday night, when they seemingly killed off Crane's newly evil wife, Katrina (Katia Winter), right on the heels of axing their evil adult son, Henry (John Noble). It was basically a soft reboot to bring things back to how the show began, with the focus back on Ichabod and Abbie (along with Irving and Jenny) and a whole new set of vague threats on the way. Here's how Goffman explained how they got here and what's coming next: "This had very much been the plan from the beginning. It just took a while to get there. But we always wanted to keep the show focused on them and always knew that some form of this was going to be the ending. Of course, you always want to give yourself room during the course of the season to see how things are playing and see how audiences are reacting, how the writers are reacting, how the cast is meshing, but ultimately, this really felt like the right way to end both this season and launch Season 3… There are so many stories to tell. Some of it is in the aftermath of these incredible, emotional moments that these characters went through here. Obviously, for the better part of two seasons, Crane has been wishing his wife were free from Purgatory, but it didn't really play out the way it had planned or hoped. There's a lot of room to continue telling the story. There's also the ability to launch in a whole new trajectory, because there really is more to both of their lives that they're going to find out in these many years of trials and tribulations." The season finale was fun, if not a bit uneven. The time-travel twist was a blast, and it provided a nice narrative tool to reconnect with the pilot episode (with Abbie the one out of time now, as opposed to Ichabod) and bring this chapter of the series to a close. With a third season already ordered, we're anxious to see what the writers do now that they're free from all the narrative baggage of the past two years. If they can recapture that madcap fun of the first season, we'll definitely stick around. If not? The ratings took a dive in year two, and we worry Ichabod could finally run out of time next season.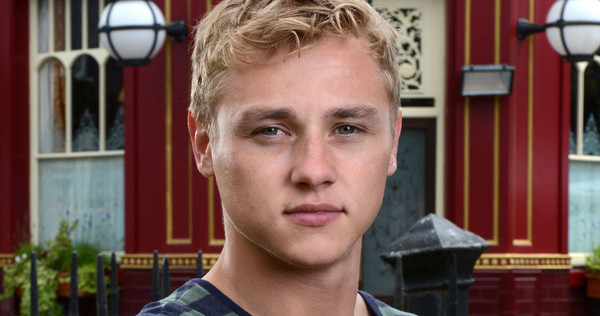 X-MEN: APOCALYPSE
Although there's no telling exactly who the actor is playing quite yet, Variety reports that "EastEnders" star Ben Hardy has joined the cast of Bryan Singer's X-Men: Apocalypse in a role that, according to the outlet, represents a "significant" character in the comic book Marvel Universe. Hardy's name has been heard before in connection with the 20th Century Fox sequel. He was listed earlier this year as a contender to play Cyclops, although that role ultimately went to Tye Sheridan. James McAvoy, Michael Fassbender, Jennifer Lawrence, and Nicholas Hoult will lead the cast of X-Men: Apocalypse, which will also see the return of Rose Byrne as Moira MacTaggert, Evan Peters as Quicksilver and newcomers Alexandra Shipp, Sophie Turner, Kodi Smit-McPhee and Sheridan as young versions of Storm, Jean Grey, Nightcrawler and Cyclops. The film is being written by Simon Kinberg from a treatment by Mike Dougherty, Dan Harris and Kinberg. Said to be the conclusion of a trilogy started with X-Men: First Class and continued with X-Men: Days of Future Past, cameras will start rolling on the next adventure in Montreal beginning in April. X-Men: Apocalypse is set for release on May 27, 2016.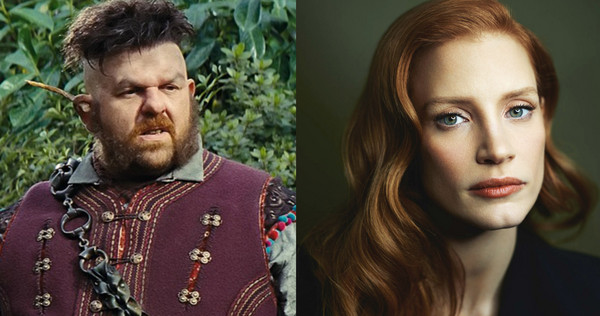 THE HUNTSMAN
Jessica Chastain has signed on to star in Universal Pictures' The Huntsman, a follow-up to 2012's Snow White and the Huntsman. While Kristen Stewart will not be back as Snow White, Chris Hemsworth and Charlize Theron reprise their roles as The Huntsman and Ravenna. No details were given for Jessica Chastain's role at this time. Deadline also reports that Emily Blunt, who was being eyed for the villain role last month, has finalized her deal. Snow White and the Huntsman star Nick Frost is also coming back to reprise his role as the dwarf Nion. We reported last month that Nick Frost and Toby Jones couldn't come to terms with Universal about reprising their dwarf roles, and that Eddie Marsan is also not returning due to scheduling complications with Ray Donovan. The site now reports that Nick Frost and Universal "have worked it out" for him to return. Cedric Nicolas-Troyan is directing from a screenplay that was worked on by Frank Darabont, Craig Mazin and Evan Spiliotopoulos. Joe Roth is producing with Palak Patel executive producing. It isn't known when production may get under way. Jessica Chastain is coming off roles in The Disappearance of Eleanor Rigby, Interstellar and A Most Violent Year. She will next be seen in the haunted house thriller Crimson Peak, and she is currently shooting The Martian alongside Matt Damon. The Huntsman comes to theaters April 22nd, 2016 and stars Chris Hemsworth, Charlize Theron, Jessica Chastain, Emily Blunt, Nick Frost. The film is directed by Frank Darabont.
TUESDAY, FEBRUARY 24, 2015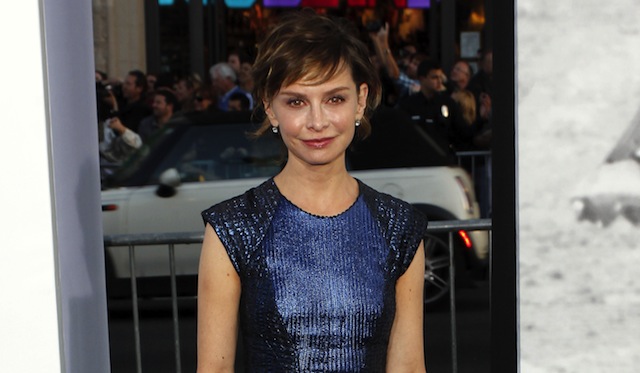 SUPERGIRL NEWS
Casting continues this week for CBS' upcoming "Supergirl" series as The Hollywood Reporter today brings word that "Ally McBeal" star Calista Flockhart has signed on to play Cat Grant in the DC Comics series. She joins Melissa Benoist in the title role, Mehcad Brooks as James Olsen and Laura Benanti as Alura Zor-El, Supergirl's Kryptonian birth mother. Created by Marv Wolfman and Jerry Ordway, Grant debuted in "Adventures of Superman" #424 back in 1987 as a gossip columnist for the Daily Planet. According to the outlet, this iteration of Grant will feature the character as the head of her own successful company, CatCo. There, Beonist's Kara works as Grants' personal assistant. Hailing from Warner Bros. TV and Berlanti Productions (who also produce the hit DC Comics series "Arrow" and "The Flash" for The CW), "Supergirl" is based on the characters from DC Comics and centers on Kara Zor-El, who comes to Earth after escaping the destruction of Krypton. After many years hiding her abilities, she joins the ranks of her cousin Superman to become the hero she was meant to be. The pilot episode was written by Ali Adler ("No Ordinary Family") and Greg Berlanti ("Arrow," "The Flash"). They will also executive produce along with Sarah Schechter and Warner Bros. TV. The show has a series commitment at CBS.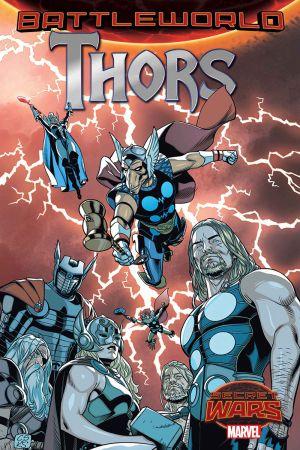 THORS
The folks at Marvel seem to be pulling out all the stops for the massive Secret Wars event, and the latest Thor spinoff could be one of the most intriguing comics to come out of the deal. When all hell breaks loose in the Battleworld, who are you going to call on to police all that insanity? Thors, a new title that will focus on a law enforcement organization made entirely of different versions of Thor from across the various alternate universes. The idea is weird, ambitious and insanely cool. We can't wait to see how it turns out. The effort is being helmed by writer Jason Aaron and artist Chris Sprouse, and Aaron promises it'll be basically "True Detective, but with Throg the Frog of Thunder playing the Rust Cohle part." Yes. It also sounds like this project will tie in closely with the main Secret Wars installments, so this definitely may be one to add to the pull list if you're keeping up with the event. Here's what Aaron had to say about the book: "This is not about the apocalypse. It's about closing cases … This is basically me doing a cop story, but with hammers instead of guns," says Aaron. "This is me getting to do 'Homicide: Life on the Street' with lots of cosmic cops. It's every version of Thor you can imagine, all walking beats, solving murders, getting yelled at by their commissioner and blowing off steam at their local Thor-cop bar… I'll just say that this book is probably more of a direct tie-in to the main SECRET WARS series than a lot of the other tie-ins you'll see, in that the role of the Thors is something that is set-up quite extensively in SECRET WARS #2. We'll be seeing a few different corners of Battleworld in this series. The Thors go where the action is. In the first issue, our Thors pick up a doozy of a murder case, one that sends them all scrambling. And ultimately has a few of them asking questions that may shake the foundations of everything they think they know." The first issue of Thors is set to arrive in June. AGENT CARTER - SEASON FINALE
Agent Carter (ABC) Tuesday, 9 p.m. - "Valediction"
Season finale! - After a much-hyped eight-episode run, Agent Carter ends its first season tonight, and like Sleepy Hollow, there's deep uncertainty about whether it'll be back. The show was met with plenty of acclaim upon its premiere, not just because of its expansion of diversity in the Marvel Cinematic Universe but also because it was just a good series, and it's largely maintained that love. The problem is that the show's audience was never really that big to begin with. Its premiere drew a little less than 7 million Live+Same Day viewers, which might not be bad if that number had been maintained week after week. By its fourth episode, though, the show dropped to between 4 and 5 million live viewers, and that's where it's remained ever since. The good news is that, by that fourth episode, the show had found a steady audience willing to come back each and every week, but, of course, the bad news is that audience might be too small to sustain an hourlong period drama packed with stunts and effects. So, as we go into the finale, I doubt this'll be the last we see of Peggy Carter, but be prepared for the possibility that it is the last we'll see of Agent Carter (unless, you know, Netflix is willing to expand its Marvel deal). This week, Peggy faces Leviathan, and Howard Stark returns. AGENTS OF S.H.I.E.L.D.
It's been fairly obvious where Marvel is taking Agents of S.H.I.E.L.D., especially in the wake of that midseason cliffhanger, but now they're just trolling us with the Inhumans hints. Spoilers ahead for Agents of S.H.I.E.L.D. season two! Considering Marvel already has an Inhumans film scheduled a few years down the line, it makes sense they'd start planting seeds early. What we didn't expect? That the mid-rated ABC series would lead the charge to get the world ready for Black Bolt and the rest of the royal family. But after we got to see some Terrigen Mists in action during the shocking midseason finale, it now seems they're diving head-first into the basics of the Inhumans mythology. The teaser clip focuses on Skye, aka Daisy Johnson/Quake, who has just had her powers unlocked and now has her comic-based powers of causing earthquakes. Judging by the fact that she's under observation in a holding cell here, talking about how things are starting to seem "Inhuman," it seems the mythology surrounding Skye's transformation will play a major part in the back half of the season. Establishing the framework for Inhumans in S.H.I.E.L.D. is an ambitious move for Marvel, though you have to worry the show's low viewership could still leave general audiences confused about the Inhumans. It's a delicate balance, for sure.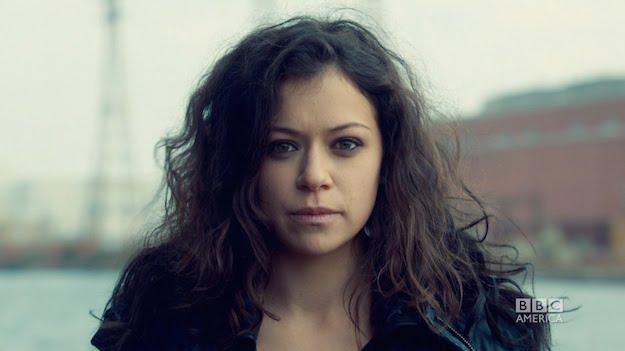 ORPHAN BLACK
Have you wanted to see Orphan Black but don't have access to BBC America or BBC Three? That's a shame. It's a fantastic series about a woman who learns she's a clone, with multiple stellar performances by Tatiana Maslany. But now there's an option for viewers whose cable packages don't include BBC America: all of AMC's channels. According to Variety, "The season three opener will run simultaneously at 10 p.m. across AMC, SundanceTV, IFC and We TV, in addition to BBC America." Why AMC? Orphan Black is produced by BBC America, not the New York-based AMC. However, as of October 2014, AMC owns 49.9% of BBC Worldwide (the commercial branch of the BBC, a public channel); since then, AMC has managed BBC America as a standalone channel. It's great news that AMC is interested in promoting Orphan Black beyond BBC America's Supernatural Saturday slot … and unsurprising. Actress Maslany has been nominated for (at least) 17 awards for her role as Sarah Manning, et al., and has won (at least) 11 (although she was cruelly snubbed for the Emmy Awards). She's a superstar who is shining brightly, and AMC is betting that she will charm even larger audiences. The news should come as a relief to non-BBC America viewers who have managed to watch Orphan Black by torrenting it, an ethically iffy maneuver. Orphan Black will air April 15, 2015.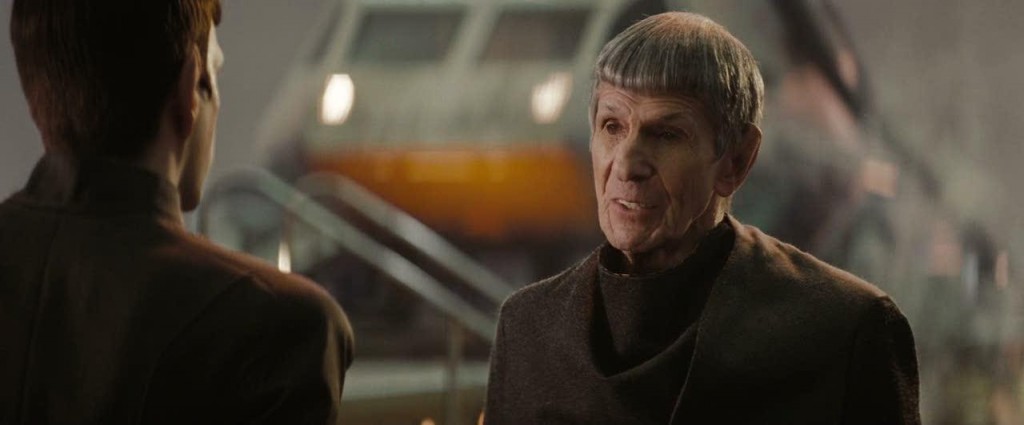 LEONARD NIMOY HOSPITALIZED
Star Trek' icon Leonard Nimoy has reportedly been hospitalized due to complaints of severe chest pains. According to reports, on Thursday, February 19, Nimoy was experiencing chest pains serious enough to prompt a 911 call. The actor was taken to UCLA Medical Center, however, there is no official word as to whether the actor is still at the facility at this time. According to a UCLA Medical Center spokesperson, they can neither "confirm, deny or acknowledge' that Nimoy was or is there, however Nimoy has reportedly been to the hospital multiple times in the past few months. Nimoy has been suffering from Chronic Obstructive Pulmonary Disease (COPD) and had officially announced his condition last year after photos of him sitting in a wheelchair with an oxygen mask hit the web. Although he had stopped smoking 30 years ago, he attributed his condition to his smoking and urged his fans to stop. Leonard Nimoy tweet:
I quit smoking 30 yrs ago. Not soon enough. I have COPD. Grandpa says, quit nowII LLAP According to the COPD Foundation, "COPD is an umbrella term used to describe progressive lung diseases including emphysema, chronic bronchitis, refractory (non-reversible) asthma, and some forms of bronchiectasis" and is characterized by increasing breathlessness. Despite Nimoy's diagnosis, the actor has continued to stay involved in all things involving the 'Trek' world and had even reprised his role as Spock Prime in the 2013 film 'Star Trek Into Darkness.' Nimoy's current condition is unknown but we'll make sure to update this story when we hear more.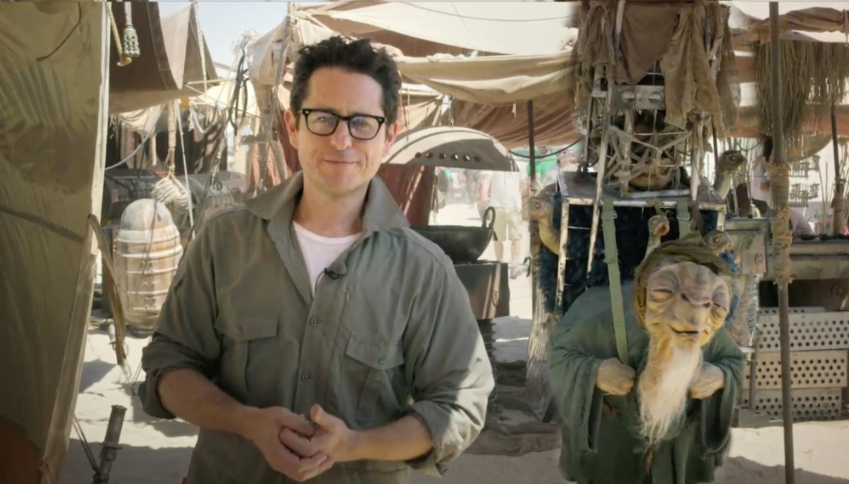 STAR WARS: THE FORCE AWAKENS
J.J. Abrams is one of the most secretive directors working in Hollywood so in a serious change of pace he has confirmed that some of the reported rumors about 'Star Wars: The Force Awakens' are true! That seems like something even George Lucas wouldn't have done. Which theories and rumored plot points that have hit the web are spot on? Abrams hasn't gone so far as to directly spoil the film so it's still up in the air as to what is really going to be happening in the film. While hosting the Irish Oscar Wilde awards where Carrie Fisher was being honored, he sat down with BBC News to talk a bit about the movie. On the rumors he had the following to say: "We did the best we can to preserve the story for the audience, but it doesn't always work. There are a ton of rumors – some true, some false. But I'm grateful for everyone who would want to read a spoiler because it means that they care and want to see the movie." So no word on which of the rumors so far are true. However, if you've been following our reports you'll know that everything from what Luke Skywalker has been up to, who the actors are playing and even a major character death have all been brought up. Almost every character in the film has been mentioned up to this point, so it's hard to even hazard a guess as to which rumors are actually accurate or not. 'Star Wars: The Force Awakens' starring John Boyega, Daisy Ridley, Adam Driver, Oscar Isaac, Andy Serkis, Domhnall Gleeson, Max von Sydow, Lupita Nyong'o, Gwendoline Christie, Harrison Ford, Carrie Fisher, Mark Hamill, Anthony Daniels, Peter Mayhew, and Kenny Baker premieres on December 18, 2015.
MONDAY, FEBRUARY 23, 2015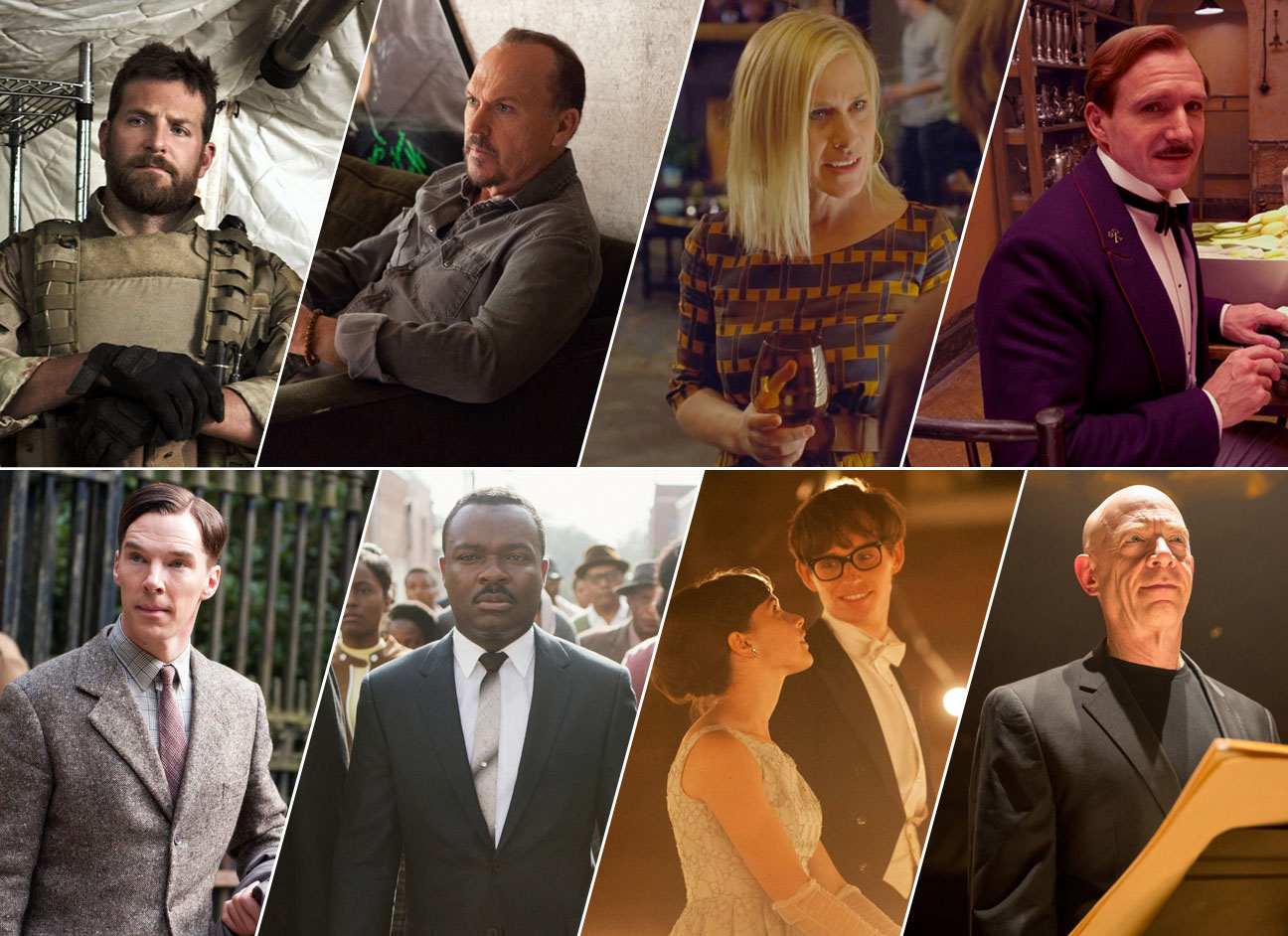 OSCAR NIGHT - AND THE WINNERS ARE
After a competitive awards season, Alejandro G. Inarritu's Birdman nabbed wins for best picture and best director at the Academy Awards ceremony on Sunday night. Below is a complete listing of winners: BEST PICTURE
(WINNER) Birdman - Alejandro G. Inarritu, John Lesher and James W. Skotchdopole BEST DIRECTOR
(WINNER) Alejandro G. Inarritu - Birdman BEST ACTOR
(WINNER) Eddie Redmayne - The Theory of Everything BEST ACTRESS
(WINNER) Julianne Moore - Still Alice BEST SUPPORTING ACTOR
(WINNER) J.K. Simmons - Whiplash BEST SUPPORTING ACTRESS
(WINNER) Patricia Arquette - Boyhood ADAPTED SCREENPLAY
(WINNER) Graham Moore - The Imitation Game ORIGINAL SCREENPLAY
(WINNER) Armando Bo, Alexander Dinelaris Jr., Nicolas Giacobone, Alejandro G. Inarritu - Birdman BEST DOCUMENTARY FEATURE
(WINNER) Citizenfour - Laura Poitras, Mathilde Bonnefoy and Dirk Wilutzky BEST FOREIGN-LANGUAGE FILM
(WINNER) Ida - Poland BEST ANIMATED FEATURE FILM
(WINNER) Big Hero 6 - Don Hall, Chris Williams and Roy Conli BEST CINEMATOGRAPHY
(WINNER) Emmanuel Lubezki - Birdman BEST FILM EDITING
(WINNER) Tom Cross - Whiplash BEST COSTUME DESIGN
(WINNER) The Grand Budapest Hotel - Milena Canonero BEST MAKEUP AND HAIRSTYLING
(WINNER) Frances Hannon and Mark Coulier - The Grand Budapest Hotel BEST PRODUCTION DESIGN
(WINNER) Adam Stockhausen (Production Design), Anna Pinnock (Set Decoration) - The Grand Budapest Hotel
BEST ORIGINAL SCORE
(WINNER) Alexandre Desplat - The Grand Budapest Hotel BEST ORIGINAL SONG
(WINNER) John Stephens and Lonnie Lynn - "Glory," Selma BEST SOUND EDITING
(WINNER) Alan Robert Murray and Bub Asman - American Sniper BEST SOUND MIXING
(WINNER) Craig Mann, Ben Wilkins and Thomas Curley - Whiplash BEST VISUAL EFFECTS
(WINNER) Paul Franklin, Andrew Lockley, Ian Hunter and Scott Fisher - Interstellar BEST ANIMATED SHORT FILM
(WINNER) Feast, Patrick Osborne and Kristina Reed BEST LIVE-ACTION SHORT FILM
(WINNER) The Phone Call, Mat Kirkby and James Lucas BEST DOCUMENTARY, SHORT SUBJECT
(WINNER) Crisis Hotline: Veterans Press 1, Ellen Goosenberg Kent and Dana Perry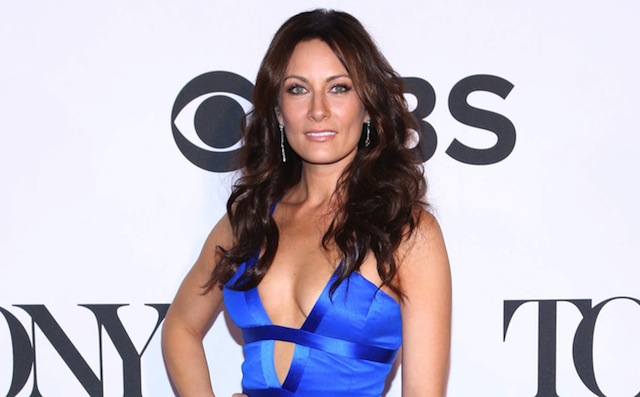 SUPERGIRL NEWS
A new member of the cast of CBS' upcoming "Supergirl" series has been revealed today, as Deadline reports that "Nashville" star Laura Benanti has joined the cast in the recurring role of Alura Zor-El, the Kryptonian birth mother of Melissa Benoist's Kara Zor-El. According to the outlet, the official description for the role reads as follows: A strong noblewoman, Alura sends Kara to Earth to escape Krypton's destruction. Her wisdom and guidance echoes across space and time, proving invaluable on Kara's journey toward becoming Supergirl. It sounds like we may see Alura appearing post-mortem in the same way that Russell Crowe's Jor-El appears after the prologue scene in Man of Steel. Then again, it's entirely possible that the series will feature the character entirely in flashback or even have an all new trick up its sleeve. Hailing from Warner Bros. TV and Berlanti Productions (who also produce the hit DC Comics series "Arrow" and "The Flash" for The CW), "Supergirl" is based on the characters from DC Comics and centers on Kara Zor-El, who comes to Earth after escaping the destruction of Krypton. After many years hiding her abilities, she joins the ranks of her cousin Superman to become the hero she was meant to be. The pilot episode was written by Ali Adler ("No Ordinary Family") and Greg Berlanti ("Arrow," "The Flash"). They will also executive produce along with Sarah Schechter and Warner Bros. TV. The show has a series commitment at CBS.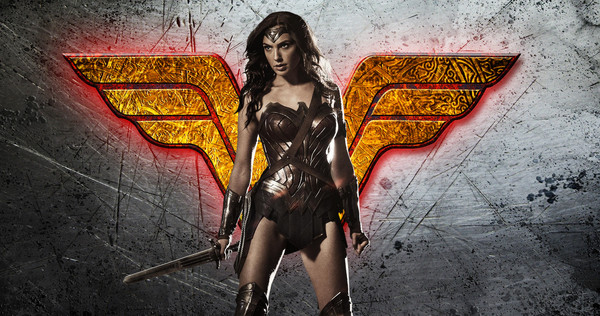 WONDER WOMAN NEWS
Yesterday, it was announced that Batman v Superman: Dawn of Justice star Gal Gadot has taken on a key role in the new comedy Keeping Up with the Joneses. With that news came the announcement that her standalone Wonder Woman movie will begin shooting this coming fall. There is no further information about the project, or an exact start date. The movie will be released summer 2017. Gal Gadot will first appear as Wonder Woman in next March's Batman v Superman: Dawn of Justice, which is set to pave the way for Justice League Part 1, which also opens in 2017. Gal Gadot has already wrapped her role as Wonder Woman in Batman v Superman: Dawn of Justice, with Zack Snyder revealing her in costume at last year's Comic-Con. Michelle Maxwell MacLaren, known for directing some of the most important episodes of The Walking Dead and Breaking Bad, will helm Diana Prince's first ever big screen adventure. Jason Fuchs, who recently penned Pan for Warner Bros., is taking on the script for Wonder Woman. No story details have been revealed at this time, but it's believed the movie will begin in the 1920s, and may skip through various time periods to show that Diana Prince doesn't age. This solo outing is rumored to take place before the events seen in Batman v Superman: Dawn of Justice. More recent rumors suggest that Warner Bros. is planning a trilogy for Wonder Woman. We will reportedly see her first encounter with the world outside of Themyscira. And if Diana is indeed living life in the USA in the early part of the last century, she will discover that not all people are treated equal, as she leads the fight for equal rights. Wonder Woman comes to theaters June 23rd, 2017 and stars Gal Gadot.
SUNDAY, FEBRUARY 22, 2015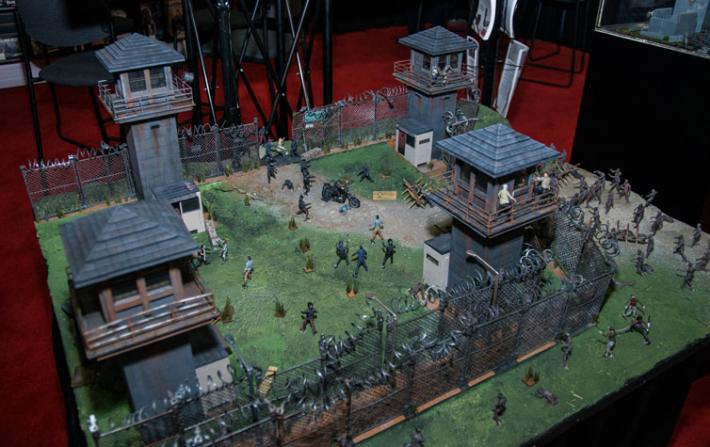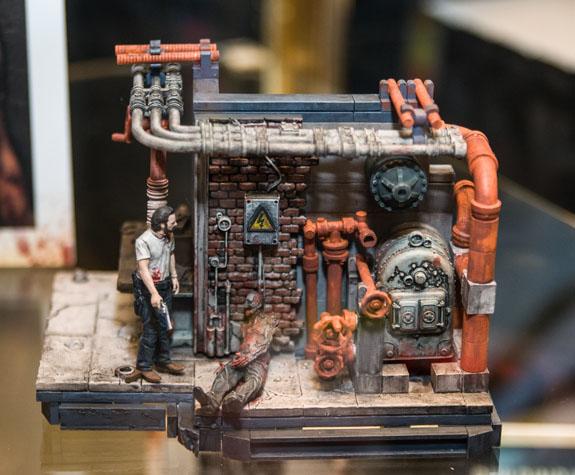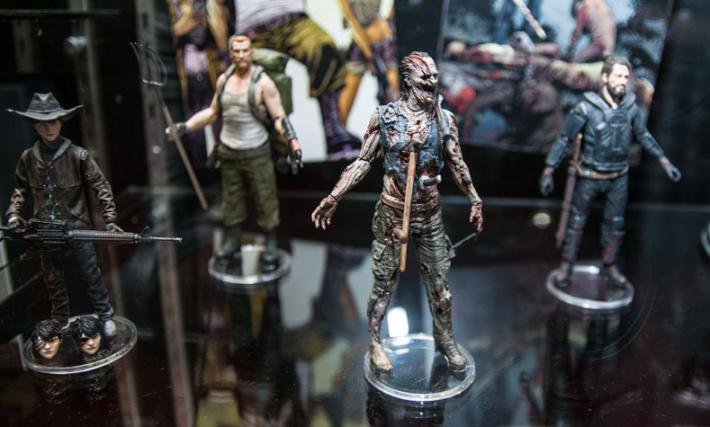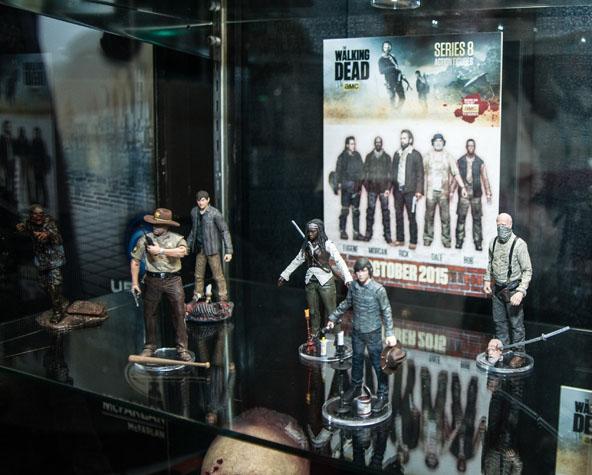 WALKING DEAD AT TOY FAIR 2015
As The Walking Dead continues to progress through its fifth season as a mighty ratings powerhouse, the franchise is also proving to be a licensing monster as well. At last week's American International Toy Fair, the Walking Dead brand could be seen everywhere, from high-end collectibles to keychains. Collectible companies are staying on point with current characters and storylines as well with characters like Bob and bad guys like Gareth showing up in action figure packs this year from McFarlane. We combed the aisles and found the tastiest tie-in products arriving for fans in the near future.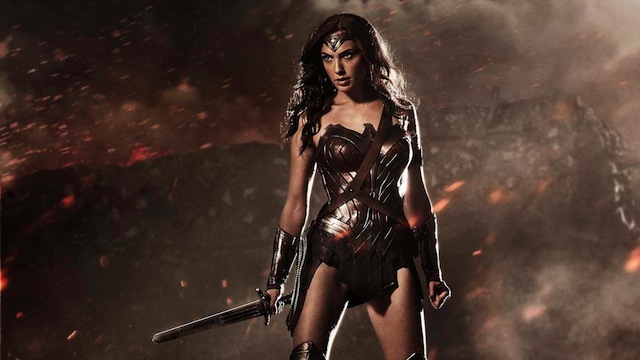 WONDER WOMAN
Deadline brings word, in a story unrelated to the DC Cinematic Universe, that Gal Gadot will be suiting up as Diana Prince for her solo Wonder Woman film later this year as production will begin in the fall.
"Breaking Bad" and "The Walking Dead" director Michelle MacLaren will helm the upcoming movie, which features a script by Jason Fuchs (Ice Age: Continental Drift, the upcoming Pan). Gal Gadot will make her first cinematic appearance in 2016's Batman v Superman: Dawn of Justice.
Recent rumors have suggested that, as a franchise, Wonder Woman is being targeted for development as a trilogy with the first film planned to take place in the 1920s, revealing Themyscira's first encounter with the outside world and Wonder Woman's own experiences with a USA that still had a lot to learn about equal rights.
Wonder Woman is set for release on June 23, 2017 with Justice League Part One to follow on November 10, 2017.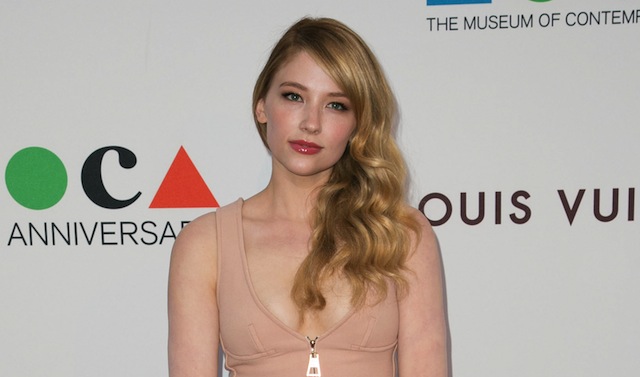 MAGNIFICENT SEVEN REMAKE
Haley Bennett, who recently appeared in The Equalizer, is reteaming with director Antoine Fuqua and leading man Denzel Washington for The Magnificent Seven. According to Deadline, Bennett will play the film's female lead, a woman in a small town whose husband is murdered by gunfighters. She winds up paying the bounty to enlist the film's title ensemble.
Originally drafted by "True Detective" scribe Nic Pizzolatto (since rewritten by The Blind Side's John Lee Hancock), The Magnificent Seven will remake the 1960 film directed by John Sturges that itself was inspired by Akira Kurosawa's 1954 classic Seven Samurai. Sturges' version starred Yul Brynner, Steve McQueen, Charles Bronson, James Coburn and Robert Vaughn as a group of disparate gunmen who come together to protect a Mexican village from bandits led by Eli Wallach. It led to a number of sequels as well as a CBS television series.
The new film is said to feature victimized a mining town, taken over by a gold baron, rather than the Mexican village of the original.
Chris Pratt is also set to star in the remake, which is expected to announce more cast members very soon.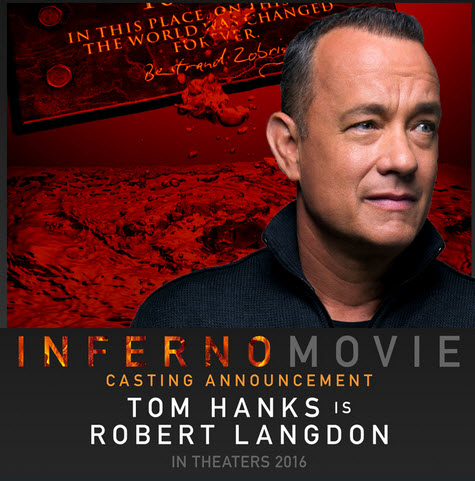 DA VINCI CODE SEQUEL - INFERNO
Director/producer Ron Howard and producer Brian Grazer have cast an energetic company of some of the world's most talented and interesting rising international stars to join Tom Hanks in Inferno, the new film in Columbia Pictures' Robert Langdon series, which has taken in more than $1.2 billion worldwide to date. The Imagine Entertainment production, which has a screenplay by David Koepp based on the book by Dan Brown, is slated for release on October 14, 2016 and will begin principal photography at the end of April.
The project's executive producers are Dan Brown, Anna Culp, Bill Connor, and David B. Householter. Inferno continues the Harvard symbologist's adventures on screen: when Robert Langdon wakes up in an Italian hospital with amnesia, he teams up with Sienna Brooks, a doctor he hopes will help him recover his memories and prevent a madman from releasing a global plague connected to Dante's Inferno.
Felicity Jones, an Oscar nominee this year for her performance in The Theory of Everything, will star opposite Hanks as Dr. Sienna Brooks. Irrfan Khan, one of India's biggest stars, best known for his roles in Slumdog Millionaire, Life of Pi, and The Lunchbox, takes the role of Harry Sims, also known as The Provost. French actor Omar Sy, best known for his work in the French mega-hit The Intouchables, as well as X-Men: Days of Future Past, the upcoming Jurassic World, and John Wells' upcoming untitled project, will play Christoph Bruder. Sidse Babett Knudsen, star of the Danish television series Borgen, will portray Dr. Elizabeth Sinskey, the head of the World Health Organization. The filmmakers are also in talks with several other internationally recognized actors for major roles.
"For this film, I wanted Tom Hanks to be surrounded by an international cast of actors whose energy will underscore Robert Langdon's life-or-death peril, the high-stakes action he takes, and the global threat that he's trying to prevent. Felicity, Irrfan, Omar, and Sidse have all broken through with recognition here in America as well as their home countries - they are phenomenal talents and we can't wait to get started."
Doug Belgrad, president, Sony Pictures Entertainment Motion Picture Group, had this to say in his statement.
"We're thrilled to be making a third Robert Langdon film with Ron, Tom and Brian. Inferno will deliver all of the excitement, intrigue and international adventure that audiences expect from a film based on Dan Brown's huge selling Langdon book series. We can't wait to see this character back on the big screen."
Michael De Luca and Andrea Giannetti will oversee the project for Columbia Pictures. Columbia Pictures has also released new photos of the cast, which you can take a look at below. Stay tuned for more updates on Inferno as production gets under way this spring.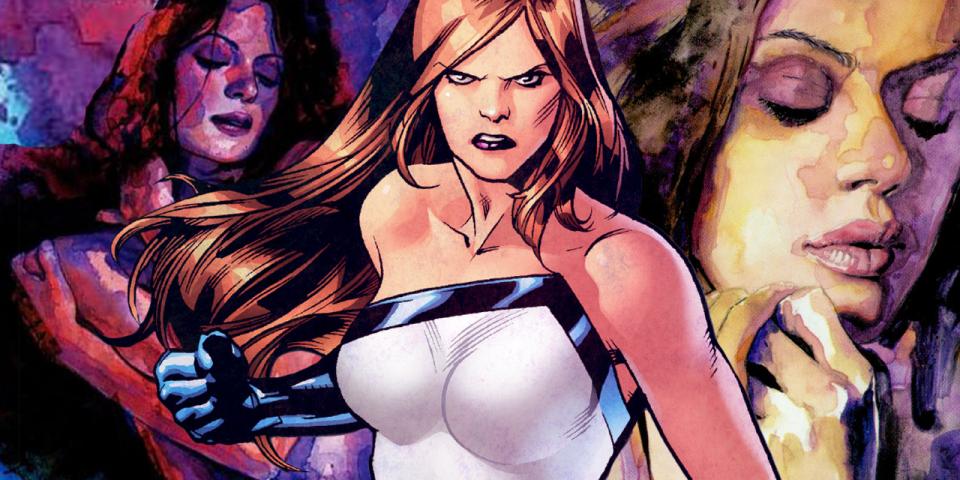 A.K.A. JESSICA JONES NEWS
The cast is really coming together for Marvel's 'A.K.A. Jessica Jones' as three more faces have been added to the upcoming series. With the show to be released on Netflix later this year it was only a matter of time before we started to get the full cast fleshed out. Joining Krysten Ritter as Jessica Jones will be Eka Darville ('The Originals','Spartacus: War of the Damned'), Erin Moriarty ('The Watch','After the Dark'), and Wil Travel ('Once Upon a Time','Primal'). 'A.K.A. Jessica Jones' is one of Netflix's four upcoming Marvel themed series.
Darville will be playing Jessica's neighbor Malcom. His life is set to cross paths with Jessica's in a surprising way. Moriarty is tackling the role of Hope who will end up becoming a client of Jessica's private investigation business, Alias Investigations. Finally Travel will be playing a "by-the-book" police officer for New York. Detectives and police can either get along really well or not at all, so it'll be interesting to see how these two interact with one another.
According to Jeph Loeb, Executive Producer/Marvel's Head of Television, "All three of these enormously talented actors bring even more layers of depth and nuance to Jessica's world. Together they help flesh out what is already a phenomenal cast in a series we believe will be truly remarkable."
The three will be joining a cast that already consists of Rachael Taylor as Jessica's best friend and potential super hero Trish Walker, David Tennant who will be playing the villainous Killgrave, Carrie-Anne Moss in a mystery role, and finally Mike Colter who is lined up to be introduced as Luke Cage before starting his own series.
'A.K.A. Jessica Jones' is the second Marvel Netflix series in the works and will follow up 'Daredevil' which is being released this April. The series will be followed by Luke Cage, Iron Fist, and a series that brings these street level characters together titled 'The Defenders'.
SATURDAY, FEBRUARY 21, 2015
GAME OF THRONES
HBO has revealed a blooper reel for the fourth season of "Game of Thrones".

Season 5 of "Game of Thrones" is set to premiere April 12 at 9 p.m on HBO, and will include new cast members Alexander Siddig, Toby Sebastian, Nell Tiger Free, Keisha Castle-Hughes, Jessica Henwick, Rosabell Laurenti Sellers, DeObia Oparei, Jonathan Pryce, Hannah Waddingham, Enzo Cilenti, Michael Condron, and Adewale Akinnuoye-Agbaje.

Series creators David Benioff and D.B. Weiss return as executive producers and showrunners for Season 5, which will be based mostly on the fourth and fifth novels of George R. R. Martin's A Song of Ice and Fire book series, "A Feast for Crows" and "A Dance with Dragons."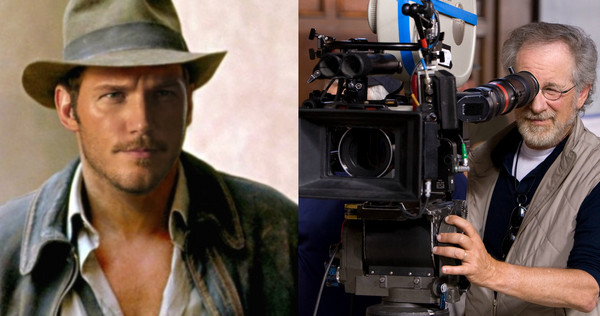 NEW INDIANA JONES RUMORS
One of the bigger headlines from earlier this year was the announcement that Walt Disney Pictures and Lucasfilm are eyeing Guardians of the Galaxy star Chris Pratt to potentially replace Harrison Ford as the headlining star of the Indiana Jones franchise! Today, Deadline offers an update, suggesting that Steven Spielberg himself is interested in directing the fifth big screen installment in the life of Dr. Henry Jones, Jr.
Although the most recent big screen adventure, Indiana Jones and the Kingdom of the Crystal Skull, was not entirely a hit with critics, the fourth film in the series managed to gross more than $786 million worldwide when it was released in 2008. Shortly thereafter, George Lucas hinted that plans were underway for a fifth cinematic adventure, but he admitted that he had yet to decide on a MacGuffin (A term popularized by Alfred Hitchcock, referring to a narrative element that drives the story forward, such as the Ark of the Covenant in Raiders of the Lost Ark). Following the sale of Lucasfilm to Walt Disney Pictures and Lucas' own subsequent retirement, however, hints regarding plans for the future of the franchise have been few and far between. Ford, however, has suggested that he's quite eager to reprise the role himself, despite turning 73 this year.
Spielberg is said to have himself selected Pratt to headline Jurassic World, so, while there's currently no script in place for a fifth Indiana Jones adventure, one may very well be on the way in the not too distant future!
GOTHAM
Next week's all new episode of "Gotham" (the series' 17th overall) is set to include the first appearance of the Red Hood and, today, FOX has released a new behind-the-scenes featurette that explores the mystery at the heart of the familiar comic book foe. Here's the official description of the episode, appropriately titled, "Red Hood":
"Following several bank robberies, Gordon and Bullock investigate the Red Hood gang. Selina Kyle continues to bond with Barbara, and Fish Mooney tries to reclaim her position in the underworld."
The Red Hood debuted in DC Comics back in 1951 in a "Detective Comics" story called "The Man Behind the Red Hood!" For that iteration of the character, it was revealed that the mysterious foe was, in fact, the Joker all along and was a criminal identity that was in use before the accident that transformed him.
"Red Hood" is set to air on February 23 at 8:00pm ET/PT on FOX.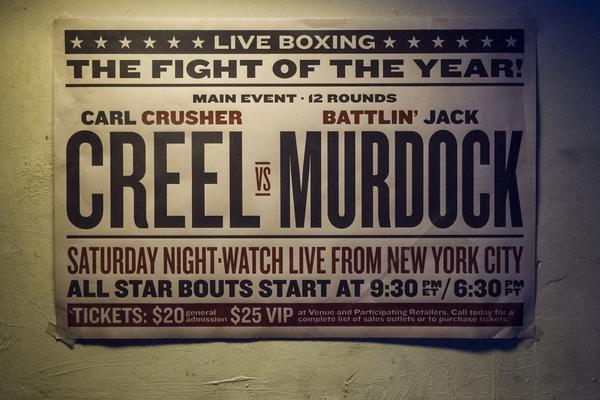 DAREDEVIL
As we get closer and closer to the April 10 debut of the highly-anticipated Netflix series Marvel's Daredevil, the show's official Twitter account has released a new photo today, teasing a potential connection with ABC's Marvel's Agents of S.H.I.E.L.D. The photo is a boxing match poster promoting an upcoming fight between Battlin' Jack Murdock, the father of Charlie Cox's Matt Murdock, and Carl "Crusher" Creel, who is also known as The Absorbing Man. As you may recall, Creel appeared in the Season 2 premiere Marvel's Agents of S.H.I.E.L.D., "Shadows", portrayed by Brian Wade.
It remains to be seen if Brian Wade will reprise his role as Creel in Marvel's Daredevil, but the image brings up a few interesting questions about the show's timeline. There was no date given on the boxing poster, so it's possible that Jack Murdock may still be boxing, making it possible for Brian Wade to return as Creel. In the comic books, Jack Murdock was kept alive throughout Matt's college years, but if this fight is a flashback, it may provide some continuity issues, especially since no date or year is listed on the photo. However, it's also possible that a completely different actor will come aboard to play Creel.
It's worth noting that Brian Wade (36) is just a few years older than Charlie Cox (32), so it's possible that this fight could be a flashback. As far as we know, neither Jack Murdock or Carl Creel have been cast in Marvel's Daredevil, and it isn't known how much this fight will have an impact on the story.
FRIDAY, FEBRUARY 20, 2015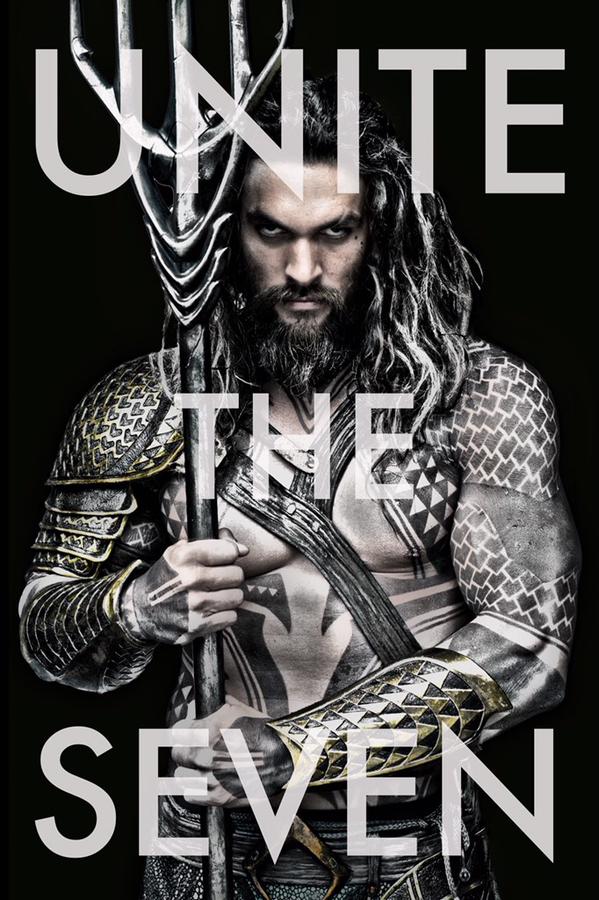 AQUAMAN
Anyone still hating on Aquaman being in "Batman v Superman: Dawn of Justice" can promptly sit down. Director Zack Snyder tweeted the first look of former "Game of Thrones" actor Jason Momoa as the aquatic superhero and there is not a single lame thing about this photo. "There is only one true King. #unitetheseven," Snyder's caption reads. The seven most likely refers to the other members of the Justice League -- Superman, Batman, Wonder Woman, The Flash, Cyborg and Green Lantern. Does this mean that Aquaman's role in the upcoming throw down between the Dark Knight and Man of Steel will be trying to keep the peace? Henry Cavil will be reprising his role as Superman and Ben Affleck is Batman in the upcoming feature. Gal Gadot is taking on Wonder Woman while Ezra Miller has been cast for "The Flash" and Ray Fisher has signed up for Cyborg. It has not been announced whether Ryan Reynolds will return as the Green Lantern, though it's likely that he'll be recast for the new DC slate of films. Fans will have to wait until March 2016 to figure out exactly how Aquaman plays into "Batman v Superman," but this is the beginning of a long haul for the Justice League franchise. After "Batman v Superman" Momoa will star in an Aquaman solo film due out in 2017. That will be followed up by a two part Justice League film, part one coming also in 2017 and part two in 2019.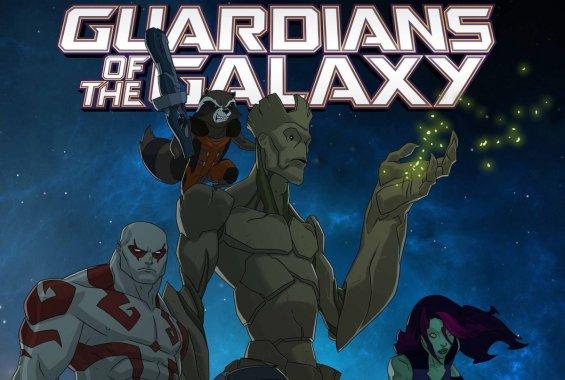 GUARDIANS OF THE GALAXY ANIMATED ADVENTURE
We have to wait until 2017 to see the next big-screen adventure of the Guardians of the Galaxy, but that doesn't mean we won't see the team again until then. They'll keep having adventures in the pages of Marvel Comics, of course, but they're also coming later this year to Disney XD for a new animated series that takes place after the events of the first film. The series was first announced by Disney and Marvel Animation last fall, and though we've been excited for it ever since we knew it was coming, we didn't really know many details beyond the initial announcement. Now we finally know who'll take over from the big-screen stars and bring these characters to life on the small screen. Earlier this week, Disney revealed that veteran voice actor Kevin Michael Richardson has joined the show to play the lovable talking tree creature, Groot, and now we finally know who'll round out the rest of the Guardians animated cast, along with a couple of intriguing supporting characters. Joining Richardson in the cast are Will Friedle (Kim Possible) as Star-Lord, Trevor Devall (Johnny Test) as Rocket Racoon, Vanessa Marshall (Star Wars Rebels) as Gamora, David Sobolov (Transformers Prime) as Drax and James Arnold Taylor (Hulk and the Agents of S.M.A.S.H.), who will voice both Yondu (played by Michael Rooker in the film) and Cosmo. That's right, your favorite talking Soviet space dog is along for this ride too. To accompany the announcements, Disney XD also released a video in which each cast member introduces himself, and most of them also provide a little sample of how they'll be voicing the characters. There's definitely a lot of talent here, and we can't wait to see them all in action. WAYWARD PINES
M. Night Shyamalan's been a bit of a punching bag at the movies for quite some time now, so this spring he's giving the small screen a try with Wayward Pines, an event series adapted from Blake Crouch's novel The Pines and developed for television by Chad Hodge (The Playboy Club). Shyamalan, who serves as the series' executive producer, also directed the pilot episode of the show, which stars Matt Dillon as a Secret Service agent who arrives in a mysterious town after a car crash and finds that the idyllic Wayward Pines is hiding something dark. Early marketing for the series drew its own comparisons between the show and David Lynch's cult classic Twin Peaks, and the trailers have certainly embraced that, playing up the juxtaposition of small-town niceness and something sinister lurking beneath the often cloying pleasantness of the community. You've got Terrence Howard as an evangelizing, ice-cream-eating sheriff, Melissa Leo as a nurse who believes passionately in the town's communally recited mantra, Carla Gugino as a fellow Secret Service agent who's been pulled into the town's culture and can't leave, and a host of others, including Juliette Lewis, Toby Jones and Reed Diamond. It's all satisfyingly creepy in trailer form, but is it laying the Twin Peaks vibe on a little too thick, and will it work for 10 hours on TV? The lengthy first trailer for the series played heavily on the "you can't leave" aspects of the show's mythology, and now a new trailer is here to ramp up the intensity with violent images, quick cuts and new footage of Howard holding the town in his thrall. Plus, Dillon follows the town's rule of always answering the phone and gets a dark order on the other end of the line. ARROW
A whole lot of story arcs are coming to a head next week on Arrow, and this teaser clip for "Nanda Parbat" is jam-packed with DC bombshells. After dropping off the radar the past few weeks once he stabbed Oliver (Stephen Amell) through the chest, Ra's al Ghul is back in a big way. After steering clear of the League for quite some time, Malcolm Merlyn finally has to pay for his sins after being captured. As if that weren't enough, Ray Palmer is finally going to finish his A.T.O.M. suit. In fact, the footage below shows him suited up for the first time. We can't wait to see this thing in action. Here's the official synopsis for the episode: Malcolm (John Barrowman) is captured by Ra's al Ghul (guest star Matt Nable) and taken to Nanda Parbat. Because of his love for Thea (Willa Holland), Oliver (Stephen Amell) considers saving Merlyn. Ray (Brandon Routh) is obsessed with finishing his Atom suit so he can save the city but Felicity (Emily Bett Rickards) fears he is heading down the same path as Oliver (Stephen Amell) and tries to pull him out of the lab. Arrow airs Wednesday nights on The CW. INSURGENT
Following last week's new trailer, Summit Entertainment has brought online the first clip from their highly-anticipated sequel The Divergent Series: Insurgent. Directed by Robert Schwentke (RED, The Time Traveler's Wife), the film continues to adapt the bestselling book series by Veronica Roth and stars Shailene Woodley (The Fault in Our Stars, White Bird in a Blizzard), Theo James (Underworld: Awakening, London Fields), Kate Winslet (Labor Day, Contagion), Octavia Spencer (The Help, Black or White), Suki Waterhouse (Pusher, Love, Rosie), Jonny Weston (Project Almanac, Chasing Mavericks), Naomi Watts (Birdman, The Impossible), Rosa Salazar (Epic, Jamesy Boy) and Keiynan Lonsdale ("Dance Academy"). Insurgent raises the stakes for Tris as she searches for allies and answers in the ruins of a futuristic Chicago. Tris (Woodley) and Four (James) are now fugitives on the run, hunted by Jeanine (Winslet), the leader of the power-hungry Erudite elite. Racing against time, they must find out what Tris's family sacrificed their lives to protect, and why the Erudite leaders will do anything to stop them. Haunted by her past choices but desperate to protect the ones she loves, Tris, with Four at her side, faces one impossible challenge after another as they unlock the truth about the past and ultimately the future of their world. The Divergent Series: Insurgent hits theaters on March 20, 2015.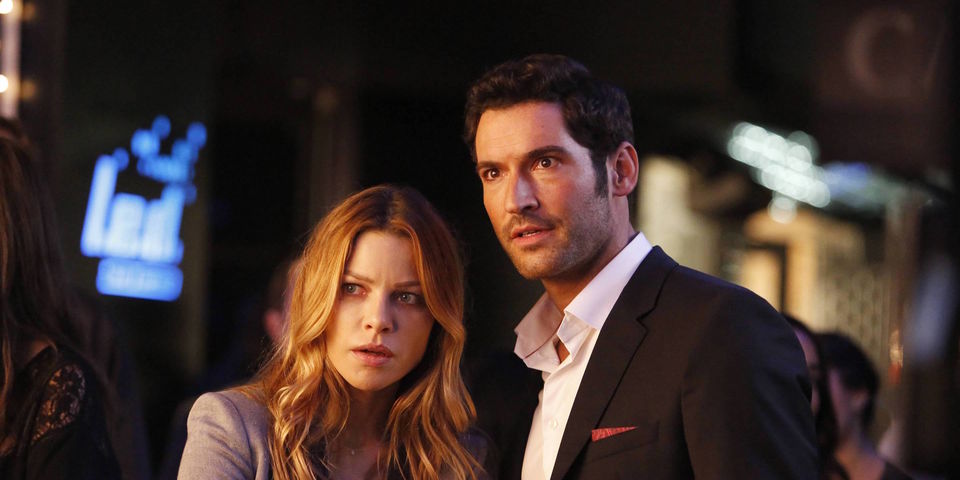 LUCIFER
FOX has officially ordered a pilot for the TV adaptation "Luficer," based on the Vertigo title by Mike Carey. "Sleepy Hollow" co-creator and Underworld director Len Wiseman will helm the project which now has Jerry Bruckheimer joining as an executive producer. The TV series centers on Lucifer, who, bored and unhappy as the Lord of Hell, resigns his throne and abandons his kingdom for the gorgeous, shimmering insanity of Los Angeles, where he gets his kicks helping the LAPD punish criminals. Largely inspired by John Milton's approach to the character in "Paradise Lost," this version of Lucifer first appeared in Neil Gaiman's "Sandman" (itself in the process of heading to the big screen). Carey expanded the character into a solo title in 2000. The popular series was published through 2006 and ran 75 issues. "Lucifer" joins the ever-growing slate of small screen DC Comics adaptations, including "Arrow," "The Flash," and "Gotham," the upcoming "iZombie," and the in-development "Supergirl", "Krypton," and "Titans."

Lu
THURSDAY, FEBRUARY 18, 2015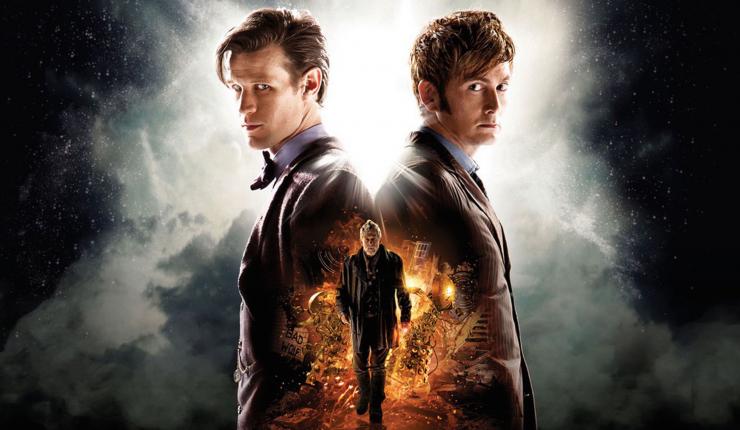 DOCTOR WHO COMIC
While Doctor Who maintains a steady and popular TV presence on both sides of the Atlantic, it's sometimes easy to forget that the franchise is also telling plenty of exciting stories in the comic book world. Even after they left the show, David Tennant and Matt Smith's Doctors continued to have adventures in the TARDIS through comics, and this summer they'll get to take part in a major Doctor Who crossover with the current Doctor, Peter Capaldi.

Titan Comics revealed today that, in August, their current Tenth Doctor, Eleventh Doctor, and Twelfth Doctor comics series will stop to make way for a five-part weekly series that will bring all three Doctors together for one story, written by longtime Doctor Who fan and writer Paul Cornell. You might know Cornell from his comic book work on everything from Wolverine to Batman & Robin, but he's also a successful TV writer with credits ranging from Doctor Who ("Human Nature/The Family of Blood") to Robin Hood and Primeval, and he's contributed several stories to Doctor Who Magazine. He's also written several Doctor Who novels, and now he gets to bring together three Doctors for one epic event.

Sadly, we still don't know the title of this piece, or who the artist will be, or what the general storyline is, but we do know that the only TV companion the series will feature is Capaldi's current co-pilot, Clara Oswald. Tennant and Smith's Doctors will be paired with comic-book exclusive Companions Gabriella Gonzalez and Alice Obiefune, respectively. Technically, Capaldi, Smith and Tennant briefly shared the screen during the 50th-anniversary special, "Day of the Doctor," but they've never really interacted like this before, and now Cornell gets to deliver that story to us. The series launches its first issue on Aug. 12 and continues all the way through September, and we'll let you know when we hear more details.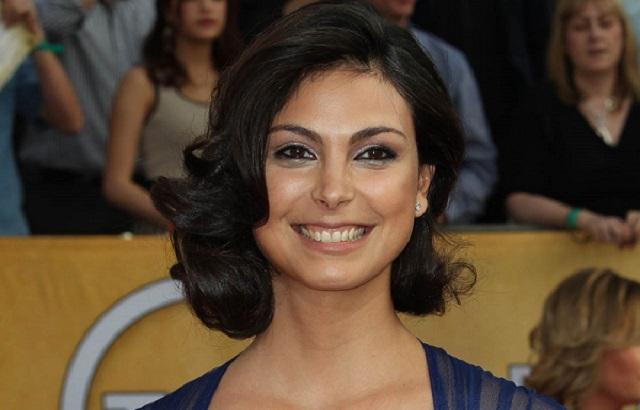 DEADPOOL NEWS
If might be happening a few years later than we'd hoped but, at last, a Deadpool solo film is on the way, and Ryan Reynolds is back in the role of the Merc With a Mouth. Over the last couple of weeks, we've heard plenty of exciting things about the film, including the news that MMA star-turned-actress Gina Carano is joining the flick as the mutant Angel Dust, and comedian and actor T.J. Miller (Silicon Valley) is on board to bring some extra laughs. Now another major piece of casting news makes the film even more exciting.
According to The Hollywood Reporter, Firefly star Morena Baccarin has just joined the cast as an unnamed love interest for Reynolds' Wade Wilson. The film will follow Wilson as he undergoes a cancer treatment that eventually leaves him horribly scarred but also gives him superpowers, and Baccarin will play a still-unnamed woman who struggles with loving a man who's been so hideously deformed.
Genre fans know Baccarin best for her work as Inara on the short-lived but impossibly beloved Joss Whedon drama Firefly, but she's continued to work steadily since that show ended in 2003. She's lent her voice to DC Comics adaptations like Justice League and Son of Batman, appeared on Stargate: SG-1 and played major roles on Homeland, V and the current FOX hit Gotham. Now she's diving into the big-screen comic book world for one of the most anticipated superhero films of the next couple of years.
Deadpool will be directed by Tim Miller (creative supervisor on Scott Pilgrim vs. The World) from a script by Rhett Reese and Paul Wernick (Zombieland). Simon Kinberg, who's been a major force in every X-Men team film since The Last Stand in 2006, is serving as a producer. Filming is set to kick off next month for a release in early 2016.
ARROW NEWS
Another DC Comics villain is set to make his debut on The CW's Arrow this season, and he'll be played by Hellboy's very own Doug Jones.
Most of you know Jones as the guy who's always hidden under prosthetics, makeup or CGI (Hellboy, The Fantastic Four: Rise of the Silver Surfer, Pan's Labyrinth, The Strain, Falling Skies). It's pretty rare to actually see the very physical actor without a full getup that completely hides him. And just who will Jones get to play? Well, IGN reports that he'll be playing Jake Simmons, aka Deathbolt, in the 19th episode of season three, titled "Broken Arrow."
Deathbolt made his first comics appearance back in 1983, in All-Star Squadron #21. His power was to manipulate electricity, a la Marvel's Electro, but in Arrow the character will be another metahuman who'll be able to tap into and weaponize plasma energy.
IGN points out that Deathbolt's appearance on the show will be notable because it'll be the first time a metahuman, or even a fully powered supervillain, will appear and even make his debut on a series that has been mostly power-less. Could this mean that Simmons is from Central City, where the particle accelerator accident that gave people metahuman powers happened? Food for thought.
THE FLASH
The CW has released a thrilling extended trailer/sneak peek preview for the next episode of its hit superhero series The Flash — which is, sadly, heading for a painful month-long hiatus. Get ready for a long month.
SHOW SPOILERS AHEAD
Boy, was last night's episode of The Flash awesome! With the big twist being that Doctor Harrison Wells (Tom Cavanagh) — a man our speedy hero Barry Allen (Grant Gustin) and the whole S.T.A.R. Labs team trusted — was revealed as the Reverse Flash, aka the villain responsible for the death of Barry's Mom.
The next episode is titled "Out of Time," and we only have a short synopsis from IMDb (so NOT official), which reveals the return of a series premiere character:
When Clyde Mardon seeks revenge on the Flash, he enlists his more powerful brother, Mark, also known as the Weather Wizard, to help him achieve his goal.
The Flash will return on March 17.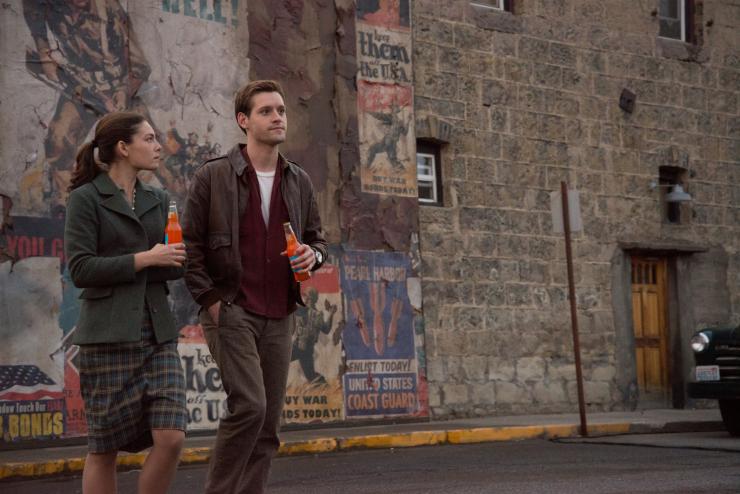 AMAZON PILOTS COMING
Netflix might have the upper hand now, but Amazon Prime is making a hard push into original scripted fare — and it looks like the underdog streaming service might have found its first genre hit.
Amazon Prime has picked up five pilots to series, led by buzzy sci-fi show The Man in the High Castle, based on Philip K. Dick's 1962 alt-history novel. The studio also snagged dark comedy Mad Dogs (from Shield creator Shawn Ryan), docu-series The New Yorker Presents and kiddie programs Just Add Magic and The Stinky & Dirty Show. Of the five, The Man in the High Castle easily leads the pack.
As you're likely aware, Amazon has an unorthodox approach to pilot season. Basically, they produce a dozen or so, then toss them online to see what people think of the finished products. Whatever gets good reviews and garners some viewer interest typically gets a pickup. It's a fun, collaborative approach to pilot season — and it also helps build some buzz by offering the pilots for free. Thanks to positive word of mouth, The Man in the High Castle marked the studio's most-watched pilot in history, and the episode made it onto several "Best Of" lists.
The early preview did gangbusters to raise interest about the project, which is set in an alternate history where the Axis powers won World War II and now control most of the United States. It's an ambitious pitch, but the pilot created an intriguing world we're dying to see more of. The pedigree doesn't hurt, either. The debut was written by X-Files veteran Frank Spotnitz, and the series boasts sci-fi legend Ridley Scott (Blade Runner) as an executive producer.
The full series will debut later this year, or in early 2016, on the Amazon Prime streaming service.
ALIEN SEQUEL
District 9 and Elysium helmer Neill Blomkamp made headlines last month when he posted a series of concept art designs for a new film in the 20th Century Fox's Alien franchise. Although the filmmaker admitted that the designs were unofficial, he hinted that he'd be more than happy to take on such a project. Today, Blomkamp posted a new image with a message that should make Alien franchise fans pretty happy!
"So I think it's officially my next film," he writes!
At this point it's uncertain precisely what route the new film will take or if Signourney Weaver (whose Ellen Ripley was featured in the concept designs) will be returning to the franchise.
"[Sigourney] knows about it," Blomkamp told ComingSoon.net last week, "and part of it was just inspired by speaking to her on set when we were filming 'Chappie,' and getting her thoughts on 'Alien' and what she thought of the movies that came after 'Aliens' and what she felt about Ripley and what was incomplete for her about Ripley. There was so much fuel in what she was telling me."
Blomkamp's latest, Chappie, also stars Weaver and lands in theaters March 6!
UPDATE: 20th Century Fox has since confirmed the news, clarifying that this is, indeed, a sequel to the original Alien franchise and not the Prometheus sequel currently set for release March 4, 2016.
WEDNESDAY, FEBRUARY 18, 2015
POWERS
It's been a long (long) road, but the eagerly-awaited series based on Brian Michael Bendis' Powers comic is almost here. Want to check out a ton of new footage, and interviews, to get prepped? The new footage from the Playstation Network series shows off more of the gritty superhero world, as we get to see more of the street-level cops tasked with keeping order in a city where a few Level 6 powers can duke it out and take out half a city block. All before lunch. This new 7+ minute featurette includes several interviews with the cast and crew, as stars Sharlto Copley (Christian Walker), Susan Heyward (Deena Pilgrim), Noah Taylor (Johnny Royalle), Eddie Izzard (Wolfe) and Michelle Forbes (Retro Girl) talk about their characters and the world they inhabit. The cast is excellent, and anything that sets up Eddie Izzard as a villain this delicious is worth checking out. Along with the actors, showrunner Charlie Huston and comic co-creators Brian Michael Bendis and Michael Avon Oeming opened up about what it's like to see their long-running comic (the first issue debuted a full 15 years ago) finally brought to life. A television version of the 'book has been in development for several years, and FX actually took two shots at a pilot before finally giving up. Once FX was out of the picture, Playstation Network stepped in and revived the project to be the video game platform's first-ever original series. Judging by the trailers and footage, it looks like they've definitely nailed the tone — and it seems they're borrowing from the comic canon, but not being slavish, which should hopefully make for a good balance akin to The Walking Dead. Powers debuts March 10 on the Playstation Store. The pilot will be free to view, with subsequent episodes debuting weekly. PlayStation Plus subscribers will be able to watch the entire season for free.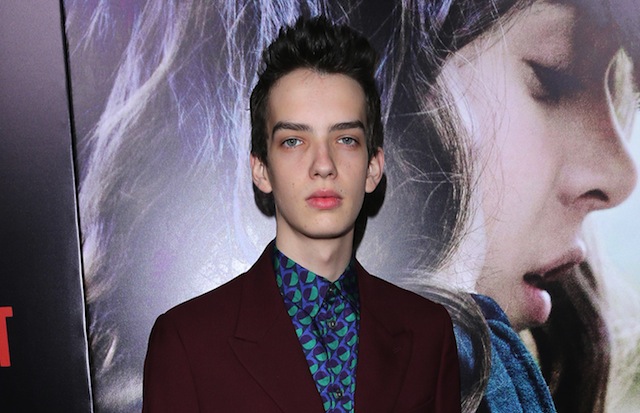 X-MEN: APOCALYPSE
Nightcrawler, the "fuzzy elf" mutant with the ability to teleport, is headed back to the big screen! X-Men: Apocalypse director Bryan Singer just revealed (via his Instagram account) that Kodi Smit-McPhee (ParaNorman, Dawn of the Planet of the Apes) will play the character in the May 27, 2016 release.

Ni

James McAvoy, Michael Fassbender, Jennifer Lawrence, and Nicholas Hoult are set to lead the cast of X-Men: Apocalypse, which will also see the return of Rose Byrne as Moira MacTaggert and newcomers Alexandra Shipp, Sophie Turner, and Tye Sheridan as young versions of Storm, Jean Grey, and Cyclops. Oscar Isaac is set to star as the film's title mutant antagonist. Nightcrawler, created by Len Wein and Dave Cockrum, made his first comic book appearance in "Giant Size X-Men" #1 back in 1975. Singer previously cast Alan Cumming as an older (and now parallel timeline) version of Nightcrawler in his X2. X-Men: Apocalypse is being written by Simon Kinberg from a treatment by Mike Dougherty, Dan Harris and Kinberg. Said to be the conclusion of a trilogy started with X-Men: First Class and continued with X-Men: Days of Future Past, cameras will start rolling on the next adventure in Montreal beginning in April.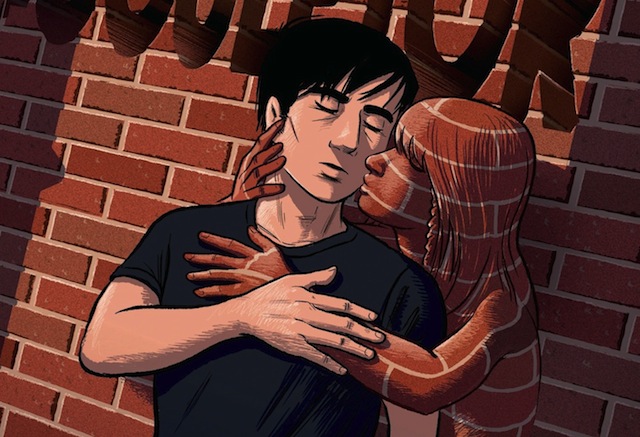 THE SCULPTOR
Scott McCloud, the acclaimed sequential artist behind books like "Zot!," "Understanding Comics" and "Reinventing Comics," will be bringing his latest to the big screen. The Hollywood Reporter today brings word that the rights to The Sculptor, McCloud's first ever graphic novel, have been picked up by Sony Pictures and producer Scott Rudin. The book itself, published earlier this month through First Second Books, is described on McCloud's official site as follows: David Smith is giving his life for his art — literally. Thanks to a deal with Death, the young sculptor gets his childhood wish: to sculpt anything he can imagine with his bare hands. But now that he only has 200 days to live, deciding what to create is harder than he thought, and discovering the love of his life at the eleventh hour isn't making it any easier. "'The Sculptor' took five years to write and draw," McCloud adds, "and I used every minute to make it the best reading experience I could. I like this book a lot and I hope you will too." Josh Bratman is also attached to serve as producer on the film version of The Sculptor. Check back for further details on the project as they become available.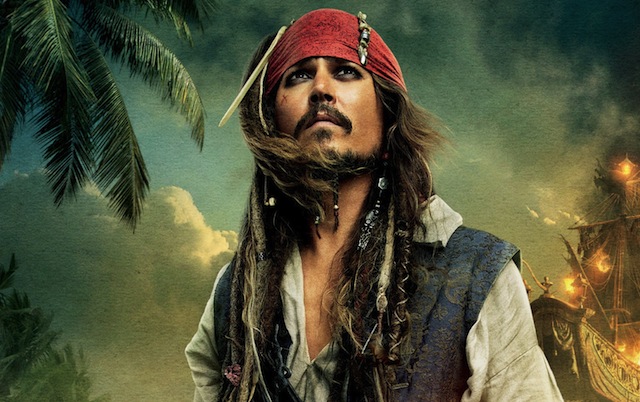 PIRATES OF THE CARIBBEAN: DEAD MEN TELL NO TALES
Production has officially commenced today on Disney and Jerry Bruckheimer Films' Pirates of the Caribbean: Dead Men Tell No Tales! The fifth entry in the blockbuster franchise inspired by the classic Disney Theme Parks attraction is directed by Espen Sandberg and Joachim Rønning (Kon-Tiki) and will film entirely at Village Roadshow Studios and on locations within Queensland, Australia. Johnny Depp returns to his iconic, Academy Award-nominated role as Captain Jack Sparrow, newly joined by Oscar winner Javier Bardem (No Country for Old Men, Skyfall), rising young stars Kaya Scodelario (The Maze Runner, "Skins") and Brenton Thwaites (Maleficent, The Giver), and Golshifteh Farahani (The Patience Stone, Exodus: Gods and Kings). Rejoining the action are Academy Award winner Geoffrey Rush as Barbossa, Kevin R. McNally as Joshamee Gibbs and Stephen Graham as Scrum. Thrust into an all-new adventure, a down-on-his-luck Captain Jack Sparrow finds the winds of ill-fortune blowing even more strongly when deadly ghost pirates led by his old nemesis, the terrifying Captain Salazar (Bardem), escape from the Devil's Triangle, determined to kill every pirate at sea…including him. Captain Jack's only hope of survival lies in seeking out the legendary Trident of Poseidon, a powerful artifact that bestows upon its possessor total control over the seas. Pirates of the Caribbean: Dead Men Tell No Tales is produced by Jerry Bruckheimer and written by Jeff Nathanson (Catch Me If You Can, Indiana Jones and the Kingdom of the Crystal Skull). The executive producers are Chad Oman, Joe Caracciolo, Jr. and Brigham Taylor. Joining Bruckheimer, Sandberg & Rønning for the swashbuckling new voyage is a first-tier group of award-winning behind-the-scenes artists — many of them new to the Pirates of the Caribbean family — including director of photography Paul Cameron (Gone in Sixty Seconds, Collateral), production designer Nigel Phelps (Pearl Harbor, Transformers: Revenge of the Fallen), costume designer Penny Rose (all four Pirates of the Caribbean films), visual effects supervisor Gary Brozenich (The Lone Ranger, Edge of Tomorrow), Oscar-winning special effects production consultant John Frazier (nine Jerry Bruckheimer films and dozens of others) and special effects supervisor Dan Oliver (Mad Max: Fury Road, X-Men Origins: Wolverine), supervising stunt coordinator R.A. Rondell (The Hunger Games: Mockingjay – Part 1) and stunt coordinators Thomas Robinson Harper (Guardians of the Galaxy, Captain America: The Winter Soldier) and Kyle Gardiner (San Andreas, Kingsman: The Secret Service), Academy Award-winning makeup and hair designer Peter Swords King (The Lord of the Rings and The Hobbit trilogies, Into the Woods) and film editors Joel Cox (Unforgiven, American Sniper) and Gary D. Roach (American Sniper). Pirates of the Caribbean: Dead Men Tell No Tales hits theaters July 7, 2017!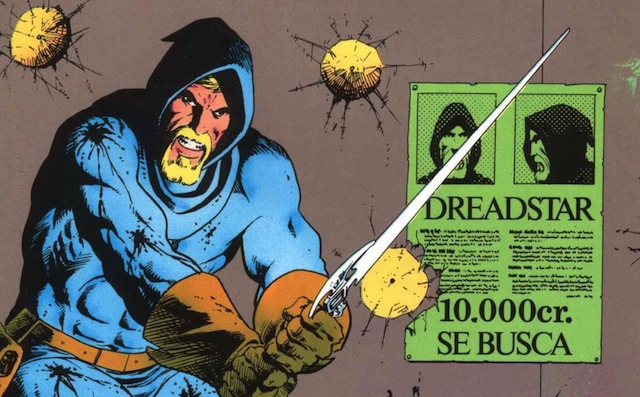 DREADSTAR COMING TO TV
Universal Cable Productions along with Benderspink (We're The Millers, Ride Along) announced today that they are developing the comic book "Dreadstar" into a scripted series alongside iconic comic artist and creator Jim Starlin ("Guardians of the Galaxy", "Captain Marvel" and the "Infinity Gauntlet" Trilogy), who will serve as executive producer and writer. "Dreadstar" is based on the classic character from the Marvel-owned Epic Comics imprint and centers on Vanth Dreadstar, sole survivor of the entire Milky Way galaxy, and an ensemble cast of crewmates, including cyborg sorcerer Syzygy Darklock, and their struggle to end an ancient war between two powerful, evil empires: The Church of The Instrumentality, run by the Lord Papal; and the Monarchy, administered by King Gregzor. "Jim Starlin's cosmic space opera is a great read and it's time for Vanth Dreadstar to make his television debut," says Dawn Olmstead, Executive Vice President, Development at UCP. "UCP and Benderspink believe this series will galvanize existing 'Dreadstar' comic followers and ignite a new generation of fans especially with Jim at the helm." "I consider 'Dreadstar' to be an extension of my family, so it took me a while to feel comfortable letting anyone else take care of this project," adds Starlin. "It has taken some time, but I know I've put my trust in the right team and I'm excited to collaborate with Universal Cable Productions and Benderspink to bring 'Dreadstar's' unique brand of chaos to television." Ford Gilmore is also signed on to produce "Dreadstar." Check back for further details as soon as they become available.
TUESDAY, FEBRUARY 17, 2015
WORLD OF TOMORROW
One of the buzziest little projects to exit the Sundance Film Festival was animator Don Hertzfeldt's sci-fi short World of Tomorrow, and now we finally have the first trailer.

The film, which follows "a little girl who is taken on a mind-bending tour of the distant future," is one of the trippiest sci-fi projects we've seen in a long time. It uses wild colors, stick figures and a visual style all its own. It might look a bit strange, but the combination managed to snag the Short Film Grand Jury Prize at the Sundance Film Festival. No small feat, obviously.

Reviews have been fantastic for the 17-minute short film, and it also touches on the influence technology has on humanity as a whole. All while looking very, very cool. Though you many not have heard of him, Hertzfeldt (It's Such a Beautiful Day) is an accomplished short filmmaker, and also created this very cool (and super-weird) Simpsons couch gag.

World of Tomorrow will be available on VOD services March 31.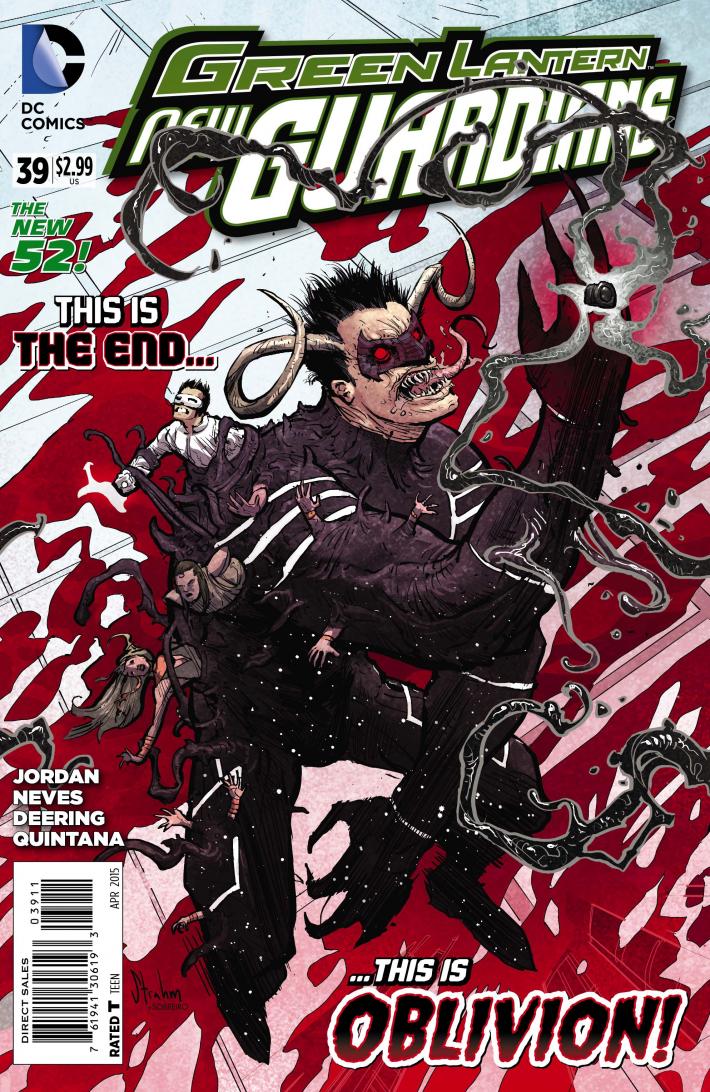 GREEN LANTERN #39 PREVIEW
This is what we know about Green Lantern: New Guardians from DC Comics: Things are not looking so hot for Kyle Rayner. Then again, a happy hero is typically a boring hero, so it's probably good news for us readers that his universe is topsy-turvy. But in this exclusive sneak at issue #39, we get a sense of how serious things might get before the title concludes with issue #40.
Check out the official (foreboding) synopsis for the second-to-last New Guardians installment, then look ahead at six glorious pages from the issue hitting stands this Wednesday:
With the Templar Guardians still on Oa, Kyle faces the very real prospect that his life may soon come to an end. The love of Carol Ferris alone can't save him, and the foundation of the cosmos hangs in the balance.
Green Lantern: New Guardians #39 from DC Comics hits stands Feb. 18. The issue is written by Justin Jordan, with art by Marc Deering and Diogenes Neves, and a cover by Kyle Strahm.
WE ARE STILL HERE
A new trailer for upcoming horror movie We Are Still Here has been released, along with a dark and pretty horrifying message: Satisfy the darkness.
Starring Barbara Crampton (Re-Animator, You're Next, The Lords of Salem), Andrew Sensenig (Powers, Focus), Lisa Marie (Sleepy Hollow, Planet of the Apes, Dominion) and Larry Fessenden (I Sell the Dead, Stake Land, The Strain), the movie tells the story of a couple who move into a new home in New England — an old house that "wakes up" every 30 years — and find themselves into a horrific situation that could ultimately claim their lives. There are some pretty scary bits in the new trailer, so make sure to turn out the lights before watching. Or not, if you're already terrified of things that go bump in the night or while driving in a car.
And here's the gist of the story:
After their teenage son is killed in a car crash, Paul (Andrew Sensenig) and Anne (Barbara Crampton) move to the quiet New England countryside to try to start a new life for themselves. But the grieving couple unknowingly becomes the prey of a family of vengeful spirits that reside in their new home, and before long they discover that the seemingly peaceful town they've moved into is hiding a terrifyingly dark secret. Now they must find a way to overcome their sorrow and fight back against both the living and dead as the malicious ghosts threaten to pull their souls - and the soul of their lost son - into hell with them.
Boy, does this make us not want to move to the countryside. We Are Still Here is set to screen at the Midnight lineup at SXSW in Austin, Texas, in March.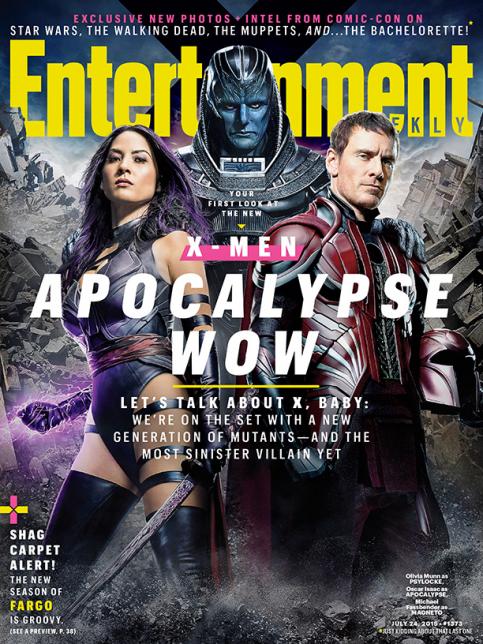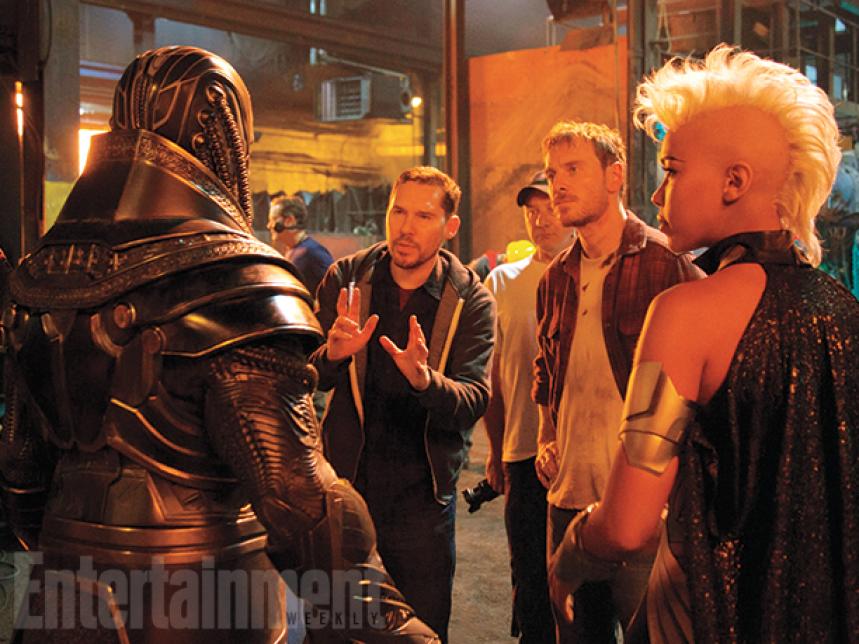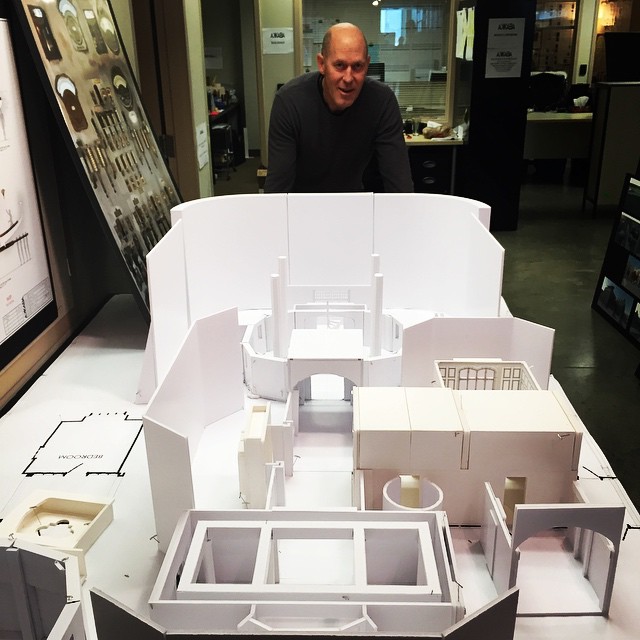 X-MEN: APOCALYPSE
X-Men: Apocalypse director Bryan Singer has revealed perhaps his most interesting behind-the-scenes photo yet as pre-production continues on the highly-anticipated sequel. Singer revealed the below image on his Instagram account with the caption: "Some production art." The art in question was done by production designer Grant Major, who worked on all three "The Lord of the Rings" films!
James McAvoy, Michael Fassbender, Jennifer Lawrence, and Nicholas Hoult will lead the cast of X-Men: Apocalypse, which will also see the return of Rose Byrne as Moira MacTaggert and newcomers Alexandra Shipp, Sophie Turner, and Tye Sheridan as young versions of Storm, Jean Grey, and Cyclops. The film is being written by Simon Kinberg from a treatment by Mike Dougherty, Dan Harris and Kinberg.
Said to be the conclusion of a trilogy started with X-Men: First Class and continued with X-Men: Days of Future Past, cameras will start rolling on the next adventure in Montreal beginning in April. X-Men: Apocalypse is set for release on May 27, 2016.
THE HUNGER GAMES: MOCKINGJAY 1
ComingSoon.net has your exclusive first look at a clip from the bonus documentary for The Hunger Games: Mockingjay – Part 1. The two-hour behind-the-scenes documentary The Mockingjay Lives: The Making of Mockingjay – Part 1 features never-before-seen interviews and on-set footage of the cast and crew, taking an in-depth look at the making of the film including the script adaptation, location scouting, set design – including physically creating the hovercraft – casting the new characters, and bringing District 13 to life.
The documentary will be available with both the Digital HD (February 17) and Blu-ray/DVD and VOD (March 6) releases! For a full list of features coming with the February 17 and March 6 releases, click here.
The worldwide phenomenon of "The Hunger Games" continues to set the world on fire with The Hunger Games: Mockingjay – Part 1, which finds Katniss Everdeen (Jennifer Lawrence) in District 13 after she literally shatters the games forever. Under the leadership of President Coin (Julianne Moore) and the advice of her trusted friends, Katniss spreads her wings as she fights to save Peeta (Josh Hutcherson) and a nation moved by her courage.
The Hunger Games: Mockingjay – Part 1 is directed by Francis Lawrence from a screenplay by Danny Strong and Peter Craig and produced by Nina Jacobson's Color Force in tandem with producer Jon Kilik. The novel on which the film is based is the third in a trilogy written by Suzanne Collins that has over 65 million copies in print in the U.S. alone.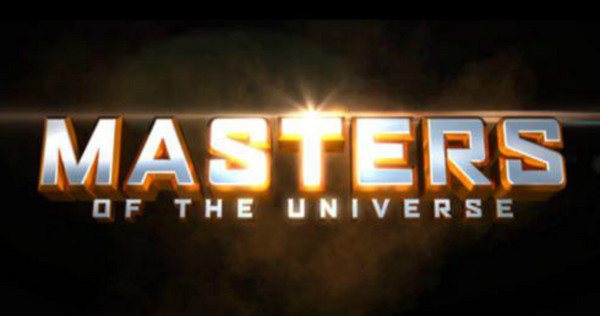 MASTERS OF THE UNIVERSE
It's been awhile since we last heard anything about Columbia Pictures' planned reboot of the Masters of the Universe franchise, which is getting a new live action movie following the original 1987 release based on the classic 80s cartoon series. Today, DeVon Franklin, senior vice president of Columbia and the driving force behind this new iteration of the fantasy adventure series, unveiled the official title card and logo for the impending release. He also teases that more news is coming soon.
Way back in early January, just as the New Year was kicking off, DeVon Franklin revealed that Jeff Wadlow had completed a fresh draft of the screenplay. No director has been announced yet, but its speculated that this news may be revealed before the end of the week. Jon M. Chu was at one time supposed to direct, but left the project to take on another action figure toy line and cartoon series adaptation with Hasbro's Jem and the Holograms.
It's possible that Jeff Wadlow, who directed last year's sequel Kick-Ass 2, will step in as the director. He is also set to direct an X-Force movie for 20th Century Fox. Another name that has been mentioned in terms of directing is Mike Cahill, who last directed I Origins.
Masters of the Universe is in development.
MONDAY, FEBRUARY 16, 2015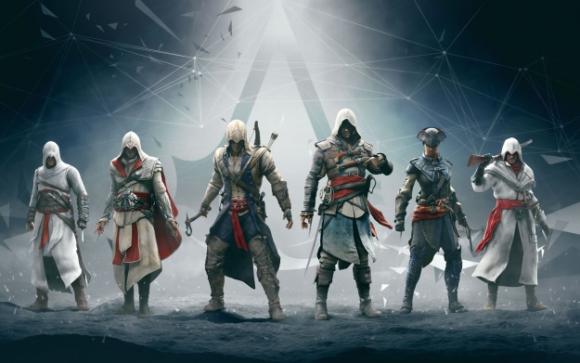 ASSASSIN'S CREED
Things are finally moving ahead on the live-action, big-screen adaptation of Ubisoft's hit videogame series Assassin's Creed. The Michael Fassbender-starrer has just added Oscar-winning French actress Marion Cotillard as the movie's (assumed) leading lady.

Cotillard won an Academy Award for playing French singer Edith Piaf in La Vie en Rose, but she is most probably known to genre fans as Talia al Ghul in The Dark Knight Rises. Although Cotillard's character is currently being kept under wraps, she is expected to reprise her role for multiple films, as the movie is set to become another big Hollywood movie franchise. Assassin's Creed tells the story of a secret order of assassins (the good guys) fighting off the Templars (the bad guys) over the centuries.

Directed by Justin Kurzel, Assassin's Creed will be reuniting Cotillard and Fassbender, who starred together in Macbeth, which'll be released later this year and was also directed by Kurzel.

The movie will begin production this fall. It is set to be released on Dec. 21, 2016.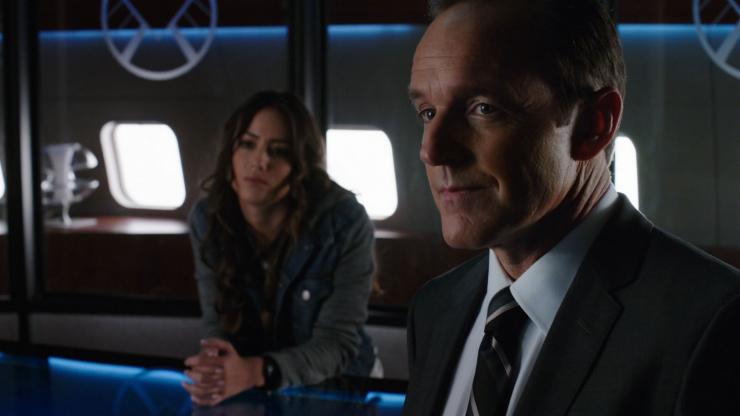 AGENTS OF S.H.I.E.L.D.
Head of Television for Marvel Jeph Loeb recently sat down with Comic Book Resources to discuss all things Marvel — including the Marvel Cinematic Universe — in a cool and insightful interview. Loeb oversees the TV side of the MCU and is responsible for both Marvel's Agents of S.H.I.E.L.D. and Agent Carter on ABC, and will also overlook Netflix's upcoming comic-book series A.K.A. Jessica Jones and The Defenders. Basically, he's the Kevin Feige of Marvel's TV side.
In said interview, Loeb stressed the importance of story and those unexpected twists that drive a good narrative forward, among other interesting things. And when asked about the fact that the Inhumans got to be introduced on TV first with Agents of S.H.I.E.L.D. rather than in a Marvel flick, Loeb explained that they're sort of one and the same in Marvel's overall scheme of things:
"Well, I think when people look at Marvel, they very often -- largely because it has had such a tremendous global impact -- see us as this gigantic octopus that's going to devour the universe. (By the way, we are!) But we are, in fact, a very small company, and so my involvement in the television division and the animation division is matched to Kevin Feige andLouis D'Esposito, who's in the motion picture division, the publishing division, where we have such incredibly talented people like Alan Fine and Dan Buckley and Joe Quesada in New York -- we're sharing all the time. We don't think of it as we're introducing something in one place or another place.
In the same kind of way, I'm incredibly excited by the idea that S.H.I.E.L.D. was born out of a character that was played so wonderfully by Clark Gregg in the first "Iron Man" movie would at some point inspire a television series about the Agents of S.H.I.E.L.D. That's a long thread to carry, and we are absolutely introducing elements of things and getting people to understand how someone could be transformed, and if they can, become more comfortable with that idea. And to the Marvel fan audience, it's thrilling because they know where that's going. Fantastic.
But at the end of the day, what's more important to me is, do we care about Skye and Raina and what happened at the end of the winter finale, and what will happen to them? What else happens? That's the adventure. Whether or not things are called whatever they're called or however they're going to be introduced, that's the journey.
And so, what I can say is, as it is with every story that we tell, there is a tremendous responsibility, but that responsibility in many ways is to the audience, for us to be able to tell the best story that we can and hope that they get excited by it."
Loeb then went on to explain that big, twisty game-changing moments are important when you tell a story, even though "change is terrifying."
"As a storyteller and as a producer of what we're hoping is exciting television, it is terrifying to see what's going to happen, in terms of what our audience is going to do. But it is absolutely integral and important when you are telling a Marvel story that your audience never feels like they know what's coming and should constantly be getting caught off-guard, constantly having surprises, constantly being involved in a way that blows your mind, so that you want to come back next week, and that you want to watch the show live."
He also specifically discussed the role and importance of Agent Carter in the overall MCU, and the fact that the show has allowed Marvel to tell a story that's in between the stories that we already know because of the movies:
"Agent Carter" has allowed Marvel to tell stories fans could only imagine after seeing Hayley Atwell as Peggy Carter in "Captain America: The First Avenger"
At the beginning of discussions about it, it really started with, if you were emotionally moved by what happened at the end of "Captain America: The First Avenger," and as captivated as we were by Hayley Atwell, the question that you asked was, what happened next? And then you got teased a little bit in "The Winter Soldier," in that you see her as an elderly woman. She didn't die -- 70 years went by. That's an awful lot of stories that you can fit in there.
One of the things that's a great deal of fun -- and this is something that I've always responded to as a storyteller -- is telling the stories that are in-between the pages of the stories that you already know. For us, it was an opportunity to tell the origins of S.H.I.E.L.D., to tell the origins of Peggy Carter and what happened in her world. And then, it was a much larger agenda, which was, how do we tell a story that has a character at the center of it that is fun and smart and kicks ass and is sexy -- and at the same time feels extremely contemporary, even though it takes place in 1946? That it has a timeless quality to it; that the issues that are involved are issues that are still important to us today; that how she feels in the work place has not been diminished?
You see stories about it every single day -- and again, there's that interconnectivity we've been talking a lot about, which is that the world is talking to each other, all the time. We're not making shows just for the American audience. We're making stories for the world, now, and the concept of a woman's right to work, a woman's place at work, a woman's role in terms of who she is and how she's perceived and how men deal with that, it's a global concept. That's where we started."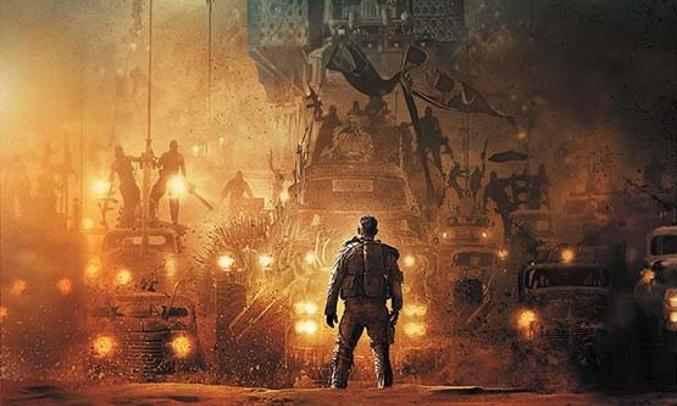 MAD MAX
This spring, Mad Max: Fury Road will finally hit theaters after years of development hell and a delayed shoot, and we couldn't be more excited. Early trailers for the film are absolutely packed with glorious visuals, and writer/director George Miller seems poised to take his post-apocalyptic franchise to an entirely new level decades after the last film in the series hit theaters. Now it turns out we'll be getting more than just a movie.
Vertigo Comics has revealed that, in collaboration with Miller, Fury Road co-write Nico Lathouris and Fury Road storyboard artist Mark Sexton, they'll be releasing four prequel comics following four different characters from the film, along with an art book that features more than five dozen comic book artists paying tribute to Mad Max. The comics will feature a one-shot devoted to the characters Nux and Immortan Joe (Nicholas Hoult and Hugh Keays-Byrne, respectively), a one-shot devoted to Furiosia (Charlize Theron) and two issues devoted to Mad Max himself (Tom Hardy). Miller, Lathouris and Sexton will write the issues, while art will be done by Riccardo Burchelli, Leandro Fernandez, Tristan Jones and Sexton, with covers by Tommy Lee Edwards.
The art book will be titled Mad Max: Fury Road: Inspired Artists, and feature double-page spreads illustrated by 65 different artists, including comics legends like Bill Sienkiewicz, Paul Pope, Howard Chaykin, Nicola Scott, Gilbert Hernandez, Dave McKean and more. The book will include commentary throughout by the artists involved, as well as Miller, and will go on sale May 6, more than a week before the film hits theaters.
As for the comics, though they're prequels, they don't seem to be arriving prior to the movie. The first comic release, Mad Max: Fury Road: Nux & Immortan Joe will arrive May 20, with the others set to arrive at a release date that still hasn't been announced. So after you see the movie, you can head to your local comic book store and get even more from these characters.
Mad Max: Fury Road hits theaters May 15.
CHAPPIE
Sony Pictures has brought online more TV spots for Neill Blomkamp's Chappie.
Opening in theaters on March 6, the film stars Sharlto Copley, Dev Patel, Ninja and Yo-Landi Vi$$er, Jose Pablo Cantillo, Sigourney Weaver and Hugh Jackman.
Every child comes into the world full of promise, and none more so than Chappie: he is gifted, special, a prodigy. Like any child, Chappie will come under the influence of his surroundings – some good, some bad – and he will rely on his heart and soul to find his way in the world and become his own man. But there's one thing that makes Chappie different from anyone else: he is a robot. The first robot with the ability to think and feel for himself. His life, his story, will change the way the world looks at robots and humans forever.
ARROW
A big story went viral last week, which saw Arrow star David Ramsey teasing his potential transformation into Green Lantern. Now MTV has caught up with producer and show runner for the hit series to find out the truth behind this potentially game-changing information. Well, according to Marc Guggenheim, John Diggle is not going to be revealed as John Stewart, and he will not become a Green Lantern.
"It's funny, I've spoken to David quite a bit about this issue, I know it keeps coming up. I spoke to [writer] Geoff Johns at DC after that interview went viral. Basically, John Diggle is now a character in the comics... John Diggle is John Diggle. We're not being coy and saying John Diggle is someone else, i.e. John Stewart. DC has other plans for that character. We love David, and we love the character of John Diggle that he's created. We have really cool plans for him... they involve a wedding ring, but they don't involve a power ring."
Does his statement indicate that John Stewart will be at the center of DC and Warner Bros.' Green Lantern (Reboot) planned for 2020? That has long been the speculation. While the news of Diggle not becoming Green Lantern might come as disappointing to some fans, Marc Guggenheim did go onto tease that two existing characters on the show will be revealed as existing DC Comics characters that are quite well known sometime in the new future.
"There are two characters who would probably fall into that category. Were we to do it, they would be characters from the comics that you already know."
In a second interview with EW, Marc Guggenheim also touched on the character of The Atom, played by Brandon Routh. Apparently, Ray Palmer will struggle with becoming a superhero crime fighter, and he may not be very good at it:
"He's definitely a sloppy superhero in the sense of all of our characters don't immediately have the easiest time fighting crime... I would say episode 19 really digs underneath what does it mean for Ray to be a hero. Is he a hero because of who he is? Or is he a hero because of the suit that he's made?"
Brandon Routh is set to fully transform into The Atom in episode 15 titled Nanda Parbat. There has also been talk of the character getting his own CW spinoff series. What do you think of these latest breaking announcements as Arrow Season 3 careens towards its big finale?
Arrow episode 3.15, "Nanda Parbat" airs on The CW February 25th, 2015.
SUNDAY, FEBRUARY 16, 2015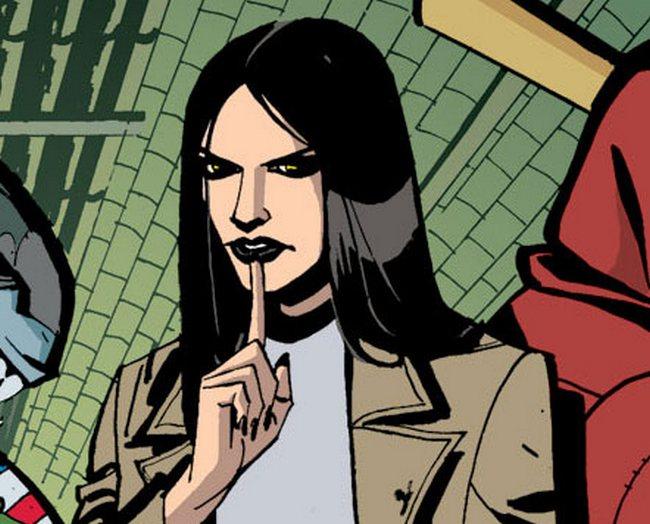 DEADPOOL NEWS
It was only a matter of time before more mutants started showing up in the new Deadpool film.

According to the Hollywood Reporter, Gina Carano (Haywire) will be joining the cast as Angel Dust, who first appeared in the comics as part of the Morlocks, a band of mutants who have lived underneath Manhattan in a series of tunnels (a homage to the race from H.G. Wells' The Time Machine that they're named after) and have been featured players in X-Men storylines since 2002.

Angel Dust has the power to artifically increase her adrenaline levels, temporarily granting her superhuman strength, speed and endurance -- a quality former MMA star Carano should easily be able to harness onscreen.

The same report adds that the movie will also feature the beloved Russian mutant Colossus, although it's not clear whether the role will be recast or whether Daniel Cudmore -- who played Piotr Rasputin in X2, X3: The Last Stand and X-Men: Days of Future Past, and was underused in all three -- will return as the steel-skinned bruiser.

Carano and whoever plays Colossus will join Ryan Reynolds in the title role and comic actor T.J. Miller in an undisclosed part, with Tim Miller directing and production starting in Vancouver next month. Deadpool is scheduled to arrive in theaters from 20th Century Fox next February.

REGRESSION
An eerie international trailer for Regression, starring Harry Potter's Emma Watson and Ethan Hawke, has been released, giving us a first look at the movie. Regression is by Alejandro Amenábar, the celebrated filmmaker who made the surreal thriller Open Your Eyes (which was later remade as Vanilla Sky, starring Tom Cruise) and that other eerie ghost story, The Others, starring Nicole Kidman. With Regression, Amenábar is returning to his psychological horror roots after dabbling in real-life stories with the biographical drama The Sea Inside.

The upcoming movie is about coverups and satanic cults and is set in Minnesota in the 1990s. It features some mysterious and ominous robed figures. Here's the gist of the story:

Regression "tracks detective Bruce Kenner (Hawke) as he investigates the case of young Angela (Emma Watson), who accuses her father, John Gray, (David Dencik) of an unspeakable crime. When John unexpectedly and without recollection admits his guilt, recknowned psychologist Dr. Raines (David Thewlis) is brought in to help him relive his memories. What they discover unmasks a horrifying nationwide mystery."

Regression will hit theaters on Aug. 28, 2015.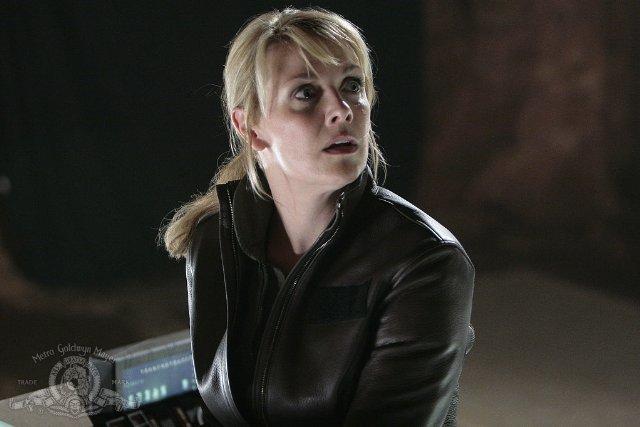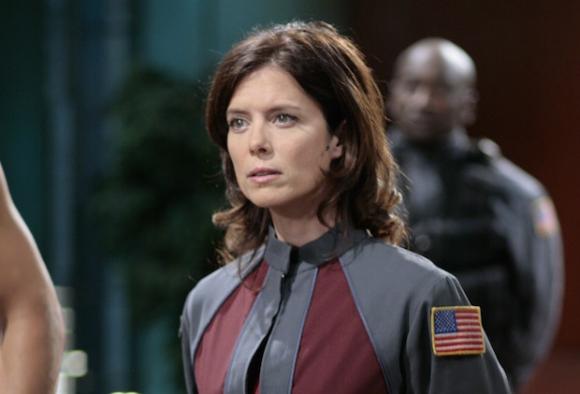 DARK MATTER FROM SYFY
It's been a few years since fans had a Stargate series on the air, but a whole lot of the creative team is putting together the new Syfy series Dark Matter — and they've just added a few more familiar faces.
The 13-episode Dark Matter comes from the minds of former Stargate producers Joseph Mallozzi and Paul Mullie, and is slated to debut on Syfy (Disclosure: Parent company of Blastr) this summer. The series follows the crew of a spaceship who awake from stasis with no clue where they are. Mallozzi and Mullie have now tapped old friends Amanda Tapping (Stargate SG-1's Samantha Carter) and Torri Higginson (Stargate Atlantis' Dr. Elizabeth Weir) to make sure this project has even more of a Stargate connection.
Higginson will reportedly guest-star in an early episode as the character Cmdr. Delaney Truffault, though Mallozzi noted in a recent blog post that fans could likely expect her to stick around beyond that initial appearance. Higginson's character played a key role in the early years of Stargate: Atlantis, though she was eventually written out in the final few years.
Sadly, Tapping will only be working behind the camera this time around — following up on the burgeoning directorial career she's been building with a smattering of SG-1, Primeval: New World and Continuum episodes over the years. She'll reportedly be directing the fourth episode of Dark Matter's debut season.
The series' main cast includes Melissa O'Neil (Les Miserables), Marc Bendavid (Bitten), Anthony Lemke (White House Down), Alex Mallari Jr. (RoboCop), Jodelle Ferland (Twilight), Roger Cross (The Strain) and Zoie Palmer (Lost Girl).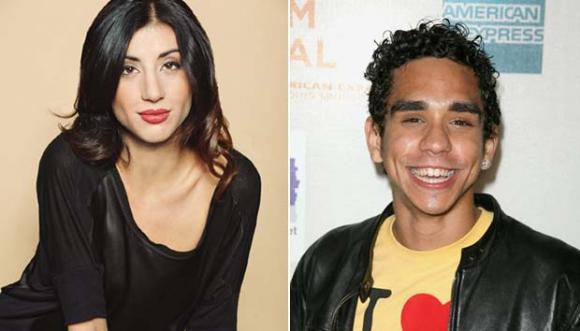 EVIL DEAD NEWS
Some new details are starting to leak out in regard to Starz's new Evil Dead series, and here are the two actors who will play key roles alongside returning star Bruce Campbell.
The studio has locked in two co-stars for Ash vs. Evil Dead, and it sounds like they'll be joining Ash (Campbell) on his mission to take on all the deadites he can handle. The series will apparently find the former Army of Darkness hero as an "aging lothario" called out of retirement when a new evil threatens to destroy mankind as we know it.
According to Entertainment Weekly, Ray Santiago (Meet the Fockers) will portray new addition Simon Bolivar. The character is basically Ash's sidekick, and is described as "a Sancho Panza to Ash's Don Quixote" who buys into Ash's mission and truly believes he's the hero to take on the deadites.
Along with Santiago, Dana DeLorenzo (A Very Harold & Kumar 3D Christmas) has also joined the project. She will portray a "moody wild child" who is trying to escape her past. Well, at least until she gets pulled into Ash and Pablo's mission to save the world.
One of the big questions surrounding this long-awaited project is exactly how they'll stretch out the Evil Dead concept to a full television series. These two casting additions will almost certainly be a big part of the puzzle, and it sounds like this new deadite threat will be driving much of the season's narrative.
Ash vs. Evil Dead is slated to debut late this year on Starz. Sam Raimi himself has signed on to co-write and direct the pilot.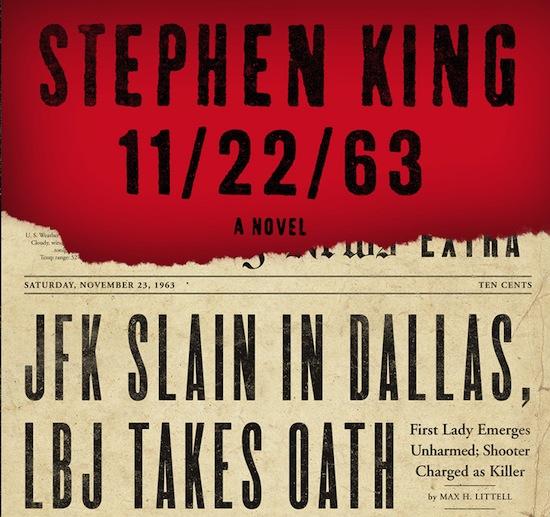 11/22/63
Stephen King fans were thrilled last September when it was revealed that the genre master's massive novel 11/22/63 would be adapted, not as a film, but as a nine-hour miniseries that will stream on Hulu. King himself said at the time that adapting the book in a long-form style was a perfect fit, and readers agree, not just because of the novel's size, but because of its focus on character development over years, pacing and the theme of the passage of time itself. Writer Bridget Carpenter (Friday Night Lights) is scripting the series for J.J. Abrams' Bad Robot production company, and King will serve as an executive producer. Now we finally know who'll play the series' central character.
The Wrap reports that James Franco (Spider-Man, The Interview) has signed on to play the leading role in the series, and will also serve as a producer. Franco will play Jake Epping, a high school English teacher who is given access to a portal that takes him back to 1958, but only to a specific moment. Every time you go back through to the present, the portal resets, so the only way to get time to pass is to simply live permanently in the past. When a dying friend asks him to undertake the mission of preventing the assassination of John F. Kennedy in 1963 and, hopefully, creating a better present in the process, Jake walks through the portal and simply begins living out a new life, spending the five years between 1958 and 1963 tracking JFK's eventual assassin Lee Harvey Oswald, falling in love, and struggling against time to prevent a great American tragedy.
Franco is known for the diversity of the projects he chooses, working in everything from big-budget genre films (Rise of the Planet of the Apes) to hard-R comedies (The Interview) to indie dramas (Child of God) and even TV soap operas (General Hospital). He's got a lot of range, a lot of enthusiasm and a history of working on literary adaptations, so he could be a perfect fit for 11/22/63.
We'll let you know as soon as we find out when 11/22/63 finally hits Hulu.
AGENT CARTER
Following a first clip that came online yesterday, Marvel Entertainment and ABC have released a second new clip from the penultimate episode of the first season of "Marvel's Agent Carter." Following the events of this week's new episode, Hayley Atwell's Peggy Carter has been arrested and is believed to be a traitor by the United States government. Now, her interrogation begins.
The episode, 1×7, is titled "Snafu" and is officially described as follows:
"Peggy is cornered and more vulnerable than ever as Leviathan makes their move against her. As the SSR zeroes in on Howard Stark, they may pay the ultimate price as they find their true enemy is closer than they realized."
Also starring Chad Michael Murray as SSR Agent Jack Thompson, Enver Gjokaj as SSR Agent Daniel Sousa, James D'Arcy as Edwin Jarvis, and Shea Whigham as SSR Chief Roger Dooley, the series was written by Christopher Markus and Stephen McFeely. Executive producers are Tara Butters, Michele Fazekas, Christopher Markus, Stephen McFeely, Chris Dingess, Kevin Feige, Louis D'Esposito, Alan Fine, Joe Quesada, Stan Lee and Jeph Loeb.
"Snafu" is set to air February 17 with the season finale, "Valediction," following on February 24. The week after that, the small screen Marvel Cinematic Universe heads back to present day as "Marvel's Agents of S.H.I.E.L.D." returns from its midseason hiatus with a brand new episode, "Epidemic" premiering March 3 at 9:00pm ET/PT.
GOTHAM
On the heels of the a new promo that seems to tease the Joker himself, FOX has released a series of new videos tied to next week's "Gotham." The episode, 1×16, is titled "The Blind Fortuneteller" and, while we're still not sure whether or not the hints of the Joker are just a Red Herring, the episode will definitely feature some other familiar DC Comics characters: The Flying Graysons! In the first player, a behind-the-scenes video offers some insight into what we'll see of the ill-fated acrobats while the middle two players offer clips from the episode. Then, in the final player, you can check out another brief featurette that teases the return of this week's Jonathan Crane somewhere farther down the line.
In the "The Blind Fortune Teller," Gordon takes Dr. Leslie Thompkins (Morena Baccarin) to the circus, but the day turns quickly when the circus comes under attack. Then, Falcone enlists Butch Gilzean to help Penguin with the night club, while Fish Mooney is otherwise occupied. Also, Bruce Wayne schedules a meeting with the Wayne Enterprises board.
"The Blind Fortune Teller" is set to air February 16. "Gotham" airs Mondays at 8 P.M. EST on FOX.
FRIDAY, FEBRUARY 13, 2015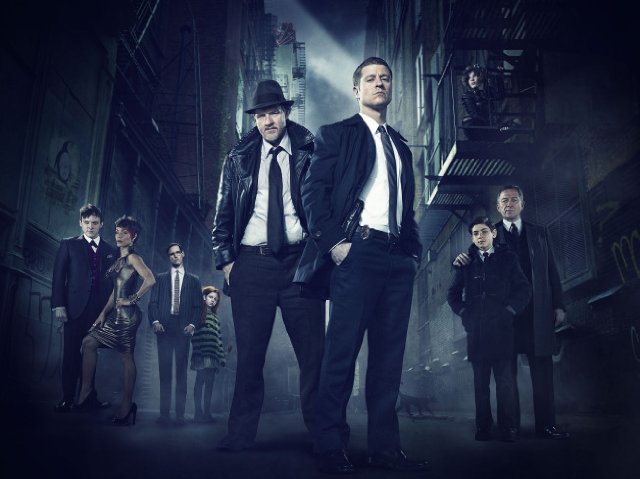 GOTHAM
"Gotham" is heading to the circus, and that means the introduction of another familiar name in the Batman universe. While the show has already teased that the next episode -- "The Blind Fortune Teller" -- will introduce The Joker, the Flying Graysons are also entering the picture. Fans of the Batman comics know the Graysons as the acrobatic circus family the first Robin -- Dick Grayson -- hails from. "Gotham," however, takes place long before Dick is born. As a matter of fact, in Zap2it's exclusive clip from Monday's (Feb. 16) episode, Dick's parents are seen before they've married. John Grayson and Mary Loyd have a secret, and they're not very good at hiding it. With both the Graysons and The Joker making their "Gotham" debuts, "The Blind Fortune Teller" could be the most exciting episode of the show yet for Batman fans. "Gotham" airs Mondays at 8 p.m. ET/PT on FOX.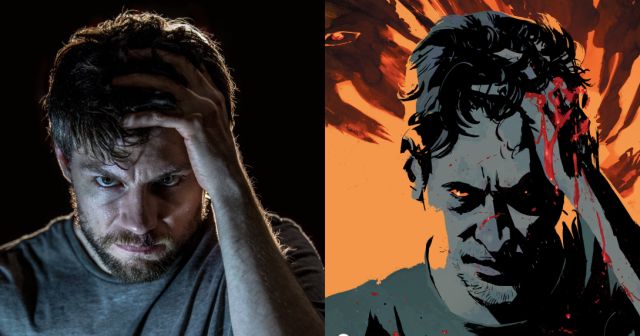 OUTCAST
Cinemax has announced today that "Outcast," the exorcism series from "The Walking Dead" creator Robert Kirkman, has been picked up for a full ten episode season. "We are thrilled to be in business with Robert Kirkman, a visionary talent who has the unique ability to tap into today's zeitgeist, making him a perfect fit for the newly expanded Cinemax roster," said HBO Programming president Michael Lombardo. Based on the Skybound/Image comic title by Kirkman and artist Paul Azaceta, the series follows Kyle Barnes, a young man who has been plagued by demonic possession all his life. Now, with the help of the Reverend Anderson, a preacher with personal demons of his own, Kyle embarks on a journey to find answers and regain the normal life he lost. But what Kyle discovers could change his fate — and the fate of the world — forever. Patrick Fugit (Almost Famous, Gone Girl) stars as Barnes, a man searching for answers, and for redemption, who sequesters himself from those he loves for fear of causing greater hurt. Philip Glenister stars as Reverend Anderson, a West Virginia evangelist who believes he is a soldier in God's holy war against the forces of evil on Earth. An inveterate drinker and gambler, he doesn't believe God intends people to sweat the small stuff. Gabriel Bateman stars as Joshua Austin, an eight-year-old who lives across town from Kyle. To his family's dismay, he appears to be in the clutches of demonic possession, but there's something very different about this possession and its connection to Kyle Barnes. Kirkman has penned the script for the pilot episode which has been in development since November, before the first issue was even published. You're Next and The Guest director Adam Wingard directed the pilot episode of the series.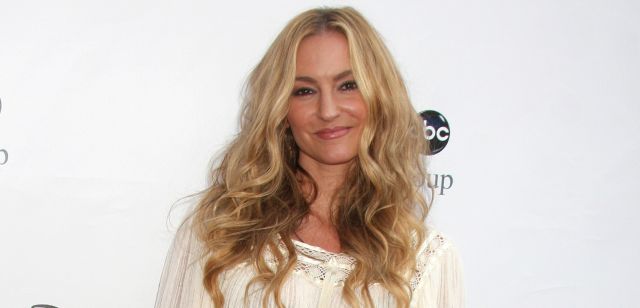 AGENTS OF S.H.I.E.L.D.
Marvel Entertainment has announced today that "The Sopranos" and "Sons of Anarchy" star Drea de Matteo has joined the cast of "Marvel's Agents of S.H.I.E.L.D." She will play Karla Faye Gideon, described as "a Gifted woman with a grudge to bear against S.H.I.E.L.D. who joins forces with Skye's father, Cal." Though she shares a name with a character from Daredevil: Redemption, it appears to be a different character.

MM

"We're thrilled to have Drea join us as yet another great villain to challenge our cast," said Executive Producer and Marvel's Head of Marvel Television, Jeph Loeb. "We relished the opportunity to work with her in such a menacing role." Matteo earned an Emmy for her role as Adriana La Cerva in "The Sopranos," and since then has starred in series such as "Sons of Anarchy," "Desperate Housewives," and "Joey." "Marvel's Agents of S.H.I.E.L.D." is Executive Produced by Joss Whedon ("Marvel's The Avengers," "Buffy the Vampire Slayer"); Jed Whedon & Maurissa Tancharoen, ("Marvel's Agents of S.H.I.E.L.D." pilot co-writers, "Dollhouse," "Dr.Horrible's Sing-Along Blog"); Jeffrey Bell ("Angel," "Alias"); and Jeph Loeb ("Marvel's Agent Carter," "Marvel's Daredevil," "Lost"). "Marvel's Agents of S.H.I.E.L.D." is produced by Marvel Television and ABC Studios. The series returns on Tuesday, March 3 at 9:00 p.m. ET on ABC.

THE LIBRARIANS RENEWED
TNT has renewed its hit fantasy-adventure "The Librarians." One of the hottest new shows on cable, "The Librarians" burst onto the scene with a chart-topping launch in December and went on to finish the year as basic cable's #2 new series of 2014, second only to TNT's "The Last Ship." The show's success extends across TNT's multiple platforms, with each week's episode reaching an average of 11.4 million viewers through linear telecasts, DVR playback and VOD, digital and mobile viewing. TNT has ordered 10 episodes for the second season, which is slated to launch later this year. Based on TNT's hit movie franchise, "The Librarians" centers on an ancient organization hidden beneath the Metropolitan Public Library dedicated to protecting an unknowing world from the secret, magical reality hidden all around. Rebecca Romijn (X-Men), Christian Kane (TNT's "Leverage," "Angel"), Lindy Booth (Dawn of the Dead, Kick-Ass 2) and John Kim (Neighbors, "The Pacific") star in the series as the newest protectors of the world's mystical treasures, with Emmy-winner John Larroquette ("Night Court," "Deception") as their reluctant caretaker. Noah Wyle ("Falling Skies," "ER") recurs as Flynn Carsen, the role he played in TNT's movie trilogy. "The Librarians" is produced by Electric Entertainment, with executive producers Dean Devlin, John Rogers, Marc Roskin and Noah Wyle.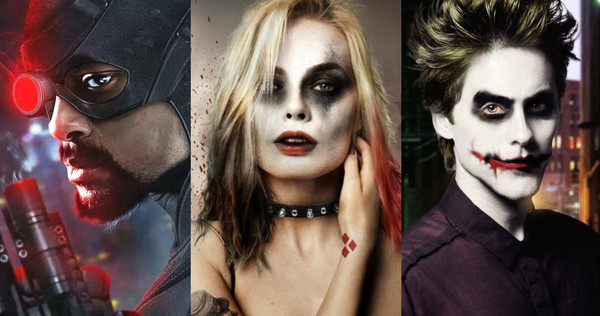 SUICIDE SQUAD
With Will Smith and Margot Robbie on their press tour for the upcoming con man thriller Focus, the actors continue to drop new bits of information about their highly-anticipated comic book adaptation Suicide Squad. The pair are preparing their roles as Deadshot and Harley Quinn, with production scheduled to begin this April in Toronto. Will Smith reveals that they still haven't read the screenplay yet, but praised writer-director David Ayer's process: "It's really cool, the way that David Ayer works. It's all images, all ideas, and he holds the screenplay [pretty close] and he just keeps sending you things about your character. He just wants you to be prepared for anything." It's possible, knowing Will Smith and Margot Robbie would be doing press for Focus this month, that they weren't given the screenplay so no details would be leaked to the press. However, Margot Robbie added that the story is "ever-changing." "I'm really looking forward to it. We don't know what our characters' relationship is really gonna be [because] it's ever-changing. We're not being secretive, we just actually don't know." Will Smith added that Deadshot and Harley Quinn are "allies" in the movie, but said that they don't know what's happening with the other characters. "[Ayer] only sends your character's stuff so you don't know what's going on with the other characters; I think he wants it to come alive on set." This won't be Will Smith's first time playing a superhero, following his turn in 2008's Hancock. When asked how Deadshot differs from Hancock and his character in Focus, the actor had this to say. "I guess I like the concept of dubious morals. I always liked to play in that area. With Suicide Squad, we just started on that. I think I haven't explored the psychology enough of Deadshot, somebody who could take money to kill people; how he justifies that for himself. So, I still have a little bit of work to do on that, but in my life in general and in my career, those are the type of roles that I'm pushing more towards; those kinds of questions." Suicide Squad comes to theaters August 5th, 2016 and stars Will Smith, Margot Robbie, Jared Leto, Jai Courtney, Viola Davis. The film is directed by David Ayer.
THURSDAY, FEBRUARY 12, 2015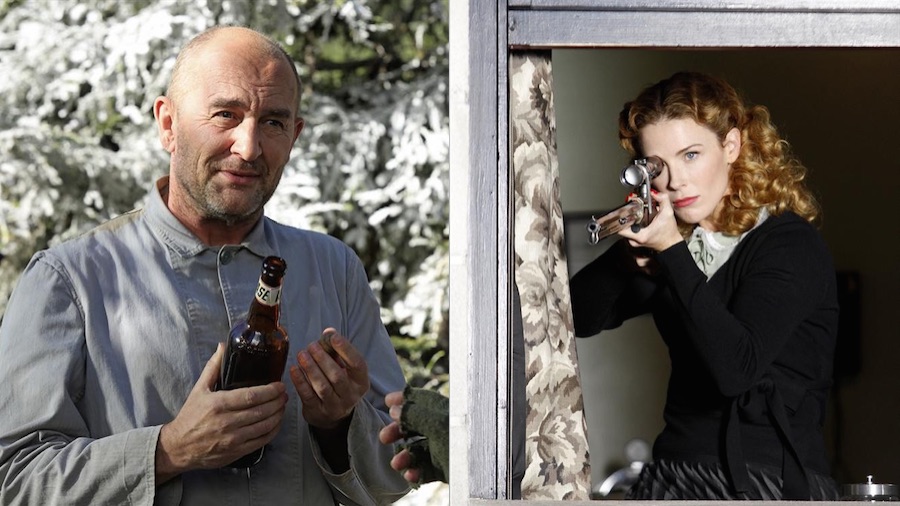 MARVEL'S AGENT CARTER
"Marvel's Agent Carter" has been so busy weaving a web of deception that it's managed to keep its audience largely in the dark about the direction its first season is heading. Its premise is clear: This is the story of Peggy Carter (Hayley Atwell), yes, and a chance to explore more of the world first introduced in "Captain America: The First Avenger," but beyond that the plot is murky. Some of Howard Stark's (Dominic Cooper) inventions got stolen, and there's a big bad Russian organization called Leviathan, and Peggy moved into an all-girls hotel/apartment complex, and she made a sassy waitress friend named Angie (Lyndsy Fonseca), but beyond that the series' throughline becomes a bit speculative. That's not to say the show is bad; in fact, there's plenty of good there, not the least of which is the great female role model in Peggy Carter. But at long last, some of the haziness has cleared, and "Agent Carter's" various storylines have come together. In Tuesday's (Feb. 10) episode, the third-to-last of Season 1, Peggy's co-workers at the SSR finally figure out she's been working with Stark (thus arresting her for treason, rightfully). Meanwhile she discovers her hotel neighbor Dottie (Bridget Regan) is a member of Leviathan's Black Widow gang and probably the person who stole Howard's inventions to begin with, and the audience learns the Russian psychiatrist Peggy previously saved is really a part (probably the head) of Leviathan. Most importantly, the reason for all of these convoluted storylines becomes clear: Leviathan wants one of Howard's "bad babies" that the SSR now has custody of, and the organization is going after it by any means necessary. Which object? Who knows -- though there's a good chance it's the vial of Captain America's blood Peggy found out about several episodes back. Why do they want it? Other than the obvious "world domination" angle, one can only guess. How does this tie back to the mysterious battle no one knows much about? That's why there are two more episodes before the end of this season. Still, the big question isn't how Season 1 will end -- unexpectedly, according to star James D'Arcy -- but whether or not audiences confused (or uninterested) up until this point will tune in now that the show's cards are pretty much all on the table. The "confuse them until we reveal our big surprise" tactic didn't work especially well for "Agents of SHIELD's" first season, and it's doubtful that any hidden "Carter" reveals will be as game-changing as the HYDRA one. "Agent Carter" has had a solid first season, but waiting until the sixth of eight episodes to make the story you're telling clear is asking a lot of a network audience. Hopefully showrunners Michele Fazekas and Tara Butters switch up their storytelling style in Season 2, if there is one. It's OK to consistently pull the rug out from under viewers and keep them guessing, but there's something to be said for giving them something solid to chew on first. Beyond a stellar cast and an always-engaging Peggy Carter, this series didn't really have that until now. The build toward Feb. 24's finale has been steady, and the clearer "Agent Carter's" trajectory becomes, the more interesting and engaging it is. Here's hoping the eighth episode blows everyone away, thus giving this solid premise some real legs to stand on going forward.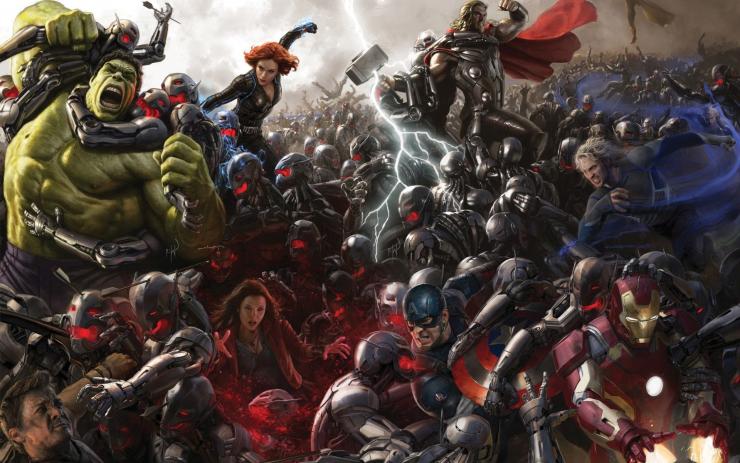 AVENGERS: AGE OF ULTRON
Some new posters and promo art from Avengers: Age of Ultron have leaked out, giving us our best look yet at Paul Bettany's big-screen version of The Vision. The art haul includes several international character posters, focused on most of the major players (including Ultron and Vision), along with a piece of promo art from Tony Stark Sincero that is allegedly an official piece of leaked promo art. That shot shows Vision in the middle of a dogfight with some Ultron 'bots. Not surprisingly, the art looks great, and it's nice to see the Hulk back in action — and facing off with Tony Stark's HulkBuster armor in one of the cooler posters, no less. This version of the Hulk also looks a bit more nuanced and detailed, which is no surprise, considering VFX seem to get better with every passing day. Avengers: Age of Ultron opens May 1, 2015.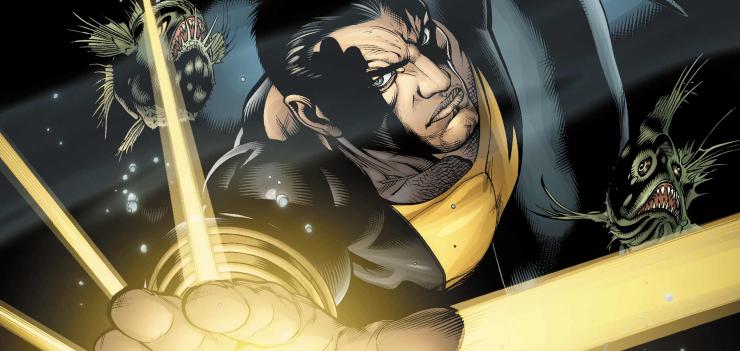 SHAZAM
One of the most interesting DC projects on the development slate is Shazam, which will see Dwayne "The Rock" Johnson in a starring role as Black Adam. Now the actor has opened up about what we can expect. Johnson spoke with Total Film about how he sees Black Adam eventually growing into an "antihero," and he seems to have a lot of passion for the character. It's an outside-the-box character for DC to focus on, especially with an A-lister like Johnson, but that clout might also help bring this lesser-known player a much bigger audience. So, nice move. Johnson also touched on the elephant in the room in regard to whether the Shazam film would actually be set in the same continuity as Zack Snyder's upcoming Justice League. He seemed to all but confirm that will be the case, noting he'll eventually get to "go at it" with Supes and all the other DC heavyweights: "I think Black Adam is going to grow into becoming an anti-hero. It's all written within the spirit of respecting and paying homage to the comics. As we know, Black Adam started out as a slave. When he's given the powers, he utilized them. Then in the wake of his powers, tragedy strikes, which turns his sentiment and tone in terms of psychology. It was all agreed that the worlds are all interconnected… One day you will see Black Adam go at it with Superman or Batman or any of the DC characters. But that said, there's a great independence to Black Adam from the DC world, allowing us to inject, not only viciousness, but also winking humor." The Shazam film is currently being scripted by Darren Lemke (Jack the Giant Slayer) and is slated to open April 5, 2019. JURASSIC WORLD
A cool new piece of viral marketing for Jurassic World has been released, spotlighting the character played by Netlix's Daredevil series' very own Vincent D'Onofrio (Men in Black, Law and Order: Criminal Intent). The Man Without Fear's nemesis Wilton Fisk, aka the Kingpin, will play Vic Hoskins, the head of security systems for InGen — the company funded by John Hammond way back when in Jurassic Park — in the upcoming dino-filled movie. As the security head, Hoskins is in charge of the protection of millions of visitors the Island Nublar dinosaur park attracts each year. We can't see that ending well. The viral video — which aims to make Hoskins come across as a totally stand-up guy, ready and willing to do anything to get the job done — also gives us a fantastic look at how the new park is run, and reveals the fact that Hoskins' security firm, InGen, is also owned by Masrani Global, which owns and run Jurassic World. Also starring Guardians of the Galaxy's Chris Pratt, Jurassic World will roar into theaters on June 12, but you can catch Vincent D'Onofrio on Daredevil, starring Charlie Cox as Matt Murdoch, on Netflix starting April 10. THE FLASH
The clues have been placed and the groundwork has been sufficiently set — and now time travel is finally coming to The CW's Flash series. Spoilers ahead for the current season of The CW's Flash series! Fans of the comic have been expecting it for a while now, and the creative team behind the Arrow spinoff has done an excellent job of setting up the idea that Barry Allen (Grant Gustin) can time-travel with his nifty super-speed powers. All the clues hit the fan in Tuesday night's episode, when Cisco used some cool (and MacGuffin-y) tech to prove adult Barry was at the house where his mother was killed a decade ago. After dropping a bombshell like that, even in an episode that featured a literal human bomb in the form of Robbie Amell's Firestorm, the writers have no plan to keep us dangling any longer. An extended teaser for next week's episode, "Fallout," has been released, and it's all about time travel. The Flash airs Tuesday nights on The CW. SPECTRE
Production continues today on Spectre – the 24th entry in EON Productions, Metro-Goldwyn-Mayer and Sony Pictures Entertainment's James Bond franchise — and the team is back today with both a new still (check it out in full in the gallery below) and a brand new video blog entry straight from the Austrian set. In the video player below, you can check out some behind the scenes action featuring stars Daniel Craig, Léa Seydoux, Dave Bautista and director Sam Mendes! "We have to deliver an amazing sequence," says Associate Producer Gregg Wilson, "and this is going to be one of the major action sequences of the movie, a jewel in the crown so to speak. It's going to be spectacular and Austria seemed to offer everything that we needed to pull it off." "The thing that Sam and I talked about was how we are going to top 'Skyfall,'" adds Production Designer Dennis Gassner. "It's going to be 'Spectre' and, so far, it's a great start. I think that we are going to continue the history of the Bond films, making things that are exciting for the audience to look at and what could be more exciting than to be on top of the world?" In the movie, a cryptic message from Bond's past sends him on a trail to uncover a sinister organization. While M battles political forces to keep the secret service alive, Bond peels back the layers of deceit to reveal the terrible truth behind SPECTRE. SPECTRE (Special Executive for Counter-intelligence, Terrorism, Revenge and Extortion), as Bond fans know, is a fictional global terrorist organization featured in Ian Fleming's novels, as well as the films and video games based on those novels. The organization was led by the villain Ernst Stavro Blofeld, although the cast is definitely playing it coy about whether or not Blofeld will actually appear in the new film. Spectre also stars Ben Wishaw, Naomie Harris, Ralph Fiennes, Christoph Waltz, Monica Bellucci, Andrew Scott and Rory Kinnear. Written by John Logan and Neal Purvis & Robert Wade, the movie hits theaters on November 6, 2015. THE MAN FROM U.N.C.L.E.
Warner Bros. has debuted the trailer and poster for director Guy Ritchie's big screen adaptation of '60s TV series The Man From U.N.C.L.E., featuring super spies Napoleon Solo (Henry Cavill), Illya Kuryakin (Armie Hammer) and Gaby Teller (Alicia Vikander). Set against the backdrop of the early 1960s, at the height of the Cold War, The Man From U.N.C.L.E. centers on CIA agent Solo and KGB agent Kuryakin. Forced to put aside longstanding hostilities, the two team up on a joint mission to stop a mysterious international criminal organization, which is bent on destabilizing the fragile balance of power through the proliferation of nuclear weapons and technology. The duo's only lead is the daughter of a vanished German scientist, who is the key to infiltrating the criminal organization, and they must race against time to find him and prevent a worldwide catastrophe. The film stars Henry Cavill, Armie Hammer, Alicia Vikander, Jared Harris, Elizabeth Debicki, Luca Calvani and Hugh Grant. The script was written by Ritchie and Lionel Wigram, and the action adventure was produced by Ritchie, Wigram, John Davis, Steve Clark-Hall and executive produced by David Dobkin. The Man From U.N.C.L.E. will be released in theaters on August 14, 2015.
WEDNESDAY, FEBRUARY 11, 2015

MARVEL STUDIOS
Last night, the Internet was rocked by the news that Marvel and Sony Pictures have finally teamed up on a deal that will allow Spider-Man to mingle with the other characters in the Marvel Cinematic Universe. Under the deal, this new Spider-Man (sorry, Andrew Garfield) will make his debut in a Marvel Studios film (most likely Captain America: Civil War) and then return to Sony for his own new film (co-produced by Marvel's Kevin Feige), which will be released on July 28, 2017. Now, if that date sounds familiar to you, it's because Marvel Studios announced back in October that Thor: Ragnarok would be coming out then. Of course, that was before Spidey was welcomed into the fold, so now Marvel's doing a little bit of tinkering with its calendar. After the Spider-Man announcement last night, the studio revealed that four of its Phase Three films now have new release dates. Since the next Spider-Man flick will hit July 28, 2017, Ragnarok will move from that date to Nov. 3, 2017, a date previously occupied by Black Panther. So Black Panther will now move to July 6, 2018, the previously announced release date for Captain Marvel. Captain Marvel will shift to Nov. 2, 2018, and Marvel's Inhumans will move from that date to July 12, 2019. The Infinity War parts one and two release dates of May 4, 2018, and May 3, 2019, get to stay, for now. So, our new Marvel Studios calendar looks like this: Avengers: Age of Ultron - May 1, 2015
Ant-Man - July 17, 2015
Captain America: Civil War - May 6, 2016
Doctor Strange - November 4, 2016
Guardians of the Galaxy 2 - May 5, 2017
Untitled Spider-Man film - July 28, 2017
Thor: Ragnarok - November 3, 2017
Avengers: Infinity War Part I - May 4, 2018
Black Panther - July 6, 2018
Captain Marvel - November 2, 2018
Avengers: Infinity War Part II - May 3, 2019
Inhumans - July 12, 2019 So, that's now 12 movies over the next five years, and that's not even counting TV, Netflix and any other surprises Marvel might have up its sleeve. CINDERELLA
Walt Disney Studios today revealed the new trailer for their highly-anticipated live-action Cinderella – directed by Academy Award-nominee Kenneth Branagh and starring Academy Award-winner Cate Blanchett as the Stepmother and Lily James in the timeless title role. The story of Cinderella follows the fortunes of young Ella whose merchant father remarries following the tragic death of her mother. Keen to support her loving father, Ella welcomes her new stepmother Lady Tremaine and her daughters Anastasia and Drisella into the family home. But, when Ella's father suddenly and unexpectedly passes away, she finds herself at the mercy of a jealous and cruel new family. Finally relegated to nothing more than a servant girl covered in ashes, and spitefully renamed Cinderella, Ella could easily begin to lose hope. Yet, despite the cruelty inflicted upon her, Ella is determined to honor her mother's dying words and to "have courage and be kind." She will not give in to despair nor despise those who abuse her. And then there is the dashing stranger she meets in the woods. Unaware that he is really a prince, not merely an employee at the Palace, Ella finally feels she has met a kindred soul. It appears as if her fortunes may be about to change when the Palace sends out an open invitation for all maidens to attend a ball, raising Ella's hopes of once again encountering the charming "Kit." Alas, her stepmother forbids her to attend and callously rips apart her dress. But, as in all good fairy tales, help is at hand as a kindly beggar woman steps forward and, armed with a pumpkin and a few mice, changes Cinderella's life forever. Richard Madden, Stellan Skarsgård, Holliday Grainger, Derek Jacobi and Helena Bonham Carter co-star. THE DIVERGENT SERIES: INSURGENT
ollowing a viral campaign, Summit Entertainment has just released the new trailer for their highly anticipated sequel The Divergent Series: Insurgent. Directed by Robert Schwentke (RED, The Time Traveler's Wife), the film continues to adapt the bestselling book series by Veronica Roth and stars Shailene Woodley (The Fault in Our Stars, White Bird in a Blizzard), Theo James (Underworld: Awakening, London Fields), Kate Winslet (Labor Day, Contagion), Octavia Spencer (The Help, Black or White), Suki Waterhouse (Pusher, Love, Rosie), Jonny Weston (Project Almanac, Chasing Mavericks), Naomi Watts (Birdman, The Impossible), Rosa Salazar (Epic, Jamesy Boy) and Keiynan Lonsdale ("Dance Academy"). Insurgent raises the stakes for Tris as she searches for allies and answers in the ruins of a futuristic Chicago. Tris (Woodley) and Four (James) are now fugitives on the run, hunted by Jeanine (Winslet), the leader of the power-hungry Erudite elite. Racing against time, they must find out what Tris's family sacrificed their lives to protect, and why the Erudite leaders will do anything to stop them. Haunted by her past choices but desperate to protect the ones she loves, Tris, with Four at her side, faces one impossible challenge after another as they unlock the truth about the past and ultimately the future of their world. The Divergent Series: Insurgent hits theaters March 20, 2015. ORPHAN BLACK
The third season of the hit sci-fi drama "Orphan Black" is set to premiere on BBC America Saturday, April 18, 2015 and, today, the channel has debuted a teaser that offers a taste of what's to come. Sarah has always lived the life of an orphan outsider. But a clone is never alone. Sarah hopes that cleaning out a dead woman's bank account will solve all her problems. Instead, her problems multiply – and so does she. "Orphan Black" features rising star Tatiana Maslany (Cas & Dylan, Picture Day) in the lead role of Sarah, an outsider and orphan whose life changes dramatically after witnessing the suicide of a woman who looks just like her. Sarah assumes her identity, her boyfriend and her bank account. But instead of solving her problems, the street smart chameleon is thrust headlong into a kaleidoscopic mystery. She makes the dizzying discovery that she and the dead woman are clones… But are they the only ones? Sarah quickly finds herself caught in the middle of a deadly conspiracy and must race to find answers about who she is and how many others there are just like her. Picking up where Season two left off with the reveal of new male "Castor" clones, Season three has the clone sisterhood realizing they are more vulnerable than ever before against the highly-trained, identical male-soldiers, with Sarah, Cosima, Alison and Helena putting their friendship to the test. In addition to Maslany, season three of "Orphan Black" features returning cast members Jordan Gavaris, Maria Doyle Kennedy, Dylan Bruce, Kevin Hanchard, Ari Millen, and Kristian Bruun, with Ari Millen, Jordan Gavaris, Dylan Bruce, Maria Doyle Kennedy, Evelyne Brochu, Kevin Hanchard, Zoé De Grand Maison and Michiel Huisman in supporting roles. The series is co-created by Graeme Manson and John Fawcett, with Manson also serving as writer and Fawcett as director.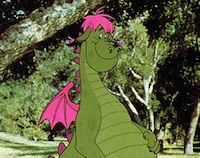 PETE'S DRAGON
Principal photography on Pete's Dragon commenced today in New Zealand. A reimagining of the 1977 Disney classic, the family film will blend live action and CGI to tell the story of the special bond between an orphaned boy, Pete, and his best friend, Elliott, who just happens to be a dragon. The film stars Bryce Dallas Howard (The Help) as Grace, a park ranger who discovers the existence of Elliott; 10-year-old Oakes Fegley (This is Where I Leave You) as Pete; Wes Bentley (The Hunger Games) as Jack, a local mill owner; New Zealand native Karl Urban (Star Trek Into Darkness) as Jack's brother, Gavin; Oona Laurence as Natalie, the young girl who befriends Pete; and Oscar-winner Robert Redford (Captain America: The Winter Soldier, All the President's Men) as Grace's father. Pete's Dragon is directed by David Lowery (Ain't Them Bodies Saints) and produced by Jim Whitaker, with Barrie Osborne serving as executive producer. The screenplay is by Lowery and Toby Halbrooks. WETA Digital, the visual effects company founded by filmmaker Peter Jackson based in New Zealand, will utilize the latest in digital effects to bring the dragon, Elliott, to life. The film is scheduled to be released in U.S. theaters August 12, 2016. "This is a story about how magic can enter one's life and change the way they see the world. And I think David Lowery is the perfect director to bring this project to life," says Whitaker. The production begins shooting in and around Wellington before moving north to the Rotorua area, and will complete principal photography in the South Island communities of Tapanui and Invercargill. Film New Zealand, the country's national film office and sister agency Film Wellington assisted the Walt Disney Studios in assessing and confirming New Zealand for the production. "New Zealand has long been a wonderful partner for film production. Wellington's state-of-the-art facilities and filmmaker-friendly community, in particular, make it an ideal location to shoot and be based out of," says Osborne.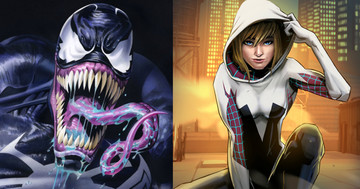 VENOM/SPIDER-MAN
Even more details have surfaced in the aftermath of Marvel and Sony's massive announcement that Spider-Man is joining the Marvel Cinematic Universe. A report from earlier today revealed that Sony's Spider-Man spinoff The Sinister Six is still happening, but now another report from Variety has confirmed the previous story, while adding that the studio's other spinoffs, Venom and an untitled movie featuring the female characters in the Spider-Man universe, are still in the works. However, Marvel's Kevin Feige will not be involved in these spinoffs. The deal announced last night revealed that Kevin Feige and Amy Pascal will produce Sony's new Spider-Man standalone movie, which is set for release on July 28, 2017, but it was not ultimately clear if Kevin Feige will be involved in any potential sequels, or the previously announced spinoffs. It's not entirely surprising that Kevin Feige won't be involved in the spinoffs, since he has an ambitious Marvel Phase Three slate to develop, which includes nine movies being released in the span of three years. In more unsurprising news, Variety reports that The Amazing Spider-Man 3 has been completely cancelled by Sony. This makes sense since we reported earlier today that essentially the entire team behind The Amazing Spider-Man and The Amazing Spider-Man 2, including star Andrew Garfield and director Marc Webb, will not be back for the new Spider-Man movie. The Sinister Six and Venom had been previously confirmed by Sony Pictures, but the all-female spinoff had never been officially announced, following a rumor that surfaced back in October. It remains unclear if The Sinister Six director Drew Goddard and Venom filmmaker Alex Kurtzman are still attached to their respective projects. Of course, just because both spinoffs are still in development, that doesn't mean we'll be seeing them hitting theaters anytime soon. Are you glad The Sinister Six and Venom are still moving forward? Spider-Man comes to theaters July 28th, 2017. The film is directed by Marc Webb. Venom is in development . The Sinister Six is in development . The film is directed by Drew Goddard.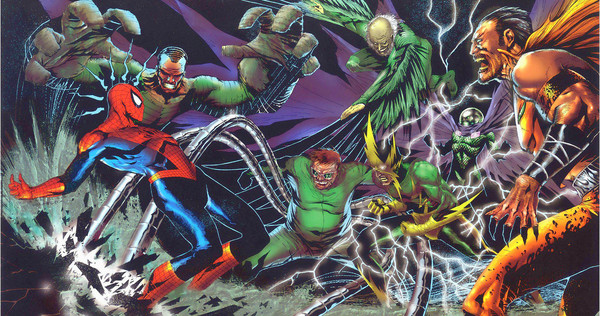 SINISTER SIX
Last night's deal that finally brings Spider-Man into the Marvel Cinematic Universe and Phase 3 has also affected Sony's plans for their Sinister Six spinoff. According to The Wall Street Journal, Sony has pushed The Sinister Six out of its planned November 11, 2016 release date, as they continue to develop and "rethink" their plans, in the aftermath of this groundbreaking deal. Drew Goddard remains attached to write and direct The Sinister Six, but, in the wake of this news, it's possible that the studio may have him write a completely new draft of the script. At the end of The Amazing Spider-Man 2, fans who downloaded the Shazam app were given a tease of the villains that may have been included in The Sinister Six, such as Rhino, the Green Goblin, Doc Ock, Kraven, Vulture and Mysterio. Those villains were never confirmed as the actual Sinister Six lineup, so it still remains to be seen which of Spider-Man's enemies will appear in the sequel. Since Spider-Man is being completely rebooted once again, The Sinister Six may have to do so as well, since villains such as Rhino and Green Goblin existed in The Amazing Spider-Man franchise. With Andrew Garfield most likely not returning as Spider-Man, it's possible the characters could stay the same, but they may also be re-cast. What characters would you like to see in The Sinister Six? The Sinister Six is in development . The film is directed by Drew Goddard. Spider-Man comes to theaters July 28th, 2017. The film is directed by Marc Webb.
TUESDAY, FEBRUARY 10, 2015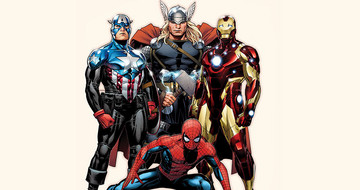 SPIDER-MAN JOINS MARVEL
Spider-Man is swinging his way over to Marvel. Disney and Sony have worked out a deal that will see your friendly neighborhood web slinger joining the Marvel Cinematic Universe. The new comes from The Hollywood Reporter, who reveals a new Spider-Man will appear in an upcoming Marvel movie before Sony releases a film with the character on July 28, 2017. "Marvel's involvement will hopefully deliver the creative continuity and authenticity that fans demand from the MCU," Marvel Studios President Kevin Feige tells THR. "I am equally excited for the opportunity to have Spider-Man appear in the MCU, something which both we at Marvel, and fans alike, have been looking forward to for years." Feige will join Amy Pascal as producer on Sony's next "Spider-Man" film. "This is the right decision for the franchise, for our business, for Marvel, and for the fans," Sony Pictures Entertainment chairman and CEO Michael Lynton says. While there's no confirmation about which MCU movie Spider-Man will appear in, the character plays a pivotal role in the "Civil War" storyline being adapted for the next "Captain America" movie, due in 2016. Furthermore, a release reads, "Marvel and Sony Pictures are also exploring opportunities to integrate characters from the MCU into future 'Spider-Man' films." To accommodate a new "Spider-Man" film, Marvel has also adjusted their release slate, pushing a number of movies back. "Thor: Ragnarock" moves to Nov. 3, 2017, "Black Panther" to July 6, 2018, "Captain Marvel" to Nov. 2, 2018 and "Inhumans" will release on July 12, 2019.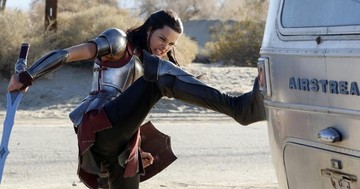 AGENTS OF S.H.I.E.L.D.
Lady Sif (Jaimie Alexander) is set to make her second epic Earth-bound appearance on Marvel's Agents of S.H.I.E.L.D. in an upcoming episode of the series, which is due to return in March. According to TV Insider, Thor's fighting buddy Lady Sif will make an encore appearance in the second episode following the show's mid-season premiere on March 3 on ABC. The gist of the story has Sif going on an undercover mission (hence the civilian clothes in the pic above) and tackling a foe "whose superpowers are equal to her own." Now, Marvel is keeping the identity of said foe mum, but our money would be on another Asgardian. But which one? Intriguing. Some footage of that epic showdown will find its way online (ah, the joys of social media), and Coulson (Clark Gregg) and his team will head to the coast of Portugal (where it took place) to investigate. But there's a twist: Not only will they find Sif sans armor, but she'll also have lost her short-term memory. Executive producer Jeffrey Bell explained the neat twist: "Sif has no idea who Thor is or that she serves a king, and we're going to have fun with that. It'll give us some much-needed humor in a season that's been full of betrayal and death. Sif can't even recall who she came here from Asgard to stop, but Agent Coulson [Clark Gregg] and his team will try to help her figure all that out." Alrighty. Our badass Asgardian may not have her short-term memory, but Sif still has memories of her childhood and definitely knows she is an Asgardian. But there's gonna be more. Bell added: "We've been dealing a lot with space aliens and Inhumans in our last few episodes—things our Earth-bound heroes just don't know much about. They need help understanding what's really going on. Sif's memory—what's left of it—will come in very handy" Sounds like Sif will be able to help Skye/Daisy/Quake (Chloe Bennet) with everything that's going on with her, and on all things Inhuman.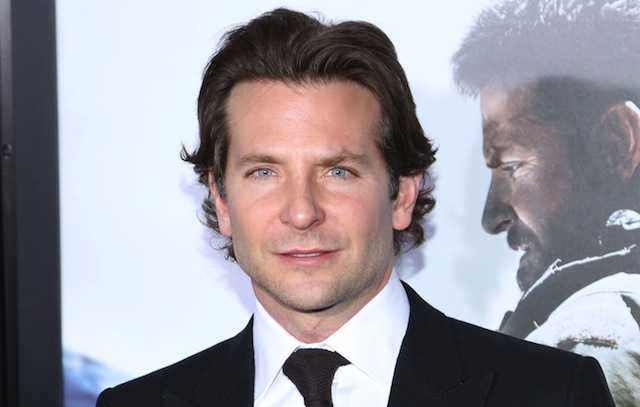 ORPHAN X
With his latest, the Clint Eastwood-helmed American Sniper, proving itself to be somewhat of a box office juggernaut, leading man Bradley Cooper is looking to reteam with Warner Bros. Pictures on another project. According to a story today at The Hollywood Reporter, the four-time Academy Award nominee is potentially planning to headline Orphan X, the big screen adaptation of the upcoming novel by Gregg Hurwitz. Set for publication next year, the book is described by the trade as follows: The thriller centers on a man named Evan Smoak. He's called a "Nowhere Man," and he helps others, sometimes through violent means. A job draws him into a world of human slavery, engineered by a detective of the Los Angeles Police Department. Cooper, who also starred last year in Serena and Guardians of the Galaxy, is soon headed back to Camp Firewood for the Netflix original series "Wet Hot American Summer: First Day of Camp." He's also headlining Cameron Crowe's latest, the recently-titled Aloha, opposite Emma Stone, John Krasinski, Alec Baldwin, Rachel McAdams, Bill Murray and Danny McBride. Hurwitz himself plans to adapt the novel for the screen with Cooper producing alongside his three-time The Hangover helmer, Todd Phillips. Jesse Ehrman and Julia Spiro will, meanwhile, oversee for Warner Bros. BLOODLINE
"We're not bad people, but we did a bad thing," is the line Netflix is using to tease their latest original series, "Bloodline," set to hit the service on March 20. The show, which has just released both the trailer and poster art that you can check out below, follows the Rayburns, a contemporary American family who are hard-working pillars of their Florida community. But when the black sheep and eldest son, Danny (Ben Mendelsohn) comes home for the 45th anniversary of his parents' hotel, he threatens to expose the Rayburns dark secrets and shameful past, pushing his siblings to the limits of family loyalty. Created and executive produced by the Emmy and Golden Globe-nominated writers/executive producers Todd A. Kessler, Daniel Zelman, and Glenn Kessler, the series stars Kyle Chandler ("Friday Night Lights"), Ben Mendelsohn (The Dark Knight Rises), Linda Cardellini ("Mad Men"), Sam Shepard (The Right Stuff), Sissy Spacek (Carrie), Norbert Leo Butz (Dan in Real Life), Jamie McShane ("Sons of Anarchy"), Jacinda Barrett ("Suits") and Enrique Murciano ("Without a Trace"). The series also includes Chloe Sevigny, Steve Pasquale, Mia Kirshner, and Katie Finneran. All 13 episodes of "Bloodline," will launch only on Netflix on Friday, March 20th, and be available in 4K. The Netflix original family thriller will also have its worldwide premiere at the Berlin International Film Festival on Monday, February 9th. CHAPPIE
Sony Pictures aired new TV spots for Neill Blomkamp's Chappie during the midseason premiere of "The Walking Dead". Opening in theaters on March 6, the film stars Sharlto Copley, Dev Patel, Ninja and Yo-Landi Vi$$er, Jose Pablo Cantillo, Sigourney Weaver and Hugh Jackman. Every child comes into the world full of promise, and none more so than Chappie: he is gifted, special, a prodigy. Like any child, Chappie will come under the influence of his surroundings – some good, some bad – and he will rely on his heart and soul to find his way in the world and become his own man. But there's one thing that makes Chappie different from anyone else: he is a robot. The first robot with the ability to think and feel for himself. His life, his story, will change the way the world looks at robots and humans forever.
MONDAY, FEBRUARY 9, 2015
INSURGENT
Summit Entertainment has started airing a new TV spot for the anticipated sequel The Divergent Series: Insurgent. Directed by Robert Schwentke, the film stars Shailene Woodley, Theo James, Kate Winslet, Octavia Spencer, Suki Waterhouse, Jonny Weston, Naomi Watts, Rosa Salazar and Keiynan Lonsdale. It will be released on March 20, 2015. Insurgent raises the stakes for Tris as she searches for allies and answers in the ruins of a futuristic Chicago. Tris (Woodley) and Four (James) are now fugitives on the run, hunted by Jeanine (Winslet), the leader of the power-hungry Erudite elite. Racing against time, they must find out what Tris's family sacrificed their lives to protect, and why the Erudite leaders will do anything to stop them. Haunted by her past choices but desperate to protect the ones she loves, Tris, with Four at her side, faces one impossible challenge after another as they unlock the truth about the past and ultimately the future of their world. GAME OF THRONES
HBO today debuted the half-hour behind-the-scenes special "Game of Thrones: A Day in the Life" on the upcoming fifth season of the hit series, and now they've released it in full online. "Game of Thrones: A Day in the Life" covers one day of production on the series that spans three different countries (Belfast, Northern Ireland; Dubrovnik, Croatia; Sevilla and Osuna, Spain). The special showcases the epic sets, renowned cast and global scale of "Thrones," as well as the more intimate and individual challenges, giving the audience a new perspective on one of the most elaborate productions in television history. "Game of Thrones" will return for its fifth season on April 12.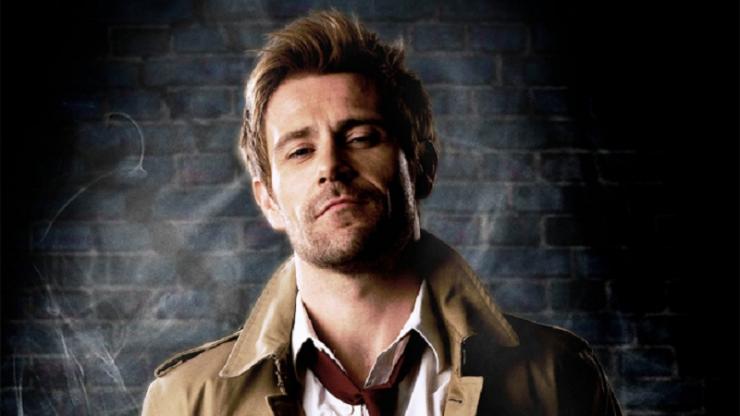 CONSTANTINE NEWS
Back in November, NBC announced that production has stopped on Constantine, with the network deciding not to order any more episodes after its 13-episode order. The show does still remain in contention for a Season 2 renewal, but, with the show airing its season finale "Waiting for the Man" this week, many are wondering what the network's plans for the show are. A new report from Cinelinx reveals that the show, which has been struggling in the ratings but does have a passionate fan base, may continue on Syfy, where it will be rebranded as Hellblazer. Nothing is set in stone at this time, but this is something the netwrok is currently considering. NBC reportedly doesn't want to give up on the show quite yet, since, after the production stoppage was announced, a slew of #SaveConstantine messages popped up on various social networking platforms. The move to Syfy would give the rebranded show more freedom to explore "darker aspects of the comic book." Syfy did recently run a marathon of the series, where it did quite well on the network. Last week, NBC renewed five of their shows, The Blacklist (Season 3), Chicago Fire (Season 4), Chicago P.D. (Season 3), Law & Order: Special Victims Unit (Season 17) and Grimm (Season 5) for the 2015-2016 TV season, but Constantine was not announced for a renewal. It isn't known when NBC/Syfy may make an announcement about the future of Constantine yet, but we'll keep you posted as soon as more details surface. Constantine episode 1.13, "Waiting for the Man" airs on NBC February 13th, 2015.
SUNDAY, FEBRUARY 8, 2015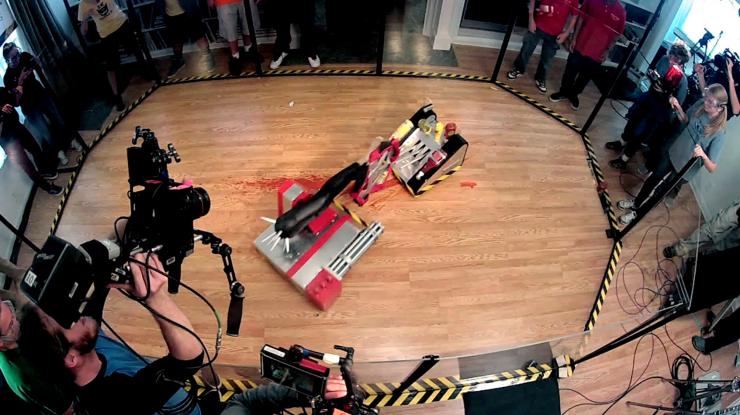 BATTLE BOTS
Much like the killer mechanical creations showcased in the BattleBox, you can't keep the decade-old BattleBots series down for long.

ABC has announced plans to resurrect BattleBots as a six-episode series this summer. It's being billed as a "reimagined take" on the series that originally ran from 2000-2002 on Comedy Central. Networks are digging deeper and deeper into the vault for ideas, and hey, BattleBots was a ton of fun a decade or so ago. So, why not?

The network is planning a limited run, where they'll basically be trying it out in the doldrums of summer to see if it can generate some buzz. According to Entertainment Weekly, producers promise the bots in the new series will be "bigger, faster and stronger than ever before," with "greater emphasis on the design and build elements of each robot, the bot builder backstories, their intense pursuit of the championship and the spectacle of the event."

Robots of all sizes will apparently be included in this version, with different weight classes to separate the different 'bots.

Technology has come a long way since the original BattleBots series 15 years ago, and Syfy recently took a shot at a BattleBots-type series in 2013 with the Real Steel-esque Robot Combat League. Plus, you know, recent hits like Pacific Rim have raised awareness that fighting robots are awesome. In the summer, where quirky reality fare can sometimes find an audience, this could prove to be a fun experiment.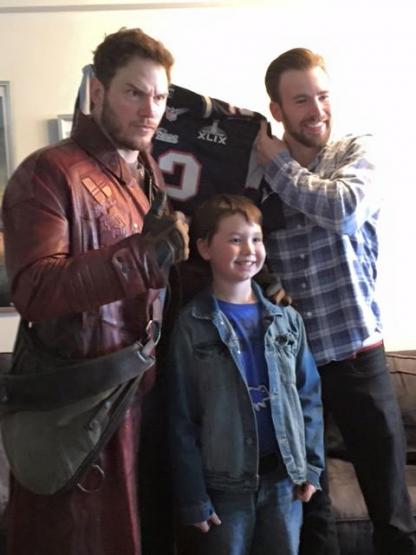 SUPER BOWL MET - STAR LORD MAKES GOOD
Last month, Marvel Studios stars Chris Evans and Chris Pratt made a little wager after their respective favorite teams were set to compete in Super Bowl XLIX. If Pratt's Seattle Seahawks won, Evans would visit Seattle Children's Hospital as Captain America. If Evans' New England Patriots won, Pratt would pay a visit to Boston-based pediatric cancer charity Christopher's Haven in his Star-Lord costume.
After a thrilling game last Sunday, the Patriots emerged victorious, and though Pratt and Evans announced that they would be visiting both charities, Christopher's Haven ended up first on the list after the Patriots' win.
So, true to his word, Pratt showed up earlier today at Christopher's Haven to meet kids and their families in full Star-Lord costume. Evans was along for the ride, too, though he did not don his Steve Rogers gear this time around.
Last summer, after Guardians of the Galaxy became a breakout box-office hit, Pratt paid similar visits to sick children in full Star-Lord costume, and even admitted in an interview that he stole his wardrobe from the film's set for just such a purpose, citing Seattle Seahawks quarterback Russell Wilson as an example.
"I stole the jacket and some of the wardrobe so that, if this movie comes out and does what everyone hopes it can, I can follow the example of someone — say, like, a Russell Wilson, you know — and go visit kids," Pratt said during a Guardians of the Galaxy promotional interview. "If it was a big enough movie, to where it would mean something to a kid who's sick in the hospital — for Peter Quill or Star-Lord to come visit them — I'll do that. I think that's awesome, man. That would give me real meaning for this movie, you know?"
Now, it's Evans' turn. We'll let you know when Captain America is sighted in Seattle.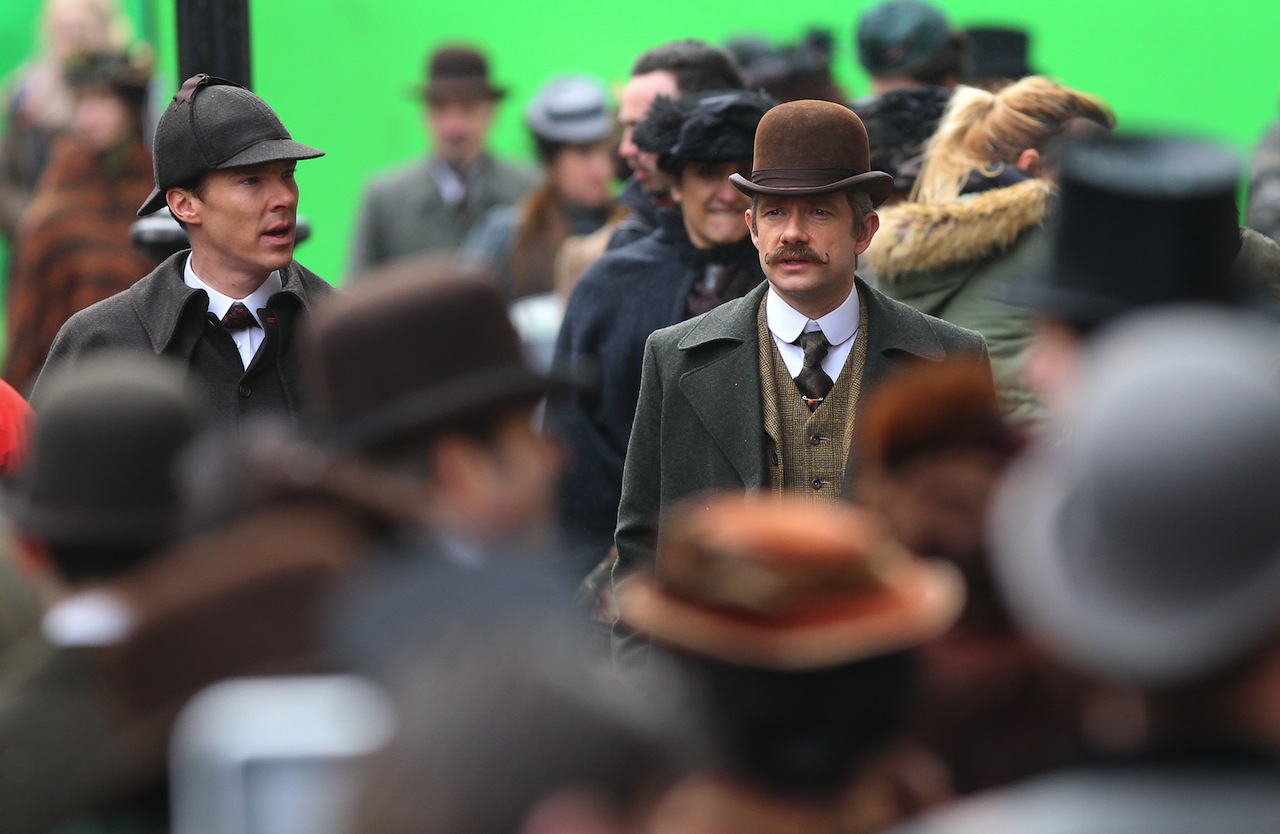 SHERLOCK
Although "Sherlock" won't be back for a full season this year, we are getting the return of Benedict Cumberbatch and Martin Freeman's Holmes and Watson with a "Sherlock" Christmas special. The event was teased last Thanksgiving with a first still, showing off the series' stars in mysteriously anachronistic garb. Today, the mystery intensifies with new set photos coming in from London. Now, it seems, it's not just whole Holmes in Watson that are out of time!
"Sherlock" began airing in 2010, establishing a pattern of three 90-minute episodes per series. The most recent episode, "His Last Vow," concluded series three with a bit of a cliffhanger, teasing the return of Andrew Scott's Jim Moriarty.
Currently known only as "Sherlock Special," the upcoming episode is written by series creators Mark Gatiss and Steven Moffat and is expected to air this December.
"Steven and Mark have had a great idea what they can do next," teased Freeman in conversation with The Mirror earlier this year, "and it is an exciting, mouth watering idea… "
A fourth series of the hit show is also expected to go into production this year (to then air in 2016), although specific plans have not yet been revealed.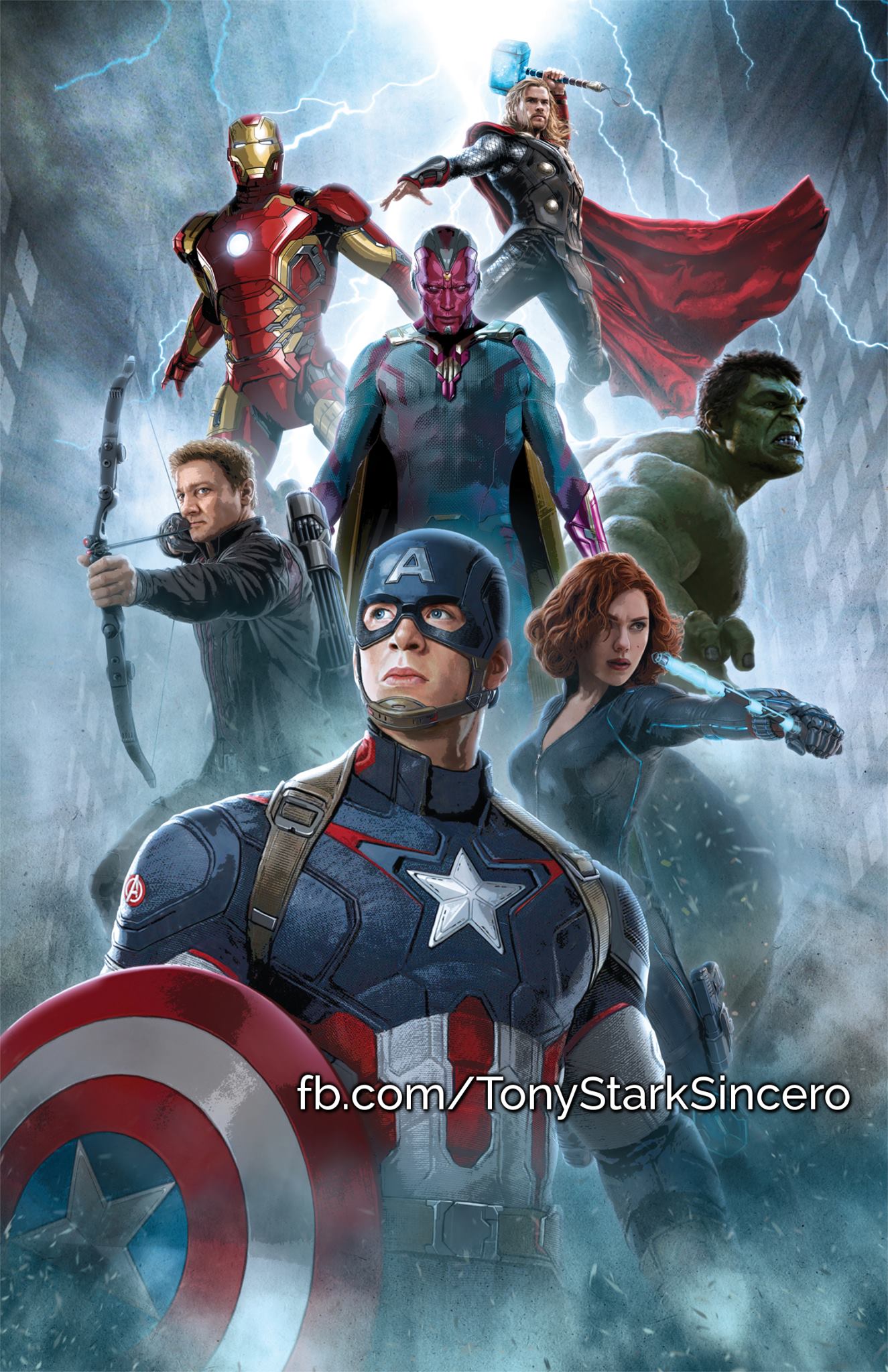 AVENGERS: AGE OF ULTRON
A gigantic movie like Joss Whedon's Avengers: Age of Ultron always brings a lot of promo art around the world, and today even more has surfaced, thanks to Tony Stark Sincero (via CBM).
In the May 1, 2015 release, when Tony Stark tries to jumpstart a dormant peacekeeping program, things go awry and Earth's Mightiest Heroes, including Iron Man, Captain America, Thor, The Incredible Hulk, Black Widow and Hawkeye, are put to the ultimate test as the fate of the planet hangs in the balance. As the villainous Ultron emerges, it is up to The Avengers to stop him from enacting his terrible plans, and soon uneasy alliances and unexpected action pave the way for an epic and unique global adventure.
Avengers: Age of Ultron stars Robert Downey Jr., Chris Hemsworth, Mark Ruffalo, Chris Evans, Scarlett Johansson, Jeremy Renner, Samuel L. Jackson, Aaron Taylor-Johnson, Elizabeth Olsen, James Spader, Cobie Smulders, Thomas Kretschmann, Paul Bettany and Stellan Skarsgard.
SPACEBALLS 2
With the anticipation growing by the day for Star Wars: The Force Awakens, which hits theaters in December, the buzz surrounding this highly-anticipated space adventure may have planted the seeds for a sequel to everyone's favorite Star Wars parody, Mel Brooks' 1987 classic Spaceballs. The 88-year-old filmmaker was recently a guest on Adam Carolla's podcast Take a Knee, where he teased possible plans for Spaceballs 2, which was actually mentioned in the movie Spaceballs itself. Here's what he had to say below.
"Maybe I could do another musical, maybe I could do another movie. I was thinking about Spaceballs the other day. In Spaceballs, in the movie, Bill Pullman says to me, Yogurt, just plain Yogurt, he says 'Do you think we'll ever meet again?' and I say 'Well, I don't know... maybe in Spaceballs 2: The Search for More Money.' And I'm thinking now, if I did a movie that came out right after Star Wars comes out - maybe a couple of months later - I'd have a big weekend, you know? No matter what, even if it fell on its ass and didn't get its money back... but that first weekend, the anticipation of seeing Spaceballs 2, would... I still have Daphne Zuniga and I still have Rick Moranis if he'd do it, and I've still got me."
Naturally, the filmmaker wouldn't divulge any specific plot details, but the sequel sadly wouldn't include John Candy (Barf) or Joan Rivers (Dot Matrix), since they have both passed away. But, if the filmmaker could get Bill Pullman (Lone Star), Daphne Zuniga (Princess Vespa) and Rick Moranis (Dark Helmet) back, there could be plenty of story opportunities to explore.
Mel Brooks hasn't directed a movie since 1995's Dracula: Dead And Loving It, but he recently lent his voice to Mr. Peabody and Sherman as Albert Einstein, and he also voices Vlad, the father of Adam Sandler's Dracula in the animated sequel Hotel Transylvania 2, set for release this September. It's worth noting that the 30th anniversary of Spaceballs is coming in just two short years, which could be perfect timing for the sequel, should it come together. Would you like to see Spaceballs 2 on the big screen? Let us know what you think.
Spaceballs was released June 24th, 1987 and stars Mel Brooks, John Candy, Rick Moranis, Bill Pullman, Daphne Zuniga, Dick Van Patten, George Wyner, Michael Winslow. The film is directed by Mel Brooks.
Spaceballs 2 comes to theaters in 2016 and stars Rick Moranis. The film is directed by Mel Brooks.
SATURDAY, FEBRUARY 7, 2015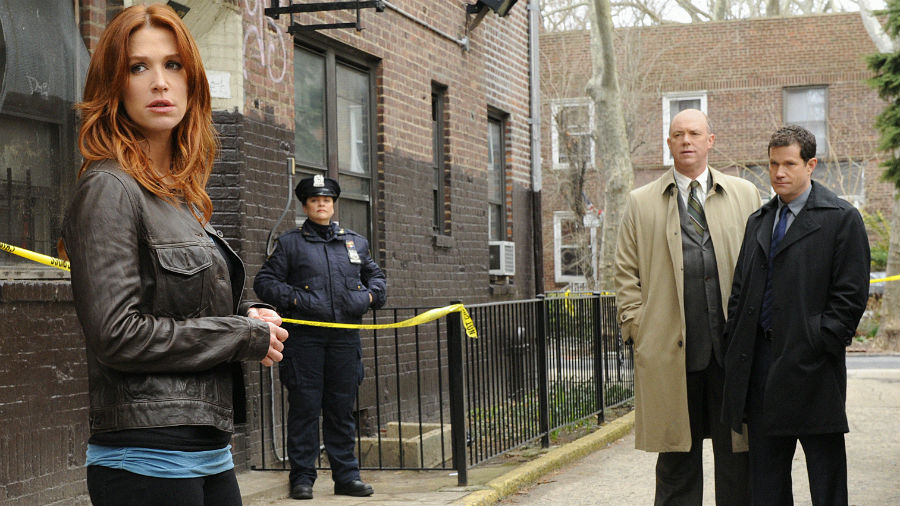 UNFORGETTABLE GOES TO A&E
There's just something people can't shake about "Unforgettable." A&E is giving new life to the twice canceled show -- picking up the former CBS drama for a fourth season, Deadline reports.

The show stars Poppy Montgomery as a female detective who has an amazing memory except remembers nothing about the day her sister was murdered and Dylan Walsh ( "Nip/Tuck") as her NYPD partner and former boyfriend.

"Unforgettable" premiered on CBS in 2011 and was canceled at the end of its first season. Then after both TNT and Lifetime expressed interest in reviving the series, CBS picked it up for a summer Season 2 in 2012. The series ran through a third season and was then canceled -- again in late 2014.

Actress Marilu Henner ( "Taxi") serves as a consultant on the series, as she reportedly has the same memory condition as Montgomery's character, hyperthymesia, in real life.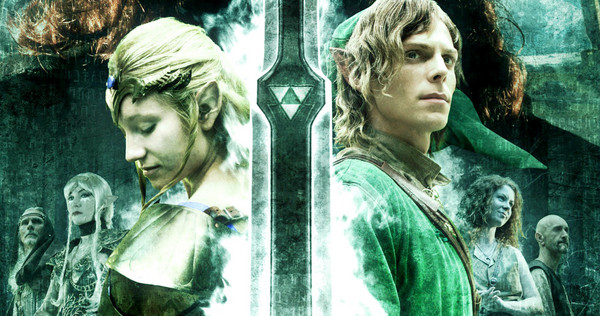 LEGEND OF ZELDA AT NETFLIX
Netflix sure has been bringing a lot of exciting original content to its streaming service, hasn't it? But, I gotta be honest, I never thought they could top getting the rights for a multiple-Marvel-series deal.
Well, if this latest news is on the level, then Netflix may be about to raise the bar again. According to a source, Nintendo and Netflix are in negotiations to make a live. Action. Legend. of Zelda. SERIES.
OK, let's take a breath. Developing doesn't mean it'll definitely happen, but, man, The Legend of Zelda is a huge get with a worldwide audience the childhood of which is defined by the video game series.
So, what's the scuttlebutt? Well, supposedly the intention is for the Zelda series to be an all-ages Game of Thrones. Which, yeah. That sounds right.
Keep in mind that Nintendo is very careful with its licenses now. In the past, they were a little more willing to share the goods, which led to the Phillips CDi games, the Super Mario Bros. movie, and the Legend of Zelda cartoon show. None of those were quite, let's say, true to the source material.
But Netflix has been doing pretty solid work, so if they and Nintendo can work it out, a Legend of Zelda show could really be happening. Now they just need someone to write it. And star in it, and direct it. And...
THUNDERBIRDS
The new Thunderbirds Are GO! trailer serves as a virtual tour of Tracy Island. Weta Workshop (The Lord of the Rings, Avatar, The Hobbit) has lovingly worked on the miniature sets and craft. You can see the recreation area (with its impressive retractable pool), the underground battle station and the surrounding areas.
We have to admit we're impressed with what we saw. Have a look:
The upcoming CGI-animation-mixed-with-live-action-miniature-sets TV series serves as a reboot of the 1960s puppet adventure series that marked a generation.
Here's a detailed synopsis:
Fifty years after its television debut the iconic series is back in production featuring a talented cast led by Rosamund Pike (The World's End, Gone Girl) as Lady Penelope and David Graham (Thunderbirds 1965) reprising his role as chauffeur and International Rescue agent Parker. Debuting on ITV in 2015 this re-invention of Gerry and Sylvia Anderson's much-loved series will be produced using an innovative mix of CGI animation and live-action miniature sets. Unstoppable inventor Brains will be voiced by Kayvan Novak (Fonejacker, Facejacker) whilst Tracy brothers Gordon and John are both played by Thomas Brodie-Sangster (Love Actually, Game of Thrones). Rasmus Hardiker (Saxondale, Lead Balloon) has been cast as both the youngest and oldest Tracy brothers Alan and Scott. The fifth Tracy brother, Virgil, will be played by David Menkin. Tracy Island matriarch Grandma Tracy is voiced by Sandra Dickinson (Amazing World of Gumball, The Hitchhiker's Guide to the Galaxy) and master villain The Hood played by Andres Williams (M.I. High, Foyle's War). Plus Thunderbirds Are Go! will feature new characters including Kayo, the Tracy brothers' friend and fellow island resident, who will be played by Angel Coulby (Merlin, Dancing on the Edge) and Colonel Casey voiced by Adjoa Andoh (Invictus, Doctor Who).
Thunderbirds Are Go! is set to premiere on April 15 on CITV. The new series will boast a score especially composed by Ben and Nick Foster (Doctor Who, Torchwood).
STAR WARS VS. STAR TREK
YouTube user Alex Luthor has created one of the most epic video mashups we've ever seen by pitting the crew of the U.S.S. Enterprise (and Starfleet) against the might of the Empire and its Death Star.
The Star Wars vs. Star Trek debate has been going on for decades, with Trekkies and ardent Star Wars fans getting their geek rage on and coming to blows on the Internet (and elsewhere) about which franchise is the VERY BEST ONE. Here, we say that there's enough space for both sci-fi fanchises in our bigger-on-the-inside (oops, wrong franchise) geeky hearts.
But back to the video. The very talented Luthor (no relation) used the rebooted Star Trek flicks and mixed in some footage from a variety of Star Wars films (including the originals and the prequels) and videogames in order to create this seamless, glorious fake movie trailer.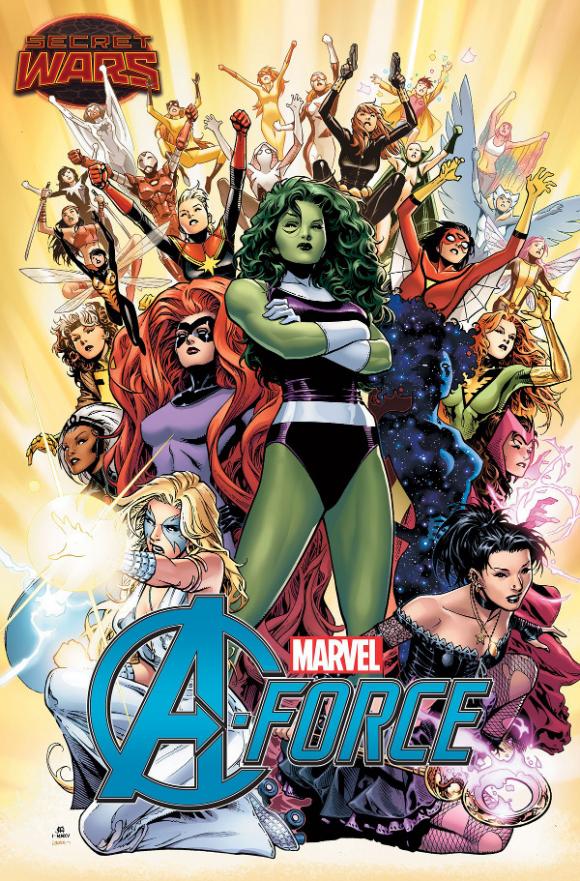 A-FORCE FROM MARVEL
For more than two years now, Marvel Comics has received a lot of attention for its emphasis on female characters. It began in 2012 when Carol Danvers was named the new Captain Marvel and launched her own series by writer Kelly Sue DeConnick, which spawned a passionate and very active fan collective known as the Carol Corps. Then Carol's former mantle of Ms. Marvel was bestowed on a Muslim teenager named Kamala Khan, and another critically acclaimed fan phenomenon was born. Then the publisher announced that the Asgardian hero Thor would fall from grace, and that his name and his legendary hammer would be given to a woman. Add to that acclaimed series starring Black Widow, an all-female X-Men team book and more, and you've got a pretty good time for female characters at Marvel, with many fans clamoring for more.
Well, now they're getting it.
We were promised some shakeups when Marvel announced the universe-altering stakes of its Secret Wars event, and it turns out one of them will be A-Force, an all-female Avengers title from writers G. Willow Wilson (Ms. Marvel), Marguerite Bennett (Angela: Asgard's Assassin) and artist Jorge Molina (X-Men). According to USA Today, the book will begin in the patchwork that is Battleworld, in Arcadia, which Wilson describes as a "feminist paradise." When a familiar Marvel threat re-emerges there, it's up to an all-female team of Avengers to assemble and stop it. According to Wilson, Marvel gave the creative team, and editor Daniel Ketchum, free rein to choose the team roster, as long as they were all women.
"They've become very committed in the last couple of years to telling new stories, to gender diversity, to getting more voices out there so they said, 'Here's the roster. Go nuts,'" Wilson said.
So, who's on the team? Well, as you can see from the art above (and the cover below) it's a pretty big group, but in the forefront are characters like She-Hulk, Medusa, Dazzler and Nico Minoru of The Runaways fame. There's also a brand-new character, a pocket universe come to life called Singularity, who Wilson compares to Q from Star Trek: The Next Generation. After choosing a female form and joining the team, Singularity has to learn what it means to be a sentient through interactions with her team.
"Her entire existence is so unlike that of ours that she really has to learn about what we think of as being an individual and having an identity from the ground up," Wilson said, "with no point of access except those she meets."
In choosing the team, Wilson and company used the fractured universe of Secret Wars to their advantage, taking the chance to unite characters who might not otherwise ever really interact, including characters who aren't used to taking orders from others. Wilson said close attention was also paid to the power sets of each character, and creating a dynamic where they don't just choose to work together, but must.
"I want people whose power sets really build on each other so that there are specific limitations that can only become overcome by working together," Wilson said. "Nobody's so overpowered that it gets boring and nobody's so underpowered that they have to be saved all the time. I wanted a balance visually and practically."
A-Force will arrive in May, amid the rest of Secret Wars, but it will definitely be kicking off yet another wave of discussion about representation and diversity in comics right this minute, something Wilson is happy to be a part of.
"We're having very interesting discussions in comics about gender, about competing ideologies, about how to be inclusive without making fans of the classic canon feel alienated. These are big questions for the whole industry right now and everybody is grappling to answer in fresh and relevant ways. So to be part of that is very, very cool for me."
AGENTS OF S.H.I.E.L.D.
ABC has released this new trailer for the midseason premiere of "Marvel's Agents of S.H.I.E.L.D." Titled "Aftershocks," the episode will air on Tuesday, March 3.
"Marvel's Agents of S.H.I.E.L.D." stars Clark Gregg as Agent Phil Coulson, Ming-Na Wen as Agent Melinda May, Brett Dalton as Grant Ward, Chloe Bennet as Daisy "Skye" Johnson, Iain De Caestecker as Agent Leo Fitz, Elizabeth Henstridge as Agent Jemma Simmons, Nick Blood as Lance Hunter and Adrianne Palicki as Bobbi Morse.
New faces will also make their debuts, including May's ex-husband (Blair Underwood), who must help the team with their most personal mission yet, and Robert Gonzales (Edward James Olmos), whose debut will rock the foundations of S.H.I.E.L.D.
The series is executive produced by Joss Whedon, Jed Whedon, Maurissa Tancharoen, Jeffrey Bell and Jeph Loeb.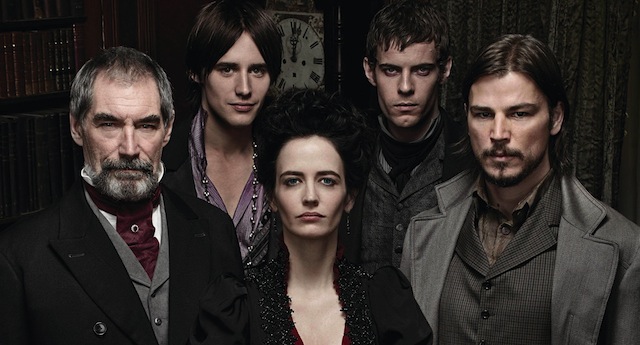 PENNY DREADFUL PREMIERES MAY 3
Showtime will now premiere the sophomore season of the critically-acclaimed psychological thriller "Penny Dreadful" on Sunday, May 3rd at 10 p.m. ET/PT.
"Penny Dreadful" returns with ten episodes and will find Vanessa Ives (Eva Green) and Ethan Chandler (Josh Hartnett) forming a deeper bond as the group, including Sir Malcolm (Timothy Dalton), Dr. Frankenstein (Harry Treadaway), and Sembene (Danny Sapani), unite to banish the evil forces that threaten to destroy them. Meanwhile, Dorian Gray (Reeve Carney), the Creature (Rory Kinnear) and Brona (Billie Piper) are all waging battles of their own. Patti LuPone will guest star as a mysterious character of great importance in Vanessa's past. Helen McCrory returns as Evelyn Poole (a.k.a. Madame Kali), the seductive spiritualist who will pose a unique threat to our protagonists this season, along with Simon Russell Beale, who is back as eccentric Egyptologist Ferdinand Lyle.
Additional guest stars include Douglas Hodge as a Scotland Yard investigator; Sarah Greene as Poole's powerful daughter, Hecate; and Jonny Beauchamp as a man with a singular past.
"Penny Dreadful" is a drama series created, written and executive produced by three-time Oscar nominee John Logan (Hugo, The Aviator, Gladiator) and executive produced by Logan's Desert Wolf Productions, along with Oscar winner Sam Mendes (American Beauty, Skyfall) and Pippa Harris (Revolutionary Road, Call The Midwife), both of Neal Street Productions. A co-production with Sky Atlantic, "Penny Dreadful" is currently in production in Dublin, Ireland.
FRIDAY, FEBRUARY 6, 2015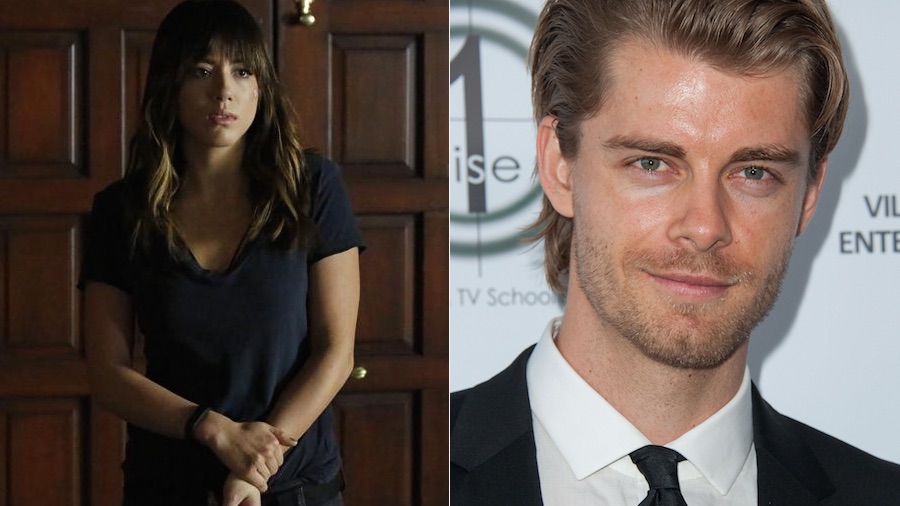 AGENTS OF S.H.I.E.L.D.
The Inhuman with no eyes in "Marvel's Agents of SHIELD's" fall finale might remain a mystery, but plenty of facts are known about another new superhuman character being introduced in Season 2. Marvel.com reveals Luke Mitchell will play a "charismatic Inhuman" named Lincoln, who "has an important role to play in Skye understanding the true extent of her transformation." The cliffhanger at the end of "SHIELD's" last episode showed that other Inhumans exist, and they have the same Terrigen Crystals that triggered Skye's change. It's unclear based on his description whether Lincoln is aligned with the man with no eyes' group, or if he is another Inhuman wandering the world. "With the revelations surrounding Skye's true identity in the winter finale, we knew we'd be introducing more Inhumans as our story progressed," EP Jeph Loeb tells Marvel. "The charming energy Luke brings to the role that will make him a character to watch as we continue our season." Those "charismatic" and "charming energy" comments seems to imply the "Tomorrow People" alum will play some sort of romantic function on the show, but regardless it will be nice to have a (presumably) friendly face help Skye through a difficult transformation that both she and her allies don't understand. "Agents of SHIELD" returns on March 3 at 9 p.m. ET/PT on ABC. THE WALKING DEAD
Right from the opening two minutes of Feb. 8's "The Walking Dead" Season 5 return, it's clear that the midseason premiere is a different sort of episode from the AMC series' norm. While there is some linear storytelling happening there -- Noah was going to take Beth back to his home town, and Rick thinks they all should help him get there -- a montage of seemingly unrelated scenes -- flashes of a photo of twins and shots of the prison -- hints that something unusual is happening. That's all very intentional, says Greg Nicotero, who directed the episode. He teases to Zap2it that each one of those confusing shots that are shown in the above video will get paid off later in the episode. "One of the most important things we wanted to do for this episode was to tell [the story] with visual storytelling, with visuals that we will call back to and advance each one of those visuals," he says. "You see bullet holes in the windshield and you see a framed photo of a drawing of house and then you see the skeleton in the woods with flowers growing out of it. Each one of these images have an important part in the story, and we reveal more and more about them." So there you have it: If you're confused, then you're supposed to be. What is the bigger story that "What Happened and What's Going On" is telling? It probably is going to come as a surprise, whether you're expecting it or not. The synopsis for the Feb. 8 episode reads: "After all the recent trials the group has faced, a slight detour might prove to be the solution they've been looking for." CONSTANTINE - NEEDS YOUR HELP
The higher-ups at NBC have pulled the trigger on renewing several existing series, though there's one notable absence sure to upset genre fans. The network has picked up breakout hit thriller The Blacklist, long-running fantasy series Grimm and procedurals Chicago Fire and Chicago P.D. for a new run of episodes in the fall. So what's missing? DC-based series Constantine, which has garnered a small but rabid fan base during its all-too-brief run this season. The series has been consistently low-rated ever since its debut, premiering to a so-so 4.28 million viewers and dipping to an average of just over 3 million for the rest of its run. DVR numbers have been promising, but that's apparently not enough to save it. The show's penultimate episode airs tomorrow night, ahead of the season (series?) finale next Friday. When a buzzy comic-based show is getting whipped by the decent ratings of companion series Grimm, that's sadly not a good thing. The writing has been on the wall for months, ever since the network opted to wrap up the first season at 13 episodes as opposed to a full season order. The network instead opted to use the shortened run as a ratings barometer, and when the numbers never added up, it seems they've decided to let it pass into the afterlife. As for the official line: NBC says "no decision has been made yet" in regard to the fate of Constantine, along with other bubble shows State of Affairs, The Mysteries of Laura, Marry Me and About a Boy. If fans want to save Constantine, now would be the time to start dipping into the dark arts.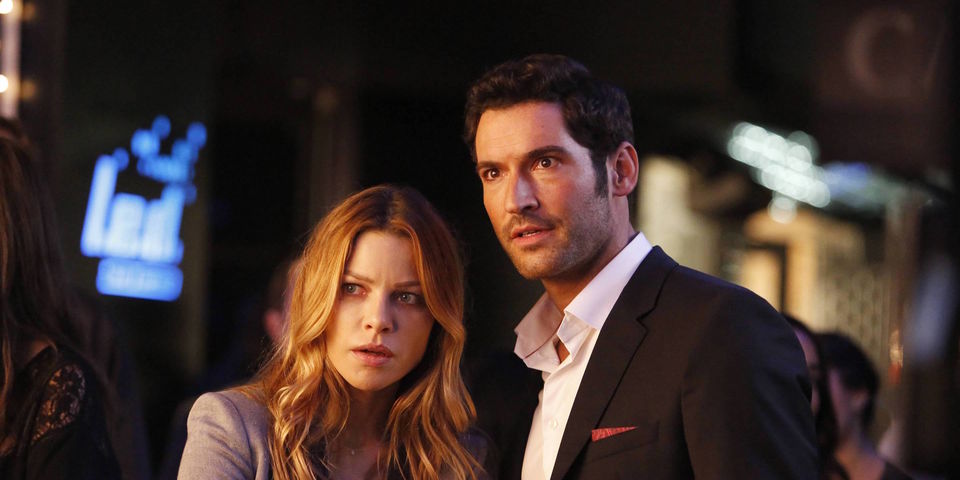 LUCIFER
Something wicked is headed to Fox with the pilot approval of a new TV series based on the Lucifer character, who first appeared in Neil Gaiman's Sandman back in 1989. This latest coming of the bad boy from below is based on Vertigo's spinoff series published from 2000-2006 and will be produced by Californication creator and executive producer Tom Kapinos. While it's only a greenlight for a pilot, it seems Fox is hot on the idea of Lucifer as a demonic denizen of Los Angeles, where he owns a posh piano bar called Lux. Mike Carey, Peter Gross and Ryan Kelly produced the entire 75-issue Vertigo run of Lucifer, with the gentleman-devil abandoning hell and slithering in and out of the lives of troubled humans in sunny Southern California while fending off vicious attacks by the archangel Amenadiel. No casting or director details have been released. ARROW
The current season of Arrow isn't hitting on all cylinders in the wake of that epic faceoff with R'as al Ghul, and now the CW series is throwing in another curveball. Potentially massive spoilers ahead for next week's episode of Arrow! Still here? Good. OK, next week's episode is titled "Canaries," and there's apparently a very good reason they use that title in the plural. The first images from the episode show off both Laurel's (Katie Cassidy) new version of Canary AND Sara Lance's (Caity Lotz) dearly departed Canary, who originated the role. That's right — Sara is back. So, how? Well, based on the fact that recurring villain Vertigo (Peter Stormare) is also shown with a brand-new version of his hallucination-inducing drug, we'd just about guarantee this version of Sara is the result of one of Laurel's hallucinations after getting dosed. Plus, you know, Sara is kind of dead. So it'd be a real stretch to bring her back for real. The official synopsis for the episode seems to back up that theory: VERTIGO (GUEST STAR PETER STORMARE) RETURNS AND PITS CANARY AGAINST BLACK CANARY — Oliver (Stephen Amell) is thrown by the changes within Team Arrow. He's used to calling the shots but sees that the team has evolved in his absence and tensions quickly escalate in the lair. Oliver is furious that Laurel (Katie Cassidy) has been going out as the Black Canary and tells her to stop risking her life, but when Vertigo (guest star Peter Stormare) hits the streets again, Laurel goes against Oliver's wishes and tracks down Vertigo who hits her with a full dose of the drug. Laurel's biggest fears revolve around her sister Sara (guest star Caity Lotz) so the Vertigo causes her to hallucinate an epic fight between Canary and Black Canary. Meanwhile, Chase (guest star Austin Butler) surprises Thea (Willa Holland), and Roy (Colton Haynes) warns Thea to stay away from Malcolm (John Barrowman). Michael Schultz directed the episode written by Jake Coburn & Emilia Ortega Aldrich. Along with the nice shots of the Canaries (we miss you, Caity!) in action, plus Vertigo, we also get a look at Ray Palmer (Brandon Routh) continuing to work on his Atom suit. Plus, despite his recent injuries, it looks like Oliver is definitely back in action. POLTERGEIST
20th Century Fox and MGM have released the trailer and poster for Poltergeist, opening in theaters on July 24, 2015. Legendary filmmaker Sam Raimi (Spider-Man, Evil Dead, The Grudge) and director Gil Kenan (Monster House) contemporize the classic tale about a family whose suburban home is haunted by evil forces. When the terrifying apparitions escalate their attacks and hold the youngest daughter captive, the family must come together to rescue her before she disappears forever. Written by David Lindsay-Abaire, Poltergeist boasts an impressive cast, including Sam Rockwell, Rosemarie DeWitt, Jared Harris, Saxon Sharbino, and Jane Adams, along with 8-year-old Kennedi Clements as Madison, a play on the iconic Carol Anne (Heather O'Rourke) from the original. Fox and MGM have also teamed up with DiedinHouse.com to uncover the secrets buried in homes across the US. Died In House instantly searches millions of records to determine if a death has occurred at that location. DAREDEVIL
Marvel has finally released the first full-length trailer for Marvel's Daredevil, which debuts its entire 13-episode season April 10 on Netflix. Marvel's Daredevil is a grounded, authentic, suspenseful and edgy action drama featuring a great cast that includes: Charlie Cox as Matt Murdock / Daredevil, Vincent D'Onofrio as Wilson Fisk, Rosario Dawson as Claire Temple, Deborah Ann Woll as Karen Page, Elden Henson as Foggy Nelson, Vondie Curtis-Hall as Ben Ulrich, Scott Glenn as Stick, Ayelet Zurer as Vanessa Marianna, Bob Gunton and Leland Owlsey, Toby Leonard Moore as Wesley. Marvel's Daredevil is one of the best known properties of the street level heroes and will be the the first of four epic live-action adventure series (Marvel's A.K.A. Jessica Jones, Marvel's Iron Fist, and Marvel's Luke Cage, all leading up to the teaming of the main characters in Marvel's The Defenders) that delves into the backstory of how Matt Murdock evolves into Daredevil. Steven S. DeKnight serves as the showrunner, with Drew Goddard and Jeph Loeb also serving as executive producers. The original Daredevil movie which hit theaters back in 2003 wasn't too well-received by the fans, but this 13-episode series could give fans the Daredevil they always wanted.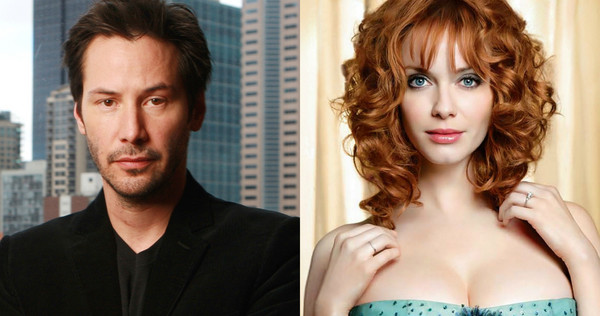 THE NEON DEMON
Keanu Reeves, Christina Hendricks, Jena Malone and Bella Heathcote have all signed on to star in director Nicolas Winding Refn's horror tale The Neon Demon, joining recently-added cast members Elle Fanning and Abbey Lee. Very little is known about the story for The Neon Demon, except that it is a female-driven horror tale set in Los Angeles. Production is scheduled to begin in L.A. on March 30. Nicolas Winding Refn will reunite with several key behind-the-scenes collaborators on The Neon Demon, including composer Cliff Martinez, editor Matthew Newman and director of photography Philippe LeSourd. The director is also producing alongside Lene Borglum, with Gaumont and Wild Bunch providing financing, while selling the project to international buyers at the European Film Market in Berlin, with discussions also under way for domestic distribution. Keanu Reeves is coming off his hit action-thriller John Wick, with a sequel already in development. He will next be seen in Passengers and The Panopticon, with his long-awaited Bill & Ted 3 still in development. Christina Hendricks, best known for playing Joan on AMC's Mad Men, starred in Nicolas Winding Refn's critically-acclaimed 2011 thriller Drive, and she also stars in Ryan Gosling's directorial debut, Lost River. Jena Malone recently starred in Inherent Vice and she will reprise her role as Johanna Mason in this year's The Hunger Games: Mockingjay Part 2. Bella Heathcote stars in the upcoming Pride and Prejudice and Zombies and Downers Grove. Stay tuned for more casting updates on The Neon Demon as we get closer to the start of production. The Neon Demon comes to theaters in 2016 and stars Elle Fanning, Abbey Lee, Keanu Reeves, Christina Hendricks, Jena Malone, Bella Heathcote. The film is directed by Nicolas Winding Refn.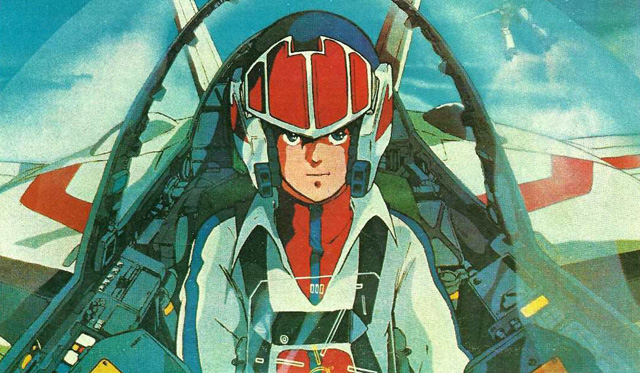 ROBOTECH
Warner Bros.' long-gestating Robotech live action adaptation is finally getting back on the right track, with the studio bringing in screenwriter Michael Gordon (300, G.I. Joe: The Rise of Cobra) to pen the screenplay. Hollywood Gang's Gianni Nunnari and Mark Canton are set to produce, and are searching for a director, with Deadline reporting that Andres Muschietti (Mama, Shadow of the Colossus) is currently their top candidate. The project has been in development for several years, with writers Alfred Gough & Miles Millar (Smallville) attached to write the script over six years ago. Sylvain White (The Losers) was once attached to direct, although the project never moved forward. Most recently, commercials director Nic Mathieu was hired to direct back in January 2013, but it never got off the ground. The original Robotech animated TV series debuted in 1985, set in a future where humans have developed massive robots from a downed alien spacecraft on a South Pacific isle. Humanity is forced to battle waves of unrelenting invaders, while the fate of the planet has been put into the hands of two young pilots. No story details were given for this new version, but perhaps this version may finally make it to the big screen, after several years of development hell. Robotech comes to theaters in 2016.
THURSDAY, FEBRUARY 5, 2015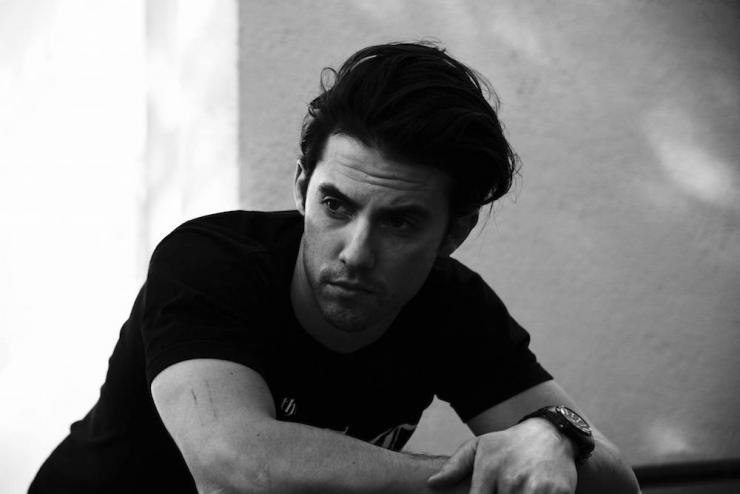 GOTHAM
The first season of Fox's Gotham has been a grab bag of DC easter eggs and Batman nods, and now they're digging a bit deeper into the comic mythos — with a Heroes alum along for the ride. Milo Ventimiglia has signed on for a multi-episode arc to play the comic-based killer Jason Lennon, aka "the Ogre," beginning in episode 19 and likely running until the end of the 22-episode season. The character was first introduced in 1996 in Batman #535, and is typically portrayed as having genetically altered strength. But apparently this version will not be tied to the comic adaptation, so who knows exactly what they're planning? Variety reports this version of the Ogre will be a "handsome, wealthy and seductive" serial killer who has been "preying on the young women of Gotham for nearly a decade, luring them into his web and confronting them with a series of 'tests' as he searches for his perfect mate. When the women fail to live up to his impossible standard, Lennon disposes of them quickly and viciously." Not surprisingly, he'll run up against Gotham City's new do-gooder Detective Jim Gordon, and the confrontation will put the two on a crash course toward "tragedy." Considering Gordon has a new love in his life, it stands to reason that could play a role in the proceedings. But who knows — this show is typically bordering on the insane, so it's kind of hard to predict what they'll do. Regardless, we're glad to see Ventimiglia joining the world of Gotham.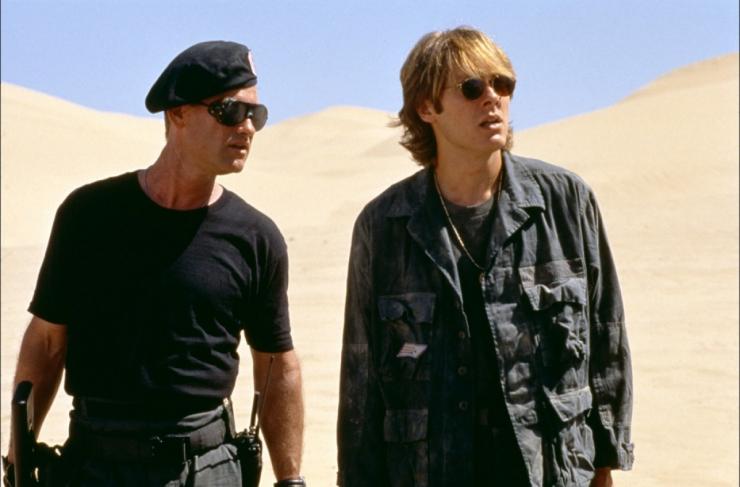 STARGATE REBOOT
S Everything old is new again for writing and producing duo Roland Emmerich and Dean Devlin. The pair have finally gotten their sequel to Independence Day off the ground nearly 20 years after the original film, and now their plans to reboot the Stargate franchise are heating up. Stargate already has a strong sci-fi legacy, having spawned one hit film and three successful TV series, but as Devlin explained last year, the reboot is a chance not only to try the original story again, but to enact his original plans for a movie trilogy that never quite happened. "Of all the projects I've ever done, Stargate is the only one from the beginning intended to be a trilogy. We always wanted to do parts two and three, but the thinking was they didn't want to do anything other than the TV series. So literally for 20 years I've been chasing this project. Twenty years later, we can't really do part two. We have to start over from the beginning. So let's reboot the series, put in all the things we couldn't the first time, and set it up properly." MGM gave the go-ahead for the reboot last spring, and we've been waiting ever since for news of who else might join Emmerich and Devlin on the project. Now, we don't have a cast, but we do have two up-and-coming writers. According to the Hollywood Reporter, Nicolas Wright and James A. Woods are "in final negotiations" to write the script for the first film in the new Stargate trilogy. Though they've both been around for a while as actors (Woods appeared in the final season of Syfy's Being Human, while Wright was in NBC's Manhattan Love Story last fall), Woods and Wright are relatively new to screenwriting, but they've already come a long way. They've sold what's described as a "secret action thriller" script to Emmerich's production company, and the director invited them both to work on the Indpendence Day 2 script. Now they're on their way to Emmerich's other major sci-fi revitalization project. So, while the film still has no release date, and we still don't know how closely it will adhere to the original, Stargate is still on its way back, and now it's got new writers to hopefully give it some new life.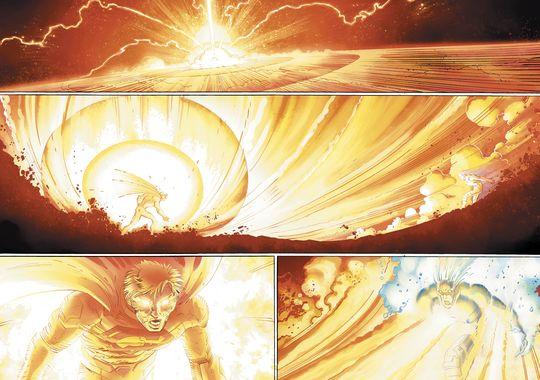 SUPERMAN COMIC
In today's Superman #38, Superman discovers that he has a new "super flare" power. As far as we understand it, this new power has him expel all the energy in his cells in order to create a bright and powerful blast that can incinerate everything within a quarter mile. So far, so impressive. However, there's a big, whopping downside to it. By using the super flare ability, Superman's cells gets depleted, essentially making him human for 24 hours. This new superpower emerged during a fight between the Man of Steel and Ulysses (a super-human who can absorb energy that can make him as strong as Supes) in the final chapter of writer Geoff Johns and artist John Romita Jr.'s "The Men of Tomorrow" arc. When Superman used his heat vision on Ulysses, the villain began to absorb it, and our Kryptonian hero began to glow, setting off his new power and ending the fight by knocking out Ulysses and making Superman pass out. Batman explained to Superman that "It looks like your heat vision is actually a precursor to another ability you possess. You unleashed the energy stored in every one of your cells. You created a solar flare, Clark. A super flare." There's a cool infographic we included in the gallery below that was released by DC Comics, cataloging all of Superman's awesome powers through the years. You can also have a look at a few more pics of the Man of Steel's new costume, which was first revealed a few days ago.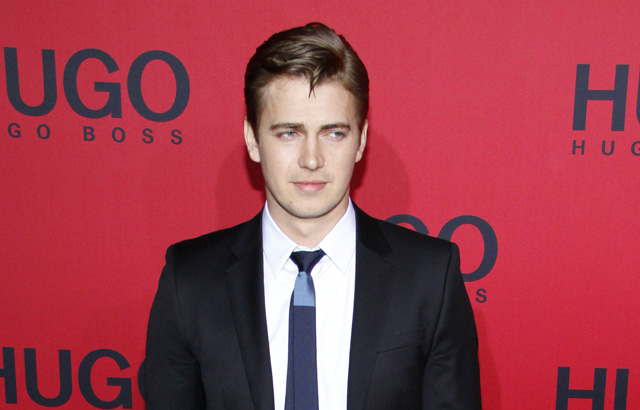 UNTOT
Star Wars' Hayden Christensen is set to headline the upcoming action/horror film Untot, it was announced today by producer Greg O'Connor (Warrior) of Solaris Entertainment. Video game producer and helmer Kris Renkewitz is set to make his feature film debut on the project, directing from his own original screenplay. Untot ("undead" in German) is set towards the end of World War II in December of 1944. During a blizzard, an elite military unit headed by Lt. Fredrick Hank (Christensen), is dropped behind enemy lines in the mountains of Poland to destroy a secret Nazi weapons facility. The soldiers must face their greatest fears when they encounter something they could never have been trained for: The undead. "Kris has already proven himself as a master visual artist with his successful career as a video game director," said O'Connor as part of the announcement. "I'm thrilled to support his first foray into the medium of cinema with 'Untot.' He has written a haunting, edge-of-your-seat, action-packed script filled with supernatural elements and I can't wait to see his creative vision realized on screen." Tannaz Anisi's 13 Films is handling international sales on the project and will introduce it to buyers at the European Film Market. Producers currently hold US rights. "Renkewitz is a director to watch who has written a unique, high-concept horror film set in the World War II era," adds Anisi. "With Christensen attached as the lead, this will surely be a big draw for buyers at Berlin." Principal photography on Untot is slated to begin in March 2015 in New York with further casting underway.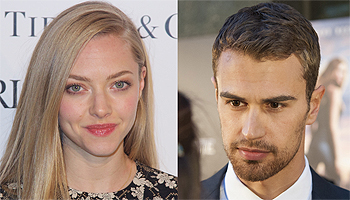 BLACK LUNG
Amanda Seyfried (Les Miserables, Ted 2) and Theo James (The Divergent Series: Insurgent) are set to star in the supernatural thriller Black Lung, it was announced today by 2929 Productions and Emily Ziff and Sara Murphy of Cooper's Town Productions. Seyfried plays Del, wife of a Utah coal miner (James) whose premonition moves her to save her husband just before an explosion in the mine traps all the other miners, an act that tests her marriage, puts her under suspicion of state officials tasked with the rescue, and stokes the resentment of all the other women in town. With time running out to save the entombed men, Del's increasingly horrifying visions hint to something darker at play within the iconic mountain that looms over the plateau like an anvil, a darkness she comes to believe will consume them all. Award-winning filmmaker Chase Palmer, whose scripts have appeared on the Black List, will make his feature film debut, directing from his own screenplay. Cary Fukunaga (HBO's "True Detective," Jane Eyre) is executive producing the project through his Parliament of Owls production company, set to start principal photography in summer 2015. "'Black Lung' possesses that rare mix of qualities that we as producers dream about. It's elegant, sophisticated, and thrillingly commercial with a visionary filmmaker and two electrifying actors on board to bring it to the screen," said Ziff and Murphy. "Amanda Seyfried and Theo James are two of the most in demand actors in Hollywood and are the perfect duo to play a couple battling with mysterious forces in 'Black Lung.' The tense script combined with these A-list stars will make it a key title for buyers in Berlin," said Wilson and Nestel. The Solution Entertainment Group, co-founded by Lisa Wilson and Myles Nestel, is handling international rights and will launch sales at the European Film Market in Berlin. WME is representing US rights.

PIRATES OF THE CARIBBEAN: DEAD MEN TELL NO TALES
Variety reports that three more have joined the cast of the upcoming Pirates of the Caribbean: Dead Men Tell No Tales, including Adam Brown (Ori of "The Hobbit" films), along with Delroy Atkinson and Danny Kirrane. Johnny Depp is reprising his iconic role of Captain Jack Sparrow, while Geoffrey Rush will be returning as Captain Barbossa. Javier Bardem will play the film's villain, Captain Brand, Brenton Thwaites will play British soldier Henry in the film, and Kaya Scodelario will play Henry's love interest. Although still unconfirmed, rumors have persisted that this film may see the return of Orlando Bloom's William Turner as well. The fifth installment of the "Pirates of the Caribbean" franchise will be directed by Joachim Ronning and Espen Sandberg (Kon-Tiki). The film is slated to be released in theaters on July 7, 2017.
WEDNESDAY, FEBRUARY 4, 2015
THE LAZARUS EFFECT
February is typically a dumping ground for troubled films, but here's hoping it might hold a few surprises. One promising option: the upcoming sci-fi horror flick The Lazarus Effect. Set to open on the relatively quiet weekend of Feb. 27, the film follows a group of scientists who use an experimental procedure to bring one researcher (Olivia Wilde) back to life following a tragic accident. Not surprisingly, she brings a whole lot of evil back with her. The latest trailer for the film shows off some freaky new footage, and this one could be a sneaky surprise in a month filled with films like Seventh Son and Jupiter Ascending. It looks like a relatively formulaic sci-fi horror flick, with Wilde doing her best impersonation of a quasi-Carrie as she terrorizes her former friends with supernatural powers. But the cast is what really sets this one apart. Wilde is joined by genre favorites Mark Duplass (Safety Not Guaranteed), Evan Peters (American Horror Story) and Donald Glover (Community). Odd picks for a sci-fi horror film, but it could be just the thing to put it over the top. The project comes from Blumhouse Productions (Paranormal Activity, Sinister), which has made an absolute killing out of mid-budget horror films of this ilk in recent years. This one is directed by relative newcomer David Gelb, from a script developed by Luke Dawson (Shutter) and Jeremy Slater (The Fantastic 4). THE WALKING DEAD
We've been waiting more than two months for a new episode of The Walking Dead, and we're finally getting one this Sunday. For those of you who don't want to wait quite that long, though, AMC has released the first two minutes of season five's midseason premiere: "What Happened and What's Going On." SPOILERS for the midseason finale ahead. When we last left Rick Grimes and his group, they were not in a good place, and that's something we've come to expect from midseason finales on this show. In past midseason finales, we've seen the death of Carol's daughter, Sophia (season two), the capture of Daryl by the Governor (season three), and the death of Hershel and the breakup of the group (season four). Season five's midseason break brought its own share of devastation, giving us both the revelation that Eugene's quest for a cure for the Walkers was a lie, and the sudden death of Beth Greene. Now the group are together, but they're devastated, and Morgan has just learned that the trail he's been following is Rick's. So, what's next? The two-minute clip posted today by AMC doesn't give us much in the way of plot, but it does give us some idea of an objective. Amid scenes of Beth's burial, we hear new group member Noah talking to Rick about a potential safe place for the group to settle. It's a somber bit of footage, and we're reminded that Beth's loss is still very real and raw, but there's a sense of purpose developing again. Rick and company may have found the haven they've been searching for. Now they just have to make it there.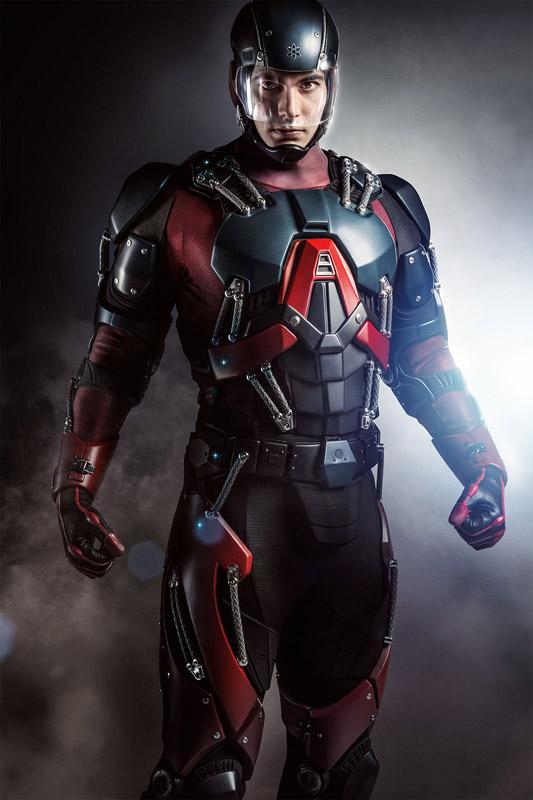 ARROW-ATOM
The CW series Arrow has been planting seeds for months, and now we finally have our first look at Brandon Routh rocking his full Atom suit in all its sci-fi glory. The network has released the photo below showing Routh as Ray Palmer sporting his full Atom suit of armor. He's expected to don the costume first in the upcoming Feb. 25 episode of Arrow. Until then, geek the heck out over this pic. It looks extremely cool, especially for CW budget standards. It's also very reminiscent of the Ant-Man suit Marvel is introducing in its upcoming tentpole film, but it includes some nice nods to the original Atom design from the comics (look closely at the helmet). But really, this is an entirely new look. It's much more of a sci-fi design than the more traditional superhero suit from the comics, which we'd argue is a better fit for the Arrow-verse. We can't wait to see this suit in action. Oh, and don't forget — Ray Palmer and Felicity Smoak will also be heading over to The Flash soon for a crossover, where they'll apparently be getting some help on nailing down the above suit.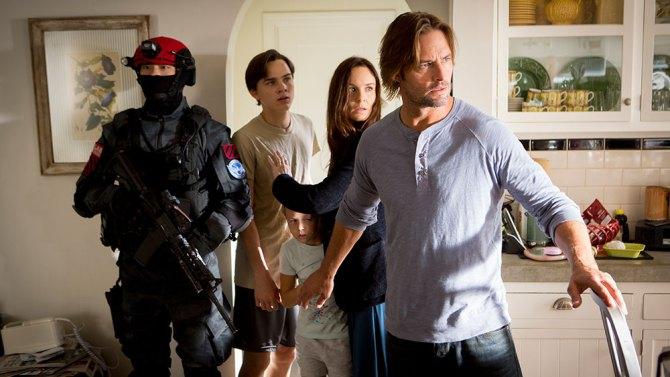 COLONY
The aliens are poised to invade us again as USA Network gives a 10-episode order for Colony, a new alien-invasion drama straight from the mind of Lost's Carlton Cuse. We also have a first-look pic of the new series. The upcoming sci-fi series stars none other than Lost's Josh Holloway — who's reteaming with executive producer Cuse here — fresh from his failed stint over at CBS with Intelligence. He'll star alongside The Walking Dead's Sarah Wayne Callies. Cuse will pen and executive-produce the series along with Ryan Condal, who wrote the screenplay for 2014's mildly entertaining Hercules, starring Dwayne "The Rock" Johnson. Colony will be part of USA's 2015 lineup. Here's how the network describes the series: "Colony centers on a family torn by opposing forces and making difficult decisions as they balance staying together with surviving the struggle of the human race. Set in the near future, the story takes place in Los Angeles, which exists in a state of occupation by a force of outside intruders. Some people choose to collaborate with the authorities and benefit from the new order, while others rebel and suffer the consequences." Carlton Cuse, who's currently quite the busy bee overlooking A&E's Bates Motel and The Returned, as well as FX's The Strain, told Variety: "I've loved my experience at USA. I feel like they're extremely good at what they do. They're very clear about what their network is all about, and what they want." And now back to Colony. Holloway plays Will Bowman, a former FBI agent forced to work alongside the new order to prevent a growing resistance effort, while Callies plays his wife, Katie. Amanda Righetti (The Mentalist) will also star in the new series as Katie's sister Madeline, who has a diabetic child needing insulin. Chris McCumber, the president of USA Network, said: "Carlton and Ryan have created an intriguing ride that uniquely provides a humanistic take on a story set in the near future. Josh and Sarah have incredible on-screen chemistry and brilliantly play a couple making tough choices to protect their family in an uncertain world."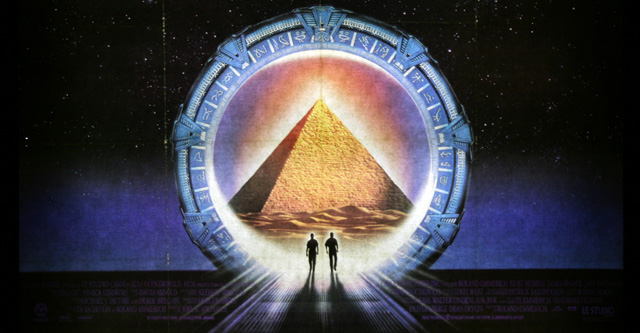 STARGATE REBOOT
As reported last summer, Roland Emmerich is getting ready to return to the world(s) of his 1994 science fiction film Stargate with plans for a rebooted feature film trilogy. Today, The Hollywood Reporter brings word that screenwriters James A. Woods and Nicolas Wright have signed on to provide the screenplay. Although both talents are relative newcomers to Hollywood, they've already been working alongside Emmerich on the upcoming Independence Day 2. Word of a Stargate reboot first broke in 2013 when Emmerich said that he and creative partner Dean Devlin approached MGM about building a reboot trilogy. Emmerich co-wrote and directed the original 1994 film, which starred Kurt Russell, James Spader, Jaye Davidson and Alexis Cruz. Devlin is attached to produce the new take, which is being developed by MGM and Warner Bros. Pictures. MGM will be running production on Stargate, with Jonathan Glickman, President, Motion Picture Group overseeing the project on behalf of MGM and Greg Silverman, President, Creative Development and Worldwide Production, overseeing for Warner Bros. Pictures. Worldwide distribution will be handled by Warner Bros. Pictures, with select international territories to be handled by MGM. It's unclear whether or not the new films will maintain any continuity with either the 1994 original or with the expanded "Stargate" television universe. "These new films will build upon the creativity and popularity of the first film," teased Silverman last year, "while delivering an original film-going experience for fans and those new to the franchise.?" At the time of its release, Stargate grossed nearly $200 million at the global box office. The franchise has since spawned three live-action television spin-offs, one animated series and two direct-to-DVD feature films. LOST RIVER
Warner Bros. Pictures today announced that Ryan Gosling's directorial debut film, Lost River, will open April 10 for a theatrical run in New York and Los Angeles and will also be available same day via national digital release in the U.S. This news comes the same day as the announcement of the film's North American premiere being part of the SXSW Film Festival, running March 13 – 21 in Austin Texas. "Ryan is one of the most exciting actors of his generation and 'Lost River' reveals that he is also one of its most promising young directors," says Sue Kroll, President of Worldwide Marketing and International Distribution. "His debut film is a singular vision of stranded people finding connection in a broken world. We believe in this film and in Ryan as a director, and are delighted to be working with him in this new role. This is a great opportunity to give audiences the chance to discover this compelling, original work for themselves." "By capitalizing on the growing variety of film release opportunities, we can better target the right audience and give 'Lost River' a bigger and more focused voice than it would have if we put it exclusively in theaters," adds Dan Fellman, President, Domestic Distribution, Warner Bros. Pictures. "We are excited to see the result." "I am excited that Lost River is being released by Warner Bros. and having its North American premiere at SXSW," says Gosling. "It's a small specialty film, so for me, this day-and-date theatrical and digital release plan provides the best of both worlds. It allows those who are interested in seeing my film in a theatre to do so without excluding the majority of people who don't have access to a specialty cinema. VOD is giving a new life to independent cinema and I'm very excited to have the opportunity to showcase the wonderful work of my cast and crew on such a broad platform." The film, from Sierra Affinity, Phantasma Films and Bold Films, stars Christina Hendricks ("Mad Men"), Saoirse Ronan (The Grand Budapest Hotel), Iain De Caestecker ("Marvel's Agents of S.H.I.E.L.D."), Matt Smith ("Doctor Who"), Reda Kateb (Zero Dark Thirty), Barbara Steele ("Dark Shadows"), with Eva Mendes (The Place Beyond the Pines), and Ben Mendelsohn (The Dark Knight Rises). In addition to directing the film, Gosling also wrote the screenplay, which offers a dark fairy tale about love, family and the fight for survival in the face of danger. In the virtually abandoned city of Lost River, Billy (Hendricks), a single mother of two, is led into a macabre underworld in her quest to save her childhood home and hold her family together. Her teenage son Bones (De Casestecker) discovers a mystery about the origins of Lost River that triggers his curiosity and sets into motion an unexpected journey that will test his limits and the limits of those he loves. Producers on Lost River include Marc Platt (Into the Woods), Gosling, Adam Siegel (Drive), Michael Litvak (Nightcrawler) and David Lancaster (Nightcrawler). Gary Michael Walters and Jeffrey Stott served as executive producers with Johnny Jewel (Drive) serving as the film's composer.
TUESDAY, FEBRUARY 3, 2015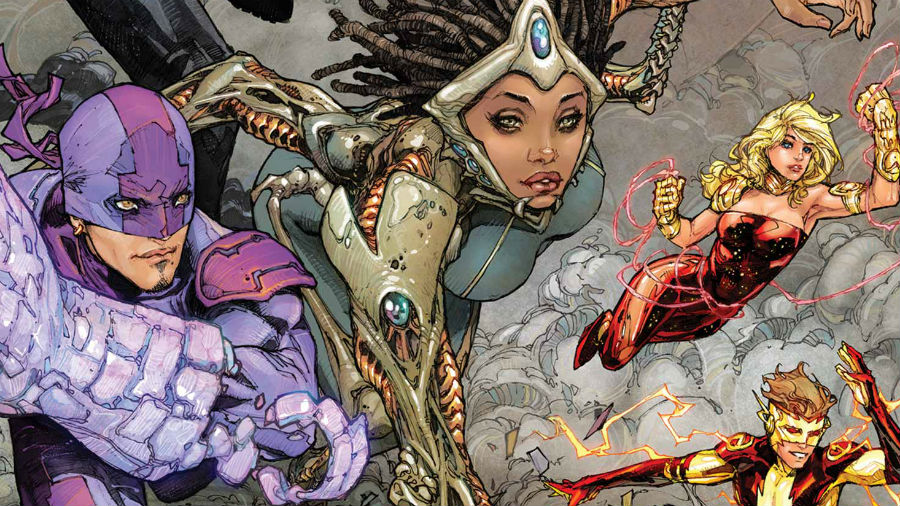 TITANS AT TNT
The players of DC Comics upcoming TNT show, "Titans," just may be coming together. Warner Bros. has declined to comment at this time, but Nerdist is reporting the main characters are pretty much set for the in-development series about superheroes in training. Again -- take this with this what you will, but this is who Nerdist says fans can expect to see. Per the site, Dick Grayson will first be seen in "Titans" as Robin, who after splitting from his dynamic other half, Batman, is working as a detective in Boston. Grayson's buddy, Barbara Gordon, will reportedly play a part as well, even though the character is not typically associated with "Titans." Nerdist reports Gordon will not be using the name "Oracle" and is a "resident computer hacker" and will be "wheelchair-bound in the pilot script." The Hank Hall and Dawn Granger versions of Hawk and Dove will also be included, however other than having a romantic connection, the characters will be "quite different" from their comic book incarnations. As has been previously rumored, Raven and Starfire will round out the characters and Nerdist reports they will debut at the end of the pilot script. In Sept. 2014 it was reported a pilot for "Titans" was being developed by Akiva Goldsman and Mark Haimes and in December confirmation was given that a pilot would be shot in 2015.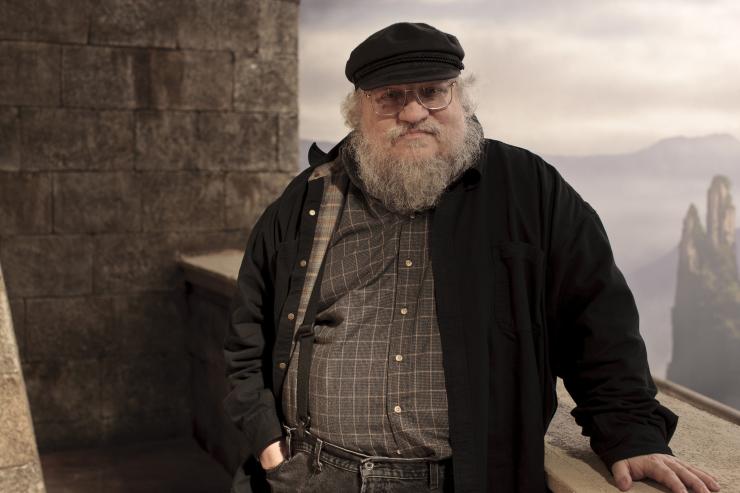 IN THE LOST LANDS
Most fans of sci-fi and fantasy literature know that George R.R. Martin has been selling fiction professionally since 1970, but there is probably a large body of newer fans out there who aren't aware of much beyond A Song of Ice and Fire (or just know Martin as one of the many executive producer names flashed across the screen on Game of Thrones every week). Well, one filmmaker, at least, is trying to change that. According to the Hollywood Reporter, German director Constantin Werner is prepping a film called In The Lost Lands, an adaptation of three of Martin's short stories for which Werner has also written the screenplay. The German-Canadian production is close to landing Milla Jovovich in the lead role, while Justin Chatwin from 2005's War of the Worlds is already signed up. The three stories are described as such by the company handling the film, Myriad: In one thread, the desperate queen of a city built into a towering mountain hires the sorceress Gray Alys (Jovovich) to travel into the ghostly wasteland called the Lost Lands, to obtain the gift of shape shifting into a werewolf, but she doesn't realize that the fulfillment of her wish will come at a terrible price. Meanwhile, warrior girl Sharra must fight a dragon that serves as the gatekeeper of seven worlds to reunite with her lost lover Kaydar. During this quest she meets the mysterious lord of a deserted castle, Laren Dorr, who seduces her so completely that she forgets her quest and stays with him, unaware that he is the real gatekeeper. And in the futuristic tale Bitterblooms, a young barbarian girl gets spellbound by a lonely witch in a spacecraft, who shows her beauty and love, which turns out to be a net of lies and deceit. Very little of Martin's work has been adapted for either film or TV outside of A Song of Ice and Fire; his 1979 story "Sandkings" was adapted twice for the latter-era versions of The Outer Limits and The Twilight Zone, while his 1980 novella "Nightflyers" was made into a low-budget 1987 film.
GOTHAM NEWS - DR. CRANE
Although the Scarecrow's arrival on Gotham was teased a few weeks back, we didn't know who was going to play the iconic role. But this particular Dr. Crane is not exactly who we thought he'd be. Actor Julian Sands (another fan fave) will be joining Fox's Gotham family for two episodes as Dr. Gerald Crane, father of Jonathan Crane — aka the future Scarecrow, who'll be played by young Frankenweenie actor Charlie Tahan — in tonight's episode, "The Fearsome Dr. Crane." Gerald is actually the "killer who targets victims with severe phobias." Here's what the British actor told Zap2it about his character: "Gerald Crane is an extraordinary man. He's a man of great intellect, intelligence, but so misguided in the name of science. His particular pursuit -- his philosophy, the thing he explores -- is the idea of fear as an evolutionary hangover." As most of you already know, fear is totally central to the Scarecrow in the DC mythology. And whereas the supervillain revels in it, daddy dearest doesn't. In fact, he's trying to destroy it. And the reason he's doing this is his very human desire to get over his own fear: "He conducts all these experiments on the living, trying to understand the nature of fear so it can be eradicated," Sands explains. Unfortunately, they typically end with his unwilling patients dying. "Crane is trying to come to terms with an event in his life with not necessarily his own cowardice, but his own fear stopping him from becoming the man he wants to be." One of the people he (apparently unknowingly) experiments on is his own son, Jonathan. Talk about family disfunction. And this here gives us an interesting backstory as to why the Scarecrow is the way he is: "In spite of Crane's intentions for the betterment of his son, it goes sad and sorry. I think he finds some kind of understanding that things have gone terribly wrong, but only when it's too late and he's committed to his cause." Julian Sands then went on to defend the character and refuses to call him a bad guy, saying: "I'm not sure Gerald Crane would ever see himself as an utterly evil man. I never saw him as that. I saw him as a purist, somebody who thought his fellow human beings were expendable for the greater good." THE WALKING DEAD
AMC has been fairly stingy when it comes to footage from The Walking Dead's 2015 debut, but a new teaser trailer offers up some intriguing new scenes that leave us with more questions than answers. Potential spoilers ahead for The Walking Dead TV series and comic! As expected, it seems the gang is still on the road when we pick up after the holiday break. We get a look at relatively new addition Tyler James Williams (Noah) helping scout out an abandoned area with the rest of the group, so it seems he'll be sticking around (at least for a little while). It also looks like the dead will once again be a major threat, after the first half of the season found Rick and his group dealing with more human problems following the downfall of the prison. Everyone looks a bit worse for wear, and they seem to be doing battle with a lot of walkers along the way. The big reveal? The opening shot of the trailer, which shows the group stopped at a relatively large gate. Hmm, as comic fans have theorized, could this be the long-awaited introduction of the Alexandria Safe Zone that has played such a pivotal role in the comics in recent years? Casting rumors have indicated some characters from that arc could be arriving this season, so it stands to reason that could be our first peek at Alexandria.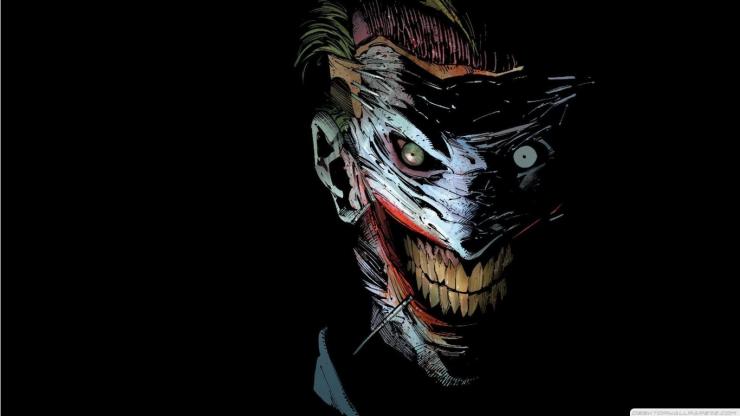 MORE GOTHAM NEWS
The creative minds behind Fox's breakout hit Gotham have never been coy about their plans to introduce the Joker in the Batman prequel series. But he's apparently coming sooner than we thought. Producer Bruno Heller revealed in an interview with TV Guide that the writers decided to use the extended full-season order to drop some breadcrumbs about Bruce Wayne's most famous villain. The series was originally ordered at 16 episodes, but once the show turned out to be one of the few hits of the season, the network added six more to the back end. With six extra hours to fill, it sounds like they've moved up plans to introduce the Joker. Heller promises they don't want to get too deep into the Joker's story in the prequel series (which makes sense, considering his existence is typically tied very closely to Batman's presence in Gotham City), though they will address the character in some way: "We've said you're going to be waiting a bit longer for it, but this is America -- nobody wants to wait. So, we will scratch the surface of that story, yes. But just scratch it -- a little tap on the door." Considering they're already using the future Riddler, Penguin, Catwoman and Poison Ivy as major players in the prequel series, it's not much of a surprise that the Joker would show up sooner rather than later. This series is one part prequel and one part easter egg farm, so there don't seem to be many sacred cows here. Though we'll only get a little bit of the Joker, Heller teased we'll see a lot more of Edward Nygma's evolution into the Riddler. He's already a bit of an odd duck, and it sounds like his burgeoning relationship with file clerk Kristen Kringle (Chelsea Spark) could go sideways soon, sending him into a downward spiral: "Penguin [Robin Lord Taylor] was born a sociopath and was always going down this path one way or another. Nygma is someone who becomes the villain, and we see that journey begin in the second half of the season." Gotham airs Monday nights on Fox.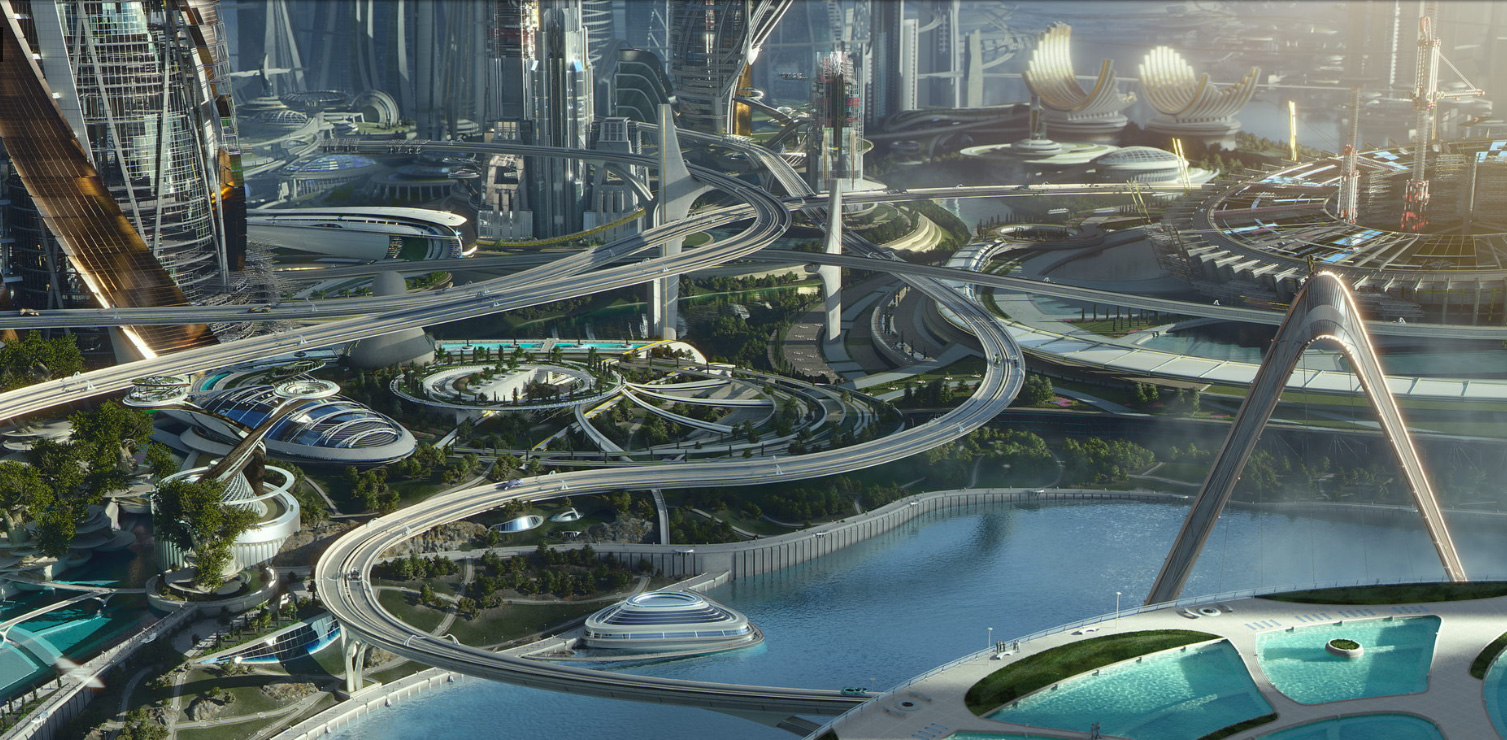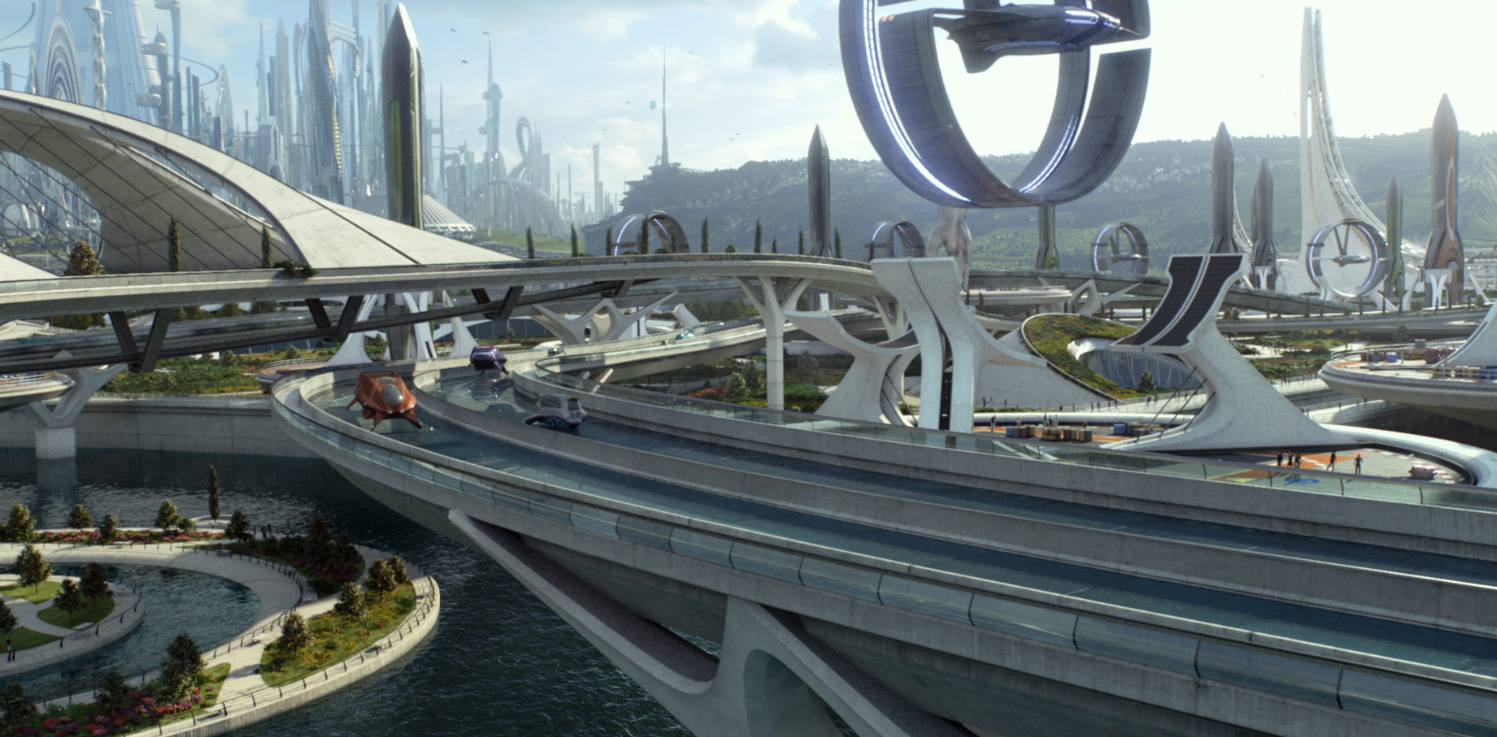 TOMORROWLAND
Following the Super Bowl spot for director Brad Bird's Tomorrowland, Walt Disney Pictures has also brought online TakeMeToTomorrowland.com, a site created in partnership between Disney and Google that will, this spring, transport audiences into a 360° Tomorrowland environment. For now, the site features new images of Tomorrowland. From Disney comes two-time Oscar winner Brad Bird's Tomorrowland, a riveting mystery adventure starring Academy Award winner George Clooney. Bound by a shared destiny, former boy-genius Frank (Clooney), jaded by disillusionment, and Casey (Britt Robertson), a bright, optimistic teen bursting with scientific curiosity, embark on a danger-filled mission to unearth the secrets of an enigmatic place somewhere in time and space known only as "Tomorrowland." What they must do there changes the world – and them – forever. Featuring a screenplay by "Lost" writer and co-creator Damon Lindelof and Brad Bird, from a story by Lindelof & Bird & Jeff Jensen, Tomorrowland promises to take audiences on a thrill ride of nonstop adventures through new dimensions that have only been dreamed of. The film also stars Hugh Laurie as brilliant scientist David Nix, Raffey Cassidy, Tim McGraw, Judy Greer, Kathryn Hahn, Keegan-Michael Key and Thomas Robinson. Tomorrowland opens in U.S. theaters on May 22, 2015.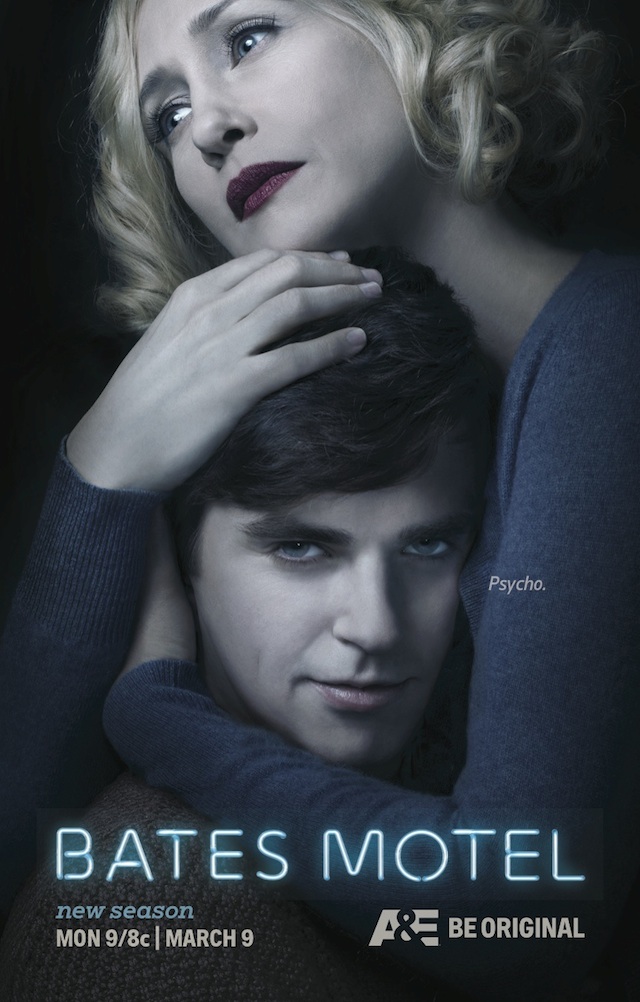 BATES MOTEL
Following a stylish teaser video last month, A&E Networks has today debuted the poster art for the upcoming third season of their hit series, "Bates Motel." Aimed to be filled with family strife, murder and mystery, the third season of "Bates Motel" is lead by Vera Farmiga as Norma Bates and Freddie Highmore as her son, Norman. This season focuses on the evolution of the Bates family and dives head first into Norman's waning ability to stay in denial about what's happening to him and the lengths he will go to gain control of his fragile psyche. The dramatic events of last season leaves Norma reluctantly more aware of Norman's mental fragility and is fearful of what he is capable of. After a blissful summer of closeness with his mother, living within the safe confines of home and the Bates Motel, Norman's fears about what really happened with Blaire Watson resurface and Norma questions what really happened. Forced to look at the truths about Norman for the first time, their deeply intricate relationship continues to evolve. Norma finds herself turning to the other man in her life, Norman's half-brother, Dylan (Max Thieriot) and begins to rely on him in ways that she never expected. This relationship inevitably triggers jealousy in Norman and a new kind of love triangle between Norma and her two sons erupts. Estranged brother and uncle, Caleb (Kenny Johnson) returns to haunt the family throughout the season challenging the family bond even further. Pressures of the outside world take a hold of the family when newcomers Kevin Rahm ("Mad Men," "Desperate Housewives"), Tracy Spiradakos ("Revolution") and Ryan Hurst ("Sons of Anarchy") arrive at White Pine Bay. After a summer of living at the Bates Motel, Sheriff Romero (Nestor Carbonell) and Norma have grown closer but there will always have that troubling question mark surrounding Norman. Something doesn't feel right, but spite of his instincts, Romero finds himself continually drawn back to the Bates family — and to Norma. Emma (Olivia Cooke) also determined to find out what is happening to Norman becomes more emboldened, fearless, goes after the things she wants. Familiar face, Bradley (Nicola Peltz) returns to surprise the family and digs up old memories. "Bates Motel" season three premieres Monday, March 9 at 9:00 ET/PT on A&E.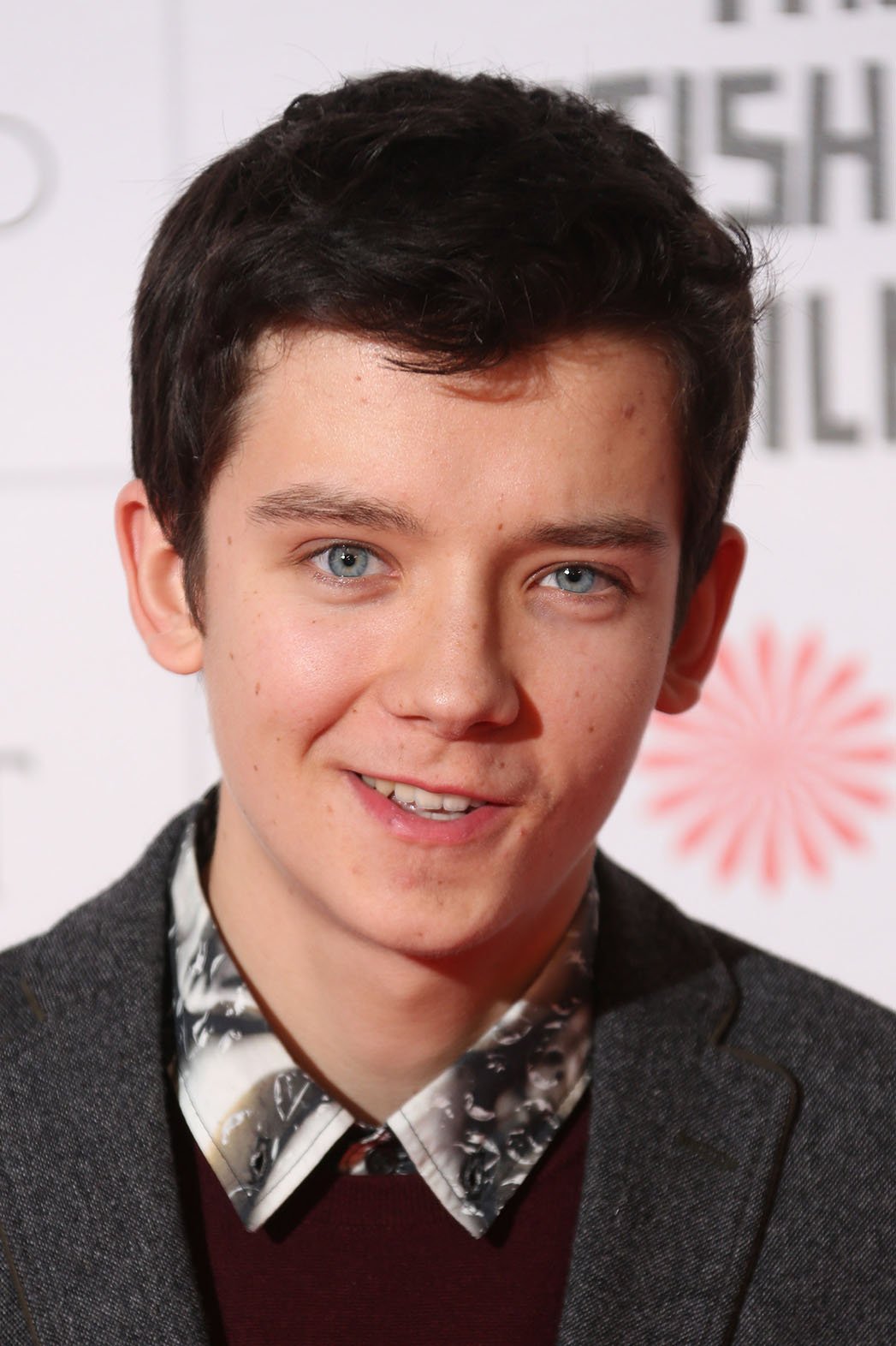 OUT OF THIS WORLD
Relativity's upcoming family science fiction adventure Out of this World (which locked Hector and the Search for Happiness director Peter Chelsom last August) has, according to a story today at The Hollywood Reporter, set Ender's Game and Hugo star Asa Butterfield to headline. Scripted by Allan Loeb (The Dilemma, Rock of Ages), Out of this World follows a boy named Gardner (Butterfield), who has been raised on Mars by a team of scientists. Returning to Earth as a teen, Gardner winds up traveling across the United States on a road trip with a young woman to find his biological father. Butterfield, also well known for his leading role in mark Herman's powerful World War II drama The Boy in the Striped Pajamas, is next slated to star opposite Eva Green in Tim Burton's upcoming adaptation of Ransom Rigg's Peregrine's Home for Peculiars, set for release on March 4, 2016. Ryan Kavanaugh and Richard B. Lewis will produce Out of this World with Loeb executive producing alongside Sasha Harrari, Steven Pearl and Tucker Tooley.
MONDAY, FEBRUARY 2, 2015
NBC dropped a new trailer during Super Bowl XLIX for its 2015 revival of "Heroes," "Heroes Reborn," that revealed two new things about the show (other than the fact that the graphics budget is on point): Horn-Rimmed Glasses is back, and Zachary Levi is there too. Of course, those are two things we knew thanks to mysterious, information-less press releases, but it's nice to get some visual confirmation. The Super Bowl teaser features a mysterious person in a parka being watched by the ever-shady HRG, who is in turn being watched by Levi, also in a parka, through a pair of binoculars. Yep, everything surrounding the rebooted series is still pretty mysterious, but it's cool to see nonetheless -- and nice of NBC to offer an as-yet-unscheduled show such prime promotional real estate. Actually, production on "Heroes Reborn" hasn't begun yet. "The train's moving down the road," creator Tim Kring tells Zap2it at the winter TV press tour. The writer's room is up and running and the show should be on the air at some point in 2015, but "It's all locked," Kring says. "It's Fort Knox." Jack Coleman, a.k.a. HRG, is the only original star attached to the new series, and Levi is the only announced new cast member for the show. Kring has said in interviews that the new series will largely focus on new characters, and the returning characters will provide continuity with earlier seasons. TOMORROWLAND
By now, anyone who's seen a trailer for Disney's "Tomorrowland" has probably heard George Clooney ask one particular, thought-provoking question: "What if there was a place where nothing was impossible?" But during the new trailer, which premiered during Super Bowl XLIX, Clooney stopped asking questions -- OK, he still asked the question -- and started revealing a little bit more about "Tomorrowland." In the above trailer, not only is the actual world of "Tomorrowland" explored a little bit more, but new characters -- oh hey, "House"s' Hugh Laurie -- are introduced. Additionally, a gigantic and epic spaceship is seen taking off with a quite startled Clooney inside. No, not much more than that was revealed, but, still, that's more before. "Tomorrowland" -- which comes from "Lost" co-creator Damon Lindelof, Jeffrey Jensen and Brad Bird -- is a mystery adventure that follows former boy-genius Frank (Clooney) and "bright, optimistic teen" Casey (Britt Robertson) as they take off on a mission to figure out the secrets of an "enigmatic place somewhere in time and space known only as 'Tomorrowland.'" "Tomorrowland" is set to hit theaters on May 22, 2015. JURASSIC WORLD
Hold on to your butts -- it's time to head to "Jurrassic World" in the newest trailer for the summer 2015 blockbuster. The clip was the first of many tentpole movie trailers to debut during Super Bowl XLIX. Although no one's ever mad about seeing more Chris Pratt, the new trailer contained more of what we're all waiting for: dinosaurs. Lots and lots of dinosaurs. There were also shots of Pratt, of course -- the Universal marketing people aren't insane, after all -- but the new spot features way more cool dinos than the last ones. (Plus: Pratt wrangling dinos! We all win.) "Jurassic World" takes place 22 years after the incidents of "Jurassic Park," and Isla Nubar is now a functional dinosaur theme park that has been open for a decade -- with declining visitor rates. To attract more visitors, the park's corporate leaders demand a new attraction. Guess what? Things go very, very wrong. You'd think they would've learned from the first two movies. "Jurassic World," directed by Colin Trevorrow and co-starring Bryce Dallas Howard, David Oyelowo, Vincent D'Onofrio, Judy Greer, BD Wong, Jake Johnson and more is set to hit theaters on June 12, 2015. SEVENTH SON
Legendary Pictures and Universal Pictures have revealed their Super Bowl spot for Seventh Son, which opens in theaters this week. Directed by Sergei Bodrov, the action adventure stars Jeff Bridges, Ben Barnes, Alicia Vikander, Kit Harington, Olivia Williams, Antje Traue, Djimon Hounsou and Julianne Moore. It is based on the book "The Spook's Apprentice" (AKA "The Last Apprentice: Revenge of the Witch") by Joseph Delaney. In a time of enchantments when legends and magic collide, the sole remaining warrior of a mystical order (Oscar winner Jeff Bridges) travels to find a prophesized hero born with incredible powers, the last Seventh Son (Ben Barnes). Torn from his quiet life as a farmhand, the unlikely young hero embarks on a daring adventure with his battle-hardened mentor to vanquish a dark queen (Julianne Moore) and the army of supernatural assassins she has dispatched against their kingdom. FANTASTIC FOUR
Nearly one month after producer Simon Kinberg confirmed that the first trailer for 20th Century Fox's The Fantastic Four will be attached to prints of Kingsman: The Secret Service, the first footage has actually arrived online early! Director Josh Trank and screenwriter-producer Simon Kinberg have also gathered for a special director commentary. They examine the tiniest details and plot points. We also have a number of screen grabs. The Fantastic Four is a contemporary re-imagining of Marvel's original and longest-running superhero team, centering on four young outsiders who teleport to an alternate and dangerous universe, which alters their physical form in shocking ways. Their lives irrevocably upended, the team must learn to harness their daunting new abilities and work together to save Earth from a former friend turned enemy. Miles Teller (Mr. Fantastic), Michael B. Jordan (The Human Torch), Kate Mara (The Invisible Girl) and Jamie Bell (The Thing) star as superhero quartet, as they band together to stop the nefarious Victor Domashev, a.k.a. Doctor Doom (Toby Kebbell). The supporting cast is rounded out by Tim Blake Nelson and Reg E. Cathey in director Josh Trank's superhero reboot. Take a look at the first footage, and chime in with your thoughts below! The Fantastic Four is slated to hit theaters nationwide August 7, 2015.
SUNDAY, FEBRUARY 1, 2015
MORE ARROW/FLASH NEWS
The current seasons of Arrow and The Flash are shaping up to be great, and it sounds like The CW hits will not be resting on their laurels.

Spoilers ahead for The Flash and Arrow!

The network has revealed the synopses for upcoming episodes of both shows, and they include some major revelations as to where the writers are taking the superhero tales next. Manu Bennett's Deathstroke was one of the coolest things about season two of Arrow, and the formidable baddie is coming back for a victory lap.

Apparently Malcolm (John Barrowman) will somehow find his way to the secret prison on Lian Yu island — with Oliver (Stephen Amell) and Thea (Willa Holland) in tow. Yeah, that could be interesting. To make it even better? Deathstroke is still hanging around and is guaranteed to cause some problems for the gang. Oh, and old favorite Tommy (Colin Donnell) will also be making a cameo. In flashbacks, of course. Since, you know.

Over on The Flash, they're finally getting ready to start paying off some Firestorm stories. Some type of massive explosion apparently separates Ronnie (Stephen Amell) from Dr. Stein (Victor Garber), meaning he can get back to his life and quit bursting into flames. Sadly, this development comes at about the same time General Eiling (Clancy Brown) targets Firestorm. Whoops.

Both episodes are slated to air Feb. 17 and 18. It sounds like this could be one heck of a fun week for superhero fans. Check out the full synopses below and let us know what you think:

GENERAL EILING TARGETS FIRESTORM — After the nuclear explosion separates Ronnie (guest star Robbie Amell) and Dr. Stein (guest star Victor Garber), Barry (Grant Gustin) and the team believe both men are safe. Caitlin (Danielle Panabaker) is thrilled to have her fiancé back and prepares to resume their life together while Dr. Stein returns to his wife. However, when General Eiling (guest star Clancy Brown) targets Firestorm, Ronnie and Dr. Stein must decide if they are safer together or apart. Meanwhile, Mason Bridge (guest star Roger Hayworth) tells Iris (Candice Patton) that there is something secretive going on at S.T.A.R. Labs and Dr. Stein gives Barry some important information about time travel. Steve Surjik directed the episode written by Keto Shimizu & Ben Sokolowski.

THE RETURN OF DEATHSTROKE AND TOMMY MERLYN — Malcolm (John Barrowman) puts Oliver (Stephen Amell) and Thea (Willa Holland) in a dangerous situation that lands them on Lian Yu with Oliver's former enemy, Deathstroke (guest star Manu Bennett). A flashback reveals when Oliver and Maseo (guest star Karl Yune) returned to Starling City to retrieve the Omega bio weapon, and despite being under strict orders from Amanda Waller (guest star Cynthia Addai-Robinson) not to reveal himself to anyone, Oliver looks in on his family, Laurel (Katie Cassidy) and Tommy (guest star Colin Donnell). Dermott Downs directed the episode written by Marc Guggenheim & Erik Oleson.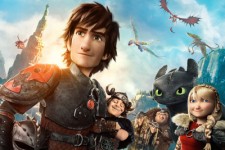 ANNIE AWARDS
Following its win at the 72nd Golden Globe Awards, DreamWorks Animation's How to Train You Dragon 2 took Best Animated Feature top honors at ASIFA-Hollywood's 42nd Annual Annie Awards held Saturday, January 31 at UCLA's Royce Hall.
The full list of nominees for the 42nd Annual Annie Awards
The Best Animated Special Production was awarded to "Cosmos: A Spacetime Odyssey" (Voyager Pictures LLC); Best Animated Short Subject to Feast (Walt Disney Animation Studios); Best Animated TV/Broadcast Commercial to "Flight of the Stories" (Aardman Animations); Best General Audience Animated TV/Broadcast Production for Preschool Children to "Tumble Leaf" (Amazon Studios); Best Animated TV/Broadcast Production for Children's Audience to "Gravity Falls" (Disney Television Animation); Best General Audience Animated TV/Broadcast Production to "The Simpsons" (Gracie Films in association with 20th Century Fox Television); Best Animated Video Game to Valiant Hearts: The Great War (Ubisoft); and Best Student Film to My Big Brother (Savannah College of Art and Design, Jason Rayner).
The Annie Awards honor overall excellence as well as individual achievement in a total of 36 categories from best feature, production design, character animation, and effects animation to storyboarding, writing, music, editing and voice acting, and have often been a predictor of the annual Academy Award for Best Animated Feature. A complete list of winners can be viewed at AnnieAwards.org.
"Our industry waits all year for this event and it never disappoints," said ASIFA-Hollywood Executive Director, Frank Gladstone. "This was a terrific night with something for everyone. It was fun to take a look back at our history, celebrate and honor what we have accomplished over the past year, and even look forward a little to what is in store for 2015 and beyond."
Presenting the coveted Annie trophies this year were the comedy-folk duo Garfunkel & Oates – actress-songwriters Riki Lindhome and Kate Mucucci; Veteran voice talent and industry legend June Foray; Songwriter and music director Richard Sherman; Filmmaker and artist Tomm Moore; Industry professionals Leslie Iwerks, John Musker, Ron Clements and ASIFA-Hollywood president Jerry Beck and Executive Director, Frank Gladstone.
This year's Juried Award recipients included Winsor McCay lifetime achievement award – producers Didier Brunner and Lee Mendelson, and legendary animator Don Lusk; June Foray benevolent service award – author and critic Charles Solomon; Ub Iwerks technical achievement award – DreamWorks Animation's Apollo Software; and the Annie Special Achievement award – The Walt Disney Family Museum.
AGENT CARTER
We've officially hit the halfway mark on ABC's latest Marvel Cinematic Universe adventure, the limited series "Marvel's Agent Carter." With four more episodes to go, the series has a special treat for fans with next week's episode, "The Iron Ceiling," as it features the return of Neal McDonough's Dum Dum Dugan (previously seen in both Captain America: The First Avengers and the Marvel One-Shot "Agent Carter") and the rest of the Howling Commandos!
Set to air next Tuesday, February 3, "The Iron Ceiling" is officially described as follows:
Peggy is finally trusted with a mission and calls upon her trusted Howling Commandos squad for backup. But her cover could be at risk when SSR Chief Dooley also sends Agent Thompson with her.
Airing on ABC Tuesday nights at 9:00pm ET/PT, "Marvel's Agent Carter" stars Hayley Atwell as Agent Peggy Carter, Chad Michael Murray as SSR Agent Jack Thompson, Enver Gjokaj as SSR Agent Daniel Sousa, James D'Arcy as Edwin Jarvis, and Shea Whigham as SSR Chief Roger Dooley. The series was written by Christopher Markus and Stephen McFeely. Executive producers are Tara Butters, Michele Fazekas, Christopher Markus, Stephen McFeely, Chris Dingess, Kevin Feige, Louis D'Esposito, Alan Fine, Joe Quesada, Stan Lee and Jeph Loeb.
"Marvel's Agent Carter" is produced by ABC Studios and Marvel Television.
TOMMORROWLAND
ased on the incredibly secretive nature of the project and the talents involved in the film on screen and off, it's easy to see why 'Tomorrowland' is one of the most anticipated movies of the year. At their joint panel with 'Big Hero 6' at last year's New York Comic Con, Disney debuted the first trailer featuring stars George Clooney and Brit Robertson to a very receptive Main Stage audience. And though fans have to wait until May to uncover the entire mystery, those tuning in for the Super Bowl will get a very special sneak peek.
Recently, the Mouse House carved out a coveted spot of advertising for Brad Bird and Damon Lindelof's upcoming sci-fi adventure during this Sunday's showoff between the Seattle Seahawks vs. the New England Patriots. Accompanying the announcement came a ten-second teaser for the thirty-second ad that will air in front of TV's biggest audience of the year. It doesn't really offer anything new other than a split second of new footage, but it's a nice appetizer for the main course this weekend. You can see the TV spot below, followed by the official synopsis of the film:
Bound by a shared destiny, former boy-genius Frank, jaded by disillusionment, and Casey, a bright, optimistic teen bursting with scientific curiosity, embark on a danger-filled mission to unearth the secrets of an enigmatic place somewhere in time and space known only as "Tomorrowland." What they must do there changes the world—and them—forever.
What do you think of Disney basically releasing a trailer for the trailer of 'Tomorrowland'? Will you be tuning into the Superbowl to catch the whole thing? Let us know in the comment section.
'Tomorrowland' starring George Clooney, Brit Robertson, Hugh Laurie, Raffey Cassidy, Tim McGraw, Judy Greer, Kathryn Hahn, Keegan-Michael Key, and Thomas Robinson hits theaters on May 22, 2015.
TERMINATOR GENISYS
No need to have to sit through several plays of football to see the new trailer for 'Terminator Genisys' as it has been released in advance!
'Terminator Genysis' will basically retcon what we've already seen from the entire franchise. In this installment, Kyle Reese (Jai Courtney) will be sent back in time to protect Sarah Connor (much like he did in the original 1984 film) but it's not the Sarah Connor (Emilia Clarke) that we've come to know. This one is aware of her destiny and is not the naïve young woman that we first met but a savvy warrior woman much like the Sarah Connor from 'Terminator 2'. Raised by the old T-800, she is already knows all about Skynet and what is to become of our world.
The trailer doesn't give away too much but does emphasize that the film will be action packed (as seen by the end over end bus flip) as well as a brief promise of a showdown between a young and old Arnold Schwarzenegger that should be incredible to watch.
The year is 2029. John Connor, leader of the resistance continues the war against the machines. At the Los Angeles offensive, John's fears of the unknown future begin to emerge when TECOM spies reveal a new plot by SkyNet that will attack him from both fronts; past and future, and will ultimately change warfare forever.
'Terminator Genisys' stars Arnold Schwarzenegger, Emilia Clarke, Jason Clarke, Jai Courtney, Matt Smith, Byung-hun Lee, and J.K. Simmons and will be in theaters July 1, 2015.
Take care and I look forward to hearing from you.
Sandra Bruckner (sgbruckner@aol.com)
Editor/Publisher
ISN News: The Zocalo Today
http://www.isnnews.net
Copyright - SBruckner, 1999-2015