The Zocalo Today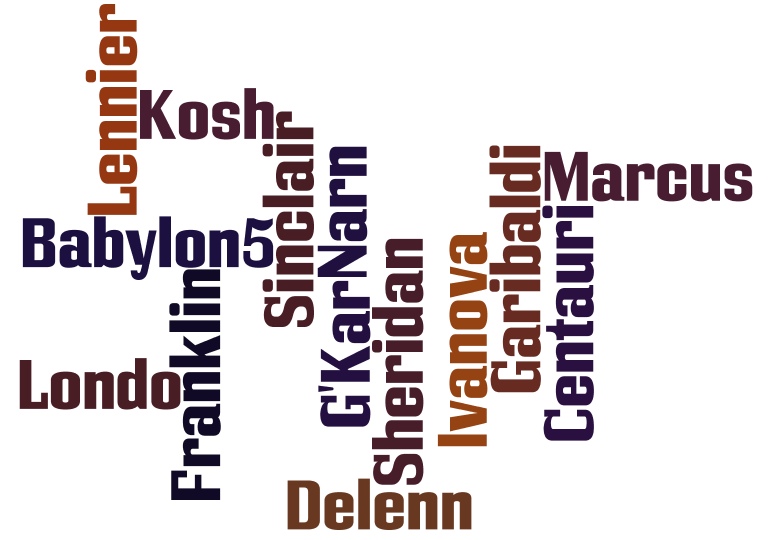 Welcome and thank you for dropping by. Babylon 5 brought many of us together -- and it remains with us, despite the fact that is no longer in production. The good thing is that the internet gives a LOT of ways to stay in touch. Don't be shy. Join in the discussion today or drop by Facebook or Twitter.

If you have questions or items for the news, drop me a line at sgbruckner@aol.com.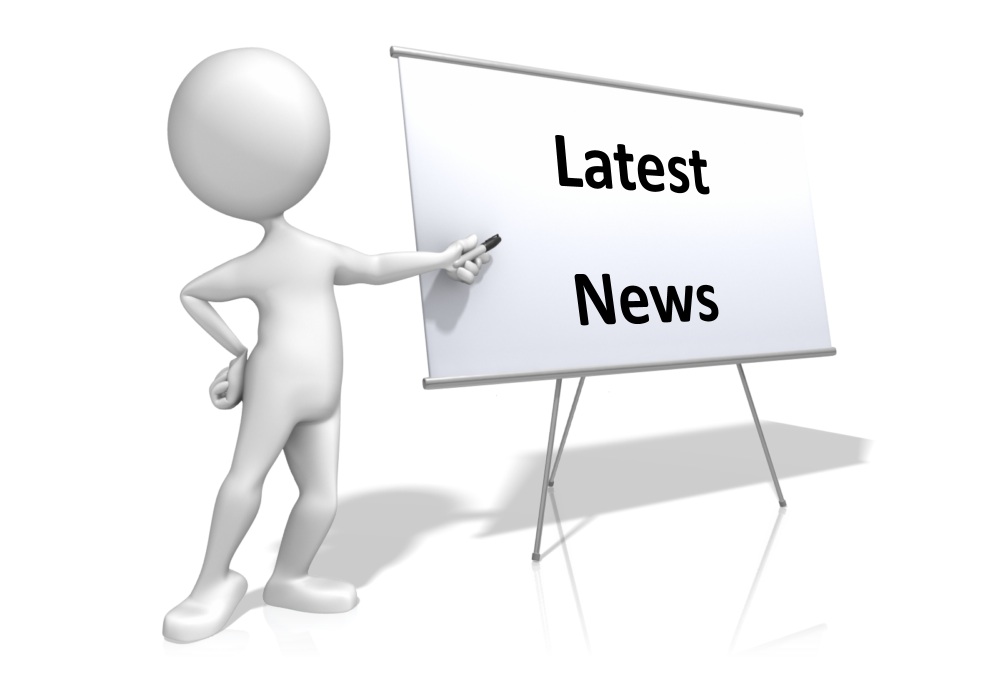 NEWS FROM SEPTEMBER 2015
TODAY'S SCIENCE FICTION NEWS:
TUESDAY, SEPTEMBER 29, 2015
TODAY'S NEWS
AGENTS OF S.H.I.E.L.D.
Agents of S.H.I.E.L.D. (ABC) Tuesday, 9 PM - "Laws of Nature" Season premiere! - Well, for a while we weren't sure we'd get to this point, but we've arrived. Agents of S.H.I.E.L.D. is back for Season 3, and there are a lot of dangling threads from Season 2 that we'll have to pay attention to. Will we really get a Secret Warriors team? Will we figure out what happened to Simmons? Will this Inhumans storyline reach the point that we actually get even bigger comic book characters on the show (I say this because all I want in life is live-action Lockjaw, guys)? Whatever the case, the stage is set for the most ambitious season of this show yet, so let's see how it plays out. COLOR OUT OF SPACE
One of the master of cosmic horror's greatest tales is being made into a film -- with an interesting choice behind the camera. According to EW (via Empire), H.P. Lovecraft's "The Colour Out of Space" is being adapted for the screen as Color Out of Space by writer/director Richard Stanley, whose last directorial effort, Dust Devil, came out all the way back in 1992. Backing the production is SpectreVision, an independent company (co-founded by The Lord of the Rings star Elijah Wood) that has already released the well-received A Girl Walks Home Alone at Night, as well as The Boy and the brand-new Cooties. SpectreVision co-founder Daniel Noah said in a statement, "H.P. Lovecraft is the undisputed father of literary horror, and yet, bafflingly, there has yet to be a cinematic treatment that captures the dark beauty of the man's oeuvre. Richard Stanley's note perfect adaptation of 'The Colour Out of Space' represents an epiphany for me, as it no doubt will be for legions of Lovecraft devotees around the world." "The Colour Out of Space," first published in 1927, remains one of the most acclaimed works of Lovecraft's career. It was his personal favorite of all his stories and is considered the first of his tales to overtly blend horror and science fiction. The story deals with a meteorite that crashes on a remote farm and unleashes an alien entity in the form of colors that are unrecognizable within the visible spectrum. The colors mutate the plant and animal life on the farm while slowly driving the farmer and his family insane. The story has been adapted for the screen twice before, as Die, Monster, Die! (starring Boris Karloff) in 1965 and as the little-seen The Curse in 1987. Stanley first arrived on the scene in 1990 with the cult sci-fi movie Hardware, moving on to the troubled Dust Devil two years later. In 1996, he began filming an adaptation of The Island of Dr. Moreau starring Marlon Brandon and Val Kilmer, but was removed from the project after just a few days. The story of that disastrous production and Stanley's involvement in it is chronicled in the recently released documentary Lost Soul: The Doomed Journey of Richard Stanley's Island of Dr. Moreau (more info on that here). Stanley has not directed another feature since then, focusing on documentaries and short films instead, but he has been working on a script for Color Out of Space for a while, saying last year, "There needs to be a scary Lovecraft movie. I want to make a bad trip film and 'The Colour Out of Space' definitely has what it takes to be a very, very bad trip indeed ..." It's true that while there have been a number of adaptations of Lovecraft's work, only the rare exception like Re-Animator has been both successful and good. Many adaptations have been either short films or indie features that have not gotten much exposure, while Guillermo del Toro's attempt to create an epic version of the author's At the Mountains of Madness was scrapped over budget issues with the studio, Universal Pictures. Do you think we're due for a great Lovecraft adaptation, and can Richard Stanley get the job done? The trailer above for Stanley's documentary The Otherworld -- it definitely has an eerie flavor to it that could be well suited to the work of the man from Providence.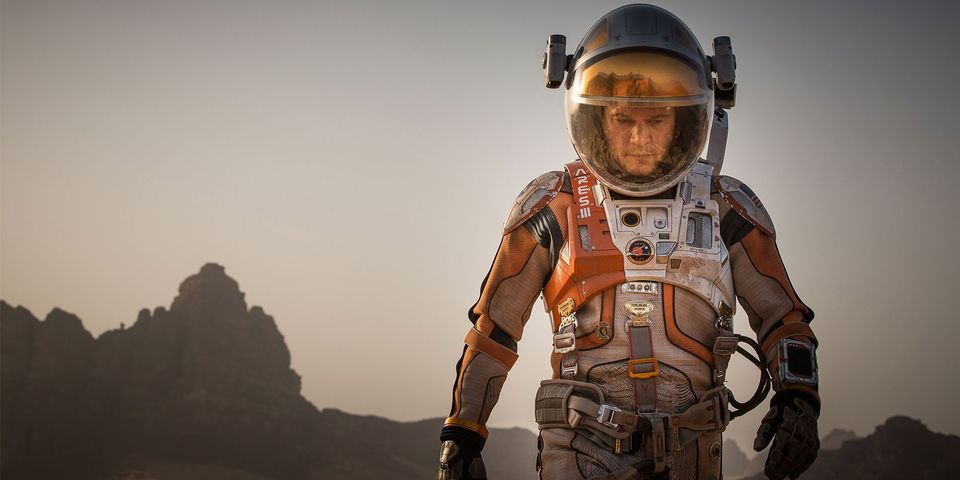 THE MARTIAN - MACGYVER ON MARS
Andy Weir is the author of hard science fiction novel The Martian, which started its life as a self-published book, then worked its way up the New York Times best-seller list and into the hands of Hollywood producers. The movie based on Weir's book, starring Matt Damon and directed by Ridley Scott, will hit theaters on Oct. 2, 2015. So, what does Weir think about the film version of his book? And could he live after being stranded on Mars, as his protagonist does? I spoke to Weir about the movie, as well as his chances of survival on the Red Planet. What did you think of the movie based on your novel, The Martian? Obviously, I'm incredibly biased, but I think it's a really good movie. When you're writing a book, there's not a lot of exposition you can [use to] describe the magnificent desolation of a place like Mars. The mountains in the distance? They're red. And then there's some hills in the foreground. They're red, too. If you do more than a paragraph or two of that, no matter how good a writer you are, the reader is just going to throw the book over their shoulder. Grand, sweeping vistas are practically [Ridley Scott's] trademark. The visuals [were] something that couldn't be done in the book and was done beautifully in the movie. How did you feel when you learned Ridley Scott was going to be directing the movie based on your book? I was pretty excited by that. I wondered, "Am I in a coma and just kind of fantasizing about all these things?" How different is the movie from your version? They had to pull stuff out, because otherwise the movie would be 10 hours long. But they picked the right things to remove, things that could be modularly taken out without [affecting] the over-arcing plot. I think it was a fantastic job. What kind of research did you do? I'd say over the three years I spent writing the book, I probably spent half my time researching. I didn't know anyone in aerospace at the time at NASA or JPL. I do now. All my research was just Google. Well, that and a lifetime of being a space dork. With all of that research, do you now feel you could survive being stranded on Mars? Do I think I, personally, could handle it? No, I'd probably die. I don't have the psychological makeup to handle that kind of stress. I'd fall apart. In the novel, protagonist Mark Watney handles his situation better than that: He never falls apart. Was that an intentional decision? That was on purpose. That wasn't the story I wanted to tell. I didn't want it to be a deep emotional story of a man's crippling fight against loneliness. I hate decompression scenes. The audience can decompress in their own time. I like plot-based stories. Basically, I wanted MacGyver on Mars. Did you see the XKCD comic about your book? When I saw XKCD mention The Martian, I contacted Randall Monroe and said, "Hey I'd love a printout of that comic with your autograph and I'll trade you a signed copy of The Martian for it." I haven't gotten it yet. SPOILERS FOR THE MARTIAN FOLLOW Watney survives on potatoes. Later in life, will he be able to eat a potato again? Probably not. In fact, I had an after-credit scene in mind that I pitched to the studio: After the credits are over, I wanted to show Watney at a McDonalds or Burger King. "I want a Big Mac and a chocolate shake." And they're, like, "OK, you want fries with that?" "No." "It's only 32 cents extra." And he's, like, "No fries." But they didn't go for it. THE X-FILES
Last night, both "Gotham" and "Minority Report," FOX were airing two halves of the first official X-Files trailer for their upcoming revival series. Although neither videos are of optimal quality, fans have already captured and posted both halves of the trailer. The X-Files returns to FOX with a special two-night event beginning Sunday, Jan. 24 (10:00-11:00 PM ET/7:00-8:00 PM PT), following the NFC Championship Game, and continuing with its time period premiere on Monday, Jan. 25 (8:00-9:00 PM ET/PT). David Duchovny and Gillian Anderson reprise their iconic roles as Agent Fox Mulder and Agent Dana Scully in the upcoming event series which will encompass a mixture of stand-alone investigative episodes and those that further the original show's seminal mythology. In the opening episode, Mulder and Scully take on a case of a possible alien abductee. The all-new episodes will feature appearances by guest stars, including Joel McHale ("Community"), Robbie Amell ("The Flash"), Lauren Ambrose ("Dig," "Six Feet Under"), Annabeth Gish ("The Bridge"), Annet Mahendru ("The Americans"), Rhys Darby ("Flight of the Conchords"), Kumail Nanjiani ("Silicon Valley") and William B. Davis, who reprises his role as "Cigarette Smoking Man." Three of the episodes are written and directed by Chris Carter, with the remaining new episodes written and directed by original series veterans Glen Morgan, Darin Morgan and James Wong. The X-Files originally premiered in September 1993. Over the course of its nine-season run, the influential series went from breakout sci-fi favorite to massive global hit, and became one of the most successful television dramas of all time. The show, which earned 16 Emmy Awards, five Golden Globes and a Peabody Award, follows FBI special agents Scully (Anderson) and Mulder (Duchovny), as they investigate unexplained cases – "X-Files" – for which the only answers involve paranormal phenomena.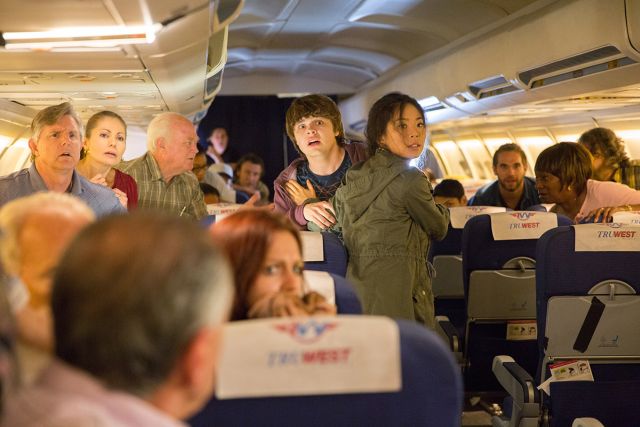 FEAR THE WALKING DEAD
Fear the Walking Dead is wrapping up its first season this Sunday, but the fear will still spread as AMC has announced a companion web series for the spin-off, officially titled "Fear the Walking Dead: Flight 462." A 16-part series, the first episode will debut on AMC.com on Sunday, October 4 and will air as promos during the Season 6 premiere of The Walking Dead on October 11. Subsequent episodes of "Flight 462," each less than one minute long, will debut every Sunday, online and then on-air as promos during new episodes of The Walking Dead, for the duration of Season 6. In addition, one of the characters featured in the web series, which is produced by Fear the Walking Dead showrunner and executive producer Dave Erickson and co-executive producer David Wiener, will join the cast of Fear the Walking Dead Season 2. "Fear the Walking Dead: Flight 462" tells the story of a group of passengers aboard a commercial airplane during the earliest moments of the outbreak. Over the course of the series, the plane and the lives of its passengers are put in jeopardy once they discover an infected traveler. The series is written by L. Signorino and Mike Zunic and directed by "Fear" director of photography Michael McDonough. "'Flight 462' is a great extension of the world of 'Fear' and will engage fans across multiple platforms with another riveting story set at the start of the fall of civilization," said Joel Stillerman, president of original programming and development for AMC and SundanceTV. "We are thrilled to be collaborating with Dave Erickson and David Wiener on another piece of original content. Watching how they'll bring one of these new characters to the second season of 'Fear' will be really exciting for viewers to follow." A companion series to The Walking Dead, Fear the Walking Dead explores the onset of the undead apocalypse through the lens of a fractured family in Los Angeles. The series, which debuted this August as the #1 series premiere in cable history with 10.1 million viewers, is executive produced by Robert Kirkman, Gale Anne Hurd, Greg Nicotero, David Alpert and showrunner Dave Erickson and produced by AMC Studios. The series will return for a second season of 15 episodes in 2016.

WEEKEND BOX OFFICE
Sony Pictures Animation's Hotel Transylvania 2 was expected by most to take the top spot at the box office this weekend, but the estimates from Box Office Mojo reveal that the animated sequel actually set a box office record. Hotel Transylvania 2 took in an impressive $47.5 million this weekend, surpassing its predecessor Hotel Transylvania's September opening weekend record of $42.5 million. The sequel opened in 3,754 theaters, over 400 more than the original movie, pulling in a solid $12,653 per-screen average. September isn't typically a huge month for box office receipts, but this animated franchise proves that families will still come out in full force, even though summer is officially over. Hotel Transylvania 2 brings back original voice cast members Adam Sandler, Andy Samberg, Selena Gomez, Kevin James, Steve Buscemi and David Spade, with new additions including Keegan Michael Key and Mel Brooks. The animated movie sequel didn't fare terribly well with the nation's critics, earning a 46% rating on Rotten Tomatoes, just a bit higher than Hotel Transylvania's 44% rating. The original movie earned $358.3 million worldwide from an $85 million budget, but we'll have to wait and see if the follow-up can match or surpass those numbers. The Intern, which boasts a cast lead by A-list stars Robert De Niro and Anne Hathaway, debuted in second place with $18.2 million, beating out The Maze Runner: The Scorch Trials, which dropped to third place with $14 million after taking the top spot last weekend. The Intern received mixed reviews from the nation's critics with a 56% rating on Rotten Tomatoes, with a $5,514 per-screen average from 3,305 theaters. The Maze Runner: The Scorch Trials's $14 million take is down 53.8% from last weekend's total, with an overall domestic take of $51.6 million from a $61 million production budget. The original Maze Runner earned $102 million at the domestic box office and $340 million worldwide, so this follow-up is well on its way to replicating its predecessor's success. Dylan O'Brien, Ki Hong Lee, Kaya Scodelario, Patricia Clarkson and Thomas Brodie-Sangster reprise their roles from the original, with new cast members including Jacob Lofland, Rosa Salazar and Giancarlo Esposito. Coming in fourth place this weekend is Universal Pictures' Everest, which expanded to 3,006 theaters after debuting in over 500 IMAX theaters last weekend. Everest jumped from fifth place last weekend to fourth place with $13 million, pulling in a $4,355 per-screen average. The film, which stars Jake Gyllenhaal, Jason Clarke, Josh Brolin and Thomas M. Wright, has earned $23.1 million in its two-week run, with an impressive 73% rating on Rotten Tomatoes. Black Mass dropped from second place to $11.5 million, dropping 49.1% in its second weekend, pulling in a $3,610 per-screen average from 3,188 theaters. Black Mass, which stars Johnny Depp, Joel Edgerton, Benedict Cumberbatch, Dakota Johnson, Kevin Bacon, Peter Sarsgaard, Jesse Plemons, Rory Cochrane and Adam Scott, has earned $42.6 million from a $53 million budget. The film is garnering Oscar buzz for Johnny Depp's performance, but we'll have to wait and see how Oscar oters react to the drama. Rounding out the top 10 is The Visit ($6.7 million, $52.2 million domestic), The Perfect Guy ($4.7 million, $48.8 million domestic), War Room ($4.2 million, $55.9 million), newcomer The Green Inferno ($3.4 million) and Sicario ($1.7 million, $2.3 million). The Green Inferno, director Eli Roth's first film in seven years, opened in 1,540 theaters but could only muster a paltry $2,269 per-screen average. The critics didn't receive this gory thriller too well, with a 38% rating on Rotten tomatoes. Sicario opened in just six theaters last weekend, pulling in an incredible $401,288 from just six theaters, for an astounding $66,881 per-screen average. This weekend, the critically-acclaimed thriller expanded slightly before its nationwide release next weekend, opening in 59 theaters for a stellar per-screen average of $30,000. Emily Blunt, Opening in limited release this weekend is Broad Green Pictures' 99 Homes starring Andrew Garfield and Michael Shannon, Drafthouse's The Keeping Room starring Hailee Steinfeld and Sam Worthington, A24 Films' Mississippi Grind starring Ryan Reynolds and Ben Mendelsohn, Stonewall, starring Jonathan Rhys Meyers, and Ashby, starring Mickey Rourke and Emma Roberts are all hitting theaters this weekend. 99 Homes took in $32,807 from two theaters with a $16,404 per-screen average, with Mississippi Grind pulling in $14,335 from just one theater. Stonewall earned $112,414 from 129 theaters, for a dreadful per-screen average of $871. No box office data was released yet for The Keeping Room and Ashby yet. Looking ahead to next weekend, 20th Century Fox's The Martian is the only film opening in wide release, although it will contend with Sicario in its nationwide expansion. The Martian has been getting plenty of praise itself leading up to next weekend's release, earning rave reviews after its world premiere at the Toronto International Film Festival earlier this month. Matt Damon leads an all-star cast including Kate Mara, Jessica Chastain, Kristen Wiig, Sebastian Stan, Sean Bean, Michael Peña, Mackenzie Davis, Chiwetel Ejiofor and Jeff Daniels in this outer space thriller from director Ridley Scott. On the heels of Everest's successful IMAX-only run, The Walk, starring Joseph Gordon-Levitt, will also debut on Wednesday, September 30 in IMAX, ahead of its nationwide release on October 9. Also opening in limited release is Lionsgate's Freeheld, The Weinstein Company's Shanghai and Well Go USA's Partisan. Be sure to check back on Tuesday for next weekend's box office predictions, and again one week from today for the box office estimates. Until then, take a look at the top 10 for this weekend at the box office.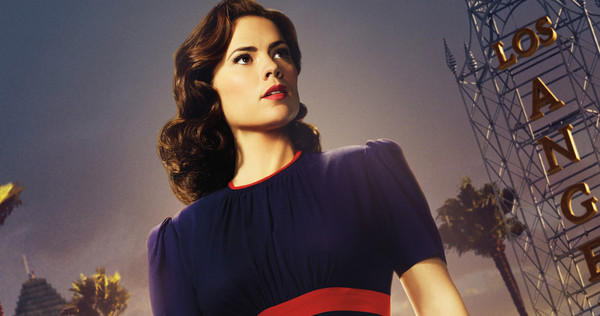 AGENT CARTER
Earlier this month, we reported that Marvel is bringing its hit shows Marvel's Agent Carter, Marvel's Agents of S.H.I.E.L.D., Marvel's Jessica Jones and Marvel's Daredevil to New York Comic-Con next month. While we get ready for NYCC to kick off in the Big Apple next month, Entertainment Weekly has debuted a new poster for Season 2 of Marvel's Agent Carter, featuring Hayley Atwell's Peggy Carter in Hollywood. It was confirmed earlier this year that the action will shift from New York to Los Angeles in Season 2. For fans who plan on attending NYCC, which runs from October 8 through October 11, you can pick up this one-sheet at the Marvel booth (#1354) throughout the weekend. Marvel's Agent Carter and Marvel's Agents of S.H.I.E.L.D. will be part of the panel Marvel Television Presents: Agents of Primetime, which takes place Friday, October 9 from 6:00 PM to 7:15 PM. It isn't known yet what will be shown from Marvel's Agent Carter, but fans in attendance at this panel will be the first to see an upcoming episode of Marvel's Agents of S.H.I.E.L.D.. Hayley Atwell revealed back in May that Marvel's Agent Carter Season 2 will have 10 episodes, two more than the first season. ABC hasn't issued an exact premiere date yet, but the show will return sometime in midseason, airing Tuesday nights at 9 PM during Marvel's Agents of S.H.I.E.L.D.'s hiatus. Executive producers Tara Butters and Chris Dingess confirmed in August that this season's main villain will be Whitney Frost, a.k.a. Madame Masque. The villain has been cast, although the producers have not revealed who will play this nefarious role, an announcement that may very well happen at NYCC. Dedicated to the fight against new atomic age threats in the wake of World War II, Marvel's Agent Carter Season 2 follows Peggy as she must now journey from New York City to Los Angeles for her most dangerous assignment yet. But even as she discovers new friends, a new home, and perhaps even a new love, she's about to find out that the bright lights of the post-war Hollywood mask a more sinister threat to everyone she is sworn to protect. Season 1 stars James D'Arcy (Edwin Jarvis), Chad Michael Murray (Jack Thompson),Enver Gjokaj (Daniel Sousa) have been confirmed to appear in the second season. While we wait for more details regarding Marvel's Agent Carter Season 2, check out the new poster featuring Hayley Atwell in the heart of Hollywood. Are you excited that this season will be shifting to Los Angeles, or would you prefer that the story stays in New York City? Let us know what you think, and stay tuned for more updates on Marvel's Agent Carter Season 2.
FRIDAY, SEPTEMBER 25, 2015
AGENTS OF S.H.I.E.L.D.
The first five minutes of "Marvel's Agents of SHIELD" Season 3 has been unleashed, giving fans a taste of what to expect from the show as it radically changes. Right out of the gate, viewers are shown Daisy Johnson (Chloe Bennett) — formerly known to you as Skye — and SHIELD as they take to the streets to recover someone with powers being hunted by a mysterious new villain (Constance Zimmer) and her crew. Not only does the cold open for the season premiere show off the new technology SHIELD is working with — and what better way to contain a hostile than a cell with jet engines to propel it — but Daisy's powers are on full display as she takes care of the new enemies with her powers in that awesome new costume of hers. Finally, fans get a look at the crew's new bus. With their old plane destroyed, Coulson and his team look to be flying in futuristic style — like you'd expect anything less. "Marvel's Agents of SHIELD" returns Tuesday, Set. 29, at 9 p.m. ET/PT on ABC.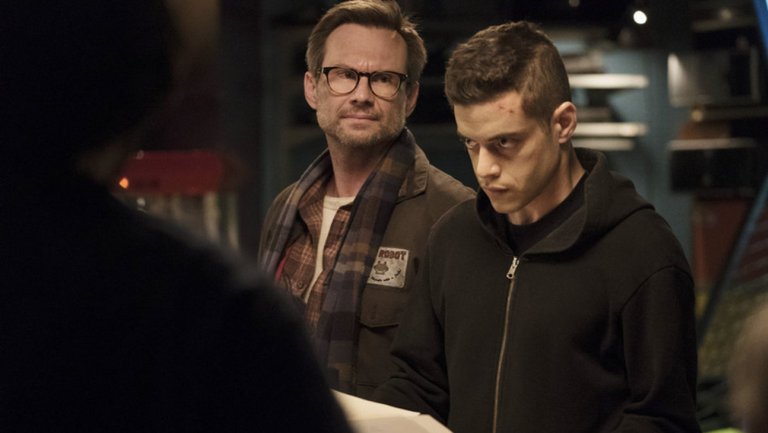 MR. ROBOT COMING TO AMAZON PRIME
USA's hacker drama Mr. Robot is headed to Amazon. The company has acquired Universal Cable Production's first-year critical darling, it was announced Friday. Under the pact, Amazon Prime will become the exclusive subscription streaming home for Mr. Robot beginning this spring. All ten episodes of the series will be available for Amazon Prime members in the U.S., U.K., Germany, Austria and Japan. From creator Sam Esmail, Mr. Robot stars Rami Malek as an antisocial hacker hoping to overthrow society and Christian Slater as the leader of the hacker group hoping to help him to do just that. "Mr. Robot is one the most compelling new dramas on television," said Amazon vp, digital video content acquisition Brad Beale in a statement. "Rami Malek delivers a mesmerizing performance and leads a great cast with an intriguing story full of dark twists. Prime members are going to love binging on this awesome show." This marks the latest deal between UCP and Amazon Prime, which is also home to Syfy'sDefiance and Warehouse 13 as well as USA's own Suits. "Mr. Robot is a tremendous success and Amazon Prime has provided a great opportunity to make the show even more accessible to audiences," said NBCUniversal Television and New Media Distribution president Frances Manfredi. "We are pleased that Amazon recognizes the high quality of NBCUniversal's content and is partnering with us in a network friendly way that allows viewers to watch the show when and where they want it." Mr. Robot's streaming deal makes sense given that the series first made a splash online. The pilot episode was seen by 2.7 million people across nearly a dozen online platforms in the month leading up to its linear launch. Hours before the show's network premiere, USA renewed Mr. Robot for a second season and also signed Esmail to an overall deal. The show proved a steady performer for the network this past summer.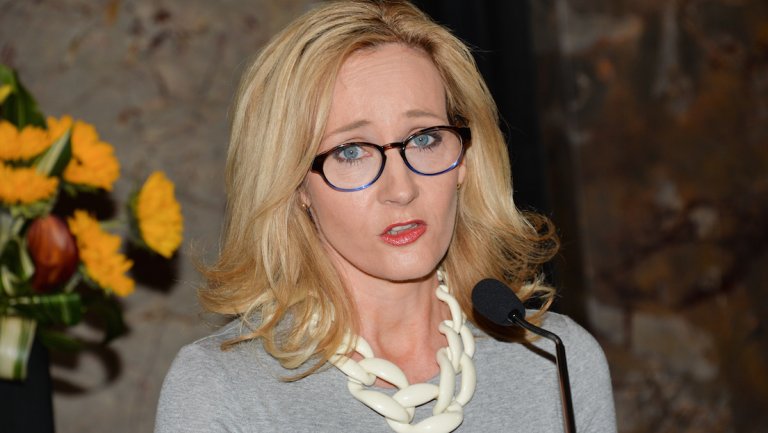 HARRY POTTER AND THE CURSED CHILD
The summer J.K. Rowling twitter-a-thon continues. She's tweeted out more about the Potter backstory, about Harry's kids and her views on why Draco would be a bad boyfriend. Now she's dropping future spoilers (of a kind). The author tweeted on September 24 that the forthcoming play Harry Potter and the Cursed Child will be staged in two parts. A follow up on Pottermore added quotes from director John Tiffany and writer Jack Thorne. Tiffany said, "I've never worked on anything quite like this before. Usually in theater you're adapting existing material or creating an entirely new play. With the Cursed Child we have been given the unique opportunity to explore some of the most cherished books and beloved characters ever written, yet work with J.K. Rowling to tell a story from that world that no one yet knows – it's exhilarating." The play (or at least part one) is scheduled to open sometime this summer in London's West End. There was no word on when the second part would debut. Plot details have been kept under wrap. Rowling has said the story was always intended as a play, that Harry isn't the cursed child and that the story isn't a prequel. Beyond that fans know nothing about the story. HOTEL TRANSYLVANIA 2
In director Genndy Tartakovsky's first Hotel Transylvania, Dracula (Adam Sandler) and his daughter Mavis (Selena Gomez) were living a peaceful life among monsters in a hotel. Once a human named Jonathan (Andy Samberg) entered though, his daughter fell in love and everything changed. In the sequel, Hotel Transylvania 2, which opens September 25, Mavis and Jonathan have gotten married and had a baby. Poor Grandpa Drac is worried that the little ginger guy isn't a monster. When he's left to baby sit, things take a turn for the worse. All of this while Mavis is trying to fit in with Jonathan's very human parents and considering a family move. We got a chance to chat with director Genndy Tartakovsky and producer Michelle Murdocca about the film and what we can expect. Mel Brooks plays Dracula's dad Vlad. Tartakovsky and Murdocca tell us how one directs a comedy legend. We also get their take on whether it's scarier to see monsters or to not fit in with your friends. Genndy Tartakovsky also talks about his directing style (he started his filmmaking career as a storyboard artist and has a very unique hands-on approach with the artists working under him.) We also get hints into how the classic scary monster legends have been changed to be kid-friendly. There was also an announcement from a few months ago that the Hotel Transylvania franchise will be heading to the small screen.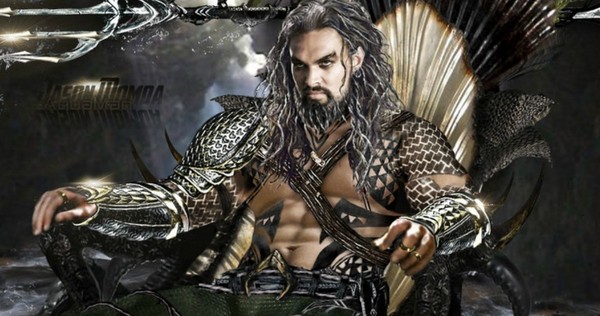 AQUAMAN
When the first image of Jason Momoa as Aquaman debuted, fans were shocked at how badass and Rob Zombie-fied he looked, sporting his tribal armor and tats, not to mention those knotty dreadlocks. He looked like someone you definitely would not want to mess with, but there was also the question of whether we would see him in his more traditional green and orange threads from the comic books, and now an interview with the actor for The Robot's Voice makes it sound like we may yet see the King of Atlantis unite the seven in style. "Well, there might be some bit of orange and green," Momoa hinted. "A bit of respect to prior work, but I think he is meaner now and upset – look at what has been done to our oceans. That's his world that has been polluted." Momoa also confirmed that he has indeed already been scanned for toy-making purposes, so keep an eye out for those bathtub-friendly Aquaman action figures very soon, hopefully in time for Christmas. "Yes I have," Momoa says of being scanned. "There will be collectibles." While his debut appearance in Batman v Superman: Dawn of Justice is rumored to be brief, there's a rumor that Arthur Curry/Aquaman may drop by as a death row guest at Belle Reve Penitentiary in the next Warner Bros. and DC Extended Universe film Suicide Squad before joining director Zack Snyder's The Justice League Part One in 2017 and then his own James Wan-helmed solo film titled simply Aquaman on July 27, 2018. Batman v Superman: Dawn of Justice stars Henry Cavill in the role of Clark Kent/Superman, and Ben Affleck as Bruce Wayne/Batman. The film also stars Gal Gadot as Diana Prince/Wonder Woman, with Amy Adams, Laurence Fishburne and Diane Lane returning from Man of Steel, and Holly Hunter in a role newly created for the film. Jason Momoa will also be making an appearance as Aquaman. The film is set to open worldwide on March 25, 2016.
WEDNESDAY, SEPTEMBER 23, 2015
TOUR THE ENTERPRISE-D
Did you ever dream of strolling down the corridors of the Enterprise-D, visit Ten Forward for some Romulan Ale before stepping onto the Bridge and walking into Capt. Jean-Luc Picard's Ready Room, preferably sober?

Good news then, because there's currently an Enterprise-D 3D Construction project which plans to r-ecreate Star Trek: The Next Generation's USS Starship Enterprise in its entirety in the Unreal Game Engine. Oh, and it's also ready for Oculus Rift! How awesome is that? The goal is to serve as a virtual museum, where you can explore every deck and room. The site reveals that fans will be able to visit areas such as engineering via the turbolift, walk from Deck 36 to Deck 5 to visit the Arboretum, check out Worf's quarters and look out the large forward windows on Deck 3.

This amazing virtual tour video (which currently features pre-Alpha footage and is to be considered a work in progress) -- accompanied by Jerry Goldsmith's sweeping Star Trek: First Contact score (one of my favorites -- always brings tears to my eyes) -- makes you feel as if you were indeed a member of the Enterprise crew. The sounds from the ship are meticulously re-created, but the only thing missing is for the ship to come alive with the crew of the Galaxy-class starship and their families.

Not only does Capt. Picard make a voice cameo, but so do other members of the crew, including Worf, Cmdr. Riker, Geordi La Forge and Deanna Troi. The video also has some other nifty "cameo" appearances from Star Trek: Deep Space Nine's runabout, the USS Rio Grande, and even a set of very famous props from ... Demolition Man. Make it so!

HEROES REBORN
The latest Heroes Reborn TV promo centers on Claire Bennet (Hayden Panettiere) and her grieving father Noah Bennet (Jack Coleman), aka HRG, seemingly confirming her death.

While the show opened with the awesome premise "Save the cheerleader, save the world" when it hit our TV screens back in 2006, now the Tim Kring series will have to find a new hero to save the world. Enter a whole new bunch of ordinary people waking up with extraordinary abilities -- and it looks like Robbie Kay's Tommy Clarke is ready to step up to the plate.-- and the return of some fan favorites.

With Claire Bear's ability to heal from everything -- yes, even death -- I'm curious to see how Claire's demise will stick ... if that's really her on that slab.

The saga behind the 2006 breakout series "Heroes" will continue this fall as creator Tim Kring returns to the fold and develops new layers to his original superhero concept. This highly anticipated 13-episode event series will reconnect with the basic elements of the show's first season, where ordinary people were waking up to the fact that they had extraordinary abilities.

"Forget about the past, save the future." Heroes Reborn will premiere with a two-hour episode on Sept. 24 on NBC.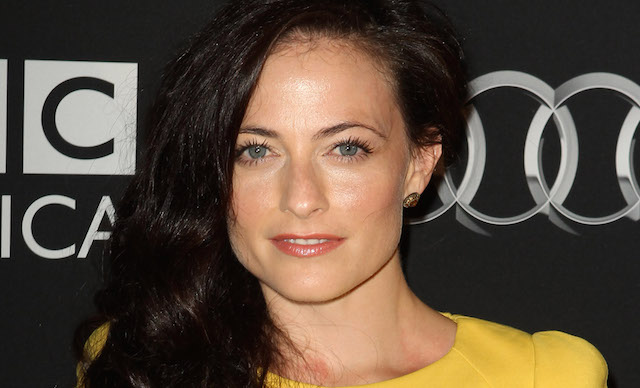 UNDERWORLD 5
The upcoming action franchise sequel Underworld 5 has today set Lara Pulver to star. Deadline has the news, reporting that the Sherlock star will join a cast that already includes Kate Beckinsale, Theo James, Bradley James and Tobias Menzies. Anna Foerster, who previously directed Tobias Menzies in the Starz series Outlander, will helm the feature film, making her the first woman to direct an entry in the Underworld series.
The first Underworld, directed by Len Wiseman, was released in 2003 and follows the adventures of Kate Beckinsale as Selene, a vampire "Death Dealer" caught in the war between vampires and Lycans. It was followed by Underworld: Evolution in 2006, Underworld: Rise of the Lycans in 2009 and Underworld: Awakening in 2012. Combined, all four films in the franchise have grossed over $450 million at the global box office.
In addition to playing Irene Adler on the BBC's Sherlock, Lara Pulver has appeared on TV series like "True Blood" and "Da Vinci's Demons" and has been on the big screen in feature films like Edge of Tomorrow and Language of a Broken Heart. There's no word yet on who she'll be playing in Underworld 5, but check back for full details when official plot information becomes available.
Underworld 5, scripted by Cory Goodman (Priest, The Last Witch Hunter), aims to begin production this October in Prague with a release date recently set for October 21, 2016. Producing the film is Wiseman himself alongside David Kern and Lakeshore Entertainment's Gary Lucchesi, Tom Rosenberg and Richard S. Wright.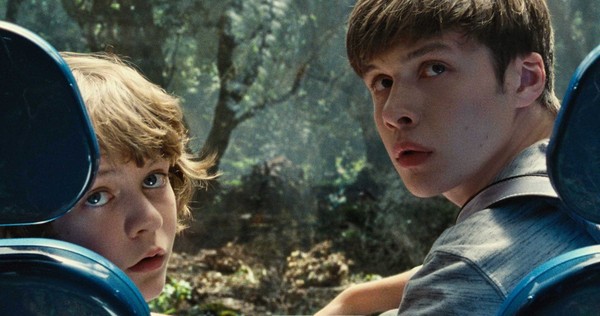 JURASSIC WORLD 2
While we still have three months left in 2015, it will be very hard for another movie to top the massive box office success of Jurassic World. The blockbuster took in $649.8 million domestically and $1.6 billion worldwide, and it didn't take long for Universal Pictures to announce a sequel, Jurassic World 2. Colin Trevorrow will come back for this highly-anticipated sequel, and during an interview with the Jurassic Cast Podcast, the filmmaker revealed that there are two quotes from the original Jurassic Park that essentially inspired both Jurassic World and Jurassic World 2.
"Honestly, the trilogy is articulated in Jurassic Park, it's all in there. Jurassic World is all based on Ian Malcolm's quote, 'You stood on the shoulders of geniuses to accomplish something as fast as you could, and before you even knew what you had, you patented it, and packaged it, and slapped it on a plastic lunchbox, and now you wanna sell it.' That to me is Jurassic World, that's why I had all the product placement, that's what it was. The second one, Jurassic World 2, and as we were driving we tried to find, what is the foundation? 'Dinosaurs and man, separated by 65 million years of evolution have been thrown back into the mix together. How can we know what to expect?' That's why it's exciting that the movie did well, that leaves us a lot of room to run, and it was part of this design, it had a beginning, middle, and end when we wrote the first movie. Now that the movie did well, we get to play that out."
The sequel will hit theaters on June 22, 2018, with Chris Pratt and Bryce Dallas Howard set to return as Owen Grady and Claire Dearing. Colin Trevorrow is coming back to co-write the screenplay for the sequel with Derek Connolly, although he is not returning as a director. The filmmaker revealed that the sequel will feature weaponized dinosaurs and will take place off of Isla Nublar. When asked about the follow-up, the filmmaker said the story will be taken to the next level.
"It will get to be a different kind of film. The audience has given us permission to a certain extent to take this to the next level, and I don't necessarily mean in scale, I feel very strongly that it's not about more dinosaurs or bigger and better dinosaurs, it's about using this as a starting point for a much larger story about our relationship with these animals and about animals in general and the dynamic created by bringing them back to life."
The filmmaker revealed that he mapped out an entire trilogy with co-writer Derek Connolly, during a road trip from Los Angeles to Vermont. While he wouldn't go into specifics about the third movie's plot, he did say that Bryce Dallas Howard's Claire Dearing will evolve the most throughout the trilogy, and that the sequel doesn't "manufacture" ways to take these characters somewhere else.
"Jurassic World was very much made with the fans in mind, and I'm not going to forget it, but now we've seen a lot of 'dinosaurs chasing people around on an island' movies. I think you guys and also the general audience is going to be down to explore where else we can go. We know Owen is going to be in it and Claire will be in it and neither will be in the same place that we left them in this movie, Even though Claire is the one who evolves the most over the trilogy, it's her story that mirrors this changing world, Owen has s**t to deal with. The two of them opened Pandora's Box in Jurassic World and each of them are responsible for different elements of it in different ways, and I think the way that these characters are connected to the circumstances of what's happening, it's different than the previous films. It's not 'Let's manufacture a way to get them somewhere,' they're embedded into it now in a way that as story tellers makes it much easier for us to keep them involved and doesn't feel as contrived."
Universal hasn't announced who will direct Jurassic World 2, and it isn't known how far along Colin Trevorrow and Derek Connolly are on the screenplay. Who do you think should direct Jurassic World 2? Or do you hope that Colin Trevorrow changes his mind and comes back to the helm? Let us know what you think, and stay tuned for more updates.
Jurassic World was released June 12th, 2015.
Jurassic World 2 comes to theaters June 22nd, 2018.
MONDAY, SEPTEMBER 21, 2015

NEVERWHERE TV SERIES
The Hunger Games director Francis Lawrence (The Hunger Games: Catching Fire, Mockingjay - Part 1, Mockingjay - Part 2) is working on a TV adaptation of Neil Gaiman's fantasy novel Neverwhere. Deadline reports that Lawrence will helm the adaptation, as well as executive-produce. Neverwhere actually started life as a miniseries (before subsequently becoming a novel) that aired in 1996 on the BBC in the UK, and on A&E in the U.S. A certain Peter Capaldi appeared on the series Gaiman co-created with Lenny Henry as the Angel Islington. It was most recently adapted has a successful BBC radio-drama that boasted a stellar voice cast that included James McAvoy, Natalie Dormer, Christopher Lee, Benedict Cumberbatch, Anthony Head, David Harewood and Sophie Okonedo. In urban fantasy Neverwhere, when Richard Mayhew encounters an injured girl named Door on the street one night, he decides to help her despite his fiancée's protests. Upon doing so he ceases to exist on Earth and becomes real only to the denizens of "London Below," whose inhabitants are generally invisible and non-existent to the people of "London Above." He loses his house, his job and nearly his mind as he travels London Below in an attempt to make sense out of it all, find a way back and help Door survive as she is hunted down by hired assassins. It being early days, there's no news as to where Neverwhere will land yet, but I'm really hoping the series finds a good home like Gaiman's American Gods, which was picked up to series at Starz under Bryan Fuller (Pushing Daisies, Hannibal) a few months back.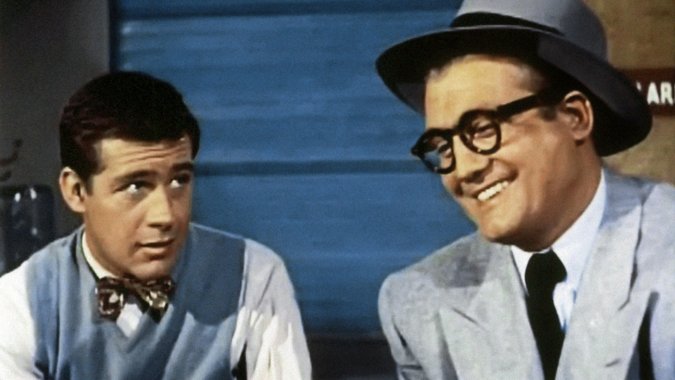 JIMMY OLSEN-JACK LARSON HAS DIED
ack Larson, forever typecast as the overeager cub reporter Jimmy Olsen on the 1950s television series Adventures of Superman, has died. He was 87. Larson, who later produced several films written and/or directed by his longtime companion, the late Oscar nominee James Bridges, died Sunday at his home in Brentwood, The New York Times reported. Further details of his death were not immediately available. In 1951, Larson signed up to play the hapless Olsen for $250 an episode on Adventures of Superman, the first TV show to feature the Man of Steel from the comics. At the time, he wanted to go to New York to tackle Broadway and didn't think the series — then one of the few to be filmed, not done live — would amount to anything. "The casting man and my agent talked to me very seriously about doing this," he recalled in a 2003 interview with the Archive of American Television. "They said, 'Look, you're a very mixed-up kid, do this. It's 26 shows, it's a season's work, and you'll have enough money to go to New York. It's probably like doing a Saturday morning serial. No one will ever see it. Take the money and run.' " After wrapping work on Superman in about five months, he did get to New York, did live television and appeared in Kid Monk Baroni (1952), notable for giving Leonard Nimoy his first major role. Meanwhile, Superman had premiered in syndication and had become an instant sensation. Larson suddenly was getting recognized on the subway as Jimmy, the wide-eyed, bowtie-wearing kid who kept running into trouble at The Daily Planet — only to be bailed out by Superman (George Reeves). Once, Larson said, the police had to rescue him from a restaurant after kids recognized him from the show. "My life had turned upside down," he recalled, "and this was not a good experience." Larson refused to do publicity for the series, hoping it would just go away. It didn't. "I wouldn't do a magazine interview, I wouldn't do anything, because I thought everything I do as Jimmy Olsen publicity is just a further nail in my coffin as an actor," he said. His contract kept him from doing much of anything else, and Larson would appear on Superman for six seasons (a seventh was shelved because of the sudden death of Reeves in June 1959; Larson believed it was suicide). He was forever typecast as Olsen and rarely worked as an actor again. Jack Edward Larson was believed to be born in Los Angeles on Feb. 8, 1928 (though he often said his birth year was 1933). An only child, he was raised a bit east of L.A. in Montebello. At age 14, he became a California state bowling champion in his age group and considered a career as a pro. He appeared in an MGM short film as a "kid kegler" with champion bowlers Ned Day and Hank Marino in a Santa Monica bowling alley owned by Harold Lloyd. After Larson was sent to Pasadena Junior College, his instructors discovered that he had a gift for writing and motivated him to put together plays and star in them as well. When Larson wrote and then appeared in a musical comedy about college kids on an Easter Week vacation, he was spotted by a Warner Bros. talent scout and given a screen test. "It sounds like an amazing thing to happen," he recalled in an interview for the school's archives, "but Hollywood discovered me at PJC's Sexson Auditorium. For a young stage actor like myself, movies really meant something, so you can imagine the excitement I felt." The audition led a contract and a role as Lieutenant "Shorty" Kirk in Raoul Walsh's Fighter Squadron (1948), a film that also marked the big-screen debut of Rock Hudson. After Superman was finished — he said his favorite episode was the Maltese Falcon-inspired "Semi-Private Eye" from 1954 — there was talk about doing a 13-episode show called Superman's Pal, Jimmy Olsen. "But it was not agreeable with me to go on and do that," he said in the TV Archive interview. Larson took to writing plays, including The Candied House, a mystery that was based on Hansel and Gretel and opened the L.A. County Museum of Art's Leo S. Bing Theatre in 1966, and Cherry, Larry, Sandy, Doris, Jean, Paul, a comedy about being gay that Bridges once helmed in London. Larson also wrote librettos for various operas like Virgil Thomson's prestigious Lord Byron, which premiered at New York's Lincoln Center in 1972. Larson couldn't resist the call of the old days and appeared in 1991 in the syndicated series Superboy. He played "Old Jimmy Olsen" (an older version of Justin Whalin) in a 1996 episode of ABC's Lois & Clark: The New Adventures of Superman, then was seen as a bartender in Bryan Singer's 2006 film Superman Returns. He also appeared in a 2010 episode of NBC's Law & Order: Special Victims Unit. Larson and Bridges met when they were supporting players in the cast of Johnny Trouble (1957), starring Ethel Barrymore in her final film. They later formed a production company, and Larson produced such Bridges films as The Baby Maker (1970), Mike's Murder (1984), Perfect (1985) and Bright Lights, Big City (1988). Bridges died of cancer in June 1993 at age 57. Larson, who also was close with actor Montgomery Clift until his death in 1966, shared a historical Frank Lloyd Wright-designed home on a Brentwood hillside with Bridges for years. "It was obvious to anyone that since we lived together we were partners," Larson told the Los Angeles Times in 2011. "We always went places together. We never pretended. I always did what I felt like doing. I never did publicity when I was very popular as Jimmy. The question [about being gay] never came up."

ISLAND OF DOCTOR MOREAU - TV SERIES
H.G. Wells' classic novel is being adapted for the small screen as The Hollywood Reporter today brings word that an Island of Doctor Moreau series is being developed for CBS with "Sleepy Hollow" co-creator Phillip Iscove scripting. According to the trade, the new version, titled Moreau, will take place in a contemporary setting and will reverse the gender of the title character, following Dr. Katherine Moreau and her own explorations into mad science. First published in 1896, Wells' The Island of Doctor Moreau follows shipwreck survivor Edward Prendick, who winds up on the mysterious Noble's Isle. There, the titular Moreau, a former London physiologist, has taken to experimenting on animals and, through vivisection, has created human-like beasts. The Moreau series is far from the first adaptation of the source material. Five different big screen takes have already been released to in theaters over the decades with another theatrical version in development at Warner Bros. Pictures and Leonardo DiCaprio's Appian Way. That version is being scripted by "Hemlock Grove" scribes Brian McGreevy and Lee Shipman and has DiCaprio producing alongside Jennifer Davisson Killoran and Michael Connolly of Mad Hatter Entertainment. Iscove will also executive produce the new Moreau series through CBS Television Studios with Frank Marshall and Robert Zotnowski also producing through the Kennedy/Marshall Company. H.G. Wells' original novel has long since lapsed into the public domain and the full text is available for free online at Project Gutenberg.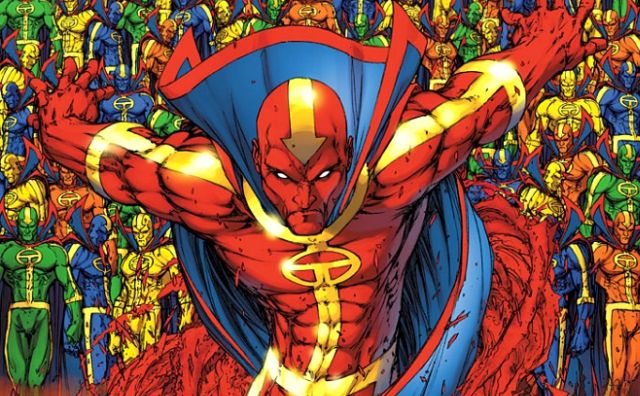 RED TORNADO-SUPERGIRL
DC Entertainment and CBS have released a first official look at Iddo Goldberg as Dr. T.O. Morrow, AKA Red Tornado, from the upcoming TV series Supergirl. In the series, the character is officially described as follows: "The most advanced android the world has ever seen. Designed by scientist T.O. Morrow for the U.S. Army as the ultimate superweapon, he soon becomes sentient, posing a grave danger to National City — including the people Supergirl cares about most." Created by Gardner Fox and Dick Dillin, Red Tornado made his first full appearance in 1968's "Justice League of America" #64, however the character's origins can be traced back even further to a 1960 issue of "Mystery in Space." In that title's 61st issue, readers were introduced to Ulthoon, called "The Tornado Tyrant" of the planet Rann. Ulthoon's consciousness was merged with a terrestrial android (constructed by T.O. Morrow) to become the Justice League's Red Tornado. Melissa Benoist leads the cast of Supergirl as the title character with a cast that also includes Mehcad Brooks as James Olsen, Laura Benanti as Alura Zor-El, Calista Flockhart as Cat Grant, Chyler Leigh as Alexandra "Alex" Danvers, Jeremy Jordan as Winslow "Winn" Schott, Jenna Dewan Tatum as Lucy Lane (sister of Lois), Iddo Goldberg as Red Tornado, David Harewood as Hank Henshaw, Peter Facinelli as Maxwell Lord, and Dean Cain and Helen Slater. Hailing from Warner Bros. TV and Berlanti Productions (who also produce the hit DC Comics series "Arrow" and "The Flash" for The CW), Supergirl is based on the characters from DC Comics and centers on Kara Zor-El, who comes to Earth after escaping the destruction of Krypton. After many years hiding her abilities, she joins the ranks of her cousin Superman to become the hero she was meant to be. The pilot episode of Supergirl was written by Ali Adler ("No Ordinary Family") and Greg Berlanti ("Arrow," "The Flash"). They will also executive produce along with Sarah Schechter and Warner Bros. TV. Supergirl will premiere on Monday, October 26 at a special time (8:30-9:30pm) before it moves to its regular time slot on Monday, November 2 from 8:00-9:00pm.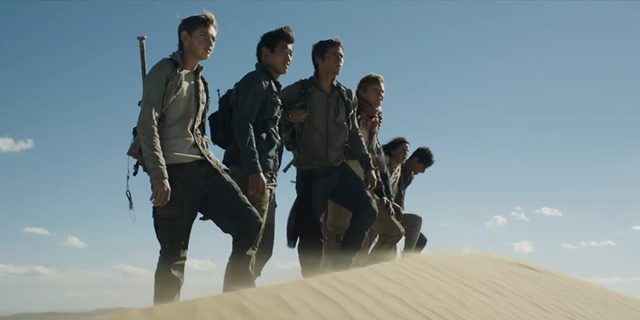 WEEKEND BOX OFFICE
While the box office is still doing pretty decently for September, two of the weekend's widest new releases didn't fare as well as hoped and expected while a number of more moderate and limited releases took business away from both of them. The sequel to last year's $100 million young adult hit The Maze Runner, 20th Century Fox's Maze Runner: The Scorch Trials, reunited director Wes Ball with Dylan O'Brien, Kaya Scodelario and Thomas Brodie-Sangster, as they were joined by the likes of Giancarlo Esposito, Aidan Gillen, Nathalie Emmanuel, Rosa Salazar and more for the adaptation of James Dashner's second novel in the series. It opened with $11 million on Friday including $1.4 million from Thursday previews, which in both cases was less than the opening for The Maze Runner a year ago this weekend, and according to Sunday estimates, it will end up with $30.3 million, which is less than the $32.5 million opening of its predecessor. While this might be surprising since The Maze Runner is one of the better received young adult adaptations (even though it didn't quite achieve the numbers of The Twilight Saga or The Hunger Games), it's also continuing the current trend that audiences just aren't into sequels as much as they have been in the past. It also had a lot more competition for any potential male audience from a number of new releases mentioned below and its reviews and "B+" CinemaScore weren't as strong as the original movie either. UPDATE: Maze Runner: Scorch Trials also opened internationally in 66 markets on over 12,000 screens where it grossed another $43.3 million which made it the top grosser of the weekend overseas with Korea leading the way with $7.5 million on 790 screens, 41% higher than the original The Maze Runner. It was the #1 movie in 30 of those territories with Universal's Everest (see below) being its top competition in others. The other big movie opening on Thursday night was Warner Bros.' crime-drama Black Mass, starring Johnny Depp as notorious Boston criminal "Whitey" Bulger. Directed by Scott Cooper (Out of the Furnace) and co-starring Joel Edgerton, Dakota Johnson, Julianne Nicholson, Rory Cochrane, Kevin Bacon and many more, it opened with an estimated $23.4 million in 3,188 theaters. That was below most expectations and projections for the weekend that thought it would open closer to $30 million and possibly give "The Scorch Trials" a run for the top spot, but it was still able to average $7,327 per theater. According to estimates, that's still less than Ben Affleck's Boston-based crime-thriller The Town opened with on the same weekend in 2010, but it received a respectable CinemaScore of "B" with 56% of its audience being male and 89% over the age of 26, according to exit polls, and it could sustain its business from opening weekend buzz despite having direct competition in the coming weeks. Dropping to third place, M. Night Shyamalan's low-budget horror flick The Visit took in $11.4 million in its second weekend, down 55% from its opening weekend as the highest-opening horror movie of 2015. It has grossed $42.4 million so far, which isn't bad for a movie that was produced for $5 million with low-budget masters Blumhouse Productions. Screen Gems' thriller The Perfect Guy, starring Sanaa Lathan, Michael Ealy and Morris Chestnut, also took a tumble in its second weekend, dropping 63% from its #1 opening to fourth place with $9.7 million and $41.4 million total to date. Universal's ensemble adventure-drama Everest, directed by Balthasar Kormakur (Contraband) and starring Jason Clarke, Josh Brolin, John Hawkes, Jake Gyllenhaal, Emily Watson and Keira Knightley, opened in 545 IMAX 3D and other large format theaters and had an estimated opening weekend of $7.6 million, a strong $13,736 per theater, to take fifth place, which bodes well for its nationwide expansion on Friday. $6 million of that amount was grossed in 366 North American IMAX theaters surpassing The Equalizer's September IMAX opening record of roughly half that amount. Internationally, Everest opened in 36 territories and brought in $28.2 million on 4,690 screens as the #1 movie in 12 of those markets, including Australia, Argentina, India, Mexico and Kormakur's home country of Iceland. Next week, it will add 22 more territories on top of its North American expansion. The hit faith-based family drama War Room (Sony/TriStar) is now the 5th-highest grossing faith-based film with $49.2 million after adding another $6.3 million in 1,945 theaters. It dropped from third to sixth place despite having a negligible drop-off of 19% in its fourth weekend. The rest of the Top 10 grossed less than $3 million, with Broad Green Pictures' A Walk in the Woods, starring Robert Redford and Nick Nolte, taking seventh place, followed by Tom Cruise's Mission: Impossible – Rogue Nation (Paramount Pictures) and Universal's rap biopic Straight Outta Compton, holding onto its Top 10 spot as it became the highest-grossing film by a black director with $159 million, surpassing Keenen Ivory Wayans' Scary Movie, which grossed $157 million in 2000. Sony Pictures Classics expanded Paul Weitz's Grandma, starring Lily Tomlin and Julia Garner, into a nationwide release of 1,021 theaters on Friday, and it ended up with $1.6 million or $1,557 per theater for the weekend, showing another weak expansion for the indie film subsidiary. Paramount Pictures' attempt to capitalize on the success of recent faith-based films backfired (maybe because that audience was well-sated by War Room), but they still released the drama Captive, starring David Oyelowo and Kate Mara, into 806 theaters, where it grossed $1.4 million or just $1,737 per theater, which wasn't enough to get into the Top 10. Although The Scorch Trials opened lower than last year's The Maze Runner, the box office was still up from this weekend last year as the Top 10 grossed an estimated $97 million, which was up roughly $7 million from the Top 10 last year. Lionsgate decided to give Denis Villeneuve's Mexican cartel crime-thriller Sicario, starring Emily Blunt, Josh Brolin and Benicio Del Toro, a platform release ahead of its wide release on October 2, and it did quite well, grossing an estimated $390,000 in 6 theaters in New York and Los Angeles. That's a location average of $65,000 per theater, which is probably one of the best per-theater averages this year. As far as other limited releases, Alchemy's Meet the Patels from Geeta and Ravi Patel opened in 34 theaters on Friday where it grossed $253,000, or $4,707 per theater. Bleecker Street's release of Pawn Sacrifice, starring Tobey Maguire as chess master Bobby Fischer, co-starring Liev Schreiber, Peter Saarsgard and Michael Stuhlbarg, opened similarly in 33 theaters where it grossed slightly less with $207,000 but with a higher $6,269 per theater.
FRIDAY, SEPTEMBER 18, 2015
THE LAST WITCH HUNTER
Here's the third trailer for Vin Diesel's supernatural action flick, The Last Witch Hunter, accompanied by a cool cover of The Rolling Stones' Paint It Black by Ciara. This latest look at the $90 million period horror spectacle boasts some impressive special effects and seems to avoid the repellant goofiness of other similar paranormal revenge movies like Nicholas Cage's Season of the Witch or Jeremy Renner's Hansel and Gretel: Witch Hunters. Diesel appears to be in furious form as an immortal warrior destined to take down the dastardly Witch Queen. Here's the official synopsis: The modern world holds many secrets, but the most astounding secret of all is that witches still live amongst us; vicious supernatural creatures intent on unleashing the Black Death upon the world. Armies of witch hunters battled the unnatural enemy across the globe for centuries, including Kaulder, a valiant warrior who managed to slay the all-powerful Queen Witch, decimating her followers in the process. In the moments right before her death, the Queen curses Kaulder with her own immortality, forever separating him from his beloved wife and daughter in the afterlife. Today Kaulder is the only one of his kind remaining, and has spent centuries hunting down rogue witches, all the while yearning for his long-lost loved ones. However, unbeknownst to Kaulder, the Queen Witch is resurrected and seeks revenge on her killer causing an epic battle that will determine the survival of the human race. Directed by Breck Eisner (The Crazies),The Last Witch Hunter opens wide October 23, 2015 and also stars Elijah Wood, Rose Leslie, Ólafur Darri Ólafsson, Julie Engelbrecht, and Michael Caine.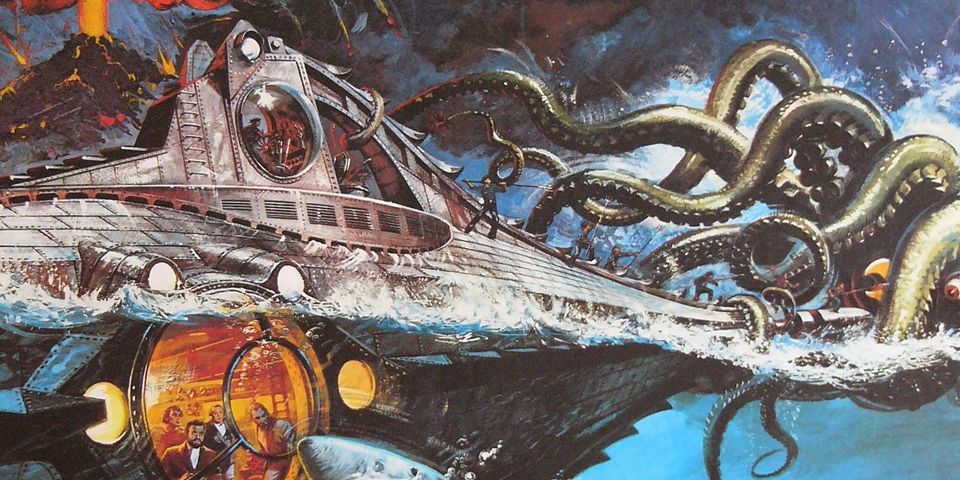 20,000 LEAGUES UNDER THE SEA
After directing two straight X-Men movies, Bryan Singer is taking a deep dive into a science fiction classic. Singer announced today on Instagram that his next movie will be an adaptation of Jules Verne's early genre novel, 20,000 Leagues Under the Sea. He posted a photo of the screenplay on the social networking site, writing in a caption, "It's my 50th birthday (ouch), and I just put the finishing touches on the script for my next film. A story I've wanted to retell since childhood." He added, "I promise this will be an epic and emotional adventure for all ages! An adventure very dear to my heart. Not abandoning the #xmen universe. Very excited about #xmenapocalypse and beyond. #julesverne #20000leaguesunderthesea #nemo." Verne's novel, first published in serial form in 1869, begins with sightings of a "sea monster" that turns out to be a highly advanced (for its time) submarine, called the Nautilus and commanded by the enigmatic Captain Nemo. Three survivors of an expedition that encountered Nemo's ship become both his prisoners and his guests, joining their host on a series of adventures as the Nautilus travels the globe under the waves. The book has been adapted (or spun off from) numerous times for every medium, including the stage, the big screen, TV and comic books, but the best known version is still probably the 1954 film produced by Walt Disney, starring James Mason as Nemo and Kirk Douglas as harpoonist Ned Land. Disney, in fact, has tried for many years to get a remake of its film off the ground, first hiring McG (Terminator: Salvation) and then David Fincher (Gone Girl) to direct. McG wanted Will Smith to play Nemo, while Fincher had approached Brad Pitt and Channing Tatum to star as Ned Land. Neither version, however, got out of the development process (even Sam Raimi got in the act at one point). It's not clear whether Singer's version will go through Disney, but he certainly seems committed to making it his next film after X-Men: Apocalypse arrives on May 27, 2016.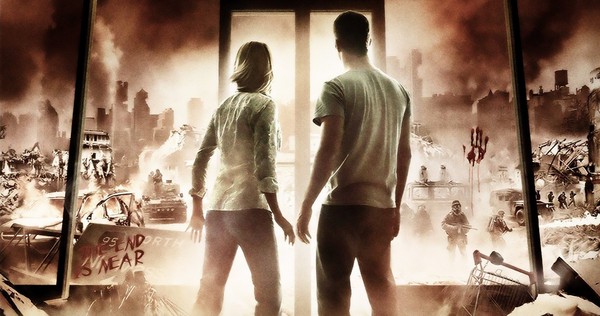 STEPHEN KING'S THE MIST
Just when you thought we were going into a Stephen King drought on TV with the cancellation of both Under the Dome and Haven, word comes that King's classic novella, The Mist, is being developed as a series. Dimension Television -- a division of the Weinstein Company, which produced the film version of The Mist in 2007 -- has announced that the story is being rebooted for television by writer Christian Torpe, who created the successful show Rita in Denmark and has developed programming for both Showtime and AMC. Dimension co-chairman Bob Weinstein said, "The terror and drama in Stephen King's novella are so vast that we felt serialized television is the best place to explore them in greater depth. With this show, Christian has created a fascinating band of characters and a story with infinite scares." The show is said to be influenced by both King's 1980 novella (originally published in the landmark horror anthology Dark Forces) and the movie version, which was written and directed by Frank Darabont (The Shawshank Redemption), yet it will apparently tell an original story, which indicates that Torpe will not re-use characters or the setting from its predecessors. Both King's tale and Darabont's movie took place in a Maine supermarket in which the customers are trapped by a strange mist that envelops their town. The mist, seemingly from another dimension, is home to a vast array of terrifying, nightmarish creatures, although in the story the people trapped in the market are almost as much of a menace to each other. The novella ended on a bleak, ambiguous note that hinted at the mist spreading across the world, so in theory there is a lot of potential there to tell more stories in a series format (the movie had a different, more conclusive ending). King must think so too, as he has already given this project his blessing. There's no word yet on when and where the show is expected to air.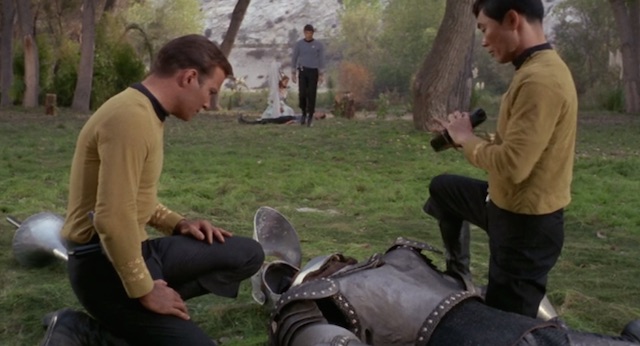 STAR TREK BEYOND
Paramount Pictures has shifted its schedule and, as a result, has had Star Trek Beyond delayed by two weeks. It will now hit the big screen July 22, 2016 instead of the originally-planned release date of July 8, 2016. Star Trek Beyond is set to feature the return of Chris Pine, Zachary Quinto, Zoe Saldana, Karl Urban, Simon Pegg, Anton Yelchin and John Cho along with new roles for Idris Elba, Sofia Boutella and Joe Taslim. Abrams, who directed the last two films, is producing the third film in the rebooted franchise with four time Fast and Furious franchise helmer Justin Lin directing from a script by Simon Pegg and Doug Jung. Having Star Trek Beyond delayed puts the 50th anniversary feature entry in the path of both Guy Ritchie's Knights of the Roundtable (a potential franchise launcher set to star Djimon Hounsou, Eric Bana, Charlie Hunnam, Mikael Persbrandt, Astrid Berges-Frisbey and Elizabeth Olsen) and the animated franchise sequel Ice Age: Collision Course (featuring the returning voice talents of Ray Romano, Denis Leary, John Leguizamo and Queen Latifah). As you can see from the episode images above ("Shore Leave") and below ("All Our Yesterdays"), however, the Enterprise crew has had no problem dealing with either knights or ice ages in the past. The July 22 release put Star Trek Beyond on track to arrive in theaters about a month and a half prior to the Star Trek franchise's 50th Anniversary. Although it wasn't the first episode produced, "The Man Trap," in which the crew of the Enterprise encounters a deadly shapeshifting salt vampire, introduced the world to "Star Trek" on September 8, 1966. STAR WARS REBELS - RETURN OF THE CLONES
Star Wars Rebels Season 2 is set to return television October 14, and Lucasfilm and Disney XD have today released a behind-the-scenes featurette that takes a look at some of the adventures in store for the crew of the Ghost. As Star Wars Rebels Season 2 opens, the crew of the Ghost is now a very real threat to the Empire. That's bad news, because Darth Vader's been assigned with the task of mopping them up. Undeterred, the rebels seek out old friends and new allies, hoping to rally the formidable alliance which began to crystallize at the end of Season One. Vader will dispatch new agents to counter their growing coalition, but the Sith Lord's battle with the Rebels could be more personal than anyone realized. The cast for the series is made up of Freddie Prinze, Jr. as Kanan, Vanessa Marshall as Hera, Tiya Sircar as Sabine, Steve Blum as Zeb, and Taylor Gray Ezra. In addition, the series has brought back a number of classic characters with Stephen Stanton voicing Grand Moff Tarkin (played by Peter Cushing in the original film) along with Phil LaMarr as Bail Organa and other original actors for some characters including Billy Dee Williams as Lando Calrissian, Frank Oz as Yoda, and Anthony Daniels as C-3PO. If you haven't already seen it, be sure to check out the Star Wars Rebels Season 2 trailer and look for the Star Wars Rebels Season 2 premiere, titled "The Lost Commanders," on Disney XD October 14. As previously revealed, it will feature the return of Star Wars: The Clone Wars clone troopers Rex, Wolffe and Gregor.
WEDNESDAY, SEPTEMBER 16, 2015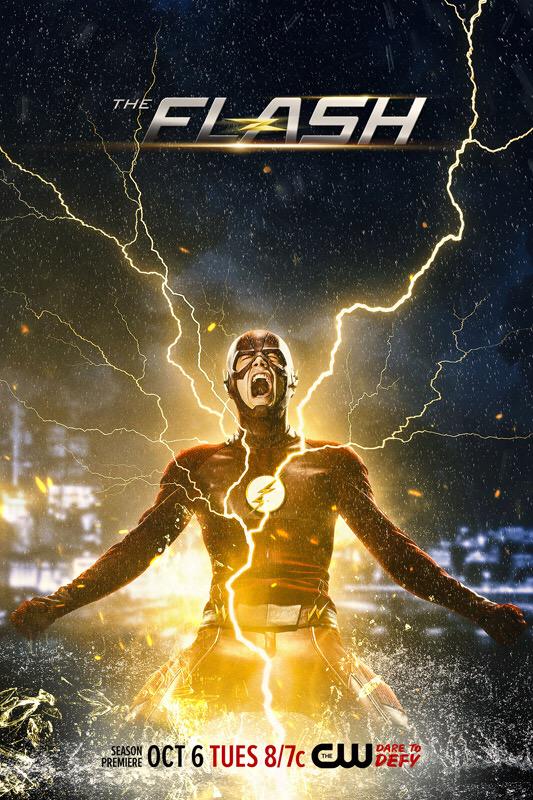 THE FLASH
Grant Gustin has unveiled a new poster for the upcoming second season of The CW's hit superhero series The Flash. The actor tweeted the new official poster earlier today, and it shows our Scarlet Speedster on his knees and in agonizing pain as lightning bolts surround him. It's a pretty powerful image (pun intended) and one of my favorites for the series so far. Season 2 will introduce alternate/multiple timelines and see the arrival of Golden Age Flash Jay Garrick (Teddy Sears), Kid-Flash (at least in the DC Comics) Wally West (Keiynan Lonsdale) and a new love interest for Barry in Patty Spivot (Shantel VanSanten). With Season 1 villain Reverse Flash/Eobard Thawne gone, the new primary villain will be Zoom, voiced by Tony Todd. LEGO DIMENSIONS
Everything is awesome when you get Michael J. Fox to reprise his iconic Back to the Future role as Marty McFly. A brand-new video for LEGO Dimensions has been released, and it spotlights the fantastic voice cast for the upcoming videogame. The list of famous actors lending their vocal talents to a who's who of iconic characters reads like every nerd's dream casting list: Gary Oldman, Chris Pratt (twice!), Peter Capaldi, Jenna Coleman, Bryce Dallas Howard, Elizabeth Banks, Allison Brie, Joel McHale, J.K. Simmons, Sean Austin and more, as well as Michael J. Fox and Christopher Lloyd, reprising their Back to the Future roles as Marty McFly and Doc Brown, respectively. When a mysterious and powerful vortex suddenly appears in various LEGO® worlds, different characters from DC Comics, The Lord of the Rings and The LEGO® Movie are swept away. To save their friends, Batman, Gandalf and Wyldstyle bravely jump into the vortex and quickly find themselves fighting to save all of LEGO humanity. Let creativity be the guide to a building and gaming adventure - journey through unexpected worlds and team-up with unlikely allies on the quest to defeat the evil Lord Vortech. Play with different minifigures from different worlds together in one LEGO videogame, and use each other's vehicles and gadgets in a way never before possible. LEGO Bad Cop driving the DeLorean Time Machine...why not?! The LEGO® Ninjago Masters of Spinjitsu fighting alongside Wonder Woman...yes, please! Get ready to break the rules, because the only rule with LEGO Dimensions is that there are no rules. LEGO Dimensions will launch on Sept. 27 and will be available for Xbox One, the all-in-one games and entertainment system from Microsoft and the Xbox 360 games and entertainment system from Microsoft, PlayStation4 and PlayStation3 computer entertainment systems and the Wii U system from Nintendo. THE 5th WAVE
Hunker down with this hellraising trailer for Sony's new alien invasion movie, The 5th Wave, as unwelcome shapeshifting extraterrestrials lay waste to planet Earth via a knockout combination of tsunamis, plagues and power outages. Based on the popular YA book series by Rick Yancey, this familiar-feeling adaptation certainly has an arrogant air of deja vu, but it still manages to carve out a darkly styled narrative that should be attractive to tween audiences or undiscriminating adults who adored TV sci-fi survival fare like Falling Skies and First Wave. Here's the official synopsis: Starring Chloë Grace Moretz and based on the bestseller: In the new film The 5th Wave, four waves of increasingly deadly attacks have left most of Earth decimated. Against a backdrop of fear and distrust, Cassie is on the run, desperately trying to save her younger brother. As she prepares for the inevitable and lethal 5th wave, Cassie teams up with a young man who may become her final hope – if she can only trust him. Opening Jan. 15, 2016, and directed by J. Blakeson (The Disappearance of Alice Creed), The 5th Wave stars Chloe Grace Moretz, Alex Roe, Maika Monroe, Liev Schreiber, Ron Livingston and Nick Robinson. ZOO
Zoo (CBS) Tuesday, 9 p.m. - "That Great Big Hill of Hope" Season finale! - Now that Under the Dome is officially done, it's time to examine what CBS can do with its current event series. We already know Extant is a bit of question mark, so what about Zoo? The James Patterson-based event series kicked off with a little more than 8 million live viewers, nothing like Dome's 13 million-plus debut, but still strong. Over the course of the season, the show's dipped, but it hasn't really dipped much in the grand scheme of things. Its worst live viewer numbers are only slightly less than 6 million, not bad for a broadcast show airing in the summer, and the DVR numbers are providing significant additions (at last count, a 30 percent viewer increase and a 39 percent demo score increase in Live+3), so there's a solid chance we'll see more Zoo. For now, enjoy the finale. DOCTOR WHO RETURNS
Doctor Who (BBC America) Saturday, 9 p.m. - "The Magician's Apprentice" Season premiere! - Doctor Who is unlike anything else on TV in many ways, but one of the most interesting is how we adjust to a new Doctor. Last season, it was all about seeing what kind of Doctor Peter Capaldi would be, how he'd work with Jenna Coleman, and what kind of overarching thematic emphasis Steven Moffat would project on his new character. Now those questions are answered, and though the reviews were mixed, we get to see what happens next. X-FILES
It took years for Mulder and Scully to finally get together in the original run of The X-Files, but creator Chris Carter just can't let anyone be happy. So, what's up with the monster-hunting couple in the revival series? With the six-episode revival season wrapped, Carter opened up to The Hollywood Reporter about where the story will pick up with Mulder (David Duchovny) and Scully (Gillian Anderson) a full seven years after their latest adventure in the big-screen dud I Want To Believe. According to Carter, the pair will be broken up when the show returns. Why? Because it represented a ripe storytelling opportunity. Here's an excerpt from what Carter had to say: "We do it in an interesting way. We play with that relationship [in the event series]. We put some of the tension back in that was relieved by them being together. It added to the storytelling opportunities. It's something that I came up with; I had been thinking about it. There was always talk of [breaking them up] if we did another movie. We just wrapped the six episodes, and I look and I see that we did 202 episodes of the show. I honestly don't know how we did it. I was exhausted by the end of these six episodes. I think what the show benefited from a lot of youthful energy. I always say about the show that we didn't know what we couldn't do, so we just tried everything. And luckily, we had the people working with us, and for us, that always gave it a shot." For those keeping score, the partnership started as a professional pairing of a sceptic and believer, which grew to the first (real) kiss in Season 7. Scully became pregnant at the end of that season, and the pair were last seen living together in I Want To Believe. In classic X-Files fashion, it sounds like things are only getting more complicated. The new season of The X-Files is set to premiere Jan. 24 on Fox. JESSICA JONES
We knew we'd see Marvel's Jessica Jones series by the end of the year, and now we finally know when it'll drop on Netflix. Jessica Jones will premiere in full Nov. 20 on the streaming service, with the entire 13-episode season available immediately. The studio will follow the same binge-watching approach that made Daredevil such a cultural phenomenon earlier this year. Along with the premiere date, Netflix also unveiled the first teaser clip for the series. It doesn't feature any footage, but it does give us a fleeting glimpse of Alias Investigations and the streets of New York. The series will follow Jessica Jones (Krysten Ritter), who starts up a career as a private detective after a tragic ending cuts her superhero career short. We'll track Jones as she attempts to rebuild her personal life and career, all the while getting pulled into cases involving people with extraordinary abilities in New York City. Again, we don't get any footage here, but it's easy to sense how Marvel is positioning this project within the universe pioneered by Daredevil, but with a vibe all its own. Along with Ritter, Jessica Jones stars David Tennant as Kilgrave, Mike Colter as Luke Cage, Rachael Taylor as Patricia "Trish" Walker and Matrix alum Carrie-Anne Moss. The series is executive-produced by Melissa Rosenberg (Dexter) and Liz Friedman (Elementary), along with Marvel's TV chief Jeph Loeb (Agents of S.H.I.E.L.D.). SUPERNATURAL
The first trailer for the latest season of The CW's Supernatural has arrived, and the world of the Winchesters is turning into a bloody, trippy mess. For a show that's officially crossed the decade mark, it looks like they still have some fun stories left to tell. Much of the footage seems to come from the season premiere, as we see Sam (Jared Padalecki) and Dean (Jensen Ackles) running through a hospital where pretty much everyone is bloody and dead. We also get a look at Castiel (Misha Collins) taking a shot at everyone's favorite demon, Crowley (Mark Sheppard). The new key art teases that the team is trapped between darkness and deliverance, and show runner Jeremy Carver told E! Online this season will have an "epic feel," as they work to reunite the brothers after tearing them apart the past few seasons. He also promises a "pre-Biblical story" that's never been told with the new Big Bad. Judging by the creepy trailer, the snow still has the wherewithal to freak us out — which is good. The 11th season of Supernatural premieres October 7 on The CW.
WEDNESDAY, SEPTEMBER 9, 2015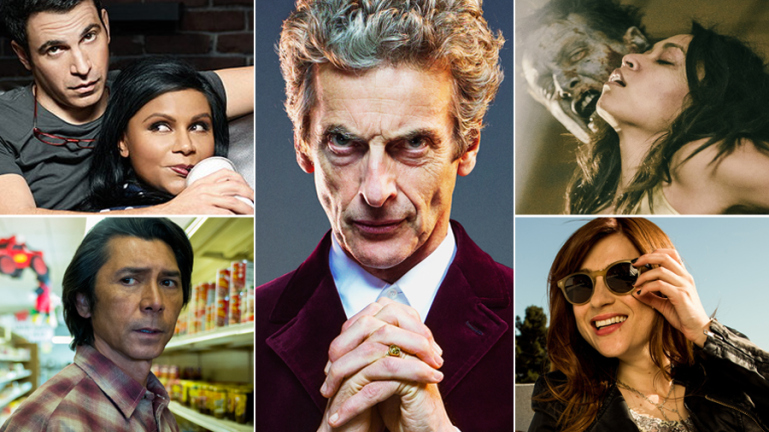 A LOOK AHEAD TO THE NEW SEASON
Cable and online streaming services have so many returning shows for the fall 2015 season that they were too much for one list. To help prep you for the September premieres of your favorite non-network TV shows, here is a partial guide for what to expect. All times Eastern. 'Longmire' – Tues., Sept. 9, Netflix
Season 4 picks up moments after the Season 3 finale, with Walt (Robert Taylor) on a rampage going after who he thinks was behind his wife's murder. But Branch (Bailey Chase) knows the real mastermind and viewers will finally learn what happened when the gun went off as he confronted his father, Barlow (Gerald McRaney). 'Z Nation' – Fri., Sept. 11, 10 p.m., Syfy
In "The Murph," everyone tries to escape the impending nuclear blast; Citizen Z (DJ Qualls) battles thawed zombies and issues an air bounty for Murphy (Keith Allan). 'Continuum' – Fri., Sept. 11, 11 p.m., Syfy
Alec (Erik Knudsen) and Emily (Magda Apanowicz) reunite after he drops the charges against her for trying to kill the other Alec. In return for the favor, Carlos (Victor Webster) asks that Alec gain Piron technology for the police department. 'Project Greenlight' – Sunday, Sept. 13, 10 p.m., HBO Narrowed down from thousands of submissions, 13 finalists arrive in Los Angeles to meet with judges Ben Affleck, Matt Damon, executive Jennifer Todd, producer Marc Joubert, producer Effie Brown, HBO's Len Amato and the Farrelly brothers. A winner is chosen to film his or her movie made during Season 4. 'Doctor Who' – Sat., Sept. 19, 9 p.m., BBC America
It's the return of Missy. Executive producer Steven Moffat teases, "Everybody hide — Michelle Gomez as Missy was an instant hit last year, so she's straight back to plague the Doctor and Clara in the series opener. But what brings her back into their lives is the last thing they'd expect …"

BLACK MIRROR
One of the best speculative fiction TV shows to come out of England in recent times is getting a new lease on life from Netflix. According to the Radio Times (via Birth.Movies.Death), the streaming network will produce a series of new episodes of Black Mirror, the dystopian, and often quite eerie, anthology created by Charlie Brooker. If you haven't heard of Black Mirror before, you should head over to Netflix now and view the existing seven episodes, which encompass two seasons and an extended holiday special (yes, the seasons are just three episodes each; that way you never get sick of them). Each segment features an entirely different cast, setting and plot, with each story focusing on the effects of either modern or near-future technology on humanity -- usually with a shocking, Twilight Zone-like twist. It's dark, atmospheric, bracing and intelligent, and is apparently popular enough with Netflix viewers that the executives there want more. Brooker is reportedly working on new scripts now, although a timetable for the new season's production and premiere has yet to be confirmed. In the meantime, go watch episodes like "The National Anthem," "The Entire History of You" or "White Christmas" for chilling glimpses of technology-warped life 10 minutes from now. You'll immediately be wanting more yourself. GRIMM
It might not be the biggest genre hit on TV, but NBC's Grimm has quietly been building its monster-filled world the past four years — and now, it's all coming to a head this fall. The first teaser trailer for Season 5 of Grimm has arrived, showing how Nick will deal with the aftermath of last season. Not surprisingly, he's not taking it well. Judging by the footage here, it looks like Nick will be out for blood when the series returns. The footage also fits with what we've already heard about the new season, as producer David Greenwalt previously told The Hollywood Reporter that last season's death will "change the show's course." Here's an excerpt from his comments: "I think it's going to be even darker still in a way. You know, it's not going to be the same Grimm. It's not the same dynamic anymore. Pretty serious repercussions and at the same time he's got a lot on his plate. I mean Adalind is having that baby it sure looks like and he's going to have a lot to deal with." Grimm returns to NBC's schedule October 30. DOCTOR WHO
"Where is the Doctor?" The BBC has released the first official synopsis and a first sneak peek trailer for "The Magician's Apprentice," the opening episode of Season 9. The short but exciting trailer opens with a kid lost on a strange alien planet filled with a sea of muddy hands with eyes in their palms. So far, so Doctor Who. Then we have Clara (Jenna Coleman) and Missy (Michelle Gomez) seemingly joining forces to look for the Doctor (Peter Capaldi), who's on the run and hiding from someone, or something (I'm looking at you, hood-guy), by the time the show returns. We're also introduced to another cool Gallyfrean artifact: a Confession Dial, being the Last Will and Testament of the Doctor. Oh, and as you can see below, those space pepperpots the Daleks are making another, terrifying return with "maximum extermination" in mind. I have a feeling it's going to be a brilliant episode. Where is the Doctor? When the skies of Earth are frozen by a mysterious alien force, Clara needs her friend. But where is the Doctor, and what is he hiding from? As past deeds come back to haunt him, old enemies will come face-to-face, and for the Doctor and Clara survival seems impossible. Writer: Steven Moffat. Director: Hettie Macdonald. Producer: Peter Bennett
Cast: Peter Capaldi and Jenna Coleman
Guest cast: Michelle Gomez, Jemma Redgrave, Kelly Hunter, Clare Higgins, Jaye Griffiths, Harki Bhambra, Daniel Hoffmann-Gill, Joey Price, Aaron Neil, India Ria Amarteifio, Dasharn Anderson, Demi Papaminas, Jami Reid-Quarrell, Benjamin Cawley, Stefan Adegbola, Shin-Fei Chen, Lucy Newman-Williams, Barnaby Edwards, Nicholas Pegg, Jonathon Ojinnaka. Doctor Who returns on Sept. 19. on the BBC in the UK, BBC America in the U.S., and Space in Canada.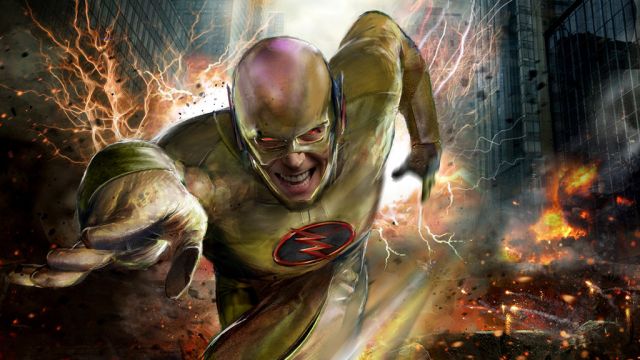 THE FLASH
Though Dr. Wells pulled the old "disappear forever" trick at the end of the first season of The Flash, you can never count out a comic book supervillain. It was previously confirmed that Tom Cavanagh will continue to be a regular on the series, but now executive producer Gabrielle Stanton has offered a new clue about where he'll come from. "Harrison Wells will be back, but he's going to be a very different Harrison Wells than we've seen before," Stanton tells TVLine. "We've got other worlds. We've got other timelines. All I'm going to say is he's from one of those places." The Flash stars Grant Gustin as Barry Allen/The Flash, Candice Patton as Iris West, Rick Cosnett as Eddie Thawne, Danielle Panabaker as Caitlin Snow, Carlos Valdes as Cisco Ramon and Jesse L. Martin as Detective Joe West. The new season will see the addition of newcomers Violett Beane as the female speedster Jesse Quick, Demore Barnes as Tokamak, and Candyman himself Tony Todd as the voice of the new "big bad," Zoom. The Flash is executive produced by Greg Berlanti, Andrew Kreisberg, David Nutter and Sarah Schechter. The Flash will premiere its second season on Tuesday, October 6 at 8 p.m. EST.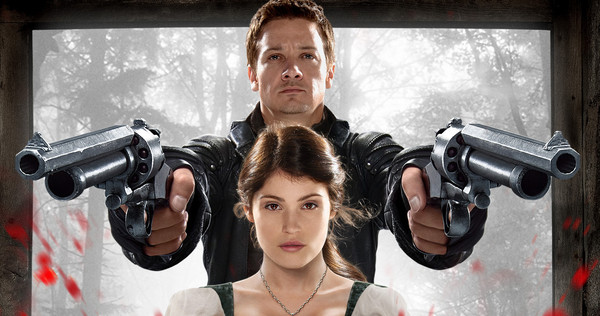 HANSEL AND GRETEL: DEATH'S MESSENGERS
Shortly after Hansel & Gretel: Witch Hunters hit theaters in January 2013, Paramount Pictures announced a sequel was happening. While the action-thriller starring Jeremy Renner and Gemma Arterton only made $55.7 million domestically, it did much better overseas, with its foreign gross of $170.6 million giving the movie a $226.3 million worldwide total, from just a $50 million budget. After spending the last two years in development, Hansel & Gretel: Witch Hunters 2 is finally moving forward, with French filmmaker Bruno Aveillan taking over for original director Tommy Wirkola. While it isn't known when production will begin, we do have a look at some new artwork that shows how the film may have looked had Bruno Aveillan not won the job. The artwork comes from Steven Ilous, a visual effects artist turned director, who reveals on his official website that he was in contention to direct Hansel & Gretel: Witch Hunters 2 earlier this year, before Bruno Aveillan landed the job. The artwork teases new plot developments from the script, originally written by Hansel & Gretel: Witch Hunters writer-director Tommy Wirkola, which was later reworked by Michael Finch (Hitman: Agent 47). Here's what Steven Ilous had to say. "In 2015, I was sent the latest draft of the sequel to Hansel & Gretel: Witch Hunters for consideration to direct. Here at glance is a small look into my director presentation which consisted of original character designs, key art, storyboards, animatics, and a maquette. I had such a great time working with closely with Vincent Van Dyke from VVDFX, Bryan Wynia, Darek Zabrocki, Jonathan Gesinski, and the academy nominated Mike Elizalde from Spectral Motion. It was a great honor to be considered for this film." While it isn't known if this is still the official title or not, the director's logo reveals the sequel is called Hansel & Gretel: Death's Messengers. The artwork reveals a number of different undead characters, plus a new character known as the High Priestess. Since the filmmaker was in contention for this project earlier this year, it seems likely the High Priestess is still a character in the most recent script, but unfortunately, we don't know anything else about her. Jeremy Renner and Gemma Arterton are expected to reprise their title roles in Hansel & Gretel: Witch Hunters 2, but it isn't known when production may get under way. Jeremy Renner recently wrapped production on Captain America: Civil War as Hawkeye, a role he will reprise in Avengers: Infinity War Part I and Avengers: Infinity War - Part II, which will start shooting in late 2016. He is also attached to star in an Untitled Jeremy Renner Bourne Sequel, a follow-up to 2012's The Bourne Legacy, but it isn't known when shooting will begin on that project.

Hansel & Gretel: Witch Hunters 2 was released in 2014.
FRIDAY, SEPTEMBER 4, 2015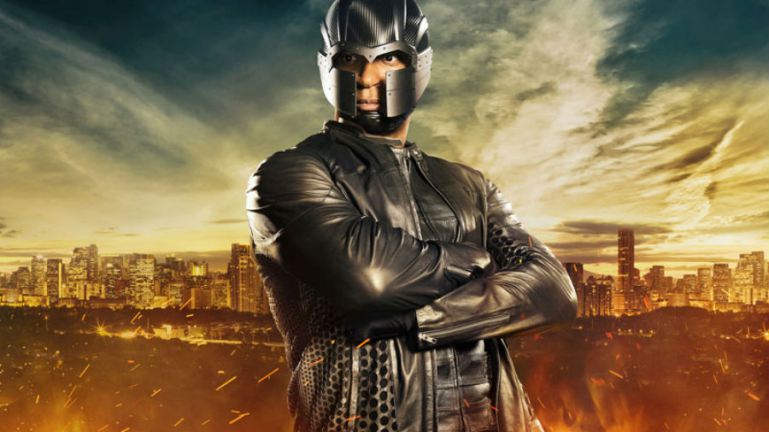 ARROW NEWS
At long last, John Diggle (David Ramsey) is ditching his street clothes for a superhero costume in "Arrow" Season 4. For too long, Diggle's been helping Oliver (Stephen Amell) deal out vigilante justice in his normal everyday wear. But with people in his life to protect, it's about time he disguises his identity. Of course, it's questionable just how much of the costume will actually hide Diggle's identity. Decked out in head-to-toe black, Diggle looks sleek but there's quite a bit of his face visible through the helmet he's wearing. What's more, if you take a long enough look at the helmet, chances are it'll remind you of something that probably wasn't intended.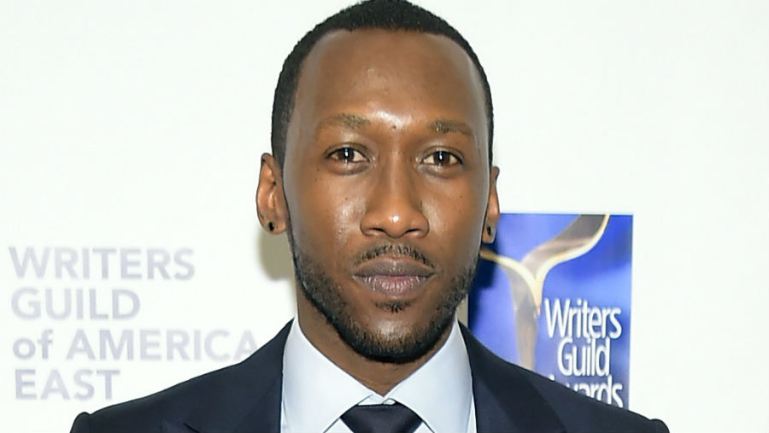 LUKE CAGE
"Marvel's Luke Cage" has cast another key role. Mahershala Ali ("House of Cards"), who will next be seen in "The Hunger Games: Mockingjay Part 2," has signed on to play Cornell "Cottonmouth" Stokes. He joins the recently announced Rosario Dawson, who will reprise her "Daredevil" role as Claire Temple, and former "Sons of Anarchy" star Theo Rossi. A description of the Cottonmouth character from Marvel reads, "Stokes, a Harlem nightclub owner, will become an unexpected foe in Luke's life when Stokes' criminal activities threaten Luke's world." In the comics, Stokes is a drug lord with superhuman strength and razor-sharp teeth. Seeing as the Marvel series on Netflix try to be more grounded than the Marvel Cinematic Universe, superhuman strength seems to be a bit of a stretch. However, anybody who saw Kingpin (Vincent D'Onofrio) on "Daredevil" knows how powerful a person can be in this world. "Luke Cage" also stars Mike Colter in the title role and Alfre Woodard as Minetta, one of the show's villains. The series will debut on Netflix in 2016. HEROES REBORN
NBC has released a brand-new Heroes Reborn video featurette profiling fan-fave character Noah Bennet, aka HRG, played by Jack Coleman. The 13-episode event series picks up five years after the original series ended, in the wake of a terrorist attack that's left Odessa, Texas, in ruins. Heroes fans will recall that Odessa is the home of Claire Bennet (Hayden Penettiere) -- who is seemingly dead when the Tim Kring series returns. Blamed for the tragedy, those with extraordinary abilities (known as evolved humans, or "Evos") are now in hiding, dead or on the run. So is our main man HRG, who was always one step ahead in the original series but now, not so much. No doubt thanks to Jimmy Jean-Louis' Haitian. Conspiracy theorist Quentin Frady (Henry Zebrowski) manages to track HRG down to get him to find out what really happened in Odessa. In the video, Coleman says, "HRG, as our story begins, is doing what he did a long time ago: selling cars in Austin, Texas. HRG has some memory missing — not a lot, only part of a day, but crucial information. So he has to piece it back together." Along with Jack Coleman, Heroes Reborn sees the return of Masi Oka, Greg Grunberg, Sendhil Ramamurthy, Jimmy Jean-Louis and Cristine Rose. Newcomers include Zachary Levi, Kiki Sukezane, Robbie Kay, Danika Yarosh, Judith Shekoni, Ryan Guzman, Henry Zebrowski, Gatlin Green, Dylan Bruce, Francesca Eastwood and Nazneen Contractor. Heroes Reborn premieres with a two-hour episode on Sept. 24 on NBC.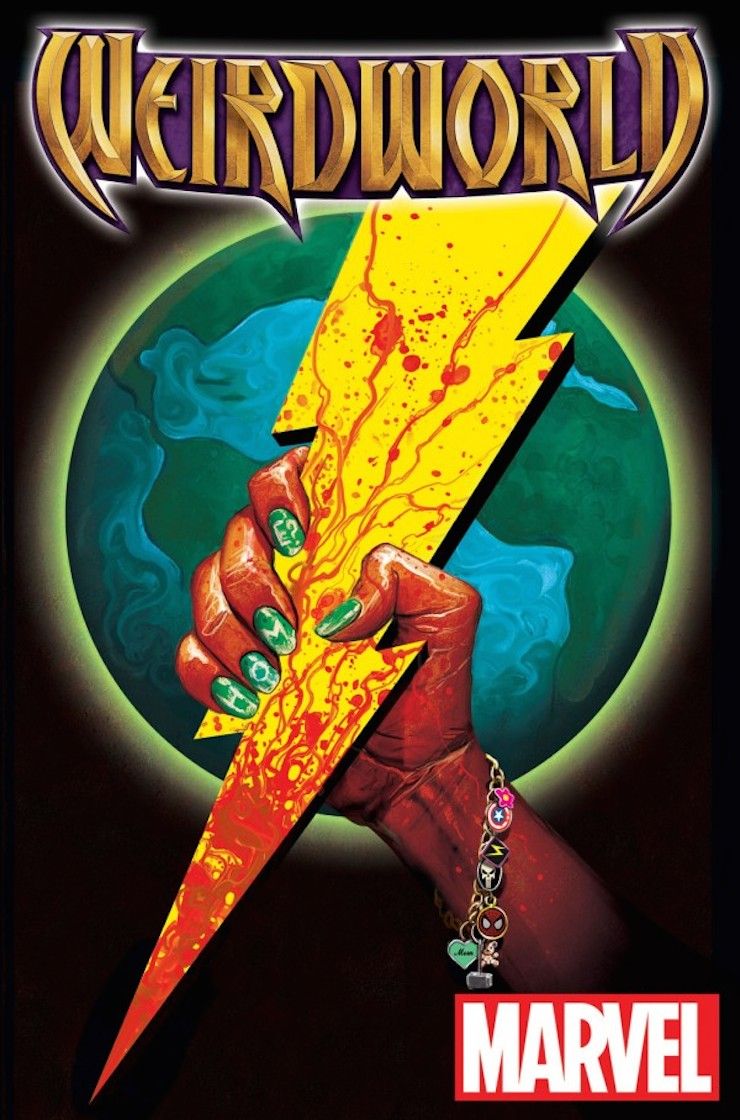 WEIRDWORLD
Marvel's oddly addictive Secret Wars tie-in title, Weirdworld, has been given its own ongoing series after the All-New, All Different Marvel campaign launches beginning this month. Solidly written by Jason Aaron (Star Wars, Original Sin), with some mind-blowing art by Mike Del Mundo (Planet Hulk, Elektra), this trippy sword-and-sorcery saga will bewitch you from the first issue, and news of Marvel embracing its delicious differences causes me to believe the House of Ideas is actually listening to its readers' feedback, or at least its bottom-line sales numbers. Its veteran Marvel warlord, Arkon, battled a fantastic menagerie of mystical creatures as he trekked across the crazy, cobbled-together landscape. Whatever the reasons for its restored life, Weirdworld will continue to detour into more demented magical depths in Marvel's post-Secret Wars realm. The creative team will shift slightly when Weirdworld goes solo in December, with Aaron being replaced by Sam Humphries (Legendary Star-Lord) on writing duties, but the hallucinatory art still being conjured up by the masterful Del Mundo and many of the original themes and concepts that made the book so alluring left intact. Here are Humphries' comments on tackling the territory of Weirdworld in an interview with Marvel.com: Weirdworld is a place where anything can happen. Weirdworld is a place inside the Marvel Universe. Weirdworld is a place where the lost can be found. But only if you are strong enough... Weirdworld is a place that is ever changing, always chaotic, and a place of infinite discovery. Its essential nature is so mysterious that no complete map can ever be created. It is a polyglot of fantasy, horror, sci-fi, and other weird things dug up from the brains of myself and [artist] Mike Del Mundo. The main character of this book is Becca, a 16-year old girl from Earth who doesn't land on Weirdworld, she crashes into it. She's just a normal girl, who was already in the middle of her own tragic Earthbound quest. Now her quest has become even more difficult; she must find her way home through a place where good and evil are subsumed in a hurricane of madness.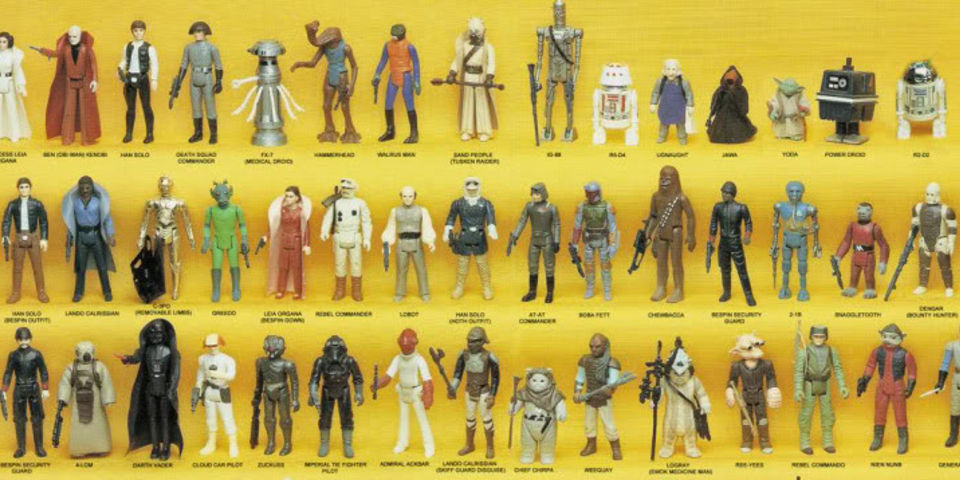 STAR WARS TOYS
There has been an awakening. Have you felt it? It is the feeling of toy packages being ripped open, with new Star Wars Episode VII toys spilling out to the potential tune of $5 billion -- according to Disney's estimates. And while the festivities kick off today, tomorrow is the true return of the Jedi, when the toys go on sale on a day dubbed "Force Friday." No doubt kids of all ages, this one included, will be scouring the aisles for some sweet Force Awakens toys, but let's not forget some of the most popular (and most valuable) Star Wars toys of days gone by. So before you engage lightspeed to the toy store for Force Friday, enjoy this Star Wars toy Throwback Thursday of the MVPs from a galaxy, far, far away.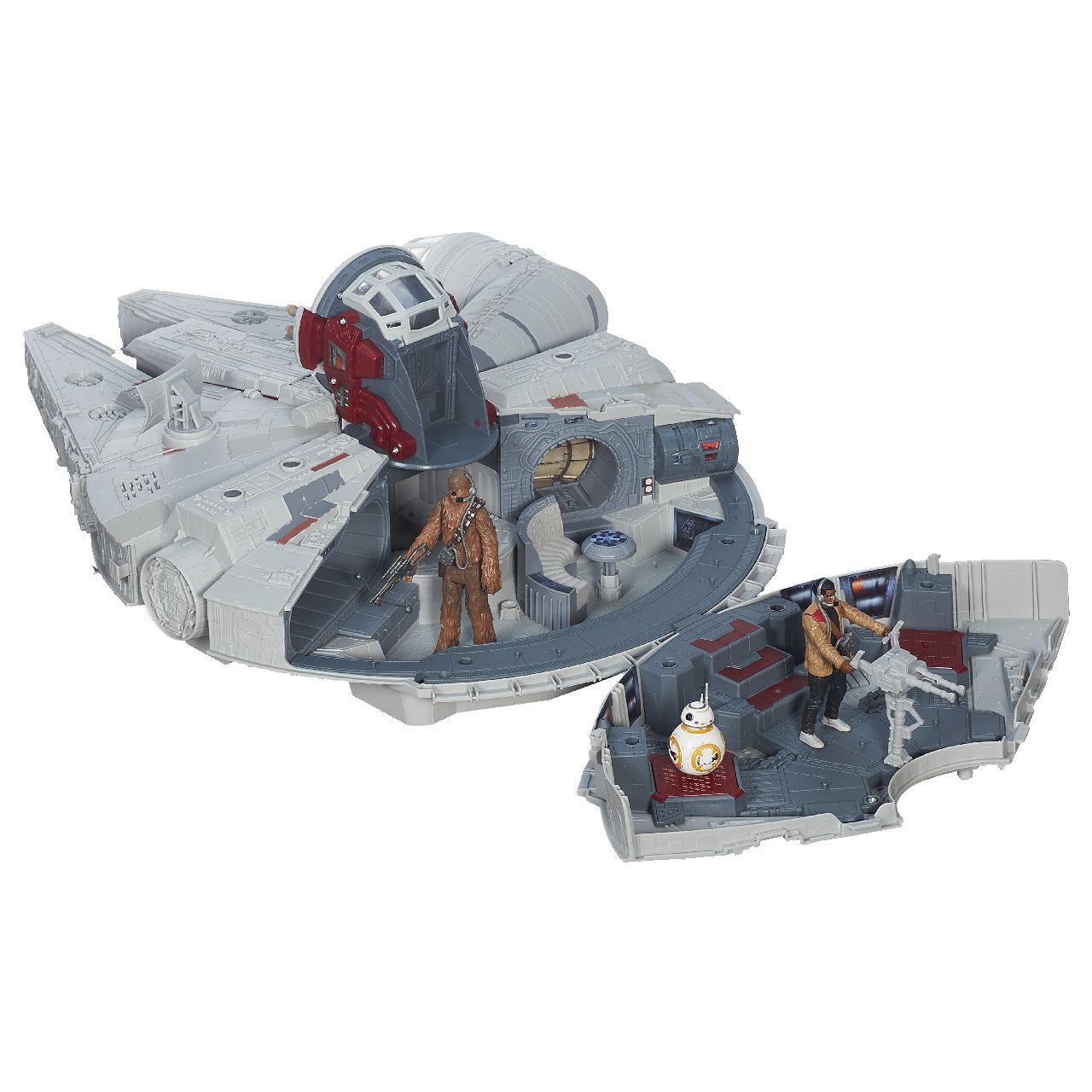 NEW STAR WARS TOYS
If you managed to watch all 18 hours of the Star Wars: The Force Awakens toys and merchandise unboxing live stream, you've seen all of these goodies, but for those just tuning in from the outer rim we've assembled all of the released images in the gallery below! If you don't want to be caught between the blasters and lightsabers on Force Friday. Star Wars: The Force Awakens is set 30 years after the events of Return of the Jedi, and features a new generation of swashbuckling heroes and shadowy villains, as well as the return of fan-favorite smugglers, princesses, and Jedi.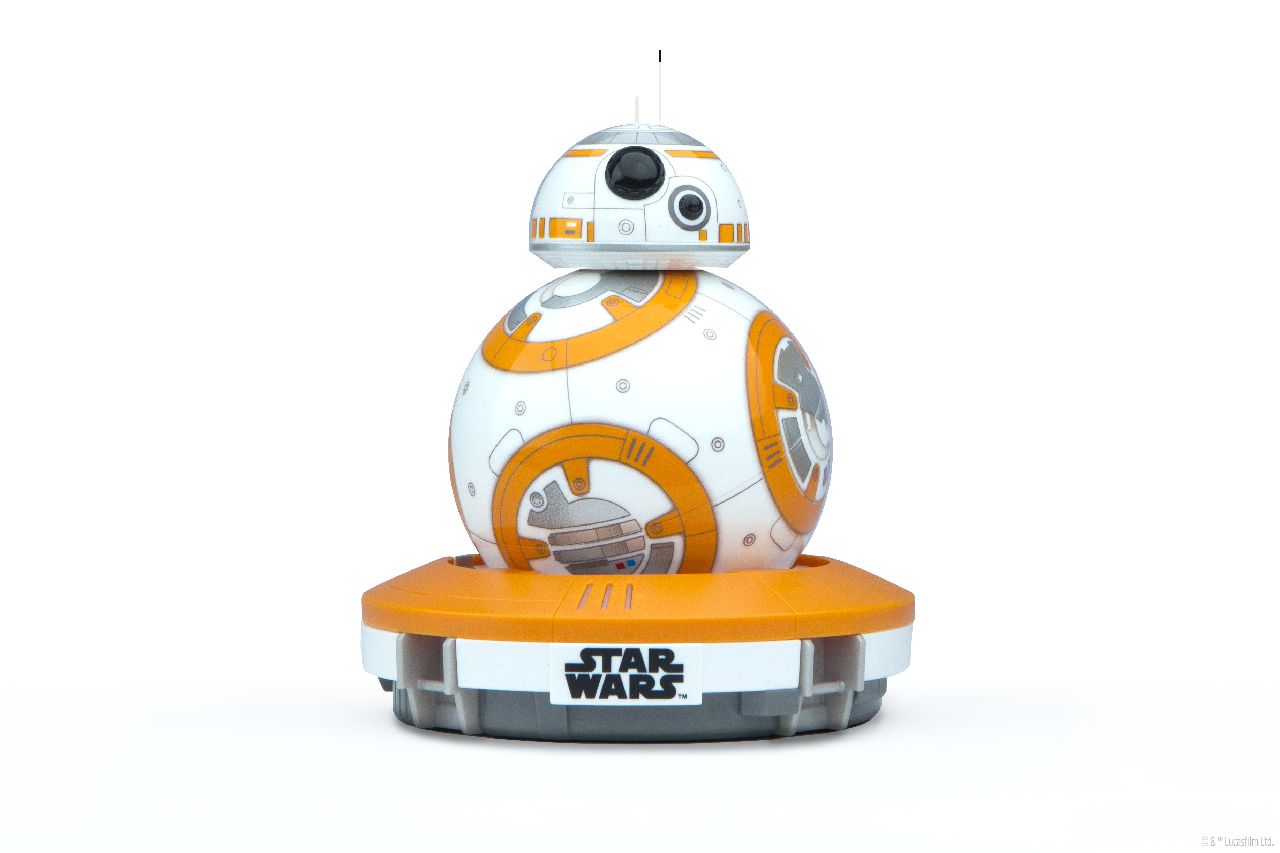 Starring Harrison Ford, Carrie Fisher, Mark Hamill, Anthony Daniels, Peter Mayhew, Kenny Baker, John Boyega, Daisy Ridley, Adam Driver, Oscar Isaac, Andy Serkis, Domhnall Gleeson, Max von Sydow, Lupita Nyong'o, Gwendoline Christie, Crystal Clarke, Pip Anderson, Christina Chong and Miltos Yerolemou, the J.J. Abrams-directed film will debut in theaters on December 18, 2015. It will be followed on December 16, 2016 by Star Wars Anthology: Rogue One, Star Wars: Episode VIII on May 26, 2017, and the Han Solo anthology movie on May 25, 2018. No release dates have been announced for Star Wars: Episode IX and the third anthology movie.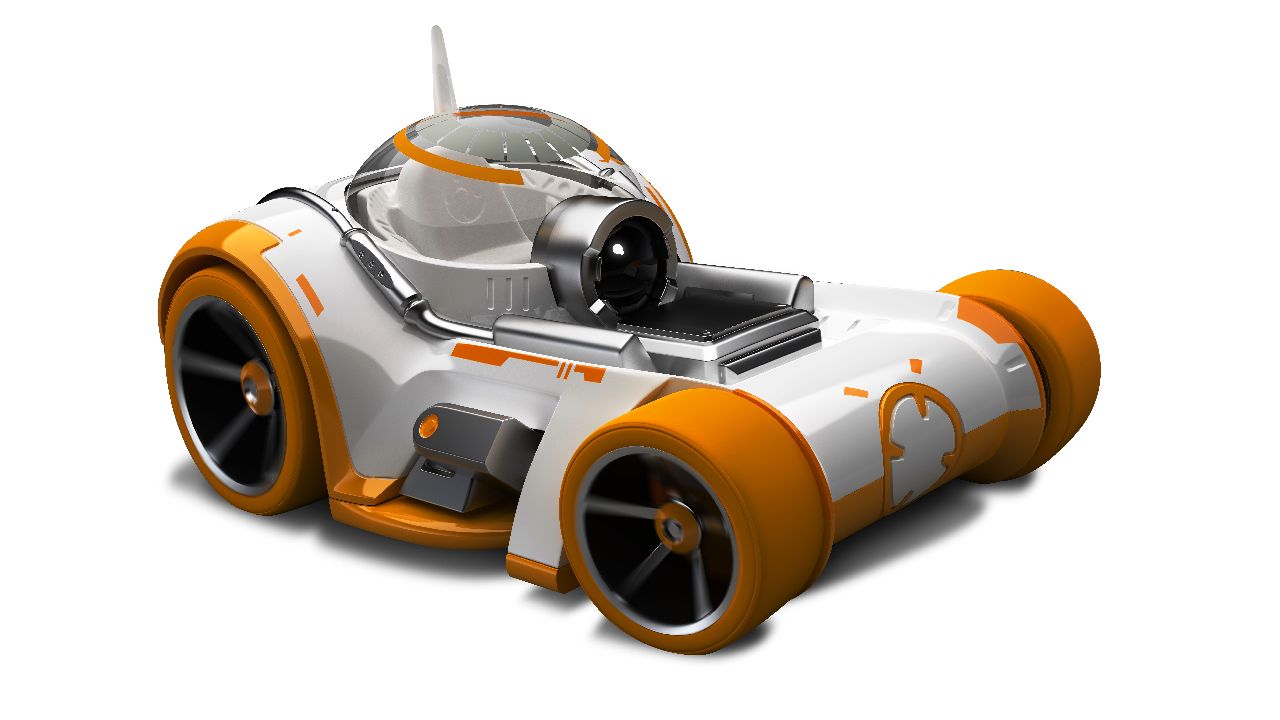 UPDATE: Sphero, the company responsible for engineering the actual, working BB-8 that took the stage at Star Wars Celebration, has released a video that shows off their impressive toy version. "Meet BB-8 – the app-enabled Droid that's as authentic as it is advanced," reads the Force Awakens toy's official description. "BB-8 has something unlike any other robot – an adaptive personality that changes as you play. Based on your interactions, BB-8 will show a range of expressions and even perk up when you give voice commands. Set it to patrol and watch your Droid explore autonomously, make up your own adventure and guide BB-8 yourself, or create and view holographic recordings."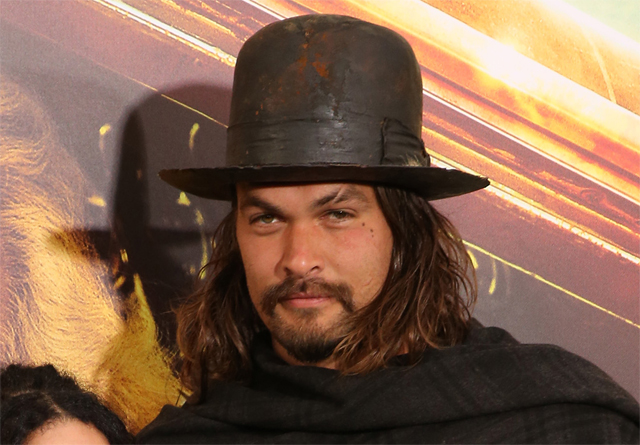 BRAZEN
The Highland Film Group (HFG) announced today that Aquaman star Jason Momoa (Game of Thrones, Conan the Barbarian) will take on the lead role in Lin Oeding's new action-thriller Braven. HFG will handle international sales and will introduce the film to buyers starting at the Toronto International Film Festival. The screenplay is based off of an original story by Mike Nilon and was written by Thomas Pa'a Sibbett. Jason Momoa and Brian Mendoza's Pride of Gypsies will produce alongside Nilon and Molly Hassell. When Joe Braven (Jason Momoa), a humble logger residing along the U.S./Canada border, is confronted by a group of deadly drug runners in his secluded cabin in the mountains, he must do everything in his power to protect his family. Little do the elite drug runners know the unassuming man they've encountered has an impressive bite colliding two dynamic forces – one fighting for the lives of his family, the other for the love of the kill. HFG's Arianne Fraser and Delphine Perrier jointly commented: "'Braven' is the perfect addition to our growing portfolio. Lin Oeding's background in stunts tied with Jason Momoa's physical mastery assures us that the film will deliver heart-pounding action at every turn." Momoa was recently announced as Aquaman for Warner Bros. and DC Entertainment's Justice League Part One and Two, as well as the same character for the James Wan-directed Aquaman. Director Oeding comes from an impressive background in action design for studio blockbusters, including Ant-Man, The Equalizer and the recent box-office sensation Straight Outta Compton.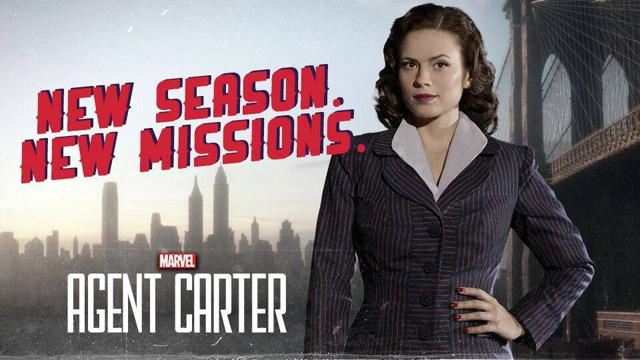 AGENT CARTER-SEASON TWO
We learned earlier this summer that Marvel's Agent Carter Season 2 would send the spy to the West Coast for a brand new case, along with her partner in crime (and Howard Stark's butler), Edwin Jarvis (James D'Arcy). Now, as production officially begins on Season 2, Marvel is teasing the return of another character, Agent Daniel Sousa, as played by Enver Gjokaj. Dedicated to the fight against new atomic age threats in the wake of World War II, Peggy must now journey from New York City to Los Angeles for her most dangerous assignment yet. But even as she discovers new friends, a new home — and perhaps even a new love — she's about to find out that the bright lights of the post-war Hollywood mask a more sinister threat to everyone she is sworn to protect. "Marvel's Agent Carter" stars Hayley Atwell as Agent Carter and is executive produced by Tara Butters, Michele Fazekas, Christopher Markus, Stephen McFeely, Chris Dingess, Kevin Feige, Louis D'Esposito, Alan Fine, Joe Quesada, Stan Lee and Jeph Loeb. Actors Chad Michael Murray, Lyndsy Fonseca and Bridget Regan are also expected to return for this season, which will air Tuesdays at 9 P.M. EST on ABC.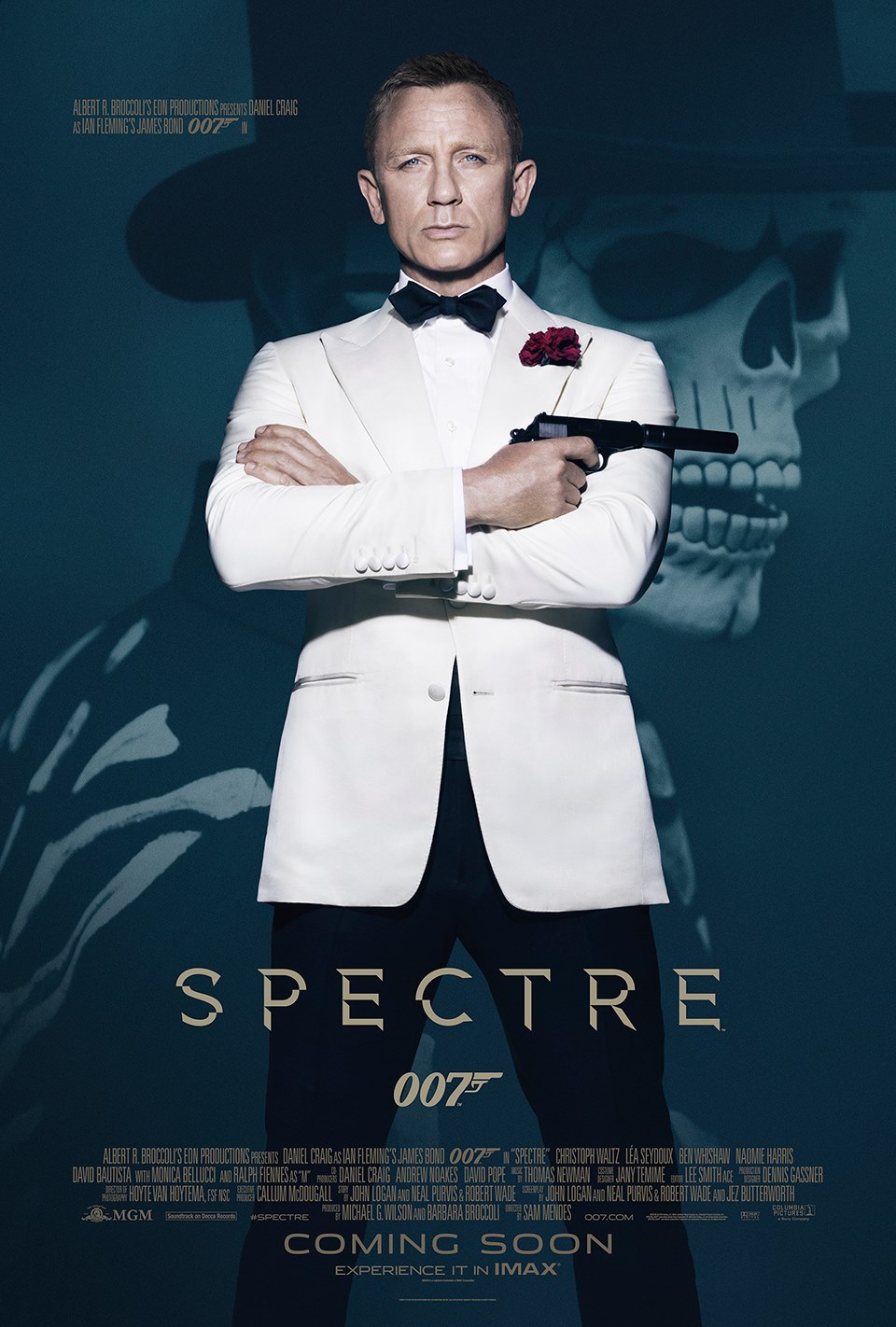 JAMES BOND - SPECTRE
EON Productions, Metro-Goldwyn-Mayer and Sony Pictures Entertainment have released the brand-new Spectre poster. In the film, a cryptic message from the past sends James Bond (Daniel Craig) on a rogue mission to Mexico City and eventually Rome, where he meets Lucia Sciarra (Monica Bellucci), the beautiful and forbidden widow of an infamous criminal. Bond infiltrates a secret meeting and uncovers the existence of the sinister organisation known as SPECTRE. Meanwhile back in London, Max Denbigh (Andrew Scott), the new head of the Centre for National Security, questions Bond's actions and challenges the relevance of MI6, led by M (Ralph Fiennes). Bond covertly enlists Moneypenny (Naomie Harris) and Q (Ben Whishaw) to help him seek out Madeleine Swann (Léa Seydoux), the daughter of his old nemesis Mr White (Jesper Christensen), who may hold the clue to untangling the web of SPECTRE. As the daughter of an assassin, she understands Bond in a way most others cannot. As Bond ventures towards the heart of SPECTRE, he learns of a chilling connection between himself and the enemy he seeks, played by Christoph Waltz. SPECTRE (Special Executive for Counter-intelligence, Terrorism, Revenge and Extortion), as Bond fans know, is a fictional global terrorist organization featured in Ian Fleming's novels, as well as the films and video games based on those novels. The organization was led by the villain Ernst Stavro Blofeld, although the cast is definitely playing it coy about whether or not Blofeld will actually appear in the new film. Directed once again by Sam Mendes, SPECTRE is written by John Logan and Neal Purvis & Robert Wade. The 24th Bond film hits theaters and IMAX on November 6, 2015.
WEDNESDAY, SEPTEMBER 2, 2015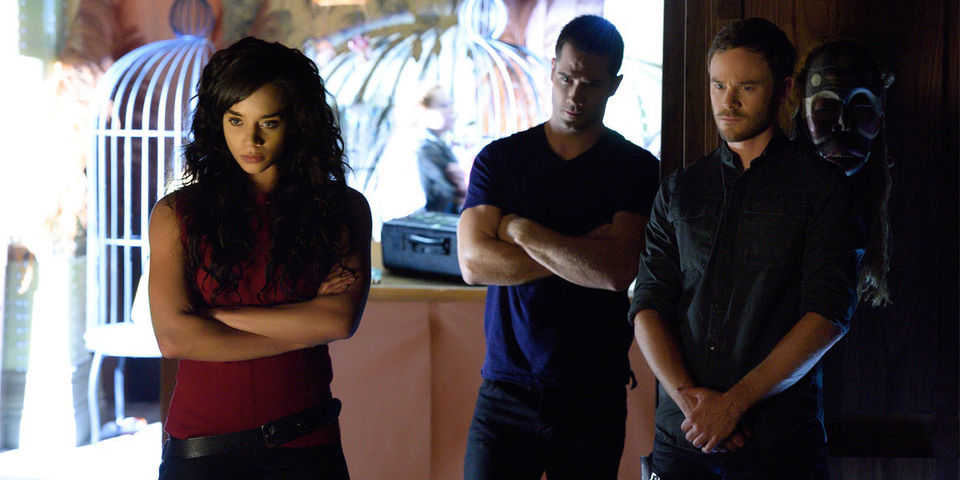 DARK MATTER/KILLJOYS RENEWED BY SYFY
Deep space will continue to be a crowded place in 2016, as Syfy has announced that the freshmen projects Killjoys and Dark Matter will both be back for second seasons. Syfy has officially renewed Killjoys for a 10-episode second season and ordered 13 more installments of Dark Matter. Both shows hit the space-set niche that has sorely been lacking the past few years, with Killjoys following a team of interplanetary bounty hunters and Dark Matter following the amnesiac crew of a spaceship. Neither show lit the world on fire, ratings-wise, though Dark Matter averaged 1.8 million viewers (Live +3) and Killjoys averaged 1.5 million viewers (Live +3). But both shows proved fairly popular in the zeitgeist of social media, and Killjoys garnered a good bit of under-the-radar critical praise by the time its first season came to an end. If nothing else, it's encouraging to see the network give these two some time to grow and find an audience. Though both shows often hit on some of the same territory, Killjoys was arguably the better product of the two. The first season had great humor and action, plus it took a "show don't tell" approach to world-building. It has that Firefly vibe, but not in a way that it feels like it's trying to tread on Joss Whedon's classic. If you missed the first season, it's well worth tracking down — especially now that we know it'll be back next year. Dark Matter put up a solid first season but seems to still be working out exactly what to do with its amnesiac crew of mercenaries. It definitely had a Stargate vibe in regard to the look and feel (which makes sense, since it shares much of the creative team and some cast members). But it ended on a WTF cliffhanger twist that just didn't really work. Here's hoping they can pay it off in year two and get the story back on track.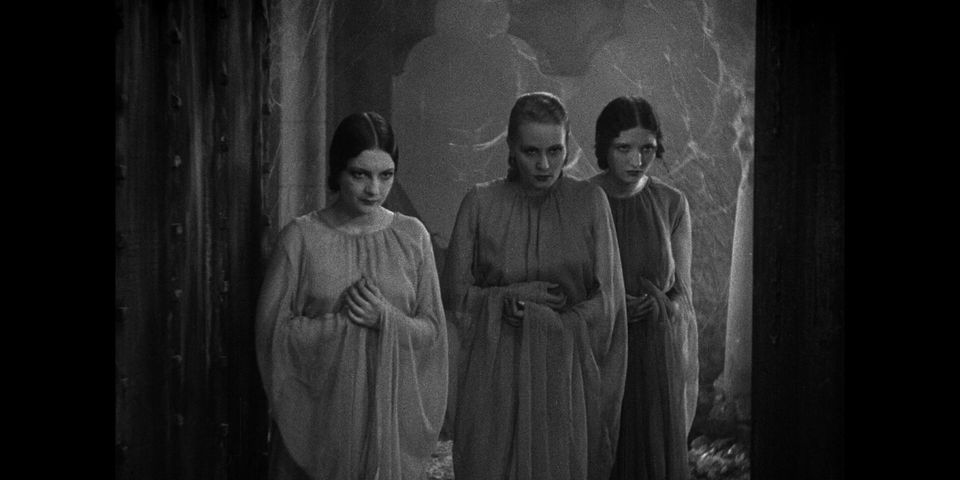 BRIDES OF DRACULA
Remember when NBC decided to bet on a retooling of the Dracula story with Jonathan Rhys Meyers in the title role, and it didn't quite work? Well, the Count may be dead on the small screen for now, but his brides are getting a new chance at life. Deadline reports that NBC has committed to producing a pilot for Brides, a modern take on the Brides of Dracula (who appeared in everything from Bram Stoker's original novel to their own Hammer Horror film) from writer Roberto Aguirre-Sacasa (best known as the chief creative officer of Archie Comics) and Arrow producer Greg Berlanti. Described as a "gothic soap drama," the series will explore what might have happened if the Brides had never been killed by Van Helsing and survived to the present day, and reimagine the events of Dracula with "a trio of strong, diverse female leads." The series is the second project Aguirre-Sacasa and Berlanti have teamed up for on the small screen thus far, the other being Riverdale, an Archie Comics series in development at The CW. Aguirre-Sacasa's past TV experience includes episodes of Big Love and Glee, and his experience with horror characters extends to everything from the Carrie remake to the hit comic series Afterlife With Archie. He's prolific, enthusiastic and great with new looks at classic characters, so it's exciting to think about what he might bring to Brides. PAY THE GHOST
At some point in the future, or my next lifetime, Nicolas Cage will actually appear in a film genre fans can be excited about. Whether this new paranormal potboiler, Pay The Ghost, is the one remains to be seen, but it has some potential as an intriguing indie effort that may have a few scares up its sleeve. Looking eerily similar to previous supernatural films starring Cage, like Alex Proyas' Knowing or Lee Tamahori's Next, here's Cage at his cagiest, sporting a frazzled psyche and furrowed brow, fleet of foot and emphatically declaring the existence of something sinister while playing a panicked dad whose cute kid disappears on Halloween night. Directed by Uli Edel (The Baader Meinhof Complex), this paranoia-fueled paranormal flick opens in theaters and on VOD on Sept. 25, 2015. Could this be the movie that begins to pave the way back to Cage's respectability, or more forgettable nonsense? Here's the official synopsis: Oscar® winner Nicolas Cage (Leaving Las Vegas) stars in this intense and chilling thriller about one man's desperate search for his missing child. One year after his young son disappeared during a Halloween carnival, Mike Cole (Cage) is haunted by eerie images and terrifying messages he can't explain. Together with his estranged wife (Sarah Wayne Callies, The Walking Dead), he will stop at nothing to unravel the mystery and find their son—and, in doing so, he unearths a legend that refuses to remain buried in the past.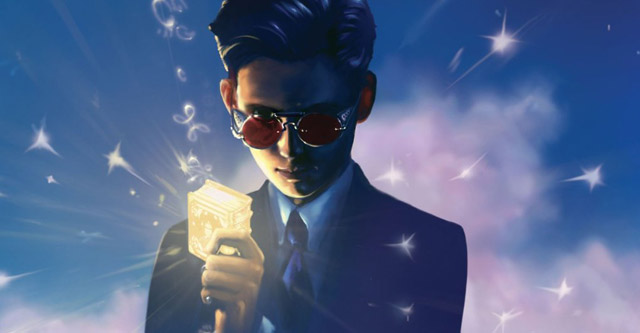 ARTEMIS FOWL
Announced for development through Walt Disney Studios and The Weinstein Company back in 2013, plans for an Artemis Fowl movie appear to be moving forward. The Tracking Board today reports that Thor and Cinderella helmer Kenneth Branagh has signed on to develop and direct a big screen adaptation of the hit book series by Eoin Colfer. Artemis Fowl is about a 12-year-old Artemis who is a millionaire, a genius – and above all, a criminal mastermind. But Artemis doesn?t know what he's taken on when he kidnaps a fairy (Captain Holly Short of the LEPrecon Unit) to harness her magic to save his family. The screenplay for the Artemis Fowl movie was originally being written by Harry Potter and the Order of the Phoenix scribe Michael Goldenberg. Today's update (via Variety) suggests that talks have begun with Irish playwright Conor McPherson to script. Although it is uncertain whether or not the plan remains the same, the 2013 announcement claimed that the live-action Artemis Fowl movie will be based on the first and second installments in the best-selling children's fiction series, Artemis Fowl and Artemis Fowl: The Arctic Incident. Branagh, whose Cinderella earned more than $542 million worldwide, is next slated to direct a big screen adaptation of Agatha Christie's Murder on the Orient Express. He's also set to produce the Artemis Fowl movie alongside Harvey Weinstein. "This is a special project for me because my children absolutely love this book," Weinstein said back in 2013. "This story is for everyone and there is no one better than Disney to make a film that will excite people young and old." Judy Hofflund will executive produce the Artemis Fowl movie with Tendo Nagenda and Jessica Virtue overseeing for TWC and Disney, respectively.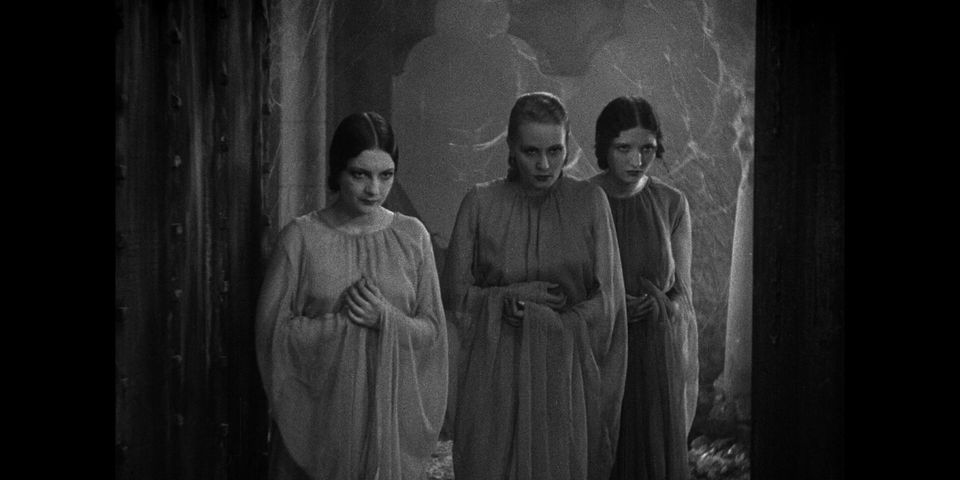 RED TORNADO COMES TO SUPERGIRL
A familiar DC Comics superhero is set to make his live-action debut on an upcoming episode of Supergirl. CBS today announced that Iddo Goldberg (Defiance, "Salem") is set to guest star in an upcoming episode as Red Tornado. Red Tornado, created by Gardner Fox and Dick Dillin, made his first full appearance in 1968's "Justice League of America" #64, however the character's origins can be traced back even further to a 1960 issue of "Mystery in Space." In that title's 61st issue, readers were introduced to Ulthoon, called "The Tornado Tyrant" of the planet Rann. Ulthoon's consciousness was merged with a terrestrial android (constructed by T.O. Morrow) to become the Justice League's Red Tornado. "Designed for the army by scientist T.O. Morrow," reads he official character description for Supergirl, "Red Tornado is the world's most nefarious android who is capable of devastating National City. Once free from the U.S. government's grip, Red Tornado sets out on a path of destruction that only Supergirl will be able to stop." Melissa Benoist leads the cast of Supergirl as the title character with a cast that also includes Mehcad Brooks as James Olsen, Laura Benanti as Alura Zor-El, Calista Flockhart as Cat Grant, Chyler Leigh as Alexandra "Alex" Danvers, Jeremy Jordan as Winslow "Winn" Schott, Jenna Dewan Tatum as Lucy Lane (sister of Lois), David Harewood as Hank Henshaw, Peter Facinelli as Maxwell Lord, and, in mystery roles, Dean Cain and Helen Slater. Supergirl will premiere Monday, October 26 at a special time (8:30-9:30pm) before it moves to its regular time slot on Monday, November 2 from 8:00-9:00pm. It has not yet been revealed exactly when fans can expect the Red Tornado episode to air, but check back for updates as they become available.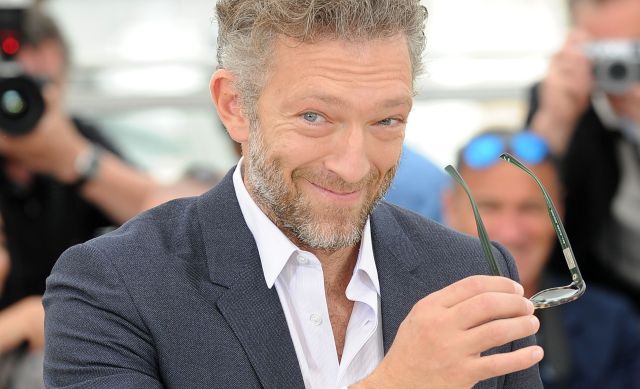 BOURNE 5
Variety reports that Vincent Cassel (Black Swan, Ocean's Thirteen) will play the villain in the new Bourne movie, in which he will menace returning star Matt Damon. Details are slim about what Cassel's role will be, but the outlet notes he's playing an assassin on the trail of Jason Bourne. Little is known about the plot of the new film, although it has been confirmed that it will not feature a crossover between Damon's Bourne and Jeremy Renner's Aaron Cross. Julia Stiles will be reprising her franchise role of ex-CIA agent Nicky Parsons, however, with Ex Machina's Alicia Vikander in the female lead and Academy Award winner Tommy Lee Jones as a high-ranking CIA officer. "Without giving too much of it away, it's Bourne through an austerity-riddled Europe and in a post-Snowden world," Damon previously said about the sequel. "It seems like enough has changed, you know? There are all these kinds of arguments about spying and civil liberties and the nature of democracy." Paul Greengrass will direct once again from a script he co-wrote with Christopher Rouse. Frank Marshall will again produce the new film alongside Jeffrey Weiner for Captivate Entertainment. Greengrass, Damon and Greg Goodman also produce. Production should begin shortly on Bourne 5 with production set to shoot in Greece and Las Vegas. The film is set to hit the big screen July 29, 2016. THE 5TH WAVE
Columbia Pictures has officially released the international tailer for their adaptation of the best-selling young adult novel The 5th Wave, and you can check out Chloe Grace Moretz packing some serious firepower. In The 5th Wave, set in the present day, four waves of increasingly deadly attacks have left most of Earth decimated. Against a backdrop of fear and distrust, 16-year-old Cassie is on the run, desperately trying to save her younger brother. As she prepares for the inevitable and lethal 5th wave, Cassie meets a young man who may become her final hope. Slated for domestic release on January 29, 2016, The 5th Wave stars Chloe Grace Moretz as Cassie, Nick Robinson as Ben Parish aka ?Zombie,? Ron Livingston as Dad/Oliver, Maggie Siff as Mom/Lisa, Alex Roe as Evan Walker, Maika Monroe as Ringer, Zackary Arthur as Sam, and Liev Schreiber as Vosch. The action-adventure film is directed by J. Blakeson, with a screenplay by Susannah Grant, based on the book by Rick Yancey. The producers are Tobey Maguire, Graham King, Lynn Harris, and Matthew Plouffe. Denis O?'Sullivan and Richard Middleton are the executive producers. UNDER THE DOME CANCELLED
CBS announced today that the Dome in Chester's Mill will come down and its mysteries revealed during the series finale of Under the Dome on Thursday, Sept. 10. Based on Stephen King's bestselling novel, Under the Dome debuted Monday, June 24, 2013 and has been one of the most-watched shows on television for the past three summers. In the series finale, when the Dome comes down, many questions about its origin and power will be answered, as two groups of residents engage in one final conflict that some won't survive. Here's what Nina Tassler, Chairman, CBS Entertainment, had to say in a statement. "Two years ago, Under the Dome broke new ground in the summer and became an instant hit on CBS, as well as with viewers around the world. Dome's event storytelling and multi-platform business model paved the way for more original summer programming with the successful rollouts of Extant and Zoo. We're excited to present the final chapter in Chester's Mill as the story comes full circle, with the Dome coming down as dramatically as it went up." All three seasons of Under the Dome will continue to be available for unlimited streaming to fans and members of Amazon's Prime Video, which has been the exclusive subscription video on demand (SVOD) home for Dome since the show premiered Under the Dome tells the story of a small town that is suddenly and inexplicably sealed off from the rest of the world by an enormous transparent dome. Combating Dome and man-made threats daily, the residents of Chester's Mill rose to new heights of ingenuity, courage and, for some, darkness, in order to survive their post-apocalyptic isolation. Mike Vogel, Rachelle Lefevre, Dean Norris, Eddie Cahill, Alexander Koch, Colin Ford, Mackenzie Lintz and Kylie Bunbury star. Under the Dome is produced by CBS Television Studios and Amblin Television. Steven Spielberg, Neal Baer, Justin Falvey, Darryl Frank, Stacey Snider, Timothy Schlattmann and Peter Leto are executive producers. Under the Dome premiered to some of the highest summer ratings in several years when it debuted in the summer of 2013. The show was quickly renewed for a second season, but the ratings started to dip last summer. Under the Dome averaged 2.7 rating in adults 18-49 and 11.2 million viewers overall in Season 1, dropping to an average of 1.6 demo rating and 7.2 million viewers overall. This season, the show is averaging a 1.0 rating in the 18-49 demo and 4.9 million viewers overall. Take a look at the new trailer for the last two episodes of the series, airing Thursday, September 3 and Thursday, September 10 on CBS. Take care and I look forward to hearing from you.
Sandra Bruckner (sgbruckner@aol.com)
Editor/Publisher
ISN News: The Zocalo Today
http://www.isnnews.net
Copyright - SBruckner, 1999-2015