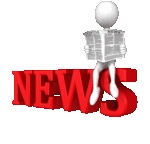 DECEMBER NEWS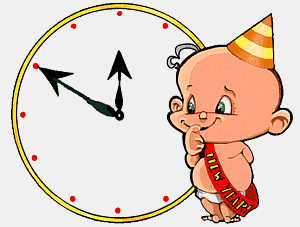 TUESDAY, DECEMBER 31, 2013
MARVEL'S AGENTS OF S.H.I.E.L.D. Could Coulson have been the one thing keeping Skye a member of his team? In a new clip from "Marvel's Agents of SHIELD's" upcoming episode "The Magical Place," it doesn't take long for Melinda May to turn on Skye.
It's no secret that Victoria Hand is not a big fan of Skye (especially after the turn of events in "The Hub") so it's not a surprise that she would not trust Skye to use her hacking skills to try to follow Centipede's money trail in the new episode, airing Jan. 7. What is a surprise, though, is that May wouldn't have Skye's back when Ward tries to convince Hand of the hacker's usefulness.
May has always been cold to Skye, but maybe she has some ulterior motive here for keeping Skye out of the line of fire? Whatever her reason, her fling Ward likely isn't going to be too happy about the fact she didn't have his back either when he stood up for Skye. Their relationship looks to be hitting some bumpy spots already.
The synopsis for "The Magical Place" reads, "Coulson uncovers vital information about the mystery of his death, but, with Centipede out for blood, this knowledge may come at the cost of one of the team."
"Marvel's Agents of SHIELD" returns on Jan. 7 at 8 p.m. ET.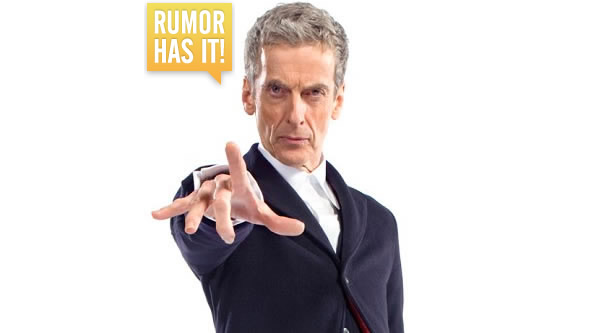 DOCTOR WHO
Now that Peter Capaldi has debuted in the lead role of "Doctor Who," one thing is clear: He's keeping his Scottish accent, as expected. It's a first for the Doctor, who has always sounded British during his 50 years on TV.
He's not the first actor hailing from Scotland to play the Doctor, though. David Tennant, the 10th Doctor, had hoped to use his Scottish accent in his portrayal, but the BBC nixed the idea and he ended up going for British.
When it was first learned the 12th Doctor would have a Scottish accent, Tennant gave his fellow Time Lord a hard time, joking, "I think it's just lazy." The BBC isn't saying why it works now, but tells the Daily Mirror, "The decision for Peter Capaldi to have a Scottish accent as the Doctor was a creative decision and it was not part of his contract." Maybe it's all part of the insanely confusing Christmas special that saw the Doctor's regeneration cycle starting over. Does that mean the Doctor will be Scottish from now on, even after Capaldi?
Perhaps, Capaldi just has a horrible British accent. Whatever the case, time will tell how a Scottish Doctor works when Series 8 debuts. PARANORMAL ACTIVITY: THE MARKED ONES
Paramount Pictures has released, via Yahoo! Movies, a new clip from this Friday's Paranormal Activity: The Marked Ones that reminds you not to go into the basement.
Christopher Landon writes and directs the franchise spinoff, which arrives in theaters this Friday, January 3, with Richard Cabral, Carlos Pratts, Eddie J. Fernandez, Jorge Diaz, David Fernandez Jr., Kimberly Ables Jindra, Tonja Kahlens and Frank Salinas starring.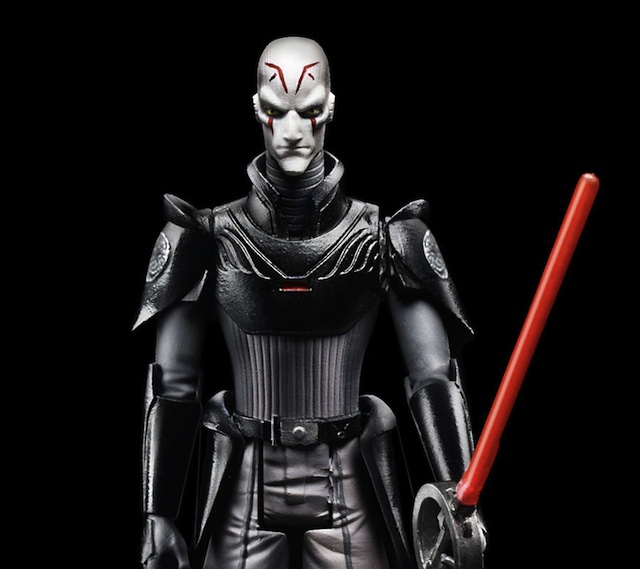 STAR WARS REBELS
Having initially revealed the character during New York Comic-Con, Lucasfilm has today released images (this time in action figure form) of The Inquisitor, a new villain set to debut on the upcoming animated series "Star Wars Rebels." Shown below as part of the 3.75-inch "Star Wars Rebels" Saga Legends line, The Inquisitor is a Jedi hunter in the employ of the Galactic Empire.
The upcoming series is set between the events of Episode III and IV -- an era spanning almost two decades never-before explored on-screen. It takes place in a time where the Empire is securing its grip on the galaxy and hunting down the last of the Jedi Knights as a fledgling rebellion against the Empire is taking shape.
"Star Wars Rebels" will be produced by Lucasfilm Animation, featuring many of the key talents that made "Star Wars: The Clone Wars." It is scheduled to premiere in fall 2014 as a one-hour special telecast on Disney Channel, and will be followed by a series on Disney XD channels around the world.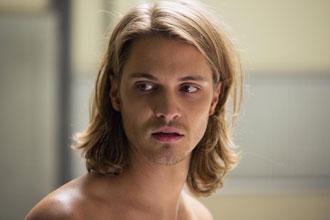 TRUE BLOOD NEWS
One of the surprisingly good newcomers on "True Blood" last season was Luke Grimes. Grimes played hunky imprisoned vampire James who shared various scenes with Jessica (Deborah Ann Woll).
Now, TV Line reports that Grimes has unexpectedly left the series. An HBO spokesperson confirmed the news, saying: "The role of James is being recast due to the creative direction of the character."
According to a source, Grimes asked to be let out of his contract after he learned what was in store for the character next year:
"He initially joined the show because he wanted to work with Deborah Ann Woll [with whom he co-starred before]. But when he started reading the scripts for Season 7, he was disappointed to learn that they were going in a completely different direction with James."
Filming begins on the final season next month. Grimes isn't going to be short of work though, he recently scored the role of Christian Grey's brother in the "Fifty Shades of Grey" movie. NEW YEAR'S EVE MARATHONS
The Twilight Zone Marathon (Syfy) 8 a.m.
It's time to get your Twilight Zone on again. Syfy's annual marathon gives us two full days of episodes, with breaks for some paid advertising.
Here's the first part of "And When the Sky Was Opened" Doctor Who Marathon (BBC America) 8 a.m.
Or if a Doctor Who marathon is more your style, BBC America is offering up a series of specials and special episodes. Included are "An Adventure in Space and Time," the movie about how Doctor Who got its start, and Matt Smith's final episode, "The Time of the Doctor." The marathon runs through the day until 6 a.m. Jan. 1.
Here's a look at "The Time of the Doctor" The Walking Dead Marathon (AMC) 9 a.m.
You may have to wait till February to see the second half of season four, but here's your chance to relive the entire series from the beginning, starting with the pilot, "Days Gone Bye." The marathon runs in chronological order until 5 a.m. Jan. 2.
Here's a preview of the show's beginning.
MONDAY, DECEMBER 30, 2013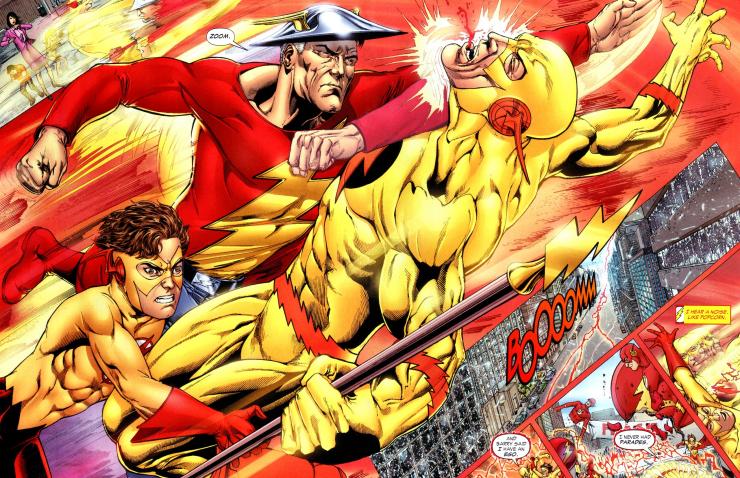 FLASH NEWS
Some rumors are starting to trickle out about what we'll see in The CW's upcoming Flash spinoff, and it sounds like it'll be anchored by some familiar faces from DC lore.
The fan site Bludhaven Banter is reporting that supervillain Professor Zoom and sometime Justice League member Vibe will have major roles in the series. Of course, with the series being a bit more grounded a la Arrow, it'll be interesting to see how they handle the more fantastical angles.
The report notes that we'll meet Detective Eddie Thawne, "which sounds a lot like Eobard Thawne, the name of Professor Zoom," in the series. Considering the fact that super-fast Professor Zoom (aka Reverse Flash) is the Flash's archnemesis, it's not much of a stretch to think he'll show up in some capacity. But how will Thawne get his powers? The same explosion that supercharged Barry Allen?
There are also rumblings that mid-tier DC hero Vibe will show up in a major role, though the source says it's doubtful he'll have his sonic-vibration abilities. Vibe has been bouncing around DC comics since the mid-1980s, and he played a major role in the Justice League for a while. But on Flash he'll be going by his alter ego, Francisco "Paco" Ramon.
It's been a blast to watch how Arrow has walked the tightrope to adapt Green Arrow's comic lore for the small screen, and we can't wait to see how the producers handle The Flash. Here's hoping this thing doesn't take a turn for the cheesy and revert back to Smallville 2.0 (in a bad way). WEEKEND BOX OFFICE
Thanks to a strong Christmas season, Hollywood is safe to begin celebrating a record year at the North American box office. With two days left to go, revenue will match 2012's record $10.8 billion sometime on Sunday, putting the final tally for the year in the $10.9 billion range.
Dominating the post-holiday weekend were a trio of all-audience offerings: Warner Bros.' The Hobbit: The Desolation of Smaug, Disney's runaway family hit Frozen and Will Ferrell comedy Anchorman 2: The Legend Continues. The three holdovers beat out six new films opening nationwide on Christmas Day, including three that quickly bombed -- Universal's pricey 47 Ronin, WB's Sylvester Stallone-Robert De Niro comedy Grudge Match and Justin Bieber documentary Believe. But even with those films dragging down the bottom line, the weekend was still up 10 percent over last year.
As expected, Desolation of Smaug placed No. 1 for the third weekend in a row with $29.9 million, pushing its domestic total to $190.3 million. The tentpole also ruled internationally, taking in another $98.3 million to soar past the $600 million mark worldwide. Smaug has now grossed $423.8 million offshore for a global total of $614.1 million.
Disney's unstoppable Frozen wasn't far behind Desolation of Smaug in grossing $28.8 million domestically -- the second best showing of all time for a film in its sixth weekend after Avatar ($34.9 million) and besting Titanic ($25.2 million).
The animated tentpole, perhaps the biggest surprise of the year-end holidays, has now earned $248.3 million in North America, pointing to the immense staying power a family film can enjoy and becoming Disney's most successful title domestically after The Lion King. It also underscores a dearth of family product (Walking With Dinosaurs was the only new family offering of the Christmas season, but it quickly became extinct, earning just $20.8 million to date).
Overseas, Frozen also placed No. 2 for the weekend, grossing a strong $50.5 million for a foreign total of $243.5 million and global haul of $491.9 million.
Coming in No. 3 domestically, Paramount's Anchorman 2 took in $20.2 million in its second weekend for a domestic total of $83.7 million, just shy of the $85.3 million earned all in by Anchorman: The Legend of Ron Burgandy. The sequel has crossed the $100 million mark globally, thanks to an early foreign total of $24.5 million -- compared to a lifetime foreign gross of $5.1 million for the first film.
After that, a crowded crop of Christmas offerings vying for adults and awards attention duked it out for their place on the top 10 chart. Martin Scorsese's R-rated, sex-laced The Wolf of Wall Street, among the films launching nationwide Dec. 25, was narrowly beat by David O. Russell's holdover American Hustle for the weekend (both are critical and award darlings).
American Hustle placed No. 4 for the weekend with $19.6 million to cross the $60 million mark domestically for Sony. Although likewise rated R, Russell's film is playing to more mainstream audiences.
Wolf of Wall Street followed at No. 5 with weekend earnings of $18.5 million, putting its five-day debut at a strong $34.3 million. Red Granite fully financed the $100 million-plus film, with Paramount handling marketing and distribution.
Wolf of Wall Street, starring Leonardo DiCaprio as Wall Street bad boy Jordan Belfort, barely received an R rating (Scorsese agreed to trim certain sex scenes in order to avoid getting slapped with an NC-17). The movie is indeed proving to be polarizing, evidenced by its C CinemaScore, and is doing best on the two coasts. Boasting a running time of two hours and 59 minutes, Wolf marks Scorsese's longest film by a minute, topping Casino. The film skewed male (54 percent), while 90 percent of the audience was over the age of 25.
Paramount vice chairman Rob Moore agrees Wolf is polarizing. "Even though it has made many top 10 lists and received nominations by numerous organizations, there are some people who take issue with the subject matter. It is a provocative film, leading to lots of conversation and debate, which is good for word of mouth," Moore said.
20th Century Fox's Christmas Day entry The Secret Life of Walter Mitty, directed by and starring Ben Stiller, was likewise narrowly beat on its first weekend by a holdover, Disney's Saving Mr. Banks.
Starring Tom Hanks as Walt Disney and Emma Thompson as Mary Poppins author P.L. Travers, Saving Mr. Banks was up an astonishing 50 percent in its second weekend of nationwide play, grossing $14 million for a domestic total of $37.8 million and coming in No. 6 (Frozen was up 45 percent). The movie is benefiting greatly from appealing to women, since many of the other holiday titles are playing more to males.
Banks' hold is sure to be a boost for its awards campaign. Overseas, it has earned $6 million to date, much of it from the U.K., where Travers lived.
Secret Life of Walter Mitty, costing $91 million to make, placed No. 7 with $13 million for a five-day debut of $25.6 million. Fox believes the movie will be a strong contender throughout January because of its family friendly PG rating. Overseas, Mitty opened to $27.2 million from 39 markets, led by Italy ($5 million) and the U.K. ($3.8 million).
Universal's ill-fated 47 Ronin eked out a 9th place finish with $9.9 million for a sobering five-day debut of $20.6 million, far from enough considering the film's $175 million budget. Nor is the Keanu Reeves samurai epic, co-financed by Universal and Elliott, faring well internationally so far, where it has earned $13.8 million from 29 markets. Domestically, males made up 62 percent of the audience. Hispanics represented 33 percent of ticket buyers, followed by Caucasians (28) percent and Asians (19 percent).
Universal, which is otherwise celebrating its best year in history, has known the film was troubled financially for quite some time and says it has already accounted for a loss. "Universal Pictures regularly evaluates its film slate for potential adjustment. In the case of 47 Ronin, we adjusted film costs in previous quarters and as a result our financial performance will not be negatively impacted this quarter by its theatrical performance," the studio said in a statement issued last week.
Added Universal distribution chief Nikki Rocco on Sunday: "We never set out to make a film that we think won't work. When we gave it the greenlight years ago, we thought we had discovered a new franchise."
Warner Bros.' $40 million Grudge Match, about two aging boxers who reunite for one last bout, opened outside the top 10, coming in No. 11 for the weekend with $7.3 million, putting its five-day debut at a troubled $13.4 million. The movie, certain to lose money, skewed male (55 percent), with 68 percent of those buying tickets over the age of 25.
"Sometimes a film just doesn't resonate," said WB executive vice president of domestic distribution Jeff Goldstein. "The strategy of opening when we did was a good one, and the cast worked hard to promote the film. The audiences just didn't find it, or weren't interested."
Bieber's Believe fared even worse, coming in No. 14 with an estimated $2 million. The concert documentary took in just $4.3 million in its five-day debut, a fraction of the $29.5 million opening of his last film, Never Say Never. While Believe is playing in far fewer theaters than Never Say Never (1,037 versus 3,000), it still vastly underperformed. Open Road Films is distributing and marketing Believe.
Moviegoing should remain strong throughout New Year's week and into next weekend.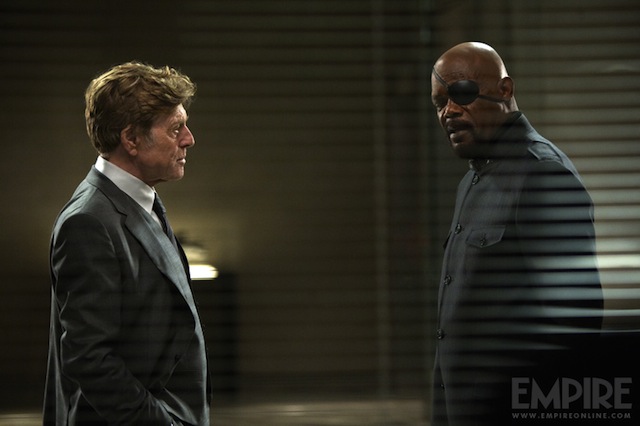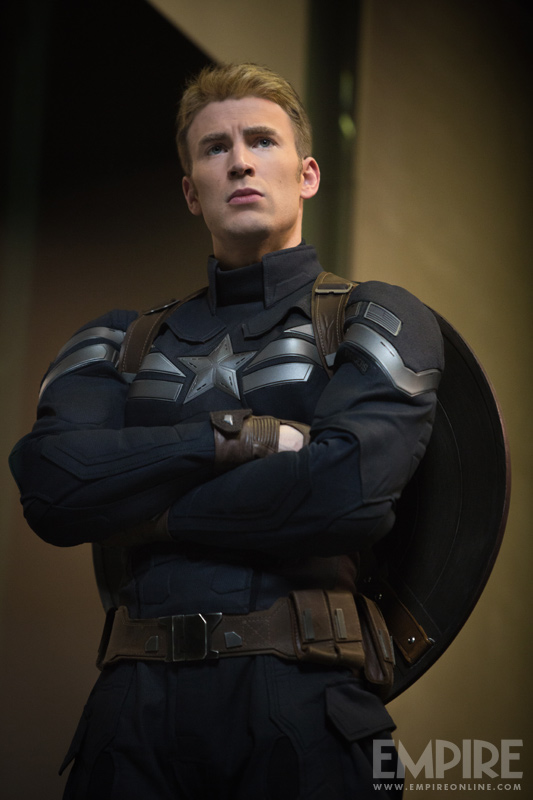 CAPTAIN AMERICA: THE WINTER SOLDIER
Following Empire's just revealed Captain America: The Winter Soldier new cover designs, the magazine has brought online new stills from the upcoming Marvel Studios film.
Captain America: The Winter Soldier will pick-up where Marvel's The Avengers left off, as Steve Rogers struggles to embrace his role in the modern world and teams up with Natasha Romanoff, aka Black Widow, to battle a powerful yet shadowy enemy in present-day Washington, D.C.
The April 4 release stars Chris Evans, Scarlett Johansson, Samuel L. Jackson, Robert Redford, Sebastian Stan, Anthony Mackie, Cobie Smulders, Frank Grillo, Georges St-Pierre, Hayley Atwell, Toby Jones, Emily VanCamp and Maximiliano Hernández.
SUNDAY, DECEMBER 29, 2013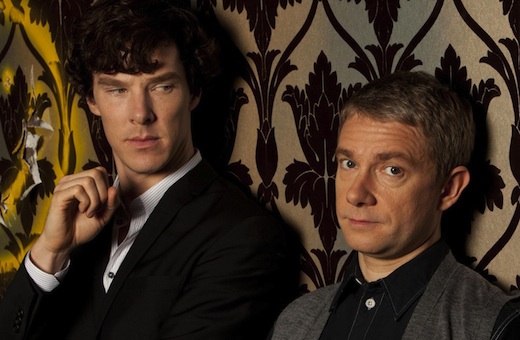 SHERLOCK HOLMES
Sherlock Holmes has entered the public domain. After being published by Arthur Conan Doyle in 1887, the series is now no longer under copyright. Or most of it isn't, at least.
Federal judge Ruben Castillo ruled that all of the Sherlock Holmes stories written before the year 1923 have entered the public domain. The 10 or so stories written after that date -- which include storylines like Dr. Watson's second wife and Sherlock Holmes' retirement -- will still remain under copyright.
This decision was made after author Leslie Klinger wrote the book "The New Annotated Sherlock Holmes" and contributed to the anthology "In the Company of Sherlock Holmes," and was then threatened by Doyle's estate. Klinger went to get a judicial declaration saying that, by copyright law, the Sherlock Holmes stories belong in public domain.
The traditional law is that copyright life ends 95 years after publication or after the life of the author plus 70 years (whichever comes first). But Doyle's estate argued that the books should not be considered fair game until the last one came out in 1927, meaning they should still be under copyright. Castillo thought otherwise.
"It is a bedrock principle of copyright that 'once work enters the public domain it cannot be appropriated as private (intellectual) property,' and even the most creative of legal theories cannot trump this tenet," he writes. "Having established that all but the Ten Stories have passed into the public domain, this Court concludes that the Pre-1923 Story Elements are free for public use."
Sherlock Holmes remains a constant presence in our pop culture. From the continued popularity of shows like "Sherlock" and "Elementary" to the recent Holmes movies starring Robert Downey Jr. and Jude Law, the stories continue to capture the imaginations of many storytellers and viewers. It will be exciting to see what comes out of the tales of Sherlock Holmes now that so many of them are available for public use.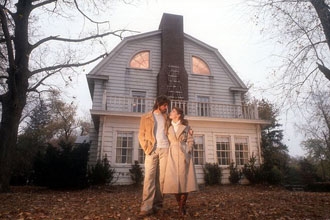 AMNITYVILLE
Dimension Films has announced a January 2nd 2015 release date for the project going by the title "Amityville".
Previously called "The Amityville Horror: The Lost Tapes," it was a project that was seemingly stuck in development hell for years. Earlier this week producer Jason Blum confirmed it was still moving forward though.
Casey La Scala and Daniel Farrands are writing and directing the found footage thriller which ignores the 2005 reboot and serves as a direct follow-up to the 1976 original.
At last report, the story follows an ambitious female TV news intern leading a team of journalists, clergymen and paranormal researchers into an investigation of the bizarre events of the first film.
TUESDAY, DECEMBER 24, 2013
TAKING SOME TIME OFF
I'll be off for a few days visiting with family in the cold regions of Pennsylvania. Can't believe it was 70 degrees when we got here on Sunday and is now freezing! But that's the weather these days. I hope all of you have a joyous holiday.
I'll still be up and posting information on Facebook, so be sure to visit.
SUNDAY, DECEMBER 22, 2013
VOTE FOR BABYLON 5 AND CRUSADE
Another opportunity has presented itself to vote for Babylon 5, Crusade and the B5 movies and measure them against other programs like Battlestar Galactica, Star Trek and others. Go to The Best Sci-Fi Series and vote -- and vote often. Don't forget to rank your favorites as well, up ranking has brought Babylon 5 from 12 to 10 just recently. You can make a difference.

JACK RYAN: SHADOW RECRUIT
Paramount Pictures has released the first TV spot for director Kenneth Branagh Jack Ryan: Shadow Recruit.
Opening in theaters in IMAX on January 17, the film stars Chris Pine, Kiera Knightly, Kevin Costner, Peter Andersson Branagh, David Paymenr and Colm Feore.
Based on the Jack Ryan character created by bestselling author Tom Clancy, Jack Ryan: Shadow Recruit is a contemporary action thriller set in the present day. The original story written by David Koepp follows a young Jack as he uncovers a financial terrorist plot.

ARROW
The CW aired a short promo for "Arrow" after the mid-season finale, but now the network has brought online a slightly longer version you see here. No plot synopsis has been released for the episode yet, but it bears the title of "Blast Radius" and will air on January 15th, 2014.
"Blast Radius" is directed by Rob Hardy and written by Jake Coburn & Keto Shimizu. "Arrow" airs on Wednesdays at 8 P.M. ET/PT on The CW.
SATURDAY, DECEMBER 21, 2013
STAR WARS: DARK RESURRECTION
The folks at Disney are looking to ramp up production on a boatload of new Star Wars content, but a group of intrepid fans hope to beat them to the punch.
The team behind Star Wars: Dark Resurrection, a two-part Italian fan film series that has been kicking around since 2007, are coming back together for a final entry in their saga. They're gearing up for a crowdfunding campaign next month, but have posted an initial trailer to pitch the concept.
The story follows a dark Jedi's search for a mythical source of power, while the good guys try to stop him. For the final episode, the producers hope to crank up the production budget to make a rockin' finale. It looks like a fun project, and could be a nice diversion while we wait for Disney to kick things into high gear.
Considering the fact that they've already released two Star Wars fan films — one in 2007, the other in 2011 — it's possible Disney might stay mum and let production on the last installment go on as planned with no copyright claims. But I wouldn't hold my breath.
If the pushback against that (awesome-looking) Punisher fan film is any indication, it seems pretty likely Disney could step in and knock this thing off track before it has a chance to get started. The Mouse House takes its intellectual property very seriously, and Star Wars looks to become a major part of the equation soon, so I'd look for the lawyers to pounce soon.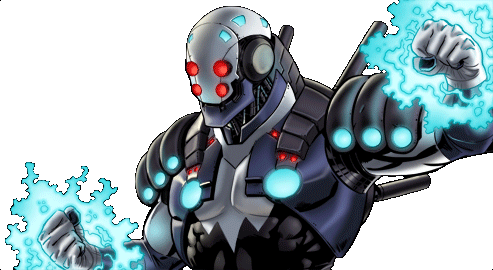 AGENTS OF S.H.I.E.L.D.
The producers have promised that Joss Whedon's Agents of S.H.I.E.L.D. would dig deeper into the Marvel canon, and now it sounds like a classic Iron Man baddie is next on the list.
Marvel TV exec Jeph Loeb recently promised "there's a plan," and it looks like the next phase starts with Donnie "Blizzard" Gill, a baddie introduced to the Marvel-verse in the late 1980s. As the name implies, the character is typically portrayed with the ability to manipulate ice and water. He's set to debut on Jan. 14, when the series returns from hiatus.
Along with trying to build its own universe, S.H.I.E.L.D. has also been sprinkling in some official easter eggs along the way, though the series has yet to find the right balance for either. Hopefully they can take a page out of Arrow's playbook of awesomeness — (who'd ever have guessed we'd be touting a CW series as the way to do it best?) — and find a way to actually enrich S.H.I.E.L.D.'s universe with the comic lore.
Check out the official episode synopsis below:
The villainous Ian Quinn returns to "Marvel's Agents of S.H.I.E.L.D." alongside the debut of Donnie Gill--a name eagle-eyed Marvel fans may find familiar--in an all-new episode premiering Tuesday, January 14 on ABC…
"Seeds" – Coulson and May uncover startling information about Skye's past, while the team is swept into a storm at S.H.I.E.L.D. Academy, on "Marvel's Agents of S.H.I.E.L.D.," Tuesday, January 14 (8:00-9:00 p.m., ET) on the ABC Television Network.
TRANSCENDENCE
The mysterious campaign for Johnny Depp's Transcendence continues with new teasers.
The first featured a voiceover from Morgan Freeman, whose character waxes philosophical about what artificial intelligence would mean for humanity.
"For 2 million years, the human brain has evolved more than any species in existence," Freeman says. "But what if all our knowledge, all our accomplishments, and all our achievements could be learned in mere minutes? What if humanity's next evolution wasn't human at all? What happens when artificial intelligence becomes self aware? Is it the key to immortality, or is it the path towards annihilation?
The second teaser features a digitally-altered voice from an anti-A.I. group called Rift. The voice warns that A.I. will destroy humanity and urges people to stop the scientists creating it. The teaser also features a URL to a new site, EvolutionWithoutTechnology.com.
The sci-fi drama from executive producer Christopher Nolan is being directed by Nolan's longtime cinematographer, Wally Pfister.
The film sees Depp play a researcher obsessed with creating a sentient artificial intelligence.
Transcendence also stars Rebecca Hall, Paul Bettany, Kate Mara and Cillian Murphy. The film is being distributed by Warner Bros. and hits theaters April 18, 2014.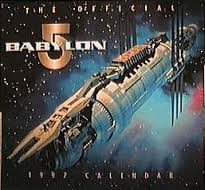 BABYLON 5 1997 CALENDAR
A reader on Facebook pointed out an interesting fact yesterday -- one I hope you will enjoy. The dates on the 1997 Babylon 5 calendar are the same as 2014. Drag out your old calendars and use them this year! Should be wonderful counting down the days, remembering the episodes!
DECEMBER 20, 2013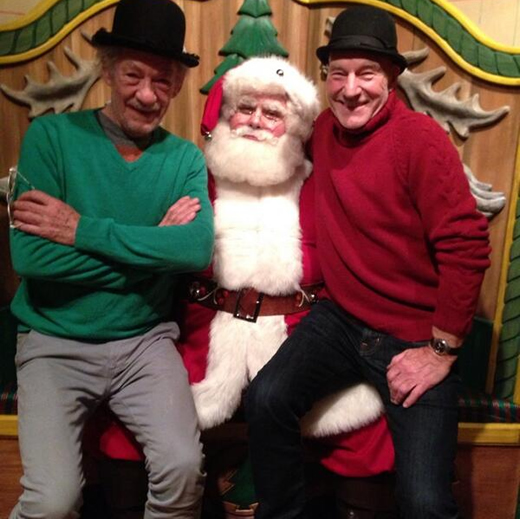 SCI-FI MEETS SANTA CLAUS
As the 2013 bromance tour of "Star Trek: The Next Generation" alum Patrick Stewart and his "X-Men: First Class" co-star Ian McKellen rolls on, it looks like made a special new friend named Santa Claus on Wednesday (Dec. 18). Stewart shared the photo on his Twitter account, writing, "Father Christmas!" The men were wearing what have become their trademark bowler hats and are dressed in festive red and green sweatshirts, looking happy as can be. It seems the two have been inseparable in the latter half of 2013, as they were rehearsing for, and now performing in, two plays simultaneously. They'd better hope they were both good this year, if they want Santa to come through with presents.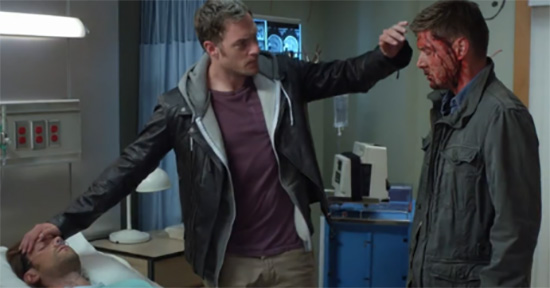 SUPERNATURAL NEWS
At the beginning of "Supernatural" Season 9, Tahmoh Penikett's noble warrior angel Ezekiel was the hero. He saved Sam's life by becoming his angelic pacemaker, healing him from the inside out after Sam failed to complete the trials to close the gates of hell. Dean trusted him with Sam's life, and so did we.
But as the season went on, things became a bit fishy. Zeke refused to allow Castiel to stay in the bunker with them, but didn't say why. Dean started to get tired of lying to Sam -- Zeke told him to keep the possession a secret in case Sam rejected him, killing himself in the process. He wanted to be truthful with his little brother, and in the fall finale, "Holy Terror," he tried to confess to Sam that there was an angel hitching a ride in his meat suit.
But Zeke didn't allow that to happen, and we finally learned why. Zeke isn't Ezekiel at all, since Cas found out that Ezekiel actually died along with a bunch of other angels during The Fall. Meet Gadreel, an angel who was locked up in heaven's jail for letting a serpent into the Garden of Eden and who has assumed the noble warrior angel's identity. He lied to Dean about who he was, took over Sam's body fully, and after sneaking off to meet Metatron, performed his first hit as Metatron's No. 2: He killed fan-favorite prophet Kevin Tran.
So now that Gadreel is fully cemented as a villain, it would be awesome to see Penikett return to portray the true angel that he is. And good news comes courtesy of executive producer Jeremy Carver, who hints to TVLine that "we might" see the "Battlestar Galactica" alum portray Gadreel at some point. "There are lots of different ways, shapes and forms people can appear on the show," Carver says. "Past, present. ... People shouldn't rush to any one conclusion. Just know there are a lot of different ways he could appear."
Hear that, "Supernatural" fans? We're not jumping to any conclusions about how or when we might see Penikett return -- might that come when Sam regains control of his mind/body and kicks Gadreel out? -- but it looks like it will happen. Are you excited to see Penikett again, this time portraying the true villainous side of his angelic character?
"Supernatural" returns with new episodes on Tuesday, Jan. 14 at 9 p.m. ET on The CW.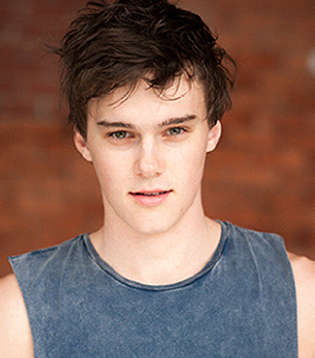 DESCENDANTS
Disney Channel has just cast "Beauty and the Beast's" teenage son Ben in "Descendants" ... and he clearly gets all his good looks from his mother's side of the family.
Meet Australian newcomer Mitchell Hope, who joins the contemporary live-action adventure-comedy that taps into Disney's heritage characters -- notably its most evil villains -- to introduce their progeny, a modern-day generation of teenagers who will ultimately question the evil that's always been in their hearts.
The 19-year-old will play Ben, the benevolent teenage son of the King and Queen ... a.k.a. Beast and Belle. Ben is poised to take the throne in a present-day idyllic kingdom, and his first proclamation is to offer a chance at redemption to the trouble-making offspring of Cruella De Vil, Maleficent, the Evil Queen, and Jafar, who have been imprisoned on a forbidden island with all the other villains, sidekicks, evil step-mothers and step-sisters.
Hope's casting comes after Disney Channel star Dove Cameron joined the cast as Maleficent's daughter Mal. While "Descendants" is not a musical, there will be a lot of singing in the movie ... and Dove's role will call for singing as well.
"Descendants" is poised for a 2015 premiere. THE WALKING DEAD - SPOILER WARNING
Things are definitely changing when The Walking Dead returns in January, but the network has been kind enough to give us a nice farewell to the end of an era. Join us in saying goodbye.
Spoilers ahead for the first half of The Walking Dead's fourth season!
After two seasons of dancing around one of the most iconic faceoffs in the comic canon, viewers were treated to the epic battle of the prison during the midseason finale — which brought with it the (not so) shocking death of the Governor (David Morrissey).
But just because he's gone, that doesn't mean the series' first huge baddie is forgotten. The network has put together a fitting farewell for the eyepatch-sporting psycho, with highlights and interviews to remind us all just how awesome he was. TRANSCENDENCE
Following the first teaser earlier today, Warner Bros. Pictures has brought online a second teaser for Wally Pfister's directorial debut, Transcendence, narrated by Morgan Freeman. Transcendence also stars Johnny Depp, Paul Bettany, Rebecca Hall, Kate Mara and Cole Hauser. It is officially described as follows:
Dr. Will Caster (Depp) is the foremost researcher in the field of Artificial Intelligence, working to create a sentient machine that combines the collective intelligence of everything ever known with the full range of human emotions. His highly controversial experiments have made him famous, but they have also made him the prime target of anti-technology extremists who will do whatever it takes to stop him.
However, in their attempt to destroy Will, they inadvertently become the catalyst for him to succeed—to be a participant in his own transcendence. For his wife Evelyn (Hall) and best friend Max Waters (Bettany), both fellow researchers, the question is not if they can…but if they should.
Their worst fears are realized as Will's thirst for knowledge evolves into a seemingly omnipresent quest for power, to what end is unknown. The only thing that is becoming terrifyingly clear is there may be no way to stop him.
Transcendence opens in theaters and IMAX on April 18, 2014.
THURSDAY, DECEMBER 19, 2013
DOCTOR WHO CHRISTMAS SPECIAL
BBC America has released a brand-new trailer for Doctor Who's upcoming Christmas special episode "The Time of the Doctor." Are you ready to say goodbye to the Eleventh Doctor?
The new extended trailer features more tidbits about the Time War (the repercussions from the events of "The Day of the Doctor," no doubt), and Trenzalore and will be Matt Smith's swan song in the role of the beloved Time Lord. Then the TARDIS will pass into Peter Capaldi's hopefully capable hands.
Here's the BBC's synopsis:
'Orbiting a quiet backwater planet, the massed forces of the universe's deadliest species gather, drawn to a mysterious message that echoes out to the stars - and amongst them, the Doctor.
Rescuing Clara from a family Christmas dinner, the Time Lord and his best friend must learn what this enigmatic signal means for his own fate and that of the universe.'
So, the Cybermen are back, the Silence are back, the Weeping Angels are back and so are those beloved space pepperpots the Daleks! Will the Doctor die in silence? (Knowing Matt Smith's Doctor, we doubt that very much.) And remember, "Silence Will Fall."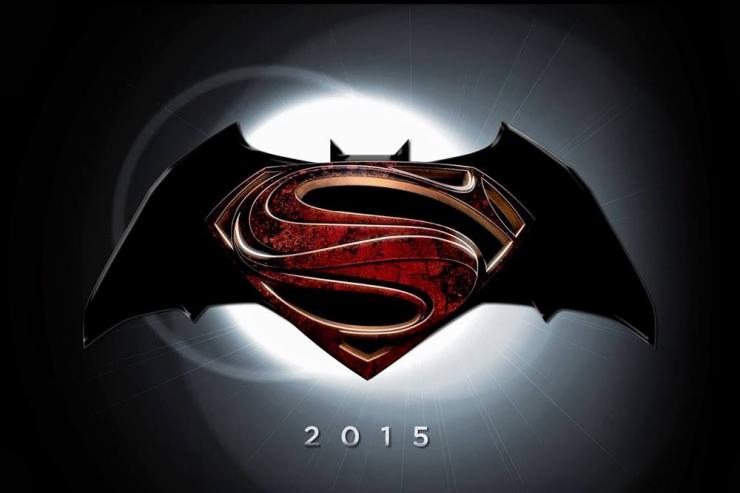 BATMAN-SUPERMAN NEWS
A new report says that Warner Bros. Pictures has its sights set on an actor to play the main villain in the upcoming sequel to Man of Steel. But who is the actor -- and what is the part?
Variety claims that the studio wants to snag Joaquin Phoenix to play the lead antagonist in the film, which does not yet have a title but has been referred to as Batman vs. Superman (among other things).
Sources have said that it's early in the process and that the actor has not even been formally offered the role yet. It's also up in the air whether he'd actually accept -- Phoenix tends to shy away from franchises and blockbusters.
If he does accept, however, it's believed that he will be playing Lex Luthor, Superman's greatest nemesis. He'll join Gene Hackman and Kevin Spacey as actors who have played the brilliantly evil scientist/industrialist on the big screen.
By the way, Phoenix is currently starring in Her, which opens today in New York and Los Angeles but will expand in January. It's about a divorced man in a future Los Angeles who falls in love with his new, sentient operating system (voiced by Scarlett Johansson) -- and it's possibly the best science fiction film of the year.
You can get a look at Phoenix's performance in that while you mull over whether you think he'd make a good Lex Luthor.
The untitled Man of Steel sequel, which stars Henry Cavill as Superman and Ben Affleck as Batman, opens on July 17, 2015.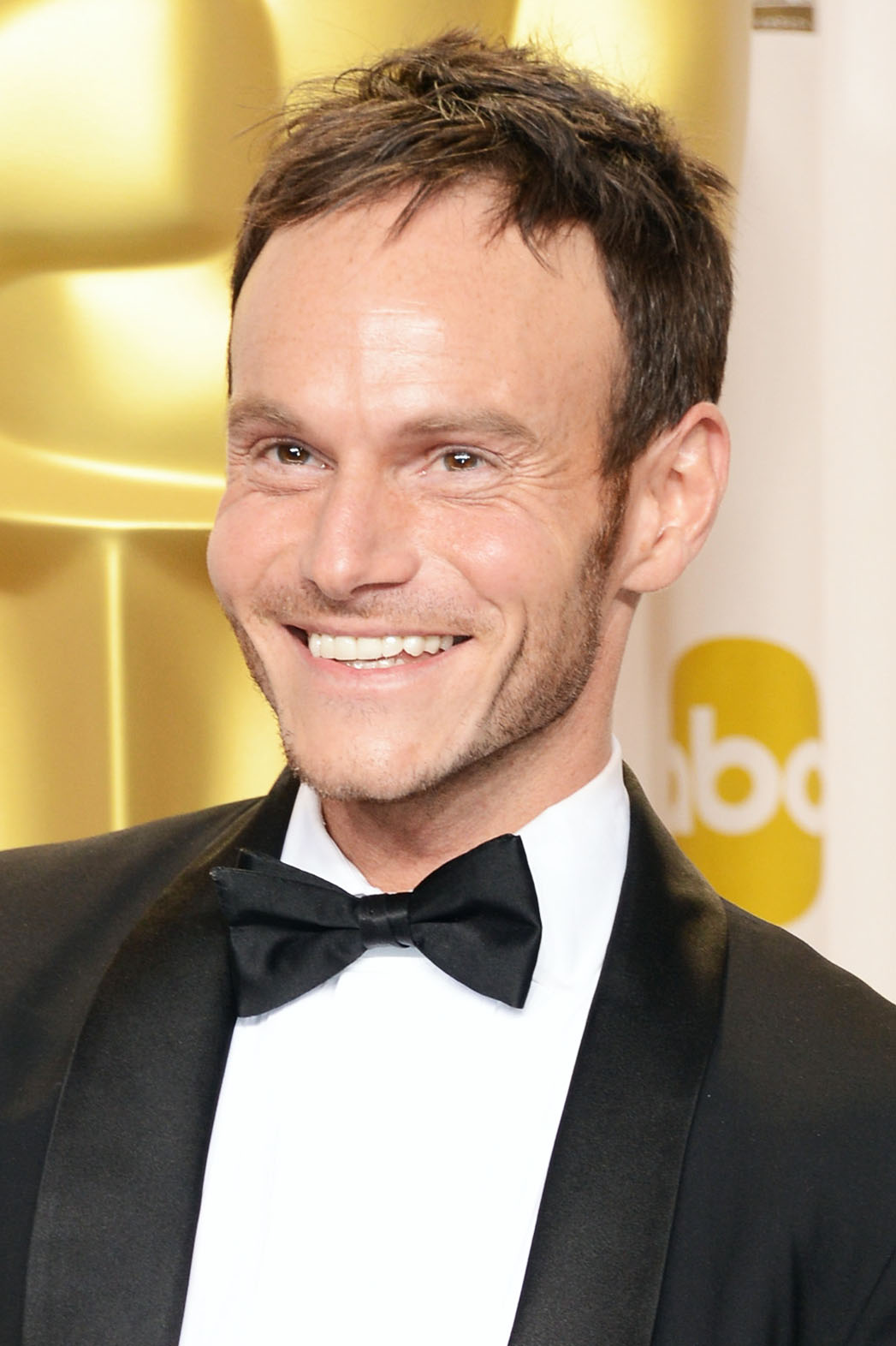 ARGO WRITER HIRED FOR BATMAN-SUPERMAN MOVIE
Warner Bros. is bringing Argo writer Chris Terrio into the Batman-Superman universe.
The Oscar-winning writer, who recently changed agencies from CAA to WME, has been brought in to write a draft of the Man of Steel follow-up, the untitled Batman-Superman movie.
Terrio has a strong relationship with the studio and the film's star Ben Affleck. Affleck directed and starred in Argo, which won last year's best picture Oscar for Warners.
Affleck will star as Batman in the Zack Snyder-helmed film, while Henry Cavill and Amy Adams also star. Game of Thrones star Jason Momoa is in talks for a role in the movie, and Gal Gadot is on board as Wonder Woman.
The film, which opens July 17, 2015, already shot a few exterior scenes this fall, but principal photography doesn't begin until early next year in Michigan and is expected to wrap in August.
David Goyer wrote the screenplay, which is based on characters created by Jerry Siegel and Joe Shuster (Superman) and Bob Kane (Batman). But sources say Terrio has been brought in to get the script in shape before filming begins. Goyer has been tied up with a number of other DC Comics titles including Sandman.
Warner Bros. declined to comment. DAWN OF THE PLANET OF THE APES
The apes have returned, and this time they just might have the advantage.
A decade after the events of Rise of the Planet of the Apes, humanity is in shambles, having been ravaged first by a virus and then by a war. The survivors, including Dreyfus (Gary Oldman) and Malcolm (Jason Clarke), have no choice but to attempt to keep the peace with the band of evolved apes that have developed a civilization all their own under the leadership of Caesar (Andy Serkis). The humans are desperate, and the apes might not be willing to listen to reason.
Alas, the first trailer for the film, directed by Cloverfield and Let Me In's Matt Reeves, gives us precious little in the way of clues as to how this will all shake out. It does, however, give us plenty of evocative imagery to get excited about. As Oldman makes a speech pleading for peace and reason, Clarke journeys through the ruins of human civlization and into the forest, where Caesar and company have built their own highly fortified home. Then we see Caesar, in war paint, and with a simple gesture he perhaps tells us all we need to know.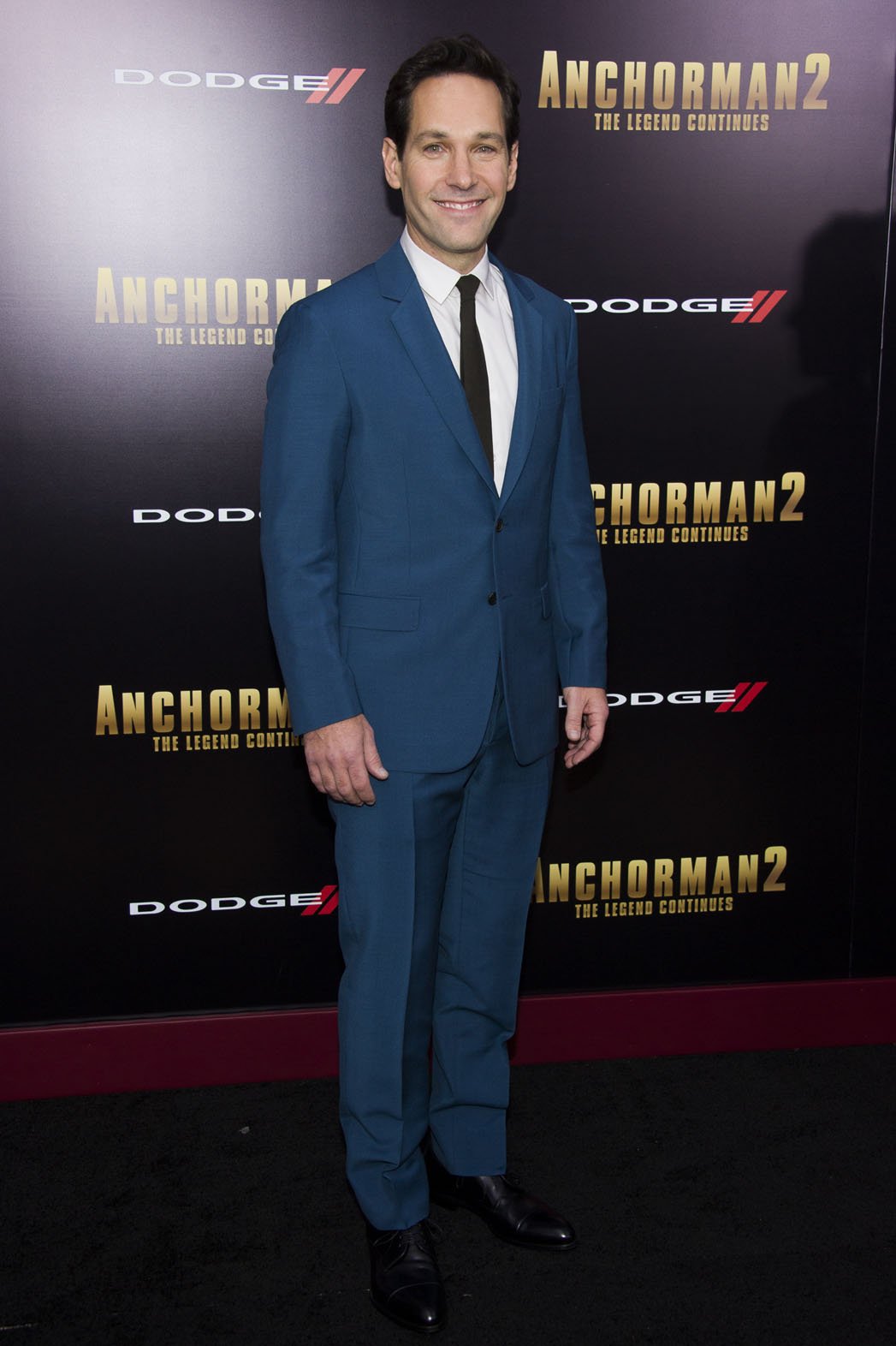 ANT-MAN
Marvel has found the star on their next giant movie, Ant-Man.
Paul Rudd had been chosen to star in the movie, which is being directed by Edgar Wright and already has a release date of July 31, 2015.
Rudd was in contention for the role with Joseph Gordon-Levitt, and although Rudd was the front-runner for some time, Marvel took its time pulling the trigger. Some speculate that when Gordon-Levitt became attached to Sandman, based on a character by Marvel's rival, DC Entertainment, that only hastened the dealmaking.
Ant-Man could be Marvel's more quirky offering since it's in the hands of Wright, a director known for his fan-favorite films such as Hot Fuzz and The World's End, which balance action, sci-fi and comedy.
Rudd's front-runner status was an open secret. What is more of interest to fanboys and girls is which Ant-Man is Marvel adapting. The script calls for the original hero, a scientist named Dr. Hank Pym who invents the shrinking technology (called Pym Particles!) and was one of Marvel's earliest heroes. But it also has Scott Lang, a reformed thief who became the hero in the late 1970s.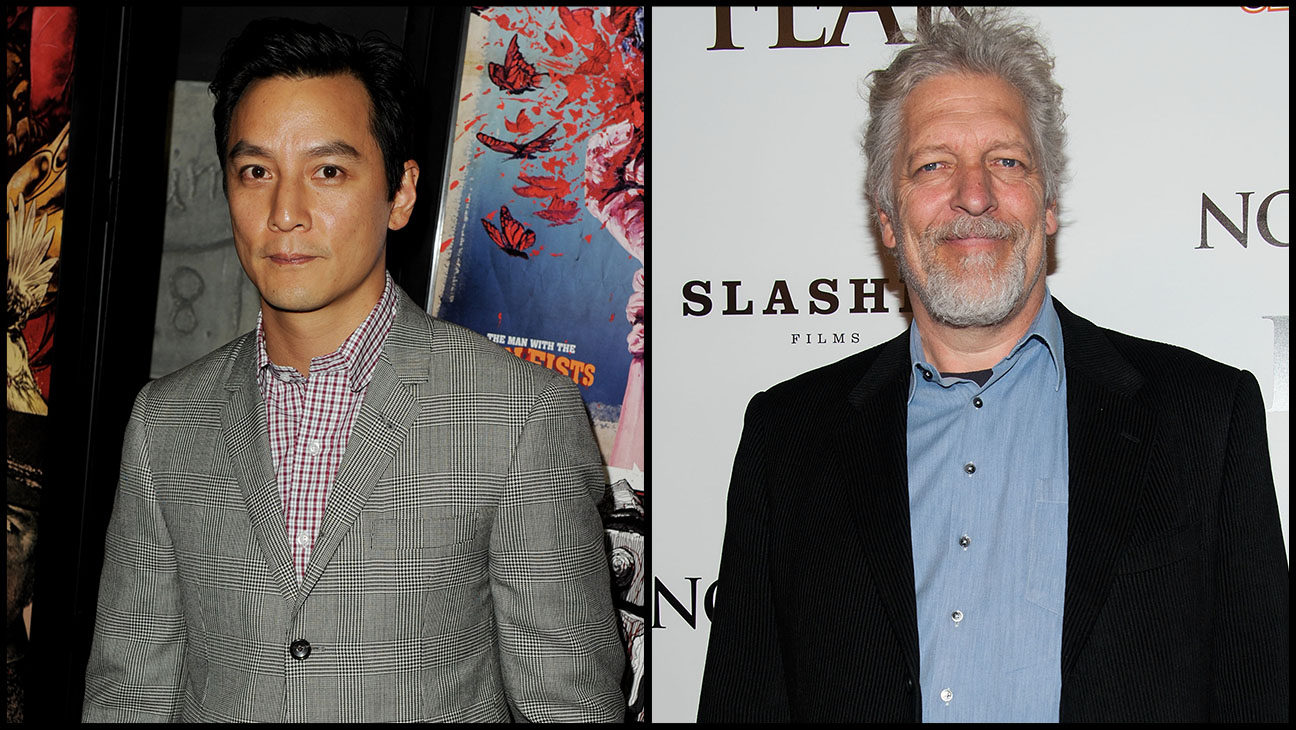 WARCRAFT
Daniel Wu and Clancy Brown have joined Warcraft, Legendary and Universal's film adaptation based on the popular video game franchise.
Duncan Jones is directing the pic, which will also star Travis Fimmel, Paula Patton, Ben Foster, Toby Kebbell and Robert Kazinsky.
Production is set to begin in Vancouver in January, with the film slated for release on March 11, 2016.
Charles Roven, Thomas Tull, Jon Jashni and Alex Gartner will produce, while Stuart Fenegan, Jillian Share, Brent O'Connor and Blizzard's Mike Morhaime and Paul Sams will executive produce.
The script was written by Charles Leavitt and rewritten by Jones.
Wu, an American-Hong Kong actor, has been in more than 60 films in his career, including New Police Story, One Nite in Mongkok, Europa and Tai Chi Zero. He's repped by CAA.
Brown's most recent film, Homefront, is currently in theaters. He'll next appear in When the Game Stands Tall opposite Laura Dern. He currently recurs on the Fox series Sleepy Hollow. He's repped by ICM Partners and Pop Art Management. HOW TO TRAIN YOUR DRAGON 2
20th Century Fox and DreamWorks Animation have released the new trailer for How to Train Your Dragon 2.
Opening in theaters on June 13, 2014, the sequel features the voices of Jay Baruchel, Gerard Butler, Kit Harington, Cate Blanchett, Djimon Honsou, Craig Ferguson, America Ferrera, Jonah Hill, Christopher Mintz-Plasse, T.J. Miller and Kristen Wiig.
The thrilling second chapter of the epic "How to Train Your Dragon" trilogy returns to the fantastical world of the heroic Viking Hiccup and his faithful dragon Toothless. The inseparable duo must protect the peace – and save the future of men and dragons from the power-hungry Drago. DIVERGENT
Summit Entertainment has debuted the first clip from Divergent.
Opening in theaters and IMAX on March 21, 2014, Divergent stars Shailene Woodley, Theo James, Kate Winslet, Ray Stevenson, Mekhi Phifer, Maggie Q, Jai Courtney, Miles Teller, Zoë Kravitz, Ansel Elgort, Ben Lloyd-Hughes, Ben Lamb, Christian Madsen, Amy Newbold, Ashley Judd and Tony Goldwyn.
Divergent is a thrilling adventure set in a future world where people are divided into distinct factions based on their personalities. Tris Prior (Woodley) is warned she is Divergent and will never fit into any one group. When she discovers a conspiracy to destroy all Divergents, she must find out what makes being Divergent so dangerous before it's too late.
WEDNESDAY, DECEMBER 18, 2013
STATE OF SYN
Remember that Blade Runner-ish web series State of Syn we told you about, which was made up mostly of former Stargate stars? Well, its audience is about to get a lot bigger.
Online video service Hulu has landed a distribution deal with the studio that created the shorts, Smokebomb Entertainment, which will bring the full run of the unique sci-fi series to the popular platform.
The deal includes all eight episodes (with a run time of approximately 5 minutes each), which will debut on Jan. 18 in the U.S. The dystopian hacker series has an awesome, comic-book look, and the first two episodes were a fun ride.
The series stars Jewel Staite (Stargate Atlantis), David Hewlett (Atlantis' Rodney McKay) and Rainbow Francks (Atlantis' Aiden Ford). The opening narration is also provided by Atlantis alum Torri Higginson (aka former expedition leader Elizabeth Weir). So, yeah, that's a lot of connections.
If the series does any good, here's hoping it comes back for a second season — because it's always nice to see the gate-hopping gang back together.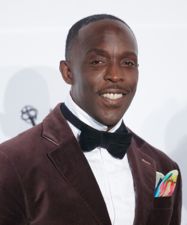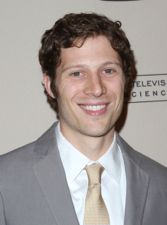 THE PURGE 2
The Purge may have been one of the biggest surprise horror hits of 2013, so it makes sense that Universal Pictures and the film's producer, Jason Blum, best known for cranking out four "Paranormal Activity" movies in four years, would jump right into its sequel, currently called The Purge 2.
Original writer-director James DeMonaco is returning for the sequel and Frank Grillo has already been announced as its star, but today, four more actors have been announced via The Hollywood Reporter as Michael K. Williams ("The Wire," "Boardwalk Empire"), Zach Gilford ("Friday Night Lights"), Carmen Ejogo (Sparkle) and Kiele Sanchez join the cast.
Williams is probably best known among the new cast members for his roles on two hit HBO dramas, creating memorable characters like Omar Little and Chalky White, plus he appears in Steve McQueen's highly-acclaimed 12 Years a Slave and will appear in next year's RoboCop reboot.
Besides his role on "Friday Night Lights," Gilford also recently appeared in the movie The Last Stand starring Arnold Schwarzenegger, while Ejogo appeared in last year's Sparkle and Alex Cross. Sanchez's TV appearances include "The Glades" and "Lost."
The sequel will take place in the same world as the first movie where once a year, there is a 12-hour period where all crimes are allowed, basically to allow the population to "get it out of their system."
Universal Pictures have already set the date for the sequel as Friday, June 20, 2014 with DeMonaco and Blum once again joined by producers Sebastien Lemercier and Michael Bay's Platinum Dunes.
Made for a budget of $3 million, the original movie starring Ethan Hawke went on to gross $89.3 million worldwide.
THE AMAZING SPIDER-MAN 2
Sony Pictures has released the new teaser poster for The Amazing Spider-Man 2.
It's great to be Spider-Man (Andrew Garfield). For Peter Parker, there's no feeling quite like swinging between skyscrapers, embracing being the hero, and spending time with Gwen (Emma Stone). But being Spider-Man comes at a price: only Spider-Man can protect his fellow New Yorkers from the formidable villains that threaten the city. With the emergence of Electro (Jamie Foxx), Peter must confront a foe far more powerful than he. And as his old friend, Harry Osborn (Dane DeHaan), returns, Peter comes to realize that all of his enemies have one thing in common: Oscorp.
Opening in theaters on May 2, 2014, the Marc Webb-directed sequel also stars Andrew Garfield, Emma Stone, Jamie Foxx, Dane DeHaan, Paul Giamatti, Sally Field, Chris Cooper, B.J. Novak and Sarah Gadon.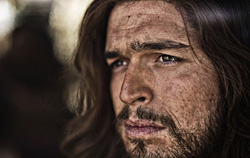 A.D.
NBC has greenlit the 12-hour miniseries "A.D.," a follow-up to the miniseries "The Bible" that aired on History earlier this year from creators Mark Burnett and Roma Downey.
The project will be produced by LightWorkers Media with Burnett, Downey and Richard Bedser serving as executive producers. "A.D." will most likely air in spring 2015.
"Last year when Mark Burnett was launching 'The Bible' on cable, I told him, without hesitation, that if he wanted to tell more of the story, we'd love to do it at NBC," said Robert Greenblatt, Chairman, NBC Entertainment. "We are firmly in the 'event' business and nothing has more event potential than 'A.D.' as it continues immediately after the 'The Bible' ended. The heft of a broadcast network, combined with the promotional arms of NBCUniversal and Comcast, will push this miniseries to a mass audience. We value our relationship with Mark and Roma and know that no one could bring this story to life better than them."
"You might think the story is over at the Crucifixion, but as most of the world knows, that was only the beginning," added Jennifer Salke, President, NBC Entertainment. "Everyone's lives were completely altered in an instant and the immediate aftermath of Christ's death had an impact on his disciples, his mother Mary, and key political and religious leaders of the time. In the first episode alone you see the last moments of the Crucifixion, Judas taking his own life after betraying Christ, Peter denying Jesus three times, and then the miracle of the Resurrection. We feel so fortunate to be in the hands of Mark and Roma, who have proven that the greatest story ever told is still just that."
"We are so thrilled to be all systems go with NBC on 'A.D.,' our follow-up to 'The Bible,'" said Downey and Burnett. "It is the story that changed the world. Millions have died for it and billions live by it. We know that an enormous community will be counting the days until 'A.D.' premieres. We look forward to making this an epic global television event."
Simon Block, who is two-time BAFTA-nominated for the TV movie "The Shooting of Thomas Hurndall," will write the script. A director and cast will be announced at a later date.
For its March 3 premiere on History in live-plus-same day viewing, "The Bible" drew 13.1 million viewers. The final episode of the 10-part series, which aired on Easter Sunday, drew 11.7 million and defeated "The Walking Dead" in the 9 p.m. hour.
When including live-plus-7 figures, "The Bible" averaged 13.2 million viewers and was the third most-watched cable television series or miniseries in 2013.
Immediately following its cable telecasts, "The Bible" became a huge DVD seller. The miniseries sold 525,000 units in its first week on sale, which ranks as the fastest-selling DVD release in the last five years. It's also the top miniseries DVD seller of all-time in the first week of release.
In addition to television, Downey and Burnett are working on the feature film Son of God, to be released by 20th Century Fox in February.
TUESDAY, DECEMBER 17, 2013
BELIEVE
It seems like J.J. Abrams isn't content until he has a TV show on every network, to go along with his big-screen Star Trek and Star Wars adventures. But his latest show has hit a bit of a snag.
Deadline is reporting that production on Abrams and Alfonso Cuaron's upcoming NBC series Believe, which is set to debut in 2014, will be going on hiatus this week and will remain shut down until Jan. 6, 2014. The reason? Another showrunner shakeup, and they need the extra time to work on scripts.
Executive producer/showrunner Dave Erickson is expected to leave the series, making way for director Jonas Pate to take over day-to-day duties on the show. The interesting bit? Erickson's background is as a director (he directed the second episode of the series) and not a writer, which is rare for a showrunner. It'll be interesting to see the effect that has on the project.
Though the series has yet to actually premiere, it will now be on its third showrunner at this point. Original co-creator Mark Friedman was originally on board to run the series but left back in July.
Though we're not sure of exactly what is going on behind the scenes, it's possible the high-concept premise could be giving Abrams and company some fits as they try to find the right direction and tone for the project. The show is about a young girl with "extraordinary abilities" and a man who is broken out of prison to protect her.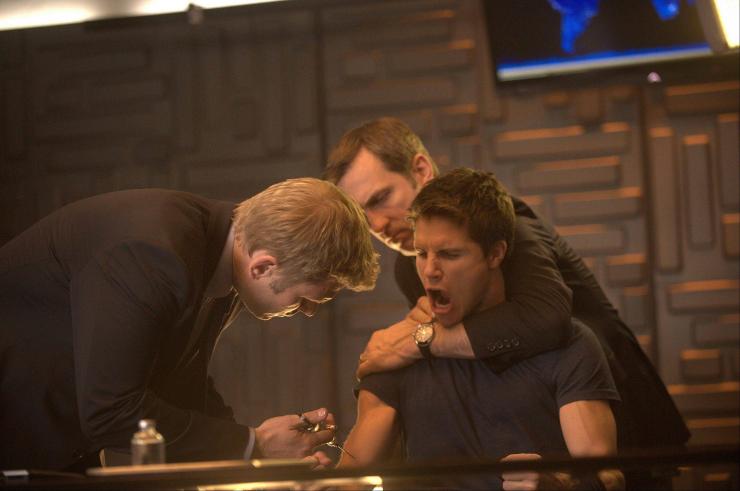 THE CW SCI-FI SHAKE-UP
With the fall season well underway, the experts are starting to predict which series will (and won't) survive. Sadly, these two CW series are likely on the chopping block.
The ratings experts over at TV By The Numbers have been crunching the numbers, and it sounds like two sci-fi series are not long for the world over at The CW. The likely victims? The Tomorrow People and Beauty and the Beast.
Of the two series, Tomorrow People has the "best" odds of renewal, at 20 percent. As schedule competition has stiffened, the freshman show has continued to bleed viewership — which is a shame. The show started off as fairly paint-by-numbers, but it's hit its stride as of late and is becoming a fun little sci-fi romp. If it goes, it will be missed.
Believe it or not, things are looking even worse for Beauty and the Beast. The show is sitting at a 10 percent chance of renewal and is one of the worst-rated shows on the network. The CW is trying to corner the niche on sci-fi/romance series (i.e. Vampire Diaries), but this one has just failed to catch on.
Despite the long odds, there's still an outside shot that at least one, or even both, of these shows could live on past this season. The CW has never pulled in mega-ratings, and if enough shows falter, there's a chance one of these could get a reprieve just to fill a slot on the schedule.
As for the rest of the sci-fi lineup? Things are looking pretty rosy, with Arrow, Supernatural, The Originals and Vampire Diaries all heavy favorites to come back next season. These four remain some of the network's biggest hits, and it's extremely doubtful any of them won't be around next year.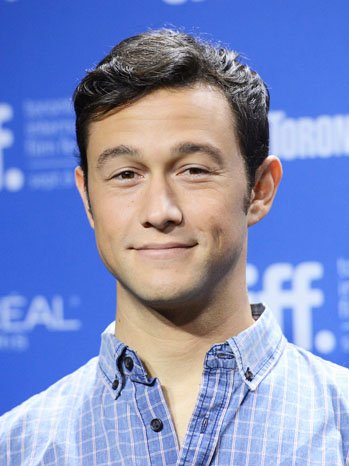 SANDMAN
Joseph Gordon-Levitt is teaming up with David Goyer to produce an adaptation of Sandman, the acclaimed Vertigo comic for Warner Bros. and DC Entertainment.
Goyer has written the treatment and will supervise the writing. Gordon-Levitt, meanwhile, would also take up the mantle of star and even director on the project.
Neil Gaiman, who authored the seminal work, will exec produce.
Sandman told the tale of Morpheus, the Lord of the Dreaming, a deity who personifies dreams. The book began in the horror realm but quickly made its mark in fantasy and mythology as Gaiman introduced the Endless, a group of powerful brothers and sisters that includes Destiny, Death, Destruction, Despair, Desire and Delirium (as well as Dream).
The book helped establish DC's Vertigo imprint and won several awards. It also was one of the few comics that segued from the comics crowd, entering the intellectual and art worlds and winning over a large non-comics-reading audience, particularly via a devoted female following.
A movie version of Sandman had been in development since the mid-'90s, with an early version involving Roger Avary. That cooled earlier in the decade, with the thinking that the best way to tackle an adaptation is the TV route. At one point DC was in talks with HBO and James Mangold to develop a show without WBTV's involvement, but that never coalesced.
Three years ago, Warner Bros. Television tried to tackle the comic and was an eyeing an adaptation with Eric Kripke, creator of the CW's horror-tinged Supernatural.
If successful, a Sandman adaptation could launch a fantasy universe that is near limitless in the stories it could tell and has more breadth than the studio's own Harry Potter franchise.
Rumors of Gordon-Levitt's surfaced last month when Badass Digest reported that Goyer was pitching a take on the character. HAUNT
IFC Midnight has debuted the first trailer for their upcoming Haunt, hitting theaters in a limited release on March 7, 2014.
Featuring a screenplay by Andrew Barrer, Haunt is directed by Mac Carter and stars Danielle Chuchran, Liana Liberato, Harrison Gilbertson, Jacki Weaver and Jan Broberg.
The film tells the story of a family that moves into a new home with a dark past. When their son becomes involved with a beautiful girl next door, and together they begin to explore their sexual awakening, they unwittingly invoke an alternative dimension of the house.

UPCOMING SUMMIT MOVIES
Summit Entertainment has updated their release calendar, setting Alex Proyas' Gods of Egypt for February 12, 2016 and the second Divergent sequel, Allegiant for March 18, 2016. They've also announced the new title and release date for the next chapter in the "Step Up," Step Up All In, which hits theaters on July 25, 2014.
Gods of Egypt, which will star Gerard Butler, Geoffrey Rush, Nikolaj Coster-Waldau, Brenton Thwaites and Courtney Eaton, is directed by Proyas and scripted by Proyas, Matt Sazama and Burk Sharpless. In the film, magic, monsters, gods, and madness reign throughout the palaces and pyramids of the lush Nile River Valley. With the survival of mankind hanging in the balance, an unexpected hero undertakes a thrilling journey to save the world and rescue his true love. Set (Butler), the merciless god of darkness, has usurped Egypt's throne, plunging the once peaceful and prosperous empire into chaos and conflict. With only a handful of heroic rebels opposing Set's savage rule, Bek (Thwaites), a bold and defiant mortal, enlists the aid of the powerful god Horus (Coster-Waldau) in an unlikely alliance against the evil overlord. As their breathtaking battle against Set and his henchmen takes them into the afterlife and across the heavens, both god and mortal must pass tests of courage and sacrifice if they hope to prevail in the spectacular final confrontation.
The new release date puts Gods of Egypt up against Illumination Entertainment's untitled animation pic.
Allegiant, meanwhile, stars Shailene Woodley and Theo James and is based on the explosive finale of Veronica Roth's #1 New York Times bestselling "Divergent" trilogy. Allegiant reveals the secrets of the dystopian world that has captivated millions. <b>Divergent, the first film in the series, will be released in theatres March 21, 2014 and Insurgent, the second film, will come to theaters on March 20, 2015.
The March 18, 2016 date puts Allegiant up against 20th Century Fox and DreamWorks Animation's Mumbai Musical.
Step Up All In, finally, stars Ryan Guzman, Briana Evigan, Stephen "tWitch" Boss, Misha Gabriel, Izabella Miko, Alyson Stoner and Adam Sevani and is directed by Trish Sie with a script from John Swetnam.
The film features all-stars from previous installments coming together in glittering Las Vegas, battling for a victory that could define their dreams and their careers.
Step Up All In will open opposite Brett Ratner's Hercules, starring Dwayne Johnson.
MONDAY, DECEMBER 16, 2013
WEEKEND BOX OFFICE
Peter Jackson's The Hobbit: The Desolation of Smaug roared to a strong $73.7 million in its domestic debut to take its place atop the weekend's box-office mountain.
Second place was a bit more unexpected as Tyler Perry's A Madea Christmas did less business than the previous comedies starring Tyler Perry's zany elderly woman. Disney's Frozen, now in its third week, took in $22.2 million to take the No. 2 spot for the weekend ahead of A Madea Christmas' $16.16 million debut.
Smaug, which received an A- Cinemascore, had the fourth-biggest December opening ever, behind An Unexpected Journey ($84.6 million), I Am Legend ($77.2 million) and Avatar ($77 million). It opened just ahead of Jackson's third Lord of the Rings film, The Return of the King, which earned $72.6 million in its debut in December 2003. Smaug's U.S. weekend tally (which includes $9.1 million in Imax) is 13 percent behind last year's The Hobbit: An Unexpected Journey. However, Smaug faced much more competition at the box office with strong holdovers Frozen and The Hunger Games: Catching Fire, plus a major storm on the East Coast keeping some moviegoers at home. The second film is likely to continue to pick up steam as the holidays begin.
A New Line Cinema, MGM and Warner Bros. production, Smaug opened in 3,903 theaters with an audience comprised of 60 percent males and 40 percent females.
Based on J.R.R. Tolkien's 1937 fantasy novel, the adventure film follows hobbit Bilbo Baggins (Martin Freeman) as he travels with a group of dwarfs to face off against the dragon Smaug (voiced by Benedict Cumberbatch). Evangeline Lilly, Orlando Bloom, Lee Pace and Luke Evans co-star.
Despite a slower start, Smaug could still reach An Unexpected Journey's final $1 billion worldwide tally since it's likely to do big business overseas. The adventure film also is opening in 49 territories abroad this weekend, including eight of the top 12 markets (France, Germany, Italy, Spain, the U.K., Mexico, Brazil and Korea).
Internationally, the film ranked No. 1 everywhere, grossing a phenomenal $131.2 million with 13.6 million admissions from approximately 16,000 screens in 49 markets. The film's worldwide total is $205 million after its first weekend.
In second place, animated family film Frozen held strong in its third week, adding $22.2 million to its domestic tally for a total of $164.4 million. Internationally, the musical film added $31.5 million this weekend (new territories include Russia, the Netherlands and Vietnam), for a worldwide total of $266 million.
A Madea Christmas, which received an A- Cinemascore, had the worst debut of any Madea film to date with $16.16 million. The previous Madea film, Tyler Perry's Madea's Witness Protection, opened in June 2012 to the tune of $25.4 million. It went on to gross $65.7 million in the U.S. Madea Christmas, which may do better business at the holidays kick off, is Lionsgate and Perry's eighth Madea film.
The Hunger Games: Catching Fire, now in its fourth week, grossed $13.15 million for the No. 4 spot. Its North American cume is now at $357 million. Internationally, the hit YA adaption grossed $19.5 million from 83 markets, taking the estimated overseas tally to $372.9 million. Its worlwide total is now at $739.9 million, surpassing the lifetime worldwide box office for the first film, The Hunger Games ($691 million).
Coming in at No. 5 is Thor: The Dark World, which is in its sixth week in theaters. The Disney and Marvel pic starring Chris Hemsworth earned $2.7 million domestically this weekend. It has a stellar domestic tally of $198.1 million and has a worldwide gross of $619.9 million to date.
David O. Russell's American Hustle, which opened in six theaters, was extremely successful in limited release. The film took in a glitzy $690,000, for a per-location average of $115,000. The Columbia Pictures/Annapurna Pictures' pic -- starring Christian Bale, Amy Adams, Bradley Cooper and Jennifer Lawrence -- expands wide next week to 2,500 locations.
Disney's Saving Mr. Banks also opened in limited release (16 venues) to earn $421,000. It expands next week.

AVATAR - TRILOGY
20th Century Fox and Lightstorm Entertainment have announced that the upcoming sequels to James Cameron's Avatar will all be shot in New Zealand. The three sequels will be shot back-to-back with reportedly significant subsidies from the New Zealand government.
The release of the first sequel will be in December 2016, with the second to follow in December 2017, and the third a year later. Production is expected to begin next year with Sam Worthington, Zoe Saldana, and Stephen Lang all returning in their respective roles.
Avatar 2, 3, and 4 will be produced by Cameron and Jon Landau through their Lightstorm Entertainment banner. Writers Josh Friedman (War of the Worlds), Rick Jaffa & Amanda Silver (Rise of the Planets of the Apes), and Shane Salerno (Savages) are all currently penning the individual sequels.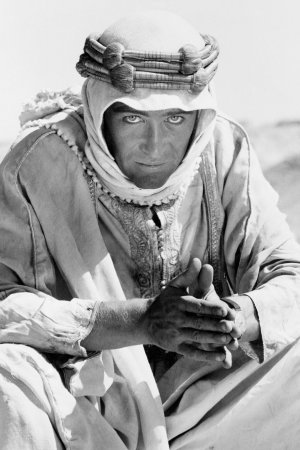 RIP - PETER O'TOOLE
Britain's The Guardian is reporting that veteran actor Peter O'Toole, who first shot to fame as the star of David Lean's 1962 film classic Lawrence of Arabia, has passed away at the age of 81 years old at the Wellington hospital in London.
Lawrence of Arabia wasn't O'Toole's first film role but it continues to be his most famous one over 50 years later although his long prolific career consisted of over 60 films including classics such as The Lion in Winter, Goodbye, Mr. Chips, and My Favorite Year. Although he never won an Oscar despite eight nominations, he was honored with an Academy Honorary Award in 2003 for his lifetime achievement in film and had many other awards on his mantle, including four Golden Globes and an Emmy.
In recent years, O'Toole has not been nearly as present on screen, his last great turn being his performance in 2007's Venus, for which he received his 8th Oscar nomination. He also provided the voice of food critic Anton Ego in the popular Oscar-winning Pixar's Ratatouille and played Pope Paul III on "The Tudors."
Last year, O'Toole announced that he was retiring from acting, although his last two films, Mary and Katherine of Alexandria, have yet to be released.
O'Toole is survived by two daughters, Pat and Kate, as well as a son, Lorcan.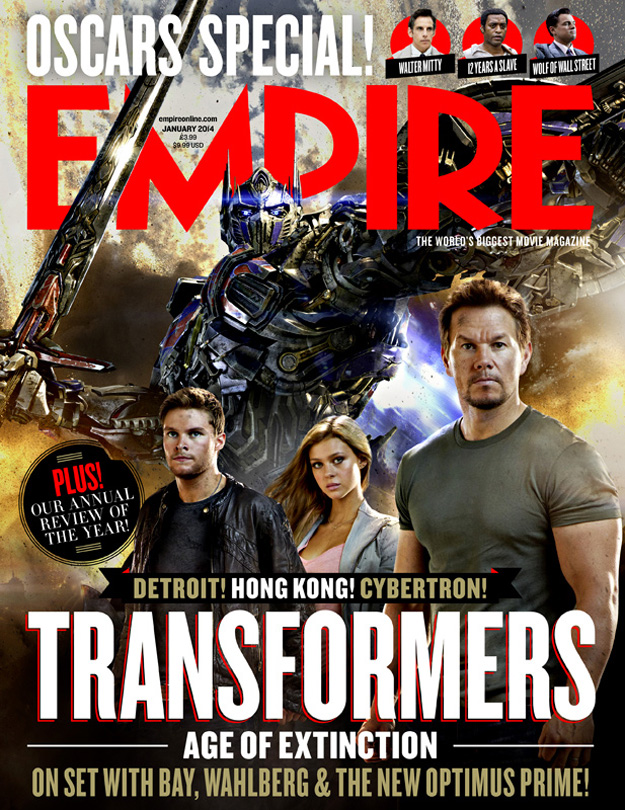 TRANSFORMERS: AGE OF EXTINCTION
Last week, we got new footage from the Detroit set and Hong Kong set of Transformers: Age of Extinction, and now we get a first look at the newly-designed Optimus Prime, thanks to the January issue of Empire magazine.
Coming to theaters on June 27, 2014, the Michael Bay film stars Mark Wahlberg, Nicola Peltz, Jack Reynor, Stanley Tucci, Kelsey Grammer, Sophia Myles, Li Bingbing, T.J. Miller, Han Geng and Titus Welliver. Although the plot of the sequel is still top secret, Dinobots are said to be heavily involved and Bay himself teased to ComingSoon.net that it will involve a "Chase from Hell."
SUNDAY, DECEMBER 15, 2013
#FREEBABYLON5
Here's a note from Ranger Jan:
Here it is! It's time to 'get organized and loud', as JMS said back in September.

Support the Thunderclap and send the word out to everyone that you want Babylon 5 back on the air and you want all of your contacts to join us in contacting anybody likely to show Babylon 5 and let them know that we want to #FreeBabylon5!
Go to ThunderClapto show your support.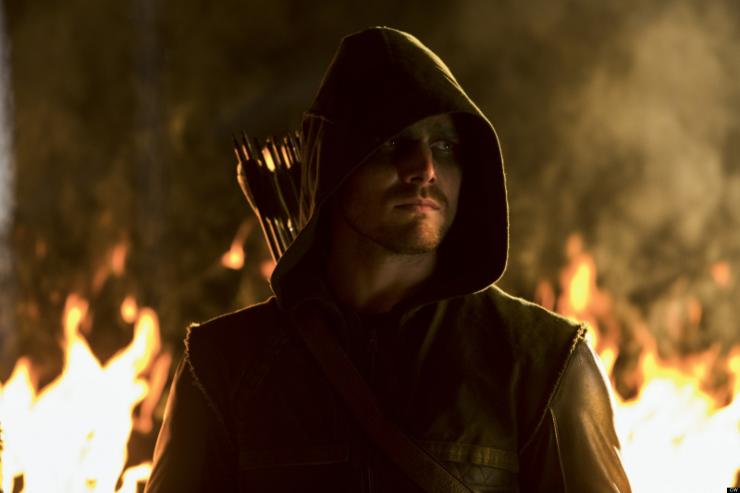 ARROW NEWS
Arrow's had a lot of guest stars this year. So what did its star have to say about a rumor that the biggest one yet could be on the way?
The second season of the hit CW superhero series has already seen the arrival in Starling City of DC Comics standards like Black Canary, the League of Assassins, Solomon Grundy (kinda) and, of course, the Flash, but rumor has it the show could have some even bigger tricks up its sleeve in the second half of season two.
The rumors began when the Arrow plot summary page on IMDB added this one-sentence synopsis for the 21st episode of season two:
"Oliver gets a business opportunity from a famous billionaire in the neighboring Gotham City."
Wow. So, if that's true, it could mean that Bruce Wayne himself, who we've always considered too big for the small screen at the moment, could make an appearance on Arrow. Heck, maybe Ben Affleck would even play him. That's big news for the Arrow-verse, right? Well, it would be, if it were real.
When fans started talking about the synopsis on his official Facebook page, Oliver Queen himself, Stephen Amell, quickly shot the rumor down.
That's it. No "maybe" or "watch and see" out of Amell. Just "no." The description has also since been removed from IMDB.
It's not surprising, though. Batman's got his own big things in the works, so a stop off on Arrow, even without his cape and cowl, has always seemed a little out of reach. Still, there are likely plenty more thrilling DC Comics characters on their way to the series. We'll find out who when Arrow returns on Jan. 15.
SHERLOCK MEETS DOCTOR WHO
Doctor Who and Sherlock fans are the most meticulously creative fans out there. And here's the proof!
Steven Moffat is the show runner for both Doctor Who and Sherlock. Unsurprisingly, fans have a bit of a tendency (they talk about it all the time, basically) to imagine what might happen should the two title characters ever meet. There's even a term for it -- Wholock.
And while there has been many a fan video generated to expound upon the Doctor Who/Sherlock hypothetical gambit, we feel that they all live in the shadow of the following video, which caused our jaws to do a crossover with the floor.
You may recall this video producer as the one responsible for that fake "Day of the Doctor" trailer that had everyone fooled. On this occasion, you can see the man pulling the strings a little more clearly, but it's still very impressive work.
Of course, the only downside is it makes us long for the real thing more than ever!
INTERSTELLAR
Paramount Pictures has revealed the teaser trailer for The Dark Knight Trilogy director Christopher Nolan's Interstellar! The trailer is also playing in theaters with The Hobbit: The Desolation of Smaug.
Hitting theaters and IMAX on November 7, 2014, the sci-fi film stars Matthew McConaughey, Anne Hathaway, Jessica Chastain, Bill Irwin, John Lithgow, Casey Affleck, David Gyasi, Wes Bentley, Mackenzie Foy, Timothée Chalamet, Topher Grace, David Oyelowo Ellen Burstyn, Michael Caine and Matt Damon.
Interstellar chronicles the adventures of a group of explorers who make use of a newly discovered wormhole to surpass the limitations on human space travel and conquer the vast distances involved in an interstellar voyage.
SATURDAY, DECEMBER 14, 2013
VAMPIRE DIARIES = SPOILER WARNING
Thanks to the just-released promo for "The Vampire Diaries" upcoming milestone -- the 100th episode! -- we know that Katherine survives her fall-finale-ending heart attack. But unfortunately for our favorite sassy survivor, her days are numbered. That's right: Katherine's dying, and there's nothing our group of ragtag vampires, witches, and humans can do to stop it.
In the promo, Damon, Elena, Jeremy, Bonnie, and Caroline toast to all the terrible things Katherine's ever done to them -- she has killed more than one of them successfully and attempted to kill the rest unsuccessfully, after all -- while Stefan sits by Kat's side, sugar coating how everyone feels about her impending death. But wait, last we checked Nadia had an idea of how they could save Kat's life ... will she be able to save her mother before time runs out?
Zap2it was on set during filming of the 100th episode, and while we're sworn to secrecy about many things, we can reveal the episode is going to be one shocking, dramatic hour filled with nostalgic and game-changing reveals. Be on the lookout for interviews with the cast and show runners in the week leading up to the big episode's airing in January.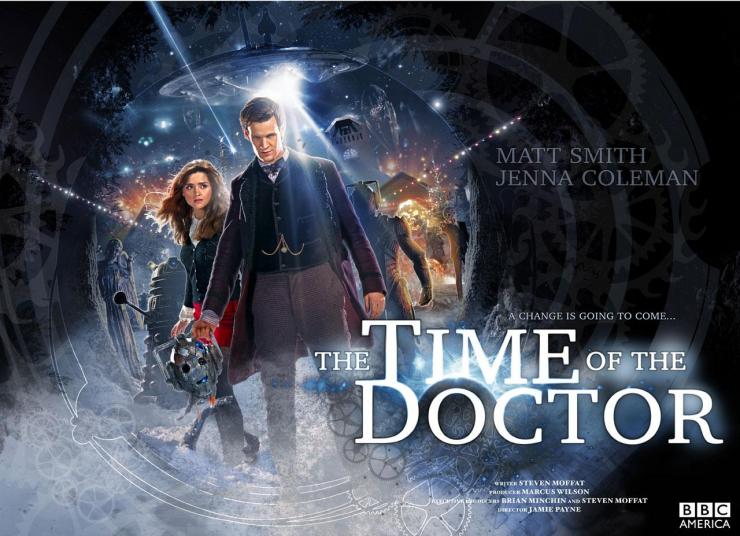 DOCTOR WHO - TIME OF THE DOCTOR
Matt Smith's swan song as the Doctor is fast approaching (snif!).br> The latest issue of Doctor Who Magazine (issue #468 out yesterday in the U.K.) featured a preview of Matt Smith's final episode as the beloved Time Lord, the Christmas special "The Time of the Doctor."
Thanks to our colleagues over at Doctor Who TV, here are some highlights from the mag.
First off, here's the synopsis:
The Doctor dies on Trenzalore. It's a fact. He's seen it. His own tomb, somewhere out there in his future. The Great Intelligence knew it to be true: "One day, it was just too much for the old man." The Doctor's death is inevitable – and the time has come for him to return to Trenzalore to fight his final battle. But first, there's Christmas dinner to prepare…
If that wasn't dramatic enough, here are some highly interesting quotes:
CLARA: "But you don't die. You change – you pop right back with a new face."
THE DOCTOR: "Not forever. I can change 12 times. 13 versions of me. 13 silly Doctors."
CLARA: "But you're number eleven, so -"
THE DOCTOR: "Are we forgetting Captain Grumpy? I didn't call myself the Doctor during the Time War, but it was still a regeneration."
Captain Grumpy? How awesome to call John Hurt's Doctor that. It'll be interesting to see how Steven Moffat will resolve the regeneration issue, but this bit of conversation makes us wonder: Have they forgotten the hand and the meta-crisis Doctor then? Moffat DID say that Matt Smith's Doctor really was the last Doctor, aka Number 13. Perhaps this particular info isn't part of this bit of conversation above, then? Or it is, but they've not revealed it here? Mmm, the plot thickens. Or not.
And now here are some other VERY interesting tidbits from the Xmas special:
• Moffat ponders, "Why are they called the Silence?"
• The question wasn't asked in The Name of the Doctor. Moffat was surprised many fans thought that was it
• Moffat says "Matt gives the greatest single performance by anyone who has played the Doctor"
• Matt is in virtually every scene of the episode
• The Doctor helps Clara cook Christmas dinner
• There's a "fair bit" of nudity!
• Tasha Lem (the character played by Orla Brady) is an old friend and someone from the Doctor's distant past. Someone who knows him very well, but we have never met. She's the Mother Superious of the Papal Mainframe.
The Doctor Who Christmas special episode will air on Christmas Day.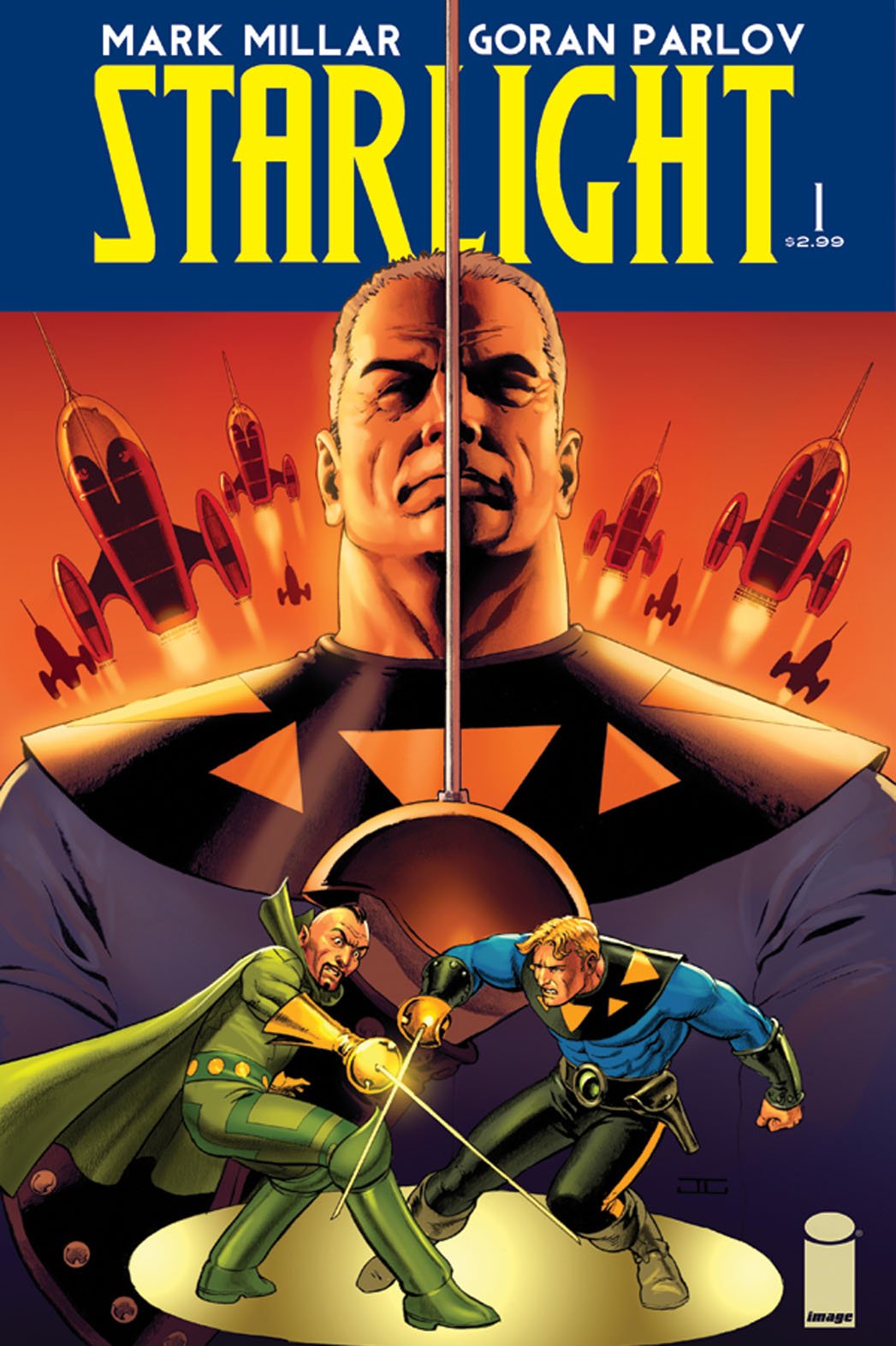 STARLIGHT
Twentieth Century Fox is in negotiations to pick up Starlight, an upcoming comic from Wanted and Kick-Ass creator Mark Millar.
Simon Kinberg, who worked on X-Men: First Class and X-Men: Days of Future Past, will produce the adaptation.
The comic, drawn by Goran Parlov and due to be published by Image in March, is described by Millar as Flash Gordon meets The Dark Knight Returns. It centers on a space hero who saved the universe 35 years ago but came back to Earth, where no one believed his fantastic stories. He settled down, got married, had kids and got old, but then is called back for one last adventure when his old rocket shows up.
The deal marks a reteaming between Kinberg and Millar. Kinberg is producing an adaptation of Millar's Kindergarten Heroes, which has Carter Blanchard on board writing the script.
It also keeps Millar in the studio fold, as Fox is behind Matthew Vaughn's adaptation of Millar's miniseries The Secret Service, which stars Colin Firth.
Kinberg, who just reupped his first-look deal at the studio and is overseeing the expansion of the X-Men universe there, is repped by CAA and Jackoway Tyerman.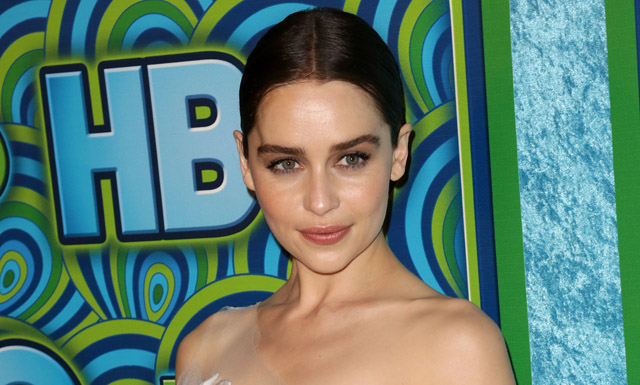 TERMINATOR REBOOT NEWS
Said to be one of two finalists for the role last week, "Game of Thrones" star Emilia Clarke has won the role of Sarah Connor in the upcoming Terminator reboot. Deadline has the news, reporting that Clarke joins the already-attached Arnold Schwarzenegger with Jason Clarke nearly set to play a later version of Sarah Connor's son, John Connor.
The first in a stand-alone trilogy, Terminator will be produced by Megan Ellison of Annapurna and David Ellison of Skydance. Dana Goldberg and Paul Schwake of Skydance will serve as executive producers. Laeta Kalorgridis (Avatar, Shutter Island) and Patrick Lussier (Drive Angry) are attached to write the screenplay.
Alan Taylor, who has previously worked with Emilia Clarke on the hit HBO fantasy series, is directing the new film, which is slated to hit theaters July 2, 2015.
FRIDAY, DECEMBER 13, 2013
THE BASTARD EXECUTIONER
"Sons of Anarchy" Season 6 has come to an end, but creator Kurt Sutter still has plenty of work to do. The show has one more season, and now Sutter has teamed with "Arrested Development" executive producer Brian Grazer for "The Bastard Executioner," a pilot at FX.
The news comes from Deadline, which reports that the period drama will follow a knight under King Edward III's charge who is forced to wield his sword once again, after vowing he was done. Though it's not bikers and gun trade, don't expect any less violence. After all, Kurt is involved. "I love the network. I love the world. I love the blood," he says.
The plan is for Sutter to write the pilot, based on an idea Grazer had, while the two will executive produce with Francie Calfo. The pilot isn't expected to shoot until late 2014, after Kurt has wrapped the final season of "Sons of Anarchy."
The big question is what effect "The Bastard Executioner" will have on Sutter's other idea, the planned "Sons of Anarchy" prequel series. The show, which centers around the original members of SAMCRO is expected to be set in the 60s. Kurt has said he doesn't want to move right into the series as soon as "Sons" ends, but if "The Bastard Executioner" is a hit it could take quite a while.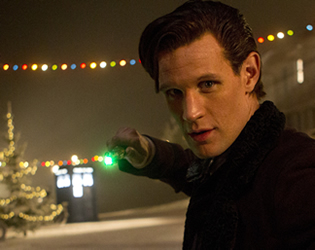 TIME OF THE DOCTOR - SPOILER ALERT
The following contains spoilers for "The Time of the Doctor."
Slowly but surely, more details about the upcoming "Doctor Who" Christmas special, "The Time of the Doctor" are finding the light of day and it's all pretty interesting.
The new spoilers come from "Doctor Who" magazine, according to the DoctorWhoTV fan site. They say the Doctor (Matt Smith) will indeed die on Trenzalore, the planet the episode is set on. He has seen his own demise before and returns there for the final battle, which involves the Silence, Daleks, Weeping Angels and Cybermen.
It won't all be a fight for the Doctor, though. He'll also cook Christmas dinner with Clara (Jenna Coleman) and there's evidently a "fair bit" of nudity. Who that nudity comes from is anyone's guess. In the magazine, showrunner Steven Moffat ponders the question, "Why are they called the Silence?" It will be interesting to see how that plays out. Additionally, the new character Tasha Lem (Orla Brady) is someone from the Doctor's distant past, but no one he's met before. She is described as the "Mother Superior of the Papal Mainframe."
Finally, the piece about the Christmas special included a bit of the episode's script, which has the Doctor explaining his impending death to Clara:
CLARA: "But you don't die. You change -- you pop right back with a new face.'
THE DOCTOR: "Not forever. I can change 12 times. 13 versions of me. 13 silly Doctors."
CLARA: "But you're number eleven, so --'
THE DOCTOR: "Are we forgetting Captain Grumpy? I didn't call myself the Doctor during the Time War, but it was still a regeneration."
How one Doctor's death leads to another taking his place is still unknown, but the teaser trailer for the episode shows the Daleks exclaiming that the Doctor is regenerating, so there's bound to be a loophole.
"The Time of the Doctor" airs Dec. 25 at 9 p.m. ET on BBC America. TEEN WOLF
When "Teen Wolf" Season 3 returns with new episodes in January, the world of Beacon Hills is going to be a dark and scary place. Scott, Stiles and Allison especially will have to fight the darkness -- even if that darkness is inside of them as well as outside.
The premiere episode starts about three weeks after Scott (Tyler Posey), Stiles (Dylan O'Brien) and Allison (Crystal Reed) braved a near-death experience and ritual sacrifice in order to save their parents. Unfortunately, the after-effects are just beginning. A new student in town, Kira (Arden Cho), may hold some answers for the trio. But can they trust a girl with strange powers of her own?
Meanwhile, Sheriff Stilinski starts to look through old cases, looking for supernatural connections. What he finds could be very dangerous to him and the rest of the town. Add in the fact that there's a good chance people are going insane, and this is indeed a dark run on "Teen Wolf."
New episodes premiere Monday, Jan. 6 at 10 p.m. on MTV.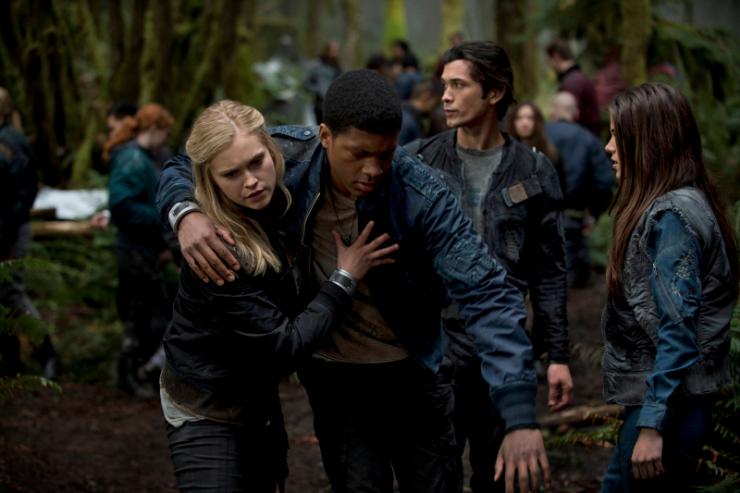 STAR-CROSSED AND THE 100
The CW is prepping a ton of new sci-fi series to join up with Arrow, Supernatural and the rest — and now we finally know when we'll get to see them.
First up is the debut of Star-Crossed, a new alien drama in the vein of Roswell debuting Monday, Feb. 17, at 8/7 central. The series follows a high school that becomes ground zero for the integration of teenage aliens and humans. This being The CW, I'd bet a lot of them will fall in love.
Fellow newbie The 100 will show up on Wednesday, March 19, at 9/8 central, focusing on a group of good-looking teens trying to establish a colony. The show will take The Tomorrow People's old spot behind Arrow. That little tweak will then shift The Tomorrow People over to Mondays at 9/8 central, beginning on March 17. Of course, that means Beauty and the Beast will be going on hiatus as of March 10 to open up the timeslot.
The breakdown looks like a good mix of old and new, and the Arrow lead-in should be a great way to give The 100 a fighting chance to find an audience. Both shows look to go heavy on the "sci-fi soap" approach, so it'll be interesting to see if they catch on. GODZILLA
Warner Bros. Pictures and Legendary Pictures have unleashed the trailer for Godzilla!
An epic rebirth to Toho's iconic Godzilla, this spectacular adventure pits the world's most famous monster against malevolent creatures who, bolstered by humanity's scientific arrogance, threaten our very existence.
Gareth Edwards directs the May 16, 2014 release, which stars Aaron Taylor-Johnson, Ken Watanabe, Elizabeth Olsen, Juliette Binoche, Sally Hawkins, David Strathairn and Bryan Cranston.
THURSDAY, DECEMBER 12, 2013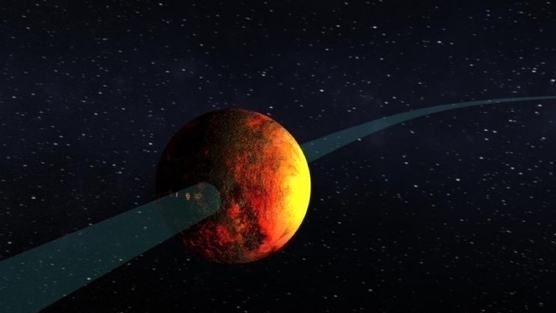 GALLIFREY PLANET?
Say what you will about "Doctor Who," but fans of the show are intensely dedicated. What other fan base would dare to petition to have an entire planet named in honor of their favorite TV show?
A Whovian in Australia launched a petition to name a planet found earlier in the year Gallifrey, otherwise known as the Doctor's home world. The planet, originally named HD 106906, is something of an anomaly to the astronomers studying it, the Daily Mirror reports.
The planet is about 11 times the size of Jupiter and relatively young, 13 million years compared to Earth's 4.5 billion. It also emits most of its energy by infrared, rather than visible light and is remarkably cooler than the host star it orbits around.
The petition set a goal of obtaining 150,000 signatures to submit to the International Astronomical Union. Already the number of people who have signed is climbing to nearly 120,000, so it seems like an attainable goal. What better way to end what is likely the biggest year in "Doctor Who" history than by getting it a planet as a gift? You can view and sign the petition at Change.org. HELIX
Here's a brand-new—and rather chilling—promo trailer for Ron D. Moore's upcoming sci-fi series Helix!
The upcoming Syfy original series is being executive-produced by Moore (Battlestar Galactica) and stars, among others, Billy Campbell, Jordan Hayes, Kyra Zagorsky and Hiroyuki Sanada.
Helix is about a team of scientists at an arctic base trying to save the world from an infection that threatens humanity.
According to Syfy, the scientists are "pulled into a terrifying life-and-death struggle that holds the key to mankind's salvation ... or total annihilation."
Helix premieres on Syfy Jan. 10, 2014, at 9 p.m.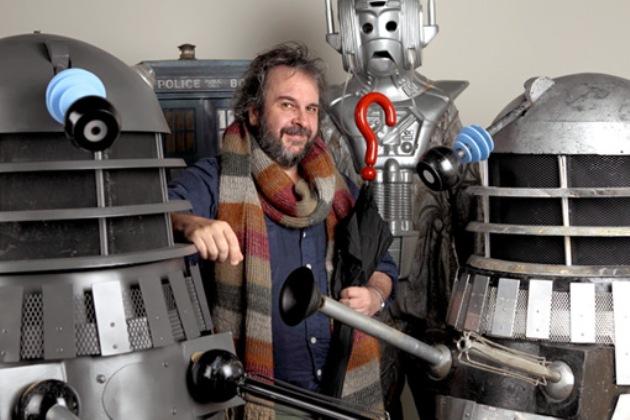 DOCTOR WHO NEWS
Peter Jackson has confirmed he's officially been in talks to direct an episode of Doctor Who.
In fact, the Lord of the Rings and Hobbit director has revealed that discussions for him to step behind the camera for a Who episode are "actually kind of serious."
It's been around for a while now that Peter Jackson—a die-hard fan of the beloved sci-fi series—has expressed his love of Who and desire to helm an episode back in his native New Zealand (which would be really, really cool).
The famous director even made a recent cameo appearance in "The Five(ish)Doctors" just last month for the 50th anniversary of Doctor Who.
Jackson said:
"I would be very happy to [direct an episode]. I'd love to try my hand at television, because I've never had the discipline of having to shoot for those impossibly tiny schedules. I think I could do it okay now."
He even added, cheekily:
"I did suggest that they did a New Zealand story - something to do with the [rugby union] All Blacks versus the Daleks. There's a good story in there, although obviously the All Blacks would have to win!"
Last year, former Doctor Who executive producer Caroline Skinner said that she'd "love to bring Doctor Who down under" after the show's big-50 bash. Since the 50th-anniversary special, "The Day of the Doctor," is already behind us, with Peter Capaldi now at the helm of the TARDIS, perhaps the time has finally come?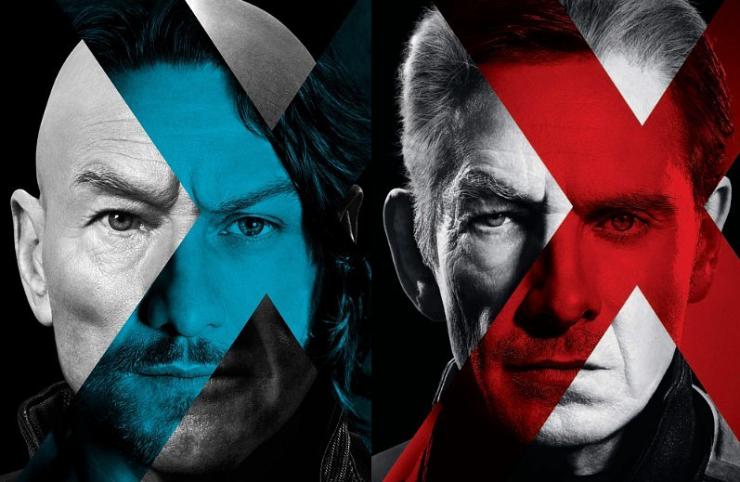 X-MEN: APOCALYPSE
All we really knew about the upcoming flick X-Men: Apocalypse is that it's happening — but now we have some nifty new details.
As we suspected, X-Men guru Bryan Singer will return for Apocalypse, kicking off development immediately after he wraps Days of Future Past. It'll mark his first back-to-back X-Men run since the first two (and easily best) films in the franchise.
We've also been hearing that the events of Days of Future Past will feed directly into Apocalypse, and that has apparently all but been confirmed. The story will reportedly focus on the First Class era cast and be set in the 1970s, serving as a direct sequel to DOFP.
Though we know the expected setting, no cast members have officially been confirmed for the sequel at this time. But if it's the First Class period, you'd have to think at least James McAvoy, Michael Fassbender and Jennifer Lawrence are safe bets. The X-Men universe has an expansive cast, so there are a lot of options there.
X-Men: Apocalypse is set to open May 27, 2016, setting up a two-year window between the upcoming May 23, 2014, release of Days of Future Past.

INTERSTELLAR
Warner Bros. Pictures and Paramount Pictures have launched InterstellarMovie.com, the official website for The Dark Knight Trilogy director Christopher Nolan's upcoming sci-fi adventure Interstellar.
Hitting theaters and IMAX on November 7, 2014, the sci-fi film stars Matthew McConaughey, Anne Hathaway, Jessica Chastain, Bill Irwin, John Lithgow, Casey Affleck, David Gyasi, Wes Bentley, Mackenzie Foy, Timothée Chalamet, Topher Grace, David Oyelowo Ellen Burstyn, Michael Caine and Matt Damon.
Interstellar chronicles the adventures of a group of explorers who make use of a newly discovered wormhole to surpass the limitations on human space travel and conquer the vast distances involved in an interstellar voyage. SAVING MR. BANKS
Walt Disney Pictures has released two new behind-the-scenes featurettes from director John Lee Hancock's Saving Mr. Banks, opening in limited theaters this Friday before expanding wide on December 20.
Saving Mr. Banks is inspired by the extraordinary, untold backstory of how Disney's classic Mary Poppins made it to the screen and the two new videos take a look at Tom Hanks in the role of Walt Disney and the film's approach to the Mary Poppins's memorable songs.
The film also stars Emma Thompson, Colin Farrell, Jason Schwartzman, BJ Novak and Bradley Whitford.
WEDNESDAY, DECEMBER 11, 2013
AGENTS OF S.H.I.E.L.D.
"Marvel's Agents of SHIELD" is off the air until Jan. 7, but when it does return, it will come back in a big way. A promo for the upcoming episode was released after "The Bridge's" big cliffhanger, and it seems like life is going to be getting a lot harder before it gets better for these characters.
The promo's cheesy voiceover says that Skye, Ward, FitzSimmons and May are going to have a hard time staying united while Coulson is gone. Hopefully, at this point in their journey, that isn't actually the case. Sure, they might be divided over the best way to save Coulson, but if in episode 11 there are still supposed to be egos pulling this group apart, "SHIELD" has bigger problems on its hands.
What could be a major cause of conflict is the return of Victoria Hand (Saffron Burrows). She left a pretty sour taste in our mouths after "The Hub," and the fact that she doesn't think Coulson is worth rescuing just emphasizes that she might not be on the right side. Shouldn't Nick Fury have a bigger say in this?
As for Coulson's storyline, it seems like we'll finally get to the bottom of the mystery of his death. Some moments in the promo show Raina with Coulson in "Tahiti," which isn't quite the magical place Coulson has been describing. Behind him in one of the shots is a life-sized doll that bears a striking resemblance to him, which should through fuel in the fire of those who believe this version of Coulson is actually a Life Model Decoy. For fans of Joss Whedon, this sequence has a lot of parallels to similar mind-bendy weirdness in "Serenity" and "Dollhouse." Hopefully the resolution of the story arc is just as satisfying and surprising as it was in those two projects.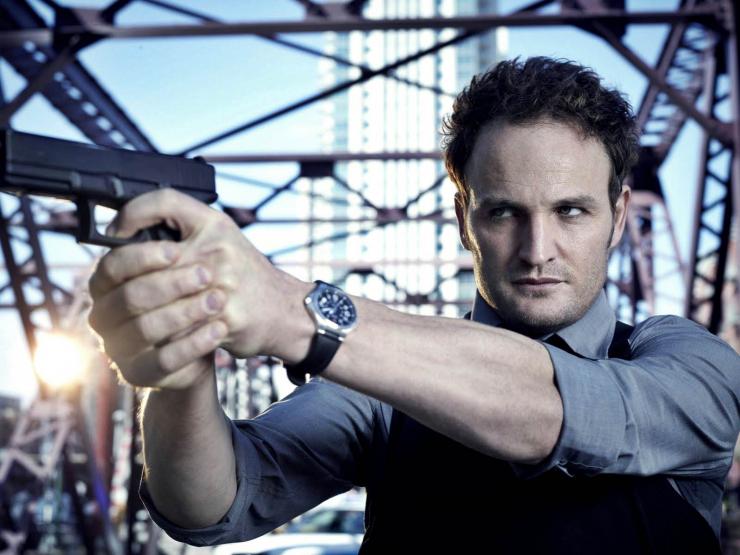 TERMINATOR 5
The rumor mill has been churning around the upcoming Terminator reboot, and now a surprising name has landed at the top of the list to play the new John Connor.
After hearing that some young actors were up for the part last month, the latest casting news indicates that the studio could be eyeing Jason Clarke (The Chicago Code, Zero Dark Thirty) for a starring role as mankind's only hope.
For those wondering, yes, the 44-year-old is quite a bit more seasoned than other rumored options Garrett Hedlund (Tron: Legacy) and Boyd Holbrook (The Host). But he's grizzled as hell and definitely has the look for John Connor.
So what does this mean? A few things. The film's rumored title of Terminator: Genesis could be a major clue, especially if Sarah Connor does wind up being played by a younger actress (leading candidates are Emilia Clarke and Brie Larson).
With a seasoned John and a 20-something Sarah, it would seem that adult John apparently travels back to protect his mom from a new threat. This casting would also eliminate any potentially creepy sexual tension in having two gorgeous 20-something playing mother and son.
THE TIME OF THE DOCTOR
And now, the end is near, and so I face the final curtain ...
The episode that will finish out a bit of a trilogy (Name of the Doctor, Day of the Doctor, and Time of the Doctor) and see the end to Matt Smith's Eleventh-ish Doctor is coming this Christmas. Thankfully, we didn't have to wait long to get a peek. The first trailer is right here, right now. Time to see how the Eleventh will fall on the battlfield of Trenzalore!
TUESDAY, DECEMBER 10, 2013
ARROW
The "Arrow" midseason finale, "Three Ghosts," takes a bit of inspiration from "A Christmas Carol." As the holiday season descends -- mostly unnoticed in all the chaos -- Oliver Queen faces multiple hauntings and the messages they bring.
So what's coming on the Wednesday (Dec. 11) episode?
"Three Ghosts" is easily one of the best "Arrow" episodes ever. You may be able to guess that by watching the trailer -- there are some very important things included in it:
Yes, that is Shado (Celina Jade) that Oliver (Stephen Amell) reaches for while on the examination table. And yes, there's a reason why he sees her.
Similarly, the hoarse and whispered "You are not a hero!" voice does belong to Slade Wilson (Manu Bennett).
Why is Oliver destroying his own lair? The next moment explains it (somewhat) with "I've been compromised."
Barry (Grant Gustin) does do more than just stand around in the lair, despite what this promo would suggest.
Why is Officer Lance (Paul Blackthorne) in a hospital bed? There is a very, very good reason for that.
Check out a first look at Oliver's new mask at the 0:18 mark!
Sebastian Blood's (Kevin Alejandro) creepy mask is back and is as unintelligible as ever.
The "Arrow" episode, "Three Ghosts," airs Wednesday (Dec. 11) at 8 p.m. on The CW.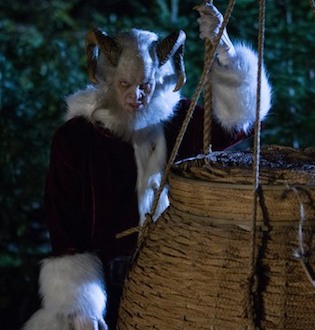 GRIMM
Three years in, "Grimm" is finally playing around with the Christmas legend of Krampus. Star David Giuntoli admits German fans have been begging the NBC show for years to craft an episode around the beast-like anti-Santa ever since their first season, and he's excited they can now deliver.
"Who knew Santa had horns?" Giuntoli laughs of the upcoming two-part midseason finale "Cold-Blooded"/"Twelve Days of Krampus" during a recent conference call. "We ruin Christmas for everybody and it's gory and it's wonderful."
As "Grimm" has grown, so to has Nick's confidence in his position as a Grimm. That has been highlighted in Season 3 as Nick continued to expand the book of fairy tales in episodes like in Dec. 6th's "Stories We Tell Our Young." Moving beyond the traditional Grimm folklores has been fun for Giuntoli, but he says his favorite episodes are still the ones that are based on stories viewers have been hearing about since they were children.
But he's also game to play around with the tried-and-true "Grimm" formula. That's a tendency has been seen thus far in Season 3 and will continue to be showcased in the upcoming two-hour midseason finale.
"I think that anything that kind of throws a curve ball into what the audience is expecting on this show [is good]," Giuntoli says.
In Giuntoli's perspective, there are three major villains on the show right now: Adalind, Renard and Alexis Denisof's Viktor Albert Wilhelm George Beckendorf. By the end of the midseason, he teases that there will only be two central villains to be worried about -- though The Villain has yet to be defined.
But that trio won't be the only ones causing problems for Nick. He also has to monitor how many more people find out about his "Grimm" life and has to maintain those currently in it.
"Whenever someone finds out who's not ready to find out about the world of Grimm, you have to be very delicate," he says. "We're filming an episode right now where somebody else sees something for the first time."
There also will be some trouble between Monroe and Nick as Monroe begins to question whether Nick is just using him. "It's great because am I using Monroe?" Giuntoli says. "I think it's kind of cool that this stuff is coming to the surface in Season 3." At least this new formula for "Grimm" is working. "Stories We Tell Our Young" matched the show's series premiere ratings, and the viewers are continuing to grow. That gives Giuntoli and the rest of the team at "Grimm" more room to play around with their mythology.
"We love being a Friday night stay in and kind of freak out the kids kind of show," Giuntoli says. "It's what we love."
"Grimm" airs Fridays at 9 p.m. on NBC.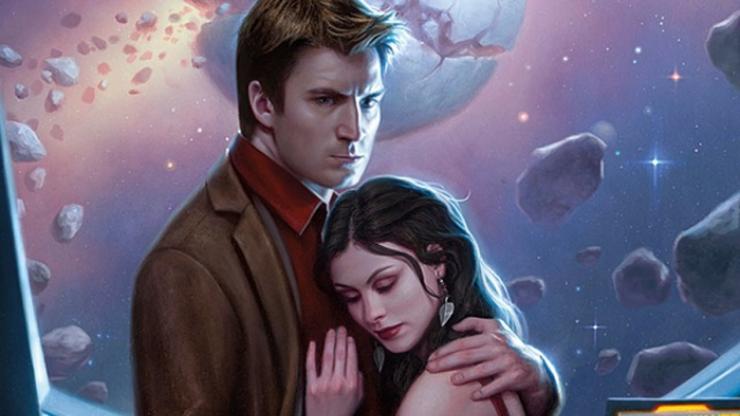 FIREFLY/SERENITY NEWS
Sure, we might not be getting a big-screen sequel to Serenity anytime soon — but Joss Whedon is giving us the next best thing. So what's up with the Firefly crew these days?
Joss and his brother Zack have teamed up for the Dark Horse comic miniseries Serenity: Leaves on the Wind, and now Zack has opened up about where Captain Mal and his misfit crew are in the wake of the events of Serenity.
The new story will pick up nine months after the crew revealed the Alliance conspiracy surrounding planet Miranda, though he teases that readers will be surprised by "how deftly The Alliance has navigated the controversy." Hmm, that sounds interesting.
As for the characters we know and love? They're still mourning the loss of Wash (of course), though they're also grappling with the fact that they can no longer take on wacky jobs and stay under the radar. The events of Serenity were a big deal, and they changed the 'verse for good.
Here's an excerpt from Whedon's chat with Comic Book Resources:
"It has been around nine months since the conclusion of "Serenity." A lot has changed and a lot has stayed the same. The discovery that Mal and his crew shared with the 'verse -- that the inhabitants of the planet Miranda were killed or driven mad by an Alliance experiment -- has opened some eyes and created some new allies, but it hasn't deterred any of their pursuers. If anything, it has made them more relentless. Serenity is hiding out in lesser-known corners of the 'verse, trying to keep a low profile. As you will see early on, that's easier said than done. Mal and his crew will be forced to face their enemies head on -- some familiar, some new…
It is a period of transition in many ways. The life they were leading in the series -- taking odd jobs, doing some smuggling here and there -- is not one they are able to lead now in the wake of their big throw down with the Alliance. So everything is a bit off balance. I think part of my goal with this series is to get them back to some kind of equilibrium, where you could imagine their lives getting back on track, even if that track is an illegal, itinerant one."
The first issue of Leaves on the Wind is set to hit shelves in January 2014.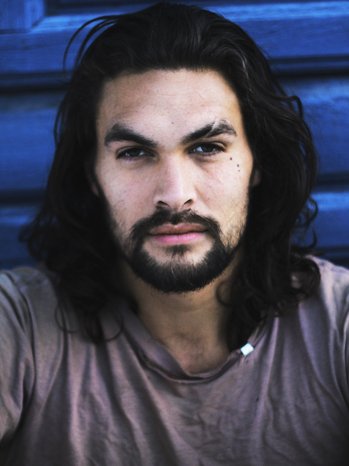 SUPERMAN/BATMAN NEWS
Jason Momoa is in negotiations to join the cast of the untitled Batman-Superman movie being made by Warner Bros. and DC Entertainment, sources tell The Hollywood Reporter.
Zack Snyder is directing the Man of Steel follow-up, which is quickly turning into a who's who of DC superheroes as Momoa joins Henry Cavill as Superman, Ben Affleck as Batman and Israeli supermodel and relative newcomer Gal Godot as Wonder Woman.
It's unclear whom Momoa will play due to the Kryptonite lock on the project's details. There's been speculation that the movie's villain could be Doomsday, a Kryptonian scientifically engineered into an intergalactic killing machine. Doomsday famously "killed" Superman in the comics, which became a media event in 1992. The character's existence is even hinted in the extras of the Man of Steel Blu-ray.
However, a source speculated that if Warners is populating the movie with members of the Justice League, Momoa could also play the Martian Manhunter, a super-powered alien trapped on Earth. Momoa, with his muscular physique, could be a fit for either character.
Momoa played the barbarian leader Khal Drogo in the first season of HBO's Game of Thrones, as well as Conan in 2011's Conan the Barbarian. He's got several indies in the works, including Wolves, a werewolf action movie written and directed by David Hayter.
JUPITER ASCENDING
Warner Bros. Pictures has released the first trailer for Andy and Lana Wachowski's Jupiter Ascending, starring Channing Tatum, Mila Kunis, Sean Bean, Eddie Redmayne, Douglas Booth, Tuppence Middleton, Doona Bae, James D'Arcy and Tim Pigott-Smith.
In the new film from "The Matrix" directors, opening in 3D, 2D and IMAX 3D theaters on July 25, 2014, Jupiter Jones (Mila Kunis) was born under a night sky, with signs predicting that she was destined for great things. Now grown, Jupiter dreams of the stars but wakes up to the cold reality of a job cleaning toilets and an endless run of bad breaks. Only when Caine (Channing Tatum), a genetically engineered ex-military hunter, arrives on Earth to track her down does Jupiter begin to glimpse the fate that has been waiting for her all along - her genetic signature marks her as next in line for an extraordinary inheritance that could alter the balance of the cosmos.
MONDAY, DECEMBER 9, 2013
SHERLOCK
The long wait is almost over, people: "Sherlock" Season 3 kicks off on Jan. 1 in the UK and Jan. 19 in the US, and we finally have our first full trailer for the new season.
The footage shows Sherlock planning on surprising John, but he's in for a rude awakening since John isn't at Baker St. anymore. We can't put this off any longer, just watch the trailer and see for yourself:
Sherlock returns to London to thwart a terrorist attack ...
Sherlock returns to Baker St. and Mrs. Hudson's reaction is mirroring ours ...
Who's ready to re-enter Sherlock's world? Trick question, we all are ...
It's been two years since Reichenbach Fall, and things are going to get dark ...
"Sherlock" Season 3 premieres Jan. 1 on BBC.
GODZILLA TRAILER COMING TOMORROW
We've been informed that this Tuesday, December 10th, Warner Bros. Pictures and Legendary Pictures will premiere the Godzilla trailer at 10 a.m. Pacific/1 p.m. Eastern.
An epic rebirth to Toho's iconic Godzilla, this spectacular adventure pits the world's most famous monster against malevolent creatures who, bolstered by humanity's scientific arrogance, threaten our very existence.
Gareth Edwards directs the film which stars Aaron Taylor-Johnson, Ken Watanabe, Elizabeth Olsen, Juliette Binoche, Sally Hawkins, David Strathairn and Bryan Cranston.
Slated to open on May 16, 2014, the film is expected to be presented in 3D, 2D and IMAX in select theaters and will be distributed worldwide by Warner Bros. Pictures, a Warner Bros. Entertainment Company, except in Japan, where it will be distributed by Toho Co., Ltd.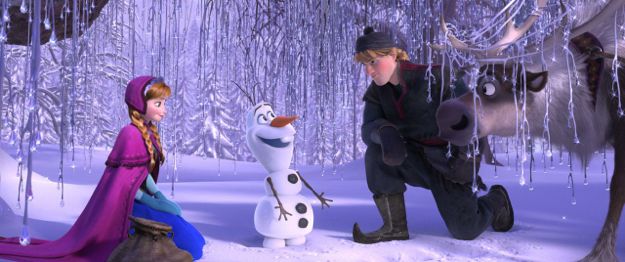 WEEKEND BOX OFFICE
It was another typically dull weekend at the box office following the lucrative holiday business brought in by Thanksgiving weekend, as people decided to go back to work and school following the nearly week off from the holidays and only two movies showed any signs of life.
As if there wasn't enough ice and snow on the streets this weekend, moviegoers once again flocked to Disney's animated musical adventure Frozen for a second weekend in a row, allowing it to pull just ahead of Katniss Everdeen's second adventure, The Hunger Games: Catching Fire (Lionsgate) to take first place.
After making an estimated $6.8 million on Friday, Frozen had a sizable Saturday bump to bring its weekend gross to an estimated $31.6 million, down a respectable 53% from its record-setting Thanksgiving opening. This brings its domestic total to $134 million, and with another $30.6 million added this weekend from 23 foreign territories, the movie's 12-day global gross rises to $190.2 million.
"Catching Fire" took a much nastier 67% plunge--this is fairly typical for the weekend following a holiday where no one works or goes to school on Friday--dropping to second place with $27 million while still playing in 4,163 theaters to bring its domestic total to $336.7 million. It's hard to compare to the original The Hunger Games because that opened during a different time of year, but "Catching Fire" has grossed the same amount in three weekends as the original movie made in its first four weeks.
Internationally, the "Hunger Games" sequel added another $44.3 million in 83 territories bringing its international total to an identical number as North America, $336.7 million, which may indeed be a first in the time I've been reporting box office. That essentially means that its $673 million global take is evenly divided between domestic and international.
For whatever reason, Relativity Media decided to open Crazy Heart director Scott Cooper's latest drama-thriller Out of the Furnace, starring Christian Bale, Casey Affleck, Woody Harrelson, Willem Dafoe and Zoe Saldana, in New York and Los Angeles on Wednesday before expanding to 2,101 theaters on Friday. With two strong movies still the top two choices in theaters and reviews being lackluster at best, the star-studded drama suffered the same fate as many other post-Thanksgiving releases, settling for third place with a measly $5.3 million with an additional $27 thousand for Wednesday and Thursday.
No other movie was able to bring in more than $5 million this weekend with Marvel Studios' Thor: The Dark World taking fourth place with $4.7 million ($193.6 million total), followed by Delivery Man (DreamWorks) with less than $4 million and just under $25 million total with one of the better holds in the Top 10 from last weekend. That also essentially makes it three Disney movies in the Top 5 this week, for those counting.
The bottom half of the Top 10 included the Jason Statham action-thriller Homefront (Open Road), the comedy sequel The Best Man Holiday (Universal), The Book Thief (20th Century Fox) and Philomena (The Weinstein Company), while Fox Searchlight's Black Nativity fell right out of the Top 10 with a 72% drop from its holiday opening weekend. Ouch.
The only other new release of any significance was that of Inside LLewyn Davis (CBS Films), the first movie from Joel and Ethan Coen in the three years since their hit Western True Grit. Starring Oscar Isaac, John Goodman, Carey Mulligan, Adam Driver and more, the Oscar-winning filmmakers' tribute to the '60s folk scene opened in four theaters in New York and Los Angeles to the tune of $402 thousand or just over $100 thousand per site. That's one of the top per-theater averages of the year for a limited release and more than doubles the $41.9 thousand per site average of the Coens' previous limited release A Serious Man in 2009. It expands wider into more cities on December 20,
We were curious to see whether the death of South Africa's greatest leader Nelson Mandela last week would have an impact on the biopic Mandela: The Long Walk to Freedom (The Weinstein Company), starring Idris Elba and Naomie Harris as Nelson and Winnie Mandela. Although the Weinstein Company kept it in only four theaters in New York and L.A., it held up well, down less than 8% from its Thanksgiving opening.
SUNDAY, DECEMBER 8, 2013
THE HOBBIT: THE DESOLATION OF SMAUG
We're only a week away from The Hobbit: The Desolation of Smaug, but that doesn't mean there are no more production videos to be had: Au contraire!
Shot over a span of several months, this new production diary is—once again—filled with behind-the-scenes goodness.
In this one, we discover that Martin Freeman (our very own Bilbo Baggins) is quite the ping-pong champ, we get a few covert glances at Smaug (as well as an appearance by Benedict Cumberbatch), and we feast our eyes on the ass-kicking Elven fighting duo of Tauriel (Evangeline Lilly) and Legolas (an ever-youthful Orlando Bloom; and from all those videos we've seen of them so far, we just can't wait to see these two in action!).
We're also getting quite an eyeful of Lake-Town and its denizens; including Stephen Fry's Master of Lake-Town and Luke Evans' Bard the Bowman.
Plus, there's a look at sound special FX and a barefooted Peter Jackson running around like a little kid with a handheld camera (for future breathtaking CGI stuff) and lots of shenanigans.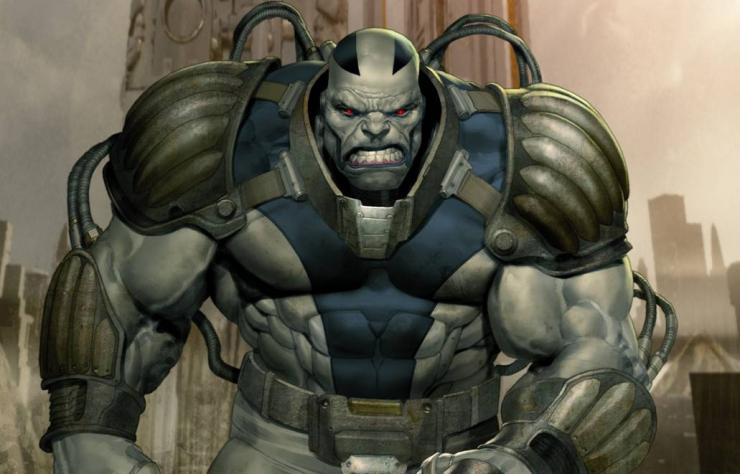 X-MEN: APOCALYPSE
It was only the other day we got confirmation that X-Men: Apocalypse is in the works, and now the first details have (allegedly) started to leak out. So, what can we expect from the next sequel?
The folks at Bleeding Cool are reporting some broad strokes of the development plan, claiming the upcoming Days of Future Past in 2014 will lead straight into Apocalypse in 2016, with the second film serving as a direct sequel to the events of the first.
The exact plot details apparently aren't clear, but the character of Apocalypse — a classic baddie in the X-Men canon — will apparently play a key role (not surprisingly) in connecting the two stories. Hmm, a post-credit stinger scene, perhaps?
Another interesting tidbit? The studio wants actors from both the "past" and "present" casts to return, which should make for some interesting narrative choices. Sure, having both works find in a time travel story like Days of Future Past — but it'll be interesting to see how they shake out the specifics in Apocalypse. Maybe have parts of the story unfold in the past, as well as the present?
The specific cast list is still in flux, allegedly, but it sounds like a lot of players from Days of Future Past could be coming back (i.e. large chunks of both casts) — along with some new additions to the canon — so these two films might actually play out like companion pieces in the long run.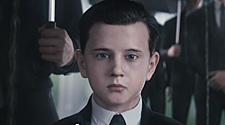 GOTHAM
In September, news broke that Fox made a series commitment to "Gotham," a new live-action show that will follow the adventures of a young Detective James Gordon. Now, TV Show Auditions is reporting they are casting a 10-year-old Bruce Wayne for the show and it would be a regular role.
According to the site: "A 10-year-old Bruce Wayne is among the roles that are now being cast as series regulars on the upcoming Fox TV series "Gotham" which explores the origin stories of Commissioner James Gordon and the villains that made Gotham City famous. Under development for over a year, the project has now been given a direct-to-series order by the network, which won an intense bidding war for the Warner Bros. Television rights to the show. Shooting on the pilot episode will get underway in March, 2014 and will center on Gotham City PD rookie homicide detective James Gordon who investigates the double murder of Thomas and Martha Wayne."
The series hails from "The Mentalist" creator Bruno Heller. First appearing in "Detective Comics" #27 (the 1939 comic that also debuted Batman), Commissioner James Gordon is the creation of Bill Finger and Bob Kane.
BATES MOTEL
A&E offered an all-too-brief tease for "Bates Motel" Season 2 a few weeks ago, but now we have a pair of extended teasers that actually have some meat on them. In this case, we're actually getting some footage featuring Norman and Norma Bates.
Season 2 begins early next year with Freddie Highmore and Vera Farmiga reprising their roles as Norman and Norma Bates. Kathleen Robertson, Paloma Kwiatkowski and Michael Vartan are going to be newcomers to the series. No debut date has been set.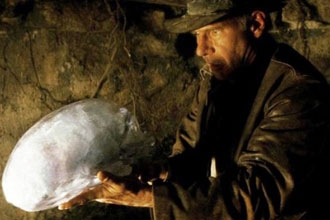 MORE INDIANA JONES AT DISNEY
When Disney bought Lucasfilm over a year ago, the only real purpose was for the Mouse House to get its hands on the "Star Wars" franchise.
Lucasfilm did control one other highly valuable property though - the "Indiana Jones" franchise. However, Paramount had a controlling interest in that film series. Not anymore it would seem.
Disney and Paramount have reached an official agreement that gives Disney control over all future films in the franchise. Paramount retains rights to the first four films, and will receive a "financial participation" on any future films that are produced and released.
This clears the way for a new fifth installment, be it another sequel or even a possible reboot. However, there's no fifth film said to be in the works at this time. All those involved - Ford, Spielberg, Lucas - have all previously expressed interest in returning though.
SATURDAY, DECEMBER 7, 2013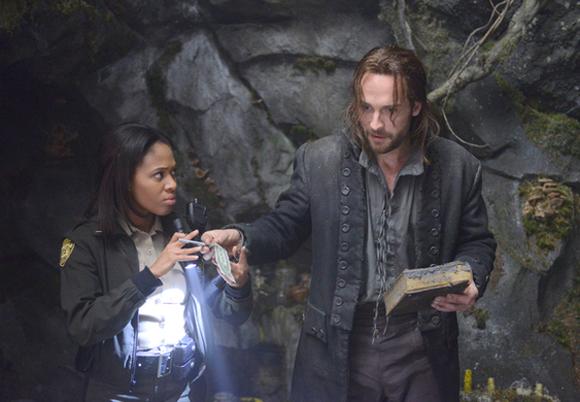 SLEEPY HOLLOW NEWS
Sleepyheads, someone at FOX loves you: Instead of making you wait a week in between the two halves of "Sleepy Hollow's" first season finale, the freshman hit will now conclude with a two-hour installment on Monday, Jan. 20.
But there's some bad news along with that good news: Unfortunately, the two-hour "Sleepy Hollow" means "The Following" premiere will now have a week-long gap instead. Season 2 of the serial killer drama was scheduled to debut after the NFC Championship Game on Sunday, Jan. 19 and continue on the next day, but the second episode will be pushed to Monday, Jan. 27 instead.
In the first hour of the "Sleepy Hollow" finale, "The Indispensable Man," Ichabod and Abbie will uncover a shocking truth surrounding George Washington's death while Captain Irving makes a life-changing decision for his family. In the second hour, "Bad Blood," something extremely vague happens: "the battle between good and evil comes to an explosive head -- sacrifices must be made, worlds collide, loyalties are tested and the town of Sleepy Hollow will never be the same." Just so you know, that's PR-speak for "crazy s*** goes down."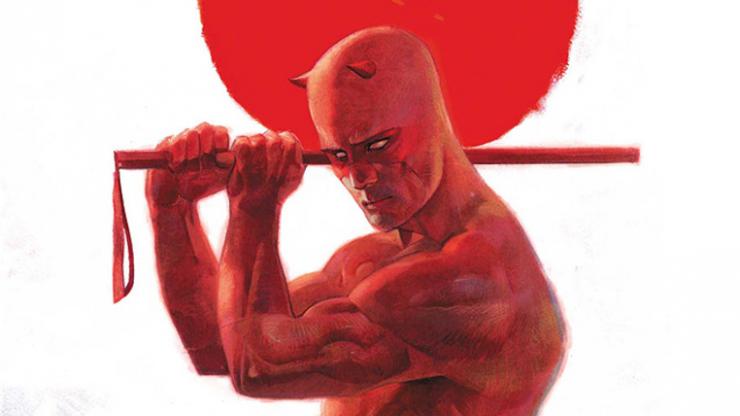 DAREDEVIL
The pattern of Whedon-adjacent creators taking on Marvel properties continues. Not that we're complaining.
Daredevil is slated to be the first Marvel character that Netflix will be releasing into the wild world of instant streaming sometime in 2015. If you were wondering who the boss is going to be, wonder no more -- it's Drew Goddard.
Just in case the name doesn't immediately fire off all your geeky synapses, let's run through his credits -- Buffy the Vampire Slayer, Angel, Alias, Lost, Cabin in the Woods, World War Z, and the list goes on. Goddard is the one-man link between the two most powerful men in sci-fi -- Joss Whedon and J.J. Abrams. And now he'll be writing and directing the Daredevil pilot in addition to executive-producing it.
As choices go, that's about as good as both Netflix and we can hope for. What his vision is? That remains to be seen.
Based on his body of work, though, we'd say Daredevil is in good hands.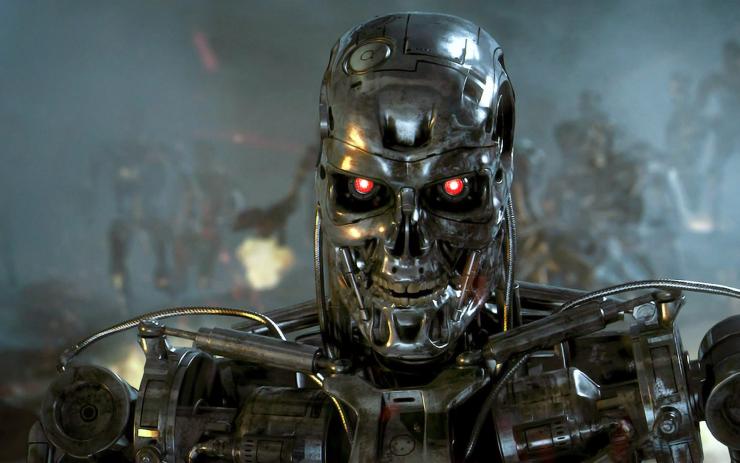 TERMINATOR COMING TO TV
We've been hearing for a while about a new Terminator movie trilogy coming our way, but now comes word that the franchise will "be back" via another medium as well.
According to the Hollywood Reporter, the producers behind the movie are developing a Terminator TV series that will appear in conjunction with the planned feature films. Writers Zack Stentz and Ashley Miller have been hired by Annapurna Pictures and Skydance Productions to script and executive-produce the show.
Stentz and Miller, whose credits include Thor and X-Men: First Class, have been down this highway before: They worked on Terminator: The Sarah Connor Chronicles, the first franchise-related series that ended its run four years ago after two seasons.
The concept behind the series will start with a "critical moment" from the very first Terminator movie, from which the films will spin off one way, while the TV series will take it in another direction. If all goes according to plan -- which means that if both the show and the movies are successful -- the storylines will cross paths down the line.
No word on where or when the series will show up on the small screen, but you can bet that it might be sometime around or after the July 1, 2015, release of the first new Terminator movie. As for that, director Alan Taylor (Game of Thrones, Thor: The Dark World) and star Arnold Schwarzenegger are on board, and the latest reports suggest that Emilia Clarke (Game of Thrones) and Brie Larson (Scott Pilgrim vs. the World) are the finalists to play Sarah Connor in what sounds more and more like both a reboot and a remake.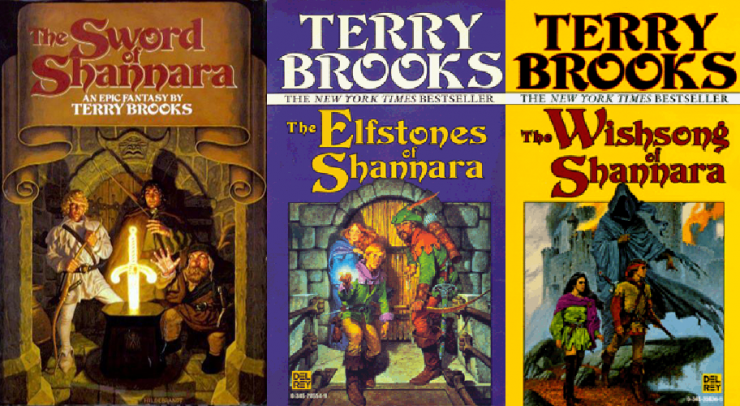 SHANNARA COMING TO MTV
Terry Brooks' Shannara series is the best-selling unadapted fantasy book series ever, but it looks like that's all about to change.
In 1967, Terry Brooks began writing a little book called The Sword of Shannara. It wouldn't be completed until 1975 or out in the world until 1977, but the wait would be worth it -- both for Brooks and the audience he would find. With 25 books total (and three more on the way) since those humble beginnings, Brooks has become the second best-selling fantasy novelist of all time, with only J.K. Rowling herself able to best him. She has an advantage, though -- Harry Potter is a movie legend, too.
But as we said, that's all due to change, and thanks to a very interesting team at that.
MTV is bringing Shannara to television with, get this, Jon Favreau directing and executive-producing the pilot and Smallville co-creators Al Gough and Miles Millar producing should that pilot go to series.
If there's a more "I had this really weird dream that made absolutely no sense" team for this project, I can't think of it.
If you're wondering how team Smallville wound up aboard, we can explain. Current MTV programming president Susanne Daniels used to work with Gough and Millar back when she helped develop Smallville while being the WB Network's head of programming.
But the how of the team is less important than what's actually happening with the series itself. As of now, the plan is to begin with the second book in the series, The Elfstones of Shannara, which acts more as a world-builder than the first book.
The good news is, Brooks himself is alive, kicking, and very much involved in the project. He seems upbeat, even, saying, "I believe we have formed the perfect team to bring Shannara to life onscreen. The adaptation of these books is very important to me, and I believe we are on the right track in our endeavor to create an epic television series that both new and old fans of the books will love."
Granted, this is early days yet, and who knows what changes the adaptation will bring, but Brooks being a part of the project at its inception is a relief.
As for MTV, they're obviously looking to cash in on both the people who currently watch Game of Thrones and the people who would watch it if HBO weren't so darn expensive.
Daniels has already had wildly unexpected success adapting Teen Wolf to the small screen, so there's a good chance that Shannara may, indeed, be in hands as good as Brooks says.
AGENTS OF S.H.I.E.L.D. NEWS
S.H.I.E.L.D.'s Globemaster is about to get a bit more crowded.
TVLine reports that—along with the return of Centipede—two more agents will make their very first appearance in episode 14 of Marvel's Agents of S.H.I.E.L.D.
Here's what Matt Webb Mitovich had to say:
Episode 14 will introduce two recurring characters: an African-American agent who specializes in combat/weapons, and a high-level S.H.I.E.L.D. agent/munitions expert who has past ties to both Coulson and Ward.
It's unclear whether these two new characters will be part of the core team or not (our guess would be not), but it'll be nice to see the S.H.I.E.L.D. family expand beyond Nick Fury (Samuel L. Jackson), Maria Hill (Cobie Smulders) and Agent Blake (Titus Welliver) from the Marvel One-Shot short film Item 47 who recently appeared in the episode "F.Z.Z.T."
Marvel's Agents of S.H.I.E.L.D stars Clark Gregg as Agent Phil Coulson, Ming-Na Wen as Agent Melinda May, Brett Dalton as Agent Grant Ward, Chloe Bennet as Skye, Iain De Caestecker as Agent Leo Fitz and Elizabeth Henstridge as Agent Jemma Simmons.

STAR TREK NEWS
With the series' 50th anniversary hitting in 2016, work is already underway to bring a thirteenth (or third, depending on your interpretation of temporal mechanics) big screen Star Trek adventure to theaters. Although there's no guarantee yet that the project will hit for the golden anniversary celebration, the odds of that are looking a little better today as The Hollywood Reporter reveals that Patrick McKay and J.D. Payne will be joining the returning Roberto Orci. Orci's writing partner, Alex Kurtzman, the outlet says, will be sitting this one out.
Although the film does not yet have a director locked, recent reports have hinted that Attack the Block helmer Joe Cornish is high on the list of potential candidates.
Although McKay and Payne do not, as of yet, have a produced credit to their name, they have already worked with J.J. Abrams' Bad Robot Productions on Boilerplate: History's Mechanical Marvel, a planned adaptation of the book by Paul Guinan and Anina Bennett.
FRIDAY, DECEMBER 6, 2013
STATE OF SYN
Have you been missing the old Stargate Atlantis gang? Good news! Some of the cast are back together for an intriguing new sci-fi web series.
Dubbed State of Syn, the future-set web short project follows a "synthetic" with the ability to hack technology. The story follows Jewel Staite (Dr. Jennifer Keller on Atlantis) through a web of stylized action and political intrigue.
In addition to Staite, the cast is rounded out by none other than David Hewlett (Atlantis' Rodney McKay) and Rainbow Francks (Atlantis' Aiden Ford). But that's not all. The opening narration is provided by Atlantis alum Torri Higginson (aka former expedition leader Elizabeth Weir).
The first two episodes are live now, and the series has a very unique, almost comic-book-styled look to it. The visuals take a bit of getting used to, but once you figure it out, it's a fun little ride.
The producers are planning a total of 10 five-minute episodes, so there should be a lot more where this came from.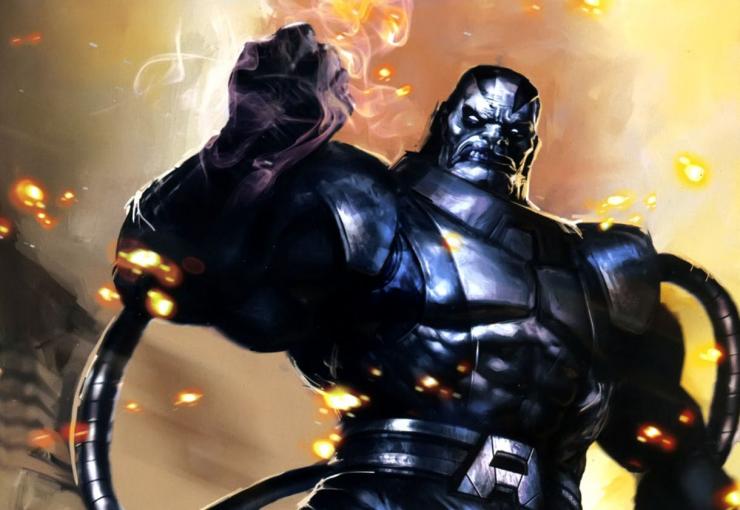 X-MEN: APOCALYPSE
The next X-Men adventure hasn't hit theaters yet, but 20th Century Fox already has at least one more on the way.
All the X-Men talk lately has been centered around Days of Future Past, the time-travel adventure that will unite the X-Men: First Class cast and the original X-Men cast in May. But the X-Men are a seemingly unstoppable franchise, so it wouldn't be surprising to find out that another flick is planned beyond this massive ensemble blockbuster. Now we've got confirmation that another major X-Men adventure is indeed headed our way.
Today Fox announced to exhibitors that a film titled X-Men: Apocalypse is coming, and we'll see it released on May 27, 2016. Days of Future Past director Bryan Singer confirmed the news with a tweet.
As Box Office Mojo notes, we know nothing yet about the cast and crew of this flick (though Singer's tweet suggests that he's involved), or what the story will be, but we can certainly hazard a few guesses. The title alone suggests the involvement of the iconic X-Men villain Apocalypse, who was first introduced in 1986 and has been menacing the X-Men with his almost unfathomable powers ever since. We can also guess that this will be a direct follow-up to Days of Future Past, though we've got no official confirmation of that yet. Whatever the case, it looks like Fox is poised not only to continue the franchise, but to up the ante yet again after a film like Days of Future Past, which seems to have assembled the largest collection of superheroes ever on the big screen.
So, if you're a fan of the X-Men flicks, get ready. Days of Future Past may be only the beginning. AMERICAN HORROR STORY: COVEN
Good news, Fringe fans! A fan-favorite actor is heading to FX's American Horror Story: Coven, but in a very different type of role than what we're used to seeing.
Lance Reddick, who played Agent Phillip Broyles on the sci-fi series Fringe, has signed on to play Papa Legba in Coven, a character described as the series' "voodoo Satan." Yeah, that's a little bit different than Broyles.
The character will apparently play a pivotal role in the rest of the season, as the character has a major connection to Marie Laveau (Angela Bassett). The current season has four episodes left, and as has been the case the past three years, it'll be reset with a new premise and setting in 2014.
This should definitely be a fun role for Reddick, and though we're used to seeing him play the hero on Fringe, he definitely has the look to cause some trouble as a "voodoo Satan" with the right material. THE AMAZING SPIDER-MAN 2
The first trailer for Amazing Spider-Man 2 has finally arrived, and the latest adventure of the new Peter Parker definitely looks to up the ante.
The 2-minute-plus trailer is our first real look at footage from Marc Webb's eagerly anticipated sequel, and sets the state for a boatload of storylines that will likely drive the franchise over the next few sequels. We also get our first look at Jamie Foxx's Electro, which looks about as badass as we'd expect as he tosses police cars around downtown.
There also seems to be some major progress on the Richard Parker family mystery, as Peter (Andrew Garfield) stumbles upon a hidden lab with a recorded message from his father. Plus, Dane DeHaan's take on Harry Osborn seems acceptably smarmy, while we also got a fleeting peek at a sickly Norman Osborn (Chris Cooper).
The adorable Emma Stone is also back as Gwen Stacy, and it looks like that relationship will also be at the heart of the narrative once again (and we're still curious to see if that heartbreakingly iconic scene makes the cut).
Oh, and there's also Rhino (Paul Giamatti) and a ton of other tidbits crammed in there. After seeing how much they seem to be packing into this sequel, it's easier to understand why they pushed back the introduction of Mary Jane Watson to at least part three.
Amazing Spider-Man 2 opens May 2, 2014.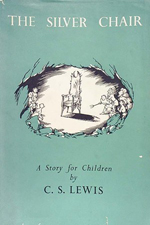 THE CHRONICLES OF NARNIA: THE SILVER CHAIR
Officially announced for development in October, the fourth big screen adventure set in C.S. Lewis' fantastic world of Narnia has found a screenwriter. Variety is reporting that David Magee, best known for his recent Life of Pi will script The Chronicles of Narnia: The Silver Chair.
The book, which features the return of The Voyage of the Dawn Treader's Eustace Scrubb (played by Will Poulter in the 2010 adaotation), is described as follows on the official C.S. Lewis site:
Through dangers untold and caverns deep and dark, a noble band of friends is sent to rescue a prince held captive. But their mission to Underland brings them face-to-face with an evil more beautiful and more deadly than they ever expected.
Adaptations of the the first three Narnia films (The Lion, the Witch and the Wardrobe, Prince Caspian and The Voyage of the Dawn Treader) have, combined, grossed over $1.6 billion at the worldwide box office.
Mark Gordon and Douglas Gresham along with Vincent Sieber, the LA based Director of The C.S. Lewis Company, will serve as producers and work with The Mark Gordon Company on developing the script for The Chronicles of Narnia: The Silver Chair. Michele Wolkoff and Sara Smith will oversee for The Mark Gordon Company.
THURSDAY, DECEMBER 5, 2013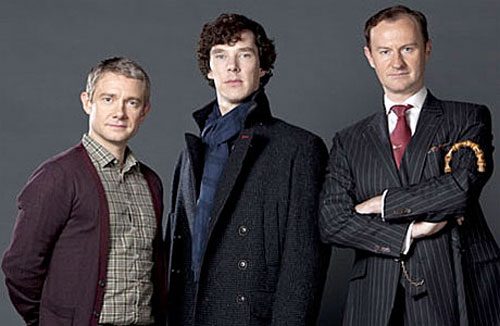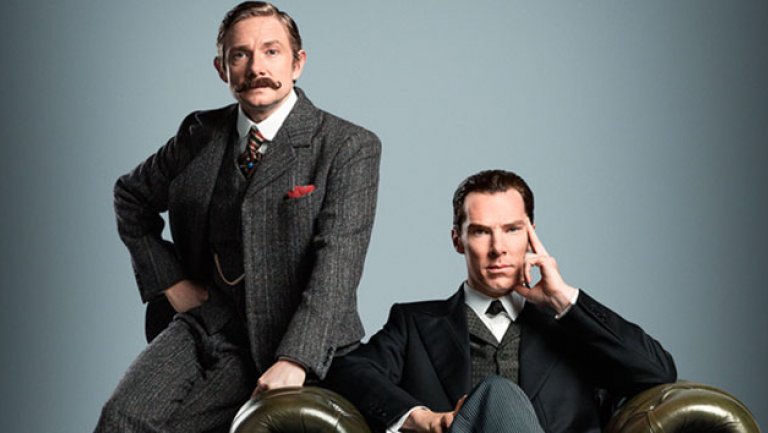 SHERLOCK
"Sherlock" is really coming back! Season 3 begins on Jan. 1 in the UK and Jan. 19 in the United States, but there are already photos from the upcoming season to help fans wait.
Judging from the press conference above, it doesn't take long for Sherlock Holmes (Benedict Cumberbatch) to announce his return from the dead. There is probably a case to solve that couldn't wait.
But until Sherlock is really back, things are a lot more somber, especially for people like Dr. John Watson (Martin Freeman).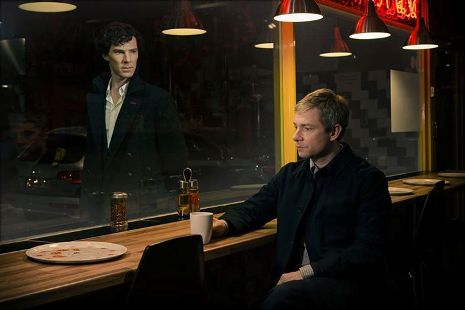 CHRISTMAS DAY MINI-EPISODE OF SHERLOCK
It may be a good Christmas for "Sherlock" fans. BBC One has confirmed that a special, bonus "mini-episode" of the Benedict Cumberbatch/Martin Freeman series will appear just in time for Christmas Day (Dec. 25).
"Many Happy Returns" will be a sort of prequel to the upcoming Season 3 of "Sherlock," giving a peek at the time after Holmes' presumed death at the end of Season 2. As reported by Hypable, the synopsis hints at a midseason timeline: "Sherlock has been gone for 2 years. But someone isn't quite convinced that he's dead."
Could that someone be Watson? Maybe Mycroft, with all his government connections, has picked up a hint of his brother? Or could it be someone on the edges of Sherlock's life, like Irene Adler, who has suspicions.
With the meager information we have on the episode, it's hard to even tell if either Cumberbatch or Freeman will even be in the installment. Hopefully the two stars will at least make cameo appearances.
BBC One is making the mini-episode available online and via its Red Button service. PBS, which airs the series in the United States, has not released any information about an American release.
"Sherlock" Season 3 premieres on Jan. 1 in the UK with episodes beginning Jan. 19 in the US.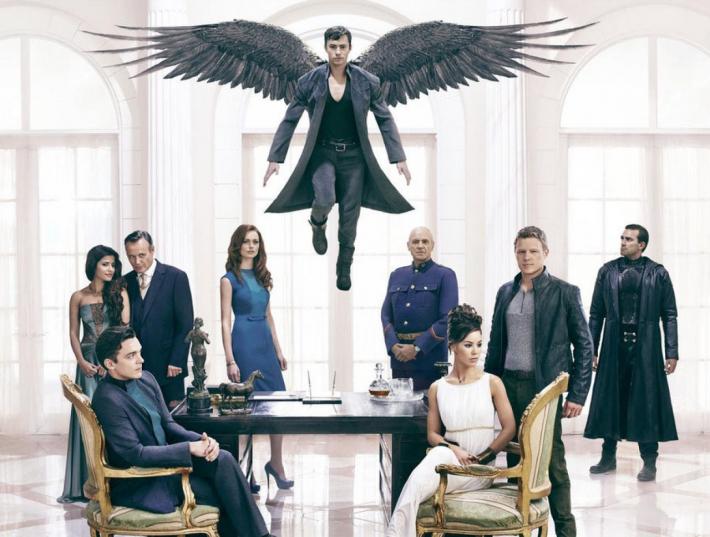 DOMINION COMING TO SYFY
An epic, post-apocalyptic angel war is officially coming to Syfy in 2014.
The cable network has picked up the supernatural drama project Dominion, which is based on the 2010 angel-battle flick Legion. The series will be based on characters from the film and set in a post-apocalyptic landscape that has become home to a war between two angel factions.
A pilot episode was ordered just a few months ago, and apparently network execs liked what they saw. The series is set to star Christopher Egan (Resident Evil: Extinction), Tom Wisdom (300), Roxanne McKee (Game of Thrones), Alan Dale (Once Upon a Time), Anthony Stewart Head (Buffy the Vampire Slayer) and Luke Allen-Gale (Captain America: The First Avenger).
An air date has yet to be set, but the series is expected to bow in 2014.
HereÕs the official synopsis:
Dominion is an epic supernatural drama set in the year 25 A.E. In this transformed postÐapocalyptic future an army of lower angels, assembled by the archangel Gabriel, has waged a war of possession against mankind. The archangel Michael, turning against his own kind, has chosen to side with humanity against Gabriel. Rising out of the ashes of the 25 year-long battle are newly fortified cities which protect the human survivors. In Vega (formerly Las Vegas), the largest of these cities, two houses vie for control and the stage is set for political upheaval and a dangerous power shift. Meanwhile, a rebellious young soldier begins a perilous journey as the war between the human race and the fallen angels hell-bent on their domination escalates.
According to a statement from Syfy president Dave Howe, the project represents the next step in the networkÕs push toward high-profile drama projects, a la Defiance and Ron MooreÕs upcoming thriller Helix. Howe said the project should Òdeliver the high stakes, sci-fi/fantasy experience our audience demands and embraces.Ó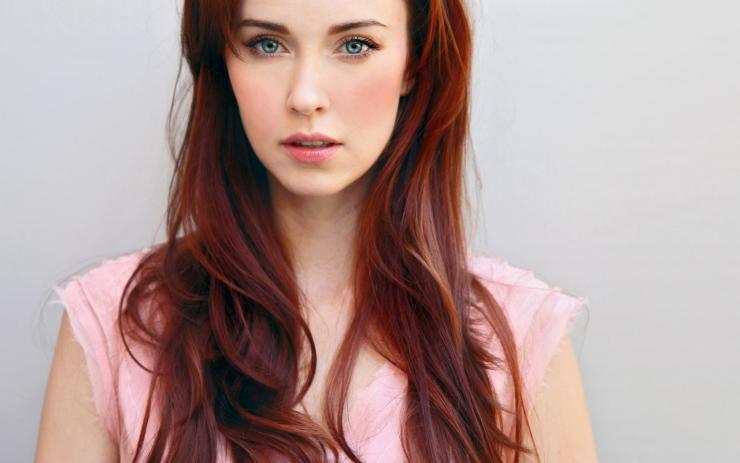 THE ORIGINALS NEWS
The Originals has just cast a Stargate actress for a very witchy role.
SGU Stargate UniverseÕs Elyse LŽvesque, who played Chloe Armstrong on the short-run sci-fi series, will appear on the popular CW series in the recurring role of redheaded witch Genevieve.
According to TV Line, ÒThe seductive and deceptive Genevieve returns to New Orleans with a mysterious agenda and some unfinished business with Rebekah (Claire Holt) and Marcel (Charles Michael Davis).Ó
ThereÕs a hint that her character may have something to do with the secret shared by the former lovers, which was teased at in TuesdayÕs awesome fall finale.
LŽvesqueÕs first appearance on The Originals will be in episode 13, and the series will return to TV on Jan. 14.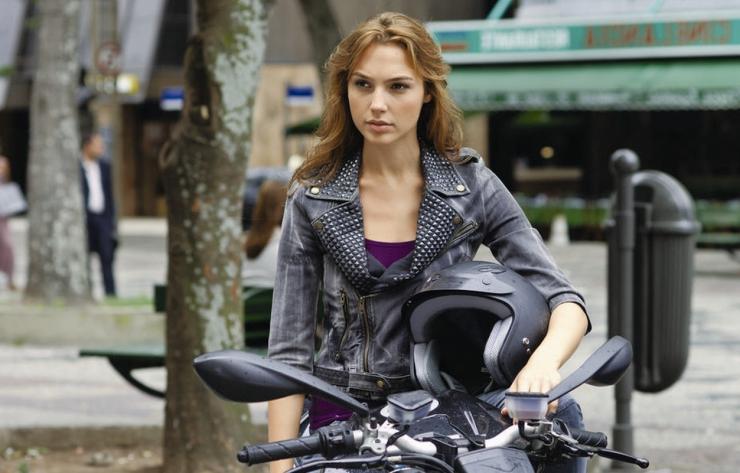 NEW WONDER WOMAN
Well, the speculation is over Ñ Batman vs. Superman will officially introduce Wonder Woman to the big-screen canon. Even better? We already know who is going to play her.
The studio has announced that relative newcomer Gal Gadot (Fast & Furious franchise) has signed on for the key role in the Man of Steel sequel, joining Henry Cavill and Ben Affleck as a founding trio for the future Justice League.
The rumor mill has been buzzing that Wonder Woman will be in the sequel, but the casting has been the big question up until this point. Considering just how high-profile of a role weÕre talking about, itÕs interesting that they went with a relative unknown. WeÕll have to assume Gadot just blew them away in the auditions.
As for her acting chops? We havenÕt gotten to see a whole lot from her, really, though her stint in the Fast & Furious franchise has shown she can kick a little ass and take a few names.
HereÕs what director Zack Snyder said about the hire:
ÒWonder Woman is arguably one of the most powerful female characters of all time and a fan favorite in the DC Universe. Not only is Gal an amazing actress, but she also has that magical quality that makes her perfect for the role. We look forward to audiences discovering Gal in the first feature film incarnation of this beloved character.Ó THE DESOLATION OF SMAUD
WeÕre less than two weeks away from getting to see The Hobbit: Desolation of Smaug, and the studio has dropped more intriguing new clips from Peter JacksonÕs latest sequel. Tolkien fans, say hello to Tauriel.
The clips are very elf-centric, which fits with the trailers that appear fairly heavy on elf activity Ñ so those who have missed the pointy-eared archers should be more than pleased. Plus, we finally get to see a bit more of those new faces.
One clip focuses on newly created elf Tauriel (Evangeline Lilly), who has a good bit of sexy angst going on with Lord of the Rings ass-kicker Legolas (Orlando Bloom). It delves into their backstory a bit more, and gives us a feel for how Tauriel will fit into the universe. It seems to work, at least in the minute or so of footage here. There's no embed available, so check that one out at Entertainment Weekly.
The clips are a bit darker in tone (choice quote: ÒDeath is upon youÓ) and once again features Legolas in action. This one seems to set up some of the foreboding for badness to come (hey, it is the middle installment), but it plays appropriately tense.
The Hobbit: Desolation of Smaug stars Martin Freeman, Ian McKellen, Luke Evans, Stephen Fry, Richard Armitage, Sylvester McCoy, John Bell and Benedict Cumberbatch. The flick opens Dec. 13.
WEDNESDAY, DECEMBER 4, 2013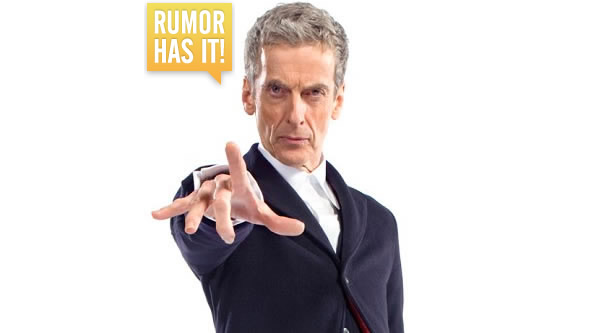 DOCTOR WHO NEWS
There's less than a month before the world gets to see Peter Capaldi make his "Doctor Who" debut. The new Doctor, who will be replacing Matt Smith in "The Time of the Doctor," has shot his first scenes in the role, and it sounds like they're going to be good.
According to the Radio Times, BBC1 controller Charlotte Moore thinks Capaldi is "going to be a fantastic Doctor." Speaking at a BAFTA event, she says, "He's an extraordinary actor with amazing ability and just watching the first scenes come through ... I'm very excited."
Whovians have been wondering what Capaldi's Doctor will be like, but Moore doesn't delve into his personality. If the split-second cameo in "The Day of the Doctor" is any indication, he's certainly not the happy go lucky Doctor fans have seen in recent years. ARROW PREVIEW
When Barry Allen -- the man who will be the Flash -- comes to "Arrow," he doesn't waste any time trying to learn more about the hooded vigilante. But the young man doesn't know how close he is to the truth when he asks Felicity about the hero in "The Scientist."
This turns out to be very uncomfortable for Felicity, as seen in this preview video clip for Wednesday's (Dec. 4) episode.
The scene shown has Barry (Grant Gustin) and Felicity (Emily Bett Rickards) working together to solve a crime committed at Queen Consolidated. But that's not where Barry's mind is -- he's in town as much to admire the vigilante as he is to do any crime-solving. If only he knew how close to the truth he is!
As of now, however, all he gets out of Felicity on the vigilante is that the hooded man is "green."
Barry Allen will appear in the next two "Arrow" episodes, "The Scientist" and "Three Ghosts." After that, fans may have to wait for a pilot episode for the proposed spinoff, "The Flash." Based on videos like this, it will be worth the wait.
"Arrow" airs Wednesdays at 8 p.m. on The CW.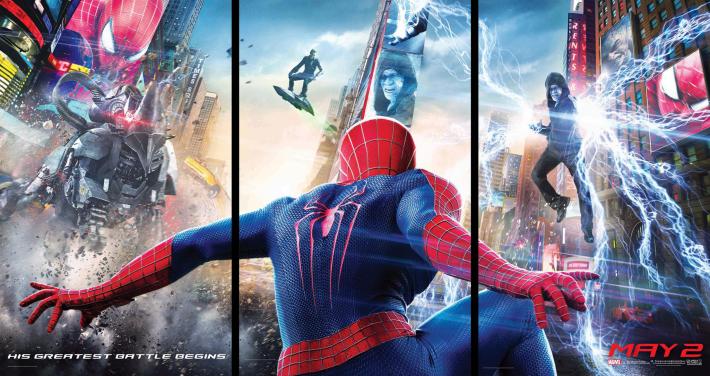 AMAZING SPIDER-MAN 2
The official new poster art for The Amazing Spider-Man 2 confirms the appearance of at least three major villains in the film -- and raises even more questions.
Last weekend, over the Thanksgiving break, a fuzzy image of a poster for The Amazing Spider-Man 2 surfaced online. Now the crystal-clear, hi-def version has been released by Sony Pictures and corroborates recent speculation that Spidey (Andrew Garfield) will face off against a trio of villains in the sequel -- and possibly even more than that.
On the left side of the image, we see long-confirmed menace Electro (Jamie Foxx), while on the right, we get our first good look at the Rhino (Paul Giamatti) in his suit -- a mechanized version that's very different from what we've seen Aleksei Sytsevich wear in the comics.
But dead center, hovering in the distance above Spider-Man's head, is another figure on a glider -- which can only mean one of two things. It could be Norman Osborn (Chris Cooper) in Green Goblin mode, or his son, Harry Osborn (Dane DeHaan), as either the Hobgoblin or the Green Goblin.
Which do you think? Based on the image, we're guessing that it's DeHaan as Harry. But other questions remain. Whose face is leering down at the scene from a screen above Electro's head? Is that Harry as well, or someone else? Will Norman go full Goblin before the movie is over?
If we had to make a bet, we'd wager than Rhino shows up early in the film and is dispatched by Spider-Man, while Electro dominates the bulk of the story. But somehow Harry and Norman will get drawn into the action as well, and we're thinking that the end of the movie will hint at Norman's return in the next film and the formation of the Sinister Six.
Has your head exploded yet? Scrutine the images below, read the newly released plot description, and start praying that the wealth of bad guys doesn't turn this into a new version of Spider-Man 3. The Amazing Spider-Man 2 opens on May 2, 2014.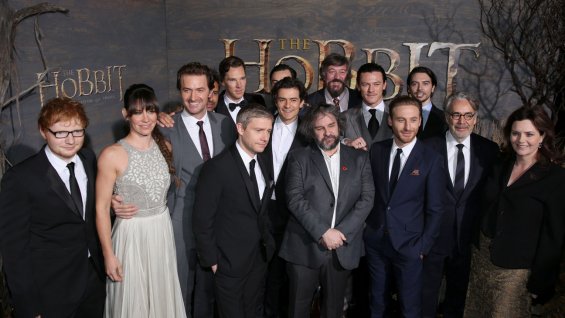 THE HOBBIT: THE DESOLATION OF SMAUG PREMIERE
Middle Earth returned to Hollywood once more as New Line and Warner Bros. held the world premiere of The Hobbit: The Desolation of Smaug on Monday night in Hollywood.
Director Peter Jackson was the man of the evening, at the Dolby Theatre screening and then at the afterparty, held at Hollywood & HighlandÕs Ray Dolby Ballroom, which, decorated with pillars and arches, was decked out to look like an ancient city that would have been right at home in the film.
ÒItÕs an absolute triumph, no joke,Ó enthused Sean Astin, who played Samwise Gamgee in JacksonÕs Lord of the Rings trilogy, to the filmmaker. ÒI saw at least nine things IÕve never seen before in movies. I mean, ever!Ó
Directors such as Edgar Wright and Bryan Singer and producer Brunson Green also spent time orbiting Jackson, as did JacksonÕs King Kong star Jack Black.
Smaug was enthusiastically received, especially compared to the reception of the first installment, An Unexpected Journey, which, while making over a billion dollars worldwide, got a mixed reception by critics and fans alike. Also coming into play was that the movie was the first major feature to be released in the traditional 24 frames per second frame rate as well as a new, faster 48 frames.
ÒLast year, there was a lot of focus on the frame rate, and the technology drove a lot of the reviews,Ó Jackson acknowledged. ÒThis time around, we made a conscious decision that all the press screenings will be in 24, the premiere at 48. Forty-eight is the best way to see the film, personally. And weÕll see what the audience wants.Ó
Jackson said he spent a lot of time working on the color grading, trying to tone down the high-definition look. ÒI think it wasnÕt just the frame rate; it was the high-definition look of the cameras that was a contributing factor. So I softened it up this year. And I think weÕve got a look now that feels quite nice.Ó
Partygoers munched on Hobbit-inspired fare such as turkey shepherd's pie with sweet potatoes and winter squash tortellini with brown butter and crispy sage (did Middle Earth also have black forest parfaits and pumpkin cheesecake pops?) as they took in a two-song performance by Ed Sheeran, whose song "I See Fire" plays over the closing credits.
Luke Evans was one of those in front of the elevated stage listening to the tunes. Evans plays Bard the Bowman, a human who helps ferry the company of dwarves and one hobbit one step closer to their destination, a lost city now occupied by the dragon Smaug,
ÒI started this so long ago!Ó he said. ÒI started this back in 2011, so itÕs nice to finally see all this.Ó
A few feet away sat Evangeline Lilly, the former star of TVÕs Lost, who plays one of the rare female characters in the J.R.R. Tolkien adaptations, an elf warrior named Tauriel. The part is somewhat controversial, as the character was created by Jackson and his co-writers, Philippa Boyens and Fran Walsh, to make the movies less male-centric and broaden their appeal.
ÒI really am OK with the controversy,Ó she said. ÒI invite it. I would rather be in the center of controversy than be on the periphery and an ignored character. Lost was a controversial show and people either loved it or hated it, so that gave me a really thick skin.Ó
Lilly was enthusiastic about younger female audiences seeing the movie, and she said she hopes her character will be a role model.
ÒTauriel is a wonderful option for young women. She is compassionate and soft-hearted, but there is nothing about her that is weak."
Smaug isnÕt as long as An Unexpected Journey Ð it clocks in at two hours and 41 minutes as opposed to two hours and 49 minutes Ð but its hefty length did extend the festivities well past the midnight hour. And long after Warners and New Line brass had departed, Jackson and many of the actors were still having a ball.
Length is something Jackson has had to deal with, not just in terms of running time but also the number of movies for the adaptation. (Some have criticized him for expanding a story that could have been told in one or two movies into three long movies.) He said he gets why fans ask why it is taking so long but explains that he and his team look at the movies as one continuous story.
ÒA year from now, after the third one comes out, at that point everything becomes a six-movie set: Three Hobbit movies, three Lord of the Rings movies,Ó he explained. ÒAnd thatÕs how people are going to see them, hopefully for decades to come. And theyÕll forget what year they were made and how long they were.Ó STAR WARS REBELS
Lucasfilm has debuted a new behind-the-scenes video for their upcoming animated series "Star Wars Rebels" which features some sneak peeks as well as an interview with Executive Producer Greg Weisman.
The series is set between the events of Episode III and IV -- an era spanning almost two decades never-before explored on-screen. It takes place in a time where the Empire is securing its grip on the galaxy and hunting down the last of the Jedi Knights as a fledgling rebellion against the Empire is taking shape.
"Star Wars Rebels" will be produced by Lucasfilm Animation, featuring many of the key talents that made "Star Wars: The Clone Wars." It is scheduled to premiere in fall 2014 as a one-hour special telecast on Disney Channel, and will be followed by a series on Disney XD channels around the world.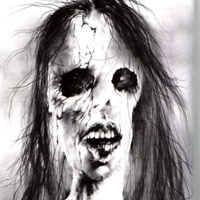 SCARY STORIES TO TELL IN THE DARK
CBS Films has nabbed the rights to a children's book series likely to inspire nostalgia in Millennials. Deadline reports that they are developing Alvin Schwartz's anthology Scary Stories to Tell in the Dark into a feature film. Saw screenwriters Marcus Dunstan and Patrick Melton will provide the screenplay, which follows a group of kids who are faced with their nightmares coming to life.
First published in 1981, the first book of what became a three-book series (it was followed by More Scary Stories to Tell in the Dark and Scary Stories 3: More Tales to Chill Your Bones) is officially described as follows:
This spooky addition to Alvin Schwartz's popular books on American folklore is filled with tales of eerie horror and dark revenge that will make you jump with fright. There is a story here for everyone -- skeletons with torn and tangled flesh who roam the earth; a ghost who takes revenge on her murderer; and a haunted house where every night a bloody head falls down the chimney. Stephen Gammell's splendidly creepy drawings perfectly capture the mood of more than two dozen scary stories -- and even scary songs -- all just right for reading alone or for telling aloud in the dark. If You Dare!
Gammell's illustrations were replaced with art by Brett Helquist for a recent 30th anniversary edition of the books, which led to some heavy criticism from fans who grew up with the original artists's truly terrifying images.
The Sean Daniel Company's Jason Brown and Sean Daniel are set to produce Scary Stories to Tell in the Dark alongside 1212 Entertainment's Elizabeth Grave.
TUESDAY, DECEMBER 3, 2013

THEBOXTROLLS
Here's the first teaser trailer for THE BOXTROLLS. Set for release on September 26, 2014, the movie stars Ben Kingsley, introducing Isaac Hempstead-Wright, Elle Fanning, Jared Harris, Toni Collette, Nick Frost, Richard Ayoade, Tracy Morgan, and Simon Pegg. Director: Anthony Stacchi, Graham Annable
Synopsis: The new 3D stop-motion and CG hybrid animated feature is a comedic fable that unfolds in Cheesebridge, a posh Victorian-era town obsessed with wealth, class, and the stinkiest of fine cheeses. Beneath its charming cobblestone streets dwell the Boxtrolls, foul monsters who crawl out of the sewers at night and steal what the townspeople hold most dear: their children and their cheeses. At least, thatÕs the legend residents have always believed. In truth, the Boxtrolls are an underground cavern-dwelling community of quirky and lovable oddballs who wear recycled cardboard boxes the way turtles wear their shells. The Boxtrolls have raised an orphaned human boy, Eggs (voiced by Isaac Hempstead-Wright), since infancy as one of their dumpster-diving and mechanical junk-collecting own. When the Boxtrolls are targeted by villainous pest exterminator Archibald Snatcher (Academy Award winner Ben Kingsley), who is bent on eradicating them as his ticket to Cheesebridge society, the kindhearted band of tinkerers must turn to their adopted charge and adventurous rich girl Winnie (Elle Fanning) to bridge two worlds amidst the winds of change Ð and cheese.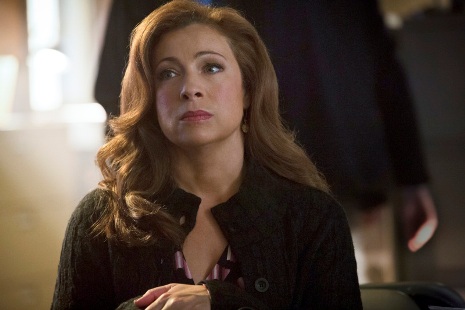 ARROW NEWS
"Arrow" will welcome back Alex Kingston ("Doctor Who," "ER") as Dinah Lance this winter. The actress will return for episode 14, filming now.
Executive producers Greg Berlanti and Andrew Kreisberg confirmed the character's return on Monday (Dec. 2) at an "Arrow" screening for reporters in Los Angeles.
"Paul's gonna tweet," Berlanti said of "Arrow" co-star Paul Blackthorne just before admitting the news. "Alex Kingston is coming back as Dinah."
The producers were not, however, the first to hint at the return on Monday. Earlier in the day, "Arrow" star Stephen Amell posted to Twitter that he was working with someone special that day on-set.
Kingston's character of Dinah Lance is the wife to Officer Quentin Lance (Blackthorne) and the mother of Laurel (Katie Cassidy) and Sara (Caity Lotz) on the show. First scene in Season 1, Dinah abandoned her husband and Laurel after Sara went missing in the yacht sinking that marooned Oliver on the island. Convinced that Sara was alive, Dinah became obsessed with finding her daughter.
Now, of course, it has become clear that Sara did in fact survive the tragedy and is now the vigilante known as the Black Canary. Will Dinah find out about this from Oliver? Will her husband tell his ex-wife the semi-good news? Can Dinah even handle the truth about her lost girl?
"Arrow" fans will have to wait until 2014 to find out the answers. Before then, there are two remaining episodes of the show -- both featuring new character Barry Allen (aka, the Flash) -- airing Wednesdays at 8 p.m. this December.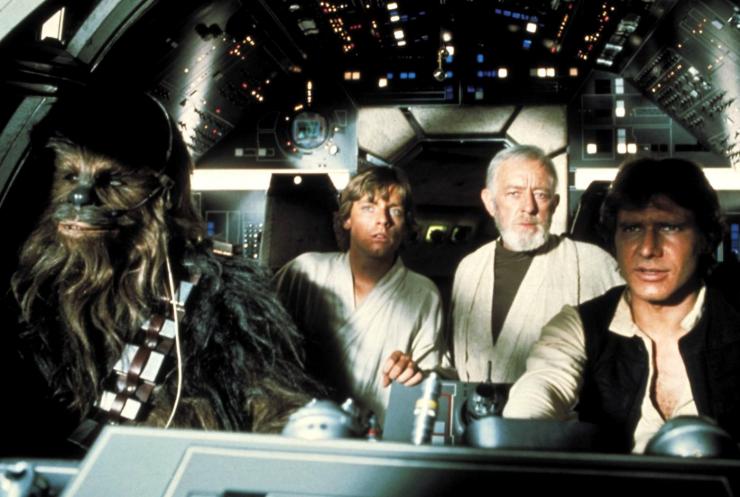 STAR WARS RUMOR
A new report suggests that a beloved part of the Star Wars franchise has been rebuilt and will be used in Episode VII.
According to the U.K. site of Yahoo Movies, Han Solo's battered yet indestructible Millennium Falcon has still "got it where it counts" and will appear in the new J.J. Abrams-directed film, which begins shooting at England's Pinewood Studios in early 2014.
A source revealed, "A full-scale 1:1 Millennium Falcon has been built, as well as the interiors of the ship for filming. The Falcon is done -- inside and out. The sets were built off-site, ready to move when Lucasfilm/Bad Robot were ready to move into Pinewood."
Of course, as with nearly everything regarding Episode VII, none of this is official yet -- although the appearance of the Falcon would make a lot of sense given Abrams' love for the original trilogy and his repeated desire to honor the franchise's legacy.
The question is: If the Falcon does show up, who will be at the controls? Will it still be Han, with trusty Chewbacca at his side? Will it be the offspring of Han and Princess Leia? Or will it be the mysterious "military man" who has apparently been introduced into the new draft of the script that Abrams and Lawrence Kasdan have written?
We suspect it will be a while yet before we find out, but in the meantime, the possibility of the Falcon's return, combined with the confirmed appearance of this iconic character, suggests that Abrams and company intend to include a lot of links to Star Wars history.
Star Wars Episode VII arrives in theaters Dec. 18, 2015.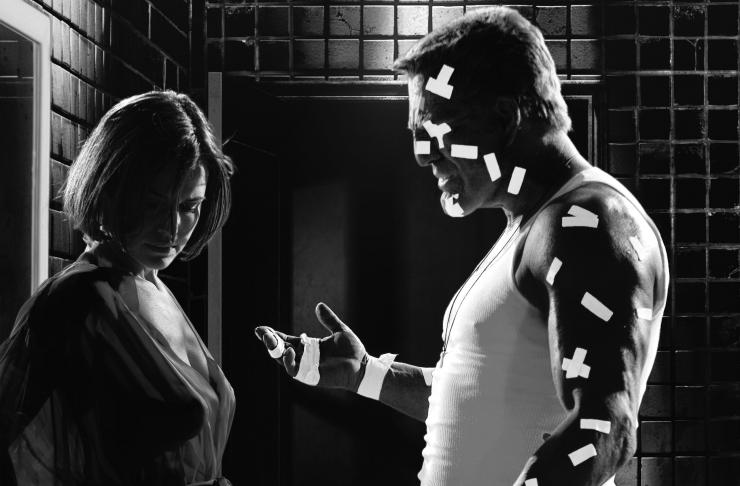 THE MIST/SIN CITY COMING TO TV?
The box office has always been a popular talent pool when it comes to picking potential TV properties Ñ and it sounds like two more fan favorites will soon be heading to the small screen.
In a wide-ranging interview with The New York Times, veteran film producer Harvey Weinstein revealed he is developing TV projects based on the Sin City franchise, as well as Stephen KingÕs novella (and the 2007 film adaptation) The Mist.
Details are sketchy at the moment, but we do know that Weinstein is eyeing a 10-episode Òevent seriesÓ concept for The Mist, with the filmÕs director Frank Darabont (aka the guy who also helped created AMCÕs The Walking Dead) returning in some capacity. The concept is perfect for a mini series, and with Darabont involved, this could be a super-creepy hit, a la The Walking Dead.
But if that turns out to be the case, here's hoping Darabont might actually be able to stick around this time.
Weinstein is also ratcheting up development on a Sin City series, which would launch shortly after the upcoming film sequel Sin City: A Dame to Die For in late 2014. He is also eyeing comic creator Frank Miller and film director Robert Rodriguez to helm the adaptation, which should be a relief for fans.
ItÕll be interesting to see if theyÕre able to find a way to translate the filmÕs trademark visuals into a weekly series, plus match all the R-rated insanity that made Sin City so enjoyable in the first place. If anything, itÕd almost have to land at an edgy cable network to have a chance.
So, why the sudden push to make use of these properties? Weinstein said he believes the cross-pollination is a way to Òadd stabilityÓ to his company, by developing the TV side to a point where it is Òas powerful as the theatrical division.Ó
Though we love the films, fans already know that a cool movie does not automatically translate into a good/successful TV show. For every critical hit like Terminator: The Sarah Connor Chronicles (which was canceled anyway due to low ratings) and Buffy The Vampire Slayer, there are more than enough duds like Mortal Kombat: Konquest and Blade: The Series out there to serve as cautionary tales.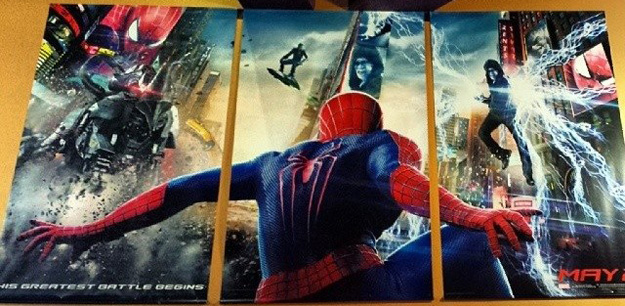 THE AMAZING SPIDER-MAN 2
With the new trailer set to be online this Thursday, Marc Webb's The Amazing Spider-Man 2 has today revealed a new synopsis. The official description of the May 2, 2014 release now reads as follows:
WeÕve always known that Spider-ManÕs most important battle has been within himself: the struggle between the ordinary obligations of Peter Parker and the extraordinary responsibilities of Spider-Man. But in The Amazing Spider-Man 2, Peter Parker finds that a greater conflict lies ahead.
ItÕs great to be Spider-Man (Andrew Garfield). For Peter Parker, thereÕs no feeling quite like swinging between skyscrapers, embracing being the hero, and spending time with Gwen (Emma Stone). But being Spider-Man comes at a price: only Spider-Man can protect his fellow New Yorkers from the formidable villains that threaten the city. With the emergence of Electro (Jamie Foxx), Peter must confront a foe far more powerful than he. And as his old friend, Harry Osborn (Dane DeHaan), returns, Peter comes to realize that all of his enemies have one thing in common: OsCorp.
Also of note is the updated cast list, which names Garfield, Stone, Foxx and DeHaan as well as Campbell Scott, Embeth Davidtz, Colm Feore, Paul Giamatti and Sally Field. That excludes, among other names, the previously-announced Chris Cooper.

THE WALKING DEAD
The mid-season finale of AMC's "The Walking Dead" capped the first half of season four and posted gains of 29% over the first half of season 3, running against NFL football, broadcast sweeps and high-profile special events. Last night's episode delivered 12.1 million viewers and 7.7 million adults 18-49. The show will return for the second half of its fourth season at 9 p.m. on Sunday, February 9, followed by a new episode of "Talking Dead" at 10 p.m.
"The Walking Dead" continues to be the #1 show on all of television among the coveted 18-49 demographic and remains the highest-rated series in the history of cable television. The first eight episodes of its fourth season delivered an average of 13 million viewers and 8.4 million adults 18-49.
"We couldn't be happier that audiences are continuing to respond in ever-larger numbers to the outstanding work of this amazingly talented team," said Charlie Collier, AMC's president. "We're only at the mid-point of this fourth season, but I know I speak for the entire cast and crew in Atlanta when I say thank you to the fans for joining in our passion for these characters and their journey."
Now in its third season, "The Walking Dead" aftershow, "Talking Dead," also is seeing strong gains in viewership. The mid-season finale of "Talking Dead" delivered a record 6 million viewers, including 3.8 million adults 18-49. For the first eight episodes of this season, airing at 10 p.m., "Talking Dead" is averaging 4.5 million viewers and 3 million adults 18-49. Up +128% in viewers over the first half of season two (when it aired at 11 p.m.), and up +120% among adults 18-49.
MONDAY, DECEMBER 2, 2013
THE HOBBIT: THE DESOLATION OF SMAUG
Hobbit fans in New Zealand got the first full look at the Dragon Smaug, with a life-size image unveiled Monday on the side of an Air New Zealand Boeing 737 plane before flying from Auckland, N.Z., to Los Angeles on Tuesday for the premiere of The Hobbit: The Desolation of Smaug.
ItÕs the first time that Smaug has been seen in its entirety. The first film in The Hobbit trilogy featured just Smaug's eye, leaving it up to fans imagination as to how the dragon might appear.
The creation of the bespoke 54-meter-long Smaug on both sides of the plane was done for Air New Zealand by director Peter JacksonÕs visual effects company Weta Digital.
Jackson said the enormous scale of the single Dragon running the entire length of the aircraft is Òawe inspiring."
ÒTo see Smaug fly off the big screen and into the skies like this is pretty exciting. WeÕre proud to debut him here in New Zealand, where our team has worked so hard to bring him to life,Ó he said.
Air New ZealandÕsÕ planes were also decked out in The Hobbit livery for the release of the first film in the trilogy in 2013.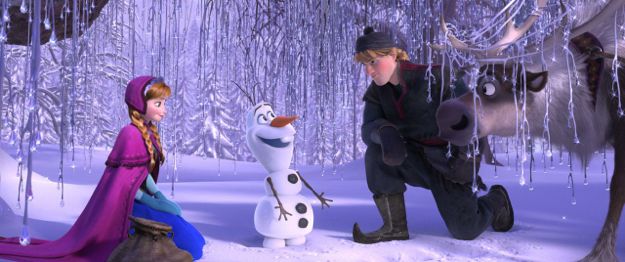 WEEKEND BOX OFFICE RESULTS
After setting a November opening record last week, the sequel The Hunger Games: Catching Fire (Lionsgate), starring Jennifer Lawrence, Josh Hutcherson, Liam Hemsworth, Woody Harrelson et al, took a 53% plunge in its second weekend and ended up with an estimated $74.5 million over the three-day weekend and $110.1 million including Wednesday and Thursday. Those amounts put it ahead of previous Thanksgiving weekend record holder Harry Potter and the Sorcerer's Stone, which grossed $82.4 million over the five-day holiday back in 2001. The movie also set a new IMAX box office record for Thanksgiving with $8.6 million coming from 346 screens. That huge Thanksgiving take pushed "Catching Fire" closer to the $300 million mark after just ten days as its domestic total gross is currently at $296.5 million, $23 million of that coming from IMAX screenings.
Globally, "Catching Fire" crossed the $500 million mark with another $92.5 million added overseas to bring its global total to $573 million, $276.5 million of that coming from international markets. That's just $7 million less than the original movie made in its entire international theatrical run. 250 international IMAX screens brought in $3.2 million during that same five-day period, bringing the international total to $9 million and global IMAX take to $32 million.
The big new release of the weekend was Disney's animated musical adventure Frozen, which opened for an exclusive run at Los Angeles' El Capitan theater last weekend and expanded nationwide into 3,742 theaters. With a lot of buzz going into the weekend and mostly favorable reviews, the animated film featuring the voices of Kristen Bell, Josh Gad, Idina Menzel and Jonathan Groff amassed an estimated $93 million over the five-day weekend with $66.7 million of that over the three-day weekend. It was the #1 choice for families this Thanksgiving with 81% of the audience being families, 57% of the audience being female and about the same amount under 25, according to Disney. 38% of the audience was younger than 11 years old.
Although "Catching Fire" holds the Thanksgiving record for all movies, Frozen gracefully took the record for biggest opening over Thanksgiving, in this case surpassing Disney¥Pixar's animated classic Toy Story 2. Incidentally, Walt Disney Pictures now holds nine of the top 10 movies to open domestically over Thanksgiving, so clearly they've figured out a formula that works.
Internationally, Frozen brought in $16.7 million in 16 territories, 19% of the potential markets, to bring its global box office to $110.1 million.
For those keeping track, that's nearly $200 million made by just two movies in five days, not leaving much room for anything else.
With that in mind, Marvel Studios' Thor: The Dark World dropped to third place with $15.5 million over the five-day weekend and $11.1 million over the three days. Meanwhile, the Marvel sequel has grossed $404 million overseas, with another $12.2 million added this weekend, to bring its global total to $591.1 million.
Malcolm D. Lee's comedy sequel The Best Man Holiday (Universal) wasn't able to take full advantage of audiences flocking to holiday-themed movies, bringing in just $11.1 million over the five days and $8.5 million over the three-day weekend, down 32% from last week. Even so, it's definitely considered a hit for Universal, having grossed $63.4 million to date based on a production budget of $17 million.
The Jason Statham action-thriller Homefront (Open Road), written by Sylvester Stallone and co-starring James Franco, Kate Bosworth and Winona Ryder, opened in fifth place with $9.8 million in its first five days in 2,572 theaters. With less than $7 million on the weekend, that's basically on par with some of Statham's previous releases with an average of $3,808 per theater over the five days.
It squeaked out a minor victory with a very small margin over Vince Vaughn's latest vehicle Delivery Man (DreamWorks), which had a minimal 13% drop from its opening weekend to add another $9.7 million in sixth place. That nearly doubles its gross to $19.4 million.
A big surprise of the weekend was the success of the movie adaptation of Markus Zusak's The Book Thief (20th Century Fox), starring Geoffrey Rush, Emily Watson and Sophie NŽlisse. It opened November 8 with a fairly low-key limited release, but expanded nationwide into 1,234 theaters Wednesday and was able to take seventh place with $6.4 million in its first five days of wide release. When you add in previous box office, that brings its total to $7.9 million.
While normally holiday movies will do well over the holiday weekend, Kasi Lemmons' adaptation of the holiday musical Black Nativity (Fox Searchlight), starring Forest Whitaker, Angela Bassett and Jennifer Hudson, failed to find much of an audience with just $5 million in its first five days and $3.9 million of that over the three-day weekend. Considering that it opened in more theaters than The Book Thief, it was surprising this was bested by the drama from Big Fox.
Stephen Frears' festival fave Philomena (The Weinstein Company), starring Dame Judi Dench and Steve Coogan, expanded nationwide into 835 theaters where it brought in $4.6 million in its first five days of wide release to take ninth place.
Rounding out the Top 10 was director Jon Turteltaub's comedy Last Vegas (CBS Films), which added another $3.8 million over the five-day holiday to bring its total to $58.7 million.
Although it fell just outside the Top 10 for the first time in two months, Alfonso Cuaron's hit space thriller Gravity edged closer to $250 million domestically with a weekend take of $2.6 million.
The Top 10 grossed $269 million over the five-day holiday weekend, slightly lower than last Thanksgiving when returning movies The Twilight Saga: Breaking Dawn - Part 2, James Bond's Skyfall and Steven Spielberg's Lincoln remained atop the box office with an influx of new movies, including DreamWorks Animation's Rise of the Guardians and the Red Dawn remake.
Opening in 583 theaters, Spike Lee's remake of the Korean revenge thriller Oldboy (FilmDistrict), starring Josh Brolin, Sharlto Copley, Elizabeth Olsen and Samuel L. Jackson, TANKED with just $1.25 million in its first five days, averaging less than $1,500 per venue over the weekend. Not a great way for the FilmDistrict label to be put to bed following its merger with Focus Features.
Meanwhile, the other movie about a man imprisoned for a long period of time, Mandela: The Long Walk to Freedom (The Weinstein Company), starring Idris Elba and Naomie Harris as Nelson and Winnie Mandela, opened in four theaters in New York and Los Angeles on Friday and brought in $100,000.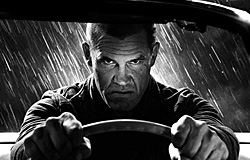 SIN CITY: A DAME TO KILL FOR
While we await the August 22, 2014 release of Robert Rodriguez and Frank Miller's Sin City: A Dame to Kill For, The Weinstein Company's Bob Weinstein told The New York Times (via CBM) that they are looking at developing a "Sin City" TV series as well. Here's an excerpt from the interview:
Bob Weinstein, interviewed separately from his brother, said he was developing original projects that would be in tune with his horror- and action-oriented Dimension brand, along with several shows based on movies he has overseen for the company. He is preparing a pilot based on the ÒScreamÓ films for MTV, for instance, and developing a proposed 10-part series with Frank Darabont, based on DimensionÕs film version of Stephen KingÕs ÒThe Mist.Ó
Mr. Weinstein said he was also hoping to quickly follow the August release of the film ÒSin City: A Dame to Kill For,Ó directed by Frank Miller and Robert Rodriguez, with a ÒSin CityÓ television series from Mr. Miller and Mr. Rodriguez.
SUNDAY, DECEMBER 1, 2013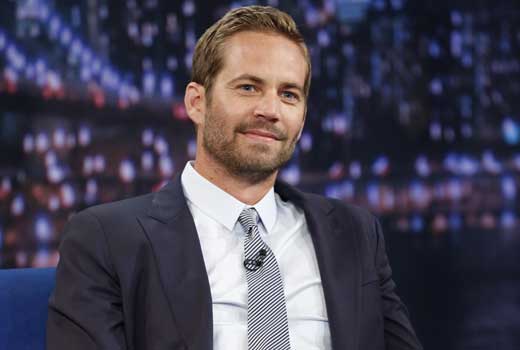 FAST AND FURIOUS ACTOR DIES IN CAR ACCIDENT
While not science fiction or Babylon 5 news, it is always sad to learn of someone who dies well ahead of his time. We as Babylon 5 fans have a lot in common with the fans of Paul Walker. He died way too early and our prayers go out to his family at this time.

Sad news out of the world of entertainment Saturday night (Nov. 30). Actor Paul Walker, best known for the "Fast and Furious" movie franchise, was killed in a car accident near Santa Clarita, Calif., a rep for the actor confirms to Zap2it (as first reported by TMZ).
Walker's Facebook page posted this:
It is with a truly heavy heart that we must confirm that Paul Walker passed away today in a tragic car accident while attending a charity event for his organization Reach Out Worldwide. He was a passenger in a friend's car, in which both lost their lives. We appreciate your patience as we too are stunned and saddened beyond belief by this news. Thank you for keeping his family and friends in your prayers during this very difficult time. We will do our best to keep you apprised on where to send condolences. - #TeamPW
Universal Pictures says in a statement:
All of us at Universal are heartbroken. Paul was truly one of the most beloved and respected members of our studio family for 14 years, and this loss is devastating to us, to everyone involved with the 'Fast and the Furious' films, and to countless fans. We send our deepest and most sincere condolences to Paul's family.
The "Varsity Blues" star was known for his love of cars. He told a journalist in a 2009 interview when asked what car best represents him:
"My problem is I appreciate them all. Cars are my vice. I collect cars, that's what I do. I love everything about them. ... It's a big part of my lifestyle, it's a big part of who I am and it'll always remain that way."
The seventh "Fast and Furious" movie is currently filming. Walker recently did an interview with Collider about the decision to sign on for the seventh and eighth franchise installments and how he wasn't sure when the director switched over from Justin Lin, who directed the fourth, fifth and sixth movies, to James Wan.
"I think I've had enough successes to where the journey is more important to me now. There's no guarantee, no matter what. We get one run in life," says Walker. But ultimately, he was won over by Wan.
"Fast and Furious 7" is slated for release in July 2014. Walker leaves behind a 15-year-old daughter, Meadow.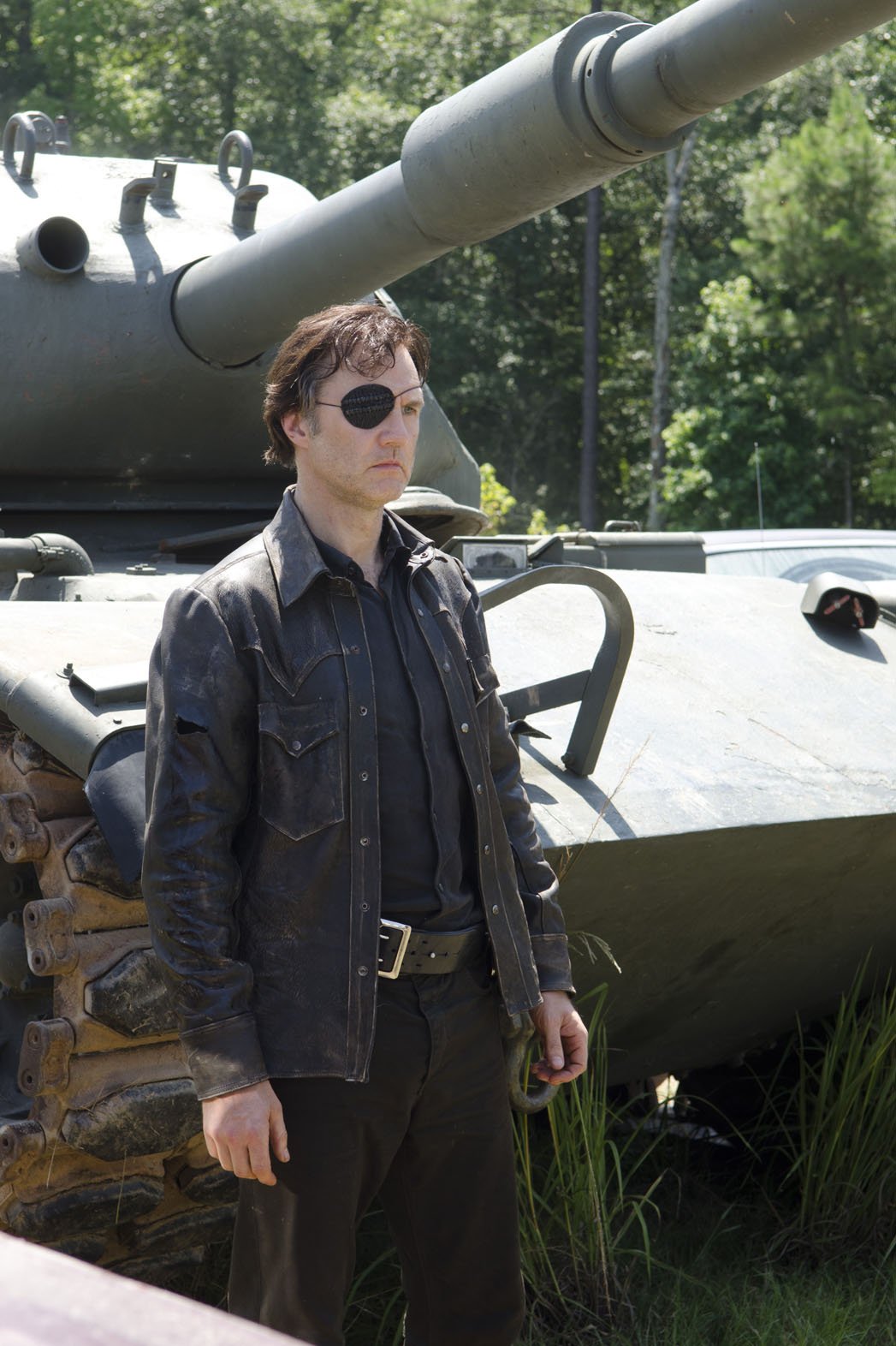 WALKING DEAD - MIDSEASON FINALE
Will Rick and The Governor finally come to blows in the long-awaited battle for the prison Sunday during The Walking Dead's midseason finale?
After waiting a season and a half, the duo may come face to face, as The Governor (David Morrissey) may now see Rick's prison compound as a potential safe haven for his new family. But will the sight of Michonne (Danai Gurira), who put down his zombie daughter Penny and claimed his eye, reignite The Governor's quest for vengeance?
Meanwhile, there's still drama and uncertainty within the prison as Rick (Andrew Lincoln) has yet to tell Daryl (Norman Reedus) that Carol (Melissa McBride) has been banished following her role in Karen's death?
The Hollywood Reporter turned to showrunner Scott M. Gimple to preview what's ahead in season four's midseason finale, "Too Far Gone." Here are five things to know about the episode.
1. There will be blood. In the comics, the battle for the prison claims Lori and baby Judith before a member of The Governor's camp -- named Lily, as potentially in Brian's new love interest -- turns her gun on the eye-patched baddie. "We've seen The Governor kill people to ensure the safety of his new family and we see him determined," Gimple says. "We see Rick is very much back as someone with a gun on his hip, ready to participate in the brutality of the world to keep his people safe. It's a very explosive situation and it's entirely possible that everybody doesn't make it back. That sort of thing would be something that would affect these characters even more deeply."
2. Things will get worse for the prison group. The Governor's likely attack comes (again) as the prison community is at one of its lowest moments of the season, with Glenn (Steven Yeun) still recovering from his near-death battle with the flu and having banished Carol (Melissa McBride) -- and with Daryl (Norman Reedus) still unaware of it. "It's a potentially explosive situation on top of an explosive situation; one from inside the prison [Daryl and Rick] and one from outside the prison [The Governor]," Gimple notes. "If both were to happen at the same time, that could be quite dangerous for the people inside the prison."
3. The prison may be sustainable. Rick's ragtag group has reinforced the prison fences to withstand the walkers that have been drawn by a mysterious person feeding rats to the undead. "They've proven that they can stem the tide of walkers and keep the place safe," Gimple says. "They can get through whatever is thrown their way. They could potentially have that place for a good, long time."
4. Unfinished business. The Governor, Michonne and Daryl, as well as Maggie (and Hershel), all have open wounds after the events of season three. The Governor still sees red in Michonne, who killed his zombie daughter Penny and claimed his eye, while the katana-carrying heroine hasn't avenged Andrea's (Laurie Holden) death yet. Daryl, meanwhile, lost his brother, Merle (Michael Rooker), at the hands of The Governor. "Michonne and Daryl will not react well if they were to see The Governor -- they're not all the way healed from their experiences with him," Gimple warns.
5. Help could be on the way. The AMC zombie drama has a history of introducing characters in dramatic fashion -- see Michonne in the season-two finale -- and comics hero Abraham (Southland's Michael Cudlitz), Eugene (Retired at 35's Josh McDermitt) and Rosita (Twilight's Christian Serratos) are all cast but have yet to make their debuts. "There is a potential to see them sooner rather than later," a coy Gimple teases.
The Walking Dead's midseason finale airs tonight at 9 p.m.
WEEKEND BOX OFFICE
Holiday moviegoers remained ravenous for The Hunger Games: Catching Fire on Friday, putting the sequel on course to score one of the best second weekends in the history of the film business, not accounting for inflation.b The Lionsgate pic grossed $31.3 million from 4,163 theaters for a domestic total of $253.3 million and stunning global haul of $482.3 million. If traffic holds at these levels, Catching Fire is poised to gross $110 million-plus for the five-day Thanksgiving stretch (Wednesday-Sunday) and $75 million-plus for the weekend itself in North America.
Costing $130 million to produce, Catching Fire could edge out Avatar ($75.6 million) and The Dark Knight ($75.2 million) to boast the top second weekend (three-day) on record after The Avengers ($103.1 million).
Disney's 3D animated entry Frozen, opening Wednesday, also continued to soar, grossing $26.9 million from 3,742 locations for a three-day domestic total of $53.5 million and projected five-day debut in the $93 million range.
Loosely based on Hans Christian Andersen's classic fairy tale The Snow Queen, Frozen -- earning a coveted A+ CinemaScore -- tells the story of a fearless princess (Kristen Bell) who sets off on an epic journey to find her sister, whose icy powers have caused an eternal winter. Last weekend, the 3D pic, costing $150 million to make, did big business when it played exclusively at Disney's El Capitan Theatre in Hollywood.
Between them, Frozen and Catching Fire are serving up a record-breaking Thanksgiving. Frozen is poised to score the top holiday debut of all time, eclipsing the $80.1 million five-day debut of Pixar's Toy Story 2 in 1999. It's also destined to score the top opening for a Disney Animation Studios title, besting the $68.7 million debut of Tangled over Thanksgiving in 2010.
Catching Fire, now in its second weekend, will mark the top-grossing Thanksgiving film of any movie, topping previous record-holder Harry Potter and the Sorcerer's Stone ($82.4 million). It also nabbed the best gross ever for Thanksgiving day -- $14.9 million from 4,163 theaters -- besting the $13.1 million earned by Toy Story 2. After Frozen, the news was mixed for the other new holiday films.
Action-thriller Homefront, starring Jason Statham, is expected to post a five-day debut in the $9 million range, a so-so start. Homefront, receiving a B CinemaScore, features Statham as a widowed ex-DEA agent who moves to a small town with his daughter, only to have the decision blow up in his face. James Franco and Winona Ryder also star.
Spike Lee's Oldboy, playing in 583 theaters Wednesday, is bombing in its North American launch and may only gross $1.2 million for the five days. From a script by Mark Protosevich, the remake of the cult South Korean film stars Josh Brolin, Elizabeth Olsen and Sharlto Copley. Oldboy marks the final release from Peter Schlessel's FilmDistrict before Schlessel officially takes over as CEO of Focus Features on Jan. 1. Among adult-skewing fare, 20th Century Fox's The Book Thief, Fox Searchlight's African-American musical Black Nativity and The Weinstein Co.'s Philomena have all landed on the top 10 chart.
Book Thief, opening in in select cities earlier this month in a bid to build word of mouth, expanded into a total of 1,234 theaters on Wednesday and is pacing to post a five-day Thanksgiving gross of $6.5 million. Based on the best-selling novel by Markus Zusak about a young girl living with her foster parents in Nazi Germany, the film stars Geoffrey Rush, Emily Watson, Sophie Nelisse and Ben Schnetzer.
Black Nativity, targeting faith-based consumers and earning an A- CinemaScore, got off to a disappointing start on Wednesday, but improved its standing somewhat on Thursday and Friday. The pic, playing in 1,516 locations and facing tough competition from African-American comedy The Best Man Holiday, should earn $5 million through Sunday.
Directed by Kasi Lemmons and based loosely on Langston Hughes' play, Black Nativity's ensemble cast is led by Forest Whitaker, Angela Bassett, Tyrese Gibson, Jennifer Hudson and Mary J. Blige.
Stephen Frears' critically acclaimed Philomena, now playing in a total of 853 locations, is expected to turn in a five-day gross in the $4 million to $5 million range. The awards contender stars Judi Dench and Steve Coogan.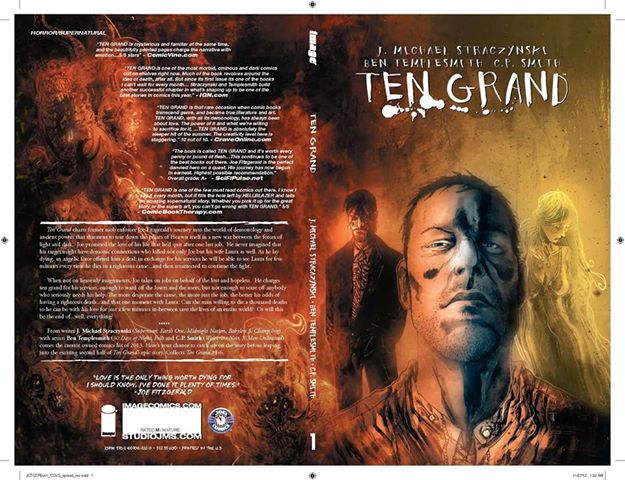 TEN GRAND PAPERBACK COMING
Facebook posting on Fans of J. Michael Straczynski:
Good news, everyone! If you've been interested in checking out Ten Grand but you're a bit late to the party, and missed the first few issues, a Ten Grand trade paperback will hit comic shops on January 15. The book sells for $12.99 and includes all six issues as well as a gallery showing all the variant covers. Pre-orders are due soon, so get yours in via Diamond Code SEP130560. Here's a first peek at the cover.
BACK ISSUES OF THE ZOCALO TODAY
The front page of the The Zocalo Today changes daily, so be sure to check the back issues to make sure that you haven't missed anything IMPORTANT! I hope you will become a regular visitor to The Zocalo Today!
---
Take care and I look forward to hearing from you.
Sandra Bruckner (sgbruckner@aol.com)
Editor/Publisher
ISN News: The Zocalo Today
http://www.isnnews.net
Copyright - SBruckner, 1999-2013