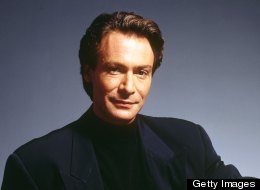 SAD NEWS - ROBIN SACHS HAS DIED
Robin Sachs has died at the age of 61, reports BBC News.
The British actor died last Friday, but news of his death was announced on his official website on Feb. 5:
"Please join us in raising a glass to Robin - goodbye, dear friend. Thank you for all the laughter and the cookies. We will miss you so very much."
Further details about the actor's death have yet to be revealed.
The actor (who was just four days shy of his 62nd birthday) is best known for playing villainous character Ethan Rayne on the hit series "Buffy The Vampire Slayer," but boasts a full resume and will also be remembered for his roles on "Babylon 5 (Coplann, Hedronn, N'Kal and Callain)" and "Star Trek: Voyager."
RICHARD BIGGS MEMORIAL EVENT
Report from Ranger Gary:

Sandra,
I went to the Richard Biggs Memorial Fundraiser Show last weekend (3/19/05) and enjoyed myself very much. In case you would like to post a recap ( or any part of this recap)of this event I will try to put this into words below.

Buffet Breakfast 10AM-12:3PM: There were 120+ people in attendance at the Beverly Garland Hotel in North Hollywood for Part 1 of this event. It was hosted/MC'd and well-organized by Karen (a good friend of Richard) along with Lori Biggs (Richard's wife). Lori Biggs seemed genuinely nice and she also had both of their young children there. There were no celebs there until about 10:45am so you basically got to eat a nice buffet and schmooze with your tablemates. Most in attendance were from California (all parts) and there was even a gentleman there who was a proxy for his brother who lives in Iowa and could not make it. I had the pleasure of filling the proxy in on the B5 universe and also helped him get a cast poster signed by identifying who was there to sign it. Bruce Boxleitner (Sheridan) and his wife Melissa Gilbert (Anna Sheridan were the first B5 ers to show up as there was also several Days of our Lives stars there as well (Matthew Ashford, Stephan Nichols, & George Genensky). Richard was on DOOL for 5 years as Dr Marcus Hunter prior to B5. There was also a silent auction with B5 & DOOL memerorabilia such as signed cast pictures in a frame, a mold/mask of an authentic Narn head, signed posters, signed dolls etc. The Narn mask went for about $500. There was also a raffle and signed pictures for sale at 2 other tables. While we were eating several stars got up to talk about their experiences and memories of Richard. the Days of our Lives (DOOL) people had allot of nice things to say. Then Bruce got up there and talked about his friendship and memories of Richard. The highlight for me was the speech Melissa Gilbert gave. Melissa was interrupted by Bruce while speaking and she stopped and yelled out to him that he should not edit her speeches and "that he was not really president of the universe and that she really was president of SAG". This comment got a great reception. She also mentioned how she was a "set wife" for 3 years until she was cast for the Anna part and how Richard made her feel right at home when he mentioned how large her breasts were (she had just had her son who was still feeding) during the filming of the medlab exam scene from Z'ha'dum. She says that if you look at her face on the DVD she is still blushing from his comments. After the speeches we got the opportunity to meet Bruce & Anna as well as some of the other DOOL stars. Also, Melinda Clarke (DOOL, The OC) was very approachable as well. At the end of the breakfast some of the other B5ers such as Jerry Doyle (Garabaldi) with is wife/GF came in as well as Pat Tallman (Lyta Alexander)& Billy Mummy (Lanier). Before the breakfast ended, Amy Yasbeck ("Wings" and John Ritter's ex) spoke about "Aortic Aneurysms" which is also what killed Richard. Apparently, this is a very treatable but virtually unknown disease which kills 1000s each year. She gave out an article copy from the WSJ from 11/03 which won a Pulitzer in this topic in the aftermath of John Ritter's death. We also had allot of time to get photos taken with our own cameras with the very accommodating stars. I spoke to Bruce for a while as well as Melinda Clark from the OC.

Afternoon Signing session 1:15-3PM: We were asked to leave the room for a while so they could set up the room for the signings and usher in the celebs. The following (I might leave someone out) were there for the signing: Pat Tallman was a pleasure to speak with and she also spoke highly of you (Sandra) and sends her regards. I told her that you would have liked to attend but had a scheduling conflict. Others signing were Bruce, Melissa, Jerry, Stephan Furst (Vir Cotto), Billy Mummy, Tony Dow (Wally from Leave it to Beaver and a B5 director), Jason Carter (Marcus the only one wearing a tie w/ green suit), Ed Wasser (Mr Morden who now has very short hair), Jeffrey Willwerth (Kosh 1&2), Marjorie Monahan (#1) who was very tall and stunning, Josh Cox (Lt Corwin) as well as several of the DOOL crew and Lisa Howard (EFC & Highlander) came late but was a welcome addition. I got several signatures and found Jerry Doyle a little cranky like he was during season 4 while under Bester's control. Maybe it was because I asked him if his National Radio show was on in Los Angeles and he was a little frustrated because many others had already asked him that and he then took a nice glossy picture and wrote on the back of it the following and put it on the table" No! I am not on in LA!". His girlfriend/wife? was very nice as was Jerry and calmed him down a little. They all charged $15 or $20 for signed photos which all went toward the foundation for Richard's children. I estimate that the event grossed $20K-$30K (my crude guess). Most attendees were true fans that were buying the signatures for personal collections or just to help Richard's family.

Unfortunately, Andreas and Mira Furlan could not attend. According to the on-location B5 grapevine, Mira was called away the night before to shoot more scenes for "Lost" over in Hawaii.

Ranger Gary

++++++++++++++++++++++++++++++++

Hi, Sandy,

I thought the Zocalo readers might be interested in a 'con report' on the Richard Biggs Memorial event this past Saturday:

What an altogether NICE day! I wasn't staying at the hotel where the benefit was held so I took a cab and arrived about 15 minutes before the breakfast was due to start. Met up with SciFiRanger, the webmaster for the KeepB5Alive.com site and headed on over to the ballroom. SciFiRanger, another online friend, David and I were all at table #1 with a few other SF and soap fans. The room was set up with several round tables for the breakfast, the buffet at the back of the room and stage in front. Near the stage were some large photos of Rick - alone and wearing a grey pullover, a studio shot of Rick and the boys wearing matching outfits and one of Rick and Lori in formal dress. Around the walls were long tables where the actors did the autographing later on. Lori Biggs is a beautiful woman and lovely person. She and her friend Caren were everywhere at once! The little boys, RJ and Hunter are adorable and strongly resemble their dad. Neighbors, friends and family members were all helping out and everything ran smoothly.

Available to look at and bid on were some cool things for a silent auction including a cast signed Days of Our Lives T-shirt and hat, a 3rd season script (nope, I had it already), a 'background' Narn mask signed by Andreas, signed photos and posters of the B5 cast, including some signed by Rick. There were also items for raffle like copies of the B5 cover TV guide, an entertainment utility, and more photos.

During breakfast, a few people got up to share memories of Rick. I'm afraid that these were soap stars so I don't know who they were. Each mentioned the complete attention Rick would pay to each person he was acting or talking with, something I'd noticed when meeting him at cons, as well as his utter lack of pretension. In addition, John Ritter's widow, Amy Yasbeck, came and spoke for a few minutes about aortic aneurysms, which was Rick's cause of death. Unknown to many, they can be discovered by a simple scan and there's often a family history of them. If you have a family member who might have passed away due to a 'massive heart attack', she urged that you get it checked because they *can* be detected and repaired, a fact that even many doctors don't realize yet.

For anybody interested in more information about aortic aneurysms, check out http://www.pulitzer.org/year/2004/explanatory-reporting/works/ for the award winning articles by Kevin Helliker and Thomas M. Burton. These are highly readable articles, not dry medicalese. Later on, Melissa Gilbert mentioned that people who are adopted and who have no family medical history to call on, should especially consider getting the scan for possible aneurysms.

A space was left at each table for an actor but none came to our table. Bruce, Melissa and Jerry were the B5 stars who attended the breakfast and many fans went and talked and got pictures taken. Toward the end, several of the 'afternoon session' actors came in and were guided to the 'Green Room'.

After breakfast, the room was cleared for about half an hour while the staff cleaned the room and we set up the tables for autographing. Autograph tickets were sold at the door and each actor 'charged' so much per autograph. I was assigned to help out at the table with Jerry Doyle and Stephen Furst. There were some changes from the flyer so let me list who was there from B5:

Pat Tallman
Jeffrey Willerth
Bruce Boxleitner
Melissa Gilbert
Jerry Doyle
Stephen Furst
Jason Carter
Marjorie Monaghan
Bill Mumy
Ed Wasser
Joshua Cox

Unfortunately, some who originally were scheduled to be there, Mira Furlan (filming Lost episodes in Hawaii, I understand), Stephen Austin, Tracy Scoggins and Andreas Katsulas didn't make it.

After the main rush of autographing was done, a photo opportunity was held with all the stars on stage and people began to drift around and mingle. They held the drawings for the raffle prizes and I never had a chance to check my tickets but since I didn't see any leftover prizes, I guess I didn't win. Different sets of actors did live auctions for some really cool things. I know there was a poster signed by the cast, one of the Lightspeed lithos and a Season 5 jacket. I had SciFiRanger take my place as ticket-taker at Jerry and Stephen's table while I rushed to get some autograph tickets and pick up a few of the autographs I needed.

A fair number of fans had brought 'Little House on the Prairie' items for Melissa to sign. At one point, a fan asked her to autograph a sunbonnet. Melissa offered to donate $100 to the fundraising if Jerry would put the bonnet on and tie it. Jerry finally agreed and played around figuring out how to put the bonnet on (trying to cover his face), then finally put it on, tied it and allowed pictures to be taken while he held up a sign "It's for Charity".

When Melissa was onstage telling a memory of Rick, she talked about how, while she was familiar with the set and people from playing "Gladys the set-wife", she was nervous when she actually got the role of Anna since that was her first acting job after the birth of her son and she was still nursing him in her trailer between scenes. In her first scene, she was in the isolab with Dr. Franklin as part of the background to what Sheridan was doing in the foreground and they were supposed to adlib/pantomime a Dr/patient conversation. Melissa said that Rick put her at ease immediately by complimenting her breasts and asking her bra size. Melissa said that if we watch the scene carefully, we can probably see her turning six shades of purple while she tried to continue the scene. I've got to check my DVD for that scene!

As things were breaking up and the stars were saying good-bye to each other, Bruce was broaching the idea of doing something similar on an annual basis to benefit the family. The idea seemed to get a good reception from what I could tell. As Pat said, Rick would have been the first to do something like that for any of them. I hope it turns out to happen. They all seemed happy to see each other.

Like I said, an altogether NICE day. While there were a few tears all around, it wasn't a sad event in any way. Some pictures taken by SciFiRanger can be found at http://www.keepb5alive.com/gallery_1/gallery_1.htm and more at The Galactic Gateway http://www.thegalacticgateway.com/rickmem.htm.

Your intrepid reporter,
Ranger Jan
---