RACING STRIPES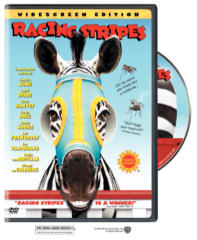 STRAIGHT FROM THE ZEBRA'S MOUTH
RACING STRIPES
DEBUTS ON DVD & VHS MAY 10
FROM WARNER HOME VIDEO
Featuring the Voices of Frankie Muniz, Jeff Foxworthy, Snoop Dogg, Steve Harvey, David Spade, Dustin Hoffman, Mandy Moore and Whoopi Goldberg
Burbank, CA - April 20, 2005 - Root for the underzebra when Racing Stripes comes to DVD and VHS on May 10 from Warner Home Video. The barnyard ballyhoo features the voices of Frankie Muniz (Agent Cody Banks movies, TV's "Malcolm in the Middle"), Jeff Foxworthy (Blue Collar Comedy Tour), Snoop Dogg (Starsky & Hutch, Soul Plane), Steve Harvey (You Got Served, The Fighting Temptations), David Spade (Dickie Roberts: Former Child Star, Just Shoot Me), Dustin Hoffman (Meet the Fockers, Finding Neverland), Mandy Moore (A Walk to Remember, Saved!) and Whoopi Goldberg (Sister Act, Ghost). The Racing Stripes DVD special features include three making-of featurettes, additional scenes, an interactive comic book and more!
Racing Stripes will be available on DVD for $27.95 SRP on widescreen and full frame formats. www.RacingStripesMovie.com
SYNOPSIS
A zebra raised on a farm in Kentucky dreams of becoming a racehorse in this heartwarming tale that combines live action and computer animation. Featuring the voices of Frankie Muniz, Mandy Moore, Michael Clarke Duncan, Jeff Foxworthy, Joe Pantoliano, David Spade, Snoop Dogg, Dustin Hoffman and Whoopi Goldberg.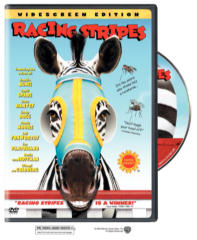 DVD ELEMENTS
Fun DVD features from A to Z…ebra include:
" Never-Before-Seen Alternate Ending.
" Barnyard Outtakes Reel.
" How to Make Animals Talk Featurette.
" Acting Class With the Animals and Their Trainers.
" Deleted Scenes.
" Buzz and Scuzz's Flying Fiasco Challenge.
" Virtual Comic Book - The Racing Stripes Prequel.
" The Music of Racing Stripes with Sting and Bryan Adams.
" Full-Length Director's Commentary.
" Theatrical Trailer.
BASICS
DVD - $27.95 SRP/$19.95 MAP
Street date: May 10, 2005
Languages: English
Subtitles: English, French, Spanish
Running time: 102 mins
Rating: PG (mild crude humor and some language)
DLBY/SURR DLBY/DGTL [CC]
CREDITS
With operations in 89 international territories Warner Home Video, a Warner Bros. Entertainment Company, commands the largest distribution infrastructure in the global video marketplace. Warner Home Video's film library is the largest of any studio, offering top quality new and vintage titles from the repertoires of Warner Bros. Pictures, Turner Entertainment, Castle Rock Entertainment, HBO Home Video and New Line Home Entertainment.
For more information, go to www.RacingStripesMovie.com .
---