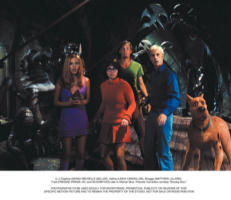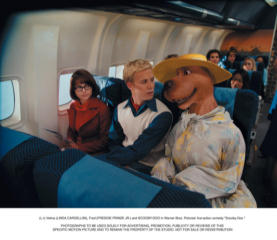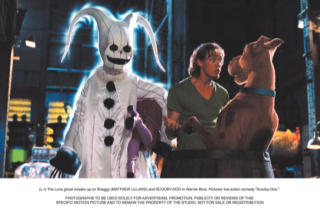 Nickelodeon to Premiere Box-Office Bonanza Scooby-Doo
in Primetime Telecast Marking The Movie's Network Television Debut, Friday, March 18 at 8:30PM
Freddie Prinze Jr, Sarah Michelle Gellar, Matthew Lillard and Linda Cardinelli
Star as CGI Pooch's Two-Legged Crime-Solving Cohorts in First-Ever
Live-Action Adaptation of Classic TV Series
Los Angeles, Calif. - February 17, 2005 -- Zoinks! Box-office kid hit Scooby-Doo, the first-ever live-action adaptation of the classic animated comedy-mystery TV series about a cowardly canine and his clever, crime-fighting teenage cohorts, will premiere on Nickelodeon, Friday, March 18 (8:30 p.m. ET/PT) in its network television debut. The 2002 Warner Bros. Pictures release starring Freddie Prinze, Jr., Sarah Michelle Gellar, Matthew Lillard and Linda Cardellini as the CGI pooch's two-legged pals encores Saturday, March 19 (8 p.m. ET/PT) and Sunday, March 20 (4 p.m. ET/PT).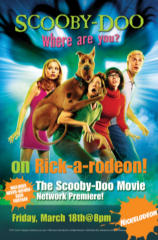 "Scooby-Doo is a classic comedy and immensely popular with both kid and adult audiences," said Cyma Zarghami, President, Nickelodeon Television. "It is exciting for us to be able to bring this big screen hit to our viewers and to be the showcase for its network television premiere."
Filmed on location in Australia, the movie based on the beloved characters by Hanna-Barbara brings the Mystery, Inc. gang together two years after a clash of egos forced the company to close its doors. Scooby-Doo, happy-go-lucky hippie Shaggy (Lillard), stylish Daphne (Gellar) vain Fred (Prinze, Jr.) and brainy Velma (Cardellini) are summoned to Spooky Island to investigate a series of paranormal incidents at the Spring Break hot spot. Worried that his frightfully popular resort might be haunted, eccentric island owner Emile Mondavarious (Rowan Atkinson) tries to reunite the meddling detectives to solve the mystery before his supernatural secret scares away the college crowds.
Scooby and the gang must conquer personal differences and forget everything they think they know about fake ghouls and phony creatures to crack the case, save themselves…and possibly the world!
For his portrayal of Scooby's best pal Shaggy, Matthew Lillard walked off with a unique honor: a Nickelodeon Kids' Choice Award for best fart in a theatrical film.
The longest continually running animated TV series, Scooby-Doo, Where Are You? premiered in 1969 on CBS. Since then, Scooby and the Mystery, Inc. gang have appeared in more than 300 episodes on numerous networks for three-and-a-half decades. By combining CGI with live action, the feature film gives audiences a glimpse of what Scooby and the gang would be like if they existed in the 'real' world today.
Scooby-Doo is a Warner Bros. presentation of a Mosaic Media Group Production of a Raja Gosnell film. It is produced by Charles Roven and Richard Suckle and directed by Gosnell from a screenplay by James Gunn and a story by Gunn and Craig Titley. The executive producers are Robert Engelman, Andrew Mason, Kelley Smith-Wait and William Hanna and Joseph Barbera.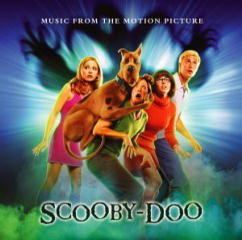 Nickelodeon, now in its 26th year, is the number-one entertainment brand for kids. It has built a diverse, global business by putting kids first in everything it does. The company includes television programming and production in the United States and around the world, plus consumer products, online, recreation, books, magazines and feature films. Nickelodeon's U.S. television network is seen in more than 88 million households and has been the number-one-rated basic cable network for nine consecutive years. Nickelodeon and all related titles, characters and logos are trademarks of Viacom International Inc.
Back to the front page of The Zocalo Today.