SEASON THREE OF BABYLON 5
On August 12, you will be able to pick up your very own copy of Season Three of Babylon 5 on DVD. Here are some pictures to remind you of what episodes are included:
Season Three ("Point of No Return")
#301 Matters of Honor
While an Earth official investigates the mystery ship encountered by Lt. Keffer in hyperspace, Londo attempts to sever his ties with Morden. Sheridan receives a new tool in the fight against the Shadows. Tucker Smallwood as David Endawi. Ed Wasser as Morden.

#302 Convictions
A series of bombings threatens the station, and Ivanova calls on some unusual investigators to help solve the mystery. Patrick Kilpatrick as Robert Carlson. Louis Turenne as Brother Theo.



#303 A Day in the Strife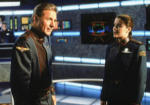 Sheridan and Ivanova try to deal with an association of cargo pilots. An alien probe makes first contact with the station. G'Kar's position among the Narn is threatened by the arrival of a Centauri-appointed liaison. Stephen Macht as Na'Far. Marshall Teague as Ta'Lon. Anne Betancourt as Dr. Gonzalez.



#305 Passing Through Gethsemane
Lyta Alexander returns to the station at Kosh's behest. One of Theo's brothers discovers that he may have a hidden past. Brad Dourif as Brother Edward. Louis Turenne as Brother Theo. Patricia Tallman as Lyta Alexander.

#304 Voices of Authority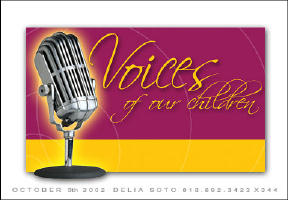 Draal helps the crew attempt to contact more of the First Ones. Sheridan works to hide his conspiracy from the Nightwatch. Shari Shattuck as Julie Musante. John Schuck as Draal.




#306 Dust to Dust
An addictive drug with telepathic effects is found on the station, prompting a visit by Bester. G'Kar reaches a turning point. Walter Koenig as Bester.



#307 Exogenesis
Marcus and Dr. Franklin combat an invasion by parasitic aliens that attach themselves to humans. Ivanova investigates the possibility of bringing a new member into the conspiracy. Joshua Cox as Corwin. Aubrey Morris as Duncan. James Warwick as Matthew Duffin.


#308 Messages from Earth
As the Senate continues to investigate President Clark, an archaeologist brings news of a development back home that forces Sheridan to act against the Earth government. The Nightwatch tightens its grip on the civilian population. Nancy Stafford as Dr. Kirkish.

#309 Point of No Return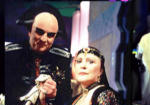 As the Earth Alliance plunges toward civil war, internal strife threatens to shatter the command structure of B5. Zack's loyalties are put to the test when the Nightwatch is ordered to take over station security. Londo receives another glimpse of his destiny. Majel Barrett as Lady Morella. Marshall Teague as Ta'Lon.

#310 Severed Dreams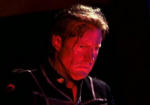 When President Clark tries to seize control of Babylon 5 by force, Sheridan is faced with the prospect of severing the station's ties with Earth. Delenn receives disturbing news from a Ranger. Bruce McGill as Major Ryan. Kim Miyori as Captain Hiroshi. James Parks as Drakhen.

#311 Ceremonies of Light and Dark
The Nightwatch orders its members on Babylon 5 to target Delenn in an attempt to undermine Minbari actions during the recent crisis. Londo presents Refa with an ultimatum. William Forward as Refa. Paul Perri as The Sniper. Don Stroud as Boggs. Kim Strauss as Lenann.

#313 Sic Transit Vir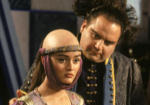 Londo introduces Vir to a surprising new acquaintance. A heavy influx of Narns to the station raises suspicions. Carmen Thomas as Lyndisty.



#312 A Late Delivery from Avalon
As Sheridan and Ivanova try to gain recognition of the station's new status among the alien governments, a traveler arrives with an unbelievable story out of distant legend. Michael York.



#314 Ship of Tears
Bester finds himself at odds with others within the Psi Corps and seeks Sheridan's help, offering information about the Shadows in return. G'Kar presses for admission to the conspiracy of light. Walter Koenig as Bester. Joan McMurtrey as Carolyn.

#315 Interludes and Examinations
Sheridan tries to rally support for his cause as direct confrontations with the Shadows begin in earnest. Friction increases between Londo and Morden. Jennifer Balgobin as Dr. Hobbs. Jonathan Chapman as Brakiri. Rance Howard as David Sheridan. Ed Wasser as Morden.

#316 War Without End, Part One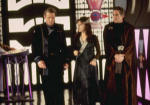 Ambassador Sinclair returns to pull Babylon 4 through time ("Babylon Squared.") Part 1 of 2. Michael O'Hare as Ambassador Sinclair. Tim Choate as Zathras.



#317 War Without End, Part Two
Ambassador Sinclair returns to pull Babylon 4 through time ("Babylon Squared.") Part 2 of 2. Michael O'Hare as Ambassador Sinclair. Tim Choate as Zathras. Kent Broadhurst as Major Krantz.



#318 Walkabout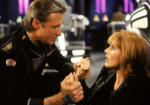 Lyta tests the limits of the Shadows' newly-discovered weakness. Dr. Franklin goes on a journey to discover his place in life, and meets a singer in Downbelow. The new Ambassador Kosh arrives on the station. Erica Gimpel as Cailyn. Jennifer Balgobin as Dr. Hobbs. Patricia Tallman as Lyta Alexander. Robin Sachs as Na'Kal.

#319 Grey 17 Is Missing
Delenn agrees to lead the Rangers, but Marcus must protect her from a deadly threat. Garibaldi investigates a secret level of the station. Robert Englund as Jeremiah. John Vickery as Neroon. Time Winters as Rathenn. >



#320 And the Rock Cried Out, No Hiding Place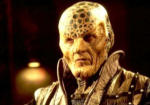 Londo uses G'Kar and Vir to gain power in the Centauri Royal Court. Sheridan is consumed by his analysis of the Shadows' strategies. Louis Turenne as Brother Theo. William Forward as Lord Refa.



#321 Shadow Dancing
Sheridan launches a preemptive strike against the Shadows. Franklin jeopardizes his life while trying to do a good deed. Shirley Prestia as Barbara. Melissa Gilbert as Anna.



#322 Z'ha'dum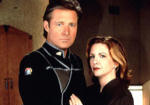 Third season finale. A face from Sheridan's past takes him on a dangerous mission to meet his Shadow counterpart. Londo receives important news about his political future. The Shadows mass a fleet against Babylon 5. Melissa Gilbert as Anna. Ed Wasser as Morden. Jeff Corey as Justin.



For more information on each episode, go to http://www.midwinter.com/lurk/countries/us/eplist.html. The Lurker's Guide is THE guide to Babylon 5 and the synopses used on this page were obtained from the Guide.

Images used were obtained from Warner Bros.
© 1993, 1994 PTN Consortium and Warner Bros. Television. © 2003 Warner Home Video. All rights reserved.