[an error occurred while processing this directive]

The Zocalo Today

Welcome! I am REALLY glad you dropped by. Take your shoes off, get comfortable and stay a while.

The Zocalo Today is an interactive newsletter. If you have suggestions, please send them along. The Zocalo Today is as much YOUR newsletter as it is mine! I'm just pulling together things for you! Join our weekly discussion topic. It is just one way you can interact with other Z readers. Send along letters, sightings of B5 cast and crew in other projects, convention reports, photos, etc. Don't miss our back issues. There is a LOT of information contained there and you'll not want to miss anything.

If you have questions, drop me a line at sgbruckner@aol.com or b5web@aol.com.

Again, WELCOME!

January 25, 2002 4:13am
What's New
CAR WRAPS: SCIFI has posted photos of cars wrapped to advertise the "Legend of the Ranger" movie. You can see cars in San Francisco, Philadelphia, New York and Chicago at www.scifi.com/b5rangers/carwraps.
---
LEGEND OF THE RANGERS: Want to know more about the Liandra crew? Drop over to http://filmforce.ign.com/articles/317522p1.html and find out what they like as far as music, movies, books, etc.
---
CONVENTION CALENDAR: I've added a number of items to the convention calendar and will be adding more as I hunt up information. If you know of a convention that will feature a B5 personality, pass along the information to share with readers here at The Zocalo Today.
---
SITE PROBLEMS: What can I say, we are still having problems at www.isnnews.net! At least the site was up for a few days! Now that we are back, I hope that the problems have been resolved. If not, check http://sgbruckner.tripod.com for updates.
---
RATINGS:After an absolutely marvelous weekend full of Babylon 5's new "Legend of the Rangers", we'll have to wait to see what we hear about ratings. There may be some preliminary numbers out today.
---
CARRIE DOBRO: Over at The Galactic Gateway, Carrie Dobro has joined the host of Babylon 5 personalities at the site. Carrie has a great new site with lots of great information.
---
JMS AND RANGERS: There has been an exchange between JMS and a few folks at the B5 newsgroup. I've posted the exchange on the Ranger page .
---
LEGEND OF THE RANGERS CREDITS: If you are like me, you die everytime the ending credits roll -- only because you can't read a thing. SCIFI has a remedy for that. Go over to www.scifi.com/b5rangers and you will find ALL the credits listed. Thanks SCIFI.
---
WOW! Don't know about you, but I enjoyed the movie quite a lot last night. I wouldn't say it was perfect, there are plenty of areas where they can improve, but it fulfilled the mission of TV shows -- I was got caught up in the story and the characters. The special effects were terrific! Having been on the bridge of the Liandra, I was struck by the dimensions. You would never know this show was done in a warehouse in the industrial district of Vancouver under a very tight budget. Steve Geaghan's sets were marvelous!
---
NEW RANGER SECTION: While we've had a Ranger page for quite some time, we've now branched ISN News off into a separate Ranger section -- just like the ones we have for B5 and Crusade. You can use the link at the top of the page or go there directly using http://b5rangers.isnnews.net/. Over the next few weeks, we'll be filling in more material as it becomes available.
---
NEW WEBSITE MATERIAL: Over at www.scifi.com/b5rangers, you'll find some new photos, interviews with Mike Vejar, Andreas Katsulas, and Dylan Neal.
---
SNEAK PEEK: An absolutely awesome Sneak Peek was waiting for me in my mailbox this morning. It is truly cool and is intended to be shared. Go to http://www.scifi-player.tv/index.html?cid=1016&uid=5614 and preview the video clips for everyone from David Martel to Citizen G'Kar. Forward the preview to friends and you have a chance to win a Legend t-shirt!
---
TV GUIDE: I hear there is a small article about "Legend of the Rangers" in the new TV Guide (with Harrison Ford on the cover).
---
B5LR REVIEW: There is a new review of the upcoming movie over at SciFi Wire. In comparing the B5LR pilot with that of "Enterprise", Melissa Perinson says, "Throughout Babylon 5's existence, there have been comparisons made to the long-standing mainstay of sci-fi television, Star Trek,—and this movie, which comes in the same TV season as the latest Trek series, Enterprise, will be no different. The bigger-budget Enterprise pilot may have looked more polished, but The Legend of the Rangers feels as if it has more substance; by comparison, it was the more exciting pilot of the two. Legend not only stands on its own, but lays the groundwork for future. "
---
SCIFI has been doing a terrific job of advertising the upcoming "Legend of the Rangers" movie. This ad has appeared in a LOT of publications. I saw it yesterday in the new Wizard magazine; others have mentioned seeing in in MAD. Thank you SCIFI for all your support.
---
CAR WRAP: There are some great pictures of Bonnie Hammer (President of SCIFI) with her own car wrapped to promote "Legend of the Rangers" at http://www.scifi.com/b5rangers/carwraps/.
---
Over at www.b5lr.com there are new exclusive interviews posted with Enid-Raye Adams and Alex Zahara.
---

BLOOD DRIVES: If you are able, be sure to roll up your sleeves and give blood -- both now and in a couple of weeks. The need for blood will be continual. Right now, the tremendous outpouring of volunteers has filled quotas and storage space! FANTASTIC!!! But those supplies will be utilized and a new supply will be needed soon. Check out donation drives near you. I'm signed up already.
---
The e-mail version of The Zocalo Today goes out on Saturdays. If you would like to be included on the mailing list, just send a blank note to thezocalo-subscribe@yahoogroups.com. If that doesn't work for you, drop me a note at sgbruckner@aol.com. I can add you manually.
---
NEWS AROUND THE SCI-FI GENRE
January 25:
RATINGS: Top 10 SF Network Series: Futurama 4.1; Smallville 2.9; Enterprise 2.6; The Tick 2.2; Buffy 2.2; Roswell 2.1; Special Unit 2 1.9; Angel 1.9; Charmed 1.9, and Mysterious Ways 0.6. Source: Nielsen Galaxy Report, 12/17/01 - 12/23/01.
---
STAR TREK: Most people only remember 4 captains for the ST franchise: Kirk, Picard, Cisco and Janeway. There was actually another - Decker (Stephen Collins), in the first Star Trek movie. He was captain for only about the first 20 minutes of the movie, but Collins loves having been part of the story. DeForest Kelley told him at a photo session prior to the opening of the movie, "This will never be out of your life. It will never go away.' And he meant it as a good thing, which it primarily is." Collins is currently starring in WB's very popular "7th Heaven" and he has written a couple of novels. He said he would love to write again and perhaps produce a series, but only after his current series has ended.
---
ILLUSION: According to The Hollywood Reporter, Jonathan Frakes has signed on todirect and produce a new film being developed at Disney Studios. ILLUSION is described as a blend of F/X and THE FUGITIVE. Brent Bell and Matt Peterman have been tapped to write the script, which centers on a successful illusionist who must go on the run after seeing the death of a famous tycoon of industry.
---
TIME TUNNEL: It seems that both ABC and FOX are developing Time Tunnel projects. ABC bought the rights to the original book by William Jenkins on which TIME TUNNEL was based; FOX still owns the rights to the actual 1966-67 series version created by Irwin Allen. Legally, it appears that both companies have the rights for their individual projects. FOX is going through the motions to bring TIME TUNNEL to their network as a series based on the original series, while ABC is currently scripting a television movie based on the book.
---
January 24:
ROSWELL: UPN is putting Roswell on hiatus until April/May, when it will return with new episodes. The network will replace the struggling series with two mid-season comedies -- as a lead-in to Buffy.
---
ENTERPRISE: The new Star Trek series will feature Ethan Phillips (Neelix from Voyager) in an upcoming episode entitled "Acquisition" portraying a Ferengi! To avoid the inevitable continuity problems (Next Generation episode "The Last Outpost" featured the first reported contact between humans and Ferengi), the Enterprise crew will reportedly never know about their encounter with the aliens in "Acquisition." Two of the new Enterprise crew, Malcolm Reed (Dominic Keating) and Trip Tucker (Connor Trinneer) will find themselves marooned and convinced the Enterprise has been destroyed in an upcoming episode entitled "Shuttle Pod One." Keating told SCI FI Wire that he welcomes the chance to stretch his acting muscles. His character has had a pretty slow start and he is anxious to do more.
---
MUTANT X: Victoria Pratt, Shalimar from the series, is featured this week over at Prevue Magazine.
---
EXORCIST: The Hollywood Reporter indicates that Ryan Phillippe is the latest name to be added to the cast of John Frankenheimer's The Exorcist prequel. Set to begin shooting in the spring, the film stars Liam Neeson as a priest that scares up evil spirits while doing missionary work in Africa...
---
SMALLVILLE: It was only a matter of time! Inkworks Trading Cards has announced that they've been granted the license to produce the officially licensed trading cards for Smallville. The premium trading cards will be released in 2002 (date to be determined).
---
January 23:
RATINGS: Top 10 SF Syndicated Shows: Mutant X 2.6; Stargate SG-1 2.6; The X-Files 2.5; Andromeda 2.4; 3rd Rock 2.3; Buffy 2.1; Earth: Final Conflict 1.7; John Edward 1.7; Beastmaster 1.6, and The Lost World 1.6. Source: Nielsen Galaxy Report, 12/17/01 - 12/23/01.
---
BUFFY: Things are changing over at Buffy. James Marsters, who portrays Spike in the vampire series, told SCIFI Wire that his new relationship with Buffy is more adult in nature -- and one that may force them into a new timeslot! "The thing that's happening between Spike and Buffy is for a purpose. It's going to say something very painful and truthful about Buffy and her journey towards adulthood. It is a decision that springs from an artistic impulse, not just wanting to put booty on the screen."
---
ROSWELL: Now that the show has had additional episodes ordered to fill out the season, co-executive producer Ronald D. Moore provided SCI FI Wire with several major spoilers for the rest of the current season. Read more at www.scifi.com if you dare!
---
FILM NOMINATIONS: Nominations have been announced by The Director's Guild of America, and three genre directors have been recognized for their work. Peter Jackson was nominated for his LORD OF THE RINGS: THE FELLOWSHIP OF THE RING, Ridley Scott for BLACK HAWK DOWN and newcomer Christopher Nolan for his unique thriller MOMENTO.
---
BIRDS OF PREY: Another comic book character may be coming to The WB. Network President of Entertainment Jordan Levin confirmed his commitment to genre programming and revealed that BIRDS OF PREY is further along in the development process than most had anticipated. Based on the DC Comics title, BIRDS OF PREY, the story follows a computer intelligence expert Oracle – the wheelchair-bound Barbara Gordon (and former Batgirl) – and her field operative partner Black Canary as the two dish out justice on both a street and worldwide level. With their base of operations settled firmly in Gotham City (home to another popular DC hero), the two battle street thugs to international terrorists with their unique brand of female justice. The WB is starting the casting right now and are [eyeing a] fall premiere.
---
SPECIAL UNIT: UPN has cut back the order for sophomore sci-fi drama "Special Unit 2." The original order was for 22 episodes. It now stands at 13.
---
MUTANT X: Horray! The Hollywood Reporter has posted information that Tribune Entertainment Co. has renewed Mutant X for a second season. The announcement came from company president and CEO Dick Askin Tuesday at NATPE. Ratings for the show have been very good, occasionally out-ranking fellow Tribune Entertainment series, Andromeda.
---
ODYSSEY V: A new sci-fi series is headed for Showtime. "Odyssey V," starring Peter Weller, has been slated for 2002 . The series, from Columbia TriStar Domestic Television, will debut with a two-hour premiere and has been picked up by the pay cable network for 18 additional hour-long episodes. The series tells the story of astronauts who, after an apocalypse on Earth, use alien technology to go five years back in time in an attempt to change the future. Aside from Weller, other regulars include Sebastian Roche ("Roar"), Christopher Gorham ("Popular"), Leslie Silva ("Providence") and Tamara Craig Thomas. Manny Coto ("Tales from the Crypt") executive produces the series, based on a script he wrote.
---
10 QUESTIONS: IGN.COM has been asking a number of people 10 basic questions. Alexis Denisof from Angel is the latest to provide his answers. Check out his favorite music, etc. at http://filmforce.ign.com/articles/317707p1.html. Want something a bit more in line with B5? OK, then get the same questions posed to Legend of the Rangers cast members at http://filmforce.ign.com/articles/317522p1.html.
---
January 22:
JEREMIAH: A new website has been opened for the upcoming series at www.jeremiah.tv
---
INDIANA JONES: Harrison Ford has said that he would like to do Indy 4 -- now Stephen Spielberg is talking about having received the right script! Sounds like production plans are right around the corner. Stay tuned.
---
X-FILES: Chris Carter announced last week that X-Files will be coming to an end this year. David Duchovny has expressed interest in coming back for the final episodes! Now all they have to do is iron out the legalities! Sounds like a great finish to the series though.
---
ANDROMEDA: Despite recent problems, the Hollywood Reporter indicates that Tribune Entertainment Co. and Fireworks Entertainment have renewed Andromeda for its third and fourth seasons in 39 of the top 40 U.S. markets, representing 78% of the country. The renewal was announced by Tribune president and CEO Dick Askin and Fireworks chairman and CEO Jay Firestone.
---
CROSSING OVER: "Crossing Over With John Edward" became the first rookie show of the 2001-02 season to get a renewal. USA Domestic Television president Steve Rosenberg announced the second-season confirmation Monday.
---
January 21:
WITCHBLADE: The movie that created the Witchblade TV series will air tonight at 8pm on TNT. If you haven't seen it before, give it a look-see. I loved it. TNT will be airing all first season episodes in preparation for the start of season two.
---
RATINGS: Top 10 SF Channel Shows: Virus 1.2; Hackers 0.9; Chameleon 3 0.9; Virus 0.8; Chameleon 2 0.8; John Edward 0.7; Farscape 0.7; Blade Runner 0.7, and Steel Justice 0.7. Source: Nielsen Galaxy Report, 12/17/01 - 12/23/01.
---
BOX OFFICE NUMBERS: Something finally came along to unseat "Lord of the Rings" as boxoffice champ. BLACK HAWK DOWN took in almost $30 million and SNOW DOGS took in just over half that. Here are the preliminary numbers for the week: 1. BLACK HAWK DOWN, $ 29,000,000 this weekend, $ 30,800,000 since opening. 2. SNOW DOGS, $ 17,546,000 this weekend, $ 17,546,000 since opening. 3. THE LORD OF THE RINGS, $ 13,025,000 this weekend, $ 245,970,000 since opening. 4. A BEAUTIFUL MIND, $ 11,025,000 this weekend, $ 73,925,000 since opening. 5. ORANGE COUNTY, $ 9,000,000 this weekend, $ 26,930,000 since opening. 6. OCEAN'S ELEVEN, $ 5,705,000 this weekend, $ 170,574,000 since opening. 7. THE ROYAL TENENBAUMS, $ 4,344,000 this weekend, $ 36,273,000 since opening. 8. KATE & LEOPOLD, $ 3,400,000 this weekend, $ 42,000,000 since opening. 9. GOSFORD PARK, $ 3,315,000 this weekend, $ 11,200,000 since opening. 10. VANILLA SKY, $ 3,100,000 this weekend, $ 93,157,000 since opening.
---
LEGEND OF THE RANGERS WEBSITE

NEW MATERIAL AT THE WEBSITE: There are new photos in the gallery at the Ranger website. Don't miss the exclusive interviews with Mike Vejar, Andreas Katsulas and Dylan Neal is now available at the "Legend of the Rangers" website.

There are new sketches of the Liandra available at the "Legend of the Rangers" website under the gallery.

A new article entitled "RangerWear: The Costumes of Babylon 5: Legend of the Rangers" is now available at the Legend website. Read about how the original G'Kar costume found it's way into the movie -- from the Warner Bros. Museum in Los Angeles! SCIFI has done a terrific job of providing us with a great deal of information. The digital trading card set is complete. All seven major characters can now be found at www.scifi.com/b5rangers. Cards for David Martel, Sarah Cantrell, Citizen G'Kar, Malcolm Bridges, Na'feel, Tirk and Dulann are available, along with short videos and interviews. Don't miss the feature about Mark Savela, visual-effects supervisor from GVFX.

Chat transcripts for all cast members, Dylan Neal, Alex Zahara, Dean Marshall, Warren T. Takeuchi, Myriam Sirois and Enid-Raye Adams are all available at www.scifi.com/b5rangers.

I found a new site this morning that has the "Legend of the Rangers" trailer in a number of formats, including Quicktime, Real and Windows Media Player. Go to http://www.hollywood.com/multimedia/detail/media/1097976 and pick the player that best suits your connection to the internet. The trailer is terrific -- but only if you can see it!

THANK YOU SCIFI. If you would like to drop a note to SCIFI to thank them for not only financing the "Legend of the Rangers" movie, but for lending such wonderful support to the project, here's an address that you can use:

Bonnie Hammer
President, SciFi Network
1230 Avenue of the Americas
Floor 20
New York, NY 10020

SPONSOR LETTERS: As a way of showing appreciating for sponsoring the "Legend of the Rangers" telemovie, folks over at B5LR.COM, have compiled a list of commercial sponsors, complete with addresses. If you would like to write thank you letters to the folks who invested in the movie, all the information has been pulled together for you.
JEREMIAH TO PREMIERE IN MARCH
More information and photos of JMS' upcoming "Jeremiah" series can be found at the ComicsContinuium site. The series is set to premiere on March 3 at 8pmET on Showtime. A new website has been opened for the upcoming series at www.jeremiah.tv Other material we've carried on Jeremiah has been moved to the Jeremiah Page.
---
Here is an excerpt from the latest MGM newsletter: Jeremiah, the new series from acclaimed writer/creator J. Michael Straczynski (Babylon 5), will premiere in March of 2002 on Showtime. The series, which stars Luke Perry (Jeremiah), Malcolm-Jamal Warner (Kurdy) and Peter Stebbings (Markus Alexander), is currently in production in Vancouver, BC. Jeremiah is set in a future post-apocalyptic world where, almost a decade before, a deadly virus wiped out the world's adult population, sparing only those who hadn't reached puberty. Now in their 20s, the oldest survivors of the pandemic include Jeremiah (Perry) and his good-natured but cynical pal Kurdy (Warner). Jeremiah is on a personal quest to relocate a mysterious place called Valhalla, which his father claimed might hold some hope for the survivors. View the exclusive new images from MGM Jeremiah site. Also, keep your eyes on the MGM Sci-Fi Newsletter for up-to-the-minute news and interviews from the set of this exciting new series…
BABYLON 5 CALENDAR FOR 2002
The folks at CalendarMart have a 2002 Babylon 5 Calendar available. Go to http://secure.venus.co.uk/bluemask/calendar_babylon_5.html to place your orders. Slow Dazzle hasn't come up with any new photos to use in this version of the calendar -- but it is Babylon 5 and will look terrific on your wall.

** Bruce at www.uncomyngifts.com also has the calendar. So you have two places where you can pick up this great calendar for 2002!
THIS WEEK'S DISCUSSION TOPIC:
I don't know how we could discuss any topic but "Legend of the Rangers" - the movie! Share what you thought of it. Try not to include spoiler information, since there are folks here that will not be seeing the movie in the same timeframe. If you must include spoiler information, mark it well, so that I can highlight it on the Discussion Topic page.

Send in your comments to TheZocalo@aol.com or B5web@aol.com. I'll post them on the Discussion Topic page for everyone to share.
BABYLON 5 ON DVD
I saw a rumor about WB being very happy about the results of the first DVD sales -- so happy in fact, that the rest of the series had been authorized. Let's hope there is something official to back up this rumor soon.

Babylon 5 -- "In the Beginning" and "The Gathering" are available on DVD. SCIFI has a review of at http://www.scifi.com/sfw/issue243/screen.htm. At the bottom of the page is a request for feedback. You may want to use this method to feed WB your desires for MORE B5 on DVD.
KEEPING UP WITH CAST AND CREW
STEPHEN AUSTIN: Stephen has just shot a promo for NBC's FEAR FACTOR that they will start airing next week. It's a special edition FEAR FACTOR that will be seen during halftime of the Super Bowl. In the promo, Stephen plays a Highland Warrior (ala Braveheart). Stephen says "It was alot of fun to do." So keep an eye out for it.
---
ALEX ZAHARA: I noticed the "Beast of Burden" is an upcoming episode for Stargate SG-1. Alex portrays one of the Unas befriended by Daniel Jackson.
---
JASON CARTER/RICHARD BIGGS: We know these two guys love working together. They got a chance to do so again in a new film "Starship II: Rendezvous with Ramses". This is the sequel to the 1996 film Rock n Roll Starship. Starship II is a feature length sci-fi comedy being produced in the towns of Logansport and Lafayette, Indiana by MagicHouse Productions, Inc. and Digital Fury. Using the new wave of digital video cameras, computer-generated effects and the talents of a crew that can only be described as "eclectic", the goal of Starship II is to produce a story that is a leap above the low-budget norm. Rick Biggs plays Officer Franklin and Jason Carter plays Commander Deckins. The film also features John Astin as Professor Peabody. You can get more information at the film's website.
---
JASON CARTER: Pre-production has begun on a new project for Jason, Demon Under Glass. Here's a description of the movie from the Yahoo Groups announcement: The pursuit of a serial Killer leads to a deeper evil. When the government captures a vampire, Simon Molinar (Jason Carter) he is imprisoned in a VA hospital and subjected to brutal medical experiments to figure out what makes him tick. With the project's original MD dead at the creature's hands, a rookie from the clinic downstairs, Dr. Joe McKay(The Sentinel's Garett Maggart), is brought in as a last minute replacement. As the procedures become more gruesome, he is torn between sympathy for the patient's suffering and concern for the evil that threatens to consume everyone involved. Get more information at groups.yahoo.com/group/Demonunderglass/ and www.dugfanclub.com.
---
JEFFREY WILLERTH: The Koshman has been really busy. After completing his "The Most" series for the History Channel, he began work on an hour-long special, "The Planet's BEST Animal Commercials" slated to air in early January. A second hour, "The Planet's WILDEST Animal Commercials" should air at the end of the same month. Jeffrey reports that both shows are filled wall-to-wall with TV ads from around the world. "We collected over 1200 commercials) and feature many pretty-damn-funny commercials that most people have never seen." Jeffrey was recently in Michigan collecting background materials for an upcoming PBS series on Henry Ford. The show will air in January as part of the celebration of Ford's centennial.
---
BABYLON 5/CRUSADE CHRONOLOGY
A number of you have written to ask about having an index of the chronology published thusfar. Terry has given permission for this so I'm working on it. You can now find the index to the timeline published thusfar at B5 Chronology Index .

Terry Jones created a FANTASTIC Babylon 5/Crusade Chronology that was published in the Official Babylon 5 magazine. He has not stopped with the end of the series though. He has included items from the latest novels as well as things from the Crusade series. Here's a note from Terry to tell you all about it.

To look at the timeline in a different way, I have been working with Terry Jones on personal chronologies for the Babylon 5 universe. At The Galactic Gateway you will fine Parts 1-4 of the chronology for John Sheridan along with Part 1 for KOSH. Others will follow. I hope you will visit GG and give the chronologies a look.

Terry has provided a new segments of the Babylon 5 Chronology The Coming of Shadows.
NEW BABYLON 5 CARD SET
Rittenhouse Archives and www.scifihobby.com are pleased to announce the addition of 6 trading cards based on the all-new "Babylon 5: Legend of the Rangers" TV movie to the upcoming "The Complete Babylon 5" trading card series. The 6 cards will feature images and characters from the TV movie and will be used as box toppers (1 per box) in the all-new card series due out in March.

"The Complete Babylon 5" features complete synopses of all the episodes in the show's 5-year run, and includes nearly 1,000 never-before-published photos. Many of these photos will depict some of the show's most dynamic CGI space images. The trading card series will also feature 2 autograph cards and 1 costume card in every box. Autographs include Michael O'Hare (Jeffrey Sinclair), Andrea Thompson (Talia Winters) and a double signed card of Bruce Boxleitner (John Sheridan) and Melissa Gilbert (Anna Sheridan). Boxleitner and Gilbert are married in real life (and in the show). Costume cards include materials worn by Boxleitner, Jerry Doyle (Garibaldi), Peter Jurasik (Londo Mollari), Andreas Kastulas (G'Kar), Rick Biggs (Dr. Franklin) and Claudia Christian (Susan Ivanova).

More details are available at www.scifihobby.com.
SCI FI PUBLICATIONS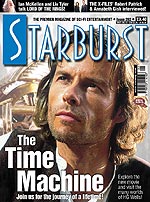 Starburst #282: This month's issue offers quite a bit of variety. The Time Machine will be released in March and you can read about those responsible for the latest version of this HGWells classic. Also in this issue, Robert Patrick & Annabeth Gish talk about this season of the X-Files; Brent Stait discusses his departure from Andromeda and we hear more from Sir Ian McKellan, Liv Tyler and Peter Jackson on the Lord of the Rings.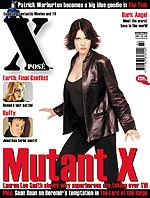 Expose #64: Mutant X's Lauren Lee Smith graces this month's issue. She portrays Emma, an empath on the new series. She and Forbes March (Jesse) talk about the rigors of making this series. Also included in this issue: Danny Strong on Buffy; Renee Palmer on Earth: Final Conflict; Patrick Warburton on The Tick and JC Mackenzie on Dark Angel.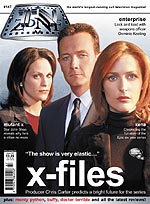 TV Zone #147: Chris Carter talks changes on and off the set of X-Files minus Mulder. Dominic Keating (Malcolm Reed in the new Enterprise series), talks about the challenges of a new Star Trek series. John Shea was a villain in "Lois and Clark". He's now fighting a noble cause in Mutant X. Also in this issue, TZ looks at Xena: Warrior Princess and Roswell.
Cult Times #76: Scott Bakula takes center stage this month as Enterprise premieres in the UK this month. Also included in this issue are articles on Amy Acker, Angel's latest cast addition, a look at upcoming Buffy episodes and Dark Angel.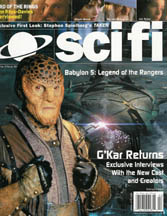 Good news. SciFi magazine is back! The latest issue is out now. G'Kar is on the cover and articles provide more information about the Liandra crew. Also in the magazine will be information about Steven Spielberg's "Taken".
BABYLON 5/RISING STAR MERCHANDISE
Craig over at ThirdZone.com dropped a line to say Happy New Year and to say that he has some sought- after merchandise that fans might be interested in. He has, in stock:

Pewter Babylon 5 station statue & Black Omega Starfury statue by Factory X
(Originally $169.95 each, now $84.95 each)
Limited Edition Hardcover of Rising Stars v.1 - Signed by JMS

Advance Order items:

Rising Stars: Patriot and Poet resin mini busts
Rising Stars: Limited Edition Lithograph
The entire listing can be found at: http://www.thirdzone.com/BSF/Th/B5.html
COMIC BOOKS
AMAZING SPIDERMAN: Issue #37 of Amazing Spiderman is now out on stands. There is a review of the issue over at www.cinescape.com.
---
SCI-FI SCHEDULE
BABYLON 5's Schedule: Airing at 5pm ET
January 25 Endgame
January 28 Rising Star
January 29 The Deconstruction of Falling Stars
January 30 No compromises
January 31 The Very Long Night of Londo Mollari
February 1 The Paragon of Animals
February 4 A View from the Gallery
February 5 Learning Curve
February 6 Strange Relations
February 7 Secrets of the Soul
February 11 In the Kingdom of the Blind
February 12 A Tragedy of Telepaths
February 13 Phoenix Rising
February 14 Day of the Dead
BABYLON 5/CRUSADE PHOTOSHOP
NEW PHOTOS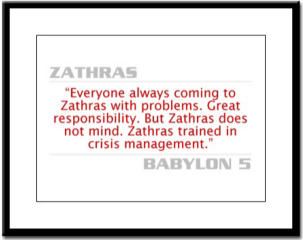 You do NOT have to pay the prices asked for over at e-bay! Here are photos of B5 and Crusade cast members at fantastic prices. Check out Photo Shop. Ordering is easy -- and you can't beat the prices! Just let me know which photos you want and I'll check to make sure they are still in stock.
---
NEW BABYLON 5 TOONS
John Cook has a new cartoon contest going. Try your hand at a punch line.




READER DIRECTORY
Sometimes you just can't find the e-mail address for someone you know you have -- it's someone who responded to a discussion topic or you met in one of the chat rooms. You'd like to send a personal note, but .... No address!!!!

We've started a White Pages of Zocalo Readers! It's a handy way of keeping track of people -- and putting together a birthday/greeting card list as well. If you would like to be part of the listing, just send me your name, state, e-mail address and (if you'd like to have it listed) birthday (without year) to sgbruckner@aol.com. Check out the Directory of Readers.

HAPPY BIRTHDAY TO YOU!

Name: Justin Fisch
State: Ohio
E-mail address: jfisch2042@aol.com
Birthday: January 1

Name: Lessa Redding
State: Colorado
E-mail address: queendragonrider@juno.com
Birthday: January 26

Name: Arwen Rosenbaum
State: New York
E-mail: arwen@panix.com
Birthday: Jan. 1

Name: Michael Rosenthal
Birthday: January 12
BABYLON 5 REFERENCE PAGES
The Official Babylon 5 Magazine is indexed here as well. With the closure of the magazine in May, you'll want to see which magazines you have -- and which ones you will want to collect. The index may help you make a decision on which ones to choose. The Fan Club has many of the issues at thestation.com , making it very easy to complete your collection.

Universe Today -- the Babylon 5 Fan Club quarterly can also be found here. The index gives you a rundown of what articles were presented, what interviews published.

If you have magazines that have featured Babylon 5 or Crusade that are not listed, send along their issue number and a note to indicate what the article was about. It would be nice to have a fairly comprehensive listing of Babylon 5 publications here.

I have added a listing of all the Babylon 5 novels and now the B5 comic books to the reference page. If there are other items that you feel should be included, let me know.
MAILING LISTS
NW-B5
NW-B5 is a mailing list devoted to bringing critical information to the Vancouver Island, Lower Mainland, and Northern Washington areas. More specifically, anyone north of Seattle. B5 is broadcast on SPACE:TIS in Canada, and Sci-Fi channel in the US. By subscribing to nw-b5, you'll be able to know info bringing you up to date on the current scheduling and events happening in the community related to B5. You'll also be subscribed to the list itself, which means that you'll receive email when there is a scheduling change or critical information needs to go out to you (for example, if we need to start another mailing campaign).

For further information, see http://www.nw-b5.com
John Francis
Webmaster, Listowner, and Co-Moderator
mailto:nw-b5@iname.com

Reports of "The Gathering" are beginning to turn up on the list. John posted a mini-report, with photos, over at http://www.geocities.com/jnf.geo/nw-b5/gathered.htm#0501. You may want to check it out. It was a terrific event in which JMS showed clips from the new "Legend of the Rangers".
BABYLON 5 DISCUSSION LIST
The Babylon 5 discussion mailing list is for any and all discussions and/or news pertaining to or related to Babylon 5 and/or Crusade. The list has been in existence for the past three years now, and has recently moved. The new location is http://lists.apparition.org/cgi-bin/lyris.pl, and you can subscribe by sending a blank e-mail message to join-babylon_5-l@lists.apparition.org.
THE GALACTIC GATEWAY
Here's a unique site for you! Jeffrey Willerth, Patricia Tallman, Mira Furlan, Claudia Christian, Robin Atkin Downes, Rick Biggs, Jerry Doyle, Bruce Boxleitner, Melissa Gilbert, Peter Jurasik, Bill Mumy and Carrie Dobro are under it's umbrella. Actors from other shows have joined the Gateway. Ted Raimi and Robert Trebor from Xena and Hercules are now at GG. To subscribe to a mailing list for GG, send a blank note to thegalacticgateway-subscribe@egroups.com.
GATEWAY CHATTERS
There is never enough time to keep in touch with friends! To help out, a mailing list has been started for chatters over at the Galactic Gateway. If you are interested in joining, send a blank note to gateway-chatter-subscribe@egroups.com.
GATEWAY TRADER
Are you looking for a particular Babylon 5 collectible? Do you have some items you'd like to trade? Then this is the list for you. To join, send a blank note to gateway-trader-subscribe@egroups.com.
CALLING ALL ARTISTS
The Art Gallery at The Zocalo Today is open. There are SO MANY talented people in our Babylon 5 community. We have enjoyed works by Todd Brugman and Tye Bourdony on our toons page, but there are a host of others who enjoy drawing, painting, sketching their favorite characters. Here are a few works that have been received. I have some others that will be added soon.

If you would like to share your work with us at The Zocalo Today, please send along a digital photo of your work and I'll begin putting the gallery together. If you do not have your work in digital format, drop me a note and we'll see what we can work out.
CALLING ALL CLUBS
OTTAWA: Ranger Dave is trying to start up a B5 group in Toronto. He has asked me to post this information to see who is in the area and interested in getting together:

I live in the area of Toronto, Ontario and am starting up a sci fi/fantasy club/group and am looking for members. I am hoping any members who join will be more than just Trek & B5 fans. Our meetings will be at least once a month in the area of downtown Toronto on Sunday afternnons. The next meeting is scheduled for Sunday Nov. 18th at 1:45pm. If your interested, need more info and or have any questions please feel free to e-mail me at akalel@hotmail.com.
---
SYDNEY: Amanda, a member of the club 'Friends of Science Fiction' in Sydney, Australia, dropped a note to say that they will host an event with Marjean Holden on September 9. More information can be found on the convention calendar. If you are in beautiful Sydney, you may want to check out the Club. It meets at: Lidcombe Catholic Club; John St; Lidcombe. If you have questions, drop Amanda a note at Amanda_Beachcroft@msn.com.au.

There are a number of fabulous Babylon 5/Crusade Clubs around the world. I'd like to begin listing them here on The Zocalo Today. Eric dropped me a note the other day providing information about a Club in France. I know there are other clubs in Brazil, Germany, Russia -- and who knows how many here in the US. Let's get a listing together. Perhaps we can share resources, even get together as we travel around. Drop the information about your Club to me at sgbruckner@aol.com or bruckner@isnnews.net. That information will be added to the new B5 Fan Club Listing.
BABYLON 5 FAN CLUB
Netter Digital filed for bankruptcy in July of 2000 and all their worldly posessions were auctioned off on December 7. Thestation.comEmporium has been closed.
BABYLON 5 NEWSLETTERS
If you have a newsletter you'd like to have listed at The Zocalo Today, send the information along. It will be posted on the B5 Fan Club/Newsletter page.

Ranger Shane in North Carolina sent in the following note about their "Jumpgate" newsletter.

Hey Sandy! Just wanted to give you an update on the NC B5 group's newsletter, Jumpgate. There's now a dedicated EMail address for submissions - jumpgatemag@bellsouth.net - and any submissions, solicited or un-, can be sent to this address. Also, issues are available for free download at the URL at the bottom of this message.

Jumpgate - The Newsletter of the North Carolina Babylon 5 Fan Club
Shane Killian, Editor
HELP WANTED
A new HELP WANTED section has been added to the Z. If you need help finding a comic book, getting a special item, etc. here's the place to post a note. Just send whatever help you need to thezocalo@aol.com.
---
BABYLON 5/CRUSADE CONVENTIONS
CONVENTION CALENDAR
Slanted Fedora North Carolina
January 25-27, 2002, Durham, NC
Place: Durham Marriott
Guest: Claudia Christian

For more information, visit their website at http://www.sfedora.com/raleigh.htm.
---
J.R.'s Comedy Club
February 2, 2002
Valencia, California
Stephen Austin will be appearing at the Club


---
Boskone 39
February 15-17, 2002, Boston, MA
Place: Sheraton Framingham Hotel
Framingham, MA (508) 879-7200
Guest: Neil Gaiman

For more information, visit their website at http://www.nesfa.org/boskone.
---
Gallifrey One
February 15-18, 2002, Los Angeles, CA
Place: Airtel Plaza Hotel
Van Nuys, CA (818) 997-7676 or toll free at 1-(800) 2-AIRTEL
Guests: Judson Scott, Mira Furlan, Beata Pozniak, Marjorie Monaghan, Julie Caitlin Brown, Carrie Dobro, Mojo, Stephen Austin, Bill Blair

For more information, visit their website at http://216.194.69.176/futgally.htm.
---
Megacon
February 22-24, 2002, Orlando, FL
Place: Orange County Convention Center
B5 Guests: Jason Carter, Richard Biggs.

For more information, visit their website at http://www.megaconvention.com.
---
Visioncon
February 22-24, 2002, Springfield, MO
Place: Clarion Hotel
B5 Guest: Bill Blair

For more information, visit their website at http://www.megaconvention.com/ .
---
Be sure to check the entire convention calendar for dates of events around the country. If you know of a convention that will host B5 personalities, drop me a line so that I can include the event on our calendar.
ZOCALO TRADING POST
Do you have extra copies of B5, Amazing Spiderman, Midnight Nation or Rising Stars comics you'd like to trade? How about those extra trading cards or B5 magazines? There are a lot of fans looking for these items -- and the Trading Post can help you buy or sell them. To see what's available, just use this link to the Trading Post. To have items included in The Trading Post, send a note to The Zocalo. Please put Trading Post in the subject line.
Pen Pals
If you are looking for someone to talk about Babylon 5 and Crusade with, the Pen Pal section is for you! Check it out! Drop a note to someone who is feeling B5 withdrawal -- BIG TIME!

People thought a Pen Pal page was a good idea. If you would like to meet people who you could chat with or share your opinions of the show with, send along your e-mail or snail-mail address The Zocalo. It will be incorporated on the new Pen Page Page.
BABYLON 5 BIRTHDAYS
January 24 - Peter Woodward
January 27 - Julie Caitlin Brown
January 27 - Tamilyn Tomita

Have I missed anyone? If you know the birthday of someone connected with Babylon 5, pass the information along. We want to include everyone in our Happy Birthday Wishes.
MAIL FOR CAST AND CREW
Here's a recent note from JMS on the subject:

Just an FYI to those who've been using the Ventura Blvd. mail drop for fan mail to actors....

As mentioned before, we're phasing out the forwarding of fan mail because we a) don't have the resources, complicated by b) the actors have scattered to the four winds, and it makes it very difficult to get everything to everybody in a timely fashion.

So, having provided prior notice...fan mail to actors coming to the Ventura Blvd. mail drop will be sent back. Mail to actors should be sent via their official fan clubs. I will still be taking mail there, since it's my mailbox, but that's it.

Just so's y'all know and save a few bucks on postage and returns.

JMS' mail can be sent to:

14431 Ventura Boulevard, PMB 260
Sherman Oaks, CA 91423

WARNER BROS:

Warner Bros. Address:

Warner Bros. Domestic Television Distribution
4000 Warner Blvd.
Burbank, CA 91522

Warner Home Video:

Mike Finnegan, Vice President
Editorial and Programming Services

Paul Hemstreet, Vice President
Special Features/DVD

Michael Radiloff, Vice President
DVD Marketing

Kristin Grossnandler, Manager
DVD Special Features

Warner Home Video
4000 Warner Blvd.
Burbank, CA 91522
BACK ISSUES OF THE ZOCALO TODAY
The front page of the The Zocalo Today changes daily, so be sure to check the back issues to make sure that you haven't missed anything IMPORTANT! I don't want the front page getting too long so I shift information periodically into the archives. So if you aren't a regular visitor to The Zocalo Today, be sure to check out the back issues. Just use the button above!
---
Take care and I look forward to hearing from you.
Sandra Bruckner (sgbruckner@aol.com)
Editor/Publisher
The Zocalo Today
http://www.isnnews.net
Copyright - SBruckner, 2001