[an error occurred while processing this directive]

The Zocalo Today

Welcome! I am glad that you found The Zocalo Today and dropped by. Take your shoes off, get comfortable and stay a while. There is a LOT of information here and you won't want to miss any of it.

The Zocalo Today is an interactive newsletter, encouraging interaction with readers through a discussion topic each week. If you have suggestions as to how The Zocalo can be improved -- or be more responsive -- send them along. The Zocalo Today is as much YOUR newsletter as it is mine! I'm just pulling together things for you!

Join our weekly discussion topic. It is just one way you can interact with other Z readers. If you have other information you would like to share, send it along. If you see Babylon 5 cast and crew in other roles, let us know. We enjoy convention reports, photos, etc. Don't miss our back issues. I hope this will become more than just a newsletter. It's a community of people that enjoy sharing their experiences and interests. Don't be shy. Join us today!

If you have questions, drop me a line at sgbruckner@aol.com or thezocalo@aol.com. If you would like to join the mailing list for our bi-weekly newsletter, send me a note and I'll include you on the list. Or you can use the subscription block at the left.

Again, WELCOME!




What's New Today
Friday, October 25: RATINGS: Top 10 Network Series: John Doe 6.0; Firefly 4.0; Charmed 3.6; Enterprise 3.2; Twilight Zone 2.9; Smallville 2.8; Sabrina 2.4; Buffy 1.7; Mysterious Ways 0.4, and Twice in a Lifetime 0.4. Source: Nielsen Galaxy Report, 9/16/02 - 9/22/02.
---
NIGHT THRASHER: UPN has decided to take a serious look at the Marvel Comic book black superhero NIGHT THRASHER. Michael Elliot (Brown Sugar) has come aboard as the writer on the project, with Ben Silverman's Universal-based production company, Reveille, and Marvel Studios. Elliot will executive produce with Silverman and Marvel's Avi Arad and Rick Ungar. The UPN show will be set in the present and turn Taylor into a 25-year-old multimillionaire owner of a hip-hop clothing line who also lends his superhero services to the CIA.
---
THE PHANTOM: With the success of X-MEN, Spiderman, and other comic book heros, Crusader Entertainment and Hyde Park are developing an updated film version of Lee Falk's classic comic-strip hero THE PHANTOM. According to Variety, Steven De Souza will write the script. The new film will reinvent the character to be closer to films such as Spider-Man and The Matrix.
---
MONSTERS, INC: Variety reports that MONSTERS, INC. is still growing overseas. The Disney DVD blockbuster can boast of sales of $250 million on 13 million units internationally.
---
24: There is an exciting year ahead for Fox's 24 series. Entertainment Tonight caught up with star Keifer Sutherland and talked about what we can expect for the coming year. Check out the interview at http://www.etonline.com/television/a12729.htm.
---
BUFFY: Buffy is getting some special musical guests. On the November 5 episode, "Him", The Breeders will be musical guests. For the "Sleeper" episode on November 19, Aimee Mann appears as herself and will perform the song "Pavlov's Bell."
---
Speaking of BUFFY, over at Prevue Magazine, Marti Noxon, executive producer of Buffy the Vampire Slayer, discusses how she pleases the show's legion of fans and the fate of the series.
---
INSIDE SCIFI THIS WEEK:
Thursday, October 24: GODS AND GENERALS: Yes, I know, this isn't science fiction -- but it is an upcoming movie for BRUCE BOXLEITNER. More and more press is coming out regarding the movie. Their official website at http://www.godsandgenerals.com/ has information about the project and http://ronmaxwell.com/godsandgenerals/ shows Bruce, as General Longstreet.
---
UFO DISCLOSURE: The SCI FI Channel and John Podesta, former chief of staff to President Bill Clinton, are backing a Freedom of Information Act request to obtain government records on cases involving retrieval of objects of unknown origin by the secret Air Force operations Project Moon Dust and Operation Blue Fly. "It is time for the government to declassify records that are more than 25 years old and to provide scientists with data that will assist in determining the real nature of this phenomenon," Podesta said in a statement. SCIFI is also sponsoring a smposium at George Washington University on November 8 to explore the potential for interstellar travel and the evidence of unidentified aerial phenomena. Panelists will include American scientists and aviation experts.
---
COMIC AND ART AUCTION: Phoenix-based All About Books and Comics announced a benefit auction and art show with proceeds going to the ACTOR Comic Fund, a comics industry charity providing "supplemental health, medical, and quality of life assistance" to comic book industry veterans. Numerous participants will provide art including comics luminaries such as John Byrne, Howard Chaykin, Jack Kirby, Gil Kane, and Tim Truman. The event will be at the store on Saturday, November 2, 2002 from 6 pm until 10 pm. The ACTOR Comic Fund Web site can be visited at www.ACTORComicFund.org. For more details, go to http://www.actorcomicfund.org/Pages/PR/10_23_02.html.
---
TAKEN: While everyone waits in the US to see TAKEN, Stephen Spielberg's $41m alien abduction miniseries, on SCIFI in early December, Variety reports that the BBC has secured the rights for TAKEN, trumping Channel 4 with an offer of £2m, about $3.5m. The miniseries offers a 50-year yarn of three families in 10 episodes. Spielberg served as executive producer on the project.
---
TWILIGHT ZONE: UPN has ordered nine additional episodes of THE TWILIGHT ZONE. The series is hosted by Forest Whitaker and produced by New Line Television in association with Trilogy Entertainment Group. Pen Densham, Mark Stern, John Watson and Ira Steven Behr serve as executive producers. "The creative strength of 'The Twilight Zone' stems from the combination of quality writing and fantastic guest stars, and by pairing it with 'Enterprise,' UPN has created a solid night of out-of-this world programming," UPN entertainment president Dawn Ostroff said in a statement.
---
STEPFORD WIVES: A remake of the 1975 thriller is in the works, and Nicole Kidman is in talks for the lead role -- the role first played by Katherine Ross. The story will reportedly be updated from the original with a black comedy spin put on the tale.
---
Wednesday, October 23: RATINGS: Top 10 SF Syndicated Shows: Stargate SG-1 2.3; The X-Files 2.1; Andromeda 1.9; Buffy 1.9; Mutant X 1.8; Beastmaster 1.7; John Edward 1.7; The Lost World 1.3; The Outer Limits 1.3, and Sabrina 1.2. Source: Nielsen Galaxy Report, 9/23/02 - 9/29/02.
---
DAY AFTER TOMORROW: Variety reports that director-writer Roland Emmerich's (Independence Day) next project, DAY AFTER TOMORROW, begins shooting in mid-November in Montreal. Sela Ward will co-star with Dennis Quaid and Jake Gyllenhaal.
---
HARRY POTTER AND THE CHAMBER OF SECRETS: Over at The Leaky Cauldron, you'll find a host of new pictures from the latest Harry Potter film.
---
DIE ANOTHER DAY: There are some new pictures from the upcoming James Bond movie, DIE ANOTHER DAY, at http://www.moviegod.de/news_film_detail.php?id=2008.
---
REAL WORLD AFFECTS MEDIA: As everyone is probably aware, there is s sniper loose in the Washington, DC area. Does wonders for one's outlook on life! However, these events are also affecting the media. PHONE BOOTH, a movie that focuses on a sniper (Kiefer Sutherland) who traps a man in a phone booth had been scheduled for release in theaters but that is currently on hold. THE DISTRICT TV series apparently had a sniper episode in the works -- that also has been put on the back burner until the current situation is resolved.
---
MARVEL RELEASES FOR JANUARY: Over at http://www.comicscontinuum.com/stories/0210/23/marvel.htm you'll find some awesome artwork revealed for January. Among the ones of interest, Amazing Spiderman #49 and Daredevil. PS: Don't pick up any comic book entitled ALIAS and assume it's related to the TV series! Believe me, it is NOT.
---
FIREFLY: I have started to like this show. It started slow, but it picking up steam -- at least with me. However, I'm not a Nielsen family and ratings haven't been much to write home about. However, word is out that creator Josh Whedon will direct episode #11 which begins production the week of November 4. Let's hope that Fox gives the show enough time to have this episode on the air.
---
Tuesday, October 22:
E-BAY AUCTION: PsiFiMogul has season two scripts from Babylon 5 up at e-bay right now. The item number is 1572329045. Other items of interest are some pencil drawings of B5 cast by Michael Goody -- see item #1572327717. If you are interested in emmy submissions, PsiFiMogul has a number of those up for auction as well.
---
WIZARD OF OZ: According to Variety, producer Robert Kosberg (COMMANDO, TWELVE MONKEYS) will be producing three movies for Bungalow 78 Productions. Among the projects he is developing is SURRENDER DOROTHY, a sequel to THE WIZARD OF OZ for Warner Bros., Atlas Entertainment and Flower Films. Drew Barrymore (CHARLIE'S ANGELS, DONNIE DARKO) is set to star. Other projects are WILD PITCH, to be produced for Revolution Studios and Apostle Films, with Adam Sandler (8 CRAZY NIGHTS, LITTLE NICKY) in the starring role and THE HARDY MEN will be produced in association with Ben Stiller's (ZOOLANDER, SOMETHING ABOUT MARY) Red Hour films for Fox 2000. No star has been attached.
---
SUPERMAN: Brett Ratner is pulling together resources for the next SUPERMAN film. He confirmed rumors that Anthony Hopkins would be playing Jor-El, the father of Superman. According to Ratner, Hopkins signed on two weeks ago, not several months ago. No word as yet on who will portray the title role.
---
BIRDS OF PREY: It's a dirty job, but somebody's got to be do it. That's what Shemar Moore says about being the only male to star with the three gorgeous women in BIRDS OF PREY. He talks about playing opposite DINA MEYER, ASHLEY SCOTT and RACHEL SKARSTEN in the series at http://www.etonline.com/television/a12776.htm.
---
THE WB: After only three weeks of the new season, The WB's ratings performance turned it into the fastest-growing broadcast network on television, showing 28% growth in viewers season-to-date over last year, as well as a 47% gain in adults 18-34, 35% in persons 12-34 and 31% in adults 18-49, according to Nielsen numbers.... From the 10/21/2002 issue of Broadcasting & Cable.
---
DETROIT CONVENTION: Creation Entertainment is pulling together a pretty big convention in Detroit at the end of the month. From Babylon 5, you'll have Rick Biggs, Robin Atkin Downs and Julia Nickson. There are a ton of Star Trek guests, including William Shatner on Sunday. Check out the calendar below for details. Monday, October 21:
SCI FI WATCHERS: A few readers have commented on cuts they perceive being made in Stargate SG-1 and perhaps other programs. There was also mention of transmission type problems during Crusade. Have any of you noticed cuts SCIFI has been making so that they have more time for commercials? I know this is a common practice at some networks and know that business practices usually weigh in heavily, but it should not sacrifice the quality of the product.
---
RATINGS: Top 10 SCIFI Channel Shows: Howling 4 1.0; Stargate SG-1 1.0; Darkman II 0.9; Amazing Stories 0.9; Beyond Belief 0.9; Chameleon 2 0.9; Fire in the Sky 0.8; Amazing Stories II 0.8; Darkman III 0.8, and RoboCop 2 0.8. Source: Nielsen Galaxy Report, 9/16/02 - 9/22/02.
---
WEEKEND BOX OFFICE: With Halloween on the minds of a lot of people, THE RING provided a terrific scary outlet this weekend, taking over #1 from RED DRAGON. SWEET HOME ALABAMA was a surprise holding onto #2 and RED DRAGON dropped to third after two weeks as #1. MY BIG FAT GREEK WEDDING actually moved ahead one position to #4 with ABANDON and BROWN SUGAR rounding out the top five.
---
XMEN-2: Part two of the transcript for the X-MEN 2 Press Conference in Vancouver on Saturday can be found at http://www.comicscontinuum.com/stories/0210/21/press2.htm. There are more terrific pictures from the movie as well. A new trailer for the movie is promised for theaters on November 27.
---
CRUSADE: The final episode of CRUSADE airs on SCIFI today. Tomorrow, BABYLON 5 will return to it's 5:00pm timeslot. It has been wonderful revisiting CRUSADE again. For some reason, it seems better this time 'round. Sunday, October 20: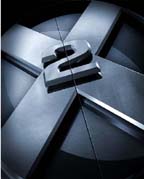 X-MEN 2: The lucky folks at Comics Continuum are spending the weekend in Vancouver. They attended yesterday's press conference on X-MEN and have provided part one of the transcript for everyone to enjoy over at http://www.comicscontinuum.com/stories/0210/19/press.htm. There are some great pics as well, so be sure to drop over.
---
BIRDS OF PREY: There is an interesting article about Barbara Gordon (Batgirl) over at http://www.comics2film.com/StoryFrame.php?f_id=1925&f_sec=16. It provides an interesting background on the character and the Batman experience in general.
---
CHARITY EFFORTS: After the Emmy Awards, we talked about Bradley Whitford (The West Wing) and his wife, Jane Kaczmarek (Malcolm In The Middle), charity efforts with a program entitled "Clothes Off Our Back". Celebrities took off the clothes worn on this special night and donated them for auction on uBid.com. Charities to benefit included Cure Autism Now, Heifer International, UNICEF and Union of Concerned Scientists. $87,200 was raised by the unique event. Kaczmarek said, " We are so proud of the TV community's generosity and all the celebrities who literally donated the clothes off their backs for this cause. We are looking forward to next year's Emmy Awards and to the beginning of a new Hollywood tradition."
---
Saturday, October 19:
X-MEN 2: Entertainment Weekly has some exclusive photos of the new X-Men movie. You'll not want to miss these!
---
STAR TREK EXPERIENCE: A new exhibit opens in London's Hyde Park on December 6. It chronicles the entire Trek experience, featuring multimedia interactive exhibits that takes up 7,000 square meters and offers recreated sets, props, costumes and interactive demonstrations of Trek lore. The attraction runs through Jan. 31, 2003. Items on display are from all five Trek TV shows and 10 feature films, including the upcoming Star Trek: Nemesis. Fans will also get to experience being "beamed up" by a transporter or boarding the bridge of the Enterprise D. The Adventure also features a flight simulator, a three-story replica of Quark's Bar from Star Trek: Deep Space Nine and a first look at the armory set from the UPN series Enterprise, among other things.
---
DAREDEVIL FAN ART CONTEST: There's a new contest in town and I think all of us will be able to benefit from this one. Twentieth Century Fox and Comics2Film are pleased to announce the launch of the Daredevil Internet Fan Art Contest. This contest will pit fan artists from four different websites against each other in a competition of digital artistry. Contestants must be over the age of 13 and residents of the United States. The object is to create computer desktop wallpapers featuring characters and artwork from the Daredevil movie. There will be one winner from each competing website with the finalists advancing to a showdown on DaredevilMovie.com, the official website. The filmmakers will judge the four finalists and select one to be the official wallpaper download for the Daredevil movie. Up to the challenge? Go to http://www.comics2film.com/ContestEntry.php?f_id=19 for details.
---
SMALLVILLE: You can read the Smallville Torch on-line at http://www2.warnerbros.com/web/smallville/torch/index.jsp. Soon the Wall of Weird will be on-line as well. You can read items Chloe Sullivan picks to post for everyone to read.
---
WHAT'S ON TODAY
Firefly, "Out of Gas", Fox, 8-9:00pm ET
Mal flash backs to how it all started on the Serenity after an explosion leaves the ship crippled and running out of oxygen.

Creator Josh Whedon says of this episode -- "It has a number of flashbacks to how the crew got together, so it's a really good way to learn how it all began. For somebody meeting the characters for the first time, it's a real insight into who they are. There's not all this [plot] information to process, which is a problem because the pilot was never shown. "

"Case of Evil" on USA Network, 8:00pm-10:00pm ET
Sherlock Holmes (James D'Arcy) fans get a chance to see the brilliant detective in action when he was much younger and dumb enough to end up spending time in Professor Moriarty's (Vincent D'Onofrio) basement becoming addicted to the evil man's latest creation, a major new drug called heroin. This show is not for the faint of heart. There are gruesome murders linked to Moriarty's attempt to corner the drug market. It's all part of his master plan to capture and kill Holmes. "John Doe" ("John Deux") on Fox, 9:00pm - 10:00pm ET.
When a naked man with no recollection of his identity washes up on shore in eerily similar circumstances to John Doe's (Dominic Purcell) arrival, John seizes the opportunity to learn more about the mysterious stranger who has more than coincidental similarities to his own situation and a very possible link to John's own identity. On SCIFI tonight:
8:00 PM THE X-FILES HELLBOUND
9:00 PM STARGATE: SG-1 (LBX) ALLEGIANCE
10:00 PM IN SEARCH OF... GHOST/STIGMATA/ZOMBIES
BABYLON 5 HALLOWEEN SHORT STORY CONTEST
Antony at B5TV has come up with a unique way of celebrating Halloween. Yes, you've got it -- a Halloween short story contest! We know that Babylon 5 fans are some of the most creative folks around, so why not use that imagination constructively. Go to http://www.b5tv.com/greatmaker/news/229 for details. The winner will receive a signed Babylon 5 book by Jeanne Cavelos.
DISCUSSION TOPIC:
Do you think it's right for networks to take programs off after just two episodes? Do you feel they are putting the show out of it's misery – or do you think they should have a bit more faith and see if the show will find an audience?< Send in your responses to thezocalo@aol.com. I am posting them on the Discussion Page as they come in.
SEASON ONE BABYLON 5 DVDs
"In the beginning" is already available in DVD format (19,99 euros). The entire series and TV movies (but Legend of Rangers) is available in VHS (single tapes, or boxes of 2 or 6 tapes). Warner Home Video (R1) released a Flash presentation for the "B5" Season 1 DVDs. In addition to the extras that JMS has already mentioned (2 episode commentaries, new cast and crew interviews as part of a new documentary, an on-camera interview and on-camera introduction with JMS) the set will include the "Making of" documentary produced for the Season 1 kick-off and hosted by Walter Koenig. Go to http://www.whvdirect.com/babylon5/index.html to read more! Here's an update from JMS on the DVD special items:
The disk has an on-camera introduction by me (despite my warnings that this would undoubtedly drive down sales), a letter of introduction each by me and Doug Netter, and the half-hour piece features new interviews with Rick Biggs, Stephen Furst, me, Doug, efx maven Mitch Suskin, makeup whiz John Vulich, and others. They're tentatively targeting next April for season 2, and the following November for season 3. GREAT PRICE: You can pre-order the Season 1 DVD over at www.amazon.com for $74.99. The release date for North America is November 5.
BABYLON 5 AROUND THE WORLD
Ranger Alex reports that The Slovak Television Network "Markiza" is repeating Crusade every Tuesday and Thursday at 11.30 a.m.
JEREMIAH ON SHOWTIME - FRIDAY AT 10:45PM
Tonight's Episode - RING OF TRUTH
Written by: Sam Egan
Directed By: Ken Girotti Theo promised Jeremiah and Kurdy a suitable reward for saving her life - a visit to a fabulous inn. Never one to make things easy, however, she has provided directions that leave them half-starved and out of gas. Fending off hunger with some wild mushrooms, they have some peculiar visions around the campfire but none as strange as the one Jeremiah has in the morning when he is awakened by an elephant. JEREMIAH SCHEDULE AHEAD:
11/01/02
Jeremiah: Moon In Gemini 11/08/02
Jeremiah: Out Of The Ashes 11/15/02
Jeremiah: A Means To An End 11/22/02
Jeremiah: Things Left Unsaid (Part 1) For more information about this episode and the entire series, be sure to visit www.sho.com/jeremiah. For those of you who want to keep up on what is going on with Jeremiah, Ranger Monica has started up a Jeremiah newsletter. Please go to http://groups.yahoo.com/group/jeremiah-news/ and subscribe. Monica also has a very nice Jeremiah site so don't forget to bookmark that as well.
KEEPING UP WITH CAST AND CREW
MELISSA GILBERT: Variety reports that SAG President, Melissa Gilbert, has pledged she will seek a higher profile on labor issues for the union's 98,000 members. While meeting Tuesday with officials at AFL-CIO headquarters in Washington, Gilbert said her goal is to boost SAG's support for other sectors of the union movement, ranging from nurses to airline baggage handlers to longshoremen. "SAG needs to nurture the relationship with the AFL-CIO," she added. "We have not been operating as closely as we should."
---
PATRICIA TALLMAN: For years, Pat has been involved with Penny Lane, a home for abused children. Christmas time provides an opportunity to show each of the children how special they really are -- through the caring gift from someone who wants to help. Pat started the BE A SANTA project a few years ago, and it is time again to start thinking about how you'd like to help. Go to http://www.thegalacticgateway.com/pl/ and see what items are needed. Like all kids, they want music, clothes, books. You can help these children who have nothing but the center and each other! Share with someone this year -- BE A SANTA.
---
DANIEL DAE KIM: Have you caught Daniel on the new AT&T commercials lately.
---
CARRIE DOBRO: Over at B5TV.com you'll find a wonderful interview with Carrie Dobro. She talks about CRUSADE and what she has been doing since it's demise. She's been one busy lady!
---
JASON CARTER: Besides those wonder Chevy Avalanche commercials, JASON CARTER has been quite busy. THE MESMERIST opened in LA on September 20 and is currently showing in only that city (the schedule is being developed at this time). The film is based on the Edgar Allen Poe short story The Facts in the Case of Mr. Valdemar. A review has been posted at Hollywood.com and the author, Stacie Hougland, had this to say about Jason: But the real star of this show is the wild-eyed, eccentric mesmerist. Carter hits just the right note as he takes himself far too seriously, tossing off lines like, "calling me good is like calling Einstein the guy with the frizzy hair." For more information, including images from the film, visit the film's website at www.themesmerist.com. BEHIND THE RED DOOR: Starring (besides Jason) Kiefer Sutherland, Kyra Sedgwick and Stockard Channing. Jason plays the part of Sonny, the potential relationship interest to Natalie played by Kyra Sedgwick. The film will air on Showtime. This film was shown at the Rhode Island Film Festival that took place August 7-12, 2002. It won First Prize for Best Screenplay (for Film Production), Grand Prize went to Wildflowers. Check out the news from their site (http://www.film-festival.org/pressroom/news2002_27.htm)
---
ENID-RAYE ADAMS: You remember ENID, the petite Minbari Firell on Legend of the Rangers? She's been one busy actress since B5: LOTR peetered out at SCIFI. She has been featured in "Prometheus" -- an episode of STARGATE SG-1, the USA hit show DEAD ZONE ("The Siege") and now JUST CAUSE on PAX. For an update on all Enid has been up to, pop over to http://www.b5tv.com/greatmaker/articles/221/.
---
BABYLON 5 BIRTHDAYS
Dylan Neal - October 8
Jeff Conaway - October 5
John Vulich - October 10
Tim Choate - October 11
John Copeland - October 13
Linda Huse - October 16 Have I missed anyone? If you know the birthday of someone connected with Babylon 5, pass the information along. We want to include everyone in our Happy Birthday Wishes.

CELEBRITY BIRTHDAYS

They may not be Babylon 5 cast and crew, but here are a few birthdays in October that you may want to take note of:

Oct. 9: Scott Bakula from ENTERPRISE is 48
Oct. 10: Peter Coyote from ET (the movie) is 60; Bradley Whitford ("The West Wing") is 43
Oct. 11: Sean Patrick Flanery (Young Indiana Jones & Dead Zone) is 37; Luke Perry (JEREMIAH) is 36; Michelle Trachtenberg ("Buffy the Vampire Slayer") is 17.
READER DIRECTORY
Sometimes you just can't find the e-mail address for someone you know you have -- it's someone who responded to a discussion topic or you met in one of the chat rooms. You'd like to send a personal note, but .... No address!!!!

We've started a White Pages of Zocalo Readers! It's a handy way of keeping track of people -- and putting together a birthday/greeting card list as well. If you would like to be part of the listing, just send me your name, state, e-mail address and (if you'd like to have it listed) birthday (without year) to sgbruckner@aol.com. Check out the Directory of Readers.

HAPPY BIRTHDAY READERS

Here are some of our readers who are having birthdays this month:

Name: W. Andrew York
State: Texas
EMail: wandrew@compuserve.com
Birthday: October 28

Name: James Green
State: Massachusetts
E-mail address: jrgreenmd@yahoo.com
Birthday: October 29

Name: Oliver Iten
City: Baar
Country: Switzerland
E-Mail: oliveriten@itenuscars.com
Birthday: October 23

Name: Ella Smith
Birthday: October 13

Name: Mike Tuck
State: Tennessee
E-mail address: tuckbros@crunet.com
Birthday: October 24

Don't see YOUR birthday here? That's easy to remedy. Send your birthdate along to me and I'll post it with others in our directory.
UNIQUE CHARITY ITEM
Ten popular science fiction actors have donated their time, images and autographs for an exclusive photograph, the proceeds of which will go to charity. For sale through the actors themselves and at , the limited-edition photo is in color, edged in white and ready to place in an 11X14 frame, and handsigned. Each of the 1,000 limited edition photos comes embossed with a seal of authenticity and numbered. The photograph is now available for a pre-sale price of $100. After Sept 11, 2002, the price will go up to at least $125.00. Among the charities to benefit will be the Penny Lane home for abused children in Los Angeles, and various September 11 funds. The actors hope to raise more than $100,000 through the charity project. The Penny Lane Home is a residential facility for children who have been severely abused, physically, emotionally and sexually. Many have "fallen through the cracks" of the social service outreach programs, and Penny Lane is their last chance at escaping the abuse. Actors in the photo include: Patricia Tallman, known best for her roles as Lyta Alexander in Babylon 5 and Barbara in Night of the Living Dead (1990) Vaughn Armstrong, who has portrayed more guest star aliens on Star Trek:TNG, DS9 and Voyager than any other actor in Star Trek history. Currently, he holds the recurring role of Admiral Maxwell Forrest on Enterprise, as well as at least eight other Guest Starring roles on board the new Trek series to date. Stephen Austin portrayed many bizarre alien creatures on Babylon 5. His most notable was the lovable Pak'ma'ra Ambassador. David Brooks is an accomplished artist as well as actor. He is best known to the sci fi community as Max Eilerson on the Babylon 5 spin off, Crusade. Jeffrey Willerth portrayed Ambassador Kosh and was Associate Producer of Babylon 5 Robin Atkin Downes, best known for his role of Byron in Babylon 5 Carrie Dobro, Dureena Nafeel in Crusade. Tim Choate was extremely popular on B5 as Zathras (and his brothers, all named Zathras). He also portrayed Pollack on Crusade. Beata Pozniak appeared as Babylon 5's Earth Alliance President Luchenko. Ed Wasser, the evil Mr. Morden on Babylon 5. As a special promotion, the first 100 orders will receive a special gift: former Star Trek stunt coordinator, Dennis Madalone, has donated 100 copies of his single, "America, We Stand As One," to say thank you to the science fiction fans who purchase the charity photograph. To order the photo online, go to http://www.thegalacticgateway.com, click on shop, and search on the word charity.
COMIC BOOK WORLD
CSI: CRIME SCENE INVESTIGATIONS The hit CBS TV series is now a comic book. CSI: Crime Scene Investigation #1 from IDW Publishing. When a serial killer in Las Vegas seemingly imitates Jack the Ripper, will the C.S.I. team have knowledge enough of the legendary criminal to be able to stop his copycat? RISING STARS: VISITATIONS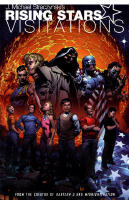 Rising Stars TPB: Visitations will arrive in stores on Wednesday from Image Comics. The issue is written by J. Michael Straczynski, penciled by Gary Frank, Christian Zanier and Keu Cha, inked by Jason Gorder and Livesay and colored by Liquid!, Matt Nelson, John Starr and Brett Evans. The issue is described as: "Collected together for the first time are some of J. Michael Straczynski's most sought after Rising Stars stories. Including the rare zero issue with an additional 6-page story illustrated by Gary Frank, the limited 1/2 issue, and the very first Rising Stars Preview issue. Plus, added sketches and an all-new cover by Brent Anderson." AMAZING SPIDERMAN: Issue #45 is on news stands now.
---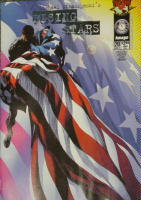 RISING STARS: #20 The latest issue is on stands now. Speaking of RISING STARS, Volume #1 of the series has been out for a while. Volume #2 is now available. If you missed any of the single issues of the series, you'll want to pick up the graphic novels that include 8 issues in a single bound copy.
---
SCI FI PUBLICATIONS
Expose #73: Smallville is again pulling in terrific rating numbers for The WB and this month, we get a look at Michael Rosenbaum and Sam Jones III from the show. Sam is thrilled to be getting more to do this year -- now that he's discovered Clark's secret! Also in this issue, Victor Webster from Mutant X and Alexis Bedell from Gilmore Girls.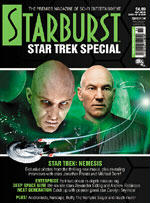 Starburst Special #54: NEMESIS: The upcoming Star Treak feature gets the lion's share of this issue. Will this be the last Star Trek feature? Starburst talks to Jonathan Frakes and Michael Dorn about their plans.
Cult Times #85: Commandant Grayza, played by Rebecca Riggs, talks to Cult Times about joining Farscape. Angel's Charisma Carpenter discussed her role as Cordelia Chase and her off-set interests. Now that X-Files has ended, Chris Carter has had a chance to look back over the final days and he reveals what he believes he accompished through the adventures of Mulder and Scully.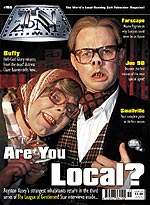 TV Zone #155: Wayne Pygram has been chief baddie on Farscape for several seasons now. Wayne talks about life behind the mask of Scorpius. In this issue, get a complete episode guide for SMALLVILLEs along with a chat with Clare Kramer who brings Glory back to life on BUFFY.
BABYLON 5 BOOK OF QUOTES
For all those who submitted quotes and experiences to the Babylon 5 Book of Quotes, word from JMS is that the book, plus emails and suggestions, is being compiled now, and they're targeting February, the 10th anniversary of B5, for the publication date.
SCI-FI SCHEDULE
BABYLON 5: 28-OCT-02 5:00 PM SOUL HUNTER
29-OCT-02 5:00 PM BORN TO THE PURPLE

01-NOV-02 5:00 PM INFECTION
04-NOV-02 5:00 PM THE PARLIAMENT OF DREAMS
05-NOV-02 5:00 PM MIND WAR
06-NOV-02 5:00 PM WAR PRAYER
07-NOV-02 5:00 PM AND THE SKY FULL OF STARS
08-NOV-02 5:00 PM DEATHWALKER

12-NOV-02 5:00 PM BELIEVERS
13-NOV-02 5:00 PM SURVIVORS
14-NOV-02 5:00 PM BY ANY MEANS NECESSARY
15-NOV-02 5:00 PM SIGNS AND PORTENTS

18-NOV-02 5:00 PM TKO
19-NOV-02 5:00 PM GRAIL
20-NOV-02 5:00 PM EYES
21-NOV-02 5:00 PM LEGACIES
22-NOV-02 5:00 PM THE QUALITY OF MERCY STARGATE SG-1 25-OCT-02 9:00 PM STARGATE: SG-1 (LBX) ALLEGIANCE
25-OCT-02 11:00 PM STARGATE: SG-1 (LBX) ALLEGIANCE

28-OCT-02 7:00 PM STARGATE: SG-1 ENIGMA
28-OCT-02 8:00 PM STARGATE: SG-1 SOLITUDES
28-OCT-02 9:00 PM STARGATE: SG-1 TIN MAN
28-OCT-02 10:00 PM STARGATE: SG-1 THERE BUT FOR THE GRACE OF GOD
28-OCT-02 1:00 AM STARGATE: SG-1 ENIGMA

29-OCT-02 1:00 AM STARGATE: SG-1 SOLITUDES
30-OCT-02 1:00 AM STARGATE: SG-1 TIN MAN
BABYLON 5/CRUSADE PHOTOSHOP
NEW PHOTOS
You do NOT have to pay the prices asked for over at e-bay! Here are photos of B5 and Crusade cast members at fantastic prices. Check out Photo Shop. Ordering is easy -- and you can't beat the prices! Just let me know which photos you want and I'll check to make sure they are still in stock.
---
BABYLON 5 TOONS
John Cook has a new cartoon contest going. Try your hand at a punch line.



NEW B5 TOON
Ranger Bill created this toon for his website www.wondertemp.com, but wanted to share it with readers here at the Zocalo. Thanks Bill.



BABYLON 5 REFERENCE PAGES
The Official Babylon 5 Magazine is indexed here as well. With the closure of the magazine in May, you'll want to see which magazines you have -- and which ones you will want to collect. The index may help you make a decision on which ones to choose. The Fan Club has many of the issues at thestation.com , making it very easy to complete your collection.

Universe Today -- the Babylon 5 Fan Club quarterly can also be found here. The index gives you a rundown of what articles were presented, what interviews published.

If you have magazines that have featured Babylon 5 or Crusade that are not listed, send along their issue number and a note to indicate what the article was about. It would be nice to have a fairly comprehensive listing of Babylon 5 publications here.

I have added a listing of all the Babylon 5 novels and now the B5 comic books to the reference page. If there are other items that you feel should be included, let me know.
BABYLON 5 COMMUNITIES
CHAT GROUP:
Ranger Renee reports that she has a Babylon 5 chat group (for those of you over 30) at http://groups.msn.com/Babtrek30. It covers Babylon 5 and all of Star Trek. Drop on over and give it a peek.
MAILING LISTS
REDEMPTION: Ranger Steve reports that a new discussion group has been created for the upcoming REDEMPTION convention. Redemption 03, 21-23 February 2003, Ashford, Kent, Celebrating 25 years of Blake's 7 and 10 years of Babylon 5. www.smof.com/redemption.
NW-B5
NW-B5 is a mailing list devoted to bringing critical information to the Vancouver Island, Lower Mainland, and Northern Washington areas. More specifically, anyone north of Seattle. B5 is broadcast on SPACE:TIS in Canada, and Sci-Fi channel in the US. By subscribing to nw-b5, you'll be able to know info bringing you up to date on the current scheduling and events happening in the community related to B5. You'll also be subscribed to the list itself, which means that you'll receive email when there is a scheduling change or critical information needs to go out to you (for example, if we need to start another mailing campaign).

For further information, see http://www.nw-b5.com
John Francis
Webmaster, Listowner, and Co-Moderator
mailto:nw-b5@iname.com

Reports of "The Gathering" are beginning to turn up on the list. John posted a mini-report, with photos, over at http://www.geocities.com/jnf.geo/nw-b5/gathered.htm#0501. You may want to check it out. It was a terrific event in which JMS showed clips from "Legend of the Rangers". Most of the cast was in attendance -- a great group of individuals.
BABYLON 5 DISCUSSION LIST
The Babylon 5 discussion mailing list is for any and all discussions and/or news pertaining to or related to Babylon 5 and/or Crusade. The list has been in existence for the past three years now, and has recently moved. The new location is http://lists.apparition.org/cgi-bin/lyris.pl, and you can subscribe by sending a blank e-mail message to join-babylon_5-l@lists.apparition.org.
THE GALACTIC GATEWAY
Here's a unique site for you! Jeffrey Willerth, Patricia Tallman, Mira Furlan, Claudia Christian, Robin Atkin Downes, Rick Biggs, Jerry Doyle, Bruce Boxleitner, Melissa Gilbert, Peter Jurasik, Bill Mumy and Carrie Dobro are under it's umbrella. Actors from other shows have joined the Gateway. Ted Raimi and Robert Trebor from Xena and Hercules are now at GG. To subscribe to a mailing list for GG, send a blank note to thegalacticgateway-subscribe@egroups.com.
GATEWAY CHATTERS
There is never enough time to keep in touch with friends! To help out, a mailing list has been started for chatters over at the Galactic Gateway. If you are interested in joining, send a blank note to gateway-chatter-subscribe@egroups.com.
GATEWAY TRADER
Are you looking for a particular Babylon 5 collectible? Do you have some items you'd like to trade? Then this is the list for you. To join, send a blank note to gateway-trader-subscribe@egroups.com.
CALLING ALL ARTISTS
The Art Gallery at The Zocalo Today is open. There are SO MANY talented people in our Babylon 5 community. We have enjoyed works by Todd Brugman and Tye Bourdony on our toons page, but there are a host of others who enjoy drawing, painting, sketching their favorite characters. Here are a few works that have been received. I have some others that will be added soon.

If you would like to share your work with us at The Zocalo Today, please send along a digital photo of your work and I'll begin putting the gallery together. If you do not have your work in digital format, drop me a note and we'll see what we can work out.
CALLING ALL CLUBS
There are a number of fabulous Babylon 5/Crusade Clubs around the world. Visit the B5 Fan Club page to see if there is a club near you. If you have a club that you would like to have listed, drop the information about your Club to me at sgbruckner@aol.com or bruckner@isnnews.net. That information will be added to the new B5 Fan Club Listing.

Massimo has sent an update for the B5 Fan Club in Italy. Founded in 1995, the club now has 230 members! In Italy, they have just seen the last two episodes from season five! Membership in the club includes: the club card, a poster, a personalized pen and four number of ISN Network the fanzine published by the club. The cost is Euro 20 for an year in Italy. Interested? Contact Massimo at mmartini@italway.it.
BABYLON 5 FAN CLUB
Netter Digital filed for bankruptcy in July of 2000 and all their worldly posessions were auctioned off on December 7. The B5 Fan Club site, Thestation.com and it's store, the Emporium, has been closed.
BABYLON 5 NEWSLETTERS
If you have a newsletter you'd like to have listed at The Zocalo Today, send the information along. It will be posted on the B5 Fan Club/Newsletter page.

Ranger Shane in North Carolina sent in the following note about their "Jumpgate" newsletter.

Hey Sandy! Just wanted to give you an update on the NC B5 group's newsletter, Jumpgate. There's now a dedicated EMail address for submissions - jumpgatemag@bellsouth.net - and any submissions, solicited or un-, can be sent to this address. Also, issues are available for free download at the URL at the bottom of this message.

Jumpgate - The Newsletter of the North Carolina Babylon 5 Fan Club
Shane Killian, Editor
HELP WANTED
A new HELP WANTED section has been added to the Z. If you need help finding a comic book, getting a special item, etc. here's the place to post a note. Just send whatever help you need to thezocalo@aol.com.
---
BABYLON 5/CRUSADE CONVENTIONS
CONVENTION CALENDAR
JVL-CON 2002
October 24-27, 2002
Jainesville, Wisconsin
Place: Ramada Inn
B5 Guest: Stephen Austin
For more information, visit their website at www.si-fi-nut.com .
---
Creation Convention
October 25-27, 2002
Dearborn, Michigan
B5 Guest: Walter Koenig, Richard Biggs, Julia Nickson, Robin Atkin Downes
Other Guests: WILLIAM SHATNER, CONNOR TRINNEER, NANA VISITOR, GEORGE TAKEI, ROBERT DUNCAN McNEILL, EUGENE RODDENBERRY, RICHARD ARONLD
For more information, visit their website at http://www.creationent.com .
---
Con*Cept 2002 Science Fiction & Fantasy Convention
November 2, 2002
Place: Days Inn, Downtown Montreal, Quebec, Canada
B5 Guests: Jason Carter, Richard Biggs
For more information, visit their website at http://www.monsffa.com/concept2002.html.
---
Biggs and Carter Experiment
November 10, 2002
Place: McHale Performing Arts Complex
Logansport High School in Logansport, Indiana
B5 Guests: Jason Carter, Richard Biggs
There is no fee for the seminar, but a free-will donation would be appreciated. Both Jason and Rick will be available after the seminar to answer questions, sign autographs, and will have pictures for sale at $20.00 each. There is no obligation to purchase or pay for anything.
For more information, please visit Pipeline Productions or contact Mark Racop at magichouse@rocketmail.com, 574-722-3237 (office), 765-662-8342 (work), or 574-753-4116 (McHale Performing Arts Complex). Website: http://www.pipetap.com/logans_port.htm. Information regarding the Biggs and Carter Experience: http://www.pipetap.com/biggscarter.htm .
---
VULKON
November 15-17, 2002
Orlando, Florida
B5 Guests: Bruce Boxleitner, Jerry Doyle
For more information, visit their website at http://www.vulkon.com/orlandonov/.
---
Be sure to visit our Convention Calendar for a full listing of upcoming conventions featuring Babylon 5, Crusade and Legend of the Rangers cast members as guests.
ZOCALO TRADING POST
Do you have extra copies of B5, Amazing Spiderman, Midnight Nation or Rising Stars comics you'd like to trade? How about those extra trading cards or B5 magazines? There are a lot of fans looking for these items -- and the Trading Post can help you buy or sell them. To see what's available, just use this link to the Trading Post. To have items included in The Trading Post, send a note to The Zocalo. Please put Trading Post in the subject line.
Pen Pals
If you are looking for someone to talk about Babylon 5 and Crusade with, the Pen Pal section is for you! Check it out! Drop a note to someone who is feeling B5 withdrawal -- BIG TIME!

People thought a Pen Pal page was a good idea. If you would like to meet people who you could chat with or share your opinions of the show with, send along your e-mail or snail-mail address The Zocalo. It will be incorporated on the new Pen Page Page.
MAIL FOR CAST AND CREW
Here's a recent note from JMS on the subject:

Just an FYI to those who've been using the Ventura Blvd. mail drop for fan mail to actors....

As mentioned before, we're phasing out the forwarding of fan mail because we a) don't have the resources, complicated by b) the actors have scattered to the four winds, and it makes it very difficult to get everything to everybody in a timely fashion.

So, having provided prior notice...fan mail to actors coming to the Ventura Blvd. mail drop will be sent back. Mail to actors should be sent via their official fan clubs. I will still be taking mail there, since it's my mailbox, but that's it.

Just so's y'all know and save a few bucks on postage and returns.

JMS' mail can be sent to:

14431 Ventura Boulevard, PMB 260
Sherman Oaks, CA 91423

WARNER BROS:

Warner Bros. Address:

Warner Bros. Domestic Television Distribution
4000 Warner Blvd.
Burbank, CA 91522

Warner Home Video:

Mr. Douglas Wadleigh
VP for Marketing and Special Features
Warner Bros.
4000 Warner Blvd.
Burbank, CA 91522

SCIFI:
Bonnie Hammer, President
Sci-Fi Channel
1230 Avenue of the Americas
New York, NY. 10020-1513

Mr. Thomas Vitale
Senior VP of Acquisitions, Scheduling & Program-Planning
BACK ISSUES OF THE ZOCALO TODAY
The front page of the The Zocalo Today changes daily, so be sure to check the back issues to make sure that you haven't missed anything IMPORTANT! I don't want the front page getting too long so I shift information periodically into the archives. So if you aren't a regular visitor to The Zocalo Today, be sure to check out the back issues. Just use the button above!
---
Take care and I look forward to hearing from you.
Sandra Bruckner (sgbruckner@aol.com)
Editor/Publisher
The Zocalo Today
http://www.isnnews.net
Copyright - SBruckner, 2002