[an error occurred while processing this directive]

The Zocalo Today

Welcome! I am glad that you found The Zocalo Today and dropped by. Take your shoes off, get comfortable and stay a while. There is a LOT of information here and you won't want to miss any of it.

The Zocalo Today is an interactive newsletter, encouraging interaction with readers through a discussion topic each week. If you have suggestions as to how The Zocalo can be improved -- or be more responsive -- send them along. The Zocalo Today is as much YOUR newsletter as it is mine! I'm just pulling together things for you!

Join our weekly discussion topic. It is just one way you can interact with other Z readers. If you have other information you would like to share, send it along. If you see Babylon 5 cast and crew in other roles, let us know. We enjoy convention reports, photos, etc. Don't miss our back issues. I hope this will become more than just a newsletter. It's a community of people that enjoy sharing their experiences and interests. Don't be shy. Join us today!

If you have questions, drop me a line at sgbruckner@aol.com or thezocalo@aol.com. If you would like to join the mailing list for our bi-weekly newsletter, send me a note and I'll include you on the list. Or you can use the subscription block at the left.

Again, WELCOME!




What's New Today
Monday, October 7: RATINGS: Top 10 SCIFI Channel Shows: Stargate SG-1 1.5; Beyond Belief 1.3; 12 Monkeys 1.2; The Dead Zone 1.1; The Hidden 2 1.1; Prophecy 3 1.0; The Stand, Pt. 3 1.0; The Stand, Pt. 2 0.9l Living Dead 3 0.9, and The Stand, Pt. 4 0.9. Source: Nielsen Galaxy Report, 9/2/02 - 9/8/02.
---
WEEKEND BOX OFFICE: RED DRAGON took a chunk out of all competition this weekend, coming in #1 with an estimated $37.5 million in receipts. SWEET HOME ALABAMA dropped to #2 and Jackie Chan's TUXEDO fell to #3. MY BIG FAT GREEK WEDDING became the highest grossing indie flick of all time and held on to #4. Here are the numbers: 1. RED DRAGON, $37.5 million this weekend; 2. SWEET HOME ALABAMA, $21.6 million this weekend, $65.6 million since opening; 3. THE TUXEDO, $10.1 million this weekend, $28.1 million since opening; 4. MY BIG FAT GREEK WEDDING, $8.5 million this weekend, $148.0 million since opening; 5. BARBERSHOP, $6.8 million this weekend, $60.2 million since opening; 6. JONAH: A VEGGIETALES MOVIE, $6.5 million this weekend; 7. THE BANGER SISTERS, $3.6 million this weekend, $24.4 million since opening; 8. THE FOUR FEATHERS, $2.1 million this weekend, $15.5 million since opening; 9. MOONLIGHT MILE, $2.0 million this weekend, $2.4 million since opening, and 10. ONE HOUR PHOTO, $1.7 million this weekend, $28.8 million since opening.
---
WARNER BROS: The network has a lot to be thankful for this year. While CBS and NBC have held the spotlight during the first two weeks of the 2002-03 television season, the WB Network has posted double- and triple-digit ratings increases over the same period last year with help from "Smallville," "Gilmore Girls," "Everwood," "7th Heaven" and a resurgent "Dawson's Creek."
---
JOHN DOE: The debut numbers for Fox's John Doe drew 9.6 million viewers, thrilling network exec.
---
INSIDE SCIFI THIS WEEK:
Sunday, October 6:
FIREFLY: While the ratings for the first and second episodes of FIREFLY were poor, the TiVo report released on Friday showed that CSI: Miami, Joss Whedon's Firefly, John Doe, Push, Nevada and Without A Trace were the top NEW shows for the week.
---
UPDATES: There are two new convention listings on the calendar -- one for November; another for February. The November convention is in Montreal and has Jason & Rick doing their thing. Rick is going to participate in a sea cruise in February. Details for both are below.
---
Saturday, October 5:
X-MEN 2: Patrick Stewart is very excited about his new project, X-MEN 2. He feels the first movie was more of an introduction to the characters and this movie is more like their first adventure as a unit. Stewart says, "So, there's my continuing conflict with Magneto [Ian McKellen] and with a new enemy, a very, very dangerous individual [General Stryker] played by Brian Cox. And, of course, Xavier is attempting to hold the X-Men together and trying to change humankind's perception of what mutants are, which finally climaxes in the movie with a very strong scene in the Oval Office between Professor Xavier and the president of the United States [played by Cotter Smith]." X-Men 2 is slated for release on May 2, 2003.
---
WRITTEN IN STONE: According to The Hollywood Reporter, ABC has picked up the rights to Written in Stone, a family series about three cave-dwelling brothers in the prehistoric Pyrenees. Actress-producer Mimi Rogers and Chris Ciaffa developed the idea and will produce the series, with David Seltzer (Dragonfly) on board as writer.
---
BUFFY: While Buffy the Vampire Slayer has just begun another year on TV, it has reached another milestone in the comic book world as well -- Issue 50! Dark Horse tries to dovetail the story with what BUFFY TV series, but the print medium affords the creators with a certain level of freedom that even the TV producers can't enjoy.
---
STAR WARS: James Earl Jones, the voice of Darth Vader, will be returning in the upcoming STAR WARS feature. Jones talked about coming full circle with the project -- and a lot of other things as he was recently honored by ORT Toronto (the local arm of a group that funds education and mentoring projects worldwide). A sharecropper's son and the first of his family to go to college, Jones has been a pioneer in many areas. He overcame a severe stuttering problem by doing stage work in high school -- and eventually gave up his pre-med studies at the University Of Michigan to follow a dramatic dream. What would STAR WARS be without his tremendous voice. Read more about Jones over at http://www.canoe.ca/JamStarWars/oct3_jones-sun.html.
---
LORD OF THE RINGS: The TORONTO STAR reports that last year's display of costumes, props and artwork from the movie THE LORD OF THE RINGS: THE FELLOWSHIP OF THE RING at the Royal Ontario Museum was so successful that they've decided to do it again. Fans can get a sneak preview of THE TWO TOWERS at the Toronto musem from October 31st to November 30. Props and costumes will be on display along with concept art. This time there will also be a chance to see some preview footage from the new movie. The movie's designers, Dan and Chris Hennah, have flown all the way from New Zealand to prepare the exhibit, which will feature sets that make visitors feel like they are really walking through Helm's Deep, the Golden Hall and Rivendell. Tickets are available from Ticket King (www.ticketking.com) now.
---
DIE ANOTHER DAY: A host of new photos are now up at http://outnow.ch/movies/2002/Bond20-DieAnotherDay/?b=img_movie for the upcoming James Bond flick.
---
Friday, October 4:
RATINGS: Top 10 SF Network Shows: Smallville 2.4; Sabrina 1.8; Charmed 1.7; Buffy 1.6; Enterprise 1.6; Angel 1.1; Touched by an Angel 0.9, and Mysterious Ways 0.6. Source: Nielsen Galaxy Report, 9/2/02 - 9/8/02.
---
STAR TREK: NEMESIS: Will this upcoming feature be the LAST Star Trek movie? Patrick Stewart recently said that he and other cast members are open to reprising their roles in future Star Trek: The Next Generation features, but that the fate of the big-screen franchise depends on Trek fandom supporting the upcoming Star Trek Nemesis. It is now in the hands of fans. Surrounded by mega-movies, STAR TREK: NEMESIS is set to open on December 13. Stewart said, "I would love to see Nemesis hit a home run that weekend, to use a current image. That, more than anything, is what would promise a further episode of The Next Generation."
---
BATTLESTAR GALACTICA: Excitement ran high when SCIFI announced they were going to develop BATTLESTAR GALACTICA and that Ronald D. Moore had come on to honcho the project. Moore reports that the project has a budget "well into the 8-figure range" but lacks a firm airdate and thus has not geared up for shooting. Moore recently answered a number of questions at http://www.battlestargalactica.com/discussions/rm2002qa/bg_moore_sept2002qa.html. While only a mini-series, you wonder if the project will ever exit the limbo stage it currently is in because of SCIFI's current policy toward space shows.
---
TWILIGHT ZONE: Forrest Whitaker has some huge shoes to fill this season as he hosts the new TWILIGHT ZONE. ROD SERLING's "The Twilight Zone" of the early '60s took viewers into another dimension -- one of imagination. This incarnation on UPN consists of two self-contained half-hour stories airing 9-10 on Wednesday nights, about ordinary people in extraordinary circumstances. ET spoke to Whitaker recently and he discusses the show and what lies ahead.
---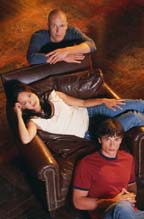 SMALLVILLE: Things are moving quickly over at SMALLVILLE. Clark and Lana have survived the twister and his space ship now sits out in the cornfield. What's next? You'll have to wait to see -- or you can go over to Comics Continuum to see some fabulous new images released by the WB and get a preview of the next couple of episodes.
---
While few would argue that star Tom Welling is easy on the eyes, John Schneider (Jonathan Kent) isn't shabby either. Schneider was recently named one of TV Guide's "Sexiest TV Stars Of All Time" in the September 28th issue.
---
SIX MILLION DOLLAR MAN: There is some movement on the The Six Billion Dollar Man project. Writer Trevor Sands has been hired to write the script for Dimension Films. Dimension hopes to turn the feature film, based on the series the Six Million Dollar Man, into a franchise.
---
Thursday, October 3:
RISING STARS: Issue #20 is out on news stands now. Pick up your copy today.
---
SINBAD: LEGEND OF THE SEVEN SEAS: Brad Pitt has joined the voice cast for DreamWorks upcoming animated feature SINBAD: LEGEND OF THE SEVEN SEAS. Along with Pitt, you will hear Michelle Pfeiffer, Joseph Fiennes and Catherine Zeta-Jones. The feature is currently in production and slated for a July 2, 2003, release.
---
DAWSON'S CREEK: Fans of FIRST WAVE on SCIFI will enjoy seeing Sebastian Spence in five episodes of DAWSON'S CREEK. Spence began filming in Wilmington, N.C. and other than the heat has enjoyed the adventure. Spence plays Professor Matt Freeman, rumored to be the new love interest of student Jack (Kerr Smith). However, things are not always as they seem. Spence says, "That's what they've got me pegged as, the professor with the deep, dark secret."
---
PENN AND TELLER: B5 fans know them as Rebo and Zooty. Magicians Penn & Teller have recently signed a new contract worth "several million dollars" a year to stay in Las Vegas and appear at the Rio hotel-casino through December 2004.
---
JEREMIAH: Official notices are popping up all over regarding the renewal of JEREMIAH. The note last week from JMS was enough for me -- but over at Interestalert.com there is a lot more information about the coming season. BE WARNED! There is potential spoiler information included. The great news is that Sean Astin from LORD OF THE RINGS is joining the cast as Sam Gamgee. Production is slated to begin on October 23.
---
X-MEN 2: Production has reached the 75-day mark. Producer Ralph Winter told Comics Continuum that they expect to finish in November. "Footage looks great and we are feeling good about what we are getting." In terms of authorized promotional material, Winter said, "We are making some really cool stuff and we will present it in the best possible way that should make everyone really happy." A trailer for X-Men 2 is being worked on, but no release date is available yet.
---
BIRDS OF PREY: As part of the celebration of the premiere of BIRDS OF PREY, The WB is giving away a trip for two to visit the set of the series in Los Angeles. Go to http://www.thewb.com/Shows/Special/0,11116,64254||,00.html for more information. Beside the Grand Prize, each week for six weeks, 100 exclusive First Prize Birds of Prey posters will be awarded to First Prize winners!
---
SUB-MARINER/PRIME: Marvel Studios have announced that that deals at Universal for the comic book franchises "Sub-Mariner" and "Prime" have been finalized. Avi Arad, CEO, Marvel Studios, says, "Sub-Mariner and Prime are two characters that have incredible stories. Sub-Mariner will be an epic underwater tale of majestic fantasy. Prime is a complete departure from the standard super hero story. With this film we are developing what we think will be Marvel's first super hero action-comedy." Sub-Mariner will follow the adventures of Prince Namor, a half-man/half-amphibian creature from Atlantis. David Self (Road to Perdition) is bringing Marvel's amphibious hero to the big screen. The creative team of Don Calame and Chris Conroy will pair up to script the tongue-in-cheek story of Prime - the tale of a teenage boy who as a result of a government-backed experiment gains the ability to transform into an adult super hero.
---
ERASER: According to The Hollywood Reporter, USA Network is in talks to develop an adaptation of Arnold Schwarzenegger's action film ERASER for TV. Oscar-winning producers Arnold and Anne Kopelson and Warner Bros. Television are working on the project. Arnold Kopelson said the TV version would be based on "some aspects of the federal witness protection program," as explored in the feature, but would not be strictly modeled after the characters in the movie.
---
WITCHBLADE: There is a glimmer of hope for WITCHBLADE fans. Producers may be taking WITCHBLADE into syndication if TNT does not pick it up. Nothing official as yet, but should the show go into syndication, it would mean 22 episodes instead of the 13 TNT had given it each year.
---
Wednesday, October 2:
JUST CAUSE: I'm getting a jump on tomorrow because there isn't much time before the next episode of JUST CAUSE airs on the PAX Network. ENID-RAYE ADAMS (Firell from the Legend of the Rangers) portrays Mary Sutherland, the mother of a young adopted Asian boy who is being taken back by his "birth" parents. The episode is set to air on October 6. There's more about Enid in the "Keeping Up with Cast and Crew" section.
---
JEREMIAH: Luke Perry, star of Showtime's Jeremiah, will be a guest on NBC's Late Night with Conan O'Brien on Wednesday.
---
DUCK DODGERS: You remember this cartoon from your Babylon 5 history, right??? Word has come down that Warner Bros. Animation is planning Duck Dodgers, a new series featuring Daffy Duck and Porky Pig in outer space and scheduled to bow in 2004 on the Cartoon Network. Warner is also planning Teen Titans, a cartoon featuring Batman sidekick Robin and four other teen superheroes.
---
RATINGS: Top 10 SF Syndicated Shows: 3rd Rock 2.3; The X-Files 2.3; Andromeda 2.1; Stargate SG-1 2.1; Buffy 2.0; Beastmaster 1.8; John Edward 1.8; Mutant X 1.8; Sheena 1.5, and Sabrina 1.4. Source: Nielsen Galaxy Report, 9/2/02 - 9/8/02.
---
TREMORS: You may have seen the movie version of TREMORS recently. The SCIFI TV series began production yesterday in Baja, Mexico. Based on the movie franchise of the same name, Michael Gross stars as survivalist Burt Gummer, a role he made famous in the three Tremors films. The cast will also include Victor Browne [I Shot Andy Warhol, 54], Gladise Jimenez [Thicker Than Water, Blowback], Lela Lee [Exposed, The Moment After], Marcia Strassman [TV's Providence and Welcome Back Kotter] and Dean Norris [The One, The Cell]. The series' executive producer are David Israel, Nancy Roberts, Brent Maddock and Steve Wilson. The setting for the series is Perfection, Nevada, a sleepy little town -- also home to a giant prehistoric worm named El Blanco who is on the endangered species list. The Perfectionists struggle to maintain an uneasy peace with El Blanco and the other dangerous creatures that populate their desert. Tremors will debut on SCI FI in January 2003.
---
ENTERPRISE: Already two weeks into the new season, Rick Berman, excutive producer of ENTERPRISE, is eager to share some information on upcoming episodes with SCI FI Wire. In "The Seventh," Berman said, "That's a show in which T'Pol [Jolene Blalock] takes Archer [Scott Bakula] and Mayweather [Anthony Montgomery] on a secret mission to capture a dangerous Vulcan, who's played by Bruce Davison. And Bruce is just spectacular." We'll get back to some Star Trek basics with "The Communicator". In this episode Berman added, "Right after a disguised mission to a pre-warp culture, Archer and Reed [Dominic Keating] come back and suddenly realize they've left a communicator on the surface. It ends up being a Prime Directive type of episode. Archer has to decide how much he's willing to let a pre-warp culture learn and whether he is, in fact, willing to give his life to keep the fact that he's from another world a secret. That's a terrific episode." You can read more over at http://www.scifi.com/scifiwire/art-main.html?2002-10/01/14.00.tv.
---
BIRDS OF PREY: Next week's premiere of BIRDS OF PREY will be unusual in a number of ways. #1 is it's length. The premiere will run one hour and eight minutes -- so adjust your VCRs! Based on the DC Comics title, BIRDS OF PREY tells the story of a trio of female crime fighters in New Gotham. Batman has left the city after his true love, Catwoman, is murdered and his protégée, Batgirl (Barbara Gordon), is crippled by a bullet from the Joker. Several years later, Gordon (played by Dina Meyer), who now goes by the name Oracle, operates a huge high-tech center that tracks criminals, while her partner, Huntress, does the physical work. Huntress is the nom de superhero of Helena Kyle (Ashley Scott), the daughter of Batman and Catwoman. They're joined by Dinah (Rachel Skarsten), a teenager with psychic abilities.
---
WEEKLY RATINGS: While the major networks battle it out for ratings points, Joss Whedon's new Firefly came in at 80th place, with 5.5 million viewers, besting his old reliable Buffy, the Vampire Slayer (83rd place, 5 million). The WB, winning its weekly battle for fifth-place bragging rights with UPN (averaging 4.5 million viewers, to the latter's 4.2 million), climbed into the top 50 with Smallville (49th place, 8.7 million).
---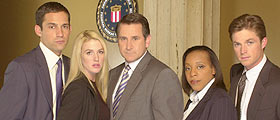 WITHOUT A TRACE: Many fans of NOW AND AGAIN will be happy to see Eric Close back on TV in the new drama WITHOUT A TRACE. Close is a member of a crack Missing Persons Squad division of the FBI. The CBS series also stars ANTHONY LaPAGLIA and POPPY MONTGOMERY, airs Thursday nights at 10 following CSI. Entertainment Tonight talked to Eric about his new role -- and he has a few words for TAKEN, the Steven Spielberg mini-series airing on SCIFI soon.
---
SUPERMAN: While word came last week that Brett Ratner would be directing the upcoming movie, Anthony Hopkins recently told Access Hollywood that he would be interested in playing Jor-El in the upcoming Superman movie. Though there has been nothing official, when asked if he wanted Hopkins, Ratner said: "Absolutely." Ratner will be a guest on NBC's Last Call with Carson Daly on Thursday, Oct. 10.
---
Tuesday, October 1:
CRUSADE: CRUSADE begins it's run on SCIFI tonight at 5pm ET.
---
LORD OF THE RINGS: A new "special extended edition" of the LORD OF THE RINGS: THE FELLOWSHIP OF THE RING DVD will arrive on November 12. This four-disc set will include an additional 30 minutes of the movie. Elijah Wood, who stars as Frodo in the Rings trilogy, said "Instead of having the release with the deleted scenes section, [director Peter Jackson] has literally cut 30 minutes back into the film and added new musical cues that [composer] Howard Shore wrote for the DVD. There are also two discs of supplemental material. So there is a bunch of bonus documentaries and an in-depth study of how the movie was made. It's pretty unbelievable." So, if you have waited to purchase the LORD OF THE RINGS DVD, it sounds like this is the one! The second chapter in the Lord of the Rings adventure, The Two Towers, opens nationwide on Dec. 18.
---
An absolutely marvelous trailer is now available at http://www.lordoftherings.net/index_video_sarumanwormtongue.html. It features interviews with Peter Jackson, Christpher Lee and Brad Dourif (Babylon 5's own).
---
MAD MAX 4: Moviehole.net has announced that the next installment of the Mad Max story -- #4 -- has gotten a green light from Fox Studios. According to the site, veteran Mad Max director George Miller has been signed to film there beginning in March 2003. Negotiations are under way between Mel Gibson's production company Icon, Fox Studios and Miller to finalize other aspects of the deal. Although Gibson has said that he would look favorably in reprising his role as "Mad" Max Rockatansky, there is nothing official as yet..
---
STAR TREK: NEMESIS: Last weekend, Creation Entertainment hosted THE OFFICIAL 15TH ANNIVERSARY OF STAR TREK: THE NEXT GENERATION in Pasadena, California. Patrick Stewart, Gates McFadden, Brent Spiner, Michael Dorn, Wil Wheaton; and NEMESIS author John Logan were on hand to promote the upcoming movie which will be released on December 13th. Stewart commented on the film by saying, "It has some very intense relationships in the film. But the one thing it has, which perhaps we haven't quite had since GENERATIONS, is emotion. It's emotionally a very, very intense movie and the last half an hour is quite a roller coaster ride. I warn you... you should probably pick up one of those little pocket tissues to take with you. There is some sad but wonderful stuff at the end of the movie."
---
MYSTIC RIVER; Warner Bros. announced that production began on this new triller on September 27. Clint Eastwood is behind the camera on this one, directing stars Sean Penn, Tim Robbins, Kevin Bacon, and Laurence Fishburne. The movie is described as exploring "the dark, interwoven history of three men and their families coming to terms with a brutal murder on the mean streets of south Boston." The script is based on a novel by Dennis Lehane.
---
SUPERMAN: Did you realize that a major anniversary is approaching? On October 4, 1952, SUPERMAN made is first appearance on TV. To commemorate the event, TVLand will show 4 episodes of the original SUPERMAN series beginning at 9pm ET. Too bad it's a little late for the little ones running around the house! The show aired in syndication until 1957. George Reeves starred as the mild-mannered reporter who took off his glasses and saved the day whenever he was needed. Two actresses, Phyllis Coates and Noel Neill, played Lois Lane during the run of the series. Jack Larson co-starred as Jimmy Olson.
---
MUTANT X: This syndicated series begins a second season this week with an episode entitled "Past As Prologue". In an episode that picks up where the season ended, Michael Easton returns to guest-star as Gabriel Ashlocke, the first new mutant. In a desperate attempt to save his own life, Ashlocke revives an ancient Egyptian alchemist who poses a lethal threat to the Mutant X team. "Past as Prologue" was written by Howard Chaykin and directed by T.J. Scott. In addition to Easton, the episode guest stars Soo Goray and Lisa Marcos. For photos and a synopsis of the episode, go to http://www.comicscontinuum.com/stories/0210/01/mutantxindex.htm.
---
WITCHBLADE: Witchblade actors Anthony Cistaro, Eric Etebari and John Hensley raised $10,113 from 124 autographed items in the Champions of Charity Auction. Cistaro's charity was Habitat for Humanity - Los Angeles. Etebari selected Hollygrove in Los Angeles. Hensley chose Beacon House in Louisville.
---
JAMES BOND: Pierce Brosnan has indeed embodied the essense of JAMES BOND over recent years. While a debate will rage on as to the BEST of the Best, Brosnan is the current one and the next movie, TO DIE ANOTHER DAY will be reased on November 22. In a recent interview, Brosnan admits that doing Bond allows him to take more risks with other feature films, including EVELYN. Directed by Australia's Bruce Beresford, Brosnan is cast as an impoverished single father in 1950s Dublin forced to take care of his three children following his wife's sudden desertion. When they are removed to Church-run institutions, he has to fight against an archaic Irish law. Brosnan also sings in Evelyn, a side of him which audiences have never seen or heard before. He admits to having been "incredibly frightened of doing it, especially since I've never had any formal training as a singer", but now the actor even hopes to record an album of Irish folk songs.
---
CONGRATULATIONS: Gina Torres (Zoe from FIREFLY) has married her Matrix costar Laurence Fishburne. The couple has been dating for seven years now.
---
WHAT'S ON TONIGHT
On SCIFI, a night of STARGATE SG-1:
7:00 PM THE BROCA DIVIDE
8:00 PM THE FIRST COMMANDMENT
9:00 PM COLD LAZARUS
10:00 PM THE NOX
1:00 AM THE BROCA DIVIDE "The Lost World, conclusion" on A&E, 8:00pm - 10:00pm ET.
"CSI: Miami" ("Wet Foot/Dry Foot") on CBS, 10:00pm - 11:00pm ET. After fishermen catch a tiger shark and discover a partial human torso in its stomach, evidence leads the team to suspect murder. When Horatio (David Caruso) and Megan (Kim Delaney) find a bullet slug in the human remains and a tattoo reveals that the victim was a political prisoner from Cuba, they suspect murder. The CSI team then discovers an abandoned boat with a matching bullet slug, a false wall for drug smuggling, and the body of a Cuban refugee. The trail helps investigators uncover a secret mission for freedom that went terribly awry. Overview from CBS.
CATCHING UP WITH JMS
Here is a post from the B5 moderated newsgroup from JMS. It covers a lot of subjects, including the RENEWAL OF JEREMIAH, the next issue of RISING STARS and a lot more.

Since Malcolm and others have already pretty much spilled the beans, and word has gone out to the crew and cast and others and we're beginning prep next week...yeah, we've been picked up on Jeremiah. Sam Egan has left and we're bringing on Grant Rosenberg to help out in his place, mainly by working on set so I can focus more on the writing instead of having to plow through snow to stand around with the director.

So I'm hip deep in prep on Jeremiah, still waiting news on Polaris, writing Spidey, writing a new and as yet classified book for Marvel (I think they'll break the news in the next issue of Wizard), I've got 3 more issues to write for Rising Stars....

And there are two tippy-top secret projects I'm doing for companies I can't name. On one, the contracts just came in for their last revision, and as soon as they're done, we can get to work, and on the other, it looks very promising (all I can say is that it's a series, but of a different configuration than anyone's done before), but I never count chickens sans hatching. We've been working on the last item there for about six months, and we're very close to getting this going. If that happens, and that's always a big if, it's going to be something kinda huge, to be honest, with the potential to have a massive effect on television storytelling and production. It would be a very literal paradigm shift. Which is why I can't say anything about it for now (that and the non-disclosure agreement I had to sign).
DISCUSSION TOPIC:
As a way of celebrating SCIFI showing starting this week, let's talk Crusade. What appealed the most to you about the series? Was it the overall mission they were undertaking? Was it the mix of characters on the Excalibur? Send in your responses to thezocalo@aol.com. I am posting them on the Discussion Page as they come in.
SEASON ONE BABYLON 5 DVDs
"In the beginning" is already available in DVD format (19,99 euros). The entire series and TV movies (but Legend of Rangers) is available in VHS (single tapes, or boxes of 2 or 6 tapes). Warner Home Video (R1) released a Flash presentation for the "B5" Season 1 DVDs. In addition to the extras that JMS has already mentioned (2 episode commentaries, new cast and crew interviews as part of a new documentary, an on-camera interview and on-camera introduction with JMS) the set will include the "Making of" documentary produced for the Season 1 kick-off and hosted by Walter Koenig. Go to http://www.whvdirect.com/babylon5/index.html to read more! Here's an update from JMS on the DVD special items:
The disk has an on-camera introduction by me (despite my warnings that this would undoubtedly drive down sales), a letter of introduction each by me and Doug Netter, and the half-hour piece features new interviews with Rick Biggs, Stephen Furst, me, Doug, efx maven Mitch Suskin, makeup whiz John Vulich, and others. They're tentatively targeting next April for season 2, and the following November for season 3. GREAT PRICE: You can pre-order the Season 1 DVD over at www.amazon.com for $74.99. The release date for North America is November 5.
BABYLON 5 AROUND THE WORLD
Ranger Alex reports that The Slovak Television Network "Markiza" is repeating Crusade every Tuesday and Thursday at 11.30 a.m.
JEREMIAH ON SHOWTIME - FRIDAY AT 10:45PM
JEREMIAH HAS BEEN RENEWED. The word has come from JMS. If you missed it, read through the CATCHING UP WITH JMS column above.

This week's episode: MOTHER OF INVENTION
Written by:Sara Barnes, A. L. Kratz
Directed By:Neill Fearnley

Looking for Steve, the leader of a group Markus may want an alliance with, Jeremiah finds Michelle, who had been his lover, and her son. He and Kurdy must find out if Michelle is rebuilding a world or just piling up a private treasure. JEREMIAH SCHEDULE AHEAD:
10/11/02
Jeremiah: Mother Of Invention 10/18/02
Jeremiah: Tripwire 10/25/02
Jeremiah: Ring Of Truth 11/01/02
Jeremiah: Moon In Gemini For more information about this episode and the entire series, be sure to visit www.sho.com/jeremiah. For those of you who want to keep up on what is going on with Jeremiah, Ranger Monica has started up a Jeremiah newsletter. Please go to http://groups.yahoo.com/group/jeremiah-news/ and subscribe. Monica also has a very nice Jeremiah site so don't forget to bookmark that as well.
KEEPING UP WITH CAST AND CREW
CARRIE DOBRO: Over at B5TV.com you'll find a wonderful interview with Carrie Dobro. She talks about CRUSADE and what she has been doing since it's demise. She's been one busy lady!
---
JASON CARTER: Besides those wonder Chevy Avalanche commercials, JASON CARTER has been quite busy. THE MESMERIST opened in LA on September 20 and is currently showing in only that city (the schedule is being developed at this time). The film is based on the Edgar Allen Poe short story The Facts in the Case of Mr. Valdemar. A review has been posted at Hollywood.com and the author, Stacie Hougland, had this to say about Jason: But the real star of this show is the wild-eyed, eccentric mesmerist. Carter hits just the right note as he takes himself far too seriously, tossing off lines like, "calling me good is like calling Einstein the guy with the frizzy hair." For more information, including images from the film, visit the film's website at www.themesmerist.com. BEHIND THE RED DOOR: Starring (besides Jason) Kiefer Sutherland, Kyra Sedgwick and Stockard Channing. Jason plays the part of Sonny, the potential relationship interest to Natalie played by Kyra Sedgwick. The film will air on Showtime. This film was shown at the Rhode Island Film Festival that took place August 7-12, 2002. It won First Prize for Best Screenplay (for Film Production), Grand Prize went to Wildflowers. Check out the news from their site (http://www.film-festival.org/pressroom/news2002_27.htm)
---
ENID-RAYE ADAMS: You remember ENID, the petite Minbari Firell on Legend of the Rangers? She's been one busy actress since B5: LOTR peetered out at SCIFI. She has been featured in "Prometheus" -- an episode of STARGATE SG-1, the USA hit show DEAD ZONE ("The Siege") and now JUST CAUSE on PAX. For an update on all Enid has been up to, pop over to http://www.b5tv.com/greatmaker/articles/221/.
---
STEPHEN FURST: THE JESTER is in pre-production. This is the latest project for Stephen Furst. You can catcn a glimpse of some artwork for the project at http://www.darkhorizons.com/news/jester.jpg.
---
CLAUDIA CHRISTIAN: Ranger Steve reports that Claudia Christian is to be a guest at Cult TV in Southport, UK, this year (25-28 October). More details at: http://festival.culttv.net.
---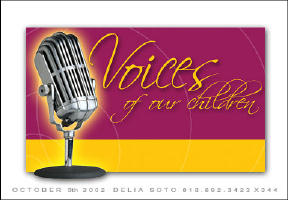 PAT TALLMAN: As many of you know, Pat Tallman has been involved with Penny Lane (an organization that helps battered children) for years! On October 5, Penny Lane will host a very special event entitled, VOICES OF OUR CHILDREN in which Hollywood stars will perform works written by the children of Penny Lane. The stars are: Alan Rosenberg, Angela Watson, Bruce Weitz, Coltin Scott, Edd Hall, Marg Helgenberger, Natasha Allas, Patricia Tallman, Victoria Rowell and Yvette Freeman. For more information, please go to http://www.pennylane.org/contents/voices.htm or call 1-866-736-6956.
---
MIRA FURLAN: Mira Furlan is appearing in Eve Ensler's new play "Necessary Targets". This benefit performance is for one night only -- October 7th. Location: Wilshire Theatre in Beverly Hills. Tickets are $125.00 and available through Ticketmaster. Also appearing - Eve Ensler, Calista Flockhart, Cloris Leachman, Julianna Margulies & Julia Stiles. For more information about the play, go to http://www.necessarytargets.com.
---
BRUCE BOXLEITNER: Bruce has just finished a film entitled "Killer Flood: The Day the Dam Broke" by Edgewood Studios. Produced by Peter Beckwith, the movie is about a fictitious dam above Rutland with a dangerously high water level and structural defects. Also starring in the film are Michele Greene ("L.A. Law") and Joe Lando ("Dr. Quinn, Medicine Woman.")
---
TIM EARLS: Tim Earls is the artistic designer on the new FIREFLY series from Fox. Tim worked worked in the Art Department with John Iacovelli and created all the wonderful ship designs for Babylon 5 and Crusade. He then moved on to Voyager. I am looking forward to see what he will come up with on FIREFLY. The Serenity is a neat ship!
---
BABYLON 5 BIRTHDAYS
Dylan Neal - October 8
Jeff Conaway - October 5
John Vulich - October 10
Tim Choate - October 11
John Copeland - October 13
Linda Huse - October 16 Have I missed anyone? If you know the birthday of someone connected with Babylon 5, pass the information along. We want to include everyone in our Happy Birthday Wishes.

CELEBRITY BIRTHDAYS

They may not be Babylon 5 cast and crew, but here are a few birthdays in October that you may want to take note of:

Oct. 9: Scott Bakula from ENTERPRISE is 48
Oct. 10: Peter Coyote from ET (the movie) is 60; Bradley Whitford ("The West Wing") is 43
Oct. 11: Sean Patrick Flanery (Young Indiana Jones & Dead Zone) is 37; Luke Perry (JEREMIAH) is 36; Michelle Trachtenberg ("Buffy the Vampire Slayer") is 17.
READER DIRECTORY
Sometimes you just can't find the e-mail address for someone you know you have -- it's someone who responded to a discussion topic or you met in one of the chat rooms. You'd like to send a personal note, but .... No address!!!!

We've started a White Pages of Zocalo Readers! It's a handy way of keeping track of people -- and putting together a birthday/greeting card list as well. If you would like to be part of the listing, just send me your name, state, e-mail address and (if you'd like to have it listed) birthday (without year) to sgbruckner@aol.com. Check out the Directory of Readers.

HAPPY BIRTHDAY READERS

Here are some of our readers who are having birthdays this month:

Name: W. Andrew York
State: Texas
EMail: wandrew@compuserve.com
Birthday: October 28

Name: James Green
State: Massachusetts
E-mail address: jrgreenmd@yahoo.com
Birthday: October 29

Name: Oliver Iten
City: Baar
Country: Switzerland
E-Mail: oliveriten@itenuscars.com
Birthday: October 23

Name: Ella Smith
Birthday: October 13

Name: Mike Tuck
State: Tennessee
E-mail address: tuckbros@crunet.com
Birthday: October 24

Don't see YOUR birthday here? That's easy to remedy. Send your birthdate along to me and I'll post it with others in our directory.
UNIQUE CHARITY ITEM
Ten popular science fiction actors have donated their time, images and autographs for an exclusive photograph, the proceeds of which will go to charity. For sale through the actors themselves and at , the limited-edition photo is in color, edged in white and ready to place in an 11X14 frame, and handsigned. Each of the 1,000 limited edition photos comes embossed with a seal of authenticity and numbered. The photograph is now available for a pre-sale price of $100. After Sept 11, 2002, the price will go up to at least $125.00. Among the charities to benefit will be the Penny Lane home for abused children in Los Angeles, and various September 11 funds. The actors hope to raise more than $100,000 through the charity project. The Penny Lane Home is a residential facility for children who have been severely abused, physically, emotionally and sexually. Many have "fallen through the cracks" of the social service outreach programs, and Penny Lane is their last chance at escaping the abuse. Actors in the photo include: Patricia Tallman, known best for her roles as Lyta Alexander in Babylon 5 and Barbara in Night of the Living Dead (1990) Vaughn Armstrong, who has portrayed more guest star aliens on Star Trek:TNG, DS9 and Voyager than any other actor in Star Trek history. Currently, he holds the recurring role of Admiral Maxwell Forrest on Enterprise, as well as at least eight other Guest Starring roles on board the new Trek series to date. Stephen Austin portrayed many bizarre alien creatures on Babylon 5. His most notable was the lovable Pak'ma'ra Ambassador. David Brooks is an accomplished artist as well as actor. He is best known to the sci fi community as Max Eilerson on the Babylon 5 spin off, Crusade. Jeffrey Willerth portrayed Ambassador Kosh and was Associate Producer of Babylon 5 Robin Atkin Downes, best known for his role of Byron in Babylon 5 Carrie Dobro, Dureena Nafeel in Crusade. Tim Choate was extremely popular on B5 as Zathras (and his brothers, all named Zathras). He also portrayed Pollack on Crusade. Beata Pozniak appeared as Babylon 5's Earth Alliance President Luchenko. Ed Wasser, the evil Mr. Morden on Babylon 5. As a special promotion, the first 100 orders will receive a special gift: former Star Trek stunt coordinator, Dennis Madalone, has donated 100 copies of his single, "America, We Stand As One," to say thank you to the science fiction fans who purchase the charity photograph. To order the photo online, go to http://www.thegalacticgateway.com, click on shop, and search on the word charity.
COMIC BOOK WORLD
AMAZING SPIDERMAN: Issue #45 is on news stands now.
---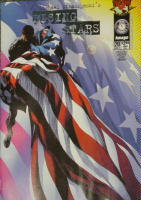 RISING STARS: #20 The latest issue is on stands now. Speaking of RISING STARS, Volume #1 of the series has been out for a while. Volume #2 is now available. If you missed any of the single issues of the series, you'll want to pick up the graphic novels that include 8 issues in a single bound copy.
---
ALIAS
Based on the ABC TV series, Alias creator/director/producer JJ Abrams makes his comic book debut. Agent Sydney Bristow finds her way into new covert missions, high adventure, and deep conspiracies in two tales with art by Andy Park (Tomb Raider) and Rob Liefeld (Youngblood). As a special bonus, a host of comics creators provide an all-star pin-up gallery. Available with a standard art cover, photo cover, deluxe foil photo cover, chromium cover, and a remarked and signed art cover edition.



Alias Season One Premium Cards & Collector Album. A new card set for this intense television smash hit!
---

Xena: Beauty & Brawn Cards & Collectors Album. Xena may have fought her last battle, but her legend lives on with these high-powered cards!
SCI FI PUBLICATIONS
Cult Times #85: Commandant Grayza, played by Rebecca Riggs, talks to Cult Times about joining Farscape. Angel's Charisma Carpenter discussed her role as Cordelia Chase and her off-set interests. Now that X-Files has ended, Chris Carter has had a chance to look back over the final days and he reveals what he believes he accompished through the adventures of Mulder and Scully.







Expose Special #21: Joss Whedon looks at all three of his shows this season -- Buffy, Angel and Firefly. Birds of Prey's team talk about how they brought the world of New Gotham to the small screen. John Doe is a new -- and intriguing show. Dominic Purcell and producers Brandon Camp and Mike Thompson drop a few hints about what's ahead.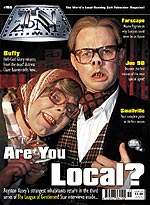 TV Zone #155: Wayne Pygram has been chief baddie on Farscape for several seasons now. Wayne talks about life behind the mask of Scorpius. In this issue, get a complete episode guide for SMALLVILLEs along with a chat with Clare Kramer who brings Glory back to life on BUFFY.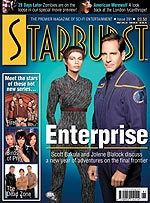 Starburst #291: ENTERPRISE begins it's second season and the cast and crew talk about their adventure. The crew of FIREFLY talk about heading into the future -- some 400 years. DEAD ZONE's Anthony Michael Hall gives us some insight into the strengths and weaknesses of his popular show.
BABYLON 5 BOOK OF QUOTES
For all those who submitted quotes and experiences to the Babylon 5 Book of Quotes, word from JMS is that the book, plus emails and suggestions, is being compiled now, and they're targeting February, the 10th anniversary of B5, for the publication date.
SCI-FI SCHEDULE
CRUSADE 07-OCT-02 5:00 PM CRUSADE THE LONG ROAD
08-OCT-02 5:00 PM CRUSADE VISITORS FROM DOWN THE STREET
09-OCT-02 5:00 PM CRUSADE THE WELL OF FOREVER
10-OCT-02 5:00 PM CRUSADE EACH NIGHT I DREAM OF HOME
11-OCT-02 5:00 PM CRUSADE PATTERNS OF THE SOUL

15-OCT-02 5:00 PM CRUSADE THE PATH OF SORROWS
16-OCT-02 5:00 PM CRUSADE RULING FROM THE TOMB
17-OCT-02 5:00 PM CRUSADE THE RULES OF THE GAME
18-OCT-02 5:00 PM CRUSADE WAR ZONE

21-OCT-02 5:00 PM CRUSADE APPEARANCES AND OTHER DECEITS

BABYLON 5:

22-OCT-02 5:00 PM THE GATHERING - PART 1
23-OCT-02 5:00 PM THE GATHERING - PART 2
24-OCT-02 5:00 PM MIDNIGHT ON THE FIRING LINE
28-OCT-02 5:00 PM SOUL HUNTER
29-OCT-02 5:00 PM BORN TO THE PURPLE

STARGATE SG-1

07-OCT-02 7:00 PM STARGATE: SG-1 THE BROCA DIVIDE
07-OCT-02 8:00 PM STARGATE: SG-1 THE FIRST COMMANDMENT
07-OCT-02 9:00 PM STARGATE: SG-1 COLD LAZARUS
07-OCT-02 10:00 PM STARGATE: SG-1 THE NOX
07-OCT-02 1:00 AM STARGATE: SG-1 THE BROCA DIVIDE 08-OCT-02 1:00 AM STARGATE: SG-1 THE FIRST COMMANDMENT
09-OCT-02 1:00 AM STARGATE: SG-1 COLD LAZARUS
10-OCT-02 1:00 AM STARGATE: SG-1 THE NOX 11-OCT-02 9:00 PM STARGATE: SG-1 (LBX) ABYSS
11-OCT-02 11:00 PM STARGATE: SG-1 (LBX) ABYSS 14-OCT-02 7:00 PM STARGATE: SG-1 BRIEF CANDLE
14-OCT-02 8:00 PM STARGATE: SG-1 THOR'S HAMMER
14-OCT-02 9:00 PM STARGATE: SG-1 THE TORMENT OF TANTALUS
14-OCT-02 10:00 PM STARGATE: SG-1 BLOODLINES
14-OCT-02 1:00 AM STARGATE: SG-1 BRIEF CANDLE 15-OCT-02 1:00 AM STARGATE: SG-1 THOR'S HAMMER
16-OCT-02 1:00 AM STARGATE: SG-1 THE TORMENT OF TANTALUS
17-OCT-02 1:00 AM STARGATE: SG-1 BLOODLINES 18-OCT-02 9:00 PM STARGATE: SG-1 (LBX) THE OTHER GUYS
18-OCT-02 11:00 PM STARGATE: SG-1 (LBX) THE OTHER GUYS 21-OCT-02 7:00 PM STARGATE: SG-1 FIRE AND WATER
21-OCT-02 8:00 PM STARGATE: SG-1 HATHOR
21-OCT-02 9:00 PM STARGATE: SG-1 SINGULARITY
21-OCT-02 10:00 PM STARGATE: SG-1 COR-AI
21-OCT-02 1:00 AM STARGATE: SG-1 FIRE AND WATER 22-OCT-02 1:00 AM STARGATE: SG-1 HATHOR
23-OCT-02 1:00 AM STARGATE: SG-1 SINGULARITY
24-OCT-02 1:00 AM STARGATE: SG-1 COR-AI 25-OCT-02 9:00 PM STARGATE: SG-1 (LBX) ALLEGIANCE
25-OCT-02 11:00 PM STARGATE: SG-1 (LBX) ALLEGIANCE

28-OCT-02 7:00 PM STARGATE: SG-1 ENIGMA
28-OCT-02 8:00 PM STARGATE: SG-1 SOLITUDES
28-OCT-02 9:00 PM STARGATE: SG-1 TIN MAN
28-OCT-02 10:00 PM STARGATE: SG-1 THERE BUT FOR THE GRACE OF GOD
28-OCT-02 1:00 AM STARGATE: SG-1 ENIGMA

29-OCT-02 1:00 AM STARGATE: SG-1 SOLITUDES
30-OCT-02 1:00 AM STARGATE: SG-1 TIN MAN
BABYLON 5/CRUSADE PHOTOSHOP
NEW PHOTOS
You do NOT have to pay the prices asked for over at e-bay! Here are photos of B5 and Crusade cast members at fantastic prices. Check out Photo Shop. Ordering is easy -- and you can't beat the prices! Just let me know which photos you want and I'll check to make sure they are still in stock.
---
BABYLON 5 TOONS
John Cook has a new cartoon contest going. Try your hand at a punch line.



NEW B5 TOON
Ranger Bill created this toon for his website www.wondertemp.com, but wanted to share it with readers here at the Zocalo. Thanks Bill.



BABYLON 5 REFERENCE PAGES
The Official Babylon 5 Magazine is indexed here as well. With the closure of the magazine in May, you'll want to see which magazines you have -- and which ones you will want to collect. The index may help you make a decision on which ones to choose. The Fan Club has many of the issues at thestation.com , making it very easy to complete your collection.

Universe Today -- the Babylon 5 Fan Club quarterly can also be found here. The index gives you a rundown of what articles were presented, what interviews published.

If you have magazines that have featured Babylon 5 or Crusade that are not listed, send along their issue number and a note to indicate what the article was about. It would be nice to have a fairly comprehensive listing of Babylon 5 publications here.

I have added a listing of all the Babylon 5 novels and now the B5 comic books to the reference page. If there are other items that you feel should be included, let me know.
BABYLON 5 COMMUNITIES
CHAT GROUP:
Ranger Renee reports that she has a Babylon 5 chat group (for those of you over 30) at http://groups.msn.com/Babtrek30. It covers Babylon 5 and all of Star Trek. Drop on over and give it a peek.
MAILING LISTS
REDEMPTION: Ranger Steve reports that a new discussion group has been created for the upcoming REDEMPTION convention. Redemption 03, 21-23 February 2003, Ashford, Kent, Celebrating 25 years of Blake's 7 and 10 years of Babylon 5. www.smof.com/redemption.
NW-B5
NW-B5 is a mailing list devoted to bringing critical information to the Vancouver Island, Lower Mainland, and Northern Washington areas. More specifically, anyone north of Seattle. B5 is broadcast on SPACE:TIS in Canada, and Sci-Fi channel in the US. By subscribing to nw-b5, you'll be able to know info bringing you up to date on the current scheduling and events happening in the community related to B5. You'll also be subscribed to the list itself, which means that you'll receive email when there is a scheduling change or critical information needs to go out to you (for example, if we need to start another mailing campaign).

For further information, see http://www.nw-b5.com
John Francis
Webmaster, Listowner, and Co-Moderator
mailto:nw-b5@iname.com

Reports of "The Gathering" are beginning to turn up on the list. John posted a mini-report, with photos, over at http://www.geocities.com/jnf.geo/nw-b5/gathered.htm#0501. You may want to check it out. It was a terrific event in which JMS showed clips from "Legend of the Rangers". Most of the cast was in attendance -- a great group of individuals.
BABYLON 5 DISCUSSION LIST
The Babylon 5 discussion mailing list is for any and all discussions and/or news pertaining to or related to Babylon 5 and/or Crusade. The list has been in existence for the past three years now, and has recently moved. The new location is http://lists.apparition.org/cgi-bin/lyris.pl, and you can subscribe by sending a blank e-mail message to join-babylon_5-l@lists.apparition.org.
THE GALACTIC GATEWAY
Here's a unique site for you! Jeffrey Willerth, Patricia Tallman, Mira Furlan, Claudia Christian, Robin Atkin Downes, Rick Biggs, Jerry Doyle, Bruce Boxleitner, Melissa Gilbert, Peter Jurasik, Bill Mumy and Carrie Dobro are under it's umbrella. Actors from other shows have joined the Gateway. Ted Raimi and Robert Trebor from Xena and Hercules are now at GG. To subscribe to a mailing list for GG, send a blank note to thegalacticgateway-subscribe@egroups.com.
GATEWAY CHATTERS
There is never enough time to keep in touch with friends! To help out, a mailing list has been started for chatters over at the Galactic Gateway. If you are interested in joining, send a blank note to gateway-chatter-subscribe@egroups.com.
GATEWAY TRADER
Are you looking for a particular Babylon 5 collectible? Do you have some items you'd like to trade? Then this is the list for you. To join, send a blank note to gateway-trader-subscribe@egroups.com.
CALLING ALL ARTISTS
The Art Gallery at The Zocalo Today is open. There are SO MANY talented people in our Babylon 5 community. We have enjoyed works by Todd Brugman and Tye Bourdony on our toons page, but there are a host of others who enjoy drawing, painting, sketching their favorite characters. Here are a few works that have been received. I have some others that will be added soon.

If you would like to share your work with us at The Zocalo Today, please send along a digital photo of your work and I'll begin putting the gallery together. If you do not have your work in digital format, drop me a note and we'll see what we can work out.
CALLING ALL CLUBS
There are a number of fabulous Babylon 5/Crusade Clubs around the world. Visit the B5 Fan Club page to see if there is a club near you. If you have a club that you would like to have listed, drop the information about your Club to me at sgbruckner@aol.com or bruckner@isnnews.net. That information will be added to the new B5 Fan Club Listing.

Massimo has sent an update for the B5 Fan Club in Italy. Founded in 1995, the club now has 230 members! In Italy, they have just seen the last two episodes from season five! Membership in the club includes: the club card, a poster, a personalized pen and four number of ISN Network the fanzine published by the club. The cost is Euro 20 for an year in Italy. Interested? Contact Massimo at mmartini@italway.it.
BABYLON 5 FAN CLUB
Netter Digital filed for bankruptcy in July of 2000 and all their worldly posessions were auctioned off on December 7. The B5 Fan Club site, Thestation.com and it's store, the Emporium, has been closed.
BABYLON 5 NEWSLETTERS
If you have a newsletter you'd like to have listed at The Zocalo Today, send the information along. It will be posted on the B5 Fan Club/Newsletter page.

Ranger Shane in North Carolina sent in the following note about their "Jumpgate" newsletter.

Hey Sandy! Just wanted to give you an update on the NC B5 group's newsletter, Jumpgate. There's now a dedicated EMail address for submissions - jumpgatemag@bellsouth.net - and any submissions, solicited or un-, can be sent to this address. Also, issues are available for free download at the URL at the bottom of this message.

Jumpgate - The Newsletter of the North Carolina Babylon 5 Fan Club
Shane Killian, Editor
HELP WANTED
A new HELP WANTED section has been added to the Z. If you need help finding a comic book, getting a special item, etc. here's the place to post a note. Just send whatever help you need to thezocalo@aol.com.
---
BABYLON 5/CRUSADE CONVENTIONS
CONVENTION CALENDAR
Maquis Gras 2002
October 4-6, 2002
Place: Ramada Inn, Portage, Indiana
B5 Guest: Bill Blair
For more information, visit their website at http://www.maquis.com/mfa/gras1.htm.
---
Point North
October 5-6, 2002
Place: Salem Civic Center
Salem, VA
B5 Guest: Stephen Austin
For more information, visit their website at http://www.point-north.com.
---
Slanted Fedora, Raleigh Area
October 11-13, 2002
Place: Durham Marriott
B5 Guest: Stephen Austin
For more information, visit their website at http://www.sfedora.com.
---
All-American Toy & Collectible Expo
October 12, 2002
Place: Wilmington, NC
B5 Guest: Peter Jurasik
For more information, visit their website at www.gannmemorials.com .
---
V-Con
October 11-13, 2002
Place: Plaza 500 Hotel
Vancouver, British Columbia
B5 Guest: J. Michael Straczynski
For more information, visit their website at http://www3.telus.net/dh2/vconsociety/.
---
JVL-CON 2002
October 24-27, 2002
Jainesville, Wisconsin
Place: Ramada Inn
B5 Guest: Stephen Austin
For more information, visit their website at www.si-fi-nut.com .
---
Con*Cept 2002 Science Fiction & Fantasy Convention
November 2, 2002
Place: Days Inn, Downtown Montreal, Quebec, Canada
B5 Guests: Jason Carter, Richard Biggs
For more information, visit their website at http://www.monsffa.com/concept2002.html.
---
VULKON
November 15-17, 2002
Orlando, Florida
B5 Guests: Bruce Boxleitner, Jerry Doyle
For more information, visit their website at http://www.vulkon.com/orlandonov/.
---
Be sure to visit our Convention Calendar for a full listing of upcoming conventions featuring Babylon 5, Crusade and Legend of the Rangers cast members as guests.
ZOCALO TRADING POST
Do you have extra copies of B5, Amazing Spiderman, Midnight Nation or Rising Stars comics you'd like to trade? How about those extra trading cards or B5 magazines? There are a lot of fans looking for these items -- and the Trading Post can help you buy or sell them. To see what's available, just use this link to the Trading Post. To have items included in The Trading Post, send a note to The Zocalo. Please put Trading Post in the subject line.
Pen Pals
If you are looking for someone to talk about Babylon 5 and Crusade with, the Pen Pal section is for you! Check it out! Drop a note to someone who is feeling B5 withdrawal -- BIG TIME!

People thought a Pen Pal page was a good idea. If you would like to meet people who you could chat with or share your opinions of the show with, send along your e-mail or snail-mail address The Zocalo. It will be incorporated on the new Pen Page Page.
MAIL FOR CAST AND CREW
Here's a recent note from JMS on the subject:

Just an FYI to those who've been using the Ventura Blvd. mail drop for fan mail to actors....

As mentioned before, we're phasing out the forwarding of fan mail because we a) don't have the resources, complicated by b) the actors have scattered to the four winds, and it makes it very difficult to get everything to everybody in a timely fashion.

So, having provided prior notice...fan mail to actors coming to the Ventura Blvd. mail drop will be sent back. Mail to actors should be sent via their official fan clubs. I will still be taking mail there, since it's my mailbox, but that's it.

Just so's y'all know and save a few bucks on postage and returns.

JMS' mail can be sent to:

14431 Ventura Boulevard, PMB 260
Sherman Oaks, CA 91423

WARNER BROS:

Warner Bros. Address:

Warner Bros. Domestic Television Distribution
4000 Warner Blvd.
Burbank, CA 91522

Warner Home Video:

Mr. Douglas Wadleigh
VP for Marketing and Special Features
Warner Bros.
4000 Warner Blvd.
Burbank, CA 91522

SCIFI:
Bonnie Hammer, President
Sci-Fi Channel
1230 Avenue of the Americas
New York, NY. 10020-1513

Mr. Thomas Vitale
Senior VP of Acquisitions, Scheduling & Program-Planning
BACK ISSUES OF THE ZOCALO TODAY
The front page of the The Zocalo Today changes daily, so be sure to check the back issues to make sure that you haven't missed anything IMPORTANT! I don't want the front page getting too long so I shift information periodically into the archives. So if you aren't a regular visitor to The Zocalo Today, be sure to check out the back issues. Just use the button above!
---
Take care and I look forward to hearing from you.
Sandra Bruckner (sgbruckner@aol.com)
Editor/Publisher
The Zocalo Today
http://www.isnnews.net
Copyright - SBruckner, 2002