[an error occurred while processing this directive]

The Zocalo Today

Welcome! I am REALLY glad you dropped by. Take your shoes off, get comfortable and stay a while.

The Zocalo Today is an interactive newsletter. If you have suggestions, please send them along. The Zocalo Today is as much YOUR newsletter as it is mine! I'm just pulling together things for you! Join our weekly discussion topic. It is just one way you can interact with other Z readers. Send along letters, sightings of B5 cast and crew in other projects, convention reports, photos, etc. Don't miss our back issues. There is a LOT of information contained there and you'll not want to miss anything.

If you have questions, drop me a line at sgbruckner@aol.com or b5web@aol.com.

Again, WELCOME!

November 4, 2001 3:56am
What's New
MADAME PRESIDENT! Here is the announcement from The Hollywood Reporter. "Melissa Gilbert has been elected the 23rd president of the Screen Actors Guild. Gilbert, who garnered 12,280 votes (45.3%) defeated Valerie Harper, who mustered 10,692 votes (39.4%) in what was a hard fought and at times contentious election. The other two candidates vying for the presidency Eugene Boggs and AngelTompkins pulled in 2,553 votes (9.4%) and 1,613 votes (5.9%) respectively. The results were announced late Friday night. "I'm really amazed that it came down this way, It's been a nerve wracking evening, and I wasn't expecting to win by such a large margin. It was a nail-biter," said Gilbert.
---
There have been some very good responses to this week's discussion topic about music. See if you agree with your fellow readers. Visit the Discussion Page.
---
Good news on the ratings front at SCIFI. Both Crusade and Babylon 5 broke into the Top 10 for the period October 8-14. See the actual Ratings numbers below.
---
Last week I posted information on the Crusade Chain Reaction of October 8 ratings that I gathered from the "Save Crusade" website. I am told that the information is incorrect and that a retraction will be posted soon. Whatever the specific numbers for the day turn out to be, it was good enough to make SCIFI's Top 10 for the week.
---
Over at Zap2It.com JMS talks about his upcoming Spiderman issue in which the events of September 11 are addressed. The issue is due out sometime in early November.
---
BABYLON 5 CALENDAR FOR 2002: Yes, there is a Babylon 5 calendar listed at CalendarMart for 2002. Calendar ordering details are given below.
---
The latest version of the MGM Online Newsletter has a section on Jeremiah. There is some wonderful background information about the upcoming series, including profiles for each of the major characters in the series. Go to http://www.mgm.com/scifi/01sept/jeremiah.html for more information.
---
I've added a couple of new items to the Special Efforts page. Soap Opera actors are getting together on October 20 for a benefit to assist victims of September 11's tragedies. Check it out -- and send along others that you would like to make sure people know about.
---

BLOOD DRIVES: If you are able, be sure to roll up your sleeves and give blood -- both now and in a couple of weeks. The need for blood will be continual. Right now, the tremendous outpouring of volunteers has filled quotas and storage space! FANTASTIC!!! But those supplies will be utilized and a new supply will be needed soon. Check out donation drives near you. I'm signed up already.
---
The e-mail version of The Zocalo Today goes out on Saturdays. If you would like to be included on the mailing list, just send a blank note to thezocalo-subscribe@yahoogroups.com. If that doesn't work for you, drop me a note at sgbruckner@aol.com. I can add you manually.
---
NEWS AROUND THE SCI-FI GENRE
November 4:
TIM ALLEN: Tim was recently talking about a third installment in Disney/Pixar's Toy Story. Everyone wants to do it, but getting everyone together makes it difficult. Tim plays Buzz Lightyear and co-stars with Tom Hanks. Tim is reported progress on The Santa Clause II. This is a sequel to his 1994 holiday film and it is slated to begin filming in January or February 2002.
---
CANCELLATIONS: The new season isn't all that old, yet networks have begun cancelling programs left and right. Already on the skids are "Patterson", "Wolf Lake", "Citizen Baines" and others. This goes to show how absolutely critical ratings numbers are.
---
THE ONE: Jack Ruby has an interview with star of "The One" - Jet Li over at 13th Street. If you are at all interested in Jet Li, I think you'll enjoy the interview.
---
BATTLESTAR GALACTICA: Amid rumors to the contrary, progress is being made in production of the new Battlestar Galactic. Bryan Singer has had to leave the production because of commitments to X-MEN 2, but sets are being built in Vancouver and storyboards and scripts have been completed. 13th Street indicates that the production is looking for a new director, but the production is going forward.
---
November 3:
HARRY POTTER: The official Warner Brothers sitewill Webcast the live world premiere of Harry Potter and the Sorcerer's Stone in London on Sunday, November 4. The broadcast begins at 3:30pmGMT, 7:30am PST, 10:30am EST. The star-studded premiere in London's Leicester Square will feature Potter creator J.K. Rowling, star Daniel Radcliffe and director Chris Columbus.
---
POWDERPUFF GIRLS: CNET and MSNBC reported that three computer programs on the latest Powerpuff Girls DVD have been infected by the "FunLove" virus. Warner Brothers confirmed that the "Meet the Beat Alls" disc has been recalled because the DVD spreads the "FunLove" computer virus to any PC that installs the supplemental software. The virus only affects PCs that load the disc, not DVD players. A Warner representative said all copies of the disc have been destroyed, and copies sent out to press and retailers have been recalled.
---
WEAKEST LINK: According to Zenentertainment, Star Trek stars William Shatner, Denise Crosby, John De Lancie, Wil Wheaton, LeVar Burton, Robert Picardo, Roxann Dawson and Armin Shimerman will compete in a themed episode of NBC's game show Weakest Link to air on Nov. 26.
---
ANIMATED FILM OSCAR: Looks as if there will be a new category of Oscar this year -- Animated Feature Film. While the category lacked the specified number of applicants earlier in the week, according to the Hollywood Reporter, six animated feature films were tossed into the application ring just prior to yesterday's 5 p.m. deadline, surpassing the the requirement.
---
ENTERPRISE: Cinescape.com has photos and background notes from upcoming episodes "Breaking the Ice," "Civilization," and "Fortunate Son" of Enterprise. Be warned -- they may include spoiler information.
---
DREAMCATCHER: Recently it was reported that Morgan Freeman would be cast in the upcoming adaptation of Stephen King's Dreamcatcher. The Hollywood Reporter has now reported the additions of Tom Sizemore (Red Planet) and Thomas Jane (Deep Blue Sea). Sizemore will play Underhill, a soldier under the command of Colonel Kurtz (Freeman's character) who is sent to acquire intelligence on the alien force nestled in the snowy Maine woods. Jane will play Dr. Henry Devlin, one of the four friends who share a psychic connection and discover the aliens and their sinister plans.
---
November 2:
RATINGS: Top 10 SF Network Shows: Enterprise 5.0; Dark Angel 4.4; Wolf Lake 4.1; Buffy 3.8; Charmed 3.3; Angel 2.9; Special Unit 2 2.7, and Roswell 2.5. Source: Nielsen Galaxy Report, 10/8/01 - 10/14/01.
---
LORD OF THE RINGS: Premiere date (December 19) is approaching quickly and Executive Producer Mark Ordesky told E! Online that filmmakers are putting the finishing touches on the first movie. Ordesky spent a month in London recording the trilogy's score with composer Howard Shore and director Jackson. The world premiere for the film is Dec. 10 in London. Other screenings will be held in New York, to benefit a World Trade Center charity, and in Los Angeles, to benefit the American Film Institute. New Zealand gets its own premiere in Wellington on Dec. 19, with most of the stars, including Elijah Wood, in attendance.
---
THE ONE: The latest Jet Li movie, THE ONE, opens this weekend. James Wong talks about how the project came about and describes some of the changes that took place from the first story formulation (at a Dodger game) through changes in the lead actor. Cinescape.com presents part one of Wong's interview; with part two to come next week.
---
24: This new Kiefer Sutherland drama premieres on November 6. Following the tragedy on September 11, footage from the pilot episode was re-edited to delete footage of an exploding plane. In an effort to raise money for the Red Cross, the Twin Towers Fund and other organizations aiding recovery efforts, the network is putting items from the show up for auction to aid victims' families. The items will be part of eBay's "Auction for America." Two items that are "integral to the stories" of "24" will be auctioned after each of the first six episodes. In addition to the props, the show will also name a character in a future episode after the highest bidder in a separate auction. The first two items will be available Wednesday (Nov. 7), the day after the series premiere.
---
November 1:
BUFFY: Next week, Buffy fans will be treated to their music episode, entitled, "Once More With Feeling". The episode will actually run about eight minutes long in its initial broadcast. This will be the only time the added footage will be seen. Will there be a soundtrack of the music? Yes indeed. However the endeaver has proven to be a challenge for Joss Whedon.
---
SMALLVILLE: Ratings for the new Superman series are holding pretty firm. Smallville retained 90 percent of its sizeable premiere audience in its second airing last week. Variety reported that the second episode was the top show in its hour among men 18-34 and placed second with women 18-34. The WB has ordered a full season of the series.
---
LORD OF THE RINGS: John Rhys Davis was on hand recently for an exhibit opening of 300-odd pieces of equipment on display from LOTR until Nov. 11 at the historic Casa Loma in Toronto. For more about his evaluation of the movie, go to http://www.canoe.ca/JamLordOfTheRings/oct30_lotr-can.html
---
SPIDERMAN: A new poster for the upcoming movie can be found at http://www.spidermanhype.com/cgi-bin/archive/fullnews.cgi?newsid1004562367,4191.

SWEEPS WEEK: Over at FX, they are letting fans pick episodes they want to air during sweeps week. Over the next few weeks, fans can vote for their favorite episodes of "Buffy the Vampire Slayer," "The Practice," "Ally McBeal" and "The X-Files," as well as their top FX movies. Voting ends Nov. 20 on the cable channel's web site, FXNetworks.com. The marathons will begin Wednesday, Nov. 21 with "The Practice" and end Sunday, Nov. 25 with the movie marathon.
---
October 31:
RATINGS: Top 10 SF Syndicated Series: Mutant X 3.3; Andromeda 3.2; Stargate SG-1 2.6; Earth: Final Conflict 2.1; The X-Files 2.1; 3rd Rock 2.0; Buffy 1.9; Invisible Man 1.9; John Edward 1.9, and Profiler 1.6. Source: Nielsen Galaxy Report, 10/8/01 - 10/14/01.
---
WOLF LAKE: Variety reports that CBS has placed Wolf Lake on hiatus. After four airings, the series averaged only 6.6 million viewers, down 40 percent from what the network's Wednesday-night movie pulled in the 10 p.m. hour last year.
---
X-MEN 2/STAR TREK X: It seems as if both projects have been delayed. While talking to British Impact magazine, Patrick Stewart said that both had their start dates pushed back. Timing with Stewart will be critical, since he has signed to do both feature films. X-Men was to begin in January or February, which would have conflicted with a start of Star Trek X "Nemesis". Star Trek X may begin production in July/August of 2002.
---
SCORPION KING: Actress Kelly Hu recently talked to SCIFI.COM about her role as Cassandra in the upcoming prequel to The Mummy Returns, THE SCORPION KING. "I work with snakes, and I foretell the future, and then there's some kick-ass stuff at the end." Hu said that the film's opening will focus on the origins of the title character. THE SCORPION KING is scheduled to hit screens in April 2002.
---
HERO: According to the Hollywood Reporter, Jet Li, Maggie Cheung and Tony Leung are toplining the historical epic "Hero," directed by Zhang Yimou. This is one of the most anticipated Asian films of the year and it began production recently on mainland China. The film already has Zhang Ziyi ("Rush Hour 2") and Wen Jiang attached to the project. The film is based on a screenplay by Li Feng. The film is set two centuries before the Chinese Empire in China's warring states period.
---
October 30:
STAR WARS: Movie goers will get their first glimpse of the latest Star Wars saga as an official teaser trailer for Star Wars: Episode II--Attack of the Clones debuts in theaters on Nov. 2, attached to prints of Disney/Pixar's Monsters, Inc..
---
FUTURAMA: While the season premiere is still away off (December 9), executive producer David X. Cohen told SCI FI Wire that the show will feature several special episodes with SF tie-ins. "We actually have in one episode [Star Trek stars] William Shatner, Leonard Nimoy, Nichelle Nichols, George Takei and Walter Koenig all guest-starring." Alien star Sigourney Weaver will appear in a Valentine's Day episode. "She plays the new personality software installed in the Planet Express ship, and Bender rapidly falls in love with it," Cohen said.
---
DREAMCATCHER: Variety reports that Morgan Freeman has signed on to star in Dreamcatcher, an adaptation of the Stephen King bestseller about four childhood friends who meet up to fight aliens and an evil army colonel.
---
EXORCIST: The Hollywood Reporter indicates that Liam Neeson is set to star as Father Merrin in the next installment of the "Exorcist" franchise. This film will be a prequel that traces Father Merrin back to his first encounter with the devil while doing missionary work in post-World War II Africa. The film is yet untitled, but John Frankenheimer is directing the project, which begins production in the spring in the United States, United Kingdom and Africa.
---
LEGEND OF THE RANGERS TRAILER
The Babylon 5: The Legend of the Rangers trailer will be shown at the following conventions:

- United Fan Con Nov. 9-11, Springfield, MA
- ArmadilloCon - Nov. 16-18, Cedar Park, Texas
- EveCon - Dec. 28-30, Fort Washington, Md.
- Arisia - Jan. 18-19, Cambridge, Mass.
- Confusion - Jan. 18-20, Ann Arbor, Mich.

** If you have more information on these conventions, please pass it along.
NEW FEATURES AT SCIFI
EDWARD THE LESS: Episode 4 is now available for this SCIFI.COM original animated adventure story about Edward and his somewhat loyal companions on their unlikely quest to destroy a legendary Token and save the world from the forces of the Dark Person. Episode 5 of "Edward the Less" will be available on November 6. Catch up with all the episodes at http://www.scifi.com/edwardtheless/.
---
REFLECTIONS ON SEPTEMBER 11, 2001: Below is a list of familiar authors and poets. They share their thoughts surrounding the events of September 11 in a collection of material to be found at http://www.scifi.com/tribute/. Contributors are: Essays - Kit Reed; Bruce Sterling; Lisa DuMond; Gardner Dozois; Richard Bowes; Terry Bisson; Jack McDevitt; Kristine K. Rusch; Steven E. Altman; David Brin; Stories - James Morrow and J. Aaron Bellamy, Poems - Neil Gaiman; Joe Haldeman, and Patrick O'Leary.
---
THE WORLD OF JMS
Many of you will know Mike Helba from his About Babylon 5 site. Unfortunately, that site has disappeared due to cuts at About. However, fear not. Mike has moved his content from the site out to Worlds of JMS. He will be covering not only Babylon 5 at the site, but follow other projects by JMS, like jeremiah and Amazing Spiderman. Mike has a forum at the site as well, http://forums.delphi.com so drop over and join the conversation.
BABYLON 5 CALENDAR FOR 2002
The folks at CalendarMart have a 2002 Babylon 5 Calendar available. Go to http://secure.venus.co.uk/bluemask/calendar_babylon_5.html to place your orders. Slow Dazzle hasn't come up with any new photos to use in this version of the calendar -- but it is Babylon 5 and will look terrific on your wall.
---
THIS WEEK'S DISCUSSION TOPIC:
Many of us are "B5 collectors". We have signed copies of scripts, trading cards, comic books, jackets, etc. What is your "favorite" Babylon 5 collectible? Is there a story that goes with your favorite? Please, share what makes this item special to you. I know I'd like to hear about it -- and I'm sure others will as well.

Send in your comments to TheZocalo@aol.com or B5web@aol.com. I'll post them on the Discussion Topic page for everyone to share.
---
BABYLON 5 ON DVD
It appears that Warner Bros. may release ONLY "In the Beginning" and "The Gathering" in December. They feel that VHS sales were not terrific and are apprehensive about DVD sales.

Ranger Adam has put a petition up on-line that people can sign to show their support for more Babylon 5 on DVD. The URL is http://www.petitionpetition.com/cgi/petition.cgi?id=2625. Add your name to the list. Send the URL to your friends and have them sign up. You never know that might happen!

I have put some addresses in the section below -- for Warner Home Video. Take pen in hand and write. Your letter do count.

A few rangers have suggested that ONLY sales of the initial DVD will translate into something WB can understand. Why not purchase the first DVD -- for you and a friend. The holidays are quickly approaching and I'm sure that the new B5 DVD would be a welcome addition to anyone's collection. AND it's reasonably priced as well.
KEEPING UP WITH CAST AND CREW
MIRA FURLAN: Mira appears as a villan on "Sheena" the week of November 10.
---
PAT TALLMAN: Pat Tallman will be making an apperance on "Sheena" soon - the week of November 17. Steven L. Sears, creator and co-executive producer of Sheena, said "She's an interesting villian."
---
BILL MUMY: Bill Mumy's band, The Jenerators, will be presenting their final show of the year, Saturday - 9:00 pm - November 10th 2001 at Rusty's Surf Ranch on the Santa Monica Pier. RESERVATIONS ARE RECOMMENDED. CALL 310-393-7437. (Members of the band are: Bill Mumy, Miguel Ferrer, David Jolliffe, Gary Stockdale & Tom Hebenstreit.)
---
BABYLON 5/CRUSADE CHRONOLOGY
A number of you have written to ask about having an index of the chronology published thusfar. Terry has given permission for this so I'm working on it. You can now find the index to the timeline published thusfar at B5 Chronology Index .

Terry Jones created a FANTASTIC Babylon 5/Crusade Chronology that was published in the Official Babylon 5 magazine. He has not stopped with the end of the series though. He has included items from the latest novels as well as things from the Crusade series. Here's a note from Terry to tell you all about it.

To look at the timeline in a different way, I have been working with Terry Jones on personal chronologies for the Babylon 5 universe. At The Galactic Gateway you will fine Parts 1-4 of the chronology for John Sheridan along with Part 1 for KOSH. Others will follow. I hope you will visit GG and give the chronologies a look.

Three new installments to the Babylon 5 Chronology are now available. They are 2249-2255; In The Beginning, and The Great War.
SCI FI PUBLICATIONS
Cult Times #74: Lexx fans will find interviews with Michael McManus, Xenia Seeberg and Brian Downey. New fans of Mutant X will learn more about John Shea, Adam in the new series. Richard Manning and David Kemper (producer and writer) talk about changes afoot for Farscape!.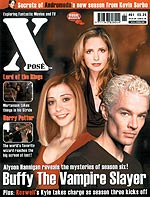 Expose #61: Alyson Hanningan, Buffy's Willow is featured in this month's issue. You'll also find articles on Andromeda, Lord of the Rings, Harry Potter, Roswell, The One and Wolf Lake.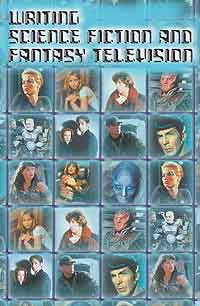 WRITING SCIENCE FICTION AND FANTASY TELEVISION: Here's a new book that sounds interesting -- regardless of whether you are interested in writing or not! Joe Nazzarro has pulled together interviews with the biggest names in sci-fi and fantasy television, including Rockne S. O'Bannon (Farscape) and J. Michael Stracynski (Babylon 5), and behind-the-scene secrets direct from the writers and producers of such top ten shows as Star Trek, Buffy: The Vampire Slayer, and The X-Files. (Diamond Comic Distributors — England) (1-84023-383-4) (CAUT: 4) TP, 6x9, 256pg, b&w..........$23.99
---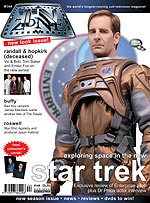 TV Zone #144: Enterprise is dominating nearly every magazine cover these days. TZ grabs an interview with the new doctor, John Billingsley as Doctor Phlox. Also in the issue, James Marsters talks about Buffy's new season.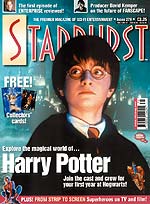 STARBURST #279: The new Harry Potter movie has indeed created a stir. Have you seen all the merchandise already? Starburst talks with producer David Heyman, Director Chris Columbus and screenwriter Steve Kloves. And, they also sit with young star David Radcliffe who talks about being Harry! Farscape producer David Kemper looks back on season three and drops a few hints about this season's finale!
SCI-FI SCHEDULE
BABYLON 5's Schedule: 7pm each evening:

Air Date Title

Nov. 5 Divided Loyalties
Nov. 6 The Long, Twilight Struggle
Nov. 7 Comes the Inquisitor
Nov. 8 The Fall of Night

Nov. 12 Matters of Honor
Nov. 13 Convictions
Nov. 14 A Day in the Strife
Nov. 15 Passing Through Gethsemane

Nov. 19 Voices of Authority
Nov. 20 Dust to Dust
Nov. 21 Exogenesis

Nov. 26 Message from Earth
Nov. 27 Point of No Return
Nov. 28 Severed Dreams
Nov. 29 Ceremonies of Light and Dark
BABYLON 5 NOVELS
In the front of Jeanne's latest novel is a brief paragraph that seems SO appropriate for today:

There is a greater darkness than the one we fight
It is the darkness of the soul that has lost its way.
The war we fight is not against powers and principalities;
it is against chaos and despair. Greater than the death of
flesh is the death of hope, the death of dreams.
Against this peril we can never surrender.

---G'Quan

The third book of the Technomage trilogy is scheduled for released on November 27, 2001. You may order it now at amazon.com.

Book #7 "Shadow Within" by Jeanne Cavelos has been very hard to find over the past year. However, the author has a few copies she will let fans purchase. If you are interested, let me know and I'll get details.

DelRey has a few Babylon 5 projects in the works. DelRey's Steve Staffel is trying to acquire the rights to the Babylon 5 novels published by Dell. His plan is to begin with the two favorites--by Jeanne Cavelos and Kathryn Drennan--and see what kind of response they get from the Babylon 5 fans. In addition, DelRey is considering publishing the short story collection, if they can pick up the license.
---
BABYLON 5/CRUSADE PHOTOSHOP
NEW PHOTOS
You do NOT have to pay the prices asked for over at e-bay! Here are photos of B5 and Crusade cast members at fantastic prices. Check out Photo Shop. Ordering is easy -- and you can't beat the prices! Just let me know which photos you want and I'll check to make sure they are still in stock.
---
COMIC BOOKS
SPIDERMAN NEWS
Amazing Spiderman is on shelves now. It's a great issue and according to IGN.COM, it's one that you'll want to buy. The ending is terrific -- making you want to lay your hands on #36 very quickly.

Here's a portion of a quote from JMS regarding upcoming Spiderman issues:
Date: 22 Sep 2001 09:17:32 GMT

Ever since the events surrounding the WTC, I have said little because, as noted in response to another note, I simply didn't have the words and didn't know where to look for them. And consequently declined invitations to make a statement, on the further grounds that I'm not qualified.

Here's where life just nails you.

I got an email from Marvel, who felt that in at least one of their books they needed to really address the issue of what happened at the WTC. Their feeling was that the one character best suited to this was Spider-Man because after all, he's a native New Yorker.

So they asked me to write it. Unsure if I had the wherewithal necessary to pull it off without embarrassing myself or trivializing the situation through any inadequacies on my part, I asked for 24 hours to think it over. Figured I'd probably pass, since I just didn't know how I could handle it in a comic book format.

Somewhere along the way that night, I found the words...and 24 hours after my email, I sent in the script

. I think it says what needs to be said.

jms

TOP COW: For those of us anticipating the next Midnight Nation and Rising Stars issue from JMS, it looks like we'll have a while to wait! I picked up this note today:

In a press release, Top Cow Productions announced it has made some adjustments to its editorial schedule in the interest of "its continuing mission to publish the absolute highest quality level in comics while maintaining scheduled ship dates."

Top Cow announced Fathom #13 and #14 and Tomb Raider: Greatest Treasure of All are all being cancelled pending resolicitation once these issues are complete. Midnight Nation #9 and Rising Stars #17 are both being resolicited for December 2001.

"Ultimately our goal is very simple, we want to publish the best written, best drawn comics in the industry and put them out in the month we solicit them in," said Top Cow President Matt Hawkins. "The changes we're making in the editorial schedule are being made to help ensure both aspects of this goal. There are a couple other scheduling changes we'll be making, but we'll announce those once we have them confirmed."
---
**If you are having trouble finding the comic issues, drop me a line. My comic guy seems to be a HUGE JMS fan and has ordered more Marvel comics than anyone in the area!
NEW BABYLON 5 TOONS
John Cook has a new cartoon contest going. Try your hand at a punch line.




READER DIRECTORY
Sometimes you just can't find the e-mail address for someone you know you have -- it's someone who responded to a discussion topic or you met in one of the chat rooms. You'd like to send a personal note, but .... No address!!!!

We've started a White Pages of Zocalo Readers! It's a handy way of keeping track of people -- and putting together a birthday/greeting card list as well. If you would like to be part of the listing, just send me your name, state, e-mail address and (if you'd like to have it listed) birthday (without year) to sgbruckner@aol.com. Check out the Directory of Readers.

HAPPY BIRTHDAY TO YOU!

Name: Adam Clark
State: Missouri
E-mail address: aclark@ims-1.com
Birthday: November 19

Name: Garibaldis_Uniform
State: Ohio (formerly Hawaii)
e-mail: Babylon_5Fan@yahoo.com
B-Day: November 12
BABYLON 5 REFERENCE PAGES
The Official Babylon 5 Magazine is indexed here as well. With the closure of the magazine in May, you'll want to see which magazines you have -- and which ones you will want to collect. The index may help you make a decision on which ones to choose. The Fan Club has many of the issues at thestation.com , making it very easy to complete your collection.

Universe Today -- the Babylon 5 Fan Club quarterly can also be found here. The index gives you a rundown of what articles were presented, what interviews published.

If you have magazines that have featured Babylon 5 or Crusade that are not listed, send along their issue number and a note to indicate what the article was about. It would be nice to have a fairly comprehensive listing of Babylon 5 publications here.

I have added a listing of all the Babylon 5 novels and now the B5 comic books to the reference page. If there are other items that you feel should be included, let me know.
MAILING LISTS
NW-B5
NW-B5 is a mailing list devoted to bringing critical information to the Vancouver Island, Lower Mainland, and Northern Washington areas. More specifically, anyone north of Seattle. B5 is broadcast on SPACE:TIS in Canada, and Sci-Fi channel in the US. By subscribing to nw-b5, you'll be able to know info bringing you up to date on the current scheduling and events happening in the community related to B5. You'll also be subscribed to the list itself, which means that you'll receive email when there is a scheduling change or critical information needs to go out to you (for example, if we need to start another mailing campaign).

For further information, see http://www.nw-b5.com
John Francis
Webmaster, Listowner, and Co-Moderator
mailto:nw-b5@iname.com

Reports of "The Gathering" are beginning to turn up on the list. John posted a mini-report, with photos, over at http://www.geocities.com/jnf.geo/nw-b5/gathered.htm#0501. You may want to check it out. It was a terrific event in which JMS showed clips from the new "Legend of the Rangers".
BABYLON 5 DISCUSSION LIST
The Babylon 5 discussion mailing list is for any and all discussions and/or news pertaining to or related to Babylon 5 and/or Crusade. The list has been in existence for the past three years now, and has recently moved. The new location is http://lists.apparition.org/cgi-bin/lyris.pl, and you can subscribe by sending a blank e-mail message to join-babylon_5-l@lists.apparition.org.
THE GALACTIC GATEWAY
Here's a unique site for you! Jeffrey Willerth, Patricia Tallman, Mira Furlan, Claudia Christian, Robin Atkin Downes, Rick Biggs, Jerry Doyle, Bruce Boxleitner, Melissa Gilbert, Peter Jurasik and Bill Mumy are under it's umbrella. Actors from other shows have joined the Gateway. Ted Raimi and Robert Trebor from Xena and Hercules are now at GG. To subscribe to a mailing list for GG, send a blank note to thegalacticgateway-subscribe@egroups.com.
GATEWAY CHATTERS
There is never enough time to keep in touch with friends! To help out, a mailing list has been started for chatters over at the Galactic Gateway. If you are interested in joining, send a blank note to gateway-chatter-subscribe@egroups.com.
GATEWAY TRADER
Are you looking for a particular Babylon 5 collectible? Do you have some items you'd like to trade? Then this is the list for you. To join, send a blank note to gateway-trader-subscribe@egroups.com.
CALLING ALL ARTISTS
The Art Gallery at The Zocalo Today is open. There are SO MANY talented people in our Babylon 5 community. We have enjoyed works by Todd Brugman and Tye Bourdony on our toons page, but there are a host of others who enjoy drawing, painting, sketching their favorite characters. Here are a few works that have been received. I have some others that will be added soon.

If you would like to share your work with us at The Zocalo Today, please send along a digital photo of your work and I'll begin putting the gallery together. If you do not have your work in digital format, drop me a note and we'll see what we can work out.
CALLING ALL CLUBS
Ranger Dave is trying to start up a B5 group in Toronto. He has asked me to post this information to see who is in the area and interested in getting together:

I live in the area of Toronto, Ontario and am starting up a sci fi/fantasy club/group and am looking for members. I am hoping any members who join will be more than just Trek & B5 fans. Our meetings will be at least once a month in the area of downtown Toronto on Sunday afternnons. The next meeting is scheduled for Sunday Nov. 18th at 1:45pm. If your interested, need more info and or have any questions please feel free to e-mail me at akalel@hotmail.com.
---
Amanda, a member of the club 'Friends of Science Fiction' in Sydney, Australia, dropped a note to say that they will host an event with Marjean Holden on September 9. More information can be found on the convention calendar. If you are in beautiful Sydney, you may want to check out the Club. It meets at: Lidcombe Catholic Club; John St; Lidcombe. If you have questions, drop Amanda a note at Amanda_Beachcroft@msn.com.au.

There are a number of fabulous Babylon 5/Crusade Clubs around the world. I'd like to begin listing them here on The Zocalo Today. Eric dropped me a note the other day providing information about a Club in France. I know there are other clubs in Brazil, Germany, Russia -- and who knows how many here in the US. Let's get a listing together. Perhaps we can share resources, even get together as we travel around. Drop the information about your Club to me at sgbruckner@aol.com or bruckner@isnnews.net. That information will be added to the new B5 Fan Club Listing.
BABYLON 5 FAN CLUB
Sad news. I don't know what the fate of the B5 Fan Club will be. Netter Digital filed for bankruptcy in July and all their worldly posessions were auctioned off on December 7. Thestation.com is back on-line, however the Emporium has been closed.
BABYLON 5 NEWSLETTERS
If you have a newsletter you'd like to have listed at The Zocalo Today, send the information along. It will be posted on the B5 Fan Club/Newsletter page.

Ranger Shane in North Carolina sent in the following note about their "Jumpgate" newsletter.

Hey Sandy! Just wanted to give you an update on the NC B5 group's newsletter, Jumpgate. There's now a dedicated EMail address for submissions - jumpgatemag@bellsouth.net - and any submissions, solicited or un-, can be sent to this address. Also, issues are available for free download at the URL at the bottom of this message.

Jumpgate - The Newsletter of the North Carolina Babylon 5 Fan Club
Shane Killian, Editor
HELP WANTED
A new HELP WANTED section has been added to the Z. If you need help finding a comic book, getting a special item, etc. here's the place to post a note. Just send whatever help you need to thezocalo@aol.com.
---
BABYLON 5/CRUSADE CONVENTIONS
CONVENTION CALENDAR
With the events of September 11, many changes have been made to conventions around the country. If you are planning to go to a convention, please check with the organizers to see if there are any changes -- like guest cancellations, etc.

Use this link Convention Calendar. to see if there is a convention happening near you. Have a convention you would like to have listed here? Pass along the information.

CONVENTION ATTENDANCE

Are you attending one of the conventions on the calendar? Or another one perhaps? Do you want to see who else might be there? Drop your e-mail address to TheZocalo@aol.com. We've begun an attendance page so that perhaps we can get together while enjoying the activities of the convention. Convention Attendance .
UPCOMING EVENTS
United Fan Con
November 9-11, 2001; Springfield, MA
Guest: Jason Carter, Richard Biggs

More information, visit their website at http://www.unitedfancon.com.
---
Vulkon Orlando
November 16-18, 2001; Orlando, FL
Guests: Kate Mulgrew, James Doohan, Virginia Hey, Bill Blair

More information, visit their website at http://www.vulkon.com.
---
Slanted Fedora
November 16-18, 2001, Philadelphia, PA
Guest: Walter Koenig

For more information, visit their website at http://www.sfedora.com.
---
Armadillocon 23
November 16-18, 2001, Austin, TX
Guest: J. Gregory Keyes

For more information, visit their website at http://www.fact.org/dillo/d23/index.php.
---
Slanted Fedora
November 23-25, 2001; Indianapolis, IN
Guest: Walter Koenig

For more information, visit their website at http://www.sfedora.com.
---
31st Annual Creation Thanksgiving Convention
November 24-25, 2001
Hotel Pennsylvania
33rd and 7th Avenue, Manhattan, New York
Guests: Virginia Hey, Manu Intiraymi, Grace Lee Whitney
ROBIN ATKIN DOWNES from Babylon 5
For more information, visit the Creation Entertainment website at http://www.creationent.com.
---
ZOCALO TRADING POST
Do you have extra copies of B5, Amazing Spiderman, Midnight Nation or Rising Stars comics you'd like to trade? How about those extra trading cards or B5 magazines? There are a lot of fans looking for these items -- and the Trading Post can help you buy or sell them. To see what's available, just use this link to the Trading Post. To have items included in The Trading Post, send a note to The Zocalo. Please put Trading Post in the subject line.
Pen Pals
If you are looking for someone to talk about Babylon 5 and Crusade with, the Pen Pal section is for you! Check it out! Drop a note to someone who is feeling B5 withdrawal -- BIG TIME!

People thought a Pen Pal page was a good idea. If you would like to meet people who you could chat with or share your opinions of the show with, send along your e-mail or snail-mail address The Zocalo. It will be incorporated on the new Pen Page Page.
BABYLON 5 BIRTHDAYS
Robert Foxworth - November 1
John Vickery - November 4
Damian London - November 12
Tracy Scoggins - November 13
Dwight Schultz - November 24
Wortham Krimmer - November 24
Louise Turenne - November 26
Efrem Zimbalist, Jr. - November 30

Have I missed anyone? If you know the birthday of someone connected with Babylon 5, pass the information along. We want to include everyone in our Happy Birthday Wishes.
MAIL FOR CAST AND CREW
Here's a recent note from JMS on the subject:

Just an FYI to those who've been using the Ventura Blvd. mail drop for fan mail to actors....

As mentioned before, we're phasing out the forwarding of fan mail because we a) don't have the resources, complicated by b) the actors have scattered to the four winds, and it makes it very difficult to get everything to everybody in a timely fashion.

So, having provided prior notice...fan mail to actors coming to the Ventura Blvd. mail drop will be sent back. Mail to actors should be sent via their official fan clubs. I will still be taking mail there, since it's my mailbox, but that's it.

Just so's y'all know and save a few bucks on postage and returns.

JMS' mail can be sent to:

14431 Ventura Boulevard, PMB 260
Sherman Oaks, CA 91423

WARNER BROS:

Warner Bros. Address:

Warner Bros. Domestic Television Distribution
4000 Warner Blvd.
Burbank, CA 91522

Warner Home Video:

Mike Finnegan, Vice President
Editorial and Programming Services

Paul Hemstreet, Vice President
Special Features/DVD

Michael Radiloff, Vice President
DVD Marketing

Kristin Grossnandler, Manager
DVD Special Features

Warner Home Video
4000 Warner Blvd.
Burbank, CA 91522
BACK ISSUES OF THE ZOCALO TODAY
The front page of the The Zocalo Today changes daily, so be sure to check the back issues to make sure that you haven't missed anything IMPORTANT! I don't want the front page getting too long so I shift information periodically into the archives. So if you aren't a regular visitor to The Zocalo Today, be sure to check out the back issues. Just use the button above!
---
Take care and I look forward to hearing from you.
Sandra Bruckner (sgbruckner@aol.com)
Editor/Publisher
The Zocalo Today
http://www.isnnews.net
Copyright - SBruckner, 2001