[an error occurred while processing this directive]

The Zocalo Today

Welcome! I am glad that you found The Zocalo Today and dropped by. Take your shoes off, get comfortable and stay a while. There is a LOT of information here and you won't want to miss any of it.

The Zocalo Today is an interactive newsletter, encouraging interaction with readers through a discussion topic each week. If you have suggestions as to how The Zocalo can be improved -- or be more responsive -- send them along. The Zocalo Today is as much YOUR newsletter as it is mine! I'm just pulling together things for you!

Join our weekly discussion topic. It is just one way you can interact with other Z readers. If you have other information you would like to share, send it along. If you see Babylon 5 cast and crew in other roles, let us know. We enjoy convention reports, photos, etc. Don't miss our back issues. I hope this will become more than just a newsletter. It's a community of people that enjoy sharing their experiences and interests. Don't be shy. Join us today!

If you have questions, drop me a line at sgbruckner@aol.com or thezocalo@aol.com. If you would like to join the mailing list for our bi-weekly newsletter, send me a note and I'll include you on the list. Or you can use the subscription block at the left.

Again, WELCOME!




What's New Today
Friday, November 1: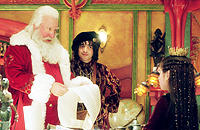 SANTA 2: You can tell Christmas is just around the corner. Christmas specials will be turning up on the tube and this weekend Tim Allen returns in Disney's SANTA 2. From early reviews, it is an enjoyable movie that should join the original movie as a holiday favorite.
---
ALIAS: Oscar- and Emmy-winning actress Faye Dunaway will be joining ALIAS for a three-episode guest stint. She will play Ariana Kane, the head of counterintelligence for the sinister Alliance, the group of rogue intelligence agents and their wealthy backers of which SD-6 head Arvin Sloane (Ron Rifkin) is a member. Kane will investigate the disappearance of Sloane's wife, Emily (Amy Irving). Filming of the episodes is scheduled to begin this coming week; episodes will air in January.
---

Do not miss the latest trailers for LORD OF THE RINGS: TWO TOWERS at http://www.lordoftherings.net/index_video_creatures.html. Along with a powerful preview of the second chapter in this epic, you will learn about some of the fantastic beasts in the upcoming movie -- how they were devised, made, operated, etc.
---
INSIDE SCIFI THIS WEEK:
Thursday, October 31:
BIRDS OF PREY: Sweepstakes Reminder! Don't forget to enter this week for another chance to win a trip to L.A. in the Birds of Prey New Gotham Sweepstakes! You could also be one of hundreds of winners of an exclusive Birds of Prey poster from The WB. Go to http://www.thewb.com/Shows/Special/0,11116,64254,00.html for more information. Collect the newest Birds of Prey Trading Card! Detective Jesse Reese at http://www.thewb.com/Shows/Special/0,11116,66187,00.html .
---
BUFFY: Rumors abound about this being the final season for BUFFY THE VAMPIRE SLAYER. However Slayer star Sarah Michelle Gellar says no decisions have been made. Series creator Joss Whedon has been ambiguous about the show's future. Ratings have been down and the contract for Geller runs out this year. On the animated series front, Whedon says the show is dead. "We just couldn't find a home for it, which will baffle me to the grave," Whedon told TV Guide Online.
---
SCIFI AND BRUCE CAMPBELL: SCIFI has signed a two-picture film deal with Bruce Campbell to star in a pair of science fiction movies, one of which he will write and direct. "The Man With the Screaming Brain" and "Earwigs," will run as part of the channel's monthly Saturday night male action movie series and are being produced and distributed internationally by Creative Light Entertainment. In addition to starring in "Brain," Campbell will write, direct and produce the film, which has been a longtime pet project of his. Described as a cross between "Frankenstein" and "All of Me," "Brain" stars Cambell as an uptight businessman who is murdered and reanimated only to find out that his brain now shares his body with the implanted mind of his killer. The film will be executive produced by Scott Zakarin, Peter Jaysen, Rich Tackenberg, Campbell and co-writer David Goodman. "Earwigs" is a mind-control tale inspired by creatures made famous in a scene from "Star Trek II: The Wrath of Khan" and will be executive produced by Zakarin, Jaysen, Tackenberg and Campbell. Production is set to begin on "Brain" in April.
---
24 SCORES: Tuesday night's premiere of 24 delivered the show's highest ratings ever and led the network to win the night in the adults 18-49 demo. "24," which ran without commercial breaks in a special sponsorship deal with Ford Motor Corp., dominated the 9 p.m. hour in both total viewers (13.6 million) and adults 18-49 (6.5 rating/16 share). The series also scored with the adults 18-34 crowd (6.6/17).
---
SMALLVILLE: Despite the numbers for 24's premiere, Tuesday's episode of SMALLVILLE still achieved gains week-to-week in persons 12-34 (4.8/13), men 12-34 (4.8/14), teens (4.8/15, +30 percent) and male teens (6.0/18, which matched its all-time high, and was a +54 percent improvement over the previous week). Smallville ranked No. 2 in its time period, behind only 24 in adults 18-34 (4.8/12), persons 12-34 (4.8/13), women 18-34 (5.2/13), men 18-34 (4.3/12), women 12-34 (4.8/13) and men 12-34 (4.8/14). The episode was No. 1 in its time period in teens (4.8/15), male teens (6.0/18) and female teens (3.6/12).
---
Wednesday, October 30:
ANDROMEDA: The writers on ANDROMEDA are getting a little help -- from Gordon Michael Woolvett, who plays Seamus Harper on the show. Woolvett's episode will be #19 for this season. "I don't know what I'm allowed to tell you at all about what it's about. ... It's not a Haper-centric episode. We go really far away, farther than we've ever been, and we discover something brand new."
---
SPIDERMAN: Only a couple more days before SPIDERMAN will be available on DVD and VHS. The Home Shopping Network is taking advantage of the timing -- they will sell autographed comic books, lithographs and other items linked to release date.
---
X-FILES: Would you like to own a piece of history from the X-FILES? Sothebys auction house is making available rare props and costumes from several episodes of the show make up the bulk of the sale. Purchasing items from the crime scene that assisted both agents Mulder and Scully in their attempt to solve the unknown. Proceeds from this sale go to benefit Hollywood Cinema Production Resources (Hollywood CPR). Hollywood CPR offers at-risk and will provide academically challenged kids an opportunity to succeed in life through its program of teaching specialized trade skills necessary to work in the art departments of the entertainment industry and other analogous industries. Go to http://pages.sothebys.ebay.com/buy/single_auctions_browse/XFI.html for more information.
---
FIREFLY: Fans of FIREFLY are mounting an effort to show FOX just how much they enjoy and support the program. Over at http://www.fireflysupport.com/ The site asks fans to write to Fox, using postcards, expressing how much they enjoy the show. Writing sponsors, thanking them for their support, is also a great way of express support for the show. The group sponsoring the site is trying to raise money to purchase a half-page advertisement in the The Hollywood Reporter as well as provide press releases for fans to send to their local newspapers.
---
WAR OF THE WORLDS: Tonight, Glenn Beck will recreate Orson Welles' original radio drama, WAR OF THE WORLDS. From 8-9pm EST, Glenn Beck will bring you the full broadcast, without commercial interruption and with full orchestrations and foley effects. For more information, go to http://www.glennbeck.com/wow/index.shtml.
---
TNT ORIGINALS: The TNT network is putting some major dollars into the coming year. They have lined up some big behind-the-camera names to develop a slate of original films for the network. John Woo, Neil Simon and Jan de Bont, are part of a $300 million investment the cable channel is making in original programming over the next few years. Simon will write an updated version of "The Goodbye Girl," his 1977 movie about a young, divorced mother and a struggling actor who wind up sharing an apartment. Director Woo will be one of the executive producers of "I, Jesse James," a new examination of the life of the infamous Western outlaw. De Bont will executive produce "SWAT," a look at the formation of the first Special Weapons and Tactics team in Los Angeles in the mid-1960s. TNT is also planning adaptations of bestsellers by Scott Turow ("Pleading Guilty" ) and Ken Follett ("Night Over Water" ), a biopic about daredevil Evel Knievel and a sci-fi adventure called "Voyage to Mars."
---
ALIAS: ALIAS fans won't want to miss the interview with Jennifer Garner & Lena Olin over at ET Online. They talk about this season and Olin tells how she prepared to play Sydney's mysterious mother!
---
BIRDS OF PREY: "Lady Shiva" is an upcoming episode for BIRDS OF PREY. Korean model/actress Sung Hi Lee, will be playing the title role.
---
SMALLVILLE: Most of you know him as the Cigarette-Smoking Man from X-FILES. However, soon you will see him as the mayor of SMALLVILLE. William B. Davis talks about his upcoming role at http://tv.zap2it.com/news/tvnewsdaily.html?28659.
---
X-MEN2: There are more pictures from the upcoming movie at Comics Continuum and excerpts from their press conference at Comics2Film.
---
Tuesday, October 29:
TALKING CARS! Years ago, Kitt was the only talking car around! Word has it that Revolution is in developing updated film version of the Knight Rider TV series. According to Variety, MGM has acquired the comedy spec script Wheels of Fury, a movie that lampoons 1980s talking-car spy shows. The film tells the story of an '80s cop whose partner is a talking car. The cop falls into a coma and wakes up 16 years later. David Heyman (the Harry Potter franchise) will produce through his Warner Brothers-based Heyday Films company.
---
XMEN-2: The official website has a new interface (you'll need to have FLASH installed. They also have new movie and production pictures. There are more pics over at Comics Continuum.
---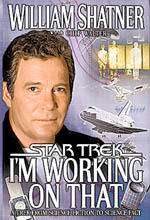 I'M WORKING ON THAT: Here's a new book that sounds interesting! Chip Walter and William Shatner have co-written "I'm Working on That" (Pocket Books, $25). The premise of the book for Walter: to work with Shatner on a project that would compare technologies that the series illustrated to scientific developments that are now coming true. "We knew we could make the connections between what the series envisioned and what was going on," he says. "And we found that science was actually stranger than science fiction." Go to PittsburghLive.Com for more info.
---
STARGATE SG-1: Last week, Stargate SG-1 producer N. John Smith announced in the UK that the series would return to the SCIFI channel for a seventh season. While a lot of us hope this will indeed be true and RDA and the rest of SG-1 will be back next year -- the announcement was a tad premature. In a statement issued Oct. 28, Hank Cohen, the president of MGM Television Entertainment, said: "Regretfully at an event in the U.K., there were unauthorized voices that prematurely indicated that 'Stargate SG-1' would return for a 7th season. Both MGM and Sci Fi have been in discussions regarding such a possibility, however, nothing is firm and discussions are still ongoing." Let's keep our fingers crossed!
---
FIREFLY: Fox has scheduled the original two-hour pilot for Firefly to air Dec. 20th. According to reports, Fox believed the original pilot to be too dramatic and slow. The unaired pilot will tell the story of how the crew came together aboard the Serenity. Firefly is averaging 3.8/7 ratings for the season, which would be wonderful if it were on UPN or the WB. But, that is below Smallville, Enterprise, Buffy, and Angel.
---
Monday, October 28:
SOLARIS: With the movie by James Cameron and Steven Soderbergh due to open on November 27, a new website at http://www.solaristhemovie.com/ is open to give you some background about the movie and the people who made it. Described as a love story which takes place sometime in the future, opens as Dr. Chris Kelvin is asked to investigate the unexplained behavior of a small group of scientists aboard the space station Prometheus, who have cut off all communication with Earth. George Clooney and Natascha McElhone star in the feature.
---
WEEKEND BOX OFFICE: Here's proof that some folks will watch anything! Paramount Pictures feature film of the MTV's "Jackass" crew pulled in an estimated $22.7 million to top the boxoffice competition in its debut this weekend. "Jackass" opened in 2,509 theaters and scored an estimated per-theater average of $9,047. DreamWorks' thriller "The Ring" added 653 theaters this week and drew in an estimated $18.8 million -- a 25% increase from last weekend's No. 1 debut. The Warner Bros. horror feature "Ghost Ship" debuted in third place with an estimated $11.7 million. After becoming the seventh film this year to break the $100 million mark, Buena Vista's "Sweet Home Alabama" celebrated with an estimated $6.4 million take over the weekend, good enough for a fourth place finish. IFC Films' "My Big Fat Greek Wedding" added an estimated $6.3 million to its coffers this weekend to bring its cumulative gross to an estimated $177.8 million.
---
HARRY POTTER: TIME Europe has a feature article up online about the latest HARRY POTTER film. Director Christopher Columbus said, "I would strongly caution parents, anyone who has a seven-year-old or younger, to make sure they know what they're getting into," he says. This movie is much scarier than the first. Like Rowling's books, the movies are becoming darker and more intense as they progress.
---
Sunday, October 27:
TRAFFIC: According to the Hollywood Reporter, Balthazar Getty and Mary McCormack are set to star in USA Network's limited series "Traffic." Stephen Hopkins (Fox's "24") has come aboard as a producer on the six-hour project, inspired by the British miniseries "Traffik" and Steven Soderbergh's Oscar-winning feature adaptation. Hopkins will also direct the first two hours of the series. Using several interwoven stories, the USA project will explore every angle of the illicit trafficking of drugs, people and weapons of terror.
---
TIME CHANGE: Did you remember to turn your clocks BACK last night? I can never understand why we do this -- other than to confuse folks around the world.
---
Saturday, October 26:
RICHARD HARRIS - DEAD: Another marvelous actor has passed on. Richard Harris, most recently known to moviegoers as Professor Dumbledore in the HARRY POTTER movies, died in University College Hospital in London of Hodgkin's disease at 72, on Friday. Harris, a star since his appearance in such films as THIS SPORTING LIFE (for which he won Best Actor at Cannes in 1963), A MAN CALLED HORSE, and CAMELOT, was also well-known for his off-screen roistering.
---
FIREFLY: According to TV Guide Online, Fox has ordered three additional scripts for its SF western series Firefly from creator Joss Whedon, but has yet to order a full season, TV Guide Online reported. Last night's episode gave some much needed background on the crew. Hope you were watching!
---
BIRDS OF PREY: Over at Comics Continuum, there are new images from the upcoming episode featuring Lori Loughlin as Black Canary. Loughlin, the former Full House star, appears in the episode "Sins of the Mother," which is scheduled to air on Wednesday, Nov. 6. There are lots of spoiler information at the site -- so only look at the pictures unless you want to know more! Jeff Woolnough directed the episode, which was written by Melissa Rosenberg and Hans Tobeason.
---
Friday, October 25:
RATINGS: Top 10 SF Network Series: Alias 7.0; Touched by an Angel 5.0; Smallville 4.8; John Doe 4.4; Firefly 3.6; Buffy 3.2; Charmed 3.1; Enterprise 3.0; Sabrina 2.3, and Twilight Zone 2.2. Source: Nielsen Galaxy Report, 9/23/02 - 9/26/02.
---
NIGHT THRASHER: UPN has decided to take a serious look at the Marvel Comic book black superhero NIGHT THRASHER. Michael Elliot (Brown Sugar) has come aboard as the writer on the project, with Ben Silverman's Universal-based production company, Reveille, and Marvel Studios. Elliot will executive produce with Silverman and Marvel's Avi Arad and Rick Ungar. The UPN show will be set in the present and turn Taylor into a 25-year-old multimillionaire owner of a hip-hop clothing line who also lends his superhero services to the CIA.
---
THE PHANTOM: With the success of X-MEN, Spiderman, and other comic book heros, Crusader Entertainment and Hyde Park are developing an updated film version of Lee Falk's classic comic-strip hero THE PHANTOM. According to Variety, Steven De Souza will write the script. The new film will reinvent the character to be closer to films such as Spider-Man and The Matrix.
---
MONSTERS, INC: Variety reports that MONSTERS, INC. is still growing overseas. The Disney DVD blockbuster can boast of sales of $250 million on 13 million units internationally.
---
24: There is an exciting year ahead for Fox's 24 series. Entertainment Tonight caught up with star Keifer Sutherland and talked about what we can expect for the coming year. Check out the interview at http://www.etonline.com/television/a12729.htm.
---
BUFFY: Buffy is getting some special musical guests. On the November 5 episode, "Him", The Breeders will be musical guests. For the "Sleeper" episode on November 19, Aimee Mann appears as herself and will perform the song "Pavlov's Bell."
---
Speaking of BUFFY, over at Prevue Magazine, Marti Noxon, executive producer of Buffy the Vampire Slayer, discusses how she pleases the show's legion of fans and the fate of the series.
---
WHAT'S ON TODAY
Firefly "Shindig" on FOX from 8-9:00pm
There's trouble ahead for Mal (Nathan Fillion) after he gets into a dust-up with one of Inara's less-than-noble clients. Making things worse, there's a warlord with an eye on the Serenity. "Gladiator" (2000) on ABC, 9:00pm - 11:00pm ET
If you haven't already seen this magnificent movie, tonight is your night to see director Ridley Scott's epic tale which won Russell Crowe an Oscar. The movie concludes tomorrow night. "John Doe" ("Low Art") on Fox, 9:00pm - 10:00pm ET
Investigating a seemingly impossible crime committed at the Seattle Museum of Art, John (Dominic Purcell) and Det. Hayes (John Marshall Jones) are shocked when their trail of clues leads them to the most unlikely of suspects - John's friend and assistant, Karen (Sprague Grayden). On SCIFI tonight: X-FILES " Scary Monsters" at 8:00pm ET
An FBI accountant talks Doggett and Reyes into investigating a boy's claim that monsters killed his mother, who was officially determined to have stabbed herself repeatedly. Route 666 at 9:00pm ET
A pair of Government agents (Lou Diamond Phillips, Lori Petty) are besieged by the ghosts of a massacred chain gang while driving down a desert highway.
BABYLON 5 CHRONOLOGY
Terry Jones has updated the tremendous Babylon 5 chronology and we will post it here in segments, beginning with the INTRODUCTION TO THE BABYLON 5 CHRONOLOGY. New segments will be added over the next few weeks, so stay tuned. A BIG THANK YOU and note appreciation goes to Terry for taking the time (and considerable effort) to pull the chronology together -- and for updating it to include CRUSADE, the novels and other relevant Babylon 5 material. THANKS TERRY!
SHORT UPDATE FROM JMS
JMS has provided a short update on some of his on-going projects: Jeremiah: shooting 201 currently
Spider-Man: writing issue 49
Midnight Nation Trade: supposedly out shortly
Polaris: news could come soon, things are looking very positive
Squadron Supreme (retitled Supreme Power): script 1 in, writing 2 now
Other coolnesses in the works...more soon
BABYLON 5 HALLOWEEN SHORT STORY CONTEST
Antony at B5TV has come up with a unique way of celebrating Halloween. Yes, you've got it -- a Halloween short story contest! We know that Babylon 5 fans are some of the most creative folks around, so why not use that imagination constructively. Go to http://www.b5tv.com/greatmaker/news/229 for details. The winner will receive a signed Babylon 5 book by Jeanne Cavelos.
DISCUSSION TOPIC:
Here's an oldie but goodie! What have you seen lately that has made you think about Babylon 5? Someone wrote in just last week that as they were driving around, they saw a car with a B5 license plate. What about you? Send in your responses to thezocalo@aol.com. I am posting them on the Discussion Page as they come in.
SEASON ONE BABYLON 5 DVDs
"In the beginning" is already available in DVD format (19,99 euros). The entire series and TV movies (but Legend of Rangers) is available in VHS (single tapes, or boxes of 2 or 6 tapes). Warner Home Video (R1) released a Flash presentation for the "B5" Season 1 DVDs. In addition to the extras that JMS has already mentioned (2 episode commentaries, new cast and crew interviews as part of a new documentary, an on-camera interview and on-camera introduction with JMS) the set will include the "Making of" documentary produced for the Season 1 kick-off and hosted by Walter Koenig. Go to http://www.whvdirect.com/babylon5/index.html to read more! Here's an update from JMS on the DVD special items:
The disk has an on-camera introduction by me (despite my warnings that this would undoubtedly drive down sales), a letter of introduction each by me and Doug Netter, and the half-hour piece features new interviews with Rick Biggs, Stephen Furst, me, Doug, efx maven Mitch Suskin, makeup whiz John Vulich, and others. They're tentatively targeting next April for season 2, and the following November for season 3. GREAT PRICE: You can pre-order the Season 1 DVD over at www.amazon.com for $74.99. The release date for North America is November 5.
BABYLON 5 AROUND THE WORLD
Ranger Alex reports that The Slovak Television Network "Markiza" is repeating Crusade every Tuesday and Thursday at 11.30 a.m.
JEREMIAH ON SHOWTIME - FRIDAY AT 10:45PM
"Moon in Gemini"
Written by executive producer Sam Egan A message from Erin's wayward twin sister, Lauren (Monique Kavelaars), sends her and Jeremiah (Luke Perry) on a mission of personal discovery while Kurdy (Malcolm-Jamal Warner) and Elizabeth (Kandyse McClure) meet with Shadow of the Crescent, a group of Black separatists. JEREMIAH SCHEDULE AHEAD:
11/08/02
Jeremiah: Out Of The Ashes 11/15/02
Jeremiah: A Means To An End 11/22/02
Jeremiah: Things Left Unsaid (Part 1) For more information about this episode and the entire series, be sure to visit www.sho.com/jeremiah. For those of you who want to keep up on what is going on with Jeremiah, Ranger Monica has started up a Jeremiah newsletter. Please go to http://groups.yahoo.com/group/jeremiah-news/ and subscribe. Monica also has a very nice Jeremiah site so don't forget to bookmark that as well.
KEEPING UP WITH CAST AND CREW
MELISSA GILBERT: According to the Hollywood Reporter, Melissa Gilbert is returning to the old frontier with ABC's midseason one-hour project "Then Came Jones." Gilbert will play the female lead opposite Sean Patrick Flanery in the period Western drama from writer-producers Chris Brancato and Bert Salke and Touchstone Television, which has a commitment for a pilot plus three scripts from the network. Kim Manners ("The X-Files") has come aboard to direct the pilot, which is scheduled to begin production next month in Los Angeles. Set at the turn of the 20th century, Gilbert will play the sister of Ben Jones (Flanery), who, in a series of strange plot twists, becomes the sheriff of the border town of El Paso, Texas.
---
PETER WOODWARD: We all know Peter has done some wonderful work at the History Channel on the Egyptian series. Now Peter's series has been officially picked up. CONQUEST will air on The History Channel during their 2002-2003 schedule. Peter is writer, co-producer and host of this look at martial competition throughout history.
---
PATRICIA TALLMAN: For years, Pat has been involved with Penny Lane, a home for abused children. Christmas time provides an opportunity to show each of the children how special they really are -- through the caring gift from someone who wants to help. Pat started the BE A SANTA project a few years ago, and it is time again to start thinking about how you'd like to help. Go to http://www.thegalacticgateway.com/pl/ and see what items are needed. Like all kids, they want music, clothes, books. You can help these children who have nothing but the center and each other! Share with someone this year -- BE A SANTA.
---
CARRIE DOBRO: Over at B5TV.com you'll find a wonderful interview with Carrie Dobro. She talks about CRUSADE and what she has been doing since it's demise. She's been one busy lady!
---
BABYLON 5 BIRTHDAYS
Dylan Neal - October 8
Jeff Conaway - October 5
John Vulich - October 10
Tim Choate - October 11
John Copeland - October 13
Linda Huse - October 16 Have I missed anyone? If you know the birthday of someone connected with Babylon 5, pass the information along. We want to include everyone in our Happy Birthday Wishes.

CELEBRITY BIRTHDAYS

They may not be Babylon 5 cast and crew, but here are a few birthdays in October that you may want to take note of:

Oct. 9: Scott Bakula from ENTERPRISE is 48
Oct. 10: Peter Coyote from ET (the movie) is 60; Bradley Whitford ("The West Wing") is 43
Oct. 11: Sean Patrick Flanery (Young Indiana Jones & Dead Zone) is 37; Luke Perry (JEREMIAH) is 36; Michelle Trachtenberg ("Buffy the Vampire Slayer") is 17.
READER DIRECTORY
Sometimes you just can't find the e-mail address for someone you know you have -- it's someone who responded to a discussion topic or you met in one of the chat rooms. You'd like to send a personal note, but .... No address!!!!

We've started a White Pages of Zocalo Readers! It's a handy way of keeping track of people -- and putting together a birthday/greeting card list as well. If you would like to be part of the listing, just send me your name, state, e-mail address and (if you'd like to have it listed) birthday (without year) to sgbruckner@aol.com. Check out the Directory of Readers.

HAPPY BIRTHDAY READERS

Here are some of our readers who are having birthdays this month:

Name: W. Andrew York
State: Texas
EMail: wandrew@compuserve.com
Birthday: October 28

Name: James Green
State: Massachusetts
E-mail address: jrgreenmd@yahoo.com
Birthday: October 29

Name: Oliver Iten
City: Baar
Country: Switzerland
E-Mail: oliveriten@itenuscars.com
Birthday: October 23

Name: Ella Smith
Birthday: October 13

Name: Mike Tuck
State: Tennessee
E-mail address: tuckbros@crunet.com
Birthday: October 24

Don't see YOUR birthday here? That's easy to remedy. Send your birthdate along to me and I'll post it with others in our directory.
UNIQUE CHARITY ITEM
Ten popular science fiction actors have donated their time, images and autographs for an exclusive photograph, the proceeds of which will go to charity. For sale through the actors themselves and at , the limited-edition photo is in color, edged in white and ready to place in an 11X14 frame, and handsigned. Each of the 1,000 limited edition photos comes embossed with a seal of authenticity and numbered. The photograph is now available for a pre-sale price of $100. After Sept 11, 2002, the price will go up to at least $125.00. Among the charities to benefit will be the Penny Lane home for abused children in Los Angeles, and various September 11 funds. The actors hope to raise more than $100,000 through the charity project. The Penny Lane Home is a residential facility for children who have been severely abused, physically, emotionally and sexually. Many have "fallen through the cracks" of the social service outreach programs, and Penny Lane is their last chance at escaping the abuse. Actors in the photo include: Patricia Tallman, known best for her roles as Lyta Alexander in Babylon 5 and Barbara in Night of the Living Dead (1990) Vaughn Armstrong, who has portrayed more guest star aliens on Star Trek:TNG, DS9 and Voyager than any other actor in Star Trek history. Currently, he holds the recurring role of Admiral Maxwell Forrest on Enterprise, as well as at least eight other Guest Starring roles on board the new Trek series to date. Stephen Austin portrayed many bizarre alien creatures on Babylon 5. His most notable was the lovable Pak'ma'ra Ambassador. David Brooks is an accomplished artist as well as actor. He is best known to the sci fi community as Max Eilerson on the Babylon 5 spin off, Crusade. Jeffrey Willerth portrayed Ambassador Kosh and was Associate Producer of Babylon 5 Robin Atkin Downes, best known for his role of Byron in Babylon 5 Carrie Dobro, Dureena Nafeel in Crusade. Tim Choate was extremely popular on B5 as Zathras (and his brothers, all named Zathras). He also portrayed Pollack on Crusade. Beata Pozniak appeared as Babylon 5's Earth Alliance President Luchenko. Ed Wasser, the evil Mr. Morden on Babylon 5. As a special promotion, the first 100 orders will receive a special gift: former Star Trek stunt coordinator, Dennis Madalone, has donated 100 copies of his single, "America, We Stand As One," to say thank you to the science fiction fans who purchase the charity photograph. To order the photo online, go to http://www.thegalacticgateway.com, click on shop, and search on the word charity.
COMIC BOOK WORLD
AMAZING SPIDERMAN: Amazing Spider-Man #46 will arrive in stores on Wednesday from Marvel Comics. The issue is written by J. Michael Straczynski, with art by John Romita Jr. and Scott Hanna and a cover by Frank Cho. Amazing Spider-Man #46 will be 32 pages and will cost $2.25. SMALLVILLE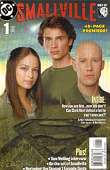 From early reviews, this new comic book version of the WB's hit series SMALLVILLE should have been out last year as a way of introducing the series. However, if you like the series, this 64-page one shot out this week from DC might be enough to pull you in.
CSI: CRIME SCENE INVESTIGATIONS

The hit CBS TV series is now a comic book. CSI: Crime Scene Investigation #1 from IDW Publishing. When a serial killer in Las Vegas seemingly imitates Jack the Ripper, will the C.S.I. team have knowledge enough of the legendary criminal to be able to stop his copycat? RISING STARS: VISITATIONS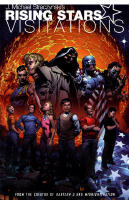 Rising Stars TPB: Visitations will arrive in stores on Wednesday from Image Comics. The issue is written by J. Michael Straczynski, penciled by Gary Frank, Christian Zanier and Keu Cha, inked by Jason Gorder and Livesay and colored by Liquid!, Matt Nelson, John Starr and Brett Evans. The issue is described as: "Collected together for the first time are some of J. Michael Straczynski's most sought after Rising Stars stories. Including the rare zero issue with an additional 6-page story illustrated by Gary Frank, the limited 1/2 issue, and the very first Rising Stars Preview issue. Plus, added sketches and an all-new cover by Brent Anderson."
---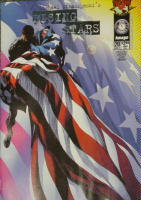 RISING STARS: #20 The latest issue is on stands now. Speaking of RISING STARS, Volume #1 of the series has been out for a while. Volume #2 is now available. If you missed any of the single issues of the series, you'll want to pick up the graphic novels that include 8 issues in a single bound copy.
---
SCI FI PUBLICATIONS
Expose #73: Smallville is again pulling in terrific rating numbers for The WB and this month, we get a look at Michael Rosenbaum and Sam Jones III from the show. Sam is thrilled to be getting more to do this year -- now that he's discovered Clark's secret! Also in this issue, Victor Webster from Mutant X and Alexis Bedell from Gilmore Girls.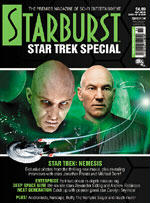 Starburst Special #54: NEMESIS: The upcoming Star Treak feature gets the lion's share of this issue. Will this be the last Star Trek feature? Starburst talks to Jonathan Frakes and Michael Dorn about their plans.
Cult Times #85: Commandant Grayza, played by Rebecca Riggs, talks to Cult Times about joining Farscape. Angel's Charisma Carpenter discussed her role as Cordelia Chase and her off-set interests. Now that X-Files has ended, Chris Carter has had a chance to look back over the final days and he reveals what he believes he accompished through the adventures of Mulder and Scully.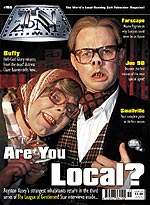 TV Zone #155: Wayne Pygram has been chief baddie on Farscape for several seasons now. Wayne talks about life behind the mask of Scorpius. In this issue, get a complete episode guide for SMALLVILLEs along with a chat with Clare Kramer who brings Glory back to life on BUFFY.
BABYLON 5 BOOK OF QUOTES
For all those who submitted quotes and experiences to the Babylon 5 Book of Quotes, word from JMS is that the book, plus emails and suggestions, is being compiled now, and they're targeting February, the 10th anniversary of B5, for the publication date.
SCI-FI SCHEDULE
BABYLON 5: 01-NOV-02 5:00 PM INFECTION
04-NOV-02 5:00 PM THE PARLIAMENT OF DREAMS
05-NOV-02 5:00 PM MIND WAR
06-NOV-02 5:00 PM WAR PRAYER
07-NOV-02 5:00 PM AND THE SKY FULL OF STARS
08-NOV-02 5:00 PM DEATHWALKER

12-NOV-02 5:00 PM BELIEVERS
13-NOV-02 5:00 PM SURVIVORS
14-NOV-02 5:00 PM BY ANY MEANS NECESSARY
15-NOV-02 5:00 PM SIGNS AND PORTENTS

18-NOV-02 5:00 PM TKO
19-NOV-02 5:00 PM GRAIL
20-NOV-02 5:00 PM EYES
21-NOV-02 5:00 PM LEGACIES
22-NOV-02 5:00 PM THE QUALITY OF MERCY
BABYLON 5/CRUSADE PHOTOSHOP PHOTOS
You do NOT have to pay the prices asked for over at e-bay! Here are photos of B5 and Crusade cast members at fantastic prices. Check out Photo Shop. Ordering is easy -- and you can't beat the prices! Just let me know which photos you want and I'll check to make sure they are still in stock.
---
BABYLON 5 TOONS
John Cook has a new cartoon contest going. Try your hand at a punch line.



NEW B5 TOON
Ranger Bill created this toon for his website www.wondertemp.com, but wanted to share it with readers here at the Zocalo. Thanks Bill.



BABYLON 5 REFERENCE PAGES
The Official Babylon 5 Magazine is indexed here as well. With the closure of the magazine in May, you'll want to see which magazines you have -- and which ones you will want to collect. The index may help you make a decision on which ones to choose. The Fan Club has many of the issues at thestation.com , making it very easy to complete your collection.

Universe Today -- the Babylon 5 Fan Club quarterly can also be found here. The index gives you a rundown of what articles were presented, what interviews published.

If you have magazines that have featured Babylon 5 or Crusade that are not listed, send along their issue number and a note to indicate what the article was about. It would be nice to have a fairly comprehensive listing of Babylon 5 publications here.

I have added a listing of all the Babylon 5 novels and now the B5 comic books to the reference page. If there are other items that you feel should be included, let me know.
BABYLON 5 COMMUNITIES
CHAT GROUP:
Ranger Renee reports that she has a Babylon 5 chat group (for those of you over 30) at http://groups.msn.com/Babtrek30. It covers Babylon 5 and all of Star Trek. Drop on over and give it a peek.
MAILING LISTS
REDEMPTION: Ranger Steve reports that a new discussion group has been created for the upcoming REDEMPTION convention. Redemption 03, 21-23 February 2003, Ashford, Kent, Celebrating 25 years of Blake's 7 and 10 years of Babylon 5. www.smof.com/redemption.
NW-B5
NW-B5 is a mailing list devoted to bringing critical information to the Vancouver Island, Lower Mainland, and Northern Washington areas. More specifically, anyone north of Seattle. B5 is broadcast on SPACE:TIS in Canada, and Sci-Fi channel in the US. By subscribing to nw-b5, you'll be able to know info bringing you up to date on the current scheduling and events happening in the community related to B5. You'll also be subscribed to the list itself, which means that you'll receive email when there is a scheduling change or critical information needs to go out to you (for example, if we need to start another mailing campaign).

For further information, see http://www.nw-b5.com
John Francis
Webmaster, Listowner, and Co-Moderator
mailto:nw-b5@iname.com

Reports of "The Gathering" are beginning to turn up on the list. John posted a mini-report, with photos, over at http://www.geocities.com/jnf.geo/nw-b5/gathered.htm#0501. You may want to check it out. It was a terrific event in which JMS showed clips from "Legend of the Rangers". Most of the cast was in attendance -- a great group of individuals.
BABYLON 5 DISCUSSION LIST
The Babylon 5 discussion mailing list is for any and all discussions and/or news pertaining to or related to Babylon 5 and/or Crusade. The list has been in existence for the past three years now, and has recently moved. The new location is http://lists.apparition.org/cgi-bin/lyris.pl, and you can subscribe by sending a blank e-mail message to join-babylon_5-l@lists.apparition.org.
THE GALACTIC GATEWAY
Here's a unique site for you! Jeffrey Willerth, Patricia Tallman, Mira Furlan, Claudia Christian, Robin Atkin Downes, Rick Biggs, Jerry Doyle, Bruce Boxleitner, Melissa Gilbert, Peter Jurasik, Bill Mumy and Carrie Dobro are under it's umbrella. Actors from other shows have joined the Gateway. Ted Raimi and Robert Trebor from Xena and Hercules are now at GG. To subscribe to a mailing list for GG, send a blank note to thegalacticgateway-subscribe@egroups.com.
GATEWAY CHATTERS
There is never enough time to keep in touch with friends! To help out, a mailing list has been started for chatters over at the Galactic Gateway. If you are interested in joining, send a blank note to gateway-chatter-subscribe@egroups.com.
GATEWAY TRADER
Are you looking for a particular Babylon 5 collectible? Do you have some items you'd like to trade? Then this is the list for you. To join, send a blank note to gateway-trader-subscribe@egroups.com.
CALLING ALL ARTISTS
The Art Gallery at The Zocalo Today is open. There are SO MANY talented people in our Babylon 5 community. We have enjoyed works by Todd Brugman and Tye Bourdony on our toons page, but there are a host of others who enjoy drawing, painting, sketching their favorite characters. Here are a few works that have been received. I have some others that will be added soon.

If you would like to share your work with us at The Zocalo Today, please send along a digital photo of your work and I'll begin putting the gallery together. If you do not have your work in digital format, drop me a note and we'll see what we can work out.
CALLING ALL CLUBS
There are a number of fabulous Babylon 5/Crusade Clubs around the world. Visit the B5 Fan Club page to see if there is a club near you. If you have a club that you would like to have listed, drop the information about your Club to me at sgbruckner@aol.com or bruckner@isnnews.net. That information will be added to the new B5 Fan Club Listing.

Massimo has sent an update for the B5 Fan Club in Italy. Founded in 1995, the club now has 230 members! In Italy, they have just seen the last two episodes from season five! Membership in the club includes: the club card, a poster, a personalized pen and four number of ISN Network the fanzine published by the club. The cost is Euro 20 for an year in Italy. Interested? Contact Massimo at mmartini@italway.it.
BABYLON 5 FAN CLUB
Netter Digital filed for bankruptcy in July of 2000 and all their worldly posessions were auctioned off on December 7. The B5 Fan Club site, Thestation.com and it's store, the Emporium, has been closed.
BABYLON 5 NEWSLETTERS
If you have a newsletter you'd like to have listed at The Zocalo Today, send the information along. It will be posted on the B5 Fan Club/Newsletter page.

Ranger Shane in North Carolina sent in the following note about their "Jumpgate" newsletter.

Hey Sandy! Just wanted to give you an update on the NC B5 group's newsletter, Jumpgate. There's now a dedicated EMail address for submissions - jumpgatemag@bellsouth.net - and any submissions, solicited or un-, can be sent to this address. Also, issues are available for free download at the URL at the bottom of this message.

Jumpgate - The Newsletter of the North Carolina Babylon 5 Fan Club
Shane Killian, Editor
HELP WANTED
A new HELP WANTED section has been added to the Z. If you need help finding a comic book, getting a special item, etc. here's the place to post a note. Just send whatever help you need to thezocalo@aol.com.
---
BABYLON 5/CRUSADE CONVENTIONS
CONVENTION CALENDAR
Dean Smith Celebrity Rodeo
October 31-November 2, 2002
Place: Graham, Texas
B5 Guest: Bruce Boxleitner
For more information, visit their website at http://www.visitgraham.com/GrahamCC/CELEBRITYRODEO.htm.
---
Con*Cept 2002 Science Fiction & Fantasy Convention
November 2, 2002
Place: Days Inn, Downtown Montreal, Quebec, Canada
B5 Guests: Jason Carter, Richard Biggs
For more information, visit their website at http://www.monsffa.com/concept2002.html.
---
United Fan Con
November 8-10, 2002
Place: Springfield, MA
Guests: John Billingsley, Anthony SImco, Lani Tupo, Gigi Edgley, Nicholas Countney
For more information, visit their website at http://www.unitedfancon.com/unit.
---
Biggs and Carter Experiment
November 10, 2002
Place: McHale Performing Arts Complex
Logansport High School in Logansport, Indiana
B5 Guests: Jason Carter, Richard Biggs
There is no fee for the seminar, but a free-will donation would be appreciated. Both Jason and Rick will be available after the seminar to answer questions, sign autographs, and will have pictures for sale at $20.00 each. There is no obligation to purchase or pay for anything.
For more information, please visit Pipeline Productions or contact Mark Racop at magichouse@rocketmail.com, 574-722-3237 (office), 765-662-8342 (work), or 574-753-4116 (McHale Performing Arts Complex). Website: http://www.pipetap.com/logans_port.htm. Information regarding the Biggs and Carter Experience: http://www.pipetap.com/biggscarter.htm .
---
VULKON
November 15-17, 2002
Orlando, Florida
B5 Guests: Bruce Boxleitner, Jerry Doyle
For more information, visit their website at http://www.vulkon.com/orlandonov/.
---
SFX Science Fiction Expo
November 15-17, 2002
Place: Bayside Expo Center, Boston, MA
Guests: Michael Corn, Nichelle Nichols, Dominic Keating, Nicholas Brendon, Billy Dee Williams
For more information, visit their website at http://www.hobbystar.com.
---
Be sure to visit our Convention Calendar for a full listing of upcoming conventions featuring Babylon 5, Crusade and Legend of the Rangers cast members as guests.
ZOCALO TRADING POST
Do you have extra copies of B5, Amazing Spiderman, Midnight Nation or Rising Stars comics you'd like to trade? How about those extra trading cards or B5 magazines? There are a lot of fans looking for these items -- and the Trading Post can help you buy or sell them. To see what's available, just use this link to the Trading Post. To have items included in The Trading Post, send a note to The Zocalo. Please put Trading Post in the subject line.
Pen Pals
If you are looking for someone to talk about Babylon 5 and Crusade with, the Pen Pal section is for you! Check it out! Drop a note to someone who is feeling B5 withdrawal -- BIG TIME!

People thought a Pen Pal page was a good idea. If you would like to meet people who you could chat with or share your opinions of the show with, send along your e-mail or snail-mail address The Zocalo. It will be incorporated on the new Pen Page Page.
MAIL FOR CAST AND CREW
Here's a recent note from JMS on the subject:

Just an FYI to those who've been using the Ventura Blvd. mail drop for fan mail to actors....

As mentioned before, we're phasing out the forwarding of fan mail because we a) don't have the resources, complicated by b) the actors have scattered to the four winds, and it makes it very difficult to get everything to everybody in a timely fashion.

So, having provided prior notice...fan mail to actors coming to the Ventura Blvd. mail drop will be sent back. Mail to actors should be sent via their official fan clubs. I will still be taking mail there, since it's my mailbox, but that's it.

Just so's y'all know and save a few bucks on postage and returns.

JMS' mail can be sent to:

14431 Ventura Boulevard, PMB 260
Sherman Oaks, CA 91423

WARNER BROS:

Warner Bros. Address:

Warner Bros. Domestic Television Distribution
4000 Warner Blvd.
Burbank, CA 91522

Warner Home Video:

Mr. Douglas Wadleigh
VP for Marketing and Special Features
Warner Bros.
4000 Warner Blvd.
Burbank, CA 91522

SCIFI:
Bonnie Hammer, President
Sci-Fi Channel
1230 Avenue of the Americas
New York, NY. 10020-1513

Mr. Thomas Vitale
Senior VP of Acquisitions, Scheduling & Program-Planning
BACK ISSUES OF THE ZOCALO TODAY
The front page of the The Zocalo Today changes daily, so be sure to check the back issues to make sure that you haven't missed anything IMPORTANT! I don't want the front page getting too long so I shift information periodically into the archives. So if you aren't a regular visitor to The Zocalo Today, be sure to check out the back issues. Just use the button above!
---
Take care and I look forward to hearing from you.
Sandra Bruckner (sgbruckner@aol.com)
Editor/Publisher
The Zocalo Today
http://www.isnnews.net
Copyright - SBruckner, 2002