[an error occurred while processing this directive]

The Zocalo Today

Welcome! I am glad that you found The Zocalo Today and dropped by. Take your shoes off, get comfortable and stay a while. There is a LOT of information here and you won't want to miss any of it.

The Zocalo Today is an interactive newsletter, encouraging interaction with readers through a discussion topic each week. If you have suggestions as to how The Zocalo can be improved -- or be more responsive -- send them along. The Zocalo Today is as much YOUR newsletter as it is mine! I'm just pulling together things for you!

Join our weekly discussion topic. It is just one way you can interact with other Z readers. If you have other information you would like to share, send it along. If you see Babylon 5 cast and crew in other roles, let us know. We enjoy convention reports, photos, etc. Don't miss our back issues. I hope this will become more than just a newsletter. It's a community of people that enjoy sharing their experiences and interests. Don't be shy. Join us today!

If you have questions, drop me a line at sgbruckner@aol.com or thezocalo@aol.com. If you would like to join the mailing list for our bi-weekly newsletter, send me a note and I'll include you on the list. Or you can use the subscription block at the left.

Again, WELCOME!




What's New Today
Friday, November 15: NOVEMBER SWEEPS: According to the Hollywood Reporter, the November sweep (Oct. 31-Nov. 27) belong to CBS and NBC. The two networks lead the primetime pack in total viewers and the adults 18-49 demographic, respectively, but the biggest gainers in the book to date are ABC and the WB Network. The WB has taken the biggest jump in year-to-year sweep comparisons, climbing 14% from the comparable two-week span of the November 2001 sweep to a 2.4 rating/7 share in its target adults 18-34 demographic. The WB owes the gain to the broader appeal of "Smallville," "Gilmore Girls" and newcomer "Everwood," the WB is also up 11% in adults 18-49 (2.1/5) and up 9% in total viewers (4.8 million). ABC is still running third behind CBS and NBC, but network brass are nonetheless happy to see plus signs in the year-to-year comparison columns. Driven by the success of its Tuesday and Wednesday comedies, particularly "8 Simple Rules for Dating My Teenage Daughter," ABC is up 5% in adults 18-49 (4.1/11), 13% in adults 18-34 (3.6/11) and essentially flat in total viewers (10.7 million).
---
TROY: Orlando Bloom from Lord of the Rings will join Brad Pitt and Eric Bana in Warner Bros' epid TROY. The project will be directed by Wolfgang Petersen. Bloom plays Paris, the warrior who prompted the legendary battle between Achilles (Pitt) and Hector (Bana). The production is set to begin filming next year in London, Malta and Morocco for a 2004 release.
---
SMALLVILLE: The soundtrack from SMALLVILLE will be released on February 25. It will feature music from rock and pop artists whose tunes have been or will be featured in the show. In addition to such obvious selections as Remy Zero's Save Me (the Smallville theme) and Five for Fighting's Superman, the set includes Lifehouse's Everything and AM Radio's I Just Wanna Be Loved, plus two covers: the late Eva Cassidy's rendition of Cyndi Lauper's Time After Time and Sixpence None the Richer's remake of the Crowded House hit Don't Dream It's Over.
---
DEPRIVERS: TBS has made a commitment to original programming will include a sci-fi series called DEPRIVERS. The series, which will be filmed as a two-hour TV movie/pilot, is about a mysterious disease called Deprivers Syndrome.
---
JINX: For some, being a jinx is not good. For Halle Berry, playing Jinx in the upcoming James Bond movie, DIE ANOTHER DAY, may lead to a spin-off franchise! AND we hear Pierce Brosnan would like to be included!
---
HARRY POTTER: This is definitely going to be a HARRY POTTER weekend. Though there are other films opening, they will probably be left in the dust by Potter's wizardry. For a review of the movie, go to http://www.ew.com/ew/article/review/movie/0,6115,389817~1~0~isharrypottersequel,00.html. Looks like this one may be a tad bit better than the first one!
INSIDE SCIFI THIS WEEK:
Thursday, November 14:
RATINGS: Top 10 SF Syndicated Series: Stargate SG-1 2.3; Andromeda 2.2; Buffy 2.1; Mutant X 2.1; The X-Files 2.0; 3rd Rock 1.6; John Edward 1.5; Beastmaster 1.2; The Lost World 1.2, and Sabrina 1.2. Source: Nielsen Galaxy Report, 10/14/02 - 10/20/02.
---
POTTER THEFT: The new Harry Potter film opens this weekend, but Warner Brothers is worried that a pirated copy of the film may already have hit the internet. AP reported that it had discovered what appeared to be the movie available on a site hosted in Europe, which the site said had been downloaded more than 500 times. In a statement, Warner Bros. said, "The illegal copying and distribution of movies is theft. Warner Brothers takes the threat of Internet piracy very seriously and employs all legal means to contain the unauthorized copying and distribution of our films on the Internet."
---
KOLCHAK RETURNS: A new Kolchak comic is being created by Moonstone Books. Due in March, KOLCHAK THE NIGHT STALKER: LAMBS TO THE SLAUGHTER is written by Joe Gentile, with art by Trevor Von Eeden and a cover by Doug Klauba. In the story, Kolchak investigates a spree of "typical" missing persons cases in Hollywood and discovers genetic experiments covered up by unknown forces.
---
MUTANT X: Victor Webster portrays Brennan Mulray on MUTANT X. Recently Zap2It sent him a number of questions posed by fans. You can read his responses at http://tv.zap2it.com/sciencefiction/feature.html?28913.
---
JOHN DOE: Now that the series has received a full-season order from FOX, executive producer Mike Thompson (who shares that title with Brandon Camp and director Mimi Leder) has shared a few plans for what lies ahead for our hero, including a new look and "first kiss". Read more at http://tv.zap2it.com/news/tvnewsdaily.html?28912.
---
FIREFLY: The fate of FIREFLY is still uncertain. Producers hope to hear next week as to whether or not FOX will order the "back nine" -- bringing the series to a full 22 episodes. For fans who frequent the FIREFLY website, this week's episode is very special. "Ariel" features a cameo appearance by Kelly Wheeler, the producer's assistant behind the weblog that is part of the show's official site, at http://www.fox.com/firefly.
---
AMAZING SPIDERMAN #47: According to Comics Continuum, Issue #47 was due on newstands yesterday. The issue is written by J. Michael Straczynski, with art by John Romita Jr. and Scott Hanna and a cover by Romita. Amazing Spider-Man #47 will be 32 pages and will cost $2.25.
---
BIRDS OF PREY The December 14 TV Guide will feature BIRDS OF PREY -- with a four cover set, with a big feature on the series inside.
---
DIE ANOTHER DAY: Over at http://www.comingsoon.net/cgi-bin/archive/fullnews.cgi?newsid1037258943,73965, you can enjoy some terrific clips from the upcoming James Bond film -- including many behind-the-scenes clips showing the movie being created. I love the hover crafts used. They would be terrific in rush-hour traffic!
---
STEPHEN AUSTIN: That lovable Pak'Ma'Ra Ambassador will be making a couple of appearances in the Los Angeles area this weekend. Check out the calendar for more details.
---
Wednesday, November 13:
JEREMIAH: According to Variety, actress Joanne Kelly has joined the cast of JEREMIAH for season two. Described as a newcomer, Kelly has appeared on syndicated shows like Mutant X with a recurring part on Tracker. Kelly is the second new cast member coming on board the show. Last month Lord of the Rings player Sean Astin joined the cast.
---
RATINGS: Top 10 Genre Shows: 1. (1) C.S.I. (27.86) [CBS]; 2. (28) THE SIMPSONS (12.51) [FOX]; 3. (32) CARRIE (12.21) [NBC]; 4. (33) 24 (11.88) [FOX]; 5. (42) KING OF THE HILL (10.74) [FOX]; 6. (43) BOOMTOWN (10.51) [NBC]; 7. (48) SMALLVILLE (9.38) [WB]; 8. (50) ALIAS (9.33) [ABC]; 9. (56) SAVING PRIVATE RYAN (8.74) [ABC], and 10. (71) THE SIMPSONS - 7:30 repeat (8.49) [FOX].
---
HARRY POTTER: With the passing of Richard Harris, there has been a great deal of speculation as to who will take over the role for the next installment of the Potter saga. Among the host of names posed are: Ian McEllan, Christopher Lee, Sean Connery and Richard Harris' double, Harry Robinson. Quite an interesting assortment of talent!
---
Speaking of Harry, Potter's author J.K. Rowling has completed the much-anticipated fifth book. The IMDB Web site contained a quote attributed to the British author saying, "At the moment, it's 38 chapters. I'm really pleased with it. I'm just going to tweak it a tiny bit more, then the publishers will have it."
---
JOHN DOE: JOHN DOE has gotten an order for nine additional episodes, bringing it up to a full-season pick-up. "John Doe" is produced by Regency TV, with Brandon Camp, Mimi Leder and Mike Thompson executive producing.
---
LEE VS. MARVEL: Stan Lee filed a lawsuit claiming Marvel Enterprises Inc. has embarked on a "shameful scheme" to deprive him of profits from its top-grossing movies and television programs. Mr. Lee has spent more than 60 years with Marvel and serves as the comic- book company's Chairman Emeritus. Marvel claims Lee has "trampled upon" his rights - particularly a 1998 agreement that entitles him to share in the profits of productions that use his famously fierce characters. Mr. Lee's suit, filed Tuesday in Manhattan federal court, seeks 10% of profits earned from Hollywood films including the "Spider-Man: The Movie," which this spring grossed $114 million in its opening weekend.
---
Tuesday, November 12:
EBAY AUCTION: Over at e-bay, our friend PsiFiMogul has some new B5 items up for auction. There are B5 season 3 scripts, a B5 FanClub print from Marjorie Monaghan that has been signed by the cast, and a really cool CSI gift set including a script, signed by the cast, a photo, CD soundtrack, t-shirt and Emmy Magazine. There is also 2 boxed sets of tapes( HBO & TNT) and Alley McBeal and Boston Public tapes. B5 scripts #301-308 are item 1581959190. Scripts #309-315 are item 1581959623. B5 scripts #316-322 are item 1581959535. Check them out. These are ORIGINAL scripts.
---
DVDs COMING: According to Variety, Fox will be releasing a second special-edition DVD of X-Men and new DVD sets of The Simpsons, Buffy the Vampire Slayer, Angel and The X-Files in February and March.
---
WEEKEND BOX OFFICE: Eminem's feature film debut 8 MILE won the box office this week, bringing in $51.2 million. THE SANTA CLAUSE 2 bagged $24.7 million this weekend and $60.0 million since opening. THE RING is still going strong, with $15.5 million this weekend, $85.6 million since opening. Rounding out the rest are #4 I SPY, $8.8 million this weekend, $24.5 million since opening; JACKASS: THE MOVIE, $7.1 million this weekend, $53.2 million since opening and MY BIG FAT GREEK WEDDING just keeps on coming, with $5.9 million this weekend, $192.9 million since opening.
---
JEKYLL-AND-HYDE: According to the Hollywood Reporter, Sam Raimi and Shaun Cassidy (who teamed successfully to bring us AMERICAN GOTHIC) are working on a currently untitled "latter-day Jekyll-and-Hyde" series for CBS. The show will center on a forensic psychiatrist. The upcoming show will be produced by Universal Network Television, with Cassidy writing and executive producing with Raimi and David Eick.
---
Saturday, November 9:
STARGATE SG-1: With the news yesterday from SCIFI that the series had been renewed for a seventh season, you would have thought it couldn't get better. Well, here's one for you. SCIFI announced that Michael Shanks will be returning as Daniel Jackson for the new season! Now we will have to see how they work that one back into the mix. Daniel died and ascended to a higher plane of existence but did return for one episode (Abyss) in season six and is said to be in the season finale as well. Oh boy, this is getting interesting!
---
RICHARD DEAN ANDERSON: For many of us, RDA IS Stargate SG-1. While the other cast members are terrific, it just wouldn't be the same without Col. O'Neill's special sense of humor and insight into the operations of the Stargate. RDA talks about what made a difference for him as far as coming back for season seven over at http://tv.zap2it.com/news/tvnewsdaily.html?28828.
---
ANGEL: SCIFI Wire reports that Jeffrey Bell, the new co-executive producer for ANGEL, has dropped a few hints about upcoming situations on the show. "I think what we're going to do is sort of scatter people, to a certain extent, emotionally and physically. We'll be bullying them and bandying them about for a while, until they need to come together to fight this horrible Big Bad that will show up in episode seven, I think it is, which will be the show right before we take a break over the Christmas holiday."
---
UFO SPECIALS: With Steven Spielberg's TAKEN making it's debut on December 2, SCIFI is preparing all of us with two original documentary specials on UFOs, government conspiracies and alien abduction. On November 22 at 8 p.m. ET/PT Bryant Gumbel hosts The Roswell Crash: Startling New Evidence, a two-hour documentary about the 1947 event that includes new eyewitness interviews and never-before-seen footage. At 10 p.m., Abduction Diaries airs, a one-hour documentary with first-person accounts of those who say they have been taken by extraterrestrials.
---
BIRDS OF PREY: The WB announced that on Wednesday, November 27, two episodes of BIRDS OF PREY will air. The first will be a rebroadcast of the pilot, followed by a new episode entitled "Lady Shiva". For a description of the episode and some great photos, go to http://www.comicscontinuum.com/stories/0211/09/index.htm. SPOILER ALERT. I'm sure there are things here you will either want to see -- or not!
---
HARRY POTTER: Daniel Radcliffe says, "The best thing that I like about doing this movie is playing a character that inspires children all over the world and also playing a role that inspires adults too." The star of the new film Harry Potter and the Chamber of Secrets is interviewed by Prevue Magazine.
---
CSI CONTEST: As if the new comic book wasn't enough for CSI fans, there's a fantastic contest associated with the comic book release. Go to http://www.diamondcomics.com/previews/previews_contest/previews_contest.html for more details. Winners could receive an original CSI script or special issues of the comic book. Don't miss this one!
---
DIE ANOTHER DAY: It seems as if different countries will see either more or less of DIE ANOTHER DAY! The US version is said to run 122 minutes while the European version runs 135 minutes! Where do those minutes go? I guess that's one for the sensors. There are some new pictures over at http://www.universalexports.net/Behind/dad.html#slideshow.
---
BABYLON 5 SEASON ONE DVD
The long awaited Season One of BABYLON 5 is now available on DVD. The 6-disc set is loaded with extras, including commentaries by series creator, J. Michael Straczynski. You can pre-order the DVD over at www.babylon5.com for $79.95. Warner Home Video has extended their "Free Shipping" deadline thru November 30th. For a preview of a few of the extras available on this wonderful DVD set, WB has given me permission to post a number of trailer streams (they are in Windows Media, Real Media and Quicktime formats). Go to Extras to hear Joe, Rick Biggs, Jerry Doyle, Stephen Furst and others talk about their time on Babylon 5. Use this link to read the Press Release from WB. Apparently sales are doing very well. JMS recently commented that WB was "amazed". When asked about moving up the release date for Season 2, JMS responded: I don't know if they'll be able to move up the date, which last I heard was about April, but I did hear the other day that they want to get the next set up and running asap. It's suddenly become a priority item.
WHAT'S ON TODAY
Firefly "Ariel" on Fox at 8:00 PM
The crew helps Simon infiltrate a ritzy planet's hospital for info on the experiments going on at River's school. "John Doe" ("Idaho") on Fox, 9:00pm - 10:00pm ET
A seemingly innocuous case leads John Doe (Dominic Purcell) to his first interaction with the shadowy Yellow Teeth (guest star Grace Zabriskie) who has been tracking him for some time. She provides Doe with what he thinks may be the information he has been desperately looking for, but as he inches closer to what he believes is the truth, the validity of the information is seriously in question. On SCIFI tonight: 6:00 PM "Terminal Invasion"
An invasion of body-snatching aliens forces a convicted murderer (Bruce Campbell) to team with a headstrong pilot (Chase Masterson) to save Earth from enslavement. 8:00 PM Peter Benchley's `Creature'
Fast-paced shocker starring Craig T. Nelson as a scientist trying to stop a mutant shark-beast that can kill by land or by sea. Based on Peter Benchley's novel, "White Shark."
BABYLON 5 CHRONOLOGY
Terry Jones has updated the tremendous Babylon 5 chronology and we will post it here in segments, beginning with the INTRODUCTION TO THE BABYLON 5 CHRONOLOGY. New segments will be added over the next few weeks, so stay tuned. A BIG THANK YOU and note appreciation goes to Terry for taking the time (and considerable effort) to pull the chronology together -- and for updating it to include CRUSADE, the novels and other relevant Babylon 5 material. THANKS TERRY!
DISCUSSION TOPIC:
This week the Babylon 5 DVD was released. What do you think about it? I've already received a number of notes -- and a couple of phone calls about it but it might be nice to share your views with other readers. So send your comments along. I'm sure the WB would be interested in hearing from you! Send in your responses to thezocalo@aol.com. I am posting them on the Discussion Page as they come in.
BABYLON 5 AROUND THE WORLD
Ranger Alex reports that The Slovak Television Network "Markiza" is repeating Crusade every Tuesday and Thursday at 11.30 a.m.
JEREMIAH ON SHOWTIME - FRIDAY AT 10:45PM
"A Means To An End"
Written by: Sara (Samm) Barnes
Directed By: Mike Vejar Jeremiah and Kurdy are surprised when Erin radios them to meet someone at a gas station and - contrary to past rules - bring them back to Thunder Mountain. They are more than surprised when they meet their passenger and it is Theo. JEREMIAH SCHEDULE AHEAD:
11/22/02
Jeremiah: Things Left Unsaid (Part 1) 11/29/02
Jeremiah: Things Left Unsaid (Part 2) 12/06/02
Jeremiah: The Long Road 12/13/02
Jeremiah: Man of Iron, Woman Under Glass For more information about this episode and the entire series, be sure to visit www.sho.com/jeremiah. For those of you who want to keep up on what is going on with Jeremiah, Ranger Monica has started up a Jeremiah newsletter. Please go to http://groups.yahoo.com/group/jeremiah-news/ and subscribe. Monica also has a very nice Jeremiah site so don't forget to bookmark that as well.
KEEPING UP WITH CAST AND CREW
STEPHEN FURST: If you have been wondering what Stephen Furst has been up to since the end of Babylon 5, catch the interview Done by IGN at FilmForce.IGN.com.
---
GARY COLE: Everyone knows that Gary is currently appearing in FAMILY AFFAIR, but you'll see him in the I SPY movie that is opening this weekend as well. The film is based upon the 1960s TV series of the same name, and Cole plays a character named Carlos.
---
MELISSA GILBERT: According to the Hollywood Reporter, Melissa Gilbert is returning to the old frontier with ABC's midseason one-hour project "Then Came Jones." Gilbert will play the female lead opposite Sean Patrick Flanery in the period Western drama from writer-producers Chris Brancato and Bert Salke and Touchstone Television, which has a commitment for a pilot plus three scripts from the network. Kim Manners ("The X-Files") has come aboard to direct the pilot, which is scheduled to begin production next month in Los Angeles. Set at the turn of the 20th century, Gilbert will play the sister of Ben Jones (Flanery), who, in a series of strange plot twists, becomes the sheriff of the border town of El Paso, Texas.
---
PETER WOODWARD: We all know Peter has done some wonderful work at the History Channel on the Egyptian series. Now Peter's series has been officially picked up. CONQUEST will air on The History Channel during their 2002-2003 schedule. Peter is writer, co-producer and host of this look at martial competition throughout history.
---
BABYLON 5 BIRTHDAYS
Robert Foxworth - November 1
John Vickery - November 4
Damian London - November 12
Tracy Scoggins - November 13
Mackenzie Gray - November 22
Dwight Schultz - November 24
Louise Turenne - November 26
Efrem Zimbalist, Jr. - November 30 Have I missed anyone? If you know the birthday of someone connected with Babylon 5, pass the information along. We want to include everyone in our Happy Birthday Wishes.
READER DIRECTORY
Sometimes you just can't find the e-mail address for someone you know you have -- it's someone who responded to a discussion topic or you met in one of the chat rooms. You'd like to send a personal note, but .... No address!!!!

We've started a White Pages of Zocalo Readers! It's a handy way of keeping track of people -- and putting together a birthday/greeting card list as well. If you would like to be part of the listing, just send me your name, state, e-mail address and (if you'd like to have it listed) birthday (without year) to sgbruckner@aol.com. Check out the Directory of Readers.

HAPPY BIRTHDAY READERS

Here are some of our readers who are having birthdays this month:

Name: Adam Clark
State: Missouri
E-mail address: aclark@ims-1.com
Birthday: November 19

Name: Garibaldis_Uniform
State: Ohio (formerly Hawaii)
e-mail: Babylon_5Fan@yahoo.com
B-Day: November 12

Don't see YOUR birthday here? That's easy to remedy. Send your birthdate along to me and I'll post it with others in our directory.
BE A SANTA
For years, Pat Tallman has worked with the wonderful people at PENNY LANE, a home for abused children, making their lives a bit brighter -- and probably helping the kids make some better life choices! Christmas time is special for everyone -- and you can help make it special for the kids at PENNY LANE. Drop over to http://www.thegalacticgateway.com/pl/ and see what items are needed. Like all kids, they want music, clothes, books. Help make this year a special one! Share your blessings with someone this year -- BE A SANTA.
---
UNIQUE CHARITY ITEM
Ten popular science fiction actors have donated their time, images and autographs for an exclusive photograph, the proceeds of which will go to charity. For sale through the actors themselves and at , the limited-edition photo is in color, edged in white and ready to place in an 11X14 frame, and handsigned. Each of the 1,000 limited edition photos comes embossed with a seal of authenticity and numbered. The photograph is now available for a pre-sale price of $100. After Sept 11, 2002, the price will go up to at least $125.00. Among the charities to benefit will be the Penny Lane home for abused children in Los Angeles, and various September 11 funds. The actors hope to raise more than $100,000 through the charity project. The Penny Lane Home is a residential facility for children who have been severely abused, physically, emotionally and sexually. Many have "fallen through the cracks" of the social service outreach programs, and Penny Lane is their last chance at escaping the abuse. Actors in the photo include: Patricia Tallman, known best for her roles as Lyta Alexander in Babylon 5 and Barbara in Night of the Living Dead (1990) Vaughn Armstrong, who has portrayed more guest star aliens on Star Trek:TNG, DS9 and Voyager than any other actor in Star Trek history. Currently, he holds the recurring role of Admiral Maxwell Forrest on Enterprise, as well as at least eight other Guest Starring roles on board the new Trek series to date. Stephen Austin portrayed many bizarre alien creatures on Babylon 5. His most notable was the lovable Pak'ma'ra Ambassador. David Brooks is an accomplished artist as well as actor. He is best known to the sci fi community as Max Eilerson on the Babylon 5 spin off, Crusade. Jeffrey Willerth portrayed Ambassador Kosh and was Associate Producer of Babylon 5 Robin Atkin Downes, best known for his role of Byron in Babylon 5 Carrie Dobro, Dureena Nafeel in Crusade. Tim Choate was extremely popular on B5 as Zathras (and his brothers, all named Zathras). He also portrayed Pollack on Crusade. Beata Pozniak appeared as Babylon 5's Earth Alliance President Luchenko. Ed Wasser, the evil Mr. Morden on Babylon 5. As a special promotion, the first 100 orders will receive a special gift: former Star Trek stunt coordinator, Dennis Madalone, has donated 100 copies of his single, "America, We Stand As One," to say thank you to the science fiction fans who purchase the charity photograph. To order the photo online, go to http://www.thegalacticgateway.com, click on shop, and search on the word charity.
COMIC BOOK WORLD
AMAZING SPIDERMAN: Amazing Spider-Man #46 will arrive in stores on Wednesday from Marvel Comics. The issue is written by J. Michael Straczynski, with art by John Romita Jr. and Scott Hanna and a cover by Frank Cho. Amazing Spider-Man #46 will be 32 pages and will cost $2.25. SMALLVILLE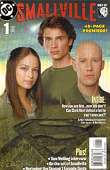 From early reviews, this new comic book version of the WB's hit series SMALLVILLE should have been out last year as a way of introducing the series. However, if you like the series, this 64-page one shot out this week from DC might be enough to pull you in.

SMALLVILLE TRADING CARDS:

Coming November 20 -- The 90-card set includes Episodic Coverage, Character Cards, Welcome to Smallville Cards, Smallville Torch Cards, Heir to LuthorCorp Cards, Amazing Abilities Cards, and Destiny Cards. Bonus cards include: Autograph Cards: Six different cards: Jonathan Kent (John Schneider), Chloe Sullivan (Allison Mack), Whitney Fordman (Eric Johnson), Victoria Hardwick (Kelly Brook), Principal Kwan (Hiro Kanagawa), Dr. Steven Hamilton (Joe Morton). Pieceworks Cards: Four different cards each featuring an embedded piece of costumes worn during Season One. The costumes are: Clark's t-shirt, Lana's jeans, Pete's t-shirt and Jonathan's plaid shirt. Smallville High: A nine-card foil puzzle featuring Clark, Lex, Lana and the gang. (9 cards, inserted approximately 1:11 packs). 250 uncut mini-press sheets of this puzzle have been sequentially numbered and are available for collectors at a suggested retail price of $69.95. Spring Formal: Six cards featuring characters in their formal dance attire. (6 cards, Appx. 1:17 packs).
CSI: CRIME SCENE INVESTIGATIONS
The first issue of IDW Publishing's CSI: CRIME SCENE INVESTIGATION mini-series – based on the CBS television series -- will hit stands in January with two covers. Each of the five issues will ship with two covers: a regular edition by Ashley Wood and a "secret rare" photo cover that will showcase one actor per issue. IDW Publishing has not announced the number of "secret rare" covers they will produce but the covers will be distributed randomly throughout the entire print run. The first issue also features an exclusive interview with William Petersen discussing his role as Gil Grissom. The CSI: CRIME SCENE INVESTIGATION mini-series will be written by Max Allan Collins, with art by Gabriel Rodriguez. Wood draw flashback and forensic sequences of the story.

RISING STARS: VISITATIONS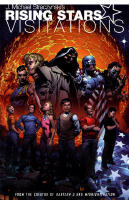 Rising Stars TPB: Visitations will arrive in stores on Wednesday from Image Comics. The issue is written by J. Michael Straczynski, penciled by Gary Frank, Christian Zanier and Keu Cha, inked by Jason Gorder and Livesay and colored by Liquid!, Matt Nelson, John Starr and Brett Evans. The issue is described as: "Collected together for the first time are some of J. Michael Straczynski's most sought after Rising Stars stories. Including the rare zero issue with an additional 6-page story illustrated by Gary Frank, the limited 1/2 issue, and the very first Rising Stars Preview issue. Plus, added sketches and an all-new cover by Brent Anderson."
---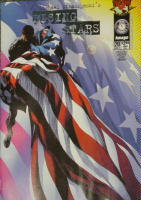 RISING STARS: #20 The latest issue is on stands now. Speaking of RISING STARS, Volume #1 of the series has been out for a while. Volume #2 is now available. If you missed any of the single issues of the series, you'll want to pick up the graphic novels that include 8 issues in a single bound copy.
---
SCI FI PUBLICATIONS
Cult Times #86: David Boreanaz and Alexis Denisof talk about their lives on and off the set of ANGEL. With the prospects of STARGATE SG-1 coming to an end, Amanda Topping talks about her travels over the past six years. While Johnny Smith has been the focus of attention on DEAD ZONE, Sheriff Bannerman (Chris Bruno) has been there to keep things in line. Chris talks about the somewhat confused relationship he has on the series.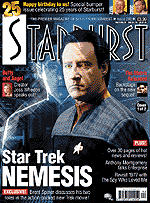 Starburst #292: Starburst is 25! To celebrate, the magazine has two different covers - and a number of interesting interviews, including Brent Spiner, Joss Whedon, Anthony Montgomery and a look back on the world of 007! Spiner, who co-wrote the upcoming Star Trek movie, NEMESIS, takes a look at Data and his many interesting facets.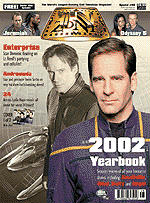 TV Zone Special #48: In this special issue, TV Zone looks about at 2002. Kevin Sorbo talks about moving from Hercules to Dylan Hunt on Andromeda. Dominic Keating plays Malcolm Reed, the weapons officer in ENTERPRISE. He talks about what this role has done for him. Malcolm-Jamal Warner talks about JEREMIAH and Luke Perry and Peter Stebbings put in their 2 cents as well.
Expose Special #21: There are a lot of new shows on the tube this year and this issue looks at a number of them -- including Firefly, Birds of Prey, Dinotopia, John Doe and Haunted. There are also articles about Charmed and 24, so don't miss this special issue.
BABYLON 5 BOOK OF QUOTES
For all those who submitted quotes and experiences to the Babylon 5 Book of Quotes, word from JMS is that the book, plus emails and suggestions, is being compiled now, and they're targeting February, the 10th anniversary of B5, for the publication date.
SCI-FI SCHEDULE
BABYLON 5: 15-NOV-02 5:00 PM SIGNS AND PORTENTS 18-NOV-02 5:00 PM TKO
19-NOV-02 5:00 PM GRAIL
20-NOV-02 5:00 PM EYES
21-NOV-02 5:00 PM LEGACIES
22-NOV-02 5:00 PM THE QUALITY OF MERCY 16-DEC-02 5:00 PM A VOICE IN THE WILDERNESS -PT 1
17-DEC-02 5:00 PM A VOICE IN THE WILDERNESS -PT 2
18-DEC-02 5:00 PM BABYLON SQUARED
19-DEC-02 5:00 PM CHRYSALIS
20-DEC-02 5:00 PM POINTS OF DEPARTURE
23-DEC-02 5:00 PM REVELATIONS STARGATE SCHEDULE: 13-NOV-02 1:00 AM STARGATE: SG-1 NEED
14-NOV-02 1:00 AM STARGATE: SG-1 THOR'S CHARIOT 18-NOV-02 7:00 PM STARGATE: SG-1 MESSAGE IN A BOTTLE
18-NOV-02 8:00 PM STARGATE: SG-1 FAMILY
18-NOV-02 9:00 PM STARGATE: SG-1 SECRETS
18-NOV-02 10:00 PM STARGATE: SG-1 BANE 18-NOV-02 1:00 AM STARGATE: SG-1 MESSAGE IN A BOTTLE
19-NOV-02 1:00 AM STARGATE: SG-1 FAMILY
20-NOV-02 1:00 AM STARGATE: SG-1 SECRETS
21-NOV-02 1:00 AM STARGATE: SG-1 BANE 23-NOV-02 9:00 PM SCINEMA EVENT STARGATE (LBX)
23-NOV-02 11:30 PM SCINEMA EVENT STARGATE (LBX)

25-NOV-02 7:00 PM STARGATE: SG-1 THE TOK'RA -PT 1
25-NOV-02 8:00 PM STARGATE: SG-1 THE TOK'RA -PT 2

27-NOV-02 2:00 PM SCINEMA EVENT STARGATE (LBX)
27-NOV-02 9:00 PM SCINEMA EVENT STARGATE (LBX)

16-DEC-02 7:00 PM STARGATE: SG-1 SPIRITS
16-DEC-02 8:00 PM STARGATE: SG-1 TOUCHSTONE
16-DEC-02 9:00 PM STARGATE: SG-1 THE FIFTH RACE
16-DEC-02 10:00 PM STARGATE: SG-1 A MATTER OF TIME
16-DEC-02 1:00 AM STARGATE: SG-1 SPIRITS

17-DEC-02 1:00 AM STARGATE: SG-1 TOUCHSTONE
18-DEC-02 1:00 AM STARGATE: SG-1 THE FIFTH RACE
19-DEC-02 1:00 AM STARGATE: SG-1 A MATTER OF TIME
23-DEC-02 7:00 PM STARGATE: SG-1 HOLIDAY 23-DEC-02 8:00 PM STARGATE: SG-1 SERPENT'S SONG
23-DEC-02 9:00 PM STARGATE: SG-1 ONE FALSE STEP
23-DEC-02 10:00 PM STARGATE: SG-1 SHOW AND TELL
23-DEC-02 1:00 AM STARGATE: SG-1 HOLIDAY 24-DEC-02 1:00 AM STARGATE: SG-1 SERPENT'S SONG

BABYLON 5/CRUSADE PHOTOSHOP PHOTOS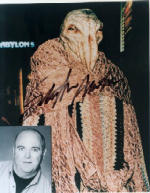 You do NOT have to pay the prices asked for over at e-bay! Here are photos of B5 and Crusade cast members at fantastic prices. Check out Photo Shop. Ordering is easy -- and you can't beat the prices! Just let me know which photos you want and I'll check to make sure they are still in stock.
---
BABYLON 5 TOONS
John Cook has a new cartoon contest going. Try your hand at a punch line.



NEW B5 TOON
Ranger Bill created this toon for his website www.wondertemp.com, but wanted to share it with readers here at the Zocalo. Thanks Bill.



BABYLON 5 REFERENCE PAGES
The Official Babylon 5 Magazine is indexed here as well. With the closure of the magazine in May, you'll want to see which magazines you have -- and which ones you will want to collect. The index may help you make a decision on which ones to choose. The Fan Club has many of the issues at thestation.com , making it very easy to complete your collection.

Universe Today -- the Babylon 5 Fan Club quarterly can also be found here. The index gives you a rundown of what articles were presented, what interviews published.

If you have magazines that have featured Babylon 5 or Crusade that are not listed, send along their issue number and a note to indicate what the article was about. It would be nice to have a fairly comprehensive listing of Babylon 5 publications here.

I have added a listing of all the Babylon 5 novels and now the B5 comic books to the reference page. If there are other items that you feel should be included, let me know.
BABYLON 5 COMMUNITIES
CHAT GROUP:
Ranger Renee reports that she has a Babylon 5 chat group (for those of you over 30) at http://groups.msn.com/Babtrek30. It covers Babylon 5 and all of Star Trek. Drop on over and give it a peek.
MAILING LISTS
REDEMPTION: Ranger Steve reports that a new discussion group has been created for the upcoming REDEMPTION convention. Redemption 03, 21-23 February 2003, Ashford, Kent, Celebrating 25 years of Blake's 7 and 10 years of Babylon 5. www.smof.com/redemption.
NW-B5
NW-B5 is a mailing list devoted to bringing critical information to the Vancouver Island, Lower Mainland, and Northern Washington areas. More specifically, anyone north of Seattle. B5 is broadcast on SPACE:TIS in Canada, and Sci-Fi channel in the US. By subscribing to nw-b5, you'll be able to know info bringing you up to date on the current scheduling and events happening in the community related to B5. You'll also be subscribed to the list itself, which means that you'll receive email when there is a scheduling change or critical information needs to go out to you (for example, if we need to start another mailing campaign).

For further information, see http://www.nw-b5.com
John Francis
Webmaster, Listowner, and Co-Moderator
mailto:nw-b5@iname.com

Reports of "The Gathering" are beginning to turn up on the list. John posted a mini-report, with photos, over at http://www.geocities.com/jnf.geo/nw-b5/gathered.htm#0501. You may want to check it out. It was a terrific event in which JMS showed clips from "Legend of the Rangers". Most of the cast was in attendance -- a great group of individuals.
BABYLON 5 DISCUSSION LIST
The Babylon 5 discussion mailing list is for any and all discussions and/or news pertaining to or related to Babylon 5 and/or Crusade. The list has been in existence for the past three years now, and has recently moved. The new location is http://lists.apparition.org/cgi-bin/lyris.pl, and you can subscribe by sending a blank e-mail message to join-babylon_5-l@lists.apparition.org.
THE GALACTIC GATEWAY
Here's a unique site for you! Jeffrey Willerth, Patricia Tallman, Mira Furlan, Claudia Christian, Robin Atkin Downes, Rick Biggs, Jerry Doyle, Bruce Boxleitner, Melissa Gilbert, Peter Jurasik, Bill Mumy and Carrie Dobro are under it's umbrella. Actors from other shows have joined the Gateway. Ted Raimi and Robert Trebor from Xena and Hercules are now at GG. To subscribe to a mailing list for GG, send a blank note to thegalacticgateway-subscribe@egroups.com.
GATEWAY CHATTERS
There is never enough time to keep in touch with friends! To help out, a mailing list has been started for chatters over at the Galactic Gateway. If you are interested in joining, send a blank note to gateway-chatter-subscribe@egroups.com.
GATEWAY TRADER
Are you looking for a particular Babylon 5 collectible? Do you have some items you'd like to trade? Then this is the list for you. To join, send a blank note to gateway-trader-subscribe@egroups.com.
CALLING ALL ARTISTS
The Art Gallery at The Zocalo Today is open. There are SO MANY talented people in our Babylon 5 community. We have enjoyed works by Todd Brugman and Tye Bourdony on our toons page, but there are a host of others who enjoy drawing, painting, sketching their favorite characters. Here are a few works that have been received. I have some others that will be added soon.

If you would like to share your work with us at The Zocalo Today, please send along a digital photo of your work and I'll begin putting the gallery together. If you do not have your work in digital format, drop me a note and we'll see what we can work out.
CALLING ALL CLUBS
There are a number of fabulous Babylon 5/Crusade Clubs around the world. Visit the B5 Fan Club page to see if there is a club near you. If you have a club that you would like to have listed, drop the information about your Club to me at sgbruckner@aol.com or bruckner@isnnews.net. That information will be added to the new B5 Fan Club Listing.

Massimo has sent an update for the B5 Fan Club in Italy. Founded in 1995, the club now has 230 members! In Italy, they have just seen the last two episodes from season five! Membership in the club includes: the club card, a poster, a personalized pen and four number of ISN Network the fanzine published by the club. The cost is Euro 20 for an year in Italy. Interested? Contact Massimo at mmartini@italway.it.
BABYLON 5 FAN CLUB
Netter Digital filed for bankruptcy in July of 2000 and all their worldly posessions were auctioned off on December 7. The B5 Fan Club site, Thestation.com and it's store, the Emporium, has been closed.
BABYLON 5 NEWSLETTERS
If you have a newsletter you'd like to have listed at The Zocalo Today, send the information along. It will be posted on the B5 Fan Club/Newsletter page.

Ranger Shane in North Carolina sent in the following note about their "Jumpgate" newsletter.

Hey Sandy! Just wanted to give you an update on the NC B5 group's newsletter, Jumpgate. There's now a dedicated EMail address for submissions - jumpgatemag@bellsouth.net - and any submissions, solicited or un-, can be sent to this address. Also, issues are available for free download at the URL at the bottom of this message.

Jumpgate - The Newsletter of the North Carolina Babylon 5 Fan Club
Shane Killian, Editor
HELP WANTED
A new HELP WANTED section has been added to the Z. If you need help finding a comic book, getting a special item, etc. here's the place to post a note. Just send whatever help you need to thezocalo@aol.com.
---
BABYLON 5/CRUSADE CONVENTIONS
CONVENTION CALENDAR
Mega Movie Mojo
November 15, 2002
Place: Four Points Sheraton, Ventura, CA
B5 Guest: Stephen Austin
For more information, visit their website at http://www.megamoviemojo.com.
---
Dragonfest
November 17, 2002
Place: Glendale Civic Auditorium, Glendale, CA
B5 Guest: Stephen Austin
For more information, visit their website at http://www.dragonfest.com.
---
SFX Science Fiction Expo
November 15-17, 2002
Place: Bayside Expo Center, Boston, MA
Guests: Michael Corn, Nichelle Nichols, Dominic Keating, Nicholas Brendon, Billy Dee Williams
For more information, visit their website at http://www.hobbystar.com.
---
Vulkon Orlando
November 15-17, 2002
Place: ORLANDO HILTON NORTH
Orlando, FL
B5 Guests: Bruce Boxleitner, Jerry Doyle
For more information, visit their website at http://www.vulkon.com.
---
Cruise
November 23-30, 2002
Event : a week-long cruise to the Western Caribbean with at least 4 events designed especially for fans. There will be two seminars, a 90 minute private concert by Julie and an exclusive cocktail party. Cruise Line : Holland America Cruise Lines
B5 Guest: Julie Caitlin Brown
For more information, visit their website at http://www.swainworldcruises.com/.
---
Slanted Fedora, Indianapolis Area
Nov. 29-Dec. 1, 2002
Place: Indianapolis Marriott
B5 Guest: Stephen Austin
For more information, visit their website at http://www.sfedora.com.
---
Be sure to visit our Convention Calendar for a full listing of upcoming conventions featuring Babylon 5, Crusade and Legend of the Rangers cast members as guests.
ZOCALO TRADING POST
Do you have extra copies of B5, Amazing Spiderman, Midnight Nation or Rising Stars comics you'd like to trade? How about those extra trading cards or B5 magazines? There are a lot of fans looking for these items -- and the Trading Post can help you buy or sell them. To see what's available, just use this link to the Trading Post. To have items included in The Trading Post, send a note to The Zocalo. Please put Trading Post in the subject line.
Pen Pals
If you are looking for someone to talk about Babylon 5 and Crusade with, the Pen Pal section is for you! Check it out! Drop a note to someone who is feeling B5 withdrawal -- BIG TIME!

People thought a Pen Pal page was a good idea. If you would like to meet people who you could chat with or share your opinions of the show with, send along your e-mail or snail-mail address The Zocalo. It will be incorporated on the new Pen Page Page.
MAIL FOR CAST AND CREW
Here's a recent note from JMS on the subject:

Just an FYI to those who've been using the Ventura Blvd. mail drop for fan mail to actors....

As mentioned before, we're phasing out the forwarding of fan mail because we a) don't have the resources, complicated by b) the actors have scattered to the four winds, and it makes it very difficult to get everything to everybody in a timely fashion.

So, having provided prior notice...fan mail to actors coming to the Ventura Blvd. mail drop will be sent back. Mail to actors should be sent via their official fan clubs. I will still be taking mail there, since it's my mailbox, but that's it.

Just so's y'all know and save a few bucks on postage and returns.

JMS' mail can be sent to:

14431 Ventura Boulevard, PMB 260
Sherman Oaks, CA 91423

WARNER BROS:

Warner Bros. Address:

Warner Bros. Domestic Television Distribution
4000 Warner Blvd.
Burbank, CA 91522

Warner Home Video:

Mr. Douglas Wadleigh
VP for Marketing and Special Features
Warner Bros.
4000 Warner Blvd.
Burbank, CA 91522

SCIFI:
Bonnie Hammer, President
Sci-Fi Channel
1230 Avenue of the Americas
New York, NY. 10020-1513

Mr. Thomas Vitale
Senior VP of Acquisitions, Scheduling & Program-Planning
BACK ISSUES OF THE ZOCALO TODAY
The front page of the The Zocalo Today changes daily, so be sure to check the back issues to make sure that you haven't missed anything IMPORTANT! I don't want the front page getting too long so I shift information periodically into the archives. So if you aren't a regular visitor to The Zocalo Today, be sure to check out the back issues. Just use the button above!
---
Take care and I look forward to hearing from you.
Sandra Bruckner (sgbruckner@aol.com)
Editor/Publisher
The Zocalo Today
http://www.isnnews.net
Copyright - SBruckner, 2002