[an error occurred while processing this directive]

The Zocalo Today

Welcome! I am REALLY glad you dropped by. Take your shoes off, get comfortable and stay a while.

The Zocalo Today is an interactive newsletter. If you have suggestions, please send them along. The Zocalo Today is as much YOUR newsletter as it is mine! I'm just pulling together things for you! Join our weekly discussion topic. It is just one way you can interact with other Z readers. Send along letters, sightings of B5 cast and crew in other projects, convention reports, photos, etc. Don't miss our back issues. There is a LOT of information contained there and you'll not want to miss anything.

If you have questions, drop me a line at sgbruckner@aol.com or b5web@aol.com.

Again, WELCOME!

November 15, 2001 4:47am
What's New
AMAZING SPIDERMAN: JMS' special issue related to September 11 was released yesterday. Don't know about the comic book shops in your area, but all of the ones around here are limiting people to only one issue! So if you can get your hands on a copy, do so now!
---
JMS INTERVIEW: Part 3 of an interview with JMS is up at www.prevuemagazine.com. Be sure to drop over for a read when you have a chance.
---
I got a note yesterday from Amazon.com saying that "Delicate Creatures" had been cancelled. Bummer! I was looking forward to seeing what JMS had come up in this graphic novel.
---
Tye Bourdony from The Lighter Side of Sci-Fi, has sent in a report from last weekend's United Fan Con in Springfield, MA. There is a copy of a group photo and new toon on the Reports Page. Enjoy!
---
The ratings for this week at SCIFI are just out. Babylon 5 was #1 this week.
---
AGENTS OF GAMING: Ranger Jim reports that Agents of Gaming has come up with some terrific "package deals" on B5 Miniatures. Discounts on the packages range from 25% to 50% off the original price. If you are interested, go to www.agentsofgaming.com.
---
LEGEND OF THE RANGERS: If you haven't been over to the Ranger website in a bit, be sure to drop over. SCIFI is gradually updating the site with new material -- including new photos of the cast! One photo there would make a terrific wallpaper for Windows! Drop over to www.scifi.com/b5rangers and stay in touch.
---
MACKENZIE GRAY: The first installment of an interview with Mackenzie Gray is now available at B5LR.com.
---
Terry Jones has sent along two new segments of the Babylon 5 Chronology. Check out 2256-2258 and "Signs and Portents" along with the other portions of the B5 History Index.
---

BLOOD DRIVES: If you are able, be sure to roll up your sleeves and give blood -- both now and in a couple of weeks. The need for blood will be continual. Right now, the tremendous outpouring of volunteers has filled quotas and storage space! FANTASTIC!!! But those supplies will be utilized and a new supply will be needed soon. Check out donation drives near you. I'm signed up already.
---
The e-mail version of The Zocalo Today goes out on Saturdays. If you would like to be included on the mailing list, just send a blank note to thezocalo-subscribe@yahoogroups.com. If that doesn't work for you, drop me a note at sgbruckner@aol.com. I can add you manually.
---
NEWS AROUND THE SCI-FI GENRE
November 16:
RATINGS: The Top 10 SF Network Shows: Smallville 5.5; Enterprise 5.2; Charmed 3.6; Buffy 3.5; Angel 3.1; Special Unit 2 2.7, and Roswell 2.0. Source: Nielsen Galaxy Report, 10/15/01 - 10/21/01.
---
BUFFY: Fans won't have to wait very long before seeing the repeat of the music episode of Buffy the Vampire Slayer, "Once More with Feeling." It will be rebroadcast on Nov. 16 at 8 p.m. ET/PT. However, the additional eight minutes of footage featured in the original airing will not be shown.
---
HARRY POTTER: This is the weekend everyone has been waiting for. Variety reports that Harry Potter opens in a record 3,672 theaters domestically. That compares with the previous record 3,653-theater opening for Mission: Impossible 2 last May.

Richard Harris and Robbie Coltrane are talking about their parts in the upcoming movie over at http://www.13thstreet.com/frame.cfm?src=http://www.13thstreet.com/scanner/contentcomm.cfm?epitaph=28FE92CE-9D22-4499-A930B9A493B1325A&C_S=D&C_T_B=TTZ&M_T=O&C_T_P=W.
---
LORD OF THE RINGS: You can listen to the music from the film and go behind the scenes with composer Howard Shore and director Peter Jackson at www.lordoftherings.net.
---
STAR WARS: The movie will be opening a day earlier than previously announced. Lucasfilm announced that Star Wars: Episode II--Attack of the Clones would open on May 16, 2002. International release dates for the film are available at the official website and over at www.scifi.com. According to Variety, Episode II will likely open in more than 3,000 theaters domestically.

There is a teaser available out at www.starwars.com.
---
PRETENDER: A new website has been launced at http://www.tnt.tv/Title/Display/0,5918,340729,00.html to promote the latest Pretender movie, THE PRETENDER: ISLAND OF THE HAUNTED. The movie premieres on December 10 at 8pm on TNT. The site is terrific, containing photos, video clips and a lot more.
---
BRUCE LEE: The actors has been dead for quite more than 25 years, but through computer technology, this kung-fu legend will be starring in a new film. Variety reports that Lee (or at least his likeness) will star in Dragon Warrior, marking the first time a dead actor has been recreated for a major film role.
---
STAR TREK MARATHON: Patrick Stewart will host "Star Gazing on 'Star Trek: The Next Generation' Marathon" on The National Network on Nov. 23 beginning at 9 a.m. The actor will introduce 14 episodes from the hit series, each featuring a different guest star including Whoopi Goldberg, Kelsey Grammar, Leonard Nimoy, Ashley Judd and Bebe Neuwirth. The marathon kicks off at 9 a.m. ET with the series premiere "Encounter at Farpoint," that introduced John de Lancie's character of Q for the very first time back in 1987.
---
IRON CHEF: Many have watched this show on the Food Network -- but now there is going to be a US version! Yes, Iron Chef, USA will have William Shatner hosting instead of Chairman Kaga. The show will air at 9pm on Fridays on UPN.
---
November 15:
HARRY POTTER: The movie opens this week and Warner Brothers announced that the official Web site for Harry Potter and the Sorcerer's Stone has drawn more than 25 million visitors since its launch in February. Current traffic at the site averages 2 million unique visitors per week, with some days attracting up to half a million. The live webcast from London of the world premiere was seen by fans in 40 countries.
---
SPECIAL UNIT 2: UPN is on a roll this year. They have ordered a full season Special Unit 2. Now in its second season, stars Michael Landes and Alexondra Lee portray members of a secret monster-hunting squad of the Chicago police department. Evan Katz is the executive producer and creator. Ratings have been growing for SU2, delivering double-digit ratings growth over its performance last spring. Ratings grew 50 percent among persons 12-34, 70 percent among adults 18-34 and 36 percent among adults 18-49. Special Unit 2 can be seen on Wednesdays at 9 p.m. ET/PT.
---
X-FILES: Robert Patrick recently talked to SciFi Wire about the new season of X-Files. He said that Doggett fans can expect him to become the new Mulder in the coming weeks. "I've totally assumed that place on the show and at The X-Files." "And that's interesting and unnerving for Doggett. Remember, he was a fast climber in the FBI and very well respected. Now he finds himself totally alienated, and the friends he had in the FBI are no longer his friends." Read more over at www.scifi.com.
---
STAR TREK: NEMESIS: Star Trek 10, "Nemesis", is slated to begin filming on Nov. 19. A recent Star Trek newsletter indicated that Patrick Stewart told fans at the annual Galaxy Ball convention and fund-raiser about the start date. Stewart was joined at the event by Next Generation co-stars Brent Spiner, Jonathan Frakes and Wil Wheaton. When asked if the events of Sept. 11 would have any effect on the script, Stewart replied, "The script is going ahead as planned. No changes have been made." Stewart added that given the recent situation, "there is no better time for a Star Trek movie and for this movie in particular."
---
November 14:
RATINGS: Top 10 SF Syndicated Shows: Stargate SG-1 3.1; The X-Files 3.0; Andromeda 2.8; Buffy 2.5; 3rd Rock 2.3; Earth: Final Conflict 2.0; John Edward 2.0; Invisible Man 1.7; Voyager 1.6, and Pretender 1.5. Source: Nielsen Galaxy Report, 10/22/01 - 10/28/01.
---
MUTANT X: Victoria Pratt portrays the lovely Shalimar Fox on the new Mutant X series. When asked about the break-out success of the show, she says that a lot of fans came to the show from Xena, Cleopatra 2525 and La Femme Nikita. With connections to comic books, they picked up some additional fans that way as well. "That's a lot of people, and I think everybody's getting something different out of it."
---
HARRY POTTER: One of my favorite composers, John Williams, talked to www.cinescape.com about pulling together a score for the Harry Potter movie. He, like many parents, came to know the characters because their kids were reading the books. What was his favorite scene in the film? "The first great mail delivery. It starts with one envelope and ends with a thousand envelopes on the living room floor. I just love that scene. I've never seen anything quite like it in a film."
---
BUFFY: A LOT of shows have been participating in auctions to support victims of the September 11 tragedies. Buffy the Vampire Slayer's Sarah Michelle Gellar is auctioning off her outfits at www.gloryauction.com along with items from Katie Holmes, Gwyneth Paltrow, Halle Berre, Penelope Cruz, Britney Spears and Cheryl Crow. According to Zap2it, one of the items Gellar has up for auction in her famous geometric red and ivory silk print Valentino dress she wore to the Golden Globes this year. It's current price? $955. "Buffy" creator Joss Whedon is making signed copies of the musical score he recently composed for the "Buffy" musical available on eBay.
---
BATTLESTAR GALACTICA: WIth Bryan Singer having departed the production to take on duties for X-MEN 2, the production is in jeopardy. If you'd like to sign a petition in support of the program, go to www.battlestargalactica.com. Richard Hatch, Captain Apollo from the original series, has pledged his full support of the production under Tom DeSanto.
---
November 13:
LORD OF THE RINGS: Reuters reported a record breaking 4,000 attendees at the opening of an exhibit of props and costumes from the upcoming "Lord of the Rings" movie in Toronto this weekend. The exhibit is located at Toronto's Casa Loma and contains about 200 props, including costumes, a hobbit's doll house, clay mugs, metal tools, jewelry and leatherwork, weapons, furniture and a torture chamber, as well as portraits, production photographs and drawings and sketches by Alan Lee and John Howe, Rings illustrators who collaborated on the films. The show, organized by Alliance Atlantis, ran thru Nov. 11.
---
BOX OFFICE: Monsters, Inc. handily won the box office #1 slot again this week, pulling in an additional $46.2 million, taking the film well over the $100 million mark in just two weeks. The latest comedy by the Farrelly Brothers, "Shallow Hal", came in #2 with nearly $23.3m and Jet Li's "The One" placed #3 with an additional $9.1m in receipts.
---
HARRY POTTER: While the movie is set to open this weekend, ticket sales are already soaring to record numbers. "In terms of movie page views (online), 'Harry Potter' is probably 100 times bigger already than any other blockbuster film we've had before," AOL Moviefone senior vp and general manager Tommy McGloin said, adding that ticket sales are running much higher than previous levels achieved by "Star Wars: Episode I -- The Phantom Menace" or "Grinch."
---
November 12:
RATINGS: Top 10 SF Channel Shows: Babylon 5 0.8; Farscape 0.8; Crypt: Demon Knight 0.8; Tales from the Hood 0.8; The Outer Limits 0.8; Street Fighter 0.8; Tales from the Crypt 0.8; The Chronicle 0.7; Star Trek 0.7, and Earth 2 0.6. Source: Nielsen Galaxy Report, 10/22/01 - 10/28/01.
---
ENTERPRISE: The musical soundtrack for Enterprise has been a controversy from the beginning. Russell Watson, the British operatic tenor who sings the theme song, defended it to the Zap2it Web site. What is his reaction to fans mounting a petition to remove the title song from the show's opening credits? "Isn't that like everything in life?" Watson asked the site. "Something new happens, and people aren't quite sure of it. But they'll get used to it. By the time they've watched the 20th episode, they'll be thinking, 'Well, it's not that bad after all.'" The producers may shoot a video of the song, Faith of the Heart (aka Where My Heart Will Take Me) and release it as a single.
---
HOLLYWOOD WAR EFFORT: Members of the film & TV industry met with the Bush administration on Sunday morning in Beverly Hills, where Bush administration senior adviser Karl Rove outlined a seven- point White House message that he'd like Hollywood to broadcast worldwide. Jack Valenti, president of the MPAA, promised "to contribute Hollywood's creative imagination and personal skills to the war effort." New SAG President, Melissa Gilbert was also there to pledge support.
---
SHOWTIME: For years, Showtime was in the shadow of HBO. In recent years, however, Showtime has begun to forge it's own viewership with original dramas and comedies. The network has more than doubled its original series count to eight, from three just three years ago. Earlier this year, Showtime renewed for a second season "Queer" and "The Chris Isaak Show." Showtime's original series stability is reaping subscriber dividends. This year, it increased its subscriber base by 21%, or 5 million homes, to 28.4 million homes, compared with last year, according to Nielsen Media Research. Showtime's subscriber base includes Showtime, Movie Channel and Flix subscriber homes. Showtime will increase programming spending 5% next year to about $390 million, according to industry estimates. Let's hope that JMS' new series, "Jeremiah" helps Showtime along with additionally high ratings as it premieres in January.
---
LEGEND OF THE RANGERS PROMOTIONS
More information from SCIFI on promotions:

Starting November 26, SCIFI will be launching a massive online campaign, so be sure to look for RANGERS interactive trading cards and downloadable flyers. Enjoy the cards and flyers yourself, e-mail them to fellow B5 fans, or send them to potential new B5 fans! If you're really keen to help promote RANGERS, print the flyers for distribution at your local record store, fan convention, college student forum and community center or in any other high-traffic areas.

Here is the latest press release from SCIFI about their efforts to promote the upcoming "Legend of the Rangers" movie on January 19:

The SCI FI Channel has named one Babylon 5 fan in each of the top five TV markets an honorary Ranger to promote SCI FI's upcoming original movie Babylon 5: The Legend of the Rangers, the network announced. That fan's car will be "wrapped" with the B5 logo and an ad for the movie, and the honorary Ranger will get to spread the word. Fans were selected in New York, Los Angeles, Chicago, Philadelphia and San Francisco.

SCI FI Channel President Bonnie Hammer will have her own personal vehicle wrapped as well, in a show of solidarity with the fans. Photographs of the drivers and their newly tricked-out B5 vehicles in front of landmarks will be posted on SCIFI.COM.

SCI FI is also sending Rangers T-shirts to B5 fans who are planning on attending screenings of the upcoming first Lord of the Rings movie on Dec. 19. SCI FI is asking the fans to wear the specially designed shirts to promote the telefilm.

The fans were all chosen based on their responses to a SCIFI.COM message and for registering on the official Rangers Web site. Babylon 5: The Legend of the Rangers will debut on SCI FI on Jan. 19, 2002, at 9 p.m. ET/PT. The fan campaign kicks off the week of Dec. 10, and the cars will be unwrapped shortly after the film's premiere.
AMAZING SPIDERMAN #36
JMS recently posted the following regarding the upcoming issues of Amazing Spiderman #36:

Just a quick note to the folks who asked if I could post a reminder message when the issue I wrote for The Amazing Spider-Man dealing with the World Trade Center attack hit the stands. It comes out next Wednesday, the 14th. The issue has gotten a rather startling amount of coverage, from NPR to CNN, the New York Times, the Washington Post, USA Today...it really seems to have struck a chord, and helped put things in perspective a bit, which was my hope with the issue.

I commend this to all fans of Babylon 5. I'm donating my fees for this book to various New York funds to help those affected by this, and Marvel will match me on that donation. I think, maybe, it will do some good. I hope so.

Here are two representative sections from the book, which is almost entirely in captions, as Peter Parker surveys the situation and assesses the situation. It is, in many ways, a meditation on the events of 9/11, almost a prose poem at times...the first as he considers the true heroes, the second as he deals with the question, what do we tell the children; the third, later in the book.

*******

But with our costumes and our powers we are writ small by the true heroes.
Those who face fire without fear or armor.
Those who step into the darkness without assurances of ever walking out again,
because they know there are others waiting in the dark.
Awaiting salvation.
Awaiting word.
Awaiting justice.

What DO we tell the children?
Do we tell them evil is a foreign face?
No. The evil is the thought behind the face, and it can look just like yours.
Do we tell them evil is tangible, with defined borders and names and geometries and destinies?
No. They will have nightmares enough.

Perhaps we tell them that we are sorry.
Sorry that we were not able to deliver unto them the world we wished them to have.
That our eagerness to shout is not the equal of our willingness to listen.
That the burdens of distant people are the responsibility of all men and women of conscience, or their burdens will one day become our tragedy.

Or perhaps we simply tell them that we love them, and that we will protect them. That we would give our lives for theirs and do it gladly, so great is the burden of our love.
In a universe of Gameboys and VCRs, it is, perhaps, an insubstantial gift. But it is the only one that will wash away the tears and knit the wounds and make the world a sane place to live in.

In recent years we as a people have been tribalized and factionalized by a thousand casual unkindnesses.
But in this we are one.
Flags sprout in uncommon places, the ground made fertile by tears and shared resolve.
We have become one in our grief.
We are now one in our determination.
One as we recover.
One as we rebuild.

You wanted to send a message, and in so doing you awakened us from our self involvement.
Message received.
Look for your reply in the thunder.

jms
RANGER CHATS - DYLAN NEAL NEXT WEEK
SCIFI has begun scheduling chats with "Legend of the Ranger" cast members.

Here is the schedule:
Thursday, November 29, 9:00 PM ET - Dylan Neal ("David Martel")
Thursday, December 6, 9:00 PM ET - Dean Marshall ("Malcolm Bridges")
Thursday, December 13, 9:00 PM ET - Warren T. Takeuchi ("Kitaro")

To join the chat, go to www.scifi.com/chat and join in the conversation. SCIFI should have a transcript of the chat in a few days for those who can not make the chat.

Mark these dates on your calendar. There are two very talented actors and I'm sure they will be fun to talk with.

** Alex Zahara was in to chat last night. SCIFI should have the transcript out soon. We'll post a link as soon as it is available.
BOOK 3 OF TECHNOMAGE SERIES
Here is the press release from DelRey on Jeanne Cavelos' next B5 novel:

The explosive confrontation between one techno-mage and the evil power that spawned him
Babylon 5: Invoking Darkness
Book 3 of The Passing of the Techno-Mages Trilogy
By Jeanne Cavelos
In Babylon 5: Invoking Darkness (Del Rey; $6.99), third volume of the best-selling Passing of the Techno-Mages trilogy, World Fantasy Award winner Jeanne Cavelos brings the mages' story to a shocking climax.
The techno-mages are a mysterious order of humans and aliens implanted with extremely advanced technology that allows them to perform acts that seem magical. In Book 2, the dark secret of the techno-mages was revealed: their implants are provided by an ancient, evil race--the Shadows. By programming the implants to further their agenda, the Shadows have made the mages into agents of chaos and destruction.
Now the Shadows have engulfed the galaxy in war. As billions die and the flames of destruction rage unchecked, the Shadows seem poised for absolute victory. The mages, determined not to aid the Shadows, have withdrawn to a hiding place. Among them is Galen, who burns for revenge against the treacherous mage Elizar, who joined the Shadows and killed Galen's love. At last Galen wins permission to leave the hiding place and kill Elizar and two other enemies. Though the galaxy is being torn apart by bloody conflict, he is not to interfere in the Shadows' war; he is not to use his great spell of destruction against the mages' creators.
As Galen re-enters a war-torn galaxy, he must hold tightly to control. As much as he wants to strike against the Shadows, who infected him with the seeds of chaos and destruction, he knows that giving into those urges will only further the Shadows' ends. But once the Shadows learn of his presence, they have their own plans for Galen. In a desperate, apocalyptic battle, there's no telling who will be the victor. Or if there will be any survivors at all.
The Babylon 5 novels of Jeanne Cavelos have been highly praised by readers and critics as the best in this series, and as "real books," not TV tie-in knock-offs. Cavelos's readers include fans of the TV show and those who have never seen the show, but who love her compelling, page-turning stories.
In the front of Jeanne's latest novel is a brief paragraph that seems SO appropriate for today:
There is a greater darkness than the one we fight
It is the darkness of the soul that has lost its way.
The war we fight is not against powers and principalities;
it is against chaos and despair. Greater than the death of
flesh is the death of hope, the death of dreams.
Against this peril we can never surrender.

---G'Quan
EMERGENCY RELIEF COMIC BOOK
This project is coming along nicely. It is up to 196 pages and the list of contributors looks like a Who's Who of comic books. Over at www.indyworld.com/relief you can see the book and those who have been involved with it's creation.

"Cartoonists have been contacting each other regularly since the tragedy and have come up with this project," said editor Jeff Mason, "The cartoonists wanted to create a collection of thoughtful, introspective stories."

You can now order the comic book at www.amazon.com. I did -- since I think (I hope) this will be an issue that will fly off the comic book store shelves.
LEGEND OF THE RANGERS TRAILER
The Babylon 5: The Legend of the Rangers trailer will be shown at the following conventions:

- ArmadilloCon - Nov. 16-18, Cedar Park, Texas
- EveCon - Dec. 28-30, Fort Washington, Md.
- Arisia - Jan. 18-19, Cambridge, Mass.
- Confusion - Jan. 18-20, Ann Arbor, Mich.

** If you have more information on these conventions, please pass it along.
BABYLON 5 CALENDAR FOR 2002
The folks at CalendarMart have a 2002 Babylon 5 Calendar available. Go to http://secure.venus.co.uk/bluemask/calendar_babylon_5.html to place your orders. Slow Dazzle hasn't come up with any new photos to use in this version of the calendar -- but it is Babylon 5 and will look terrific on your wall.
** Bruce at www.uncomyngifts.com also has the calendar. So you have two places where you can pick up this great calendar for 2002!
THIS WEEK'S DISCUSSION TOPIC:
Rather than a "new" topic this week, let's expand last week's topic. Since many of you sent in stories about your favorite B5 collectible, let's see what you consider your fondest "or most memorable" B5 memory. Was it the first time you met JMS or a cast member? Your first kiss from (Pat, Mira, Claudia, Bruce, Jerry)? Was it the first time you realized how much you loved Babylon 5 and couldn't wait for the next episode to air?

Send in your comments to TheZocalo@aol.com or B5web@aol.com. I'll post them on the Discussion Topic page for everyone to share.
BABYLON 5 ON DVD
It appears that Warner Bros. may release ONLY "In the Beginning" and "The Gathering" in December. They feel that VHS sales were not terrific and are apprehensive about DVD sales.

Ranger Adam has put a petition up on-line that people can sign to show their support for more Babylon 5 on DVD. The URL is http://www.petitionpetition.com/cgi/petition.cgi?id=2625. Add your name to the list. Send the URL to your friends and have them sign up. You never know that might happen!

I have put some addresses in the section below -- for Warner Home Video. Take pen in hand and write. Your letter do count.

A few rangers have suggested that ONLY sales of the initial DVD will translate into something WB can understand. Why not purchase the first DVD -- for you and a friend. The holidays are quickly approaching and I'm sure that the new B5 DVD would be a welcome addition to anyone's collection. AND it's reasonably priced as well.
KEEPING UP WITH CAST AND CREW
MIRA FURLAN: Mira appeared as a marvelous villain on "Sheena" this week. I hope you had a chance to see it.
---
PAT TALLMAN: Pat Tallman is on this week's episode of "Sheena". Steven L. Sears, creator and co-executive producer of Sheena, said "She's an interesting villain."
---
BABYLON 5/CRUSADE CHRONOLOGY
A number of you have written to ask about having an index of the chronology published thusfar. Terry has given permission for this so I'm working on it. You can now find the index to the timeline published thusfar at B5 Chronology Index .

Terry Jones created a FANTASTIC Babylon 5/Crusade Chronology that was published in the Official Babylon 5 magazine. He has not stopped with the end of the series though. He has included items from the latest novels as well as things from the Crusade series. Here's a note from Terry to tell you all about it.

To look at the timeline in a different way, I have been working with Terry Jones on personal chronologies for the Babylon 5 universe. At The Galactic Gateway you will fine Parts 1-4 of the chronology for John Sheridan along with Part 1 for KOSH. Others will follow. I hope you will visit GG and give the chronologies a look.

Terry has just made two new segments of the Babylon 5 Chronology are now available. They are 2256 and Signs and Portents.
SCI FI PUBLICATIONS
Cult Times #74: Lexx fans will find interviews with Michael McManus, Xenia Seeberg and Brian Downey. New fans of Mutant X will learn more about John Shea, Adam in the new series. Richard Manning and David Kemper (producer and writer) talk about changes afoot for Farscape!.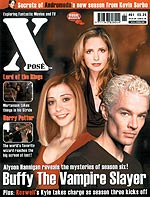 Expose #61: Alyson Hanningan, Buffy's Willow is featured in this month's issue. You'll also find articles on Andromeda, Lord of the Rings, Harry Potter, Roswell, The One and Wolf Lake.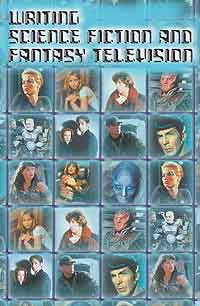 WRITING SCIENCE FICTION AND FANTASY TELEVISION: Here's a new book that sounds interesting -- regardless of whether you are interested in writing or not! Joe Nazzarro has pulled together interviews with the biggest names in sci-fi and fantasy television, including Rockne S. O'Bannon (Farscape) and J. Michael Stracynski (Babylon 5), and behind-the-scene secrets direct from the writers and producers of such top ten shows as Star Trek, Buffy: The Vampire Slayer, and The X-Files. (Diamond Comic Distributors — England) (1-84023-383-4) (CAUT: 4) TP, 6x9, 256pg, b&w..........$23.99
---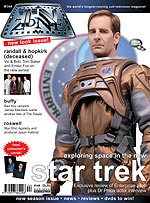 TV Zone #144: Enterprise is dominating nearly every magazine cover these days. TZ grabs an interview with the new doctor, John Billingsley as Doctor Phlox. Also in the issue, James Marsters talks about Buffy's new season.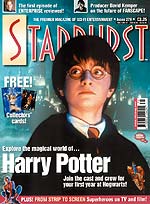 STARBURST #279: The new Harry Potter movie has indeed created a stir. Have you seen all the merchandise already? Starburst talks with producer David Heyman, Director Chris Columbus and screenwriter Steve Kloves. And, they also sit with young star David Radcliffe who talks about being Harry! Farscape producer David Kemper looks back on season three and drops a few hints about this season's finale!
BABYLON 5 NOVELS
Book #7 "Shadow Within" by Jeanne Cavelos has been very hard to find over the past year. However, the author has a few copies she will let fans purchase. If you are interested, let me know and I'll get details.

DelRey has a few Babylon 5 projects in the works. DelRey's Steve Staffel is trying to acquire the rights to the Babylon 5 novels published by Dell. His plan is to begin with the two favorites--by Jeanne Cavelos and Kathryn Drennan--and see what kind of response they get from the Babylon 5 fans. In addition, DelRey is considering publishing the short story collection, if they can pick up the license.
---
SCI-FI SCHEDULE
BABYLON 5's Schedule: 7pm each evening:

Air Date Title

Nov. 19 Voices of Authority
Nov. 20 Dust to Dust
Nov. 21 Exogenesis

Nov. 26 Message from Earth
Nov. 27 Point of No Return
Nov. 28 Severed Dreams
Nov. 29 Ceremonies of Light and Dark

Dec. 3 Sic Transit Vir
Dec. 4 A Late Delivery from Avalon
Dec. 5 Ship of Tears
Dec. 6 Interludes and Examinations

Dec. 10 War Without End - Part 1
Dec. 11 War Without End - Part 2
Dec. 12 Walkabout
Dec. 13 Grey 17 Is Missing

Dec. 17 And the Rock Cried Out, No Hiding Place
Dec. 18 Shadow Dancing
Dec. 19 Z'Ha'Dum
Dec. 20 The Hour of the Wolf

Dec. 26 Whatever Happened to Mr. Garibaldi?
Dec. 27 The Summoning
BABYLON 5/CRUSADE PHOTOSHOP
NEW PHOTOS
You do NOT have to pay the prices asked for over at e-bay! Here are photos of B5 and Crusade cast members at fantastic prices. Check out Photo Shop. Ordering is easy -- and you can't beat the prices! Just let me know which photos you want and I'll check to make sure they are still in stock.
---
COMIC BOOKS
TOP COW: For those of us anticipating the next Midnight Nation and Rising Stars issue from JMS, it looks like we'll have a while to wait! I picked up this note today:

In a press release, Top Cow Productions announced it has made some adjustments to its editorial schedule in the interest of "its continuing mission to publish the absolute highest quality level in comics while maintaining scheduled ship dates."

Top Cow announced Fathom #13 and #14 and Tomb Raider: Greatest Treasure of All are all being cancelled pending resolicitation once these issues are complete. Midnight Nation #9 and Rising Stars #17 are both being resolicited for December 2001.

"Ultimately our goal is very simple, we want to publish the best written, best drawn comics in the industry and put them out in the month we solicit them in," said Top Cow President Matt Hawkins. "The changes we're making in the editorial schedule are being made to help ensure both aspects of this goal. There are a couple other scheduling changes we'll be making, but we'll announce those once we have them confirmed."
---
**If you are having trouble finding the comic issues, drop me a line. My comic guy seems to be a HUGE JMS fan and has ordered more Marvel comics than anyone in the area!
NEW CARD SET - RISING STARS
Here is a portion of a news release from Dynamic Forces & Top Cow related to a new trading card series being developed to benefit the NYC Police and Firefighters Widow's and Orphans Fund. Read more about this project at http://www.topcow.com.

"Dynamic Forces teams up with Top Cow and Joe Michael Straczynski to raise money to aid New York City's Police and Firefighters Widow's and Orphans Fund! The upcoming Top Cow Universe trading card series will have a limited number of boxes featuring 5 inserted box toppers featuring Patriot from Rising Stars! These box toppers will be the first rare card that fans see when they open a Top Cow Universe box and will placed in specially ordered boxes of the Top Cow Universe Trading Card Series. From this limited edition run Joe Michael Straczynski will be donating his royalty to the New York Policemen's Widow's and Orphans fund. Dynamic Forces is matching the royalty to donate even more money to the charities!
NEW BABYLON 5 TOONS
John Cook has a new cartoon contest going. Try your hand at a punch line.




READER DIRECTORY
Sometimes you just can't find the e-mail address for someone you know you have -- it's someone who responded to a discussion topic or you met in one of the chat rooms. You'd like to send a personal note, but .... No address!!!!

We've started a White Pages of Zocalo Readers! It's a handy way of keeping track of people -- and putting together a birthday/greeting card list as well. If you would like to be part of the listing, just send me your name, state, e-mail address and (if you'd like to have it listed) birthday (without year) to sgbruckner@aol.com. Check out the Directory of Readers.

HAPPY BIRTHDAY TO YOU!

Name: Adam Clark
State: Missouri
E-mail address: aclark@ims-1.com
Birthday: November 19

Name: Garibaldis_Uniform
State: Ohio (formerly Hawaii)
e-mail: Babylon_5Fan@yahoo.com
B-Day: November 12
BABYLON 5 REFERENCE PAGES
The Official Babylon 5 Magazine is indexed here as well. With the closure of the magazine in May, you'll want to see which magazines you have -- and which ones you will want to collect. The index may help you make a decision on which ones to choose. The Fan Club has many of the issues at thestation.com , making it very easy to complete your collection.

Universe Today -- the Babylon 5 Fan Club quarterly can also be found here. The index gives you a rundown of what articles were presented, what interviews published.

If you have magazines that have featured Babylon 5 or Crusade that are not listed, send along their issue number and a note to indicate what the article was about. It would be nice to have a fairly comprehensive listing of Babylon 5 publications here.

I have added a listing of all the Babylon 5 novels and now the B5 comic books to the reference page. If there are other items that you feel should be included, let me know.
MAILING LISTS
NW-B5
NW-B5 is a mailing list devoted to bringing critical information to the Vancouver Island, Lower Mainland, and Northern Washington areas. More specifically, anyone north of Seattle. B5 is broadcast on SPACE:TIS in Canada, and Sci-Fi channel in the US. By subscribing to nw-b5, you'll be able to know info bringing you up to date on the current scheduling and events happening in the community related to B5. You'll also be subscribed to the list itself, which means that you'll receive email when there is a scheduling change or critical information needs to go out to you (for example, if we need to start another mailing campaign).

For further information, see http://www.nw-b5.com
John Francis
Webmaster, Listowner, and Co-Moderator
mailto:nw-b5@iname.com

Reports of "The Gathering" are beginning to turn up on the list. John posted a mini-report, with photos, over at http://www.geocities.com/jnf.geo/nw-b5/gathered.htm#0501. You may want to check it out. It was a terrific event in which JMS showed clips from the new "Legend of the Rangers".
BABYLON 5 DISCUSSION LIST
The Babylon 5 discussion mailing list is for any and all discussions and/or news pertaining to or related to Babylon 5 and/or Crusade. The list has been in existence for the past three years now, and has recently moved. The new location is http://lists.apparition.org/cgi-bin/lyris.pl, and you can subscribe by sending a blank e-mail message to join-babylon_5-l@lists.apparition.org.
THE GALACTIC GATEWAY
Here's a unique site for you! Jeffrey Willerth, Patricia Tallman, Mira Furlan, Claudia Christian, Robin Atkin Downes, Rick Biggs, Jerry Doyle, Bruce Boxleitner, Melissa Gilbert, Peter Jurasik and Bill Mumy are under it's umbrella. Actors from other shows have joined the Gateway. Ted Raimi and Robert Trebor from Xena and Hercules are now at GG. To subscribe to a mailing list for GG, send a blank note to thegalacticgateway-subscribe@egroups.com.
GATEWAY CHATTERS
There is never enough time to keep in touch with friends! To help out, a mailing list has been started for chatters over at the Galactic Gateway. If you are interested in joining, send a blank note to gateway-chatter-subscribe@egroups.com.
GATEWAY TRADER
Are you looking for a particular Babylon 5 collectible? Do you have some items you'd like to trade? Then this is the list for you. To join, send a blank note to gateway-trader-subscribe@egroups.com.
CALLING ALL ARTISTS
The Art Gallery at The Zocalo Today is open. There are SO MANY talented people in our Babylon 5 community. We have enjoyed works by Todd Brugman and Tye Bourdony on our toons page, but there are a host of others who enjoy drawing, painting, sketching their favorite characters. Here are a few works that have been received. I have some others that will be added soon.

If you would like to share your work with us at The Zocalo Today, please send along a digital photo of your work and I'll begin putting the gallery together. If you do not have your work in digital format, drop me a note and we'll see what we can work out.
CALLING ALL CLUBS
OTTAWA: Ranger Dave is trying to start up a B5 group in Toronto. He has asked me to post this information to see who is in the area and interested in getting together:

I live in the area of Toronto, Ontario and am starting up a sci fi/fantasy club/group and am looking for members. I am hoping any members who join will be more than just Trek & B5 fans. Our meetings will be at least once a month in the area of downtown Toronto on Sunday afternnons. The next meeting is scheduled for Sunday Nov. 18th at 1:45pm. If your interested, need more info and or have any questions please feel free to e-mail me at akalel@hotmail.com.
---
SYDNEY: Amanda, a member of the club 'Friends of Science Fiction' in Sydney, Australia, dropped a note to say that they will host an event with Marjean Holden on September 9. More information can be found on the convention calendar. If you are in beautiful Sydney, you may want to check out the Club. It meets at: Lidcombe Catholic Club; John St; Lidcombe. If you have questions, drop Amanda a note at Amanda_Beachcroft@msn.com.au.

There are a number of fabulous Babylon 5/Crusade Clubs around the world. I'd like to begin listing them here on The Zocalo Today. Eric dropped me a note the other day providing information about a Club in France. I know there are other clubs in Brazil, Germany, Russia -- and who knows how many here in the US. Let's get a listing together. Perhaps we can share resources, even get together as we travel around. Drop the information about your Club to me at sgbruckner@aol.com or bruckner@isnnews.net. That information will be added to the new B5 Fan Club Listing.
BABYLON 5 FAN CLUB
Netter Digital filed for bankruptcy in July of 2000 and all their worldly posessions were auctioned off on December 7. Thestation.comEmporium has been closed.
BABYLON 5 NEWSLETTERS
If you have a newsletter you'd like to have listed at The Zocalo Today, send the information along. It will be posted on the B5 Fan Club/Newsletter page.

Ranger Shane in North Carolina sent in the following note about their "Jumpgate" newsletter.

Hey Sandy! Just wanted to give you an update on the NC B5 group's newsletter, Jumpgate. There's now a dedicated EMail address for submissions - jumpgatemag@bellsouth.net - and any submissions, solicited or un-, can be sent to this address. Also, issues are available for free download at the URL at the bottom of this message.

Jumpgate - The Newsletter of the North Carolina Babylon 5 Fan Club
Shane Killian, Editor
HELP WANTED
A new HELP WANTED section has been added to the Z. If you need help finding a comic book, getting a special item, etc. here's the place to post a note. Just send whatever help you need to thezocalo@aol.com.
---
BABYLON 5/CRUSADE CONVENTIONS
CONVENTION CALENDAR
With the events of September 11, many changes have been made to conventions around the country. If you are planning to go to a convention, please check with the organizers to see if there are any changes -- like guest cancellations, etc.

Use this link Convention Calendar. to see if there is a convention happening near you. Have a convention you would like to have listed here? Pass along the information.

CONVENTION ATTENDANCE

Are you attending one of the conventions on the calendar? Or another one perhaps? Do you want to see who else might be there? Drop your e-mail address to TheZocalo@aol.com. We've begun an attendance page so that perhaps we can get together while enjoying the activities of the convention. Convention Attendance .
UPCOMING EVENTS
Vulkon Orlando
November 16-18, 2001; Orlando, FL
Guests: Kate Mulgrew, James Doohan, Virginia Hey, Bill Blair

More information, visit their website at http://www.vulkon.com.
---
Slanted Fedora
November 16-18, 2001, Philadelphia, PA
Guest: Walter Koenig

For more information, visit their website at http://www.sfedora.com.
---
Armadillocon 23
November 16-18, 2001, Austin, TX
Guest: J. Gregory Keyes

For more information, visit their website at http://www.fact.org/dillo/d23/index.php.
---
Slanted Fedora
November 23-25, 2001; Indianapolis, IN
Guest: Walter Koenig

For more information, visit their website at http://www.sfedora.com.
---
31st Annual Creation Thanksgiving Convention
November 24-25, 2001
Hotel Pennsylvania
33rd and 7th Avenue, Manhattan, New York
Guests: Virginia Hey, Manu Intiraymi, Grace Lee Whitney
ROBIN ATKIN DOWNES from Babylon 5
For more information, visit the Creation Entertainment website at http://www.creationent.com.
---
ZOCALO TRADING POST
Do you have extra copies of B5, Amazing Spiderman, Midnight Nation or Rising Stars comics you'd like to trade? How about those extra trading cards or B5 magazines? There are a lot of fans looking for these items -- and the Trading Post can help you buy or sell them. To see what's available, just use this link to the Trading Post. To have items included in The Trading Post, send a note to The Zocalo. Please put Trading Post in the subject line.
Pen Pals
If you are looking for someone to talk about Babylon 5 and Crusade with, the Pen Pal section is for you! Check it out! Drop a note to someone who is feeling B5 withdrawal -- BIG TIME!

People thought a Pen Pal page was a good idea. If you would like to meet people who you could chat with or share your opinions of the show with, send along your e-mail or snail-mail address The Zocalo. It will be incorporated on the new Pen Page Page.
BABYLON 5 BIRTHDAYS
Robert Foxworth - November 1
John Vickery - November 4
Damian London - November 12
Tracy Scoggins - November 13
Dwight Schultz - November 24
Wortham Krimmer - November 24
Louis Turenne - November 26
Efrem Zimbalist, Jr. - November 30

Have I missed anyone? If you know the birthday of someone connected with Babylon 5, pass the information along. We want to include everyone in our Happy Birthday Wishes.
MAIL FOR CAST AND CREW
Here's a recent note from JMS on the subject:

Just an FYI to those who've been using the Ventura Blvd. mail drop for fan mail to actors....

As mentioned before, we're phasing out the forwarding of fan mail because we a) don't have the resources, complicated by b) the actors have scattered to the four winds, and it makes it very difficult to get everything to everybody in a timely fashion.

So, having provided prior notice...fan mail to actors coming to the Ventura Blvd. mail drop will be sent back. Mail to actors should be sent via their official fan clubs. I will still be taking mail there, since it's my mailbox, but that's it.

Just so's y'all know and save a few bucks on postage and returns.

JMS' mail can be sent to:

14431 Ventura Boulevard, PMB 260
Sherman Oaks, CA 91423

WARNER BROS:

Warner Bros. Address:

Warner Bros. Domestic Television Distribution
4000 Warner Blvd.
Burbank, CA 91522

Warner Home Video:

Mike Finnegan, Vice President
Editorial and Programming Services

Paul Hemstreet, Vice President
Special Features/DVD

Michael Radiloff, Vice President
DVD Marketing

Kristin Grossnandler, Manager
DVD Special Features

Warner Home Video
4000 Warner Blvd.
Burbank, CA 91522
BACK ISSUES OF THE ZOCALO TODAY
The front page of the The Zocalo Today changes daily, so be sure to check the back issues to make sure that you haven't missed anything IMPORTANT! I don't want the front page getting too long so I shift information periodically into the archives. So if you aren't a regular visitor to The Zocalo Today, be sure to check out the back issues. Just use the button above!
---
Take care and I look forward to hearing from you.
Sandra Bruckner (sgbruckner@aol.com)
Editor/Publisher
The Zocalo Today
http://www.isnnews.net
Copyright - SBruckner, 2001