[an error occurred while processing this directive]

The Zocalo Today

Welcome! I am REALLY glad you dropped by. Take your shoes off, get comfortable and stay a while.

The Zocalo Today is an interactive newsletter. If you have suggestions, please send them along. The Zocalo Today is as much YOUR newsletter as it is mine! I'm just pulling together things for you! Join our weekly discussion topic. It is just one way you can interact with other Z readers. Send along letters, sightings of B5 cast and crew in other projects, convention reports, photos, etc. Don't miss our back issues. There is a LOT of information contained there and you'll not want to miss anything.

If you have questions, drop me a line at sgbruckner@aol.com or b5web@aol.com.

Again, WELCOME!

February 16, 2002 4:02am
What's New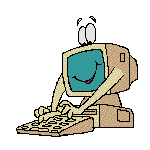 NEW READERS: Over the last few weeks, the numbers have been climbing for new readers, here and with the e-mail version of the newsletter. WELCOME! I hope you enjoy the newsletter and tell your friends about it.
---
PAT TALLMAN: Pat will be signing at a LA bookshop on Feb. 23. See details below.
---
RATINGS: From the ratings numbers provided by SCIFI, the week of January 13-19 was a B5 week -- for sure. The Legend of the Rangers came in #1, with another showing of the movie coming in #8; Thirdspace as #9 and In the Beginning as #10.
---
WB WEBSITE: I've noticed a few notes around the net about new items over at the WB website. Yes, it has been a while, but you might want to check it out at www.b5.com. It had been a pretty good site for images, but now it can be a terrific site for new fans to visit. We'll see if anything new pops up.
---
JEREMIAH: JMS talks about his upcoming Jeremiah series for Showtime at http://stage.mgm.com/scifi/02feb/strac.html.
---
LEGEND OF THE RANGERS: SCIFI has loaded a few more new graphics onto the Ranger website. You can see some new pictures of the armada and panel displays from the bridge.
---
JEREMIAH: Things are heating up over at Showtime. With JMS' new series set to premiere on March 3 at 8pm ET, more and more information is being made available. See details below.
---
LEGEND OF THE RANGERS CREDITS: If you are like me, you die everytime the ending credits roll -- only because you can't read a thing. SCIFI has a remedy for that. Go over to www.scifi.com/b5rangers and you will find ALL the credits listed. Thanks SCIFI.
---

BLOOD DRIVES: If you are able, be sure to roll up your sleeves and give blood -- both now and in a couple of weeks. The need for blood will be continual. Right now, the tremendous outpouring of volunteers has filled quotas and storage space! FANTASTIC!!! But those supplies will be utilized and a new supply will be needed soon. Check out donation drives near you. I'm signed up already.
---
The e-mail version of The Zocalo Today goes out on Saturdays. If you would like to be included on the mailing list, just send a blank note to thezocalo-subscribe@yahoogroups.com. If that doesn't work for you, drop me a note at sgbruckner@aol.com. I can add you manually. Our new back-up site is located at http://sgbruckner.tripod.com. If you can't get into www.isnnews.net, try this site for new information.
---
NEWS AROUND THE SCI-FI GENRE
February 16:
KEVIN SMITH: Xena and Hercules fans will mourn the passing of Kevin Smith, who played Ares in the series. Smith was injured in a fall while filming a movie in Beijing. You can read more about this tragedy at http://www.nzherald.co.nz/./storydisplay.cfm?storyID=939668&thesection=news&thesubsection=general.
---
ANDROMEDA: Kevin Sorbo is out promoting the show in a number of cities across the country. Despite the fact that Tribune Entertainment has given the show a two-year renewal, Kevin thinks the show should be much higher-rated. What lies ahead for the coming season? "We're going to get away from the Commonwealth," Sorbo said. "We've kind of said, 'The hell with it.' Dylan's got to come to the point where he realizes that he can't save the universe on his own by restoring it to where it was, with a million member worlds. So he pretty much decides that, 'You know what? We've got this ship and a pretty good crew. Let's just go out there and help people who need our help.' That's right back to the Gene Roddenberry concept [of the series]."
---
MUPPETS: There is only one Kermit and Miss Piggy!!! According to the Hollywood Reporter, NBC Studios and the Jim Henson Co. have signed a deal to develop It's a Wonderful Muppet Christmas Movie, an original telefilm to premiere this holiday season. Along with parodies of classic Christmas films, guest shots and cameo appearances, it will feature the first significant kiss between Kermit and Miss Piggy.
---
February 15:
RATINGS: Top 10 SF Network Shows: Dark Angel 4.2; Enterprise 3.9; Smallville 3.6; The Tick 2.7; Angel 2.5; Charmed 2.5; Special Unit 2 2.1; Sabrina 1.9; Buffy 1.5, and Mysterious Ways 0.7. Source: Nielsen Galaxy Report, 1/14/02 - 1/20/02.
---
FARENHEIT 451: New life is being breathed into this project by Mel Gibson. With writer/director Frank Darabont's interest in the project, it's now on the fast track. As it turns out, Fraenheit 451 is Darabont's favorite book. Gibson told SCIFI WIRE that Darabont began tinkering with it and the outcome may be something that will get the project off the ground.
---
MAD MAX: Would Mel Gibson be interested in bringing back Mad Max? "I don't know if my joints are up to it." Gibson will next be seen in M. Night Shyamalan's upcoming Signs and We Were Soldiers.
---
FIREFLY: Cinescape reports that casting for Joss Whedon's new space-based drama, FIREFLY continue. Adam Baldwin (FULL METAL JACKET) and Jewel Staite have been hired to star alongside Nathan Fillion. Baldwin's part will be that of Jayne, rough and tumble member of Fillion's crew, while Staite takes on the duties of ships mechanic.
---
FUTURAMA: Cancelled? Not exactly, at least that is what co-creator and executive producer of FUTURAMA David X. Cohen told Cinescape. "We're in what is basically an unprecedented situation in that we have so many new episodes that haven't aired yet, literally enough episodes to run the rest of this year and all of next year at the snail's pace that they run the show at," Cohen told us. "So we're not cancelled in the sense that we're still on the air, we still expect to be on the air next year. We may even have a few more episodes than that than the number necessary to run this season and next season." However, according to sources, no new episodes are being ordered.
---
X-FILES: Time is counting down toward the final X-Files episode. The two-hour finale will air on May 19. Rumors persist that David Duchovny will return for the final chapter, but nothing has been confirmed.
---
SUPERMAN: With all the comic book heroes coming back on the big screen, it's time for a return of the man of steel! Variety reports that Charlie's Angels director McG (Joseph McGinty) has signed on to shoot the next installment of Warner Bros.' Superman franchise. Felicity and Alias creator J.J. Abrams is writing the script.
---
February 14:
TIME MACHINE: This movie has been a long-time coming, but it opens this weekend. Director Simon Wells, great-grandson of Time Machine author H.G. Wells, told SCI FI Wire that advances in technology have enabled him to create a visual landscape light-years beyond what George Pal was able to realize in his 1960 film version. With over 400-special effect shots, he is able to provide sequences that couldn't have been done even 5 years ago. "We see geological time travel. We see, literally, an ice age come and go."
---
STRANGE WORLD: Although ABC cancelled this series after airing just three episodes, SCI FI reports that "Ratings were stronger than expected, despite airing against the Olympic Opening Ceremonies. And in two weeks, SCI FI will begin airing 10 weeks of never-before-seen episodes of Strange World. These are terrific episodes, which we believe will perform even more strongly." Strange World airs Fridays at 8 p.m. ET/PT.
---
SIX MILLION DOLLAR MAN: Richard Anderson, who played Oscar Goldman in the series, says that Universal Studios is interested in bringing back a big screen version of the story, with Anderson producing. Right now, they are looking for the right story. Once that is in place, they will begin thinking about a director and cast. Anderson feels that many of the original cast could be involved in the new project, giving it continuity.
---
KATE MULGREW: An accomplished actress well before Star Trek Voyager, Mulgrew opened Wednesday night at Connecticut's Hartford Stage in Tea at Five, a new one-woman show in which she portrays Hepburn, a Hartford native. Set to run through March 17, Tea is the first stage project for Mulgrew since completing her tour as Captain Kathryn Janeway. You can read more about Kate over at USAToday.com.
---
SAG ELECTIONS: Ballots for the re-run election went out last week. In the meantime, actors are gathering together to support the candidate of their choice. A group of 33 high-profile actors urged fellow guild members to re-elect President Melissa Gilbert. You can read more about this over at http://interestalert.com/brand/siteia.shtml?Story=st/sn/02130000aaa03f8a.prn&Sys=jdbrown3&Type=News&Filter=TV%20and%20Radio&Fid=TVRADIO1 .
---
February 13:
RATINGS: Top 10 SF Syndicated Shows: Stargate SG-1 3.1; Buffy 2.8; Mutant X 2.7; The X-Files 2.7; Andromeda 2.4; 3rd Rock 2.2; Beastmaster 2.2; John Edward 2.2; The Lost World 2.0, and Earth: Final Conflict 1.9. Source: Nielsen Galaxy Report, 1/14/01 - 1/20/01.
---
LORD OF THE RINGS: Lord of the Rings received a near record setting number of Oscar nominations yesterday. Among the 13 nominations received include best picture, best director (Peter Jackson) and supporting actor Ian McKellen (Gandalf). Other genre nominees include: best animated feature film -- Shrek, Monsters, Inc. and Jimmy Neutron: Boy Genius. Receiving nominations mainly for technical awards, Harry Potter and the Sorcerer's Stone and A.I. Artifical Intelligence. The Oscars will be presented on March 24 at the Kodak Theatre in Los Angeles and televised live on ABC.
---
ANGEL: In order to make room for the WB's new series, Glory Days, Angel will go into hiatus from March 11 through April 15. Glory Days will take over their Mondays at 9 p.m. timeslot. Original episodes of Angel are scheduled for Feb. 18 and 25 and March 4.
---
FUTURAMA: The March issue of Cinescape has a feature with FUTURAMA's executive producer David X. Cohen. Cohen talked about some of the frustrations he's had with Fox, FUTURAMA's network. In its 7 p.m. Sunday time slot, the show often goes unaired during football season. "We did 24 episodes last year, and I believe 10 went unaired," Cohen said. "Then we made 18 more, so we have 28 episodes in production that have not aired, with 15 scheduled to run this season." Over at www.nohomers.net, they are reporting that Futurama has been cancelled.
---
X-FILES: Want to see your name in the credits of an X-Files show? Now is your chance! Over at www.zap2it.com you can find details. Starting Today, Wednesday (Feb. 13), the show's website (http://www.thex-files.com) will be holding a contest where viewers can submit their screen names to be in the opening credits sequence during the final episodes of the series. The winners' screen names would specifically replace the fictional screen names on the "FBI Contacts, Witnesses and Contributors - Confidential" memo that regularly appears during the sequence. Approximately 45 winners will be selected from the contest, which will continue through Wednesday, March 6. The series finale of "The X-Files" airs Sunday, May 19 at 9 p.m.
---
ENTERPRISE: Chat online with Enterprise star Connor Trinneer ("Trip Tucker") Thursday, February 14 at 7:00 p.m. ET/4:00 p.m. PT! You can submit your question now by going to http://www.startrek.com/community/default.asp.
---
February 12:
ENTERPRISE: A number of familiar faces will be showing up on Enterprise in the coming months. Dean Stockwell, who you will all remember from Quantum Leap, will join his buddy from that series, Scott Bakula, in the episode "Detained," directed by David Livingston. Set to air in April, Stockwell will play Grat, a Tandaran colonel who deals with Capt. Archer (Bakula) and Mayweather (Anthony Montgomery) after they enter Tandaran airspace.
---
FIREFLY: Joss Whedon's new series, Firefly, is taking shape. Nathan Fillion has been cast in the lead role of Capt. Malcolm (Mal) Reynolds, the owner and the captain of a small "Firefly"-class transport spaceship named Serenity. The time period in the series is a version of the post-Civil War Reconstruction era, set almost 500 years in the future. The series is scheduled to begin production in early March, with a premiere in the fall, with a two-hour pilot written and directed by Whedon. The series has a 13-episode commitment from the network.
---
STARGATE: There has been a lot of talk lately, not only about Michael Shanks leaving the series, but the reasons behind that departure. SCIFI clarified their position yesterday by saying, "SCI FI Channel loves the series and has absolutely never requested that any cast changes be made. We're very excited to add Stargate SG-1 to our original programming line-up, and although we regret the loss of Michael Shanks, we think that Corin Nemec will be a great new presence in the cast." Fans have mounted a write-in campaign and have information at www.savedanieljackson.com. Amanda Tapping, Major Samantha Carter, is featured in this week's www.prevuemagazine.com.
---
HARRY POTTER: Few films come close to Titanic in it's earnings outside the United States, but Harry Potter is on it's moving further in that direction. According to SCREEN INTERNATIONAL, a British counterpart to VARIETY or HOLLYWOOD REPORTER, HARRY POTTER AND THE SORCERER'S STONE has taken in over $600 million outside the United States, a feat only equaled by James Cameron's boat sinking epic. POTTER has taken in $313 million since its release in America; with $916 million worldwide.
---
BIRDS OF PREY: The WB's new series is coming together. According to the Hollywood Reporter, 17-year old Rachel Skarsten has been cast in the role of Black Canary in the pilot. She had previously been seen in the TV movie Angels in the Infield and the TV shows Twice in a Lifetime and The Famous Jett Jackson.
---
February 11:
RATINGS: Top 10 SF Channel Shows: Legend of the Rangers 1.7; The Fifth Element 1.6; Stargate SG-1 1.5; Fairies 1.1; Dreams May Come 1.1; The Outer Limits 1.0; The Chronicle 0.9; B5: Rangers 0.9; B5: Thirdspace 0.9, and B5: Beginning 0.8. Source: Nielsen Galaxy Report, 1/14/02 - 1/20/02.
---
JEREMIAH: The new Jeremiah ad is showing up all over the place -- at websites and in magazines! Let's hope the show does well on it's first outing next month.
---
CASTING NEWS: With all the new pilots in the works for the fall season, there is a lot of information floating around about who will get parts in upcoming projects. According to the Hollywood Reporter, Kevin Kilner from "Earth: Final Conflict" has been added to the cast of ABC/Touchstone drama pilot "Paranormal Girl" along with ) Stacey Travis ("Bandits"), Terry Chen ("Romeo Must Die"), Tyler Andrews and Eddie Jemison ("Ocean's Eleven"). Rachel Skarsten ("Virginia's Run") has been cast as one of the leads in the WB Network's drama pilot "Birds of Prey" from Warner Bros. TV and Tollin/Robbins Prods. (Nellie Andreeva) Donnie Wahlberg from Planet of the Apes has moved to "Boomtown." In the first casting for the NBC/NBC Studios L.A.-based ensemble cop drama from writer/executive producer Graham Yost, Wahlberg has signed on to play one of the leads -- a bright, shyly charming and soulful detective, who seemingly has it all -- a perfect job and a perfect family -- but is falling apart on the inside.
---
February 10:
NICHELLE NICHOLS: Everyone knows Nichelle Nichols as Lt. Uhura on the original Star Trek. You'll see another side of her in Disney's new family film SNOW DOGS. "It was fun!" she says, laughing. "Fun, fun, fun! It was freezing out there, and I was cold all the time, but that didn't matter. It was still so much fun. You know, I don't think you should be allowed to have that much fun. It must be a sin or something." If you are a premiem reader of www.cinescape.com, you can read more of the interview.
---
LONE RANGER: There has been a lot written this week about new pilots under consideration by the networks. Some sound interesting -- others, well I guess we'll have to wait and see. The WB, with it's success of Smallville, is looking at another icon, The Lone Ranger. Like Smallville, this would be a younger vision of the masked man and trusted companion. Time will tell as to whether it makes it on the fall schedule.
---
BUFFY: For those of you who might be interested in hearing Buffy's Anthony Head Stewart (Giles) singing, he has a new album entitled "Music for Elevators". I know I had this information listed already, but someone sent along another review that wasn't quite as critical as the first one at http://www.eonline.com/Reviews/Facts/Music/RevID/0,1107,2595,00.html.
CATCHING UP WITH JMS
Here is a recent posting from the B5 moderated newsgroup:

Just an FYI to those who've been keeping up with the comics...my latest issue of Amazing Spider-Man came out last week, and next week comes issue 10 of Midnight Nation, leaving just two issues left in that series.

Also, the new series I'm doing for Showtime hits with our first two-hour premiere on March 3rd, with the series proper debuting a week or so thereafter. The goal is to air the 18 one-hour episodes pretty much straight through, without breaks, right through Summer, which would be great, because it gives an audience an opportunity to catch up with the show and keep up with it.

I'm also giving some thought to doing a couple of convention appearances this year. I took the last almost two years off all major cons because I always feel kinda awkward being up there just on my own, I much prefer to be talking about something outside me, like a show. Otherwise it's just me mouthing off and I can't imagine anyone sitting still for that for more than a few minutes let alone an hour or two. With Jeremiah going, and the comics going, and other projects like Polaris (first two scripts turned in, we'll see what we shall see) in development, that may be worth the effort.

Nothing's set yet, but I'm giving it serious thought.
JEREMIAH PREMIERES MARCH 3
JMS talks about Jeremiah over at http://www.comics2film.com/StoryFrame.php?f_id=292. JMS promises that Jeremiah is something different. "This is, I think, overall, a much darker show, a much more serious show" (than Babylon 5). Over at Comics2Film.com you can read a bit more about Jeremiah. Based on a comic by Hermann Huppen, Jeremiah takes place in a world where a virus wiped out every adult. Now, 15 years later and Jeremiah and Kurdy make their way through a chaotic world looking for Valhalla. The Jeremiah website has grown signficantly over the past few days. You can now see a brief video of the show along with a series of new images from the set. Soon, an interview with JMS, Luke Perry and Jamal Warner about the new show. Luke Perry will be on-line to chat with fans after the premiere. Stay tuned for more details on that.
---
Over at MGM's Jeremiah site, http://stage.mgm.com/scifi/02feb/strac.html, JMS talks about the series which premieres next month. Luke Perry, who portrays Jeremiah in this upcoming JMS series, recently talked to TV Guide Online about the series. Perry (Beverly Hills 90210) and Warner (Cosby Show) play street orphans in a post-apocalyptic world "Well, it's just hard to keep up the hygiene in the world of Jeremiah," he said with a chuckle. "There's no running water or soap. Occasionally, I get to shave with a straight razor. It's like Survivor, only nobody's getting voted off this thing."
---
BABYLON 5 WEBSITE
This morning, as I was wondering around looking for news, I tripped on a note indicating there were changes afoot over at the WB site. Yes, www.b5.com is alive and kicking. It's great to open the site with a look at the first B5 DVD! Hopefully there were be many more to follow. A lot of the site hasn't been updated in ages! For example, a link to the Fan Club still exists. But there is still an active message board, a number of the links to other sites still work. The real fun part is in reviewing the video clips! The episode directory is not complete, but what is there brings back fond memories! So check it out. It is perhaps the best collection of B5 a/v material on the net.
---
SCIFI did a wonderful job of providing us with a great deal of information on the cast and crew for the "Legend of the Rangers" movie. Be sure to check out www.scifi.com/b5rangers. You will find digital trading cards for David Martel, Sarah Cantrell, Citizen G'Kar, Malcolm Bridges, Na'feel, Tirk and Dulann. There are short videos and interviews. Don't miss the feature about Mark Savela, visual-effects supervisor from GVFX and the interview with director Mike Vejar.

In the gallery, you'll find photos of the cast, some great behind-the-scenes pics and some desktop graphics you can use on your PC. Chat transcripts for all cast members, Dylan Neal, Alex Zahara, Dean Marshall, Warren T. Takeuchi, Myriam Sirois and Enid-Raye Adams are all available as well.

Go to Ranger Page for more information on the ratings and letter writing campaigns.
---
THIS WEEK'S DISCUSSION TOPIC:
What are some of the books you're reading now? There are a tremendous number of books in the science fiction section of bookstores. What do you enjoy reading -- and why?

Send your thoughts to TheZocalo@aol.com or b5web@aol.com. I'll add your notes to the Discussion Page.
RANGER SIGHTING
Ranger John reports that Jason Carter has been sighted in the new Avalanche tv commercial! "He's great in it, reminds me of the more free spirited minutes as Marcus with Susan when she never knew what he was talking about. Well, if you haven't see it yet, start looking :) I saw it during nbc's olympic coverage."
RANGER ALERT
Ranger John has sent along the following message:

I just bought a SIGNED copy of Bruce Boxleitner's book "Frontier Earth: Searcher" for $11.97 at www.bookcloseouts.com. I also used a coupon ($5 off $25 purchase). Coupon name valentine; coupon password cupid.

Thanks John. The book is a good one -- and signed too. Would make a terrific Valentine's gift!
KEEPING UP WITH CAST AND CREW
PAT TALLMAN: Pat Tallman will be signing at "Killer Bees", a new genre books and collectables shop in the fabulous Highland and Hollywood complex in downtown Hollywood. Patricia will be signing from 3pm to 5pm on Feb. 23rd. If you are in town, go see Pat's show after the signing at the Tamarind Theatre on Franklin Ave at 8pm. "Hell's Cuisinart" opens on the 21st and will run thru March 3rd. Flyers will be available at the signing.
---
CLAUDIA CHRISTIAN: Over at http://www.scifi.com/sfw/advance/07_sound.html you can read about Claudia's latest venture -- a production entitled "Area 51". Claudia and up-and-coming British actor Matt Rawle, offer a stimulating sonic "sneak preview" of the stirring SF tale written by playwright Daniel O'Brien.
---
JEFFREY WILLERTH: Along with his work at the Animal Planet, Jeffrey (Kosh from B5) been shopping around a new TV series. To get more on this project, visit www.blackvault.com. Jeffrey promises a sneak peek soon.
---
JOSH COXX: According to Electronic Media, Lifetime Television has ordered up a full third season for "Strong Medicine." The series, produced by Columbia TriStar Domestic Television, stars Janine Turner ("Northern Exposure") and Rosa Blasi as two female doctors who run a women's clinic. Other cast regulars include Jenifer Lewis ("The Temptations" ), Josh Coxx ("Babylon 5"), Philip Casnoff ("Oz"), Brennan Elliott and Chris Marquette ("Pasadena"). "Strong Medicine" airs Sundays at 8 p.m. Whoopi Goldberg, executive produces the series with Tammy Ader ("Party of Five").
---
DANIEL DAE KIM: You've seen him recently on Angel. Check out a recent interview with Daniel (Lt. Matheson on Crusade) at www.bronzeshelter.com.
---
BABYLON 5/CRUSADE CHRONOLOGY
A number of you have written to ask about having an index of the chronology published thusfar. Terry has given permission for this so I'm working on it. You can now find the index to the timeline published thusfar at B5 Chronology Index .

Terry Jones created a FANTASTIC Babylon 5/Crusade Chronology that was published in the Official Babylon 5 magazine. He has not stopped with the end of the series though. He has included items from the latest novels as well as things from the Crusade series. Here's a note from Terry to tell you all about it.

To look at the timeline in a different way, I have been working with Terry Jones on personal chronologies for the Babylon 5 universe. At The Galactic Gateway you will fine Parts 1-4 of the chronology for John Sheridan along with Part 1 for KOSH. Others will follow. I hope you will visit GG and give the chronologies a look.

Terry has provided a new segments of the Babylon 5 Chronology The Coming of Shadows.
NEW BABYLON 5 CARD SET
Rittenhouse Archives and www.scifihobby.com are pleased to announce the addition of 6 trading cards based on the all-new "Babylon 5: Legend of the Rangers" TV movie to the upcoming "The Complete Babylon 5" trading card series. The 6 cards will feature images and characters from the TV movie and will be used as box toppers (1 per box) in the all-new card series due out in March.

"The Complete Babylon 5" features complete synopses of all the episodes in the show's 5-year run, and includes nearly 1,000 never-before-published photos. Many of these photos will depict some of the show's most dynamic CGI space images. The trading card series will also feature 2 autograph cards and 1 costume card in every box. Autographs include Michael O'Hare (Jeffrey Sinclair), Andrea Thompson (Talia Winters) and a double signed card of Bruce Boxleitner (John Sheridan) and Melissa Gilbert (Anna Sheridan). Boxleitner and Gilbert are married in real life (and in the show). Costume cards include materials worn by Boxleitner, Jerry Doyle (Garibaldi), Peter Jurasik (Londo Mollari), Andreas Kastulas (G'Kar), Rick Biggs (Dr. Franklin) and Claudia Christian (Susan Ivanova).

More details are available at www.scifihobby.com.
SCI FI PUBLICATIONS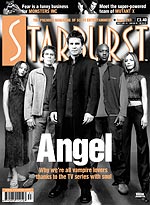 Starburst #283: ANGEL is the subject of a couple of magazines this month! In this issue, you'll see behind-the-scenes and get an assessment of the series -- from best to worst episodes. Also in this issue, you'll find interviews with Victoria Pratt, Forbes March, Lauren Lee Smith and Victor Webster from Mutant X.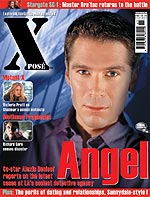 Expose #65: Alexis Denisof, Wesley from Angel, looks back over the changes his role has had over the last year. Tony Amendola talks about his role as master Bra'tac on Stargate SG-1. Victoria Pratt talks about her hesitation before leaping into the role of Shalimar Fox on Mutant X. Also this month, see how it feels for Marc Singer to return to Beastmaster after a 20 year hiatus!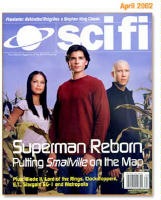 The second issue of Sci-Fi Magazine focuses on Smallville, the new Superman series on the WB. Also get the low-down on SCIFI's new Firestarter series -- that premieres on March 10.
CULT TIMES #77 – Buffy's Sarah Michelle Geller is on this month's issue. Inside you'll find articles on Michael Shanks as he leaves Stargate SG-1; Dominic Keating from Enterprise, Farscape's Ben Browder looks back on the third season, and there are interviews with JC MacKenzie from Dark Angel and Victor Webster from Mutant X.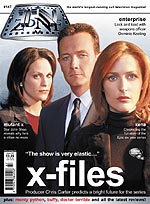 TV Zone #147: Chris Carter talks changes on and off the set of X-Files minus Mulder. Dominic Keating (Malcolm Reed in the new Enterprise series), talks about the challenges of a new Star Trek series. John Shea was a villain in "Lois and Clark". He's now fighting a noble cause in Mutant X. Also in this issue, TZ looks at Xena: Warrior Princess and Roswell.







Cinefantastique #34: Though the cast of Voyager adorns the cover, "Legend of the Rangers" captures several pages in this issue. Frank Garcia talks to the cast about joining the Babylon 5 universe and Alex Zahara tells us what it was like becoming Dulann. Also in the issue are articles on William Shatner, Eugene Roddenberry (Gene's son), and SCIFI's new EXPOSURE.
COMIC BOOKS
AMAZING SPIDERMAN: Since J. Michael Straczynski took the helm of Amazing Spiderman, the book has shown tremendous growth. Fans of the story hail has coming, adding new vitality to a story that had truly hit the skids. The latest issue is one you'll not want to miss. Read the review over at http://www.cinescape.com/0/editorial.asp?aff_id=0&this_cat=Comics&action=page&obj_id=32774 . I don't want to spoil anyone, you'll just have to read it for yourself.
---
SCI-FI SCHEDULE
BABYLON 5's Schedule: Airing at 5pm ET on SCIFI

February 19 The Ragged Edge
February 20 The Corps is Mother, The Corps is Father
February 21 Meditations on the Abyss

February 25 Darkness Ascending
February 26 And All My Dreams, Torn Asunder
February 27 Movements of Fire and Shadow
February 28 The Fall of Centauri Prime

March 4 The Wheel of Fire
March 5 Objects in Motion
March 6 Objects at Rest
March 7 Sleeping in Light
BABYLON 5/CRUSADE PHOTOSHOP
NEW PHOTOS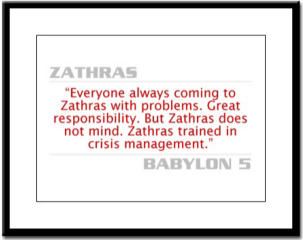 You do NOT have to pay the prices asked for over at e-bay! Here are photos of B5 and Crusade cast members at fantastic prices. Check out Photo Shop. Ordering is easy -- and you can't beat the prices! Just let me know which photos you want and I'll check to make sure they are still in stock.
---
NEW BABYLON 5 TOONS
John Cook has a new cartoon contest going. Try your hand at a punch line.



READER DIRECTORY
Sometimes you just can't find the e-mail address for someone you know you have -- it's someone who responded to a discussion topic or you met in one of the chat rooms. You'd like to send a personal note, but .... No address!!!!

We've started a White Pages of Zocalo Readers! It's a handy way of keeping track of people -- and putting together a birthday/greeting card list as well. If you would like to be part of the listing, just send me your name, state, e-mail address and (if you'd like to have it listed) birthday (without year) to sgbruckner@aol.com. Check out the Directory of Readers.

HAPPY BIRTHDAY TO YOU!

Name: Sean Lyons
E-mail: sean@efcfrance.com
State/Country: West Yorkshire, UK
Birthday: February 02

Name: Andres E. Hidalgo Sandoval
Country: Venezuela
E-mail: andresvene11@hotmail.com
Birthday: February 17

Name: Matthew Sweet
State: New York
E-mail address: msweet2@stny.rr.com
Birthday: February 16
BABYLON 5 REFERENCE PAGES
The Official Babylon 5 Magazine is indexed here as well. With the closure of the magazine in May, you'll want to see which magazines you have -- and which ones you will want to collect. The index may help you make a decision on which ones to choose. The Fan Club has many of the issues at thestation.com , making it very easy to complete your collection.

Universe Today -- the Babylon 5 Fan Club quarterly can also be found here. The index gives you a rundown of what articles were presented, what interviews published.

If you have magazines that have featured Babylon 5 or Crusade that are not listed, send along their issue number and a note to indicate what the article was about. It would be nice to have a fairly comprehensive listing of Babylon 5 publications here.

I have added a listing of all the Babylon 5 novels and now the B5 comic books to the reference page. If there are other items that you feel should be included, let me know.
MAILING LISTS
NW-B5
NW-B5 is a mailing list devoted to bringing critical information to the Vancouver Island, Lower Mainland, and Northern Washington areas. More specifically, anyone north of Seattle. B5 is broadcast on SPACE:TIS in Canada, and Sci-Fi channel in the US. By subscribing to nw-b5, you'll be able to know info bringing you up to date on the current scheduling and events happening in the community related to B5. You'll also be subscribed to the list itself, which means that you'll receive email when there is a scheduling change or critical information needs to go out to you (for example, if we need to start another mailing campaign).

For further information, see http://www.nw-b5.com
John Francis
Webmaster, Listowner, and Co-Moderator
mailto:nw-b5@iname.com

Reports of "The Gathering" are beginning to turn up on the list. John posted a mini-report, with photos, over at http://www.geocities.com/jnf.geo/nw-b5/gathered.htm#0501. You may want to check it out. It was a terrific event in which JMS showed clips from "Legend of the Rangers". Most of the cast was in attendance -- a great group of individuals.
BABYLON 5 DISCUSSION LIST
The Babylon 5 discussion mailing list is for any and all discussions and/or news pertaining to or related to Babylon 5 and/or Crusade. The list has been in existence for the past three years now, and has recently moved. The new location is http://lists.apparition.org/cgi-bin/lyris.pl, and you can subscribe by sending a blank e-mail message to join-babylon_5-l@lists.apparition.org.
THE GALACTIC GATEWAY
Here's a unique site for you! Jeffrey Willerth, Patricia Tallman, Mira Furlan, Claudia Christian, Robin Atkin Downes, Rick Biggs, Jerry Doyle, Bruce Boxleitner, Melissa Gilbert, Peter Jurasik, Bill Mumy and Carrie Dobro are under it's umbrella. Actors from other shows have joined the Gateway. Ted Raimi and Robert Trebor from Xena and Hercules are now at GG. To subscribe to a mailing list for GG, send a blank note to thegalacticgateway-subscribe@egroups.com.
GATEWAY CHATTERS
There is never enough time to keep in touch with friends! To help out, a mailing list has been started for chatters over at the Galactic Gateway. If you are interested in joining, send a blank note to gateway-chatter-subscribe@egroups.com.
GATEWAY TRADER
Are you looking for a particular Babylon 5 collectible? Do you have some items you'd like to trade? Then this is the list for you. To join, send a blank note to gateway-trader-subscribe@egroups.com.
CALLING ALL ARTISTS
The Art Gallery at The Zocalo Today is open. There are SO MANY talented people in our Babylon 5 community. We have enjoyed works by Todd Brugman and Tye Bourdony on our toons page, but there are a host of others who enjoy drawing, painting, sketching their favorite characters. Here are a few works that have been received. I have some others that will be added soon.

If you would like to share your work with us at The Zocalo Today, please send along a digital photo of your work and I'll begin putting the gallery together. If you do not have your work in digital format, drop me a note and we'll see what we can work out.
CALLING ALL CLUBS
There are a number of fabulous Babylon 5/Crusade Clubs around the world. I'd like to begin listing them here on The Zocalo Today. Eric dropped me a note the other day providing information about a Club in France. I know there are other clubs in Brazil, Germany, Russia -- and who knows how many here in the US. Let's get a listing together. Perhaps we can share resources, even get together as we travel around. Drop the information about your Club to me at sgbruckner@aol.com or bruckner@isnnews.net. That information will be added to the new B5 Fan Club Listing.
BABYLON 5 FAN CLUB
Netter Digital filed for bankruptcy in July of 2000 and all their worldly posessions were auctioned off on December 7. The B5 Fan Club site, Thestation.com and it's store, the Emporium, has been closed.
BABYLON 5 NEWSLETTERS
If you have a newsletter you'd like to have listed at The Zocalo Today, send the information along. It will be posted on the B5 Fan Club/Newsletter page.

Ranger Shane in North Carolina sent in the following note about their "Jumpgate" newsletter.

Hey Sandy! Just wanted to give you an update on the NC B5 group's newsletter, Jumpgate. There's now a dedicated EMail address for submissions - jumpgatemag@bellsouth.net - and any submissions, solicited or un-, can be sent to this address. Also, issues are available for free download at the URL at the bottom of this message.

Jumpgate - The Newsletter of the North Carolina Babylon 5 Fan Club
Shane Killian, Editor
HELP WANTED
A new HELP WANTED section has been added to the Z. If you need help finding a comic book, getting a special item, etc. here's the place to post a note. Just send whatever help you need to thezocalo@aol.com.
---
BABYLON 5/CRUSADE CONVENTIONS
CONVENTION CALENDAR
Megacon
February 22-24, 2002, Orlando, FL
Place: Orange County Convention Center
B5 Guests: Jason Carter, Richard Biggs.

For more information, visit their website at http://www.megaconvention.com.
---
Visioncon
February 22-24, 2002, Springfield, MO
Place: Clarion Hotel
B5 Guest: Bill Blair

For more information, visit their website at http://www.visioncon.net.
---
Be sure to check the entire convention calendar for dates of events around the country. If you know of a convention that will host B5 personalities, drop me a line so that I can include the event on our calendar.
ZOCALO TRADING POST
Do you have extra copies of B5, Amazing Spiderman, Midnight Nation or Rising Stars comics you'd like to trade? How about those extra trading cards or B5 magazines? There are a lot of fans looking for these items -- and the Trading Post can help you buy or sell them. To see what's available, just use this link to the Trading Post. To have items included in The Trading Post, send a note to The Zocalo. Please put Trading Post in the subject line.
Pen Pals
If you are looking for someone to talk about Babylon 5 and Crusade with, the Pen Pal section is for you! Check it out! Drop a note to someone who is feeling B5 withdrawal -- BIG TIME!

People thought a Pen Pal page was a good idea. If you would like to meet people who you could chat with or share your opinions of the show with, send along your e-mail or snail-mail address The Zocalo. It will be incorporated on the new Pen Page Page.
BABYLON 5 BIRTHDAYS
Michael Beck - February 4
Ardwight Chamberlain - February 16
Karen Harrell - February 21
John Iacovelli - February 25
Bill Mumy - February 1
Matt Plummer - February 26
Majel Barrett Roddenberry - February 23
John Schuck - February 4
Myriam Sirios - February 2 Have I missed anyone? If you know the birthday of someone connected with Babylon 5, pass the information along. We want to include everyone in our Happy Birthday Wishes.
MAIL FOR CAST AND CREW
Here's a recent note from JMS on the subject:

Just an FYI to those who've been using the Ventura Blvd. mail drop for fan mail to actors....

As mentioned before, we're phasing out the forwarding of fan mail because we a) don't have the resources, complicated by b) the actors have scattered to the four winds, and it makes it very difficult to get everything to everybody in a timely fashion.

So, having provided prior notice...fan mail to actors coming to the Ventura Blvd. mail drop will be sent back. Mail to actors should be sent via their official fan clubs. I will still be taking mail there, since it's my mailbox, but that's it.

Just so's y'all know and save a few bucks on postage and returns.

JMS' mail can be sent to:

14431 Ventura Boulevard, PMB 260
Sherman Oaks, CA 91423

WARNER BROS:

Warner Bros. Address:

Warner Bros. Domestic Television Distribution
4000 Warner Blvd.
Burbank, CA 91522

Warner Home Video:

Mr. Douglas Wadleigh
VP for Marketing and Special Features
Warner Bros.
4000 Warner Blvd.
Burbank, CA 91522
BACK ISSUES OF THE ZOCALO TODAY
The front page of the The Zocalo Today changes daily, so be sure to check the back issues to make sure that you haven't missed anything IMPORTANT! I don't want the front page getting too long so I shift information periodically into the archives. So if you aren't a regular visitor to The Zocalo Today, be sure to check out the back issues. Just use the button above!
---
Take care and I look forward to hearing from you.
Sandra Bruckner (sgbruckner@aol.com)
Editor/Publisher
The Zocalo Today
http://www.isnnews.net
Copyright - SBruckner, 2002