[an error occurred while processing this directive]

The Zocalo Today

Welcome! Take your shoes off, get comfortable and stay a while.

The Zocalo Today is an interactive newsletter. If you have suggestions, please send them along. The Zocalo Today is as much YOUR newsletter as it is mine! I'm just pulling together things for you! Join our weekly discussion topic. It is just one way you can interact with other Z readers. Send along letters, sightings of B5 cast and crew in other projects, convention reports, photos, etc. Don't miss our back issues. There is a LOT of information contained there and you'll not want to miss anything.

If you have questions, drop me a line at sgbruckner@aol.com or bruckner@isnnews.net.

Again, WELCOME! - Sandra Bruckner

February 2, 2001 05:08am
What's New
It's GROUND HOG DAY!!! Will Phil see his shadow?
---
The B5 Cast This Week on TV page has been updated. Check it out! See if you can find all the B5 folks in the film!
---
Today, you can enjoy a new feature at JMS' City of Dreams at The Seeing Ear Theatre . "The Alpha and Omega of David Wells" starring Peter Gallagher is now available. The story: a man in search of the Truth undergoes a past-life regression that takes him further than anyone has ever gone before.
---
A lot of B5 birthdays this month, including Bill Mumy! HAPPY BIRTHDAY, BILL!
---
JMS responds to some comments made by Bruce Boxleitner in an EON article (see below) recently. Check it out at EON magazine.
---
Peter Jurasik will be in for a chat at SCIFI on February 22 at 9pm. All arrangements are not yet final. We will post details as soon as we have them.
---
New convention listings are coming in every day. Be sure to check out the Convention Calendar to see if there's one near you! If you know of a convention and don't see it on the calendar, drop me a line!
---
New parts of the Babylon 5/Crusade chronology are now available here with The Beginningand at The Galactic Gateway for the Sheridan Chronology - Part II.
---
In confirming talks JMS has been having with SCIFI, he added:

"We may have some resolution on these issues as early as next month. To that end, we have verified the availability and interest of those who helped make B5 a success among the crew, and everyone we have spoken to is excited and ready to get going. Same crew, same quality, same dedication. Beyond that, I can't comment ... except to say that if we get the go-ahead on what I think may be coming, it could be a very exciting opportunity to do another kind of story that no one's ever done before in SF TV, just as no one had ever done anything quite like B5 before."
---
Babylon 5 had a fantastic week. They came up with a 1.2 rating for a #3 placement at SCIFI behind only Farscape and Invisible Man.
---
JMS has a way of popping up when the subject of Babylon 5 arises. This happened recently at the SCIFI/Babylon 5 Message Board. There is always a lot going on there, but JMS dropped over and here's an excerpt from the note he left:

"To confirm what Bonnie Hammer has stated, yes, there are conversations ongoing between SFC, WB, myself and Doug Netter about some new projects. I'm not at liberty at this point to be much more specific than that. Could be a movie in the B5 universe. Could be a series set in the B5 universe. Could be a combination of those, plus a little something else. Suffice to say that SFC wants to become the new home for B5 in all its parts and pieces, and there are several possible ways to accomplish this currently under discussion.

We may have some resolution on these issues as early as next month. To that end, we have verified the availability and interest of those who helped make B5 a success among the crew, and everyone we have spoken to is excited and ready to get going. Same crew, same quality, same dedication.

Beyond that, I can't comment...except to say that if we get the go-ahead on what I think may be coming, it could be a very exciting opportunity to do another kind of story that no one's ever done before in SF TV, just as no one had ever done anything quite like B5 before.

So watch this space, keep an ear to the ground, and stay out of trouble...interesting times are a'coming...."

jms

For those of us who have been on-line with JMS for a while, this has to be some of the BEST news we've had in a LONG time!
---
The chat with Bill Mumy on Wednesday night at SCIFI was great! Bill answered a number of questions about getting into make-up for Lennier, his Twilight Zone experience and upcoming projects. The transcript of the chat up now at www.scifi.com/chat.

A special thanks to SCIFI for the chat. They were experiencing server problems and were able to pull things together for Bill's chat. Though we got bounced out a few times, it worked pretty well overall.
---
JMS is really having a terrible time with websites. Psycomics.com has announced that they will close their doors at the end of the month! Yes, no more weekly columns from JMS! BOO!! So, if you haven't gone over to www.psycomics.com yet to read all of JMS' columns, do so NOW before they close the front door.
---
Wizard Issue #116 will have some items of interest to Babylon 5/Rising Star fans. They spend a day with JMS, the author/Hollywood producer, and he discusses changes coming to the Amazing Spider-Man, the third story arc of Rising Stars and his newest Top Cow/Joe's Comics title. Catch a glimpse of it at Diamond Comics.
---
NEWS AROUND THE SCI-FI GENRE
February 2:
Variety reports that Frank Darabont (The Green Mile) may be taking on the Fahrenheit 451 project, based on Ray Bradbury's classic book. However, there have been problems getting the lead cast. Mel Gibson was originally tied to the project. Tom Cruise and Brad Pitt were considered for the role of Guy Montag, but have passed.
---
"Valentine", the horror-thriller starring David Boreanaz from "Angel" opens this weekend.
---
PRETENDER: In leafing through the ratings numbers for the week, it was great to see the new "Pretender 2001" movie by TNT ranking #3 with a rating of 3.5, 3.53 million homes. Perhaps it is a sign of the times, but #1 and #2 were wrestling programs on TNN!
---
February 1:
FARSCAPE FANS: The new season begins March 16. In the meantime, SCIFI will be running a Farscape primer -- for those who have not seen all of the show and want to catch up! Every Friday from now thru March 9, SCIFI will run one critical episode from the series. At their website, each Friday morning, they will have background on that night's encore presentation -- including observations from Farscape creator Rockne S. O'Bannon and character-by-character analysis. This week, Episode: "Nerve", Character Insights: Scorpius, Chiana.
---
SWEET DEAL: Variety is reporting that Joss Whedon, creator Buffy the Vampire Slayer, has signed a four-year production deal with the show's producer, 20th Century Fox Television, for an estimated worth of more than $20 million. Whedon will create and produce new programming for Fox, while continuing as executive producer on Buffy and Angel. Fox TV network could pick up a Whedon pilot to be developed for next season.
---
WEB SHORTS: Steven Spielberg and Ron Howard will create animated short films for the new theater section of DreamWorks' CountingDown.com Web site. With a premiere February 5, Howard and Spielberg will create shorts to explain a personal dream. "This will be the first time that either Steven Spielberg or Ron Howard have created content specifically for the Web, and we are extremely pleased to have this opportunity to display their work to their millions of fans online," CountingDown.com co-founder Tim Doyle said in a statement.
---
WITCHBLADE: With the success of the TV movie, Witchblade, the series, begins production on Feb. 19 in Toronto, with a projected premiere in August. Toronto will stand in for New York City and Yancy Butler will reprise the lead role of Sara Pezzini. There will be several new characters added to the mix, including a street-smart entrepreneur; Madame Boucher, a character from the Top Cow comics, and Captain Yardley Scott, Sara's boss.
---
The upcoming video game Emperor: Battle for Dune, will include Star Trek: The Next Generation's Michael Dorn as Duke Achillus of House Atreides. He is joined by Michael McShane as Baron Rakan of House Harkonnen and Vincent Schiavelli as Yanich Kobal, the baron's advisor. The real-time strategy game is due out this summer for PC from Electronic Arts.
---
Wednesday, January 31:
The Museum of Television and Radio in Los Angeles will premiere two episodes (including the pilot) of The Lone Gunmen, Friday, February 23, 2001 from 6:00 to 9:00 p.m. This X-files spin-off series from Chris Carter follows the tongue-in-cheek exploits of a trio of brilliant but socially inept technology geeks who have helped Mulder and Scully chase down government conspiracies. Chris Carter will join cast members onstage after the screenings for a discussion with the audience. Tickets: $10 ($8 for individual Museum Members).
---
FARSCAPE GAME COMING: Simon & Schuster Interactive, in association with The Jim Henson Co., will publish a computer game based on Farscape. The game is being developed by the Red Lemon game studio for the PC and an unnamed next-generation gaming console. Release is scheduled for the first quarter of 2002. Gamers assume the role of John Crichton, Peacekeeper Aeryn Sun, Chiana, D'Argo, Rygel or Zhaan. The game will find Moya's crew stranded on a desolate planet in a far-off corner of the universe, caught between warring native factions and the deadly Peacekeepers. The first public demonstration of the game will take place at the Electronic Entertainment Expo in Los Angeles in May.
---
Geek Attack! Well sort of! Fandom.com has a nice interview with Gordon Michael Woolvett, the geek Seamus Harper from Andromeda.
---
Cable ratings are UP at Lifetime and TNT. "The Pretender 2001," was the second highest-rated original for the month, garnering a 4.4 rating with more than 3.5 million households, helping the network to finish first in basic cable's primetime delivery of adults 25-54.
---
Tuesday, January 30:
According to the Sid City fan Web site, Alexander Siddig, the doctor from Star Trek: Deep Space Nine, has joined the cast of Reign of Fire, a post-apocalyptic movie about fighting dragons.
---
It's the last season of Star Trek Voyager and UPN wanted something special to commemorate this series. They are in the process of erecting a high-tech billboard along Los Angeles' famed Sunset Strip. While the current billboard is covered in black with "Coming Soon" etched on the outside, Bob Bouknight, senior vice president of marketing for UPN, said "Our goal was to design a billboard to rival the ones along Sunset Boulevard." The sign will employ special-effects technology with laser-like lighting effects developed by CooLight.
---
Another "Logan's Run" on the horizon? Yes, there is talk about another production -- one that is more faithful to the original book, thanks to director Skip Woods. William F. Nolan (who wrote the original novel with George Clayton Johnson) says he has high hopes for the $100 million remake. Woods plans to stay true to several elements of the book. For example, the villainous cyborg "Box" won't be the "slow-moving vanity table." It's going to be a fast-moving, deadly piece of work; one that will make use of the novel's major theme: the dangers of a society obsessed with youth.
---
SITE OF THE WEEK
I know this is going to sound a bit strange, but have you ever looked at the other parts of ISN News? I get sort of tied up in the front page here at The Zocalo and haven't really wandered around ISN News a lot. Use the links at the top of the page to visit the other sections of ISN News. You will find some really terrific stuff! Honestly, David and others at ISN News have pulled together a terrific reference site for Crusade and Babylon 5. Don't forget to visit their Gallery of pictures. It's wonderful. They have some superb pictures of Babylon 5, the White Star, Centauri, Narn. The pics from "In the Beginning" are AWESOME!
BABYLON 5 ON DVD
Ranger Joe sends along the following intelligence report:

One of my spies in Denmark called Laserdisken this morning, following up on the link I sent you earlier. He read them a list of questions I provided, and here are the answers:

Q: Region: Are these Region 2 PAL discs or Region 1 NTSC imports?
A: Region 1 to begin with (PRELIMINARY date May 21st, Region 2 about 3 months later, the date is pretty trustworthy, my informer says - not that bad experiences with Warner Brothers..)

Q: Method: Box set only or also available as single discs? Numbers: How many discs in the set, episodes per disc?
A: Only purchasable in a box like "X-men", maybe 7 discs for the whole season

Q: Aspect ratio: 1.33:1, 1.77:1 or both? Widescreen Enhanced? (if widescreen)
A: Not likely but you never know, "Stargate" has been "recut" for anamorphic / widescreen

Q: Extras: Will there be any? Do they know what they will be?
A: Do not get too high hopes.. Much too early to say is the information.

The last two answers may be guesses, based on Laserdisken's previous experience with other shows which a) tend not to be widescreen because they weren't shot with that in mind and b) tend not to include extras - "X-Files" being the notable exception. 7 discs per season sounds like too many to me. Again, they may have "X-Files" in mind, which had 24 episodes in the first season and 25 in the second, meaning six discs for episodes plus one for extras (and 1 S2 episode.) At only 22 shows a season "B5" will probably come in at 6 discs (disc 6 containing two episodes plus extras) unless Warner Home Video is planning on *tons* of extras.

Also:
Over at www.thedigitalbits.com, they say:

"By the way...while we were on the phone with Warner, they did confirm that episodes of the TV series Babylon 5 will be released on DVD this year (but not before summer, and no other details are yet available.) Just FYI."

BRUCE BOXLEITNER BOOK SIGNINGS
Bruce Boxleitner's first book "Frontier Earth" broke new ground for him -- and his second book, the sequel "Frontier Earth: Searcher" -- continues that very nicely. Our hero Macklin is helping to protect a human society still in its formative stages from a predatory race known as the Kra'agh, savage, smelly aliens who want to turn Earth into their very own supermarket. To read a full review of the novel, drop over to amazon.com.

Bruce will be out promoting his new novel at the following book stores in the Los Angeles area:

Borders (Westwood) Wednesday, Feb. 7th 7:00 PM
1360 Westwood Blvd., LA, CA 90024 (310) 475-3444

Borders (Torrance) Thursday, Feb. 8th 7:00 PM
3700 Torrance Blvd., Torrance, CA 90503 (310) 540-7000

Book Star (Los Angeles) Thursday, Feb. 15th 6:00 PM
100 N. LaCienega Blvd., Los Angeles, CA 900048 (310) 289-1734
AN APPEAL TO BABYLON 5 FANS
Recently, I watched some of the Documentary "Trekkies" and only managed to get about halfway through it, before the whole thing frustrated me. I believe that Babylon 5 is just as worthy as any of the Treks, and more worthy than most of them.I would like to write a piece about the positive effects of Babylon 5, and explore B5'ers reactions. Thusly, I appeal to all those out there to send me the positive reactions, responses, to Babylon 5. How has it inspired you? How has it impacted on your life? How do you show that you are a fan of this show? I would love and welcome all responses and will distill them down and write an article that will appear in the Zocalo on the outcome of this appeal. Please have your responses in by Feb. 20th, or so. I will be most interested in what I do receive. Send them to my e-mail address, at CCB5Flamekeeper@aol.com.

Many Thankings,
Connie Colvin
THIS WEEK'S DISCUSSION TOPICS
This week's discussion topic:

OK, we've talked about noteworthy scenes from Babylon 5 -- those which could have/should have been in the running for Emmys. Let's turn our attention to special effects! What are your favorites -- or what do you think Babylon 5 did best in this area?

Send in your thoughts to either TheZocalo@aol.com or b5web@aol.com.. You can also post your comments on the message board at www.isnnews.net/board. To see what other readers have posted on this and other topics, follow this link to Current Discussion Topic page.
---
TECHNOMAGE TRILOGY - NEW BABYLON 5 NOVEL!
Jeanne Cavelos will begin a trilogy on the Technomage soon. "Babylon 5: Casting Shadows" is due for publication in February. The next installation, "Summoning Light" will be released in July! DelRey website has the books available for ordering now. The synopsis up on "Summoning Light" is quite a teaser!

In the B5 newsgroup recently, someone asked JMS which B5 novel he would consider the "best".

"As for the best of the bunch, I'd have to say it's probably the technomage trilogy, or what I've seen of it so far."
BABYLON 5/CRUSADE AROUND THE WORLD
Ranger Report - Norway:

Just wanted to inform you that Crusade has begun airing on a Norwegian channel called TVNorge. They started airing it on Saturday January 6th 2001, at 2.40pm. And so today was the second episode, only that TVNorge messed things up. They sent episode 11 (prod #101) last Saturday, and the first episode (prod#108) today (Saturday, January 13th, 2001). No wonder I didn't understand why there wasn't a "intro", when they started a new sci-fi-series; The "intro" came to day! :)

Ranger Andres - Latin America:

Thirdspace aired last saturday on HBOPL 8.p.m. EST.(LatAm).
Sure River of Souls coming next, probably Saturday, too.
B5 Season 5 is aired every tuesday at night (8p.m.-11.pm. EST).
Warner Channel WB.

Coming next:
Darkness Ascending: January 30
And All My Dreams, Torn Asunder: February 6
Movements of Fire and Shadow: February 13
The Fall of Centauri Prime: February 20
The Wheel of Fire: February 27
SEEING EAR THEATRE
The folks at Seeing Ear Theatre are buzzier than a termite in the forest!

Starting on February 15, emmy-award wining actress Alfre Woodard will star in a four-part audio drama adapted from Octavia Butler's SF novel "Kindred". Lynn Whitfield will co-star in the drama, which SCIFI.COM will post in commemoration of Black History Month. Part 2 of Kindred will go live on Feb. 20; Part 3 on Feb. 22 and Part 4 on Feb. 27. Kindred tells the story of Dana (Woodard), a modern African-American woman who finds herself transported back in time to the antebellum South to protect Rufus, the white son of a plantation owner. Dana is summoned in these instances to insure Rufus will grow to manhood and father the daughter who will become Dana's grandmother-- the first free-born woman in her ancestry.
BABYLON 5/CRUSADE PHOTOSHOP
NEW PHOTOS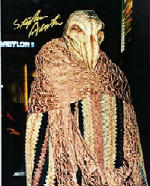 Check out the Photo Shop. Ordering is easy! If you would like to see more cast members added to the PhotoShop, drop me a note and I'll see what I can do.
KEEPING UP WITH CAST AND CREW
Melissa Gilbert's latest movie, "Sanctuary" aires Wednesday, February 28th 9 PM on CBS. The story revolves around a well-known photojournalist who, when stalked by an unknown assailant, returns to her childhood retreat to find safety and comfort, but instead discovers that her troubles have followed her home.
---
On February 16, Pat Tallman will be in "The Vagina Monologues" at the Cal State-Northridge Campus, located in the San Fernando Valley area of Los Angeles. The play will benefit the Valley Trauma Center, a rape crisis center for families who have experienced violent abuse. The play is part of "V-day Stop the Violence Now" and will be performed all around the country at different colleges on the same day to benefit local outreach places. For more details, visit www.vday.org.
---
Claudia Christian is filming a new movie with Corbin Bernson and Dick Van Patten. It's entitled "Quiet Kill".
---
Bruce Boxleitner has been a busy fella! Earlier in the year, he was in Montreal to film "Life in the Balance". Shortly thereafter, he was off to Lithuania to film "Perilous". He finished another film, "Contagion," right before Christmas. What is he up to now? He's working on book three of his "Frontier Earth" series.
---
Jason Carter fans will be interested to learn that he just completed work on the Independent film, "The Mesmerist." Jason was cast as Dr. Pretory, the Mesmerist. The film also stars Jessica Capshaw, Neil Patrick Harris (aka Doogie Howser), George Wyner, and Howard Hesseman and was directed by Gil Cates Jr. According to SciFi Wire http://www.scifi.com/scifiwire/art-main.html?2000-11/30/11.10.film) the film is based on Edgar Allen Poe's short story "The Facts in the Case of M. Valdemar," and is described as "a twisted comedy about a doctor who convinces a dying man's family to allow him to put the man in a trance and what happens as he descends into the afterworld." The film is expected to be released in approximately 5 months.
---
Jeffrey Willerth is Coordinating Producer for the History Channel's hit series "The MOST". Now in it's second season, the show is seen Friday nights at 8pm ET/PT, 7pm Central. Episodes give a fast-paced look at several historical stories told with a superlative perspective. "The MOST" is making history fun!
---
Stephen Austin the wonderful Pak'Ma'Ra ambassador from Babylon 5, is playing "Herr Zeller" in the Canyon Club Dinneer Theatre's production of "The Sound of Music". The theatre is located in Agoura Hills, California. The play will run from February 3 to March 11, 2001.
---
BABYLON 5/CRUSADE CHRONOLOGY
Terry Jones' put a tremendous amount of time and effort into creating a Babylon 5/Crusade Chronology that was published in the Official Babylon 5 magazine.

Last month, I started the Sheridan Chronology over at The Galactic Gateway. Part II of his timeline is now up at the website. Others will follow.

Here at The Zocalo Today, You'll find, The Beginning , which starts 15 billion years ago and runs through 1260.
SCI-FI PUBLICATIONS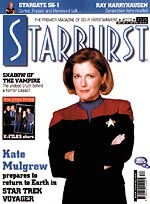 This month, focus is on Voyager. With the final episode not far down the road, a number of publications will be featuring interviews with cast and crew. Also in this issue, an interview with Amanda Tapping, Don S. Davis and Teryl Rothery from Stargate SG-1.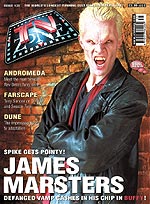 Spike from Buffy is the focus of the major interview in this month's TV Zone. However, you'll find quite a bit to read here. There's a piece on Andromeda's loveable cannibal Rev Bem, Farscape's Anthony Simcoe and Robert Leeshock from Earth: Final Conflict.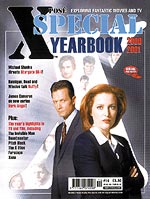 The special issue of Expose has something for everyone! With a fantastic X-Files cover, they cover The Pretender, Buffy, Stargate SG-1, Farscape, Dark Angel, Beastmaster and more!



BABYLON 5 FAN CLUB
Sad news. I don't know what the fate of the B5 Fan Club will be. Netter Digital filed for bankruptcy in July and all their worldly posessions were auctioned off on December 7. Thestation.com is back on-line, however the Emporium has been closed.
SCI-FI SCHEDULE
Sci-Fi's Schedule Ahead for Babylon 5 is:

Air Date Title

February 2 Endgame

February 5 Rising Star
February 6 The Deconstruction of Falling Stars
February 7 No Comprises
February 8 The Very Long Night of Londo Mollari
February 9 The Paragon of Animals

February 12 A View from the Gallery
February 13 Learning Curve
February 14 Strange Relations
February 15 Secrets of the Soul
February 16 In the Kingdom of the Blind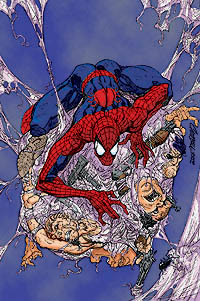 SPIDERMAN
Joe's first issue of the Amazing Spiderman will be out soon. There is a look at the issue over at Previews. A new adventure is about to unfold.
RISING STARS
RISING STAR GRAPHIC NOVEL - BORN IN FIRE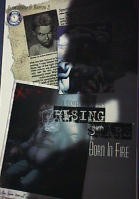 This is a compilation of the first eight issues of Rising Stars. This is for those who missed the first several issues or who just enjoy reading the story in one sitting. There's a great forward by Neil Gaiman as well.
RISING STARS 12 -- OUT NOW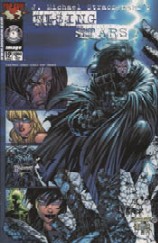 Top Cow Comics
(W) J. Michael Straczynski (P) Christian Zanier (I) Livesay (C)Brett Evans
Following the death of a major character, the war for Chicago heats up! John appears to have an affinity for leaving landmarks in ruins. One has to wonder how much of the world will be destroyed by the war between the Specials. The way it's going it doesn't look like there's gonna much left to fight for.
*This comic is rated one of the top 10 comics this week over at fandom.com. and there is a review over at IGN.COM.
RISING STARS 13 -- coming in January
Joe's Comics
(W) J. Michael Straczynski (P) Christian Zanier (I) Livesay (C)Brett Evans
RISING STARS #14 - February
Joe's Comics
10/23/2000
(W) J. Michael Straczynski (P) Christian Zanier
"The last of the colored pages came through on Friday, so it should be out in a few weeks."
MIDNIGHT NATION
MIDNIGHT NATION #4 - OUT NOW
Joe's Comics
(W) J. Michael Straczynski (P) Gary Frank (I) Jason Gorder (C ) Dan Kemp
David Grey and his mysterious guide Laurel continue their journey through the midnight version of America, trying to evade the Walkers, stay alive, and find out who has his soul before he runs out of time. And not everyone he meets along the way wants him to succeed.
Here's an update from Joe on Midnight Nation #5: "I've just today approved the last of the colored pages on Midnight Nation 5, and I think this is the strongest issue to date. It gives you a preview of what's coming down the road (again my tendency to show you what's coming at the end, but you don't know the context) and it's just completely kickass, especially the artwork, which is impressive as all hell."
I think it'll be out in a couple of weeks. Keep an eye out for it, it's a good one.
NO HONOR - due in February
NO HONOR #1
Top Cow Comics
10/23/2000
(W) Fiona Avery (P) Clayton Crain

In February 2001, view the world through the eyes of a world-class art thief. Witness the theft of an antique katana and the rebirth of an ancient Samurai soul in the body of a thief without honor. Fall in love with someone you could never possibly know, hunt while being hunted, and taste the world again for the first time in 1300 years. NO HONOR is Fiona Avery's four-issue tale of one thief who finally runs out of luck and runs into Tannen Yojimbo, the spirit of a Samurai who will change his world forever.
NEW BABYLON 5 TOONS
John Cook has a new cartoon contest going. Try your hand at a punch line.




Here's another toon from Gary pakmara1@aol.com. Enjoy.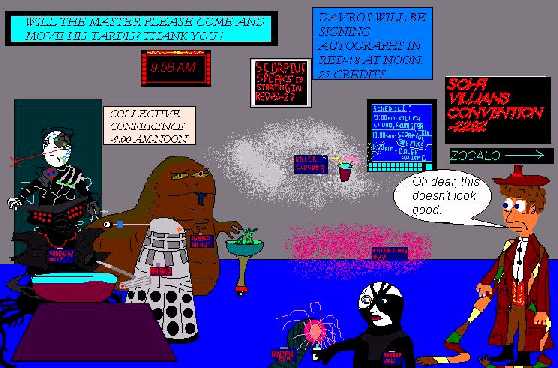 READER DIRECTORY
If you are like me, sometimes you can't find the e-mail address for someone you know has either responded to a discussion topic or you met over in one of the chat rooms and would like to send along a personal note. How would a reader's directory sound? A White Pages of Zocalo Readers! Think that would be useful? If so, send in your name, state, e-mail address and (if you'd like to have it listed) birthday (without year) to sgbruckner@aol.com. I've pulled together information sent in so far. Check out the Directory of Readers.

Birthdays - Zocalo Readers

Sean Lyons - February 2
Matthew Sweet - February 16

HAPPY BIRTHDAY!
BABYLON 5 REFERENCE PAGES
The Official Babylon 5 Magazine is indexed here as well. With the closure of the magazine in May, you'll want to see which magazines you have -- and which ones you will want to collect. The index may help you make a decision on which ones to choose. The Fan Club has many of the issues at thestation.com , making it very easy to complete your collection.

Universe Today -- the Babylon 5 Fan Club quarterly can also be found here. The index gives you a rundown of what articles were presented, what interviews published.

If you have magazines that have featured Babylon 5 or Crusade that are not listed, send along their issue number and a note to indicate what the article was about. It would be nice to have a fairly comprehensive listing of Babylon 5 publications here.

I have added a listing of all the Babylon 5 novels and now the B5 comic books to the reference page. If there are other items that you feel should be included, let me know.
MAILING LISTS
THE GALACTIC GATEWAY
Here's a unique site for you! Jeffrey Willerth, Patricia Tallman, Mira Furlan, Claudia Christian, Robin Atkin Downes, Rick Biggs, Jerry Doyle, Bruce Boxleitner, Melissa Gilbert, Peter Jurasik and Bill Mumy are under it's umbrella. Actors from other shows will be joining the Gateway as well. To subscribe to a mailing list for GG, send a blank note to thegalacticgateway-subscribe@egroups.com.
GATEWAY CHATTERS
There is never enough time to keep in touch with friends! To help out, a mailing list has been started for chatters over at the Galactic Gateway. If you are interested in joining, send a blank note to gateway-chatter-subscribe@egroups.com.
CALLING ALL ARTISTS
The Art Gallery at The Zocalo Today is open. There are SO MANY talented people in our Babylon 5 community. We have enjoyed works by Todd Brugman and Tye Bourdony on our toons page, but there are a host of others who enjoy drawing, painting, sketching their favorite characters. Here are a few works that have been received. I have some others that will be added soon.

If you would like to share your work with us at The Zocalo Today, please send along a digital photo of your work and I'll begin putting the gallery together. If you do not have your work in digital format, drop me a note and we'll see what we can work out.
CALLING ALL CLUBS
There are a number of fabulous Babylon 5/Crusade Clubs around the world. I'd like to begin listing them here on The Zocalo Today. Eric dropped me a note the other day providing information about a Club in France. I know there are other clubs in Brazil, Germany, Russia -- and who knows how many here in the US. Let's get a listing together. Perhaps we can share resources, even get together as we travel around. Drop the information about your Club to me at sgbruckner@aol.com or bruckner@isnnews.net. That information will be added to the new B5 Fan Club Listing.
BABYLON 5 NEWSLETTERS
If you have a newsletter you'd like to have listed at The Zocalo Today, send the information along. It will be posted on the B5 Fan Club/Newsletter page.

Ranger Shane in North Carolina sent in the following note about their "Jumpgate" newsletter.

Hey Sandy! Just wanted to give you an update on the NC B5 group's newsletter, Jumpgate. There's now a dedicated EMail address for submissions - jumpgatemag@bellsouth.net - and any submissions, solicited or un-, can be sent to this address. Also, issues are available for free download at the URL at the bottom of this message.

-- Jumpgate - The Newsletter of the North Carolina Babylon 5 Fan Club
Shane Killian, Editor
BABYLON 5/CRUSADE CONVENTIONS
CONVENTION CALENDAR
Want to know what conventions are ahead for the Babylon 5 and/or Crusade cast and crew? Use this link Convention Calendar.
CONVENTION ALERT
The Babylon 5/Earth Final Conflict Cruise originally scheduled for February 21-25, 2001 has been postponed until September.

CONVENTION ATTENDANCE

Are you attending one of the conventions on the calendar? Or another one perhaps? Do you want to see who else might be there? Drop your e-mail address to TheZocalo@aol.com. We've begun an attendance page so that perhaps we can get together while enjoying the activities of the convention. Convention Attendance .
CONVENTION UPDATES
Walter Koenig and Stephen Furst have joined the guests attending Chiller Theatre in E. Rutherford, NJ in April.
CONVENTION REPORTS
There are a number of convention reports, written by convention attendees, on the Reports Page. Photos from FarPoint have been added to the Photo Gallery.. If you have convention activity you would like to share with us, drop me a line.
UPCOMING EVENTS
Star Trek/Xena/Sci-Fi Convention
February 3-4, 2001; Bellevue, Washington
Guests: Peter Woodward

For more information, visit their website at http://www.creationent.com/calendar.html or write to tickets@creationent.com or or call (818)409-0960; fax (818)409-0827.
---

Slanted Fedora
February 10-11, 2001; Champagne, IL
Guests: Peter Woodward, Jerry Doyle

For more information, visit their website at http://www.sfedora.com/Champaign.htm or call (913)327-8735.
---

VisionCon
February 16-18, 2001; Springfield, Missouri
Guests: Peter Woodward, Richard Biggs, Jason Carter

For more information, visit their website at http://www.visioncon.net.
---

The Fantasy - Carnival Cruise Line
February 22-25, 2001; Port Canaveral, Florida
Guests: Jason Carter, Richard Biggs

For more information, write to starmagic@ioncannon.com or visit their website at http://starmagicproductions.ioncannon.com .
---

Redemption 01
February 23-25, 2001; Kent, UK
Guests: Ron Thornton, Andy Lane

For more information, write to redemptioninfo@smof.com or visit their website at http://www.smof.com/redemption .
---

Gallifrey 2001
February 23-25, 2001; Van Nuys, CA
Guests: Marjorie Monaghan, Tim Choate, Marjean Holden, Peter Woodward, David Allan Brooks, Beata Pozniak, Johnny Sekka, Denise Gentile, Maggie Egan, Jeffrey Willerth, Stephen Austin

For more information, visit their website at http://www.gallifreyone.com . www.gallifreyone.com or email info@gallifreyone.com.
---

MegaCon 2001
March 2-4, 2001; Orlando, FL
Guests: Jason Carter, Richard Biggs, Bill Mumy, Peter David (author)

For more information, visit their website at http://www.megaconvention.com or call (813)891-1702.
---

Slanted Fedora
March 2-4, 2001; Waterbury, CT
Guests: Claudia Christian, Wortham (Bob) Krimmer, Mary Kay Adams

For more information, visit their website at http://www.sfedora.com/waterbur.htm.
---

Creation - Philadelphia
March 3-4, 2001; Philadelphia, PA
Guests: Stephen Austin

For more information, visit their website at http://www.creationent.com or write to tickets@creationent.com or or call (818)409-0960; fax (818)409-0827.
---

FedCon
March 6-8, 2001; Bonn, Germany
Guests: Marjorie Monaghan

For more information, write to info@fedcon.de or call 49-821 219 0932; fax 49-821-219 1937.
---

Starfury 2001
March 16-18, 2001; London, UK
Guest: Jerry Doyle

For more information, write to SeanHarry@aol.com or visit their website at http://www.starfury.co.uk .
---
ZOCALO TRADING POST
There are some new and interesting items in the Trading Post. Take a look. If you have items you'd like to trade, post a note here. If you need a particular item, the Trading Post or Message Board could help you find it. Use this link to see what is listed. Trading Post. To have items included in The Trading Post, send a note to The Zocalo. Please put Trading Post in the subject line.
Pen Pals
If you are looking for someone to talk about Babylon 5 and Crusade with, the Pen Pal section is for you! Check it out! Drop a note to someone who is feeling B5 withdrawal -- BIG TIME!

People thought a Pen Pal page was a good idea. If you would like to meet people who you could chat with or share your opinions of the show with, send along your e-mail or snail-mail address The Zocalo. It will be incorporated on the new Pen Page Page.
IMPORTANT DATES AND BABYLON 5 HISTORY
February Birthdays

Bill Mumy - February 1
John Schuck - February 4
Michael Beck - February 4
Ardwight Chamberlain - February 16
Karen Harrell - February 21
Majel Barrett Roddenberry - February 23
John Iacovelli - February 25
Matt Plummer - February 26

Have I missed anyone? If you know the birthday of someone connected with Babylon 5, pass the information along. We want to include everyone in our Happy Birthday Wishes.
---
Babylon 5 Chronology
I've started to list part of the wonderful Babylon 5 Chronology created by Terry Jones and first published in the Babylon 5 magazine. This month's installation is the Great War. Great War Page lists events surrounding the THE GREAT WAR,1260-1261 and runs through 1888.

Terry has granted permission to use segments from the chronology here at The Zocalo Today.
MAIL FOR CAST AND CREW
Here's a recent note from JMS on the subject:

Just an FYI to those who've been using the Ventura Blvd. mail drop for fan mail to actors....

As mentioned before, we're phasing out the forwarding of fan mail because we a) don't have the resources, complicated by b) the actors have scattered to the four winds, and it makes it very difficult to get everything to everybody in a timely fashion.

So, having provided prior notice...fan mail to actors coming to the Ventura Blvd. mail drop will be sent back. Mail to actors should be sent via their official fan clubs. I will still be taking mail there, since it's my mailbox, but that's it.

Just so's y'all know and save a few bucks on postage and returns.

JMS' mail can be sent to:

14431 Ventura Boulevard, PMB 260
Sherman Oaks, CA 91423
BACK ISSUES OF THE ZOCALO TODAY
The front page of the The Zocalo Today changes daily, so be sure to check the back issues to make sure that you haven't missed anything IMPORTANT! I don't want the front page getting too long so I shift information periodically into the archives. So if you aren't a regular visitor to The Zocalo Today, be sure to check out the back issues. Just use the button above!
---
HELP!!!
NEW FLYER AVAILABLE: If you would like to take some flyers to a convention to help spread the word that The Zocalo is here and ready to provide you with information on everything Babylon 5 and Crusade! drop me a line. I'll be glad to send you some in the mail. I've created a PDF file that can be downloaded and printed. Flyer Thanks for helping to spread the word about The Z!

Take care and I look forward to hearing from you.
Sandra Bruckner (sgbruckner@aol.com)
Editor/Publisher
The Zocalo Today
http://www.isnnews.net