[an error occurred while processing this directive]

The Zocalo Today

Welcome! I am REALLY glad you dropped by. Take your shoes off, get comfortable and stay a while.

The Zocalo Today is an interactive newsletter. If you have suggestions, please send them along. The Zocalo Today is as much YOUR newsletter as it is mine! I'm just pulling together things for you! Join our weekly discussion topic. It is just one way you can interact with other Z readers. Send along letters, sightings of B5 cast and crew in other projects, convention reports, photos, etc. Don't miss our back issues. There is a LOT of information contained there and you'll not want to miss anything.

If you have questions, drop me a line at sgbruckner@aol.com or b5web@aol.com.

Again, WELCOME!

February 22, 2002 4:25am
What's New
B5 ON DVD: Everyone has been waiting for some sort of official word from the WB on whether or not the series would be coming out on DVD. The critical determining factor was sales of the first DVD released in December. If the first DVD did well, others would surely follow. Still no official word on this front, but www.B5LR.com indicates a source has said that the resulting sales were positive enough for Warner Bros. to make a decision to release the series on DVD. We'll see if some official statement will follow.
---
JEREMIAH: A new site is up and running to help webmasters distribute information about Jeremiah. If you want to incorporate a banner or photos, this is the place to go. Details below.
---
JEREMIAH: JMS has just posted more information on his new series Jeremiah. You can find the entire post over on the Jeremiah Page.
---
JMS: If you don't do anything today, be sure to drop over to the MGM newsletter to have a peek at the new picture of JMS highlighting his interview with Ben Strait.
---
VILLAINS: Picked up the latest TV Zone Special yesterday. It's a fantastic look at Villains. Who was there to represent Babylon 5? You got it -- Bester and Morden. There was a sort of honorable mention given to Londo in the opening pages!
---
CRUSADE: Ranger David sent along word that Crusade will be shown again beginning March 26 at 1pm on SCIFI. A portion of the schedule is available below.
---
PAT TALLMAN: Pat will be signing at a LA bookshop on Feb. 23. See details below.
---
WB WEBSITE: I've noticed a few notes around the net about new items over at the WB website. Yes, it has been a while, but you might want to check it out at www.b5.com. It had been a pretty good site for images, but now it can be a terrific site for new fans to visit. We'll see if anything new pops up.
---
JEREMIAH: JMS talks about his upcoming Jeremiah series for Showtime at http://stage.mgm.com/scifi/02feb/strac.html.
---
LEGEND OF THE RANGERS CREDITS: If you are like me, you die everytime the ending credits roll -- only because you can't read a thing. SCIFI has a remedy for that. Go over to www.scifi.com/b5rangers and you will find ALL the credits listed. Thanks SCIFI.
---

BLOOD DRIVES: If you are able, be sure to roll up your sleeves and give blood -- both now and in a couple of weeks. The need for blood will be continual. Right now, the tremendous outpouring of volunteers has filled quotas and storage space! FANTASTIC!!! But those supplies will be utilized and a new supply will be needed soon. Check out donation drives near you. I'm signed up already.
---
The e-mail version of The Zocalo Today goes out on Saturdays. If you would like to be included on the mailing list, just send a blank note to thezocalo-subscribe@yahoogroups.com. If that doesn't work for you, drop me a note at sgbruckner@aol.com. I can add you manually. Our new back-up site is located at http://sgbruckner.tripod.com. If you can't get into www.isnnews.net, try this site for new information.
---
NEWS AROUND THE SCI-FI GENRE
February 22:
RATINGS: Top 10 SF Network Shows: The X-Files 5.1; Enterprise 3.6; Smallville 2.9; Charmed 2.8; Angel 2.5; Buffy 2.1; Sabrina 2.1; Special Unit 2 2.0, and Glory Days 1.9. Source: Nielsen Galaxy Report, 1/21/02 - 1/27/02.
---
WILLIAM SHATNER: William Shatner is popping up all over. He was on Larry King last night; tonight he will be on Entertainment Tonight (see www.etonline.com. He's recently updated his website at http://www.williamshatner.com/ to include a number of new projects -- and interaction with his daughter, Lisabeth. It's an interesting site and one you should visit.
---
TWO TOWERS: If rumors are accurate, a trailer for the second installment of the "Lord of the Rings" trilogy will be placed on already released prints of THE FELLOWSHIP OF THE RING by mid-March. The trailer will be almost twice as long as normal movie trailers, clocking in at three and a half minutes.
---
TWILIGHT ZONE: Three cheers for UPN!!!! Yes, according to www.cinescape.com, UPN has ordered up a new version of the classic mind-bender series, THE TWILIGHT ZONE. The original anthology ran for six years in the early 1960s and again briefly in the 1980s. The new series will be ready for the fall schedule. Pen Densham (ROBIN HOOD: PRINCE OF THIEVES, HOUDINI) will write and produce the new version. No word on whether or not there will be a Rod Serling type announcer.
---
ET: This has to be a the favorite film of a LOT of people! The version being made ready for the 20th anniversary was premiered at the Olympics on Wednesday night for athletes competing in the Winter Games, their families and guests of the Salt Lake Olympic Committee. Early reviews indicate they love the enhanced animation. Read more about the Olympic preview at http://www.usatoday.com/life/enter/movies/2002/2002-02-22-et-remake.htm.
---
February 21:
X-FILES: Mulder is back -- at least for the series finale! The X-Files official site posted a press release that indicates that David Duchovny will appear in the two-hour series finale set to air on Sunday May 19 (8:00-10:00 PM ET/PT) on FOX. As you would imagine, details for the remaining episodes of the series are under close hold. According to the press release, the final five episodes will begin to provide highly anticipated answers to many of the show's most-asked questions, culminating in the two-hour finale in which Agent Mulder is reunited with Agent Dana Scully (Gillian Anderson) after having gone missing for the past year. Also, the final episodes of the series will examine many of the pieces involved in the long-running mythology that has continued throughout the show's nine seasons. The series finale is being written by series creator and executive producer Chris Carter and directed by co-executive producer Kim Manners. Duchovny will also direct THE X-FILES episode scheduled to air Sunday, April 28 (9:00-10:00 PM ET/PT), which is based on a story idea he co-wrote with Carter and executive producer Frank Spotnitz. Duchovny will not appear in this episode.
---
SEAN CONNERY: There has been speculation for months about Sean Connery taking on a role in the upcoming big screen version of Alan Moore's comic book LEAGUE OF EXTRAORDINARY GENTLEMEN. According to the Hollywood Reporter, Connery has signed on for this movie and a sequel, should one arise. Steve Norrington has been set to direct from a script by James Robinson. GENTLEMEN tells the story of a team put together by Queen Victoria in the 1800s, made up of luminaries such as Dr. Jekyll, Allan Quartermain and Captain Nemo.
---
TERMINATOR 3: There has been much anticipation about the female terminator's role in the upcoming TERMINATOR 3: RISE OF THE MACHINES. Everyone from WWF's Chynna to Famke Janssen have been mentioned. According to the Hollywood Reporter, the role has been given to Kristanna Loken. Loken was seen last in ABC's PHILLY and also had a role on MORTAL KOMBAT: CONQUEST. Loken's character will be the T-X, facing off against Arnold Schwarzeneggers increasingly obsolete T-800. Shooting begins April 15 in Los Angeles.
---
FOX NETWORK: Like all the other networks, Fox is looking for shows and stars for their fall schedule. They announced that David Conrad ('Relativity') will star in it's upcoming 'Time Tunnel' series. Bill Bellamy and Peter Facinelli are taking the 'Fast Lane,' as Fox Wednesday snags leads for two of its biggest drama pilots for fall 2002. Meanwhile, Roselyn Sanchez ('Rush Hour 2') has been tapped as 'Miss Miami' for NBC's drama pilot for NBC.
---
KEVIN SMITH TRIBUTE: Over at www.13thstreet.com Al Ortega looks back on past Xena-Hercules conventions with Kevin Smith, providing us with some great photos of the late actor.
---
February 20:
DUNE: KEVIN ANDERSON and Brian Herbert are offering FREE signed book plates for Dune: House Corrino, as a thank you to their fans. Just send a SASE (business sized) to AnderZone, PO Box 767, Monument, CO 80132.
---
RATINGS: Top 10 SF Syndicated TV Series: Stargate SG-1 2.9; The X-Files 2.9; Andromeda 2.8; Buffy 2.7; Mutant X 2.5; 3rd Rock 2.4; Earth: Final Conflict 2.1; John Edward 2.1; Beastmaster 2.0, and The Lost World 1.9. Source: Nielsen Galaxy Report, 1/21/01 - 1/27/01.
---
BOND 20: Reuters reports that on February 15, Pierce Brosnan injured his knee while shooting the upcoming 20th James Bond movie. EON Productions said that while Brosnan would be sidelined for two weeks, the film will still hit theaters in November as planned. For some behind-the-scenes photos from the production, go to http://www.jamesbond.com/bond20/newsflash/newsflash_07.php.
---
BLUE LASERS: Still pondering whether to get a DVD player or not? Something new is just on the horizon. Sony and Matsushita are working together to bring one standard to the emerging technology of Blue Laser DVDs. The technology, which uses a blue laser instead of the current red one, will allow much more information to be placed on a DVD disc, allowing for true HDTV quality picture. They anticipate new decks hitting the streets next year.
---
VANISHED: According to the Hollywood Reporter, Anthony LaPaglia (Murder One) has signed on as the lead in Jerry Bruckheimer's CBS drama pilot "Vanished," playing the head of the FBI division that focuses solely on missing persons. Additional members of the FBI team will include oscar-nominated actress Marianne Jean-Baptiste ("Secrets & Lies") is in final negotiations and Enrique Murciano ("Black Hawk Down").
---
GET WELL SOON, SCOTTY! Star Trek's Scotty, James Doohan, is recovering from pneumonia. Reports indicate that Doohan, who turns 82 in March, was hospitalized about three weeks ago in Seattle, where he lives. Jimmy is recovering nicely and is expected to return home soon.
---
FAMILIAR FACES ON CBS: With new series being packed into the upcoming fall schedule, CBS has tapped some familiar faces for new drama series. David Morse, from "St. Elsewhere", takes on the title role in "Hack," a police officer kicked off the force for taking dirty money. In order to paybills, he finds work as a taxi driver and helps people solve their problems. Oliver Platt from "West Wing" and the short-lived "Deadline", has signed on to "Queens Supreme." This series explores the workings of New York City's highest trial court. He'll play an outspoken judge in the drama from Kevin Fox ("The Negotiator" ) and Regency TV. Star Trek Next Generation's chief engineer Miles O'Brien, actor Colm Meaney, gets promoted to captain of a special Los Angeles police unit in "R.U.S./H." The series will be written by Paul Attanasio ("Donnie Brasco," "Gideon's Crossing") and produced by Studios USA.
---
February 19:
HARRY POTTER: Ranger Paul in Australia writes that Warner Home Video will be releasing the DVD of Harry Potter and The Philosopher's Stone in accursed pan and scan, while the rest of the world seems to have some choice between that and widescreen format. A petition for more flexibility has been started. If you would like to add your name to that effort, go to www.petitiononline.com/hpiws/petition.html.
---
BOX OFFICE: A pretty slow weekend, considering there was a Monday holiday. But here are the box office numbers: 1. John Q, $20.6 million; 2. Crossroads, $14.6 million; 3. Return to Never Land, $11.8 million; 4. Collateral Damage, $9.1 million; 5. Big Fat Liar, $8.7 million; 6. A Beautiful Mind, $8.5 million; 7. Hart's War, $8.3 million; 8 (tie). Black Hawk Down, $6.2 million; 8 (tie). Super Troopers, $6.2 million; 10. Snow Dogs, $5.8 million.
---
CLAUDIA BLACK: Most people know Claudia Black as Aeryn Sun on Farscape. She will soon be starring as "Pandora" in the upcoming thriller Queen of the Damned. Over at www.13thstreet.com you can share Claudia's moment-by-moment experiences as a working actress during the audition process as well as her ironic struggle, even as a known star, of having to navigate the social politics of the movie set as well as be afforded some degree of recognition for her work. Read "Ten Days In The Life Of Pandora" by Claudia Black.
---
STARGATE: Production on the sixth and final season of Stargate SG-1 begins today in Vancouver. As the series moves to the SCIFI network, we move into high-gear with "Redemption," a two-parter that sees the return of Teal'c's son, Rya'c, and former mentor, Bra'tac. Corin Nemec joins the cast as "Jonas Quinn", replacing Michael Shanks ("Dr. Daniel Jackson"). SCIFI's premiere in the United States is set for June 6, and is expected to begin in the United Kingdom and elsewhere around the world in the fall.
---
BEST SELLING BOOKS: Since our discussion topic this week deals with books, I thought I'd list the best sellers -- according to SCIFI. 1. Hobbit Rings Boxed Set; 2. Rings Set, Paperback; 3. Silmarillion; 4. Rings, Collector's Ed.; 5. Masters of the Wild; 6. Hobbit, Collector's Ed.; 7. His Dark Materials; 8. Dark Journey; 9. Fahrenheit 451, and 10. A Little Magic. Source: Amazon.com, 2/13/02
---
February 18:
KEVIN SMITH: Friends around the world are mourning the death of Kevin Smith. To read an update on this tragic event, go to http://www.nzherald.co.nz/storydisplay.cfm?storyID=939881&thesection=news&thesubsection=general .
---
VOYAGER: Everyone has an opinion about why Voyager wasn't as successful as other Star Trek series. Michael Piller gives his take on the series at http://www.cinescape.com. See if you agree with his assessment.
---
February 17:
HARRY POTTER: Extras are things DVDs are made of and it appears that the Harry Potter DVD is going to be something special indeed. When talking with SCI FI Wire recently, Paul Hemstreet, vice president special features/DVD for Warner Brothers said that the special-edition DVD will turn the extra features into an experience that puts viewers in the world of Hogwarts. "Rather than coming right out and laying it all out, it's still within the world of Harry, in that it's a book that would be in Hogwarts' library," Hemstreet said. As another example, he said, "you can go into each one of the professors' classrooms, and there are different features in there. 'Harry Potter Throughout the World' features listening to a scene in many different world languages. The Potions Game is there, which features potions that are mentioned in the book or the film, and it's a fun experience where you have to put the combinations together right or your potion could explode and send you to the hospital." The two-disc set is scheduled to hit stores on May 28.
---
GOOD OMENS: Although it's been a while since anyone has heard from Terry Gilliam (TIME BANDITS, FISHER KING, BRAZIL), he's now poised to make a comeback with an adaptation of Neil Gaiman's GOOD OMENS. Gilliam has tapped longtime collaborator Tony Grisoni to pen the script, and is looking to get Johnny Depp and Robin Williams to star. OMENS tells the story of angels and devils looking for the Antichrist on earth after a hospital mix-up sends the dark one home with the wrong parents.
---
NEXT GENERATION -DVD: Season Two of STAR TREK: THE NEXT GENERATION will hit the streets on May 7. Everyone will want to know what sort of extras are available. Here's a list! There are two documentaries, one looking over the season as a whole with Gene Roddenberry, and another going behind the scenes with Rick Berman on a tour of sets and props. The discs now include support for 5.1 Dolby Digital sound. All this for only $124.99.
---
JEREMIAH ON SHOWTIME - MARCH 3 AT 8PM
JEREMIAH: Joe gave us a run-down the other day of upcoming episodes on Jeremiah. What some people may have noticed is that Luke Perry & Jason Priestley (both from Beverly Hills 90210) will be back together again for an upcoming episode! Malcolm-Jamal Warner talks about the episode -- and the series over at www.scifi.com. Want to help promote the new JMS series Jeremiah? Go to www.jeremiahdepot.com and pick up a banner (see above) or photos or videos (as they become available). They have a lot of items that will enrich a site and provide useful information -- and give you a chance to win a cameo role on the show! Check out the contest. Play the game. As the premiere of Jeremiah approaches, JMS has posted a lot of information about the show, giving information about upcoming episodes, etc. I've included the entire post on the Jeremiah Page for your viewing pleasure. Looks like we will be in for quite a ride! JMS talks about Jeremiah over at http://www.comics2film.com/StoryFrame.php?f_id=292. JMS promises that Jeremiah is something different. "This is, I think, overall, a much darker show, a much more serious show" (than Babylon 5). Over at Comics2Film.com you can read a bit more about Jeremiah. Based on a comic by Hermann Huppen, Jeremiah takes place in a world where a virus wiped out every adult. Now, 15 years later and Jeremiah and Kurdy make their way through a chaotic world looking for Valhalla. The Jeremiah website has grown signficantly over the past few days. You can now see a brief video of the show along with a series of new images from the set. Soon, an interview with JMS, Luke Perry and Malcolm-Jamal Warner about the new show. Luke Perry will be on-line to chat with fans after the premiere. Stay tuned for more details on that.
---
Over at MGM's Jeremiah site, http://stage.mgm.com/scifi/02feb/strac.html, JMS talks about the series which premieres next month. Luke Perry, who portrays Jeremiah in this upcoming JMS series, recently talked to TV Guide Online about the series. Perry (Beverly Hills 90210) and Warner (Cosby Show) play street orphans in a post-apocalyptic world "Well, it's just hard to keep up the hygiene in the world of Jeremiah," he said with a chuckle. "There's no running water or soap. Occasionally, I get to shave with a straight razor. It's like Survivor, only nobody's getting voted off this thing."
---
TECHNOMAGE TRILOGY
Do you have burning questions that only the author of the fantastic Technomage Trilogy can answer? Author Jeanne Cavelos is making it very easy for you to get those answers. Drop her a line at jcavelos@sff.net and she will either answer your question directly or include it in her upcoming newsletter if she thinks the answer is something other people would enjoy reading about. Drop over to her website at http://www.sff.net/people/jcavelos as well. Jeanne is always working on something interesting and she enjoys interacting with readers.
---
SCIFI did a wonderful job of providing us with a great deal of information on the cast and crew for the "Legend of the Rangers" movie. Be sure to check out www.scifi.com/b5rangers. You will find digital trading cards for David Martel, Sarah Cantrell, Citizen G'Kar, Malcolm Bridges, Na'feel, Tirk and Dulann. There are short videos and interviews. Don't miss the feature about Mark Savela, visual-effects supervisor from GVFX and the interview with director Mike Vejar.

In the gallery, you'll find photos of the cast, some great behind-the-scenes pics and some desktop graphics you can use on your PC. Chat transcripts for all cast members, Dylan Neal, Alex Zahara, Dean Marshall, Warren T. Takeuchi, Myriam Sirois and Enid-Raye Adams are all available as well.

Go to Ranger Page for more information on the ratings and letter writing campaigns.
---
THIS WEEK'S DISCUSSION TOPIC:
What are some of the books you're reading now? There are a tremendous number of books in the science fiction section of bookstores. What do you enjoy reading -- and why?

Send your thoughts to TheZocalo@aol.com or b5web@aol.com. I'll add your notes to the Discussion Page.
RANGER SIGHTING
Ranger Vicki has spotted William Forward in an often-shown ATT Broadband commercial, starting several weeks ago, but also shown during the Olympics. He plays a cable-guy, complete with tool belt, at a satellite dish installation, speaking with some of Lord Refa's distinctive accent. Ranger David indicated that he could swear he saw Jason Carter in a Cadillac commercial the other day. Anyone else see it? Ranger John reports that Jason Carter has been sighted in the new Avalanche tv commercial! "He's great in it, reminds me of the more free spirited minutes as Marcus with Susan when she never knew what he was talking about. Well, if you haven't see it yet, start looking :) I saw it during nbc's olympic coverage."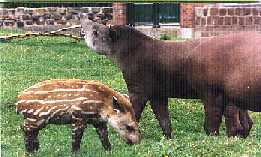 Ranger Tapestry sent along a news item that you may be interested in. It appears that there has been a new arrival at the Chester Zoo. A tapir was born last week and, the keepers being huge fans of Babylon 5, named the baby Londo. They hope he will be great friends with last year's baby Tapir, G'Kar. Here is a photo of the pair.
RANGER ALERT
Ranger John has sent along the following message:

I just bought a SIGNED copy of Bruce Boxleitner's book "Frontier Earth: Searcher" for $11.97 at www.bookcloseouts.com. I also used a coupon ($5 off $25 purchase). Coupon name valentine; coupon password cupid.

Thanks John. The book is a good one -- and signed too. Would make a terrific Valentine's gift!
KEEPING UP WITH CAST AND CREW
PAT TALLMAN: Pat Tallman will be signing at "Killer Bees", a new genre books and collectables shop in the fabulous Highland and Hollywood complex in downtown Hollywood. Patricia will be signing from 3pm to 5pm on Feb. 23rd.

Pat is also appearing in Hell's Cuisinart by David Caudle; directed by Joseph Greco. Cast: Robert Caso, Ed Deraney, Carey Dunn, Bess Fanning, Jenette Kozak, William Makozak, Jeff Sable, Bob Spletzer, Matt Stevens, and Patricia Tallman. Dates: February 21st- March 3rd, Thursday through Sunday 8pm shows- Sundays at 4pm. Place: The Tamarind Theatre, 5919 Franklin Avenue, Hollywood, CA (Between Gower and N Bronson) Valet parking available except for Sunday. Tickets: $12 General Admission, $10 FP Members, Seminole Club Members, Creative Actors Alliance, Van Mar Academy, Students and Seniors. Group Rates Available ( 5 or more). For Reservations: (818) 955-5313 or visit www.floridaproject.org.
---
CLAUDIA CHRISTIAN: Over at http://www.scifi.com/sfw/advance/07_sound.html you can read about Claudia's latest venture -- a production entitled "Area 51". Claudia and up-and-coming British actor Matt Rawle, offer a stimulating sonic "sneak preview" of the stirring SF tale written by playwright Daniel O'Brien.
---
JEFFREY WILLERTH: Along with his work at the Animal Planet, Jeffrey (Kosh from B5) been shopping around a new TV series. To get more on this project, visit www.blackvault.com. Jeffrey promises a sneak peek soon.
---
JOSH COXX: According to Electronic Media, Lifetime Television has ordered up a full third season for "Strong Medicine." The series, produced by Columbia TriStar Domestic Television, stars Janine Turner ("Northern Exposure") and Rosa Blasi as two female doctors who run a women's clinic. Other cast regulars include Jenifer Lewis ("The Temptations" ), Josh Coxx ("Babylon 5"), Philip Casnoff ("Oz"), Brennan Elliott and Chris Marquette ("Pasadena"). "Strong Medicine" airs Sundays at 8 p.m. Whoopi Goldberg, executive produces the series with Tammy Ader ("Party of Five").
---
DANIEL DAE KIM: You've seen him recently on Angel. Check out a recent interview with Daniel (Lt. Matheson on Crusade) at www.bronzeshelter.com.
---
BABYLON 5/CRUSADE CHRONOLOGY
A number of you have written to ask about having an index of the chronology published thusfar. Terry has given permission for this so I'm working on it. You can now find the index to the timeline published thusfar at B5 Chronology Index .

Terry Jones created a FANTASTIC Babylon 5/Crusade Chronology that was published in the Official Babylon 5 magazine. He has not stopped with the end of the series though. He has included items from the latest novels as well as things from the Crusade series. Here's a note from Terry to tell you all about it.

To look at the timeline in a different way, I have been working with Terry Jones on personal chronologies for the Babylon 5 universe. At The Galactic Gateway you will fine Parts 1-4 of the chronology for John Sheridan along with Part 1 for KOSH. Others will follow. I hope you will visit GG and give the chronologies a look.

Terry has provided a new segments of the Babylon 5 Chronology The Coming of Shadows.
NEW BABYLON 5 CARD SET
Rittenhouse Archives and www.scifihobby.com are pleased to announce the addition of 6 trading cards based on the all-new "Babylon 5: Legend of the Rangers" TV movie to the upcoming "The Complete Babylon 5" trading card series. The 6 cards will feature images and characters from the TV movie and will be used as box toppers (1 per box) in the all-new card series due out in March.

"The Complete Babylon 5" features complete synopses of all the episodes in the show's 5-year run, and includes nearly 1,000 never-before-published photos. Many of these photos will depict some of the show's most dynamic CGI space images. The trading card series will also feature 2 autograph cards and 1 costume card in every box. Autographs include Michael O'Hare (Jeffrey Sinclair), Andrea Thompson (Talia Winters) and a double signed card of Bruce Boxleitner (John Sheridan) and Melissa Gilbert (Anna Sheridan). Boxleitner and Gilbert are married in real life (and in the show). Costume cards include materials worn by Boxleitner, Jerry Doyle (Garibaldi), Peter Jurasik (Londo Mollari), Andreas Kastulas (G'Kar), Rick Biggs (Dr. Franklin) and Claudia Christian (Susan Ivanova).

More details are available at www.scifihobby.com.
SCI FI PUBLICATIONS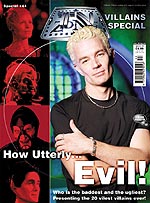 TV Zone #44: Villains are the focus of this special edition of TV Zone. Inside you'll find Scorpius, Gul Dukat, Spike, our own Bester and Mr. Morden. One irony in this issue -- you'll learn more about Kevin Smith as Ares.







TV Zone #148: This month's issue has a variety of coverage, including Farscape, Enterprise, and Stargate. Also included are reviews for a number of shows, including Angel, Legend of the Rangers, Smallville and Stargate (including the final five episodes). Read about the DVD adaptation of the Hound of the Baskerville, starring Peter Cushing.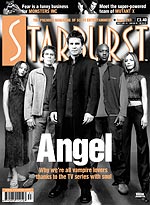 Starburst #283: ANGEL is the subject of a couple of magazines this month! In this issue, you'll see behind-the-scenes and get an assessment of the series -- from best to worst episodes. Also in this issue, you'll find interviews with Victoria Pratt, Forbes March, Lauren Lee Smith and Victor Webster from Mutant X.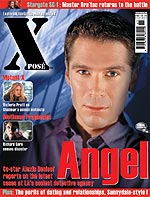 Expose #65: Alexis Denisof, Wesley from Angel, looks back over the changes his role has had over the last year. Tony Amendola talks about his role as master Bra'tac on Stargate SG-1. Victoria Pratt talks about her hesitation before leaping into the role of Shalimar Fox on Mutant X. Also this month, see how it feels for Marc Singer to return to Beastmaster after a 20 year hiatus!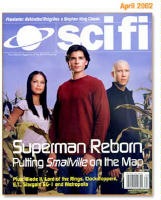 The second issue of Sci-Fi Magazine focuses on Smallville, the new Superman series on the WB. Also get the low-down on SCIFI's new Firestarter series -- that premieres on March 10.
CULT TIMES #77 – Buffy's Sarah Michelle Geller is on this month's issue. Inside you'll find articles on Michael Shanks as he leaves Stargate SG-1; Dominic Keating from Enterprise, Farscape's Ben Browder looks back on the third season, and there are interviews with JC MacKenzie from Dark Angel and Victor Webster from Mutant X.
Cinefantastique #34: Though the cast of Voyager adorns the cover, "Legend of the Rangers" captures several pages in this issue. Frank Garcia talks to the cast about joining the Babylon 5 universe and Alex Zahara tells us what it was like becoming Dulann. Also in the issue are articles on William Shatner, Eugene Roddenberry (Gene's son), and SCIFI's new EXPOSURE.







COMIC BOOKS
AMAZING SPIDERMAN: Since J. Michael Straczynski took the helm of Amazing Spiderman, the book has shown tremendous growth. Fans of the story hail has coming, adding new vitality to a story that had truly hit the skids. The latest issue is one you'll not want to miss. Read the review over at http://www.cinescape.com/0/editorial.asp?aff_id=0&this_cat=Comics&action=page&obj_id=32774 . I don't want to spoil anyone, you'll just have to read it for yourself.
---
SCI-FI SCHEDULE
BABYLON 5's Schedule: Airing at 5pm ET on SCIFI

February 25 Darkness Ascending
February 26 And All My Dreams, Torn Asunder
February 27 Movements of Fire and Shadow
February 28 The Fall of Centauri Prime

March 4 The Wheel of Fire
March 5 Objects in Motion
March 6 Objects at Rest
March 7 Sleeping in Light March 11 TheGathering - Part 1
March 12 The Gathering - Part 2
March 13 Midnight on the Firing Line
March 14 Soul Hunter

March 18 Born to the Purple
March 19 Infection
March 20 The Parliament of Dreams
March 21 Mind War

March 25 War Prayer
March 26 And the Sky Full of Stars
March 27 Deathwalker
March 28 Believers

CRUSADE - airing at 1pm ET on SCIFI

March 26 War Zone
March 27 The Long Road
March 28 The Well of Forever
March 29 The Path of Sorrows
BABYLON 5/CRUSADE PHOTOSHOP
NEW PHOTOS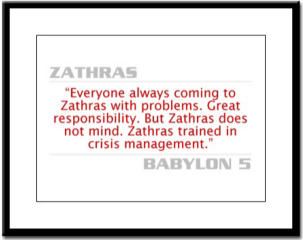 You do NOT have to pay the prices asked for over at e-bay! Here are photos of B5 and Crusade cast members at fantastic prices. Check out Photo Shop. Ordering is easy -- and you can't beat the prices! Just let me know which photos you want and I'll check to make sure they are still in stock.
---
NEW BABYLON 5 TOONS
John Cook has a new cartoon contest going. Try your hand at a punch line.



READER DIRECTORY
Sometimes you just can't find the e-mail address for someone you know you have -- it's someone who responded to a discussion topic or you met in one of the chat rooms. You'd like to send a personal note, but .... No address!!!!

We've started a White Pages of Zocalo Readers! It's a handy way of keeping track of people -- and putting together a birthday/greeting card list as well. If you would like to be part of the listing, just send me your name, state, e-mail address and (if you'd like to have it listed) birthday (without year) to sgbruckner@aol.com. Check out the Directory of Readers.

HAPPY BIRTHDAY TO YOU!

Name: Sean Lyons
E-mail: sean@efcfrance.com
State/Country: West Yorkshire, UK
Birthday: February 02

Name: Andres E. Hidalgo Sandoval
Country: Venezuela
E-mail: andresvene11@hotmail.com
Birthday: February 17

Name: Matthew Sweet
State: New York
E-mail address: msweet2@stny.rr.com
Birthday: February 16
BABYLON 5 REFERENCE PAGES
The Official Babylon 5 Magazine is indexed here as well. With the closure of the magazine in May, you'll want to see which magazines you have -- and which ones you will want to collect. The index may help you make a decision on which ones to choose. The Fan Club has many of the issues at thestation.com , making it very easy to complete your collection.

Universe Today -- the Babylon 5 Fan Club quarterly can also be found here. The index gives you a rundown of what articles were presented, what interviews published.

If you have magazines that have featured Babylon 5 or Crusade that are not listed, send along their issue number and a note to indicate what the article was about. It would be nice to have a fairly comprehensive listing of Babylon 5 publications here.

I have added a listing of all the Babylon 5 novels and now the B5 comic books to the reference page. If there are other items that you feel should be included, let me know.
MAILING LISTS
NW-B5
NW-B5 is a mailing list devoted to bringing critical information to the Vancouver Island, Lower Mainland, and Northern Washington areas. More specifically, anyone north of Seattle. B5 is broadcast on SPACE:TIS in Canada, and Sci-Fi channel in the US. By subscribing to nw-b5, you'll be able to know info bringing you up to date on the current scheduling and events happening in the community related to B5. You'll also be subscribed to the list itself, which means that you'll receive email when there is a scheduling change or critical information needs to go out to you (for example, if we need to start another mailing campaign).

For further information, see http://www.nw-b5.com
John Francis
Webmaster, Listowner, and Co-Moderator
mailto:nw-b5@iname.com

Reports of "The Gathering" are beginning to turn up on the list. John posted a mini-report, with photos, over at http://www.geocities.com/jnf.geo/nw-b5/gathered.htm#0501. You may want to check it out. It was a terrific event in which JMS showed clips from "Legend of the Rangers". Most of the cast was in attendance -- a great group of individuals.
BABYLON 5 DISCUSSION LIST
The Babylon 5 discussion mailing list is for any and all discussions and/or news pertaining to or related to Babylon 5 and/or Crusade. The list has been in existence for the past three years now, and has recently moved. The new location is http://lists.apparition.org/cgi-bin/lyris.pl, and you can subscribe by sending a blank e-mail message to join-babylon_5-l@lists.apparition.org.
THE GALACTIC GATEWAY
Here's a unique site for you! Jeffrey Willerth, Patricia Tallman, Mira Furlan, Claudia Christian, Robin Atkin Downes, Rick Biggs, Jerry Doyle, Bruce Boxleitner, Melissa Gilbert, Peter Jurasik, Bill Mumy and Carrie Dobro are under it's umbrella. Actors from other shows have joined the Gateway. Ted Raimi and Robert Trebor from Xena and Hercules are now at GG. To subscribe to a mailing list for GG, send a blank note to thegalacticgateway-subscribe@egroups.com.
GATEWAY CHATTERS
There is never enough time to keep in touch with friends! To help out, a mailing list has been started for chatters over at the Galactic Gateway. If you are interested in joining, send a blank note to gateway-chatter-subscribe@egroups.com.
GATEWAY TRADER
Are you looking for a particular Babylon 5 collectible? Do you have some items you'd like to trade? Then this is the list for you. To join, send a blank note to gateway-trader-subscribe@egroups.com.
CALLING ALL ARTISTS
The Art Gallery at The Zocalo Today is open. There are SO MANY talented people in our Babylon 5 community. We have enjoyed works by Todd Brugman and Tye Bourdony on our toons page, but there are a host of others who enjoy drawing, painting, sketching their favorite characters. Here are a few works that have been received. I have some others that will be added soon.

If you would like to share your work with us at The Zocalo Today, please send along a digital photo of your work and I'll begin putting the gallery together. If you do not have your work in digital format, drop me a note and we'll see what we can work out.
CALLING ALL CLUBS
There are a number of fabulous Babylon 5/Crusade Clubs around the world. I'd like to begin listing them here on The Zocalo Today. Eric dropped me a note the other day providing information about a Club in France. I know there are other clubs in Brazil, Germany, Russia -- and who knows how many here in the US. Let's get a listing together. Perhaps we can share resources, even get together as we travel around. Drop the information about your Club to me at sgbruckner@aol.com or bruckner@isnnews.net. That information will be added to the new B5 Fan Club Listing.
BABYLON 5 FAN CLUB
Netter Digital filed for bankruptcy in July of 2000 and all their worldly posessions were auctioned off on December 7. The B5 Fan Club site, Thestation.com and it's store, the Emporium, has been closed.
BABYLON 5 NEWSLETTERS
If you have a newsletter you'd like to have listed at The Zocalo Today, send the information along. It will be posted on the B5 Fan Club/Newsletter page.

Ranger Shane in North Carolina sent in the following note about their "Jumpgate" newsletter.

Hey Sandy! Just wanted to give you an update on the NC B5 group's newsletter, Jumpgate. There's now a dedicated EMail address for submissions - jumpgatemag@bellsouth.net - and any submissions, solicited or un-, can be sent to this address. Also, issues are available for free download at the URL at the bottom of this message.

Jumpgate - The Newsletter of the North Carolina Babylon 5 Fan Club
Shane Killian, Editor
HELP WANTED
A new HELP WANTED section has been added to the Z. If you need help finding a comic book, getting a special item, etc. here's the place to post a note. Just send whatever help you need to thezocalo@aol.com.
---
BABYLON 5/CRUSADE CONVENTIONS
CONVENTION CALENDAR
Megacon
February 22-24, 2002, Orlando, FL
Place: Orange County Convention Center
B5 Guests: Jason Carter, Richard Biggs.

For more information, visit their website at http://www.megaconvention.com.
---
Visioncon
February 22-24, 2002, Springfield, MO
Place: Clarion Hotel
B5 Guest: Bill Blair

For more information, visit their website at http://www.visioncon.net.
---
MarsCon 2002
March 1-3, 2002, Bloomington, MN
Place: Hilton Saint Paul Airport Hotel
B5 Guest: Peter Woodward

For more information, visit their website at http://marscon.org/2002/index.html .
---
Annual Giant Star Trek and Sci-Fi Media Convention
March 9-10, 2002
Place: Valley Forge Convention Center
Valley Forge, PA
B5 Guests: Peter Woodward, Robin Curtis
Grace Lee Whitney, Scott MacDonald, Michael Forest
For more information, visit their website at http://www.creationent.com.
---
CRUISE WITH JERRY
Can you imagine spending 7 days with Jerry Doyle? Well, Jerry invites YOU to cruise for 7 nights on the Maasdam (of Swain Tours) July 21-28, 2002, sailing roundtrip from Ft. Lauderdale to the Western Caribbean. Sun 7/21/02 Depart Ft Lauderdale Florida
Mon 7/22/02 At Sea - Private 2 hour seminar with Jerry
Tue 7/23/02 Cozumel, Mexico, Private 2 hour seminar
Wed 7/24/02 George Town, Grand Cayman
Thu 7/25/02 Montego Bay, Jamaica
Fri 7/26/02 At Sea - Private 2 hour seminar with Jerry
Fri 7/26/02 Exclusive Evening Cocktail party with Jerry
Sat 7/27/02 Half Moon Cay, Bahamas, conditions permitting
Sun 7/28/02 Ft. Lauderdale, Florida For more information, e-mail: Susan@Swaintours.com. . To receive Jerry's full color brochure, e-mail Susan@Swaintours.com. In the subject line please include: Jerry Doyle Brochure. Include the following information:
Name
Postal Address, City, State, Zip
Number of people traveling
Age range of guests Be sure to check the entire convention calendar for dates of events around the country. If you know of a convention that will host B5 personalities, drop me a line so that I can include the event on our calendar.
ZOCALO TRADING POST
Do you have extra copies of B5, Amazing Spiderman, Midnight Nation or Rising Stars comics you'd like to trade? How about those extra trading cards or B5 magazines? There are a lot of fans looking for these items -- and the Trading Post can help you buy or sell them. To see what's available, just use this link to the Trading Post. To have items included in The Trading Post, send a note to The Zocalo. Please put Trading Post in the subject line.
Pen Pals
If you are looking for someone to talk about Babylon 5 and Crusade with, the Pen Pal section is for you! Check it out! Drop a note to someone who is feeling B5 withdrawal -- BIG TIME!

People thought a Pen Pal page was a good idea. If you would like to meet people who you could chat with or share your opinions of the show with, send along your e-mail or snail-mail address The Zocalo. It will be incorporated on the new Pen Page Page.
BABYLON 5 BIRTHDAYS
Michael Beck - February 4
Ardwight Chamberlain - February 16
Karen Harrell - February 21
John Iacovelli - February 25
Bill Mumy - February 1
Matt Plummer - February 26
Majel Barrett Roddenberry - February 23
John Schuck - February 4
Myriam Sirios - February 2 Have I missed anyone? If you know the birthday of someone connected with Babylon 5, pass the information along. We want to include everyone in our Happy Birthday Wishes.
MAIL FOR CAST AND CREW
Here's a recent note from JMS on the subject:

Just an FYI to those who've been using the Ventura Blvd. mail drop for fan mail to actors....

As mentioned before, we're phasing out the forwarding of fan mail because we a) don't have the resources, complicated by b) the actors have scattered to the four winds, and it makes it very difficult to get everything to everybody in a timely fashion.

So, having provided prior notice...fan mail to actors coming to the Ventura Blvd. mail drop will be sent back. Mail to actors should be sent via their official fan clubs. I will still be taking mail there, since it's my mailbox, but that's it.

Just so's y'all know and save a few bucks on postage and returns.

JMS' mail can be sent to:

14431 Ventura Boulevard, PMB 260
Sherman Oaks, CA 91423

WARNER BROS:

Warner Bros. Address:

Warner Bros. Domestic Television Distribution
4000 Warner Blvd.
Burbank, CA 91522

Warner Home Video:

Mr. Douglas Wadleigh
VP for Marketing and Special Features
Warner Bros.
4000 Warner Blvd.
Burbank, CA 91522
BACK ISSUES OF THE ZOCALO TODAY
The front page of the The Zocalo Today changes daily, so be sure to check the back issues to make sure that you haven't missed anything IMPORTANT! I don't want the front page getting too long so I shift information periodically into the archives. So if you aren't a regular visitor to The Zocalo Today, be sure to check out the back issues. Just use the button above!
---
Take care and I look forward to hearing from you.
Sandra Bruckner (sgbruckner@aol.com)
Editor/Publisher
The Zocalo Today
http://www.isnnews.net
Copyright - SBruckner, 2002