[an error occurred while processing this directive]

The Zocalo Today

Welcome! I am REALLY glad you dropped by. Take your shoes off, get comfortable and stay a while.

The Zocalo Today is an interactive newsletter. If you have suggestions, please send them along. The Zocalo Today is as much YOUR newsletter as it is mine! I'm just pulling together things for you! Join our weekly discussion topic. It is just one way you can interact with other Z readers. Send along letters, sightings of B5 cast and crew in other projects, convention reports, photos, etc. Don't miss our back issues. There is a LOT of information contained there and you'll not want to miss anything.

If you have questions, drop me a line at sgbruckner@aol.com or b5web@aol.com.

Again, WELCOME!

February 9, 2002 4:34am
What's New
The systems continue to be a problem here, so I've placed updates at the back-up site http://sgbruckner.tripod.com.
---
JEREMIAH: JMS talks about his upcoming Jeremiah series for Showtime at http://stage.mgm.com/scifi/02feb/strac.html.
---
LETTER-WRITING CAMPAIGN: I've received a number of names and addresses to add to SCIFI and sponsor letters. Deadline for having your name & address included is Thursday. Send your information to sgbruckner@aol.com. I will compile the list and get the letters off on Saturday morning. See letter writing details below for other letter-writing efforts.
---
LEGEND OF THE RANGERS: SCIFI has loaded a few more new graphics onto the Ranger website. You can see some new pictures of the armada and panel displays from the bridge.
---
JEREMIAH: Things are heating up over at Showtime. With JMS' new series set to premiere on March 3 at 8pm ET, more and more information is being made available. See details below.
---
JMS has posted information on the ratings. See below.
---
LEGEND OF THE RANGERS CREDITS: If you are like me, you die everytime the ending credits roll -- only because you can't read a thing. SCIFI has a remedy for that. Go over to www.scifi.com/b5rangers and you will find ALL the credits listed. Thanks SCIFI.
---

BLOOD DRIVES: If you are able, be sure to roll up your sleeves and give blood -- both now and in a couple of weeks. The need for blood will be continual. Right now, the tremendous outpouring of volunteers has filled quotas and storage space! FANTASTIC!!! But those supplies will be utilized and a new supply will be needed soon. Check out donation drives near you. I'm signed up already.
---
The e-mail version of The Zocalo Today goes out on Saturdays. If you would like to be included on the mailing list, just send a blank note to thezocalo-subscribe@yahoogroups.com. If that doesn't work for you, drop me a note at sgbruckner@aol.com. I can add you manually. Our new back-up site is located at http://sgbruckner.tripod.com. If you can't get into www.isnnews.net, try this site for new information.
---
NEWS AROUND THE SCI-FI GENRE
February 9:
ENTERPRISE: Over at TrekWeb.com Rene Auberjonois, who for years played the shape-shifting 'Odo' on DEEP SPACE NINE, talks about his latest Trek experience abroad the Enterprise! He recently completed "Oasis", an episode in which he portrays 'Elcazar', father of an alien girl that becomes the love interest for chief engineer Charlie Tucker (Connor Trinneer). He had to spend a LOT less time in make-up this time 'round, but he also compares the atmosphere on the set of Enterprise.
---
BUFFY: A lot of people enjoyed the musical "Buffy" episode this year. Anthony Head Stewart (Giles) is taking things a bit further! He's done an album, along with some of his Buffy co-stars entitled "Music for Elevators". You can read more about this at http://www.canoe.ca/AllPopTVBuffy/feb7_musicforelevators-can.html.
---
STAR WARS: Material has already started to be released for the new Star Wars movie, "Attack of the Clones". The latest looks like a wonderful background piece. In "The Art of Star Wars: Attack of the Clones". author Mark Cotta Vaz provides the text that accompanies more than 500 amazing sketches, production paintings, sculptures and more. Also included are fascinating behind-the-scenes accounts from the concept designers themselves. Check out the pics at href="http://www.starwars.com/episode-ii/news/2002/02/news20020207.html. The March 2002 edition of Vanity Fair, which hits newsstands soon, showcases exclusive photography from the set of Episode II Attack of the Clones.
---
ALIAS: Roger Moore has been signed to guest star in an upcoming episode of "Alias". Set to air on March 10, Moore portrays Edward Poole, the British director of SD-6, the show's rouge worldwide spy organization. Poole is a powerful member of SD-6's "Alliance of Twelve" and an apparent ally of Sloan, the corrupt boss of Sydney Bristow, the show's protagonist. Moore talks about the experience over at http://tv.zap2it.com/news/tvnewsdaily.html?23796.
---
BOND 20: E!Online.com reports that Madonna has signed to sing the title song for the latest James Bond movie.
---
TERMINATOR 3: Lots of talk about the upcoming movie. Will Chyna capture the female Terminator role? Will Lance Henriksen return as Detective Vukovich? Guess we'll have to wait and see.
---
February 8:
RATINGS: Top 10 SF Network Shows: The X-Files 5.0; Dark Angel 4.0; Buffy 3.3; Smallville 2.4; Enterprise 2.3; Sabrina 2.2; Charmed 2.0; Angel 1.7; Mysterious Ways (Tue) 0.8, and Mysterious Ways (Sun) 0.6. Source: Nielsen Galaxy Report, 1/7/01 - 1/13/01.
---
LORD OF THE RINGS: A number of awards are being announced for The Lord of the Rings. Yesterday, the Writers Guild of America nominated The Lord of the Rings: The Fellowship of the Ring for outstanding achievement in writing for the screen. The screenplay was written by Fran Walsh, Philippa Boyens and director Peter Jackson. Awards will take place March 2 simultaneously in Los Angeles and New York.
---
THE CHRONICLE: Bonnie Hammer, President of SCIFI, announced that the last episode of The Chronicle, "Snitch in Time," will air on March 22. Hammer said, "The Chronicle was a good show with a talented cast and creative production team that unfortunately didn't find the audience it deserved." "SCI FI continues its commitment to original programming with Firestarter: Rekindled in March; new seasons of the hit series Farscape and exclusive originals of Stargate SG-1 this summer; the original movie Riverworld, based on Philip José Farmer's classic books; and Steven Spielberg's Taken, an unprecedented 20-hour, 10-night epic miniseries. SCI FI is increasing its commitment to original programming in 2002 and 2003, with a development slate of series, movies and miniseries that reflect the current mass popularity and broad appeal of the sci-fi genre."
---
February 7:
HARRY POTTER: Variety reports that Warner Brothers will release Harry Potter and the Sorcerer's Stone on the DVD and videotape on May 28. The theatrical release grossed $294 million in 2001 and Warner expects the video to be one of the biggest releases ever. The videotape ($24.99 suggested retail price) will feature five minutes of extra footage, and the two-disc DVD set ($26.99) will offer hours of extra material.
---
TIME MACHINE: The official website for The Time Machine has been greatly expanded. The film opens March 8.
---
DINOTOPIA: Although this mini-series has yet to hit the airwaves, ABC has greenlit the series, ordering additional episodes. The mini-series will air in May. However, the ongoing series will have a totally different cast. Erik von Detten (THE PRINCESS DIARIES) and Shiloh Strong (FOXFIRE) will star in the series, as brothers who find themselves on the secret island of Dinotopia where dinosaurs never died. ABC is shooting for a spring 2003 premiere.
---
DUNE: SCIFI's very successful mini-series, DUNE, is coming to DVD. Artisan Home Video has announced a special two-disc edition of DUNE. According to the DVDfile website, the new disc will contain a widescreen version of the mini-series, two audio commentaries, a roundtable discussion of the book and series, as well as several documentaries. It will hit the streets June 18 at $26.95.
---
STAR TREK: Need a new internet provider? Like Star Trek? Here's a great combination for you. Earthlink is offering a new Star Trek-themed Internet package through StarTrek.net. For $21.95 a month, the new service will provide you with Internet access, a StarTrek.net e-mail address, a Trek-themed browser, a personal start page and a host of Trek-themed content. Current EarthLink subscribers can use StarTrek.net at no additional cost.
---
MATRIX: Over at Entertainment Tonight, Keanu Reeves and Lawrence Fishburne are talking about filming back-to-back sequels to the original Matrix movie. Entitled Matrix Reloaded and Matrix Revolutions, filming is currently taking place in Sydney, Australia and expected to wrap in Sydney this August. 'The Matrix Reloaded' is due for release summer 2003. 'The Matrix 3,' tentatively titled 'The Matrix Revolutions,' is due November 2003. The original 'The Matrix' and a special behind-the-scenes documentary, 'The Matrix Revisited,' are both currently available on VHS and DVD.
---
SAG ELECTION: The saga continues! According to the Hollywood Reporter, the U.S. Department of Labor has decided to investigate last year's Screen Actors Guild national election. Last week, a group of five SAG members filed a formal complaint with the Department of Labor urging it to suspend the controversial rerun of the SAG national election and conduct its own investigation (HR 1/29). Before an investigation could proceed, the DOL had to determine whether all internal SAG remedies had been exhausted. That decision was apparently made last week, according to sources close to the filing. Melissa Gilbert will remain President of SAG until results of the new election are made final.
---
February 6:
RATINGS: Top 10 SF Syndicated Programs: Stargate SG-1 3.2; The X-Files 3.1; Buffy 2.8; 3rd Rock 2.2; Andromeda 2.2; John Edward 2.1; Mutant X 2.1; Beastmaster 1.9; Invisible Man 1.9, and Earth: Final Conflict 1.8. Source: Nielsen Galaxy Report, 1/7/01 - 1/13/01.
---
SPIDERMAN: Have you checked out the latest trailer for the upcoming movie? It's terrific. If you had doubts about Tobey McGuire being Peter Parker/Spiderman, go to http://www.spiderman.sonypictures.com/ to see new images and the trailer. With the movie getting ready to open May 3, Avi Arad, president and chief executive of Marvel Studios, told SCI FI Wire that he is most excited about Sam Raimi's upcoming Spider-Man movie. "The relationships in this movie are extremely well developed. You're going to see the Peter Parker that you've always loved. You're going to see the Mary Jane [Kirsten Dunst] you've always loved, with her issues. That's one side of it. From a special-effects standpoint there has never been a movie this size, with this size action. It's going to be fantastic. It's a great movie. We are so excited about it."
---
CHRISTOPHER LEE: Christopher Lee has been an icon in the film industry for years! On February 3, Christopher Lee won a special achievement award from the Evening Standard British Film Awards for his role in "Lord of the Rings". Lee will play Count Dooku in the upcoming Stars Wars: Episode II--Attack of the Clones, due in May. There is a wonderful article about Christopher Lee in this month's SCI-FI Magazine.
---
FANTASTIC FOUR: According to the BBCi website, Buffy writer, Doug Petrie, has been hired to write a draft of the upcoming Fantastic Four movie, based on the Marvel Comics series of the same name. There have been other scripts for the project -- but they have been rejected. Petrie was brought in after meeting director Peyton Reed (Bring It On) through a mutual friend--Christophe Beck, who composed Buffy music scores for several years. Fantastic Four has projected 2003 release.
---
BATTLESTAR GALACTICA: At one point this year, it looked like both UPN and FOX were interested in reviving this series. When Bryan Singer left due to commitments with X-Men, Fox lost interest. Now it looks as if UPN is reconsidering the project. According to an article at SyFy Portal, UPN may consider it too close to the premise of "Enterprise".
---
STAR WARS: The novelization of the upcoming movie is scheduled to hit the streets on April 23. Written by R.A. Salvatore, the official STAR WARS website describes the hardcover tie-in like this: "A decade has past since the events of The Phantom Menace. Despite his promises of reform, Palpatine's Republic is crumbling. Separatists are carving the galaxy apart, and the beleaguered Jedi struggle to maintain the peace. The beautiful young Senator from Naboo, Padmé Amidala, finds her life in danger. The Jedi assign her a guardian for her protection -- the courageous, if reckless, Anakin Skywalker. Thus the stage is set for a tale of romance, intrigue, rebellion and war."
---
SOUNDTRACKS: FM music listeners were recently asked to vote on their favorite movie soundtracks. Here are their picks: 1. STAR WARS (John Williams); 2. GONE WITH THE WIND (Max Steiner); 3. LAWRENCE OF ARABIA (Maurice Jarre); 4. TITANIC (James Horner); 5. CASABLANCA (Max Steiner); 6. GLADIATOR (Hans Zimmer/Lisa Gerrard); 7. THE SHAWSHANK REDEMPTION (Thomas Newman); 8. THE GODFATHER (Nino Rota); 9. SOME LIKE IT HOT (Adolph Deutch), and 10. THE SOUND OF MUSIC (Rodgers/ Hammerstein) .
---
February 5:
ENTERPRISE: Some changes are occurring with the writing staff at Enterprise. According to TrekWeb.com, writer/producers Antoinette Stella ("Terra Nova") and Tim Finch ("Cold Front") are no longer with the ENTERPRISE writing staff. Details of their departures are unknown, but the site points out that with new television series, it is a common practice to hire many writers on a half-season or on a temporary basis. Australia will finally be getting a look at Enterprise soon. Channel 9 Australia will air the series premiere on Wednesday, February20th at 10:30 pm.
---
NEMESIS: Rick Berman is quite pleased with the progress on Star Trek 10: Nemesis. He is very pleased with new director, Stuart Baird. "He's been doing a great job." John Logan of Gladiator wrote the script for the upcoming movie and there will be a number of familiar faces included in this picture. According to www.scifi.com, principal photography on the picture has been about half completed. The picture is currently filming on the Paramount lot in Los Angeles. Nemesis is slated for a Thanksgiving release.
---
E.T.: To celebrate the 20th anniversary of the release of E.T., Universal will host a special gala at Los Angeles' Shrine Auditorium on March 16. Composer John Williams will conduct a live 100-piece orchestra; the event will benefit the Special Olympics and will include a reception at the Shrine Exhibition Hall. Variety reports that E.T. will open nationwide on March 22, with new footage, computer enhancements and a remixed soundtrack, the trade paper reported. The Los Angeles Times reports that Williams has finished recording 110 minutes of music in London for George Lucas' upcoming Star Wars: Episode II--Attack of the Clones and is looking forward to scoring Steven Spielberg's upcoming Minority Report film and possibly the next Harry Potter movie.
---
LORD OF THE RINGS: New Line Cinema will replace the final reel of "Lord of the Rings" in the next few weeks with a new one -- one that will include a new trailer for it's next Rings installment, Two Towers. According to an unofficial review at Aint It Cool News, this movie is totally awesome. Expect the new trailer in the next month or two.
---
FARSCAPE: Listen to Brian Henson talk about creating the various characters involved with Farscape at http://www.13thstreet.com/site/common/view-content.jsp?section=Clips&id=a71ac-e0d82-ccee6-d9127.
---
CHARLIE'S ANGELS 2: Word has it that Bill Murray has been replaced by Jamie Foxx as Bosley in Charlie's Angels 2. He'll be written into the story line as Bosley's son.
---
STRANGE WORLD: SCIFI changes their SciFi Friday PRIME schedule a bit this week with the premiere of "Strange World" at 8pm ET/PT. Produced by Howard Gordon of "24" and "X Files", you will follow the story of an Army scientist infected with an incurable disease who must do the bidding of a secret organization in order to keep himself alive. Creator Howard Gordon will be in for an exclusive chat at www.scifi.com/chat on Friday at 9pm, right after the show has completed.
---
February 4:
RATINGS: Top 10 SciFi Channel Shows: The Fifth Element 1.7; The Fifth Element 1.2; The Chronicle 1.0; Mysterious Island 0.9; Species 0.9; Invasion, Pt. 2 0.9; Alligator 2 0.9; Mimic 0.8; The Outer Limits 0.8, and Escape From Mars 0.8. Source: Nielsen Galaxy Report, 1/7/01 - 1/13/01.
---
LEVAR BURTON: LeVar Burton directed many Star Trek episodes -- and even a recent Enterprise episode. According to the Hollywood Reporter, LeVar will make his feature-film directorial debut with Blizzard, a fantasy movie starring onetime Trek actors Whoopi Goldberg and Christopher Plummer, as well as Kevin Pollak and Zoe Warner. Production will start in Toronto and Quebec City beginning Feb. 18, with Brenda Blethyn also in talks to join the live-action/computer-animated film. Murray McRae wrote the script, which tells a Christmas story about a young girl (Warner) and her relationship with Santa's most magical reindeer, Blizzard, voiced by Goldberg. No domestic distributor has yet been secured, though the filmmakers are planning for a Christmas release date.
---
SUPER BOWL: Did you miss any of the marvelous commercials shown yesterday during the Super Bowl? You can see them all today over at http://www.ifilm.com/superbowl#. Do you have a favorite? The Lipton Tea commercial was great -- but the magnificant Budweiser clydesdale horses saluting the New York skyline was awesome.
---
JEFFREY COMBS: You will remember Jeffrey as one of the telepaths in season one's "Eyes" episode. Jeffrey has guested in Star Trek, Deep Space Nine and now Enterprise as well -- as an Andorian. Read part one of an interview with Jeffrey at http://www.13thstreet.com/site/common/view-content.jsp?section=Features&id=d47ed-f1ef5-fe1fa-f85f6.
---
ANDROMEDA: Did you catch this week's episode? If not, you can read about all the changes that took place this week over at http://www.13thstreet.com/site/common/view-content.jsp?section=News&id=b45d0-ef701-e478d-c729a. Beware of spoilers though.
---
February 3:
JOHN EDWARD: Tonight is a special celebrity version of "Crossing Over with John Edward". You'll see Roma Downey from "Touched by an Angel", author Ann Rice and talkshow host Ricki Lake at 8pm ET tonight.
---
CHILDHOOD'S END: Arthur C. Clarke's classic novel "Childhood's End", may be on the big-screen soon. According to the Hollywood Reporter, Kimberly Peirce (Boys Don't Cry) is in final talks to direct a big-screen adaptation for Universal Pictures/Beacon Pictures. No screenwriter has been named as yet, but is expected shortly. Clarke's novel features giant spaceships that suddenly appear over every major city on Earth, ushering in an era of peace and prosperity and setting the stage for the end of the human race as we know it.
---
TILL HUMAN VOICES WAKE US Variety reports that Paramount Classics has acquired North American rights to Michael Petroni's Till Human Voices Wake Us, a supernatural romance movie starring Guy Pearce and Helena Bonham Carter. Pearce plays a psychologist who encounters a mysterious young woman (Bonham Carter), evoking memories of a long-lost love. The story is written and directed by Petroni, Till Human Voices Wake Us is a U.S.-Australian co-production.
---
JEREMIAH PREMIERES MARCH 3
The Jeremiah website has grown signficantly over the past few days. You can now see a brief video of the show along with a series of new images from the set. Soon, an interview with JMS, Luke Perry and Jamal Warner about the new show. Luke Perry will be on-line to chat with fans after the premiere. Stay tuned for more details on that.
---
Over at MGM's Jeremiah site, http://stage.mgm.com/scifi/02feb/strac.html, JMS talks about the series which premieres next month. Luke Perry, who portrays Jeremiah in this upcoming JMS series, recently talked to TV Guide Online about the series. Perry (Beverly Hills 90210) and Warner (Cosby Show) play street orphans in a post-apocalyptic world "Well, it's just hard to keep up the hygiene in the world of Jeremiah," he said with a chuckle. "There's no running water or soap. Occasionally, I get to shave with a straight razor. It's like Survivor, only nobody's getting voted off this thing."
SCIFI did a wonderful job of providing us with a great deal of information on the cast and crew for the "Legend of the Rangers" movie. Be sure to check out www.scifi.com/b5rangers. You will find digital trading cards for David Martel, Sarah Cantrell, Citizen G'Kar, Malcolm Bridges, Na'feel, Tirk and Dulann. There are short videos and interviews. Don't miss the feature about Mark Savela, visual-effects supervisor from GVFX and the interview with director Mike Vejar.

In the gallery, you'll find photos of the cast, some great behind-the-scenes pics and some desktop graphics you can use on your PC. Chat transcripts for all cast members, Dylan Neal, Alex Zahara, Dean Marshall, Warren T. Takeuchi, Myriam Sirois and Enid-Raye Adams are all available as well.

Go to Ranger Page for more information on the ratings and letter writing campaigns.
---
THIS WEEK'S DISCUSSION TOPIC:
As I updated the schedule ahead for SCIFI, I noticed that "Sleeping in Light" will air soon. What did you think of the episode? Are there things that you would have liked to have seen in it? What was your overall impression?

Send your thoughts to TheZocalo@aol.com or b5web@aol.com. I'll add your notes to the Discussion Page.
BABYLON 5 ON DVD
This report was sent in by Ranger Joe regarding additional Babylon 5 episodes on DVD: According to "The Digital Bits"(www.thedigitalbits.com) , a site I know to be reliable, the first full-season boxed set is due this fall. Now is the time for fans to write to Warner Home Video and let them know what kind of production, extras and packaging we will and will not buy. Send letters to: Mr. Douglas Wadleigh
VP for Marketing and Special Features
Warner Bros.
4000 Warner Blvd.
Burbank, CA 91522 Babylon 5 -- "In the Beginning" and "The Gathering" are available on DVD. SCIFI has a review of at http://www.scifi.com/sfw/issue243/screen.htm. At the bottom of the page is a request for feedback. You may want to use this method to feed WB your desires for MORE B5 on DVD.
KEEPING UP WITH CAST AND CREW
CLAUDIA CHRISTIAN: Over at http://www.scifi.com/sfw/advance/07_sound.html you can read about Claudia's latest venture -- a production entitled "Area 51". Claudia and up-and-coming British actor Matt Rawle, offer a stimulating sonic "sneak preview" of the stirring SF tale written by playwright Daniel O'Brien.
---
JEFFREY WILLERTH: Along with his work at the Animal Planet, Jeffrey (Kosh from B5) been shopping around a new TV series. To get more on this project, visit www.blackvault.com. Jeffrey promises a sneak peek soon.
---
PAT TALLMAN: Pat was cast on Friday in a new play called "Hell's Cusinart". The play will open Feb. 21st and run thru March3rd at the Tamarind Theartre in Hollywood. Pat plays two roles -- a frustrated, mousy house wife who does something nasty to her hubby, and a nudist lesbian. More details will follow soon.
---
JOSH COXX: According to Electronic Media, Lifetime Television has ordered up a full third season for "Strong Medicine." The series, produced by Columbia TriStar Domestic Television, stars Janine Turner ("Northern Exposure") and Rosa Blasi as two female doctors who run a women's clinic. Other cast regulars include Jenifer Lewis ("The Temptations" ), Josh Coxx ("Babylon 5"), Philip Casnoff ("Oz"), Brennan Elliott and Chris Marquette ("Pasadena"). "Strong Medicine" airs Sundays at 8 p.m. Whoopi Goldberg, executive produces the series with Tammy Ader ("Party of Five").
---
DANIEL DAE KIM: You've seen him recently on Angel. Check out a recent interview with Daniel (Lt. Matheson on Crusade) at www.bronzeshelter.com.
---
As you have read, the series has been cancelled. However, fans are organizing a letter-writing campaign to let the Powers That Be know that there is support for the show! If you would like to add your name to the petition, go to http://www.petitiononline.com/su2/petition.html

And the addrees for the letter campaign is: http://drkangel117.tripod.com/monsterinc/id3.html
BABYLON 5/CRUSADE CHRONOLOGY
A number of you have written to ask about having an index of the chronology published thusfar. Terry has given permission for this so I'm working on it. You can now find the index to the timeline published thusfar at B5 Chronology Index .

Terry Jones created a FANTASTIC Babylon 5/Crusade Chronology that was published in the Official Babylon 5 magazine. He has not stopped with the end of the series though. He has included items from the latest novels as well as things from the Crusade series. Here's a note from Terry to tell you all about it.

To look at the timeline in a different way, I have been working with Terry Jones on personal chronologies for the Babylon 5 universe. At The Galactic Gateway you will fine Parts 1-4 of the chronology for John Sheridan along with Part 1 for KOSH. Others will follow. I hope you will visit GG and give the chronologies a look.

Terry has provided a new segments of the Babylon 5 Chronology The Coming of Shadows.
NEW BABYLON 5 CARD SET
Rittenhouse Archives and www.scifihobby.com are pleased to announce the addition of 6 trading cards based on the all-new "Babylon 5: Legend of the Rangers" TV movie to the upcoming "The Complete Babylon 5" trading card series. The 6 cards will feature images and characters from the TV movie and will be used as box toppers (1 per box) in the all-new card series due out in March.

"The Complete Babylon 5" features complete synopses of all the episodes in the show's 5-year run, and includes nearly 1,000 never-before-published photos. Many of these photos will depict some of the show's most dynamic CGI space images. The trading card series will also feature 2 autograph cards and 1 costume card in every box. Autographs include Michael O'Hare (Jeffrey Sinclair), Andrea Thompson (Talia Winters) and a double signed card of Bruce Boxleitner (John Sheridan) and Melissa Gilbert (Anna Sheridan). Boxleitner and Gilbert are married in real life (and in the show). Costume cards include materials worn by Boxleitner, Jerry Doyle (Garibaldi), Peter Jurasik (Londo Mollari), Andreas Kastulas (G'Kar), Rick Biggs (Dr. Franklin) and Claudia Christian (Susan Ivanova).

More details are available at www.scifihobby.com.
SCI FI PUBLICATIONS
CULT TIMES #77 – Buffy's Sarah Michelle Geller is on this month's issue. Inside you'll find articles on Michael Shanks as he leaves Stargate SG-1; Dominic Keating from Enterprise, Farscape's Ben Browder looks back on the third season, and there are interviews with JC MacKenzie from Dark Angel and Victor Webster from Mutant X.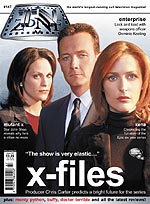 TV Zone #147: Chris Carter talks changes on and off the set of X-Files minus Mulder. Dominic Keating (Malcolm Reed in the new Enterprise series), talks about the challenges of a new Star Trek series. John Shea was a villain in "Lois and Clark". He's now fighting a noble cause in Mutant X. Also in this issue, TZ looks at Xena: Warrior Princess and Roswell.







Cinefantastique #34: Though the cast of Voyager adorns the cover, "Legend of the Rangers" captures several pages in this issue. Frank Garcia talks to the cast about joining the Babylon 5 universe and Alex Zahara tells us what it was like becoming Dulann. Also in the issue are articles on William Shatner, Eugene Roddenberry (Gene's son), and SCIFI's new EXPOSURE.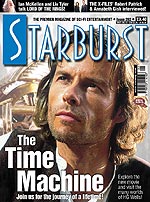 Starburst #282: This month's issue offers quite a bit of variety. The Time Machine will be released in March and you can read about those responsible for the latest version of this HGWells classic. Also in this issue, Robert Patrick & Annabeth Gish talk about this season of the X-Files; Brent Stait discusses his departure from Andromeda and we hear more from Sir Ian McKellan, Liv Tyler and Peter Jackson on the Lord of the Rings.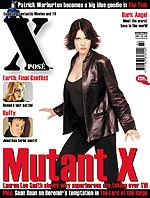 Expose #64: Mutant X's Lauren Lee Smith graces this month's issue. She portrays Emma, an empath on the new series. She and Forbes March (Jesse) talk about the rigors of making this series. Also included in this issue: Danny Strong on Buffy; Renee Palmer on Earth: Final Conflict; Patrick Warburton on The Tick and JC Mackenzie on Dark Angel.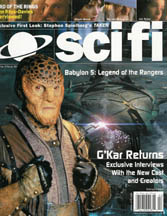 Good news. SciFi magazine is back! The latest issue is out now. G'Kar is on the cover and articles provide more information about the Liandra crew. Also in the magazine will be information about Steven Spielberg's "Taken".
COMIC BOOKS
AMAZING SPIDERMAN: Issue #37 of Amazing Spiderman is now out on stands. There is a review of the issue over at www.cinescape.com.
---
SCI-FI SCHEDULE
BABYLON 5's Schedule: Airing at 5pm ET

February 11 In the Kingdom of the Blind
February 12 A Tragedy of Telepaths
February 13 Phoenix Rising
February 14 Day of the Dead

February 19 The Ragged Edge
February 20 The Corps is Mother, The Corps is Father
February 21 Meditations on the Abyss

February 25 Darkness Ascending
February 26 And All My Dreams, Torn Asunder
February 27 Movements of Fire and Shadow
February 28 The Fall of Centauri Prime

March 4 The Wheel of Fire
March 5 Objects in Motion
March 6 Objects at Rest
March 7 Sleeping in Light
BABYLON 5/CRUSADE PHOTOSHOP
NEW PHOTOS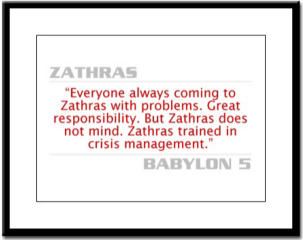 You do NOT have to pay the prices asked for over at e-bay! Here are photos of B5 and Crusade cast members at fantastic prices. Check out Photo Shop. Ordering is easy -- and you can't beat the prices! Just let me know which photos you want and I'll check to make sure they are still in stock.
---
NEW BABYLON 5 TOONS
John Cook has a new cartoon contest going. Try your hand at a punch line.




READER DIRECTORY
Sometimes you just can't find the e-mail address for someone you know you have -- it's someone who responded to a discussion topic or you met in one of the chat rooms. You'd like to send a personal note, but .... No address!!!!

We've started a White Pages of Zocalo Readers! It's a handy way of keeping track of people -- and putting together a birthday/greeting card list as well. If you would like to be part of the listing, just send me your name, state, e-mail address and (if you'd like to have it listed) birthday (without year) to sgbruckner@aol.com. Check out the Directory of Readers.

HAPPY BIRTHDAY TO YOU!

Name: Sean Lyons
E-mail: sean@efcfrance.com
State/Country: West Yorkshire, UK
Birthday: February 02

Name: Andres E. Hidalgo Sandoval
Country: Venezuela
E-mail: andresvene11@hotmail.com
Birthday: February 17

Name: Matthew Sweet
State: New York
E-mail address: msweet2@stny.rr.com
Birthday: February 16
BABYLON 5 REFERENCE PAGES
The Official Babylon 5 Magazine is indexed here as well. With the closure of the magazine in May, you'll want to see which magazines you have -- and which ones you will want to collect. The index may help you make a decision on which ones to choose. The Fan Club has many of the issues at thestation.com , making it very easy to complete your collection.

Universe Today -- the Babylon 5 Fan Club quarterly can also be found here. The index gives you a rundown of what articles were presented, what interviews published.

If you have magazines that have featured Babylon 5 or Crusade that are not listed, send along their issue number and a note to indicate what the article was about. It would be nice to have a fairly comprehensive listing of Babylon 5 publications here.

I have added a listing of all the Babylon 5 novels and now the B5 comic books to the reference page. If there are other items that you feel should be included, let me know.
MAILING LISTS
NW-B5
NW-B5 is a mailing list devoted to bringing critical information to the Vancouver Island, Lower Mainland, and Northern Washington areas. More specifically, anyone north of Seattle. B5 is broadcast on SPACE:TIS in Canada, and Sci-Fi channel in the US. By subscribing to nw-b5, you'll be able to know info bringing you up to date on the current scheduling and events happening in the community related to B5. You'll also be subscribed to the list itself, which means that you'll receive email when there is a scheduling change or critical information needs to go out to you (for example, if we need to start another mailing campaign).

For further information, see http://www.nw-b5.com
John Francis
Webmaster, Listowner, and Co-Moderator
mailto:nw-b5@iname.com

Reports of "The Gathering" are beginning to turn up on the list. John posted a mini-report, with photos, over at http://www.geocities.com/jnf.geo/nw-b5/gathered.htm#0501. You may want to check it out. It was a terrific event in which JMS showed clips from "Legend of the Rangers". Most of the cast was in attendance -- a great group of individuals.
BABYLON 5 DISCUSSION LIST
The Babylon 5 discussion mailing list is for any and all discussions and/or news pertaining to or related to Babylon 5 and/or Crusade. The list has been in existence for the past three years now, and has recently moved. The new location is http://lists.apparition.org/cgi-bin/lyris.pl, and you can subscribe by sending a blank e-mail message to join-babylon_5-l@lists.apparition.org.
THE GALACTIC GATEWAY
Here's a unique site for you! Jeffrey Willerth, Patricia Tallman, Mira Furlan, Claudia Christian, Robin Atkin Downes, Rick Biggs, Jerry Doyle, Bruce Boxleitner, Melissa Gilbert, Peter Jurasik, Bill Mumy and Carrie Dobro are under it's umbrella. Actors from other shows have joined the Gateway. Ted Raimi and Robert Trebor from Xena and Hercules are now at GG. To subscribe to a mailing list for GG, send a blank note to thegalacticgateway-subscribe@egroups.com.
GATEWAY CHATTERS
There is never enough time to keep in touch with friends! To help out, a mailing list has been started for chatters over at the Galactic Gateway. If you are interested in joining, send a blank note to gateway-chatter-subscribe@egroups.com.
GATEWAY TRADER
Are you looking for a particular Babylon 5 collectible? Do you have some items you'd like to trade? Then this is the list for you. To join, send a blank note to gateway-trader-subscribe@egroups.com.
CALLING ALL ARTISTS
The Art Gallery at The Zocalo Today is open. There are SO MANY talented people in our Babylon 5 community. We have enjoyed works by Todd Brugman and Tye Bourdony on our toons page, but there are a host of others who enjoy drawing, painting, sketching their favorite characters. Here are a few works that have been received. I have some others that will be added soon.

If you would like to share your work with us at The Zocalo Today, please send along a digital photo of your work and I'll begin putting the gallery together. If you do not have your work in digital format, drop me a note and we'll see what we can work out.
CALLING ALL CLUBS
There are a number of fabulous Babylon 5/Crusade Clubs around the world. I'd like to begin listing them here on The Zocalo Today. Eric dropped me a note the other day providing information about a Club in France. I know there are other clubs in Brazil, Germany, Russia -- and who knows how many here in the US. Let's get a listing together. Perhaps we can share resources, even get together as we travel around. Drop the information about your Club to me at sgbruckner@aol.com or bruckner@isnnews.net. That information will be added to the new B5 Fan Club Listing.
BABYLON 5 FAN CLUB
Netter Digital filed for bankruptcy in July of 2000 and all their worldly posessions were auctioned off on December 7. The B5 Fan Club site, Thestation.com and it's store, the Emporium, has been closed.
BABYLON 5 NEWSLETTERS
If you have a newsletter you'd like to have listed at The Zocalo Today, send the information along. It will be posted on the B5 Fan Club/Newsletter page.

Ranger Shane in North Carolina sent in the following note about their "Jumpgate" newsletter.

Hey Sandy! Just wanted to give you an update on the NC B5 group's newsletter, Jumpgate. There's now a dedicated EMail address for submissions - jumpgatemag@bellsouth.net - and any submissions, solicited or un-, can be sent to this address. Also, issues are available for free download at the URL at the bottom of this message.

Jumpgate - The Newsletter of the North Carolina Babylon 5 Fan Club
Shane Killian, Editor
HELP WANTED
A new HELP WANTED section has been added to the Z. If you need help finding a comic book, getting a special item, etc. here's the place to post a note. Just send whatever help you need to thezocalo@aol.com.
---
BABYLON 5/CRUSADE CONVENTIONS
CONVENTION CALENDAR
Boskone 39
February 15-17, 2002, Boston, MA
Place: Sheraton Framingham Hotel
Framingham, MA (508) 879-7200
Guest: Neil Gaiman

For more information, visit their website at http://www.nesfa.org/boskone.
---
Gallifrey One
February 15-18, 2002, Los Angeles, CA
Place: Airtel Plaza Hotel
Van Nuys, CA (818) 997-7676 or toll free at 1-(800) 2-AIRTEL
Guests: Judson Scott, Mira Furlan, Beata Pozniak, Marjorie Monaghan, Julie Caitlin Brown, Carrie Dobro, Mojo, Stephen Austin, Bill Blair

For more information, visit their website at http://216.194.69.176/futgally.htm.
---
Megacon
February 22-24, 2002, Orlando, FL
Place: Orange County Convention Center
B5 Guests: Jason Carter, Richard Biggs.

For more information, visit their website at http://www.megaconvention.com.
---
Visioncon
February 22-24, 2002, Springfield, MO
Place: Clarion Hotel
B5 Guest: Bill Blair

For more information, visit their website at http://www.megaconvention.com/ .
---
Be sure to check the entire convention calendar for dates of events around the country. If you know of a convention that will host B5 personalities, drop me a line so that I can include the event on our calendar.
ZOCALO TRADING POST
Do you have extra copies of B5, Amazing Spiderman, Midnight Nation or Rising Stars comics you'd like to trade? How about those extra trading cards or B5 magazines? There are a lot of fans looking for these items -- and the Trading Post can help you buy or sell them. To see what's available, just use this link to the Trading Post. To have items included in The Trading Post, send a note to The Zocalo. Please put Trading Post in the subject line.
Pen Pals
If you are looking for someone to talk about Babylon 5 and Crusade with, the Pen Pal section is for you! Check it out! Drop a note to someone who is feeling B5 withdrawal -- BIG TIME!

People thought a Pen Pal page was a good idea. If you would like to meet people who you could chat with or share your opinions of the show with, send along your e-mail or snail-mail address The Zocalo. It will be incorporated on the new Pen Page Page.
BABYLON 5 BIRTHDAYS
Michael Beck - February 4
Ardwight Chamberlain - February 16
Karen Harrell - February 21
John Iacovelli - February 25
Bill Mumy - February 1
Matt Plummer - February 26
Majel Barrett Roddenberry - February 23
John Schuck - February 4
Myriam Sirios - February 2 Have I missed anyone? If you know the birthday of someone connected with Babylon 5, pass the information along. We want to include everyone in our Happy Birthday Wishes.
MAIL FOR CAST AND CREW
Here's a recent note from JMS on the subject:

Just an FYI to those who've been using the Ventura Blvd. mail drop for fan mail to actors....

As mentioned before, we're phasing out the forwarding of fan mail because we a) don't have the resources, complicated by b) the actors have scattered to the four winds, and it makes it very difficult to get everything to everybody in a timely fashion.

So, having provided prior notice...fan mail to actors coming to the Ventura Blvd. mail drop will be sent back. Mail to actors should be sent via their official fan clubs. I will still be taking mail there, since it's my mailbox, but that's it.

Just so's y'all know and save a few bucks on postage and returns.

JMS' mail can be sent to:

14431 Ventura Boulevard, PMB 260
Sherman Oaks, CA 91423

WARNER BROS:

Warner Bros. Address:

Warner Bros. Domestic Television Distribution
4000 Warner Blvd.
Burbank, CA 91522

Warner Home Video:

Mr. Douglas Wadleigh
VP for Marketing and Special Features
Warner Bros.
4000 Warner Blvd.
Burbank, CA 91522
BACK ISSUES OF THE ZOCALO TODAY
The front page of the The Zocalo Today changes daily, so be sure to check the back issues to make sure that you haven't missed anything IMPORTANT! I don't want the front page getting too long so I shift information periodically into the archives. So if you aren't a regular visitor to The Zocalo Today, be sure to check out the back issues. Just use the button above!
---
Take care and I look forward to hearing from you.
Sandra Bruckner (sgbruckner@aol.com)
Editor/Publisher
The Zocalo Today
http://www.isnnews.net
Copyright - SBruckner, 2002