[an error occurred while processing this directive]

The Zocalo Today

Welcome! I am glad that you found The Zocalo Today and dropped by. Take your shoes off, get comfortable and stay a while. There is a LOT of information here and you won't want to miss any of it.

The Zocalo Today is an interactive newsletter, encouraging interaction with readers through a discussion topic each week. If you have suggestions as to how The Zocalo can be improved -- or be more responsive -- send them along. The Zocalo Today is as much YOUR newsletter as it is mine! I'm just pulling together things for you!

Join our weekly discussion topic. It is just one way you can interact with other Z readers. If you have other information you would like to share, send it along. If you see Babylon 5 cast and crew in other roles, let us know. We enjoy convention reports, photos, etc. Don't miss our back issues. I hope this will become more than just a newsletter. It's a community of people that enjoy sharing their experiences and interests. Don't be shy. Join us today!

If you have questions, drop me a line at sgbruckner@aol.com or thezocalo@aol.com. If you would like to join the mailing list for our bi-weekly newsletter, send me a note and I'll include you on the list. Or you can use the subscription block at the left.

Again, WELCOME!




What's New Today
Saturday, March 1: MAD MAX 4: Production for the fourth installment of the Mad Max series - MAD MAX: FURY ROAD, was set to begin in Namibia in July. Given unsettled conditions in the area, production has been postponed until the fall. "Any time you do a show like this, it is a massive undertaking with enormous prep time," Jim Gianopulos, chairman of Fox Filmed Entertainment, told Variety. "In this case, it is about the movement of huge vehicles and a mass of people, and with the pending war and all the potential logistical consequences, we had the latitude to wait and let some of this stuff blow over before going into full-bore production. What we do have firmly in place is Mel (Gibson) and George (Miller - writer/director)." Fox had penciled in a tentative summer 2004 release date, but Gianopulos said the studio won't know if the film can keep that date until an actual start date is set.
---
WIND IN THE WILLOWS: Variety reports that director Guillermo del Toro (Blade II) will co-write and may direct a live action and CGI animation version of the children's classic THE WIND IN THE WILLOWS. The film will be made under the auspices of the Walt Disney Co. Del Toro is currently working on HELLBOY and he is co-writing an adaptation of the H. P. Lovecraft classic AT THE MOUNTAINS OF MADNESS with WILLOWS writing partner Matthew Robbins.
---
STAR TREK: NEMESIS: NEMESIS is set to hit stores on May 20 in both video and DVD. The extras on the DVD include seven deleted scenes; a commentary by director Stuart Baird; four brand-new featurettes titled "New Frontiers: Stuart Baird on Directing Nemesis," "A Bold Vision of the Final Frontier," "A Star Trek Family's Final Journey" and "Red Alert! Shooting the Action of Nemesis"; plus a photo gallery. The DVD is presented in full-screen version and in widescreen format enhanced for 16:9 televisions. Both DVD and VHS feature Dolby Digital English 5.1, English Dolby Surround and French Dolby Surround, and both versions are closed-captioned and sub-titled for the hearing-impaired.
---
SMALLVILLE: Second season SMALLVILLE trading cards will be released in October. Autographs cards will be featured.
---
MUTANT X: Seth Howard of Tribune Entertainment announced that home releases of MUTANT X from ADV Films will feature commentary from the series' stars. ADV Films on Friday announced the acquisition of home distribution rights for Mutant X. "The commentary for the first episode, 'The Shock of the New,' is provided by (director) T.J. Scott, Victor Webster and yours truly," Howard said. "T.J. and Victoria Pratt provide the commentary for 'Fool For Love.'" A release schedule has not yet been determined. Howard said, "We are also trying to put on a behind-the-scenes documentary that was directed by Jake Shea, John's very talented son."
---
ANGEL: Over at Comics Continuum you will find new images released by the WB for "Orpheus," the March 19 episode of ANGEL, which guest-stars Alyson Hannigan from Buffy the Vampire Slayer. The episode was written by Mere Smith and directed by Terrance O'Hara.
---
INSIDE SCIFI THIS WEEK:
Friday, February 28:
MISTER ROGERS: While not exactly science fiction, Mr. Rogers was a kind and gentle man who brought some measure of stability of the crazy world of television. You could always count on him for a kind wordand a funny story. As a family spokesman put it, "His mission was to work with families and children for television. . . . That was his passion, his mission, and he did it from Day One." He will be greatly missed.
---
RATINGS: Top 10 SF Network Shows: Miracles 5.8; Touched by an Angel 4.8; Smallville 4.6; Charmed 3.3; Angel 2.2; Sabrina 2.1; Buffy 1.7, and Enterprise 1.6. Source: Nielsen Galaxy Report, 1/27/03 - 2/2/03.
---
ALIAS: No surprise here -- ALIAS has been renewed for another season. The show has consistently ranked high in the ratings and has been one of the few shining stars in the line-up of programs this year!
---
SUPERMAN: For those of you who were excited to read that Josh Hartnett had tested for the role of SUPERMAN in Bret Ratner's new project, you will be disappointed to read that he has dropped out of the running. According to the Hollywood Reporter, three new actors have emerged as top choices: The Mummy's Brendan Fraser, Timeline's Paul Walker and newcomer Matthew Bomer (TV's Guiding Light).
---
SCARY MOVIE 3: According to Variety, Denise Richards will join husband Charlie Sheen starring in SCARY MOVIE 3 for Dimension Films. The spoof is scheduled to begin shooting in Vancouver in March. SCARY MOVIE 3 will be the first of the SCARY MOVIE franchise to roll sans the Wayans brothers, who left Dimension amid a bidding frenzy that ended with the SCARY franchise in the hands of director David Zucker.
---
ANGEL: TNT has acquired exclusive off-network rights to the ANGEL. The 88-episode library will cost TNT about $300,000 per episode. TNT outbid several competing networks. Scheduled to run twice each weekday beginning in the fall, ANGEL will likely be paired on TNT with fellow WB series CHARMED.
---
BUFFY: It's official. UPN announced Thursday (Feb. 27) that "Buffy the Vampire Slayer" will end its seven-season run on Tuesday, May 20. Creator Joss Whedon will write and direct the final episode.
---
TRON: Harrison Ellenshaw, the visual effects supervisor for TRON, talks about how the movie got made, how effects have changed since 1982 and the much rumoured sequel, Tron 2.0 at http://www.moviehole.net/news.php?newsid=1123.
---
Thursday, February 27:
SCIFI: February was a banner month for the SCI FI Channel. They reported their highest February prime-time ratings ever, averaging a 1.0 rating (777,000 households). That represented a 43 percent increase over the network's 0.7 rating last February and places SCI FI in the top 10 among all basic cable networks. Stargate SG-1 remained SCI FI's top-rated original series. New episodes of Stargate SG-1 averaged a 1.6 rating (1.26 million households), a 78 percent improvement over February 2002. SCI FI's Monday block of Stargate SG-1 reruns also got high ratings, doubling those in their time periods compared with 2002.
---
STARGATE SG-1: Despite the fact that most of the fan fiction related to STARGATE SG-1 has Col. O'Neill and Maj. Carter together, Amanda Tapping, who plays Maj. Samantha Carter on the show, told SCI FI Wire that upcoming seventh-season episodes could delve into Carter's romantic life but didn't think it likely to include a romance between Carter and O'Neill (Richard Dean Anderson). "I don't think so, not given the parameters of where they are right now," she said. "I think it's almost enough to know there's a huge attraction between these two people, and that there's a huge amount of love and respect between them. Certainly there are times when it bubbles to the surface, when they're like, 'Ooh, yikes, I forgot that I really am attracted to this guy.' But I can't do anything about it. ... If we push that envelope and have them consummate the relationship in some way, like going fishing, that would be a big mistake." Stargate is currently in production for its seventh season, which will debut on SCI FI this summer.
---
X-FILES: X-FILES' Gillian Anderson will host an auction March 2-9 to benefit the Neurofibromatosis Association in the U.K., a charity that Anderson has long supported. Among the items for sale: •An "I Want to Believe" poster autographed by X-Files creator Chris Carter and stars David Duchovny, Anderson, Robert Patrick, Annabeth Gish and Mitch Pileggi. •A poster for Anderson's London play What the Night Is for, autographed by Anderson and co-star Roger Allam. •Three X-Files trading cards signed by Anderson. For more information, go to http://www.gilliananderson.ws/auction/index.html.
---
ELEKTRA: Twentieth Century Fox and Regency Enterprises announced that, in addition to a DAREDEVIL sequel, they are moving forward with a new event film based on the Elektra character. "The new Elekra story will be set after the events depicted in DAREDEVIL. Jennifer Garner will reprise the role she brought to life in that film, and script development will begin immediately. "Elektra first appeared in Daredevil comics in 1980 with words and art by comics legend Frank Miller. The character is the daughter of powerful and rich Greek business tycoon Nikolas Natchios and the girlfriend of Matt Murdock / Daredevil. Although she possesses no superhuman abilities, Elektra is a consummate practitioner of the martial arts, and wields a pair of three-pronged daggers, or sai."
---
Wednesday, February 26:
BABYLON 5 RETURNS: Just visited the revamped SCIFI website. BABYLON 5 is returning to the SCIFI lineup on March 31 at 9:00am ET. Yes, 9:00 in the morning is not a great time, but it is back in the line-up and it will give everyone a chance to watch -- or tape! Be sure to visit the new revamped B5 website at http://www.scifi.com/babylon5. The front page is different and it has incorporated the Lurker's Guide! Now if we can get them to look at Terry's Chronology - hint, hint!
---
RATINGS: Top 10 SF Syndicated Shows: The X-Files 2.4; Andromeda 2.1; Mutant X 2.1; Stargate SG-1 2.1; 3rd Rock 1.9; Buffy 1.8; The Lost World 1.8; The Outer Limits 1.3; Sabrina 1.3, and Profiler 1.1. Source: Nielsen Galaxy Report, 1/27/03 - 2/2/03.
---
WEREWOLF BY NIGHT: According to Variety, Oscar-nominated screenwriter Robert Nelson Jacobs has been tapped by Dimension Films to write the script for the Marvel comic-book adaptation WEREWOLF BY NIGHT. "It is our aim to bring the werewolf genre to mainstream audiences in the same character-driven way we have done with our other superhero films," Marvel Studios' Avi Arad said. "WEREWOLF BY NIGHT is at its core a beautiful love story reminiscent of the great Shakespearean tragedies. It needs the meticulous heartfelt crafting that Robert Nelson Jacobs is known for."
---
STAR TREK: NEXT GENERATION: TNN has announced it will begin airing unedited episodes of STAR TREK: NEXT GENERATION in March. It will be the first time that many of the episodes have been seen by television audiences in their entirety since they were originally broadcast during the syndicated run of the series. Two back-to-back episodes will be shown every Friday night during March, and will be presented with limited commercial interruptions. As well as airing the "Trek Uncut" episodes, TNN continues to respond to fans' requests by airing TNG episodes consecutively from the beginning of the syndicated series.
---
BUFFY: Sarah Michelle Gellar gave Entertainment Weekly an exclusive regarding her departure from the series after the conclusion of the seventh season. While the fate of the show itself hangs in the balance, cast members Alyson Hannigan and Nicholas Brendon have both said they believe it's the final year for the show, but no official word has come down from BUFFY creator Joss Whedon, UPN or producer 20th Century Fox. There had been rumors of a possible spin-off based on the character of BUFFY's fellow slayer Faith; those now seems iffy since actress Eliza Dushku (who plays the recurring role) has signed on for a drama pilot with FOX. Read more over at http://www.tvguide.com/newsgossip/insider/030226a.asp.
---
MACGYVER: The Holllywood Reporter notes that Jared Padalecki, Dean on GILMORE GIRLS, has taken the title role in The WB's "MacGyver" pilot. "MacGyver" will be an update of the 1980s series starring Richard Dean Anderson. He will play the nephew of the original MacGyver who is brought into his uncle's Phoenix Foundation, a think tank/crime-fighting organization. Have you missed MACGYVER? You can catch it every day at 1:00pm ET over on TVLand. It seems even better now!
---
MUTANT X: Fans of MUTANT X can pick up some information on the next episode, "Once Around" at http://www.comicscontinuum.com/stories/0302/25/index.htm. This will be the last new episode for a while. MUTANT X will return with new episodes before concluding it's second season in May.
---
Tuesday, February 25:
RATINGS: Top 10 SCIFI Channel Programs: Stargate SG-1 1.4; Waterworld 1.1; Tracker 1.1; Velocity Trap 1.0; Farscape 1.0; The Ninth Gate 1.0; Alien Fury 0.9; Beyond Belief 0.9; House 0.8, and Star Trek VI 0.7. Source: Nielsen Galaxy Report, 1/27/03 - 2/2/03.
---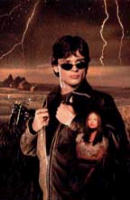 SMALLVILLE: While the ratings for SMALLVILLE have always been fantastic, tonight will be VERY special. Christopher Reeves guest stars tonight as an astronomer who holds keys to Clark's past. Tom Welling (Clark Kent) says, "You play this kid in school who's trying to be normal and has these abilities he thinks work against him. It's like an exaggerated form of puberty for him as he gets these abilities, which are just exaggerations of things that we all can do: We can all run, he can just run faster; we can all pick things up, he can pick up things that are heavier." For more on the episode and Reeve's guest appearance, go to http://tv.zap2it.com/shows/features/features.html?30293.
---
STARGATE SG-1: On Monday, production began on the seventh season of STARGATE SG-1. This marks the second season at SCI FI and it continues to perform well with both original episodes and in its repeats from other seasons. According to SCI FI, the Jan. 10 winter premiere of the series delivered a 1.7 rating (1.3 million households). The show continued to perform well throughout the month, peaking at 1.9 (1.5 million households), and earning a 1.7 (1.3 million households) average for January--a 70 percent improvement over the time-period average one year ago. This is the strongest January performance of any show in SCI FI Channel history. The Monday night block of four episodes has scored a 1.4 average for January, making it the second-highest-rated night of the week following SCI FI Fridays. After seven years on the air, Stargate SG-1now ranks among the longest- running science fiction series on television.
---
FANTASTIC FOUR: According to E! Online, newcomer Tristan Patterson will write the screenplay for the upcoming FANTASTIC FOUR film, while Peyton Reed (Bring It On) will direct.
---
HARRY POTTER: It's official, Irish actor Michael Gambon has secured the role of Professor Dumbledore, succeeding the late Richard Harris in the upcoming HARRY POTTER AND THE PRISONER OF AZKABAN. Production is currently underway. In fact, there was an AP report of a fire on the set February 22. No injuries were reported, but production on the film was shut down and local residents were evacuated before the 100-acre blaze was extinguished by firefighters.
---
DEEP SPACE NINE: DEEP SPACE NINE: THE COMPLETE FIRST SEASON DVD hits store shelves today. The suggested retail price is $129.99. The 6-disc set covers all of the first season of the series (20 episodes in total) and includes special bonus material. Among the extras is a featurette showing behind-the-scenes production of the series; a look at how makeup artist Michael Westmore designed the new aliens that frequent the station; the "Secrets of Quark's Bar"; a crew dossier of Bajoran militia officer Major Kira Nerys (featuring an interview with actress Nana Visitor); and a look at the visual design of the station through the eyes of series illustrator Rick Sternbach. There are also a number of "hidden files", written as if plucked from the security vaults of the Federation's clandestine intelligence arm Section 31. All 6 discs present the episodes in full-screen format, Dolby sound. Paramount Home Video plans to release the remaining six seasons of DS9 throughout the coming year, with Season Two scheduled for release on April 1.
---
FIREBALL XL-5: With production gearing up for the live-action feature film on THUNDERBIRDS, another Gerry Anderson's supermarionation sci-fi series makes its debut on DVD today. A&E Home Video's FIREBALL XL5: THE COMPLETE SET offers fans all 39 black and white episodes of the classic series, digitally restored and presented in their uncut, original production order. FIREBALL XL5 paved the way for THUNDERBIRDS and another of Anderson's later series, SPACE: 1999. Set in 2063, the series followed the adventures of Colonel Steve Zodiac, the commander of the 300-foot-long rocket ship Fireball XL5. Together with his fearless shipmates, Commander Zodiac patrolled Sector 25 in space, protecting Earth from the schemes of the menacing Green Men and Subterrains of Planet 46. Bonus features include a commentary by David Graham, the actor who lent his voice to the characters of Matt Matic, alien housepet Zoonie and Lieutenant 90, on the episode "The Doomed Planet". There's also a photo gallery showing rare archival stills from the show. The 5-disc FIREBALL XL5: THE COMPLETE SET is priced at $99.95.
---
SALEM'S LOT: Rob Lowe will star in the upcoming TNT miniseries "Stephen King's Salem's Lot." According to the Hollywood Reporter, the project is scheduled to begin shooting in April in Melbourne, Australia. Co-produced by TNT and Warner Bros. Television, the miniseries will air sometime next year. Based on the best-selling Stephen King book, "Salem's Lot" features Lowe as a journalist who returns to the small town where he grew up to investigate mysteries, including a stranger who turns out to be a vampire.
---
Monday, February 24:
WEEKEND BOX OFFICE: Despite a substantial drop in viewers, DAREDEVIL, held on to the top slot as OLD SCHOOL opens at number two. Here are the numbers:
1. DAREDEVIL, $18.9 million this weekend, $70.3 million since opening.
2. OLD SCHOOL, $17.5 million in this opening weekend.
3. HOW TO LOSE A GUY IN 10 DAYS, $11.9 million this weekend, $64.9 million since opening.
4. THE JUNGLE BOOK 2, $8.6 million this weekend, $25.1 million since opening.
5. CHICAGO, $8.5 million this weekend, $94.4 million since opening.
6. THE LIFE OF DAVID GALE, $7.2 million in this opening weekend.
7. SHANGHAI KNIGHTS, $6.4 million this weekend, $44.4 million since opening.
8. GODS AND GENERALS, $4.8 million in this opening weekend.
9. DARK BLUE, $3.8 million in this opening weekend.
10. THE RECRUIT, $3.5 million this weekend, $44.4 million since opening.
---
THUNDERBIRDS: The live-action movie based on Gerry Anderson's Anderson's classic marionation TV show go into production next month in the Seychelles and the UK. The Hollywood Reporter notes that Anthony Edwards has been cast as Brains; STAR TREK veteran Jonathan Frakes will direct the film.
---
LONE RANGER: The WB's LONE RANGER telemovie will air on Wednesday evening at 8:00pm. From the trailers showing on the network now, it is at least worth a look-see -- particularly for all who remember the original series. There can be only one Clayton Moore, but the story is a good one. We'll see how they deal with it.
---
ANDROMEDA: Rumor has it that ANDROMEDA co-star Keith Hamilton Cobb will not be a regular in season four. Tribune does have an option for four episodes next season but may NOT use them. Cobb has already cut his hair and done a few television appearances.
---
Sunday, February 23:
DISCUSSION TOPIC: I've caught up with all those who took the time to submit a response to the last discussion topic about the future of the space program. Thanks. See if you agree with the views of other readers. Go to the Discussion Page.
---
WHAT'S ON TONIGHT
On SCIFI Tonight:

7:00 PM
Devil's Prey
Five friends returning home from a rave party offer a ride to a woman on the lam from a devil-worshipping cult and become targets of the fugitive's former comrades.

9:00 PM
Dagon
Horror tale about castaways on an eerie island where zombielike inhabitants worship a sea creature called Dagon. On Syndicated Television This Weekend: Mutant X
Once Around
Adam and company protect a prosecution witness against the nefarious Sam Raymond (Lawrence Bayne), who relies on his psionic powers to kidnap the witness's girlfriend in an effort to stop him from testifying. Gene Roddenberry's Andromeda
What Happens to a Rev Deferred?
The crew watches the evacuation of the planet Empyrium, which begins an adventure involving a band of renegades and the return of Rev (Brent Stait). Buffy the Vampire Slayer
New Moon Rising
Oz (Seth Green) returns to Sunnydale in this tense and emotional episode. His former girlfriend, Willow (Alyson Hannigan), has been slowly getting over him in the months since he left to get his werewolf nature under control. During his absence, Willow's relationship with fellow witch Tara has been developing into something more. Now, just as she's getting comfortable with her new life, Oz returns from his travels with good news: He can keep the beast within him contained indefinitely. It's a moment that Willow has been longing for...and now finds she dreads. Buffy the Vampire Slayer
The Puppet Show
The star attractions for the school talent show include Buffy, Xander, Willow (Alyson Hannigan), a possessed puppet and an organ-harvesting demon. Outer Limits
Awakening
A woman who is unable to experience emotion is deliberately traumatized. Stargate SG-1
Wormhole X-treme
A conspiracy theorist (Willie Garson) who's "not just interested in outer space, [he's] from outer space" creates a sci-fi TV series that features plots that could expose the top-secret Stargate program.
JEREMIAH
The second season of this series will begin shortly. Here are episode titles for the upcoming season. Letters From The Other Side #1
Letters From The Other Side #2
Strange Attractors
Deus Ex Machina
Rights of Passage
The Misterious Mister Smith
Voices in The Dark
The Road Not Taken
Trading Partners
Crossing Jordan
Running On Empty
The Question
The Past
The Road Not Taken
Interregnum One
DISCUSSION TOPIC
There have been a number of movies created using comic book characters as the central focus of attention. Do you feel these movies have been pretty faithful to the images projected on the page? Has their success helped the comic book industry gain some respectability? Send in your opinions to sgbruckner@aol.com or thezocalo@aol.com. I'll post the responses on the Discussion Page for everyone to share.
BABYLON 5 CHRONOLOGY
I noticed that JMS used a section of Terry's chronology to answer a question the other day about Morden/Anna's trip over on the B5 moderated newsgroup. Another section of the wonderful Babylon 5 Chronology is now available for your enjoyment. Go to 23rd Century. A BIG THANK YOU and note appreciation goes to Terry for taking the time (and considerable effort) to pull the chronology together -- and for updating it to include CRUSADE, the novels and other relevant Babylon 5 material. THANKS TERRY!
REVIEWS WANTED:
Reviews have begun to come in. See if your opinion of LORD OF THE RINGS matches that of Ranger Helen. Go to Reviews to see. Want to express your opinion? Just drop me a line and you too can see your name in lights. Read any good books lately? How about the movies. Did you like LORD OF THE RINGS, NEMESIS? Send along a review and share your thoughts with the readers here. Let's make one of our New Years Resolution one of staying in touch here at The Zocalo Today.
KEEPING UP WITH CAST AND CREW
ENID-RAYE ADAMS: Last night was a great two-for with TWILIGHT ZONE. Those of you who tuned in to see Bill Mumy in "It's Still A Good Life" hopefully caught Enid-Raye Smith in the same episode. Over at B5TV.com you can catch some pics of Bill and Enid from the episode.
---
CLAUDIA CHRISTIAN: "Anne Manx and the Trouble on Chromius" with Claudia Christian, Andy Hallett from Angel, and Paris Jefferson from Xena is now out. You can see the cover art, hear samples and buy copies from www.rrca.com.
---
BABYLON 5 BIRTHDAYS
Richard Biggs - March 18
Jesus Trevino - March 26
Ed Wasser - March 26 Have I missed anyone? If you know the birthday of someone connected with Babylon 5, pass the information along. We want to include everyone in our Happy Birthday Wishes.
READER DIRECTORY
Sometimes you just can't find the e-mail address for someone you know you have -- it's someone who responded to a discussion topic or you met in one of the chat rooms. You'd like to send a personal note, but .... No address!!!!

We've started a White Pages of Zocalo Readers! It's a handy way of keeping track of people -- and putting together a birthday/greeting card list as well. If you would like to be part of the listing, just send me your name, state, e-mail address and (if you'd like to have it listed) birthday (without year) to sgbruckner@aol.com. Check out the Directory of Readers.

HAPPY BIRTHDAY READERS

Here are some of our readers who are having birthdays this month:

Name: Connie Colvin
State: New York
E-mail address: CCB5Flamekeeper@aol.com
Birthday: March 4

Name: Lance Coviello
State: North Carolina
E-mail: EsperFF3@aol.com
Birthday: March 3 Name: Helen Cripe
State: Delaware
E-mail address: cripehl@itrcorporation.com
Birthday: March 2 Name: Melvin Good
State/Country: Cambridge, England, United Kingdom
E mail address melvin-good@lineone.net
Birthday 18 March Don't see YOUR birthday here? That's easy to remedy. Send your birthdate along to me and I'll post it with others in our directory.
BABYLON 5 DVDs
News on Season Two DVD:
Here is the rundown on the Season Two DVD of Babylon 5 from Warner Home Video. The acclaimed second season of this science fiction cult favorite is now available for the first time ever as a 6-disc DVD set. All 22 episodes have been digitally remastered to provide Dolby Digital 5.1 sound and widescreen format. Special Features:
Introduction by producer/creator J. Michael Straczynski and various cast members. 2 episode commentaries by producer/creator J. Michael Straczynski. Episode commentary by cast members Bruce Boxleitner, Claudia Christian and Jerry Doyle. Building Babylon: Blueprint of an Episode featurette. Shadows and Dreams: Honors of Babylon featurette. The Universe of Babylon 5 data/tech/personnel files. Babylon 5 Timeline. Original episode promos. JMS wrote this in the B5 moderated newsgroup recently:
Interviews for year 2's DVD have been set, or already conducted, with Stephen Furst, Andrea Thompson, John Iacovelli, Anne Bruice-Ailing, Jerry, Claudia, Bruce, me, John Copeland, Doug Netter and others. In addition, I'll be doing commentaries on "The Coming of Shadows" and "The Fall of Night," and there will be a bonus group commentary by Bruce, Claudia and Jerry on "The Long, Twilight Struggle." There's talk about a special musical sequence for the season 3 DVD, with Chris re-scoring 2-3 episodes end to end with non-stop music, future segments on "The Future According to Babylon 5" with NASA and JPL guys (btw, James over at a certain House subcommittee, if you're reading this and could drop me a note, that'd be great). I'd like to see the final bonus section on year 5 be about the fans of the show. Point being...they're putting a LOT of energy and work into this to make each set better than the one before.
COMIC BOOKS
Written by J. Michael Straczynski, art and cover John Romita Jr. and Scott Hanna.
Part 3 of a 3-part story.
32 pages, $2.25, in stores on May 21.
AMAZING SPIDER-MAN #50 - On sale February 20, 2003; Issue #49 is on stands now. COVER BY: Scott Campbell
WRITER: J. Michael Straczynski
PENCILS: John Romita Jr.
INKS: Scott Hanna THE STORY: At long last, it's the story you've been demanding: Peter Parker and Mary Jane make the big decision!
NOVELS
Farscape: The Illustrated Season 4 Companion
by Paul Simpson and Ruth Thomas Featuring a foreword from Farscape star Ben Browder (Crichton), Farscape: The Illustrated Season 4 Companion offers unprecedented access to the show's stars and production team, taking an exclusive, detailed tour behind the scenes, complete with an episode guide to season four.
BABYLON 5 NOVEL
DelRey has reprinted one of the most popular Babylon 5 novels written! Jeanne Cavelos' novel SHADOW WITHIN is now at your book store or available through online ordering. If you haven't read the book already, now is your chance to own a copy. Here is the description of the novel from DelRey: The electrifying space epic continues as Anna and John Sheridan battle deadly foes at opposite ends of the universe. The dedication of the new Babylon 5 Station is fast approaching, and desperate enemies intend to see it end in catastrophe. The fate of the fledgling space alliance lies in the hands of John Sheridan, newly appointed captain of the spaceship Agamemnon. His orders are to stop the attack. Unless he first gets to the bottom of the near-mutinous behavior of the Agamemnon's unruly crew, Sheridan and his spaceship will share Babylon 5's doom. Time is also running out for his wife Anna, headed to Z'ha'dum aboard the Icarus. Young, beautiful, and brilliant, she was thrilled to be appointed chief science officer of the follow-up mission to this mysterious planet on the edge of the known universe, where artifacts rumored to hold stupendous powers have been discovered. But the offer she could not resist threatens to become a dark destiny she cannot avoid, for an unimaginable horror lies somnolent on Z'ha'dum–and the monstrous consequences of disturbing the sleeping evil will haunt every living thing in the cosmos. . . . Babylon 5 created by J. Michael Straczynski
SCI FI PUBLICATIONS
Cult Times #90: Smallville's Michael Rosenbaum and John Glover talk about being the dynamic father and son duo behing Luthercorp. Also in this issue, a look at JEREMIAH with co-producer Gregory Noveck. David Fury discusses his work on ANGEL and BUFFY and Dominic Keating talks about Malcolm Reed from ENTERPRISE.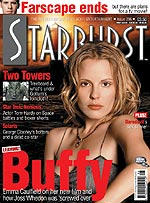 Starburst #296: Emma Caulfield talks about BUFFY and her new movie "Darkness Falls". Also in this issue Mark Steven Johnson talks about directing DAREDEVIL and George Clooney and Natascha McElhone talk about SOLARIS.
Expose #77: With word just having come about BUFFY ending, this issue may be special for fans as Marti Noxon reflects on what she accomplished with the series -- and what she wishes she would have done! Also Kristen Dalton talks about her character, Dana, in THE DEAD ZONE and Lauren Lee Smith discusses the changes ahead for her character on MUTANT X.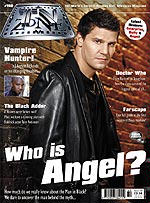 TV Zone #160: ANGEL has taken a number of twists and turns since first becoming part of our TV viewing schedule along with BUFFY. This issue brings you the history of Angel, along with an exclusive interview with J. August Richards - Gunn! Also inside, a full and comprehensive episode guide of FARSCAPE and a look at VERITAS.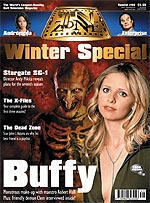 TV Zone Special #49: Make-up artists -- up close and personal! Genius Rob Hall from BUFFY is featured, along with Michael Westmore from ENTERPRISE and NEMESIS. Andy Mikita from STARGATE SG-1 talks about directing the latest episodes from season six. Also in this issue, Anthony Michael Hall talks about THE DEAD ZONE and the women of ANDROMEDA (Lexa Doig and Laura Bertram) talk about Andromeda and Trance.
BABYLON 5 BOOK OF QUOTES
For all those who submitted quotes and experiences to the Babylon 5 Book of Quotes, word from JMS is that the book, plus emails and suggestions, is being compiled now, and they're targeting February, the 10th anniversary of B5, for the publication date.
SCI-FI SCHEDULE
BABYLON 5 31-MAR-03 9:00 AM BABYLON 5 THE GATHERING -PT 1 STARGATE SCHEDULE: 03-MAR-03 7:00 PM STARGATE SG-1 THE CURSE
03-MAR-03 8:00 PM STARGATE SG-1 SERPENT'S VENOM
03-MAR-03 9:00 PM STARGATE SG-1 CHAIN REACTION
03-MAR-03 10:00 PM STARGATE SG-1 2010
03-MAR-03 1:00 AM STARGATE SG-1 THE CURSE
04-MAR-03 1:00 AM STARGATE SG-1 SERPENT'S VENOM
05-MAR-03 1:00 AM STARGATE SG-1 CHAIN REACTION
06-MAR-03 1:00 AM STARGATE SG-1 2010
07-MAR-03 9:00 PM STARGATE SG-1 (LBX) MEMENTO
07-MAR-03 11:00 PM STARGATE SG-1 (LBX) MEMENTO
10-MAR-03 7:00 PM STARGATE SG-1 ABSOLUTE POWER
10-MAR-03 8:00 PM STARGATE SG-1 THE LIGHT
10-MAR-03 9:00 PM STARGATE SG-1 PRODIGY
10-MAR-03 10:00 PM STARGATE SG-1 ENTITY
10-MAR-03 1:00 AM STARGATE SG-1 ABSOLUTE POWER
11-MAR-03 1:00 AM STARGATE SG-1 THE LIGHT
12-MAR-03 1:00 AM STARGATE SG-1 PRODIGY
13-MAR-03 1:00 AM STARGATE SG-1 ENTITY
14-MAR-03 9:00 PM STARGATE SG-1 (LBX) PROPHECY
14-MAR-03 11:00 PM STARGATE SG-1 (LBX) PROPHECY
BABYLON 5/CRUSADE PHOTOSHOP PHOTOS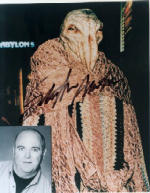 You do NOT have to pay the prices asked for over at e-bay! Here are photos of B5 and Crusade cast members at fantastic prices. Check out Photo Shop. Ordering is easy -- and you can't beat the prices! Just let me know which photos you want and I'll check to make sure they are still in stock.
---
BABYLON 5 TOONS
John Cook has a new cartoon contest going. Try your hand at a punch line.



BABYLON 5/CRUSADE CONVENTIONS
CONVENTION CALENDAR
Festival of the West
March 13-16, 2003
Place: Scottsdale, Arizona
B5 Guest: Bruce Boxleitner - CANCELLED
For more information, visit their website at http://www.festivalofthewest.com/.
---
Vulkon
March 23-24, 2003
Place: Orlando, Florida
Orlando Hilton North
Guests: Armin Shimerman, Rene Auberjonois, Barry Morse
For more information, visit their website at http://www.vulkon.com.
---
Best of Both Worlds 18
April 19 and 20, 2003
Place: Sydney, Australia
B5 Guests: Mira Furlan, Claudia Christian
Other Guests: Marina Sirtis, Michael Hurst, Tony Amendola, Gil Gerard, Erin Grey
For more information, visit their website at http://www.bobw.com.au.
---
Vulkon
April 27-28, 2003
Place: Cleveland, Ohio
Guests: Robert Picardo, James Doohan, Alice Krige, David Carradine, Barry Morse, John Billingsley
For more information, visit their website at http://www.vulkon.com.
---
Be sure to visit our Convention Calendar for a full listing of upcoming conventions featuring Babylon 5, Crusade and Legend of the Rangers cast members as guests.
If you would like to share your convention experience with your other Zocalo readers, send along a convention report. I will gladly post it for all to read. Got pictures? I'll post those as well.
ZOCALO TRADING POST
Do you have extra copies of B5, Amazing Spiderman, Midnight Nation or Rising Stars comics you'd like to trade? How about those extra trading cards or B5 magazines? There are a lot of fans looking for these items -- and the Trading Post can help you buy or sell them. To see what's available, just use this link to the Trading Post. To have items included in The Trading Post, send a note to The Zocalo. Please put Trading Post in the subject line.
Pen Pals
If you are looking for someone to talk about Babylon 5 and Crusade with, the Pen Pal section is for you! Check it out! Drop a note to someone who is feeling B5 withdrawal -- BIG TIME!

People thought a Pen Pal page was a good idea. If you would like to meet people who you could chat with or share your opinions of the show with, send along your e-mail or snail-mail address The Zocalo. It will be incorporated on the new Pen Page Page.
MAIL FOR CAST AND CREW
Here's a recent note from JMS on the subject:

Just an FYI to those who've been using the Ventura Blvd. mail drop for fan mail to actors....

As mentioned before, we're phasing out the forwarding of fan mail because we a) don't have the resources, complicated by b) the actors have scattered to the four winds, and it makes it very difficult to get everything to everybody in a timely fashion.

So, having provided prior notice...fan mail to actors coming to the Ventura Blvd. mail drop will be sent back. Mail to actors should be sent via their official fan clubs. I will still be taking mail there, since it's my mailbox, but that's it.

Just so's y'all know and save a few bucks on postage and returns.

JMS' mail can be sent to:

14431 Ventura Boulevard, PMB 260
Sherman Oaks, CA 91423

WARNER BROS:

Warner Bros. Address:

Warner Bros. Domestic Television Distribution
4000 Warner Blvd.
Burbank, CA 91522

Warner Home Video:

Mr. Douglas Wadleigh
VP for Marketing and Special Features
Warner Bros.
4000 Warner Blvd.
Burbank, CA 91522

SCIFI:
Bonnie Hammer, President
Sci-Fi Channel
1230 Avenue of the Americas
New York, NY. 10020-1513

Mr. Thomas Vitale
Senior VP of Acquisitions, Scheduling & Program-Planning
BACK ISSUES OF THE ZOCALO TODAY
The front page of the The Zocalo Today changes daily, so be sure to check the back issues to make sure that you haven't missed anything IMPORTANT! I don't want the front page getting too long so I shift information periodically into the archives. So if you aren't a regular visitor to The Zocalo Today, be sure to check out the back issues. Just use the button above!
---
Take care and I look forward to hearing from you.
Sandra Bruckner (sgbruckner@aol.com)
Editor/Publisher
The Zocalo Today
http://www.isnnews.net
Copyright - SBruckner, 2002