[an error occurred while processing this directive]

The Zocalo Today

Welcome! I am REALLY glad you dropped by. Take your shoes off, get comfortable and stay a while.

The Zocalo Today is an interactive newsletter. If you have suggestions, please send them along. The Zocalo Today is as much YOUR newsletter as it is mine! I'm just pulling together things for you! Join our weekly discussion topic. It is just one way you can interact with other Z readers. Send along letters, sightings of B5 cast and crew in other projects, convention reports, photos, etc. Don't miss our back issues. There is a LOT of information contained there and you'll not want to miss anything.

If you have questions, drop me a line at sgbruckner@aol.com or b5web@aol.com.

Again, WELCOME!

March 22, 2002 4:08am
What's New
GRAND SLAM CONVENTION: Ranger Mark pointed out that Rick Biggs, Majorie Mohnahan, Mira Furlan, Robin Atkin Downes, Peter Woodward, and Julie Caitlin Brown will be signing at the Star Trek Grand Slam Convention this weekend. If you are in the neighborhood, I hope you'll drop by.
---
ANDREA THOMPSON: After seven months on the job at CNN Headline News, Andrea Thompson (Babylon 5's Talia Winters) has resigned as primary news anchor. The press release from CNN quoted Thompson as saying that she has "decided that it is time for me to make a change in my daily professional life."
---
AMAZING SPIDERMAN: The latest issue is out on news stands now. Pick it up. It's entitled 'Nuf Said'.
---
SAG PRESIDENT: Melissa Gilbert was re-elected on Friday as SAG President. You can read about her recent battle for the presidency -- and get a feel for her duties as President over at http://story.news.yahoo.com/news?tmpl=story&cid=&u=/bpi/20020320/en_bpibs_bpi/_b__h1_gilbert_proves_hardy_victor_as_sag_prez__h1___b_.
---
JMS CHAT: JMS will be chatting with fans on Friday, March 22 at 11:30PM ET over at the www.sho.com/jeremiah site.
---
LINKS: I've put some new links on the Links page here -- including a number of Jeremiah sites.
---
JEREMIAH: JMS throws out a few more details related to Jeremiah. All of his comments can be found on the Jeremiah Page.
---
B5 ON DVD: Everyone has been waiting for some sort of official word from the WB on whether or not the series would be coming out on DVD. The critical determining factor was sales of the first DVD released in December. If the first DVD did well, others would surely follow. Still no official word on this front, but www.B5LR.com indicates a source has said that the resulting sales were positive enough for Warner Bros. to make a decision to release the series on DVD. We'll see if some official statement will follow.
---
JEREMIAH: A new site is up and running to help webmasters distribute information about Jeremiah. If you want to incorporate a banner or photos, this is the place to go. Details below.
---

BLOOD DRIVES: If you are able, be sure to roll up your sleeves and give blood -- both now and in a couple of weeks. The need for blood will be continual. Right now, the tremendous outpouring of volunteers has filled quotas and storage space! FANTASTIC!!! But those supplies will be utilized and a new supply will be needed soon. Check out donation drives near you. I'm signed up already.
---
The e-mail version of The Zocalo Today goes out on Saturdays. If you would like to be included on the mailing list, just send a blank note to thezocalo-subscribe@yahoogroups.com. If that doesn't work for you, drop me a note at sgbruckner@aol.com. I can add you manually. Our new back-up site is located at http://sgbruckner.tripod.com. If you can't get into www.isnnews.net, try this site for new information.
---
NEWS AROUND THE SCI-FI GENRE
March 22:
RATINGS: Top 10 SF Network Shows: Smallville 3.8; Enterprise 3.5; Futurama 3.4; Buffy 3.2; Charmed 2.9; Special Unit 2 2.2; Roswell 2.0; Charmed, 2-14 2.0; Sabrina 2.0, and Glory Days 1.9. Source: Nielsen Galaxy Report, 2/11/02 - 2/17/02.
---
TWILIGHT ZONE: During an interview to promote his latest film, CLOCKSTOPPERS, Jonathan Frakes told SCI FI WIRE that he would be directing the pilot for an updated version of The Twilight Zone for UPN. Frakes said, "The Twilight Zone [is] a franchise not unlike Star Trek that people have very fond specific memories of, and I think the opportunity to tell these kinds of stories that are ... parables is very similar to what [Gene] Roddenberry's original Star Trek was like." Pen Densham is writing and executive producing the Zone pilot.
---
ROSWELL: Executive Producer Jonathan Frakes said that the network has not officially cancelled the show, but but producers are shopping the show to other networks, including The SCI FI Channel. "There is no official word, and we're trying to find another home for it on another network."
---
X-FILES: Where did the time go? That's what Gillian Anderson (Agent Scully on X-Files) is wondering. She recently told SCI FI Wire that she is just beginning to realize that the series will soon be over. "This is so surreal," she said in an interview. "I swear to God, it's only started to hit me over the past couple of days. And it just feels like the nine years was so short. You know what I mean? While we were in the middle of it, I never thought it would end, and now all of a sudden it feels unfathomable. And that's all I have to say." The X-Files will conclude with a two-hour finale in May.
---
ANGEL: Will Angel follow Buffy to UPN? Doesn't look likely. David Greenwalt, co-creator of Angel, is confident the WB network will renew the show for a fourth season. "They will," Greenwalt said in an interview. "But UPN would also be a happy home for me in year five or year six. Even post-Buffy, UPN could be a happy home for me." Angel is currently on hiatus, but will return to The WB with new episodes beginning on April 15.
---
ALIEN PRISON: Variety reports that Roland Emmerich (Independence Day) is in talks to direct and produce Alien Prison, an SF project for Sony's Columbia Pictures. Andrew Marlowe (Hollow Man) wrote the most recent draft of the screenplay that tells the story of six humans who plot an escape from their alien captors in a distant solar system and attempt to foil the invasion of Earth.
---
March 21:
ROSWELL: No official word has come from UPN regarding the renewal of Roswell for the coming year. However, Variety reports that regular castmember Adam Rodriguez (Jesse) has joined the cast of CBS' new fall series C.S.I. Miami.
---
STAR TREK: Michael Dorn has been hard at work with the latest Star Trek movie "Nemesis". However, he will soon be joining the ranks of other cast members who have come in to direct an episode of the new ENTERPRISE series. Dorn previously directed Deep Space Nine, V.I.P. and Through the Fire, a sitcom pilot he also co-stars in with TNG alumna Marina Sirtis. He did not have a lot of information about the episode he would be directing, but did say that it's a pleasure-planet episode and will air right before the season finale.
---
WICKER MAN: The Hollywood Reports indicates that Nicholas Cage has signed on for the remake of WICKER MAN, a story that centers on a cop looking for a lost girl who finds himself drawn to a mysterious island that harbors a secret pagan society. Originally done as a British film, Neil LaBute will write and direct the film updated to take place in contemporary America. No word as yet when shooting will start.
---
March 20:
RATINGS: Top 10 Syndicated Shows: Andromeda 3.1; Stargate SG-1 2.8; The X-Files 2.8; 3rd Rock 2.5; Mutant X 2.5; Buffy 2.4; Beastmaster 2.2; John Edward 2.1; Sheena 1.8, and The Lost World 1.7. Source: Nielsen Galaxy Report, 2/18/02 - 2/24/02.
---
NEMESIS/X-MAN: X-Men Director Bryan Singer is going to be seen in the upcoming Star Trek: Nemesis movie! Patrick Stewart told SciFi Wire that when Singer came onto the set of Nemesis, Rick Berman had the idea to actually give him a guest appearance in the movie.
---
SPIDERMAN 2: Although Sam Raimi's new Spiderman movie doesn't reach theaters until May 3, there is already work underway for a sequel. Producer Laura Ziskin told the Calgary Sun that work is about to commence on a sequel, with Tobey Maguire is set to reprise his role as Peter Parker. Production on a second film could begin as early as January.
---
NEVERLAND: According to Variety, Johnny Depp (From Hell) will play Sir James M. Barrie, the Scottish author of the play Peter Pan, in Miramax Films' Neverland. The project is to be directed by Marc Forster with shooting set to begin in June in London.
---
STAR TREK: While Rick Berman is committed to ENTERPRISE, he wants to branch out and work on "projects where people drive cars and wear sneakers --something a little more earthbound." Berman recently signed a new five-year contract with Paramount Studios for an estimated value of over $10 million. Besides ENTERPRISE, Berman is currently overseeing production on STAR TREK: NEMESIS.
---
March 19:
SPIDERMAN: A new trailer will be out for the upcoming Spiderman movie next week over at http://www.spiderman.sonypictures.com/. The movie is scheduled for release on May 3.
---
BOND 20: Reuters confirmed that Madonna will compose and perform a new song in Die Another Day, the upcoming 20th James Bond movie. Madonna's "Beautiful Stranger," the theme song for the Bond satire film Austin Powers: The Spy Who Shagged Me, which won a Grammy Award for best song written for a motion picture and a Golden Globe nomination.
---
BUFFY: Over at www.cinescape.com, Buffy Producer Marit Noxon talks about the evolution of onetime baddie, James Marsters' Spike.
---
STAR TREK: NEMESIS Everyone has been wondering who will provide the score for the next Star Trek movie. FILM SCORE MONTHLY reports that Jerry Goldsmith will do the honors. Goldsmith wrote the STAR TREK: THE NEXT GENERATION theme (originally the STAR TREK: THE MOTION PICTURE theme) and has scored the last two NEXT GENERATION films.
---
JASON PRIESTLEY: We'll see Jason in this week's episode of "Jeremiah". For fans, Priestly has entered his boat racing team in the Miami Super Boat Grand Prix scheduled to take place April 19-21. He will pilot a 42-foot Fountain Scism, Cat-hull, housing twin 1000 hp engines. On Sept. 9, 2001, Priestley set a new world lap speed record of 147.4 mph in the New York Super Boat Grand Prix aboard the superboat Planetman.
---
March 18:
MUTANT X: John Shea (Adam) is interviewed by SciFi Weekly over at http://www.scifi.com/sfw/advance/11_interview.html. He talks about the show, his character, his experience as an actor, director, writer. He is looking forward to the second season of the show and says there will be changes ahead for the show -- and it's characters.
---
RATINGS: Top 10 SF Network Shows: Runaway 1.0; The Chronicle 0.9; Fist of North Star 0.9; Deadlocked: Escape 0.9; Metal Mayhem 0.8; Street Fighter 0.8; Solo 0.8; Trek Marathon 0.8; Into the Badlands 0.8, and Strange World 0.8. Source: Nielsen Galaxy Report, 2/18/02 - 2/24/02.
---
DARK ANGEL: James Cameron has directed some BIG film projects, but now he's taking on a larger project -- the second season finale of Dark Angel. Variety reported that Cameron wanted to direct an episode so when the opportunity presented itself, he seized it. "It will be good discipline for me to direct one hour on a TV-size budget, when my last project was three hours for $200 million," Cameron said. "Wish me luck. This should be interesting." The script for the finale has not yet been completed, but it is scheduled to begin filming later this month and will air on May 3.
---
ET 2: With the flurry of sequels hitting the big screen these days, it's natural for people to ask Steven Spielberg about a sequel to ET -- especially now as the 20th anniversary of the film is upon us. Will there be one? "I realized it's a very perfect story," Spielberg said. "It ended exactly where it should have ended. There is no postscript to it. If people are hungry for a sequel, they should go see this 20th anniversary re-release, because there ain't gonna be one." Amen!
---
ICE AGE: Ice Age brought in an estimated $47.9 million this weekend during it's North American debut. The opening was the biggest ever in March by a wide margin, topping Universal's "Liar Liar" ($31.4 million). It also marked the third-largest animated opening in boxoffice history, after Buena Vista's "Monsters, Inc." ($62.6 million) and "Toy Story 2" ($57.4 million). Comedian Ray Romano provides the voice for Manny the mammoth. His character makes an emotional journey as well as a physical quest through a prehistoric world. "He realizes he can get along with somebody and just becomes a nicer person. He still has his edge, but we see the kind heart underneath all that hair and noise."
---
SATURN AWARDS: Buffy, Farscape and Harry Potter lead the nominees for this year's Saturn Awards made by the Academy of Science Fiction, Fantasy and Horror Films. Check out the entire list of nominees at http://tv.zap2it.com/news/tvnewsdaily.html?24540.
---
JEREMIAH ON SHOWTIME - FRIDAY AT 10:45PM
For a look at this week's episode, go to the Jeremiah Page for a brief synopsis. If you miss the Friday night showing, be sure to tune in on Sunday night at 10:45pm for the encore performance. When asked about the ratings for Jeremiah, JMS had the following to say: "It aired on a Sunday night when the SF audience generally isn't around, according to Showtime, which given that scenario was actually quite encouraged that we did that well...and most important, we built in audience every quarter hour. The real test would be the hour series itself.... And both Showtime and MGM called to offer congratulations on our first ep. Stargate, airing a brand new episode right before us, with an established audience, pulled a 2.9 and a 5 share, excellent by pay cable standards. Our first real ep out of the box *also* got a 2.9 and a 5 share, AND it also grew by quarter hours, ending up at a 3.1 for the last quarter hour, indicating again that we hold viewers and add as we go, a very good thing. So everybody's happy." JMS CHAT: JMS will be chatting with fans on Friday, March 22 at 11:30PM ET over at the www.sho.com/jeremiah site. The Showtime Jeremiah website http://sho.com/jeremiah/ has been updated with a lot of information, including video interviews with Luke Perry and JMS. There are sketches from the set and behind-the-scenes material related to the show. It's terrific to see so many of the production staff from "Legend of the Rangers" on board for Jeremiah.

Luke Perry met with fans on-line to discuss the new show. On March 15, Malcolm-Jamal Warner will be chat with fans at 11:30EST.

After the premiere, there was a great behind-the-scenes piece on "Jeremiah" on Showtime. I'm hoping it will run again either before or after the premiere tonight. JMS talked about the show concept and there were many scenes from the upcoming premiere. So keep an eye out for it.

Vancouver has become quite a TV production town. When Luke Perry agreed to portray Jeremiah, he knew it meant making a long-term commitment to filming in Vancouver, B.C. While the weather hasn't always been easy to take, he seems to be enjoying it! He recently told SciFiWire, "We were shooting in eight, 10 inches of snow. It just kept coming all day long. And it was beautiful; the trees looked great. You just can't buy that kind of production value. It just looked fantastic. And I enjoy it [here]. The people are great." Perry is a fan of SF and felt Jeremiah was the perfect vehicle to mark his return to series television. "Technology is finite, and there's an end to it," he said. "Whereas the thing with science fiction is, it's infinite. And that, in a nutshell, is why I like it." Jeremiah debuts with a two-hour pilot at 8 p.m. ET/PT on March 3 before moving to its regular Friday timeslot on March 8.

A new piece on Jeremiah has become part of the premium subscriber's listing at http://www.cinescape.com/0/Television_2.asp.
---
There is an interesting review of "Jeremiah" over at www.scifi.com. Be warned, there are probably spoilers -- so don't use this link if you want to watch the program BEFORE you read more about the new series. For a rundown of what Showtime is doing to promote this upcoming series, go to Comics2Film.com. LUKE PERRY: In an interview following a special preview of "Jeremiah" on Feb. 21, Luke Perry told SCI FI Wire that Jeremiah will push the limits of cable television's standards. The two-hour pilot features, among other things, female nudity, four-letter words, violence, torture and sexual situations. Read more over at www.scifi.com. Jeremiah debuts with a two-hour pilot at 8 p.m. ET/PT on March 3 before moving to its regular Friday timeslot on March 8. JEREMIAH: Joe gave us a run-down the other day of upcoming episodes on Jeremiah. What some people may have noticed is that Luke Perry & Jason Priestley (both from Beverly Hills 90210) will be back together again for an upcoming episode! Malcolm-Jamal Warner talks about the episode -- and the series over at www.scifi.com. Want to help promote the new JMS series Jeremiah? Go to www.jeremiahdepot.com and pick up a banner (see above) or photos or videos (as they become available). They have a lot of items that will enrich a site and provide useful information -- and give you a chance to win a cameo role on the show! Check out the contest. Play the game. As the premiere of Jeremiah approaches, JMS has posted a lot of information about the show, giving information about upcoming episodes, etc. I've included the entire post on the Jeremiah Page for your viewing pleasure. Looks like we will be in for quite a ride! JMS talks about Jeremiah over at http://www.comics2film.com/StoryFrame.php?f_id=292. JMS promises that Jeremiah is something different. "This is, I think, overall, a much darker show, a much more serious show" (than Babylon 5). Over at Comics2Film.com you can read a bit more about Jeremiah. Based on a comic by Hermann Huppen, Jeremiah takes place in a world where a virus wiped out every adult. Now, 15 years later and Jeremiah and Kurdy make their way through a chaotic world looking for Valhalla. The Jeremiah website has grown signficantly over the past few days. You can now see a brief video of the show along with a series of new images from the set. Soon, an interview with JMS, Luke Perry and Malcolm-Jamal Warner about the new show. Luke Perry will be on-line to chat with fans after the premiere. Stay tuned for more details on that.
---
Over at MGM's Jeremiah site, http://stage.mgm.com/scifi/02feb/strac.html, JMS talks about the series which premieres next month. Luke Perry, who portrays Jeremiah in this upcoming JMS series, recently talked to TV Guide Online about the series. Perry (Beverly Hills 90210) and Warner (Cosby Show) play street orphans in a post-apocalyptic world "Well, it's just hard to keep up the hygiene in the world of Jeremiah," he said with a chuckle. "There's no running water or soap. Occasionally, I get to shave with a straight razor. It's like Survivor, only nobody's getting voted off this thing."
---
TECHNOMAGE TRILOGY
Do you have burning questions that only the author of the fantastic Technomage Trilogy can answer? Author Jeanne Cavelos is making it very easy for you to get those answers. Drop her a line at jcavelos@sff.net and she will either answer your question directly or include it in her upcoming newsletter if she thinks the answer is something other people would enjoy reading about. Drop over to her website at http://www.sff.net/people/jcavelos as well. Jeanne is always working on something interesting and she enjoys interacting with readers.
---

LEGEND OF THE RANGERS CREDITS: If you are like me, you die every time the ending credits roll -- only because you can't read a thing. SCIFI has a remedy for that. Go over to www.scifi.com/b5rangers and you will find ALL the credits listed. Thanks SCIFI.

SCIFI did a wonderful job of providing us with a great deal of information on the cast and crew for the "Legend of the Rangers" movie. Be sure to check out www.scifi.com/b5rangers. You will find digital trading cards for David Martel, Sarah Cantrell, Citizen G'Kar, Malcolm Bridges, Na'feel, Tirk and Dulann. There are short videos and interviews. Don't miss the feature about Mark Savela, visual-effects supervisor from GVFX and the interview with director Mike Vejar.

In the gallery, you'll find photos of the cast, some great behind-the-scenes pics and some desktop graphics you can use on your PC. Chat transcripts for all cast members, Dylan Neal, Alex Zahara, Dean Marshall, Warren T. Takeuchi, Myriam Sirois and Enid-Raye Adams are all available as well.

Go to Ranger Page for more information on the ratings and letter writing campaigns.
---
THIS WEEK'S DISCUSSION TOPIC:
Now that we've discussed some of the books you are reading, let's look at the people behind them. Who do you think is the best science fiction writer -- either now or ever? Why?

Send your thoughts to TheZocalo@aol.com or b5web@aol.com. I'll add your notes to the Discussion Page.
RANGER ALERT
Ranger John has sent along the following message:

I just bought a SIGNED copy of Bruce Boxleitner's book "Frontier Earth: Searcher" for $11.97 at www.bookcloseouts.com. I also used a coupon ($5 off $25 purchase). Coupon name valentine; coupon password cupid.

Thanks John. The book is a good one -- and signed too. Would make a terrific Valentine's gift!
KEEPING UP WITH CAST AND CREW
GARY COLE: The Hollywood Reporter indicates that Tim Curry and Gary Cole are set to star in the WB's remake of "Family Affair" from Turner TV and Pariah.
---
BABYLON PARK: GRUDGEMATCH Many of you have seen this parody of Babylon 5 at conventions featuring Jeffrey Willerth (one of the producers). Well, it has won the prestigious Telly Award for animation. You can read more about the Telly Awards at www.tellyawards.com. Congratulations Jeffrey!
---
CLAUDIA CHRISTIAN: Over at http://www.scifi.com/sfw/advance/07_sound.html you can read about Claudia's latest venture -- a production entitled "Area 51". Claudia and up-and-coming British actor Matt Rawle, offer a stimulating sonic "sneak preview" of the stirring SF tale written by playwright Daniel O'Brien.
---
JEFFREY WILLERTH: Along with his work at the Animal Planet, Jeffrey (Kosh from B5) been shopping around a new TV series. To get more on this project, visit www.blackvault.com. Jeffrey promises a sneak peek soon.
---
BABYLON 5/CRUSADE CHRONOLOGY
A number of you have written to ask about having an index of the chronology published thusfar. Terry has given permission for this so I'm working on it. You can now find the index to the timeline published thusfar at B5 Chronology Index .

Terry Jones created a FANTASTIC Babylon 5/Crusade Chronology that was published in the Official Babylon 5 magazine. He has not stopped with the end of the series though. He has included items from the latest novels as well as things from the Crusade series. Here's a note from Terry to tell you all about it.

To look at the timeline in a different way, I have been working with Terry Jones on personal chronologies for the Babylon 5 universe. At The Galactic Gateway you will fine Parts 1-4 of the chronology for John Sheridan along with Part 1 for KOSH. Others will follow. I hope you will visit GG and give the chronologies a look.

Terry has provided a new segments of the Babylon 5 Chronology The Coming of Shadows.
NEW BABYLON 5 CARD SET
Rittenhouse Archives and www.scifihobby.com are pleased to announce the addition of 6 trading cards based on the all-new "Babylon 5: Legend of the Rangers" TV movie to the upcoming "The Complete Babylon 5" trading card series. The 6 cards will feature images and characters from the TV movie and will be used as box toppers (1 per box) in the all-new card series due out in March.

"The Complete Babylon 5" features complete synopses of all the episodes in the show's 5-year run, and includes nearly 1,000 never-before-published photos. Many of these photos will depict some of the show's most dynamic CGI space images. The trading card series will also feature 2 autograph cards and 1 costume card in every box. Autographs include Michael O'Hare (Jeffrey Sinclair), Andrea Thompson (Talia Winters) and a double signed card of Bruce Boxleitner (John Sheridan) and Melissa Gilbert (Anna Sheridan). Boxleitner and Gilbert are married in real life (and in the show). Costume cards include materials worn by Boxleitner, Jerry Doyle (Garibaldi), Peter Jurasik (Londo Mollari), Andreas Kastulas (G'Kar), Rick Biggs (Dr. Franklin) and Claudia Christian (Susan Ivanova).

More details are available at www.scifihobby.com.
NEW BOOKS COMING OUT
Don't Panic: Douglas Adams & The Hitchhiker's Guide to the Galaxy. Neil Gaiman (Sandman, American Gods) who, with full cooperation with the late Adams, wrote this tribute to his life and the series that made him famous — The Hitchhiker's Guide to the Galaxy!




The Nuts and Bolts of Comics. What does it take to make a great comic? One that's sure to stand out in the crowd. It's takes more than just mind-boggling computer graphics to make a comic a killer. That's what you'll learn in the Panel Discussion TP, which covers all aspects of the design of comics, from pacing, story flow, and word balloon placement, to using color to convey emotion, spotting blacks, and how gutters between panels affect the story! Learn from Will Eisner, Walter Simonson, Mike Mignola, Dick Giordano, Brian Stelfreeze, and others about what it takes to make a book that rocks. Look for it in the Magazines section of Previews!
SCI FI PUBLICATIONS
A number of magazines this month have features on "Jeremiah" - JMS' new series on Showtime. I'll catch this section up this weekend, but don't forget to check the newstands. Starlog this month has a good article on the series.
Comics Continuium: In this premiere issue, you'll find all you wanted to know about upcoming film and TV projects. In this issue, you'll find the Spider-Man movie, set visits to Smallville, Jeremiah, and Witchblade, and an inside look at X-Men: Evolution.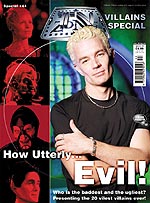 TV Zone #44: Villains are the focus of this special edition of TV Zone. Inside you'll find Scorpius, Gul Dukat, Spike, our own Bester and Mr. Morden. One irony in this issue -- you'll learn more about Kevin Smith as Ares.
TV Zone #148: This month's issue has a variety of coverage, including Farscape, Enterprise, and Stargate. Also included are reviews for a number of shows, including Angel, Legend of the Rangers, Smallville and Stargate (including the final five episodes). Read about the DVD adaptation of the Hound of the Baskerville, starring Peter Cushing.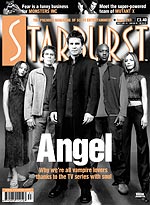 Starburst #283: ANGEL is the subject of a couple of magazines this month! In this issue, you'll see behind-the-scenes and get an assessment of the series -- from best to worst episodes. Also in this issue, you'll find interviews with Victoria Pratt, Forbes March, Lauren Lee Smith and Victor Webster from Mutant X.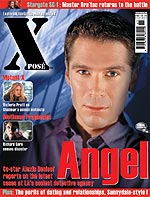 Expose #65: Alexis Denisof, Wesley from Angel, looks back over the changes his role has had over the last year. Tony Amendola talks about his role as master Bra'tac on Stargate SG-1. Victoria Pratt talks about her hesitation before leaping into the role of Shalimar Fox on Mutant X. Also this month, see how it feels for Marc Singer to return to Beastmaster after a 20 year hiatus!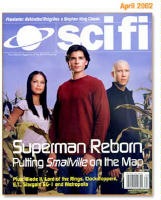 The second issue of Sci-Fi Magazine focuses on Smallville, the new Superman series on the WB. Also get the low-down on SCIFI's new Firestarter series -- that premieres on March 10.
CULT TIMES #77 – Buffy's Sarah Michelle Geller is on this month's issue. Inside you'll find articles on Michael Shanks as he leaves Stargate SG-1; Dominic Keating from Enterprise, Farscape's Ben Browder looks back on the third season, and there are interviews with JC MacKenzie from Dark Angel and Victor Webster from Mutant X.
Cinefantastique #34: Though the cast of Voyager adorns the cover, "Legend of the Rangers" captures several pages in this issue. Frank Garcia talks to the cast about joining the Babylon 5 universe and Alex Zahara tells us what it was like becoming Dulann. Also in the issue are articles on William Shatner, Eugene Roddenberry (Gene's son), and SCIFI's new EXPOSURE.







SCI-FI SCHEDULE
BABYLON 5's Schedule: Airing at 5pm ET on SCIFI
March 21 Mind War
March 25 War Prayer
March 26 And the Sky Full of Stars
March 27 Deathwalker
March 28 Believers
BABYLON 5/CRUSADE PHOTOSHOP
NEW PHOTOS
You do NOT have to pay the prices asked for over at e-bay! Here are photos of B5 and Crusade cast members at fantastic prices. Check out Photo Shop. Ordering is easy -- and you can't beat the prices! Just let me know which photos you want and I'll check to make sure they are still in stock.
---
NEW BABYLON 5 TOONS
John Cook has a new cartoon contest going. Try your hand at a punch line.



READER DIRECTORY
Sometimes you just can't find the e-mail address for someone you know you have -- it's someone who responded to a discussion topic or you met in one of the chat rooms. You'd like to send a personal note, but .... No address!!!!

We've started a White Pages of Zocalo Readers! It's a handy way of keeping track of people -- and putting together a birthday/greeting card list as well. If you would like to be part of the listing, just send me your name, state, e-mail address and (if you'd like to have it listed) birthday (without year) to sgbruckner@aol.com. Check out the Directory of Readers.

HAPPY BIRTHDAY TO YOU!

Name: Connie Colvin
State: New York
E-mail address: CCB5Flamekeeper@aol.com
Birthday: March 4

Name: Lance Coviello
State: North Carolina
E-mail: EsperFF3@aol.com
Birthday: March 3

Name: Helen Cripe
State: Delaware
E-mail address: cripehl@itrcorporation.com
Birthday: March 2

Name: Melvin Good
State/Country: Cambridge, England, United Kingdom
E mail address melvin-good@lineone.net
Birthday 18 March

A special HAPPY BIRTHDAY to Connie & Helen -- two of our readers who contribute a great deal to our discussion topics.
BABYLON 5 REFERENCE PAGES
The Official Babylon 5 Magazine is indexed here as well. With the closure of the magazine in May, you'll want to see which magazines you have -- and which ones you will want to collect. The index may help you make a decision on which ones to choose. The Fan Club has many of the issues at thestation.com , making it very easy to complete your collection.

Universe Today -- the Babylon 5 Fan Club quarterly can also be found here. The index gives you a rundown of what articles were presented, what interviews published.

If you have magazines that have featured Babylon 5 or Crusade that are not listed, send along their issue number and a note to indicate what the article was about. It would be nice to have a fairly comprehensive listing of Babylon 5 publications here.

I have added a listing of all the Babylon 5 novels and now the B5 comic books to the reference page. If there are other items that you feel should be included, let me know.
MAILING LISTS
NW-B5
NW-B5 is a mailing list devoted to bringing critical information to the Vancouver Island, Lower Mainland, and Northern Washington areas. More specifically, anyone north of Seattle. B5 is broadcast on SPACE:TIS in Canada, and Sci-Fi channel in the US. By subscribing to nw-b5, you'll be able to know info bringing you up to date on the current scheduling and events happening in the community related to B5. You'll also be subscribed to the list itself, which means that you'll receive email when there is a scheduling change or critical information needs to go out to you (for example, if we need to start another mailing campaign).

For further information, see http://www.nw-b5.com
John Francis
Webmaster, Listowner, and Co-Moderator
mailto:nw-b5@iname.com

Reports of "The Gathering" are beginning to turn up on the list. John posted a mini-report, with photos, over at http://www.geocities.com/jnf.geo/nw-b5/gathered.htm#0501. You may want to check it out. It was a terrific event in which JMS showed clips from "Legend of the Rangers". Most of the cast was in attendance -- a great group of individuals.
BABYLON 5 DISCUSSION LIST
The Babylon 5 discussion mailing list is for any and all discussions and/or news pertaining to or related to Babylon 5 and/or Crusade. The list has been in existence for the past three years now, and has recently moved. The new location is http://lists.apparition.org/cgi-bin/lyris.pl, and you can subscribe by sending a blank e-mail message to join-babylon_5-l@lists.apparition.org.
THE GALACTIC GATEWAY
Here's a unique site for you! Jeffrey Willerth, Patricia Tallman, Mira Furlan, Claudia Christian, Robin Atkin Downes, Rick Biggs, Jerry Doyle, Bruce Boxleitner, Melissa Gilbert, Peter Jurasik, Bill Mumy and Carrie Dobro are under it's umbrella. Actors from other shows have joined the Gateway. Ted Raimi and Robert Trebor from Xena and Hercules are now at GG. To subscribe to a mailing list for GG, send a blank note to thegalacticgateway-subscribe@egroups.com.
GATEWAY CHATTERS
There is never enough time to keep in touch with friends! To help out, a mailing list has been started for chatters over at the Galactic Gateway. If you are interested in joining, send a blank note to gateway-chatter-subscribe@egroups.com.
GATEWAY TRADER
Are you looking for a particular Babylon 5 collectible? Do you have some items you'd like to trade? Then this is the list for you. To join, send a blank note to gateway-trader-subscribe@egroups.com.
CALLING ALL ARTISTS
The Art Gallery at The Zocalo Today is open. There are SO MANY talented people in our Babylon 5 community. We have enjoyed works by Todd Brugman and Tye Bourdony on our toons page, but there are a host of others who enjoy drawing, painting, sketching their favorite characters. Here are a few works that have been received. I have some others that will be added soon.

If you would like to share your work with us at The Zocalo Today, please send along a digital photo of your work and I'll begin putting the gallery together. If you do not have your work in digital format, drop me a note and we'll see what we can work out.
CALLING ALL CLUBS
There are a number of fabulous Babylon 5/Crusade Clubs around the world. I'd like to begin listing them here on The Zocalo Today. Eric dropped me a note the other day providing information about a Club in France. I know there are other clubs in Brazil, Germany, Russia -- and who knows how many here in the US. Let's get a listing together. Perhaps we can share resources, even get together as we travel around. Drop the information about your Club to me at sgbruckner@aol.com or bruckner@isnnews.net. That information will be added to the new B5 Fan Club Listing.
BABYLON 5 FAN CLUB
Netter Digital filed for bankruptcy in July of 2000 and all their worldly posessions were auctioned off on December 7. The B5 Fan Club site, Thestation.com and it's store, the Emporium, has been closed.
BABYLON 5 NEWSLETTERS
If you have a newsletter you'd like to have listed at The Zocalo Today, send the information along. It will be posted on the B5 Fan Club/Newsletter page.

Ranger Shane in North Carolina sent in the following note about their "Jumpgate" newsletter.

Hey Sandy! Just wanted to give you an update on the NC B5 group's newsletter, Jumpgate. There's now a dedicated EMail address for submissions - jumpgatemag@bellsouth.net - and any submissions, solicited or un-, can be sent to this address. Also, issues are available for free download at the URL at the bottom of this message.

Jumpgate - The Newsletter of the North Carolina Babylon 5 Fan Club
Shane Killian, Editor
HELP WANTED
A new HELP WANTED section has been added to the Z. If you need help finding a comic book, getting a special item, etc. here's the place to post a note. Just send whatever help you need to thezocalo@aol.com.
---
BABYLON 5/CRUSADE CONVENTIONS
CONVENTION CALENDAR
Creation Convention
March 16-17, 2002
Place: Pennsylvania Hotel
Manhattan, New York, NY
B5 Guest: Carrie Dobro
For more information, visit their website at http://www.creationent.com.
---
10th Annual Grand Slam Star Trek Convention
March 22-24, 2002
Place: Pasadena Convention Center
Pasadena, CA
B5 Guest: Stephen Austin, Peter Woodward, Richard Biggs, Mira Furlan, Robin Atkin Downes,
Julie Caitlin Brown
For more information, visit their website at http://www.creationent.com.
---
Melbourne International Commedy Festival
March 28-April 2, 2002
Place: Various Venues
Australia
B5 Guest: Stephen Austin
For more information, visit their website at http://www.comedyfestival.com.au.
---
Defiant
March 29-31, 2002, London, UK
Location: Thistle Hotel, Heathrow (previously known as the Heathrow Park Hotel)
B5 Guest: Robin Atkin Downes

For more information, visit their website at http://members.aol.com/fabevent/ .
---
Slanted Fedora
April 4-6, Kansas City
Place: The Doubletree Hotel-Kansas City Phone for Hotel Reservations and Directions ONLY: (913) 451-6100
B5 Guest: Jerry Doyle
For more information, visit their website at http://www.sfedora.com/kansasMarch.htm.
---
Creation Salutes Star Trek, Xena, Sci-Fi TV and Film
April 6-7, 2002, San Francisco, CA
Place: Masonic Center
B5 Guest: Julie Caitlin Brown

For more information, visit their website at http://www.creationent.com/ .
---
CRUISE WITH JERRY
Can you imagine spending 7 days with Jerry Doyle? Well, Jerry invites YOU to cruise for 7 nights on the Maasdam (of Swain Tours) July 21-28, 2002, sailing roundtrip from Ft. Lauderdale to the Western Caribbean. Sun 7/21/02 Depart Ft Lauderdale Florida
Mon 7/22/02 At Sea - Private 2 hour seminar with Jerry
Tue 7/23/02 Cozumel, Mexico, Private 2 hour seminar
Wed 7/24/02 George Town, Grand Cayman
Thu 7/25/02 Montego Bay, Jamaica
Fri 7/26/02 At Sea - Private 2 hour seminar with Jerry
Fri 7/26/02 Exclusive Evening Cocktail party with Jerry
Sat 7/27/02 Half Moon Cay, Bahamas, conditions permitting
Sun 7/28/02 Ft. Lauderdale, Florida For more information, e-mail: Susan@Swaintours.com. . To receive Jerry's full color brochure, e-mail Susan@Swaintours.com. In the subject line please include: Jerry Doyle Brochure. Include the following information:
Name
Postal Address, City, State, Zip
Number of people traveling
Age range of guests Be sure to check the entire convention calendar for dates of events around the country. If you know of a convention that will host B5 personalities, drop me a line so that I can include the event on our calendar.
ZOCALO TRADING POST
Do you have extra copies of B5, Amazing Spiderman, Midnight Nation or Rising Stars comics you'd like to trade? How about those extra trading cards or B5 magazines? There are a lot of fans looking for these items -- and the Trading Post can help you buy or sell them. To see what's available, just use this link to the Trading Post. To have items included in The Trading Post, send a note to The Zocalo. Please put Trading Post in the subject line.
Pen Pals
If you are looking for someone to talk about Babylon 5 and Crusade with, the Pen Pal section is for you! Check it out! Drop a note to someone who is feeling B5 withdrawal -- BIG TIME!

People thought a Pen Pal page was a good idea. If you would like to meet people who you could chat with or share your opinions of the show with, send along your e-mail or snail-mail address The Zocalo. It will be incorporated on the new Pen Page Page.
BABYLON 5 BIRTHDAYS
Richard Biggs - March 18
Jesus Trevino - March 26
Ed Wasser - March 26 Have I missed anyone? If you know the birthday of someone connected with Babylon 5, pass the information along. We want to include everyone in our Happy Birthday Wishes.
MAIL FOR CAST AND CREW
Here's a recent note from JMS on the subject:

Just an FYI to those who've been using the Ventura Blvd. mail drop for fan mail to actors....

As mentioned before, we're phasing out the forwarding of fan mail because we a) don't have the resources, complicated by b) the actors have scattered to the four winds, and it makes it very difficult to get everything to everybody in a timely fashion.

So, having provided prior notice...fan mail to actors coming to the Ventura Blvd. mail drop will be sent back. Mail to actors should be sent via their official fan clubs. I will still be taking mail there, since it's my mailbox, but that's it.

Just so's y'all know and save a few bucks on postage and returns.

JMS' mail can be sent to:

14431 Ventura Boulevard, PMB 260
Sherman Oaks, CA 91423

WARNER BROS:

Warner Bros. Address:

Warner Bros. Domestic Television Distribution
4000 Warner Blvd.
Burbank, CA 91522

Warner Home Video:

Mr. Douglas Wadleigh
VP for Marketing and Special Features
Warner Bros.
4000 Warner Blvd.
Burbank, CA 91522
BACK ISSUES OF THE ZOCALO TODAY
The front page of the The Zocalo Today changes daily, so be sure to check the back issues to make sure that you haven't missed anything IMPORTANT! I don't want the front page getting too long so I shift information periodically into the archives. So if you aren't a regular visitor to The Zocalo Today, be sure to check out the back issues. Just use the button above!
---
Take care and I look forward to hearing from you.
Sandra Bruckner (sgbruckner@aol.com)
Editor/Publisher
The Zocalo Today
http://www.isnnews.net
Copyright - SBruckner, 2002