[an error occurred while processing this directive]

The Zocalo Today

Welcome! I am glad that you found The Zocalo Today and dropped by. Take your shoes off, get comfortable and stay a while. There is a LOT of information here and you won't want to miss any of it.

The Zocalo Today is an interactive newsletter, encouraging interaction with readers through a discussion topic each week. If you have suggestions as to how The Zocalo can be improved -- or be more responsive -- send them along. The Zocalo Today is as much YOUR newsletter as it is mine! I'm just pulling together things for you!

Join our weekly discussion topic. It is just one way you can interact with other Z readers. If you have other information you would like to share, send it along. If you see Babylon 5 cast and crew in other roles, let us know. We enjoy convention reports, photos, etc. Don't miss our back issues. I hope this will become more than just a newsletter. It's a community of people that enjoy sharing their experiences and interests. Don't be shy. Join us today!

If you have questions, drop me a line at sgbruckner@aol.com or thezocalo@aol.com. If you would like to join the mailing list for our bi-weekly newsletter, send me a note and I'll include you on the list. Or you can use the subscription block at the left.

Again, WELCOME!




What's New Today
Friday, March 7: JMS AND SQUADRON SUPREME: Someone over on the B5 moderated newsgroup asked JMS about his upcoming comic series SQUADRON SUPREME. Here is his response: "The first three scripts are in, have been for a while, and we're now well into pencils on issue two. The book is set to debut July 16th." Can't wait!!!
---
CHILDREN OF DUNE: This SCIFI original miniseries premieres on March 16 at 9:00pm ET. Director Greg Yaitanes shot John Harrison's 300-page script, adapted from Herbert's Dune Messiah and Children of Dune novels, over a period of nearly three months in Prague. Yaitanes studied earlier filmed versions of Dune, including SCI FI's Frank Herbert's Dune, which was directed by Harrison, and director David Lynch's 1984 feature-film version. "I definitely used John and Lynch's work as research, and as an opportunity to say, 'Here's what worked. How do we improve it? And here's what doesn't work. How do we change it?' But it's such different material. Dune was a very different experience; the two books used for this are very different from Dune."
---
I, ROBOT: Alan Tudyk, last seen as the pilot on Joss Whedon's FIREFLY, has been cast as the mechanical man in I, ROBOT. Tuduk's features and acting performance will be CGI-enhanced. The Hollywood Reporter describes Tudyk as being the "animation reference" for I, ROBOT's principal android character, Sonny -- to be played by Will Smith. Alex Proyas (THE CROW, DARK CITY) is directing from a script by Jeff Vintar, Hillary Seitz and Akiva Goldsman. Filming is scheduled to begin this May in Vancouver for a summer 2004 release.
---
ROAR: On April 2 at 10:00pm ET, SCIFI will begin airing 13 episodes of the short-lived series ROAR. Only 8 episodes were aired, so that leaves 4 new ones for viewers to enjoy. ROAR stars a young Heath Ledger and B5's Jason Carter was in a few episodes as well.
---
JAMES BOND 21: Preparation has already started for JAMES BOND 21. Lensing is set to begin as early as January of 2004. Pinewood Studios has been reserved for pre-preduction beginning in August.
---
INSIDE SCIFI THIS WEEK:
Thursday, March 6:
RIVERWORLD: SCI FI announced that RIVERWORLD, its original movie based on Philip José Farmer's Hugo and Nebula Award-winning novel series, will premiere at 9 p.m. ET/PT on March 22. Alex Proyas (The Crow and Dark City) makes his debut as an executive producer for television with the two-hour movie, co-produced by Tasman Films, Alliance Atlantis and Box TV. Riverworld is a mystical place where people from every historical era have been reborn young and healthy, from Rome's Emperor Nero to Mark Twain. Among them is Hale, a 21st-century American astronaut who emerges as the leader of a motley crew of souls. Brad Johnson (Always) stars as Hale and Kevin Smith (Xena: Warrior Princess) can be seen as Valdemar. This was one of his final roles.
---
HELLBOY: Revelation Studios has begun production in Prague on Guillermo Del Toro's live-action adaptation of HELLBOY, based on Mike Mignola's comic book. Six-time Academy Award winning makeup effects god Rick Baker has designed the look of Hellboy (being played by Ron Perlman) as well as the film's other creatures and unusual beings like aquatic merman Abe Sapien (played by Doug Jones). Scheduled for a summer 2004 release, the film will be released by Columbia Pictures.
---
THE FORGOTTEN: Variety reports that double Oscar contender Julianne Moore has signed on to star in this supernatural thriller. She'll play a grieving mother struggling to cope with the loss of her 8-year-old son — a boy her shrink says never existed.
---
Wednesday, March 5:
RATINGS: Top 10 SF Syndicated Shows: Andromeda 2.6; Mutant X 2.6; Stargate SG-1 2.1; The X-Files 2.3; Buffy 2.1; Beastmaster 2.0; 3rd Rock 1.8; Sabrina 1.5; The Outer Limits 1.2, and The Lost World 1.0. Source: Nielsen Galaxy Report, 2/3/03 - 2/9/03.
---
ENTERPRISE: Executive producers Rick Berman and Brannon Braga told TV Guide that they will make a "slight revision" in the show's course to make it more epic. Berman added, "Let's just say there will be a slight revision in our mission, and a slight revision in the part of space that Enterprise is heading into."
---
MUTANT X: Back when the MUTANT X TV series began, Fox sued Marvel, Tribune and Fireworks to stop production of the television show it claimed was a copycat of Fox's X-Men movie. Fox and Marvel Enterprises have now settled this long-running lawsuit . Variety reports that Fox has not settled with Tribune Entertainment, the syndicator, and Fireworks Entertainment, the producer and international distributor of the show.
---
BUFFY: The last new episode of BUFFY THE VAMPIRE SLAYER will air on May 20. UPN executives are working with Buffy creator Joss Whedon to develop a spinoff series that would use one or more Buffy characters.
---
SATURN AWARDS - FILM CATEGORY: CINESCAPE and The Academy of Science Fiction, Fantasy and Horror Films have announced the nominees for the 2003 Saturn Awards. In the feature film category, THE LORD OF THE RINGS: THE TWO TOWERS and MINORITY REPORT share a whopping 10 nominations, followed closely behind by STAR WARS: EPISODE II - ATTACK OF THE CLONES (six nominations), HARRY POTTER AND THE CHAMBER OF SECRETS (five nominations) and SPIDER-MAN (five nominations). A complete listing can be found at http://www.cinescape.com/0/editorial.asp?aff_id=0&this_cat=Movies&action=page&type_id=&cat_id=270338&obj_id=37872.
---
SATURN AWARDS: TELEVISION: If you thought the competition in the film category was tough, just look at the list of nominees in the television category. Leading the pack in total nominations are BUFFY THE VAMPIRE SLAYER and SMALLVILLE with a total of five each, followed closely behind by ANGEL, ENTERPRISE and TAKEN with four nominations. It is wonderful to see JEREMIAH among the Cable/Syndicated Series. The entire listing is at http://www.cinescape.com/0/editorial.asp?aff_id=0&this_cat=Television&action=page&type_id=&cat_id=270355&obj_id=37873.
---
FACES OF THE FUTURE: Along with the feature film nominees, CINESCAPE and The Academy of Science Fiction, Fantasy and Horror Films announced nominees for the 2003 Saturn Award for Face of the Future, an award that will be decided by fans who log onto www.cinescape.com and vote for their favorite up-and-coming talent. It is wonderful to see Nathan Fillion from FIREFLY on the list along with Emma Caulfield from BUFFY.
---
Tuesday, March 4:
ENTERPRISE: Over at TrekWeb, there is spoiler information about an upcoming episode, "Regeneration", the first Borg episode for the series. The episode is expected to run during May Sweeps.
---
SUPERMAN: For weeks, people have been suggesting new leads for the upcoming SUPERMAN movie by Brett Ratner. This morning, there was a piece suggesting that David Boreanaz from ANGEL had signed a three-picture deal. Not likely. Victor Webster, Brennan from MUTANT X, talked to Zap2It about going in for a test. "It's a personal accomplishment for me, no matter what happens." Asked what it entailed, he says, "Dress up in the suit; dress up as Clark Kent; stand in front of the camera." While he was reluctant to say too much, he did say, "It was very cool, no question about that at all. The script is excellent. Obviously, I can't go over the details of the script, but it's really well written. It's a great character movie with tons of action, but you really feel for the characters. There's no campiness in this movie whatsoever, no campy humor, no goofy humor. This is a very serious action-drama."
---
CONAN: Sounds like Arnold Schwarzenegger is getting ready for his upcoming KING CONAN movie. He will begin a new 2.5 hour workout routine to put on much more muscle! No start date for filming yet, but he wants to be ready.
---
ANDROMEDA: Lexa Doig is interviewed over at Prevue Magazine. She talks about her role and working on the ANDROMEDA set.
---
Monday, March 3:
RATINGS: Top 10 SF SCIFI Channel Programs: Stargate SG-1 1.9; It, Part 2 1.4; Flintstones, Viva 1.4; It, Part 1 1.4; Farscape 1.3; Casper 1.3; Tracker 1.2; Meteor 1.2; Indy Last Crusade 1.2, and Antibody 1.1. Source: Nielsen Galaxy Report, 2/3/03 - 2/9/03.
---
MERIDIAN: According to The Hollywood Reporter, CrossGeneration Comics is looking to bring its monthly fantasy comic-book series and graphic novel MERIDIAN to the big screen as a computer-animated feature. They have brought in screenwriter Bob Gale to adapt the material.
---
BATTLESTAR GALACTICA: The Hollywood Reporter indicates that Oscar-nominated actor Edward James Olmos is in final negotiations and Oscar-nominated actress Mary McDonnell is set to star in SCI-FI's upcoming BATTLESTAR GALACTICA. Olmos will portray Commander Adama, the role played by Lorne Greene in the original show. McDonnell will play the president of the futuristic society.
---
WEEKEND BOX OFFICE: Jet Li's latest took over the #1 spot this week. CRADLE 2 THE GRAVE brought in $17.1 million. Part hip hop flick mixed with superb martial arts, the action adventure features Li as a Intelligence Officer who helps a gang leader (DMX) go after the evil folks who kidnapped his daughter. OLD SCHOOL came in at #2 with $13.9 million and DAREDEVIL was #3 with $11.0 million for the week's cinematic money honors. Rounding out the top five were HOW TO LOOSE A GUY IN 10 DAYS with $10.1 million and CHICAGO with $8.1 million.
---
24: Fox has already announced the renewal of a third season for 24. The series is up 26% in the Adults 18-49 category.
---
Sunday, March 2:
STEPHEN AUSTIN: Just got a note from Stephen (the Pak'Ma'Ra Ambassador from B5) that he will be attending Galaxy Con next weekend. Stephen is a very funny guy and he'll be joining some cast members from Farscape, Earth: Final Conflict and many more. If you are in the neighborhood, you might want to check it out.
---
RISING STARS: I picked up #1 of the new RISING STARS collection by Fiona Avery. The first issue is entitled BRIGHT.
---
Saturday, March 1:
MAD MAX 4: Production for the fourth installment of the Mad Max series - MAD MAX: FURY ROAD, was set to begin in Namibia in July. Given unsettled conditions in the area, production has been postponed until the fall. "Any time you do a show like this, it is a massive undertaking with enormous prep time," Jim Gianopulos, chairman of Fox Filmed Entertainment, told Variety. "In this case, it is about the movement of huge vehicles and a mass of people, and with the pending war and all the potential logistical consequences, we had the latitude to wait and let some of this stuff blow over before going into full-bore production. What we do have firmly in place is Mel (Gibson) and George (Miller - writer/director)." Fox had penciled in a tentative summer 2004 release date, but Gianopulos said the studio won't know if the film can keep that date until an actual start date is set.
---
WIND IN THE WILLOWS: Variety reports that director Guillermo del Toro (Blade II) will co-write and may direct a live action and CGI animation version of the children's classic THE WIND IN THE WILLOWS. The film will be made under the auspices of the Walt Disney Co. Del Toro is currently working on HELLBOY and he is co-writing an adaptation of the H. P. Lovecraft classic AT THE MOUNTAINS OF MADNESS with WILLOWS writing partner Matthew Robbins.
---
STAR TREK: NEMESIS: NEMESIS is set to hit stores on May 20 in both video and DVD. The extras on the DVD include seven deleted scenes; a commentary by director Stuart Baird; four brand-new featurettes titled "New Frontiers: Stuart Baird on Directing Nemesis," "A Bold Vision of the Final Frontier," "A Star Trek Family's Final Journey" and "Red Alert! Shooting the Action of Nemesis"; plus a photo gallery. The DVD is presented in full-screen version and in widescreen format enhanced for 16:9 televisions. Both DVD and VHS feature Dolby Digital English 5.1, English Dolby Surround and French Dolby Surround, and both versions are closed-captioned and sub-titled for the hearing-impaired.
---
SMALLVILLE: Second season SMALLVILLE trading cards will be released in October. Autographs cards will be featured.
---
MUTANT X: Seth Howard of Tribune Entertainment announced that home releases of MUTANT X from ADV Films will feature commentary from the series' stars. ADV Films on Friday announced the acquisition of home distribution rights for Mutant X. "The commentary for the first episode, 'The Shock of the New,' is provided by (director) T.J. Scott, Victor Webster and yours truly," Howard said. "T.J. and Victoria Pratt provide the commentary for 'Fool For Love.'" A release schedule has not yet been determined. Howard said, "We are also trying to put on a behind-the-scenes documentary that was directed by Jake Shea, John's very talented son."
---
ANGEL: Over at Comics Continuum you will find new images released by the WB for "Orpheus," the March 19 episode of ANGEL, which guest-stars Alyson Hannigan from Buffy the Vampire Slayer. The episode was written by Mere Smith and directed by Terrance O'Hara.
---
WHAT'S ON TONIGHT
"John Doe" ("Psychic Connection") on Fox, 9:00pm - 10:00pm ET
After the bodies of several young girls are found buried in a Seattle park, the police enlist the help of John (Dominic Purcell), as well as a psychic who claims to know the whereabouts of another missing girl. As the two dig deeper into the investigation, the psychic's link to the case takes a shocking turn. "Monk" ("Mr. Monk Meets the Red-Headed Stranger") on USA Network, 10:30pm - 11:30pm ET
Maybe Willie Nelson should think about getting on that road again, especially when local police think that the country western superstar is a cold-blooded murderer. Nelson guest stars in this solid repeat as himself, accused of the murder of his crooked road manager. It's up to Monk (Tony Shalhoub) to save his friend before pulling out his clarinet for a touching duet with the red-headed stranger. Also on this fun episode, a major case involving a persistent streaker. On SCIFI Tonight: 7:00 PM
Dead Zone
Misbegotten
Johnny is spirited to a haunted house by three sexy kidnappers who want a murder that occurred within its walls solved. Instead, Johnny links one of the women to the killing. 8:00 PM
Farscape
We're So Screwed, Part 2: Hot to Katrazi
Part 2 of three. Moya's crew tries to spring Scorpius from captivity at Katratzi, where Scarrans are torturing him for information about the wormhole. 9:00 PM
Stargate SG-1
Memento
The only hope the SG-1 team has of returing to Earth is finding a mythical Stargate on a hostile planet where the Prometheus crashlanded after a power failure. 10:00 PM
Tracker
Breach
Government alien hunters capture Cole, who learns that Zin has created an artificial hyper-speed device.
NEW BABYLON 5 ROLEPLAYING GAME
Ranger Damon pointed me in the direction of http://gamingreport.com where they has been some comment on a new Babylon 5 Roleplaying Game. Matthew Sprange from Mongoose Publishing talks about what's ahead:

"Well, the news of the new Babylon 5 roleplaying game has certainly generated a lot of interest. We have all sorts of previews planned for you chaps on the run up the game's release at the end of May (it really isn't that long to wait!) but there have been a lot of questions raised about support for the game. Well, the Mongoose is not about to let you down over something as good as Babylon 5! Here is a sneak peek of what we have coming up over the next few months - this may be subject to some change. Books may get juggled about but you can be sure of at least one release per month this year for this game. "
DISCUSSION TOPIC
There have been a number of movies created using comic book characters as the central focus of attention. Do you feel these movies have been pretty faithful to the images projected on the page? Has their success helped the comic book industry gain some respectability? Send in your opinions to sgbruckner@aol.com or thezocalo@aol.com. I'll post the responses on the Discussion Page for everyone to share.
BABYLON 5 CHRONOLOGY
I've put up another wonderful segment of the Babylon 5 Chronology. This segment begins with 2249. Go to 23rd Century. I noticed that JMS used a section of Terry's chronology to answer a question the other day about Morden/Anna's trip over on the B5 moderated newsgroup. A BIG THANK YOU and note appreciation goes to Terry for taking the time (and considerable effort) to pull the chronology together -- and for updating it to include CRUSADE, the novels and other relevant Babylon 5 material. THANKS TERRY!
REVIEWS WANTED:
Reviews have begun to come in. See if your opinion of LORD OF THE RINGS matches that of Ranger Helen. Go to Reviews to see. Want to express your opinion? Just drop me a line and you too can see your name in lights. Read any good books lately? How about the movies. Did you like LORD OF THE RINGS, NEMESIS? Send along a review and share your thoughts with the readers here. Let's make one of our New Years Resolution one of staying in touch here at The Zocalo Today.
KEEPING UP WITH CAST AND CREW
PAT TALLMAN: Pat Tallman's JENNIFER IS DEAD will be playing at the Palm Beach Film Festival in early April. It is contending for a top award in the horror category. It will also be featured in Shriekfest 2003, aka the Third Annual Los Angeles International Horror/Science Fiction Film Festival and Screenplay Competition.
---
BILL BLAIR: Bill wore many faces while on Babylon 5. Bill is a recurring bit player on the TV series 'THE DIVISION', which airs Sunday nights on LIFETIME. He also just finished an episode of 'THE PRACTICE' where he had ' jury duty' .
---
ENID-RAYE ADAMS: Last night was a great two-for with TWILIGHT ZONE. Those of you who tuned in to see Bill Mumy in "It's Still A Good Life" hopefully caught Enid-Raye Smith in the same episode. Over at B5TV.com you can catch some pics of Bill and Enid from the episode.
---
CLAUDIA CHRISTIAN: "Anne Manx and the Trouble on Chromius" with Claudia Christian, Andy Hallett from Angel, and Paris Jefferson from Xena is now out. You can see the cover art, hear samples and buy copies from www.rrca.com.
---
BABYLON 5 BIRTHDAYS
Richard Biggs - March 18
Jesus Trevino - March 26
Ed Wasser - March 26 Have I missed anyone? If you know the birthday of someone connected with Babylon 5, pass the information along. We want to include everyone in our Happy Birthday Wishes.
READER DIRECTORY
Sometimes you just can't find the e-mail address for someone you know you have -- it's someone who responded to a discussion topic or you met in one of the chat rooms. You'd like to send a personal note, but .... No address!!!!

We've started a White Pages of Zocalo Readers! It's a handy way of keeping track of people -- and putting together a birthday/greeting card list as well. If you would like to be part of the listing, just send me your name, state, e-mail address and (if you'd like to have it listed) birthday (without year) to sgbruckner@aol.com. Check out the Directory of Readers.

HAPPY BIRTHDAY READERS

Here are some of our readers who are having birthdays this month:

Name: Connie Colvin
State: New York
E-mail address: CCB5Flamekeeper@aol.com
Birthday: March 4

Name: Lance Coviello
State: North Carolina
E-mail: EsperFF3@aol.com
Birthday: March 3 Name: Helen Cripe
State: Delaware
E-mail address: cripehl@itrcorporation.com
Birthday: March 2 Name: Melvin Good
State/Country: Cambridge, England, United Kingdom
E mail address melvin-good@lineone.net
Birthday 18 March Don't see YOUR birthday here? That's easy to remedy. Send your birthdate along to me and I'll post it with others in our directory.
BABYLON 5 DVDs
News on Season Two DVD:
Here is the rundown on the Season Two DVD of Babylon 5 from Warner Home Video. The acclaimed second season of this science fiction cult favorite is now available for the first time ever as a 6-disc DVD set. All 22 episodes have been digitally remastered to provide Dolby Digital 5.1 sound and widescreen format. Special Features:
Introduction by producer/creator J. Michael Straczynski and various cast members. 2 episode commentaries by producer/creator J. Michael Straczynski. Episode commentary by cast members Bruce Boxleitner, Claudia Christian and Jerry Doyle. Building Babylon: Blueprint of an Episode featurette. Shadows and Dreams: Honors of Babylon featurette. The Universe of Babylon 5 data/tech/personnel files. Babylon 5 Timeline. Original episode promos. JMS wrote this in the B5 moderated newsgroup recently:
Interviews for year 2's DVD have been set, or already conducted, with Stephen Furst, Andrea Thompson, John Iacovelli, Anne Bruice-Ailing, Jerry, Claudia, Bruce, me, John Copeland, Doug Netter and others. In addition, I'll be doing commentaries on "The Coming of Shadows" and "The Fall of Night," and there will be a bonus group commentary by Bruce, Claudia and Jerry on "The Long, Twilight Struggle." There's talk about a special musical sequence for the season 3 DVD, with Chris re-scoring 2-3 episodes end to end with non-stop music, future segments on "The Future According to Babylon 5" with NASA and JPL guys (btw, James over at a certain House subcommittee, if you're reading this and could drop me a note, that'd be great). I'd like to see the final bonus section on year 5 be about the fans of the show. Point being...they're putting a LOT of energy and work into this to make each set better than the one before.
COMIC BOOKS
Written by J. Michael Straczynski, art and cover John Romita Jr. and Scott Hanna.
Part 3 of a 3-part story.
32 pages, $2.25, in stores on May 21.
AMAZING SPIDER-MAN #50 - On sale February 20, 2003; Issue #49 is on stands now. COVER BY: Scott Campbell
WRITER: J. Michael Straczynski
PENCILS: John Romita Jr.
INKS: Scott Hanna THE STORY: At long last, it's the story you've been demanding: Peter Parker and Mary Jane make the big decision!
NOVELS
Farscape: The Illustrated Season 4 Companion
by Paul Simpson and Ruth Thomas Featuring a foreword from Farscape star Ben Browder (Crichton), Farscape: The Illustrated Season 4 Companion offers unprecedented access to the show's stars and production team, taking an exclusive, detailed tour behind the scenes, complete with an episode guide to season four.
BABYLON 5 NOVEL
DelRey has reprinted one of the most popular Babylon 5 novels written! Jeanne Cavelos' novel SHADOW WITHIN is now at your book store or available through online ordering. If you haven't read the book already, now is your chance to own a copy. Here is the description of the novel from DelRey: The electrifying space epic continues as Anna and John Sheridan battle deadly foes at opposite ends of the universe. The dedication of the new Babylon 5 Station is fast approaching, and desperate enemies intend to see it end in catastrophe. The fate of the fledgling space alliance lies in the hands of John Sheridan, newly appointed captain of the spaceship Agamemnon. His orders are to stop the attack. Unless he first gets to the bottom of the near-mutinous behavior of the Agamemnon's unruly crew, Sheridan and his spaceship will share Babylon 5's doom. Time is also running out for his wife Anna, headed to Z'ha'dum aboard the Icarus. Young, beautiful, and brilliant, she was thrilled to be appointed chief science officer of the follow-up mission to this mysterious planet on the edge of the known universe, where artifacts rumored to hold stupendous powers have been discovered. But the offer she could not resist threatens to become a dark destiny she cannot avoid, for an unimaginable horror lies somnolent on Z'ha'dum–and the monstrous consequences of disturbing the sleeping evil will haunt every living thing in the cosmos. . . . Babylon 5 created by J. Michael Straczynski
SCI FI PUBLICATIONS
Cult Times #90: Smallville's Michael Rosenbaum and John Glover talk about being the dynamic father and son duo behing Luthercorp. Also in this issue, a look at JEREMIAH with co-producer Gregory Noveck. David Fury discusses his work on ANGEL and BUFFY and Dominic Keating talks about Malcolm Reed from ENTERPRISE.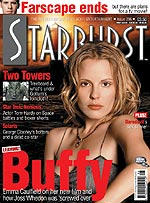 Starburst #296: Emma Caulfield talks about BUFFY and her new movie "Darkness Falls". Also in this issue Mark Steven Johnson talks about directing DAREDEVIL and George Clooney and Natascha McElhone talk about SOLARIS.
Expose #77: With word just having come about BUFFY ending, this issue may be special for fans as Marti Noxon reflects on what she accomplished with the series -- and what she wishes she would have done! Also Kristen Dalton talks about her character, Dana, in THE DEAD ZONE and Lauren Lee Smith discusses the changes ahead for her character on MUTANT X.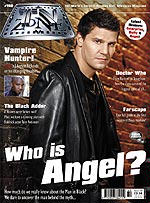 TV Zone #160: ANGEL has taken a number of twists and turns since first becoming part of our TV viewing schedule along with BUFFY. This issue brings you the history of Angel, along with an exclusive interview with J. August Richards - Gunn! Also inside, a full and comprehensive episode guide of FARSCAPE and a look at VERITAS.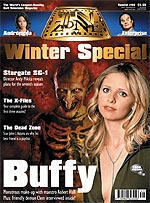 TV Zone Special #49: Make-up artists -- up close and personal! Genius Rob Hall from BUFFY is featured, along with Michael Westmore from ENTERPRISE and NEMESIS. Andy Mikita from STARGATE SG-1 talks about directing the latest episodes from season six. Also in this issue, Anthony Michael Hall talks about THE DEAD ZONE and the women of ANDROMEDA (Lexa Doig and Laura Bertram) talk about Andromeda and Trance.
BABYLON 5 BOOK OF QUOTES
For all those who submitted quotes and experiences to the Babylon 5 Book of Quotes, word from JMS is that the book, plus emails and suggestions, is being compiled now, and they're targeting February, the 10th anniversary of B5, for the publication date.
SCI-FI SCHEDULE
BABYLON 5 31-MAR-03 9:00 AM BABYLON 5 THE GATHERING -PT 1 STARGATE SCHEDULE: 06-MAR-03 1:00 AM STARGATE SG-1 2010
07-MAR-03 9:00 PM STARGATE SG-1 (LBX) MEMENTO
07-MAR-03 11:00 PM STARGATE SG-1 (LBX) MEMENTO
10-MAR-03 7:00 PM STARGATE SG-1 ABSOLUTE POWER
10-MAR-03 8:00 PM STARGATE SG-1 THE LIGHT
10-MAR-03 9:00 PM STARGATE SG-1 PRODIGY
10-MAR-03 10:00 PM STARGATE SG-1 ENTITY
10-MAR-03 1:00 AM STARGATE SG-1 ABSOLUTE POWER
11-MAR-03 1:00 AM STARGATE SG-1 THE LIGHT
12-MAR-03 1:00 AM STARGATE SG-1 PRODIGY
13-MAR-03 1:00 AM STARGATE SG-1 ENTITY
14-MAR-03 9:00 PM STARGATE SG-1 (LBX) PROPHECY
14-MAR-03 11:00 PM STARGATE SG-1 (LBX) PROPHECY
BABYLON 5/CRUSADE PHOTOSHOP PHOTOS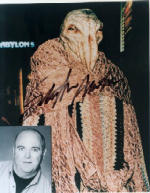 You do NOT have to pay the prices asked for over at e-bay! Here are photos of B5 and Crusade cast members at fantastic prices. Check out Photo Shop. Ordering is easy -- and you can't beat the prices! Just let me know which photos you want and I'll check to make sure they are still in stock.
---
BABYLON 5 TOONS
John Cook has a new cartoon contest going. Try your hand at a punch line.



BABYLON 5/CRUSADE CONVENTIONS
CONVENTION CALENDAR
Galaxy Con
March 7-9, 2003
Place: Baltimore, MD
BWI Airport Marriott
B5 Guest: Stephen Austin
Other Guests: Laura Bertram, Robert Leeshock, Von Flores, Lani Tupu (an many more)
For more information, visit their website at http://www.galaxycon.com.
---
Best of Both Worlds 18
April 19 and 20, 2003
Place: Sydney, Australia
B5 Guests: Mira Furlan, Claudia Christian
Other Guests: Marina Sirtis, Michael Hurst, Tony Amendola, Gil Gerard, Erin Grey
For more information, visit their website at http://www.bobw.com.au.
---
Vulkon
April 27-28, 2003
Place: Cleveland, Ohio
Other Guests: Robert Picardo, James Doohan, Alice Krige, David Carradine, Barry Morse, John Billingsley
For more information, visit their website at http://www.vulkon.com.
---
Be sure to visit our Convention Calendar for a full listing of upcoming conventions featuring Babylon 5, Crusade and Legend of the Rangers cast members as guests.
If you would like to share your convention experience with your other Zocalo readers, send along a convention report. I will gladly post it for all to read. Got pictures? I'll post those as well.
ZOCALO TRADING POST
Do you have extra copies of B5, Amazing Spiderman, Midnight Nation or Rising Stars comics you'd like to trade? How about those extra trading cards or B5 magazines? There are a lot of fans looking for these items -- and the Trading Post can help you buy or sell them. To see what's available, just use this link to the Trading Post. To have items included in The Trading Post, send a note to The Zocalo. Please put Trading Post in the subject line.
Pen Pals
If you are looking for someone to talk about Babylon 5 and Crusade with, the Pen Pal section is for you! Check it out! Drop a note to someone who is feeling B5 withdrawal -- BIG TIME!

People thought a Pen Pal page was a good idea. If you would like to meet people who you could chat with or share your opinions of the show with, send along your e-mail or snail-mail address The Zocalo. It will be incorporated on the new Pen Page Page.
MAIL FOR CAST AND CREW
Here's a recent note from JMS on the subject:

Just an FYI to those who've been using the Ventura Blvd. mail drop for fan mail to actors....

As mentioned before, we're phasing out the forwarding of fan mail because we a) don't have the resources, complicated by b) the actors have scattered to the four winds, and it makes it very difficult to get everything to everybody in a timely fashion.

So, having provided prior notice...fan mail to actors coming to the Ventura Blvd. mail drop will be sent back. Mail to actors should be sent via their official fan clubs. I will still be taking mail there, since it's my mailbox, but that's it.

Just so's y'all know and save a few bucks on postage and returns.

JMS' mail can be sent to:

14431 Ventura Boulevard, PMB 260
Sherman Oaks, CA 91423

WARNER BROS:

Warner Bros. Address:

Warner Bros. Domestic Television Distribution
4000 Warner Blvd.
Burbank, CA 91522

Warner Home Video:

Mr. Douglas Wadleigh
VP for Marketing and Special Features
Warner Bros.
4000 Warner Blvd.
Burbank, CA 91522

SCIFI:
Bonnie Hammer, President
Sci-Fi Channel
1230 Avenue of the Americas
New York, NY. 10020-1513

Mr. Thomas Vitale
Senior VP of Acquisitions, Scheduling & Program-Planning
BACK ISSUES OF THE ZOCALO TODAY
The front page of the The Zocalo Today changes daily, so be sure to check the back issues to make sure that you haven't missed anything IMPORTANT! I don't want the front page getting too long so I shift information periodically into the archives. So if you aren't a regular visitor to The Zocalo Today, be sure to check out the back issues. Just use the button above!
---
Take care and I look forward to hearing from you.
Sandra Bruckner (sgbruckner@aol.com)
Editor/Publisher
The Zocalo Today
http://www.isnnews.net
Copyright - SBruckner, 2002