[an error occurred while processing this directive]

The Zocalo Today

Welcome! I am glad that you found The Zocalo Today and dropped by. Take your shoes off, get comfortable and stay a while. There is a LOT of information here and you won't want to miss any of it.

The Zocalo Today is an interactive newsletter, encouraging interaction with readers through a discussion topic each week. If you have suggestions as to how The Zocalo can be improved -- or be more responsive -- send them along. The Zocalo Today is as much YOUR newsletter as it is mine! I'm just pulling together things for you!

Join our weekly discussion topic. It is just one way you can interact with other Z readers. If you have other information you would like to share, send it along. If you see Babylon 5 cast and crew in other roles, let us know. We enjoy convention reports, photos, etc. Don't miss our back issues. I hope this will become more than just a newsletter. It's a community of people that enjoy sharing their experiences and interests. Don't be shy. Join us today!

If you have questions, drop me a line at sgbruckner@aol.com or thezocalo@aol.com. If you would like to join the mailing list for our bi-weekly newsletter, send me a note and I'll include you on the list. Or you can use the subscription block at the left.

Again, WELCOME!




What's New Today
Friday, April 11: RATINGS: Top 10 SF Network Programs: Alias 5.7; Miracles 3.8; Veritas: The Quest 3.8; John Doe 3.2; Smallville 2.8; Angel 2.5; Charmed 2.0; Enterprise 1.8; Sabrina 1.8, and Buffy 1.7. Source: Nielsen Galaxy Report, 3/10/03 - 3/16/03.
---
SCIFI.COM: The SCIFI Channel website, SCIFI.COM, has proven to be a terrific initial jumping-off point for information on the science fiction world -- and to it's own productions. The site attracted 2.5 million unique visitors during March, matching the record it set in December 2002, during the airing of Steven Spielberg Presents Taken. Traffic to the site increased 40 percent over the previous two months, coinciding with the site's redesign. Popular sites include Frank Herbert's Children of Dune, Tremors: The Series, Farscape, Stargate SG-1 and Taken.
---
MATRIX RELOADED: The final trailer for MATRIX RELOADED is available at http://whatisthematrix.warnerbros.com/rl_cmp/trailer_final_frames.html. The special effects are awesome!
---
BUFFY: According to the Hollywood Reporter, BUFFY's co-star Nicolas Brendon has been added to Fox's comedy pilot "The Pool at Maddy Breakers."
---
THE HULK: If you were a fan of the original HULK series with Bill Bixby and Lou Ferrigno, you'll be happy to learn that Universal is a DVD of '70s TV version under the title: The Incredible Hulk: Original Television Premiere. The DVD will hit store shelves on June 3, 2003, with a special introduction by Lou Ferrigno, and a behind-the-scenes look into the making of THE HULK with director Ang Lee and stars Eric Bana and Jennifer Connelly
---
MUTANT X: New episodes begin this weekend. For a look at "Final Judgment", go to http://www.comicscontinuum.com/stories/0304/08/mutantindex.htm. Loads of spoiler information!
---
DEAD ZONE: There is a DEAD ZONE marathon aheaad! On April 13, USA will hold a marathon showing from 12:00 p.m. to 10:00 p.m., followed by the season's finale episode, "Playing God."
---
INSIDE SCI-FI THIS WEEK:
Thursday, April 10:
Top 10 SF DVD SALES: 1. Harry Potter Chamber; 2. Spirited Away; 3. Buffy, Season Four; 4. Miyazaki Three Pack; 5. Die Another Day; 6. Day the Earth Stood Still; 7. Futurama, Vol. 1; 8. Ghost and Mrs. Muir; 9. Roger Rabbit, and 10. Fellowship of the Ring. Source: Amazon.com, top-selling genre DVDs, 4/4/03.
---
SCARE TACTICS: This new SCIFI show is scaring up great ratings for the network. The April 4 one-hour series premiere came in with a 1.5 average rating (1.24 million housholds), becoming the most-watched non-news cable program for the night among viewers 18-49. With 1.37 million viewers in that age group, SCARE TACTICS' 10 p.m. telecast also become the channel's best-ever original series premiere in that demographic. The network also said that the show delivered more viewers aged 18-34 (556,000) in prime time than any other non-news show on basic cable for the night. New half-hour episodes of Scare Tactics will air in their regular 10 p.m. ET/PT timeslot, starting April 11. The show will be followed at 10:30 p.m. with a rebroadcast of the previous week's episode.
---
BUFFY THE VAMPIRE SLAYER: Want to see into the future? As BUFFY winds down toward the series finale, Comic Continuum has brief synopses of the last four episodes. Here are the titles:
"Empty Places," Tuesday, April 29
"Touched," Tuesday, May 6
"End of Days," Tuesday, May 13
"Chosen," Tuesday, May 20
---
SPIDER-MAN 2: Production on SPIDER-MAN 2 begins Saturday in New York. Director Sam Raimi has chosen New Zealand actor Daniel Gillies to star as Kirsten Dunst's love interest in the upcoming project. Gillies will portray John Jameson, an astronaut who woos Mary Jane Watson (Dunst), true love of Peter Parker (Tobey Maguire). After wrapping Spider-Man 2, Gillies will shoot "Head in the Clouds", opposite Charlize Theron, Penelope Cruz and Stuart Townsend, for director John Duigan. He also appeared in the Showtime series JERMIAH.
---
Wednesday, April 9:
RATINGS: Top 10 Syndicated Shows: The X-Files 2.3; Andromeda 2.2; Stargate SG-1 2.1; Buffy 2.0; Mutant X 1.9; 3rd Rock 1.7; Adventure Inc. 1.7; The Lost World 1.7; Beastmaster 1.6, and John Edward 1.3. Source: Nielsen Galaxy Report, 3/10/03 - 3/16/03.
---
FINAL CUT: Production is scheduled to begin in June for Lions Gate's SF movie FINAL CUT. Robin Williams will star in the project; set in a world where people are implanted with a chip that records their lives. Williams will play a Cutter, an individual who has final cut on the recorded history of his clients. When he discovers a window into his own dark history, it sets off a chain reaction that puts his life in danger.
---
GHOST RIDER: Variety reports that Mark Steven Johnson will direct GHOST RIDER for Columbia Pictures and that Nicolas Cage set to star. The movie is an adaptation of the Marvel Comics property that centers on a motorcyclist who inadvertently makes a pact with dark forces and must fight against them in order to protect the woman he loves. Production is scheduled for late 2003 or early 2004. Producing are Johnson's partner in Horseshoe Bay Prods., Gary Foster, with Marvel principal Avi Arad and Crystal Sky's Steven Paul.
---
Tuesday, April 8:
BABYLON 5 DVD REVIEW: Though the DVD has been out for a while, there is a marvelously complete review of the set over at http://www.cinescape.com/0/editorial.asp?aff_id=0&this_cat=Video+%26+DVD&action=page&obj_id=38139. I found myself agreeing with almost every point, including the need for more commentaries. But I think JMS and WB did a terrific job and can't wait to see what the second season DVD will be like.
---
BEST SELLING SF BOOKS: 1. Harry Potter and the Order of the Phoenix; 2. Armageddon (Left Behind 11); 3. Da Vinci Code; 4. Cerulean Sins; 5. Lovely Bones; 6. Holes; 7. Angels & Demons; 8. Hobbit/Rings box set; 9. Halo: The Flood, and 10. Kushiel's Avatar. Source: Amazon.com, 4/4/03.
---
KING KONG: While the original KING KONG movie showed the colossal ape ripping through New York, Peter Jackson's upcoming remake of the classic will duplicate New York scenes on New Zealand sets. Jackson told the New Zealand Dominion Post newspaper that he would construct 1930s-era New York sets on a paddock on the outskirts of Wellington. "We'll just find some flat land and build a big back [lot] set of New York streets and then use our computers to extend the buildings, make the streets longer and the buildings higher." Two-thirds of the film is set on Skull Island, so location scouts are currently looking for jungle-type locations and beaches around the country. Shooting is slated to start in mid-2004, with a release in 2005.
---
ALIAS: Dark Horizons reports that David Carradine will appear on the April 27 episode of ALIAS, playing a mysterious monk with information on the Rambaldi prophecies. Given Carradine's past exploits as a mysterious priest in the KUNG FU TV series years ago, it should be interesting.
---
X-MEN 2: Comics Continuum reports that on Tuesday, April 15 at 3 p.m. (ET), the official X2 site will stage a "Live Global Video Chat" with director Bryan Singer and members of the cast. Release of the movie is slated for May 2.
---
CLEOPATRA 2525: Beginning on April 11, SCIFI will begin showing repeats of Cleopatra 2525, replacing Adrian Paul's Tracker.
---
SEVEN DAYS: Speaking of repeats, TNN has picked up SEVEN DAYS, the UPN series that ran for three seasons. It will begin airing on April 14 in the 3pm to 6pm slot with Star Trek the Next Generation and Highlander.
---
ROBIN HOOD: If you enjoyed Kevin Cosner as Robin Hood in the 1991 movie, you'll not want to miss this upcoming special DVD. The WB announced that on June 10, a special two-disc set will be released, including twelve never-before-seen minutes of footage plus additional bonus material. The movie is in widescreen format and feature a new Dolby Digital 5.1 Surround sound track. Two separate commentary tracks will be included, one by director Kevin Reynolds and actor Kevin Costner and one featuring actors Morgan Freeman and Christian Slater and writers/producers Pen Densham and John Watson. Interviews with the cast members, a weapons gallery, an art gallery and a featurette hosted by Pierce Brosnan will also be included. The suggested retail for the set is $26.99.
---
Monday, April 7:
RATINGS: Top SCIFI Channel Shows: Children of Dune, Pt. 1 2.8; Dune, Pt. 3 2.0; Dune, Pt. 2 1.7; Stargate SG-1 1.7; Dune, Pt. 1 1.2; Children of Dune, Pt. 1 1.1; Farscape 1.2; Congo 1.1; Indy Last Crusade 1.0, and Tracker 0.9. Source: Nielsen Galaxy Report, 3/10/03 - 3/16/03.
---
WEEKEND BOX OFFICE: PHONE BOOTH from 20th Century Fox brought in an estimated $15 million to debut in first place. Warner Bros. Pictures' WHAT A GIRL WANTS was second with an estimated $12.1 million and New Line's A MAN APART scored the third slot with an estimated $11.15 million. Last weekend's champ, DreamWorks' "Head of State," was down 35% in its sophomore session with an estimated $8.8 million and placed fourth. In the #5 spot, Buena Vista's BRINGING DOWN THE HOUSE brought down an estimated $8.5 million to carry the fifth spot. The Steve Martin-Queen Latifah starrer has amassed an estimated $111.3 million thusfar.
---
THE LAST SAMURAI: For those curious about Tom Cruise's THE LAST SAMURAI, there is a new trailer up at http://www.comingsoon.net/movies/l/lastsamurai.php. Set in Japan during the 1870s, "The Last Samurai" tells the story of Capt. Nathan Algren (Cruise), an American military officer hired by the Emperor of Japan to train the country's first army in the art of modern warfare. As the government attempts to eradicate the ancient Samurai warrior class in preparation for more Westernized and trade-friendly policies, Algren finds himself unexpectedly affected by his encounters with the Samurai, which places him at the center of a struggle between two eras and two worlds, with only his own sense of honor to guide him. This movie is set for release on December 5, 2003.
---
Sunday, April 6:
SLANTED FEDORA: A friend sent me a copy of a note Dave Scott of Slanted Fedora is mailing out to people. In essense, he is regrouping and developing a new five-year plan. Upcoming conventions in Kansas City, Chicago and Washington DC convention are being postponed for a few months so that he can get on sounder financial footing. If you haven't received a note from Dave, check the Slanted Fedora website at www.sfedora.com and see what he has coming up near you.
---
Saturday, April 5: THUNDERBIRDS: Bill Paxton will portray patriarch Jeff Tracy in the upcoming live-action adaptation of THUNDERBIRDS, a 1960s marionette series. He says they have retooled the project so that it is a live-action adventure and most of the story revolves around the youngest son of his character who wants to be a Thurderbird. Paxton is anxious about the possible "wooden" comments about his performance, but is looking forward to the 2004 release. Jonathan Frakes from Star Trek is directing; other stars involved with the project include Ben Kingsley as the Hood and Anthony Edwards as Brains.
---
MIRACLES: This show never really found an audience. After airing six episodes ABC has now decided to pull the plug. During the series' run, the combined Nielsen ratings only amounted to an average of 6.5 million viewers per episode. Created by screenwriter Richard Hatem (THE MOTHMAN PROPHECIES), the series was critically lauded by genre fans but ignored by mainstream audiences.
---
ANGEL/BUFFY: With the end of BUFFY THE VAMPIRE SLAYER approaching, there has been wide speculation as to whether some of the BUFFY cast will spin-off onto the ANGEL series. James Marsters, Spike, made mention of that prospect at a recent convention; Anthony Stewart Head, Giles, is also opening up that possibility for his character to move over. Head said. "I talked to one of the writers about it and said it might be quite fun to bring me over there. It's such an open book, and that's what makes it so exciting."
---
ANGEL: Over at Comics Continuum, you can find some new stills from the April 16 episode, "The Magic Bullet".
---
CRUSADE: SCIFI is bringing CRUSADE back for a brief run. Beginning May 1, SCI FI airs Crusade in a five-hour block from 11AM – 4PM ET/PT.
---
B5 CAST: I've just updated the B5 Cast In Other Roles page. Check it out. Gary Cole is in some new movies out -- One Hour Photo with Robin Williams and I Spy.
WHAT'S ON TONIGHT
"Force of Evil" (1948) on Turner Classic Movies, 9:45pm - 11:15pm ET
One of John Garfield's best films, this noir tale follows brothers who both deal on the shady side, with one wanting to get too big to suit the other. Garfield gives a complex performance as the lawyer who knows that evil is not better than good, but who can't seem to stay on the straight and narrow long enough to prove it. On SCIFI Tonight: 7:00 PM
Dead Zone
Playing God
Johnny (Anthony Michael Hall) learns that an old high-school friend will die unless he gets a heart transplant. While Johnny forsees the man will receive it in time, he's disturbed by the identity of the donor. 8:00 PM
Tracker
Love Cirronian
Searching for a pair of Orsians, Cole and Mel pose as a married couple at a couples retreat, where they learn things about their own relationship during the counseling sessions. "Tremors" ("Blast from the Past") on Sci-Fi Channel, 9:00pm - 10:00pm ET
All of the action centers around a visiting AssBlaster that must be captured alive by the odd residents of Perfection because the dangerous intruder is owned by famed magicians Sigmund and Ray. AssBlaster survival info: If you encounter one, feed it high calorie foods instead of yourself. Over-eating puts the beast in a coma. "Scare Tactics" on Sci-Fi Channel, 10:00pm - 10:30pm ET
Hosted by Shannen Doherty, this reality series is a hidden-camera show that turns fears into realities by placing ordinary people in situations inspired by science-fiction and horror films. Unfortunately for the players, they have no clue that their friends and families set them up. Tonight: With his friend watching, a man is pulled out of a restaurant after police find a dead body in his trunk. Also, an unsuspecting night laborer finds himself as the "last man standing" after a mysterious creature captures his co-workers one at a time.
UPCOMING CHATS
SCIFI.COM has a number of very interesting chats lined up. Here is the schedule: MICHAEL SHANKS
Wednesday, April 16, at 9PM ET, 6PM PT
Dr. Daniel Jackson returns to STARGATE SG-1 for season seven. JACQUELINE CAREY
Tuesday, April 22, at 9PM ET, 6PM PT
The author of the trilogy Kushiel's Dart, Kushiel's Chosen and the new Kushiel's Avatar won the 2002 Locus Award for Best First Novel for Dart. SEBASTIAN ROCHÉ
Thursday, April 24, at 9PM ET, 6PM PT
Most of you will remember him from Odyssey 5 on Showtime. However, he also plays evil sorcerer Longinus on Roar. For information on how to join a chat, go to www.scifi.com/chat.
CATCHING UP WITH JMS
While surfing through sites this morning, I pulled this from the JMS News site. It is a great catch-up on his projects: Q: Will we see more Babylon 5 and what are your new projects? To part one of your question, one never knows. To part two...season 2 of Jeremiah is just about finished in terms of production, and will go on the air sometime probably early or mid August. Spidey continues to come out regularly. My new comic, Supreme Power, also from Marvel, debuts July 16, with art by Gary Frank. Now that Jeremiah is done, I'll be turning my attention to finishing off Rising Stars. I have a new television series currently in development, we finalized the contract with the company last week, and we'll see where it goes. The director of Daredevil has said he wants to make Midnight Nation his next film, so we're taking meetings over the next few weeks to see if we can make that happen. Just finished the commentaries and interviews for the B5 Year 3 DVD set, and I think it's a bit better than the year 2 commentary I did, which I think kinda sucked. Year 2 comes out in April. I'm doing a new audio drama series which I can talk about more later. We should go into production as soon as I've finished the last of the scripts over the next week or so. I know there's some other stuff, but I've just forgotten it. (There may also be some strong interest in Polaris from another studio.)
JEREMIAH - SEASON TWO
Ranger Monica passed along the titles for the second season of Jeremiah. She runs a Jeremiah site and seems to have a lot of information on the series. You'll definitely want to bookmark this site to stay up to date on the series.

Letters from the Other Side - Part 1 and 2
Strange Attractors
Deus Ex Machina
Rights of Passage
The Mysterious Mister Smith
Voices in the Dark
The Road Not Taken
Trading Partners
Crossing Jordan
Running on Empty
The Question
Past
Interregnum One
State of the Union
CALLING ALL GRID EPSILON IRREGULARS
Wow, that's a term I haven't used in a long time! With the coming 10th anniversary of the airing of "The Gathering", Ranger Desi and other GEIs would like to get back in touch. The GEIs were the original fans of the show -- before there was a show. They gathered over on the old GEnie site and chatted with Joe and others about Babylon 5 before it hit the airwaves. If you are one of those lucky few -- an original GEI -- please go to http://worldsofjms.com/b5/gei.htm . If you would like to contact Ranger Desi, her e-mail is: dlcarroll@sc.rr.com.
DISCUSSION TOPIC
Here's a topic suggested by Ranger Helen -- and it's a very good one! Science Fiction conventions have fallen on hard times. A once thriving source of entertainment, has dwindled down to a precious few. What has been your convention experience? Are you still going to conventions? Has their time past or is the excitement still there for meeting personalities from TV/movies? Has it become too commercial a venture? Has the expense tarnished the experience for you? Send in your opinions to sgbruckner@aol.com or thezocalo@aol.com. I'll post the responses on the Discussion Page for everyone to share.
BABYLON 5 CHRONOLOGY
I've put up another wonderful segment of the Babylon 5 Chronology. This segment begins with 2249. Go to 23rd Century. I noticed that JMS used a section of Terry's chronology to answer a question the other day about Morden/Anna's trip over on the B5 moderated newsgroup. A BIG THANK YOU and note appreciation goes to Terry for taking the time (and considerable effort) to pull the chronology together -- and for updating it to include CRUSADE, the novels and other relevant Babylon 5 material. THANKS TERRY!
REVIEWS WANTED:
Reviews have begun to come in. See if your opinion of LORD OF THE RINGS matches that of Ranger Helen. Go to Reviews to see. Want to express your opinion? Just drop me a line and you too can see your name in lights. Read any good books lately? How about the movies. Did you like LORD OF THE RINGS, NEMESIS? Send along a review and share your thoughts with the readers here. Let's make one of our New Years Resolution one of staying in touch here at The Zocalo Today.
KEEPING UP WITH CAST AND CREW
ENID-RAYE ADAMS: You remember Enie as Firell from LEGEND OF THE RANGERS. She's landed a recurring role in JMS' JEREMIAH series for season two. She plays Gina.
---
BILL MUMY: Bill will be releasing his 5th solo CD in April on Renaissance Records. GHOSTS will be a compilation of songs (the best of) taken from the first four CD's plus a few brand new ones. The brand new songs include "Always Open", "Take it Back", "The Recalcitrant Princess" and "Just A Drop of Rain in the Ocean." Angela Cartwright from Lost in Space will design the package. The album will be available through Amazon.com and other internet sites as well as a few of the bigger stores.
---
RICHARD BIGGS: Ranger Jan reports that Richard Biggs gave out some very good news at MegaCon last week. He has landed a recurring role on SCIFI's TREMORS. He will also be coming back to STRONG MEDICINE.
---
PAT TALLMAN: Pat Tallman's JENNIFER IS DEAD will be playing at the Palm Beach Film Festival in early April. It is contending for a top award in the horror category. It will also be featured in Shriekfest 2003, aka the Third Annual Los Angeles International Horror/Science Fiction Film Festival and Screenplay Competition.
---
BABYLON 5 BIRTHDAYS
Christopher Franke - April 6
Maggie Egan - April 11
Tony Dow - April 13
Warren Takeuchi - April 19
Peter Jurasik - April 25 Have I missed anyone? If you know the birthday of someone connected with Babylon 5, pass the information along. We want to include everyone in our Happy Birthday Wishes.
READER DIRECTORY
Sometimes you just can't find the e-mail address for someone you know you have -- it's someone who responded to a discussion topic or you met in one of the chat rooms. You'd like to send a personal note, but .... No address!!!!

We've started a White Pages of Zocalo Readers! It's a handy way of keeping track of people -- and putting together a birthday/greeting card list as well. If you would like to be part of the listing, just send me your name, state, e-mail address and (if you'd like to have it listed) birthday (without year) to sgbruckner@aol.com. Check out the Directory of Readers.
BABYLON 5 DVDs
News on Season Two DVD:
Here is the rundown on the Season Two DVD of Babylon 5 from Warner Home Video. The acclaimed second season of this science fiction cult favorite is now available for the first time ever as a 6-disc DVD set. All 22 episodes have been digitally remastered to provide Dolby Digital 5.1 sound and widescreen format. Special Features:
Introduction by producer/creator J. Michael Straczynski and various cast members. 2 episode commentaries by producer/creator J. Michael Straczynski. Episode commentary by cast members Bruce Boxleitner, Claudia Christian and Jerry Doyle. Building Babylon: Blueprint of an Episode featurette. Shadows and Dreams: Honors of Babylon featurette. The Universe of Babylon 5 data/tech/personnel files. Babylon 5 Timeline. Original episode promos. JMS wrote this in the B5 moderated newsgroup recently:
Interviews for year 2's DVD have been set, or already conducted, with Stephen Furst, Andrea Thompson, John Iacovelli, Anne Bruice-Ailing, Jerry, Claudia, Bruce, me, John Copeland, Doug Netter and others. In addition, I'll be doing commentaries on "The Coming of Shadows" and "The Fall of Night," and there will be a bonus group commentary by Bruce, Claudia and Jerry on "The Long, Twilight Struggle." There's talk about a special musical sequence for the season 3 DVD, with Chris re-scoring 2-3 episodes end to end with non-stop music, future segments on "The Future According to Babylon 5" with NASA and JPL guys (btw, James over at a certain House subcommittee, if you're reading this and could drop me a note, that'd be great). I'd like to see the final bonus section on year 5 be about the fans of the show. Point being...they're putting a LOT of energy and work into this to make each set better than the one before.
COMIC BOOKS
FREE COMIC BOOK DAY Check out http://www.freecomicbookday.com/ to see what comics will be offered on May 3 - FREE COMIC BOOK DAY. Looks like there may be something for everyone -- from Archie to Batman.
BRIGHT
RISING STARS: BRIGHT #1
(W) Fiona Avery, (P) Dan Jurgens, (I) Jason Gorder.
"Mercy." In the hit series, Rising Stars, it is mentioned that at one time, Matthew Bright ran away from Pederson and, under an assumed name, became a member of normal society and a police officer. Join us as Matthew tells this story in his memoirs and learn how a Special can shine brightest when they're just being human. FC 32 pages $2.99 Part 1 of 3 . BRIGHT #2
(W) Fiona Avery (P) Dan Jurgens.
"Authority." Matthew Bright is still living under the assumed name of Brendan Miller, and making close friendships with Frank and Jess in the precinct, when a new serial killer case erupts in the NYPD. Matt really takes the case to heart upon discovering that the serial killer has Specials in mind whenever he causes new carnage in the streets of suburban New York. In the second part of three issues, Matthew's secret identity as Brendan Miller is about to be ripped from him and his true nature as a special is revealed. 32 pages, $2.99.
Written by J. Michael Straczynski, art and cover John Romita Jr. and Scott Hanna.
Part 3 of a 3-part story.
32 pages, $2.25, in stores on May 21.
BABYLON 5 NOVEL
DelRey has reprinted one of the most popular Babylon 5 novels written! Jeanne Cavelos' novel SHADOW WITHIN is now at your book store or available through online ordering. If you haven't read the book already, now is your chance to own a copy. Here is the description of the novel from DelRey: The electrifying space epic continues as Anna and John Sheridan battle deadly foes at opposite ends of the universe. The dedication of the new Babylon 5 Station is fast approaching, and desperate enemies intend to see it end in catastrophe. The fate of the fledgling space alliance lies in the hands of John Sheridan, newly appointed captain of the spaceship Agamemnon. His orders are to stop the attack. Unless he first gets to the bottom of the near-mutinous behavior of the Agamemnon's unruly crew, Sheridan and his spaceship will share Babylon 5's doom. Time is also running out for his wife Anna, headed to Z'ha'dum aboard the Icarus. Young, beautiful, and brilliant, she was thrilled to be appointed chief science officer of the follow-up mission to this mysterious planet on the edge of the known universe, where artifacts rumored to hold stupendous powers have been discovered. But the offer she could not resist threatens to become a dark destiny she cannot avoid, for an unimaginable horror lies somnolent on Z'ha'dum–and the monstrous consequences of disturbing the sleeping evil will haunt every living thing in the cosmos. . . . Babylon 5 created by J. Michael Straczynski
STARGATE SG-1 ILLUSTRATED COMPANION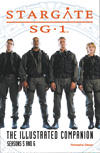 Featuring exclusive interviews with all the cast and crew, story synopses complete with extensive commentary, detailed behind-the-scenes information, and tons of photos, this volume stands as the official companion to seasons 5 and 6 of the hit television series, Stargate SG-1. If you are a fan of the series, you really do need this series of books. There's a lot of information about all the cast and characters.
SCI FI PUBLICATIONS
TV ZONE: In the recent issue of TV Zone (#161), JMS begins a series of articles on his Babylon 5 experiences. Unfortunately, the TV Zone website hasn't been updated lately.
---
Cult Times #90: Smallville's Michael Rosenbaum and John Glover talk about being the dynamic father and son duo behing Luthercorp. Also in this issue, a look at JEREMIAH with co-producer Gregory Noveck. David Fury discusses his work on ANGEL and BUFFY and Dominic Keating talks about Malcolm Reed from ENTERPRISE.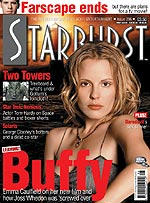 Starburst #296: Emma Caulfield talks about BUFFY and her new movie "Darkness Falls". Also in this issue Mark Steven Johnson talks about directing DAREDEVIL and George Clooney and Natascha McElhone talk about SOLARIS.
Expose #77: With word just having come about BUFFY ending, this issue may be special for fans as Marti Noxon reflects on what she accomplished with the series -- and what she wishes she would have done! Also Kristen Dalton talks about her character, Dana, in THE DEAD ZONE and Lauren Lee Smith discusses the changes ahead for her character on MUTANT X.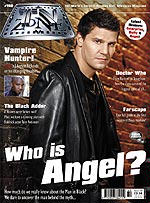 TV Zone #160: ANGEL has taken a number of twists and turns since first becoming part of our TV viewing schedule along with BUFFY. This issue brings you the history of Angel, along with an exclusive interview with J. August Richards - Gunn! Also inside, a full and comprehensive episode guide of FARSCAPE and a look at VERITAS.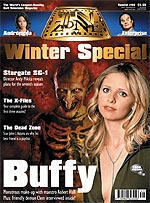 TV Zone Special #49: Make-up artists -- up close and personal! Genius Rob Hall from BUFFY is featured, along with Michael Westmore from ENTERPRISE and NEMESIS. Andy Mikita from STARGATE SG-1 talks about directing the latest episodes from season six. Also in this issue, Anthony Michael Hall talks about THE DEAD ZONE and the women of ANDROMEDA (Lexa Doig and Laura Bertram) talk about Andromeda and Trance.
BABYLON 5 BOOK OF QUOTES
For all those who submitted quotes and experiences to the Babylon 5 Book of Quotes, word from JMS is that the book, plus emails and suggestions, is being compiled now, and they're targeting February, the 10th anniversary of B5, for the publication date.
SCI-FI SCHEDULE
BABYLON 5 11-APR-03 9:00 AM BABYLON 5 (LBX) AND THE SKY FULL OF STARS
14-APR-03 9:00 AM BABYLON 5 (LBX) DEATHWALKER
15-APR-03 9:00 AM BABYLON 5 (LBX) BELIEVERS
16-APR-03 9:00 AM BABYLON 5 (LBX) SURVIVORS
17-APR-03 9:00 AM BABYLON 5 (LBX) BY ANY MEANS NECESSARY
18-APR-03 9:00 AM BABYLON 5 (LBX) SIGNS AND PORTENTS
21-APR-03 9:00 AM BABYLON 5 (LBX) TKO
22-APR-03 9:00 AM BABYLON 5 (LBX) GRAIL
23-APR-03 9:00 AM BABYLON 5 (LBX) EYES
24-APR-03 9:00 AM BABYLON 5 (LBX) LEGACIES
25-APR-03 9:00 AM BABYLON 5 (LBX) A VOICE IN THE WILDERNESS -PT 1
28-APR-03 9:00 AM BABYLON 5 (LBX) A VOICE IN THE WILDERNESS -PT 2
29-APR-03 9:00 AM BABYLON 5 (LBX) BABYLON SQUARED
30-APR-03 9:00 AM BABYLON 5 (LBX) THE QUALITY OF MERCY CRUSADE 11-APR-03 11:00 AM DAYTIME ROTATION - CRUSADE RACING THE NIGHT
11-APR-03 12:00 PM DAYTIME ROTATION - CRUSADE THE NEEDS OF EARTH
11-APR-03 1:00 PM DAYTIME ROTATION - CRUSADE THE MEMORY OF WAR
11-APR-03 2:00 PM DAYTIME ROTATION - CRUSADE THE LONG ROAD
11-APR-03 3:00 PM DAYTIME ROTATION - CRUSADE VISITORS FROM DOWN THE STREET 01-MAY-03 11:00 AM DAYTIME ROTATION - CRUSADE THE WELL OF FOREVER
01-MAY-03 12:00 PM DAYTIME ROTATION - CRUSADE EACH NIGHT I DREAM OF HOME
01-MAY-03 1:00 PM DAYTIME ROTATION - CRUSADE PATTERNS OF THE SOUL
01-MAY-03 2:00 PM DAYTIME ROTATION - CRUSADE THE PATH OF SORROWS
01-MAY-03 3:00 PM DAYTIME ROTATION - CRUSADE RULING FROM THE TOMB 27-MAY-03 11:00 AM DAYTIME ROTATION - CRUSADE THE RULES OF THE GAME
27-MAY-03 12:00 PM DAYTIME ROTATION - CRUSADE WAR ZONE
27-MAY-03 1:00 PM DAYTIME ROTATION - CRUSADE APPEARANCES AND OTHER DECEITS
27-MAY-03 2:00 PM DAYTIME ROTATION - CRUSADE RACING THE NIGHT
27-MAY-03 3:00 PM DAYTIME ROTATION - CRUSADE THE NEEDS OF EARTH STARGATE SCHEDULE: 14-APR-03 7:00 PM STARGATE SG-1 THE TORMENT OF TANTALUS
14-APR-03 8:00 PM STARGATE SG-1 BLOODLINES
14-APR-03 9:00 PM STARGATE SG-1 FIRE AND WATER
14-APR-03 10:00 PM STARGATE SG-1 HATHOR
14-APR-03 1:00 AM STARGATE SG-1 THE TORMENT OF TANTALUS
15-APR-03 1:00 AM STARGATE SG-1 BLOODLINES
16-APR-03 1:00 AM STARGATE SG-1 FIRE AND WATER
17-APR-03 1:00 AM STARGATE SG-1 HATHOR
21-APR-03 7:00 PM STARGATE SG-1 SINGULARITY
21-APR-03 8:00 PM STARGATE SG-1 COR-AI
21-APR-03 9:00 PM STARGATE SG-1 ENIGMA
21-APR-03 10:00 PM STARGATE SG-1 SOLITUDES
21-APR-03 1:00 AM STARGATE SG-1 SINGULARITY
22-APR-03 1:00 AM STARGATE SG-1 COR-AI
23-APR-03 1:00 AM STARGATE SG-1 ENIGMA
24-APR-03 1:00 AM STARGATE SG-1 SOLITUDES
28-APR-03 7:00 PM STARGATE SG-1 TIN MAN
28-APR-03 8:00 PM STARGATE SG-1 THERE BUT FOR THE GRACE OF GOD
28-APR-03 9:00 PM STARGATE SG-1 POLITICS
28-APR-03 10:00 PM STARGATE SG-1 WITHIN THE SERPENT'S GRASP
28-APR-03 1:00 AM STARGATE SG-1 TIN MAN
29-APR-03 1:00 AM STARGATE SG-1 THERE BUT FOR THE GRACE OF GOD
30-APR-03 1:00 AM STARGATE SG-1 POLITICS
BABYLON 5/CRUSADE PHOTOSHOP PHOTOS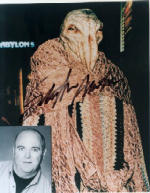 You do NOT have to pay the prices asked for over at e-bay! Here are photos of B5 and Crusade cast members at fantastic prices. Check out Photo Shop. Ordering is easy -- and you can't beat the prices! Just let me know which photos you want and I'll check to make sure they are still in stock.
---
BABYLON 5 TOONS
John Cook has a new cartoon contest going. Try your hand at a punch line.



BABYLON 5/CRUSADE CONVENTIONS
CONVENTION CALENDAR
Best of Both Worlds 18
April 19 and 20, 2003
Place: Sydney, Australia
B5 Guests: Mira Furlan, Claudia Christian
Other Guests: Marina Sirtis, Michael Hurst, Tony Amendola, Gil Gerard, Erin Grey
For more information, visit their website at http://www.bobw.com.au.
---
Vulkon
April 27-28, 2003
Place: Cleveland, Ohio
Other Guests: Robert Picardo, James Doohan, Alice Krige, David Carradine, Barry Morse, John Billingsley
For more information, visit their website at http://www.vulkon.com.
---
Federation Con 10
May 2-4, 2003
Place: Bonn, Germany
B5 Guests: Jason Carter, Tracy Scoggins
Other Guests: James Marsters, Leni Parker, Connor Traineer, Marina Sirtis, Ethan Phillips, Terry Farrell, Gil Gerard
For more information, visit their website at http://www.fedcon.de.
---
Motor City Comic Con
May 16-18, 2003
Place: Novi Expo Center, Novi, Michigan
B5 Guests: Pat Tallman, Jerry Doyle, Peter Jurasik
For more information, visit their website at http://www.motorcityconventions.com/motor_city_comic_con/index.html.
---
Be sure to visit our Convention Calendar for a full listing of upcoming conventions featuring Babylon 5, Crusade and Legend of the Rangers cast members as guests.
If you would like to share your convention experience with your other Zocalo readers, send along a convention report. I will gladly post it for all to read. Got pictures? I'll post those as well.
ZOCALO TRADING POST
Do you have extra copies of B5, Amazing Spiderman, Midnight Nation or Rising Stars comics you'd like to trade? How about those extra trading cards or B5 magazines? There are a lot of fans looking for these items -- and the Trading Post can help you buy or sell them. To see what's available, just use this link to the Trading Post. To have items included in The Trading Post, send a note to The Zocalo. Please put Trading Post in the subject line.
Pen Pals
If you are looking for someone to talk about Babylon 5 and Crusade with, the Pen Pal section is for you! Check it out! Drop a note to someone who is feeling B5 withdrawal -- BIG TIME!

People thought a Pen Pal page was a good idea. If you would like to meet people who you could chat with or share your opinions of the show with, send along your e-mail or snail-mail address The Zocalo. It will be incorporated on the new Pen Page Page.
MAIL FOR CAST AND CREW
Here's a recent note from JMS on the subject:

Just an FYI to those who've been using the Ventura Blvd. mail drop for fan mail to actors....

As mentioned before, we're phasing out the forwarding of fan mail because we a) don't have the resources, complicated by b) the actors have scattered to the four winds, and it makes it very difficult to get everything to everybody in a timely fashion.

So, having provided prior notice...fan mail to actors coming to the Ventura Blvd. mail drop will be sent back. Mail to actors should be sent via their official fan clubs. I will still be taking mail there, since it's my mailbox, but that's it.

Just so's y'all know and save a few bucks on postage and returns.

JMS' mail can be sent to:

14431 Ventura Boulevard, PMB 260
Sherman Oaks, CA 91423

WARNER BROS:

Warner Bros. Address:

Warner Bros. Domestic Television Distribution
4000 Warner Blvd.
Burbank, CA 91522

Warner Home Video:

Mr. Douglas Wadleigh
VP for Marketing and Special Features
Warner Bros.
4000 Warner Blvd.
Burbank, CA 91522

SCIFI:
Bonnie Hammer, President
Sci-Fi Channel
1230 Avenue of the Americas
New York, NY. 10020-1513

Mr. Thomas Vitale
Senior VP of Acquisitions, Scheduling & Program-Planning
BACK ISSUES OF THE ZOCALO TODAY
The front page of the The Zocalo Today changes daily, so be sure to check the back issues to make sure that you haven't missed anything IMPORTANT! I don't want the front page getting too long so I shift information periodically into the archives. So if you aren't a regular visitor to The Zocalo Today, be sure to check out the back issues. Just use the button above!
---
Take care and I look forward to hearing from you.
Sandra Bruckner (sgbruckner@aol.com)
Editor/Publisher
The Zocalo Today
http://www.isnnews.net
Copyright - SBruckner, 2002