[an error occurred while processing this directive]

The Zocalo Today

Welcome! I am glad that you found The Zocalo Today and dropped by. Take your shoes off, get comfortable and stay a while. There is a LOT of information here and you won't want to miss any of it.

The Zocalo Today is an interactive newsletter, encouraging interaction with readers through a discussion topic each week. If you have suggestions as to how The Zocalo can be improved -- or be more responsive -- send them along. The Zocalo Today is as much YOUR newsletter as it is mine! I'm just pulling together things for you!

Join our weekly discussion topic. It is just one way you can interact with other Z readers. If you have other information you would like to share, send it along. If you see Babylon 5 cast and crew in other roles, let us know. We enjoy convention reports, photos, etc. Don't miss our back issues. I hope this will become more than just a newsletter. It's a community of people that enjoy sharing their experiences and interests. Don't be shy. Join us today!

If you have questions, drop me a line at sgbruckner@aol.com or thezocalo@aol.com. If you would like to join the mailing list for our bi-weekly newsletter, send me a note and I'll include you on the list. Or you can use the subscription block at the left.

Again, WELCOME!




What's New Today
Saturday, April 26: UPDATES: I found a ton of stuff this morning as I was surfing -- so be sure to hit all of the green patches on the page. It may be old news for some, but there's a bit of new material as well.
---
X-2: With the premiere of X-2 on May 2, there's a lot of publication surrounding the new movie. Director Bryan Singer is already talking about the next X-Men project! He said during a recent interview that a lot of comic mythology didn't make it into the second movie, but could end up in a third. "[In] each X-Men film, we lost a character. I had to battle Beast out of the first film. I think Angel was a character that found its way into almost towards the final drafts of this script. I had a wonderful scene with Angel that I was very fond of, and had to get rid of, because you don't want to have characters and plot lines for the sake of having characters and plot lines." Singer said that he had to cut other elements from X2, including a scene featuring Wolverine (Hugh Jackman) in the Danger Room and others involving the Sentinels.
---
BATTLESTAR GALACTICA: Universal Interactive announced at a recent press conference that it has a BATTLESTAR GALACTICA video game in development and slated for release in the fall of 2003. The video game is set before the destruction of the Twelve Colonies (as seen in the BATTLESTAR GALACTICA movie). Since the game is set well before the film and TV series, all 12 Battlestars are still in operation and earlier models of the show's Vipers and Cylon Raiders will be seen. The story-driven missions will be varied, ranging from defensive patrols to all-out assaults. The game will be available for both the Sony PlayStation 2 and Microsoft Xbox consoles.
---
AGENT CODY BANKS 2: The WB is hard at work on this sequel. Kevin Allen is in final negotiations to come aboard to helm " Agent Cody Banks 2." He is replacing Harald Zwart, who filmed the original. According to The Hollywood Reporter, "Banks 2" begins shooting next month in London, with Dylan Sellers and David Nicksay producing with Splendid Pictures and Maverick Films.
---
WEREWOLF: The Hollywood Reporter indicates that rapper-turned-actor DMX is in negotiations to star in and produce Phoenix Pictures' action-thriller WEREWOLF, with Italian director Dario Piana making his U.S. feature debut. Production may start late in 2003 in Montreal. Written by Marshall Todd, "Werewolf" is described as being in the vein of "Blade." It will see DMX play a mysterious bluesman whose mission is to rid Earth of werewolves, the last of whom live among the rich, glamorous and drug-addicted in the Hollywood Hills.
---
MUTANT X: The episode written by Freddie Prinze, Jr., ONE STEP CLOSER, airs this weekend. For some pics and a synopsis of the episode and commentary from Prinze, go to http://www.comicscontinuum.com/stories/0304/25/index.htm.
---
SMALLVILLE: This WB series just keeps getting better and better. Tuesday's episode of SMALLVILLE placed No. 2 in adults 18-34 (3.9/12), persons 12-34 (3.9/12), women 18-34 (4.4/12), men 18-34 (3.5/11), women 12-34 (4.3/12), men 12-34 (3.5/12), adults 18-49 (3.3/8) and men 18-49 (3.2/9). Smallville was also No. 1 in its time period in teens (3.8/13), female teens (4.1/15) and male teens (3.6/12).
---
AMAZING SPIDERMAN: From wandering about this morning, it looks like Issue #52 of AMAZING SPIDERMAN is out on shelves now. The next issue of BRIGHT (Issue #3) is scheduled for arrival on Wednesday.
---
INSIDE SCI-FI THIS WEEK:
Friday, April 25:
BABYLON 5 DVD: Over at the WB website, there is new information about the Babylon 5 DVD. I'm a little confused though. The pictures within the section cover all five years, not just season two! Oh well, it was nice to see everyone again.
---
RATINGS: Top 10 SF Network Shows: Alias 5.8; John Doe 3.5; Charmed 3.5; Futurama 3.1; Buffy 2.3; Smallville 2.3; Angel 2.2; Sabrina 2.1; Enterprise 2.0, and Twilight Zone 1.5. Source: Nielsen Galaxy Report, 3/24/03 - 3/30/03.
---
BROTHERS GRIMM: According to Variety, principal photography begins on Terry Gilliam's THE BROTHERS GRIMM June 30 in Prague. The $75 million dollar fantasy film will shoot for a total of 17 weeks in the Czech Republic. Heath Ledger and Matt Damon are playing the two literary Grimms with Robin Williams and Jonathan Pryce handling the villain roles.
---
LEAGUE OF EXTRAORDINARY GENTLEMEN: The official website for this movie continues to add interesting material, including character profiles, trailers, pictures and "telegrams" (otherwise known as e-mail greetings). Rumor has it that the movie title will be shortened during the promotional campaign to just THE LEAGUE.
---
TWO TOWERS: New Line Cinema's The Two Towers is now the fifth biggest grossing film of all time behind Titanic, Harry Potter & The Sorcerer's Stone, Star Wars: Episode I and Jurassic Park.
---
Thursday, April 24:
BEST QUOTE: The BBC reported that I'LL BE BACK, Arnold Schwarzenegger's line from 1984's The Terminator, was voted the best parting shot in movie history in a poll conducted by Odeon Cinemas in the United Kingdom. This led me to our new discussion topic for the week -- what do you feel is the BEST Babylon 5 quote? See below for details.
---
THE DAY AFTER TOMORROW: Over at the Coming Soon website, you can peek at Fox's upcoming movie, THE DAY AFTER TOMORROW. Dennis Quaid and Jake Gyllenhaal will be battling the threat of a new ice age in this new Roland Emmerich movie, set to open the summer of 2004.
---
EPISODE III: The official STAR WARS website indicates that Chewbacca, the 200-year-old Wookiee co-pilot of the Millennium Falcon, will make an appearance in this final chapter of the prequels. The role will again be played by the man who originated the part, Peter Mayhew. Mayhew said, "I'm delighted to return as Chewbacca. I think his re-appearance in this film is a fitting way to tie the whole saga together, especially for Wookiee fans." Also confirmed for EPISODE III were Anthony Daniels as C-3PO and Kenny Baker as R2-D2.
---
X-MEN: With the new X-2 movie ready for release on May 2, talk shows will host a number of the cast. Hugh Jackman and Rebecca Romijn-Stamos will be appearing on NBC's The Tonight Show with Jay Leno next week to promote X2. Jackman will be a guest on Monday night, and Romijn-Stamos will be a guest on Tuesday night. Famke Janssen, who plays Jean Grey, will be a Tonight Show guest on Tuesday, May 6.
---
SNAKE PLISSKEN: For all fans of Snake Plissken, his return is near! In celebration of the renowned anti-hero's return, CrossGen Entertainment and Hurricane Entertainment have arranged for all three Hollywood superstars (director John Carpenter, producer Debra Hill, and actor Kurt Russell) to sign copies of JOHN CARPENTER'S SNAKE PLISSKEN CHRONICLES #1, on sale June 25th, as a special Retailer Incentive.
---
TV ZONE: In Issue #161, JMS begins a series about Babylon 5. Thanks to my buddy Mark in England, I got my hands on a copy of this issue and have begun to read JMS' diary about season one. It's marvelous. Can't wait for other issues to arrive! I haven't seen the issue on newsstands here and the TV Zone website skipped the issue altogether! Weird! It is definitely an issue B5 fans will want to get.
---
Wednesday, April 23:
E-BAY ITEMS: PsiFiMogul has the last of the Babylon 5 movies, IN THE BEGINNING, up on e-Bay along with two original X-Files scripts and a lot of VHS emmy tapes. Drop over to e-bay and search for items from PsiFiMogul. The B5 movie can be found at Item #3322759815. Happy Bidding!
---
RATINGS: Top 10 SF Syndicates Series: Buffy 2.2; Stargate SG-1 2.1; Andromeda 2.0; Mutant X 2.0; The X-Files 2.0; 3rd Rock 1.9; Adventure Inc. 1.8; Beastmaster 1.5; John Edward 1.3, and Sabrina 1.2. Source: Nielsen Galaxy Report, 3/24/03 - 3/30/03.
---
NEXT GENERATION - PICARDLESS? The Cinema Confidential Web site reports that Patrick Stewart has said that he won't be playing Star Trek: The Next Generation's Capt. Jean-Luc Picard again. "I think The Next Generation is over with. I've probably said goodbye to Picard forever now." The last movie, NEMESIS, did not do well at the box office, but Stewart has a number of options open. X-MEN 2 opens on May 2. Professor Xavier's fate is a bit different than that of Captain Picard.
---
JOHN DOE: The season finale for this terrific show is just ahead. Executive Producer Mimi Leder directed the season finale which airs April 25 at 9 p.m. ET/PT.
---
THE HULK: The International Trialer for the upcoming movie, THE HULK, can be seen at http://www.apple.com/trailers/universal/the_hulk/international/. It looks pretty cool. The movie opens June 20. Tons of information is available at http://www.thehulk.com/.
---
KINGDOM HOSPITAL: Stephen King is hard at work writing a midseason series for ABC entitled KINGDOM HOSPITAL. It will enter the lineup January 2004 with a two-hour movie, followed by 13 weekly episodes. Casting begins next month.
---
AMAZING SPIDERMAN: Over at Marvel Comics, Issue #55 of Amazing Spiderman will be written by J. Michael Straczynski and Fiona Avery, art by John Romita Jr., cover by Mike Deodato Jr. More secrets of the enigmatic Ezekiel are revealed in this first part of a 2-part story co-written by J. Michael Straczynski and his protégé Fiona Avery. 32 pages, $2.25, in stories on July 16.
---
THE LAZARUS CHILD: Warner Bros. has given the greenlight for a July 28 start to THE LAZARUS CHILD, a sci-fi thriller based on the novel by Robert Mawson, in which a 7-year-old girl falls in a coma after getting hit by a bus. In a last desperate measure, her 12-year-old brother's mind is inserted into his sister in the hopes that it will revive her. The film will star Angela Bassett, Andy Garcia, and Frances O'Connor.
---
Tuesday, April 22:
HAPPY EASTER: I hope everyone had a great holiday weekend. I went to visit family in Pennsylvania and had an absolutely terrific time. I'm scrambling to catch up with all the e-mail and will begin updating the page soon. Take care.
---
WHAT'S ON TONIGHT
"Touched by an Angel" (Series Finale, part 1) on CBS, 8:00pm - 9:00pm ET
Monica (Roma Downey) is up for a possible promotion as she embarks upon what will become her very last and most challenging mission. As she journeys into Ascension, Monica encounters a mysterious drifter named Zack (guest star Scott Bairstow). When they arrive in town, they learn that a devastating accident had occurred there a year ago, killing almost all of Ascension's children and leaving behind a deeply scarred community. Zack is recognized by the townspeople who demand that he be tried for the murder of their children. Guest stars include Patty Duke, Marion Ross, Randy Travis, Paul Winfield and Patrick Duffy. Concludes tomorrow night. This is the final episode of the series. "Rosemary's Baby" (1968) on American Movie Classics, 8:00pm - 10:40pm ET
Director Roman Polanski's first American film was an intense horror classic that still sends chills up and down viewers' spines. When Rosemary (Mia Farrow) and her husband, Guy Woodhouse (John Cassavetes), move into a large apartment building, the elderly neighbors (Ruth Gordon & Sidney Blackmer) offer help and support. Of course, they have a wicked reason for wanting Rosemary to have a child, but you will find that out soon enough. On SCIFI Tonight: 7:00 PM
Interceptor Force
A futuristic saga pitting an elite team of multinational soldiers against hostile aliens who have landed in a town in the Pacific Northwest. 9:00 PM
Pitch Black
Before he revved up "The Fast and the Furious" and fueled the action in "XXX," Vin Diesel starred in this explosive 2000 sci-fi thriller about a spaceship crew stranded on an eerily barren planet littered with the remains of a failed colony. On Syndicated TV This Weekend: Mutant X
One Step Closer
Freddie Prinze Jr. scripted this episode, which finds a U.S. senator's daughter kidnapped while being safeguarded by Brennan and Shalimar. Also, Brennan's powers begin to malfunction, threatening both himself and others. Gene Roddenberry's Andromeda
The Illusion of Majesty
The Andromeda lands in a system that consists of toxic waste and garbage moons; a capsule occupant (Krista Allen) claims to be a missing princess; three monks insist that a goddess is on board the ship; Dylan is involved in a court battle. Stargate SG-1
Menace
With the Asgard being threatened, a beautiful young android may be the key to its survival. Buffy the Vampire Slayer
No Place Like Home
This chilling story sheds light on Buffy's kid sister, Dawn (Michelle Trachtenberg). Since learning the Slayer had a sibling, fans have been dying for the dish on the mysterious junior miss. Their wish is granted in a plot that also kicks off a fascinating story line and introduces an enemy with hints of apocalyptic power. Buffy the Vampire Slayer
Reptile Boy
Cordelia and Buffy attend a frat party thrown by a satanic cult looking for some fresh sacrifices. Outer Limits
Glyphic
When an official from the Department of Health (Peter Flemming) visits a town in the Pacific Northwest, he discovers a mysterious epidemic killed most of the town's children 12 years ago.
JMS AT WONDERCON
JMS dropped a note over at the B5 moderated newsgroup saying:

Just a word to let any folks who might be interested know that I'll be a guest at WonderCon in San Francisco the weekend of April 25th. They've got me on a fair number of panels and a spotlight, plus some autograph sessions. This is the first San Francisco convention I've done in many years, and it may be a while before the next one 'cause I only do one or two a year (WonderCon is run by the xame cool folks who run San Diego Comic Con).

One last item on this...and I'll also post this separately as well...a lot of folks have noted that this is the tenth anniversary of B5 going live, so at the convention in SF there will be a limited number of signed scripts for the Babylon 5 series finale, "Sleeping in Light" for sale. This script includes deleted dialogue (lots of it), and at least one deleted scene, and the alternate ending(s). He does know how to twist the knife, doesn't he! For more information about WonderCon, go to http://www.wondercon.com/Pages/WCWhatsNew.html.
BABYLON 5 SEASON TWO DVD
The WB has started to promote the new Season Two DVD and they have sent out a lot of promotional material to a number of folks hosting Babylon 5 sites. I received the press release below as well as stills and some segments from the actual DVD. They are FANTASTIC. It is SO wonderful to see all these folks again -- talking about their Season Two experiences with Babylon 5. Rather than me try to deal with all the material, Monica over at The Abyss has already put in a considerable amount of effort to pull them together -- and done a marvelous job of it! Thanks Monica. Go to http://abyss.hubbe.net/b5/dvds/boxed-s2promos.html to look at the materials the WB has pulled together on the series. The Season One DVD was good -- this one looks like a winner as well. Did you notice that there is a gag reel included? I can't wait to see that one!!: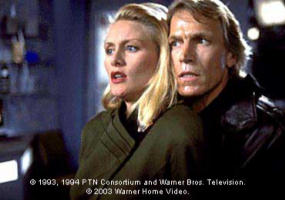 FOR IMMEDIATE RELEASE
The Excitement Continues!
BABYLON 5:
THE COMPLETE SECOND SEASON
By Popular Demand, Warner Home Video Sets April 29 Debut
for the Next Installment of Classic Sci-Fi Series Burbank, Calif., February 14, 2003 - Following the resounding success of the first season's DVD release, Warner Home Video is following up with the second 22 regular season episodes of the Emmy Award-winning series Babylon 5. Babylon 5: The Complete Second Season comes to DVD on April 29 as its own six-disc giftset. Loaded with extras including commentaries by series creator J. Michael Straczynski, the set will sell for $99.98 SRP. Babylon 5, the acclaimed series about the space station that's the tumultuous center of the 23rd century's bid for peace among humans and aliens, joins Friends, The Sopranos, Buffy the Vampire Slayer, The Simpsons and more TV-to-disc programs that prove DVD is the hot-selling format TV fans want to own. Babylon 5 won two Emmys (Groundbreaking Visual Effects and Makeup) and earned the 1999 Saturn Award for Best Genre Cable/Syndicated Series from the Academy of Science Fiction, Fantasy & Horror Films (Hugo Awards). The second season of Babylon 5 also won the 1996 Hugo Award for Best Dramatic Presentation for The Coming of Shadows episode. Other Hugo nominees that year included Apollo 13, Toy Story and Star Trek: Deep Space Nine's The Visitor episode.
Additionally, Babylon 5: The Complete Second Season includes three Emmy-nominated episodes, Acts of Sacrifice, The Geometry of Shadows and Comes the Inquisitor. It was the first-ever television series to use extensive computer-generated imagery and to shoot and air in a widescreen format. Babylon 5 rewarded fan loyalty and broke new ground by maintaining narrative consistency through a five-year story arc, and the show was singled out by NASA, the Jet Propulsion Laboratory and other noted institutions for its science-based treatment of futuristic space themes/technology. Today, Babylon 5 continues its mission with episodes syndicated on the Sci-Fi Channel, which also recently aired the new Babylon 5 feature, Legend of the Rangers. There are also more than 30 novels in print set in the Babylon 5 universe, and fan requests for a new Babylon 5 television series are growing. BABYLON 5 BONUS FEATURES
The six-disc set Babylon 5: The Complete Second Season includes the following:
· All-new digital widescreen transfers [16x9, 1.77:1]
· Soundtrack remastered in Dolby Digital 5.1
· Introduction by series creator/producer J. Michael Straczynski and various cast members
· Episode commentaries by Straczynski and cast members Bruce Boxleitner, Claudia Christian and Jerry Doyle
· Building Babylon: Blueprint of an Episode featurette
· Shadows and Dreams: Honors of Babylon featurette, including coverage of the Hugo Award
· The Universe of Babylon 5 data/tech/personnel files
· Gag reel
· Babylon 5 Timeline
· Original Episode promos
SYNOPSIS
The long-running Emmy Award-winning television series Babylon 5 takes place in the year 2257 A.D, on an immense space station floating in a stationary orbit in a neutral corner of a distant galaxy. Staffed by a crew of peaceful Earthmen and women, Babylon 5 serves as a non-political economic and social hub for the four alien races -- the Narn, Centauri, Vorlon and Minbari -- who fight to control the galaxy. Babylon 5: The Complete Second Season
$99.98 SRP
STREET DATE: April 29
RATING: NR
RUN TIME: approx: 990 minutes
CALLING ALL GRID EPSILON IRREGULARS
Wow, that's a term I haven't used in a long time! With the coming 10th anniversary of the airing of "The Gathering", Ranger Desi and other GEIs would like to get back in touch. The GEIs were the original fans of the show -- before there was a show. They gathered over on the old GEnie site and chatted with Joe and others about Babylon 5 before it hit the airwaves. If you are one of those lucky few -- an original GEI -- please go to http://worldsofjms.com/b5/gei.htm . If you would like to contact Ranger Desi, her e-mail is: dlcarroll@sc.rr.com.
RANGER SIGHTINGS
Ranger Stanley writes:
I noticed John Vickery (Neroon, Mr. Welles) played the roll of Orak, the Klingon prosecutor in the Enterprise episode "Judgement". He was unrecognizable in his Klingon make up and even though the teeth prosthetics obviously made oratory difficult, Vickerys unmistakable baritone still came through. Ranger Mark reports:
I noticed on CSI this evening that Richard Biggs made a brief appearance as an attorney. The entire scene lasted around a minute but it was a pleasant surprise to catch him.
DISCUSSION TOPIC
The BBC reported that "I'll be back," Arnold Schwarzenegger's line from 1984's The Terminator, was voted the best parting shot in movie history in a poll conducted by Odeon Cinemas in the United Kingdom. What do you think the BEST Babylon 5 would be? I know, there are tons of them, but give that a thought and send in your votes. Let's limit the voting to 5 and let's see what happens! Send in your best quotes to sgbruckner@aol.com. I'll post the responses on the Discussion Page for everyone to share.
BABYLON 5 CHRONOLOGY
I've put up another wonderful segment of the Babylon 5 Chronology. This segment begins with 2249. Go to 23rd Century. I noticed that JMS used a section of Terry's chronology to answer a question the other day about Morden/Anna's trip over on the B5 moderated newsgroup. A BIG THANK YOU and note appreciation goes to Terry for taking the time (and considerable effort) to pull the chronology together -- and for updating it to include CRUSADE, the novels and other relevant Babylon 5 material. THANKS TERRY!
REVIEWS WANTED:
NEW REVIEWS! See if you agreed with the reviews received thus far! Go to Reviews to see. Want to express your opinion? Just drop me a line and you too can see your name in lights. Read any good books lately? How about the movies. Did you like LORD OF THE RINGS, NEMESIS? Send along a review and share your thoughts with the readers here. Let's make one of our New Years Resolution one of staying in touch here at The Zocalo Today.
KEEPING UP WITH CAST AND CREW
JASON CARTER/RICHARD BIGGS: Pipeline Productions is currently organizing a Biggs & Carter Experience (acting workshop) Cruise event. Anyone Interested in participating can be added to the mailing list by emailing their name and address to JasonCarterFC@aol.com. For more information on the Biggs & Carter Experience, please visit www.biggsandcarter.com .
---
FIONA AVERY: Fiona Avery (author of the "Rising Stars: Bright" series) is starting another spin-off of the Rising Stars series called "Rising Stars: Untouchable". Due around August 2003, it features Laurel Darkhaven, the telekenetic who became a CIA assassin who was featured in issue #16. The five issue mini series is being called "Rising Stars: Untouchable" and will have artwork by Rick Mays. For more on this from Fiona, go to http://www.newsarama.com/cgi-bin/ubb/ultimatebb.cgi?ubb=get_topic;f=1;t=000495.
---
J. MICHAEL STRACZYNSKI: For those of you who just can't get enough from JMS, there is a long, but interesting interview in Sketch Magazine at http://www.hypethis.com/interviews/interview_jmichaelstraczynski.html.
---
BEATA POSNIAK DANIELS: Beata Posniak's (President Luchenko from B5) recent project, a film entitled MNEMOSYNE which she directed, will be shown at the opening the 4th Annual Film Polish Festival at the Academy this month at the Leammle's Monica 4-plex Theater in Santa Monica from April 25 to May 1, 2003. The film "Mnemosyne" is based on the ancient poem "Thunder, Perfect Mind" - a visual journey of the human race, exploring where we have been and what we can become. We are taken on this journey through the voice and body of Mnemosyne, Mother of Memory. Mnemosyne bears witness to the forces of destruction as well as of creation, revealing through art, the multi-dimensionality of women. The film is a homage to power, strength and individualism.
---
ENID-RAYE ADAMS: You remember Enie as Firell from LEGEND OF THE RANGERS. She's landed a recurring role in JMS' JEREMIAH series for season two. She plays Gina.
---
BILL MUMY: Bill will be releasing his 5th solo CD in April on Renaissance Records. GHOSTS will be a compilation of songs (the best of) taken from the first four CD's plus a few brand new ones. The brand new songs include "Always Open", "Take it Back", "The Recalcitrant Princess" and "Just A Drop of Rain in the Ocean." Angela Cartwright from Lost in Space will design the package. The album will be available through Amazon.com and other internet sites as well as a few of the bigger stores.
---
RICHARD BIGGS: Ranger Jan reports that Richard Biggs gave out some very good news at MegaCon last week. He has landed a recurring role on SCIFI's TREMORS. He will also be coming back to STRONG MEDICINE.
---
PAT TALLMAN: Pat Tallman's JENNIFER IS DEAD will be playing at the Palm Beach Film Festival in early April. It is contending for a top award in the horror category. It will also be featured in Shriekfest 2003, aka the Third Annual Los Angeles International Horror/Science Fiction Film Festival and Screenplay Competition.
---
BABYLON 5 BIRTHDAYS
Christopher Franke - April 6
Maggie Egan - April 11
Tony Dow - April 13
Warren Takeuchi - April 19
Peter Jurasik - April 25 Have I missed anyone? If you know the birthday of someone connected with Babylon 5, pass the information along. We want to include everyone in our Happy Birthday Wishes.
READER DIRECTORY
Sometimes you just can't find the e-mail address for someone you know you have -- it's someone who responded to a discussion topic or you met in one of the chat rooms. You'd like to send a personal note, but .... No address!!!!

We've started a White Pages of Zocalo Readers! It's a handy way of keeping track of people -- and putting together a birthday/greeting card list as well. If you would like to be part of the listing, just send me your name, state, e-mail address and (if you'd like to have it listed) birthday (without year) to sgbruckner@aol.com. Check out the Directory of Readers.
COMIC BOOKS
SUPREME POWER
This is a new title J. Michael Straczynski has been working on for Marvel. Originally titled "Squadron Supreme", it is now called "Supreme Power". According to JMS, publication date in July 16. JMS described the series in a comment to the B5 moderated newsgroup as: Supreme Power is an updating of the Squadron Supreme book done quite a while back by Mark Gruenwald. It was one of the first books, possibly the first book, to really examine the role of the superhero in society, and as such is generally considered to have paved the way for such later works as Watchmen, Dark Knight, Marvels, Kingdom Come and others. Marvel said, basically, if you could take those characters, who were used at a time when comics were still quite a bit more restrictive than now, due to the comics code and other influences, and update them, recast them, free to do whatever you want...what would you do? Hence, Supreme Power. While it has its moments of dark humor, it's a very intense, serious book. And because it's being done for the Marvel Max line -- which is aimed at mature readers -- there are very few limitations in terms of imagery and language. Marvel has said it wants me to take this book to the wall, and that's pretty much where I intend to go. Interestingly, unlike the aforemtentioned titles, this isn't a limited series...it's intended to be an ongoing series, while trying to sustain the kind of intensity you get in that kind of limited edition. It's a massive writing challenge, though one of my main goals is to do right by Mark's original creation.
CSI
CSI: THICKER THAN BLOOD
IDW Publishing
When an Elvis impersonator disappears, and a mobster's life is threatened, only the CSI team can save the day! FREE COMIC BOOK DAY Check out http://www.freecomicbookday.com/ to see what comics will be offered on May 3 - FREE COMIC BOOK DAY. Looks like there may be something for everyone -- from Archie to Batman.
BRIGHT
Rising Stars: Bright #3 will arrive in stores on Wednesday from Image Comics. The issue is written by Fiona Avery, penciled by Dan Jurgens, inked by Jason Gorder and art by John Starr. Rising Stars: Bright #3 will be 32 pages and will cost $2.99.
RISING STARS: BRIGHT #1
(W) Fiona Avery, (P) Dan Jurgens, (I) Jason Gorder.
"Mercy." In the hit series, Rising Stars, it is mentioned that at one time, Matthew Bright ran away from Pederson and, under an assumed name, became a member of normal society and a police officer. Join us as Matthew tells this story in his memoirs and learn how a Special can shine brightest when they're just being human. FC 32 pages $2.99 Part 1 of 3 . BRIGHT #2
(W) Fiona Avery (P) Dan Jurgens.
"Authority." Matthew Bright is still living under the assumed name of Brendan Miller, and making close friendships with Frank and Jess in the precinct, when a new serial killer case erupts in the NYPD. Matt really takes the case to heart upon discovering that the serial killer has Specials in mind whenever he causes new carnage in the streets of suburban New York. In the second part of three issues, Matthew's secret identity as Brendan Miller is about to be ripped from him and his true nature as a special is revealed. 32 pages, $2.99.
BABYLON 5 NOVEL
DelRey is reprinting the most popular of the Babylon 5 original novels. Here's one I've been waiting for -- Kathryn Drennan's TO DREAM IN THE CITY OF SORROWS. The release date is scheduled for July 29, 2003. I love the new cover art! It can be pre-ordered from www.amazon.com. For those of you who love Babylon 5, this one reads just like an episode from the series. You just can't put it down.
STARGATE SG-1 ILLUSTRATED COMPANION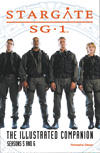 Featuring exclusive interviews with all the cast and crew, story synopses complete with extensive commentary, detailed behind-the-scenes information, and tons of photos, this volume stands as the official companion to seasons 5 and 6 of the hit television series, Stargate SG-1. If you are a fan of the series, you really do need this series of books. There's a lot of information about all the cast and characters.
SCI FI PUBLICATIONS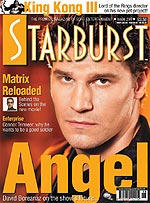 Starburst #298: ANGEL's new season is the focus of the issue. David Boreanaz talks about what makes the show so special to him. Also in this issue, a behind the scenes look at MATRIX RELOADED. Another show with changes ahead is SMALLVILLE. Alfred Gough and Miles Millar talk about what is in store for the next season.







Cult Times #90: Smallville's Michael Rosenbaum and John Glover talk about being the dynamic father and son duo behing Luthercorp. Also in this issue, a look at JEREMIAH with co-producer Gregory Noveck. David Fury discusses his work on ANGEL and BUFFY and Dominic Keating talks about Malcolm Reed from ENTERPRISE.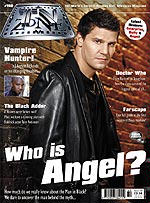 TV Zone #160: ANGEL has taken a number of twists and turns since first becoming part of our TV viewing schedule along with BUFFY. This issue brings you the history of Angel, along with an exclusive interview with J. August Richards - Gunn! Also inside, a full and comprehensive episode guide of FARSCAPE and a look at VERITAS.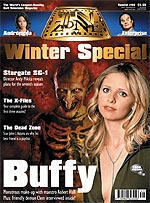 TV Zone Special #49: Make-up artists -- up close and personal! Genius Rob Hall from BUFFY is featured, along with Michael Westmore from ENTERPRISE and NEMESIS. Andy Mikita from STARGATE SG-1 talks about directing the latest episodes from season six. Also in this issue, Anthony Michael Hall talks about THE DEAD ZONE and the women of ANDROMEDA (Lexa Doig and Laura Bertram) talk about Andromeda and Trance.
Expose #77: With word just having come about BUFFY ending, this issue may be special for fans as Marti Noxon reflects on what she accomplished with the series -- and what she wishes she would have done! Also Kristen Dalton talks about her character, Dana, in THE DEAD ZONE and Lauren Lee Smith discusses the changes ahead for her character on MUTANT X.
BABYLON 5 BOOK OF QUOTES
For all those who submitted quotes and experiences to the Babylon 5 Book of Quotes, word from JMS is that the book, plus emails and suggestions, is being compiled now, and they're targeting February, the 10th anniversary of B5, for the publication date.
SCI-FI SCHEDULE
BABYLON 5 28-APR-03 9:00 AM BABYLON 5 (LBX) A VOICE IN THE WILDERNESS -PT 2
29-APR-03 9:00 AM BABYLON 5 (LBX) BABYLON SQUARED
30-APR-03 9:00 AM BABYLON 5 (LBX) THE QUALITY OF MERCY CRUSADE 01-MAY-03 11:00 AM DAYTIME ROTATION - CRUSADE THE WELL OF FOREVER
01-MAY-03 12:00 PM DAYTIME ROTATION - CRUSADE EACH NIGHT I DREAM OF HOME
01-MAY-03 1:00 PM DAYTIME ROTATION - CRUSADE PATTERNS OF THE SOUL
01-MAY-03 2:00 PM DAYTIME ROTATION - CRUSADE THE PATH OF SORROWS
01-MAY-03 3:00 PM DAYTIME ROTATION - CRUSADE RULING FROM THE TOMB 27-MAY-03 11:00 AM DAYTIME ROTATION - CRUSADE THE RULES OF THE GAME
27-MAY-03 12:00 PM DAYTIME ROTATION - CRUSADE WAR ZONE
27-MAY-03 1:00 PM DAYTIME ROTATION - CRUSADE APPEARANCES AND OTHER DECEITS
27-MAY-03 2:00 PM DAYTIME ROTATION - CRUSADE RACING THE NIGHT
27-MAY-03 3:00 PM DAYTIME ROTATION - CRUSADE THE NEEDS OF EARTH STARGATE SCHEDULE: 28-APR-03 7:00 PM STARGATE SG-1 TIN MAN
28-APR-03 8:00 PM STARGATE SG-1 THERE BUT FOR THE GRACE OF GOD
28-APR-03 9:00 PM STARGATE SG-1 POLITICS
28-APR-03 10:00 PM STARGATE SG-1 WITHIN THE SERPENT'S GRASP
28-APR-03 1:00 AM STARGATE SG-1 TIN MAN
29-APR-03 1:00 AM STARGATE SG-1 THERE BUT FOR THE GRACE OF GOD
30-APR-03 1:00 AM STARGATE SG-1 POLITICS FARSCAPE SCHEDULE:

27-APR-03 12:00 AM FARSCAPE HIDDEN MEMORY
28-APR-03 12:00 AM FARSCAPE BONE TO BE WILD
29-APR-03 12:00 AM FARSCAPE FAMILY TIES
30-APR-03 12:00 AM FARSCAPE DREAM A LITTLE DREAM
01-MAY-03 12:00 AM FARSCAPE MIND THE BABY
02-MAY-03 5:00 AM FARSCAPE BRINGING HOME THE BEACON (LBX)

04-MAY-03 12:00 AM FARSCAPE VITAS MORTIS
05-MAY-03 12:00 AM FARSCAPE TAKING THE STONE
06-MAY-03 12:00 AM FARSCAPE CRACKERS DON'T MATTER
07-MAY-03 12:00 AM FARSCAPE PICTURE IF YOU WILL
08-MAY-03 12:00 AM FARSCAPE THE WAY WE WEREN'T
09-MAY-03 5:00 AM FARSCAPE A CONSTELLATION OF DOUBT (LBX)
BABYLON 5/CRUSADE PHOTOSHOP PHOTOS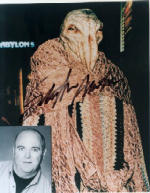 You do NOT have to pay the prices asked for over at e-bay! Here are photos of B5 and Crusade cast members at fantastic prices. Check out Photo Shop. Ordering is easy -- and you can't beat the prices! Just let me know which photos you want and I'll check to make sure they are still in stock.
---
BABYLON 5/CRUSADE CONVENTIONS
CONVENTION CALENDAR
WonderCon
April 25-27, 2003
Place: Moscone Center
City: San Francisco, CA
B5 Guest: J. Michael Straczynski
For more information, visit their website at http://www.wondercon.com/Pages/WCWhatsNew.html.
---
StarFest
April 25-27, 2003
Place: Marriott Denver Tech Center
City: Denver, CO
B5 Guests: Walter Koenig, Richard Biggs
Other Guests: Manu Interaymi (Icheb - Voyager), Richard Herd (Admiral Paris - Voyager), Stephanie Romanov (Lilah - Angel), John Billingsley (Dr. Phlox - Enterprise), Michael Rosenbaum (Lex Luther - Smallville) For more information, visit their website at http://www.starland.com.
---
Vulkon
April 27-28, 2003
Place: Cleveland, Ohio
Other Guests: Robert Picardo, James Doohan, Alice Krige, David Carradine, Barry Morse, John Billingsley
For more information, visit their website at http://www.vulkon.com.
---
Federation Con 10
May 2-4, 2003
Place: Bonn, Germany
B5 Guests: Jason Carter, Tracy Scoggins
Other Guests: James Marsters, Leni Parker, Connor Traineer, Marina Sirtis, Ethan Phillips, Terry Farrell, Gil Gerard
For more information, visit their website at http://www.fedcon.de.
---
Motor City Comic Con
May 16-18, 2003
Place: Novi Expo Center, Novi, Michigan
B5 Guests: Pat Tallman, Jerry Doyle, Peter Jurasik
For more information, visit their website at http://www.motorcityconventions.com/motor_city_comic_con/index.html.
---
Marcon
May 23-25, 2003
Place: Columbus, Ohio
B5 Guests: Richard Biggs, J. Gregory Keyes
For more information, visit their website at http://www.marcon.org.
---
Be sure to visit our Convention Calendar for a full listing of upcoming conventions featuring Babylon 5, Crusade and Legend of the Rangers cast members as guests.
If you would like to share your convention experience with your other Zocalo readers, send along a convention report. I will gladly post it for all to read. Got pictures? I'll post those as well.
ZOCALO TRADING POST
Do you have extra copies of B5, Amazing Spiderman, Midnight Nation or Rising Stars comics you'd like to trade? How about those extra trading cards or B5 magazines? There are a lot of fans looking for these items -- and the Trading Post can help you buy or sell them. To see what's available, just use this link to the Trading Post. To have items included in The Trading Post, send a note to The Zocalo. Please put Trading Post in the subject line.
Pen Pals
If you are looking for someone to talk about Babylon 5 and Crusade with, the Pen Pal section is for you! Check it out! Drop a note to someone who is feeling B5 withdrawal -- BIG TIME!

People thought a Pen Pal page was a good idea. If you would like to meet people who you could chat with or share your opinions of the show with, send along your e-mail or snail-mail address The Zocalo. It will be incorporated on the new Pen Page Page.
MAIL FOR CAST AND CREW
Here's a recent note from JMS on the subject:

Just an FYI to those who've been using the Ventura Blvd. mail drop for fan mail to actors....

As mentioned before, we're phasing out the forwarding of fan mail because we a) don't have the resources, complicated by b) the actors have scattered to the four winds, and it makes it very difficult to get everything to everybody in a timely fashion.

So, having provided prior notice...fan mail to actors coming to the Ventura Blvd. mail drop will be sent back. Mail to actors should be sent via their official fan clubs. I will still be taking mail there, since it's my mailbox, but that's it.

Just so's y'all know and save a few bucks on postage and returns.

JMS' mail can be sent to:

14431 Ventura Boulevard, PMB 260
Sherman Oaks, CA 91423

WARNER BROS:

Warner Bros. Address:

Warner Bros. Domestic Television Distribution
4000 Warner Blvd.
Burbank, CA 91522

Warner Home Video:

Mr. Douglas Wadleigh
VP for Marketing and Special Features
Warner Bros.
4000 Warner Blvd.
Burbank, CA 91522

SCIFI:
Bonnie Hammer, President
Sci-Fi Channel
1230 Avenue of the Americas
New York, NY. 10020-1513

Mr. Thomas Vitale
Senior VP of Acquisitions, Scheduling & Program-Planning
BACK ISSUES OF THE ZOCALO TODAY
The front page of the The Zocalo Today changes daily, so be sure to check the back issues to make sure that you haven't missed anything IMPORTANT! I don't want the front page getting too long so I shift information periodically into the archives. So if you aren't a regular visitor to The Zocalo Today, be sure to check out the back issues. Just use the button above!
---
Take care and I look forward to hearing from you.
Sandra Bruckner (sgbruckner@aol.com)
Editor/Publisher
The Zocalo Today
http://www.isnnews.net
Copyright - SBruckner, 2002