[an error occurred while processing this directive]

The Zocalo Today

Welcome! I am glad that you found The Zocalo Today and dropped by. Take your shoes off, get comfortable and stay a while. There is a LOT of information here and you won't want to miss any of it.

The Zocalo Today is an interactive newsletter, encouraging readers to join a discussion topic each week. If you have suggestions as to how The Zocalo can be improved -- or be more responsive -- send them along. The Zocalo Today is as much YOUR newsletter as it is mine! I'm just pulling together things for you!

Join our weekly discussion topic. It is just one way you can interact with other Z readers. If you have other information you would like to share, send it along. If you see Babylon 5 cast and crew in other roles, let us know. We enjoy convention reports, photos, etc. Don't miss our back issues. I hope this will become more than just a newsletter. It's a community of people that enjoy sharing their experiences and interests. Don't be shy. Join us today!

If you have questions, drop me a line at sgbruckner@aol.com or thezocalo@aol.com. If you would like to join the mailing list for our bi-weekly newsletter, send me a note and I'll include you on the list. Or you can use the subscription block at the left.

Again, WELCOME!




What's New Today
Friday, May 16: MOTOR CITY CON: If you are in the Detroit area, don't forget MOTOR CITY CON is happening this weekend. It's a great time to see a few of the B5 cast -- Pat Tallman, Jerry Doyle, Peter Jurasik, and Andrea Thompson. Details are below in the convention calendar.
---
STARGATE SG-1: When STARGATE SG-1 returns with new episodes on June 13, we'll actually be treated to a two-hour seventh-season premiere on June 13, following a season-premiere special, Stargate: The Lowdown, at 8 p.m. ET/PT. Michael Shanks, returning as Dr. Daniel Jackson, told SCI FI Wire that there are a lot of changes ahead. Season seven will feature new cultures and the return of old friends. The SG-1 team will also continue on their journey to find the lost city mentioned in "Full Circle," the sixth-season finale. "There are going to be ramifications from Daniel's de-ascension," Shanks said. "There's a great episode called 'Space Race,' which will feature probably some of the best spaceship visual effects that we've had. There's a great episode called 'Lifeboat' that's all about different personalities being put into Daniel's head. We're only on episode eight right now, so there's still a lot to be discovered." This sounds wonderful.
---
WBTV ON TOP: According to The Hollywood Reporter, Warner Bros. Television emerged as the top studio supplier, setting an industry record with 28 new and returning series spread among ABC, CBS, Fox, NBC, UPN and the WB Network. That was more than enough to make WBTV the No. 1 studio for the first time since it tied with 20th Century Fox TV with 15 shows in 1998-99. 20th, the previous record-holder with 24 series in the 2001-02 season, was the runner-up this year with 21 new and returning shows. Between them, WBTV and 20th produce or co-produce 49% of all scripted series slated to air in the upcoming season. "In the final analysis, it's the network that makes the buy," WBTV president Peter Roth said. "You can strategize all you want about how many shows you'd like to get on the air. You only get them when the quality is there, and that is a testament to the strength of our producers and our (executive) team here, who have really been firing on all cylinders."
---
MATRIX RELOADED: For an interview with star Keanu Reeves, go to http://www.prevuemagazine.com/Articles/Flash.
---
INSIDE SCI-FI THIS WEEK:
Thursday, May 15:
TWILIGHT ZONE CANCELLED: According to Variety, UPN has canceled The Twilight Zone after only one season

---
JAKE 2.0: Variety reports that UPN's cancellation of THE TWILIGHT ZONE will make room for JAKE on the fall schedule. David Greenwalt (Angel, Miracles) will serve as show runner of the one-hour drama, with Gina Matthews and Grant Scharbo acting as executive producers for the series. Jake 2.0 centers on a National Security Agency agent who's implanted with computer chips.
---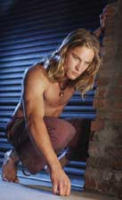 TARZAN AND JANE: Among the new series headed our way this fall, the WB is "reimagining" a familiar tale with TARZAN AND JANE. The WB has released a first image of Travis Fimmel in character for the upcoming series.
---
JOHN DOE: With all the networks issuing fall schedules, some outstanding shows are NOT listed. Among them is JOHN DOE; I loved this show! One of the very few Fox programs I have ever watched -- and they cut it! Major bummer!
---
COMIC NEWS: Amazing Spiderman #53 and Smallville #2 will be out this week. More info below.
---
Wednesday, May 14:
RATINGS: Top 10 SF Syndicated Shows: Stargate SG-1 2.2; The X-Files 2.2; Mutant X 1.8; Andromeda 1.7; Buffy 1.7; Adventure, Inc. 1.6; 3rd Rock 1.5; Beastmaster 1.3; John Edward 1.3, and Beyond With Van Praagh 1.2. Source: Nielsen Galaxy Report, 4/14/03 - 4/20/03.
---
SMALLVILLE: The sense of drama builds as SMALLVILLE heads toward the season finale. With Part 1 having aired last night, Exeutive Producer Al Gough told TV Guide Online that it would feature the voice of Superman's Kryptonian father, Jor-El. Gough hinted that an actor from the Superman films (but not Marlon Brando) will supply the voice. Did you listen? If not, Part 2 will air next week before the series goes into re-runs for the summer.
---
SMALLVILLE: If you missed SMALLVILLE when it first came to The WB, you'll have a chance to watch from the beginning. The WB announced SMALLVILLE BEGINNINGS will air Sundays at 7 p.m. SMALLVILLE BEGINNINGS will be comprised of rebroadcasts of episodes of the first two season of the network's top-rated show.
---
THE PUNISHER: John Travolta has been hired to play the bad guy in the upcoming movie adaptation of THE PUNISHER. In the film Travolta will portray an underworld player named Howard Saint who once went on the straight and narrow path, only to sink back into the criminal organization when he suffers a devastating personal loss. Thomas Jane will play The Punisher, a.k.a. Frank Castle, an undercover FBI agent who, on the verge of retiring, loses his entire family due to mob retaliation. Filming starts this summer for a summer '04 release.
---
MATRIX RELOADED: With everyone anticipating a BIG weekend for this film, Warner Bros. has decided to let theaters start showing the movie just a little bit earlier. If you're lucky, you may be able to catch one of the night screenings of RELOADED are taking place TONIGHT. Some theaters are even staying open well past midnight to show the movie to insomniacs well into the wee hours of May 15. Stick around after the movie's over. Once the nine minutes of end credits has scrolled by there's a one minute trailer for THE MATRIX REVOLUTIONS, the third and final film scheduled for release this coming November.
---
ANGEL: With the word of ANGEL's renewal and the addition of James Marsters (Spike) to the cast, information is also coming out that Cordelia (Charisma Carpenter) will not be back for another season. Other series regulars Alexis Denisof, J. August Richards, Amy Acker and Andy Hallett will return.
---
MUTANT X: The second season finale will air this week. For a synopsis and pics, go to http://www.comicscontinuum.com/stories/0305/13/mutantindex.htm.
---
Tuesday, May 13:
STARGATE SG-1: This past weekend, it looked a bit like Stargate meets ANDROMEDA! Among the guest stars on the episode were Michael Shanks, Christopher Judge and J.R. Bourne! Michael Shanks enjoyed the episode "Day of Judgment, Day of Wrath". He had a chance to spend time with his significant other, Lexa Doig (Andromeda). In a recent interview, Shanks likened shooting of the episode to sitting around in a living room with friends and loved ones, except that they were gathered on a set. "There's some great wire work that they do on that show, and so we had a lot of fun with the action stuff," Shanks said. New episodes of Stargate SG-1, featuring the return of Shanks' character, Dr. Daniel Jackson, begin with the seventh-season premiere on the SCI FI Channel June 13.
---
DAWN OF THE DEAD: According to the Hollywood Reporter, Ving Rhames and Sarah Polley are in final talks to star in Universal Pictures/Strike Entertainment's horror film DAWN OF THE DEAD for director Zack Snyder. This "reinvention" of the classic 1978 horror film of the same name and goes into production next month. Written by James Gunn, DEAD deals with a mysterious plague that causes the newly dead to rise from their graves and eat the living. A group of survivors takes refuge in a shopping mall, including a nurse (Polley), a cop (Rhames), a mall employee, a gangbanger and his pregnant Russian girlfriend.
---

TRON 2: Yes, it has been over 20 years since Disney brought us TRON -- starring Bruce Boxleitner. This Wednesday, Bruce, director Steve Lisberger and others will gather at Buena Vista Interactive's E3 booth to promote Buena Vista Interactive's upcoming August release of the PC game TRON 2.0. For the game Boxleitner is reprising his role as computer programmer Alan Bradley while Cindy Morgan (Lora/Yori) is playing a new character, an artificial intelligence program named Ma3a (mah-THREE-ah). TRON 2.0 is about Jet Bradley, the son of Alan, who enters the video game world with the help of Ma3a. Inside the computer world Jet meets the reigning light cycle champion, Mercury (voiced by Rebecca Romijn-Stamos) and fights an evil that threatens both the world's computer systems and the digital world. The TRON creative team will be appearing from 2 to 4 PM on Wednesday, May 14 at Buena Vista Games' booth (number 924). They will be also autographing TRON 2.0 posters.
---
X-FILES: Season 7 of X-FILES now on DVD. The six disc set has commentaries, deleted scenes and TV spots. This was the final year where David Duchovny was still working full-time on the show as Agent Mulder, and as such finally delivered the final testament on certain long-standing story arcs as well as set up Scully's pregnancy and future storylines for the final two seasons. Notable episodes include "all things", written and directed by Gillian Anderson; "Closure" which finally revealed the mystery behind Mulder's sister's abduction; "Millennium", which served as a coda for Carter's other paranormal series, MILLENNIUM; "First Person Shooter", another episode written by cyberpunk author William Gibson and Brent Maddox; and "X-Cops", an enjoyable take on Fox's reality series COPS if it were set in the X-Files universe. There is a great deal of bonus material available on this set! There's a new documentary focusing on what season seven brought to the show; 10 deleted scenes featuring optional commentary by Chris Carter; a look at 13 special effects sequences with commentary by Paul Rabwin; 44 promotional TV spots; 17 international language clips; a preview of the forthcoming PlayStation 2 X-FILES video game; and a new DVD-ROM game you can play right now. As well, three of the episodes feature commentaries, including one by Carter ("First Person Shooter"), one by producer/writer Vince Gilligan ("Je Souhaite") and finally one by Gillian Anderson for her directorial episode "all things". THE X-FILES: THE COMPLETE SEVENTH SEASON six-disc DVD set is now available from 20th Century Fox Home Video. The suggested retail price for the collection is at $149.98 US/$179.98 CDN.
---
SLIM PICKINS': The major networks are announcing their fall schedules. Not a lot to choose from -- did anyone see something that looks interesting? I guess we'll have to wait and see what the fall brings. Would be nice to see something that at least makes your curious.
---
E-BAY AUCTIONS: I see PsiFiMogul has some items out at e-bay! While there are some really nice items, there are a couple you may want to pay attention to -- B5 Crew Jacket (Item #2174602185) Haven't seen those since my days with the Fan Club. And there are some audio tapes from Pat Tallman and Claudia Christian (Item #3521112082).
---
Monday, May 12:
RATINGS: Top 10 SCIFI Shows: Threshold 1.5; Stargate SG-1 1.2; Tremors: The Series 1.2; Scare Tactics 1.2; The Beast, Part 2 1.0; Mimic 1.0; Crocodile 2 0.9; Octopus 2 0.9; Pumpkinhead 2 0.9, and Body Snatchers 0.8. Source: Nielsen Galaxy Report, 4/14/03 - 4/20/03.
---
BATTLESTAR GALACTICA: Over at Genre Online you can preview some of the first pictures from SCIFI's BATTLESTAR GALACTICA series. For more information about the series, go to http://www.scifi.com/battlestar/. David Eick, executive producer of miniseries, is there to answer questions about the project.
---
WEEKEND BOX OFFICE: No surprises here for this weekend. 20th Century Fox's X2: X-MEN UNITED grossed an estimated $41.4 million, moving its 10-day cume to an impressive $149 million. Despite mixed reviews, Sony's family comedy "Daddy Day Care," starring Eddie Murphy, debuted strongly in the second spot during the Mother's Day weekend with an estimated $27.6 million. Buena Vista's "The Lizzie McGuire Movie" landed in the third slot with an estimated $7.8 million and about $27.2 million in 10 days. Sony's "Identity" placed fourth with an estimated $6.3 million "Anger Management" was in the fifth slot with $5.5 million. The hit comedy, starring Adam Sandler and Jack Nicholson, has amassed about $122.9 million to date.
---
SMALLVILLE: Variety reports that The WB will move SMALLVILLE to Wednesdays next season. The show will air at 8pm.
---
ANGEL RENEWED: Variety reports that ANGEL -- with new cast addition James Marsters-- has been given a fifth season on The WB. The network has ordered another full season of the Joss Whedon-creative series and will air the show Wednesdays at 9 p.m. The WB also has an option for a sixth season. Buffy the Vampire Slayer star Marsters has signed on to reprise his role as Spike. Other "Buffy" regulars may also make guest appearances next season, while Whedon has vowed to write several scripts and direct episodes of the show.
---
MATRIX: With MATRIX: RELOADED coming out this week, you'll want to read the interview with star Keanu Reeves over at Prevue Magazine.
---
Sunday, May 11:
HAPPY MOTHER'S DAY: Have you told your Mom how much you love her today yet? You should say it often, but especially today.
---
SMALLVILLE: With the building relationship between Clark and Lana in SMALLVILLE, have you been wondering whether if the writers will take the relationship to another level? Executive Producer Al Gough told TV Guide Online that Clark Kent will remain a virgin for the foreseeable future. "Yes, Clark is a virgin ... and will remain so," Gough told the site. Clark (Tom Welling) is in a love triangle with Lana Lang (Kristin Kreuk) and Chloe Sullivan (Allison Mack). But, Gough said, "once you cross that line [of sex], then you forever change the character and the series. It's not something we want to do at this stage of the game. It'll definitely be down the road."
---
CLASSIC MOVIES: We all know that AOL Time Warner has a vast library of classic film titles across several home entertainment venues. This summer, the company will let America Online members vote to determine a block of five films that will air in the fall on Turner Classic Movies and will also be released on DVD via Warner Home Video in January. The media conglomerate plans to offer up 20 classic films from its library of more than 6,000 films to AOL members from June 23-July 1 through a varied media campaign using virtually every AOL Time Warner media outlet. Then consumers will decide which five classic titles will make it to air on the TCM channel and be packaged on DVD, complete with such bonus materials as commentary tracks, TCM celebrity documentaries and related shorts. The new consumer-driven marketing approach to releasing AOL Time Warner's classic films, tagged DVD Decision 2003, was the brainchild of WHV senior vp classic catalog George Feltenstein, who came to WHV from Turner Entertainment Co. just six months ago. "Consumers are constantly asking us when many of our classic titles will be released on DVD," Feltenstein said. "And in this promotion, they get to choose which ones come out first." Let's hope that at least one will be a classic science fiction film!
---
THE ZOCALO TODAY: A new electronic newsletter for The Zocalo Today went out yesterday. Did you get your copy? If not, drop me a line so that I can add you to the mailing list. What did it have that's different from the website? It had the B5 Cast In Other Roles listing -- B5 cast members on the tube from now until the end of the month. Don't miss getting your own copy!
---
Saturday, May 10:
RATINGS: Top 10 SF Network Shows: Alias 3.0; Charmed 2.8; Angel 2.7; Enterprise 2.5; Smallville 2.3; Buffy 1.9; Twilight Zone 1.3; Sabrina 1.2, and Smallville encore 1.0. Source: Nielsen Galaxy Report, 4/7/03 - 4/13/03.
---
X-FILES: Fox Mulder's X-Files office will be forever preserved at the Hollywood Entertainment Museum in Los Angeles, where it is on permanent loan from Fox Television. The set has been reconstructed with all of its original set dressing. The museum is located at 7021 Hollywood Blvd.
---
X2:X2: X-Men United did break the $100 million mark during the first week of its run. X2 took in almost $4.9 million on Wednesday, carrying it to a total domestic take of over $103 million in just six days on the screen. Not much competition this weekend, so it should remain in the #1 spot at the box office. The real battle begins next weekend as "X2" will face off with the much-anticipated "Matrix: Reloaded."
---
LONE RANGER: Hardly SF news, but always ready for a good adventure, news comes from Variety that David Webb Peoples, who wrote the Oscar-winning Clint Eastwood film UNFORGIVEN, has been hired to write a screenplay for THE LONE RANGER. Peoples will write the screenplay together with his wife, Janet. The couple previously teamed up to produce TWELVE MONKEYS which was directed by Terry Gilliam.
---
WHAT'S ON TONIGHT
9:00 PM
CSI: Crime Scene Investigation
Primum Non Nocere
The death of a very unpopular amateur hockey player---who perishes in the middle of a game---propels this intriguing episode. When Terry Rivers (David Andriole) barrels into the opposing team's goalie, a fight breaks out and Terry ends up at the bottom of a huge pile of bodies. After the players are separated, he is found dead...with a deep, bloody gash across his neck. Grissom, Catherine and Sara are called in to investigate. Across town, Warrick (Gary Dourdan) and Nick (George Eads) look into the apparent drug-related death of a sax player at a casino. While working on the case, Warrick finds himself drawn to a rising young singer (Nicole Ari Parker) who worked with the dead musician. 10:00 PM
CSI: Crime Scene Investigation
Alter Boys
A young man is discovered burying a body that has been shot three times, but Grissom isn't convinced the guy is the killer---despite a wealth of evidence to the contrary; a woman is found dead in a health spa locker room without obvious evidence of foul play, but Catherine and Nick suspect murder. On SCIFI Tonight: 7:00 PM
Dead Zone
Descent
Johnny's efforts to retrieve four teenagers from a collapsed mine shaft are complicated when recurring visions of his past force him to confront painful family issues. 8:00 PM
Stargate SG-1 9:00 PM
Stargate SG-1 10:00 PM
Scare Tactics
Pranks include a nurse-in-training who is hoodwinked into participating in a phony organ-harvesting operation. 10:30 PM
Scare Tactics
A woman is persuaded to try a tanning cream with an unnerving side effect---it leaves her skin with an unearthly glow.
BABYLON 5 SEASON THREE DVD
GREAT NEWS! According to http://www.tvshowsondvd.com/ we will be enjoying Season Three of Babylon 5 on DVD soon. Hopefully something official will come from the WB soon. Season 3 Details
5/08/2003 Warner Brothers has announced August 12th as the street date for Babylon 5: The Complete Third Season. Subtitled "Point of No Return", it will be another 6-disc extravaganza featuring all 22 episodes of the third season. In addition, Warner is again working with producer/creator J. Michael Straczynski to bring you the very best in the way of supplements: Introduction from series creator J. Michael Straczynski
Commentaries on 3 key episodes by series creator and stars
Documentary: Behind the Mask: Creating the Aliens of Babylon 5
Documentary: Designing a Better Narn
Documentary: Designing Tomorrow: The Look of Babylon 5
Data and Personnel Files Once again this will by brought to you in 16x9 Anamorphic Widescreen, and with sound remastered in Dolby Digital 5.1...all for a list price of $99.98.
BABYLON 5 SEASON TWO DVD
Over at SciFi Dimensions you can read a review of the Season Two DVD. I think you'll agree with this closing comment: Babylon 5: The Complete Second Season firmly establishes this show as one of the great all-time franchises in science fiction. Every self-respecting fan owes it to himself or herself to own this DVD series. AND while there, you can register to win either a Season One DVD or the Season Two DVD. Good luck! The WB has started to promote the new Season Two DVD and they have sent out a lot of promotional material to a number of folks hosting Babylon 5 sites. I received the press release below as well as stills and some segments from the actual DVD. They are FANTASTIC. It is SO wonderful to see all these folks again -- talking about their Season Two experiences with Babylon 5. Rather than me try to deal with all the material, Monica over at The Abyss has already put in a considerable amount of effort to pull them together -- and done a marvelous job of it! Thanks Monica. Go to http://abyss.hubbe.net/b5/dvds/boxed-s2promos.html to look at the materials the WB has pulled together on the series. The Season One DVD was good -- this one looks like a winner as well. Did you notice that there is a gag reel included? I can't wait to see that one!!:
FOR IMMEDIATE RELEASE
The Excitement Continues!
BABYLON 5:
THE COMPLETE SECOND SEASON
By Popular Demand, Warner Home Video Sets April 29 Debut
for the Next Installment of Classic Sci-Fi Series Burbank, Calif., February 14, 2003 - Following the resounding success of the first season's DVD release, Warner Home Video is following up with the second 22 regular season episodes of the Emmy Award-winning series Babylon 5. Babylon 5: The Complete Second Season comes to DVD on April 29 as its own six-disc giftset. Loaded with extras including commentaries by series creator J. Michael Straczynski, the set will sell for $99.98 SRP. Babylon 5, the acclaimed series about the space station that's the tumultuous center of the 23rd century's bid for peace among humans and aliens, joins Friends, The Sopranos, Buffy the Vampire Slayer, The Simpsons and more TV-to-disc programs that prove DVD is the hot-selling format TV fans want to own. Babylon 5 won two Emmys (Groundbreaking Visual Effects and Makeup) and earned the 1999 Saturn Award for Best Genre Cable/Syndicated Series from the Academy of Science Fiction, Fantasy & Horror Films (Hugo Awards). The second season of Babylon 5 also won the 1996 Hugo Award for Best Dramatic Presentation for The Coming of Shadows episode. Other Hugo nominees that year included Apollo 13, Toy Story and Star Trek: Deep Space Nine's The Visitor episode.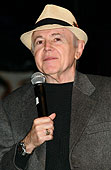 Additionally, Babylon 5: The Complete Second Season includes three Emmy-nominated episodes, Acts of Sacrifice, The Geometry of Shadows and Comes the Inquisitor. It was the first-ever television series to use extensive computer-generated imagery and to shoot and air in a widescreen format. Babylon 5 rewarded fan loyalty and broke new ground by maintaining narrative consistency through a five-year story arc, and the show was singled out by NASA, the Jet Propulsion Laboratory and other noted institutions for its science-based treatment of futuristic space themes/technology. Today, Babylon 5 continues its mission with episodes syndicated on the Sci-Fi Channel, which also recently aired the new Babylon 5 feature, Legend of the Rangers. There are also more than 30 novels in print set in the Babylon 5 universe, and fan requests for a new Babylon 5 television series are growing. BABYLON 5 BONUS FEATURES
The six-disc set Babylon 5: The Complete Second Season includes the following:
∑ All-new digital widescreen transfers [16x9, 1.77:1]
∑ Soundtrack remastered in Dolby Digital 5.1
∑ Introduction by series creator/producer J. Michael Straczynski and various cast members
∑ Episode commentaries by Straczynski and cast members Bruce Boxleitner, Claudia Christian and Jerry Doyle
∑ Building Babylon: Blueprint of an Episode featurette
∑ Shadows and Dreams: Honors of Babylon featurette, including coverage of the Hugo Award
∑ The Universe of Babylon 5 data/tech/personnel files
∑ Gag reel
∑ Babylon 5 Timeline
∑ Original Episode promos
SYNOPSIS
The long-running Emmy Award-winning television series Babylon 5 takes place in the year 2257 A.D, on an immense space station floating in a stationary orbit in a neutral corner of a distant galaxy. Staffed by a crew of peaceful Earthmen and women, Babylon 5 serves as a non-political economic and social hub for the four alien races -- the Narn, Centauri, Vorlon and Minbari -- who fight to control the galaxy. Babylon 5: The Complete Second Season
$99.98 SRP
STREET DATE: April 29
RATING: NR
RUN TIME: approx: 990 minutes
SCIFI TALK
Tony Tellado and the gang at SciFi Talk have done a series of interviews with the cast from X2" X-Men United. Thanks to 20th Century Fox, the interviews with the cast from the radio roundtables will begin running starting May 2. Conversations include Hugh Jackman, Patrick Stewart, Famke Jensen, James Marsden, Kelly Hu, Shawn Ashmore, Aaron Stamford, Ana Paquin, Rebbeca Stamos, Alan Cummings, Director Bryan Singer, amd Executive Producers Lauren Shuler-Donner and Rallph Winter. The interviews run daily and listen to them on Newsbreaks as well. Check schedule for days.

Audio can be heard daily at Sci-Fi Talk At Live365.Com X-Men Page is at www.scifitalk.com.
CALLING ALL GRID EPSILON IRREGULARS
Wow, that's a term I haven't used in a long time! With the coming 10th anniversary of the airing of "The Gathering", Ranger Desi and other GEIs would like to get back in touch. The GEIs were the original fans of the show -- before there was a show. They gathered over on the old GEnie site and chatted with Joe and others about Babylon 5 before it hit the airwaves. If you are one of those lucky few -- an original GEI -- please go to http://worldsofjms.com/b5/gei.htm . If you would like to contact Ranger Desi, her e-mail is: dlcarroll@sc.rr.com.
RANGER SIGHTINGS
Ranger Amy sent along the following observation:

For quite a while now, they've had a cartoon Spoo (sighting, even!) in the ads for Zoloft (anti-depressant).

Ranger Steve reports:
Two Saturdays ago, David L. Crowley (Lou Welch) appeared briefly as a private security guard on The Agency. He was a baggage X-ray front lobby guard at this company (which, incidentally, was owned by a billionaire played by David Cassidy) that was conspiring to assassinate a Saudi prince. I don't recall if he had a speaking part, but you gotta love Lou!

And two or three weeks ago (I think it was 4/17), Whip Hubley (Ranger #1 on Signs & Portents) was on an episode of C.S.I. Miami. He played a father whose son was involved in a Columbine-like gang of students plotting a school shooting.
DISCUSSION TOPIC
The BBC reported that "Iíll be back," Arnold Schwarzenegger's line from 1984's The Terminator, was voted the best parting shot in movie history in a poll conducted by Odeon Cinemas in the United Kingdom. What do you think the BEST Babylon 5 would be? I know, there are tons of them, but give that a thought and send in your votes. Let's limit the voting to 5 and let's see what happens! Send in your best quotes to sgbruckner@aol.com. I'll post the responses on the Discussion Page for everyone to share.
BABYLON 5 CHRONOLOGY
I've put up another wonderful segment of the Babylon 5 Chronology. This segment begins with 2249. Go to 23rd Century. I noticed that JMS used a section of Terry's chronology to answer a question the other day about Morden/Anna's trip over on the B5 moderated newsgroup. A BIG THANK YOU and note appreciation goes to Terry for taking the time (and considerable effort) to pull the chronology together -- and for updating it to include CRUSADE, the novels and other relevant Babylon 5 material. THANKS TERRY!
REVIEWS WANTED:
REVIEWS OF THE NEW DVD: A number of people have commented on the new DVD so I've begun adding them to the review page. Check it out. Send in your comments for others to see.

NEW REVIEWS! See if you agreed with the reviews received thus far! Go to Reviews to see. Want to express your opinion? Just drop me a line and you too can see your name in lights.

Read any good books lately? How about the movies. Did you like LORD OF THE RINGS, NEMESIS? Send along a review and share your thoughts with the readers here. Let's make one of our New Years Resolution one of staying in touch here at The Zocalo Today.
KEEPING UP WITH CAST AND CREW
PETER WOODWARD: Peter is definitely doing something right over at The History Channel. His new CONQUEST series has gotten an order for new episodes. They will be starting to film new episodes in May and plan to start broadcasting them in July.
---
JASON CARTER/RICHARD BIGGS: Pipeline Productions is currently organizing a Biggs & Carter Experience (acting workshop) Cruise event. Anyone Interested in participating can be added to the mailing list by emailing their name and address to JasonCarterFC@aol.com. For more information on the Biggs & Carter Experience, please visit www.biggsandcarter.com .
---
FIONA AVERY: Fiona Avery (author of the "Rising Stars: Bright" series) is starting another spin-off of the Rising Stars series called "Rising Stars: Untouchable". Due around August 2003, it features Laurel Darkhaven, the telekenetic who became a CIA assassin who was featured in issue #16. The five issue mini series is being called "Rising Stars: Untouchable" and will have artwork by Rick Mays. For more on this from Fiona, go to http://www.newsarama.com/cgi-bin/ubb/ultimatebb.cgi?ubb=get_topic;f=1;t=000495.
---
J. MICHAEL STRACZYNSKI: For those of you who just can't get enough from JMS, there is a long, but interesting interview in Sketch Magazine at http://www.hypethis.com/interviews/interview_jmichaelstraczynski.html.
---
BILL MUMY: Bill will be releasing his 5th solo CD in April on Renaissance Records. GHOSTS will be a compilation of songs (the best of) taken from the first four CD's plus a few brand new ones. The brand new songs include "Always Open", "Take it Back", "The Recalcitrant Princess" and "Just A Drop of Rain in the Ocean." Angela Cartwright from Lost in Space will design the package. The album will be available through Amazon.com and other internet sites as well as a few of the bigger stores.
---
RICHARD BIGGS: Ranger Jan reports that Richard Biggs gave out some very good news at MegaCon last week. He has landed a recurring role on SCIFI's TREMORS. He will also be coming back to STRONG MEDICINE.
---
BABYLON 5 BIRTHDAYS
Theodore Bikel - May 2
Michael O'Hare - May 6
Stephen Furst - May 8
Melissa Gilbert-Boxleitner - May 8
Bruce Boxleitner - May 12
Andreas Katsulas - May 18
Andrea Thompson - May 22
Doug Wise - May 21
Douglas Netter - May 23
Paul Winfield - May 22
Roy Dotrice - May 26
Harlan Ellison - May 27 Have I missed anyone? If you know the birthday of someone connected with Babylon 5, pass the information along. We want to include everyone in our Happy Birthday Wishes.
READER BIRTHDAYS
Sometimes you just can't find the e-mail address for someone you know you have -- it's someone who responded to a discussion topic or you met in one of the chat rooms. You'd like to send a personal note, but .... No address!!!!

We've started a White Pages of Zocalo Readers! It's a handy way of keeping track of people -- and putting together a birthday/greeting card list as well. If you would like to be part of the listing, just send me your name, state, e-mail address and (if you'd like to have it listed) birthday (without year) to sgbruckner@aol.com. Check out the Directory of Readers.

Name: John T. Hill
State: North Carolina (GO TAR HEELS!)
Email Address: snowheel@bellsouth.net
Birthday: May 8

Name: Dante Ojeda
State: Buenos Aires, Argentina
E-mail: dantii@tutopia.com
Birthday: May 18

Name: Kevenn T. Smith
State: Ohio
E-mail: kevenn777@earthlink.net
Birthday: May 17

Name: Sally Smith
State: Georgia
E-mail address: NeverTheVictim@aol.com
Birthday: May 28

Name: Laurraine Tutihasi
State: California
E-mail address: ltutihasi@aol.com
Birthday: May 18
COMIC BOOKS
AMAZING SPIDERMAN
Amazing Spider-Man #53 will arrive in stores on Wednesday from Marvel Comics. The issue is written by J. Michael Straczynski, with art and cover John Romita Jr. and Scott Hanna. Here's how Marvel describes the issue:
"Part 3 of a 3-part story." Amazing Spider-Man #53 will be 32 pages and will cost 25 cents.
SMALLVILLE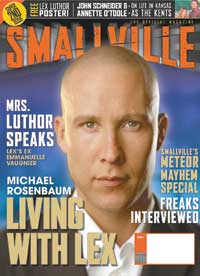 Smallville #2 will arrive in stores on Wednesday from DC Comics. The issue is written by Mark Verheiden and Clint Carpenter, with art by Renato Guides and Tom Derenick and a cover by John Van Fleet. DC describes the issue below: "The bimonthly series based on The WB television show continues. Trouble's brewing at the Miss Smallville Pageant. Contestants are being terrorized, and it's up to Clark and Lana to get to the bottom of it! Plus, in a back-up story, find out what Chloe did during her summer internship at the Daily Planet between Seasons 1 and 2. This issue is rounded out by interviews with actors Allison Mack (Chloe Sullivan) and Sam Jones III (Pete Ross), as well as the next installment of the episode guide to Season 1." Smallville #2 will be 48 pages and will cost $3.50.
RISING STARS

An original novel based on the hit comic book series! It covers the events that happened in issues #9-16.
SUPREME POWER
This is a new title J. Michael Straczynski has been working on for Marvel. Originally titled "Squadron Supreme", it is now called "Supreme Power". According to JMS, publication date in July 16. JMS described the series in a comment to the B5 moderated newsgroup as: Supreme Power is an updating of the Squadron Supreme book done quite a while back by Mark Gruenwald. It was one of the first books, possibly the first book, to really examine the role of the superhero in society, and as such is generally considered to have paved the way for such later works as Watchmen, Dark Knight, Marvels, Kingdom Come and others. Marvel said, basically, if you could take those characters, who were used at a time when comics were still quite a bit more restrictive than now, due to the comics code and other influences, and update them, recast them, free to do whatever you want...what would you do? Hence, Supreme Power. While it has its moments of dark humor, it's a very intense, serious book. And because it's being done for the Marvel Max line -- which is aimed at mature readers -- there are very few limitations in terms of imagery and language. Marvel has said it wants me to take this book to the wall, and that's pretty much where I intend to go. Interestingly, unlike the aforemtentioned titles, this isn't a limited series...it's intended to be an ongoing series, while trying to sustain the kind of intensity you get in that kind of limited edition. It's a massive writing challenge, though one of my main goals is to do right by Mark's original creation.
CSI
CSI: THICKER THAN BLOOD
IDW Publishing
When an Elvis impersonator disappears, and a mobsterís life is threatened, only the CSI team can save the day!
BRIGHT
Rising Stars: Bright #3 will arrive in stores on Wednesday from Image Comics. The issue is written by Fiona Avery, penciled by Dan Jurgens, inked by Jason Gorder and art by John Starr. Rising Stars: Bright #3 will be 32 pages and will cost $2.99.
RISING STARS: BRIGHT #1
(W) Fiona Avery, (P) Dan Jurgens, (I) Jason Gorder.
"Mercy." In the hit series, Rising Stars, it is mentioned that at one time, Matthew Bright ran away from Pederson and, under an assumed name, became a member of normal society and a police officer. Join us as Matthew tells this story in his memoirs and learn how a Special can shine brightest when they're just being human. FC 32 pages $2.99 Part 1 of 3 . BRIGHT #2
(W) Fiona Avery (P) Dan Jurgens.
"Authority." Matthew Bright is still living under the assumed name of Brendan Miller, and making close friendships with Frank and Jess in the precinct, when a new serial killer case erupts in the NYPD. Matt really takes the case to heart upon discovering that the serial killer has Specials in mind whenever he causes new carnage in the streets of suburban New York. In the second part of three issues, Matthew's secret identity as Brendan Miller is about to be ripped from him and his true nature as a special is revealed. 32 pages, $2.99.
BABYLON 5 NOVEL
DelRey is reprinting the original Babylon 5 novels. They started with #7 - Jeanne Cavelos' THE SHADOW WITHIN. Here's one I've been waiting for -- Kathryn Drennan's TO DREAM IN THE CITY OF SORROWS. The release date is scheduled for July 29, 2003. I love the new cover art! It can be pre-ordered from www.amazon.com. For those of you who love Babylon 5, this one reads just like an episode from the series. You just can't put it down.
SCI FI PUBLICATIONS
Cult Times #92: While Best of the British is the title of this issue, there are a number of articles that should attract others -- namely an interview with Luke Perry from JEREMIAH and Anthony Michael Hall from THE DEAD ZONE.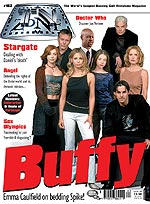 TV Zone #162: With the end coming for BUFFY, most of the SF magazines will sport covers of the cast and TVZone is right in line with the entire cast. Emma Caulfield looks back on five years with the series while Director Michael Wood from STARGATE SG-1 looks back on season six and some of his early stories.
Expose Special #77: This special issue is a review of 2002. With Harry Potter #2, Lord of the Rings and Terminator 3, they also look at Star Trek: Nemesis, FIREFLY, Buffy and Dinotopia.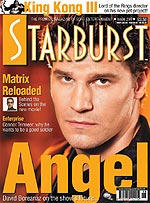 Starburst #298: ANGEL's new season is the focus of the issue. David Boreanaz talks about what makes the show so special to him. Also in this issue, a behind the scenes look at MATRIX RELOADED. Another show with changes ahead is SMALLVILLE. Alfred Gough and Miles Millar talk about what is in store for the next season.







BABYLON 5 BOOK OF QUOTES
For all those who submitted quotes and experiences to the Babylon 5 Book of Quotes, word from JMS is that the book, plus emails and suggestions, is being compiled now, and they're targeting February, the 10th anniversary of B5, for the publication date.
SCI-FI SCHEDULE
BABYLON 5 16-MAY-03 9:00 AM BABYLON 5 (LBX) ALL ALONE IN THE NIGHT

19-MAY-03 9:00 AM BABYLON 5 (LBX) ACTS OF SACRIFICE
20-MAY-03 9:00 AM BABYLON 5 (LBX) HUNTER, PREY
21-MAY-03 9:00 AM BABYLON 5 (LBX) THERE ALL THE HONOR LIES
22-MAY-03 9:00 AM BABYLON 5 (LBX) AND NOW FOR A WORD

27-MAY-03 9:00 AM BABYLON 5 (LBX) IN THE SHADOWS OF Z'HA'DUM
28-MAY-03 9:00 AM BABYLON 5 (LBX) KNIVES
29-MAY-03 9:00 AM BABYLON 5 (LBX) CONFESSIONS AND LAMENTATIONS
30-MAY-03 9:00 AM BABYLON 5 (LBX) DIVIDED LOYALTIES

CRUSADE 27-MAY-03 11:00 AM - CRUSADE THE RULES OF THE GAME
27-MAY-03 12:00 PM - CRUSADE WAR ZONE
27-MAY-03 1:00 PM - CRUSADE APPEARANCES AND OTHER DECEITS
27-MAY-03 2:00 PM - CRUSADE RACING THE NIGHT
27-MAY-03 3:00 PM - CRUSADE THE NEEDS OF EARTH STARGATE SCHEDULE: 16-MAY-03 8:00 PM STARGATE SG-1 (LBX) DISCLOSURE
16-MAY-03 9:00 PM STARGATE SG-1 (LBX) FORSAKEN
16-MAY-03 11:00 PM STARGATE SG-1 (LBX) FORSAKEN
19-MAY-03 7:00 PM STARGATE SG-1 SECRETS
19-MAY-03 8:00 PM STARGATE SG-1 BANE
19-MAY-03 9:00 PM STARGATE SG-1 THE TOK'RA - PT 1
19-MAY-03 10:00 PM STARGATE SG-1 THE TOK'RA - PT 2
19-MAY-03 1:00 AM STARGATE SG-1 SECRETS
20-MAY-03 1:00 AM STARGATE SG-1 BANE
21-MAY-03 1:00 AM STARGATE SG-1 THE TOK'RA - PT 1
22-MAY-03 1:00 AM STARGATE SG-1 THE TOK'RA - PT 2
26-MAY-03 7:00 PM STARGATE SG-1 SPIRITS
26-MAY-03 8:00 PM STARGATE SG-1 TOUCHSTONE
26-MAY-03 9:00 PM STARGATE SG-1 THE FIFTH RACE
26-MAY-03 10:00 PM STARGATE SG-1 A MATTER OF TIME
26-MAY-03 1:00 AM STARGATE SG-1 SPIRITS
27-MAY-03 1:00 AM STARGATE SG-1 TOUCHSTONE
28-MAY-03 1:00 AM STARGATE SG-1 THE FIFTH RACE
29-MAY-03 1:00 AM STARGATE SG-1 A MATTER OF TIME
30-MAY-03 8:00 PM STARGATE SG-1 (LBX) THE CHANGELING
30-MAY-03 9:00 PM STARGATE SG-1 (LBX) MEMENTO
30-MAY-03 11:00 PM STARGATE SG-1 (LBX) MEMENTO FARSCAPE SCHEDULE:

16-MAY-03 5:00 AM FARSCAPE PRAYER (LBX)
18-MAY-03 12:00 AM FARSCAPE MY THREE CHICHTONS
19-MAY-03 12:00 AM FARSCAPE BEWARE OF DOG
20-MAY-03 12:00 AM FARSCAPE WON'T GET FOOLED AGAIN
21-MAY-03 12:00 AM FARSCAPE THE LOCKET
22-MAY-03 12:00 AM FARSCAPE THE UGLY TRUTH
23-MAY-03 5:00 AM FARSCAPE WE'RE SO SCREWED -PT 1: FETAL ATTRACTION (LBX)
26-MAY-03 12:00 AM FARSCAPE A CLOCKWORK NEBARI
27-MAY-03 12:00 AM FARSCAPE LIARS, GUNS AND MONEY -PT 1
28-MAY-03 12:00 AM FARSCAPE LIARS, GUNS AND MONEY -PT 2
29-MAY-03 12:00 AM FARSCAPE LIARS, GUNS AND MONEY -PT 3
30-MAY-03 5:00 AM FARSCAPE WE'RE SO SCREWED -PT 2: HOT TO KATRATZI (LBX)

BABYLON 5/CRUSADE PHOTOSHOP PHOTOS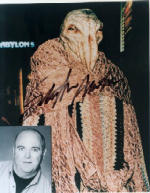 You do NOT have to pay the prices asked for over at e-bay! Here are photos of B5 and Crusade cast members at fantastic prices. Check out Photo Shop. Ordering is easy -- and you can't beat the prices! Just let me know which photos you want and I'll check to make sure they are still in stock.
---
BABYLON 5 TOONS
John Cook has a wonderful collection of cartoons -- many are take-offs from Babylon 5. Here's just one of them.
He has a cartoon caption contest going on as well. Try your hand at a punch line.

Go to http://contests.sev.com.au/index.php?contestid=1 .


BABYLON 5/CRUSADE CONVENTIONS
CONVENTION CALENDAR
Motor City Comic Con
May 16-18, 2003
Place: Novi Expo Center, Novi, Michigan
B5 Guests: Pat Tallman, Jerry Doyle, Peter Jurasik, Andrea Thompson
For more information, visit their website at http://www.motorcityconventions.com/motor_city_comic_con/index.html.
---
Marcon
May 23-25, 2003
Place: Columbus, Ohio
B5 Guests: Richard Biggs, J. Gregory Keyes
For more information, visit their website at http://www.marcon.org.
---
Vulkon
May 25-26, 2003
Place: Atlanta, GA
Atlanta Marriott Century Center
Guests: Barry Morse, more guests to be announced
For more information, visit their website at http://www.vulkon.com.
---
Vulkon
May 30-June 1, 2003
Place: Tampa, Florida
B5 Guest: Mira Furlan
Other Guests: Michael Dorn, John Billingsley, Teryl Rothery
For more information, visit their website at http://www.vulkon.com.
---
Trek Expo 2003
June 27-29, 2003
Place: Exposition Center, Tulsa, OK
B5 Guest: Walter Koenig
Other Guests: William Shatner, Leonard Nemoy, George Takei, Dominic Keating
For more information, visit their website at http://www.starbase21ok.com/trek__expo__2003.htm.
---
Toronto Trek 2003
July 11-13, 2003
Place: Regal Constellation Hotel, Toronto, CA
B5 Guest: Julie Caitlin Brown
Other guests: James Marsters, Gil Gerard, Erin Gray
For more information, visit their website at http://tcon.icomm.ca.
---
Shore Leave 25
July 11-13, 2003
Place: Marriott's Hunt Valley Inn
245 Shawan Rd., Hunt Valley, MD 21031
Tel. 410-785-7000
B5 Guest: Andrea Thompson (Talia)
For more information, visit their website at http://www.shore-leave.com.
---
Vulkon
July 18-19, 2003
Place: Tampa, Florida
Tampa Airport Hilton
Guests: Jonathan Frakes, more guests to be announced
For more information, visit their website at http://www.vulkon.com.
---
Be sure to visit our Convention Calendar for a full listing of upcoming conventions featuring Babylon 5, Crusade and Legend of the Rangers cast members as guests.
If you would like to share your convention experience with your other Zocalo readers, send along a convention report. I will gladly post it for all to read. Got pictures? I'll post those as well.
ZOCALO TRADING POST
Do you have extra copies of B5, Amazing Spiderman, Midnight Nation or Rising Stars comics you'd like to trade? How about those extra trading cards or B5 magazines? There are a lot of fans looking for these items -- and the Trading Post can help you buy or sell them. To see what's available, just use this link to the Trading Post. To have items included in The Trading Post, send a note to The Zocalo. Please put Trading Post in the subject line.
Pen Pals
If you are looking for someone to talk about Babylon 5 and Crusade with, the Pen Pal section is for you! Check it out! Drop a note to someone who is feeling B5 withdrawal -- BIG TIME!

People thought a Pen Pal page was a good idea. If you would like to meet people who you could chat with or share your opinions of the show with, send along your e-mail or snail-mail address The Zocalo. It will be incorporated on the new Pen Page Page.
MAIL FOR CAST AND CREW
Here's a recent note from JMS on the subject:

Just an FYI to those who've been using the Ventura Blvd. mail drop for fan mail to actors....

As mentioned before, we're phasing out the forwarding of fan mail because we a) don't have the resources, complicated by b) the actors have scattered to the four winds, and it makes it very difficult to get everything to everybody in a timely fashion.

So, having provided prior notice...fan mail to actors coming to the Ventura Blvd. mail drop will be sent back. Mail to actors should be sent via their official fan clubs. I will still be taking mail there, since it's my mailbox, but that's it.

Just so's y'all know and save a few bucks on postage and returns.

JMS' mail can be sent to:

14431 Ventura Boulevard, PMB 260
Sherman Oaks, CA 91423

WARNER BROS:

Warner Bros. Address:

Warner Bros. Domestic Television Distribution
4000 Warner Blvd.
Burbank, CA 91522

Warner Home Video:

Mr. Douglas Wadleigh
VP for Marketing and Special Features
Warner Bros.
4000 Warner Blvd.
Burbank, CA 91522

SCIFI:
Bonnie Hammer, President
Sci-Fi Channel
1230 Avenue of the Americas
New York, NY. 10020-1513

Mr. Thomas Vitale
Senior VP of Acquisitions, Scheduling & Program-Planning
BACK ISSUES OF THE ZOCALO TODAY
The front page of the The Zocalo Today changes daily, so be sure to check the back issues to make sure that you haven't missed anything IMPORTANT! I don't want the front page getting too long so I shift information periodically into the archives. So if you aren't a regular visitor to The Zocalo Today, be sure to check out the back issues. Just use the button above!
---
Take care and I look forward to hearing from you.
Sandra Bruckner (sgbruckner@aol.com)
Editor/Publisher
The Zocalo Today
http://www.isnnews.net
Copyright - SBruckner, 2003