[an error occurred while processing this directive]

The Zocalo Today

Welcome! I am glad that you found The Zocalo Today and dropped by. Take your shoes off, get comfortable and stay a while. There is a LOT of information here and you won't want to miss any of it.

The Zocalo Today is an interactive newsletter, encouraging readers to join a discussion topic each week. If you have suggestions as to how The Zocalo can be improved -- or be more responsive -- send them along. The Zocalo Today is as much YOUR newsletter as it is mine! I'm just pulling together things for you!

Join our weekly discussion topic. It is just one way you can interact with other Z readers. If you have other information you would like to share, send it along. If you see Babylon 5 cast and crew in other roles, let us know. We enjoy convention reports, photos, etc. Don't miss our back issues. I hope this will become more than just a newsletter. It's a community of people that enjoy sharing their experiences and interests. Don't be shy. Join us today!

If you have questions, drop me a line at sgbruckner@aol.com or thezocalo@aol.com. If you would like to join the mailing list for our bi-weekly newsletter, send me a note and I'll include you on the list. Or you can use the subscription block at the left.

Again, WELCOME!




What's New Today
Friday, May 2: RATINGS: Top 10 SF Network Programs: Alias 3.6; Miracles 3.3; John Doe 3.3; Futurama 2.8; Charmed 2.8; Enterprise 2.6; Angel 2.3; Smallville 1.8; Buffy 1.5, and Twilight Zone 1.4. Source: Nielsen Galaxy Report, 3/31/03 - 4/6/03.
---
DUCK DODGERS: Mr. Garibaldi will be happy to hear the news about DUCK DODGERS. Daffy's Duck Dodgers and Porky's Space Cadet must save the Earth from Martian Commander X-2 (Marvin the Martian) as they make their premiere on the Cartoon Network this summer. Each episode consists of two 11-minute cartoons; the show premieres Aug. 23.
---
WEST WING: Big news this morning! After completing the season four finale, AaronSorkin announced that he will not be returning to WEST WING next season. Thomas Schlamme will also be leaving the series. John Wells, currently an executive producer, will be asked to step into a more active role on the show.
---
SMALLVILLE: Over at Comics Continuum there are some terrific pictures of the final two episodes of SMALLVILLE, "Calling" and "Exodus". There is spoiler information there so DO NOT GO THERE unless you just need to know what is going to happen next!
---
X-2: Variety reports that X-2 has already amassed $8 million from 14 territories that reported figures on Thursday, beating the original's previews or opening day by two-to-three times.
---
INSIDE SCI-FI THIS WEEK:
Thursday, May 1:
TOP SF DVD SALES: 1. Harry Potter and the Chamber of Secrets; 2. Disney Pixar Three-Pack; 3. Spirited Away; 4. Star Trek Nemesis; 5. Babylon 5 Season Two; 6. Die Another Day; 7. Buffy Season Four; 8. Treasure Planet; 9. Miyazaki Three-Pack, and 10. Toy Story Two-Pack. Source: Amazon.com, top-selling genre DVDs, 4/25/03.
---
X-2: The USA Today reported that 168 bus-shelter posters for the upcoming X-Men sequel film, X2, have been stolen. Distributor 20th Century Fox reported that the thefts include one from the bus stop in front of Fox's Los Angeles studios. Over the past week, the one-sheets, valued at $40 each, were snatched from buildings and bus shelters in 15 cities, including New York, Los Angeles, Detroit and Chicago. Some of the stolen posters were listed on eBay for sale, and some of the auctions were shut down, though others were spotted by the newspaper. No arrests have been made.
---
CROW: With production set to begin in June, the next CROW film (titled WICKED PRAYER), will feature ANGEL star David Boreanaz, T2's Edward Furlong, AMERICAN PIE's Tara Reid and Dennis Hopper. Furlong plays an ex-con called Jimmy Cuervo who, together with his girlfriend (Emmanuelle Chriqui), are murdered by Luc Crash's biker gang called "The Four Horsemen of the Apocalypse". Boreanaz plays Crash, Reid is his girlfriend and Marcus Chong (THE MATRIX), Danny Trejo (SPY KIDS) and Tito Ortiz round out the remainder of Luc Crash's gang. The film will be directed by Lance Mungia (SIX-STRING SAMURAI).
---
THE HULK: With the June 20 release of THE HULK, TV Guide will spotlight the feature on the cover of an upcoming issue to coincide with the release. Both Entertainment Tonight and Access Hollywood will feature the movie on Wednesday, including images from the new Hulk trailer.
---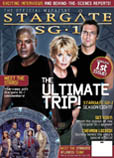 STARGATE SG-1: Looks like SCIFI is changing it's Friday schedule again -- this time for the better! STARGATE SG-1 returns with episodes at 8 and 9pm ET. Thank you SCIFI.
---
Wednesday, April 30:
SPIDERMAN IN THE UK: According to Variety, Channel 4 in the UK has picked up 52 episodes of the recently remastered 1967 Classic Spider-Man animated series. C4 has not yet announced air dates for the series.
---
CHARLIE CHAN: Variety reports that X-MEN 2 screenwriters Michael Dougherty and Dan Harris have signed a new deal with 20th Century Fox to write the screenplay for a new CHARLIE CHAN movie. Lucy Liu (CHARLIE'S ANGELS) remains attached to star in the film as well as serve as one of the producers. Liu would play a descendant of the original Chinese detective, bringing the family business into the 21st century.
---
BIG SALE: French media company Vivendi has announced it intends to sell off Universal studios, theme parks and cable television (SCIFI and USA) at a shareholder's meeting in Paris Tuesday. Potential buyers were not named.
---
CARTOON NETWORK: Dark Horizons indicates that Teen Titans" will debut on July 19th and "Duck Dodgers" on August 23rd on the Cartoon Network.
---
X-2: Over at Comics Continuum there are more interviews with the cast of X2: the X-Men Sequel. Lucy Liu and Patrick Stewart have been added to those already on-line from Hugh Jackman (Wolverine), Rebecca Romijn-Stamos (Mystique), Alan Cumming (Nightcrawler), Anna Paquin (Rogue), Shawn Ashmore (Iceman) and Aaron Stanford (Pyro). There are some great pics of the premiere Monday night at Grauman's Chinese Theater.
---
SAY IT ISN'T SO - FOX: I saw a note this morning that says Fox has decided NOT to air any repeat episodes of JOHN DOE or FASTLANE this summer. Instead, we'll get movies and reality series! BUMMER!!!! Looks like I don't have to check that channel listing this summer.
---
Tuesday, April 29:
BABYLON 5 SEASON TWO DVD: Today is the date official set for the release of the Season Two Babylon 5 DVD. Over at www.amazon.com Babylon 5 is #4 on the DVD sales list! Not bad for a show that has been off the air for a while! There are clips availabale for your enjoyment at http://movies.yahoo.com/movies/feature/babylon5dvd.html. Thanks WB for all the promotion of this DVD set!
---
SEASON TWO GIVEAWAY: SCIFI.COM is giving away ten (10) season two DVD boxed sets at http://www.scifi.com/babylon5/dvd/ . Fill out the form by May 3rd, and a winner will be chosen around May 13th, 2003. The winner will be notified by telephone or e-mail within five (5) business days after the drawing date.
---
X-2: Set for release this weekend, X2, the X-Men sequel film, will set a record for the biggest ever "day-and-date" release in film history. It will open simultaneously in 80 countries and in 93 separate markets. According to Variety, the previous record was set last year, when Star Wars: Episode IIóAttack of the Clones opened simultaneously in 74 countries. The original X-Men took in $300 million worldwide three years ago.
---
AROUND THE WORLD IN 80 DAYS: Variety reports that Arnold Schwarzenegger and John Cleese will appear in cameos in Jackie Chan's next project -- AROUND THE WORLD IN 80 DAYS. This Jules Verne story, also starring Steve Coogan, has been filming in Europe and Asia for seven weeks now. Actress Kathy Bates is playing Queen Victoria. The pic follows the exploits of a Victorian adventurer who wagers he can race across the globe in less than three months.
---
ADVENTURES OF WYATT MC HENRY: Paramount has signed Mark Wahlberg to play an adventuresome tour guide in their Indiana Jones-esque actioner THE ADVENTURES OF WYATT MC HENRY. McHenry is a modern-day scholar who trades in antiquities. The character is based on a series of yet-to-be-published novels written by Rick Gibb.
---
SMALLVILLE: CHLOE CHRONICLES: AOL and the WB have teamed up to create new AOL-exclusive original promotional programming surrounding SMALLVILLE. Beginning Tuesday and continuing through May 20, a new Chloe Chronicles video will launch each week on Tuesdays at 10 p.m. (ET), immediately following SMALLVILLE. These vignettes, two- to four-minute episodic video segments focussing on Chloe Sullivan (played by Allison Mack) as she investigates suspicious happenings around the town of Smallville. Lisa Gregorian, senior vice president, television, Warner Bros. Marketing Services, indicated that the goal is to create companion programming that offers new and exciting ways to engage the audience, just as music videos did for record promotion.
---
THE HULK - BILL BIXBY PIX: While Hugh Jackman was making the rounds of talk shows, he mentioned that Bryan Singer (X-Men Director) had pointed him to a Bill Bixby biopic as a possible next project. Jackman said, "... I just fell in love with it. It is one of the most moving stories I can imagine. This guy was loved in Hollywood, i mean he worked with Elvis for christ sakes and did lots of really good work but after The Hulk was type cast unfortunately, and then his son died in his arms in a hospital waiting room and his wife commited suicide not long after. And he suffered most dreadfully towards the end of his life. But in there is a tale of courage and strength of the human soul that is so remarkable. I dont think I'll do it straight away as I am filming VAN HELSING and then doing Broadway, but it is a story I love, so I am ready when Bryan is".
---
COMIC BOOK SUPERHEROES: On June 23, The History Channel will air COMIC BOOK SUPERHEROES UNMASKED, the network's first documentary about comic books and their subject matter. At the same time, the network has teamed up with Diamond to develop a marketing strategy that will draw an enormous level of attention to comic book stores by promoting the Comic Shop Locator Service.
---
Monday, April 28:
RATINGS: Top 10 SCIFI Programs: Scare Tactics 1.6; Cube 2: Hypercube 1.4; Stargate SG-1 1.2; Tremors: The Series 1.2; Hell Swarm 1.2; House of Frankenstein 2 1.0; Route 666 0.9; Tracker 0.9; Horror Show 0.9, and Phantasm IV 0.8. Source: Nielsen Galaxy Report, 3/31/03 - 4/6/03.
---
WEEKEND BOX OFFICE: Sony's IDENTITY put its mark on the top spot at the boxoffice this weekend with a surprisingly strong estimate of $17 million in its debut. ANGER MANAGEMENT slipped to the #2 spot, with an estimated $16 million collected. The film, starring Adam Sandler and Jack Nicholson, shot past the $100 million mark Saturday, becoming the fourth release this year to do so as its cume moved to an estimated $104.5 million as of Sunday. Four other films premiered this weekend. Lions Gate's "Confidence," an ensemble crime drama starring Dustin Hoffman, Edward Burns and Rachel Weisz, worked its way into the fifth slot with an estimated opening of a lukewarm $4.8 million. MGM's nearly all-Douglas family movie, "It Runs in the Family," arrived in the ninth spot with an estimated $3 million in its debut in 1,207 venues.
---
ANGEL: The season finale arrives on May 7 with an episode entitled, "Home." The episode was written and directed by Tim Minear. Here's how the network describes the episode: "Angel (David Boreanaz) and the gang are made an offer they can't refuse when they are given the opportunity to take over Wolfram & Hart and obtain all of the firm's secret and powerful information. Meanwhile, Angel has a chance to change the future for his son Connor (Vincent Kartheiser), who is physically and emotionally lost and wandering through the city."
---
JEREMIAH: Over at Comics2Film, there is a short piece on JEREMIAH. As the show returns to the Showtime line-up this year, Sean Astin, who is best known to fans as Frodo Baggins' traveling companion Samwise Gamgee in "The Lord of the Rings" movies, joins the cast. Astin is also directing the 13th episode of the show this year. No stranger to the chores of a director, Astin has directed episodes of ANGEL and comic-based PERVERSIONS OF SCIENCE. Astin is currently acting in his new movie "50 First Kisses" and will next be seen on the big-screen in the final "Rings" installment "The Return of the King." JEREMIAH returns to ShowTime in August.
---
Sunday, April 27:
DISCUSSION TOPIC: Thanks to everyone who has sent along their favorite quote. I will get your selections posted soon.
---
ANGEL: No official word has been received on the renewal of ANGEL as yet, but everyone is hoping WB will look at the new ratings and give the show another year of life.
---
Saturday, April 26:br> UPDATES: I found a ton of stuff this morning as I was surfing -- so be sure to hit all of the green patches on the page. It may be old news for some, but there's a bit of new material as well.
---
X-2: With the premiere of X-2 on May 2, there's a lot of publication surrounding the new movie. Director Bryan Singer is already talking about the next X-Men project! He said during a recent interview that a lot of comic mythology didn't make it into the second movie, but could end up in a third. "[In] each X-Men film, we lost a character. I had to battle Beast out of the first film. I think Angel was a character that found its way into almost towards the final drafts of this script. I had a wonderful scene with Angel that I was very fond of, and had to get rid of, because you don't want to have characters and plot lines for the sake of having characters and plot lines." Singer said that he had to cut other elements from X2, including a scene featuring Wolverine (Hugh Jackman) in the Danger Room and others involving the Sentinels.
---
BATTLESTAR GALACTICA: Universal Interactive announced at a recent press conference that it has a BATTLESTAR GALACTICA video game in development and slated for release in the fall of 2003. The video game is set before the destruction of the Twelve Colonies (as seen in the BATTLESTAR GALACTICA movie). Since the game is set well before the film and TV series, all 12 Battlestars are still in operation and earlier models of the show's Vipers and Cylon Raiders will be seen. The story-driven missions will be varied, ranging from defensive patrols to all-out assaults. The game will be available for both the Sony PlayStation 2 and Microsoft Xbox consoles.
---
AGENT CODY BANKS 2: The WB is hard at work on this sequel. Kevin Allen is in final negotiations to come aboard to helm " Agent Cody Banks 2." He is replacing Harald Zwart, who filmed the original. According to The Hollywood Reporter, "Banks 2" begins shooting next month in London, with Dylan Sellers and David Nicksay producing with Splendid Pictures and Maverick Films.
---
WEREWOLF: The Hollywood Reporter indicates that rapper-turned-actor DMX is in negotiations to star in and produce Phoenix Pictures' action-thriller WEREWOLF, with Italian director Dario Piana making his U.S. feature debut. Production may start late in 2003 in Montreal. Written by Marshall Todd, "Werewolf" is described as being in the vein of "Blade." It will see DMX play a mysterious bluesman whose mission is to rid Earth of werewolves, the last of whom live among the rich, glamorous and drug-addicted in the Hollywood Hills.
---
MUTANT X: The episode written by Freddie Prinze, Jr., ONE STEP CLOSER, airs this weekend. For some pics and a synopsis of the episode and commentary from Prinze, go to http://www.comicscontinuum.com/stories/0304/25/index.htm.
---
SMALLVILLE: This WB series just keeps getting better and better. Tuesday's episode of SMALLVILLE placed No. 2 in adults 18-34 (3.9/12), persons 12-34 (3.9/12), women 18-34 (4.4/12), men 18-34 (3.5/11), women 12-34 (4.3/12), men 12-34 (3.5/12), adults 18-49 (3.3/8) and men 18-49 (3.2/9). Smallville was also No. 1 in its time period in teens (3.8/13), female teens (4.1/15) and male teens (3.6/12).
---
AMAZING SPIDERMAN: From wandering about this morning, it looks like Issue #52 of AMAZING SPIDERMAN is out on shelves now. The next issue of BRIGHT (Issue #3) is scheduled for arrival on Wednesday.
---
WHAT'S ON TONIGHT
"Finding Forrester" (2001) on A&E, 8:00pm - 11:00pm ET
From director Gus Van Sant comes this uplifting story about an isolated author and the confident teenager who changes his life. He was a vibrant personality who wrote a Pulitzer Prize-winning classic novel four decades ago. And that's the last the world heard of William Forrester (Sean Connery). That is until Jamal Wallace (newcomer Rob Brown), a brash 16-year-old with writing aspirations of his own, cracks the veneer of Forrester's sheltered existence and re-ignites the dreams of this literary legend in the winter of his life. "King Kong" (1976) on American Movie Classics, 8:00pm - 10:30pm ET
Jeff Bridges, Jessica Lange and Charles Grodin star in this updated version of the 1933 classic. The story is about the same as the original. The special effects in the jungle and on the Empire State Building are cool, but it's the John Barry soundtrack that makes this entry in the horror genre sing. 10:00 PM
CSI: Miami
Dispo Day
The investigation into a drug heist offers brief glimpses into the private lives of the CSIs, whose nerves are on edge when they become suspects in the crime they're trying to solve. A police convoy headed across town includes an unmarked truck filled with confiscated drugs being taken to an incinerator to be destroyed. The trip ends abruptly when thieves hijack the vehicle, kill its driver and shoot Speedle, who was riding shotgun. It's hard for Horatio (David Caruso) when the media draw comparisons to a similar case 10 years ago in which his cop brother was killed. But it's worse for his team when Internal Affairs decides that one of them tipped off the robbers about the delivery. On SCIFI Tonight: 7:00 PM THE DEAD ZONE PRECIPITATE
8:00 PM STARGATE SG-1 SIGHT UNSEEN
9:00 PM STARGATE SG-1 SMOKE AND MIRRORS
10:00 PM SCARE TACTICS EPISODE #103
10:30 PM SCARE TACTICS EPISODE #108
BABYLON 5 MOVIES ON SCIFI SUNDAY
On Sunday, May 4, you can spend a very enjoyable day watching a number of the Babylon 5 movies! Here's the schedule:

11:00 am Thirdspace
1:00 pm River of Souls
3:00 pm Legend of the Rangers
3:00 am The Gathering
BABYLON 5 SEASON TWO DVD
The WB has started to promote the new Season Two DVD and they have sent out a lot of promotional material to a number of folks hosting Babylon 5 sites. I received the press release below as well as stills and some segments from the actual DVD. They are FANTASTIC. It is SO wonderful to see all these folks again -- talking about their Season Two experiences with Babylon 5. Rather than me try to deal with all the material, Monica over at The Abyss has already put in a considerable amount of effort to pull them together -- and done a marvelous job of it! Thanks Monica. Go to http://abyss.hubbe.net/b5/dvds/boxed-s2promos.html to look at the materials the WB has pulled together on the series. The Season One DVD was good -- this one looks like a winner as well. Did you notice that there is a gag reel included? I can't wait to see that one!!: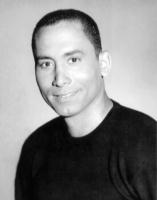 FOR IMMEDIATE RELEASE
The Excitement Continues!
BABYLON 5:
THE COMPLETE SECOND SEASON
By Popular Demand, Warner Home Video Sets April 29 Debut
for the Next Installment of Classic Sci-Fi Series Burbank, Calif., February 14, 2003 - Following the resounding success of the first season's DVD release, Warner Home Video is following up with the second 22 regular season episodes of the Emmy Award-winning series Babylon 5. Babylon 5: The Complete Second Season comes to DVD on April 29 as its own six-disc giftset. Loaded with extras including commentaries by series creator J. Michael Straczynski, the set will sell for $99.98 SRP. Babylon 5, the acclaimed series about the space station that's the tumultuous center of the 23rd century's bid for peace among humans and aliens, joins Friends, The Sopranos, Buffy the Vampire Slayer, The Simpsons and more TV-to-disc programs that prove DVD is the hot-selling format TV fans want to own. Babylon 5 won two Emmys (Groundbreaking Visual Effects and Makeup) and earned the 1999 Saturn Award for Best Genre Cable/Syndicated Series from the Academy of Science Fiction, Fantasy & Horror Films (Hugo Awards). The second season of Babylon 5 also won the 1996 Hugo Award for Best Dramatic Presentation for The Coming of Shadows episode. Other Hugo nominees that year included Apollo 13, Toy Story and Star Trek: Deep Space Nine's The Visitor episode.
Additionally, Babylon 5: The Complete Second Season includes three Emmy-nominated episodes, Acts of Sacrifice, The Geometry of Shadows and Comes the Inquisitor. It was the first-ever television series to use extensive computer-generated imagery and to shoot and air in a widescreen format. Babylon 5 rewarded fan loyalty and broke new ground by maintaining narrative consistency through a five-year story arc, and the show was singled out by NASA, the Jet Propulsion Laboratory and other noted institutions for its science-based treatment of futuristic space themes/technology. Today, Babylon 5 continues its mission with episodes syndicated on the Sci-Fi Channel, which also recently aired the new Babylon 5 feature, Legend of the Rangers. There are also more than 30 novels in print set in the Babylon 5 universe, and fan requests for a new Babylon 5 television series are growing. BABYLON 5 BONUS FEATURES
The six-disc set Babylon 5: The Complete Second Season includes the following:
∑ All-new digital widescreen transfers [16x9, 1.77:1]
∑ Soundtrack remastered in Dolby Digital 5.1
∑ Introduction by series creator/producer J. Michael Straczynski and various cast members
∑ Episode commentaries by Straczynski and cast members Bruce Boxleitner, Claudia Christian and Jerry Doyle
∑ Building Babylon: Blueprint of an Episode featurette
∑ Shadows and Dreams: Honors of Babylon featurette, including coverage of the Hugo Award
∑ The Universe of Babylon 5 data/tech/personnel files
∑ Gag reel
∑ Babylon 5 Timeline
∑ Original Episode promos
SYNOPSIS
The long-running Emmy Award-winning television series Babylon 5 takes place in the year 2257 A.D, on an immense space station floating in a stationary orbit in a neutral corner of a distant galaxy. Staffed by a crew of peaceful Earthmen and women, Babylon 5 serves as a non-political economic and social hub for the four alien races -- the Narn, Centauri, Vorlon and Minbari -- who fight to control the galaxy. Babylon 5: The Complete Second Season
$99.98 SRP
STREET DATE: April 29
RATING: NR
RUN TIME: approx: 990 minutes
SAVE MIRACLES CAMPAIGN
Those of us at Babylon 5 are VERY familiar with fan campaigns -- supporting Babylon 5, Crusade, even Legend of the Rangers. Here is another group fighting to save their favorite show - MIRACLES. If you enjoyed the show, you may want to join their efforts to save it. Here is a portion of a note sent in regarding current efforts underway on behalf of the show: "In only two weeks since the national launch of our efforts we've accomplished a ton -- over two dozen press mentions worldwide, a full-page ad in the April 16 Hollywood Reporter paid for by thousands of fans, another full-page ad in Variety (the April 25 edition), and serious response from networks such as Scifi, UPN and Fox. Our next step includes talks with loyal show sponsors like Pepsi-Cola, and a special auction of some specially signed "Miracles" items by its creative team to help generate funds for the campaign. So we're accomplishing great things, and believe in what we're doing. And now more than ever, when those of us who love good genre programming find the current landscape a wasteland. "X-Files," "Farscape," and "Firefly" are gone, "Buffy" is ending within months, "Angel" is on the bubble despite its most critically acclaimed season to date, and this superb show "Miracles," which received truly outstanding reviews, wasn't even given a chance to run past six episodes. The irony is that genre fans are among the most loyal anywhere -- we're the kinds of fans who score demographically in the 18-34 numbers, who seek out to patronize and reward advertisers who support their programming. Note: "Miracles" show creator Richard Hatem has been enormously supportive of our efforts, and I know he'd be happy to talk with you further as well -- he can be reached at richardhatem@hotmail.com, in case his point of view would also be helpful. Best as always, and thank you! We hope you'll check out our site -- and join the crusade! Angela Mitchell
Grassroots "Save Miracles" Campaign
Angela.Mitchell@MiraclesTV.com
CALLING ALL GRID EPSILON IRREGULARS
Wow, that's a term I haven't used in a long time! With the coming 10th anniversary of the airing of "The Gathering", Ranger Desi and other GEIs would like to get back in touch. The GEIs were the original fans of the show -- before there was a show. They gathered over on the old GEnie site and chatted with Joe and others about Babylon 5 before it hit the airwaves. If you are one of those lucky few -- an original GEI -- please go to http://worldsofjms.com/b5/gei.htm . If you would like to contact Ranger Desi, her e-mail is: dlcarroll@sc.rr.com.
RANGER SIGHTINGS
Ranger Gary reports:
Carmen Argenziano, who played Urza Jaddo in the second season ep named "Knives," has been playing a general advising President David Palmer in "24." Also, there has been a Detrol commercial airing here in the NYC area. Unless I'm very much mistaken, the actress in the commercial is none other than Marie Marshall, who played Dodger in "Gropos" and "Day of the Dead."
DISCUSSION TOPIC
The BBC reported that "Iíll be back," Arnold Schwarzenegger's line from 1984's The Terminator, was voted the best parting shot in movie history in a poll conducted by Odeon Cinemas in the United Kingdom. What do you think the BEST Babylon 5 would be? I know, there are tons of them, but give that a thought and send in your votes. Let's limit the voting to 5 and let's see what happens! Send in your best quotes to sgbruckner@aol.com. I'll post the responses on the Discussion Page for everyone to share.
BABYLON 5 CHRONOLOGY
I've put up another wonderful segment of the Babylon 5 Chronology. This segment begins with 2249. Go to 23rd Century. I noticed that JMS used a section of Terry's chronology to answer a question the other day about Morden/Anna's trip over on the B5 moderated newsgroup. A BIG THANK YOU and note appreciation goes to Terry for taking the time (and considerable effort) to pull the chronology together -- and for updating it to include CRUSADE, the novels and other relevant Babylon 5 material. THANKS TERRY!
REVIEWS WANTED:
NEW REVIEWS! See if you agreed with the reviews received thus far! Go to Reviews to see. Want to express your opinion? Just drop me a line and you too can see your name in lights. Read any good books lately? How about the movies. Did you like LORD OF THE RINGS, NEMESIS? Send along a review and share your thoughts with the readers here. Let's make one of our New Years Resolution one of staying in touch here at The Zocalo Today.
KEEPING UP WITH CAST AND CREW
PETER WOODWARD: Peter is definitely doing something right over at The History Channel. His new CONQUEST series has gotten an order for new episodes. They will be starting to film new episodes in May and plan to start broadcasting them in July.
---
ANDREAS KATSULAS: Did you catch Andreas on ENTERPRISE last night?
---
JASON CARTER/RICHARD BIGGS: Pipeline Productions is currently organizing a Biggs & Carter Experience (acting workshop) Cruise event. Anyone Interested in participating can be added to the mailing list by emailing their name and address to JasonCarterFC@aol.com. For more information on the Biggs & Carter Experience, please visit www.biggsandcarter.com .
---
FIONA AVERY: Fiona Avery (author of the "Rising Stars: Bright" series) is starting another spin-off of the Rising Stars series called "Rising Stars: Untouchable". Due around August 2003, it features Laurel Darkhaven, the telekenetic who became a CIA assassin who was featured in issue #16. The five issue mini series is being called "Rising Stars: Untouchable" and will have artwork by Rick Mays. For more on this from Fiona, go to http://www.newsarama.com/cgi-bin/ubb/ultimatebb.cgi?ubb=get_topic;f=1;t=000495.
---
J. MICHAEL STRACZYNSKI: For those of you who just can't get enough from JMS, there is a long, but interesting interview in Sketch Magazine at http://www.hypethis.com/interviews/interview_jmichaelstraczynski.html.
---
BEATA POSNIAK DANIELS: Beata Posniak's (President Luchenko from B5) recent project, a film entitled MNEMOSYNE which she directed, will be shown at the opening the 4th Annual Film Polish Festival at the Academy this month at the Leammle's Monica 4-plex Theater in Santa Monica from April 25 to May 1, 2003. The film "Mnemosyne" is based on the ancient poem "Thunder, Perfect Mind" - a visual journey of the human race, exploring where we have been and what we can become. We are taken on this journey through the voice and body of Mnemosyne, Mother of Memory. Mnemosyne bears witness to the forces of destruction as well as of creation, revealing through art, the multi-dimensionality of women. The film is a homage to power, strength and individualism.
---
ENID-RAYE ADAMS: You remember Enie as Firell from LEGEND OF THE RANGERS. She's landed a recurring role in JMS' JEREMIAH series for season two. She plays Gina.
---
BILL MUMY: Bill will be releasing his 5th solo CD in April on Renaissance Records. GHOSTS will be a compilation of songs (the best of) taken from the first four CD's plus a few brand new ones. The brand new songs include "Always Open", "Take it Back", "The Recalcitrant Princess" and "Just A Drop of Rain in the Ocean." Angela Cartwright from Lost in Space will design the package. The album will be available through Amazon.com and other internet sites as well as a few of the bigger stores.
---
RICHARD BIGGS: Ranger Jan reports that Richard Biggs gave out some very good news at MegaCon last week. He has landed a recurring role on SCIFI's TREMORS. He will also be coming back to STRONG MEDICINE.
---
PAT TALLMAN: Pat Tallman's JENNIFER IS DEAD will be playing at the Palm Beach Film Festival in early April. It is contending for a top award in the horror category. It will also be featured in Shriekfest 2003, aka the Third Annual Los Angeles International Horror/Science Fiction Film Festival and Screenplay Competition.
---
BABYLON 5 BIRTHDAYS
Theodore Bikel - May 2
Michael O'Hare - May 6
Stephen Furst - May 8
Melissa Gilbert-Boxleitner - May 8
Bruce Boxleitner - May 12
Andreas Katsulas - May 18
Andrea Thompson - May 22
Doug Wise - May 21
Douglas Netter - May 23
Paul Winfield - May 22
Roy Dotrice - May 26
Harlan Ellison - May 27 Have I missed anyone? If you know the birthday of someone connected with Babylon 5, pass the information along. We want to include everyone in our Happy Birthday Wishes.
READER BIRTHDAYS
Sometimes you just can't find the e-mail address for someone you know you have -- it's someone who responded to a discussion topic or you met in one of the chat rooms. You'd like to send a personal note, but .... No address!!!!

We've started a White Pages of Zocalo Readers! It's a handy way of keeping track of people -- and putting together a birthday/greeting card list as well. If you would like to be part of the listing, just send me your name, state, e-mail address and (if you'd like to have it listed) birthday (without year) to sgbruckner@aol.com. Check out the Directory of Readers.

Name: John T. Hill
State: North Carolina (GO TAR HEELS!)
Email Address: snowheel@bellsouth.net
Birthday: May 8

Name: Dante Ojeda
State: Buenos Aires, Argentina
E-mail: dantii@tutopia.com
Birthday: May 18

Name: Kevenn T. Smith
State: Ohio
E-mail: kevenn777@earthlink.net
Birthday: May 17

Name: Sally Smith
State: Georgia
E-mail address: NeverTheVictim@aol.com
Birthday: May 28

Name: Laurraine Tutihasi
State: California
E-mail address: ltutihasi@aol.com
Birthday: May 18
COMIC BOOKS
RISING STARS

An original novel based on the hit comic book series! It covers the events that happened in issues #9-16.
SUPREME POWER
This is a new title J. Michael Straczynski has been working on for Marvel. Originally titled "Squadron Supreme", it is now called "Supreme Power". According to JMS, publication date in July 16. JMS described the series in a comment to the B5 moderated newsgroup as: Supreme Power is an updating of the Squadron Supreme book done quite a while back by Mark Gruenwald. It was one of the first books, possibly the first book, to really examine the role of the superhero in society, and as such is generally considered to have paved the way for such later works as Watchmen, Dark Knight, Marvels, Kingdom Come and others. Marvel said, basically, if you could take those characters, who were used at a time when comics were still quite a bit more restrictive than now, due to the comics code and other influences, and update them, recast them, free to do whatever you want...what would you do? Hence, Supreme Power. While it has its moments of dark humor, it's a very intense, serious book. And because it's being done for the Marvel Max line -- which is aimed at mature readers -- there are very few limitations in terms of imagery and language. Marvel has said it wants me to take this book to the wall, and that's pretty much where I intend to go. Interestingly, unlike the aforemtentioned titles, this isn't a limited series...it's intended to be an ongoing series, while trying to sustain the kind of intensity you get in that kind of limited edition. It's a massive writing challenge, though one of my main goals is to do right by Mark's original creation.
CSI
CSI: THICKER THAN BLOOD
IDW Publishing
When an Elvis impersonator disappears, and a mobsterís life is threatened, only the CSI team can save the day! FREE COMIC BOOK DAY Check out http://www.freecomicbookday.com/ to see what comics will be offered on May 3 - FREE COMIC BOOK DAY. Looks like there may be something for everyone -- from Archie to Batman.
BRIGHT
Rising Stars: Bright #3 will arrive in stores on Wednesday from Image Comics. The issue is written by Fiona Avery, penciled by Dan Jurgens, inked by Jason Gorder and art by John Starr. Rising Stars: Bright #3 will be 32 pages and will cost $2.99.
RISING STARS: BRIGHT #1
(W) Fiona Avery, (P) Dan Jurgens, (I) Jason Gorder.
"Mercy." In the hit series, Rising Stars, it is mentioned that at one time, Matthew Bright ran away from Pederson and, under an assumed name, became a member of normal society and a police officer. Join us as Matthew tells this story in his memoirs and learn how a Special can shine brightest when they're just being human. FC 32 pages $2.99 Part 1 of 3 . BRIGHT #2
(W) Fiona Avery (P) Dan Jurgens.
"Authority." Matthew Bright is still living under the assumed name of Brendan Miller, and making close friendships with Frank and Jess in the precinct, when a new serial killer case erupts in the NYPD. Matt really takes the case to heart upon discovering that the serial killer has Specials in mind whenever he causes new carnage in the streets of suburban New York. In the second part of three issues, Matthew's secret identity as Brendan Miller is about to be ripped from him and his true nature as a special is revealed. 32 pages, $2.99.
BABYLON 5 NOVEL
DelRey is reprinting the original Babylon 5 novels. They started with #7 - Jeanne Cavelos' THE SHADOW WITHIN. Here's one I've been waiting for -- Kathryn Drennan's TO DREAM IN THE CITY OF SORROWS. The release date is scheduled for July 29, 2003. I love the new cover art! It can be pre-ordered from www.amazon.com. For those of you who love Babylon 5, this one reads just like an episode from the series. You just can't put it down.
STARGATE SG-1 ILLUSTRATED COMPANION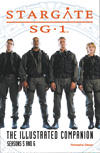 Featuring exclusive interviews with all the cast and crew, story synopses complete with extensive commentary, detailed behind-the-scenes information, and tons of photos, this volume stands as the official companion to seasons 5 and 6 of the hit television series, Stargate SG-1. If you are a fan of the series, you really do need this series of books. There's a lot of information about all the cast and characters.
SCI FI PUBLICATIONS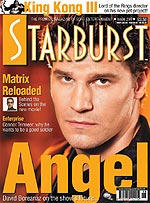 Starburst #298: ANGEL's new season is the focus of the issue. David Boreanaz talks about what makes the show so special to him. Also in this issue, a behind the scenes look at MATRIX RELOADED. Another show with changes ahead is SMALLVILLE. Alfred Gough and Miles Millar talk about what is in store for the next season.







Cult Times #90: Smallville's Michael Rosenbaum and John Glover talk about being the dynamic father and son duo behing Luthercorp. Also in this issue, a look at JEREMIAH with co-producer Gregory Noveck. David Fury discusses his work on ANGEL and BUFFY and Dominic Keating talks about Malcolm Reed from ENTERPRISE.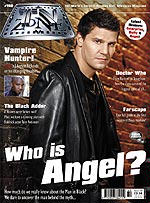 TV Zone #160: ANGEL has taken a number of twists and turns since first becoming part of our TV viewing schedule along with BUFFY. This issue brings you the history of Angel, along with an exclusive interview with J. August Richards - Gunn! Also inside, a full and comprehensive episode guide of FARSCAPE and a look at VERITAS.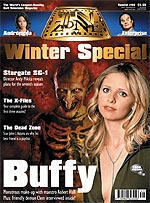 TV Zone Special #49: Make-up artists -- up close and personal! Genius Rob Hall from BUFFY is featured, along with Michael Westmore from ENTERPRISE and NEMESIS. Andy Mikita from STARGATE SG-1 talks about directing the latest episodes from season six. Also in this issue, Anthony Michael Hall talks about THE DEAD ZONE and the women of ANDROMEDA (Lexa Doig and Laura Bertram) talk about Andromeda and Trance.
Expose #77: With word just having come about BUFFY ending, this issue may be special for fans as Marti Noxon reflects on what she accomplished with the series -- and what she wishes she would have done! Also Kristen Dalton talks about her character, Dana, in THE DEAD ZONE and Lauren Lee Smith discusses the changes ahead for her character on MUTANT X.
BABYLON 5 BOOK OF QUOTES
For all those who submitted quotes and experiences to the Babylon 5 Book of Quotes, word from JMS is that the book, plus emails and suggestions, is being compiled now, and they're targeting February, the 10th anniversary of B5, for the publication date.
SCI-FI SCHEDULE
BABYLON 5 02-MAY-03 9:00 AM BABYLON 5 (LBX) POINTS OF DEPARTURE

04-MAY-03 11:00 AM MOVIE BABYLON 5: THIRDSPACE (LBX)
04-MAY-03 1:00 PM MOVIE BABYLON 5: RIVER OF SOULS (LBX)
04-MAY-03 3:00 PM SCI FI PICTURES BABYLON 5: LEGEND OF THE RANGERS (LBX)
04-MAY-03 3:00 AM MOVIE BABYLON 5: THE GATHERING (LBX)
05-MAY-03 9:00 AM BABYLON 5 (LBX) REVELATIONS
06-MAY-03 9:00 AM BABYLON 5 (LBX) THE GEOMETRY OF SHADOWS
07-MAY-03 9:00 AM BABYLON 5 (LBX) A DISTANT STAR
08-MAY-03 9:00 AM BABYLON 5 (LBX) THE LONG DARK
09-MAY-03 9:00 AM BABYLON 5 (LBX) SPIDER IN THE WEB

12-MAY-03 9:00 AM BABYLON 5 (LBX) SOUL MATES
13-MAY-03 9:00 AM BABYLON 5 (LBX) A RACE THROUGH DARK PLACES
14-MAY-03 9:00 AM BABYLON 5 (LBX) THE COMING OF SHADOWS
15-MAY-03 9:00 AM BABYLON 5 (LBX) GROPOS
16-MAY-03 9:00 AM BABYLON 5 (LBX) ALL ALONE IN THE NIGHT

19-MAY-03 9:00 AM BABYLON 5 (LBX) ACTS OF SACRIFICE
20-MAY-03 9:00 AM BABYLON 5 (LBX) HUNTER, PREY
21-MAY-03 9:00 AM BABYLON 5 (LBX) THERE ALL THE HONOR LIES
22-MAY-03 9:00 AM BABYLON 5 (LBX) AND NOW FOR A WORD

27-MAY-03 9:00 AM BABYLON 5 (LBX) IN THE SHADOWS OF Z'HA'DUM
28-MAY-03 9:00 AM BABYLON 5 (LBX) KNIVES
29-MAY-03 9:00 AM BABYLON 5 (LBX) CONFESSIONS AND LAMENTATIONS
30-MAY-03 9:00 AM BABYLON 5 (LBX) DIVIDED LOYALTIES

CRUSADE 27-MAY-03 11:00 AM - CRUSADE THE RULES OF THE GAME
27-MAY-03 12:00 PM - CRUSADE WAR ZONE
27-MAY-03 1:00 PM - CRUSADE APPEARANCES AND OTHER DECEITS
27-MAY-03 2:00 PM - CRUSADE RACING THE NIGHT
27-MAY-03 3:00 PM - CRUSADE THE NEEDS OF EARTH STARGATE SCHEDULE: 05-MAY-03 7:00 PM STARGATE SG-1 THE SERPENT'S LAIR
05-MAY-03 8:00 PM STARGATE SG-1 IN THE LINE OF DUTY
05-MAY-03 9:00 PM STARGATE SG-1 PRISONERS
05-MAY-03 10:00 PM STARGATE SG-1 GAMEKEEPER
05-MAY-03 1:00 AM STARGATE SG-1 THE SERPENT'S LAIR
06-MAY-03 1:00 AM STARGATE SG-1 IN THE LINE OF DUTY
07-MAY-03 1:00 AM STARGATE SG-1 PRISONERS
08-MAY-03 1:00 AM STARGATE SG-1 GAMEKEEPER

12-MAY-03 7:00 PM STARGATE SG-1 NEED
12-MAY-03 8:00 PM STARGATE SG-1 THOR'S CHARIOT
12-MAY-03 9:00 PM STARGATE SG-1 MESSAGE IN A BOTTLE
12-MAY-03 10:00 PM STARGATE SG-1 FAMILY
12-MAY-03 1:00 AM STARGATE SG-1 NEED
13-MAY-03 1:00 AM STARGATE SG-1 THOR'S CHARIOT
14-MAY-03 1:00 AM STARGATE SG-1 MESSAGE IN A BOTTLE
FARSCAPE SCHEDULE:

30-APR-03 12:00 AM FARSCAPE DREAM A LITTLE DREAM
01-MAY-03 12:00 AM FARSCAPE MIND THE BABY
02-MAY-03 5:00 AM FARSCAPE BRINGING HOME THE BEACON (LBX)

04-MAY-03 12:00 AM FARSCAPE VITAS MORTIS
05-MAY-03 12:00 AM FARSCAPE TAKING THE STONE
06-MAY-03 12:00 AM FARSCAPE CRACKERS DON'T MATTER
07-MAY-03 12:00 AM FARSCAPE PICTURE IF YOU WILL
08-MAY-03 12:00 AM FARSCAPE THE WAY WE WEREN'T
09-MAY-03 5:00 AM FARSCAPE A CONSTELLATION OF DOUBT (LBX)
BABYLON 5/CRUSADE PHOTOSHOP PHOTOS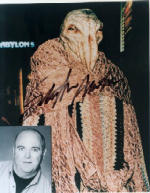 You do NOT have to pay the prices asked for over at e-bay! Here are photos of B5 and Crusade cast members at fantastic prices. Check out Photo Shop. Ordering is easy -- and you can't beat the prices! Just let me know which photos you want and I'll check to make sure they are still in stock.
---
BABYLON 5/CRUSADE CONVENTIONS
CONVENTION CALENDAR
Federation Con 10
May 2-4, 2003
Place: Bonn, Germany
B5 Guests: Jason Carter, Tracy Scoggins
Other Guests: James Marsters, Leni Parker, Connor Traineer, Marina Sirtis, Ethan Phillips, Terry Farrell, Gil Gerard
For more information, visit their website at http://www.fedcon.de.
---
Motor City Comic Con
May 16-18, 2003
Place: Novi Expo Center, Novi, Michigan
B5 Guests: Pat Tallman, Jerry Doyle, Peter Jurasik
For more information, visit their website at http://www.motorcityconventions.com/motor_city_comic_con/index.html.
---
Marcon
May 23-25, 2003
Place: Columbus, Ohio
B5 Guests: Richard Biggs, J. Gregory Keyes
For more information, visit their website at http://www.marcon.org.
---
Be sure to visit our Convention Calendar for a full listing of upcoming conventions featuring Babylon 5, Crusade and Legend of the Rangers cast members as guests.
If you would like to share your convention experience with your other Zocalo readers, send along a convention report. I will gladly post it for all to read. Got pictures? I'll post those as well.
ZOCALO TRADING POST
Do you have extra copies of B5, Amazing Spiderman, Midnight Nation or Rising Stars comics you'd like to trade? How about those extra trading cards or B5 magazines? There are a lot of fans looking for these items -- and the Trading Post can help you buy or sell them. To see what's available, just use this link to the Trading Post. To have items included in The Trading Post, send a note to The Zocalo. Please put Trading Post in the subject line.
Pen Pals
If you are looking for someone to talk about Babylon 5 and Crusade with, the Pen Pal section is for you! Check it out! Drop a note to someone who is feeling B5 withdrawal -- BIG TIME!

People thought a Pen Pal page was a good idea. If you would like to meet people who you could chat with or share your opinions of the show with, send along your e-mail or snail-mail address The Zocalo. It will be incorporated on the new Pen Page Page.
MAIL FOR CAST AND CREW
Here's a recent note from JMS on the subject:

Just an FYI to those who've been using the Ventura Blvd. mail drop for fan mail to actors....

As mentioned before, we're phasing out the forwarding of fan mail because we a) don't have the resources, complicated by b) the actors have scattered to the four winds, and it makes it very difficult to get everything to everybody in a timely fashion.

So, having provided prior notice...fan mail to actors coming to the Ventura Blvd. mail drop will be sent back. Mail to actors should be sent via their official fan clubs. I will still be taking mail there, since it's my mailbox, but that's it.

Just so's y'all know and save a few bucks on postage and returns.

JMS' mail can be sent to:

14431 Ventura Boulevard, PMB 260
Sherman Oaks, CA 91423

WARNER BROS:

Warner Bros. Address:

Warner Bros. Domestic Television Distribution
4000 Warner Blvd.
Burbank, CA 91522

Warner Home Video:

Mr. Douglas Wadleigh
VP for Marketing and Special Features
Warner Bros.
4000 Warner Blvd.
Burbank, CA 91522

SCIFI:
Bonnie Hammer, President
Sci-Fi Channel
1230 Avenue of the Americas
New York, NY. 10020-1513

Mr. Thomas Vitale
Senior VP of Acquisitions, Scheduling & Program-Planning
BACK ISSUES OF THE ZOCALO TODAY
The front page of the The Zocalo Today changes daily, so be sure to check the back issues to make sure that you haven't missed anything IMPORTANT! I don't want the front page getting too long so I shift information periodically into the archives. So if you aren't a regular visitor to The Zocalo Today, be sure to check out the back issues. Just use the button above!
---
Take care and I look forward to hearing from you.
Sandra Bruckner (sgbruckner@aol.com)
Editor/Publisher
The Zocalo Today
http://www.isnnews.net
Copyright - SBruckner, 2002