[an error occurred while processing this directive]

The Zocalo Today

Welcome! I am glad that you found The Zocalo Today and dropped by. Take your shoes off, get comfortable and stay a while. There is a LOT of information here and you won't want to miss any of it.

The Zocalo Today is an interactive newsletter, encouraging readers to join a discussion topic each week. If you have suggestions as to how The Zocalo can be improved -- or be more responsive -- send them along. The Zocalo Today is as much YOUR newsletter as it is mine! I'm just pulling together things for you!

Join our weekly discussion topic. It is just one way you can interact with other Z readers. If you have other information you would like to share, send it along. If you see Babylon 5 cast and crew in other roles, let us know. We enjoy convention reports, photos, etc. Don't miss our back issues. I hope this will become more than just a newsletter. It's a community of people that enjoy sharing their experiences and interests. Don't be shy. Join us today!

If you have questions, drop me a line at sgbruckner@aol.com or thezocalo@aol.com. If you would like to join the mailing list for our bi-weekly newsletter, send me a note and I'll include you on the list. Or you can use the subscription block at the left.

Again, WELCOME!




What's New Today
Friday, May 23: TOP SF DVD SALES: 1. The Two Towers; 2. Star Trek Nemesis; 3. The Animatrix; 4. The Matrix; 5. Chamber of Secrets; 6. Buffy Season Four; 7. Die Another Day; 8. Children of Dune; 9. Spirited Away, and 10. Buffy Season One. Source: Amazon.com, top-selling genre DVDs, 5/16/03.
---
THE TRIANGLE: SCIFI has announced that it will develop THE TRIANGLE, an epic eight-hour original miniseries from filmmakers Dean Devlin (Independence Day, Stargate) and Bryan Singer (X-Men, X2), set against the mysteries of the Bermuda Triangle. THE TRIANGLE will focus on a disparate group of people who are haunted by their experiences within the Bermuda Triangle. This first-ever collaboration between Singer and Devlin is slated to air in early 2005. They will executive produce the miniseries, as well as develop the scripts from their original story. They may also each direct some of the four two-hour episodes.
---
CSI: With the 2002-03 season concluded, Nielsen Media Research crowns CSI this year's most-watched prime-time show, averaging 26.2 million viewers.
---
100 HEROES AND VILLANS: Arnold Schwarzenegger, who played Mr. Freeze in Batman & Robin and stars in the upcoming Terminator 3: Rise of the Machines, will be the host for AFI's 100 Years... 100 Heroes & Villains, a special on CBS on Tuesday, June 3 at 8 p.m. Christopher Reeve, starred of four Superman movies, is among the actors interviewed.
---
FANTASTIC FOUR: The Hollywood Reporter has confirmed that Mark Frost, veteran TV writer for such series as TWIN PEAKS and THE SIX MILLION DOLLAR MAN is officially on board to rewrite the script for FANTASTIC FOUR.
---
INSIDE SCI-FI THIS WEEK:
Thursday, May 22:
THE WOODS: M. Night Shyamalan's next project for Disney will be THE WOODS, a picture that revolves around a community of townfolk who live with the knowledge that a race of mythical beings live in the woods around their village. Filming is to begin in October and in talks to star in Shyamalan's fifth film are Ashton Kutcher (THAT 70s SHOW), Kirsten Dunst (SPIDER-MAN) and Joaquin Phoenix (SIGNS).
---
BUFFY: The series finale of BUFFY on Tuesday night drew 4.9 million viewers to UPN. The episode drew the biggest audience for the show since October 2002 and finished well above "Buffy's" season average of 3.8 million viewers. The show scored well in the teen and young-adult demographics UPN targets. The finale averaged a 2.7 rating among people ages 12-34 and adults 18-34, beating all of the big three networks in the hour. (It trailed only FOX's "American Idol" sing-off and the "Gilmore Girls" finale on The WB.)
---
MONK: Not exactly SF, but with all the re-runs approaching, you will need something to watch that isn't something you've seen before! Tony Shalhoub's Emmy-winning Monk series returns for its second season June 20 at 10 p.m. with an episode entitled "Mr. Monk Goes Back to School".
---
Wednesday, May 21:
RATINGS: Top 10 SF Syndicated Shows: Stargate SG-1 2.3; Mutant X 2.2; Andromeda 2.1; Buffy 2.1; The X-Files 2.0; 3rd Rock 1.7; Adventure, Inc. 1.6; Beastmaster 1.4; John Edward 1.4, and Sabrina 1.3. Source: Nielsen Galaxy Report, 4/21/03 - 4/27/03.
---
FIREFLY: Good news for FIREFLY fans! Nathan Fillion, recent recipient of Cinescape's Face of the Future award, said in a recent interview that he is completing audio commentaries for a complete DVD set of the Fox series' 15 produced episodes, including three that never aired. "I just finished commentary with Alan Tudyk [Wash] on 'War Stories,' an episode where he and I got tortured. ... And then, Monday, I go in to do audio commentary with Joss Whedon for 'Serenity,' the two-hour pilot." The DVD will also include on-camera interviews and maybe even some of Fillion's own behind-the-scenes home video and photos. As for the unaired episodes, Fillion said, "My naked ass is in them. In the very last episode. I'll let you know that much. They called me Capt. Tight Pants for some time. And now it's going to be Capt. No Pants for sure." Fillion did not know when the DVD set would come out. He also indicated that there are hopes for a FIREFLY movie, that would be written and directed by Joss Whedon. "So everything's looking very positive, so we're going to keep our fingers crossed."
---
BUFFY WRAP PARTY: There are some exclusive photos of the BUFFY wrap party over at Cinescape.com. The group gathered on April 18 at Miauhaus on La Brea Avenue here in Los Angeles.
---
DARK ANGEL: The complete first season of DARK ANGEL is now available on DVD. Twentieth Century Fox Home Video released the six-disc set yesterday. DARK ANGEL, written by James Cameron, starred the raven-haired Jessica Alba as Max, a genetically engineered young woman who escaped from a government lab and took refuge in the bleak future shell of Seattle after an electromagnetic pulse plunged the country into economic chaos. Max soon found friends and work as a bike courier, keeping her origins a secret from those around her. That is, until someone discovers her true identity... All 21 season one episodes (including the two-hour pilot) are compiled on six discs in full-frame format (1.33:1) in Dolby Digital sound. Each disc features artwork showcasing one of the series main characters, such as Jessica Alba's Max or Michael Weatherly's Logan. There are a number of bonus features as well. Disc one contains a commentary from series co-creator/executive producer Charles Eglee and director David Nutter for the show's pilot episode. Disc four features a commentary by Eglee and Renee Echevarria (DARK ANGEL's Co-Executive Producer) on the episode "Rising". Disc five's commentary on "And I am a Camera" is by Eglee, Echevarria and episode director Jeff Woolnaugh. And for disc six, we've got a commentary from series stars Jessica Alba and Michael Weatherly on "...And Jesus Brought a Casserole". Also included on disc six are three new featurettes profiling the show, the character of Max and DARK ANGEL's futuristic setting; tapes of the stars auditions; a blooper reel; and a trailer previewing the DARK ANGEL video game. The six-disc set is priced at $59.98 U.S./$89.98 CDN. Fox is expected to announce plans for the second season on DVD in the coming months.
---
NEMESIS: Also released yesterday on DVD is STAR TREK: NEMESIS. Paramount has included an interesting selection of bonus material hoping to get TREK fans to take a second look at the picture. Director Stuart Baird offers up a feature length commentary discussing the shooting and making of the film. There are four featurettes showing behind-the-scenes production as well as offering a detailed look at the action sequences. Perhaps the item that Trekkies might find most rewarding are the inclusion of seven deleted scenes including Picard meeting his new First Officer. There is also a photo gallery and a preview of the next DEEP SPACE NINE DVD compilation. The DVD for STAR TREK: NEMESIS carries a suggested retail price of $29.99.
---
Tuesday, May 20: BEST SELLING SF BOOKS: 1. Harry Potter and the Order of the Phoenix; 2. Wolves of the Calla (Dark Tower 5); 3. The Da Vinci Code; 4. The Eternity Code; 5. The Gunslinger (Dark Tower 1); 6. The Lovely Bones; 7. Angels & Demons; 8. Potter paper box set; 9. Wizard and Glass (Dark Tower 4), and 10. Drawing of the Three (Tower 2). Source: Amazon.com, 5/16/03.
---
SATURN AWARDS: Winners of the Saturn Award from the Academy of Science Fiction, Fantasy and Horror Films and Cinescape Magazine were named yesterday in Hollywood. Minority Report and director Steven Spielberg took home awards for best director and best film. Report actress Samantha Morton was named best supporting actress. Spielberg and executive producer Leslie Bohem also received the award for best single TV program presentation for the SCI FI Channel's Taken miniseries. Peter Jackson's The Lord of the Rings: The Two Towers won two awards, for best fantasy film and for best supporting actor (Andy Serkis as Gollum). In the TV category, ABC's Alias was named best network television series, and Farscape was honored as best syndicated/cable TV series. Alias star Jennifer Garner was named best actress, and Angel star David Boreanaz was tapped for best actor. Alias' Victor Garber took the honor for best supporting actor, while Buffy the Vampire Slayer star Alyson Hannigan won the award for best supporting actress. Cinescape's Faces of the Future Awards went to Buffy's Emma Caulfield and Firefly's Nathan Fillion. For a complete list of award winners, go to http://www.cinescape.com/0/editorial.asp?aff_id=0&this_cat=Saturn+Awards&action=page&obj_id=38666.
---
VAN HELSING: Casting continues for the upcoming film, VAN HELSING. Spanish actress Elena Anaya (Talk to Her) has signed on to join Hugh Jackman and Kate Beckinsale in the project. Anaya plays one of the bloodsucker's brides in the pic that centers on the Gothic adventures of legendary vampire hunter Dr. Van Helsing (Jackman).
---
WOLVERINE: Speaking of Hugh Jackman, he will host the 2003 Tony Awards. Jackman is set to make his Broadway debut this coming fall in the new musical The Boy from Oz.
---
SMALLVILLE: This is the week of season finales -- and SMALLVILLE's is scheduled for tonight. In a recent interview with Entertainment Weekly, Michael Rosenbaum talked about the finale. He said, "The finale is huge. It's the unexpected, I mean, REALLY the unexpected. When I read the script, I was like, ''WHAT?'' I kept going to the writers, ''Well, what happened?'' I can't tell you too much, but when you talk about cliffhangers, let's just say the cliff is very high. It looks like time is going to elapse [between seasons]. There are big changes. "
---
Monday, May 19: RATINGS: Top 10 SCIFI Programs: End of Days 1.3; Pitch Black 1.1; Stargate SG-1 1.1; Interceptor Force 1.0; Scare Tactics 0.9; Alien Fury 0.9; Alien Cargo 0.9; Unknown Encounter 0.8; Replicant 0.8, and Waterworld 0.8. Source: Nielsen Galaxy Report, 4/21/03 - 4/27/03.
---
MATRIX RELOADED: As anticipated, Warner Bros. Pictures' "The Matrix: Reloaded" made boxoffice history this weekend as the highly anticipated sequel brought in an estimated $93.3 million during the three-day session and a staggering $135.8 million since its release late Wednesday night. The opening weekend gross vaporized the record for the biggest opening by an R-rated film, effortlessly besting MGM's "Hannibal" ($58 million). The Keanu Reeves starrer, helmed and written by brothers Larry and Andy Wachowski, racked up the second-biggest three-day weekend ever, behind Sony's "Spider-Man" ($114.8 million), which was released on a Friday without previews, and the first four days of "Reloaded" is likely to be bigger than the same time frame for the webbed one ($125.9 million) even without the grosses from Wednesday night previews -- marking the biggest first four days in history. "Reloaded" was off to a fast start at the boxoffice as it began with about $5 million in previews, which began at 10 p.m. Wednesday -- the largest preview gross ever reported. The biggest grossing day for "Reloaded" was Thursday, with $37.5 million -- the biggest Thursday opening ever, topping 20th Century Fox's "Star Wars: Episode II -- Attack of the Clones" ($30.1 million), which included some undisclosed preview grosses from Wednesday.
---
Sunday, May 18:
TRU CALLING: With the end of BUFFY, many of the cast are finding themselves in somewhat different situations. Fox has ordered up episodes for a new supernatural drama, TRU CALLING, starring Eliza Dushku as a young woman with psychic powers. Tru Calling will air at 8 p.m. ET/PT Thursdays, starting in the fall. Dushku will play Tru Davies, a graduate student who can relive whole days in order to prevent tragedies. Jon Feldman (Roswell) is the writer and executive producer. The pilot was directed by Phillip Noyce (The Quiet American).
---
WONDERFALLS: Fox has also ordered up WONDERFALLS, a fantasy series, which will air at 8 p.m. ET/PT on Mondays, starting in midseason. Set against the backdrop of Niagara Falls, the series centers on Jaye Tyler (Caroline Dhavernas), a souvenir-shop worker who hears inanimate animal figures speaking to her in cryptic messages about people in need. Bryan Fuller (Star Trek: Voyager) and Todd Holland (Malcolm in the Middle) created the series.
---
Saturday, May 17:
RATINGS: Top 10 SF Network Programs: Touched by an Angel 4.5; Smallville 3.8; John Doe 3.3; Charmed 2.7; Angel 2.6; Buffy 2.3; Enterprise 2.2; Twilight Zone 1.5; Sabrina 1.4, and Smallville encore 1.0. Source: Nielsen Galaxy Report, 4/14/03 - 4/20/03. I hate to point this out, but will only because I loved JOHN DOE. Look at it's ratings compared to other shows that WILL be on next year's schedule!
---
BATTLESTAR GALACTICA: SCI FI's Battlestar Galactica will debut in December. Edward James Olmos, who takes on the role of Cmdr. Adama, told SCI FI Wire that the scale of the massive battlestar set helps him get into his role. "It makes the authenticity and the ability to sink inside of it much easier, because you're inside the whole, all-encompassing space. It's not just a facade or just three walls. It's an entire spaceship. It makes the reality stronger for the people working in it, for the crew, everybody." SCI FI's "reimagined" Battlestar Galactica was written by Ronald D. Moore (Roswell, Star Trek: First Contact) and directed by Michael Rymer (Queen of the Damned), with David Eick (American Gothic) and Moore serving as executive producers.
---
STARGATE SG-1: Everyone is anticipating the seventh season of STARGATE SG-1 when it returns with new episodes to SCIFI's schedule June 13 at 8:00pm. Robert Cooper, executive producer of the series, said in a recent interview that this season will showcase the talents of Christopher Judge, Amanda Tapping and Michael Shanks both behind and in front of the camera. "The actors are getting more involved creatively this year," Cooper said in an interview. "Chris has written an episode. Michael will be writing one for later in the season. Amanda is going to direct an episode in the second half, and Corin Nemec is returning for an episode that will play in the second half and is based on a story Corin pitched." When asked about Richard Dean Anderson's participation this coming season, Cooper said, "[Anderson] is still going to be the leader of SG-1, and he's going to be present in almost every episode. But there's going to be a lot more focus put on the other three characters and their relationships. We'll have stories that are very much about Teal'c [Judge], Daniel [Shanks] and Carter [Tapping]. So, if anything, this is the year of the other three, and I think and hope that fans can appreciate that."
---
TAKEN: Fans of SCIFI's miniseries TAKEN can get their own copy on Oct. 21. The six-disc boxed set will feature the episodes in their original aspect ratios and will include 5.1 Dolby digital soundtracks in English and French. Each disc will carry two episodes of the 20-hour miniseries, with the sixth devoted to bonus features. Suggested retail price for the set is $119.99, with a minimum advertised price of $89.95.
---
GOTHIKA: Who says making movies isn't dangerous? Production in Montreal for the horror picture GOTHIKA was halted after actress Halle Berry broke her right arm while shooting a scene which required her to be physical. Berry was treated at a nearby hospital and later released. The movie still has four weeks of filming left on its schedule and right now it's still unknown how Berry's injury will impact the production. The Warner Bros. picture is currently slated for an October release.
---
ENTERPRISE: With the season finale approaching this week, Brandon Braga talks about new directions for the coming year. "We thought, 'We've done two years on the show, let's really shake things up, really take some risks. It turned out to be very inspirational for Rick [Berman, also an executive producer] and I. We ended up coming up with a really cool finale. It's not going to be resolved in one episode, it's going to be resolved in multiple episodes, if not the entire season. It's a big arc."
---
JAKE 2.0: One cool-sounding new program this year will be UPN's JAKE 2.0. Christopher Gorham (from Popular) portrays Jake Foley, a computer technician who is transformed into a superpowered agent for the NSA after he is accidentally infected with nanites. The molecule-sized computers magnify his physical strength and senses, and give him the power to interface with computers. As luck would have it, it is opposite ANGEL on Wednesday night!
---
TERMINATOR 3: Fans of the TERMINATOR series will not want to miss the latest trailer for the upcoming movie at http://www.apple.com/trailers/wb/t3/domestictrailer/large.html. Lots of very good special effects here.
---
MATRIX RELOADED: Everyone expected a good start for this movie -- they were not wrong. On Thursday, MATRIX RELOADED scored a whopping $42.475 million taking, the largest one-day opening in the history of movies and beats previous record holder "Spider-Man" which had $39.4 million. The late evening previews on Wednesday night took in an additional $5 million. What will the weekend hold?
---
WHAT'S ON TONIGHT
"Final Destination" (2000) on Fox, 8:00pm - 10:00pm ET
Alex Browning (Devon Sawa) is among a group of high school students preparing for a trip to Paris. When he suddenly has a premonition that their airplane will burst into flames, he convinces several classmates to get off the plane with him. After leaving the plane, they watch from the terminal as the plane explodes in mid-air. His friends soon discover that the grim reaper doesn't like to be cheated, and their good fortune quickly turns to disbelief as one by one, they start dying mysteriously. On SciFi Tonight: 7:00 PM
Dolly Dearest
Demonic dolls play mind games with kids. 9:00 PM
Leprechaun
When his gold is stolen, a lethal little Irishman (Warwick Davis) follows the culprit.
BABYLON 5 SEASON THREE DVD
GREAT NEWS! According to http://www.tvshowsondvd.com/ we will be enjoying Season Three of Babylon 5 on DVD soon. Hopefully something official will come from the WB soon. Season 3 Details
5/08/2003 Warner Brothers has announced August 12th as the street date for Babylon 5: The Complete Third Season. Subtitled "Point of No Return", it will be another 6-disc extravaganza featuring all 22 episodes of the third season. In addition, Warner is again working with producer/creator J. Michael Straczynski to bring you the very best in the way of supplements: Introduction from series creator J. Michael Straczynski
Commentaries on 3 key episodes by series creator and stars
Documentary: Behind the Mask: Creating the Aliens of Babylon 5
Documentary: Designing a Better Narn
Documentary: Designing Tomorrow: The Look of Babylon 5
Data and Personnel Files Once again this will by brought to you in 16x9 Anamorphic Widescreen, and with sound remastered in Dolby Digital 5.1...all for a list price of $99.98.
BABYLON 5 SEASON TWO DVD
Over at SciFi Dimensions you can read a review of the Season Two DVD. I think you'll agree with this closing comment: Babylon 5: The Complete Second Season firmly establishes this show as one of the great all-time franchises in science fiction. Every self-respecting fan owes it to himself or herself to own this DVD series. AND while there, you can register to win either a Season One DVD or the Season Two DVD. Good luck! The WB has started to promote the new Season Two DVD and they have sent out a lot of promotional material to a number of folks hosting Babylon 5 sites. I received the press release below as well as stills and some segments from the actual DVD. They are FANTASTIC. It is SO wonderful to see all these folks again -- talking about their Season Two experiences with Babylon 5. Rather than me try to deal with all the material, Monica over at The Abyss has already put in a considerable amount of effort to pull them together -- and done a marvelous job of it! Thanks Monica. Go to http://abyss.hubbe.net/b5/dvds/boxed-s2promos.html to look at the materials the WB has pulled together on the series. The Season One DVD was good -- this one looks like a winner as well. Did you notice that there is a gag reel included? I can't wait to see that one!!:
FOR IMMEDIATE RELEASE
The Excitement Continues!
BABYLON 5:
THE COMPLETE SECOND SEASON
By Popular Demand, Warner Home Video Sets April 29 Debut
for the Next Installment of Classic Sci-Fi Series Burbank, Calif., February 14, 2003 - Following the resounding success of the first season's DVD release, Warner Home Video is following up with the second 22 regular season episodes of the Emmy Award-winning series Babylon 5. Babylon 5: The Complete Second Season comes to DVD on April 29 as its own six-disc giftset. Loaded with extras including commentaries by series creator J. Michael Straczynski, the set will sell for $99.98 SRP. Babylon 5, the acclaimed series about the space station that's the tumultuous center of the 23rd century's bid for peace among humans and aliens, joins Friends, The Sopranos, Buffy the Vampire Slayer, The Simpsons and more TV-to-disc programs that prove DVD is the hot-selling format TV fans want to own. Babylon 5 won two Emmys (Groundbreaking Visual Effects and Makeup) and earned the 1999 Saturn Award for Best Genre Cable/Syndicated Series from the Academy of Science Fiction, Fantasy & Horror Films (Hugo Awards). The second season of Babylon 5 also won the 1996 Hugo Award for Best Dramatic Presentation for The Coming of Shadows episode. Other Hugo nominees that year included Apollo 13, Toy Story and Star Trek: Deep Space Nine's The Visitor episode.
Additionally, Babylon 5: The Complete Second Season includes three Emmy-nominated episodes, Acts of Sacrifice, The Geometry of Shadows and Comes the Inquisitor. It was the first-ever television series to use extensive computer-generated imagery and to shoot and air in a widescreen format. Babylon 5 rewarded fan loyalty and broke new ground by maintaining narrative consistency through a five-year story arc, and the show was singled out by NASA, the Jet Propulsion Laboratory and other noted institutions for its science-based treatment of futuristic space themes/technology. Today, Babylon 5 continues its mission with episodes syndicated on the Sci-Fi Channel, which also recently aired the new Babylon 5 feature, Legend of the Rangers. There are also more than 30 novels in print set in the Babylon 5 universe, and fan requests for a new Babylon 5 television series are growing. BABYLON 5 BONUS FEATURES
The six-disc set Babylon 5: The Complete Second Season includes the following:
∑ All-new digital widescreen transfers [16x9, 1.77:1]
∑ Soundtrack remastered in Dolby Digital 5.1
∑ Introduction by series creator/producer J. Michael Straczynski and various cast members
∑ Episode commentaries by Straczynski and cast members Bruce Boxleitner, Claudia Christian and Jerry Doyle
∑ Building Babylon: Blueprint of an Episode featurette
∑ Shadows and Dreams: Honors of Babylon featurette, including coverage of the Hugo Award
∑ The Universe of Babylon 5 data/tech/personnel files
∑ Gag reel
∑ Babylon 5 Timeline
∑ Original Episode promos
SYNOPSIS
The long-running Emmy Award-winning television series Babylon 5 takes place in the year 2257 A.D, on an immense space station floating in a stationary orbit in a neutral corner of a distant galaxy. Staffed by a crew of peaceful Earthmen and women, Babylon 5 serves as a non-political economic and social hub for the four alien races -- the Narn, Centauri, Vorlon and Minbari -- who fight to control the galaxy. Babylon 5: The Complete Second Season
$99.98 SRP
STREET DATE: April 29
RATING: NR
RUN TIME: approx: 990 minutes
DISCUSSION TOPIC
Do you enjoy watching TV shows that use story arcs? While Babylon 5 was on the air, this was a major topic. The five-year story arc for Babylon 5 was a first! The notion of a story arc appears to be coming back. ENTERPRISE folks are talking about a long arc to open the next season. Have things come full-circle? Or do you enjoy being able to just catch an episode here and there, not having to worry about keeping up with the story? Send in your views and opinions to sgbruckner@aol.com. I'll post the responses on the Discussion Page for everyone to share.
BABYLON 5 CHRONOLOGY
I've put up another wonderful segment of the Babylon 5 Chronology. This segment begins with 2249. Go to 23rd Century. I noticed that JMS used a section of Terry's chronology to answer a question the other day about Morden/Anna's trip over on the B5 moderated newsgroup. A BIG THANK YOU and note appreciation goes to Terry for taking the time (and considerable effort) to pull the chronology together -- and for updating it to include CRUSADE, the novels and other relevant Babylon 5 material. THANKS TERRY!
REVIEWS WANTED:
REVIEWS OF THE NEW DVD: A number of people have commented on the new DVD so I've begun adding them to the review page. Check it out. Send in your comments for others to see.

NEW REVIEWS! See if you agreed with the reviews received thus far! Go to Reviews to see. Want to express your opinion? Just drop me a line and you too can see your name in lights.

Read any good books lately? How about the movies. Did you like LORD OF THE RINGS, NEMESIS? Send along a review and share your thoughts with the readers here. Let's make one of our New Years Resolution one of staying in touch here at The Zocalo Today.
KEEPING UP WITH CAST AND CREW
ROBIN ATKIN DOWNES: Robin has been pretty active over the last few months. He will be turning up in conventions over the summer in Cleveland, Tampa, Indiana, England, France, Prague, Atlanta and Orange County. You will also see him in some advertisements on the tube as well. For example, beginning this summer, he will be the Irish announcer in the Sprint Yellow Pages on Golf Spot. He also plays a Russian Basketball player in love with a chicken for Dairy Queen. That spot is scheduled to run nationally beginning in September. He has done some CD ROM work as well for gamers, including BATTLESTAR GALACTICA. He plays the lead pilot, Adama. The game is coming to game cube. Visit http://www.xbox365.com/news/zcomment.cgi?article=EpVEVVFkAyPCtMysan&tmpl=xxt_zc_template&prof=dev for a preview.
---
PETER WOODWARD: Peter is definitely doing something right over at The History Channel. His new CONQUEST series has gotten an order for new episodes. They will be starting to film new episodes in May and plan to start broadcasting them in July.
---
JASON CARTER/RICHARD BIGGS: Pipeline Productions is currently organizing a Biggs & Carter Experience (acting workshop) Cruise event. Anyone Interested in participating can be added to the mailing list by emailing their name and address to JasonCarterFC@aol.com. For more information on the Biggs & Carter Experience, please visit www.biggsandcarter.com .
---
FIONA AVERY: Fiona Avery (author of the "Rising Stars: Bright" series) is starting another spin-off of the Rising Stars series called "Rising Stars: Untouchable". Due around August 2003, it features Laurel Darkhaven, the telekenetic who became a CIA assassin who was featured in issue #16. The five issue mini series is being called "Rising Stars: Untouchable" and will have artwork by Rick Mays. For more on this from Fiona, go to http://www.newsarama.com/cgi-bin/ubb/ultimatebb.cgi?ubb=get_topic;f=1;t=000495.
---
J. MICHAEL STRACZYNSKI: For those of you who just can't get enough from JMS, there is a long, but interesting interview in Sketch Magazine at http://www.hypethis.com/interviews/interview_jmichaelstraczynski.html.
---
BILL MUMY: Bill will be releasing his 5th solo CD in April on Renaissance Records. GHOSTS will be a compilation of songs (the best of) taken from the first four CD's plus a few brand new ones. The brand new songs include "Always Open", "Take it Back", "The Recalcitrant Princess" and "Just A Drop of Rain in the Ocean." Angela Cartwright from Lost in Space will design the package. The album will be available through Amazon.com and other internet sites as well as a few of the bigger stores.
---
RICHARD BIGGS: Ranger Jan reports that Richard Biggs gave out some very good news at MegaCon last week. He has landed a recurring role on SCIFI's TREMORS. He will also be coming back to STRONG MEDICINE.
---
BABYLON 5 BIRTHDAYS
Theodore Bikel - May 2
Michael O'Hare - May 6
Stephen Furst - May 8
Melissa Gilbert-Boxleitner - May 8
Bruce Boxleitner - May 12
Andreas Katsulas - May 18
Andrea Thompson - May 22
Doug Wise - May 21
Douglas Netter - May 23
Paul Winfield - May 22
Roy Dotrice - May 26
Harlan Ellison - May 27 Have I missed anyone? If you know the birthday of someone connected with Babylon 5, pass the information along. We want to include everyone in our Happy Birthday Wishes.
READER BIRTHDAYS
Sometimes you just can't find the e-mail address for someone you know you have -- it's someone who responded to a discussion topic or you met in one of the chat rooms. You'd like to send a personal note, but .... No address!!!!

We've started a White Pages of Zocalo Readers! It's a handy way of keeping track of people -- and putting together a birthday/greeting card list as well. If you would like to be part of the listing, just send me your name, state, e-mail address and (if you'd like to have it listed) birthday (without year) to sgbruckner@aol.com. Check out the Directory of Readers.

Name: John T. Hill
State: North Carolina (GO TAR HEELS!)
Email Address: snowheel@bellsouth.net
Birthday: May 8

Name: Dante Ojeda
State: Buenos Aires, Argentina
E-mail: dantii@tutopia.com
Birthday: May 18

Name: Kevenn T. Smith
State: Ohio
E-mail: kevenn777@earthlink.net
Birthday: May 17

Name: Sally Smith
State: Georgia
E-mail address: NeverTheVictim@aol.com
Birthday: May 28

Name: Laurraine Tutihasi
State: California
E-mail address: ltutihasi@aol.com
Birthday: May 18
COMIC BOOKS
AMAZING SPIDERMAN
Amazing Spider-Man #53 will arrive in stores on Wednesday from Marvel Comics. The issue is written by J. Michael Straczynski, with art and cover John Romita Jr. and Scott Hanna. Here's how Marvel describes the issue:
"Part 3 of a 3-part story." Amazing Spider-Man #53 will be 32 pages and will cost 25 cents.
SMALLVILLE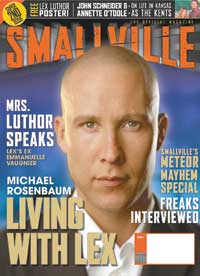 Smallville #2 will arrive in stores on Wednesday from DC Comics. The issue is written by Mark Verheiden and Clint Carpenter, with art by Renato Guides and Tom Derenick and a cover by John Van Fleet. DC describes the issue below: "The bimonthly series based on The WB television show continues. Trouble's brewing at the Miss Smallville Pageant. Contestants are being terrorized, and it's up to Clark and Lana to get to the bottom of it! Plus, in a back-up story, find out what Chloe did during her summer internship at the Daily Planet between Seasons 1 and 2. This issue is rounded out by interviews with actors Allison Mack (Chloe Sullivan) and Sam Jones III (Pete Ross), as well as the next installment of the episode guide to Season 1." Smallville #2 will be 48 pages and will cost $3.50.
RISING STARS

An original novel based on the hit comic book series! It covers the events that happened in issues #9-16.
SUPREME POWER
A note over at Comics Continuum reads: Marvel also announced that 1602 and Supreme Power will launch in August.
---
When asked when the first issue would be released, JMS recently responded via the B5 moderated newsgroup:

I noticed that it wasn't in the July previews, after it had been set for July 16th, and inquired of Marvel because we're well ahead on art and scripts (I'm working on issue 5 at the moment).

They explained that they'd wanted to debut the comic at Wizard Con (either Philly or Chicago, I can't now remember), but since I couldn't make it, they pushed the debut to August 6th, which allows us to get even further ahead on scripts. Once it hits the ground, we won't have any basis for missing any pub dates for at least half a year, it not more.

This is a new title J. Michael Straczynski has been working on for Marvel. Originally titled "Squadron Supreme", it is now called "Supreme Power". According to JMS, publication date in July 16.

JMS described the series in a comment to the B5 moderated newsgroup as: Supreme Power is an updating of the Squadron Supreme book done quite a while back by Mark Gruenwald. It was one of the first books, possibly the first book, to really examine the role of the superhero in society, and as such is generally considered to have paved the way for such later works as Watchmen, Dark Knight, Marvels, Kingdom Come and others. Marvel said, basically, if you could take those characters, who were used at a time when comics were still quite a bit more restrictive than now, due to the comics code and other influences, and update them, recast them, free to do whatever you want...what would you do? Hence, Supreme Power. While it has its moments of dark humor, it's a very intense, serious book. And because it's being done for the Marvel Max line -- which is aimed at mature readers -- there are very few limitations in terms of imagery and language. Marvel has said it wants me to take this book to the wall, and that's pretty much where I intend to go. Interestingly, unlike the aforemtentioned titles, this isn't a limited series...it's intended to be an ongoing series, while trying to sustain the kind of intensity you get in that kind of limited edition. It's a massive writing challenge, though one of my main goals is to do right by Mark's original creation.
CSI
CSI VOLUME 1: Serial
by Collins, Rodriguez, & Wood; cover by Ashley Wood In modern Las Vegas, a Jack the Ripper copycat terrorizes the city. This mini-series was written by New York Times best-selling author, Max Allan Collins, and captures all of the gritty realism of the TV show, keeping readers guessing to the very last page.
CSI: THICKER THAN BLOOD
IDW Publishing
When an Elvis impersonator disappears, and a mobsterís life is threatened, only the CSI team can save the day!
BRIGHT
Rising Stars: Bright #3 will arrive in stores on Wednesday from Image Comics. The issue is written by Fiona Avery, penciled by Dan Jurgens, inked by Jason Gorder and art by John Starr. Rising Stars: Bright #3 will be 32 pages and will cost $2.99.
RISING STARS: BRIGHT #1
(W) Fiona Avery, (P) Dan Jurgens, (I) Jason Gorder.
"Mercy." In the hit series, Rising Stars, it is mentioned that at one time, Matthew Bright ran away from Pederson and, under an assumed name, became a member of normal society and a police officer. Join us as Matthew tells this story in his memoirs and learn how a Special can shine brightest when they're just being human. FC 32 pages $2.99 Part 1 of 3 . BRIGHT #2
(W) Fiona Avery (P) Dan Jurgens.
"Authority." Matthew Bright is still living under the assumed name of Brendan Miller, and making close friendships with Frank and Jess in the precinct, when a new serial killer case erupts in the NYPD. Matt really takes the case to heart upon discovering that the serial killer has Specials in mind whenever he causes new carnage in the streets of suburban New York. In the second part of three issues, Matthew's secret identity as Brendan Miller is about to be ripped from him and his true nature as a special is revealed. 32 pages, $2.99.
BOOKS
BABYLON 5 NOVEL
DelRey is reprinting the original Babylon 5 novels. They started with #7 - Jeanne Cavelos' THE SHADOW WITHIN. Here's one I've been waiting for -- Kathryn Drennan's TO DREAM IN THE CITY OF SORROWS. The release date is scheduled for July 29, 2003. I love the new cover art! It can be pre-ordered from www.amazon.com. For those of you who love Babylon 5, this one reads just like an episode from the series. You just can't put it down.



CSI COMPANION
CSI COMPANION
by Mike Flaherty Featuring episode summaries, behind-the-scenes information, exclusive celebrity interviews, and more, this official companion book to TVís most watched drama, CSI: Crime Scene Investigation, takes fans behind the scenes to the world behind the yellow tape.
Neil Gaimanís The Wolves in the Walls
by Neil Gaiman; illustrations by Dave McKean Lucy is sure there are wolves living in the walls of her houseóand, as everybody says, if the wolves come out of the walls, itís all over. Her family doesnít believe her. Then one day, the wolves come out. But its not all over. Instead, Lucyís battle with the wolves is only just the beginning! A wonderfully strange and hilarious adventure for readers of all ages, from the acclaimed author of the New York Times best-seller, Coraline! Illustrations rendered by Dave McKean.
SCI FI PUBLICATIONS
Cult Times #92: While Best of the British is the title of this issue, there are a number of articles that should attract others -- namely an interview with Luke Perry from JEREMIAH and Anthony Michael Hall from THE DEAD ZONE.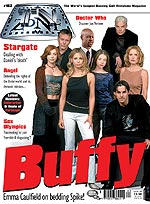 TV Zone #162: With the end coming for BUFFY, most of the SF magazines will sport covers of the cast and TVZone is right in line with the entire cast. Emma Caulfield looks back on five years with the series while Director Michael Wood from STARGATE SG-1 looks back on season six and some of his early stories.
Expose Special #77: This special issue is a review of 2002. With Harry Potter #2, Lord of the Rings and Terminator 3, they also look at Star Trek: Nemesis, FIREFLY, Buffy and Dinotopia.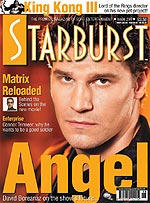 Starburst #298: ANGEL's new season is the focus of the issue. David Boreanaz talks about what makes the show so special to him. Also in this issue, a behind the scenes look at MATRIX RELOADED. Another show with changes ahead is SMALLVILLE. Alfred Gough and Miles Millar talk about what is in store for the next season.







BABYLON 5 BOOK OF QUOTES
For all those who submitted quotes and experiences to the Babylon 5 Book of Quotes, word from JMS is that the book, plus emails and suggestions, is being compiled now, and they're targeting February, the 10th anniversary of B5, for the publication date.
SCI-FI SCHEDULE
BABYLON 5 27-MAY-03 9:00 AM BABYLON 5 (LBX) IN THE SHADOWS OF Z'HA'DUM
28-MAY-03 9:00 AM BABYLON 5 (LBX) KNIVES
29-MAY-03 9:00 AM BABYLON 5 (LBX) CONFESSIONS AND LAMENTATIONS
30-MAY-03 9:00 AM BABYLON 5 (LBX) DIVIDED LOYALTIES CRUSADE 27-MAY-03 11:00 AM - CRUSADE THE RULES OF THE GAME
27-MAY-03 12:00 PM - CRUSADE WAR ZONE
27-MAY-03 1:00 PM - CRUSADE APPEARANCES AND OTHER DECEITS
27-MAY-03 2:00 PM - CRUSADE RACING THE NIGHT
27-MAY-03 3:00 PM - CRUSADE THE NEEDS OF EARTH STARGATE SCHEDULE: 26-MAY-03 7:00 PM STARGATE SG-1 SPIRITS
26-MAY-03 8:00 PM STARGATE SG-1 TOUCHSTONE
26-MAY-03 9:00 PM STARGATE SG-1 THE FIFTH RACE
26-MAY-03 10:00 PM STARGATE SG-1 A MATTER OF TIME
26-MAY-03 1:00 AM STARGATE SG-1 SPIRITS
27-MAY-03 1:00 AM STARGATE SG-1 TOUCHSTONE
28-MAY-03 1:00 AM STARGATE SG-1 THE FIFTH RACE
29-MAY-03 1:00 AM STARGATE SG-1 A MATTER OF TIME
30-MAY-03 8:00 PM STARGATE SG-1 (LBX) THE CHANGELING
30-MAY-03 9:00 PM STARGATE SG-1 (LBX) MEMENTO
30-MAY-03 11:00 PM STARGATE SG-1 (LBX) MEMENTO FARSCAPE SCHEDULE:

23-MAY-03 5:00 AM FARSCAPE WE'RE SO SCREWED -PT 1: FETAL ATTRACTION (LBX)
26-MAY-03 12:00 AM FARSCAPE A CLOCKWORK NEBARI
27-MAY-03 12:00 AM FARSCAPE LIARS, GUNS AND MONEY -PT 1
28-MAY-03 12:00 AM FARSCAPE LIARS, GUNS AND MONEY -PT 2
29-MAY-03 12:00 AM FARSCAPE LIARS, GUNS AND MONEY -PT 3
30-MAY-03 5:00 AM FARSCAPE WE'RE SO SCREWED -PT 2: HOT TO KATRATZI (LBX)

BABYLON 5/CRUSADE PHOTOSHOP PHOTOS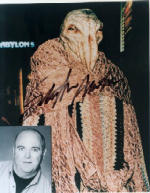 You do NOT have to pay the prices asked for over at e-bay! Here are photos of B5 and Crusade cast members at fantastic prices. Check out Photo Shop. Ordering is easy -- and you can't beat the prices! Just let me know which photos you want and I'll check to make sure they are still in stock.
---
BABYLON 5 TOONS
John Cook has a wonderful collection of cartoons -- many are take-offs from Babylon 5. Here's just one of them.
He has a cartoon caption contest going on as well. Try your hand at a punch line.

Go to http://contests.sev.com.au/index.php?contestid=1 .


BABYLON 5/CRUSADE CONVENTIONS
CONVENTION CALENDAR
Marcon
May 23-25, 2003
Place: Columbus, Ohio
B5 Guests: Richard Biggs, J. Gregory Keyes
For more information, visit their website at http://www.marcon.org.
---
Vulkon
May 25-26, 2003
Place: Atlanta, GA
Atlanta Marriott Century Center
Guests: Barry Morse, more guests to be announced
For more information, visit their website at http://www.vulkon.com.
---
Vulkon
May 30-June 1, 2003
Place: Tampa, Florida
B5 Guest: Mira Furlan
Other Guests: Michael Dorn, John Billingsley, Teryl Rothery
For more information, visit their website at http://www.vulkon.com.
---
Trek Expo 2003
June 27-29, 2003
Place: Exposition Center, Tulsa, OK
B5 Guest: Walter Koenig
Other Guests: William Shatner, Leonard Nemoy, George Takei, Dominic Keating
For more information, visit their website at http://www.starbase21ok.com/trek__expo__2003.htm.
---
Toronto Trek 2003
July 11-13, 2003
Place: Regal Constellation Hotel, Toronto, CA
B5 Guest: Julie Caitlin Brown
Other guests: James Marsters, Gil Gerard, Erin Gray
For more information, visit their website at http://tcon.icomm.ca.
---
Shore Leave 25
July 11-13, 2003
Place: Marriott's Hunt Valley Inn
245 Shawan Rd., Hunt Valley, MD 21031
Tel. 410-785-7000
B5 Guest: Andrea Thompson (Talia)
For more information, visit their website at http://www.shore-leave.com.
---
Vulkon
July 18-19, 2003
Place: Tampa, Florida
Tampa Airport Hilton
Guests: Jonathan Frakes, more guests to be announced
For more information, visit their website at http://www.vulkon.com.
---
Be sure to visit our Convention Calendar for a full listing of upcoming conventions featuring Babylon 5, Crusade and Legend of the Rangers cast members as guests.
If you would like to share your convention experience with your other Zocalo readers, send along a convention report. I will gladly post it for all to read. Got pictures? I'll post those as well.
ZOCALO TRADING POST
Do you have extra copies of B5, Amazing Spiderman, Midnight Nation or Rising Stars comics you'd like to trade? How about those extra trading cards or B5 magazines? There are a lot of fans looking for these items -- and the Trading Post can help you buy or sell them. To see what's available, just use this link to the Trading Post. To have items included in The Trading Post, send a note to The Zocalo. Please put Trading Post in the subject line.
Pen Pals
If you are looking for someone to talk about Babylon 5 and Crusade with, the Pen Pal section is for you! Check it out! Drop a note to someone who is feeling B5 withdrawal -- BIG TIME!

People thought a Pen Pal page was a good idea. If you would like to meet people who you could chat with or share your opinions of the show with, send along your e-mail or snail-mail address The Zocalo. It will be incorporated on the new Pen Page Page.
MAIL FOR CAST AND CREW
Here's a recent note from JMS on the subject:

Just an FYI to those who've been using the Ventura Blvd. mail drop for fan mail to actors....

As mentioned before, we're phasing out the forwarding of fan mail because we a) don't have the resources, complicated by b) the actors have scattered to the four winds, and it makes it very difficult to get everything to everybody in a timely fashion.

So, having provided prior notice...fan mail to actors coming to the Ventura Blvd. mail drop will be sent back. Mail to actors should be sent via their official fan clubs. I will still be taking mail there, since it's my mailbox, but that's it.

Just so's y'all know and save a few bucks on postage and returns.

JMS' mail can be sent to:

14431 Ventura Boulevard, PMB 260
Sherman Oaks, CA 91423

WARNER BROS:

Warner Bros. Address:

Warner Bros. Domestic Television Distribution
4000 Warner Blvd.
Burbank, CA 91522

Warner Home Video:

Mr. Douglas Wadleigh
VP for Marketing and Special Features
Warner Bros.
4000 Warner Blvd.
Burbank, CA 91522

SCIFI:
Bonnie Hammer, President
Sci-Fi Channel
1230 Avenue of the Americas
New York, NY. 10020-1513

Mr. Thomas Vitale
Senior VP of Acquisitions, Scheduling & Program-Planning
BACK ISSUES OF THE ZOCALO TODAY
The front page of the The Zocalo Today changes daily, so be sure to check the back issues to make sure that you haven't missed anything IMPORTANT! I don't want the front page getting too long so I shift information periodically into the archives. So if you aren't a regular visitor to The Zocalo Today, be sure to check out the back issues. Just use the button above!
---
Take care and I look forward to hearing from you.
Sandra Bruckner (sgbruckner@aol.com)
Editor/Publisher
The Zocalo Today
http://www.isnnews.net
Copyright - SBruckner, 2003