[an error occurred while processing this directive]

The Zocalo Today

Welcome! I am REALLY glad you dropped by. Take your shoes off, get comfortable and stay a while.

The Zocalo Today is an interactive newsletter. If you have suggestions, please send them along. The Zocalo Today is as much YOUR newsletter as it is mine! I'm just pulling together things for you! Join our weekly discussion topic. It is just one way you can interact with other Z readers. Send along letters, sightings of B5 cast and crew in other projects, convention reports, photos, etc. Don't miss our back issues. There is a LOT of information contained there and you'll not want to miss anything.

If you have questions, drop me a line at sgbruckner@aol.com or b5web@aol.com.

Again, WELCOME!

June 17, 2001 04:15am
What's New
SCIFI has opened up a new B5 Ranger site! Be sure to drop over to www.scifi.com/b5rangers. There is also a link from the main SCIFI site.
---
JMS has posted a few new comments -- one about Thirdspace; one about writing. They can be found on the JMS Speaks page.
---
Looks like Amazing Spiderman #32 is out on the street. So keep an eye out for it. If it's like the previous two issues written by JMS, it won't be around long!
---
Bruce Boxleitner was the host of the Saturn Awards the other night! Terrific! Details are below.
---
I hope more of you caught the clip from "Legend of the Rangers" that SCIFI had out during the re-broadcast of Dune. It's fantastic! Hopefully they will have it out again later.
---
Along with the new segment of the B5 chronology, Terry Jones sent an explanation of what changes he has made to the chronology since it was first published. Check out Redefining the Chronology.
---
JMS has dropped a few lines about upcoming comic projects. Check out JMS Speaks."
---
I've gotten some new, signed photos from Peter Woodward. Check out the Photo Shop for pictures from Patriot and a new one for Crusade.
---
Dennis Kristos has submitted a report from last week's "Gathering" in Vancouver. It was a superb event and I want to thank John, Dennis, Travers and others who organized the event.
---
A new HELP WANTED section has been added to the Z. If you need help finding a comic book, getting a special item, etc. here's the place to post a note. Just send whatever help you need to thezocalo@aol.com.
---
Jeanne Cavelos has had some interesting comments on Crusade and technomages in general. I thought you might be interested, so I've placed them on a Crusade Page.
---
I've updated the new page with information JMS has passed along regarding "The Legend of the Rangers".
---
NEWS AROUND THE SCI-FI GENRE
June 17:
28 DAYS LATER: Variety reports that Fox Searchlight is developing the SF movie 28 Days Later, with director Danny Boyle attached. Novelist Alex Garland wrote the script, about a deadly virus that sweeps the planet. DNA Films' Andrew Macdonald will produce.
---
INDY 4: Everyone has been speculating when Indiana Jones #4 would begin. Now it looks as if that project is on hold. The hold-up: producer George Lucas has yet to strike a deal for the film with Paramount. Until that happens, a writer can't be hired for the film.
---
OVERBOARD FOR EPISODE I: A number of fans put together what they called a "re-edited" version of Star Wars: Episode I. George Lucas has now put those folks on notice. When they started hearing about massive duplication and distribution, they realized then that they had to be very clear that duplication and distribution of our materials is an infringement."
---
June 16:
DR. WHO: There have been rumors about for quite a while about a new Dr. Who project. SciFi Wire reports that Anthony Stewart Head, Giles on Buffy, has been approached to play the Master in a future Doctor Who story. Big Finish Productions has a BBC license to make Doctor Who audio adventures approached Head, who is understood to be considering the offer seriously.
---
CHARMED: It's official, the WB announced that Rose McGowan will replace Shannen Doherty on Charmed.
---
ANDROMEDA: With the different shooting schedules for TV series, it allows a host of actors to cross-over into guest spots on different programs. Buffy's James Marsters is shooting a guest appearances on Andromeda this week; the episode will air during November. Marsters will play the villainous Nietzschean archduke Charlemagne Bolivar. Other guest actors will include The X-Files's William B. Davis (Cigarette-Smoking Man), who will play a scientist obsessed with ripping the veil of secrecy from alien Trance Gemini and her race; Lone Gunmen star Bruce Harwood, who will play a defense contractor protected by Rommie; and First Wave's Roger Cross, who will play a government agent tracking Harwood down.
---
ENTERPRISE: According to TrekToday, the new Enterprise series will be shot in high-definition television format (HDTV). This should provide a crisper image and allow easier conversion to DVD, but as with any new technology, the new format has caused a few problems. It's all a learning curve that a lot of people are encountering -- but the new format will make it possible for UPN to offer a high-quality version to those network affiliates who are also offering digital broadcasts.
---
June 15:
RATINGS: This week's Top 10 Network SF Programs: 3rd Rock 7.9; Dark Angel 6.4; Voyager 5.6; Buffy 3.4; Angel 3.3; Roswell 2.6; Charmed 2.4, and 7 Days 1.3.
---
ROSWELL: Ronald D. Moore, one of the producers of Roswell, told the Zap2it Web site that the show's staff is back at work on its third season. Roswell moves to UPN on Tuesday nights at 9 p.m., right after Buffy the Vampire Slayer. "We're in a good place," Moore told the site. "Buffy's a tremendous lead-in for us, that's for certain. We're in the perfect slot in the schedule at the moment." There will be some changes in the series as it begins the new year. Colin Hanks will not be returning; his character died last season. Also missing, Emilie de Ravin, whose pregnant character, Tess, left for the aliens' home planet in the season finale.
---
BUFFY: Shannen Doherty may be gone from Charmed, but there are rumors about her getting a recurring role on Buffy. Shannen and star sSarah Michelle Gellar are really good friends. They have been talking about doing the show together, with Shannen as a recurring character.
---
EARTH: FINAL CONFLICT: Philip Segal, Tribune Entertainment's senior vice president of scripted programming, told fans of Earth: Final Conflict in an official chat that Leni Parker (Da'an) and Anita La Selva (Zo'or) would be leaving the show and that original star Kevin Kilner would return as William Boone in the upcoming fifth season. Segal did not comment on the status of current series star Robert Leeshock, who is also rumored to be leaving. nor did he indicate how Kilner (Boone) would return, since his character was killed in season one.
---
TOMB RAIDER: You've seen the promos and trailers. This weekend, the movie opens. From early reviews, there's lots of action, but little else! But it looks like a lot of fun!
---
June 14:
WITCHBLADE: TNT's "Witchblade" premiere Tuesday set a new industry record as basic cable's highest-rated summer series launch, drawing an estimated 2.2 million households, according to Nielsen Media Research data. "Witchblade" averaged a 2.7 rating during its 9-10 p.m. ET time slot, 60% higher than TNT's 1.7 year-to-date primetime average.
---
SATURN AWARDS: Buffy the Vampire Slayer won two Saturns, and SCIFI's Farscape took home the award for best syndicated or cable series. For a complete list of the winners, go to www.scifi.com.
---
CINESCAPE: The magazine and the website are officially dead! Marc Camron, publisher of Cinescape magazine, told SCI FI Wire that he is looking for a buyer for the the magazine and Web site. Fandom Inc., which bought Cinescape last year, earlier reported that it would spin off assets and close its online operations; Camron said the company has gone out of business completely.
---
SPIDERMAN: Principal photography for the movie has nearly been completed. How is it turning out? Sam Raimi, who won the George Pal Memorial Award at the Saturn Awards June 12--added that he's aware of the high expectations for his adaptation of the venerable Marvel Comics series. "I've never had anything to do with a film where people were really interested when we were making it, so it's a brand new experience for me," he said.
---
ENTERPRISE: There are rumors about that the new series is slated to premiere on September 26.
---
Speaking of the new series, Executive Producer Rick Berman told the official Star Trek Communicator magazine that the upcoming UPN series will be written in part by writers of his previous series, Voyager. "We now have a writing staff in place consisting of writers we brought from Voyager and [others] who are new to Star Trek." Berman added, "We are actively working on three soundstages [at the Paramount lot in Los Angeles] and, on one of them, construction is nearly complete. The other two were used for Voyager sets and had to be struck, but construction is now underway on those, too."
---
VOYAGER: A group of Voyager fans have banned together to bring a Voyager: Virtual Season Eight. There will be 26 new weekly stories based on the show's characters, starting June 20 at the http://www.creativelogs.com/ website.
---
SCIFI SUMMER: SCI FI is launching a summer of all-new episodes of its original series, including Black Scorpion, Crossing Over With John Edward, Exposure, Farscape, First Wave, Lexx, The Invisible Man, The Outer Limits and The Secret Adventures of Jules Verne, plus a new series tentatively titled News From the Edge. The summer will also feature the four-part miniseries Robocop: Prime Directives and more. The Summer of SCI FI will run through Aug. 31, 2001.
---
June 13:
RATINGS: Top 10 SF Syndicated TV Shows This Week: The X-Files 3.4; 3rd Rock 3.3; Andromeda 3.3; Xena 3.0; Stargate SG-1 2.5; Profiler 2.1; Earth: Final Conflict 2.0; Sheena 1.9; The Outer Limits 1.8, and The Invisible Man 1.6.
---
THE MISTS OF AVALON: The Mists of Avalon, based on Marion Zimmer Bradley's best-selling fantasy novel of the same name, will premiere on TNT at 8 p.m. July 15 and 16. The original miniseries--a retelling of the King Arthur legend from the point of view of its female characters--stars Anjelica Huston, Julianna Margulies and Joan Allen. TNT will re-air the four-hour Avalon at 10 p.m. July 15 and 16, 12 a.m. July 15 and 16, 8 p.m. July 20, 12 p.m. July 21 and 8 p.m. July 30.
---
WITCHBLADE: This new series made it's premiere last night on TNT. Did anyone catch it? What did you think? Worth watching?
---
CHARMED: Rose McGowan appears to have won the hearts of the folks at Spelling TV! She will replace Shannen Doherty on the series.
---
BATMAN: Can you believe it's been 35 years since the caped crusader crossed our TV sets? Fox will release a DVD edition of 1966's Batman: The Movie, based on the campy Adam West television series. Timed to the film's 35th anniversary, the DVD will feature an all-new 16-minute featurette about the movie, commentary from stars West and Burt Ward, never-before-seen shots from West's private photo collection and more.
---
TREK 10: The TrekToday website reported that while at a scifi convention in North Carolina, Michael Dorn (Worf) and Marina Sirtis (Troi) told fans that the upcoming 10th Trek film plays like the final chapter in the Next Generation saga. Trek X will be "better than Insurrection," Sirtis said. She denied a long-standing rumor that a main character will die in the film or that she and Cmdr. Riker will tie the knot in the film's opening. Dorn said the film will feature a character cameo from another Trek series. Could this be 7 of 9?
---
LEGEND OF THE RANGERS
SCIFI has opened up a new site for the Legend of the Rangers at www.scifi.com/b5rangers. You'll not only find the trailer that was shown during DUNE last week, but you will find information about the telemovie, the crew producing the project and a message board as well. The site will be growing, so be sure to bookmark it!
SUMMONING LIGHT
Jeanne Cavelos' next installation of the Technomage series will be out next month! DelRey has a brief synopsis available of this -- and the next novel -- "Invoking Darkness", which is scheduled for a November release.

Here is the blurb from the DelRey website on the novel:

The explosive space epic continues, as the techno-mages come face-to-face with the devastating evil of the Shadows . . .

War against the Shadows is inevitable, and the ruling Circle has ordered the techno-mages into hiding. Many are unhappy with this decision--none more so than Galen, the only mage who has faced the Shadows and lived. But the Shadows aren't Galen's only enemy--he is driven to hunt and kill Elizar, the traitor who murdered the beautiful mage Isabelle while Galen stood by helplessly, his hands tied by the Circle's sacred code he had sworn to follow.

Now a new mission awaits as the Circle contrives a plan that may enable the five hundred mages to escape without leaving a trace. Dispatched to the Shadow's ancient capitol to uncover the enemy's plans, Galen will find everything he so desperately seeks--including a shocking legacy that threatens to consume his very soul.

You can place your order for both of the novels NOW on the website and they will be sent out as soon as they are available.

To learn more about Jeanne, visit her website at www.sff.net/people/jcavelos. Jeanne is a scientist, mathametician and author! She's worked with NASA and Harlan Ellison on a writing series! I'm sure you will find her an interesting person to chat with.
INTERNATIONAL SPACE STATION
Here's a website for you to check out! The ISS Babylon (www.issbabylon.com) is an effort to have the new international space station named the ISS Babylon, in honor of Babylon 5 and it's creator, J. Michael Straczynski. Jack Bennett has put together a nice site -- even giving a sample letter that can be forwarded in support of naming the station. Take a look and, if you are so inclined, join the effort. I have to admit, ISS Babylon does have a sort of ring to it!
BILL MUMY AUCTION
Tye Bourdony, creator of "The Lighter Side of Sci-fi", has created a special item that brings you our favorite Bill Mumy, (Lennier on Babylon 5 and Will Robinson on Lost in Space), and the very beautiful June Lockhart, (Mom, on Lost inSpace, among many other things) and Bob May, (our favorite robot, "Warning Will Robinson"). Money raised by the auction of this item will be used for the Hollywood Walk of Fame STAR for BILL MUMY. Go to http://globelistauction.homestead.com/page2.html to see this great cartoon and place your bid. The auction ends July 2.
SEEING EAR THEATRE
Part 2 of Neil Gaiman's Snow Glass Apples is now available for your listening pleasure over at Seeing Ear Theatre. For those of you who frequent the site, you know there is always something there to pique your interest and have you listening for hours on end! For those of you who have NOT visited SET, I encourage you do to so. Brian and the gang at SET have worked hard to make this an awesome site -- full of superb classic and original science fiction audio dramas.
BOOK SIGNINGS
Neil Gaiman, author of Day of the Dead, has a new book out, American Gods. His book signing schedule can be found at http://www.americangods.com/tour.html.

Jeanne Cavelos is out promoting her novel, Casting Shadows. Her schedule can be found at: http://www.sff.net/people/jcavelos/tm1.htp#mta.
THIS WEEK'S DISCUSSION TOPICS
Let's talk Babylon 5 novels for a while! The most recent, the Centauri, Psi Corp and Technomage series have been absolutely terrific! Do you have a favorite novel? Which one is it and why is it your favorite?

Send in your comments to either TheZocalo@aol.com or b5web@aol.com.. You can also post your comments on the message board at www.isnnews.net/board. To see what other readers have posted on this and other topics, follow this link to Current Discussion Topic page.
---
NEW BABYLON 5 BOOK
Ranger Lee directed me to a new book available about Babylon 5 -- Interacting with Babylon 5: Fan Performances in a Media Universe by Kurt Lancaster, Henry Jenkins. The book is to be available July 1 in hardback & paper.

Here's a brief description from the Amazon.com listing:

"This book makes a significant contribution to the growing body of scholarship surrounding the participatory communities—i.e. fandoms—that surround cult television shows and films. . . . It will cut across disciplines, finding a readership among sociologists, anthropologists, media scholars, and performance scholars, as well as among fans and lay readers." —Henry Jenkins, author of Textual Poachers: Television Fans and Participatory Culture
RANGER SIGHTINGS
Ranger Andro sent in the following sighting report:

I recently saw Carrie Dobro (Crusade's Dureena Nafeel) in a bit part in a low budget independent film, "Brigham City." It is a pretty good film about a murder in a small Utah Town, where the investigating Sheriff is also a Bishop in the Mormon Church. It is one of the best films I've seen in many months, and would hardily recommend you see it when you have a chance--it is in limited release right now. It is a very touching movie.
BABYLON 5/CRUSADE PHOTOSHOP
NEW PHOTOS
You do NOT have to pay the prices asked for over at e-bay! Here are photos of B5 and Crusade cast members at fantastic prices. Check out Photo Shop. Ordering is easy -- and you can't beat the prices! Just let me know which photos you want and I'll check to make sure they are still in stock.
---
KEEPING UP WITH CAST AND CREW
Bruce Boxleitner and Tony Todd are going to Kansas City in June! They have been cast in "Silence", a work by writer/director Tom Whitus and producer Denis Fallon. They hope to complete the project before the expected Screen Actors Guild strike at the end of June.
---
Stephen Furst can be found in the latest issue of People magazine (with Niki Taylor on the cover). He talks about overcoming his diabetes and his work on Babylon 5, including having his costume covered with safety pins to compensate for his weight loss after a four month hiatus. Stephen was also mentioned recently in an article about a New Hampshire screenwriter. His two latest films are directed by Stephen Furst. Check out http://www.fosters.com/news%5F2001b/apr%5F01/15/art%5F0415.htm
---
Peter Woodward: Peter has just returned to the US after filming, "In God We Trust". The production was shot in Bulgaria. It stars Val Kilmer, Christian Slater and Darryl Hannah. Peter will play the character, FBI Agent Jarvis.
---
Robin Atkin Downes has begun airing around the country, starting with last week's episode of "Buffy". Be sure to look for Robin! He's the Director.
---
BABYLON 5/CRUSADE CHRONOLOGY
A number of you have written to ask about having an index of the chronology published thusfar. Terry has given permission for this so I'm working on it. I should have it ready very shortly.

Terry Jones created a FANTASTIC Babylon 5/Crusade Chronology that was published in the Official Babylon 5 magazine. He has not stopped with the end of the series though. He has included items from the latest novels as well as things from the Crusade series. Here's a note from Terry to tell you all about it.

To look at the timeline in a different way, I have been working with Terry Jones on personal chronologies for the Babylon 5 universe. At The Galactic Gateway you will fine Parts 1-4 of the chronology for John Sheridan along with Part 1 for KOSH. Others will follow. I hope you will visit GG and give the chronologies a look.

The latest segment of the B5 chronology can now be found at The 23rd Century.
SCI FI PUBLICATIONS
CULT TIMES #69: Amanda Toping from Stargate gives Thomosina Gibson a tour of her home in Canada and talks about the upcoming fifth season of Stargate SG-1, including "Ascension" -- an huge upcoming Carter episode. Also in the issue, articles on Dark Angel's Jessica Alba and Voyager's Harry Kim, Garrett Wang.







DREAMWATCH 82: With Lord of the Rings coming closer to a premiere, more information is available about the production and those involved in it. Liv Tyler is featured in this issue, along with "The Mummy Returns" stars Brendan Fraser, Arnold Vosloo, John Hannah, patricia Velasquez and The Rock. For Buffy fans, Anthony Stewart Head has an interview, along with Voyager's Robert Picardo and First Wave's Traci Lords.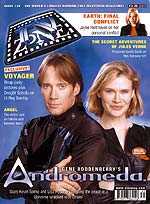 TV Zone: Kevin Sorbo and Lisa Ryder from Andromeda are featured this month, along with Voyager's Kate Mulgrew and Dwight Schultz (Lt. Barclay), Charisma Carpenter from Angel, Jane heitmeyer from Earth: Final Conflict and a a lot more.
SCI-FI SCHEDULE
BABYLON 5's May Schedule: 7pm each evening:

Air Date Title

June 18 Whatever Happened to Mr. Garibaldi?
June 19 The Summoning
June 20 Falling Toward Apotheosis
June 21 The Long Night
June 22 Into The Fire

June 25 Epiphanies
June 26 The Illusion of Truth
June 27 Atonement
June 28 Racing Mars
June 29 Lines of Communication
COMIC BOOKS
MIDNIGHT NATION #7
The latest issue of Midnight Nation hit the news stands this week. Here's an excerpt from the review at http://scifi.ign.com/comics/5252.html. "Gary Frank's art takes this comic to the next level, making it a total sensory experience not to be missed. If you want more intelligent comics, buy this. If you want exciting comics, buy this. If you want to read one of the best titles on the market right now, buy this. If you want a comic that will undoubtedly be a classic series, buy this."
AMAZING SPIDERMAN #32
The third issue of Amazing Spiderman by JMS is out on the street. IGN.COM has a review of the issue at http://scifi.ign.com/comics/2724.html
NO HONOR
The last issue of Fiona Avery's No Honor is at the printer and distribution is expected toward the end of June. If you enjoy this series, don't despair. Fiona will be writing a second No Honor series -- this time a 6-issue story.
NEW BABYLON 5 TOONS
John Cook has a new cartoon contest going. Try your hand at a punch line.




READER DIRECTORY
Sometimes you just can't find the e-mail address for someone you know you have -- it's someone who responded to a discussion topic or you met in one of the chat rooms. You'd like to send a personal note, but .... No address!!!!

We've started a White Pages of Zocalo Readers! It's a handy way of keeping track of people -- and putting together a birthday/greeting card list as well. If you would like to be part of the listing, just send me your name, state, e-mail address and (if you'd like to have it listed) birthday (without year) to sgbruckner@aol.com. Check out the Directory of Readers.

HAPPY BIRTHDAY TO YOU!

Name: Melody Pritchard
Birthday: June 9

Name: David Shepherdson
Birthday: 14th June
BABYLON 5 REFERENCE PAGES
The Official Babylon 5 Magazine is indexed here as well. With the closure of the magazine in May, you'll want to see which magazines you have -- and which ones you will want to collect. The index may help you make a decision on which ones to choose. The Fan Club has many of the issues at thestation.com , making it very easy to complete your collection.

Universe Today -- the Babylon 5 Fan Club quarterly can also be found here. The index gives you a rundown of what articles were presented, what interviews published.

If you have magazines that have featured Babylon 5 or Crusade that are not listed, send along their issue number and a note to indicate what the article was about. It would be nice to have a fairly comprehensive listing of Babylon 5 publications here.

I have added a listing of all the Babylon 5 novels and now the B5 comic books to the reference page. If there are other items that you feel should be included, let me know.
MAILING LISTS
NW-B5
NW-B5 is a mailing list devoted to bringing critical information to the Vancouver Island, Lower Mainland, and Northern Washington areas. More specifically, anyone north of Seattle. B5 is broadcast on SPACE:TIS in Canada, and Sci-Fi channel in the US. By subscribing to nw-b5, you'll be able to know info bringing you up to date on the current scheduling and events happening in the community related to B5. You'll also be subscribed to the list itself, which means that you'll receive email when there is a scheduling change or critical information needs to go out to you (for example, if we need to start another mailing campaign).

For further information, see http://www.nw-b5.com
John Francis
Webmaster, Listowner, and Co-Moderator
mailto:nw-b5@iname.com

Reports of "The Gathering" are beginning to turn up on the list. John posted a mini-report, with photos, over at http://www.geocities.com/jnf.geo/nw-b5/gathered.htm#0501. You may want to check it out. It was a terrific event in which JMS showed clips from the new "Legend of the Rangers".
BABYLON 5 DISCUSSION LIST
The Babylon 5 discussion mailing list is for any and all discussions and/or news pertaining to or related to Babylon 5 and/or Crusade. The list has been in existence for the past three years now, and has recently moved. The new location is http://lists.apparition.org/cgi-bin/lyris.pl, and you can subscribe by sending a blank e-mail message to join-babylon_5-l@lists.apparition.org.
THE GALACTIC GATEWAY
Here's a unique site for you! Jeffrey Willerth, Patricia Tallman, Mira Furlan, Claudia Christian, Robin Atkin Downes, Rick Biggs, Jerry Doyle, Bruce Boxleitner, Melissa Gilbert, Peter Jurasik and Bill Mumy are under it's umbrella. Actors from other shows have joined the Gateway. Ted Raimi and Robert Trebor from Xena and Hercules are now at GG. To subscribe to a mailing list for GG, send a blank note to thegalacticgateway-subscribe@egroups.com.
GATEWAY CHATTERS
There is never enough time to keep in touch with friends! To help out, a mailing list has been started for chatters over at the Galactic Gateway. If you are interested in joining, send a blank note to gateway-chatter-subscribe@egroups.com.
GATEWAY TRADER
Are you looking for a particular Babylon 5 collectible? Do you have some items you'd like to trade? Then this is the list for you. To join, send a blank note to gateway-trader-subscribe@egroups.com.
CALLING ALL ARTISTS
The Art Gallery at The Zocalo Today is open. There are SO MANY talented people in our Babylon 5 community. We have enjoyed works by Todd Brugman and Tye Bourdony on our toons page, but there are a host of others who enjoy drawing, painting, sketching their favorite characters. Here are a few works that have been received. I have some others that will be added soon.

If you would like to share your work with us at The Zocalo Today, please send along a digital photo of your work and I'll begin putting the gallery together. If you do not have your work in digital format, drop me a note and we'll see what we can work out.
CALLING ALL CLUBS
There are a number of fabulous Babylon 5/Crusade Clubs around the world. I'd like to begin listing them here on The Zocalo Today. Eric dropped me a note the other day providing information about a Club in France. I know there are other clubs in Brazil, Germany, Russia -- and who knows how many here in the US. Let's get a listing together. Perhaps we can share resources, even get together as we travel around. Drop the information about your Club to me at sgbruckner@aol.com or bruckner@isnnews.net. That information will be added to the new B5 Fan Club Listing.
BABYLON 5 FAN CLUB
Sad news. I don't know what the fate of the B5 Fan Club will be. Netter Digital filed for bankruptcy in July and all their worldly posessions were auctioned off on December 7. Thestation.com is back on-line, however the Emporium has been closed.
BABYLON 5 NEWSLETTERS
If you have a newsletter you'd like to have listed at The Zocalo Today, send the information along. It will be posted on the B5 Fan Club/Newsletter page.

Ranger Shane in North Carolina sent in the following note about their "Jumpgate" newsletter.

Hey Sandy! Just wanted to give you an update on the NC B5 group's newsletter, Jumpgate. There's now a dedicated EMail address for submissions - jumpgatemag@bellsouth.net - and any submissions, solicited or un-, can be sent to this address. Also, issues are available for free download at the URL at the bottom of this message.

-- Jumpgate - The Newsletter of the North Carolina Babylon 5 Fan Club
Shane Killian, Editor
BABYLON 5/CRUSADE CONVENTIONS
CONVENTION CALENDAR
Lots of updates to the calendar. I hope you will check it out and see if there are any Babylon 5 conventions in YOUR future! Use this link Convention Calendar. Have a convention you would like to have listed here? Pass along the information.

CONVENTION ALERT

Tracy Scoggins will be attending Trek Expo 2001, June 23, Exposition Center, Tulsa, OK. More information may be found at http://www.starbase21ok.com/

CONVENTION ATTENDANCE

Are you attending one of the conventions on the calendar? Or another one perhaps? Do you want to see who else might be there? Drop your e-mail address to TheZocalo@aol.com. We've begun an attendance page so that perhaps we can get together while enjoying the activities of the convention. Convention Attendance .
UPCOMING EVENTS
Slanted Fedora
June 15-17, 2001; Chicago, IL
Guests: Tracy Scoggins

For more information, visit their website at http://www.sfedora.com/chicago.htm or call (913)327-8735.
---

Trek Expo 2001
June 22-24, 2001; Tulsa,OK
Guests: Tracy Scoggins - Sunday Only

For more information, visit their website at http://www.starbase21ok.com.
---

Atlanticon2001
June 29, 30 & July 1, 2001; Prince Edward Island, Canada
Guest: Bill Blair

More information, visit their website at http://www.atlanticon.org or e-mail atlanticon@hotmail.com. Phone: 800-867-5563.
---

Origins
July 5-8, 2001; Columbus, OH
Guest: Julie Caitlin Brown

More information, visit their website at http://www.wizards.com/origins/2001 or e-mail evtcustserv@wizards.com. Phone: 800-529-3976.
---
Gateway 3
July 6-8, 2001; St. Louis, MI
Guest: Marjorie Monaghan

More information, visit their website at http://www.stlf.org/gateway or e-mail gateway@stlf.org. Phone: (314)524-3014.
---
Shore Leave
July 13-15, 2001; Baltimore, MD
Guests: Bruce Boxleitner, Jerry Doyle, Mary Kay Adams

For more information, visit their website at http://www.shore-leave.com.
---
InConJunction 2001
July 13-15, 2001; Indianapolis, IN
Sheraton Hotel & Suites
Guests: Richard Biggs, Jason Carter

For more information, visit their website at http://www.inconjunction.org or e-mail conchair@inconjunction.org. Their mailing address is: InConJunction 2001, PO Box 68514, Indianapolis, IN 46268-04141.
---
San Diego Comic-Con International 2001 July 20-22, 2001, San Diego, CA
Guest: Peter Woodward (Galen)

For more information, visit their website at http://www.comic-con.org/Pages3/2001.html or write to Snail Mail: P.O. Box 128458, San Diego, CA 92112-8458; Telephone: 619-491-2475; Fax: 619-414-1022.

Toronto Trek 15
July 20-22, 2001, Regal Constellation Hotel, Toronto, Canada
Guest: Andreas Katsulas, Tim Choate

For more information, visit their website at http://www.tcom.icomm.ca.
---
Slated Fedora
July 27-29, 2001, Boston, MA
Guest: Stephen Furst, Mary Kay Adams

For more information, visit their website at http://www.sfedora.com.
---
ZOCALO TRADING POST
There are some new and interesting items in the Trading Post. Take a look. If you have items you'd like to trade, post a note here. If you need a particular item, the Trading Post or Message Board could help you find it. Use this link to see what is listed. Trading Post. To have items included in The Trading Post, send a note to The Zocalo. Please put Trading Post in the subject line.
Pen Pals
If you are looking for someone to talk about Babylon 5 and Crusade with, the Pen Pal section is for you! Check it out! Drop a note to someone who is feeling B5 withdrawal -- BIG TIME!

People thought a Pen Pal page was a good idea. If you would like to meet people who you could chat with or share your opinions of the show with, send along your e-mail or snail-mail address The Zocalo. It will be incorporated on the new Pen Page Page.
BABYLON 5 BIRTHDAYS
Jeffrey Willerth - June 5
Donovan Brown (Optic Nerve) - June 6
Ann Bruice Aling - June 8
Mark Walters - June 10
Susan Norkin (Post) - June 10
Adrienne Barbeau (Amanda Carter) - June 11
Mike Vejar - June 25

Have I missed anyone? If you know the birthday of someone connected with Babylon 5, pass the information along. We want to include everyone in our Happy Birthday Wishes.
MAIL FOR CAST AND CREW
Here's a recent note from JMS on the subject:

Just an FYI to those who've been using the Ventura Blvd. mail drop for fan mail to actors....

As mentioned before, we're phasing out the forwarding of fan mail because we a) don't have the resources, complicated by b) the actors have scattered to the four winds, and it makes it very difficult to get everything to everybody in a timely fashion.

So, having provided prior notice...fan mail to actors coming to the Ventura Blvd. mail drop will be sent back. Mail to actors should be sent via their official fan clubs. I will still be taking mail there, since it's my mailbox, but that's it.

Just so's y'all know and save a few bucks on postage and returns.

JMS' mail can be sent to:

14431 Ventura Boulevard, PMB 260
Sherman Oaks, CA 91423
BACK ISSUES OF THE ZOCALO TODAY
The front page of the The Zocalo Today changes daily, so be sure to check the back issues to make sure that you haven't missed anything IMPORTANT! I don't want the front page getting too long so I shift information periodically into the archives. So if you aren't a regular visitor to The Zocalo Today, be sure to check out the back issues. Just use the button above!
---
HELP!!!
NEW FLYER AVAILABLE: If you would like to take some flyers to a convention to help spread the word that The Zocalo is here and ready to provide you with information on everything Babylon 5 and Crusade! drop me a line. I'll be glad to send you some in the mail. I've created a PDF file that can be downloaded and printed. Flyer Thanks for helping to spread the word about The Z!

Take care and I look forward to hearing from you.
Sandra Bruckner (sgbruckner@aol.com)
Editor/Publisher
The Zocalo Today
http://www.isnnews.net
Copyright - SBruckner, 2001