[an error occurred while processing this directive]

The Zocalo Today

Welcome to The Zocalo Today! Take your shoes off, get comfortable and stay a while. There is a LOT of information here and you won't want to miss any of it.

The Zocalo Today was begun in 1999 as a way of keeping Babylon 5 fans informed of what was going on within the B5 community. It still does that -- but it has expanded to include science fiction in general. You will find items on STARGATE SG-1, ANDROMEDA, MUTANT X as well as movies and books. We encourage interaction with readers through discussion topics and the general sharing of information. You'll see listings from various rangers around the world -- dropping hints about DVD deals, places where you can see B5 cast members in other roles, etc. We also have a convention calendar so you can see if there is an event coming up in your neighborhood.

Please feel free to send along suggestions for things you would like The Zocalo to include. The Zocalo Today is as much YOUR newsletter as it is mine! I'm just pulling together things for you!

Don't miss our back issues. I hope this will become more than just a newsletter. It's a community of people that enjoy sharing their experiences and interests. Don't be shy. Join us today!

If you have questions, drop me a line at sgbruckner@aol.com. If you would like to join the mailing list for our bi-weekly newsletter, send me a note and I'll include you on the list. Or you can use the subscription block at the left.

Again, WELCOME!




What's New Today
Saturday, June 5:
TOP SF NETWORK SHOWS:
Joan of Arcadia 5.4
Charmed 3.1
Smallville 3.0
Angel 2.7
Enterprise 2.3
Source: Nielsen Galaxy Report, 5/10/04 - 5/16/04.
---
HARRY POTTER AND THE PRISONER OF AZKABAN: With the movie opening this weekend, everyone expects it will easily capture the #1 spot at the box office. For a review of the movie, go to Cinescape.com.
---
HBO SCHEDULE AHEAD: HBO will premiere a number of recent movies during August. They include:
THE LEAGUE OF EXTRAORDINARY GENTLEMEN -- set to premiere on HBO on Saturday, Aug. 14 at 8 p.m.
Additional airings during the month include Sunday, Aug. 15 at 4:30 a.m.; Tuesday, Aug. 17 at 12:30 p.m. and 9 p.m.; Sunday, Aug. 22 at noon and 11:30 p.m.; Thursday, Aug. 26 at 11:30 a.m. and 8 p.m.; and Monday, Aug. 30 at 4:30 p.m. and 11:55 p.m.

August will also include HBO premieres of: BATMAN & MR. FREEZE: SUB ZERO, ALIEN VS. PREDATOR: HBO FIRST LOOK, STEEL AND THE CROW: CITY OF ANGELS.
Batman & Mr. Freeze: SubZero, originally released as a direct-to-video movie, will air Monday, Aug. 9 at 6:15 a.m. and Wednesday, Aug. 18 at 6 a.m.
Alien vs. Predator: HBO First Look, a 13-minute special, will premiere on Thursday, Aug 5 at 10:45 p.m. Other airings include Saturday, Aug. 7 at 12:15 p.m.; Wednesday, Aug. 11 at 4:45 p.m.; Sunday, Aug. 15 at 2:30 p.m.; Wednesday, Aug 18 at 11:45 a.m.; Friday, Aug. 20 at 9:15 a.m. and 10:45 p.m.; Monday, Aug. 23 at 4:45 p.m.; and Thursday, Aug. 26 at 11:45 p.m.
Steel and The Crow will air on Thursday, Aug. 5 at 2:15 p.m.; Wednesday, Aug. 11 at 9:15 a.m.; Saturday, Aug. 14 at 11 a.m.; Tuesday, Aug. 17 at 5:30 p.m.; Sunday, Aug. 22 at 6:15 p.m. and Friday, Aug. 27 at 10:30 a.m.
---
The Crow: City of Angels will air on Tuesday, Aug. 10 at 4:45 a.m.; Thursday, Aug. 19 at 12:30 a.m.; and Wednesday, Sept. 1 at 3:35 a.m.
---
X-FILES: David Duchovny, in an interview with the UK's Teletext service, indicated an X-FILES feature could be in the future. "We're all on the same page. Gillian Anderson wants to do it, I want to do it, Chris Carter, who would write and produce the film, wants to do it and I believe Fox the studio wants to do it. When you have the four major players in the enterprise wanting to do it, it will happen. It's just a matter of when. I hope it happens within the next year". Time will tell if Fox still perceives the X-FILES as a viable franchise and marketable brand.
---
WHAT'S ON TONIGHT
CABLE AND NETWORK SHOWS:
8:00pm on UPN
Star Trek: Enterprise
The Xindi
The crew seeks out a deadly force that threatens to wipe out all of humanity.
8:00pm on HBO
Bruce Almighty
Jim Carrey was the perfect choice to play a man given Godly powers to improve his life and the lives of others. The Lord probably figured that he would use the new tools to do something really important, like potty train a stubborn dog. With Carrey in control and Morgan Freeman around as the man upstairs, the film has its funny moments on a slow tube night.
9:00pm on UPN
Unexplained Mysteries
Psychic Crime-Solvers
Five individuals use their psychic abilities to try to help police solve crimes
ON SCIFI TONIGHT:
5:00pm
Dagon
Fishlike creatures practice human sacrifice in their village. Based on a story by H.P. Lovecraft.
7:00pm
The Lost Voyage
Seven people board a ship that returns 25 years after disappearing in the Bermuda Triangle.
9:00pm
Thirteen Ghosts
A widower, his daughter, his son and others become trapped in a house with vengeful spirits.
11:00pm
Day of the Dead
The living dead regroup above while humans sweat it out below in a Florida missile silo.
ON SYNDICATED TV THIS WEEKEND: Andromeda
Pieces of Eight
Dylan must defeat a false prophet who seeks to usurp power from the Triumvirs.
BeastMaster
Tiger Tiger
Dar races to rescue Ruh before he is sacrificed in a ritual intended curry favor with Balcifer.
Sir Arthur Conan Doyle's The Lost World
The Travelers
Marguerite joins a trio of dashing bandits with a deadly secret.
Mutant X
Conspiracy Theory
Brennan and Shalimar investigate a plane crash and Lexa contemplates her future with the team.
Stargate SG-1
The Other Guys
SG-1's survival depends on two unlikely heroes when the Goa'uld capture it.
INSIDE SCI-FI THIS WEEK:
Friday, June 4:
RAINBOW SIX: John Woo has been tapped by Paramount to direct its adaptation of Tom Clancy's RAINBOW SIX, centered on Clancy's shadowy John Clark CIA agent character. Story centers on Clark joining with several colleagues to leave the CIA and create an England-based multinational org designed to battle terrorism.
---
THE PSYCHO: Screen rights for the DC graphic novel THE PSYCHO have been purchased by Universal Studios and Jeffrey Nachmanoff is set to draft the film. THE PSYCHO is an action-thriller about a government agent who uncovers a technology being used to genetically turn people into super-humans. Nachmanoff co-wrote "The Day After Tomorrow" with Roland Emmerich.
---
ELEKTRA: Marvel Comics fans who were disappointed with Jennifer Garner's black leather Elektra costume in 'Daredevil' will see her wearing a red outfit closer to the heroine's comic book garb in the "Elektra" spinoff.
GHOST RIDER: DAREDEVILE writer/director Mark Steven Johnson is in pre-production on Marvel's GHOST RIDER, which he'll head to Australia in November to shoot with Nicolas Cage in the lead.
---
MOVIE SCRIPTS: Over at The SciFi Moviesite, you will find over 300 movie sci-fi and fantasy scripts available for downloading. There is a brief description of the movie, clips and you can then buy the script via amazon.com. Great service.
---
MOVIE CLIPS: While you are over at The SciFi Movie site, you can check out their series of clips and trailers. Currently available: HARRY POTTER, THUNDERBIRDS, THE DAY AFTER TOMORROW, HELLBOY, SPIDER-MAN 2, THE STEPFORD WIVES, and many more. Enjoy!
---
Wednesday, June 3:
MEMORIAL CHAT FOR RICHARD BIGGS: Last night brought back memories -- of the green room, of chatting with friends about convention experiences. It was all about remembering old friends departed -- a tribute to Richard Biggs. In a chat arranged by Pat Tallman at The Galactic Gateway's yahoo chat room, quite a number of people met to pay their respects to Richard Biggs -- actor, co-worker and friend. Pat Tallman shared with us messages from friends who could not attend, including Bill Mumy, Peter Jurasik and Chase Masterson and Pat talked about her feelings for Rick. It was a time of reflection -- old convention memories and names we haven't heard in a while -- Rebelcon, VorCon, Big Bang. Chatters included LadyBeth, DelennToo, Captain, Gkarfan, Zombiwoman, CCRanger and others. At 10:10pm EDT, everyone observed a moment of silence in Rick's honor and lit a candle in his memory. While the chat was scheduled to begin at 10:00, I got to the room about 9:20 and there were already folks there. I left about 10:40 while others lingered, sharing memories and renewing friendships. This was truly a wonderful experience -- one Rick would have enjoyed very much.
Thanks to all who participated -- and those who could not. I know, the room was small and a lot of people couldn't get in. We'll have to work on that. We are hoping to have another chat -- just because this one turned out so well -- on Sunday night at 8:00pm EDT. Go to http://tv.groups.yahoo.com/group/thegalacticgateway/chat.
Pat will be passing along the personal messages she shared last night from Bill, Peter, Chase and they will be posted for everyone to read.
---
TOP SF DVD SALES:
1. The Return of the King
2. Buffy season six
3. Bubba Ho-tep
4. Lord of the Rings trilogy
5. Triplets of Belleville
6. Star Wars trilogy
7. Matrix Revolutions
8. Smallville season two
9. The Two Towers
10. Disney Treasures: Front Lines
Source: Amazon.com, top-selling genre DVDs, 6/1/04
---
2176: According to the Hollywood Reporter, Ron Shusett, co-creator of ALIEN, and producer Daniel Alter are teaming up to produce 2176, an SF space opera movie offering a retelling of the Revolutionary War, written by Thunder Levin and George Saunders. The story revolves around 13 planetary colonies in the future that rebel against an oppressive Earth.
---
SMALL GODS/SPOOKS: Daniel Alter, through his Alter Ego Entertainment management and production company, has also optioned rights to the Image Comics series SMALL GODS, which it aims to develop as a television series about people with psychic abilities. The company is also developing SPOOKS, an original pitch by Alter and Ryan Schifrin, which revolves around a government agency that protects mankind from supernatural threats, including vampires, werewolves, witchcraft, ghosts and zombies.
---
DEAD LIKE ME: Zap2It.com reports that Eric McCormack (Will & Grace) will appear in a multi-episode arc of DEAD LIKE ME, which starts its second season on July 25 at Showtime. He will play a reality-show producer named Ray Wright who pursues Daisy (Laura Harris), not knowing she's actually a reaper.
---
DAVID E. KELLEY: According to the Hollywood Reporter, NBC has given an eight-episode order for a reality series created by David E. Kelley. The series will feature contestants with law degrees competing for a partner position at a law firm. Kelley, who has teamed with "The Surreal Life" producer Renegade 83 for the show, is expected to executive produce with Renegade partners David Garfinkle and Jay Renfroe. Originally set up at CBS the eye network passed on it and NBC quickly jumped on after meeting with Kelley. The premise of the series is similar to "The Partner," a reality show set to premiere in November on Fox.
---
SPIDER-MAN 2: OPRAH will have a SPIDER-MAN special on next Monday, June 7. The show will feature Tobey Maguire and Kristen Dunst. It will probably show new clips from the movie.
---
X-MEN/VAN HELSING: Multi-talented HUGH JACKMAN has won the best Best Male Dancer category for the 2004 TDF/Astaire Awards for his performance in The Boy From Oz. When informed of this year's winners, Mrs. Fred Astaire said, "I know that Fred would be delighted that his artistic achievement, on stage and screen, continues to serve as a symbol of excellence for the Broadway dance community." The TDF/Astaire Awards were established with the cooperation of Fred Astaire to honor him and his sister, Adele. They starred together in ten Broadway musicals between 1917 and 1931.
---
Wednesday, June 2:
BEST SELLING SF BOOKS:
1. The Da Vinci Code
2. Song of Susannah (Dark Tower 6)
3. Angels & Demons
4. The Time Traveler's Wife
5. The Taking
6. Shadowmancer
7. Wicked
8. Dead to the World
9. Wolves of the Calla (Dark Tower 5)
10. Complete Divine
Source: Amazon.com, 5/28/04
---
BEOWULF & GRENDEL: Variety reports that Gerard Butler has signed to play the lead in the Canada/U.K./ Iceland co-production of BEOWULF & GRENDEL, based on the Anglo-Saxon epic poem. The epic medieval adventure will begin a 10-week shooting schedule in Iceland beginning in August.
---
HOME FOR SALE: The home of J.R.R. Tolkien in Oxford, England, is on the market. This is the place from which the author wrote much of the LORD OF THE RINGS trilogy. Estimated price of of the home is $2.7 million. The six-bedroom house, which is close to Oxford University, was Tolkien's home for 17 years.
---
STAR WARS FAN FILMS SOUGHT: Lucasfilm has announced that entries for the 2004 Star Wars Fan Film Awards must be submitted before June 15. Prizes and honors (including a $2,000 cash prize and one of the iconic golden C-3PO and R2-D2 trophies) will be awarded at the Fan Film Award ceremony on July 22 at the International Comic-Con in San Diego. The top film will be selected by Star Wars creator George Lucas. The film judged to have the best animation will receive the Animation Award from sponsor Code 3 Collectibles: a $500 cash prize, plus a gift certificate for a shopping spree at the official online Star Wars shop. The winner of the Spirit of Fandom Award, sponsored by Anthony Grandio, will be awarded a $1,000 cash prize for the film recognized to best capture the essence of Star Wars fandom. Winners in every category will receive a Star Wars Fan Film trophy. All finalist films will be seen on the official Star Wars Fan Film site hosted by AtomFilms, Lucasfilm's partner in the Star Wars Fan Film Awards. Be sure to visit http://atomfilms.shockwave.com/af/spotlight/collections/starwars/ to review last year's winners -- including John Hudgens' THE JEDI HUNTER.
---
SHREK 3: With the success of SHREK 2, writers Peter Seaman and Jeffrey Price have been hired to start working on a script for SHREK 3. DreamWorks, the studio that released the first two SHREKs, has now said that it wants the third adventure out in time for a holiday 2006 timeframe. Another writer, Jon Zack (who has a movie called THE PERFECT SCORE coming out later this year) will work on SHREK 3 in a consultant capacity. Rumors related to the storyline of the third feature include Shrek meeting with King Arthur and his Knights of the Round Table. It has not yet been determined whether this is the direction that Seaman and Price will continue. While no deal has been reached to return SHREK's voice talent, it's generally believed that deals will be worked out eventually for Mike Myers (Shrek), Cameron Diaz (Princess Fiona) and Eddie Murphy (Donkey) that will see them reprise their characters for a third adventure (and possibly a fourth too.)
---
GHOSTS OF GIRLFRIENDS PAST: According to Variety, Mark Waters is reteaming with Disney to direct GHOSTS OF GIRLFRIENDS PAST. Water previously directed Lindsay Lohan in both Disney's FREAKY FRIDAY and Paramount's MEAN GIRLS. GHOSTS OF GIRLFRIENDS PAST was originally set up at Disney with Ben Affleck to star and Betty Thomas to direct. The project was halted due to budgetary issues and Affleck moved on to GLORY ROAD for producer Jerry Bruckheimer. GHOSTS is a comedy about a bachelor who goes to his younger brother's wedding, where he is visited by the ghosts of his past girlfriends. The film was written by John Lucas and Scott Moore.
---
HARRY POTTER: HARRY POTTER AND THE PRISONER OF AZKABAN earned $9.2 million from 535 locations in the UK on Monday, which was a national holiday. That's the market's biggest opening day and its biggest single day, 16% ahead of prior champ HARRY POTTER AND THE CHAMBER OF SECRETS, which pulled in $8 million on 524 sites on Saturday, Nov. 16, 2002. Warner Bros. estimated the film's Tuesday gross at $6.4 million, which would be the territory's 5th highest day in history. The studio is preparing the launch the third film in the franchise in 47 markets this weekend and the next, on 10,000 prints.
---
RUNNING SCARED: Talkshow host Wayne Brady will play a shady character named Raggedy Man opposite Paul Walker in RUNNING SCARED. This is Brady's first feature starring role. This action thriller being directed by Wayne Kramer and financed by Media 8 Entertainment. Walker plays the father whose 10-year-old son comes into possession of a gun used in the shooting of a police officer. It puts the whole family in danger.

SIN CITY: Rosario Dawson has joined the ensemble of the Robert Rodriguez/Frank Miller-directed Dimension Films noir drama SIN CITY. Dawson will take part in the third and final segment. Rodriguez based the film on Miller's graphic novel series. The finale also stars Benicio Del Toro, Clive Owen and Brittany Murphy. Quentin Tarantino is considered likely to direct some of that episode.
---
Tuesday, June 1:
SERENITY: Chiwetel Ejiofor (Dirty Pretty Things) has joined Universal Pictures' SERENITY, Joss Whedon's feature film version of FIREFLY, his cancelled TV series. The film revolves around an ensemble of characters who are galactic outcasts 500 years in the future. The film centers on a captain and the crew on his transport-for-hire spaceship, Serenity. When they pick up two passengers, they find themselves caught between a military force and cannibalistic savages. Ejiofor is the first actor to sign on who did not appear in the Fox TV series. He will play a character known as the Operative, an assassin and tracker.
---
LOIS AND CLARK: Over at the KryptonSite, we find word that Lane Smith, who played Perry White on "Lois & Clark," has been diagnosed with ALS, or Lou Gehrig's disease. He is going through a rough time right now. He was wonderful in this role; more details can be found at KryptonSite.com.
---
Monday, May 31:
MEMORIAL DAY: May we all take a moment to remember those who served their country on this Memorial Day.
---
SONY/MARVEL TRUCE: Variety reports that Marvel and Sony have "amicably resolved their pending court disputes." The agreement follows in the wake of a series of lawsuits between the two companies concerning contract renegotiations, video-game licenses and merchandise royalties. A Sony spokeswoman said all cases were included in the resolution, though no details were offered in the statement. The statement emphasized Marvel and Sony's collaboration on upcoming film projects such as Ghost Rider, Luke Cage and future Spider-Man sequels, all of which are based on Marvel Comics characters.
---
WEEKEND BOX OFFICE: SHREK 2 held onto the #1 spot at the box office this weekend, with studio estimates forecasting a $73.1 million dollar gross for the CGI sequel. Although that was a drop of about one-third from last weekend's proceeds, it was a very impressive feat considering that SHREK's main competition was THE DAY AFTER TOMORROW, one of the summer's big event films. TOMORROW opened well, grossing about $70 M over its first three days at around 800 screens less than SHREK 2. Warner Bros.' TROY sank to third overall, down 52% from the previous week's earnings. New pics RAISING HELEN and SOUL PLANE debuted in fourth and fifth spot, respectively. VAN HELSING continues to sink down the charts, losing another 50% in earnings in its fourth week of release, and both MEAN GIRLS and MAN ON FIRE cracked the $70 M gross barrier. In tenth position, the documentary SUPER SIZE ME is still doing well against the mainstream competition, adding almost $1 M more to its total earnings. Here are the estimated receipts from May 28 through to May 30:
1. SHREK 2 $73,100,000 $238,800,000
2. THE DAY AFTER TOMORROW $70,000,000 $70,000,000
3. TROY $11,461,000 $106,110,000
4. RAISING HELEN $11,224,000 $11,224,000
5. SOUL PLANE $5,700,000 $5,700,000
6. VAN HELSING $4,857,000 $108,835,000
7. MEAN GIRLS $4,850,000 $72,127,000
8. MAN ON FIRE $1,825,000 $72,707,000
9. 13 GOING ON 30 $1,027,000 $54,136,000
10. SUPER SIZE ME $994,000 $4,527,000
---
Sunday, May 30:
CULT FAVORITES: The current (May 30-June 5) issue of TV Guide features a cover story on what their people considered the top 25 cult TV shows of all time. Star Trek was #1 but our own BABYLON 5 was ranked 13th. For more information, go to the TV Guide website at http://www.tvguide.com/culttv"> http://www.tvguide.com/culttv. It was noted that Bruce Boxleitner (John Sheridan) still gets invites to the cons. "I go and see dozens of people dressed like me. And (unlike my sons) not too many boys have fathers with two sets of action figures" (p. 32).
---
HARRY POTTER: With the latest Harry Potter movie poised to his theaters this coming week, author J.K. Rowling is feeding the frenzy through her recently revamped her personal website -- which previously consisted of links to publishers -- to include hints, trivia and other insights into all things Potter. The site, www.jkrowling.com, requires Flash to view the main page, a visual representation of Rowling's desktop, which is littered with gum wrappers, pens, a mug, paperclips and other miscellaneous items. Fans can access Harry Potter news, rumors, Rowling's bio, FAQs, the Wizard of the Month, fan sites, links and extras. There is also trivia galore. Many of these sections and include: the meaning of the initial "K" in the author's name, descriptions of scenes and characters that were deleted from the novels, the color of Sirius Black's eyes, the Weasley twins' birthday and Crookshank's ancestry. As for the status of the highly anticipated sixth book, Rowling reports, "I am still at the stage where I have a large and complicated chart propped on the desk in front of me to remind me what happens where." HARRY POTTER AND THE PRISONER OF AZKABAN opens June 4.
---
SPIDER-MAN 2: Columbia/Sony Music Soundtrax will release SPIDER-MAN 2 -- Music From and Inspired By on Tuesday, June 22. The highly anticipated Columbia Pictures film, "Spider-Man 2," opens nationwide on Wednesday, June 30. For a complete listing of tracks included, go to www.superherohype.com.
---
SUNDAY - JUNE 6 - NIGHT CHAT
Since the chat we had on Wednesday night went so well, we will have another one on Sunday evening at 8:00pm EDT. Go to http://tv.groups.yahoo.com/group/thegalacticgateway/chat to join the chat. What will we talk about? As we found on Wednesday night, everyone has a Richard Biggs story or an experience they want to share. Bring those along with you on Sunday night.

MEMORIAL FOR RICHARD BIGGS
I received a note from Richard's sister today, asking me to post the following note:

I would also like to thank you for sharing the information about the fund set up for Rick's children. I would like to ask you to please let everyone know that if they send money to the bank, Lori, Richard's wife, will have no way of knowing who they are, won't have their addresses and won't be able to thank them. It is important to her that she be able to thank each and everyone of them. It would be such a help if they could send a note or card to the post office box as well. That way Lori, R.J. and Hunter can thank them for caring. We have felt the love and thoughts sent our way this past week and a half. It is a comfort to know how many lives our brother touched. Please keep his memory alive in your thoughts and keep our family in your thoughts and prayers.

Maria Biggs-Lynch
---
Last week we lost Richard Biggs who portrayed Dr. Stephen Franklin so wonderfully on Babylon 5. The official report indicates cause of death was a tear in his aorta. Richard was just 43 and leaves behind a loving wife and two small sons.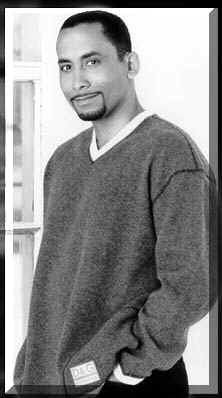 For accounts of the memorial service, information about memorial efforts underway for Richard's children, please go to Richard Biggs Memorial Page. You can also share the experience of readers here at The Zocalo through their photos at the Remembering Richard Biggs page. If you have special photos you would like to include on this page, please send them along to me at sgbruckner@aol.com. I will post them here for everyone to enjoy -- and I will print them out and send them along to Richard's family.
---
RICHARD BIGGS TRIBUTE VIDEO
Here is a video put together by John Hudgens:
Some of you may know my work on the official Babylon 5 music videos - I haven't done one in four years, but Rick's passing got me thinking about scenes and connections, and I made a new tribute video for Rick I'd like to share with the community...
Joe Straczynski gave me permission to post this online, so here goes... you can download it here: http://www.theforce.net/theater/temp/RickBiggs.html
Rick will be missed...
John Hudgens
++++++++
Anyone having difficulty with the plug-in to launch the movie, can get the movie directly from:
http://download.theforce.net/theater/temp/rickbiggs_320.mov.
For some, there is no indication the file is actually downloading. Be patient.
---
FREE ON-LINE LIBRARY
Ranger Dan sends along the following information about a free, online library:

There is a free online library of Sci Fi books at www.baen.com . I have the paperbacks and hardcovers of several of the books (notably 1632 and 1633 by Eric Flint) and they are very good multi arc stories. To access the books click on Free Library then Authors. (I am not affiliated in any way with baen just happened to be a reader and looked their site up after enjoying several of their publications).
BABYLON 5 IN SPAIN
Ranger Carles has sent in this update on Babylon 5 in Spain for readers to enjoy:

I just thought I'd let you know some news happening on the B5 front in Spain that most people -and probably include JMS in there!- are not aware of and that I think might find VERY interesting.

On May 18, after years of waiting, the DVD release of the series' pilot, 'The Gathering', saw the light. This had been announced about a couple of months before, and by the time I saw the specs in the press note I had a weird intuition.

I have the disc in my hands now and I can confirm my suspicions: this DVD is a release with the *original* version of 'The Gathering', the one broadcasted in 1993. That is, with the Stewart Copeland score, the primitive sfx and minus the extra scenes added in the 1998 Special Edition. That I know of, this makes it the only available DVD release of this version in the world.

It includes English, French and Castilian Spanish audio tracks, and subtitles in quite a bunch of languages. The menus and (lack of) extras are very similar to the editions in the rest of the world. The release is the Region 2, PAL, and the suggested retail price is 20 € (euro), but you can expect to see it reduced in a few months. You can take a look at the specs in this link of a popular DVD online shop in Spain:

http://www.dvdgo.com/product.asp?catgid=144&list=110&prodid=107529&typeproduc t=1&lang=EN

(There's a mistake in the title: 'In The Beginning' isn't included in this release). There was a newsbit with info on the release and menu shots in www.zonadvd.com (in Spanish).

As a curiosity, just mention that this release strangely sees the third known dubbing in Castilian Spanish of the original version of the pilot (one for an early video release, the second for its broadcast in channels TVE and AXN). It's unclear why it has had to be redubbed, unless it's a problem of rights. Actually, I firmly believed in this release containing the original version of the pilot due to the fact that there is no known Castilian Spanish dubbing of the Special Edition, and I thought Warner won't spend a cent in financing a new dub. Obviously, I was wrong... but the result was the same :)
BABYLON 5 MOVIES ANNOUNCED
Ranger Neil O. sent along the following item from http://www.tvshowsondvd.com/newsitem.cfm?NewsID=1539 No word yet on CRUSADE or the LEGEND OF THE RANGERS.

Warner Bros Home Video will continue the popular Babylon 5 DVD releases with "Babylon 5: The Movies," news we brought you back in November, 2003. This 5 disc set will contain all 5 movies as well as special features. The set will carry a $59.98 SRP and will be available in stores and online August 17th. "The Gathering" will be presented in 4:3 (original aspect ratio) while the other movies will be 16:9 anamorphic widescreen; all movies will feature Dolby Digital 5.1 tracks. The sets will be closed captioned and be subtitled in English, Spanish and French.

Each movie will contain commentary from the creator (J. Michael Straczynski), cast and crew, as well as an introduction for each movie by JMS. Rounding out the special features is the featurette, "Creating the Future - How Science Fiction and the show influenced each other."

The Gathering (1993): Alien envoys come to the giant space station in the pilot that launched the five-year TV series.

In the Beginning (1998): The B5 prequel! It's humans vs. aliens in the battle that led to the station's creation.

Thirdspace (1998): Is there a realm beyond hyperspace? Discovery of a million-years-old gateway technology may hold the answer...and more.

River of Souls (1998): After death, then what? Questions of eternity arise when a supposedly infallible harvester of souls proves to be very fallible.

A Call to Arms (1999): The torch is passed. A race against time to save Earth links the B5 mission with the Rangers' new interstellar efforts.

All we have is this small shot of the box art, but the news will be updated once a larger version is available.
SEASON 5 BABYLON 5 DVD ON SALE NOW
A number of clips have been received from Warner Bros. for your viewing pleasure. Don't miss them. They have been provided in a number of formats so that everyone can enjoy them -- no matter what the speed of your connection is. Go to Season 5 to view them.

Materials are arriving from Warner Bros. and will be posted shortly related to the release of the Season 5 DVD for Babylon 5.

For the press release, which includes all the details for the DVD set, go to Babylon Season 5 DVD page.
BOOK REVIEWS
Here is a new feature for your enjoyment. I received some new book reviews that I've posted on a separate Book Review Page. Let me know if you enjoy this new feature -- and we'll continue to offer them as they are received. Agree with the review? Disagree? We can post those as well.

Other science fiction material, outside of the B5 environment can be found on the Materials Page.
SAVE THE HUBBLE
The Hubble project is in jeopardy. Please visit http://www.savethehubble.org/petition.jsp and sign the petition to have NASA reconsider funding for the project.
---
DISCUSSION TOPIC
With the passing of Richard Biggs, I started to think of all the conventions I've attended -- Chicago, Los Angeles, Sydney, Brisbane, Berlin, New Orleans and more. Richard is part of those memories and I thought now might be a wonderful time to pull those memories together. What are some of your convention memories. Share those memories with us here at The Zocalo Today.
---
Send in your thoughts, comments and ideas to sgbruckner@aol.com. I post them on the Discussion Page for everyone to share and enjoy. See what has come in so far. If you see an old topic you want to respond to, go right ahead. We enjoy hearing from you.
DVD BUYING TIPS
CostCo continues to be my favorite store for DVDs. I picked up the Season 6 DVD of STARGATE SG-1 for $39.95 there on Saturday.

Ranger Dave found JEREMIAH nearly $20 less than Amazon's price at DVDsoon.com. Dave used Brian's suggestion and went to www.dvdpricesearch.net and found STARGATE SG-1 Seasons 1,2,&3 for $32.88 each (including ) tax and free shipping). There is even a coupon for $4 off purchases over $100 from that company. Season 4 was listed at a bit over $40.

I understand from Ranger Judy that all CostCo stores don't have the prices mentioned here. Hope some of the other options given help out.

Ranger Brian sent along a terrific tip for purchasing any DVDs. Go to http://www.dvdpricesearch.net/. You can do a search on any title and it will find the lowest price for you. It includes mailing information as well. Thanks Brian!

Ranger Frank in Seattle indicates that again, CostCo is saving Babylon 5 fans money!
Costco stores have a limited time sale on the Babylon 5 DVD sets. I went into a Costco in the Seattle area today, and they have seasons 1, 2 and 3 for $59.99 each -- about $25 less than Amazon.com, and $40 less than list price, as I recall. Season 4 is $64.99. But the deal is that if you buy Season 4, you get $20 off any one of the other seasons.

Thanks Frank for passing along the info. Other folks should check out CostCo for Babylon 5 and other DVDs. They usually have very competitive prices.
STARGATE SG-1

SEASON SIX DVD
Season six of STARGATE SG-1 is now available. Amazon has had this DVD on their top 10 list for weeks. The DVD boasts incredible special effects sequences, rapid-fire pacing and awesome scenes of alien warfare, this all-new five-disc set of Stargate SG-1 is your gateway to pulse-pounding sci-fi action!

Special features include audio commentary for each episode and twelve "SG-1 Directors Series" featurettes!

For more details and to watch the trailer, go to http://www.mgm.com/title_title.do?title_star=XXXSETSTARGAT6.
KEEPING UP WITH CAST AND CREW
CLAUDIA CHRISTIAN: "What The Night Is For", a play starring Claudia Christian (Susan Ivanova) closed on May 2 at the Laguna Beach Playhouse. In the production written by Michael Weller, Claudia played Melinda Metz, a woman who has met up with an old lover Adam Penzius (played by Kip Gilman). Both of them are married now, but this doesn't stop them from reigniting their passion for each other. For a picture of Claudia in the play and more information about the production, go to http://www.b5tv.com/greatmaker/news/287/.
---
TAMLYN TOMITA: Ranger Michael reports that Tamlyn Tomita, who played Lt. Cmdr. Laurel Takashima so wonderfully in the "Babylon 5: The Gathering", has a big part in the new movie "The Day After Tomorrow", which opened last week.
---
BRUCE BOXLEITNER: Bruce's movie SNAKEHEAD TERROR will be shown again on SCIFI June 27 and on July 22 at 9:00pm ET. Bruce portrays Sheriff Patrick James.
---
BILL BLAIR: Bill Blair (I don't know how many aliens he played on Babylon 5) has been a busy fellow. He and wife Toni were on this weeks episode of THAT '70s SHOW. Bill can be seen on 'THE DIVISION on The Lifetime Network - Sundays 9PM eastern and pacific. He also turns up on the new movie GARFIELD opening June 11th (he plays a "vet tech" that grooms Garfield:-).
---
ROBIN ATKIN DOWNES: Robin dropped by an update and I'm sure you'll want to check out a couple of his current projects. He is currently working post production for an independent film he directed entitled "For Pete's Wake." Some production stills can be seen at http://babylon5.jeffcushen.com/sighcorps.php?id=peteswake-onset&keyword=various&pg=1. Be sure to look for familiar faces -- like Pat Tallman! Robin is also in the process of completing an animated film called "Geppettos Secret ." Starring with Eric Roberts, Rene Aubergenois and Tom Bosley... For more information, go to http://www.geppettossecret.com/actors%20and%20characters2.htm
---
DANIEL DAE KIM: Daniel (Lt. Matheson from CRUSADE) has landed a role in the upcoming series PARTY OF FIVE, being produced by J.J. Abrams from ALIAS. Ranger John also reports that Daniel Daniel has a role as a non-English speaking character in JJ Abrams's new pilot, LOST.
---
SPECIAL CAST ACTIVITY - CRUISIN' WITH BABYLON 5
STEPHEN AUSTIN - Here is a vacation idea you may enjoy. Vic Dunlop, Bruce Baum, Stephen Austin's 2005 Comedy Circus Cruise. Sailing March 6-13, 2005 on the Carnival Valor, from Miami, Florida visiting Belize, Isla Roatan, Grand Cayman, and Cozumel. Visit: www.cruiseevents.net/Dunlop,%20Baum,%20Austi/index.htm for all the info!
---
CRUISE WITH PETER WOODWARD
Peter Woodward is cruising the Eastern Caribbean on Jan. 9-16, 2005 and wants YOU to join the fun!!! Sailing January 9-16, 2005, on Holland America's Westerdam, the roundtrip from Ft. Lauderdale, Florida will visit Nassau, St. Marteen, Tortola, & Half Moon Cay. Experience a week in the Caribbean sharing laughs and fun with your new friends. Peter's cruise is unique! The group consists of friendly, people looking to have fun and share experiences. For more information, go to http://www.cruiseevents.net/celebrity.htm and then press Peter's photo. Space is limited! Don't delay, call today! 800-695- 5253 or e-mail: Susan@CruiseEvents.net.
---
JERRY DOYLE RADIO SHOW
Here's the latest from Jerry:
For the radio show, Talk Radio Network is building a new site and will have jerrydoyle.com up and running soon. It will tie into the talkradionetwork.com site as well.

The M-F show launches this coming Monday(5th), 7-10P PST. The call in number is 800/449-8255. Spread the word and give a call if you've got something to plug. I'll still be doing the Saturday show, 8-11P PST. Same phone number for that too. All the best.

All the best.
JD

For more information on Jerry Doyle, Talk Radio Show Host, you may visit www.talkradionetwork.com
---
BABYLON 5 BIRTHDAYS
Jeffrey Willerth - June 5
Donovan Brown (Optic Nerve) - June 6
Ann Bruice Aling - June 8
Mark Walters - June 10
Susan Norkin (Post) - June 10
Adrienne Barbeau (Amanda Carter) - June 11
Mike Vejar - June 25

Have I missed anyone? If you know the birthday of someone connected with Babylon 5, pass the information along. We want to include everyone in our Happy Birthday Wishes.
FAN CLUBS
Intergalactic Consortium
To anyone who lives in and or in the area of Toronto, Ontario, Canada I would like to invite you to attend or Join the Intergalactic Consortium. The I.C. is a new science fiction / fantasy group. We generally meet on the last Saturday of every month and generally do not collect any dues. WE are always looking for new members. If you have any questions, need more information or anything else please feel free to e-mail torsf@yahoo.ca or visit our yahoo group at http://ca.groups.yahoo.com/group/Intergalactic-Consortium/ Hope to hear from some of you.
United Federated Planets
Ranger Anne reports that in January, another chapter was added to the fold... EAS Winter Wolf (in Texas). For more information, go to their site at http://www.ufphq.com/chain_of_command.htm. You will find a great deal of interest in Babylon 5 -- with position currently available on the sector staff--EarthDome, EarthForce and the Alliance. Check it out.
STAR TREK CLUB VENEZUELA
Ranger Andres dropped a note to say that a new club has been formed -- Star Trek Club Venezuela. It is small right now, but they are ready for recomendations, opinions, and/or any other comments. They are plannig our first expocon at the end of the year, into the facilities of Humboldt Planetarium in Caracas. Visit their site at www.trekvenezuela.net.
We have a number of Fan Clubs listed here at the Zocalo. They are those associated with a particular actor -- and there are those devoted to Babylon 5 or science fiction. Be sure to check out the Clubs Page to see if there is an organization near you.
BABYLON 5 MERCHANDISE
Are you looking for Babylon 5 merchandise? Would you like to possess some of the wonderful patches or pins sold by the B5 Fan Club? Do you want to put in an order for the latest DVD? Bruce at Uncomyn Gifts still has one of the best collections around. Check out www.uncomyngifts.com. You may just find the magazine or t-shirt or patch you are looking for.
---
SCIENCE FICTION PUBLICATIONS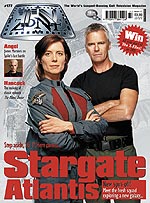 TV Zone #177: The stars of STARGATE SG-1 and STARGATE ATLANTIS adorn this month's issue. The magazine talks to co-producer and director Martin Wood about what we can expect from the highly-anticipated spin-off series - ATLANTIS. Also inside, ANGEL's James Marsters talks to us about his character Spike's sacrifice and redemption, his ongoing conflict with Angel, and the fang gang's.



Expose #86: As the latest HARRY POTTER film takes center stage, Director Alfonso Cuarón and Harry Potter himself, Daniel Radcliffe talk about their work on THE PRISONER OF AZKABAN, and the relationship between actors and directors. We also get a look at all the new characters and creatures introduced in The Prisoner of Azkaban. Also inside this issues, ALIAS' Jennifer Garner chats us about her latest big-screen outing, 13 GOING ON 30.






The 100-page Angel Yearbook serves up a feast of Angel goodies for you to enjoy! There are exclusive chats with the entire cast and a complete guide to Season Five — the last season. Following Angel's transformation into a puppet in Season Five's "Smile Time," we take an in-depth look at creating an Angel Muppet! Plus the A-Z of Angel — everything you ever wanted to know… and more!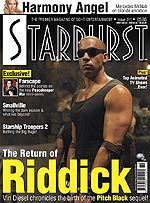 Starburst #311: CHRONICLES OF RIDDICK -- the stormy sequel to PITCH BLACK, returns to the wide screen. Vin Diesel returns and talks about his love for science fiction and his views on what makes a great sci-fi movie. Also in this issue, FARSCAPE - PEACEKEEPER WAR -- an update on the new mini-series. SMALLVILLE's Executive Producer Mark Miller also talks about what is ahead.
Cult Times #104: SMALLVILLE star Tom Welling is the focus of this issue. The interview focuses on the latest changes in the life of Clark Kent and how it may affect the relationship with Lex Luthor. Also in this issue -- Amy Acker, J. August Richards and Andy Hallett talk about the cancellation of ANGEL.




Expose Special #25: CHARMED is the focus of attention in this issue. Alyssa Milano, Holly Marie Combs and Paige McGowan look ahead to a seventh season. Others featured in the issue include co-star Dorian Gregory and producer Brad Kern





NEW BOOKS ON THE HORIZON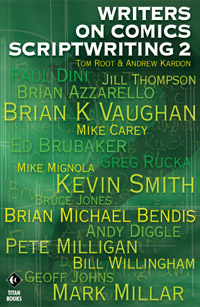 Writers On Comics Scriptwriting Volume 2 tp
by Tom Root & Andrew Kardon

Packed with fascinating behind-the-scenes information, anecdotes, and stories from the hottest writers working in comics today, this second volume of Writers on Comics Scriptwriting offers insider insight into every aspect of the creative process from the likes of Kevin Smith, Mike Mignola, Mark Millar, Brian Michael Bendis, Geoff Johns, Bruce Jones, Greg Rucka, and Bill Willingham, among other notable comics luminaries.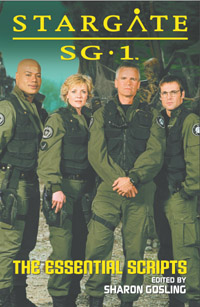 Stargate SG-1: The Essential Scripts TP
by Sharon Gosling
Far more than a script book, this essential Stargate SG-1 series guide is packed with bonus material including an in-depth introduction about writing for the show, deleted scenes, commentary and background, plus exclusive interviews with the writers, directors, and cast members. The following original Stargate SG-1 shooting scripts — complete with annotations — were specially selected for this volume: "2010," "Abyss," "The Fifth Race," "The Torment of Tantalus," "Window of Opportunity," and "Wormhole Xtreme."
(133/1-84023-887-9) (CAUT: 4)
SC, 6x9, 352pg, b&w..........$17.95
BookCloseOut.com
Ranger Dave writes that books by Bruce Boxleitner, John DE Lancie(Q), and William Shatner are available on Bookcloseouts.com in hard cover. They also now have a paperback listing and book prices are greatly reduced. Check it out.
BABYLON 5 NOVELS
DelRey is reprinting the original Babylon 5 novels. They started with #7 - Jeanne Cavelos' THE SHADOW WITHIN. Here's one I've been waiting for -- Kathryn Drennan's TO DREAM IN THE CITY OF SORROWS. The release date is scheduled for July 29, 2003. I love the new cover art! It can be pre-ordered from www.amazon.com. For those of you who love Babylon 5, this one reads just like an episode from the series. You just can't put it down.




COMIC BOOKS
AMAZING SPIDERMAN
AMAZING SPIDER-MAN #508 Written by J. Michael Straczynski, pencils and cover by John Romita Jr. The enigmatic Ezekiel returns to Peter's life. But is he the same man who stood by Spider-Man's side in his hour of need, or will he prove to be something much deadlier? 32 pages, $2.25, in stores on May 26.
SUPREME POWER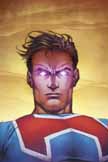 SUPREME POWER #9

Written by J. Michael Straczynski, cover and pencils by Gary Frank.
The world is still shaking from the titanic battle of Hyperion and Dr. Spectrum. Is Earth big enough for two such powerful beings? And who is Power Princess? Find out here!
32 pages, $2.99, in stores on April 7.
STARGATE SG-1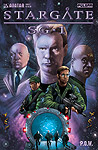 STARGATE SG-1 Comic Issue #2 now in stores
MARCH 31, 2004

The second installment of the new Stargate SG-1 comic book series is now available at retailers worldwide. "P.O.W." #2 tells part two of a 3-issue story, in which Colonel Jack O'Neill finds himself a captive of the Goa'uld. "This is meant to be our introduction to the Stargate world for new comic fans and a fun treat for the hardcore fans," said author James Anthony Kuhoric. The issue features a recounting of the events of the original "Stargate" film, as well as the beginning of the TV series. "In addition to establishing the background as a starting point for future comic book series, this feature amalgams the two universes [of the film and the TV series] into SG-1 continuity. We get to see Richard Dean Anderson as O'Neill during the first Abydos mission!"

With a story by Kuhoric and art by Renato Guedes, "P.O.W." #2 carries a $3.50 price tag and is available in several different covers. Fans who can't find the issue can order it from the publisher's online store, at ComicCavalcade.com.

"P.O.W." #3 is currently on stands, followed by a brand new 3-part series, "Fall of Rome," which will introduce new characters and expand the Stargate universe.
TV SCHEDULE ON SCIFI CHANNEL
BABYLON 5 and CRUSADE are not currently listed on any SCIFI schedule. STARGATE SCHEDULE: 07-JUN-04 6:00 PM STARGATE SG-1 EXODUS - PT 1
07-JUN-04 7:00 PM STARGATE SG-1 ENEMIES - PT 2
07-JUN-04 8:00 PM STARGATE SG-1 THRESHOLD - PT 3
08-JUN-04 6:00 PM STARGATE SG-1 WINDOW OF OPPORTUNITY
08-JUN-04 12:00 AM STARGATE SG-1 SUMMIT - PT 1
08-JUN-04 1:00 AM STARGATE SG-1 LAST STAND - PT 2
09-JUN-04 6:00 PM STARGATE SG-1 CHILDREN OF THE GODS - PT 1
09-JUN-04 7:00 PM STARGATE SG-1 CHILDREN OF THE GODS - PT 2
09-JUN-04 12:00 AM STARGATE SG-1 CHILDREN OF THE GODS - PT 1
09-JUN-04 1:00 AM STARGATE SG-1 CHILDREN OF THE GODS - PT 2
10-JUN-04 6:00 PM STARGATE SG-1 THE TOK'RA - PT 1
10-JUN-04 7:00 PM STARGATE SG-1 THE TOK'RA - PT 2
10-JUN-04 12:00 AM STARGATE SG-1 THE TOK'RA - PT 1
10-JUN-04 1:00 AM STARGATE SG-1 THE TOK'RA - PT 2
11-JUN-04 6:00 PM STARGATE SG-1 WORMHOLEX-TREME!
11-JUN-04 9:00 PM STARGATE SG-1 (LBX) EVOLUTION - PT 1
11-JUN-04 10:00 PM STARGATE SG-1 (LBX) CHIMERA
14-JUN-04 6:00 PM STARGATE SG-1 SHADES OF GREY
14-JUN-04 7:00 PM STARGATE SG-1 MESSAGE IN A BOTTLE
14-JUN-04 8:00 PM STARGATE SG-1 FAMILY
14-JUN-04 9:00 PM STARGATE SG-1 SECRETS
14-JUN-04 10:00 PM STARGATE SG-1 BANE
15-JUN-04 6:00 PM STARGATE SG-1 NEW GROUND

FARSCAPE SCHEDULE:

06-JUN-04 1:00 AM FARSCAPE A BUG'S LIFE
10-JUN-04 3:00 AM FARSCAPE THE WAY WE WEREN'T
10-JUN-04 4:00 AM FARSCAPE HOME ON THE REMAINS
10-JUN-04 5:00 AM FARSCAPE OUT OF THEIR MINDS
13-JUN-04 1:00 AM FARSCAPE RHAPSODY IN BLUE
17-JUN-04 3:00 AM FARSCAPE LOOK AT THE PRINCESS - PT 1: A KISS IS BUT A KISS
17-JUN-04 4:00 AM FARSCAPE LOOK AT THE PRINCESS - PT 2: I DO, I THINK
17-JUN-04 5:00 AM FARSCAPE LOOK AT THE PRINCESS - PT 3: THE MALTESE CRICHTON 20-JUN-04 1:00 AM FARSCAPE THE FLAX
24-JUN-04 3:00 AM FARSCAPE MY THREE CRICHTONS
24-JUN-04 4:00 AM FARSCAPE BEWARE OF DOG
24-JUN-04 5:00 AM FARSCAPE WON'T GET FOOLED AGAIN
27-JUN-04 1:00 AM FARSCAPE JEREMIAH CRICHTON
BABYLON 5/CRUSADE PHOTOSHOP PHOTOS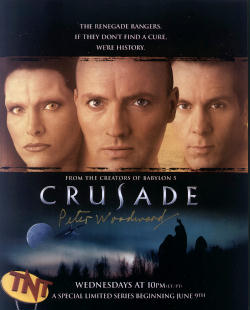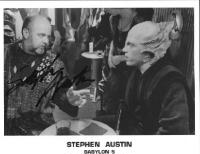 Peter Woodward has sent along a new photo -- a rather dreadful one -- from his appearance on CHARMED. It will be added to the collection of photos available from Peter, including additional copies of the Crusade poster in photo format. Both are autographed by Peter. You do NOT have to pay the prices asked for over at e-bay! Here are photos of B5 and Crusade cast members at fantastic prices. Check out Photo Shop. Ordering is easy -- and you can't beat the prices! Just let me know which photos you want and I'll check to make sure they are still in stock.
---
BABYLON 5 TOONS
John Cook has a wonderful collection of cartoons -- many are take-offs from Babylon 5. Here's just one of them.

He has a cartoon caption contest going on as well. Try your hand at a punch line.

Go to http://contests.sev.com.au/index.php?contestid=1


SCI-FI CARTOONS
While catching up on my e-mail yesterday morning, I got an instant message from LFMOA along with a nice goodie that I can share with readers. Thanks for sending along your version of Pinky and the B5 Brain.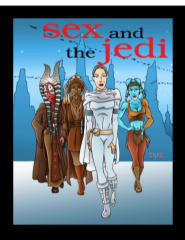 Tye Bourdony's latest Lighter Side of Sci-Fi satire can be seen here and at Tye's website www.thelightersideofscifi.com.





CONVENTION CALENDAR
DreamCon
Date: June 11-13, 2004
Place: Jacksonville, FL
B5 Guests: Stephen Furst, Peter David
Other Guests: Ron Perlman, Chase Masterson, Sam Jones III, Tony Amendola, many more For more information, visit their website at http://www.dreamcon.net/.
---

Slanted Fedora
Date: June 13, 2004
Place: Washington, DC
Site: Days Inn & Conference Center, Dulles
Guests: Dwight Schultz, Elizabeth Dennehy, Hallie Todd, Douglas Arthurs, Robin Curtis, Robert O'Reilly, J.G. Hertzler, Max Grodenchik, Mary Kay Adams, Aron Eisenberg, Casey Biggs
For more information, visit their website at http://sfedora.com/washington_dc.htm.
---

Trek Expo 2004
Date: June 18-20, 2004
Location: Tulsa, OK
Site: Exposition Square
B5 Guest: Jeffrey Combs
Other Guests: Other Guests: Brent Spiner, Michael Shanks, Lexa Doig, John Billingsley, Teryl Rothery, John Glover, Katee Sackoff, Jennifer Lein, Mark Alamo, Casey Biggs, Vaughn Armstrong
For more information, visit their website at http://www.starbase21ok.com/.
---

June 18-20, 2004
JAMES DOOHAN FAREWELL CONVENTION
Location: Los Angeles
Guests: James Doohan, William Shatner, Leonard Nimoy, George Takei, Walter Koenig, Grace Lee Whitney and Majel Roddenberry.
More Guests TBA
For more information, visit their website at http://www.planetxpo.com/ .
---

June 24-27, 2004
ORIGINS Guests: TBA
For more information, visit their website at http://www.originsgames.com/ .
---

July 2-4, 2004
Nexus: Rebellion
Location: Ramada Plaza Hotel
City: Bristol, UK
B5 Guest: Peter Jurasik
Other Guests: Paul Darrow - Blake's 7 and Robert Llewellyn - Red Dwarf
For more information, visit their website at http://www.enterthenexus.com/ .
---

July 2-4, 2004
TorontoTrek
Location: Double Tree International Hotel
City: Toronto, Canada
B5 Guest: Walter Koenig
Other Guests: Christopher Judge, Lani John Tupu (Farscape), George Hertzberg (Buffy)
For more information, visit their website at http://www.tcon.icomm.ca/tt18 .
---

July 2-4, 2004
Alias Rendevous
Location: Radisson Edwardian Hotel
City: Heathrow, London, UK
Guests: Bradley Cooper, David Anders, Merrin Dungey
For more information, visit their website at http://www.wolfevents.com .
---

July 9-11, 2004
SHORE LEAVE
Location: Baltimore, Maryland
Guests: Cirroc Lofton, Teryl Rothery, Nicole deBoer, Brian Thompson, Michael Welch, Thom Christopher, Mercedes McNab, Clint Howard, Greg Evigan, Chase Masterson
For more information, visit their website at http://www.shore-leave.com/ .
---

July 14-19, 2004
GATECON 2004
Location: Vancouver, British Columbia (Canada)
Guests: Amanda Tapping, Michael Shanks, Corin Nemec, Teryl Rothery, Colin Cunningham, Jr Bourne, Douglas Arthurs
For more information, visit their website at http://www.gatecon.com/ .
---

July 22-25, 2004
COMIC-CON INTERNATIONAL
Location: San Diego, California (USA)
Guests: To be announced
For more information, visit their website at http://www.comic-con.org .
---

July 23-25, 2004
ALTERNATE UNIVERSE
Location: Thistle Heathrow Hotel - London
Guests: John Rhys-Davis, Colin Cunningham, J.R. Bourne, Andrea Thompson, Sarah Douglas, Peter Stebbings, Marc Cass
For more information, visit their website at http://www.l3conventions.co.uk/alternateuni.htm .
---

July 29-Aug 1, 2004
CREATION CONVENTION
Location: Las Vegas, NV
Guests William Shatner, Leonard Nimoy, Tim Russ, Ethan Phillips, Nana Visitor, Robert Picardo, Walter Koenig, David Gerrold
For more information, visit their website at http://www.creationent.com/ .
---

Be sure to visit the referenced sites to see if there have been changes in dates/guests attending. Visit our Convention Calendar for a full listing of upcoming conventions.
MAIL FOR CAST AND CREW
Here's a recent note from JMS on the subject:

Just an FYI to those who've been using the Ventura Blvd. mail drop for fan mail to actors....

As mentioned before, we're phasing out the forwarding of fan mail because we a) don't have the resources, complicated by b) the actors have scattered to the four winds, and it makes it very difficult to get everything to everybody in a timely fashion.

So, having provided prior notice...fan mail to actors coming to the Ventura Blvd. mail drop will be sent back. Mail to actors should be sent via their official fan clubs. I will still be taking mail there, since it's my mailbox, but that's it.

Just so's y'all know and save a few bucks on postage and returns.

WARNER BROS:

Warner Bros. Address:

Warner Bros. Domestic Television Distribution
4000 Warner Blvd.
Burbank, CA 91522

Warner Home Video:

Mr. Douglas Wadleigh
VP for Marketing and Special Features
Warner Bros.
4000 Warner Blvd.
Burbank, CA 91522

SCIFI:
Bonnie Hammer, President
Sci-Fi Channel
1230 Avenue of the Americas
New York, NY. 10020-1513

Mr. Thomas Vitale
Senior VP of Acquisitions, Scheduling & Program-Planning
BACK ISSUES OF THE ZOCALO TODAY
The front page of the The Zocalo Today changes daily, so be sure to check the back issues to make sure that you haven't missed anything IMPORTANT! I don't want the front page getting too long so I shift information periodically into the archives. So if you aren't a regular visitor to The Zocalo Today, be sure to check out the back issues. Just use the button above!
---
Take care and I look forward to hearing from you.
Sandra Bruckner (sgbruckner@aol.com)
Editor/Publisher
The Zocalo Today
http://www.isnnews.net
Copyright - SBruckner, 1999-2004